Last Updated on June 1, 2023 by Ewen Finser
Online courses are only getting more popular. I know this since I've taken them and have made some myself.
To be a course creator, you'll want to use the right learning management software (LMS). LearnDash is a favorite of mine and is the perfect solution for those experienced with WordPress.
LearnDash is a plugin, so all you have to do is sign up for an account and add it to an existing WordPress website.
But I understand that some people prefer a centralized LMS platform, which is why I'm always looking for new programs. One of the all-in-one LMS platforms I recently tried was Kajabi.
But how does it compare to LearnDash? Read my compare LearnDash vs Kajabi guide for more.
Bottom Line Up Front
I recommend LearnDash over Kajabi. Since Kajabi is a general "knowledge business" platform, you're limited on course creation features.
LearnDash offers many features to create a high-quality course, plus other features to ensure your course is successful. Unless you're hosting more than a course, I suggest choosing LearnDash as your LMS.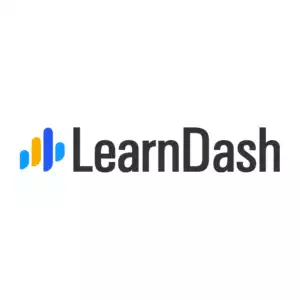 WordPress LMS Plugin by LearnDash
The most trusted WordPress LMS plugin, created by learning industry professionals with Fortune 500 experience. Transform your site in less than 5 minutes.
Get LearnDash
We earn a commission if you click this link and make a purchase at no additional cost to you.
Main Differences Between LearnDash vs Kajabi
The main differences between LearnDash vs Kajabi are:
Kajabi is an all-in-one business knowledge platform, whereas LearnDash is an LMS plugin for WordPress
Kajabi offers more solutions for sales and marketing, whereas LearnDash is only an LMS
Kajabi is better for businesses devoted to making online courses, whereas LearnDash is also a good solution for individuals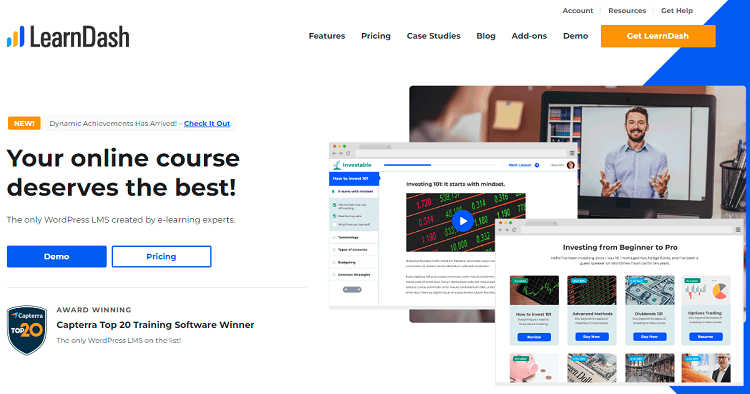 LearnDash is an LMS powered by WordPress. I love LearnDash because of its versatility. I make smaller-scale courses for passive income, and LearnDash offers everything I need to make a high-quality course. But LearnDash is scalable enough for universities, larger companies, employee training companies, and any organization that wants to make courses.
Pros
Excellent experience for both instructors and students
User-friendly
You can use the drag-and-drop builder Elementor
Flexibility
Great quiz builder
You can upload different types of content and multimedia
Excellent support
Can turn drip feed on or off
Automation
Integrations and plugin options
Cons
Options are limited on the introductory plan
The introductory plan only allows one course
Limited payment options
LearnDash Features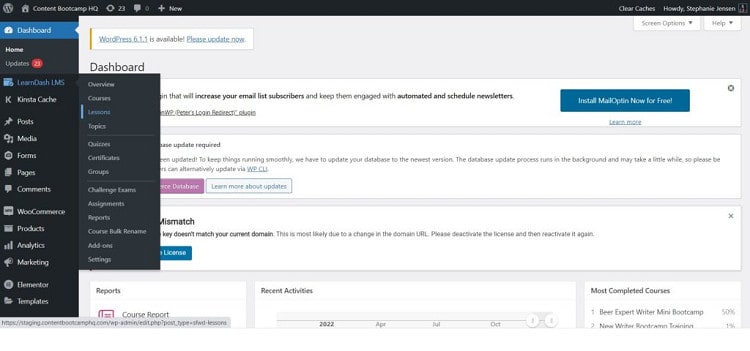 LearnDash offers everything you need to build a high-quality course. Some of my favorite LearnDash features include:
An advanced course builder (I will cover that in the next section)
Option to turn drip feed on or off (drip feed will deliver lessons on a chosen schedule)
Quizzes and assignments
Email triggers and notifications
Can use a third party to create an app
Certificates
Leaderboard
Focus mode
Memberships
User management
LearnDash also offers some advanced learning features, such as:
Flashcards
Charts
Timelines
Interactive videos
Bottom line

:

LearnDash

offers limitless features to create high-quality and engaging courses.
LearnDash Course Creation Process
I like LearnDash because of its organization. You can break your course into different lessons, separated into sections.
Optionally, you can break lessons up into topics. Instructors can also create quizzes in their courses. LearnDash also gives you the option to rename these titles. Instructors can also create prerequisites that students must complete.
Do you need an in-depth course hierarchy? You can only use what you need. If you use Elementor as your theme and course editor, you can drag and drop these different areas to fit them where they need to go.
Bottom line: LearnDash uses a hierarchy to organize your courses, making them easier to navigate for students. You can easily design your course with a drag-and-drop editor, and there are plenty of customization options.
LearnDash Reporting
While you are a little limited, you can track key metrics on LearnDash. These include:
Grades
Learner progress
Student activity
Completion rates
I like how LearnDash updates its reports in real-time. But I just wish LearnDash offered marketing insight, such as course views and demographics. You can always use third-party software such as Google Analytics for this.
Bottom line: LearnDash offers student progress reports, but you have to use a third party for sales and marketing data.
LearnDash Integrations and Plugins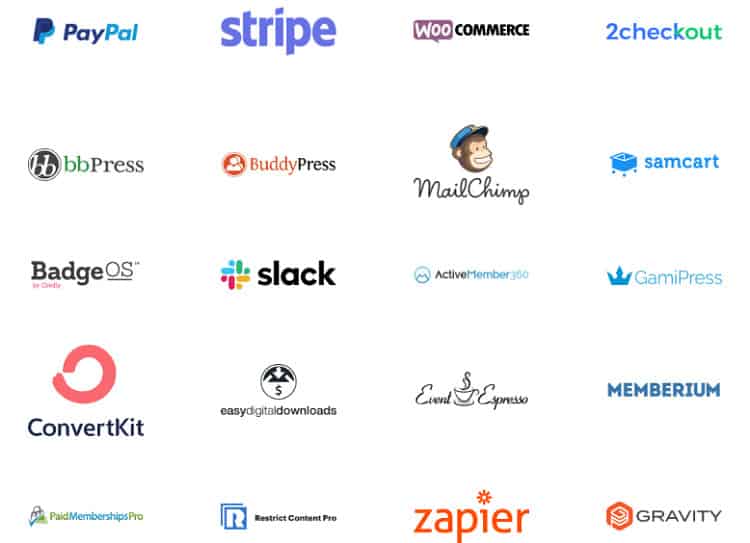 While LearnDash is a powerful LMS, it doesn't offer many features outside course functions. Since WordPress powers LearnDash, you can access a massive catalog of integrations and plugins. The ones you choose depend on what you need for your course. However, I suggest considering these plugin types:
Sales
Themes
Forums
Marketing
Let's dive into these plugin types a bit more.
Since you're selling a course, tracking essential sales metrics will ensure you're making your revenue goals. There are many WordPress sales plugins, such as WooCommerce.
With sales and e-commerce plugins, you can access cool features such as coupons and add-ons. A sales plugin will come in handy if you plan on using affiliate marketers.
Themes are an easy way to get beautiful course design without hiring a web developer. There are many themes and editor integrations, but I suggest Elementor. You can customize your course using their powerful drag-and-drop editor.
Forums are a way to better connect you to your students. Your students can also engage with each other on your forums. Plugins such as BuddyPress will help you stream member activity, create profiles, use DMing, and you can even create custom groups.
Marketing plugins are a must for your course. LearnDash doesn't offer internal marketing capabilities, but WordPress offers many marketing solutions. Email marketing is one of the best ways to earn new students and engage existing ones. You can use a plugin such as MailChimp for this. Zapier is an automation plugin that will greatly benefit certain marketing efforts, such as social media posting. Lastly, an SEO plugin such as Yoast can help your website appear higher on search engine results.
Bottom line: Since WordPress powers LearnDash, you have limitless plugin and integration options.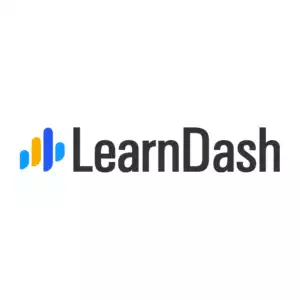 WordPress LMS Plugin by LearnDash
The most trusted WordPress LMS plugin, created by learning industry professionals with Fortune 500 experience. Transform your site in less than 5 minutes.
Get LearnDash
We earn a commission if you click this link and make a purchase at no additional cost to you.
What is Kajabi?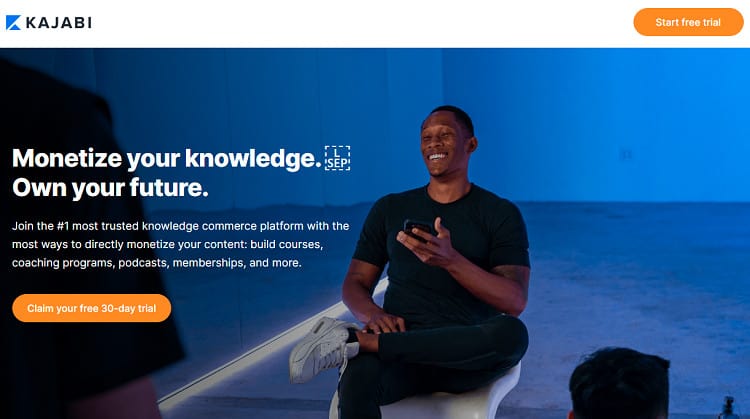 Kajabi goes a step further with course creation. That's because Kajabi offers an all-in-one solution, giving instructors all of the tools they need to create courses, track sells, and market their brand. Rather than targeting instructors, they attract what they call "knowledge businesses."
In other words, if you're looking for a more in-depth solution than what other LMS platforms offer, then Kajabi should be your choice.
This means that Kajabi attracts more than just course creators. Kajabi's platform is also perfect for newsletters, podcasts, and more. They also offer a feature called "products," which opens your account to different avenues.
For example, you can offer your course plus a newsletter. The number of products you have depends on your plan.
Pros
Offer more products than just courses
Quick and efficient
Includes bulk sales and coupons
Web design and development options
User-friendly
Cons
Difficult to export your content
It doesn't include a central media library
Limited fields forms
Can't sell physical products or link to an e-commerce platform
Limited web builder
The starter plan is limited
Kajabi Features
Where do I start with Kajabi's features? They include everything to build a website, grow a following, create courses, and sell your brand. Some stand-out features include:
Website builder and page templates
Unlimited hosting
Marketing sequences
SEO
Custom domain
Auto-scaling
Integrated checkout
Upsells
Subscriptions
Coupons
Payment plan
Abandoned cart recovery
Course content creation
Quizzes
Video hosting
Drip content
Email sequences
Marketing templates
Automation
Bottom line: Kajabi offers more than just course creation tools. They offer everything you need to grow your brand.
Kajabi Course Creation
While these features are great, what about their course creation? I wasn't sure what to expect. When I started navigating Kajabi, it seemed more like an all-over CRM than an LMS. Still, curiosity (and their free trial) got the best of me.
When I created my course, the first thing I noticed was instructors have more control over the set-up of their course. To start, you can create a Module. A Module can be a chapter, topic, or subject.
One thing I don't like is how Kajabi's system is so finicky. While creating a module, the pop-up will disappear if you scroll down. I was going crazy until I realized I can scroll using the down arrow.
When you create your module, you can create additional content underneath it, such as a sub-module, lesson, or quiz. I have to say, I like Kajabi's quiz feature better than LearnDash's. Creating a quiz is straightforward, you have different options to choose from, and you can add media.
Bottom line: Besides some glitches, I'm impressed by Kajabi's course creation platform. I like how instructors have more control over the course structure, and the quiz feature is extremely easy.
Kajabi Reporting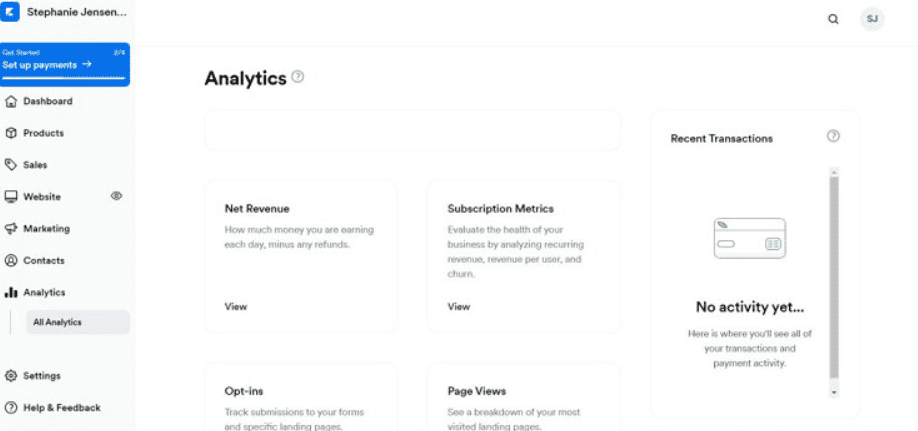 Kajabi offers more analytics reports than the average Kajabi alternatives/competitors. These include:
Subscription
Revenue
Page views
Opt-ins
Product progress
Affiliates
And more
The only downside is I can't find any course-specific metrics. If you're looking for student progress reports and similar, I suggest choosing LearnDash. But if you want to add a course to your overall brand, Kajabi can offer insights into your following, sales, marketing, and more.
Bottom line: Kajabi offers analytics for everything…except your course. I only suggest this feature if you're adding a course to an existing brand. That way, you can track more metrics.
Kajabi Integrations
Kajabi has an impressive platform, but it can't do everything. That's why Kajabi offers many integrations. You can add integrations that support your customers, marketing, analytics, sales, and more. Some of the biggest integrations that Kajabi offers include:
Calendly
Stripe
Cloudflare
Active Campaign
Google Analytics
Zapier
Facebook
Do you notice anything missing? Yes–there are no LMS integrations! You can use these integrations to support certain aspects of your business, but they won't improve your course.
Bottom line: Kajabi offers impressive integrations to support your business. However, they don't offer any integrations that will benefit your course.
Do These Platforms Lack Anything?
One thing I learned from playing around with these platforms is they both lack something. When choosing the best LMS to use, you should weigh the pros and cons of both platforms. While both platforms are high-quality, one may lack something that you need.
For example, LearnDash isn't a good option if you don't have a WordPress website or don't plan on getting one. Since LearnDash is a WordPress plug-in, you need an existing WP website.
This means you need to go through a third-party hosting company to create your website and purchase a domain name. I also suggest installing your theme and other necessary plugins when you add LearnDash to your CMS.
Fortunately, all of this is easier than it sounds. I've been a WordPress user for 10 years now. Once you get over the learning curve, you'll learn it's truly one of the most powerful CMS platforms on the market.
Kajabi comes with many benefits, but you still lack control over your course. LearnDash offers every tool imaginable to create high-quality courses, whereas Kajabi is pretty basic. Plus, you only have the option to use their tools and their approved integrations. With LearnDash, your plugin and integration options are endless.
LearnDash & Kajabi Alternative Learning Platform Options
After reading this article, did you realize that Kajabi and LearnDash aren't right for you? Fortunately, there are many alternatives to consider.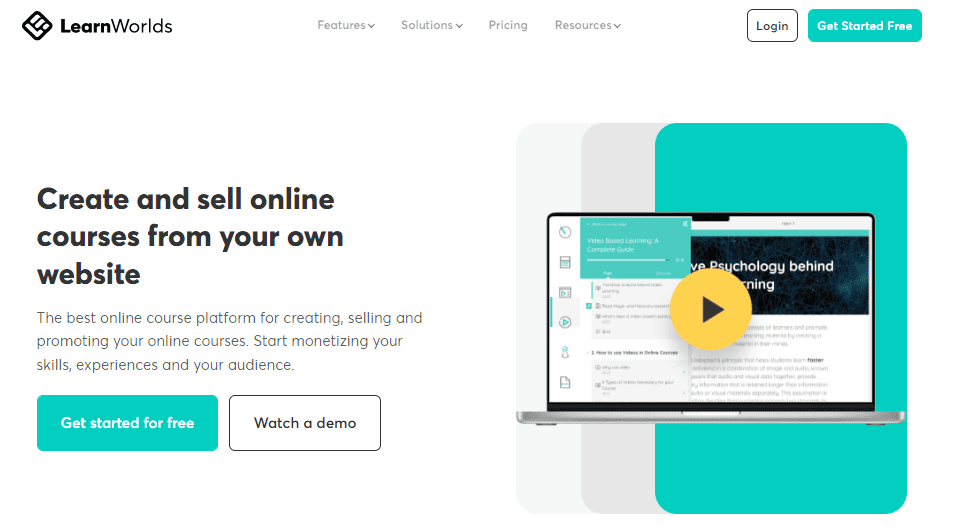 I previously wrote a LearnWorlds vs LearnDash comparison, and I like LearnWorlds more than I like Kajabi. If you like the idea of a course platform as opposed to a WordPress plugin, LearnWorlds is the platform that I recommend. You have more freedom to create a personalized course with all of the tools necessary to help your students. Plus, I love how you can add numerous media types.
They don't have the all-in-one benefits as Kajabi, but LearnWorlds supports numerous integrations to make your course operate more like a business.
LearnWorlds is also significantly cheaper than Kajabi; LearnWorlds' basic plan is $24/month with their current promotion, compared to Kajabi's $119/month. Not only that, but LearnWorlds offers so many benefits to instructors at this low price.
LearnWorlds vs Other Comepetitors
TalentLMS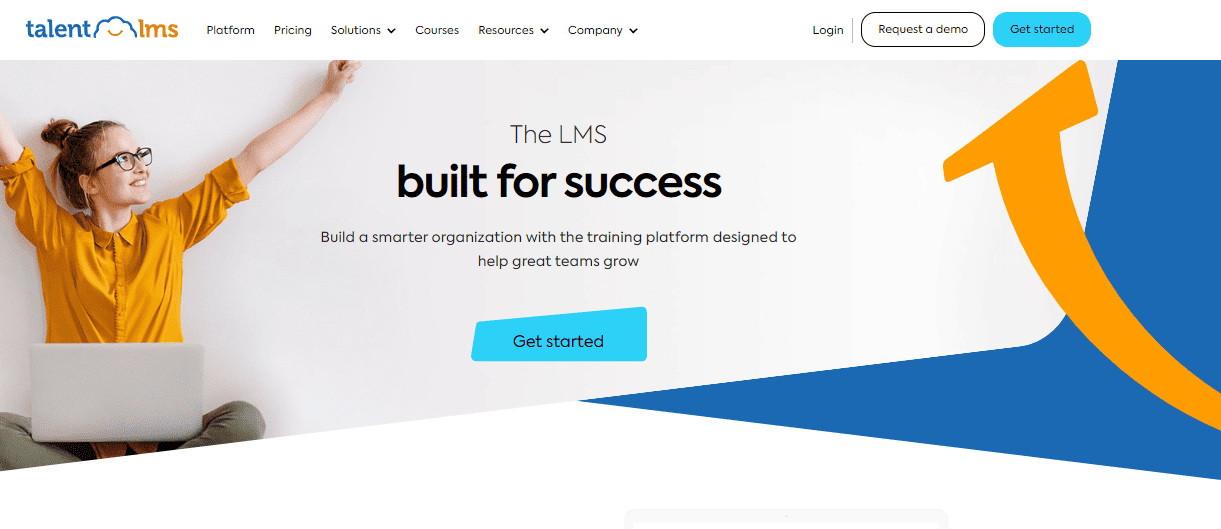 TalentLMS is a great solution if you want to run your online course as a business. I love TalentLMS for its backend; it's more intuitive than the competition, helping instructors create the best courses with ease. While instructors can import old lessons, TalentLMS is simple enough to make courses from scratch. They have a convenient drag-and-drop tool like LearnDash, so you can create a high-quality course with no technical expertise.
Compared to Kajabi, TalentLMS offers more advanced teaching tools. Instructors can make presentations, videos, and documents. TalentLMS lets you add tests and quizzes, and is also optimized for live learning sessions. TalentLMS accepts a wide variety of file types, so any instructor can create their course to their liking.
All of this is why TalentLMS is a great solution for various instructors–whether you're teaching K-12 or if you're training employees in a corporate environment.
And if you're a solo instructor who needs a simple solution, TalentLMS also offers a free plan–something that many competitors don't offer. If you do need a paid plan, TalentLMS is cheaper than Kajabi (plans start at $69/month) and this platform offers more course creation and management tools than Kajabi.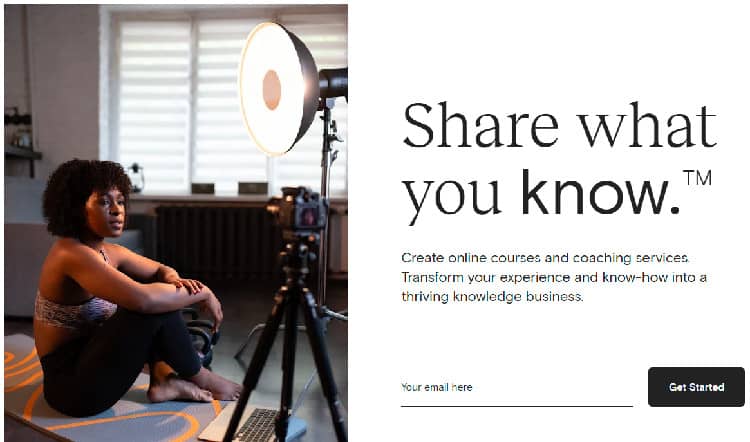 I tried Teachable around the same time I first started using LearnDash. I recommended Teachable to users who aren't using WordPress or have no plans of doing so since Teachable is a great course hosting solution.
Teachable not only offers the best-in-class course creation tools but also offers more solutions to monetize your course. For example, you can create sales pages for your course to boost conversion rates. I find Teachable's web design options to be limiting.
You can only use pre-made themes, and the themes you can access depend on your plan. There are also limited branding options, which is a shame. But if you can get past this part, Teachable is a good alternative to both Kajabi and LearnDash.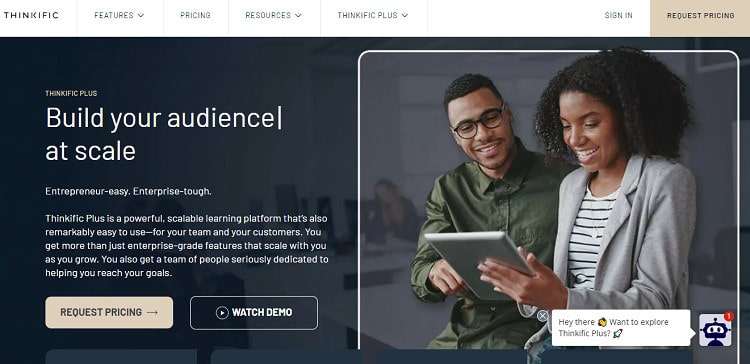 If you're an experienced instructor who wants to switch to a new LMS platform, I suggest switching to Thinkific Plus. They offer a powerful bulk importer to migrate all of your course content in one step. Since Thinkific Plus offers a drag-and-drop builder, you can further customize your course with ease.
Like TalentLMS, Thinkific Plus offers a free plan. This plan only supports one course; if you need more than one course, their second-tier plan offers unlimited courses. This plan only costs $36/month, which is a lower price than most competitors.
There are some minor tech issues with this platform and some lagging. But if you can get past these issues, Thinkific Plus is another affordable alternative.
FAQs
Question: Is Kajabi an LMS? If not, what is it?
Answer: Trust me, this also confused me when I first started using Kajabi. They're not an LMS in a traditional sense; they host a platform to grow what they call "knowledge-based businesses."
This can include course creators and any other business that aims to educate their followers, such as podcast owners. Unlike many competitors, Kajabi offers more marketing, membership, selling, and coaching features compared to a traditional LMS. But if you only want an LMS, Kajabi's platform may not be right for you.
Question: Do these Platforms limit the Number of Students I Can Have?
Answer: Kajabi supports up to 1,000 students. LearnDash has no limits to the number of users who can sign up for your course.
Question: Can I use LearnDash without WordPress?
Answer: No, you must have a WordPress account and website in order to use LearnDash.
Bottom Line: Kajabi vs LearnDash
Overall, I recommend LearnDash over Kajabi. Kajabi is just a business platform dedicated to those who run "knowledge companies." You can create courses on Kajabi, but they aren't as in-depth as the courses you can create on LearnDash. You also can't track student progress on Kajabi; they only offer marketing and sales reports.
As far as LearnDash goes, I've only had an excellent experience with this platform. They offer all of the features that instructors need to create a great course and engage students. There are some areas where Kajabi reigns here; for example, you have more control over your course organization.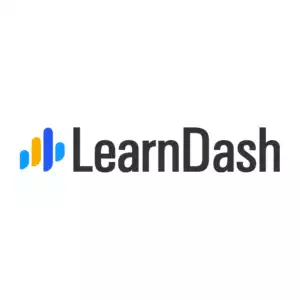 WordPress LMS Plugin by LearnDash
The most trusted WordPress LMS plugin, created by learning industry professionals with Fortune 500 experience. Transform your site in less than 5 minutes.
Get LearnDash
We earn a commission if you click this link and make a purchase at no additional cost to you.
Kajabi and LearnDash Compared to Peers
If you aren't quite decided, check out the following comparisons from our editorial team comparing both course platforms to peers.