Last Updated on September 19, 2023 by Ewen Finser
Thinkific's eLearning app is a popular online course builder. But, I'm not here to sing the praises of Thinkific. Instead, I'm here to provide you with some tasty Thinkific alternatives.
If you haven't heard, creating and teaching an online course is an excellent way to make money online. People are always looking to learn and grow. So, people with highly sought skills or knowledgebases within a lucrative field are 100% correct to cash in on sharing what they know.
Anyway, choosing the correct LMS can go a long way to ensuring not only your success at creating an online course but also your customer's satisfaction. Thinkific is a cloud-based LMS, just in case you're unsure.
Not all LMS platforms are created equal. In the case of Thinkific's e-learning platform, you're getting an easy-to-use solution with well-rounded online course development tools.
But, it's still got some weaknesses. For example:
Thinkific doesn't provide an out of the box email marketing tool.
Live Chat isn't available with Thinkific.
Thinkific doesn't support SCORM (Sharable Content Object Reference Model) files.
SCORM enables programmers to create the best possible relationship between e-learning software and course code. It's a technical standard that ensures efficient course performance. It does so by making it easy for you to import pre-existing course material.
If your online course builder is SCORM compliant, then you've got an advantage over competitors.
So, here's how this article can help you. It'll tell you what platforms are SCORM compliant so that you can benefit from SCORM content. But, it'll also tell you the pros and cons of choosing these online learning solutions over Thinkific.
If you're interested in finding the best possible LMS to help you succeed at running an online course. Well, keep reading this article.
Best Platforms Like Thinkific (some better)
These are my top alternatives to Thinkific worth trying instead: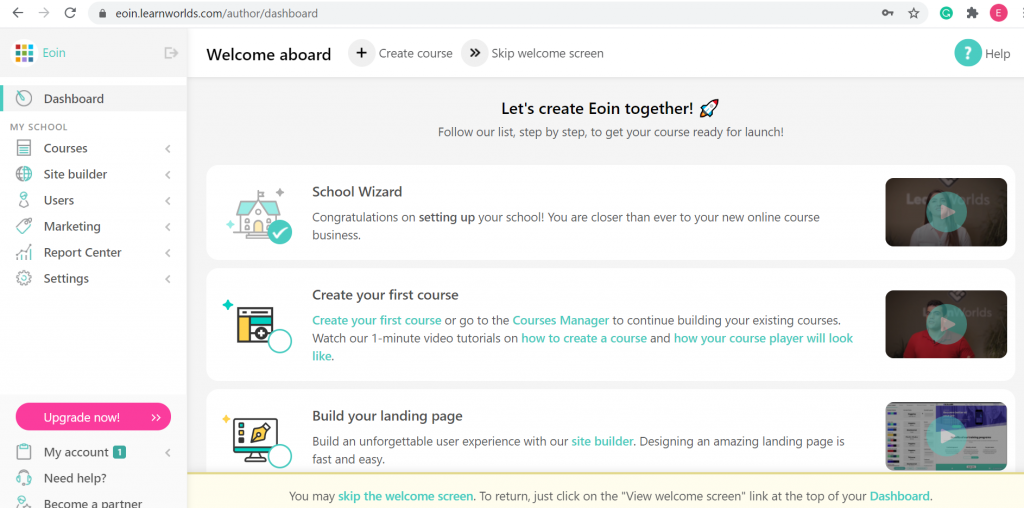 LearnWorlds is our first Thinkific alternative. Unlike Thinkific, the LearnWorlds app is SCORM compliant. This fact makes LearnWorlds an attractive option as not many of your popular LMS solutions (Thinkific vs Ruzuku vs Podia vs Teachable) meet this classification.
LearnWorld's software improves courses by providing social learning tools, white labeling, and the ability to create sales-oriented pages. For anyone looking for a higher-end solution, Learnworlds is worth considering.
The LMS offers superior teaching and eLearning capabilities. For instance, LearnWorlds provides copyright protection, interactive eBooks and interactive quizzes as well as videos. Thinkifici offers none of these capabilities.
Thinkfic does, however, provide useful course content templates. I would also say that Thinkific is ahead when it comes to offering eCommerce functionality to sell your online courses using.
Ultimately, if you're looking for advanced teaching features choose LearnWorlds. If you're looking to succeed within eCommerce, Thinkific is your best bet for marketing and selling online courses.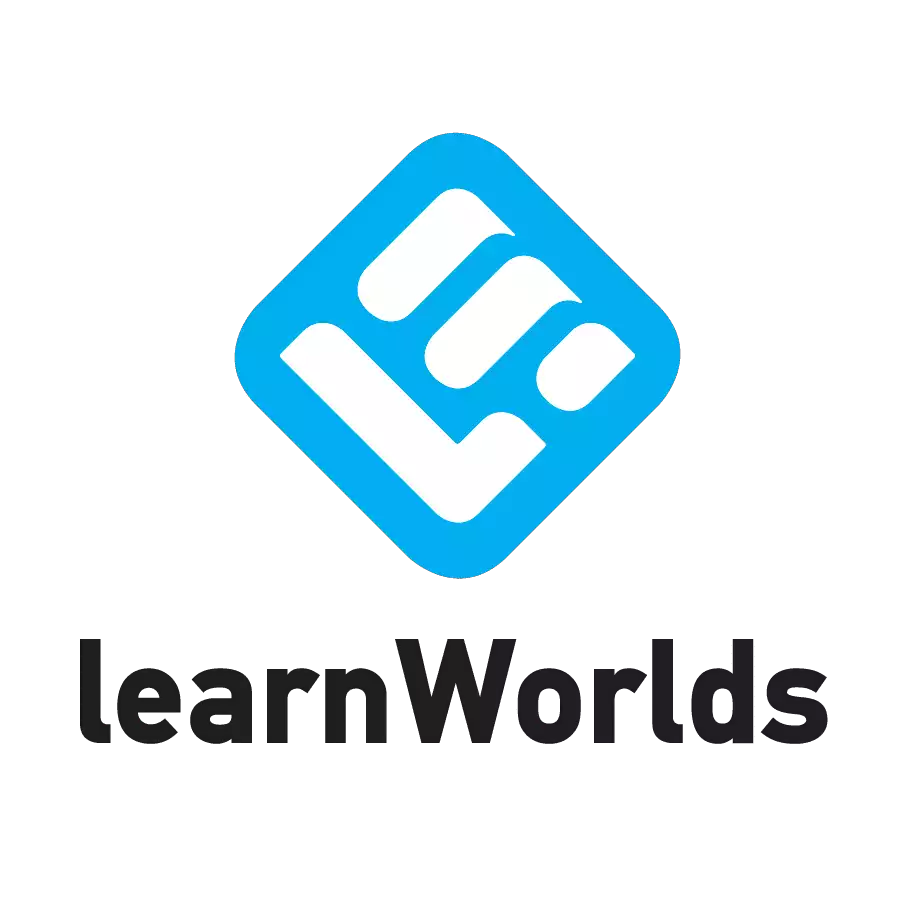 > Check out our LearnWorlds Review here for more info.
#2

Teachable

: One of the Best Thinkific Alternatives?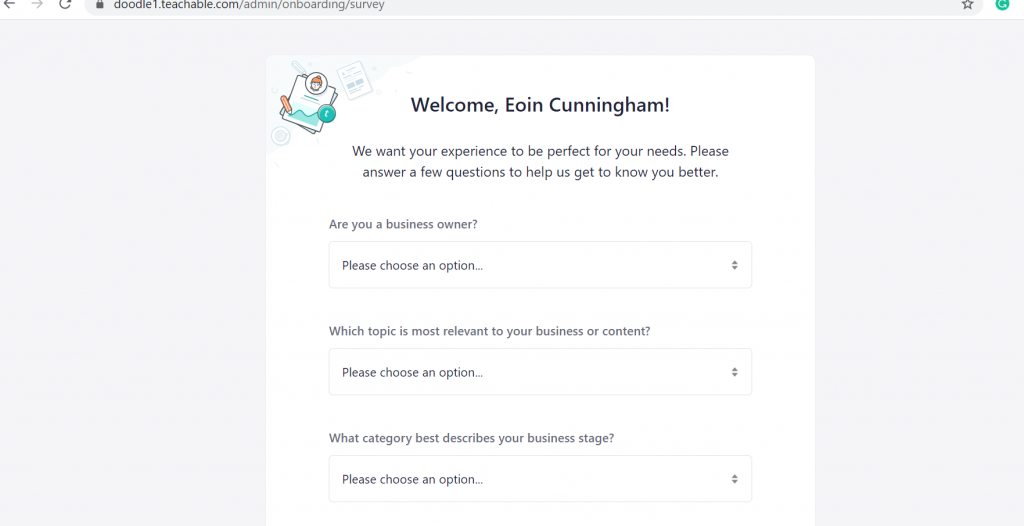 Teachable vs Thinkific is a search query that attracts a lot of traffic. The main difference between Thinkific and Teachable is that Thinkific has more advanced teaching features. It creates a better, interactive classroom experience.
If you're looking for a straightforward Thinkific alternative, then consider Teachable.
The e-learning platform lets you manage student data and price points within one integrated system. Teachable's pricing is interesting. It contains a "Free" plan limited to 10 students. It costs 1$ + 10% commission per transaction.
Thinkific's free plan is unlimited by students (unlimited course consumption & unlimited students). Thinkific also offers the following, which isn't possible with Teachable:
Perform presentations feature
Create surveys feature
Sitemapping for SEO feature
Superior integrations with big-name apps
WordPress Plugin
Overall, Thinkific and Teachable are excellent platforms. But, Thinkific is the better of the two offerings more features, better free plan and the ability to bundle courses with memberships (membership site functionality).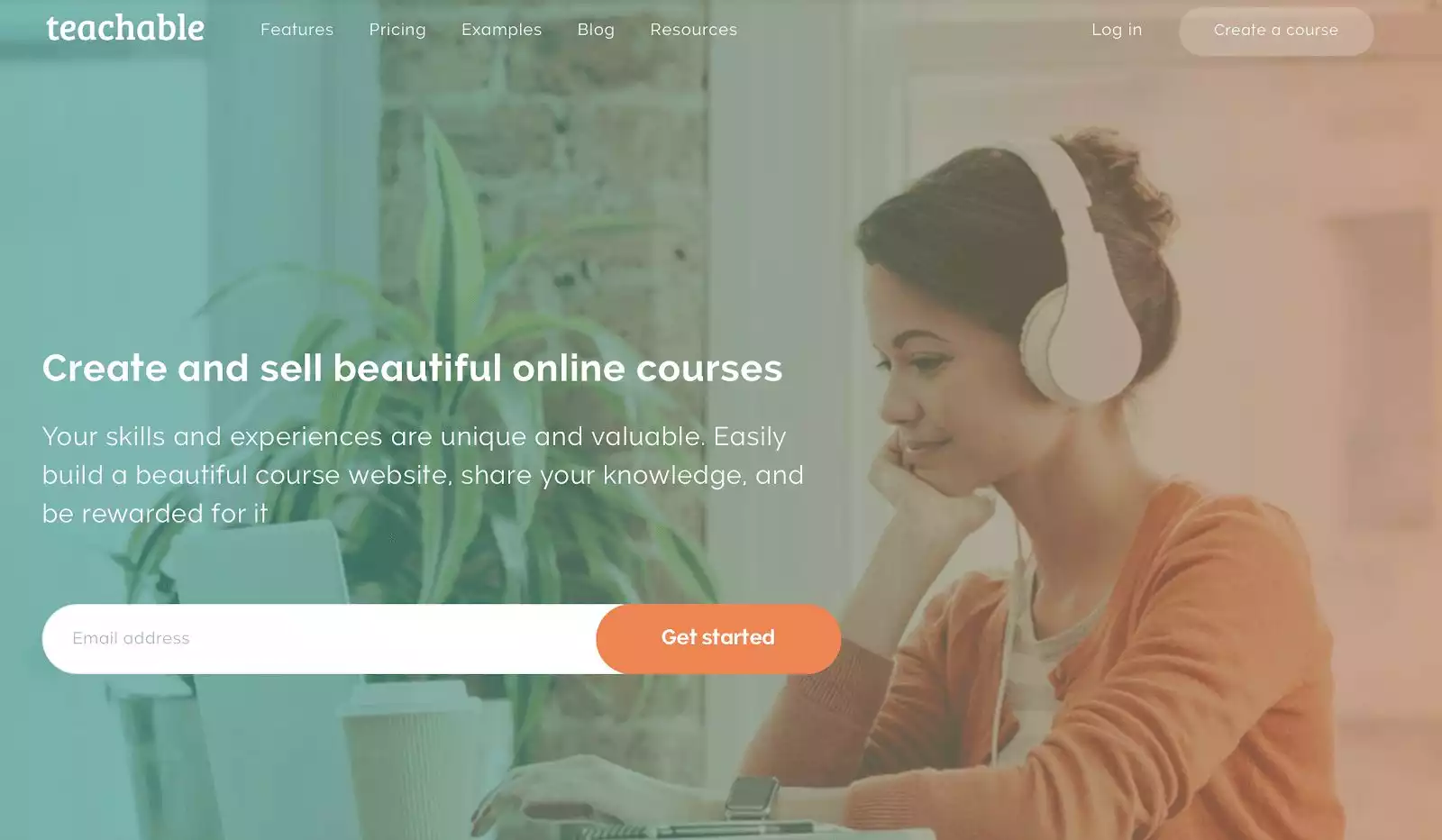 I Personally Prefer Teachable
Completely FREE to start, UNLIMITED courses to create, and dedicated specifically to delivering online courses. This is why Teachable is the better option for course creators here!
Check Current Teachable Promos
We earn a commission if you click this link and make a purchase at no additional cost to you.
#3

Podia

– Best Thinkific Alternative for Selling Memberships and Digital Downloads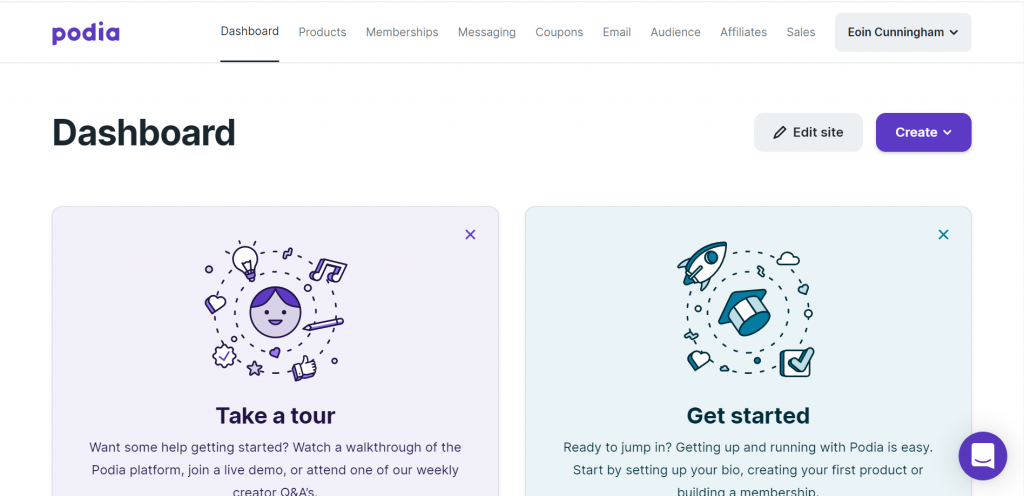 Podia isn't one of Thinkific's typical competitors. At least, not in the traditional online course building sense. Podia's platform is best known for selling digital products via download.
E-books are a classic example of what sellers holding Podia licenses ship. Podia isn't an eLearning platform in the same vein as Thinkific.
And the reason is straightforward: The Podia app is a simple solution. Comparing Podia vs Thinkific or even Teachable is a sure way to gain insight into Podia's lack of teaching features.
But, Podia's pricing may make up for its lack of learning tools. It bundles over 5+ tools into a single price point. Podia also offers course creators a much more straightforward UX. Thinkific is certainly more technical and better suited to larger institutions than Podia (Check out our Thinkific vs Podia article!).
If you're looking to bundle digital downloads, online courses as well as sell memberships (memberships can also be sold with Thinkific) – consider Podia a viable Thinkific alternative. Podia's intuitive nature makes its suitable for inexperienced course makers.
Our Pick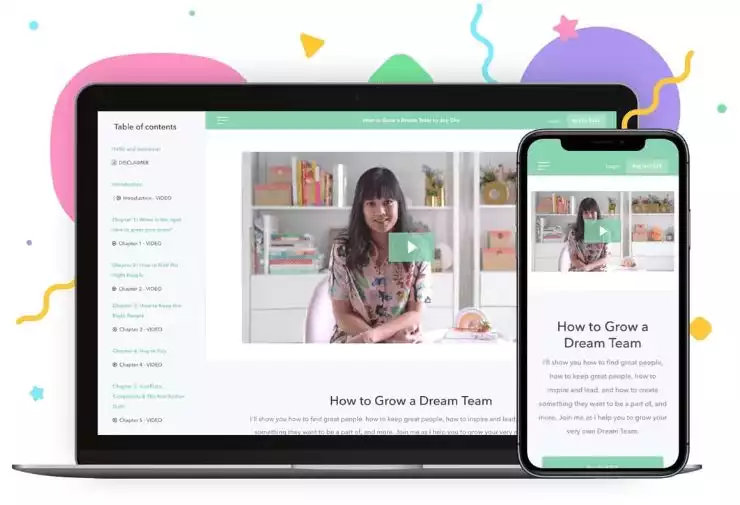 Podia IS Awesome!
I LOVE Podia. Here's why. It's simple to use . Fun. Works for courses, digital products, and memberships like a charm. It's going to be our FINALIST for 2021 Tools of the Year. Need I say more?
Free 14-Day Trial
We earn a commission if you click this link and make a purchase at no additional cost to you.
#4

LearnDash

– Best Alternative LMS to Thinkific for WordPress Users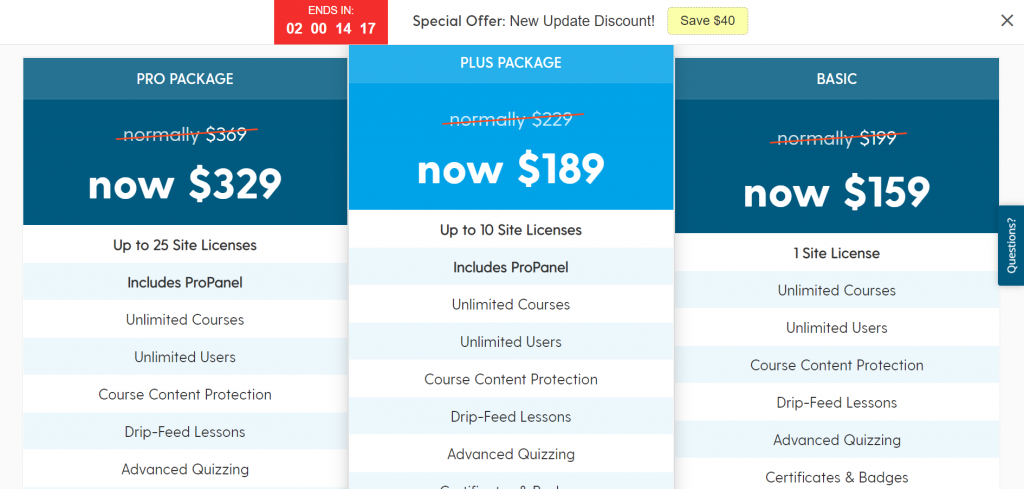 Some would-be online course creators may already have a WordPress site. Making LearnDash a more appealing alternative to Thinkfic.
LearnDash is a WordPress plug-in. It'll take your current website, and provide it with LMS functionality. LearnDash alternatives, like Thinkific, are superior in that you can host videos on such platforms.
E-learning with LearnDash will otherwise be hampered by slow video loading speeds. File hosting and web-hosting must also be got using 3rd party platforms with LearnDash. Also, if you want access to reporting and analytics with LearnDash you'll, again, need to integrate with a 3rd party app like Hubspot's Sales Hub.
Overall, Thinkific is a better option so long as you're not looking to run an online course through a pre-existing website. (Although Thinkific can operate as a WordPress plugin).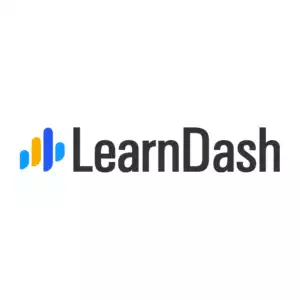 WordPress LMS Plugin by LearnDash
The most trusted WordPress LMS plugin, created by learning industry professionals with Fortune 500 experience. Transform your site in less than 5 minutes.
Get LearnDash
We earn a commission if you click this link and make a purchase at no additional cost to you.
Finally, LearnDash isn't SCORM compliant. Unless you use an add-on.
Overall, Thinkific is a better option.
#5 Canvas LMS
Canvas LMS operates as a cloud-based app. Educational institutions and large companies benefit the most from using Canvas LMS. It makes this list, however, due to its SCORM compliance.
If you're looking to create an online course simply and cost-effectively, then Thinkific is a better option than Canvas. But in terms of creating an out-and-out eLearning course, then you must go with Canvas.
Its teaching features are superior to Thinkific's in terms of catering toward educational institutions. Also, Canvas LMS lets you import course material, grade assignments, and also offers a 99.9% uptime (Service Level Agreement).
#5 Kajabi – Best Alternative Thinkific Course Builder for Marketing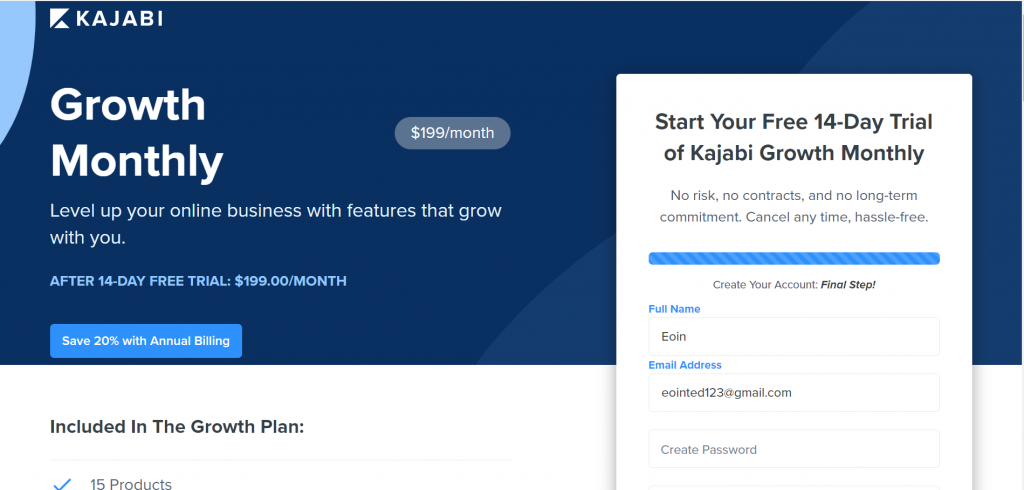 The Kajabi app is an "all-in-one business platform". When you pit Kajabi vs Thinkific, it stands out that Thinkific's sales and marketing features aren't as robust.
For example, Kajabi offers a sales pipeline tool that helps marketers increase the conversion percentages within their marketing campaigns. Also, Kajabi makes it easier to create successful funnels to due to its superior marketing suite, email and sales automation.
Overall, Kajabi is an expensive e-learning option. But, it's worth the cash if you're an advanced marketer looking to market and sell your online courses at scale.
Thinkific is a better option for anyone new to online course creation. More generally, Thinkific is better for teaching online courses. It boasts superior classroom features.
If you'd like to find out more about why Thinkific is a better option vs Kajabi CLICK HERE.
#6 Udemy – A Massive Open Online Course Provider for Professionals and Students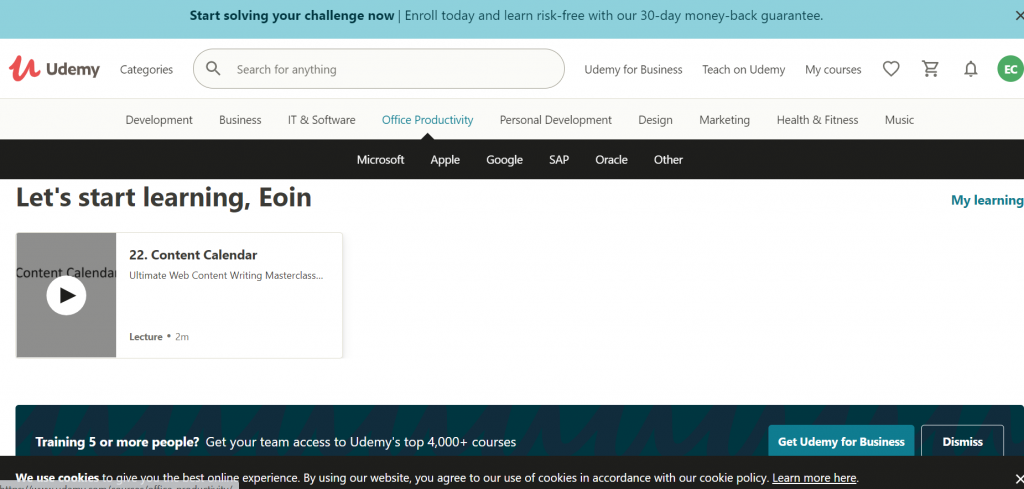 Thinkific is best contrasted rather than compared vs Udemy in the sense that Udemy is an online course marketplace. Whereas Thinkific is an online course builder through and through. So, both Thinkific vs Udemy have their advantages and disadvantages.
Probably the biggest disadvantage of creating an online course with Udemy include:
The inability to remove your course from its platform (you can do whatever you want with your courses through Thinkific)
Udemy can take a commission of up to 50% should Udemy be the ones to successfully sell your course
Should your course become popular you can't maximize profits with Udemy. So, Thinkific is a better option in that sense.
Udemy isn't SCORM compliant.
Thinkific is certainly a better option for creating a branded, scalable online course experience. Especially when bundling online courses with memberships. But, most importantly Thinkific offers better teaching features and can create a classroom setting. Something which isn't possible with Udemy due to the nature of its offering.
All that being said, Udemy is an extremely popular online course marketplace. It'll attract traffic for you while providing a cost-effective option to manage and host your courses. So, Udemy may be a superb fit for some course sellers lacking an audience or expertise to communicate their offering.
#8 Academy of Mine – A High-End, Personalised Solution Thinkificesque Option
Personalization is an incredibly effective method of converting one-time buyers into lifelong customers. Personalizing something isn't just about setting up an automation to include a recipient's name within your email newsletter.
It's about creating a connection with your brand's offering and your consumers. For example, Youtube provides videos based on your viewing history. So, if you're interested in creating high-level courses for 10,000+ consumers within the retail, tech, healthcare, manufacturing or financial services Academy of Mine is a superb option.
#9 Coursera – Educators Offering University Level Courses Outside of the Traditional Setting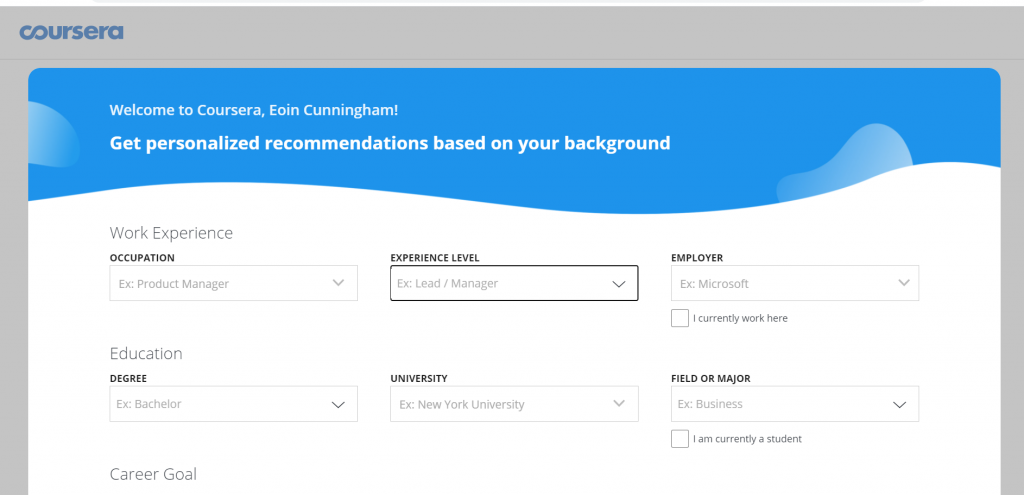 Now, it's time for the next of Thinkfic's competitors – Coursera. Coursera is a Massive Open Online Course (MOOC) marketplace. It's similar to Udemy, in that sense.
But, Coursera courses tend to be superiorly accredited. Or, at the least offer more recognized specializations, degrees, and professional courses (Coursera works in collaboration with 200+ universities and companies).
You'll still find courses on Udemy that satisfy such criteria. It's probably best to describe Coursera as a more regimented, traditional learning experience. With Udemy being, much more like its Yoga courses, the opposite – relaxed and flexible.
Coursera doesn't provide the freedom Thinkific instructors and creators enjoy in terms of design. That being said, Coursera takes away some of the struggles associated with running an online course. A good example is that of SEO. Coursera will attract web traffic for you. So, SEO isn't an issue.
Of course, putting a course on Coursera isn't for DIY course creators. Coursera courses are formal and that's epitomized by the lengths you'll have to go to before you can get Coursera to display your course within the MOOC. But, I'll make a long story short by saying Coursera only partners with companies and universities during the course creation process.
Not any joe soap can create a course and put it on Coursera. Which, makes Thinkific better for DIY course creators or just people looking for a less formal approach.
#10 Ruzuku – An Easy-to-Use Online Course Creator, But One of the Best Thinkific Alternatives?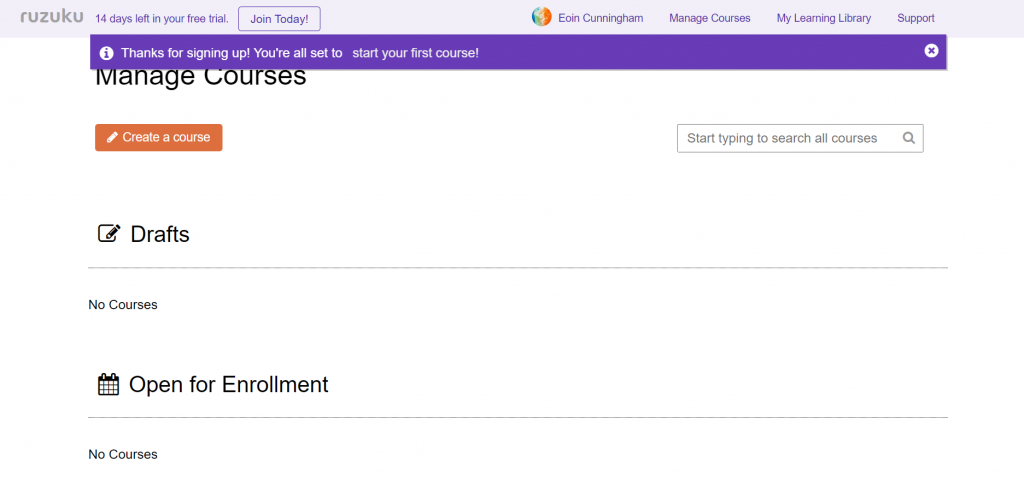 Thinkific vs Ruzuku is a common Google search query. Both online course building platforms enable creators to set up affiliate programs.
They're also reasonably priced, with Thinkific perhaps being slightly better in that department. Thinific offers a free plan, which Ruzuku doesn't.
And Thinkific also offers a basic plan "for first-time course" builders, which is roughly $30 or so cheaper than Thinkific's cheapest option.
Ruzuku, interestingly enough, provides out of the box webinar software. You'll have to integrate with Zoom or Cisco's Webex to host webinars with Thinkific. There's no native webinar software available on any plans.
Overall, Thinkific is a more well-rounded option. It offers a polished interface, multi-language course delivery (lacking in Ruzuku) and more payment gateways than Ruzuku. Neither platform is SCORM compliant.
#11 Skillshare – Ideal for Creative Online Course Edupreneurs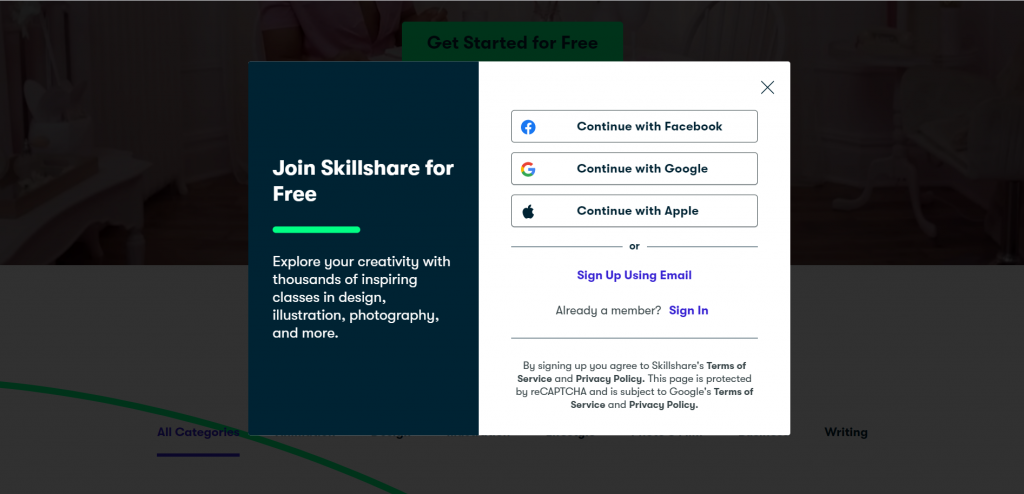 If you're looking to find online course builders like Thinkific, then you can't overlook Skillshare. Now, if you were to review Thinkific or Skillshare you'd find that Thinkific is better at building a course from scratch. It's got a tighter grip on the eCommerce handle when it comes to, say, marketing.
But, Skillshare is much better when it comes to teaching artistry, drawing, or creating writing. Basically, if your course involves teaching "creativity", then Skillshare has got the audience, features, and help/support to make it amazing.
Also, Skillshare is an online community where you can post your courses. So, it's different to Thinkific in that sense and much like Udemy and Coursera. There's also the fact that Thinkific isn't a specific niche, whereas Skillshare is firmly embedded within the niche creative works (plenty of customization options).
That being said Skillshare does still let people create courses in different niches. It's got categories for technology, business and lifestyle creatives to flaunt their stuff.
If you're in the creative space and don't have an audience to sell your online courses, then Skillshare is an excellent option. But, like all marketplaces, you'll have to deal with parting with a substantial minority of your profit.
Thinkific is a better option for people who want to deliver their online course from their website using their own branding.
Is Thinkific SCORM Complaint?
This is a common question I see for course creators or organizations looking to stay compliant with this specific set of guidelines.
The short answer is that No, Thinkific doesn't natively support the SCORM framework and can't score tests as such.
That said, you CAN upload a previously built course to Thinkific that used a SCORMM framework.
On in all, this is why I'd recommend a platform like LearnWorlds as it's fully SCORM compliant and one of the easiest course creation and hosting platforms for building SCORM compliant courses.
SCORM Pick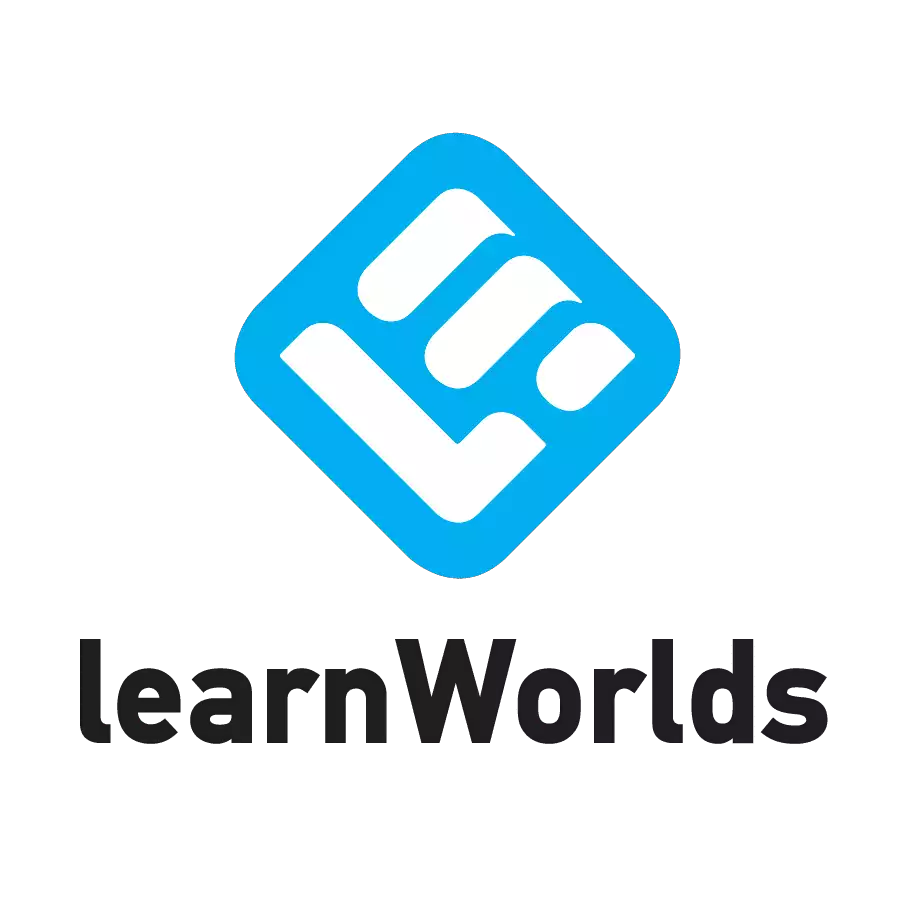 Best Thinkific Alternatives | Frequently Asked Questions
Question: What is Thinkific?
Answer: Thinkific is an LMS that enables people to share their knowledge through the creation of online courses. Naturally, Thinkific provides the eLearning and collaboration tools to streamline this process.
Question: Is Thinkific Better Than Teachable?
Answer: Yes, I would say that when it comes to Thinkific vs Teachable – Thinkific is the winner. Teachable is still a decent option, however, for online course creation and administration. It's never going to have the market share, all the same.
Question: Can You Make Money with Teachable?
Answer: Yes, you 100% can make money by creating an online course using Teachable. But, it's not the best platform for doing so. Teachable courses can't be taught using interactive classroom features available with competitors, for example. So, in terms of brand equity and market orientation, you may end up earning less money in the long run with Teachable over Thinkific. Particularly if you're in a competitive vertical where functionality might be the deciding factor in you being able to offer a better course than a rival.
Question: What is Kajabi Used For?

Answer: Kajabi is an eLearning app used to create and teach online courses. One of the major benefits of using Kajabi is its versatility. You can use it to perform A/B testing, gamification (which, can help make learning much more enjoyable), create sales funnels and much more. It's certainly worth using if you're aiming to create then market your courses at scale.
Question: Are Coursera Certificates Worth it?

Answer: I would say, for the most part, no. Unless, of course, you're just taking one of Coursera's certificate courses to boost your learning. But, if you're trying to earn a job, well, they're not the way to go.
Question: What Can I Learn on Skillshare?

Answer: Skillshare has tonnes of courses that can teach you anything from "Drawing as Self Discovery" to "Building an Etsy shop that sells". In other words, you can learn a lot on Skillshare, but most of its content revolves around artisanal offerings is some capacity or another.
Here's a list of what you can learn to do on Skillshare:
• Embroidery
• Creative Writing
• Earn Money
• Drawing
• Digital Marketing (not exactly advised)
• Animation
So What's the Best Thinkific Alternative?
If you've read any amount of Thinkific reviews online, then you'll know that this LMS is well-rounded (plenty of customization options) and a popular choice for online course creation.
For this reason, I wouldn't hesitate to recommend Thinkific as a capable solution to anyone.
That being said, the other online course platforms listed within this article do offer something different. And I hope I communicated this next part effectively – they can be a better option than Thinkific in specific circumstances where you need special customization options or features.
Bottom Line: Specifically, I'd recommend Learnworlds as the best alternative for MOST course creation purposes. It's similar in appeal to Thinkific, with some easier to use features and flexible integrations with other marketing tools.
Selling Digital Products or Downloads? In this specific case I think Podia deserves a shot as the optimal alternative to Thinkific.
WordPress Heavy? If you already have a blog or content ecosystem built out on WordPress, I'd consider LearnPress as a good alternative for easy integration and implementation.
In terms of making the right choice, your best bet is to pick three online course platforms that make the most sense for you based on what you've read in this post (as well as this post!). Then, begin onboarding with those LMS systems. Hopefully, you'll be able to find what you need and work from there.
Further Reading on Thinkific Competitors for Course Content Creation & Marketing Campaign Tools: