Last Updated on April 22, 2023 by Ewen Finser
ThriveCart is a service for e-commerce websites to design high-converting digital carts and landing pages, along with affiliate campaigns and upsell offers. ThriveCart's customizable drag-and-drop editors make it easy to design a perfect page for your brand, and you can also install and customize pre-designed templates.
There are several ThriveCart elements you can create, including:
Bump offers (to show a limited-time offer)
Embeddable carts
One-click upsells
One-page carts
Pop-up carts
Recurring payments
Trials
Carts can be embedded practically anywhere on a website, too, so if you know your customers may want to shop in that area (or you're testing your theory out), you can add a cart! ThriveCart has other features you need for e-commerce as well, like automatic sales tax calculation, behavior rules for automation, insights, integrations, and notifications that remind your customers of due payments.
But your e-commerce shop isn't like every other shop out there, right? That's why the standard checkout page won't cut it. You need to create a cart landing page that's on-brand while appealing to your customers and the specific part of the sales funnel they're in. Whether your potential customers need more information before clicking "Buy" or they're ready and raring to make a purchase, there's a ThriveCart design for you.
Bottom Line Up Front
Knowing the features you want and need will help you pick the best ThriveCart template for your website. We personally love All Guns Blazing because it has practically every element you could ask for, along with the ability to only pick what you need and leave out the rest.
If what you need is to really push the website visitor to go through with a purchase, though, we think the Bold Urgency template is your best bet – a lot is built in to encourage shoppers to act now. On the other end of the spectrum is our pick for a minimalist approach: the Micro Cart Design Template – it has just the basics in a clean, easy-to-absorb layout.
Features to Look for in a ThriveCart Template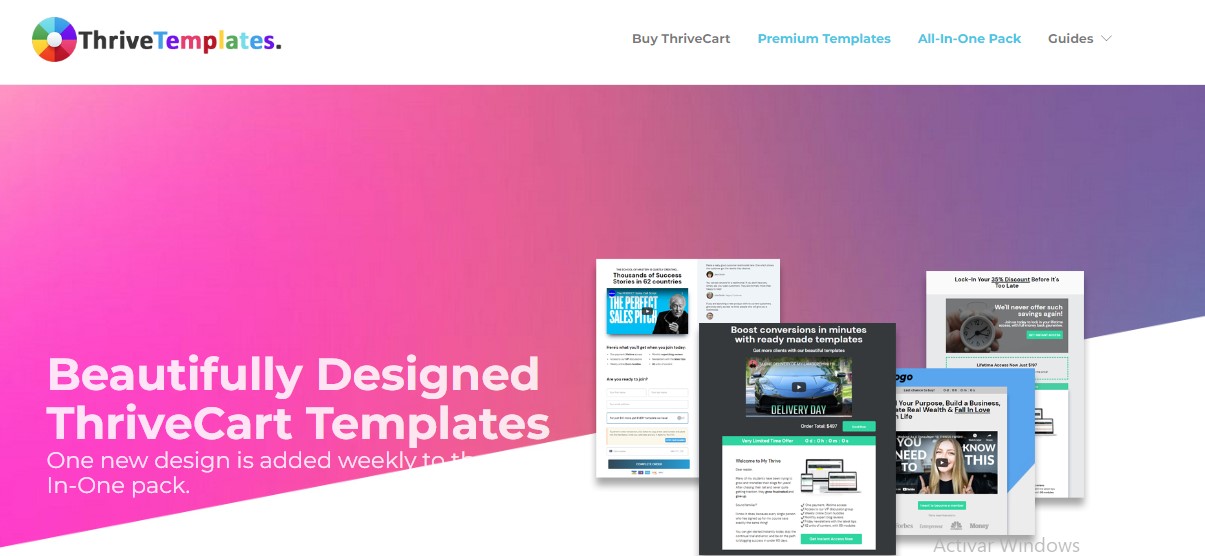 While you may not need every feature available, most templates have at least some of the following enhancements. Knowing the available features will make choosing the right cart design for your shop easier.
About or Bio Section: Want to remind people of who you are or what your company's about? If you think shoppers will need a bit more trust instilled at this stage, add an "About Me" or "About Us" section with a brief paragraph and an image.
Call-to-Action (CTA) Buttons: Having a CTA button (or several) guides people to the next action to take. And with clever wording, you can make the buying process all the more convincing and enjoyable for them.
Countdown: Having a to-the-seconds countdown is eye-catching and will get shoppers to act fast so they don't miss out on a limited-time deal.
Donation Option: Some companies like to offer a donation option to shoppers who want to support a cause.
Multimedia: Many templates will let you add one or more images, and you may even be able to include a video. This way, you can let people know in video format why they should buy your product or service, or you can show them how to use what you're selling to make the purchase more appealing.
Text Areas: Aside from regular paragraph text, many templates have one, two or more header spaces of different sizes. This is great for organizing the information you want to include, putting it in a hierarchy so shoppers know what's most important, and grabbing attention at an important step in the buying process.
Testimonials: Social proof is a strong sales tool, and some ThriveCart templates have dedicated sections for adding glowing reviews from customers.
Upsell Offer: If you have an add-on product or service that will benefit the customer, some templates let you include an upsell toggle so they can quickly upgrade their purchase.
How Do I Choose a ThriveCart Template?
There are several considerations when choosing the right ThriveCart template and design for your e-commerce shop. Here's what you'll want to keep in mind:
Can you install the template, or will you have to redesign it on your own?
Can you adjust the colors to coincide with your branding?
Are you able to add a logo to the page?
Does it have all of the elements you're interested in? With so many options for designing a ThriveCart page, there's no need to settle!
Can you leave out any elements you don't like?
Is it too heavy to quickly load on your website? If so, you may need a leaner template.
There are many options when it comes to creating custom ThriveCart landing pages. While you want to choose a cart layout that works for you, don't be afraid of trying something to see if it works and then changing your approach as you learn more about your customers.
Top 13 ThriveCart Examples and Templates
The following ThriveCart examples are helpful if you're looking to create your own page or decide whether or not ThriveCart is the right option for your shop.
Bonus: ThriveCart lets you import cart and page designs! If you like something you see, you may be able to easily adapt it for your own site without having to recreate it from scratch. You can also change and customize many templates to make them work for your brand and site.
Can't access the URL for a template you like? It may no longer be available for download or purchase. Luckily, you can still use the template as a guide when designing your own.
All Guns Blazing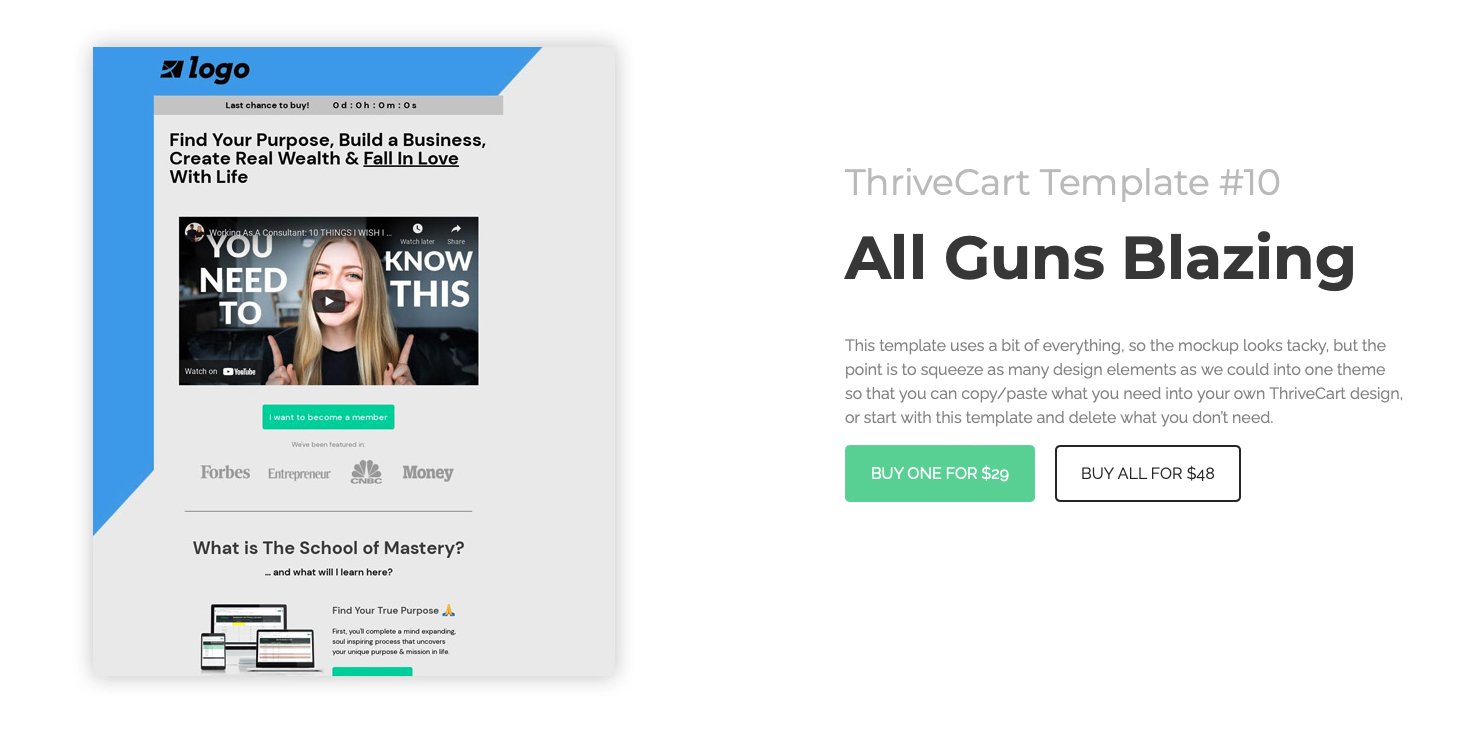 Something is interesting about this template: it's not supposed to be maxed out. Instead of using every single element available, All Guns Blazing is excellent for picking and choosing which elements you want to add (using every single one would be overwhelming!). You can select what you want, with features like your logo, a countdown, various header sizes, a video, a "featured on" area, CTA buttons, and more.
Amazing Product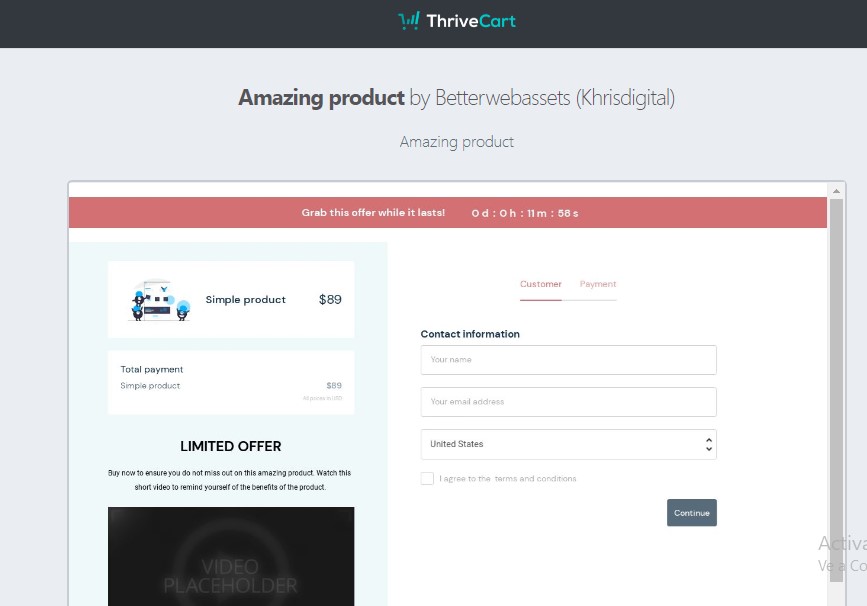 Need something simple? This ThriveCart template gets to the point fast, no scrolling is required. The red countdown bar at the top encourages shoppers to buy now since the offer will expire soon.
Then there's the product icon, name, and price on the left, with the total cost underneath, followed by a couple of headers and space for a video. To the right, the customer and payment info are succinct and easy to understand.
Bold Urgency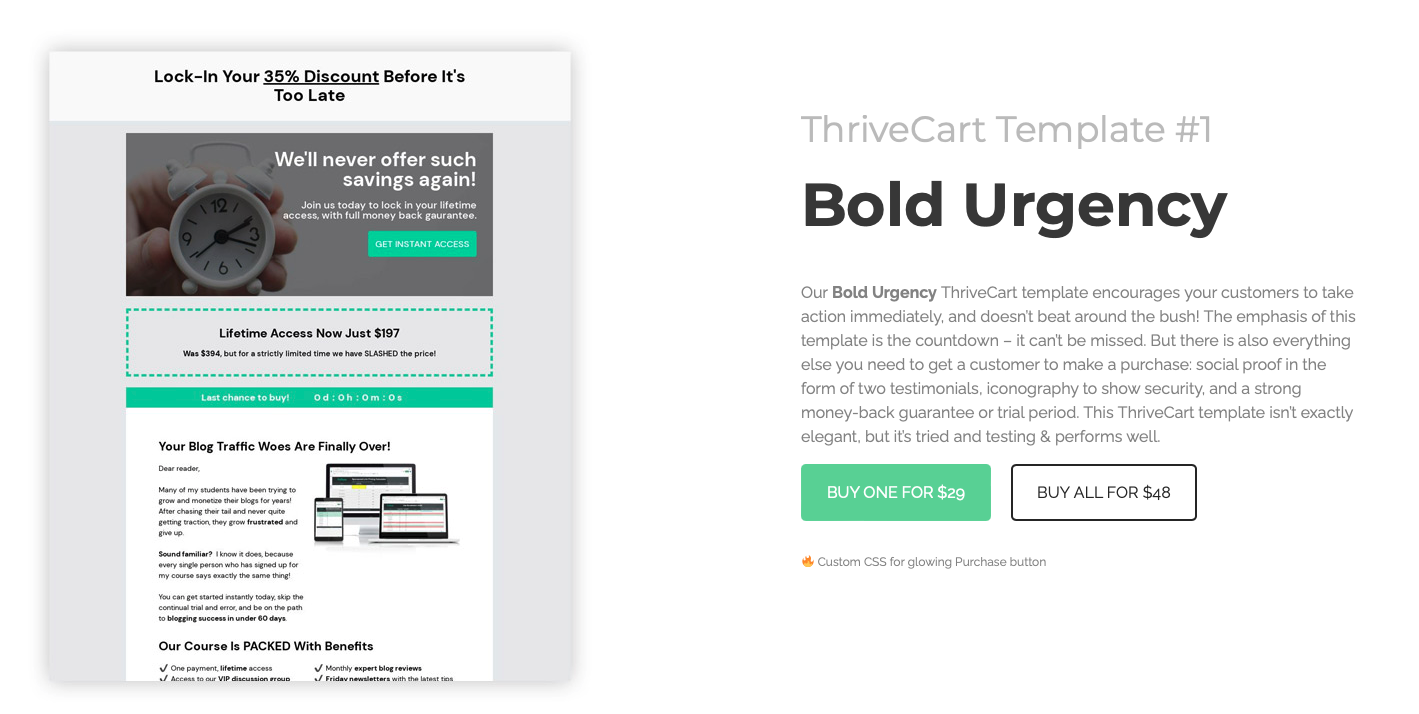 Sometimes, you don't want a super-simple ThriveCart. Instead, you want to convince visitors that they need your product or service. For that, your cart page should double as a landing page, and the Bold Urgency template is designed to get people to take that next step.
First, the limited-offer banner at the top lets visitors knows they must act ASAP or miss out. Then, there's an eye-catching area with an image of your choice, two stand-out headers in different sizes, and a CTA button in a bold color.
Below that is more info about the time-limited discount offer and exactly what the visitor is saving, followed by another countdown banner that communicates the clock is ticking. Next, if the visitor is still unsure if this is right for them, there's a large section where you can go over what you're offering, why it's needed, and the benefits.
Checkout Template for Coaches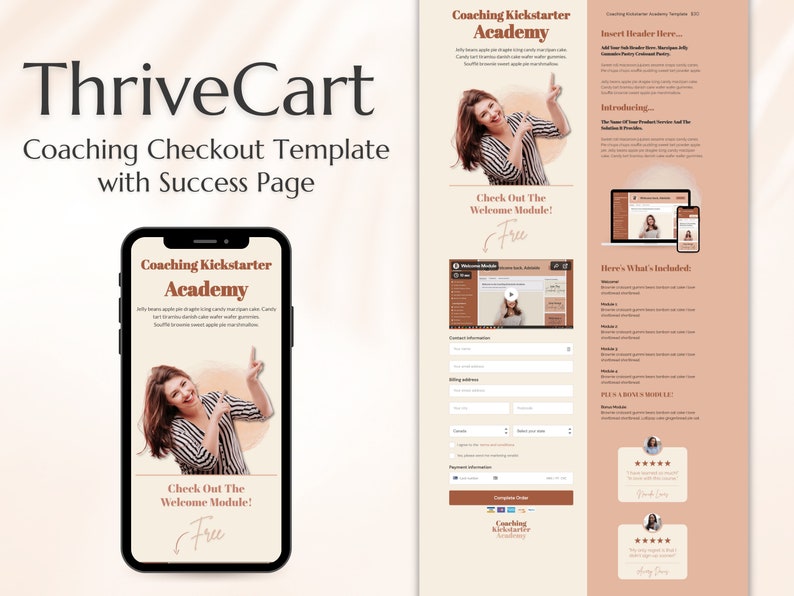 This ThriveCart template is seriously fleshed out, and you can preview what it'll look like on a mobile device, too. If you're a coach (online or real-world) and want to promote your services while scoring new clients, this template has tons of space to fill in your information and get visitors to act.
There are several headers and text sections, plus room for testimonials, images, and everything you need to show off what you can do for your brand new client.
Donations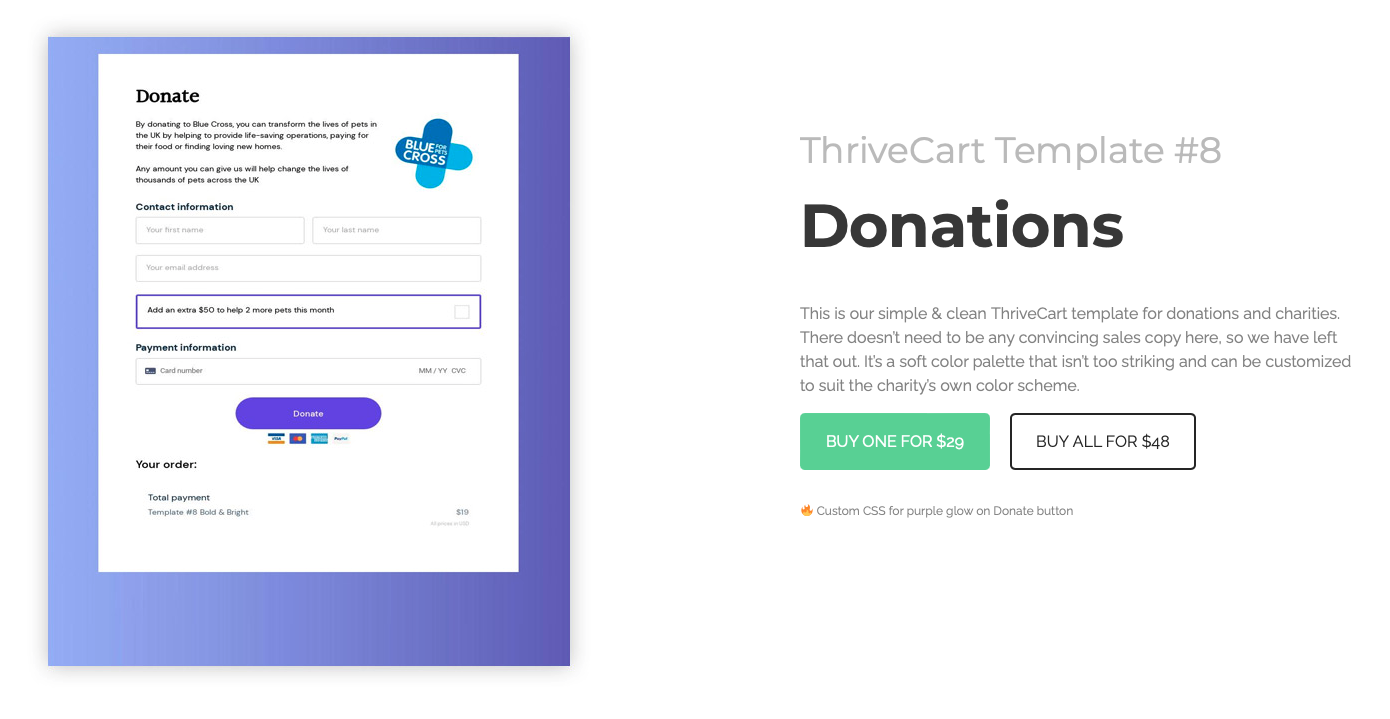 What's different about the Donations template is that it doesn't need a strong sales section. Instead, it caters to people who already know they want to donate.
The brief text toward the top reminds people of what they're donating to (and why), and then you can simply gather contact and payment information to process the donation. There is a subtle area where the visitor can opt to upgrade their donation, too, but it's not at all pushy.
Focused Urgency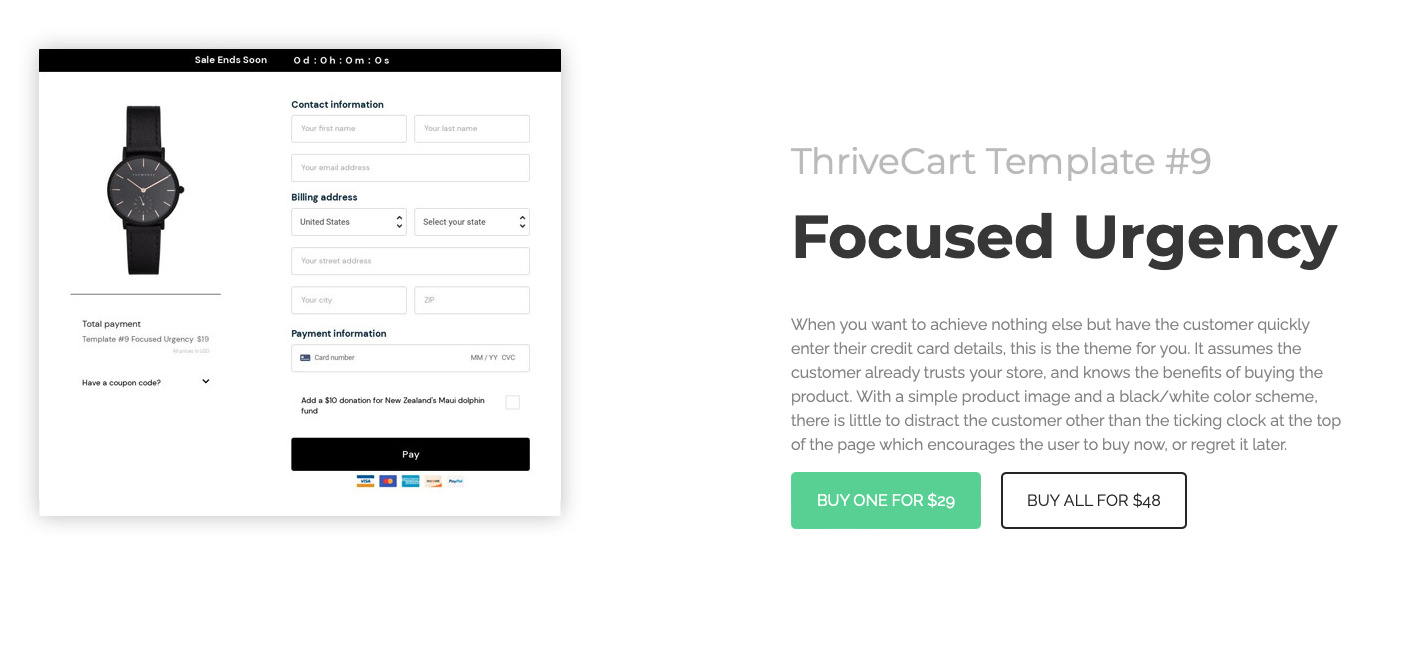 The clean streamlined Focused Urgency template for ThriveCart is best for equally sleek businesses, like upscale fashion brands.
This no-mess, no-fuss cart page assumes that the buyer is happy with what they're about to purchase and collects the necessary information in an easy-to-use, unobtrusive way. There's the product image, payment and coupon info, contact information, shipping, and a donation option — and that's it.
The Hard Sell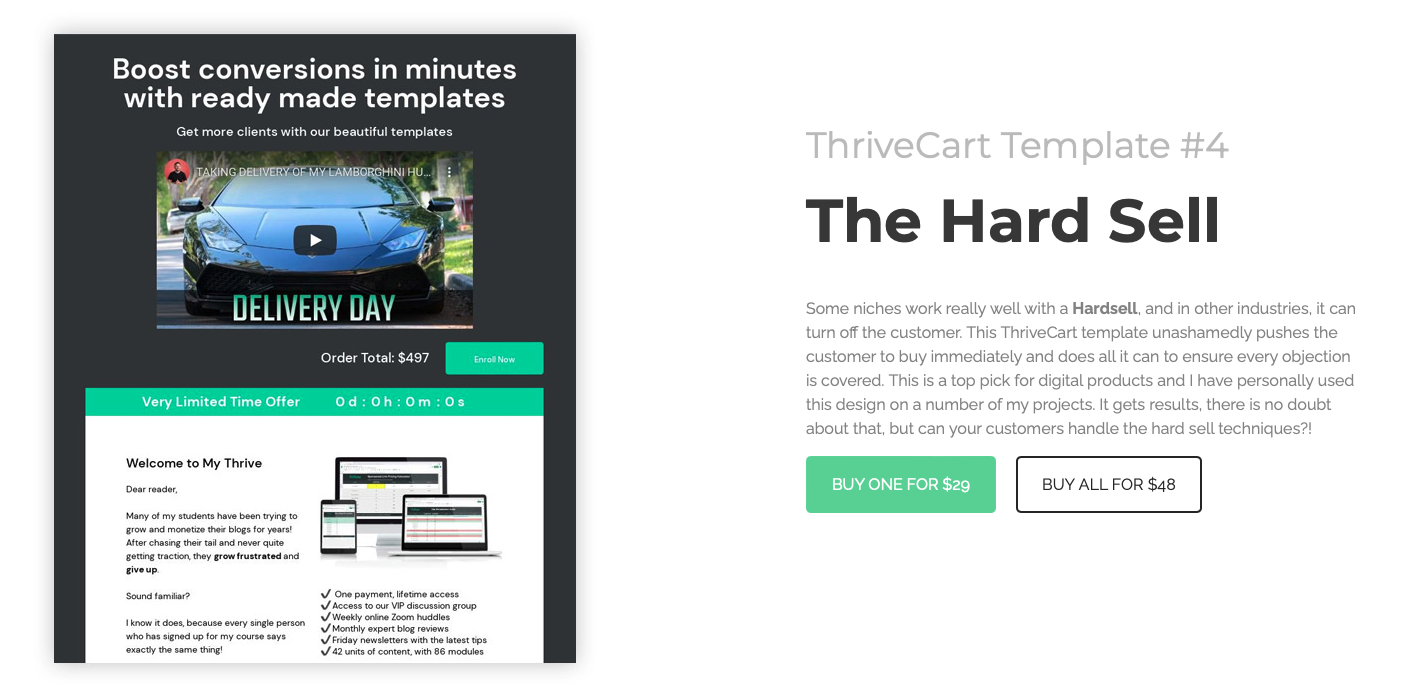 Sometimes, a light touch isn't best; instead, you must push the customer to take action. Digital products work particularly well with a hard-sell approach, making this template an excellent choice if you sell digital products. Plus, it has that can't-miss countdown showing how quickly the offer runs out.
There's also space for everything you need to push a conversion, like a video, headers, imagery, CTA button, and plenty of space for additional text.
Micro Cart Design Template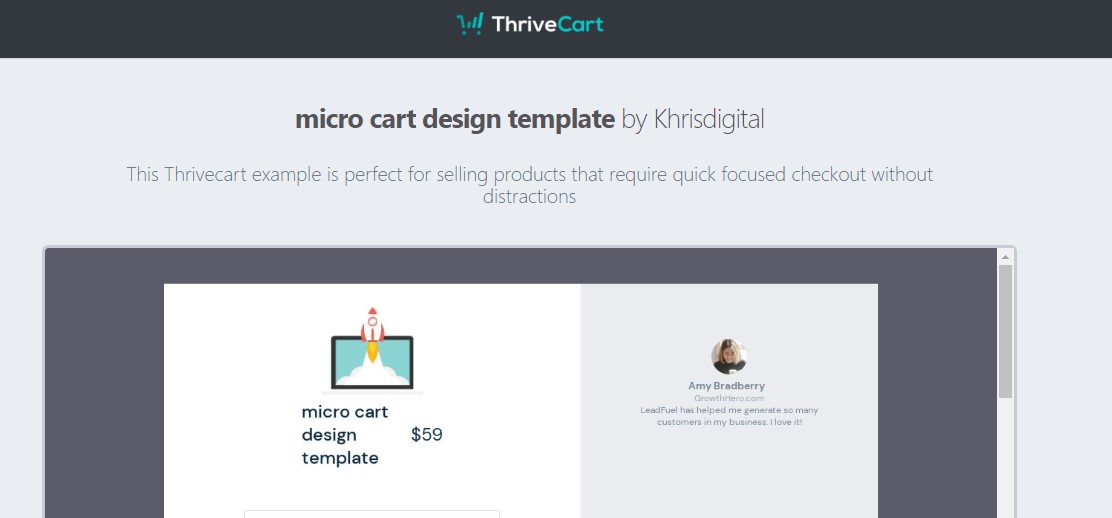 This template may be the best choice if you need a barebones checkout page that puts the product or service front and center. Your product picture, name, and price are on the top-left, with a brief info-gathering section underneath. On the right, you can add a short customer review that will encourage the shopper to go through with the purchase.
Online Coaching / Training Template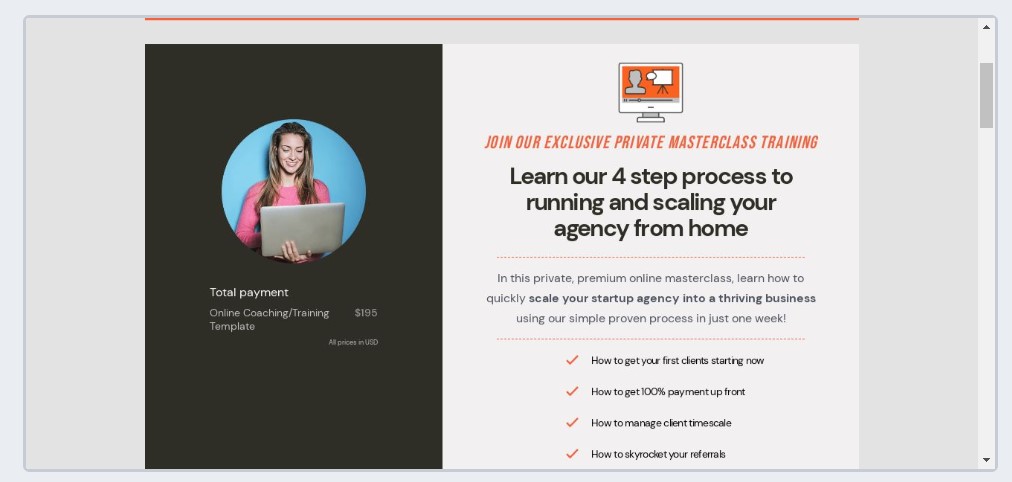 For online coaches who are selling their services to new clients, this is the template to go with. The bright, all-caps header at the top appeals to the visitor's emotions, specifically those who say to make a big change immediately. Next is a smaller text section where you can flesh out the main benefit to the customer a bit more.
Then there's the vibrant countdown banner, which lets people know that they only have a limited time before your offer expires – which is very motivating! The main section underneath has space for an image, the total cost of what's being purchased, and more sales text (with a checklist of benefits) for any visitors who are still on the fence.
Property Guide Template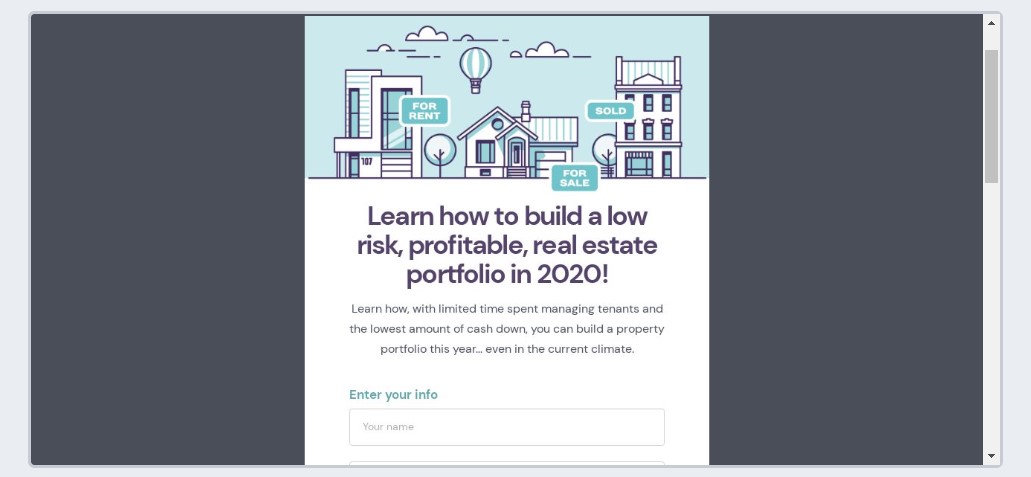 The Property Guide Template may be a great option if you're in the property industry but don't run a totally stuffy company. The limited-offer countdown at the top encourages action. The illustrated scene below makes it clear that you're in real estate but is whimsical enough to communicate that your brand is cheerful and approachable.
Next, you have plenty of space for two headers of different sizes, followed by an info-gathering section and a prominent call-to-action (CTA) button. Under that is the cost section, but it's pretty subtle, a reminder that what you're selling is more important than what it costs – because it's that valuable.
Sales Page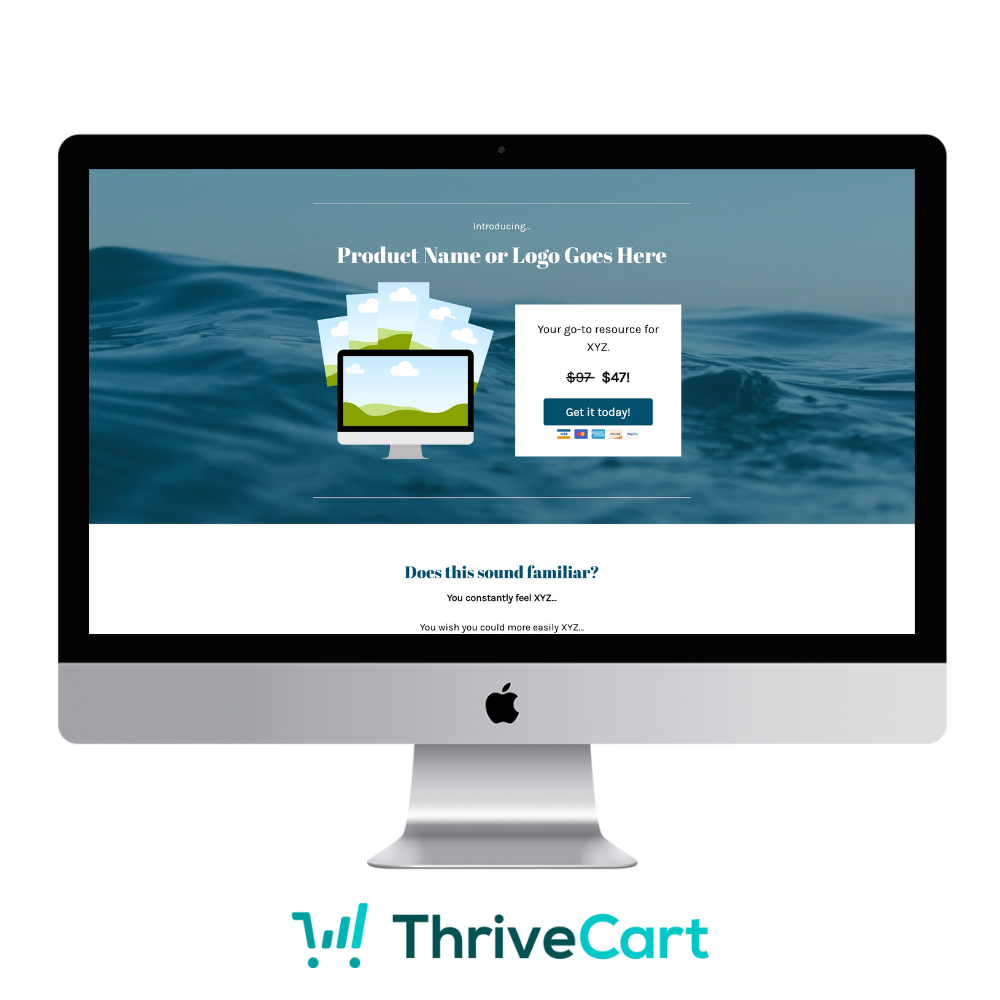 We can't help but think this Sales Page template for ThriveCart is, quite frankly, beautiful — which is a lot to say for a checkout page template! But with the expansive background imagery and how the text and product image lay over top of it, it's truly a modern, nice-looking template to use for yourself or take for design inspo.
There's also space below the main section to flesh out info and convert visitors, but if someone's here who knows they want to buy, it's all right there for them, taking up most of the screen.
Sample Design
This template is still in testing, so you don't necessarily want to use it on your own site since actually completing transactions isn't possible. However, you can use it to influence your own ThriveCart design.
It will even walk you through what to do – see how the subheading section at the top tells you the type of info to include and to bold keywords. You can then put a face and mini-bio or quote to your brand (if you want), add icons and short descriptions of product or service benefits and, of course, collect customer info.
Stylish and Elegant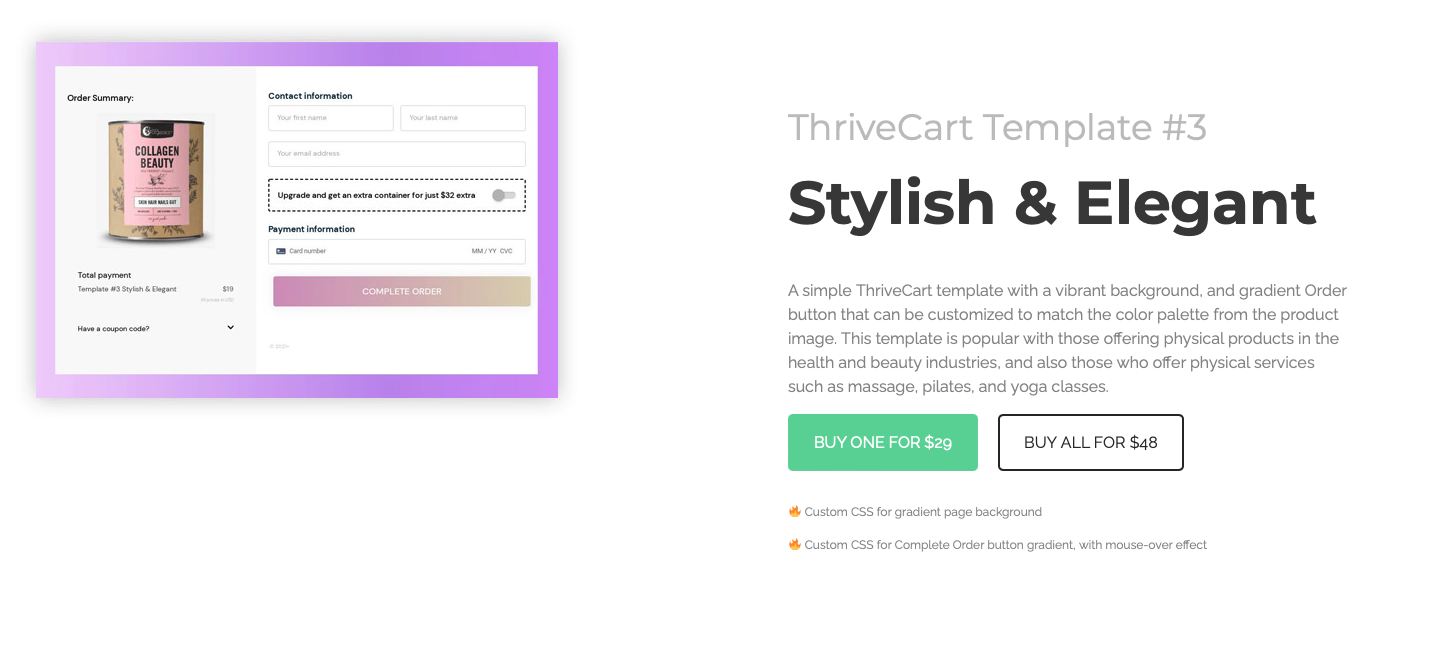 This ThriveCart template is ideal for those in the beauty industry, as its pretty gradient color scheme can match your branding. On the left, there's a summary order featuring a large image of what the buyer is purchasing, along with payment information and a section to add a coupon code.
To the right is where contact and payment information is collected, and there's also an upsell offer that the buyer can toggle on if they're interested.
FAQs
Question: What is ThriveCart used for?
Answer: ThriveCart is an e-commerce software that helps businesses create custom cart landing pages to convert visitors into bonafide shoppers.
Question: Is ThriveCart a payment processor?
Answer: ThriveCart is not a payment processor. However, it does connect to several payment processors, including Apple Pay, Google Pay, and PayPal.
Question: Can you build a website with ThriveCart?
Answer: ThriveCart isn't a website builder. However, it is a web page builder, so you'll be able to create some of your website's pages using ThriveCart.
Wrapping Up: Final Thoughts About ThriveCart Examples and Templates
As you can see from the examples above, there's a ThriveCart template for your purposes, whether you're selling real-world products or digital services, collecting donations or trying to push an upsell offer.
Once you decide which features you need in a ThriveCart – and which you don't want to weigh your site down with – it'll be easier to hone in on the cart designs that are right for you, your shop and your audience. Whether you decide to import a design or build one from scratch, examples and templates help you get those creative wheels turning.
Some other ThriveCart Comparisons You Might Be Interested In: