Last Updated on April 22, 2023 by Ewen Finser
Choosing a good email marketing platform can feel daunting. There are so many to choose from, and both Aweber and Constant Contact are decent choices. So, which platform (Aweber vs Constant Contact) is better if you want to build your subscriber list and get new customers?
I know what it's like to try to grow a subscriber list. It feels overwhelming and impossible, especially if you're starting from scratch. That's why choosing the right email marketing platform is vital. You want something intuitive to use, something that is designed to help you rather than give you a headache.
Please keep reading to find out what I think about both platforms. I've tested them out, so you can see for yourself how they work and whether they would suit you!
The Bottom Line Up Front
This is a tough one because both platforms have their advantages, depending on your business type.
I think, on the whole I prefer Constant Contact. The features are incredible if you want to keep everything under one roof: you can schedule social media posts, create a website or blog, send emails, and manage your subscribers in one place. That makes it so much easier to manage everything.
However, I do like some of Aweber's features. The ability to automatically notify your audience of new uploads is excellent, and the free plan makes it very attractive to smaller businesses or creative projects.
Main Differences Between Aweber vs Constant Contact
The main differences between Aweber vs Constant Contact are:
Aweber has an entirely free plan, whereas Constant Contact doesn't (but it does have a free trial instead)
Aweber has features that are ideal for podcasters or YouTubers, whereas Constant Contact doesn't
Aweber allows you to create Web Push Alerts, whereas Constant Contact doesn't
Aweber doesn't allow you to build a webpage or blog within the platform, whereas Constant Contact does allow this
Aweber doesn't allow you to schedule social media posts, whereas Constant Contact does
What Is Aweber?
Aweber is an email marketing service. It allows users to create email campaigns, automate specific tasks, manage subscribers, and create landing pages. It's a good platform for increasing engagement on other channels, too. I'd recommend Aweber for any sized business, and I'd also recommend it for podcasters or anyone wanting to drum up interest for a creative project.
What Is Constant Contact?
Constant Contact is a digital and email marketing platform that allows you to create email campaigns and schedule social media posts. In addition, they have some robust tools in terms of segmentation, allowing you to send targeted messages to certain subscribers.
I'd recommend Constant Contact for any size of business.
The Main Features of Aweber
Here's what I thought about Aweber's main features.
UX/Ease of Use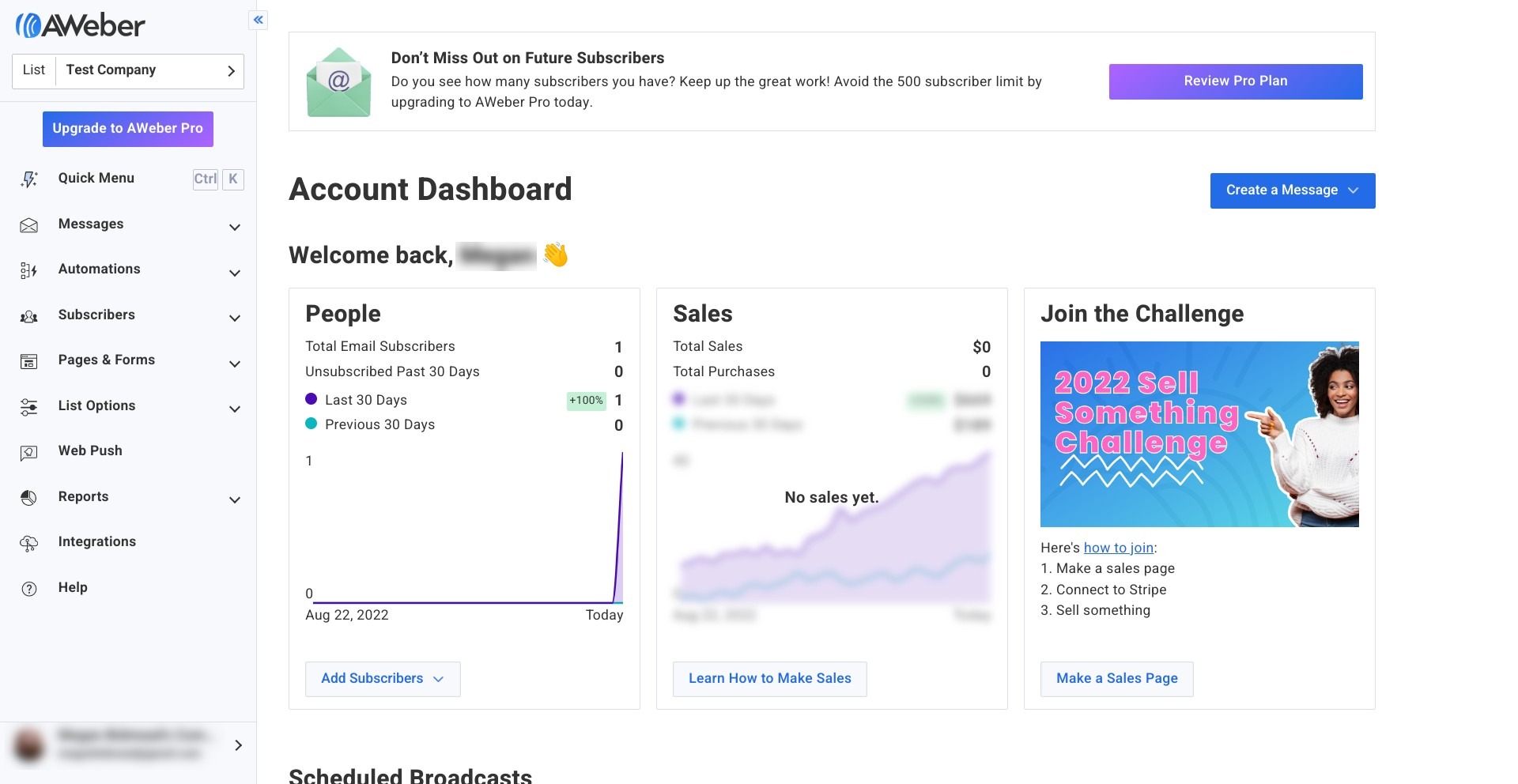 Aweber is pretty easy to navigate. The Dashboard has everything you need on the left-hand side: You can also view some key metrics, including new subscribers and total sales, on the Dashboard.
Emails
There are 4 ways to build an email within Aweber: a drag-and-drop email builder, a smart designer, a plain text message, and an HTML editor.
I like the drag-and-drop email builder. It's straightforward to use, and you can easily add text, articles, images, videos, and social buttons.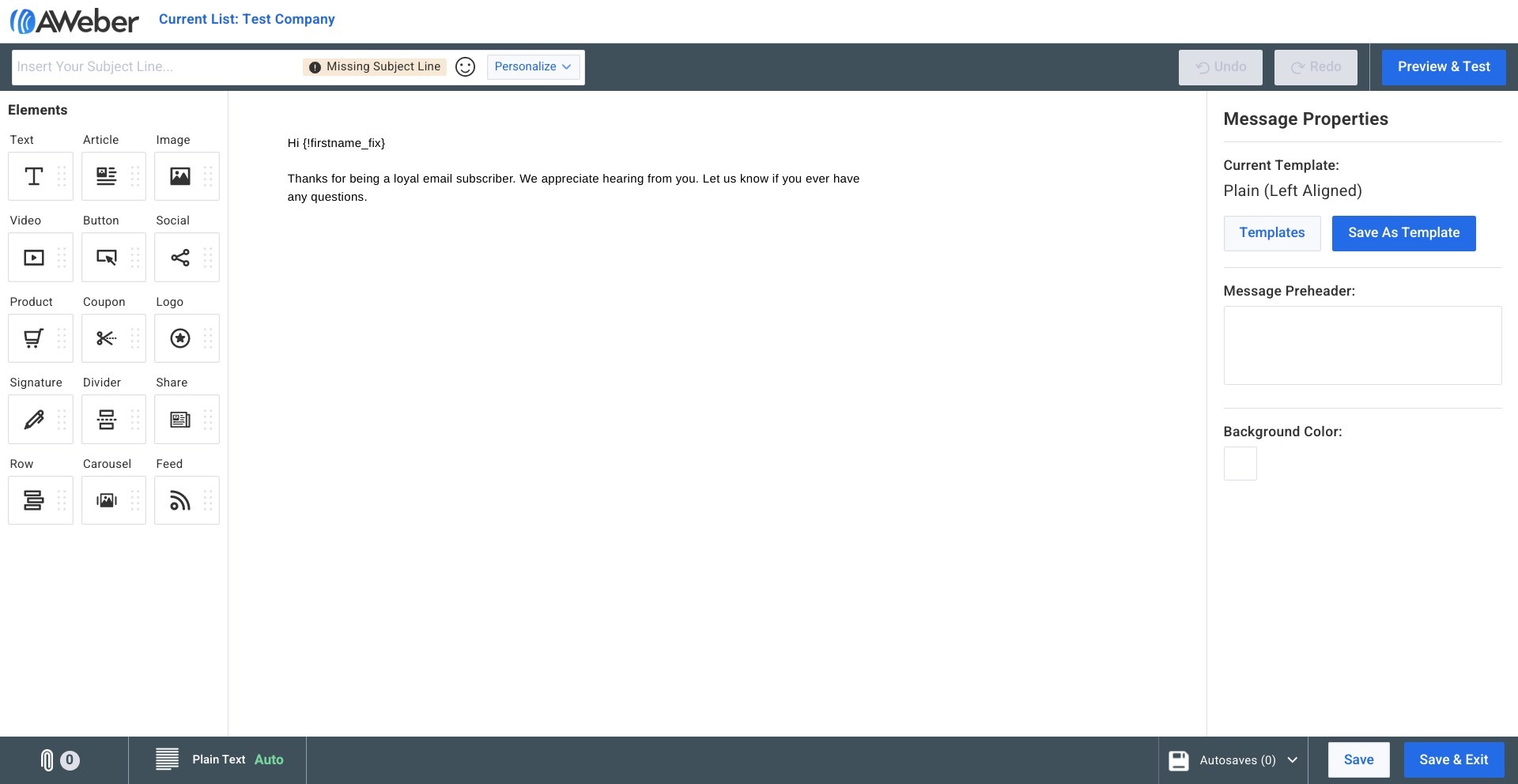 Clicking on 'Templates' will bring up a selection of simple templates on the right: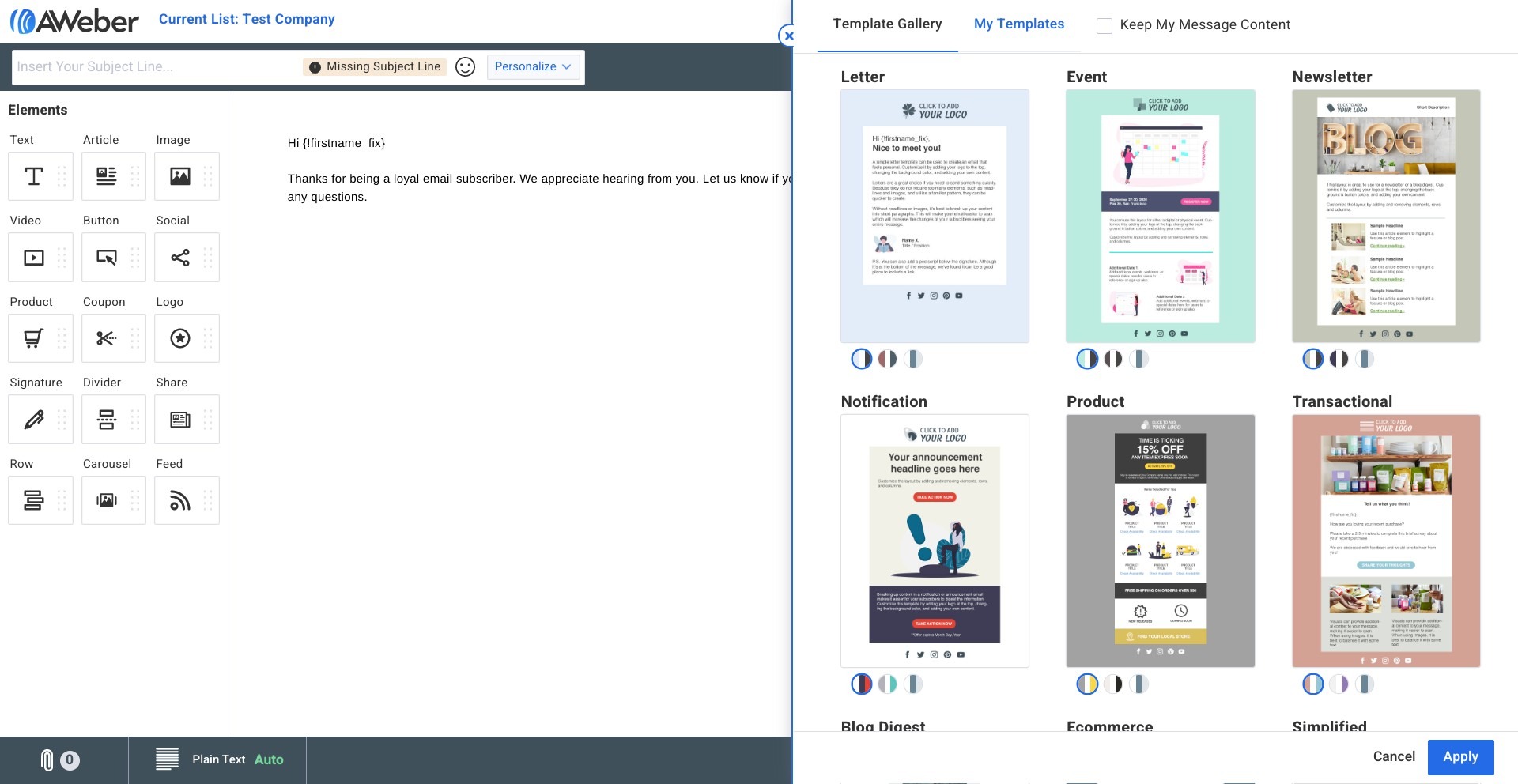 Clicking 'Apply' will quickly add the chosen template to your email. You can add or remove content blocks by clicking and dragging at this stage.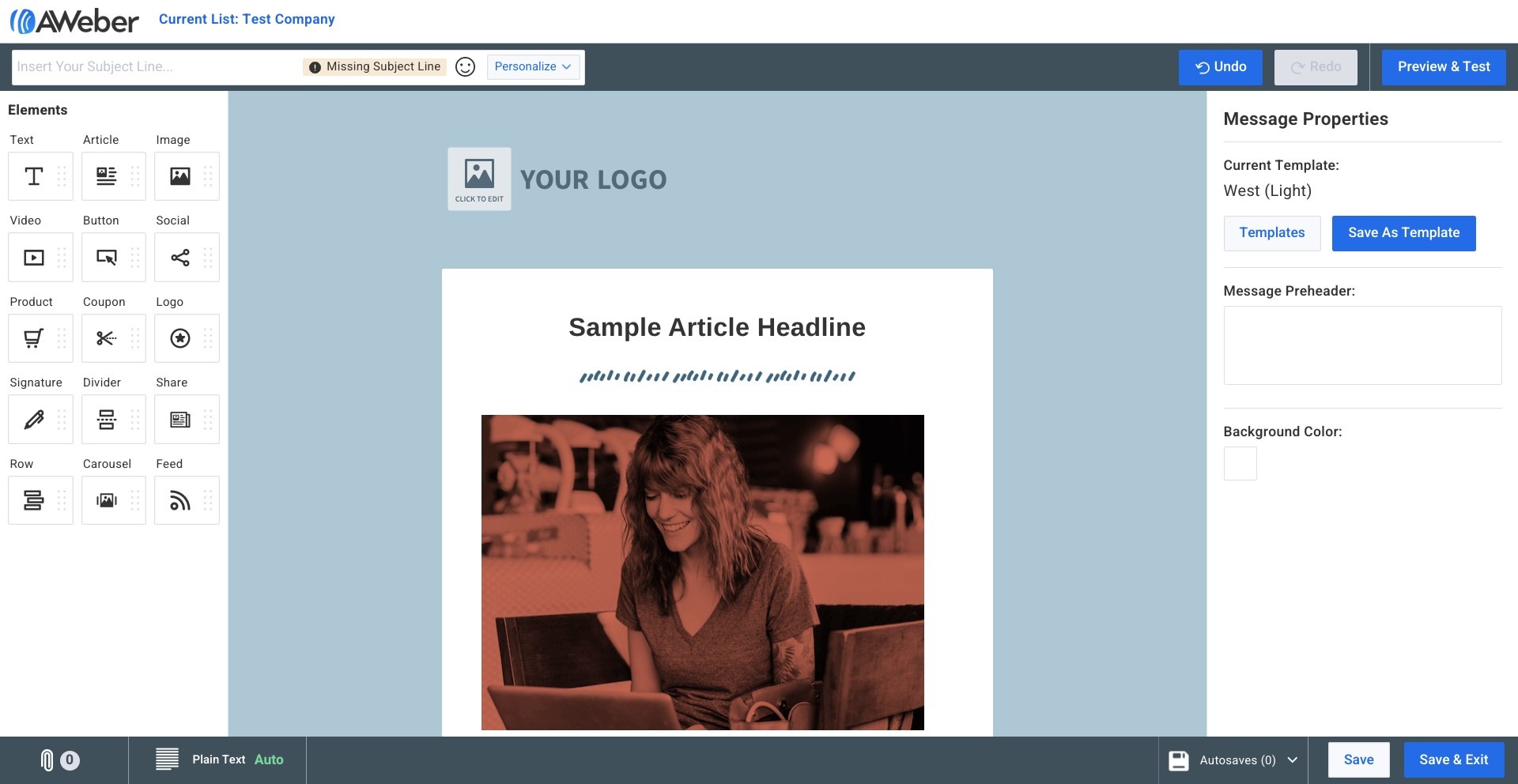 It's super easy to use, and the templates are decent, with a good range of types to choose from. You can preview your email any time, and send a test email to yourself to see how it looks.
The Smart Designer is a clever tool. For example, if you own an eCommerce store, you can type in your website address, and the email designer will build a template using your branding. This is great for time-saving purposes and may help if you don't want to mess around designing an email template yourself.
I also like the 'Blog Broadcast' feature. This transforms your blog post into an email, which can be edited slightly: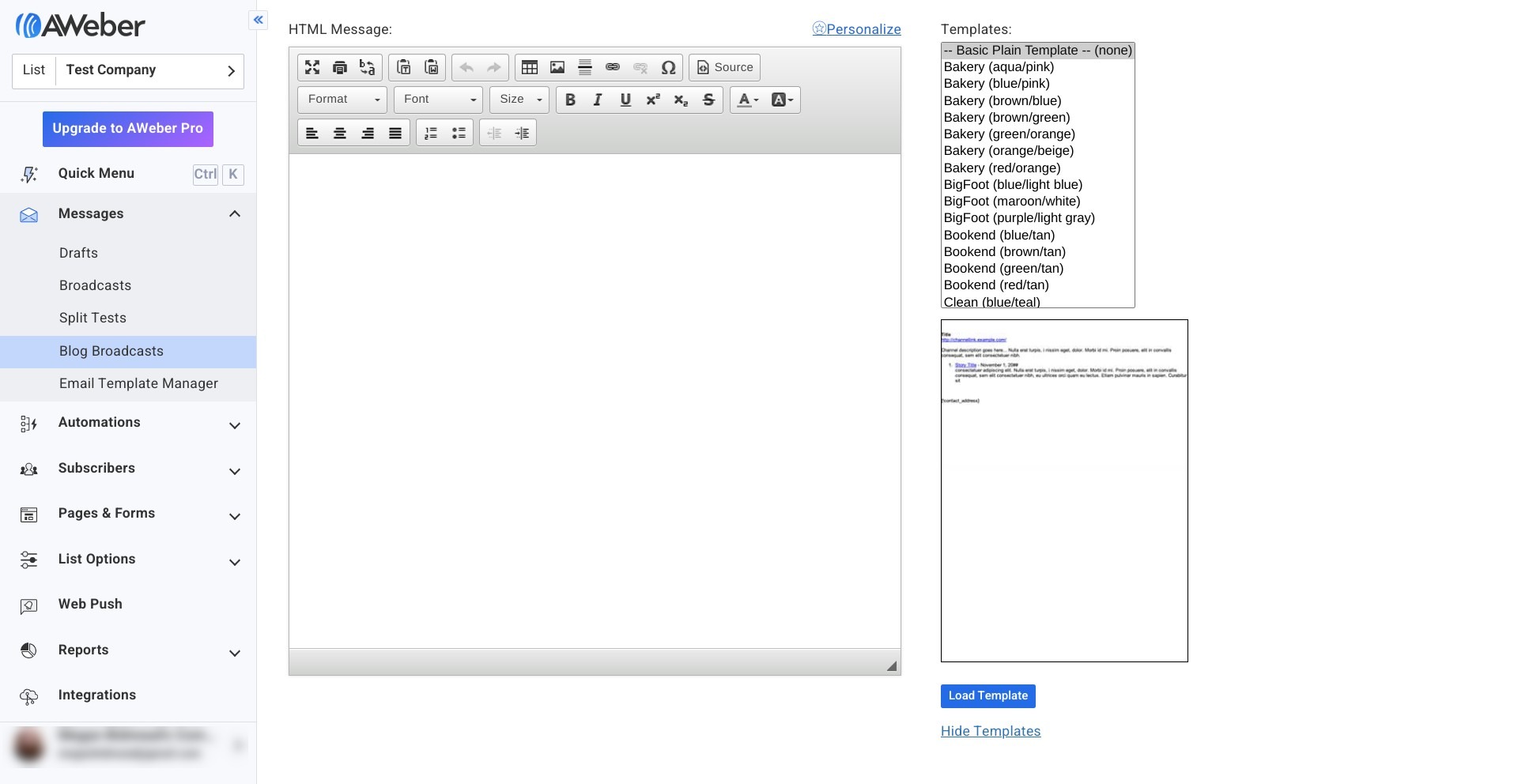 On the Pro plan, you can split-test emails. This is a valuable feature, worth paying for if you want to grow your audience. Split testing allows you to fine-tune your emails, observing which messages perform better to craft future emails. It's pretty easy to set up but will provide you with useful data to work with.
You can also create new templates to make future emails quicker and easier to send.
Automation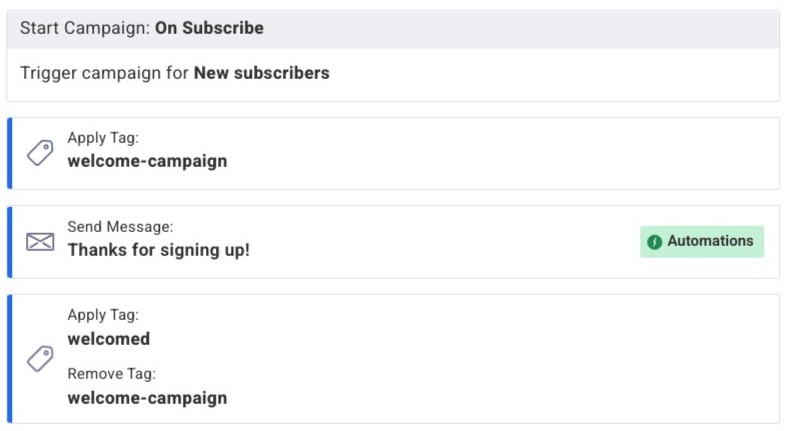 Automation is locked behind the Pro plan with Aweber. However, it makes setting up emails much easier.
You can automate welcome, abandoned cart, confirmation, and other emails based on specific triggers. You can also use their Auto Newsletter feature, designed to increase engagement on other platforms. For example, your audience will be sent an email whenever you release a YouTube video, podcast, blog post, or if you launch a sale on your eCommerce store.
Subscribers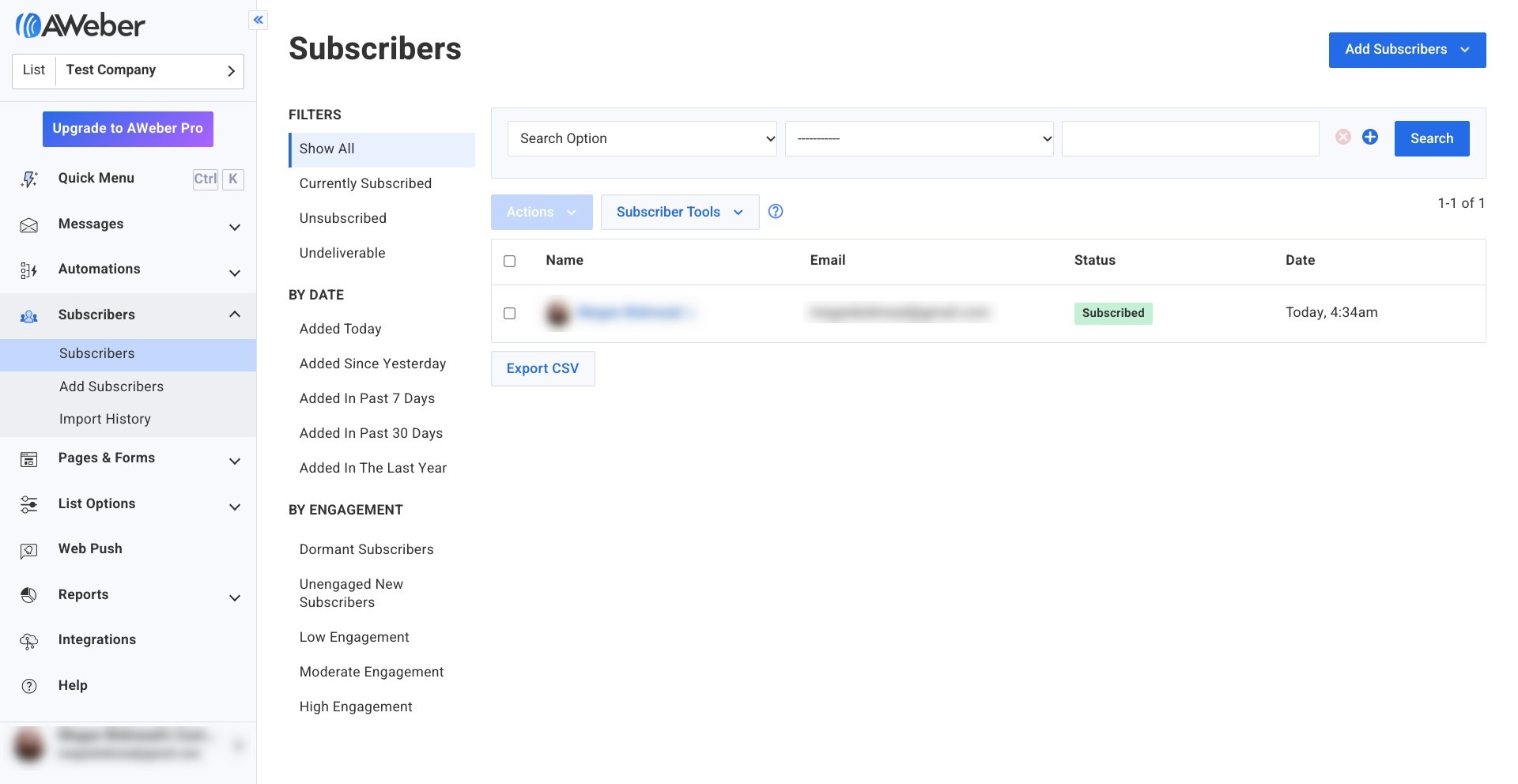 Subscribers can be viewed using the following categories:
Currently subscribed
Unsubscribed
Undeliverable
Added within a specific time (today, the last 7 days, the past 30 days, the previous year)
Dormant subscribers
Unengaged new subscribers
Low engagement
Moderate engagement
High engagement
I find the last four categories to be the most useful. For example, you can design emails aimed at unengaged new subscribers to encourage them to respond. Highly engaged audience members, meanwhile, are the perfect category to target with a new product or service.
Forms & Pages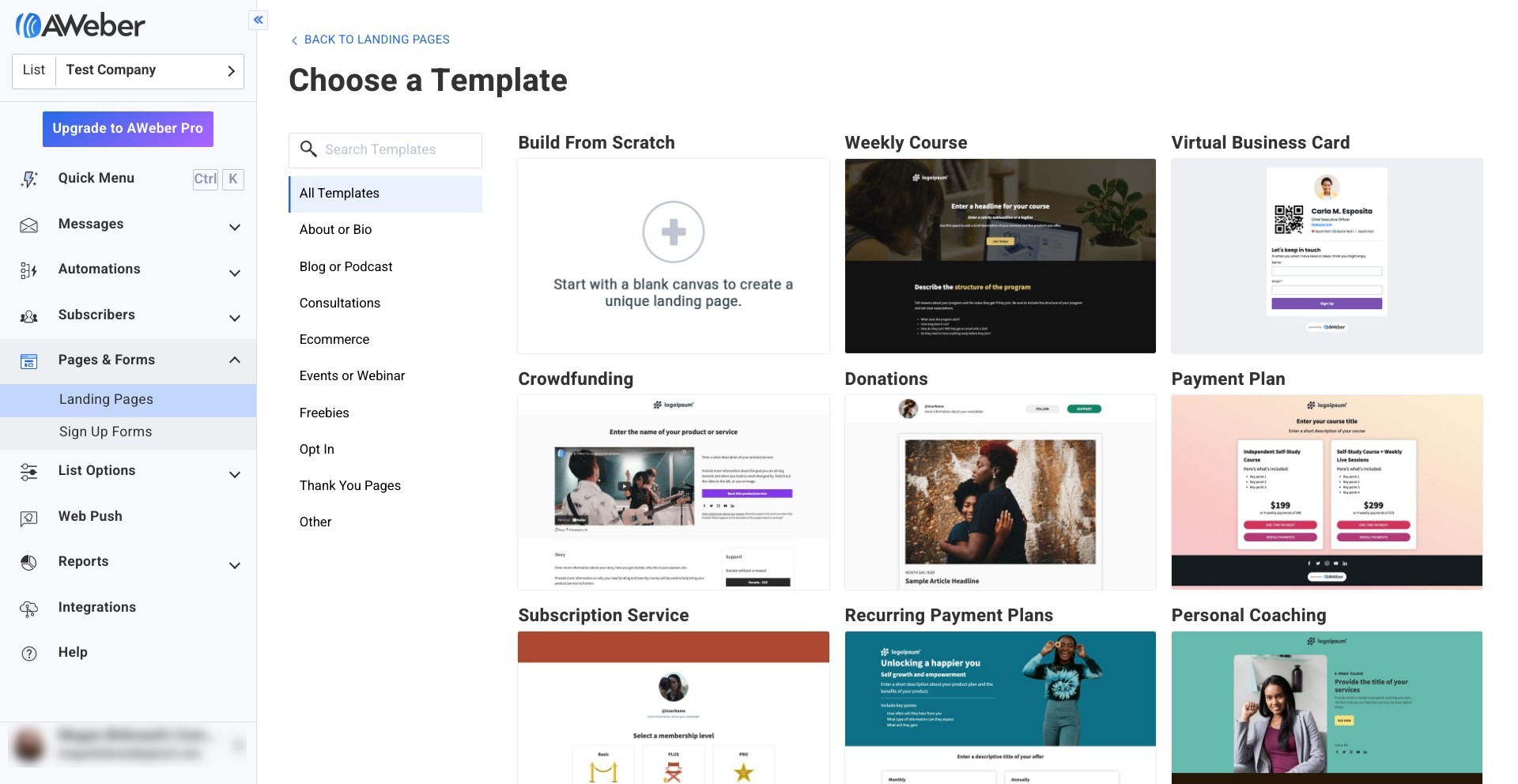 Creating landing pages is pretty simple using Aweber, so you won't have to worry about signing up for a form-building tool.
You can use one of their pre-built templates or build a page from scratch. Then, like the email builder, you can drag and drop new content blocks: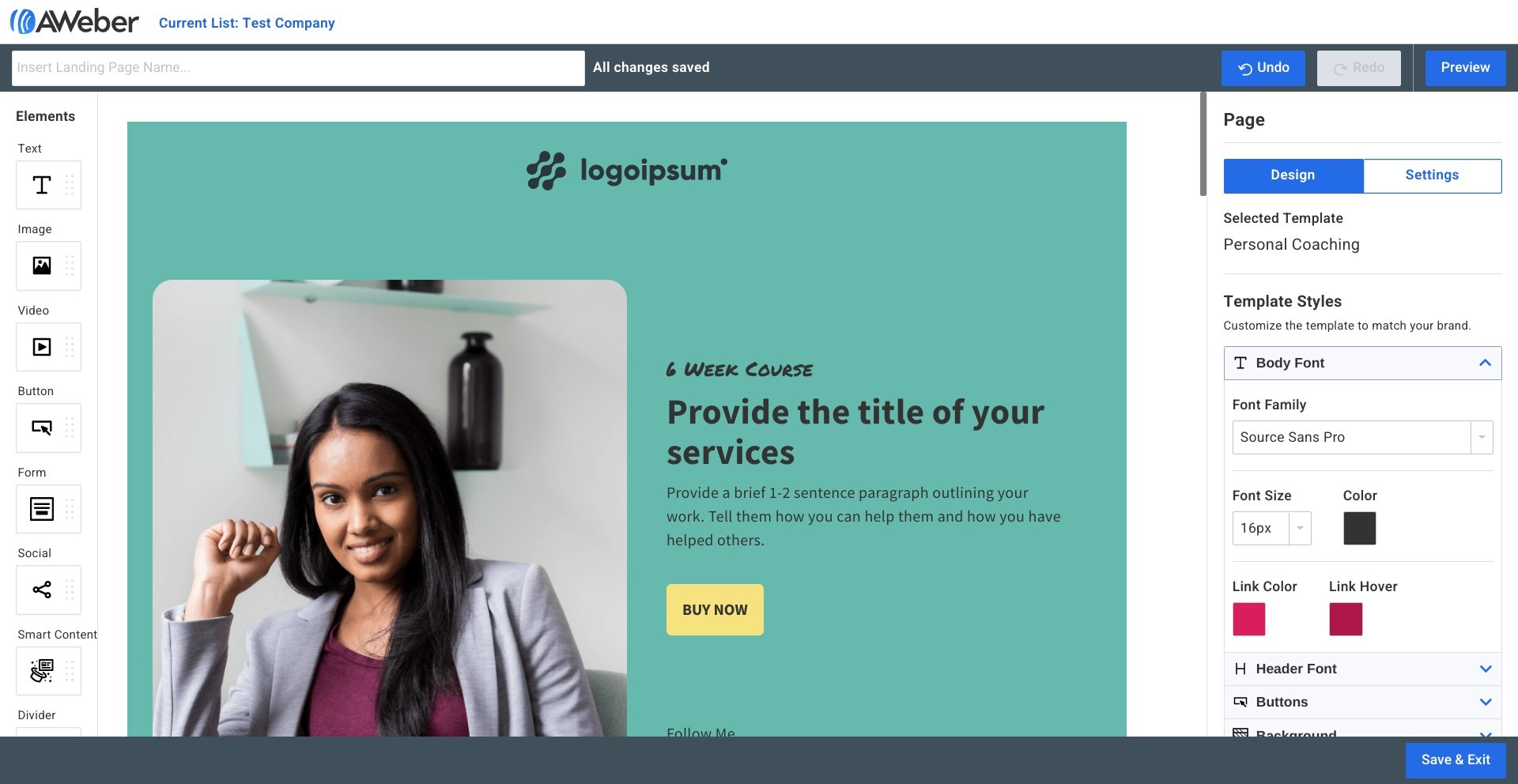 The templates are well-designed, and I like how easy it is to customize these pages. You can also create sign-up forms, which can be used on your landing pages or embedded into your existing website.
Web Push Alerts
Setting up web push alerts is pretty simple, and you can customize these to a certain extent to match your branding. For example, you can send alerts notifying customers of a sale, send urgent time-sensitive messages, and let your audience know when a new product or project is due to launch.
Reports
Reports are locked behind the Pro plan, which is a shame: aside from very basic data on new subscribers, etc, you'll be locked out unless you choose to go Pro. The reporting is good, however. You can track important metrics, including bounce rates, opens, web hits, and sales.
The Main Features of Constant Contact
Okay, now let's check out Constant Contact!
UX/Ease of Use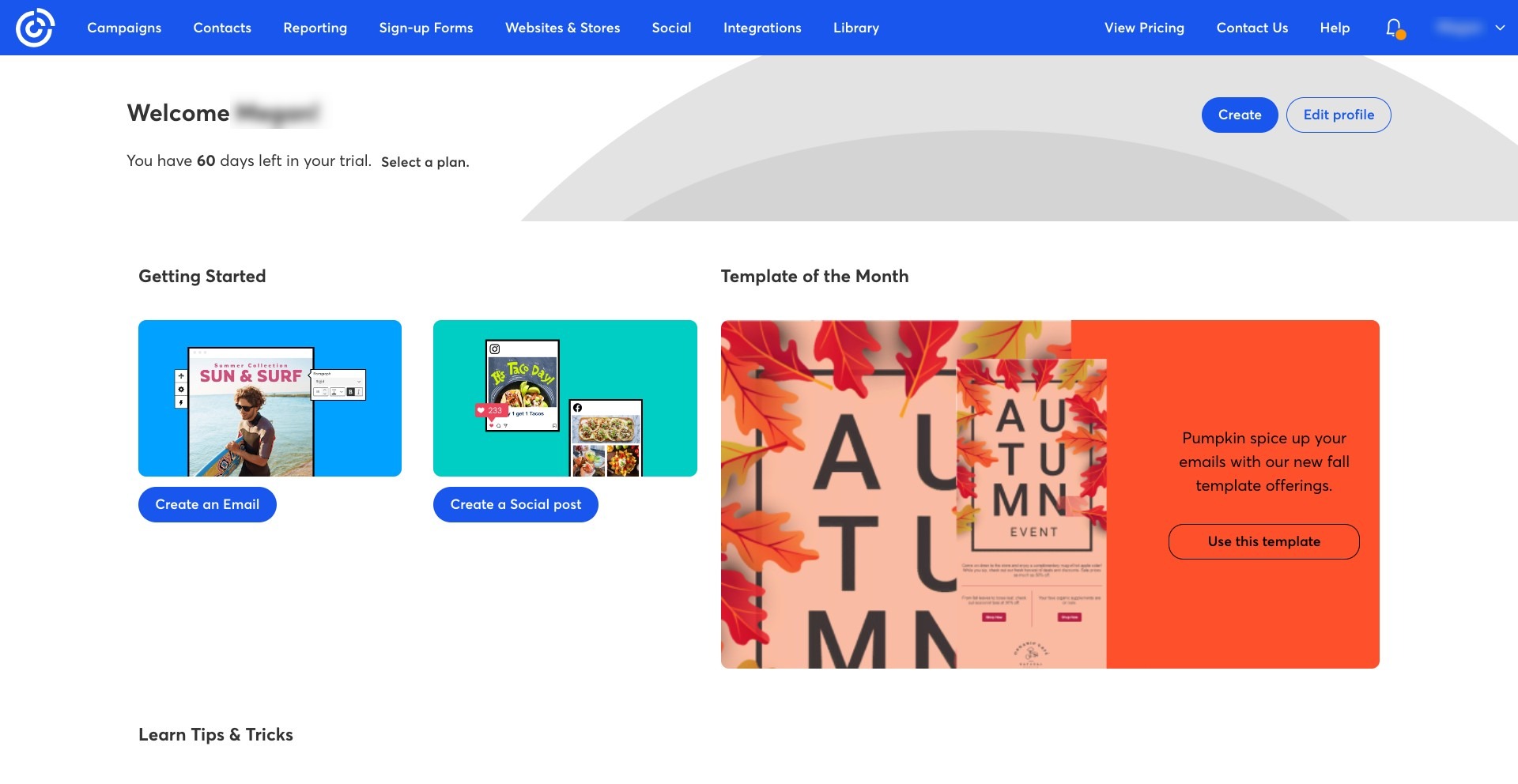 Constant Contact is easy to use, especially for beginners. I like how easy it is to get started, and the platform itself feels nice to use. Everything you need is at the top, and if you're a new user, it will point you in the direction of the most important features.
Emails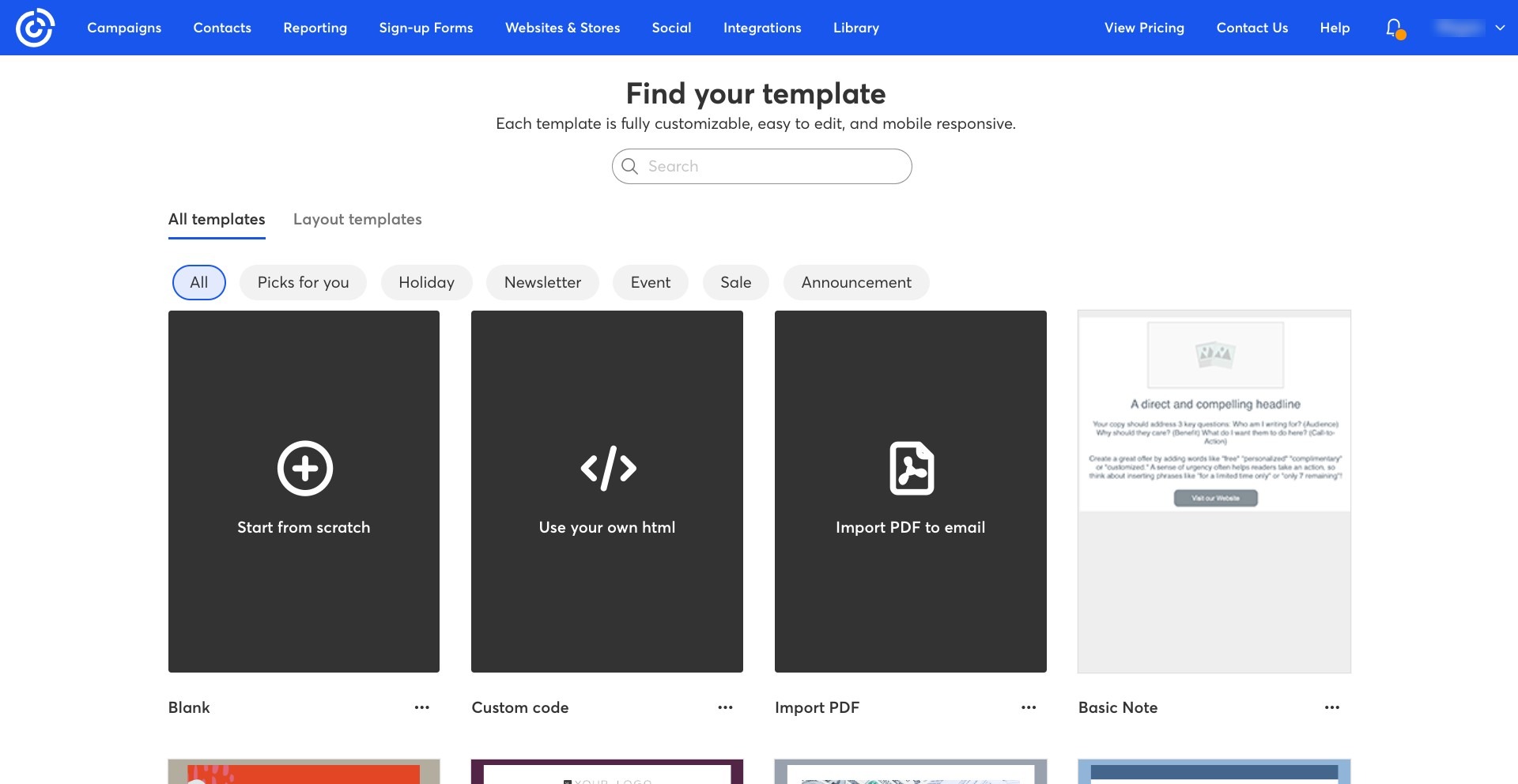 Creating an email is straightforward using Constant Contact. You can create emails from scratch using their drag-and-drop builder, build an email using HTML, or use one of their templates.
Their templates are beautiful. I prefer them to Aweber's templates, as they're a little more eye-catching.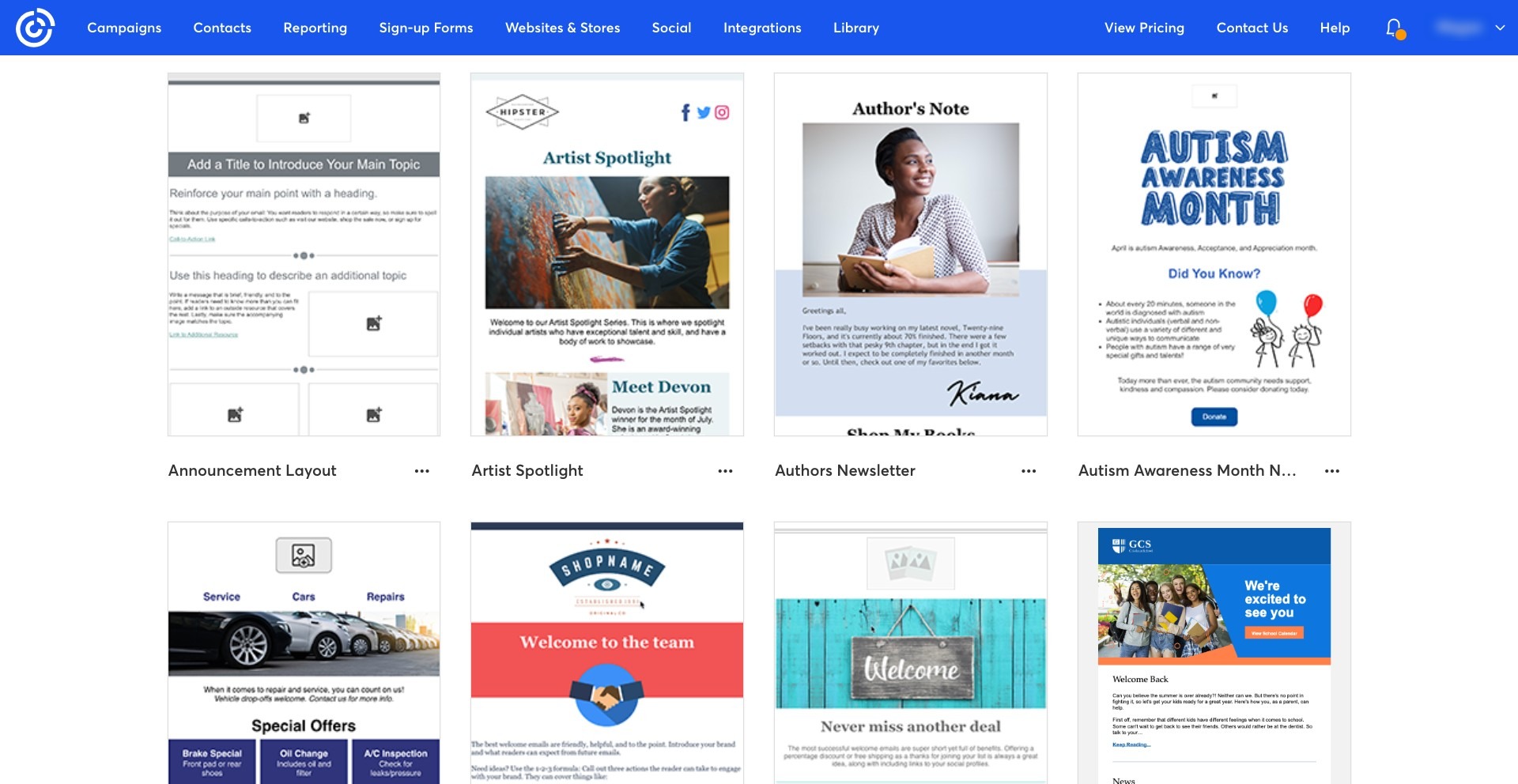 You can click on any of the templates to preview them, or to apply them to your email.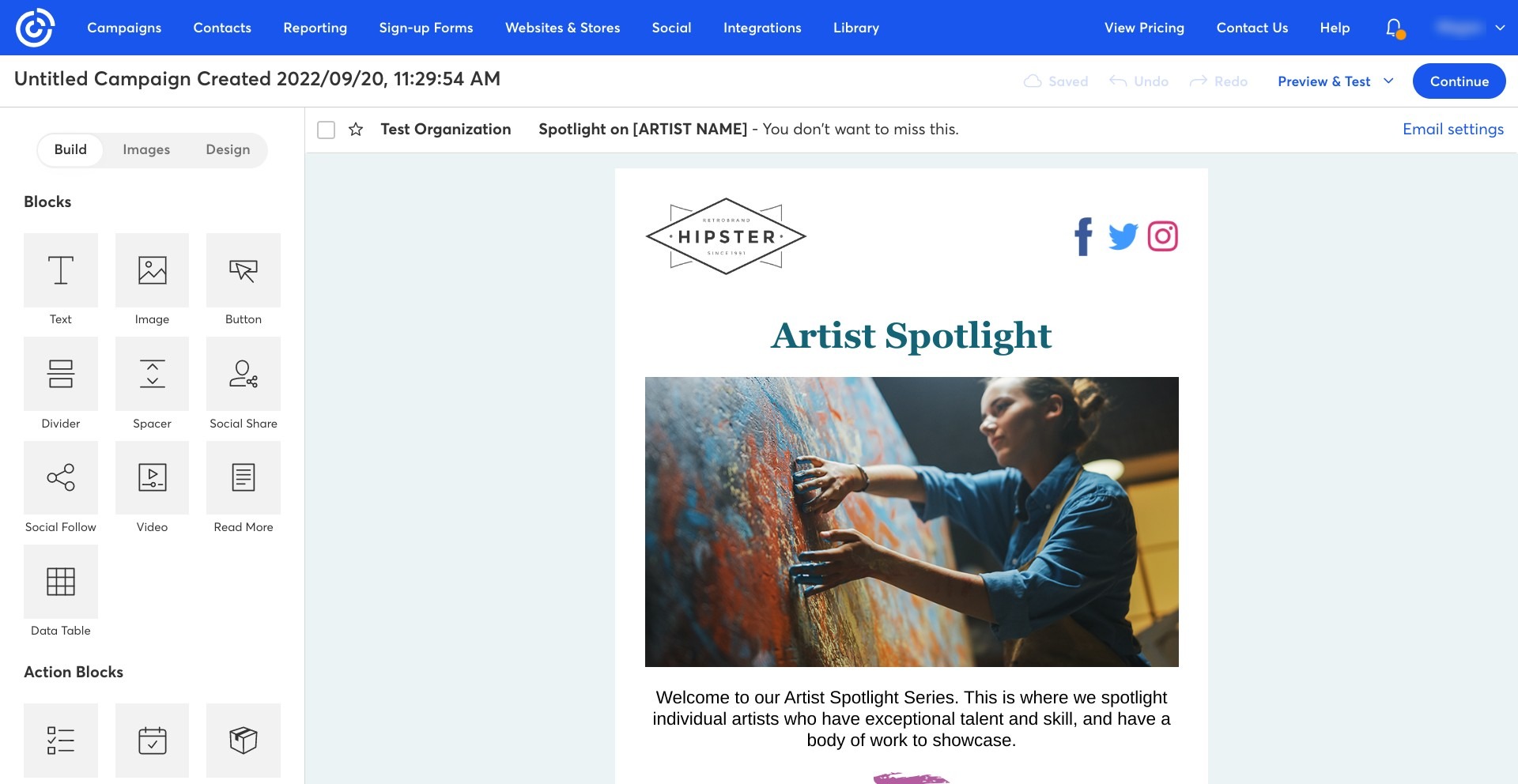 It's pretty similar to Aweber in terms of how easy it is to use. You can drag and drop new blocks, including text, images, buttons, dividers, social profiles, and action buttons. At any time, you can preview your email and then send a test email to yourself.
You can also add coupons, which is perfect if you have an eCommerce store. One useful feature of Constant Contact is the social posting option. You can connect your Facebook, Instagram, Twitter, and LinkedIn accounts to create and schedule posts from the Constant Contact platform: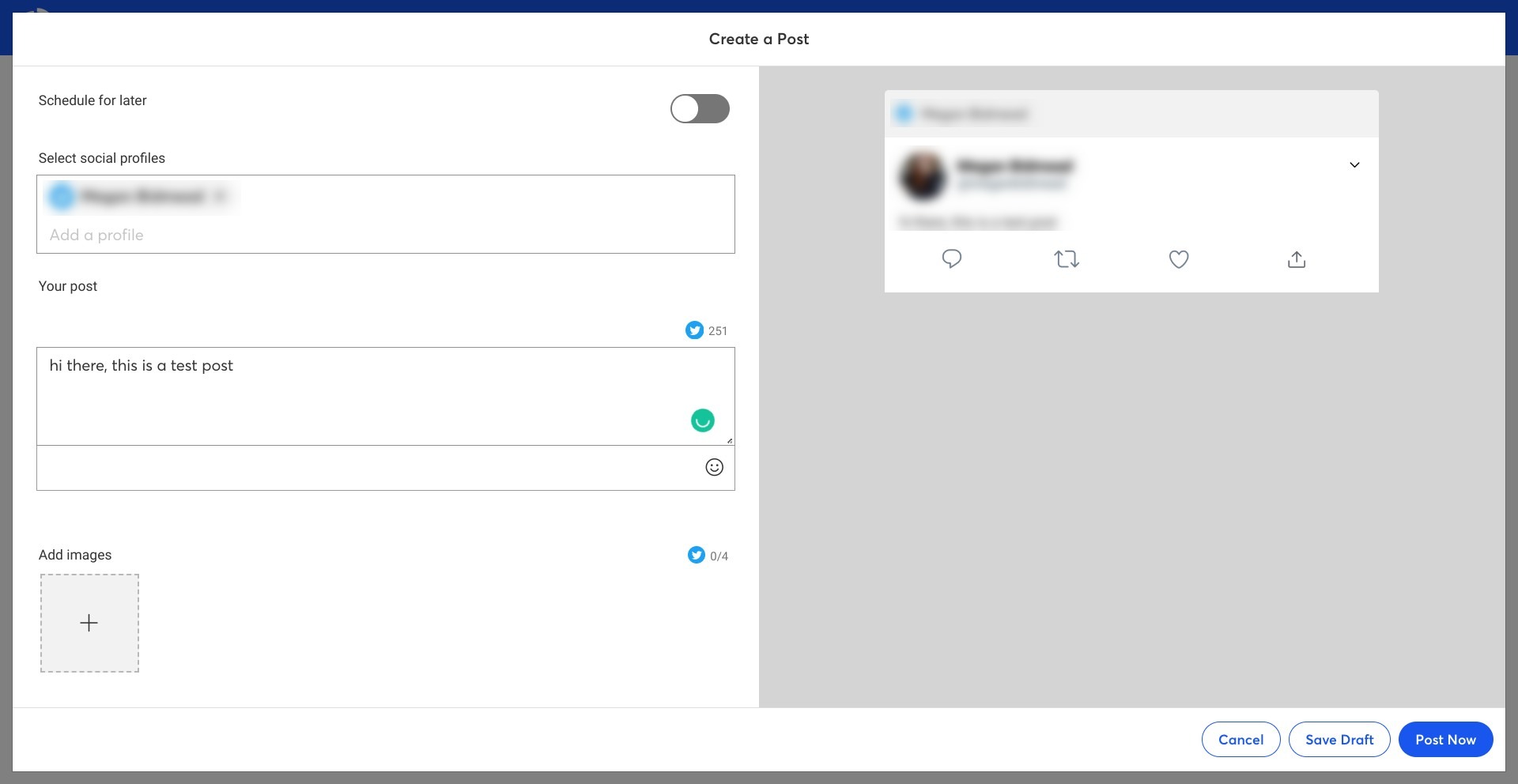 This is useful if you want to schedule your social media posts far in advance, and saves a ton of time having to switch between platforms, etc.
Contacts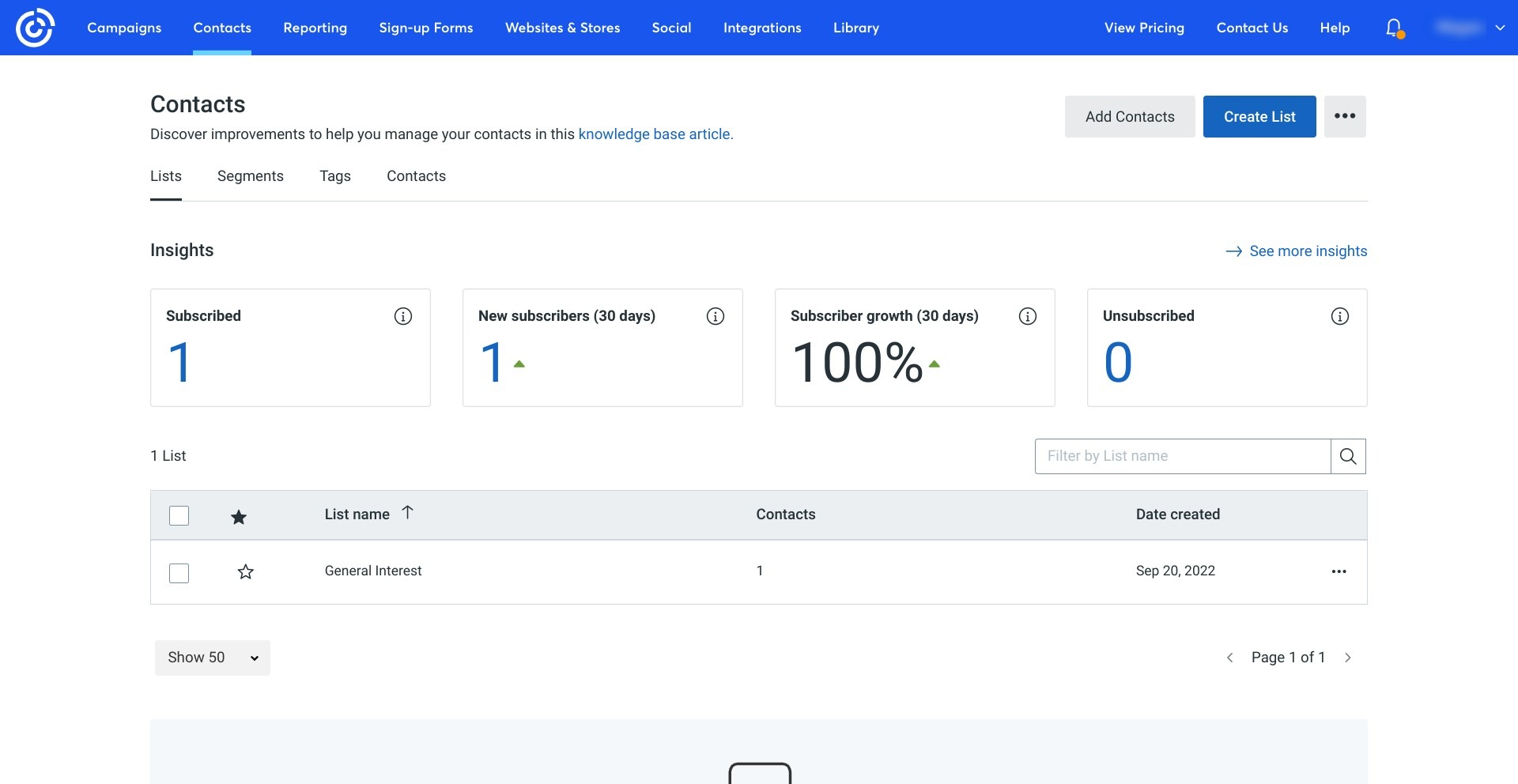 I like the contact management area of Constant Contact. You can see a quick overview of your subscribers right away:
You can also use their premade segments. These include:
Most engaged
Somewhat engaged
Least engaged
Everyone else
I like that they've included buttons so you can quickly send an email to these groups: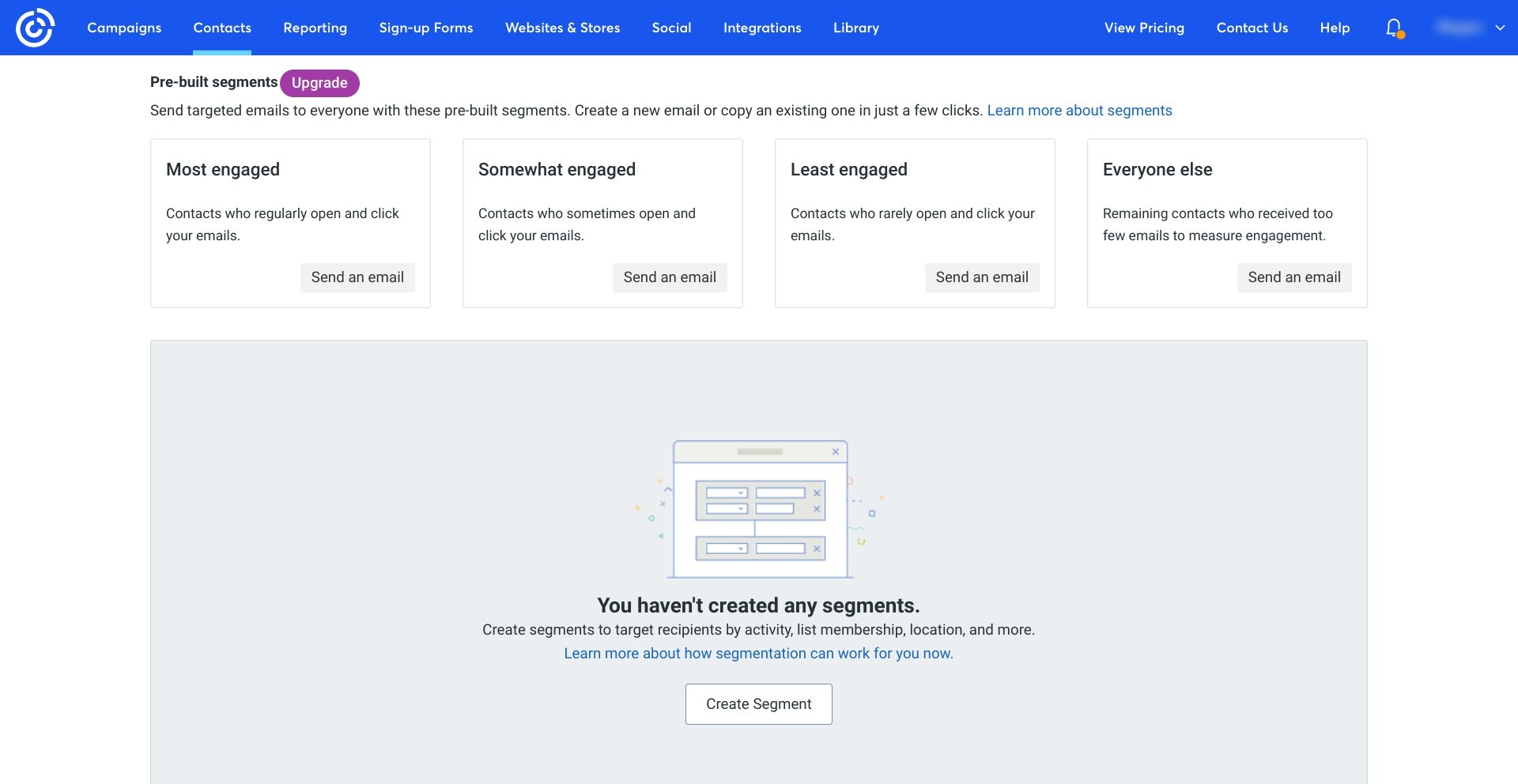 This makes it so easy to send emails to targeted groups. You can also create your segments, and this gives Constant Contact an advantage over Aweber.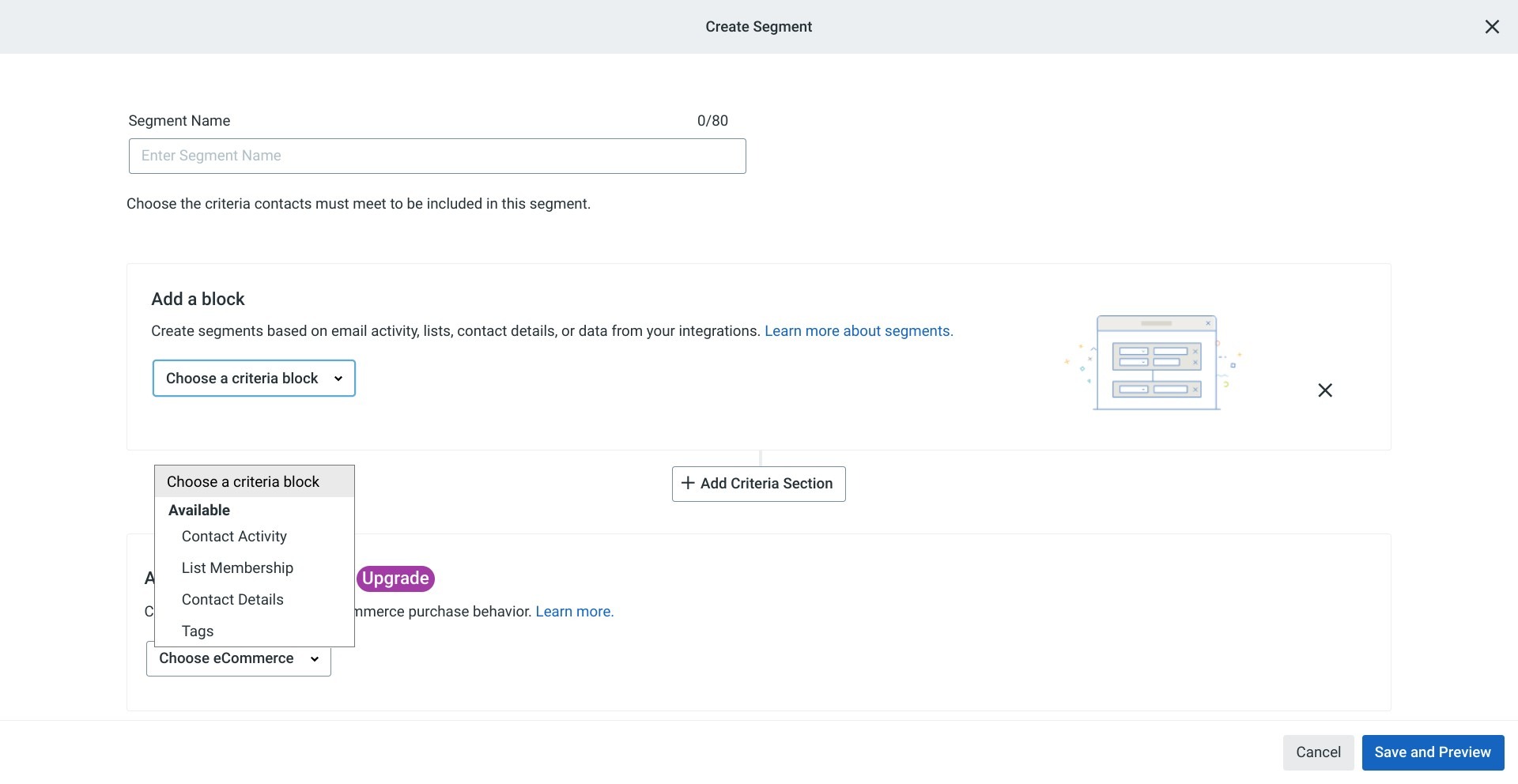 Criteria blocks include contact activity, list membership, contact details, or tags. You can also link to your eCommerce platform on higher-priced plans. This automatically connects your Shopify, Etsy, eBay, or Magento stores to Constant Contact, giving customers custom tags that can be used to build specialized segments.
This can be powerful, and it's easy to set up, even for beginners.
Forms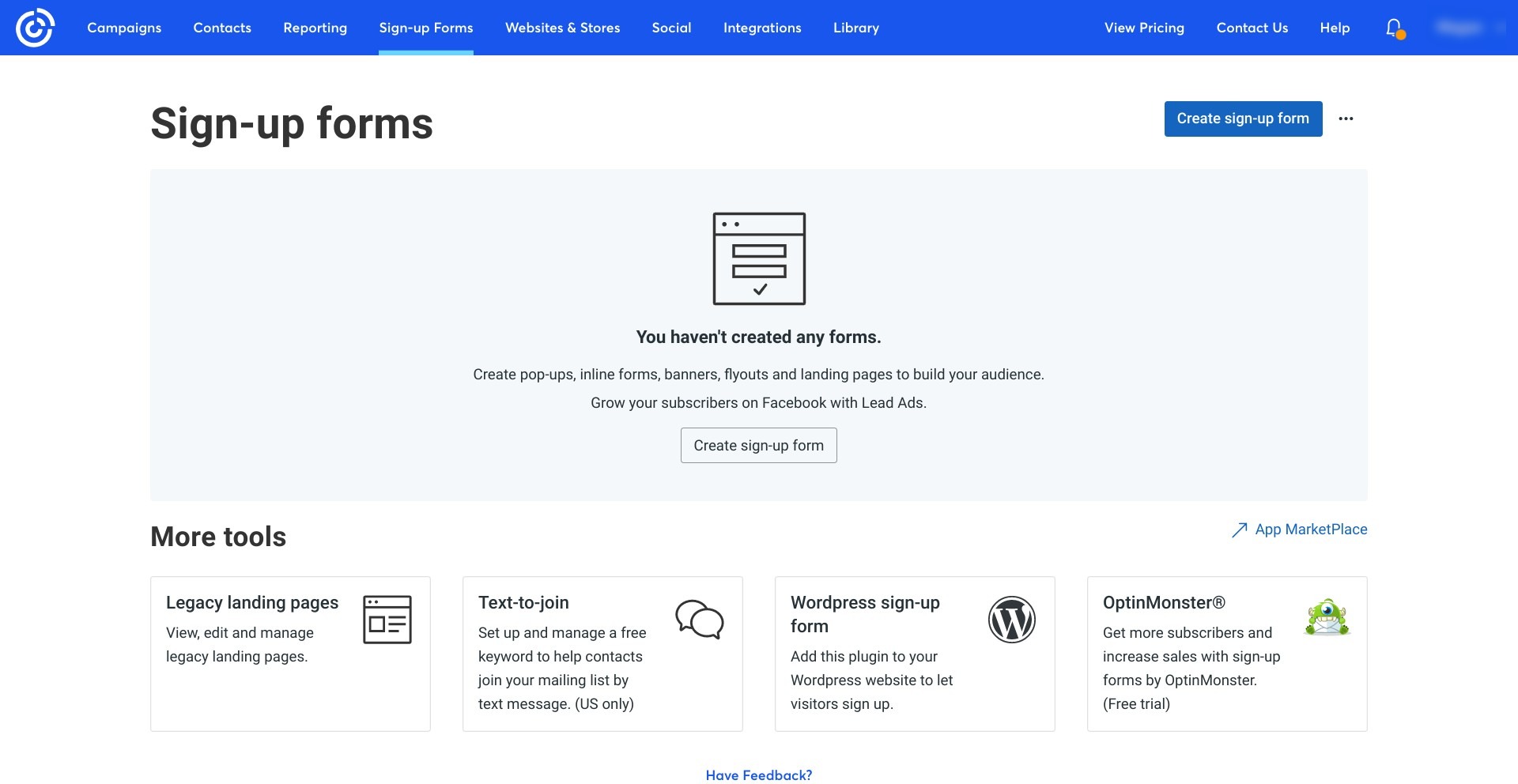 I like the form-building section of Constant Contact, too. There are some great options here: You can build forms, view your legacy landing pages, set up a text-to-join service, or connect your WordPress or OptinMonster forms. This is all simple to do, and will hopefully make it easier for new subscribers to connect with you.
Website Builder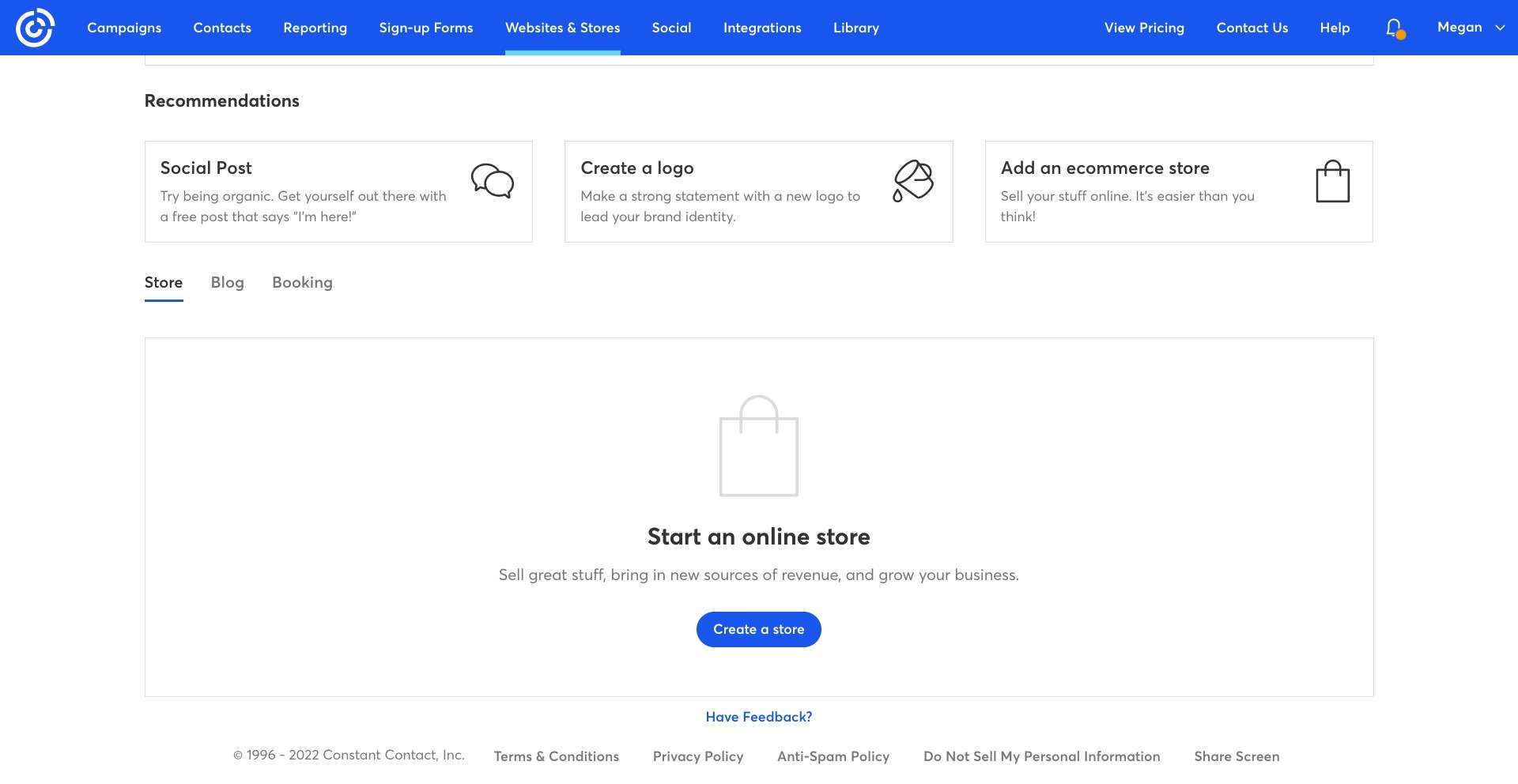 Constant Contact has some excellent tools for increasing your presence online. This includes creating a logo, connecting your eCommerce store to Constant Contact to get new subscribers, or creating a website. You'll have to use one of their paid plans to access this, but it's incredibly useful if you're starting from scratch and you want everything under one platform. It saves having to switch between platforms, saving time and effort.
You don't just have to build a store, either. You can also build a blog, or an online booking service if you run a business involving appointments.
Reports
Reporting on Constant Contact is pretty good. You'll get updates on the performance of your campaigns, including bounce rates, clicks, opens, and sales resulting from email campaigns. You can download an app to view reports, too, which is useful if you travel a lot.
Aweber vs Constant Contact Integrations
Let's check out how they stack up in terms of integrations!
Aweber
There are some great integrations here:
Wix
Shopify
PayPal
WordPress
Facebook
LinkedIn
Constant Contact
Here are some of the bigger platforms you can connect to Constant Contact:
Shopify
Stripe
WooCommerce
Facebook
Instagram
Twitter
Canva
GoogleAds
Facebook Ads
WordPress
Gmail
Aweber vs Constant Contact – Support
Sometimes, things go wrong, and you need a quick response from the customer support team. So how do they compare?
Aweber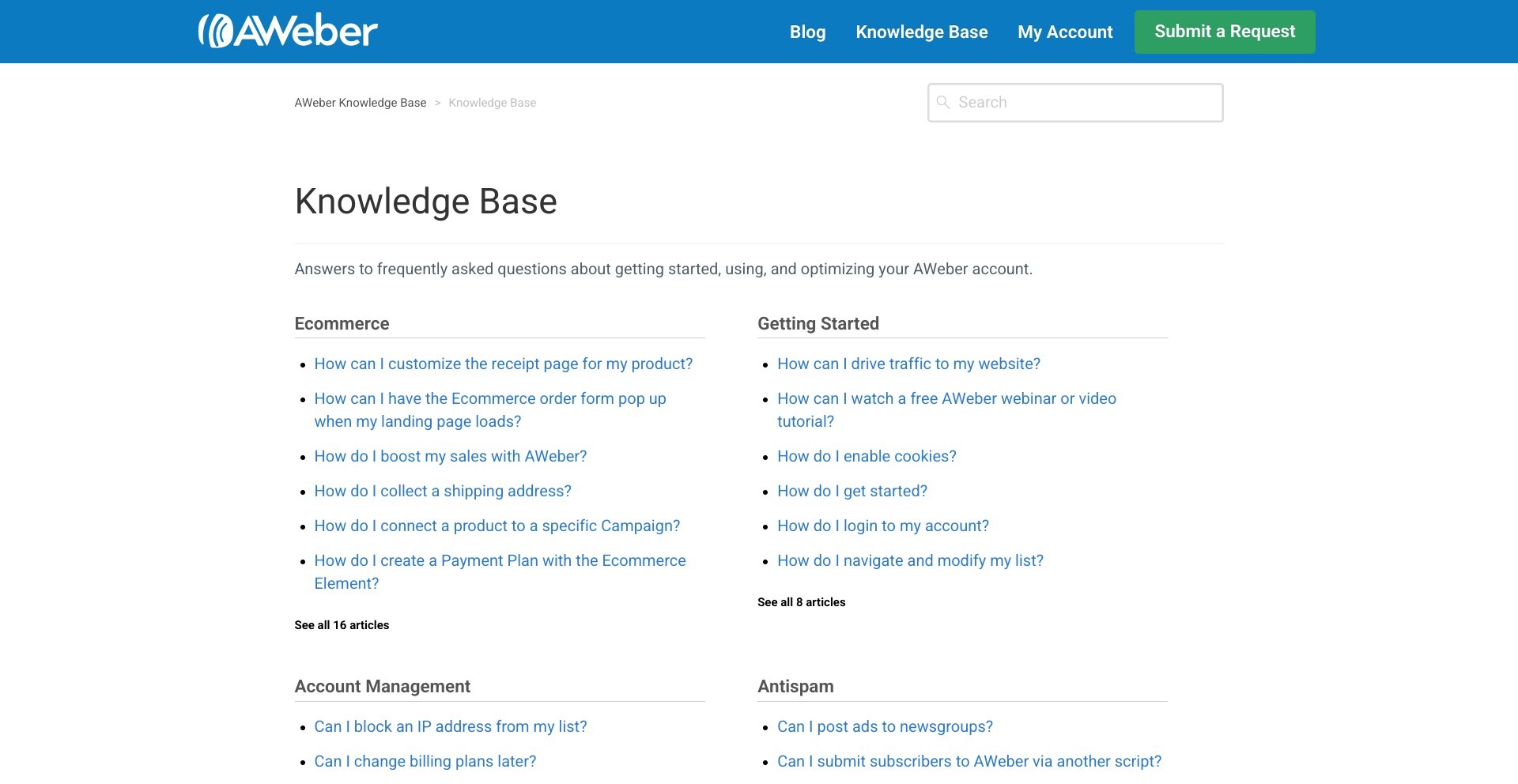 I like Aweber's support system. While their knowledge base doesn't look that exciting, it does have some good tips on how to use the platform. However, they offer help via phone line, live chat, and email. Not all platforms offer this, and it's becoming increasingly rare to talk to a human over the phone about software problems, so this is a great bonus.
Constant Contact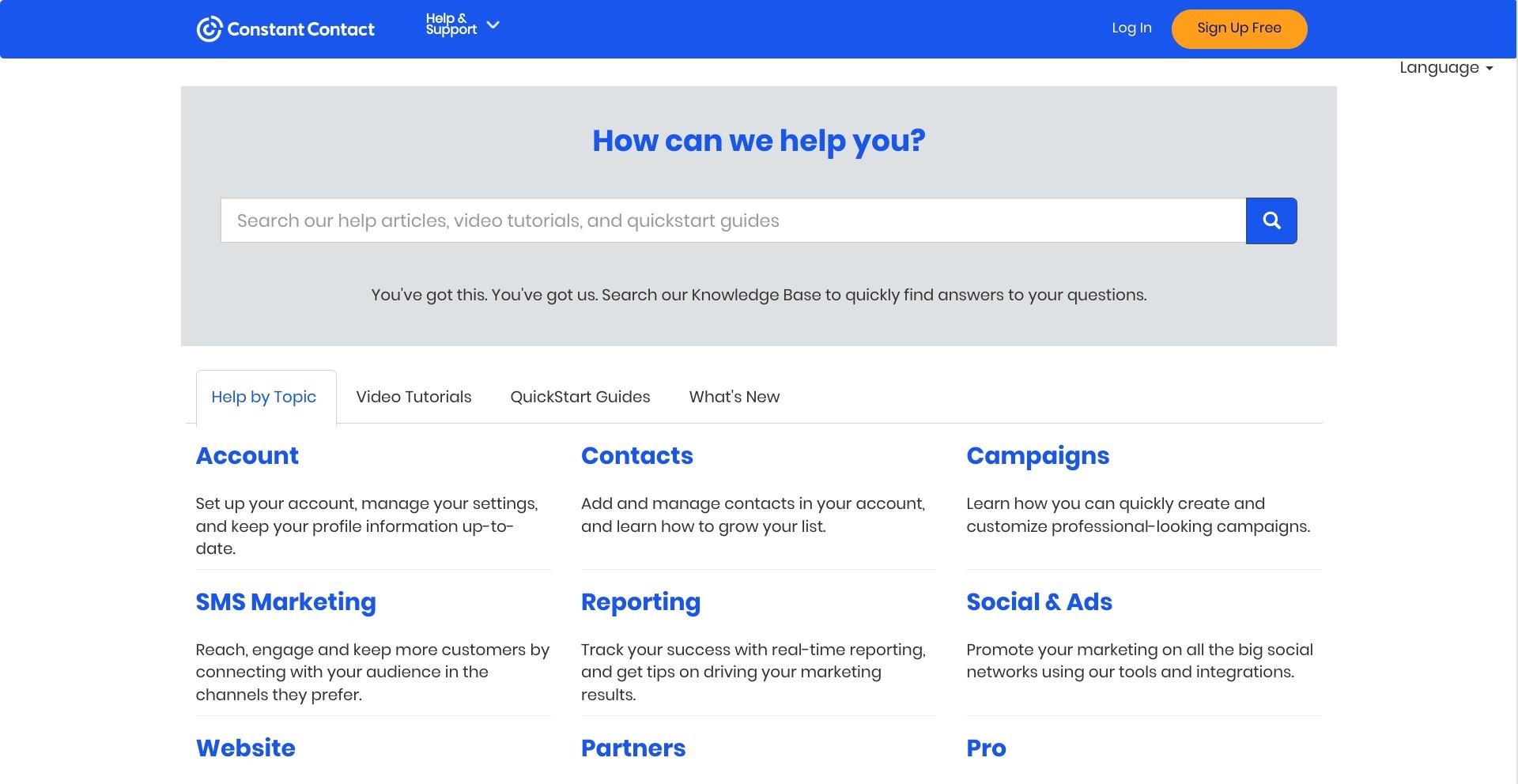 Just like Aweber, Constant Contact has good support. As well as a knowledge base with tips and guides, they also have phone support, live chat, and community support. All good options if you're struggling with something in particular.
Aweber vs Constant Contact – Pricing
Lastly, how do they stack up in terms of pricing?
Aweber
Aweber has two pricing plans:
Aweber Free – $0 per month
Up to 500 email subscribers
Landing pages
Web push notifications
Drag and drop builder
Email templates
Sign up forms
Ecommerce
Aweber Pro – from $16.15 per month
Everything on the Free plan
Unlimited email lists
Advanced email automation
Remove Aweber branding
Detailed analytics
Webpage and sales tracking
Split testing
The Free plan is really useful, and you can always upgrade to the Pro plan as your subscriber list starts to grow, or if you feel you want access to more advanced tools. You can find out more on their pricing page.
Constant Contact
There are two pricing plans on Constant Contact:
Core – from $9.99 per month
Hundreds of email templates
Sign-up forms
Facebook, Instagram, and Twitter integrations
Live chat and phone support
Plus – from $45 per month
Everything in the Core plan
List-growth tools including Google ads and text-to-join
Automated emails
In-depth reporting
Customer list segmentation
Personalized consultation
It's a shame that segmentation is locked away under the higher price tier (although I can understand why) – it's a powerful tool, and well worth paying for if you're serious about growing your list. You can find out more about Constant Contact and sign up for a free trial on their pricing page.
Aweber vs Constant Contact – Alternatives To Try
Want to look at some other options? Here are a few I'd recommend:
FAQs
Question: Does Aweber or Constant Contact have mobile apps?
Answer: Yes! Aweber has an app that allows you to view email stats on the go, while Constant Contact's app lets you build emails right from your phone. They're available for both Android and iOS.
Question: Can I cancel my account easily?
Answer: Yes. You can go to the 'Account' page on both platforms and cancel, no questions asked (and no phone calls to make).
Question: How many users do both platforms have?
Answer: Aweber has approximately 120,000 users, while Constant Contact has approximately 600,000 users.
My Final Verdict
It's a tough one, but I'll have to settle on Constant Contact this time. I know what it's like trying to manage an online presence, with several social media accounts, a website, an eCommerce store, and a mailing list. It sometimes feels impossible to keep on top of everything. Having it all in one place would make life so much easier.
Aweber, however, has its strengths. If you're launching a creative project or a podcast, I'd recommend checking it out – the free plan is very generous. Both platforms are excellent in terms of ease of use and customer service, which is great! Hopefully, one of them will suit you.