Last Updated on April 22, 2023 by Ewen Finser
Shipping and freight are some of the most important processes in the world. International shipping is responsible for 90% of world trade. In addition, more businesses are switching to e-commerce, enhancing our reliance on shipping.
How do businesses control their freight? There are many resources available that digitize and even automate the shipping and freight process. Ordoro is an example of this software. Ordoro is both a shipping and inventory software solution, catering to small and medium-sized businesses.
Keep in mind, we haven't been able to access Ordoro. We reached out to Ordoro, explaining we were writing a review and requested access to a demo. It's been over a week and we haven't heard back from Ordoro yet.
The information used in this review is based on past reviews and other customer experiences. While we're not happy with Ordoro's lack of communication, it's important to go over the software, the features, pricing, and inform businesses if purchasing Ordoro is worth it.
What Is Ordoro?
Ordoro is an app that improves the shipping and inventory process for businesses. This is a SaaS product, so businesses can subscribe to Ordoro for a monthly fee.
Ordoro aims to assist merchants after a customer places an order. You have a myriad of shipping features, you can easily manage your inventory levels, and you can track all orders to the time they arrive at the buyer's doorstep.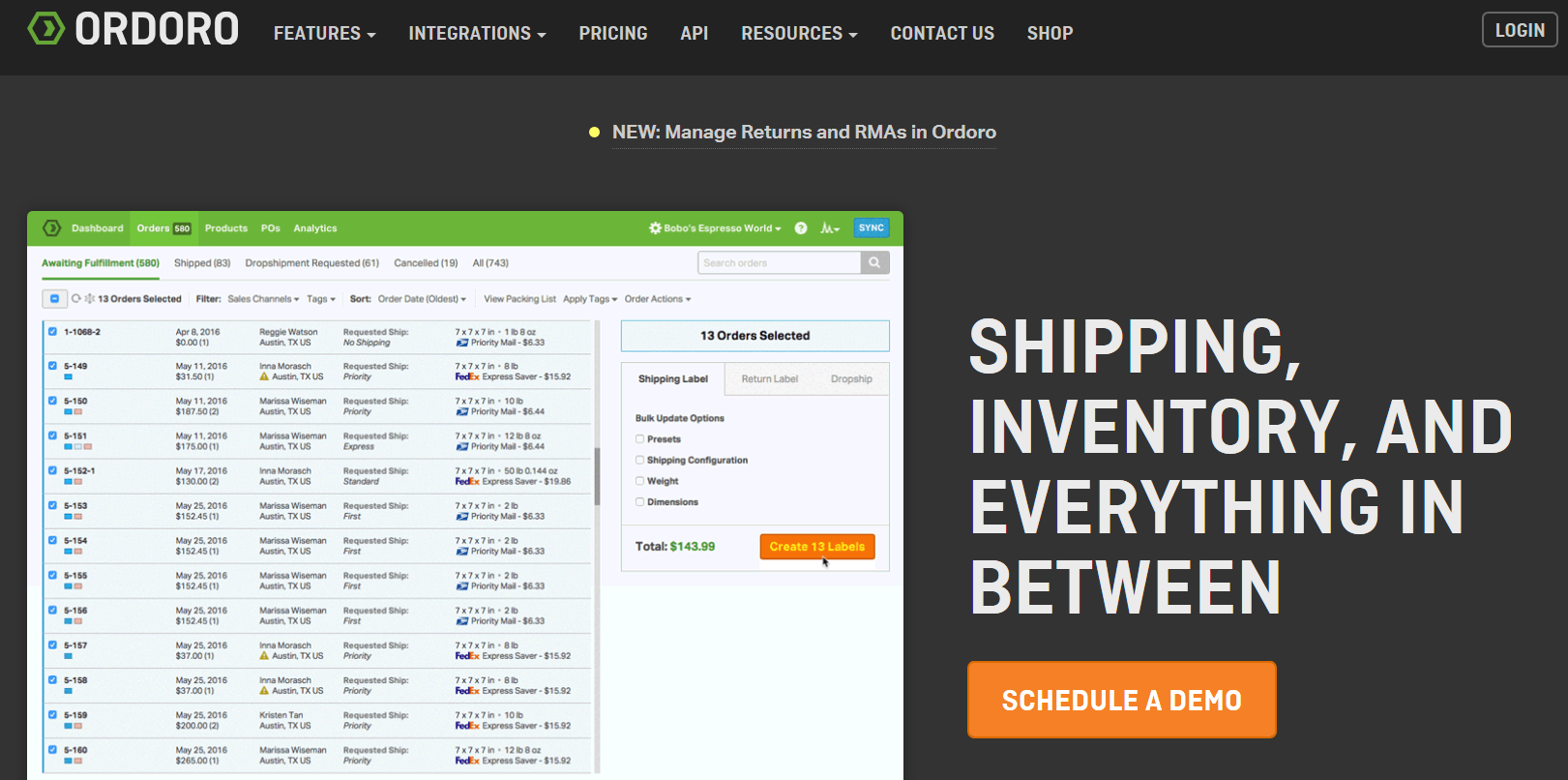 Ordoro is popular among businesses for many reasons. They automate USPS and other carrier rate selections so you always find the best shipping rate. They also quickly generate shipping labels. Unlike other competitors, Ordoro offers advanced features such as inventory management and dropshipping features.
One of Ordoro's best features is its powerful automation. You can create shipping presets so you don't have to manually enter in shipping details. Ordoro can also automate inventory management and dropshipping.
If you have different sales channels and logistics, you can integrate those programs into Ordoro. Ordoro supports specific apps and they also have powerful API to support other integrations.
There are also other great features plus different plans for all types of businesses. Ordoro is also scalable, which is great for small and growing businesses.
Ordoro History
Ordoro was founded in 2010 by Jagath Narayan. He and his three friends created the software while attending grad school at UT Austin.
The original mission was to reduce the extra work, clutter, and inefficiencies of back-end tasks for businesses. Since then, Ordoro expanded into the e-commerce realm, helping thousands of businesses manage their operations, logistics, and e-commerce channels in one place.
Ordoro is currently headquartered in Austin, Texas and the company is already growing.
Ordoro Shipping Software Pros
Businesses that rely on shipping will love Ordoro's powerful and easy-to-use platform. Ordoro gives you a view of different carriers and their shipping rates, so you always save on shipping.
Ordoro also offers ways to expedite the shipping process. This includes printing branded packing slips for batch shipments, monitor good receipts, and run reports to finalize a shipment. You can also draft a summary of unfulfilled orders to know which items have to be picked up from the warehouse.
Ordoro not only comes with impressive features but it's a beneficial solution for existing e-commerce businesses. Ordoro can support a variety of different integrations, including Amazon, Walmart, WooCommerce, Quickbooks, Shopify API, ChannelAdvisor, 3PL Central, and more.
If you're interested in an advanced subscription, then Ordoro's dropshipping and inventory management capabilities are also high-quality. You can easily dropship items from different suppliers. All you have to do is mark certain items with dropship SKUs.
In addition, you can easily stay updated on your inventory across all sales channels. Your inventory will always be updated and overselling should never be an issue, regardless of the number of warehouses you own and the products stored in each one.
Ordoro Inventory Managment Solution Cons
As we stated previously, we're very upset about how Ordoro never responded to us. Demoing a product for a review is extremely important to us since it's the best way to understand a product and whether or not we recommend it.
But I'm not as concerned about this fact as I am about the e-commerce businesses that need a fast and effective shipping solution. Does this mean Ordoro is leaving businesses hanging, waiting to try the demo?
We were able to wait over a week to see if the Ordoro account support would respond to us, but businesses have no time to wait. They have customers who are buying products and want their orders shipped. Other functions, such as inventory management, are also crucial and are often time-sensitive.
So this makes sense, you have to contact Ordoro for a demo before you even pay for the subscription. Take a look at this screenshot and their pricing page for reference.
Ordoro also offers a free starter plan for shipping only. However, there are issues accessing the link. I can only find one reference to this plan on their website here. Nothing happens when you click the link. I even allowed pop-ups on my browser to ensure that wasn't the problem. I tried it again. Still nothing.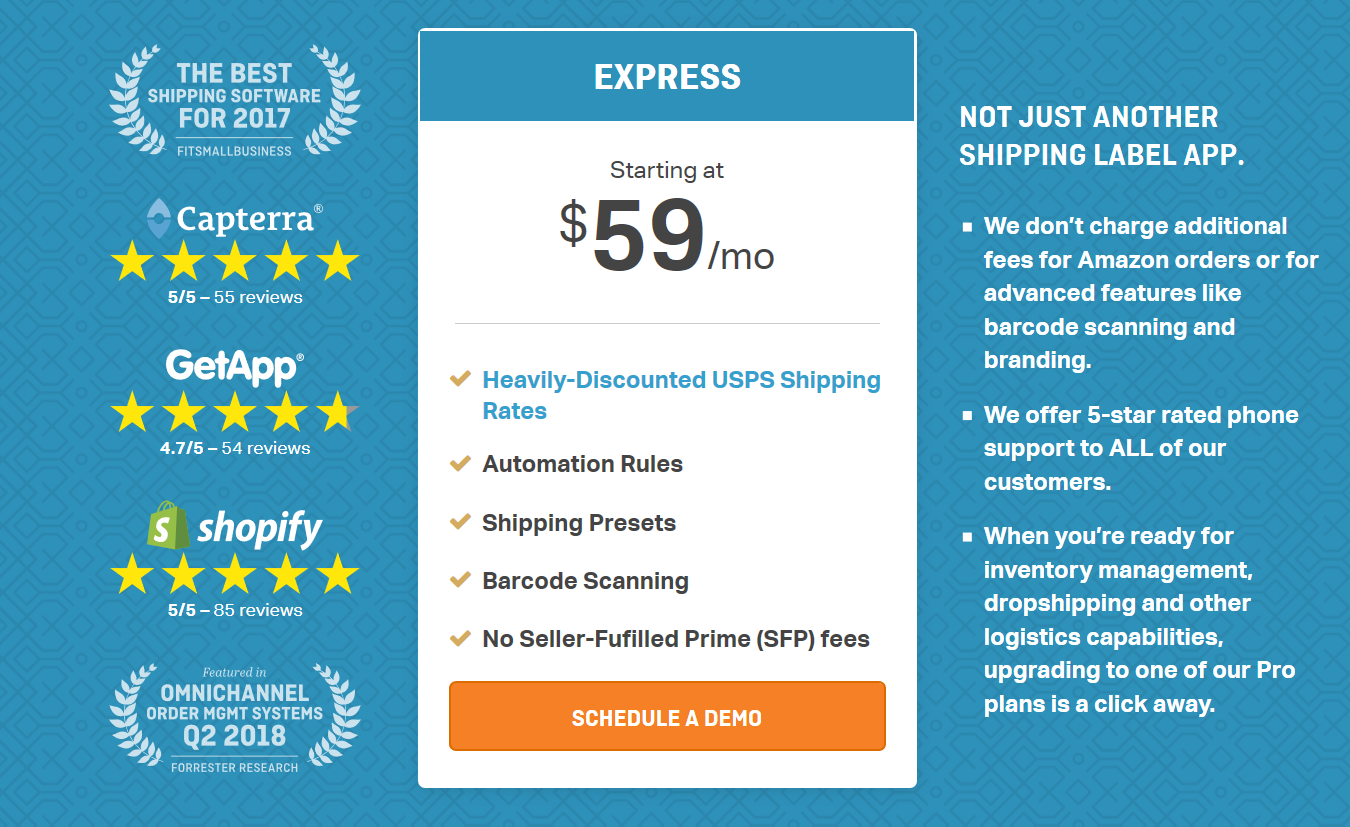 I'm not sure if these are support issues, customer service issues, or what. All I know is I'm pretty unsatisfied and businesses have no time to wait. I'm certain any ecommerce business will support a competitor such as ShipStation, especially one that offers a convenient 30-day free trial and an easy sign-up process.
Other than this issue, not many customers reported major drawbacks. Some reviewers said the platform and documentation are a little outdated.
In addition, some customers aren't satisfied with the lack of features on the Starter and Express plans; for example, you have to buy the Pro plan to access dropshipping and inventory management.
Software Requirements
Ordoro is a cloud-based application. This means you don't have to install or download anything. All you need is a web browser and a stable internet connection and you can access Ordoro.
This is also beneficial for businesses on the go and anyone working remotely; you and your staff can access Ordoro from anywhere.
Pricing
Ordoro offers three plans at different prices: Xpress, Pro, and Enterprise.
Here are the prices.
Xpress — $59/month
Pro — $499/month (they offer annual plans for extra savings)
Enterprise — contact customer service
The Starter plan that was mentioned previously is also free. They also offer a free demo for all plans.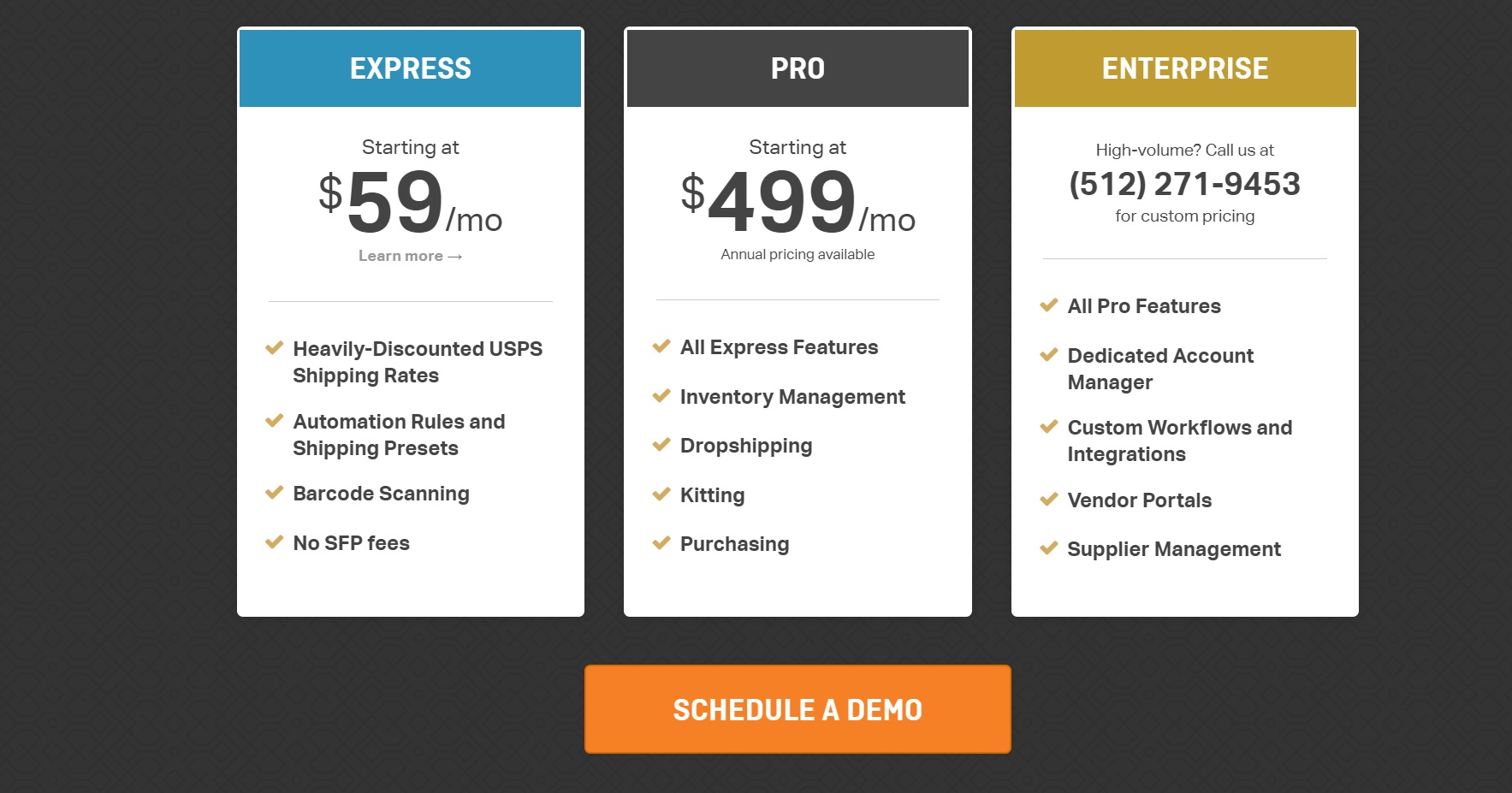 There are even more ways to save with Ordoro. Ordoro provides discounts of up to 67% when you ship with USPS. Ordoro also partners with Shipsurance so you save 40% – 60% on shipping insurance.
Ease of Use
Many users report Ordoro's software is easy to use. Ordoro features a clean and sleek design with a user-friendly set-up.
When you set up your dashboard, you can immediately link your existing e-commerce channels. The software will automatically sync any new orders and prepare them for fulfillment.
You have five main tools:
Dashboard
Orders
Products
POs
Analytics
From looking at screenshots around the web, Ordoro's dashboard and functions are very similar to ShipStation. While ShipStation doesn't offer dropshipping and inventory management, many of the same tools can be found on ShipStation. If businesses only want a shipping solution, we recommend choosing that platform or another competitor.
How do you process an order for shipping? Click the Orders tab and select the order (or bulk select orders). From here, you can generate a label. You'll have to select a package type, a carrier, and your preferred shipping method.
Once you fill out this information, different shipping carriers and their prices will appear on the same page. Again, ShipStation offers a similar format.
Want to make the shipping process even easier? You can set up shipping automation. Head over to Settings and set up your shipping presets. You can also integrate Ordoro with an existing third-party logistics provider.
Using Ordoro by Shipping Volume
What if you own a large-scale e-commerce business that has a large shipping volume? Or what if you recently started an e-commerce company and don't have many shipments? Can Ordoro cater to your business?
Fortunately, Ordoro offers solutions for all shipping volumes. Not only that, but they're scalable.
Let's say you join Ordoro as a new e-commerce business and use their Starter plan. After a few months, you gain steady sales and need to upgrade your plan. You can contact Ordoro and request either a plan upgrade or downgrade.
All plans offer unlimited shipments, excluding the Starter plan (you only receive 50 shipments a month).
Integrations and Add-Ons
As stated previously, Ordoro supports a variety of different integrations from various third-party companies. You'll be able to adapt your existing channels and processes to Ordoro's platform with ease.
While we mentioned some of the integrations Ordoro offers, this is definitely not all of them. Ordoro can integrate with 43 different businesses, and they vary from other e-commerce sales channels to accounting software.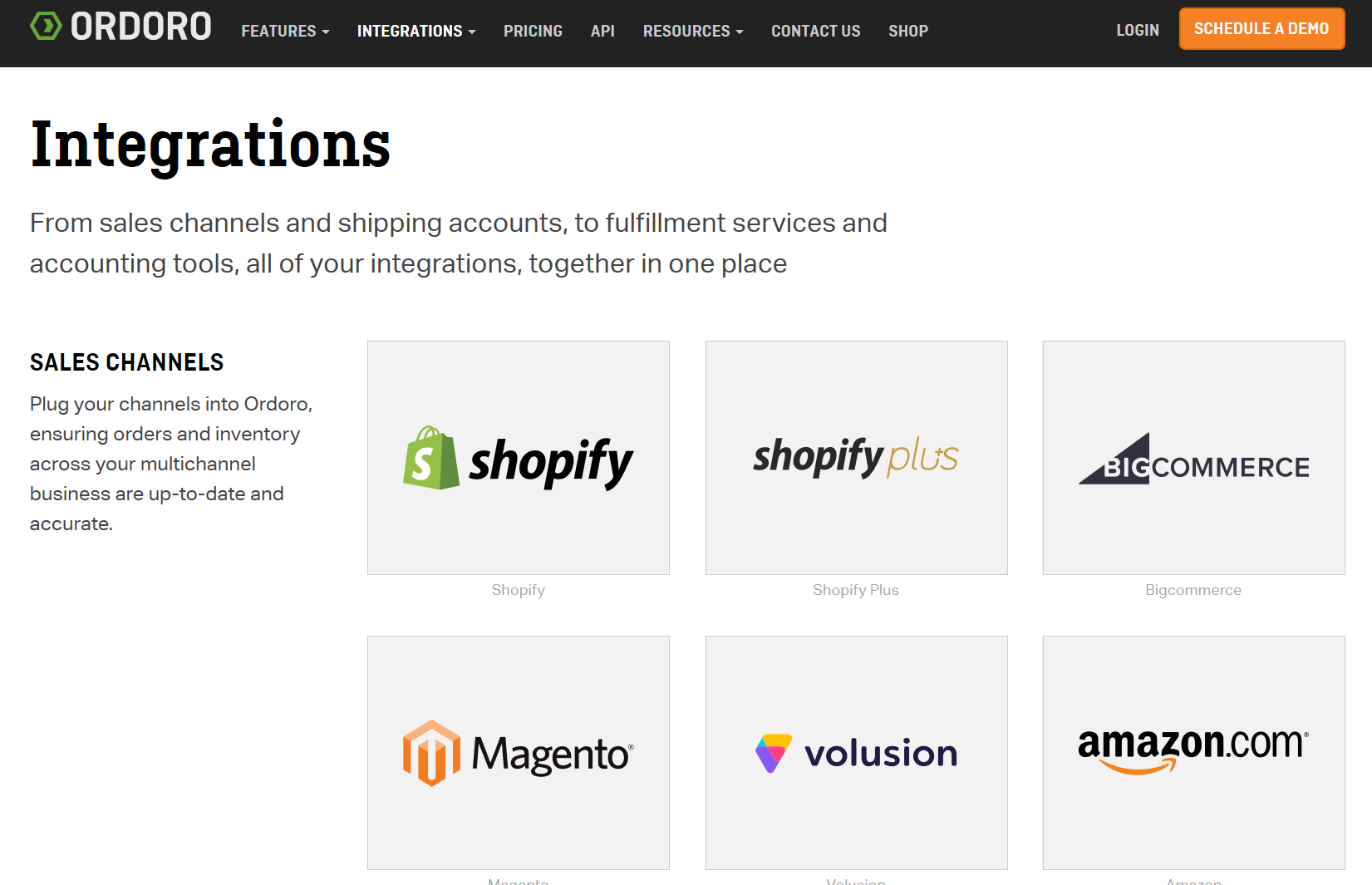 Some of these API fulfillment integrations include the biggest names in e-commerce, such as BigCommerce, Shopify app fulfillment, and Amazon. You can also add your fulfillment, shipping carriers, POS, and accounting services.
What if one of your integrations isn't supported by Ordoro? Ordoro also offers an API to develop a custom connection.
Features
Ordoro offers features that are necessary for all e-commerce businesses. These include:
Comprehensive shipping options and cheap shipping rates
Unified inventory
Easy resupply
Dropshipping and inventory management for Pro plans and up
Product linking
Multiple warehouse tracking
Flexible label printing
Built-in kitting
Ordoro also supports many necessary e-commerce functions. This includes shipment tracking, multi-channel syncing, order management, international shipping, and reports.
Customer Service and Technical Support
You've made it this far and you'll likely know what I will say about customer service. I already described my experience in the Cons section so I won't repeat myself. Instead, I will only break down their customer service and support options.
Ordoro lets you contact them in a variety of ways. This includes:
Ordoro also offers other helpful resources, including:
What if you need tech support? You can send a tech support request online. Keep in mind, their sales and support hours are Monday-Friday from 9 AM – 6 PM. It's pretty disappointing how they don't offer 24/7 support. What if you're experiencing serious shipping difficulties? No customer likes hearing you'll handle their problems during normal business hours.
Security
Ordoro uses Secure Socket Layer (SSL) security for all web traffic. All data is encrypted and secure. When you choose the higher-level plans, you have the option of only allowing certain team members access to the admin panel.
Alternatives
As you can see, we recommend buyers look into other competitors before settling with Ordoro. Here are some companies we recommend.
ShipStation

ShipStation Stands Out

BOTH of these services are good options, but ShipStation stands out as slightly better with a mobile app, better carrier integrations, more international connections, and better data reports and exports.

Start your free ShipStation extended 60-day free trial. Use code: dm60. No credit card required. Create your account today!

Go with ShipStation

We earn a commission if you click this link and make a purchase at no additional cost to you.
We have been mentioning ShipStation a lot. That's because we have used their product and know it's high-quality software. While they don't offer all of the functions that Ordoro does, ShipStation is the perfect solution for companies that need a powerful shipping and freight tool. ShipStation offers many of Ordoro's shipping capabilities, such as USPS and carrier savings and easy printing label creation.
Like Ordoro, ShipStation integrates with many marketplaces so you can easily streamline your sales and shipping.
Webgility
If you're looking for an order management and inventory control solution, we recommend Webgility. You can run most retail efforts through this one platform. Like Ordoro, Webgility integrates with the most popular e-commerce marketplace so you can import all products and data when you sign up. Webgility will automatically update these platforms, such as when you ship an order.
SAP Commerce Cloud
This platform is your complete solution to order management. You receive industry-standard capabilities such as product information management and pre-built integrations. SAP Commerce Cloud is ideal for all e-commerce businesses, including B2B and B2C. Since this is a cloud platform, you and your team can easily access the software.
FAQs
Do you still have more questions about Ordoro? Here are some common questions we came across.
Who Should Use Ordoro?
Any business that requires shipping and freight. Ordoro also offers dropshipping and inventory management, but there are other platforms that specialize in these tasks.
Will Ordoro Improve My Shipping and Inventory?
Ordoro does have all of the features to benefit businesses. But we also suggest researching competitors.
Can I Try Ordoro Without Contacting Sales for a Demo?
Unfortunately, it doesn't seem that way.
Do Customers Get a Free Postage Account?
Why Do You Need a SCAN Form?
When you get your packages ready for shipment, you'll have to create a SCAN form. This makes it possible for postal workers to scan packages when collecting and accepting orders.
What Are Automation Rules?
To expedite the shipping, you can create automation rules so immediately assign a specific tag to certain orders. Common examples include shipping method, sales channel, customer information (name, email, address, etc.), shipping and handling, product name, product SKU, order line additional details, and more.
Final Thoughts About Ordoro
We honestly had a lot of hope for Ordoro. Its powerful features and user-friendly platform sounds like the perfect solution for e-commerce businesses. But we just can't get over how they were unresponsive.
Because of this, we suggest business owners look into different competitors. We recently looked into ShipStation and love that platform.
There are also several others out there that offer similar services as Ordoro. Shippo and EasyPost are great examples. We reviewed and compared both programs. Click here to read our final verdict!
Further read: