Last Updated on April 22, 2023 by Ewen Finser
There's an easy and a hard way when it comes to multichannel eCommerce.
The hard way: Businesses instruct their team to juggle products across multiple channels. This requires tedious and time-consuming effort to manage inventories, products, and shipping. Often leading to isolated teams and inefficient operations. In addition, service can be suboptimal on the customer side – reviews and questions go unanswered as teams struggle to manage the workload.
The easy way: Using multichannel eCommerce software.
So, here in this comparison review, we're putting two such solutions under the microscope: Sellbrite vs ChannelAdvisor. Hopefully, you'll have a better idea of which (if either) platform is right for your business by the end.
Let's dive in!
Bottom Line Upfront
Of course, we recommend reading the entirety of this review. However, if you're just looking for the headlines, here they are:
In short, for small to medium-size operations, go with Sellbrite. The software is easy to use, fast and affordable. Otherwise, for larger businesses and enterprise-level organizations, ChannelAdvisor is the better bet. They offer more comprehensive analytics and reporting, and there's a massive host of marketplaces and integrations to choose from.
Sellbrite vs ChannelAdvisor: The Key Similarities and Differences
If you're looking for a quick Sellbrite and ChannelAdvisor comparison, here are the key similarities and differences between the two:
The Differences
ChannelAdvisor is a much older solution that's more sales-oriented and caters more to enterprise-level companies, whereas Sellbrite has a more modern look and a younger, cleaner interface.

ChannelAdvisor offers a much vaster network of integrations, including social media channels, retailers, and marketplaces (over 100 per category), whereas Sellbrite only offers 21 integrations.

ChannelAdvisor offers digital marketing tools and campaign management, whereas Sellbrite is focused on product and inventory alone.

ChannelAdvisor has a steeper learning curve, whereas Sellbrite is easier to learn and use.

ChannelAdvisor is the much more expensive solution, whereas Sellbrite is more affordable by comparison.
The Similarities
Both tools sync your products with major marketplaces like eBay, Amazon, Walmart, and Etsy

Both offers features like inventory management, order syncing, product management, and multichannel reporting

You can get all-in-one shipping functionality and discounted postage with both providers.

With both tools, you can edit all your products from one dashboard and update them across your channels

Both tools allow for multi-warehouse management so you can assign orders to warehouses in order of priority
What's Multichannel eCommerce Software?
Before digging deeper into this review, let's get one thing straight. What exactly is multichannel eCommerce software?
In short, this software helps teams automate inventories, shipping, and product listings so that businesses can efficiently operate across multiple sales channels. For example, products can be managed in bulk across platforms like Shopify, Amazon, eBay, etc.
With this basic definition in mind, let's head into the meat and potatoes of this comparison: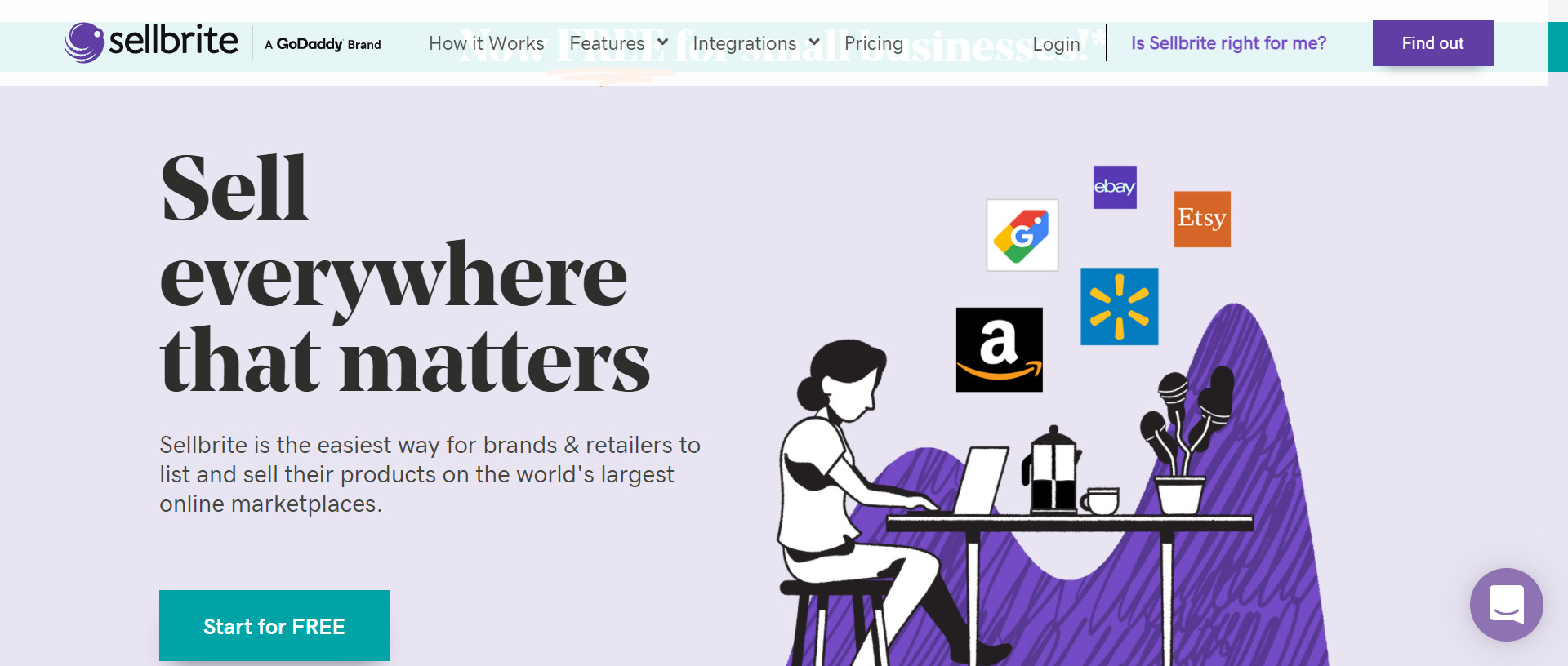 Founded in 2013, Sellbrite was explicitly designed to help businesses manage their products across multiple marketplaces. Fast forward to 2019, and it became part of GoDaddy; since then, it's become a leading solution within the multichannel eCommerce niche.
Sellbrite is a good choice for US brands and retailers wanting to increase their visibility across multiple sales channels. Likewise, it's also a good option for businesses already operating across multiple channels and needs help simplifying their workload.
Sellbrite provides a centralized dashboard from which you can oversee all your product listings, orders, shipping, and inventory across all their sales channels. Sellbrite consistently achieves good reviews across multiple platforms, averaging between 4.5 and 4.8 stars on G2, Capterra, and Web Retailer.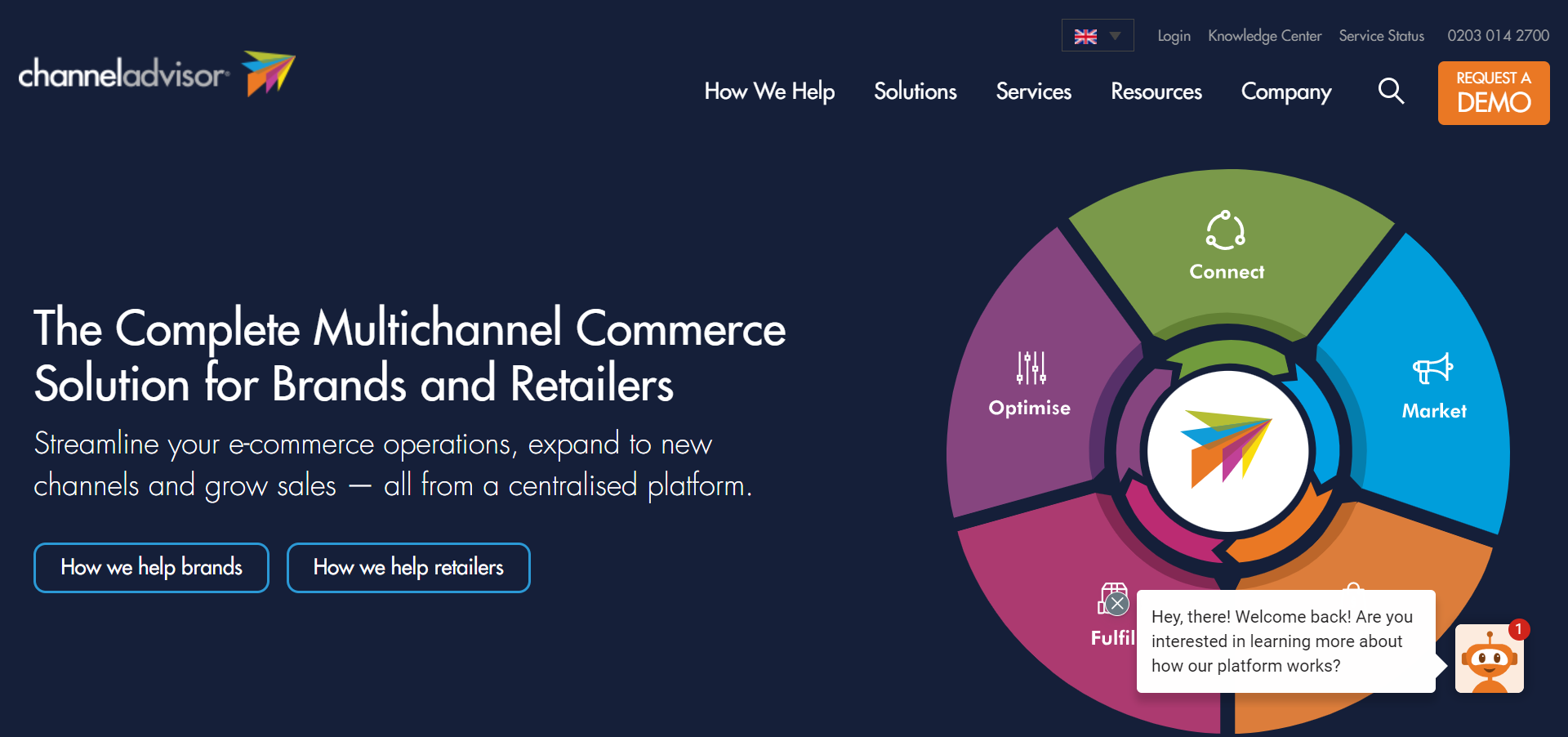 Founded in 2001, over the last 10 years, ChannelAdvisor has become an established player in the eCommerce software market.
ChannelAdvisor is a cloud-based multichannel eCommerce solution that provides everything merchants need to manage their products and customers across multiple marketplaces. They make synchronizing inventories and shipping across all your sales channels a breeze.
ChannelAdvisor is an excellent choice for businesses wanting to add new sales channels into the mix, connect with new customers, and optimize their multichannel operations.
They've worked with well-known brands, big and small, including Huawei, Clarins, Timex, Clanks, and more. Thanks to their long-standing history, they've also had time to win several awards, including Capterra's Top 20 of 2019 and the NC Tech Awards.
Where reviews from users are concerned, the platform scores worse than Sellbrite in comparison. On Web Retailer, they average only 2.4 stars with 121 votes.
Sellbrite vs ChannelAdvisor: Product Listings and Channels
As we've already hinted, one of the key benefits of using multichannel eCommerce software is that it's easier to maintain product listings across multiple sales channels. That said, let's see what Sellbrite and ChannelAdvisor have to offer in this capacity:
Sellbrite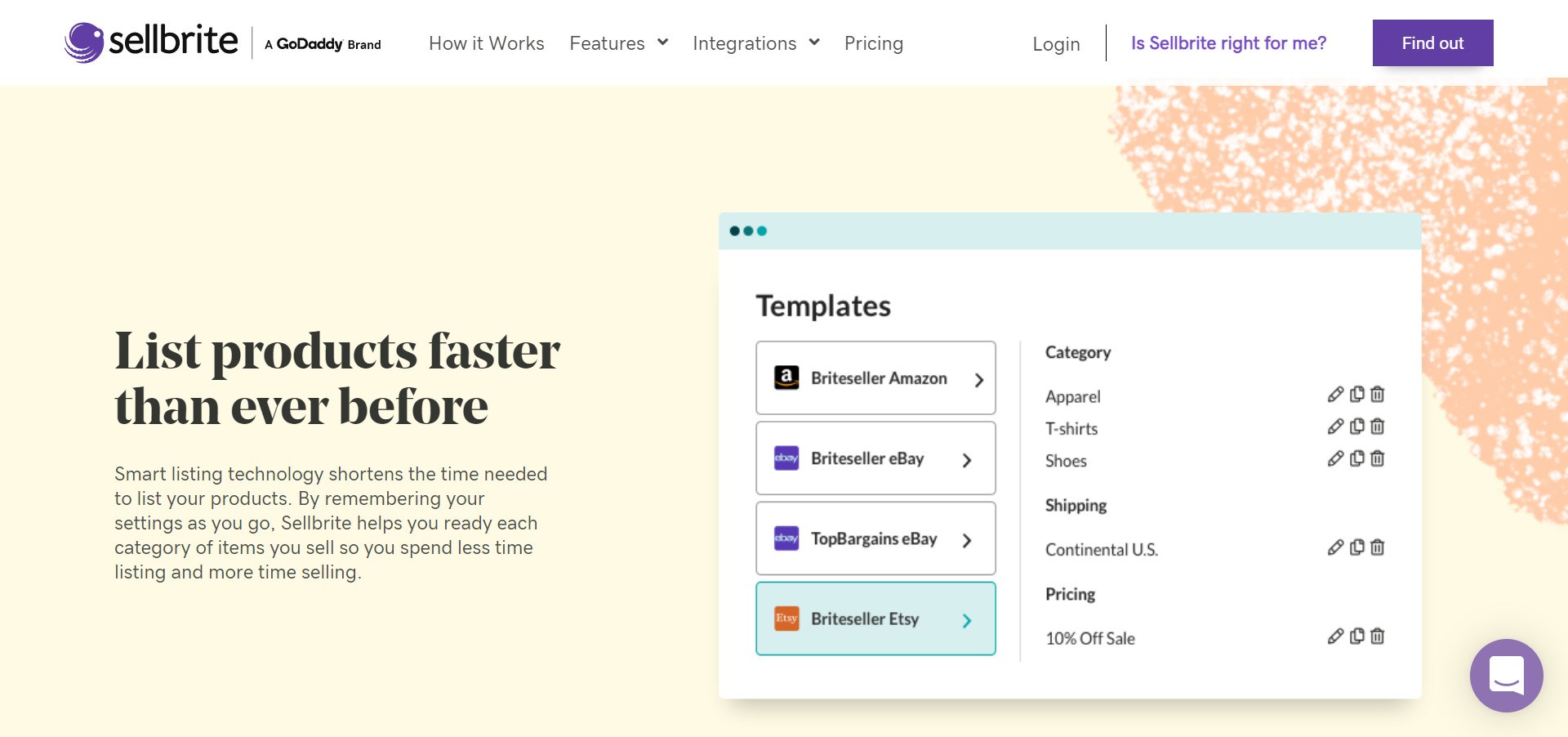 Sellbrite uses intelligent AI listing technology to remember your settings for different sales channels. This makes creating product listings so much quicker and easier than starting from scratch. Each time you add a new sales channel, you can preset your courier of choice, pricing structure, and product categories. Then you can import product lists in bulk.
You can operate across ten online marketplaces and eCommerce platforms, including:
Amazon

Shopify

eBay

Wallmart

Etsy
…And more!
You can still make changes to individual listings or make bulk edits in just a few clicks. In addition, making edits to products across multiple sales channels becomes much more manageable. When you edit a product in your Sellbrite Dashboard, it automatically synchronizes this information across all the marketplaces you have products on.
ChannelAdvisor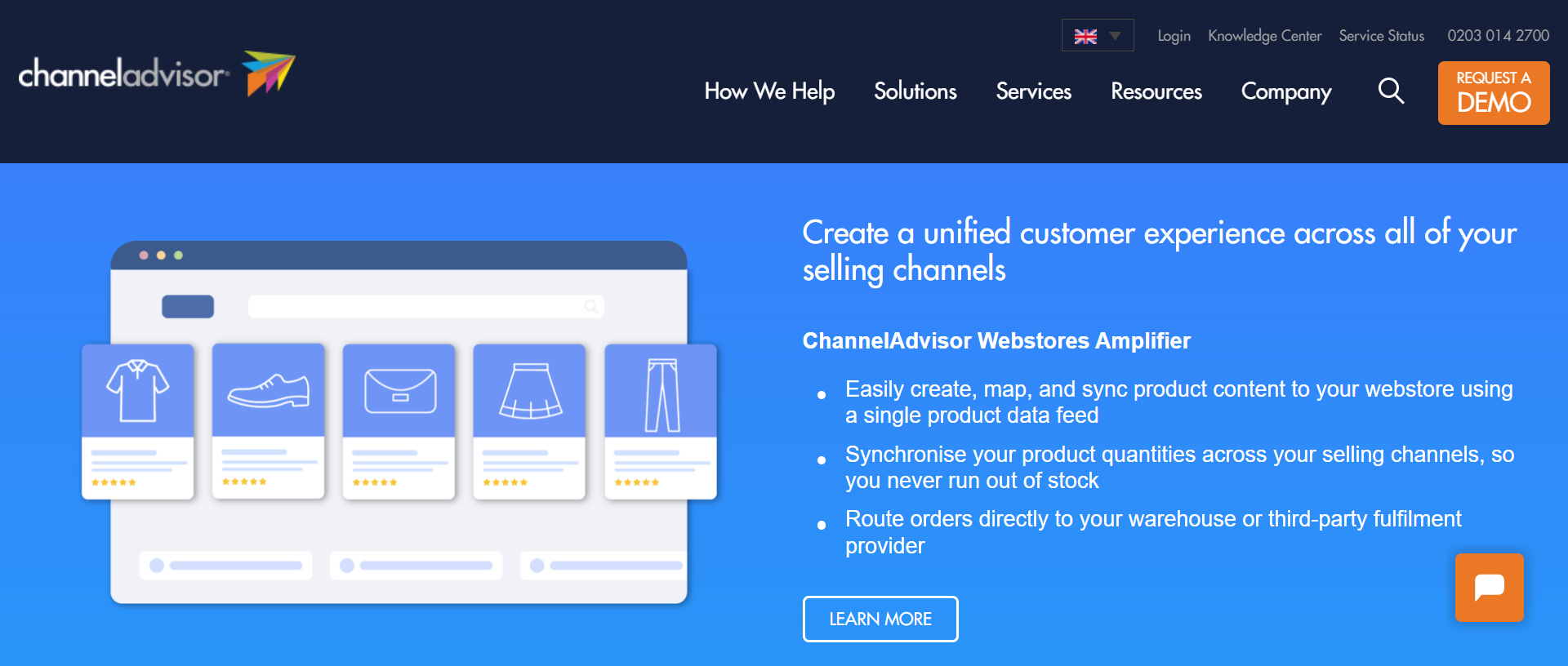 Like Sellbrite, you can easily create and synchronize product listings across multiple online marketplaces and eCommerce platforms. In addition, you can view your product information through a single product feed on ChannelAdvisor's dashboard.
ChannelAdvisor allows you to sell across a staggering 300+ channels, including key players like:
Amazon

Wish

Walmart

Zalando

Rakuten

eBay

Etsy

Sears

Google Shopping

Curated
…And many, many more!
Unlike Sellbrite, you upload products first to your dashboard so that they form part of your inventory system. You can do this via bulk upload. Then you select your marketplace and add the products you wish to sell on that channel. From there, you can consolidate all your orders in one centralized dashboard, edit product information, manage campaigns, oversee stock levels, and much more.
Generally, ChannelAdvisor allows you to go a little further with managing your products on multiple channels than Sellbrite. For example, you can create rules for product descriptions and details based on the channel's evolving algorithmic preferences. That way, you can always position your products in the best possible light.
A great feature of ChannelAdvisor is that you can automatically reprice products depending on your sales channel. ChannelAdvisor uses AI repricing technology that adjusts your product prices depending on competition and other conditions of a given marketplace.
You can set prerequisites for product pricing, including minimum and maximum prices, according to product performance and price parity. The advantage of this approach is that you can maximize profitably with a flexible pricing structure.
Sellbrite vs ChannelAdvisor: Inventory Management
Managing inventory is one of the greatest challenges for multichannel selling. First, you have to ensure your stock is always up to date so you don't accidentally sell items you don't have. Multiple warehouses are also a consideration. After all, you want to ensure you source items for each order from the most convenient, cost-effective location.
That said, let's look at what Sellbrite and ChannelAdvisor have to offer in this arena:
Sellbrite
You can list up to 100 products in one go. When you upload a product, you can turn on inventory sync so that all of your sales channels accurately reflect your stock levels. Sellbrite also allows you to add multiple warehouses. You can choose which warehouses fulfill orders according to the buyer's location.
You can also oversee stock levels at each warehouse to ensure sufficient inventory is available. If one warehouse doesn't have stock available, Sellbrite can automatically move the order to the next warehouse on your priority list.
You can also customize your stock to reflect all or individual warehouse products levels. This is a good option if you sell in multiple locations and want to expedite shipping. Your customers only see an item as available if it's obtainable from a warehouse nearby. Otherwise, a much longer shipping time might prevent them from buying from you.
You can segment inventory into 'available,' 'reserved,' and 'on-hand' stock in Sellbrite's bulk editor so that all your channels reflect the state of your inventory in real-time. Needless to say, this is incredibly handy for preventing over and underselling.
For Amazon FBA sellers, Sellbrite tracks your quantities by linking to your FBA account. Your inventory will update as soon as new stock information is received from Amazon. This data is then converted into real-time stock levels across your sales channels and marketplaces. However, you can't manually add FBA warehouses.
ChannelAdvisor
Like Sellbrite with ChannelAdvisor, your inventory levels are managed from one centralized location. From which, stock quantities across your online marketplaces and sales channels are synchronized.
Another added benefit of ChannelAdvisor is its product data compliance. The software maps different data points to a given retailer when you upload your product lists. This is done to ensure you provide accurate and compliant data according to each platform's standards.
For warehouse management, ChannelAdvisor achieves much the same as Sellbrite does. You can decide on active and inactive warehouses, create priority rules for which fulfillment location handles orders, and manage your stock levels.
Sellbrite vs ChannelAdvisor: Shipping and Fulfillment
An excellent omnichannel solution might also make it easier for you to ship and fulfill your orders cheaper and more effectively. That said, here's how these two candidates can help with that:
Sellbrite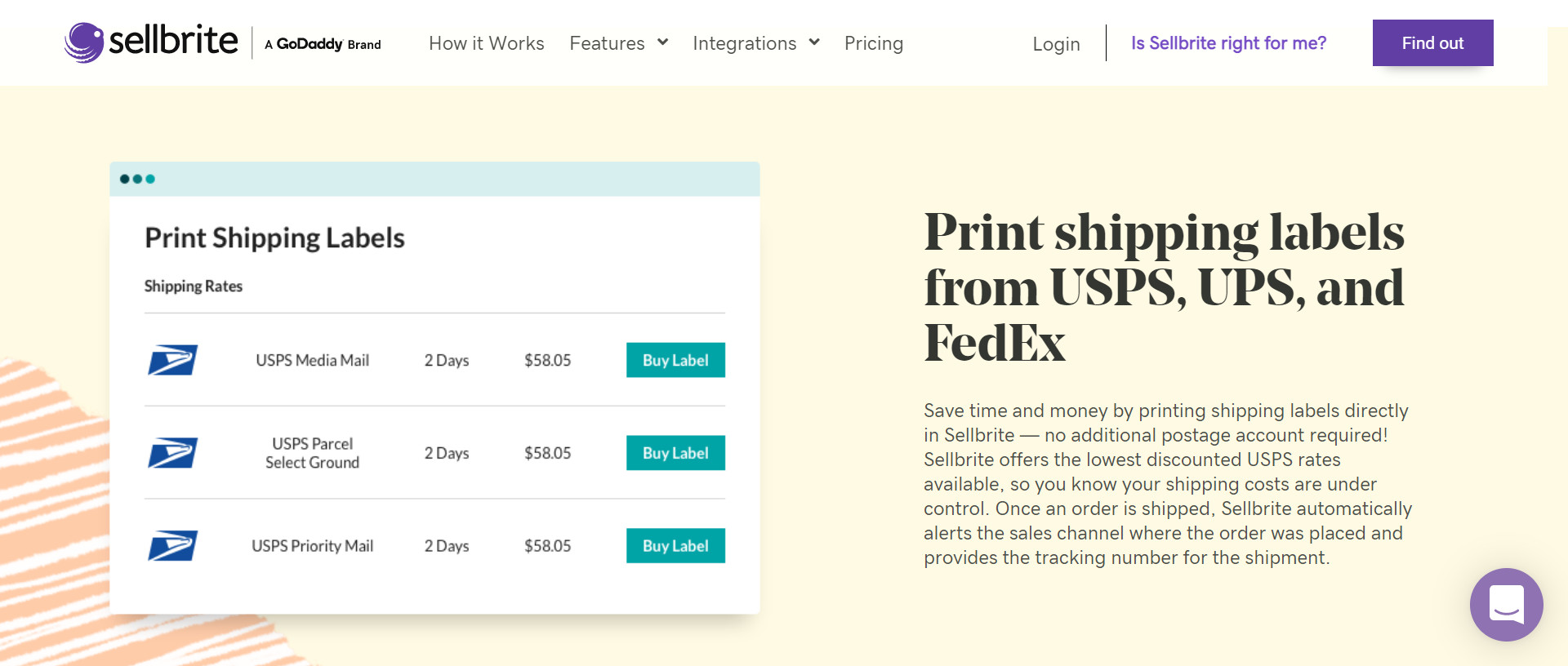 When it comes to ordering fulfillment and shipping, Sellbrite allows you to choose from a range of fulfillment and shipping partners, including:
And more…
You can print shipping labels directly from Sellbrite's dashboard and access info on the most up-to-date shipping rates. Moreover, Sellbrite offers substantial USPS shipping discounts.
Sellbrite also automatically updates the sales channel to reflect changes to inventory levels when an order is placed.
Shipping ties back in with the above-mentioned warehouse management. Sellbrite allows you to assign multiple active warehouses to specific orders so that any shipment can automatically be fulfilled at the most convenient location. Furthermore, it automatically reroutes to the next best option if stock runs out. This way, you benefit from the most efficient and cost-effective routes.
ChannelAdvisor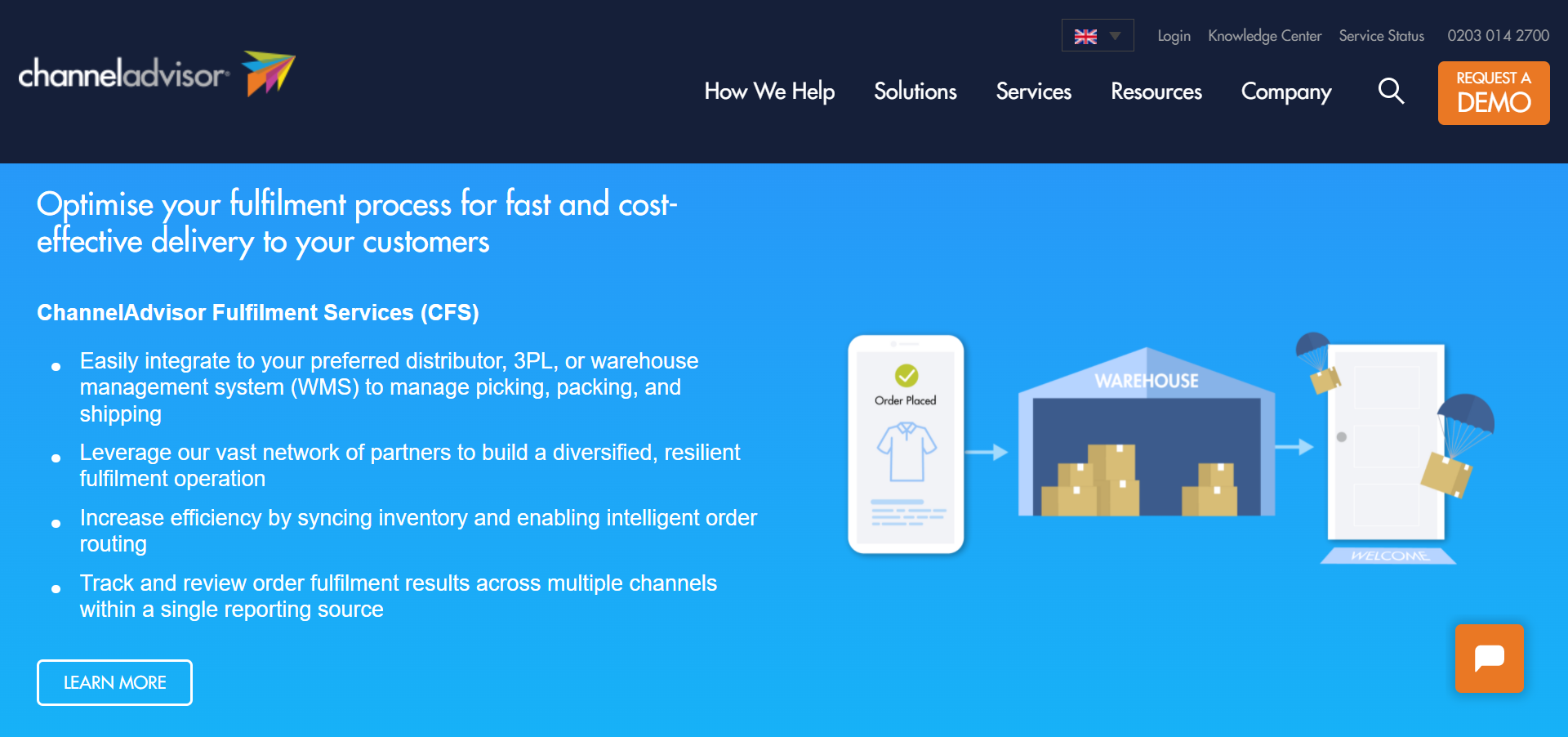 ChannelAdvisor also benefits from many fulfillment, delivery, and warehouse management partners. Whereas Sellbrite's shipping integrations are limited to ten, ChannelAdvisor operates more globally and includes more options than we could list.
Some popular shipping providers include:
ShippyPro

EasyPost

USPS

UPS

FedEx
And more…
ChannelAdvisor offers a range of 1p (first-party) and 3p (third party) fulfillment solutions. With 1p fulfillment, you act as the warehouse, while another party manages the pricing, advertising, and delivery. For example, selling products as a vendor through Amazon. While Sellbrite also works with FBA, ChannelAdvisor has over 100 such connections, quickly knocking its competition out of the park.
Alternatively, you can work with third-party fulfillment services to manage the picking, packing, and shipping of your products. Whichever option you choose, you can sync your inventory and track all your orders through ChannelAdvisor. You can also enable intelligent order routing to maximize the efficiency of deliveries and shipping across all your channels.
Sellbrite vs ChannelAdvisor: Integrations
Both software come with a variety of native integrations. However, it's important to note that the individual use of different integrations may not be included in the price. As such, you may have to pay extra for these services.
That said, let's take a look at the integrations Sellbrite and ChannelAdvisor have to offer:
Sellbrite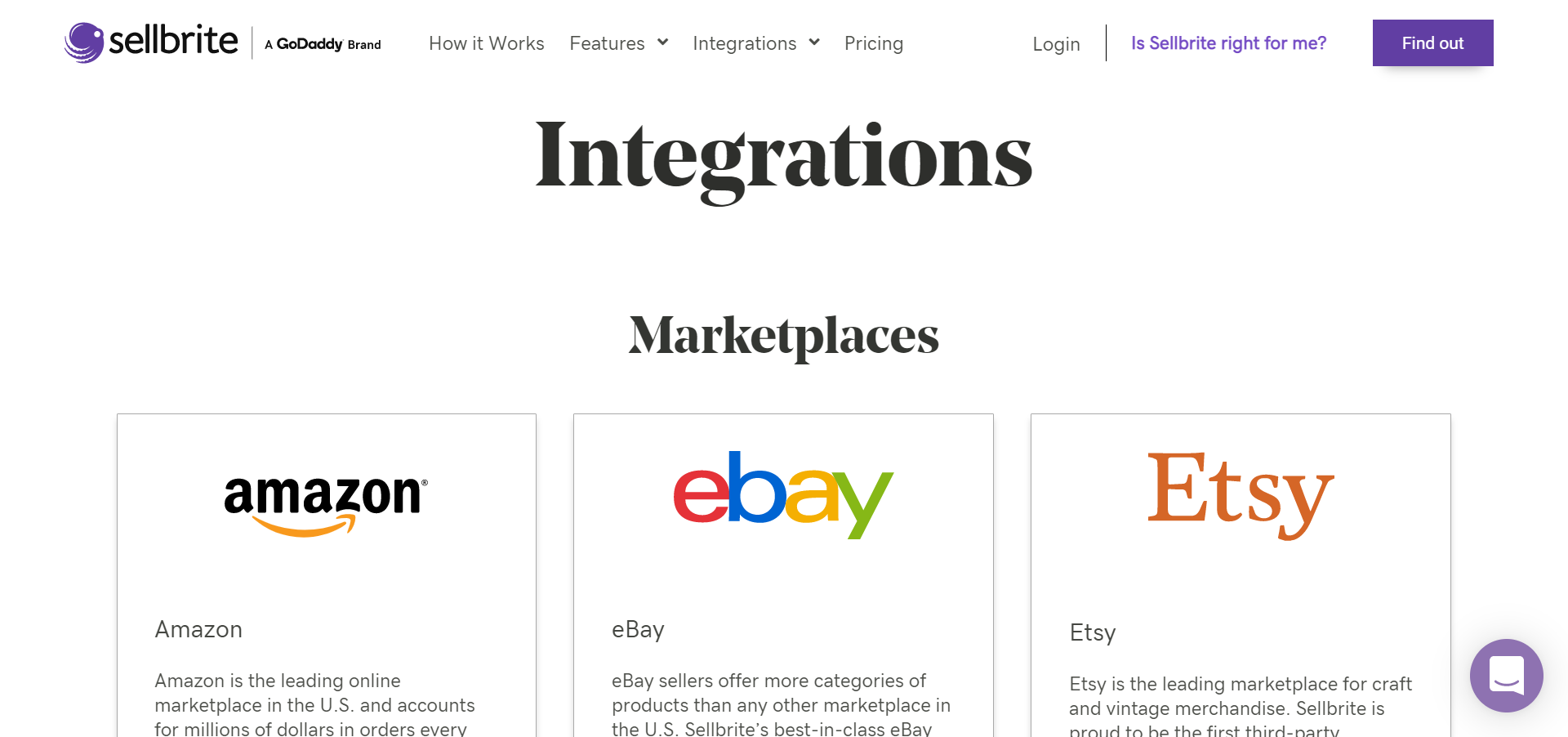 Sellbrite organizes its integrations into three main categories: online marketplaces, shopping carts, and service integrations.
They have 21 integrations to choose from:
The marketplace integrations empower you to push products across big-name channels like:
Google

Amazon

eBay

Walmart

Sears

Etsy

NewEgg
Whereas, with the shopping carts, you can set up shop on platforms like:
Shopify

Woocommerce

BigCommerce
Lastly, there are ten partners you can select from for fulfillment and shipping.
This includes:
USPS

FBA

Deliverr

SkuVault

ShipEngine

Easyship

Sales Pad Cloud

Inventory Source

Algopix
ChannelAdvisor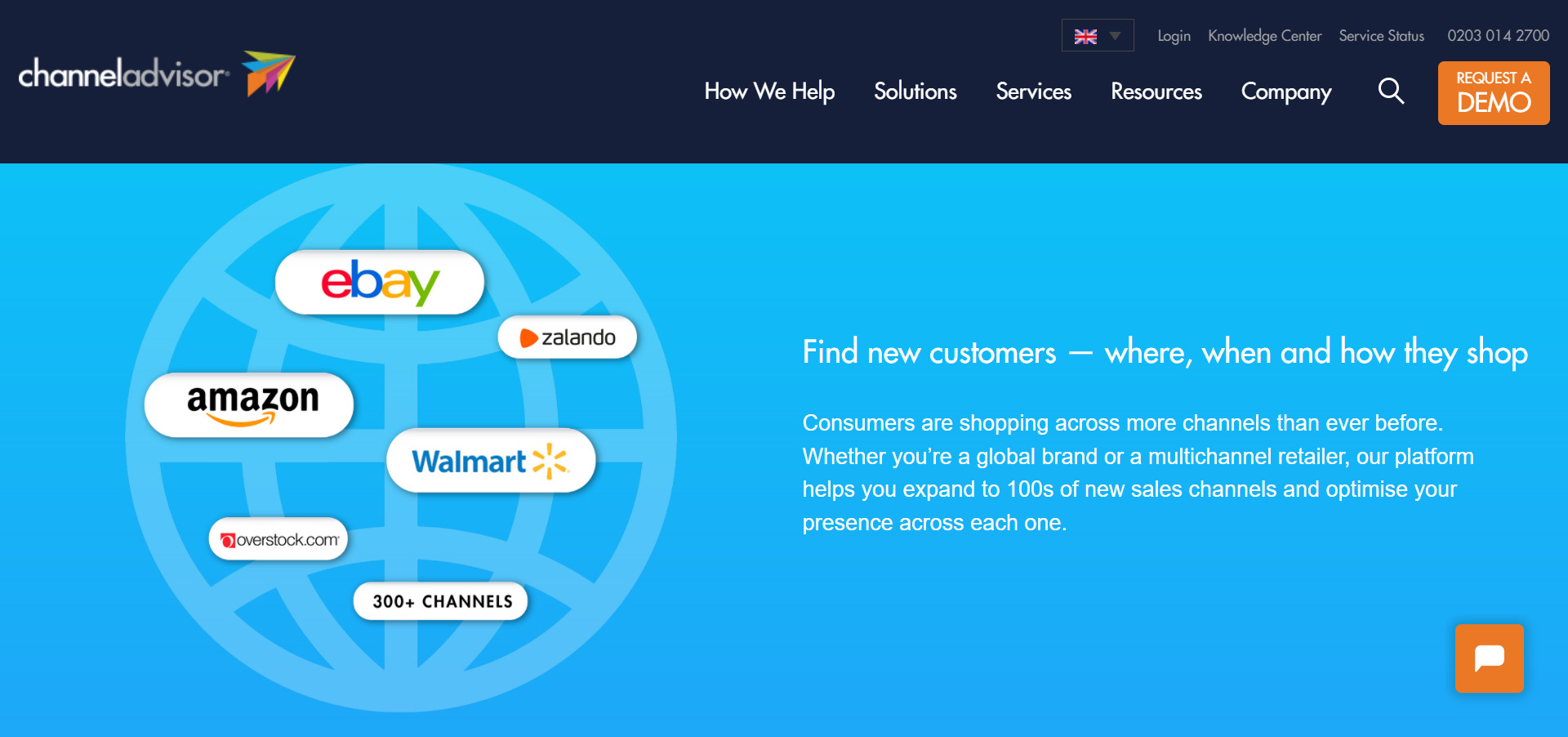 As mentioned, ChannelAdvisor has over 300 integrations spanning online marketplaces, design, analytics, and more. They also have a diverse range of social media integrations to help you leverage your products across media channels. Of course, we can't list all of ChannelAdvisor's integrations here, but below we've listed some of the key players:
Facebook

Instagram

Pinterest

Shopify

Google

Amazon

eBay

Etsy

Rakuten

Wish

Walmart

Back<Market

USPS

FedEx

Pitney Bowes

Amazon Buy Shipping for Seller Fulfilled Prime

Youtube

Microsoft Advertising

Google Shopping

TikTok

Twitter
Sellbrite vs ChannelAdvisor: Reporting and Analytics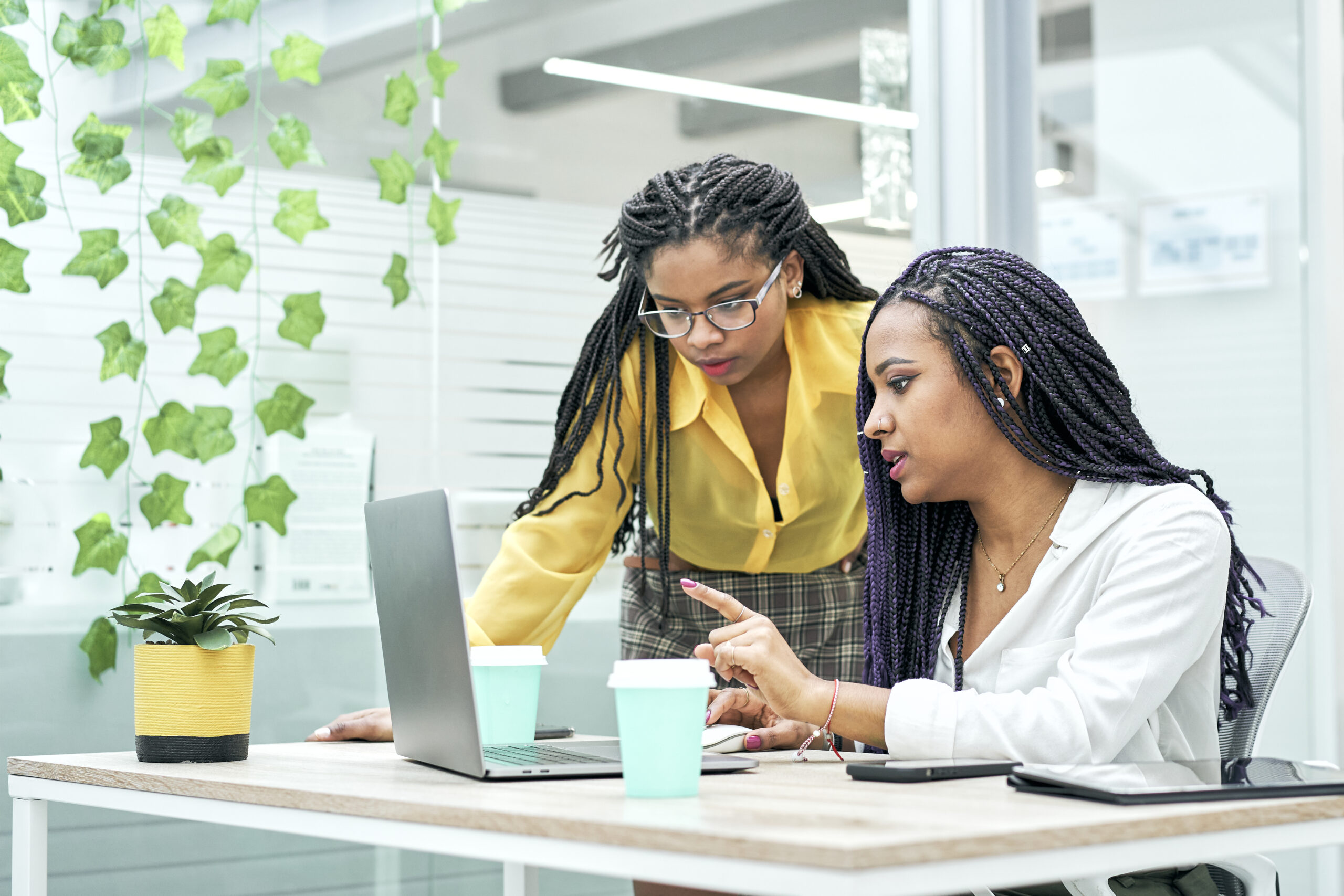 Multichannel eCommerce can become exceedingly difficult to track – especially as you begin adding more channels into the mix. That's why high-quality reporting and analytics tools are imperative. That said, let's take a look at what Sellbrite and ChannelAdvisor offer in this arena:
Sellbrite
Sellbrite's dashboard provides insights into product performance by SKU, channel, and sales. You can also get essential warehouse and inventory information (like low stock reports) for different products that need reordering. All your analytics can be transformed into visual reports or downloaded as a spreadsheet. For example, you can review your sales graph by period and channel.
However, Sellbrite's analytics are very basic – sales and inventory reports are as in-depth as they get.
ChannelAdvisor
ChannelAdvisor provides retail-specific analytics on performance and inventory across your channels. For example, you can monitor the inventory levels of products across your different channels and your partners. It can automatically identify low stock and tell you when it needs replenishing.
ChannelAdvisor also draws on data from its hundreds of retail partners. This provides them with valuable insights into how sales can be optimized and how products need positioning on various channels to do better.
Thanks to this, ChannelAdvisor highlights where you can find opportunities to scale your distribution channels. It identifies new opportunities based on competitive analysis and untapped category subsegments. In addition, it informs you when a marketplace algorithm changes so that you can edit descriptions, settings, and tags accordingly.
ChannelAdvisor can also help you find better keywords for your advertising, promotions, and product titles. In addition, it suggests effective keywords and tags associated with high sales for other retailers.
If you operate on Amazon FBA, you can get detailed information on pricing strategies for the buy box.
ChannelAdvisor can generate up to 50 customizable reports about your eCommerce performance, including:
The prices customers pay for shipping

Advertising fees

Commission fees

Fulfillment costs

Campaign performance

Sales

SKUs and inventory

Identifying unauthorized sellers of your products

Competitor prices (in comparison to your own)

Price history data

Your share of search results on eCommerce sites

Advertising opportunities based on organic performance

Content compliance across your retail channels

Product page performance as compared to competitors
…and much more.
Sellbrite vs ChannelAdvisor – Advertising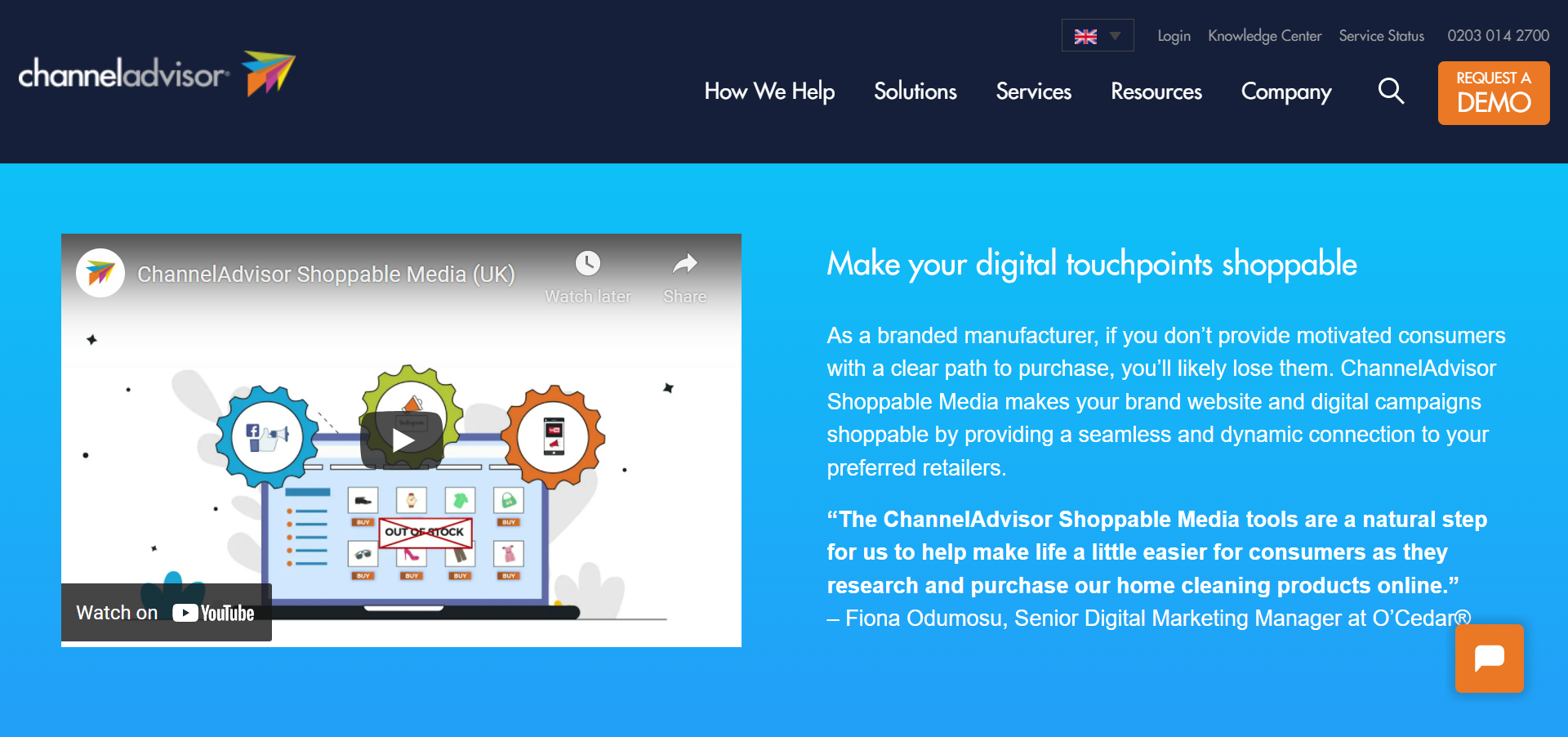 This section is primarily dedicated to ChannelAdvisor because Sellbrite doesn't offer any marketing or advertising features.
With ChannelAdvisor, on the other hand, you can start, edit, monitor, and manage promotions and marketing campaigns from your ChannelAdvisor dashboard. This allows you to create paid ad campaigns for marketplaces and social media platforms and even generate reports and analytics for them.
You can even utilize audience targeting and message optimization to better reach your customers on various channels. One of the most exciting marketing features ChannelAdvisor offers is Shoppable Media.
These dynamic shopping links work on social media campaigns to make your content actionable. So, for example, users could click on one of your Instagram posts and be taken to a marketplace where the product in question is sold. Needless to say, this makes your campaigns more interactive and helps to encourage higher conversion rates.
Sellbrite vs ChannelAdvisor: Price
So, what price tag can we expect from Sellbrite and ChannelAdvisor? Let's take a look…
Sellbrite
With all Sellbrite plans, you get a 30-day free trial. Afterward, Sellbrite's pricing structure is divided into two categories:
Sellbrite Pro
You can opt for either monthly or yearly billing. The latter comes at a discounted rate of roughly 20%, but we've quoted monthly billing prices below. In addition to the monthly rate, you can also add the Amazon FBA integration for $19 per month.
Free plan

: $0 – for up to 30 orders per month

Pro 100 plan

: $29 – for up to 100 orders per month

Pro 500 plan:

$79 – for up to 500 orders per month

Pro 2K plan

: $179 – for up to 2,000 orders per month
Sellbrite Pro comes with:
Unlimited product listing, users, and sales channel integrations.

Products are automatically updated every 15 minutes.

Access to product, inventory, and fulfillment features.

Access to email and chat support (however, only the Pro 500 and Pro 2K come with phone support).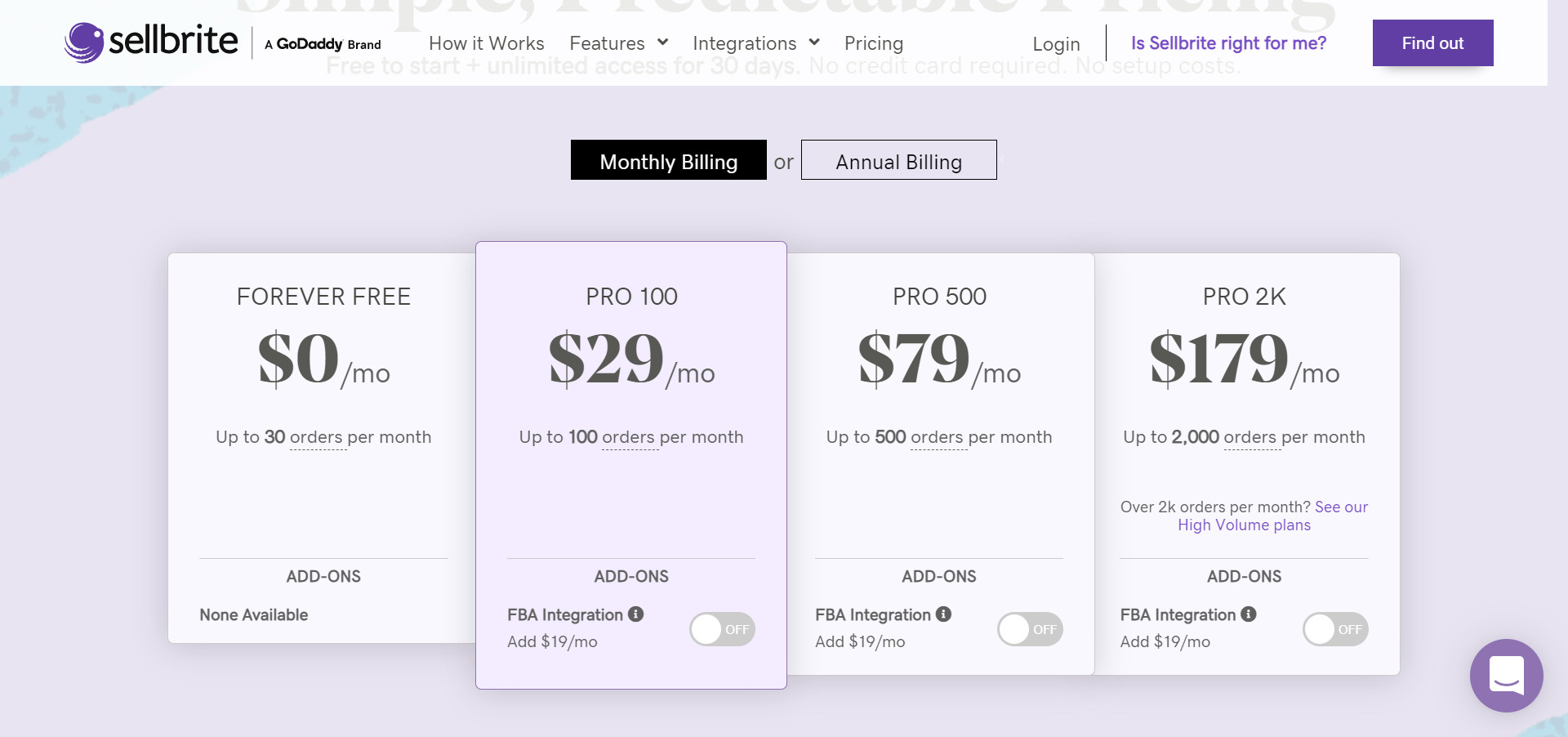 SellBrite Pro for Shopify
As you've probably guessed, these plans are designed specifically for Shopify users. The standard monthly billing is as follows:
Free plan

: $0 – for up to 30 orders per month

Pro 100 plan

: $19 – for up to 100 orders per month

Pro 500 plan:

$59 – for up to 500 orders per month

Pro 2K plan

: $99 – for up to 2000 orders per month
You get everything in the Sellbrite Pro plans. However, your inventory, catalog, and fulfillment are updated through the Shopify Sellbrite app instead of Sellbrite directly. This means you have limited fulfillment, shipping, and inventory integration options.
ChannelAdvisor
ChannelAdvisor doesn't list its pricing structure on its website. To find out their pricing, you must inquire directly. That said, you can find rough indications of their pricing around the web. According to their competitor Sellbrite, ChannelAdvisor charges a minimum fee of $1000 per month and an additional 4-5% of your revenue.
As such, its pricing structure isn't suited to small or midsize businesses on tighter budgets. Instead, ChannelAdvisor is best suited to enterprises expanding their global reach.
Sellbrite vs ChannelAdvisor: Their Pros and Cons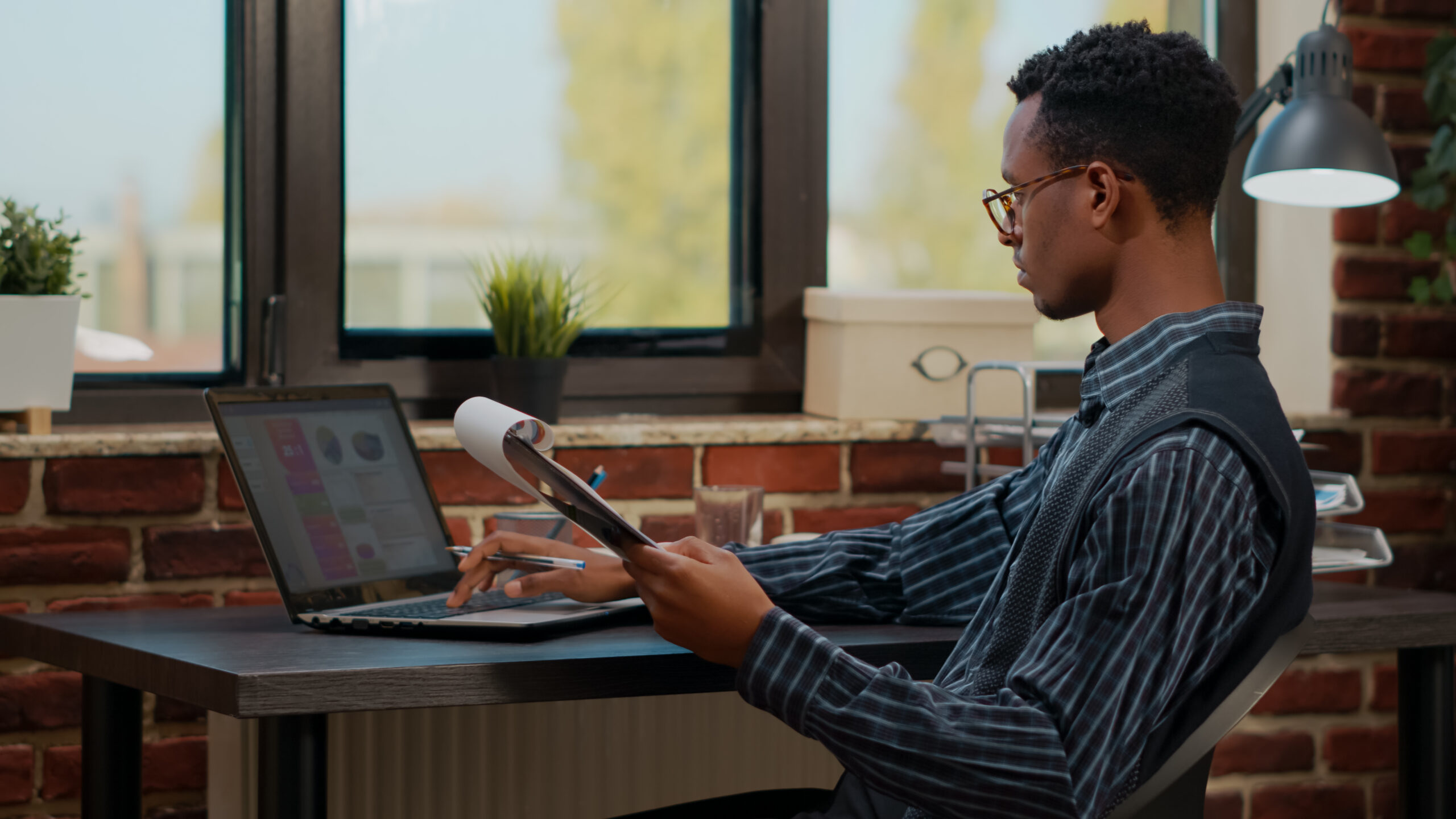 We've covered a lot of ground here – so let's consolidate some of the above with a quick pro-cons list:
Sellbrite
Pros:
Affordable pricing structure.

Access to an intuitive and easy-to-use UI.

It has a free plan.

You benefit from fast AI listing technology

You benefit from automatic inventory synchronization.
Cons:
Compared to ChannelAdvisor, Sellbrite's integration and sales channel options are limited

There aren't any built-in social media tools.

You can't use Amazon FBA on the Shopify plan.

There's an additional cost for Amazon FBA.

There are limited analytics features compared to ChannelAdvisor.
ChannelAdvisor
Pros:
ChannelAdvisor has a superior list of integrations and marketplace partners.

Access to advanced analytics and reporting.

You benefit from automatic inventory synchronization.

Access to social media and advertising tools.
Cons:
The pricing structure is unclear.

There's no free plan.

The UI is reportedly tricky to use and often feels like a spreadsheet.

There's a lack of self-help resources.

It's reportedly costly and takes a percentage of your revenue.
FAQs
Question: How do I set up a sales channel on Sellbrite or ChannelAdvisor?
Answer:
Sellbrite
Make sure you have an account with the sales channels you plan to use.
From your Sellbrite dashboard, select "connect your channels" and add the one you want to use.
How you add products depends on whether you use an SKU system.
If you have SKUs, you can import products directly from your channels.
If you don't have SKUs and sell the same products on different platforms, you can create your own SKU system (Sellbrite has guidance).
If you don't have SKUs but don't sell the same products on your platforms, you can import directly from each channel.
To synchronize products with Sellbrite, you can do an automatic list import. Or manually link each product one by one.
Lastly, go to your inventory page; this will tell you if your products are now live on Sellbrite. If so, you're ready to go!
ChannelAdvisor
With ChannelAdvisor, you first upload your products to give HubLogix access to them. From there, the software uses this information to integrate your catalog with the channels you choose.
Create a list of your products with their relevant SKUs. Or manually add individual products by SKU.
Connect HubLogix to your ChannelAdvisor account (they will walk you through this).
HubLogix connects all your products to your ChannelAdvisor account.
Now you'll see all the products on the catalog page.
Find the product you want to list and click on product data. Under "Fields," click on the channel you want to list the product on. (The channel must first be listed and configured in your channel settings.) Then, simply toggle "Activate Listing" on.
Alternatively, select all products you want to list in your catalog spreadsheet. Click on "List/Delist" in the toolbar, and choose the channel you want to list those items for. Then simply click "Update."
Question: Can I include sales channels that aren't integrated with Sellbrite and ChannelAdvisor?
Answer: ChannelAdvisor gives you the option to add generic channels that aren't integrated using an FTP connection. HubLogix relies on four integration points: The downloading and updating of inventory, orders received, and shipments. This works by downloading the channel product catalog. HubLogix can then map those products to warehouses connected with your ChannelAdvisor account. A guide for this process is available in their help center.
Sellbrite has an API that also allows you to develop custom integrations and expand upon the tool's functionality. However, there's no guidance specifically for adding more channels that aren't already available with Sellbrite.
Question: What's FBA?
Answer: Fulfillment by Amazon (FBA) is Amazon's storage and shipping service. To use this, retailers ship their products to Amazon's fulfillment centers, where Amazon handles the receiving, picking, and packing of products. You can also enable FBA distribution centers for non-Amazon channels. However, FBA often comes at a premium. Sellbrite, for example, cannot integrate with FBA unless you purchase access for an additional monthly fee.
Sellbrite vs ChannelAdvisor: Our Final Verdict
Now that we've made our comparison let's move on to which software we think comes up trumps: In summary, if you're looking for an easy way to get started with a multichannel selling strategy, we recommend Sellbrite. Sellbrite makes it easy to add, monitor, and start selling products across multiple channels. In addition, it's intuitive and automates many of the cumbersome aspects of multichannel product management.
However, the downside of Sellbrite is its limited integrations and analytics features. If you're managing larger-scale inventory, fulfillment, and product operations, then ChannelAdvisor is the better choice. Although the system is harder to get to grasp, once set up, you can operate across hundreds of channels with ease.
So who's your pick? Sellbrite, ChannelAdvisor, or one of their competitors? Tell us your thoughts in the comments box below!