Last Updated on June 1, 2023 by Ewen Finser
I'm a really big fan of LearnDash. This is a powerful LMS that offers everything you need to create high-quality courses. Still, LearnDash has its downfalls.
I especially have a big beef with LearnDash's membership platform. They use weird terminology, so it's difficult to navigate and create membership tiers. That's why I was curious to try another membership WordPress plugin–ideally, one that also integrates with LearnDash.
That's when I stumbled upon MemberPress. It has extremely high ratings and a devoted customer base. You can connect with subscribers in different ways, such as by sharing gated content and selling various products.
With LearnDash's MemberPress integration, you can sell courses to members, offering a different revenue opportunity. There's only one problem: MemberPress doesn't include a free trial or demo. This was a major dealbreaker; I prefer trying programs before buying them.
So, should you fork over the cash for MemberPress? Or should you try and navigate LearnDash's membership area?
Bottom Line Up Front
I don't recommend LearnDash or MemberPress. If you want to make your course into a membership, I recommend Teachable. Teachable is an LMS that operates on one platform–no need to download WordPress or other plugins. You can offer subscription pricing and memberships to your course, providing instructors with an easy way to gain more revenue.
Main Differences Between LearnDash vs MemberPress
The main differences between LearnDash vs MemberPress are:
LearnDash is an LMS with a membership option, whereas MemberPress is a membership WordPress plugin that supports course creation
LearnDash offers a free demo, whereas MemberPress doesn't offer a demo or a trial
LearnDash only offers course creation, whereas MemberPress allows creators to sell various digital products
LearnDash offers subscription and lifetime pricing, whereas MemberPress only allows subscription pricing
MemberPress allows multiple membership levels, whereas LearnDash doesn't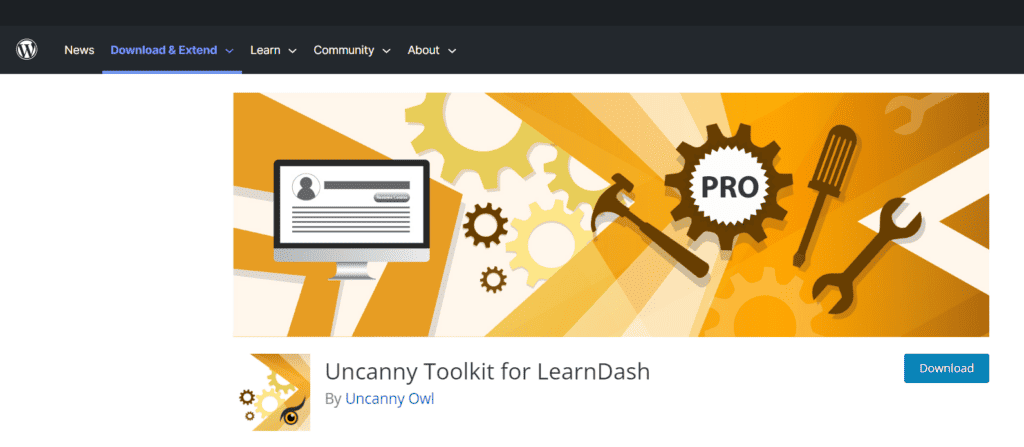 LearnDash is arguably the most popular WordPress LMS. It's used by various different organizations–professional training companies, universities, enterprises, and small instructors such as myself.
With this platform, you can create a course using its built-in advanced tools or add one of many integrations to enhance your course functionality. You have the option to set your course as free or paid, and you have the option to choose lifetime or subscription pricing.
Pros
Different content creation options
You can choose free or paid courses
Lifetime or subscription pricing
Cloud option
Free demo
Numerous integrations
Advanced course creation tools
Automation
Cons
Don't like their built-in membership functions
It can be difficult for new users to learn
Features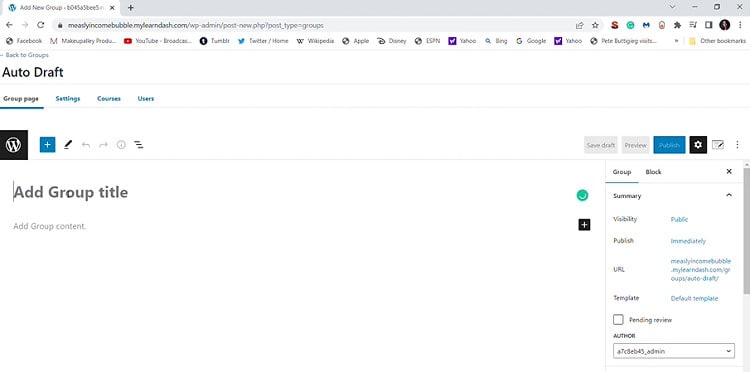 One of the many reasons why I have always loved LearnDash is the impressive suite of features you can access. Some key features to know include:
Supports various content types
Advanced lesson and quiz builders
Drip content feed
Installs in minutes
Gamification
Automation
Reward systems
One-time or membership pricing
Certifications
Built-in Stripe integration
If these features aren't enough, LearnDash offers various add-ons. I will cover these more in another section.
Bottom line: LearnDash offers numerous impressive features to create high-quality and engaging courses.
Pricing
I find LearnDash more expensive than the competition. Here are its prices:
$199/one website
$399/10 websites
$799/unlimited websites
If you want to use LearnDash Cloud, it will cost you $29/month (you can save and pay $299/year for annual pricing).
The main aspect I don't like about LearnDash's price is you have limited flexibility. While it's great that you can access all of LearnDash's features on the first-tier plan, they don't offer a way to pay for two websites.
If you want to upgrade, you have to jump to three websites. There are competitors out there that are cheaper and offer more flexible plans.
Bottom line: LearnDash is expensive and only offers plans for a specific number of websites. LearnDash cloud only has one pricing plan (though they offer monthly and annual pricing).
Ease of Use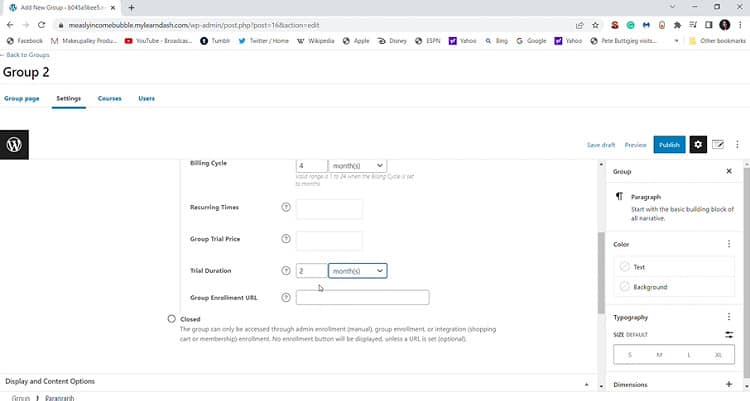 LearnDash has pros and cons here. If you don't have any coding experience, you can still create a high-quality course with LearnDash using WordPress' advanced content creation platform. LearnDash also integrates with various plugins; you can use a website builder to design your course, accept payments with Stripe and PayPal, and more.
My only issue with LearnDash is you have to jump around to create your course content. I will demonstrate this in the video, but I don't find LearnDash the most user-friendly WordPress LMS. In the alternatives section, I will recommend competitors with and without WordPress plugins that are easier to navigate.
Bottom line: LearnDash doesn't require coding knowledge to create your course design and content. However, it's not the easiest platform for those new to WordPress and LMS course creation.
Integrations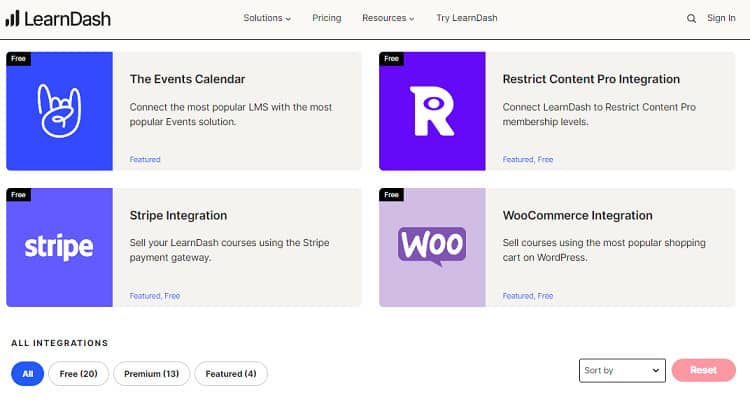 One of the areas where LearnDash shines is the number of integrations they offer. If you need to enhance your course's functionality, you can use various third-party plugins.
There are add-ons for marketing, automation, data, reporting, e-commerce, and more. You will likely recognize the brands that LearnDash supports, such as WooCommerce and bbPress. You can view LearnDash's full suite of integrations here.
Bottom line: LearnDash offers a full suite of third-party plugins to enhance course functionality. You can gain functions such as marketing, automation, reporting, e-commerce, and more.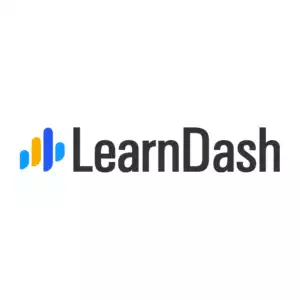 WordPress LMS Plugin by LearnDash
The most trusted WordPress LMS plugin, created by learning industry professionals with Fortune 500 experience. Transform your site in less than 5 minutes.
Get LearnDash
We earn a commission if you click this link and make a purchase at no additional cost to you.
Support and Documentation
I was stuck the first time I tried LearnDash's memberships function. When seeking help, I first turned to LearnDash's knowledge base. I was delighted to see LearnDash offered a video and blog about their memberships product, but neither was helpful.
The memberships video was extremely long, and the host talked mindlessly about nothing. I stopped watching it shortly after. I read the blog, and it was just a brief overview of the membership product and not how to use it.
I started looking on YouTube and found a great tutorial from a course creator. After that, I was pretty sour toward LearnDash's support. I should improve my understanding of the product and backend from LearnDash, not a random YouTube course creator.
I haven't had to contact LearnDash's customer support, which is a good thing since I've been using LearnDash for a while. If you have any tech issues, you can submit a support ticket on their website.
Bottom line: I wasn't impressed with LearnDash's knowledge base. However, I never needed to contact customer support for any tech problems.
MemberPress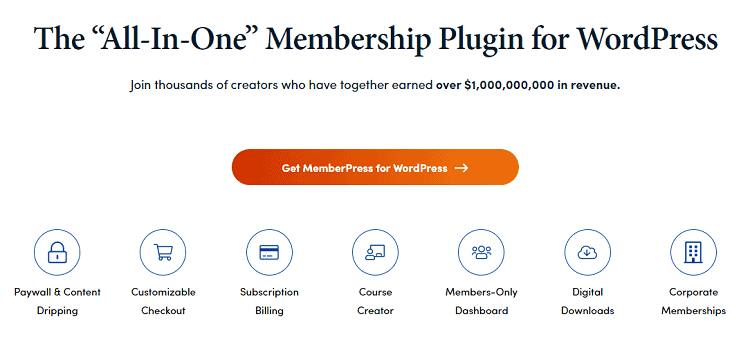 MemberPress is a WordPress plugin that offers membership perks to your website. MemberPress applies subscription pricing to various products, such as digital products, content, and courses. If you own an e-commerce website, MemberPress will also let you apply benefits to members, such as early bird sales and priority support.
I was excited to try MemberPress since I'm not a big fan of LearnDash's membership product. However, I was upset to discover that MemberPress doesn't offer a free trial. Though they offer a money-back guarantee, I don't feel comfortable spending money on software I haven't tried. What's the process for requesting a refund? And how long will it take me to receive the funds?
Pros
Membership level and perks customizations
Offer subscription pricing
Compliance
Various built-in features
Covers different types of businesses, courses, and content
Create member-protected content
Cons
No free trial
Lacks plugins
Limited ways to connect to members
Features
MemberPress offers many built-in features to offer subscription pricing to your website visitors. Here are some of its key features:
Can create multiple and complex membership levels
User-friendly dashboard
Different pricing tiers
Use WordPress' editor to align content with membership tiers
Support
You can also set trial periods
Bottom line: MemberPress includes built-in powerful features to create a membership platform for your website or course.
Pricing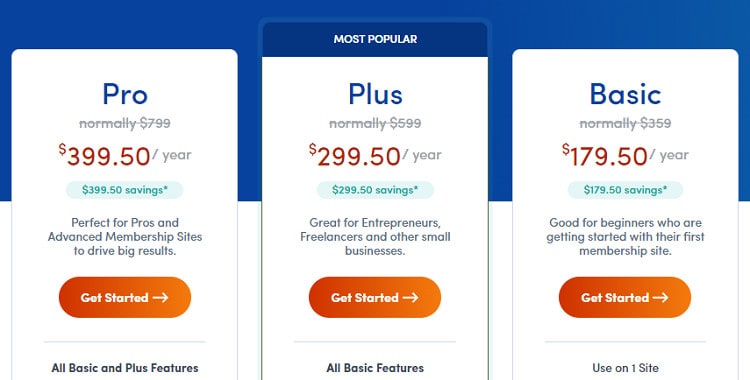 MemberPress has three pricing plans:
Basic: $179.50/year
Plus: $269.55/year
Pro: $319.60/year
Keep in mind that they have a sale going on, so the prices may be more than this.
As I said, I'm upset that MemberPress doesn't offer a free trial or even a quick demo. This doesn't allow users to try out the platform first. While these prices aren't expensive, I can't imagine why MemberPress doesn't offer a free trial or demo–especially considering so many competitors do.
Bottom line: MemberPress isn't expensive for all the features you receive, but it kills me how they don't offer a free trial or demo.
Ease of Use
Unlike LearnDash, MemberPress is easier to integrate and use in WordPress. You will access your dashboard to create and control your membership tier.
Setting up your memberships only takes a few minutes, simple enough for even new WordPress users. Unlike LearnDash, most users don't need to visit YouTube to find MemberPress tutorials.
Bottom line: MemberPress is easy to use. Setting up your memberships only takes minutes, and you have a dedicated dashboard to control your subscriptions. This is a more user-friendly platform for WordPress beginners than LearnDash.
Integrations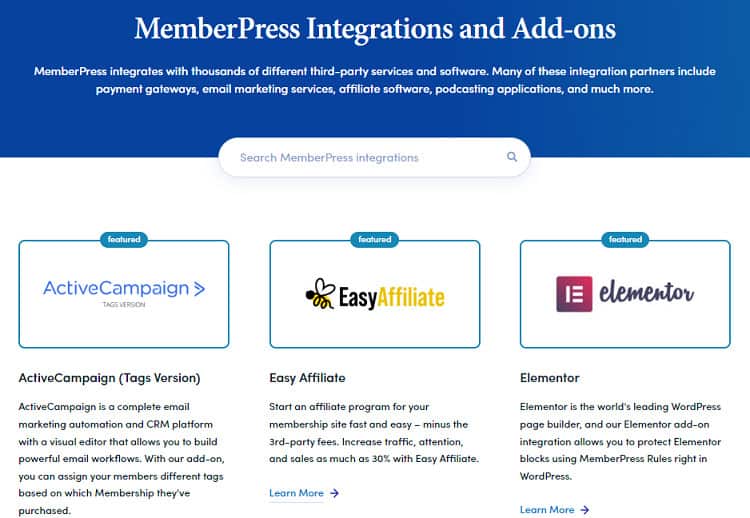 MemberPress does host some integrations, though not as many as LearnDash. You can view all of their integrations here. Some of the most impressive ones I see are ConvertKit and Divi.
You can boost website functionality with e-commerce, marketing, themes, and forums. I suggest adding forums to your membership website–MemberPress lacks functions to connect with your members, so a forum can offer an extra social function.
While the lack of integrations is a bit of a downside, MemberPress does host many built-in features. When using MemberPress, you may learn you don't need as many integrations as expected.
Bottom line: MemberPress offers some integrations, but not as many as LearnDash. Still, MemberPress has more built-in features. You may not need as many integrations.
Support and Documentation
MemberPress offers an impressive knowledge base. They have written tutorials for every aspect of their website, even how to use the login page. Everything is organized on the knowledge base, so you can find answers to nearly any problem.
The tutorials are written well and explain the solution–unlike LearnDash, where their support pages are merely promotional. MemberPress also offers a YouTube channel with tutorials if you prefer watching a video.
If you're having tech issues, you can send a support ticket by clicking here. It may take a couple of days for them to respond, which is a shame. If you can afford it, I suggest finding a development company.
Bottom line: MemberPress' support is much better since their knowledge content is instructional and helps users. If you run into tech problems, it may take a bit for support to respond. I suggest hiring your own developer to oversee your course.
Alternatives
I usually open this section up to recommend alternatives if you realize LearnDash or MemberPress is right for you. But with this article, I'm doing things differently.
Instead of using this section as a way to include competitors, I'm suggesting you look into these alternatives because they offer more solutions than LearnDash and MemberPress.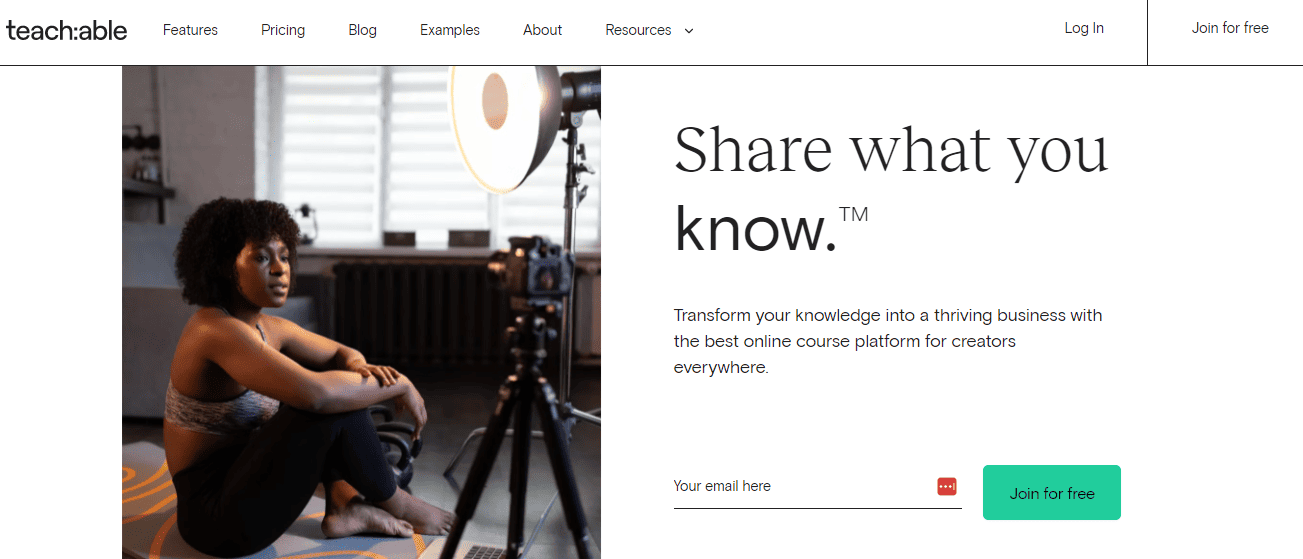 If you want to add a membership to your course, I don't suggest LearnDash or MemberPress. Instead, you should look into Teachable.
As the name suggests, Teachable is an LMS that offers its own platform–no need to integrate with WordPress. I've used this program before and love how they offer a free plan–better than a free trial or demo. Their platform is very customizable, easy to navigate, and their support is fantastic.
The free plan still offers decent features, though you'll have to upgrade to access its full features. If you have an existing audience, Teachable offers membership pricing so you can earn more money.
Mighty Networks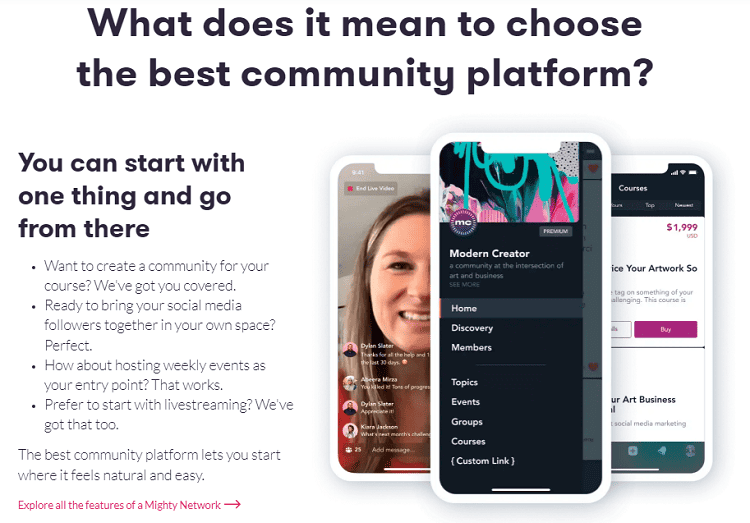 Mighty Networks is a similar alternative to Teachable, though they emphasize building a membership product and community. I love how it's a mobile-first design. It's easy for you and your audience to navigate on all devices.
Mighty Networks has a flexible platform; you can organize a feed, chat, and even a live stream for your followers. I also love how Mighty Networks offers so many options for creators, such as creating courses and events. Plans start at $33/month, and they offer a free trial.
Kajabi

I tried Kajabi recently. While I wouldn't recommend this platform solely to course creators, it's another good option if you want to create a membership platform.
Like Mighty Networks, Kajabi hosts various capabilities. You can create courses and offer online coaching, podcasts, and more. Every other part of your business can be integrated into the platform; Kajabi also offers e-commerce features, analytics, marketing functions, and even a mobile app.
Surprisingly, their platform is easy to learn, even with all the features. If you run into problems, Kajabi has excellent support. This platform is pretty pricey, but it's worth it if you need a powerful membership program.
FAQs
Question: Do I need MemberPress to use LearnDash?
Answer: No, you can use either platform separately. You can use the MemberPress integration for LearnDash, but you don't need to use both if you don't want to. You don't need to use MemberPress to offer a LearnDash course membership, though I suggest using MemberPress or a similar plugin if you want more functionality.
Question: How do I sell a course on MemberPress?
Answer: You sell courses on MemberPress by offering them as a subscription for members only. If you don't want to sell a course, you can sell digital downloads, products, and more. You can also offer multiple tiers so your members can access different products.
Question: Is MemberPress an LMS?
Answer: Kind of. You can make courses on MemberPress, but they're not as advanced as the courses you can make on LearnDash. MemberPress is more of a membership platform where you can sell courses, digital products, and similar to subscribers.
Compare LearnDash vs MemberPress: Bottom Line
I don't recommend LearnDash or MemberPress. If you want to make your course into a membership, I recommend Teachable.
On Teachable, you can create a course while offering a membership tier. You do this all on the same platform–no need to download different plugins. Like LearnDash, Teachable is an advanced course creation platform that offers everything you need to make a high-quality course.