Last Updated on August 17, 2023 by Ewen Finser
I got my first article published at 20 years old. When I showed the magazine to my dad (who was also a writer), he explained that I'm on my way to becoming a successful writer. He advised me to start networking myself, and creating business cards was the best first step to branding myself.
Fast forward to 2019. I was creating business cards to give out at a horror convention I was working at. I wanted to find QR code business cards to link to my Amazon Author profile.
I came across Moo and ordered some cards from them. I wasn't as satisfied as I expected. I had limited customization options, and the cards were really expensive.
I'm updating my business cards now and knew I would be able to find a better alternative. Fortunately, I found several competitors that I recommend over Moo. Continue reading my best Moo alternatives guide for more recommendations.
Bottom Line Upfront
I recommend GotPrint as the best alternative to Moo. You have several promotional product options, and GotPrint even offers a free sample pack. I also have to give a shoutout to Vistaprint, it's where I have ordered my business cards and it's my go-to digital printing option for my businesses.
My Top Picks at a Glance
Tips When Selecting Business Print Products
Since I made my first business cards, I have used numerous companies to create different business products. I upgraded my former business cards and even invested in other promotional products, such as pens. If you're not sure how to choose from these different print products, I came up with some tips that I use.
Experience
A good printing company should have extensive knowledge of the industry and should offer different printing options. While I love the new printing technologies available, maybe you want something old-school and charming. A good printing company has the knowledge and experience to offer different products.
Experienced printing companies offer the most creative and innovative products and services. For example, since I now use printed products to promote my books, I always look for a company that lets me upload my cover design and customize the products to my liking.
Affordability
With that being said, a printing company should be reasonably priced. Let's go back to 20-year-old me printing my first business cards. I published that article for free in a local magazine. I was a full-time college student and only worked part-time at a retail store.
In other words, I didn't have a lot of money. While printing companies may target the biggest corporations, they also target the smallest businesses, solopreneurs, and freelancers.
Don't get me wrong, you'll want to prioritize quality over cost. At the same time, just because printed products are expensive doesn't mean they're the best quality.
I will identify other factors that indicate a print company offers quality products. Look at these qualities in addition to the cost. And take advantage of great deals–I see these alternatives hosting deals, sales, and more constantly.
Paper and Ink Options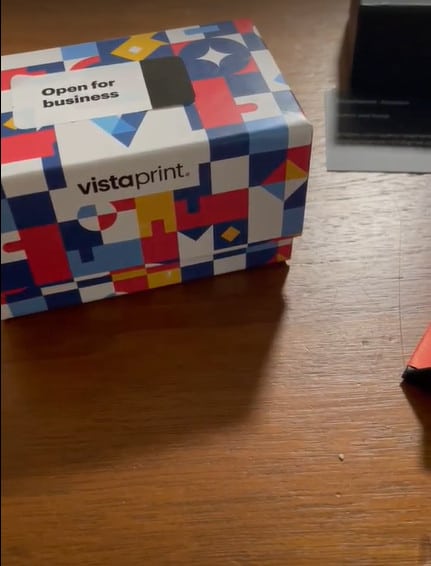 A great printing company will go beyond offering general promotional products and services. They will offer different paper products, inks and colors, shapes, sizes, and more.
For example, I was making my new business cards, and Vistaprint (who I will discuss more) offers different business card sizes and shapes. I was looking at the horizontal and rounded business cards; I chose a standard card shape and size, but I was tempted to choose the more unique shapes because they're so unique.
There are different reasons why I appreciate companies like Vistaprint that offer more variety.
Every business and individual has different tastes and branding, so offering different print options can better tie in with these preferences. Plus, I always see business print product trends, and printing companies must keep up with these trends.
All of these options also tell me that the business is innovative. They use the best printing equipment and can make any print product with various designs and customizations. Because businesses are selling physical products, it's integral that they keep up with modern consumer demands, such as printing on recyclable materials.
Customer Service
This advice should go for all businesses–you should only support companies with excellent customer service. But it can be difficult to gauge an online business' customer service. You can always support your local printing company–I know in my area, there are a ton of great options. But ordering online from a larger company is very convenient, and it's often more affordable.
So, how do you know if an online company has good customer service? You can always read reviews, giving insight into past customers' experiences. Find reviewers who state the customer service representative was present, attentive, and communicated clearly. If the reviewer experienced a problem, see if support offered a solution and if it worked.
But some people tend to exaggerate, so it's best to do some digging yourself. Here's what I do. First, I look at a business' customer contact page and the different communication options. I'm always happy when I see businesses offer multiple contact options. I don't like talking on the phone, so I would much rather email support than call someone.
I also suggest contacting the customer service line. Again, I don't like talking on the phone, but I'll use the chat function. Bonus points if I talk to a human!
Shipping and Delivery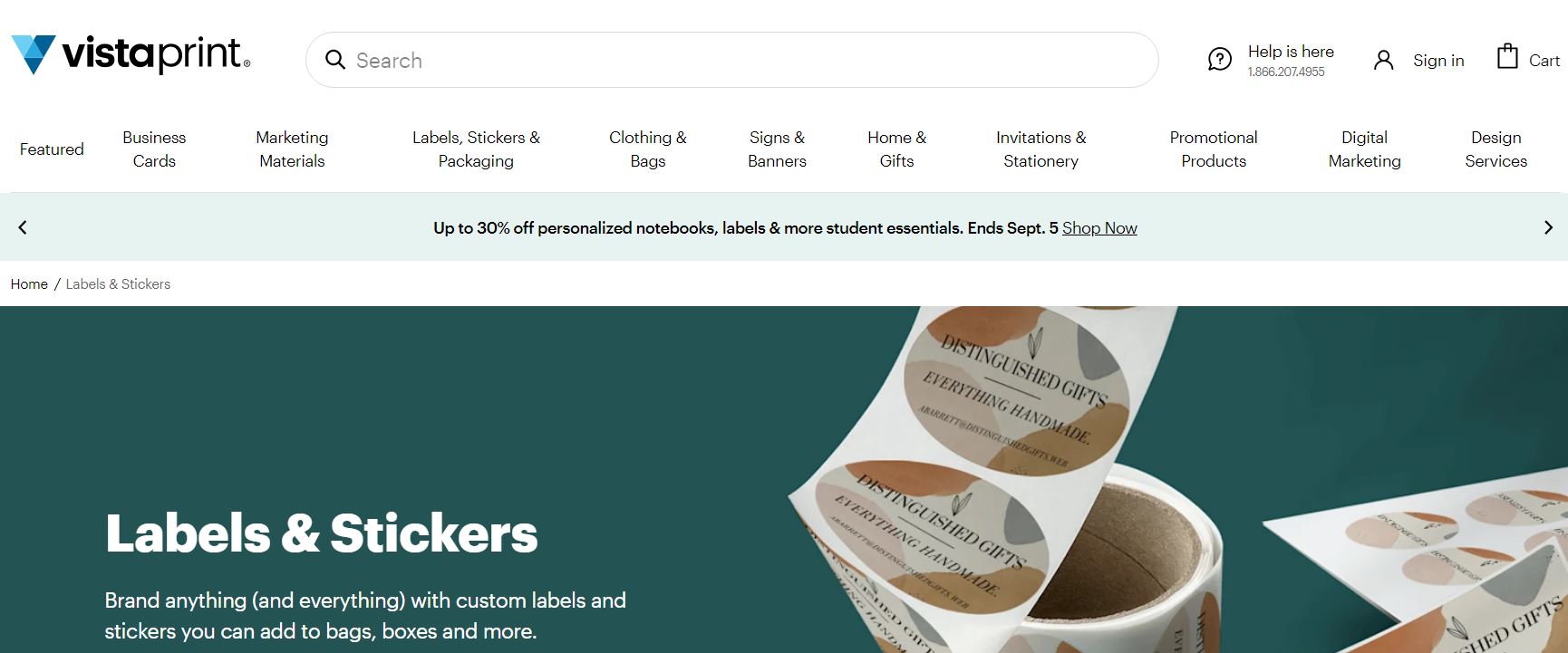 It can take a bit to print out superly customized and intricately printed materials, so you should always know when you'll receive them. At the same time, I would be skeptical if a business immediately offers a short delivery timeframe without charging extra, especially if you order many products and/or if your order is complex.
The best companies have transparency during the shipping process and should offer a shipping and delivery support page to explain their policies.
Specialty Products
Every business has different promotional needs. As a novel writer, I like having branded bookmarks to sell along with my books. I've also worked in the music industry for many years, and bands rely on merchandise for extra revenue and promotion.
I appreciate it when a business offers specialty products beyond basic printing. Art, stationary, clothing, and pens are other great examples of promotional products that you should consider for your brand–and bonus points if you can print all of these items from the same company!
How I Chose These Alternatives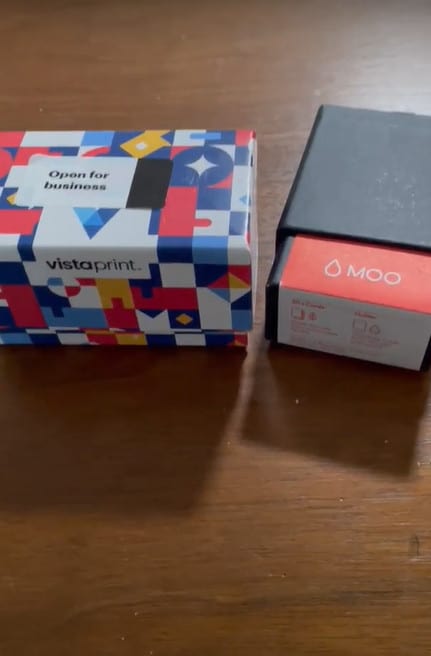 I took all the previous tips into consideration when choosing these alternatives. I also considered these basic quality principles that will separate all these companies from Moo.
Customizations
As stated, Moo lacked the customizations I needed to produce high-quality business cards. That's why I ensured all these competitors were flexible enough to offer the customizations needed to perfect your branding. The best alternatives offer custom and DIY designs for free and have a simple editor.
Niche
I discussed the significance of specialty products in a previous section, but I want to emphasize the importance that this has on niches.
Let's use my branded bookmarks as an example. I give a free bookmark with a book purchase, so readers can use it while they're reading the book. The bookmark will also feature a QR code or any other way where readers can buy more books, contact me, and/or follow me on social media.
Because of this, giving away a bookmark is more effective than simply handing out a business card (though this is still beneficial).
Bookmarks for novelists aren't the only example. Different professionals speak at my nephew's school, and he always receives water bottles, pens, toys, and more. Sure, these products may mean nothing to kids, but they can bring the items back to their parents.
I have many friends who are artists and go above and beyond with their branding. Their business cards, postcards, calendars, and posters are all ornate and feature their exquisite artwork–just as effective as a portfolio.
I also have guitar player friends who use picks as their business cards. I think they're so cool and always save them.
In my freelance writing career, I'm fortunate to know so many small businesses, and I learned many good tidbits of business advice from them.
For example, one of my closest colleagues used to own an online beauty business, and her packaging was exquisite! I was so wowed by her business cards, labels, and other branded shipping items.
Do you see all of the different niches and products I mentioned? I considered all of this when I chose these competitors.
Diverse Product Catalog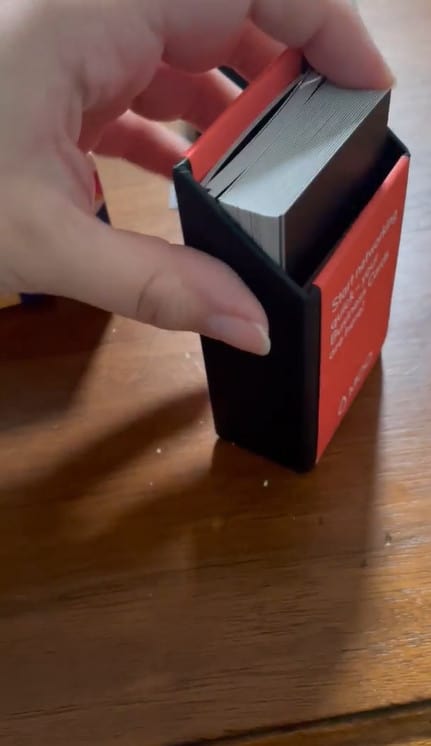 That said, the company you choose should have a diverse catalog of printed and promotional products. You may look at any of these alternatives and never imagined you could create branded mugs, photo albums, holiday cards, jerseys, and notebooks.
Take advantage of these unique promotional products. This way, you can effectively garner interest and promote your brand using well-designed products.
Are you not sure which promotional products to choose? I like to tell businesses to choose functional promotional products–going beyond business cards.
Pens are a perfect example. I'm old-school and still write so many notes. I'm looking at my desk now and see so many branded pens and pencils that I use daily. I will never forget these businesses' names, which can only strengthen your branding.
My Favorite Moo Alternatives
Are you ready to discover some alternatives to Moo? Here are my favorites.
GotPrint

GotPrint is the main alternative I recommend over Moo. Their products are high-quality, and their entire website is user-friendly. What sells me is their free sample pack. If you're unsure of what you want, GotPrint will send various paper products to you for free. These items include business cards, bookmarks, postcards, stickers, and more.
Customizing your business card is easy. You can choose from different shapes, sizes, and colors. GotPrint offers free templates for various niches, or you can start with a blank card. Their business card customizing is super easy, and you can edit everything inside the card. You'll always see a preview of your card before placing your order.
GotPrint also offers more than business cards. Many companies use GotPrint for their promotional paper needs, and e-commerce businesses print their shipping labels here. Compared to Moo and other competitors, I think GotPrint's shipping is slower. But you can opt to pay for expedited shipping.
Pros
High-quality printing
Customizable
Free sample pack
Affordable
Cons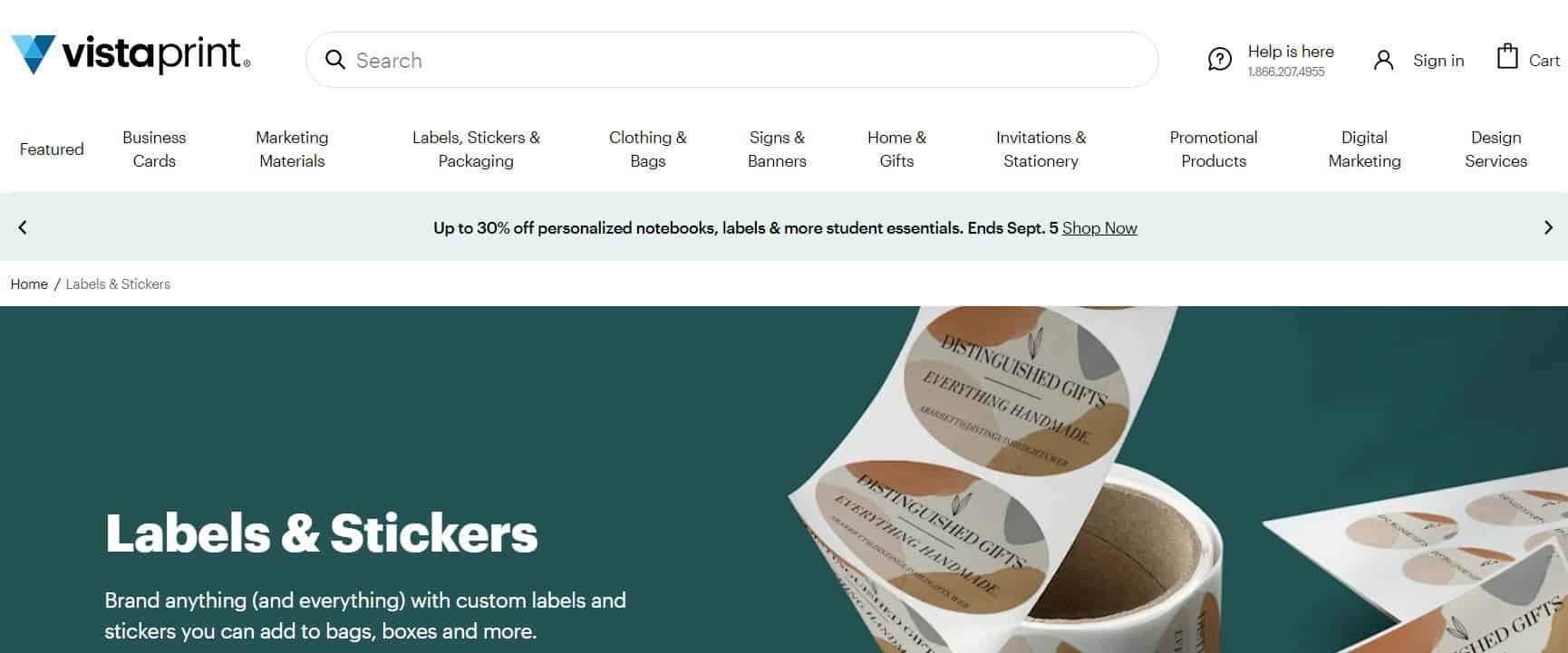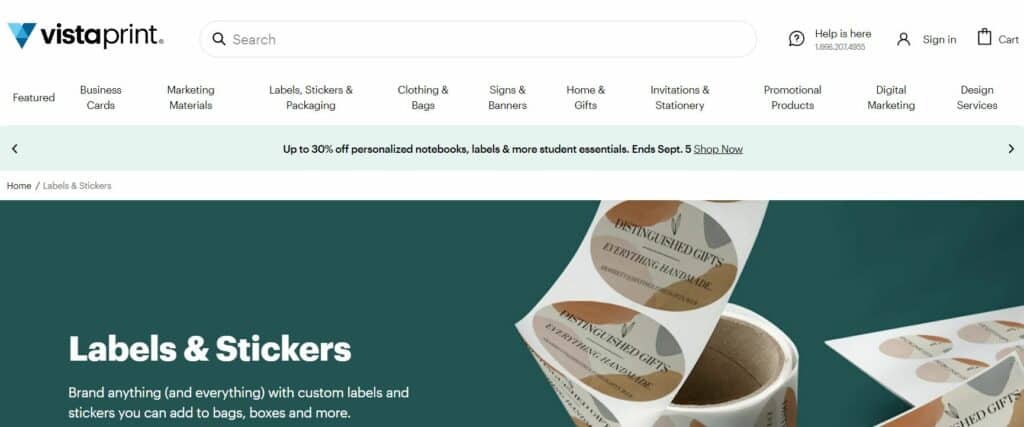 Vistaprint was the first place where I ordered business cards. There are many reasons why I chose Vistaprint initially and why I continue to use their services. First, they're reliable. Vistaprint has been around since 1995, making them one of the most trusted business product companies.
They're also spot-on with their shipping. I just ordered many super customizable items, and shipping will only take about 10 days for standard shipping. You can also pay extra for expedited shipping if you need your items sooner.
Vistaprint also has a good variety of products. I order business cards, bookmarks, posters, and postcards. Maybe next time, I'll order t-shirts. I was also looking at their water bottles.
Pros
Fast shipping
Good variety of products
One of the most trusted promotional product companies
Cons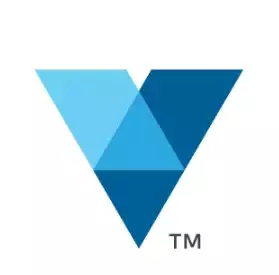 Custom Postcards, Flyers and More | VistaPrint
Vistaprint helps small businesses to market themselves effectively. Create and order printed marketing materials, business signs, and promotional products. You can also get your free website with Vista x Wix – the best website builder in the business, for whatever your business is.
Check Prices
We earn a commission if you click this link and make a purchase at no additional cost to you.
Printfection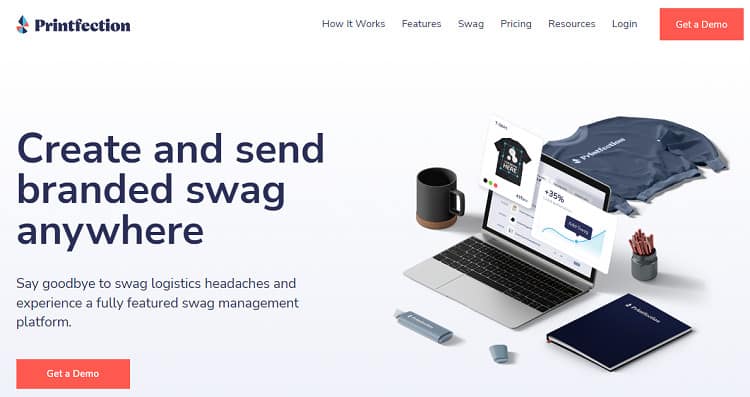 I recommend Printfection to businesses that regularly hand out swag. Printfection offers an entire platform devoted to business swag–you can select and order the swag you want, or they can store your swag, all on the same platform. Their solutions are modern, and their storage options are perfect for remote businesses and any that prefer a drop-shipping solution.
They also go further than the competition, offering campaigns and analytics. Their items are also high-quality, which will represent your brand in the best way possible. Since their platform can be complex for new users, Printfection offers tutorials. If that doesn't help, their outstanding support team will always answer your questions.
Pros
All-in-one business swag platform
Offers drop-shipping, campaigns, and analytics
Domestic and international shipping
Excellent support
Tutorials to learn their system
Cons
The system is complex for beginners
Not as many security measures
UPrinting

UPrinting is a good solution for businesses that want something simple. They don't offer the extensive product catalog that Vistaprint offers, but their items are still high-quality and available at an affordable price. I wish they offered templates, but you can brand your business cards and upload designs.
I like how UPrinting can send a PDF proof before ordering your item, though other competitors will show a proof before adding the item to your cart.
There are other qualities I wish UPrinting had, such as tutorials and a knowledge base. I also think other competitors put more care into their shipping than UPrinting. But if you want simple and affordable promotional products, UPrinting is a good option.
Pros
Can brand and customize your products
User-friendly website
Affordable products
Cons
Not a big product catalog
Limited support
Kotis Design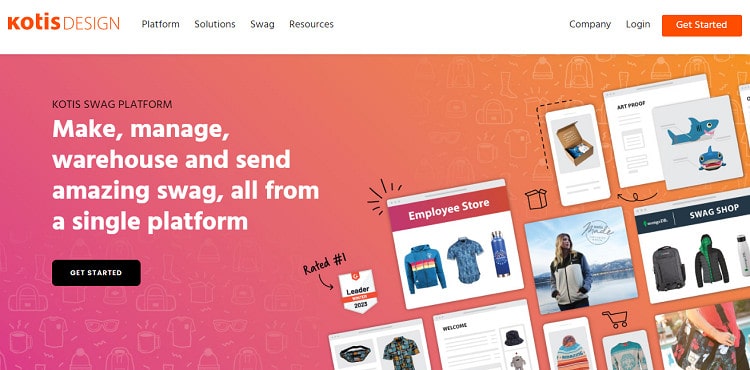 Kotis Design is another high-quality swag platform. Kotis is a reliable company that always offers high-quality swag products with a quick turnaround. I think Kotis stands out from competitors because they offer more design options and flexibility.
Their support is excellent; they always keep you informed about your products, shipping, and they offer many resources to help customers use their platform. I wish they were better about providing product proofs, and their system can get buggy at times. Otherwise, Kotis is a great solution for business swag needs.
Pros
Excellent customer support
Flexible design options
High-quality goods
Cons
I wish they provided product proofs
Blurb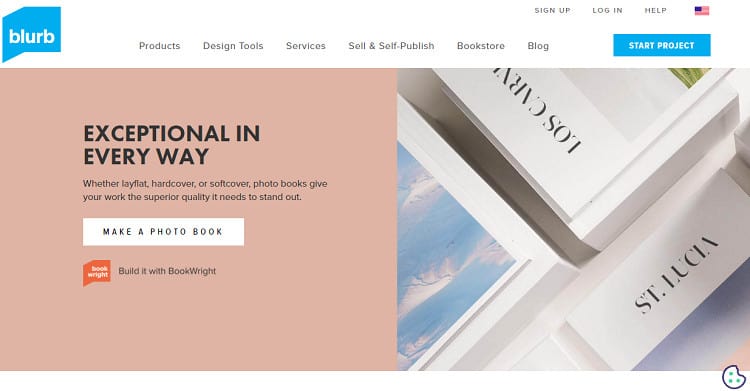 If these alternatives don't offer the creative products you need, I suggest using Blurb. Blurb offers unique products such as picture books, wall art, and magazines. You have more flexibility when designing your products, thanks to its InDesign plugin (you can also upload your designs from InDesign). Shipping is also fast, which is another big bonus.
The downside to Blurb is they are pricey, but you get what you pay for–I have yet to find an alternative that offers these products with the same quality and flexibility. If you need to save money, Blurb does offer coupons and promotions.
I also don't think they have the most user-friendly checkout option; for example, if you need to make a last-minute change, they will reset your previous checkout selections.
Pros
Unique and creative products
Can customize with InDesign
Perfect solution for creatives
Cons
Expensive
Limited customer service options
CafePress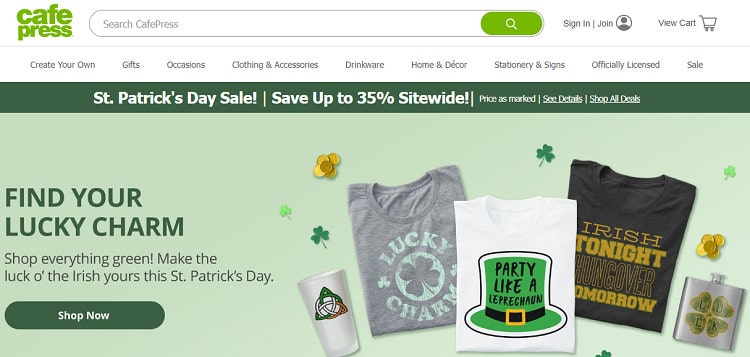 CafePress is a general gift shop. You can order custom gifts for family and friends, from cards to t-shirts. They also offer promotional products for businesses that are customizable. I would recommend this business more to people who want to design and giveaway novelty products rather than ones for regular promotional use.
For example, CafePress offers fun designs for holidays and special occasions, and businesses can take advantage of these seasonal promotions. Otherwise, businesses should use one of the other alternatives for swag and promotional items.
Their customization platform is simple to use and intuitive. I'm designing a shirt now, and I like how CafePress offers different shirt styles for men and women. You can change the color of the shirt, add an image or text, and customize both. One shirt is $20, which is pretty expensive–why I only recommend this company for novelty items.
Pros
Easy to customize your products
Flexible, many customization options
A good solution for personal and professional use
Plentiful products
Fun designs for holidays and different occasions
Cons
Competitors have better-quality products
Mimeo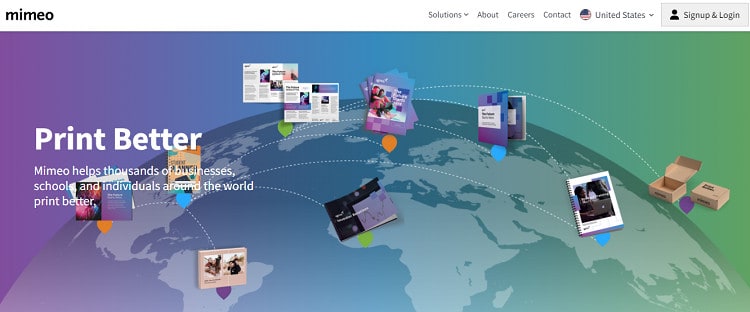 If you're looking for a company that offers personalized and promotional products for business and personal use, I suggest Mimeo. This platform is extremely easy to use; you can build promotional products with little design skills.
Their platform is self-servicing, and you control your branding and design. If you run into any issues, their customer service is exceptional. For the business plan, you can schedule a consultation with a dedicated team member who will be there during the entire process.
Mimeo also offers more products than the competition. With the business plan, you can access branded training content, manuals, presentations, and even printed products for the supply chain and investing documents. There are downsides to Mimeo. I wish they offered more international shipping solutions; you can't use Mimeo outside North America, the UK, and Europe. Otherwise, domestic shipping is very quick.
Pros
Excellent customer service
Dedicated account manager
Quick domestic shipping
Cons
Limited international shipping
FAQs
Question: Are Business Cards Still Necessary?
Answer: I think so. Business cards are an easy way to make yourself seem legitimate and share your contact information. I love how QR business cards can connect potential customers to your website.
Question: Moo Always Makes my Business Cards Look Blurry! What Do I Do?
Answer: Uh oh! There was probably an issue during the design process. One thing I can say about Moo is my business cards look great. Be sure to preview everything before ordering it.
Also, take a look at the image or logo you're uploading. If either has low resolution, your business cards will look blurry.
Question: Should I Order my Business Cards Online or Use a Local Printing Service?
Answer: This depends on your preferences. I've used both options, and I think local printing services are more personalized and generally offer better customer service.
The local printing services near me always deliver high-quality products, but every company varies. The only downside to using local businesses is their products tend to be more expensive, and I usually find cheaper products from online businesses.
Bottom Line
GotPrint is the best alternative to Moo. They offer a wide variety of promotional products, and they even offer a free sample pack in case you're not sure what you need.
Their website is user-friendly, and they offer different customization options. GotPrint is also more affordable than Moo and still offers high-quality products. I still recommend you look at the rest of these competitors to choose the solution that fits your needs best.