Last Updated on June 1, 2023 by Ewen Finser
Last year, I wanted to create an online learning platform for our editorial and writing teams — somewhere they could do some self-serve learning and education to help them become better writers and editors. When looking at the myriad of LMS (learning management system) options out there, my team and I finally decided to use LearnDash for our LMS.
There are several reasons why we chose to use LearnDash. Here are some LearnDash features that I was looking for:
It could integrate easily into WordPress (the CMS we are most familiar with and all of our websites are using)
Once set up, it was easy for us to upload new lessons, rearrange content and create more Bootcamps on the fly.
It had to be cost-effective — it was one of the most cost-effective choices once we factored in development time and time to update courses.
It has to be intuitive and easy to use. I used LearnDash in my previous business and found it reasonably intuitive and straightforward, with many customization options.
It was an LMS that could grow and expand with the online courses we wanted to create.
It had to work with WordPress (our preferred CMS). Learndash plays nice with many WordPress plugins, and we could create better design and user flow and update the entire learning platform without abandoning our core digital course.
It didn't require a lot of custom dev or expensive dev setup — a solopreneur could set up LearnDash on their own, and even I (a non-techy) was able to do quite a bit on my own.
While the initial setup of a learning platform with LearnDash takes a bit of technical mastery, I think we made a good decision to use LearnDash as our core LMS, and I believe it can really grow into a more robust learning platform if we desire as well.
Moving lessons and courses around is simple and easy to do, and there are many online course bonuses like certifications, groups, and quizzes — the options are endless. LearnDash can really grow with you as you build the digital learning platform of your dreams! Want to learn more? Check out our full LearnDash review to get all the details (but don't forget to come back here for more inspiration!).
If you consider using LearnDash as your core LMS, you probably want to see a few real-life examples, huh?
I know I do!
That's why I was super pumped to compile this list of the best examples of LearnDash sites. I have also recommended LearnDash to many of my digital friends in all sorts of industries, and I hope this list will inspire many more creators out there to get their online learning platforms up!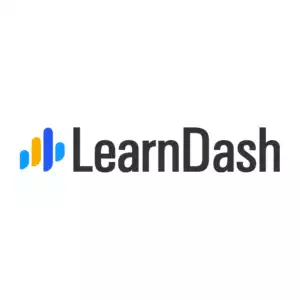 WordPress LMS Plugin by LearnDash
The most trusted WordPress LMS plugin, created by learning industry professionals with Fortune 500 experience. Transform your site in less than 5 minutes.
Get LearnDash
We earn a commission if you click this link and make a purchase at no additional cost to you.
My Top Picks of Best LearnDash Sites: At A Glance
The Medical MBA — Create a flagship course + membership.
Music Duo — Create several types of courses + memberships.
The Paleo Mom — Test out a few mini-courses to monetize your audience.
Kids Cook Real Food — Create a flexible e-learning library.
Topspeed Golf — Build out a paid vault of e-learning that can be easily updated.
Content Bootcamp — Create an internal training program that grows with your company.
Fabric Incubator — Build a comprehensive, multi-module digital training program.
Drone Academy — Create memberships with online courses, workshops and 1-1 support.
Who Uses LearnDash?
Many digital businesses use LearnDash to create memberships, online courses, or digital products — it's become the go-to LMS for many.
From those just starting to more established brands and educational platforms, LearnDash is a flexible solution that is easy to learn and plays nicely with many other marketing and monetization plugins. If you are a WordPress fan like I am, it behaves in the entire WordPress ecosystem and can integrate into the e-learning platform of your dreams.
Service providers, online coaches, product-based businesses, or content creators can all find a way to get their digital e-learning, coaching, and memberships out there. If you are thinking about creating an online learning portal, a membership, or want to have some internal training modules for your digital teams, it can be overwhelming to consider if you really need an LMS or not.
LearnDash does take some technical know-how to get set up and does not come with out-of-the-box marketing and monetization features, so you'll have to think about the cost and setup of adding additional third-party tools to create an entire LMS ecosystem.
If you want to make money selling your online courses, you'll be responsible for the marketing strategy and overall branding strategy of your course. If you are invested in building out a long-lasting digital e-learning platform, that you want to own, run, and operate, LearnDash can make a lot of sense.
If you are brand new to e-learning or want to launch one mini-course (to see if your audience will buy), you can get set up and running on a platform such as Podia, or Thinkific fairly quickly, and you won't even need a separate website to start.
I've used Podia and Thinkific and even tinkered around with Gum Road (just as the pricing model for creators was coming out). While I do think those solutions can be helpful to test a new digital product offering quickly, they are probably not the best if you plan to make digital offers a big part of your business model.
I often think about the course I launched on Thinkific, wishing I had just invested in some dev and used a WordPress LMS such as LearnDash from the start. Once you've committed to a platform, you feel obliged to stay there, even if the design and student experience aren't exactly what you want.
If given a choice, I will always prefer to invest in solutions that allow my digital products to expand and grow — that's one of the main benefits of using an LMS such as LearnDash.
My Selection Criteria (How Did I Choose These Learndash Site Examples)
First and foremost, the inspirational sites that I include in this list MUST use Learndash as their primary LMS. I made sure that every example uses LearnDash using BuiltWith or looking at the developer view to see the technology used in each of these sites. When creating this article, at the time of publication, I can guarantee that all of them are using LearnDash.
I also tried to find a variety of sites, in all kinds of niches and business areas, to show versatility — all types of online educators use Learndash as their LMS.
Included in this list, I will do my best to share the additional tech stack for these examples (at least the relevant digital course-related plugins) as well. LearnDash plays well with others, and if you want all the bells and whistles, you will also have to invest in a few other plugins.
If you sell your courses, you must consider using a payment processing plugin (Woocommerce, Stripe). If you want stunning visuals, you might use a page-builder theme such as Elementor or a Gutenberg block-friendly theme such as Kadence. Of course, you have to consider your additional tech stack and third-party plugins as part of your ongoing costs.
Most of these selections will be using the LearnDash WordPress plugin, not the cloud version of LearnDash; if you are looking for a complete, out-of-the-box solution, LearnDash cloud is a great option. While I am a dedicated WordPress fan (every site I work on is on WordPress), I think some of us with less technical know-how might prefer the templated solution that LearnDash cloud offers. It's really up to you.
But let's make this decision a little easier for you. Let's get to this list of inspirational sites, shall we?
Some of the Best Examples of Learndash Sites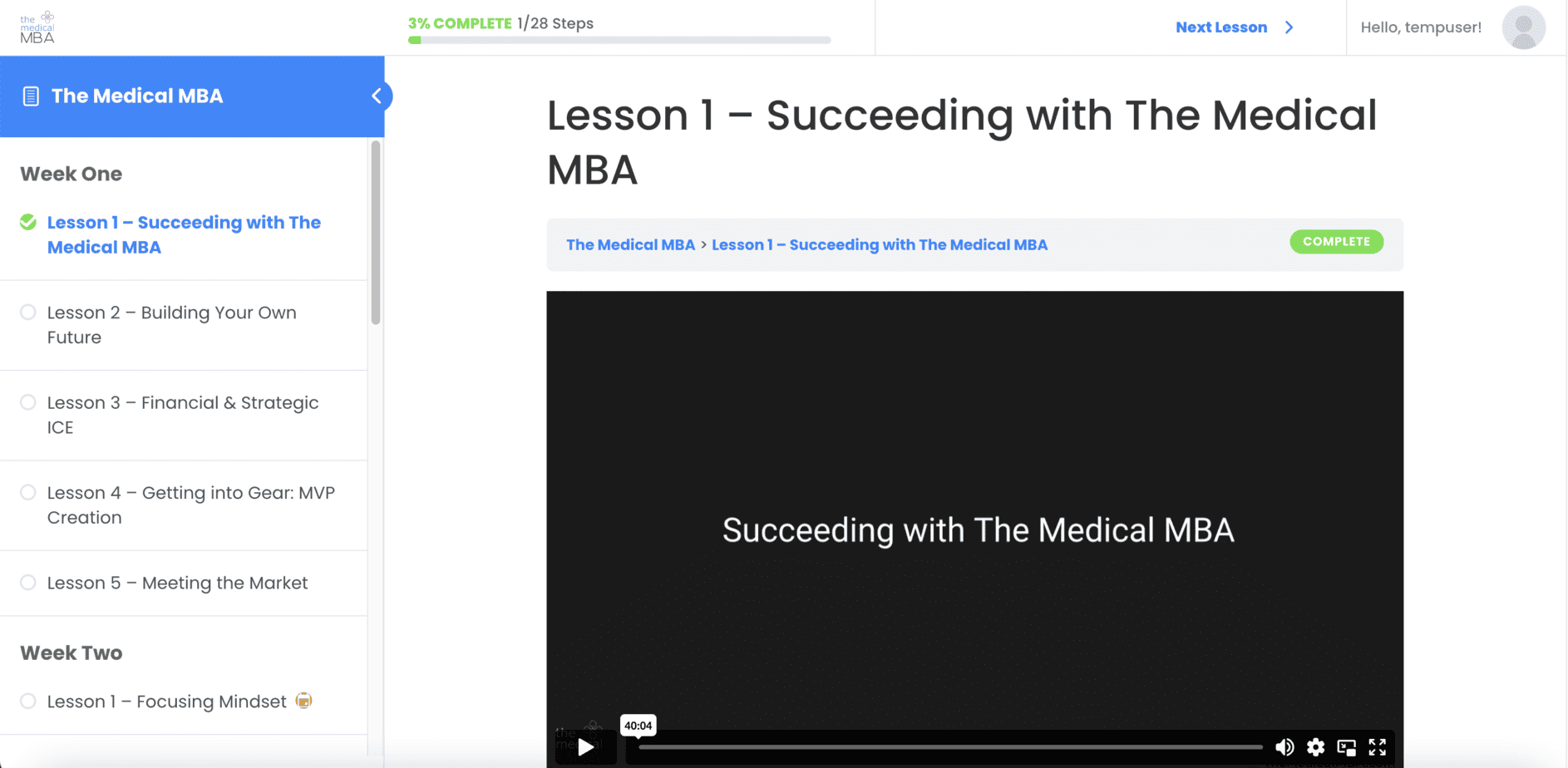 Dr. Shane McKeown created The Medical MBA — an educational platform to help doctors build their future businesses to complement or replace their current medical incomes. Why did he choose LearnDash as his LMS? He says:
I chose LearnDash because it seemed the most presentable straight out of the box. It has a good level of integration and popularity, so there are an array of plugins to extend its use.
He also loved that it integrated with WordPress, but the main reason why he decided LearnDash as his LMS was so he could drip-feed the lessons.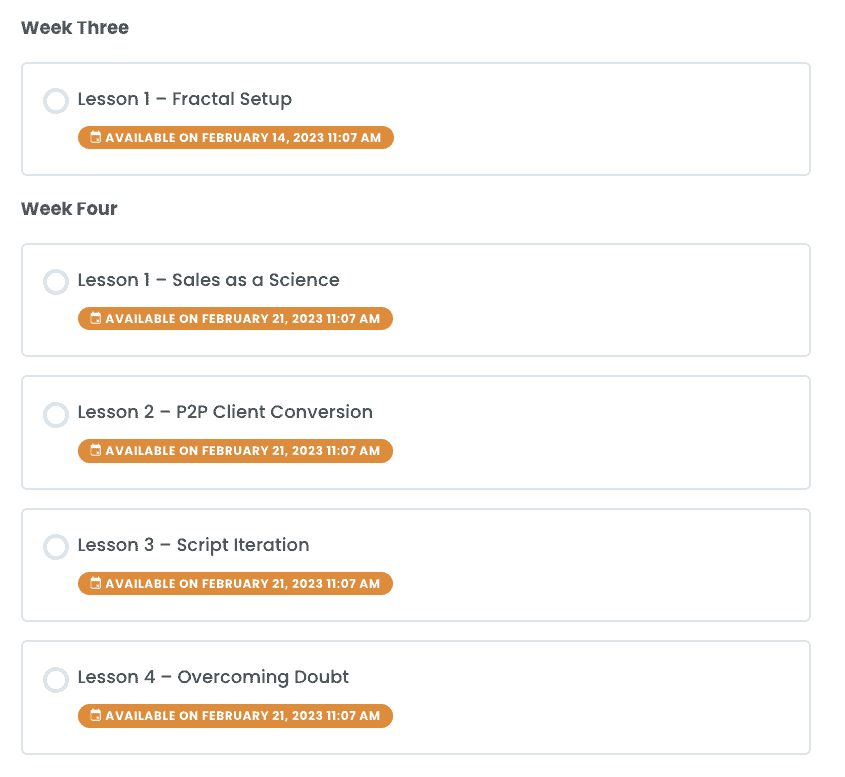 For payment integration, they used Thrivecart and connected their emails to Convertkit using Zapier. For a solo team, this is easy to do!
This also allows the team to support their students as they move through the courses online. Zapier is another added cost though, so keep this in mind if you want to integrate your email marketing software; LearnDash has limited dedicated integrations, but through Zapier, you can integrate a ton of 3rd party tools.

The actual course is well-organized and easy for a student to go through. Of course, with LearnDash, you can drip the lessons out and add quizzes and certificates.
If you are using video for your digital course, you'll also want to consider using a video platform such as Vimeo to store your videos. You can easily embed them into the lessons on LearnDash, and with Vimeo, you can determine what the player looks like for your students.
You can also upload course materials to accompany the lessons as well: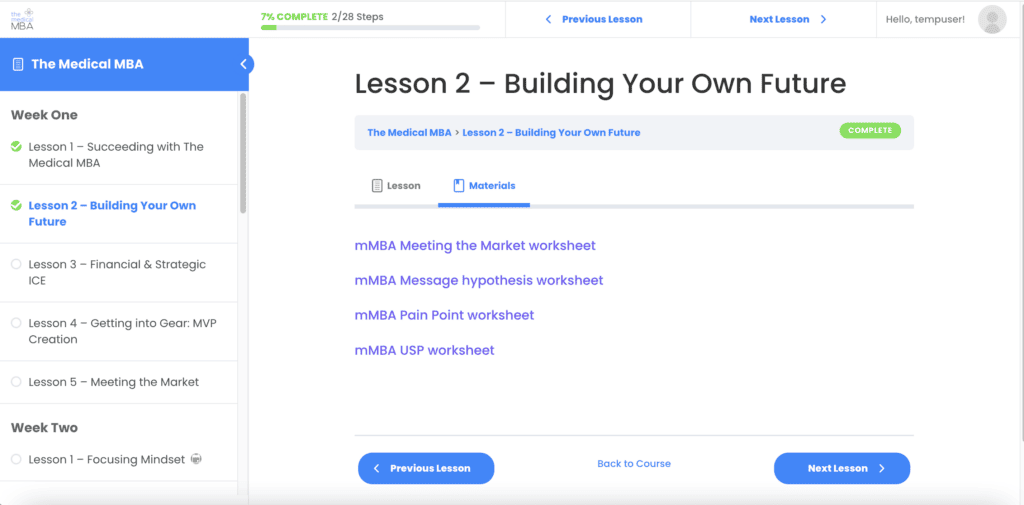 Linda Davis, the founder of Music Duo, created this online music training program for kids bringing years of offline teaching experience to this digital program. Integrated into their WordPress site using Divi, LearnDash integrates seamlessly to create the ideal learning portal for parents and children who want to bring more music into their lives!
Apprentice 1 is for Kindergarteners, and PreMaestro 1 is for 4th or 5th graders new to the Music Duo courses. All programs are drip-fed to encourage learning and mastery as students move through the program.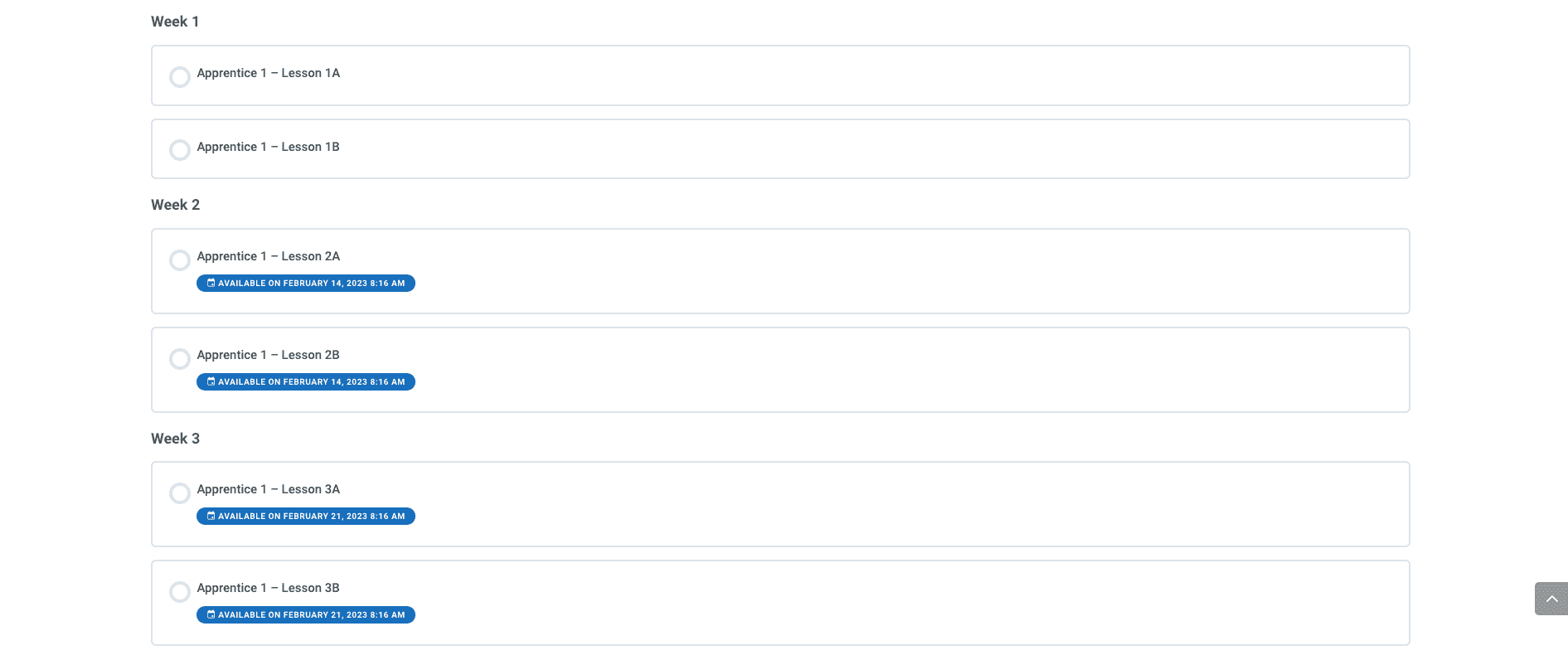 There are several learning streams presented, with options to do monthly or yearly payments using Stripe as their payment platform of choice. They also offer a convenient 14-day trial for all programs, so parents don't have to commit to a full year or monthly payment without trying it out first. Since the courses are drip-fed, parents will only get access to the first few lessons during that trial, but that is enough to get a good feel for the program.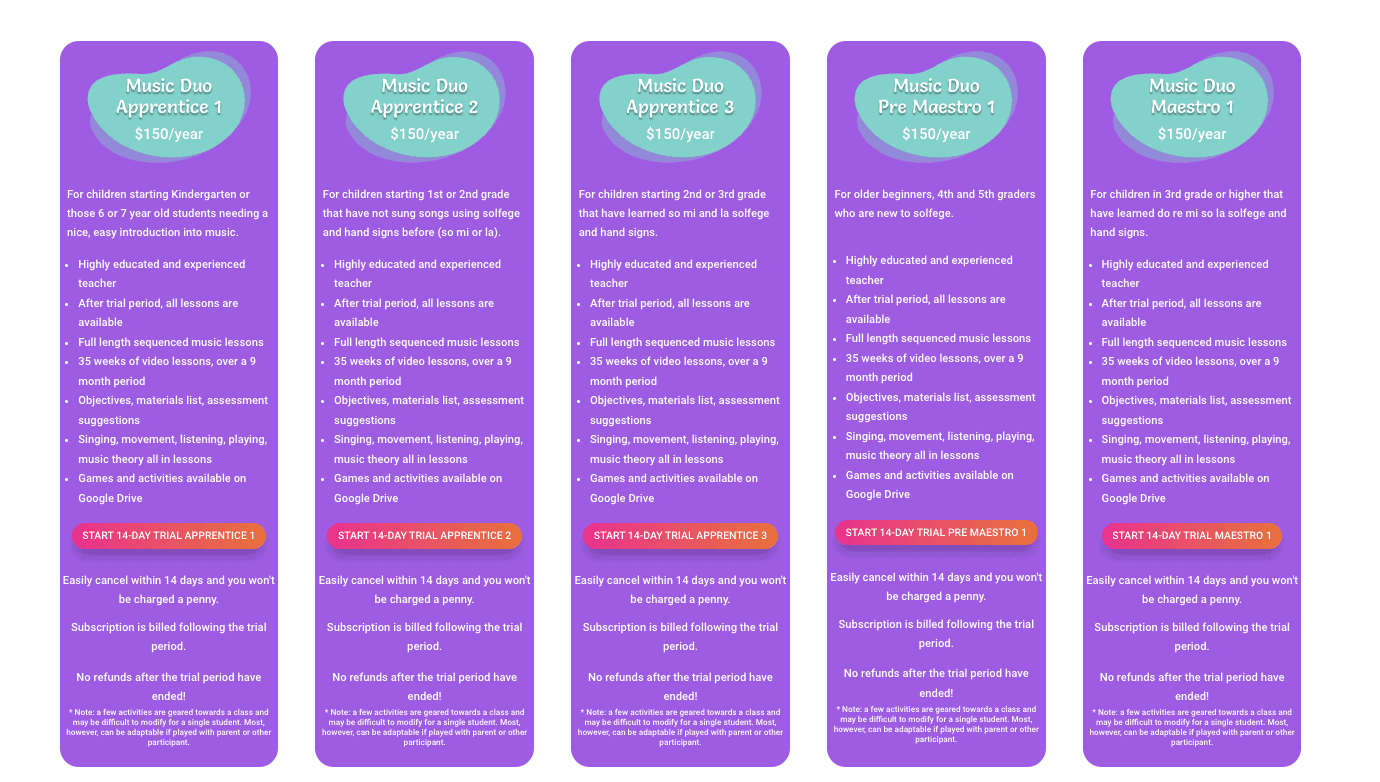 To build an even more robust online learning platform, the Music Duo team uses the popular third-party add-on for LearnDash — the Uncanny Toolkit Pro plugin, which expands the features you can have in any LearnDash course.
If you are setting up a LearnDash course, you will need additional third-party tools to expand your offering, either for design, payment portals, or to create basic course features. We've got you covered on that as well, as our Digital Merchant Stephanie has put together a great list of the best LearnDash plugins to use, with some expert recommendations you'll love!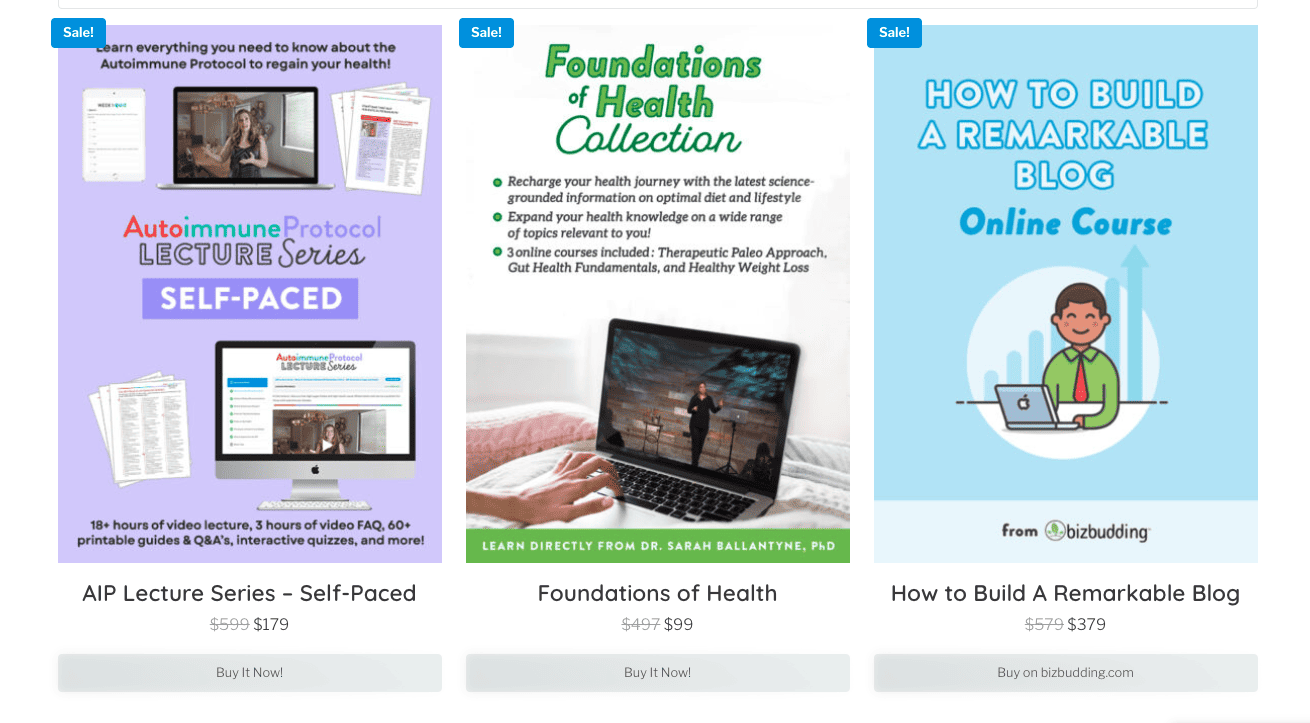 I discovered Paleo Mom a few years ago when I was investigating alternative eating plans, and yes, I did try Paleo eating for quite some time. I learned a lot from medical biophysicist and mom, Dr. Sarah Ballantyne, Ph.D., who created an authority site in this space.
As a complete digital resource, Paleo Mom has made a few online courses for students who want to dig in and learn more, and yes, they use LearnDash as their go-to LMS to present the materials. There is even a "How to Build a Remarkable Blog" course to create your health-related online resource.
The Paleo Mom courses are integrated into the main WordPress site using the Genesis theme from Studio Press. For their payment portal, they have chosen Woocommerce, another third-party plugin that is pretty intuitive to set up and can offer many payment options for their students.
While there are not a ton of course offerings available on The Paleo Mom, using LearnDash makes it easy to test out additional digital offers and monetize the traffic you get to your site. So, if you are thinking of dabbing your toe into the water of digital learning, integrating LearnDash into your existing site could be a viable option. If you see daylight on those initial offers, LearnDash can quickly expand to a more robust e-learning portal. It's a win-win!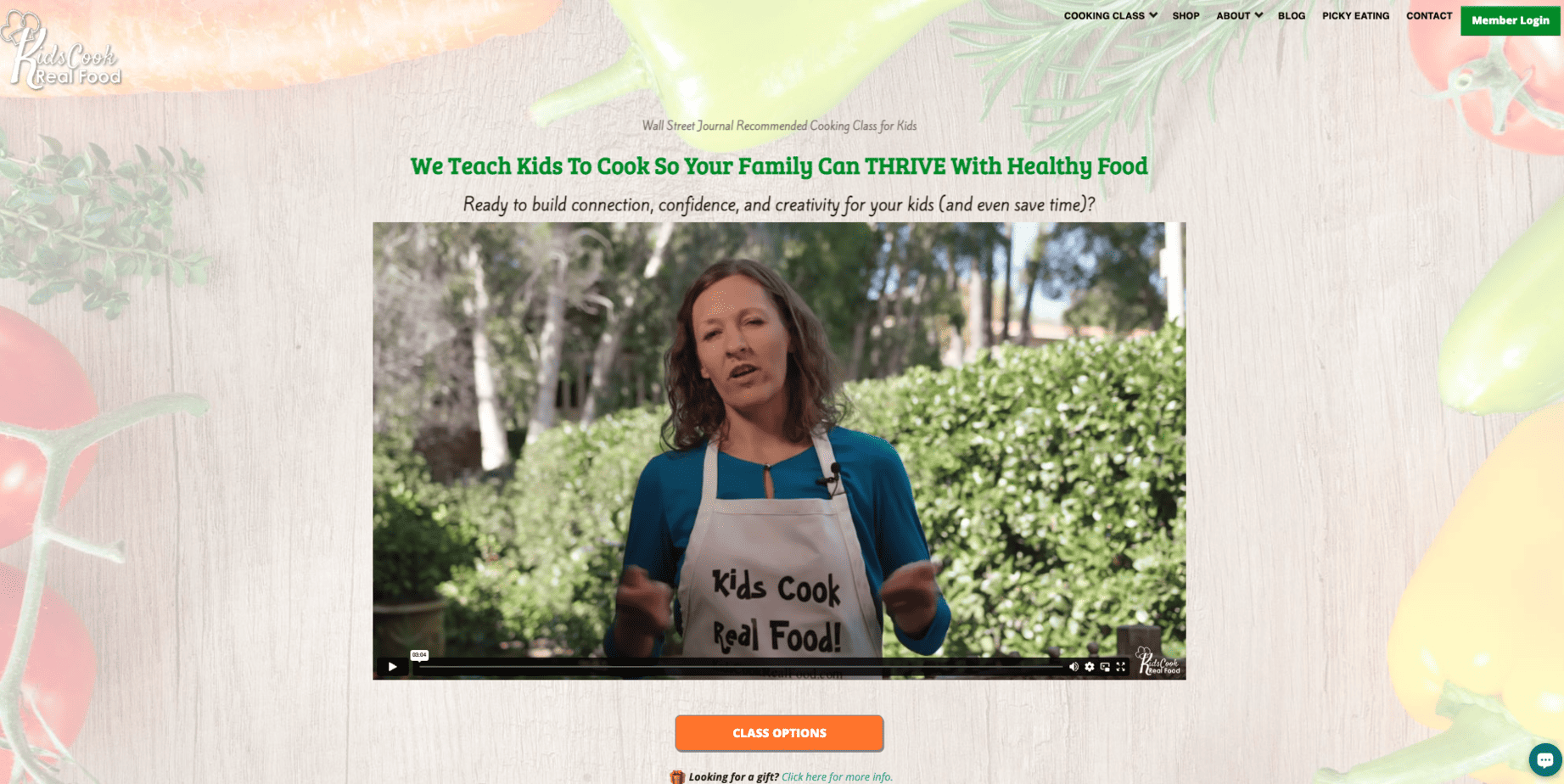 As a busy mom of one, I love that another mom, Katie Kimball created this online learning platform to teach kids real cooking and food preparation skills (with little adult supervision!).
Using LearnDash, Katie has created a comprehensive library of e-learning materials and a membership option that allows families to download the videos (so families can watch, cook and learn anywhere). There are just so many ways you can create a digital learning portal for your audience. Here Katie has created two membership options for her audience.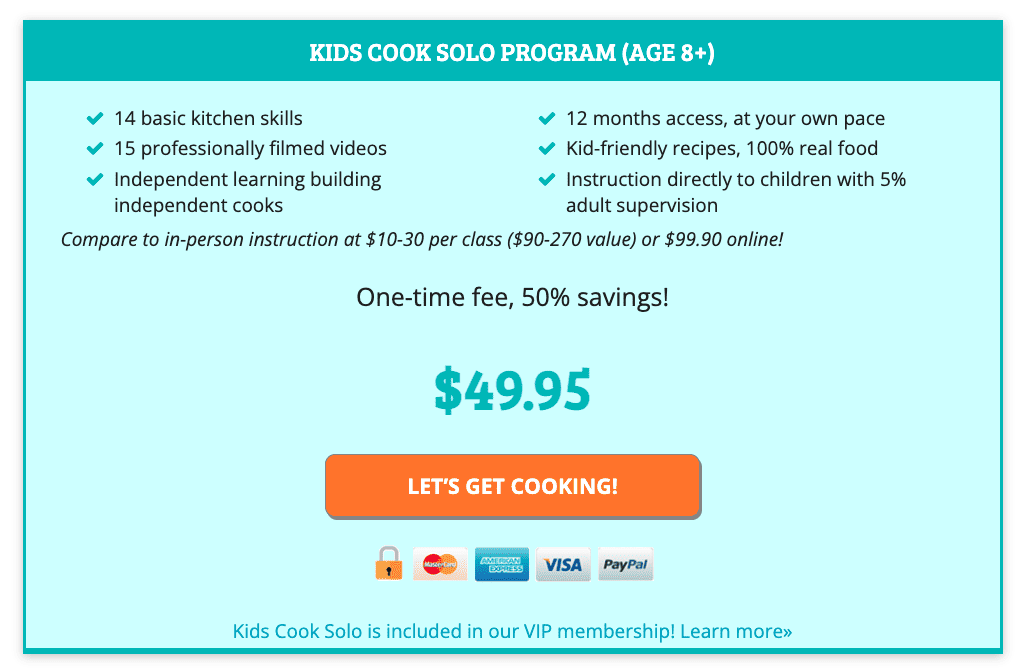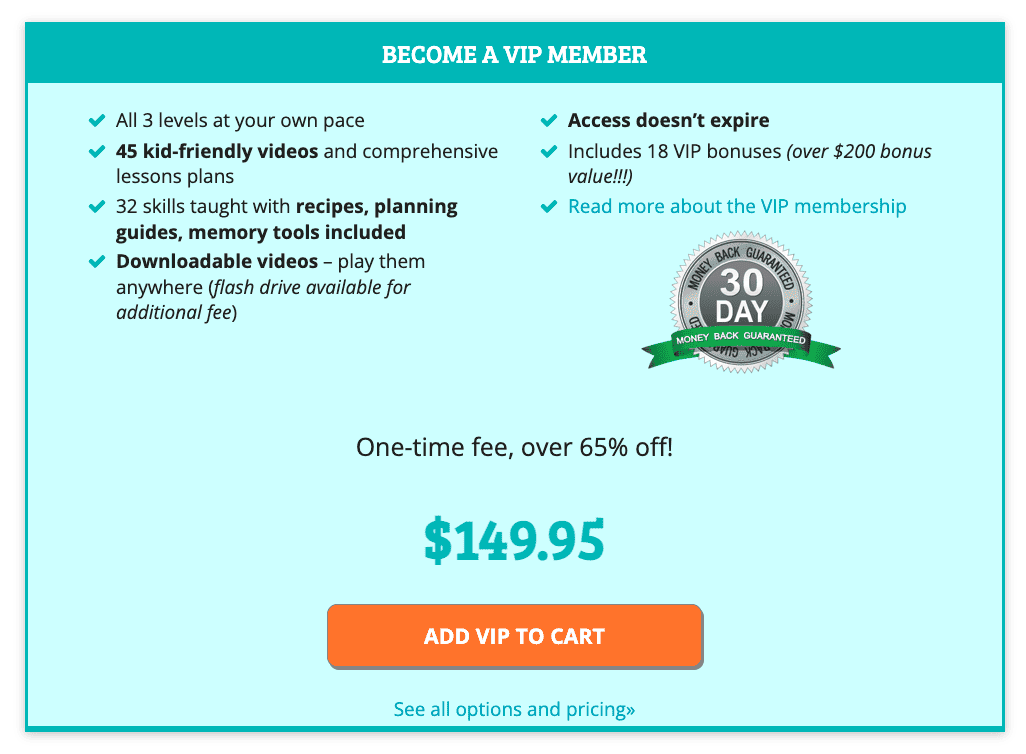 Katie also offers a glimpse inside the courses with a free lesson (with email capture) for curious parents and families who want to see what all the hype is about; that's where we will see the simplicity of LearnDash in action. I like how she includes the details, total time needed, and recipes the kids will make on this first view. As a student, this is super helpful.
The course is presented on a subdomain of the main site: members.kidscookrealfood.com, which is a good tip if you want to build an e-learning platform but still want to keep your main site and blog lightweight, fast, and responsive. If you have a competent technical team that can set up a subdomain, this could be a good option for some, usually for larger sites with more content.
Smaller sites probably don't need to worry too much about splitting up the domains like this. There are many factors to consider when using a subdomain. Check out LearnDash's article on if you should use a subdomain or not and get the specific criteria to investigate if you are thinking about this option.
If your online learning component is going to be entirely behind a paywall, you can also consider setting it up on its domain. Again, this might be a good option for some, but not for all. If your online learning platform IS your business, and you have open online courses to attract new students, you might want to invest in keeping everything on that one domain.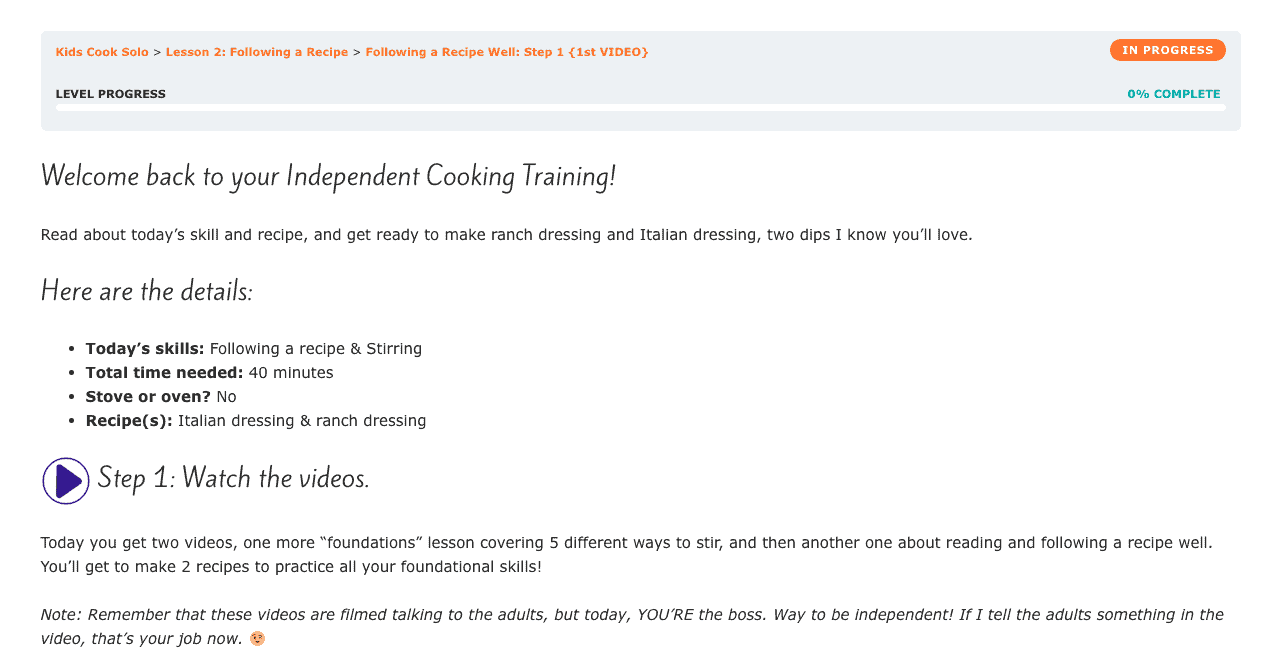 The course has beautiful videos that fill the screen and a progress chart above the video — this is a LearnDash feature that can be branded and styled for your brand.
To build this in WordPress, they use a combination of Astra theme and Elementor theme builder, which works well together and give you many more design options when presenting your materials. Theme builders such as Elementor also work well with LearnDash, and there are a lot of template designs you can access there for other pages on your e-learning site.
Of course, if you are hosting your e-learning platform on your actual blog or main site, Elementor might add some technical bloat, which could impact speed.
The lessons are presented with a simple workflow, watch the videos, then get the recipe; they even offer a 'lesson' module to ask your family if these recipes are good, with an option to choose another recipe! Now, I want to make all the dressing recipes they've included here!
I love this program's flow for kids (and grown-ups too). It's a simple, step-by-step program that kids could follow, and I love that there is a young cook presenting the information and learning too. I can see this being great for their audience.
If you are creating an online course with LearnDash, you can control the presentation of the information that makes sense for your audience. You can have video lessons, digital lessons, downloadable resources, certificates of completion, and quizzes — it's really up to you!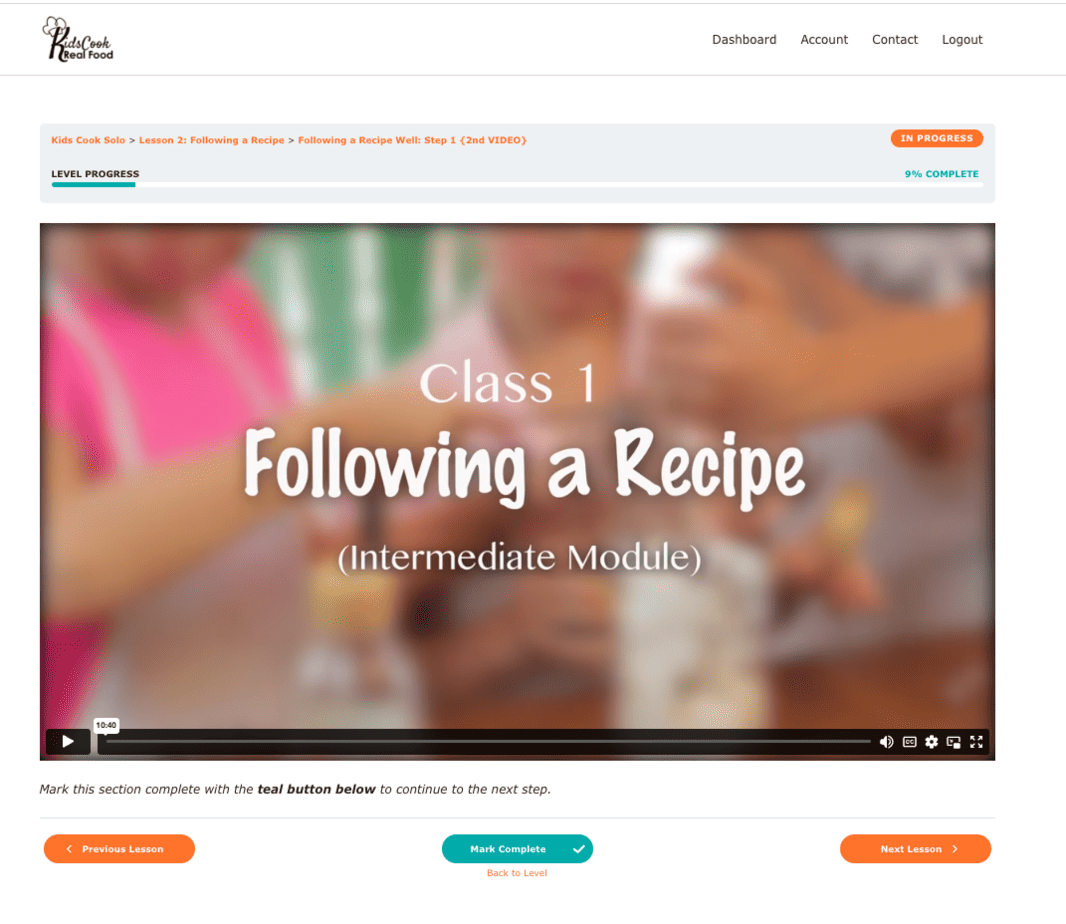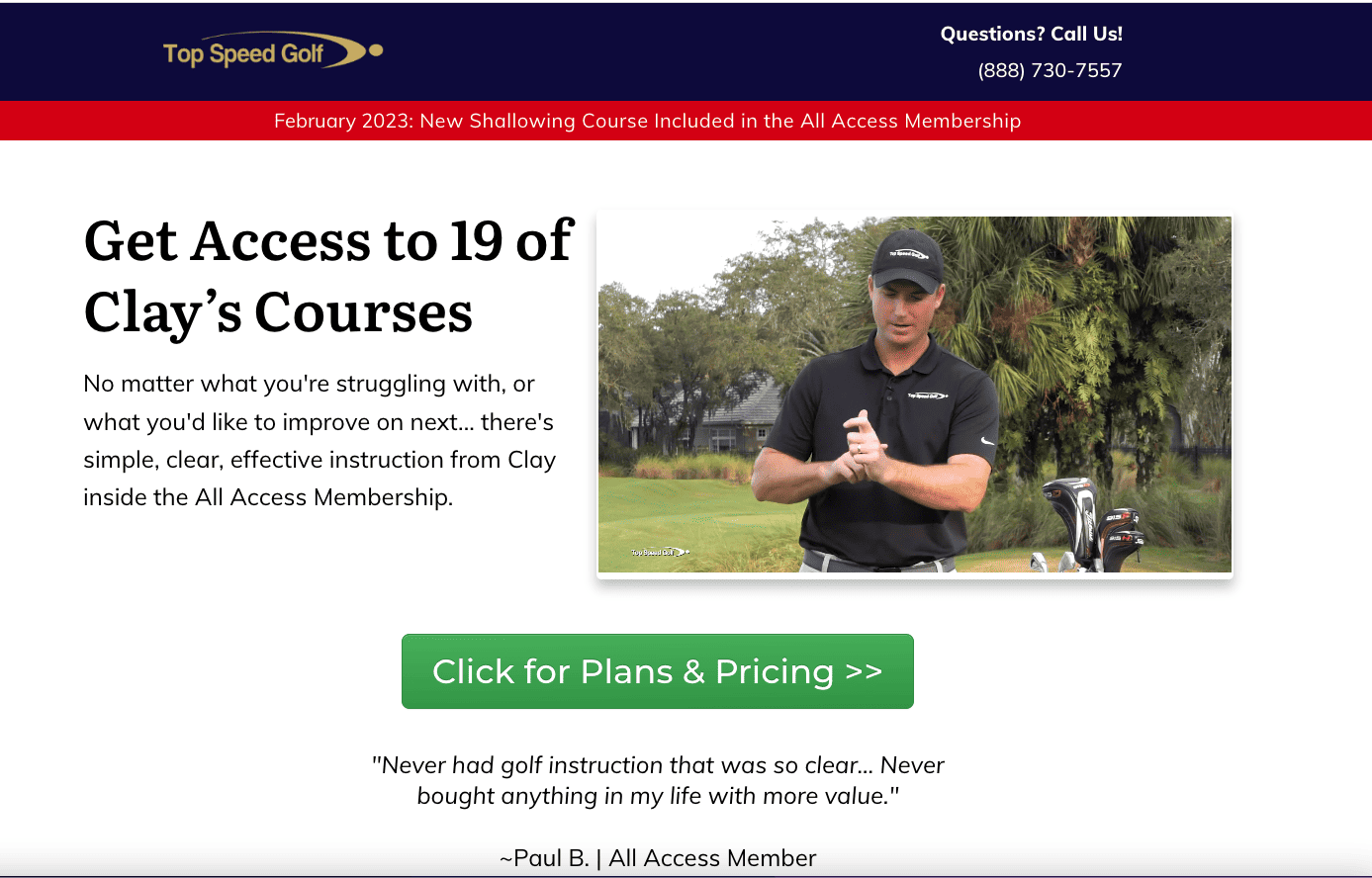 Clay Ballard, a professional golf instructor, created an online membership to help other golfers improve their swing using LearnDash as their LMS of choice.
With 1000+ videos and 19 courses, the Topspeed Golf team needed something that could deliver a ton of content in a user-friendly way online. With new content coming out weekly, it's essential to have an LMS that is easy to use. Without much technical knowledge, any business owner can quickly learn how to add new course content.
Topspeed Golf also uses the Member Mouse WordPress plugin, which is a plugin to help manage different types of memberships (free, paid, monthly, and yearly) and can integrate well with LearnDash.
MemberMouse can get super pricey if you want all the bells and whistles of the premium plan, so if you are starting out with e-learning, it might not be worth the additional features. If you want to protect your paid content, you might not need another plugin with LearnDash, as they assure us that "LearnDash has always included content protection as one of our core features."
LearnDash also has Groups functionality that allows for different access levels for various courses, but many third-party plugins can help expand these core features if needed. We even have a complete LearnDash Plugin guide you need to check out!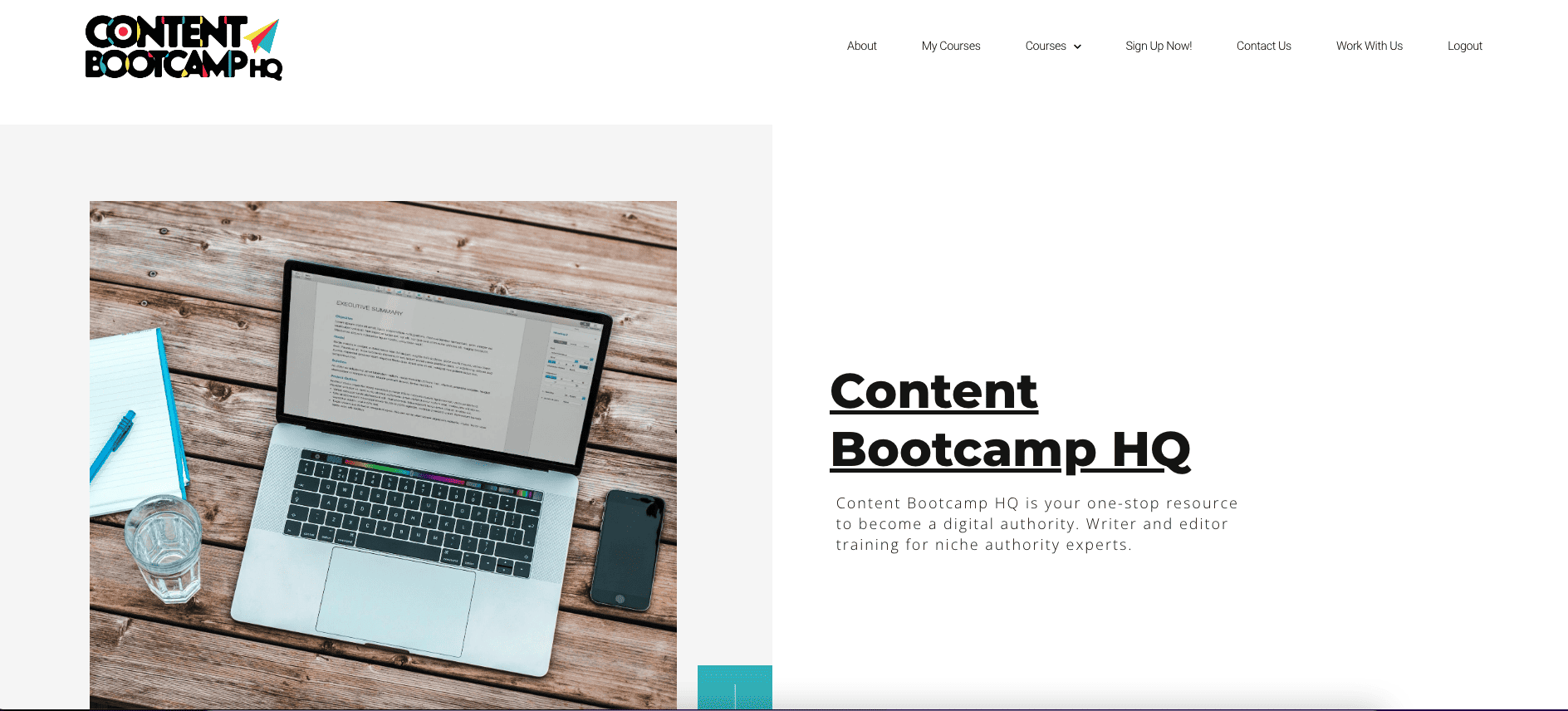 Last year, my team and I created an online training, a self-serve program for our freelance writers and editors called Content Bootcamp.
My goal for this program was to create a platform where our real-life editors could share insights, tips, and boot camp-style training for our writers and editing teams. When I was deciding what the tech stack could be for this, I did consider using other LMS such as Thinkific, Teachable, or LearnPress, but decided on using LearnDash for our LMS for several reasons:
LearnDash integrates well with WordPress (our core CMS), and we can use many third-party add-on plugins for additional features.
With LearnDash builder, our formatting editors can easily add new content (things change fast in content creation, so I wanted to make sure we always had fresh updates)
We wanted to invest in the educational hub that we could build without relying on costly re-occurring subscription fees.
We needed to create multiple courses for our writers and editors.
For Content Bootcamp HQ, we are currently using the Elementor page builder with the Elementor Hello theme, which allows our design team to create custom course pages, a home page, about us page. Elementor works well with LearnDash and could be a good option for teams that want some elevated design that is easy to update and change.
We also use WooCommerce for our payment portal, which was much easier to set up than I imagined. Using WooCommece, we could quickly create new products to sell, such as our "How to Be a Beer Expert Writers Mini Bootcamp." We also made special coupon codes for our internal writers and editors, who get this online training for free. There is a lot more design options with the product and checkout pages, but for our purposes, they work well!

There is so much flexibility with LearnDash that I love. We can easily move lessons and topics using the Builder feature and continue adding to the training here. It's also really easy to have 'hidden' topics as we continue building these online digital assets. Anyone running a digital company knows how quickly things can change, and I wanted an LMS that would work with us today, tomorrow, and in the future.

LearnDash also lets us decide when and how to release new topics. You can choose to remove the topic 'immediately,' 'based on enrollment,' or you can release the topic on a specific date. This allows us to drip-feed lessons as well, which I want to do in the next iteration of this program.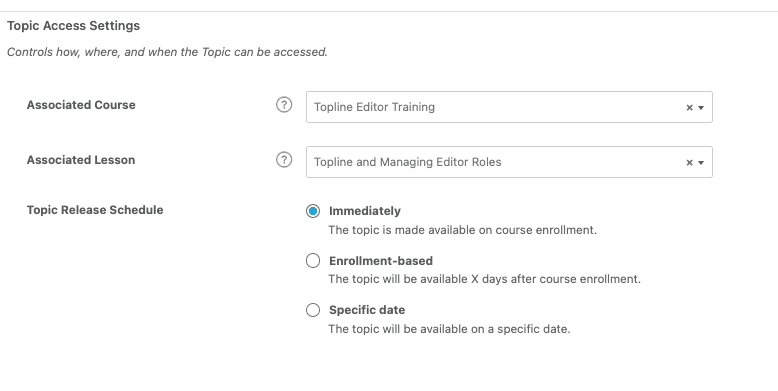 While we don't have online quizzes or challenge exams added yet, this is something we could easily create in LearnDash and grow this online training program. For user data, we use Uncanny Owl's Tin Canny reporting plugin, which gives us a birds eye view of our user data.
Overall, I'm thrilled with our decision to use LearnDash for our LMS for this program, and I know that in the coming months, we will be able to create a much more robust program here. For now, it has been a valuable internal training tool for our freelance writers and editors. If you are looking for online writing or editing training, there are courses in our Content Bootcamp anyone can sign up for!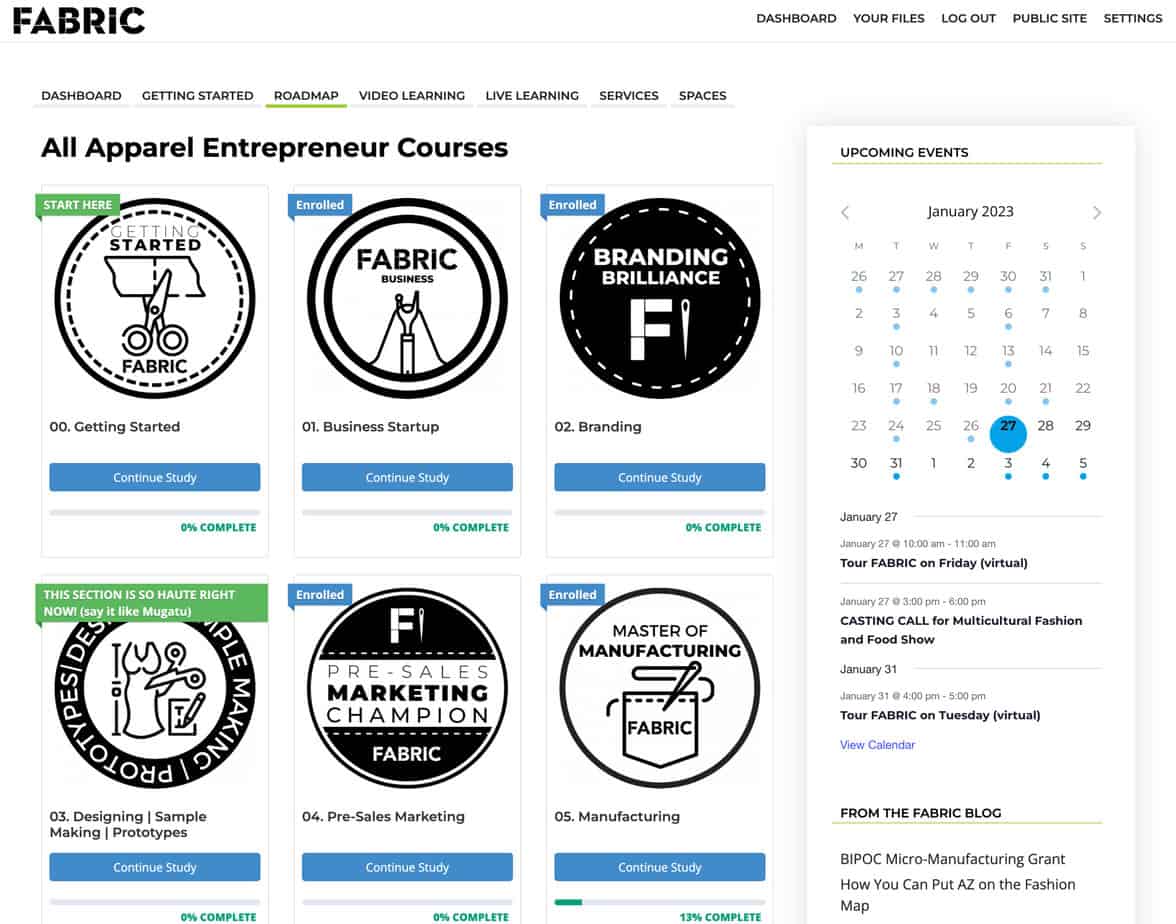 There's a lot to learn in the fashion business. At the start of Covid, the founders of Fabric Incubator, Sherri Barry and Angela Johnson, decided that it was an excellent time to create a comprehensive digital training program to help the modern apparel entrepreneur.
And, yes, they chose to use LearnDash to make that a reality. To take the magic and ingenuity they shared with others offline, they needed a powerful platform that would allow dynamic video-based learning, extending their reach for on-demand learning.
In addition to LearnDash, they use WooCommerce for membership subscriptions and payment processing, alongside the ActiveMember 360 plugin, which seamlessly integrates with ActiveCampaign and has a built-in LearnDash LearnDash integration as well. Keep in mind, though, these additional plugins are added ongoing costs. They also used Vimeo to host their videos.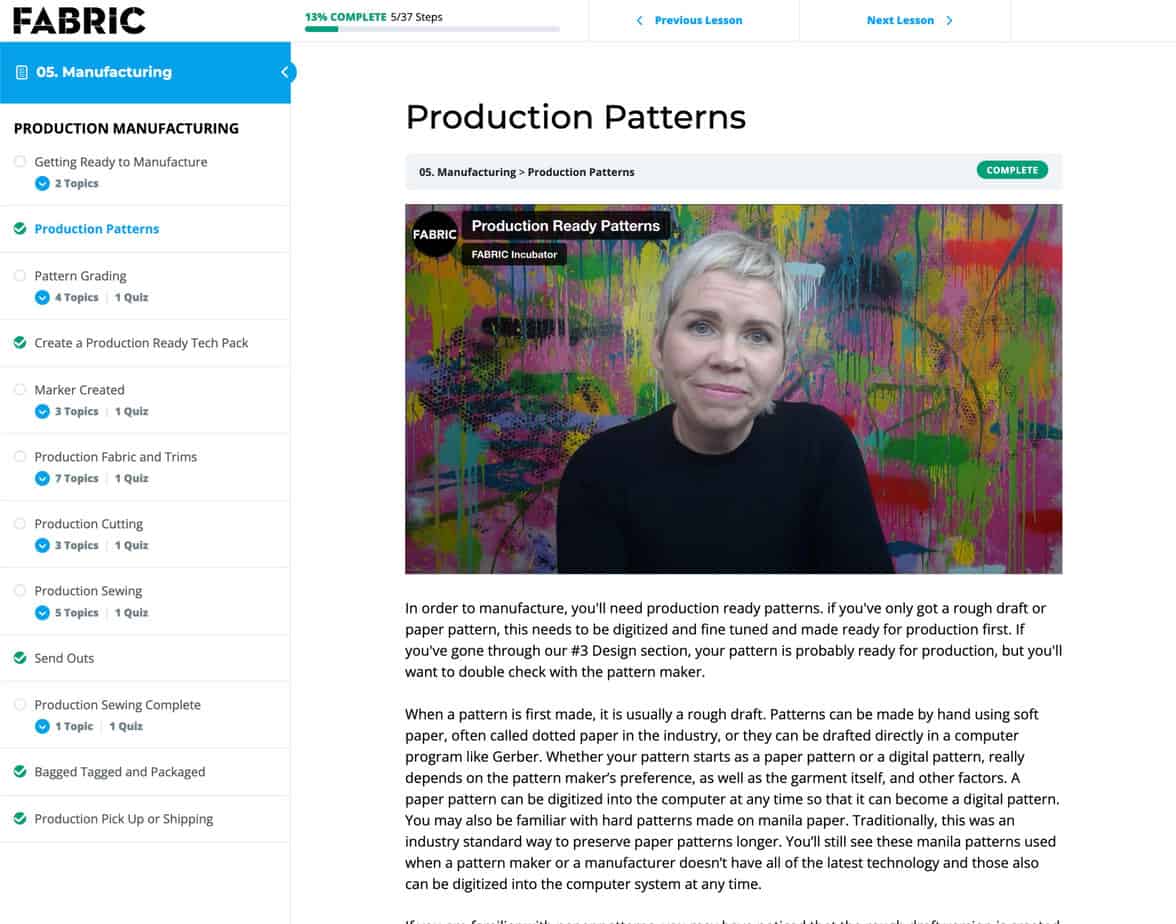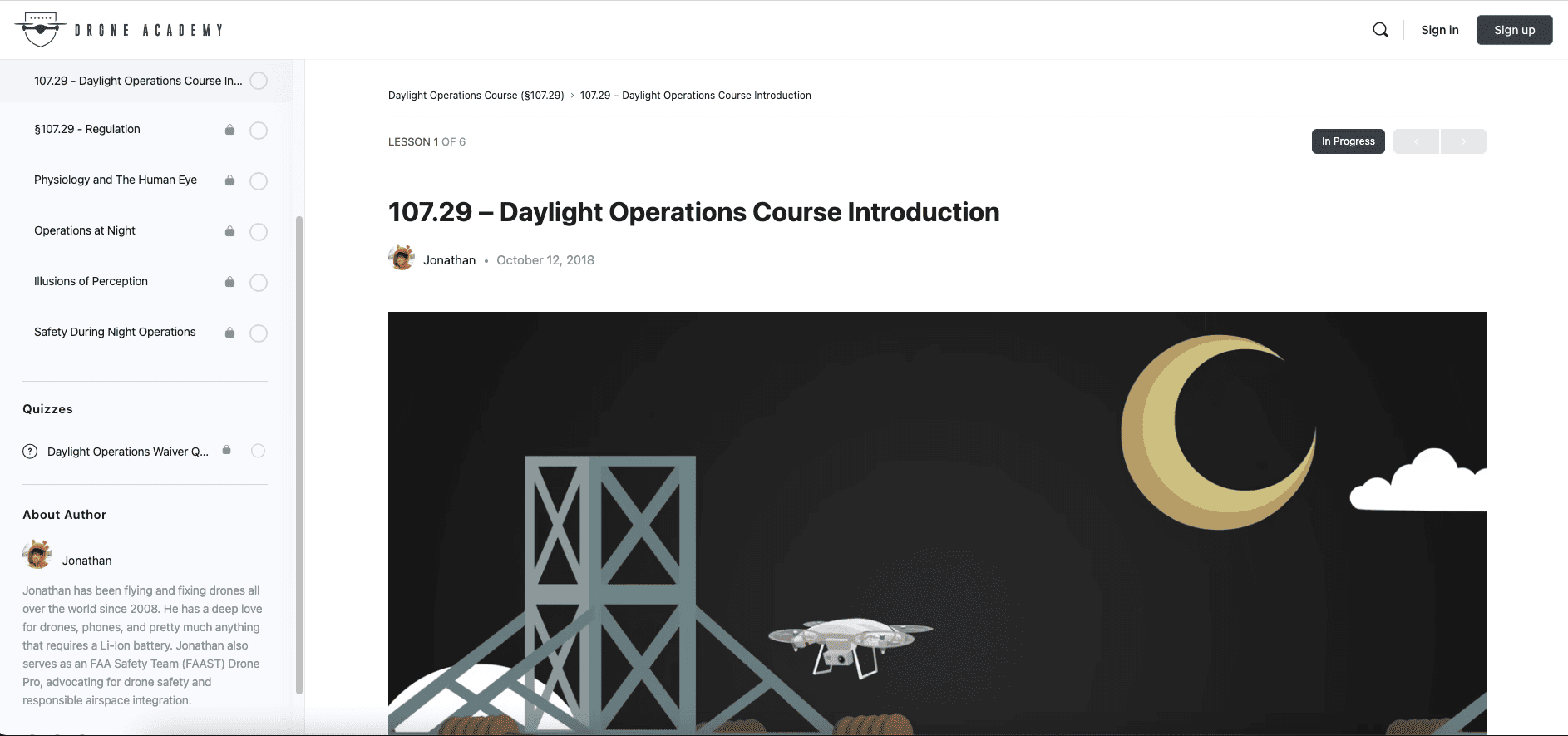 Ever want to learn how to fly a drone from a pro? Well, you're in luck. As you get inspired to build your own LearnDash website, the sky is the limit, literally! High-flying education knows no bounds because the folks at Drone Academy use LearnDash as their core LMS.
Like others on this list, they use Elementor as their go-to page builder, which works nicely when building a LearnDash site. They have also integrated Memberpress, giving them the added flexibility to make memberships for their students. They currently have three tiers of memberships, with a ton of digital training, instructor support, member groups, workshops, and a community.

Other LearnDash Site Examples to Inspire You!
Want to see a few more types of businesses that use LearnDash as their core LMS? Here are a few more examples:
The Be More With Less team is out to make the world a simpler one. They have video courses, PDF-style micro courses, and a Simplicity Space membership, all powered by LearnDash.
Serious education happens with LearnDash as well. The team at Bucknell University helps students gain financial literacy with their online course offerings.
For those looking to get their FRM certification, the team has created two solid FRM exam prep courses, using LearnDash as their core LMS.
SEO Tool Yoast built out their e-learning center in LearnDash a few years ago, and it's still a valuable resource. You can learn for free or join Yoast Academy, which has advanced courses and the Yoast SEO Premium plugin. One of my favorite free courses is the Block Editor training; this is great for training someone new to WordPress.
FAQs
Question: Is LearnDash a Good LMS?
Answer: LearnDash is one of the best LMS out there and can be worth the initial setup time and integration time if your business needs a dedicated learning portal with many features. Updating and adding content to a LearnDash course is easy with their user-friendly Builder option. As your business and ideas grow, LearnDash can grow with you as it integrates well with many third-party plugins and themes.
Question: What Companies use LearnDash?
Answer: Many companies and businesses use LearnDash as their go-to LMS, including Yoast, Learndash Academy, My Paleo Mom, Michael Hyatt Training, and many more. Businesses large and small can easily integrate LearnDash to build a digital learning platform.
Question: Which is Better LearnDash vs. Thinkific?
Answer: If you are thinking about building a robust digital learning platform, Learndash will be your best bet. For solopreneurs without a tech team, Thinkific might be your best bet to get your course materials out there. You can get our full comparison in this LearnDash vs. Thinkific to decide for yourself!
Conclusion: Is LearnDash the Right Fit for My Online Learning Platform?
LearnDash can be a great choice if you are building out an online course, a digital learning platform, or a membership portal, and it is a solid solution for many types of businesses. While not the easiest to get started with, if you want to expand and grow your digital learning platform, LearnDash is an excellent investment because the possibilities are endless.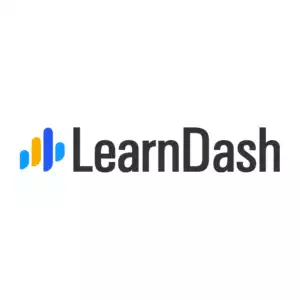 WordPress LMS Plugin by LearnDash
The most trusted WordPress LMS plugin, created by learning industry professionals with Fortune 500 experience. Transform your site in less than 5 minutes.
Get LearnDash
We earn a commission if you click this link and make a purchase at no additional cost to you.
If you are testing the waters with e-learning, other options might be faster to get something out there, such as Podia or Thinkific, but these have their limitations as you are scaling.
Still not sure if LearnDash is the right fit for you? Check out our LearnDash comparisons to other tools to help you decide: