Last Updated on June 1, 2023 by Ewen Finser
When you're in the beginning phase of creating your course, your web design is one of the critical factors you should plan.
An easy way to get high-quality WordPress design is by adding a theme to your website. A theme comprises all web design elements for your WordPress website, packaged in one file. All you have to do is upload that file, and you'll have a beautiful website!
If you're using WordPress for LearnDash, you probably noticed numerous theme options for your course. If you're unsure which one to choose, I'm rounding my favorite LearnDash themes, as well as some tips to choose the best one. Continue reading my best LearnDash themes guide.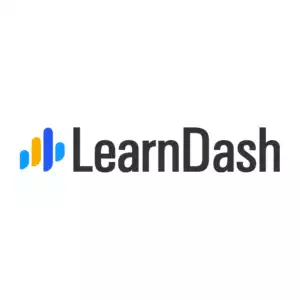 WordPress LMS Plugin by LearnDash
The most trusted WordPress LMS plugin, created by learning industry professionals with Fortune 500 experience. Transform your site in less than 5 minutes.
Get LearnDash
We earn a commission if you click this link and make a purchase at no additional cost to you.
Bottom Line Upfront
Out of all these themes, I recommend the Hello Elementor theme. This theme includes Elementor's powerful drag-and-drop editor, so you can customize your course with ease. The theme includes a neutral design that you can customize. Hello Elementor is responsive, so it looks great on all devices. Plus, the theme is free!
My Top Picks at a Glance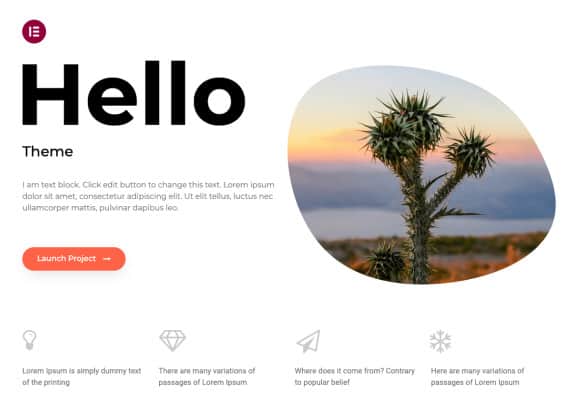 Tips When Selecting a LearnDash Theme
I will be covering several LearnDash themes. While I will recommend my general favorite, it may not be the best one for you. To ensure you pick the best LearnDast theme, I will review some general tips that helped me choose a WordPress theme.
Know the Design You Want
All themes have a general design. While you may not put a name to what you want, you can at least get an idea of the layout you want your course to have. When you look for a theme, preview each option and find one that best resembles your ideal design.
If you're unsure of the best layout, follow some design best practices. Don't choose a cluttered theme, ensure it loads quickly, and only use the design principles you need.
Color Scheme
I have two WordPress websites. My websites are in the heavy metal and horror worlds, so I wanted something professional-looking that matched the dark aesthetic. I found the themes I was looking for, and one of those themes was free!
That's why I always suggest knowing a color scheme for your course or at least finding a theme that has a customizable color scheme.
There are several reasons why a color scheme is important. Colors are a big part of your branding, so you'll want to choose the best colors to represent your course. You can also get personal with your color choices. For example, I usually wear black and dark colors, so I chose my color scheme. Dark colors may not represent you, sticking to light neutrals or even neon colors.
No matter what color scheme you choose, you should also keep design principles in mind. While my themes are dark, I also have plenty of white and gray, so the website is still readable and isn't too harsh on the eyes.
Consider Your Course Content
Is your course text-based? Or are you using a lot of multimedia? Certain themes are optimized for different types of content, so consider this when choosing a theme. In my guide, I will list any possible features that each theme has, so you can narrow down your options that way.
Responsiveness
Did you know that nearly 50% of web visits come from a mobile phone? I even have friends who don't own a computer or laptop! This is why responsiveness was a main factor I considered when choosing my website theme; just so you know, "responsive" means the theme looks and functions well on all devices.
Most themes have a viewer to test the theme on desktop, mobile, and tablet views. When testing the theme, make sure you can still navigate the website and offers fast loading times.
I will discuss testing the theme in a different section, but I figured this detail was essential to point out here. If you have any development experience or are working with a web developer, you can also tweak the code to improve a theme's functionality on any device.
Font
You'll want to ensure the text options aren't hard to read and are displayed in a way that's easy for viewers to navigate. You don't know how many websites I visit with small fonts or text displayed in a weird color–that alone can give me a migraine!
Fortunately, most themes will let you customize the font. But I have a free theme for one website, and I noticed I'm limited on font options.
That's why you should check a theme's settings before downloading it. If you don't know where to start, I suggest choosing a theme optimized by one of the most popular fonts, such as Temeraire, Helvetica, Arial, and Holgoda.
Free vs. Premium
There are both free and premium (paid) themes out there. As I said before, I have two websites. One has a free theme, and the other has a premium theme. I love both of my themes and have had them for years.
Don't think free themes are low-quality or basic; my free theme has user-friendly navigation, is fast-loading, and displays all of my media perfectly. But there are times when you should consider a premium theme. For my other website, I needed a more flexible theme that supported my myriad of plugins.
What if you're unsure what you want? I say first look at your WordPress experience and your budget. I used a premium theme for my first WordPress website and quickly switched to a free theme–since the premium theme I initially downloaded was too complex.
Once I became more comfortable with WordPress, I found a new premium theme and have stuck with that one since. Plus, free anything always works if you're on a budget.
How do you know if a premium theme is right for you? There are some aspects I like about my premium theme. It installs regular updates and offers more security than my free theme.
Plus, there are far more customization options and plugin integrations. Most themes only offer a one-time fee and aren't that expensive. I think I paid about $75 for my theme.
Test the Theme
As I said before, it's best to test your theme for several reasons. I mentioned that testing your theme will ensure it's functional and looks great on all devices, but you can also see if there are possible issues with the theme.
I also look at the fake content the theme provides and make sure all text and images look good on the theme. Since you're selecting a theme for a course, see if the content and structure make sense for your course.
How I Chose These Themes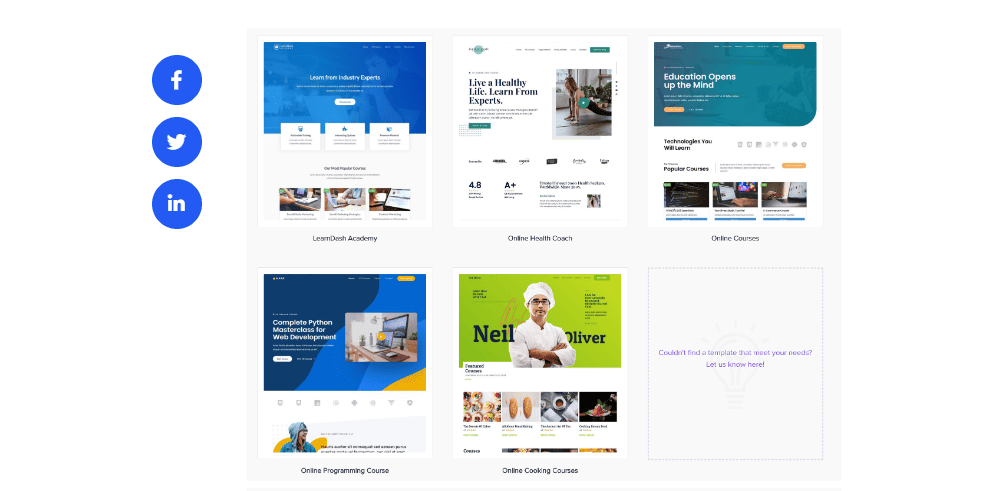 To choose these themes, I took the tips into consideration and also selected these themes based on more criteria. These are general qualities anyone will want to have in a LearnDash theme.
Aesthetics
You want your theme to look good–there's no simpler way to put it. All of these themes have great aesthetics. I chose these themes based on basic design principles so the theme has a great look and feel.
With that being said, all of these themes have different aesthetics. Some are bright and fun, while others are modern for a corporate appeal. Choosing the right theme appearance depends on your personal preference and your branding. That's why I also diversified these themes based on different tastes.
Performance
While different themes will highlight specific aspects of your course, all these themes will perform well.
If your course is based more on written content, there's a theme that features customizable text. If your course is made for employee training, there's a theme made for the different requirements of an onboarding course.
If your course focuses on multimedia, the theme will load quickly and display your media well–regardless of the device. And if you want a course loaded with e-commerce and membership features, there's a theme that can support various sales plugins.
Customization
Every course is different. Some instructors want to focus on e-commerce features to make their course their main source of income, while others want to make a free course with written text. No matter what course you're creating, I only chose themes with many customizable features.
Even if you download different plugins, it's helpful if your theme offers these customizable aspects. For example, I wrote another LearnDash plugin guide, and I included different design and theme editor plugins. But wouldn't it help if your theme offered these customizable features?
Some themes can better support certain content types, enhancing your customization options. For example, I use a lot of video on one of my websites, and I chose a theme that's optimized for video. These themes make it easier to customize your course content in the backend
Reviews
Most theme marketplaces have a section where you can read reviews. I suggest you check out reviews for any theme you're considering before downloading it–even reading reviews for free themes will save you some headaches.
You'll want to ensure a theme has more good reviews than negative ones.
But I have trouble reading reviews these days; either I'm unsure if a bot wrote a positive review or if a negative one was written by someone who doesn't know anything about themes. I learned to pay attention to certain aspects when reading theme reviews, such as:
User-friendliness
Download and implementation
Performance
Problems or bugs
I also like it when developers respond to reviews. This shows me that developer cares about their theme and the feedback that they receive.
Support
Last but not least, you may need support for your theme down the line. Know who to contact in case you experience problems with your theme.
Fortunately, I've been lucky with my WordPress themes and haven't encountered any issues, even after all these years. But I've had issues with past themes and never knew who to contact.
I will include a link to the theme on either the developer's website or the library it's on. If the theme is available from a third party, the source should provide the developer's information and how to contact them.
There are other reasons why you should know the developer's contact information. Let's say you're a WordPress beginner. Contacting the developer's support team before installing the theme will ensure that you can upload it smoothly and customize it to your liking.
My Favorite LearnDash Themes
Are you ready to check out the best LearnDash themes? Here are some of my favorites!
Hello Elementor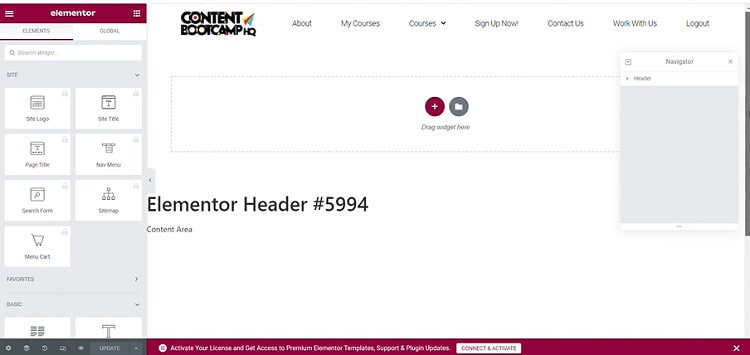 Hello Elementor is a lightweight and neutral theme that's easy to customize with Elementor, my favorite drag-and-drop plugin. It's a static web page, meaning the theme delivers your data to the web page exactly as it's stored. The theme is also responsive and organized well.
While it doesn't include a robust suite of features outside of Elementor, it is free and easy to customize. Because it's neutral and easy to navigate, I think this is the perfect theme for a course. It's still helpful to know that you may have to install a new plugin if you need more design options. If this interests you, I suggest choosing one of these premium themes for your course.
Pros
Lightweight
Easy to customize with Elementor
You can also code it with ease
Loads data quickly
Blank and neutral theme
Cons
Lacks features
Not the best option for e-commerce capabilities
BuddyBoss for LearnDash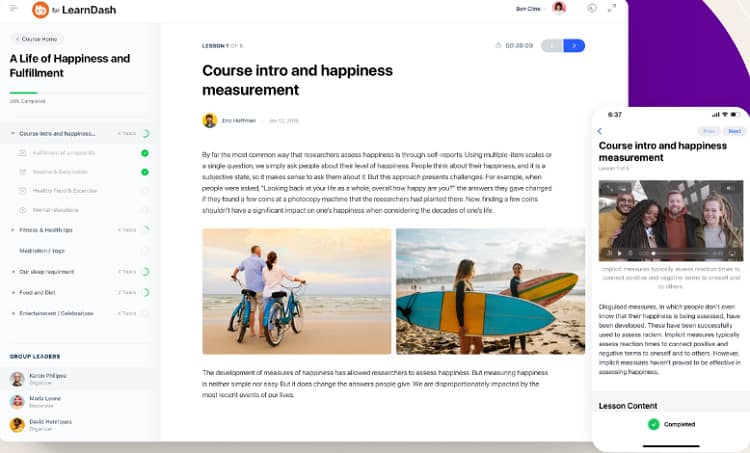 First, BuddyBoss is a good resource to check out for all instructors. They offer various resources for course creators, such as a mobile app and cloud app publishing. This is an advanced theme with loads of features. For example, you can integrate BuddyBoss with Elementor to drag and drop different design aspects.
BuddyBoss also supports different LearnDash functions. For example, if you use the membership feature, BuddyBoss can support forums and other engagement factors. The design is clean and neat, perfect for customizing to your liking. You can change the theme layout or specific areas, such as custom icons. I also love how you can add different branding aspects.
There are some downsides. For example, I find this plugin difficult to implement. If you ever need help with anything, BuddyBoss has excellent support. They offer a knowledge base to learn how to use the product and a chatbox if you need to speak to a professional. Support is also available in multiple languages.
Another downside is the price. BuddyBoss charges $228/year for their theme, which is expensive. While the features are advanced, I only recommend this theme to serious course creators.
Pros
Includes specific LearnDash features
Flexibility and customization options
Membership and community features
Includes BuddyBoss features, such as an app
Excellent support
Cons
Expensive
Some issues in the uploading process
eLumine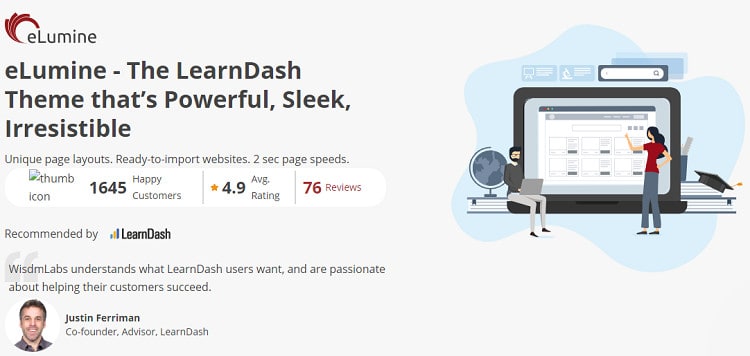 eLumine offers a modern aesthetic to the traditional course layout. The website structure tailors to learners with easy-to-read web pages that are also admin-friendly. The layout is free of distractions and very clean.
I don't think the theme requires many customizations since the theme offers a great user experience for instructors and learners. However, eLumine offers different fonts and integrates them with various theme design plugins. The platform also offers different color schemes to better fit your branding.
Speaking of integrations, eLumine offers BuddyPress, WooCommerce, and bbPress functionality to enhance e-commerce capabilities and engage learners. eLumine also supports different LearnDash pages, such as courses, quizzes, and archives.
I especially love eLumine's support. They offer various demos to create different courses, from educational courses to corporate training. If you have further questions, you can always contact their customer support. eLumine does cost $100, but I think the price is worth it.
Pros
Designed for course functionality
Customization options
Plugin integrations
Excellent customer service
Cons
You may run into some technical or design issues
LearnMate

If you're making your course into a business, I suggest downloading LearnMate. This theme has both e-commerce and membership capabilities, offering all of the tools you need to sell courses. It also offers seamless integration with LearnDash and its various plugins, such as Elementor. They also offer cool pages, such as a Coming Soon landing page.
I especially like its course layout. It's a single-page layout with no distractions. From the student's side, it almost reminds me of a blog, so it doesn't feel like you're taking a course. You can also customize the typography, color scheme, and even the headers. There are cool built-in features other themes don't offer, such as an area where students can leave ratings and reviews.
If you're confused about any LearnMate functions, use one of their demos or contact customer support to increase your understanding of its backend. The only downside is the cost. A single site costs $279, which is pretty pricey.
Pros
Offers all capabilities to run a course business
Excellent support
The theme has a great user experience for instructors and students
Cons
Astra

I recommend Astra if you want to host a creative course. Astra is not only fast but is customizable. They offer over 20 website templates and a code-free customizer that anyone can use. Even with these powerful customization options, Astra is lightweight with an easy-to-navigate user interface. It's a responsive theme and even offers built-in SEO features.
Astra offers a LearnDash integration, and the set-up is smoother than many other themes I'm mentioning. Students receive a dashboard and profile page.
Astra also heightens course engagement with progress bars and supports different language translations. It also offers advanced integrations, such as Elementor and WooCommerce. I especially love how Astra supports its checkout page.
Astra is a freemium WordPress theme, meaning they have free and paid options. Their Pro plan starts at $47 and offers more customization options. I still suggest downloading the free theme first and only upgrade if you need the extra features.
Pros
Fast loading
LearnDash integration with student engagement features
Code-free customizations
Regular updates
Excellent support
A free theme with paid options
Cons
The free plan lacks some features and customizations
Divi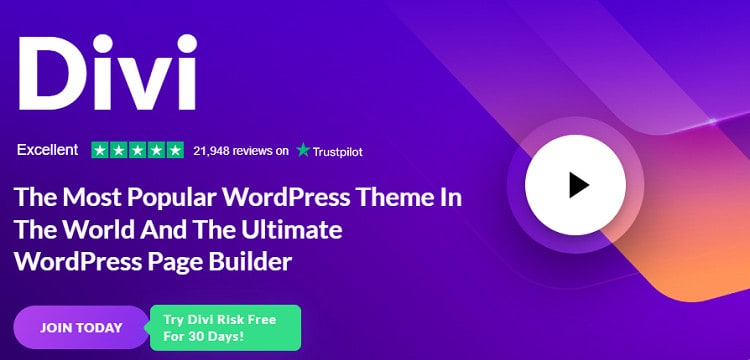 Divi is one of the most hyped WordPress themes out there. I wrote content for some Divi developers in the past, and I can understand why so many WordPress website owners gravitate toward this theme. Divi themes are multi-purpose and work for various businesses and websites.
When I wrote Divi web copy, the developer targeted small business owners, but I think this theme is ideal for various businesses. For example, Divi offers a LearnDash-optimized package for course creators. Their editor seamlessly integrates with LearnDash, so you have more control over the design of your course.
You can customize your content with over 40 display options and use Divi's famous real-time editor, so you can create a beautiful course with ease. I especially love the bulk editor, so you can customize your web page faster than other themes.
If you're stuck on a design, Divi still offers over 20 pre-built templates. And if you need more customization options, Divi offers various elegant theme plugins.
You may be tempted to use unique features, such as animations, but I would avoid them. You want your course to have a clean design, free from distractions, and load quickly. Divi costs $89/year. I don't like how it has subscription pricing, but that's still not a bad price considering the perks and features you're getting.
Pros
Easy built-in editor
Endless customization options
Pre-built templates
Integration with LearnDash
Outstanding customer support
Cons
Not the most responsive theme
Social Learner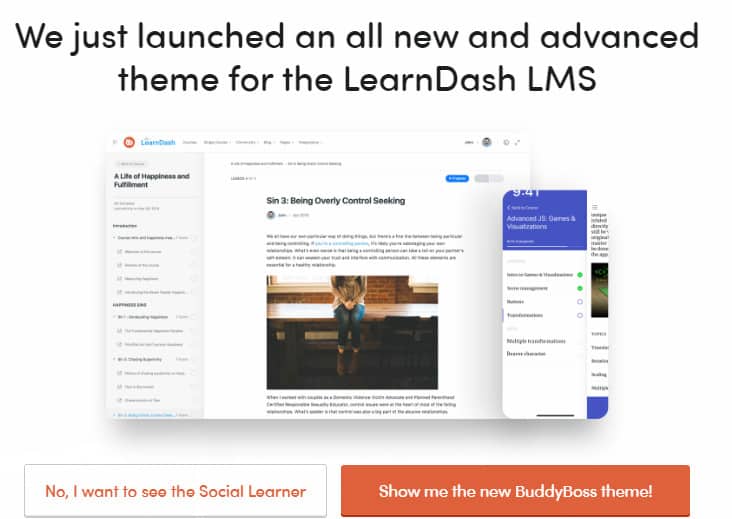 Out of all of these themes, Social Learner is the classiest. Its slick and modern design is perfect for corporate training and employee onboarding. However, Social Learner offers different features to engage your members and a community of learners, making this an equally effective theme for educational courses.
Your students can collaborate on different assignments, they can receive real-time notifications, and you can share course materials with your students.
What are some of the perks for instructors? Social Learner integrates with WooCommerce, BuddyPress, and Paid Memberships Pro, so you can enhance the selling and membership functionalities of your course. Don't forget that LearnDash also offers memberships, but I don't care for this feature.
If you ever have issues with Social Learner, they have excellent support, and their staff can speak multiple languages. You can also utilize any of their demos. A single-site license costs $179, and the price increases if you need more websites.
Pros
Integration with LearnDash
Many social and student engagement features
Numerous plugins
Modern and sleek design
Cons
Content and layout editing limitations
University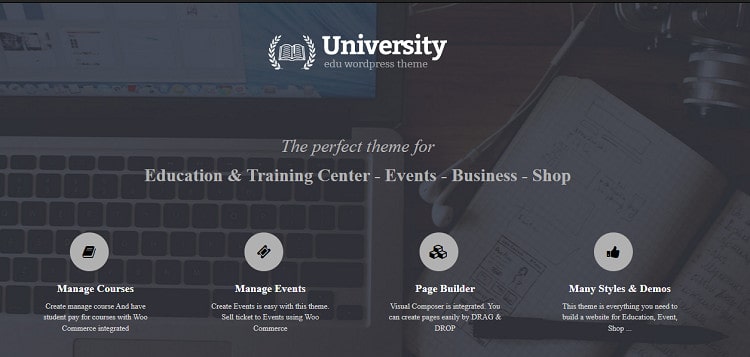 As you can see by the name, University is a theme made for courses and other learning websites. It includes LearnDash support, various course management tools, and is perfect for learning events.
You have seven homepage variations, multi-color menu dropdown options, and unlimited color and layout options. There is also a drag-and-drop builder included for code-free editing. University can integrate with Disqus, WooCommerce, and Facebook.
There are some issues with this plugin. I don't think they have the best support, and I don't like their refund policy. At the same time, this theme is only $49, which is a pretty good price for its features.
Pros
Many plugin and integration options
Affordable
Flexible design customizations
Cons
Not a good refund policy
Lacking support options
Edumodo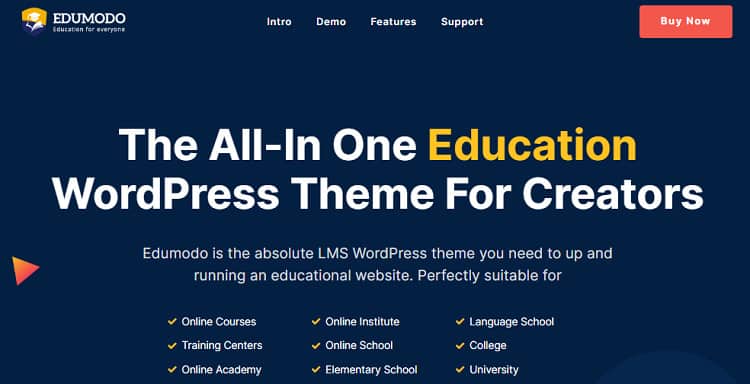 If you want a similar theme to University, I also recommend Edumodo. Like University, Edumodo was created for instructors and offers flexible customization options.
But Edumodo shines in other ways. They have much better support; their customer service representatives are knowledgeable, and you can receive support in different languages. Edumodo includes more features for LearnDash users.
If you're stuck on the design, Edumodo includes ready-to-use themes that are all clean and responsive. There are also over 100 customization options if you want more control over your design.
Edumodo also offers more integrations; some of the most powerful ones include SliderRevolution, MailChimp, WP Forms, Events Calendar, and Elementor. Edumodo also integrates with YouTube, making it a great theme if you use video in your course.
There are various marketing and SEO capabilities built into this platform, which is a big bonus. Edumodo is the same price as University–$49 for a regular license. They also have a stringent refund policy, which is the only downside.
Pros
Many customization options
Wonderful support
Easy to use
Drag-and-drop editor
Many integrations
Cons
Invent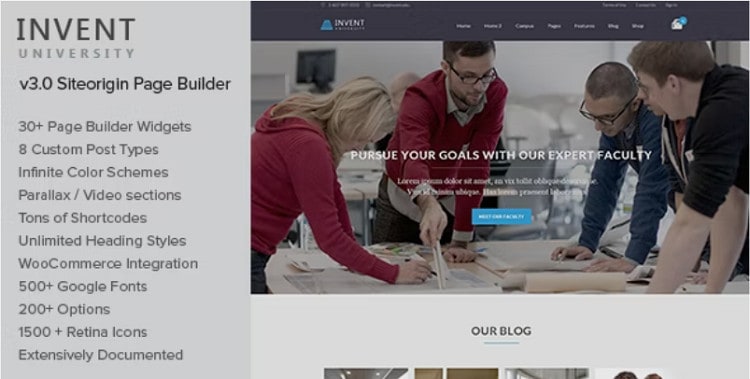 Invent is a theme that I recommend for educational institutions, namely colleges and universities. However, this is still a good option for instructors who host a community surrounding their courses. You have over 30 page-building elements, so you can customize your course with ease. It's also intuitive and makes the course management process so much easier.
It is a simpler theme compared to the other ones here, and you have minimal functionality over your content. However, you do have custom post options, can post a portfolio or gallery, and they include Google fonts. I like how this theme supports multiple languages, which is great if you teach another language or your course is bilingual or multilingual.
While they don't have customer service reps, they have a support forum. This theme also lacks updates, which is a downside since it may not be compatible with newer versions of WordPress. A single-site license only costs $59, which is still affordable.
Pros
Many LMS features
Supports different languages
Over 30 page-building elements
Cons
It doesn't offer many updates
FAQs
Question: Does LearnDash have its own theme?
Answer: No, but it does integrate with various themes. LearnDash is a WordPress LMS plugin that offers various capabilities for all course instructors.
Question: Is LearnDash a good LMS?
Answer: I think so. I've been using LearnDash for years it offers serious features for course instructors, educational institutes, and businesses that host training programs.
LearnDash also offers many features to sell courses and create memberships, though I suggest using third-party plugins for these features. The only downside is that LearnDash is more expensive than many competitors, even though you receive an impressive suite of features.
Question: Do I need other integrations with LearnDash?
Answer: I would only recommend additional plugins if your business needs them. I recommend all instructors use Elementor if your theme doesn't offer a drag-and-drop editor and Stripe if you sell your course. BuddyBoss and Paid Memberships Pro are great plugins for building a community.
Best LearnDash Themes: Bottom Line
Out of all of these themes, I recommend Hello Elementor the most. It's a free theme that's flexible enough for all course creators. Since Elementor powers it, their powerful drag-and-drop editor is available with the theme.
The theme has a neutral design that you can customize to your liking. It's responsive, meaning it looks great on all devices. The only downside of this theme is there aren't many features, so I suggest looking at all of these themes and finding the one that works best for you.