Last Updated on June 1, 2023 by Ewen Finser
When I think of LMS course plugins for WordPress, LearnDash is the first one that comes to mind. It's powerful and customizable, offering everything an instructor needs to create a high-quality course.
But I'm the type of person who always finds free solutions, so I was on the hunt to find a free LearnDash alternative. And I found that alternative quicker than I thought–LearnPress is the most obvious competitor since over 80,000 WordPress customers use this platform.
But is LearnPress a better alternative? I wondered that, too. That's why I put both platforms to the test to see if LearnPress offers all the features of LearnDash or if you should fork over the money.
Bottom Line Upfront
I was using LearnDash before, but I fell in love with LearnPress. While it lacks the advanced features and customizations that LearnDash offers, LearnPress offers everything you need to create a high-quality course for free. Plus, I find LearnPress is easier to use and more intuitive than LearnDash. You can still monetize your courses on LearnPress to make money with less overhead.
Main Differences Between LearnDash vs LearnPress
The main differences between LearnDash vs LearnPress are:
LearnDash requires a membership fee, whereas LearnPress is free
LearnDash is more advanced, whereas LearnPress offers basic course creation tools
LearnDash offers great customer support, whereas LearnPress offers limited support
LearnDash comes with a learning curve, whereas LearnPress is simple to learn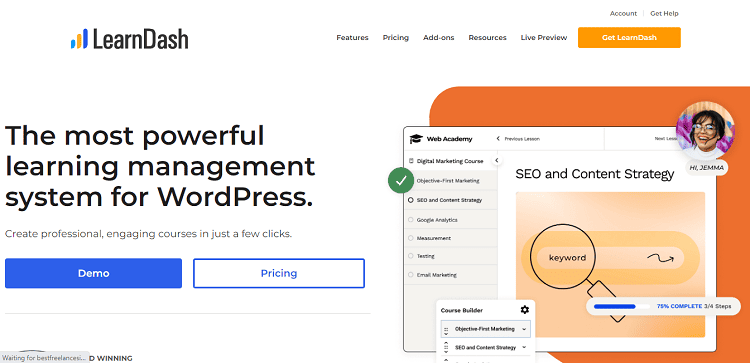 LearnDash is a program I've always loved. It's rich in features, which is why this platform has attracted big names such as the University of Michigan. But what can LearnDash offer that LearnPress may be lacking?
Pros
Customizable
Powerful course creation tools
Various integrations and add-ons
Can integrate with drag-and-drop plugin Elementor
Offer different platform tiers to get the features you need
Supports different media types
Cons
Paid membership
The membership feature isn't user-friendly
It comes with a learning curve
The help resources could be better
Features
LearnDash offers everything you need to create rich and engaging courses. They do this by offering different components to add to your course. Here are some of my favorite course features:
Drag-and-drop course builder
Dynamic content and multimedia options
Quizzes and assignments
Memberships
Prerequisites
Forums
Badges and certificates
Leaderboard
Reporting
Group and user management
Gradebook
Assignment manager
Live webinars
Plus, there are limitless integrations, such as:
BuddyBoss
Zapier
MailChimp
Slack
Keep in mind that some integrations come with an extra price.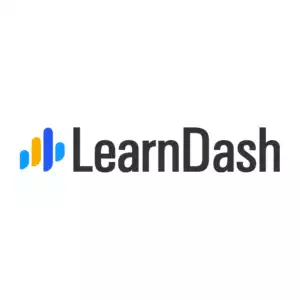 WordPress LMS Plugin by LearnDash
The most trusted WordPress LMS plugin, created by learning industry professionals with Fortune 500 experience. Transform your site in less than 5 minutes.
Get LearnDash
We earn a commission if you click this link and make a purchase at no additional cost to you.
Bottom line: LearnDash offers many impressive features for any advanced course creator.
Creating Courses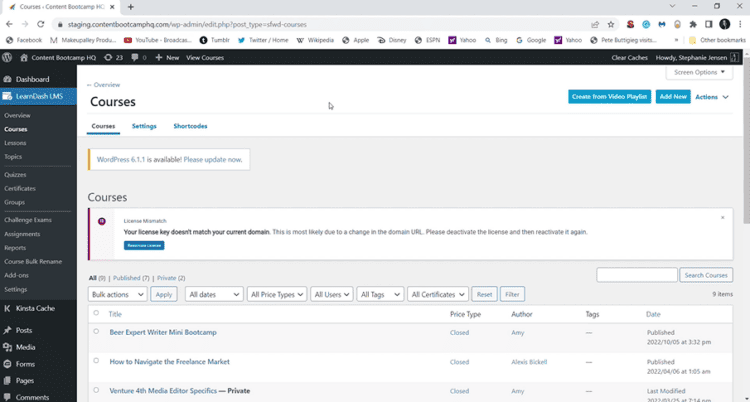 These features are great, but what about the course creation process? There are aspects I love about LearnDash's course creation and some things I wish they could change.
First, it's important to note that LearnDash follows a course hierarchy. The hierarchy is as follows:
Course
Lesson
Topic
Quiz
Assignments
I wish this hierarchy was more customizable. I noticed even competitors such as Kajabi don't follow this strict hierarchy.
LearnDash does offer course memberships, but there are alternative platforms I would recommend if you want to host a course membership. LearnDash's membership creation features aren't user-friendly, and it took me forever to figure them out.
Other than these flaws, I love using LearnDash. The drag-and-drop editor is perfect for those who don't have any design skills (such as myself).
You can give your students flexibility to work through your course as they see fit, or you can use drip content which delivers the next course tier on a schedule. When your students finish a course, LearnDash allows you to award them a certificate.
Since LearnDash is an open-source plugin, you have other customization options. You can add game-like elements to your course, mark attendance, add live sessions, restrict course access, and add a group chat.
Bottom line: LearnDash isn't perfect; I wish their hierarchy wasn't so strict and they could offer a better course membership platform. Otherwise, LearnDash offers a powerful course editor with plenty of flexibility for instructors and students.
eCommerce Features
If making money is your goal, LearnDash is the perfect platform for you. They offer built-in course monetization options.
Your users can either pay a one-time fee for a course, or you can offer a membership subscription. I wish the membership portal was more user-friendly, but it is convenient that you don't need to go through an additional membership plugin.
LearnDash integrates with both Stripe and PayPal, so you can offer different payment options for your customers. If you need more eCommerce capabilities, I suggest integrating LearnDash with ThriveCart, WooCommerce, or SamCart.
Bottom line: LearnDash offers built-in monetization options, where users can pay for one-time access or membership. I just wish the membership portal was more user-friendly. You can also integrate LearnDash with various supported eCommerce platforms if you need more selling functionalities.
Customer Support
LearnDash does offer various help guides and webinars, but they're not as helpful as they could be. Sometimes I ran into issues with LearnDash, and their support system didn't help me. Instead, I suggest joining LearnDash forums or groups if you have questions.
I also found a great subreddit, r/elearning, where many users have asked for LearnDash advice. If you have a tech support issue, you can submit a ticket online.
Bottom line: LearnDash offers a knowledge center and webinars, but I didn't find them useful. LearnDash has a good tech support team but look on social media or Reddit if you have other questions.
Design and Customizations
LearnDash shines in the web design aspect thanks to its integration with Elementor. Elementor is a drag-and-drop builder, so you can design your course to your liking. If you want another design option, LearnDash works well with various WordPress themes, especially Divi.
Bottom line: LearnDash can integrate with Elementor and other themes, giving you full control over your course's design. LearnDash also offers other integrations for more account flexibility.
Pricing
Unfortunately, LearnDash comes at a price. The starter plan costs $199/year, and you only access one website. If you want 10 websites, LearnDash bumps that price to $399/year. And if you want to pay for the cloud option, it will set you back $299/year. LearnDash doesn't have a free trial; rather, you can access a demo version of their backend. If you purchase LearnDash and realize it's not for you, there's a 30-day money-back guarantee.
Bottom line: LearnDash offers no free plan and just a demo trial. Their plans start at $199/year for one website.
LearnPress

LearnPress is one of the most widely used WordPress LMS plugins, mainly because it's free. But just because it's free doesn't mean it will be the right option for you. How does it compete against LearnDash?
Pros
Customizations
Many course creation features
Free
Different payment gateway integrations
Supports different add-ons and integrations
Drag-and-drop builder
Cons
Lacking support options
Have to deal with ads
Features
For a free plugin, I'm impressed with the features it offers. Here's what you can get with LearnPress:
Add-ons and integrations
Intuitive backend
User-friendly course management
Multiple payment options
Some marketing capabilities
Not only that, but it's easy to use LearnPress, and I feel it comes with less of a learning curve than LearnDash. While these features aren't as advanced as the ones that LearnDash offers, the features here are still impressive, and you have the means to create a high-quality course.
Still, LearnPress doesn't offer the built-in advanced features that LearnDash can boast. Some of these features LearnPress does offer but as a paid add-on. For example, LearnDash offers built-in live webinars, whereas LearnPress only offers this as a paid add-on.
Bottom line: While LearnPress' features aren't as advanced as LearnDash's and other competitors, they still offer all the resources to make a great course.
Creating Courses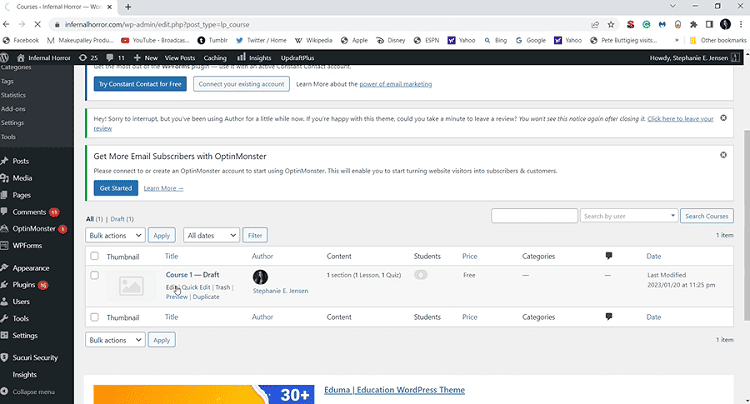 LearnPress' courses aren't as in-depth as LearnDash's, but I like that. You make different lessons and end them with a quiz. You can also group your lessons into different sections. The structure is simpler for both the instructor and the student–and is better than LearnDash's hierarchy.
LearnPress offers some course features to keep your students engaged. For example, students can create a profile. I also love how LearnPress has a mobile app option, which LearnDash can't boast about.
Bottom line: LearnPress offers a simpler and more engaging way to create courses. I also love how LearnPress offers an app.
eCommerce Features
LearnPress offers built-in course monetization features, which I honestly didn't expect. You can process all payments via PayPal without an additional plugin.
However, LearnPress does support some add-ons at an extra cost. You can connect LearnPress to WooCommerce, Paid Memberships Pro, Stripe, and 2Checkout.
Bottom line: LearnPress has built-in course monetization with PayPal. If you need more eCommerce capabilities, you can purchase an additional add-on.
Customer Support
I can't find any LearnPress customer support. The WordPress website offers some help documents and a forum, but that's it. I can't even find a website for LearnPress. It's safe to say their customer support is very lacking.
Bottom line: Besides some help documents and a forum, LearnPress offers no customer support.
Design and Customizations
LearnPress offers some themes, but you must pay for most of them. I found a few free LearnPress themes–three themes, to be exact–but I had to dig for them. Fortunately, the paid themes aren't too expensive; the priciest one I found was $70. If you have web development expertise, you can also code your design.
Bottom line: LearnPress offers a few free themes, but the paid themes are still inexpensive. You also have the option to code your course.
Pricing
LearnPress is free, which is a great perk in itself. While it's simpler than LearnDash and lacks advanced features, it's practical enough if you need a simple course creator. You can add more functionalities by downloading plugins, but these plugins come at an extra cost.
Bottom line: LearnPress is a free LMS plugin for WordPress. It's practical enough to use as a simple course builder but lacks advanced features unless you buy extra plugins.
Alternatives
Did you read this guide and realize that neither LearnPress nor LearnDash are right for you? Here are some of my favorite alternatives.
Regpack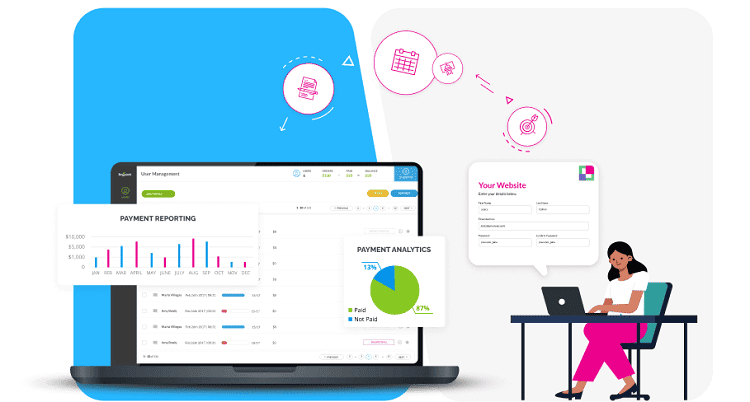 Regpack is an online registration system, but they also offer course creation capabilities. I suggest this platform to businesses or nonprofits who use courses to promote or amplify their business rather than course creators and instructors.
With RegPack, you can host classes, courses, workshops, camps, and events. It's easy to use and offers impressive e-commerce capabilities, such as discount codes.
I'm not a big fan of their payment processing because it often runs into errors. While it's convenient that they handle all payment processing internally, this feature would work better if they offered integrations.
Absorb LMS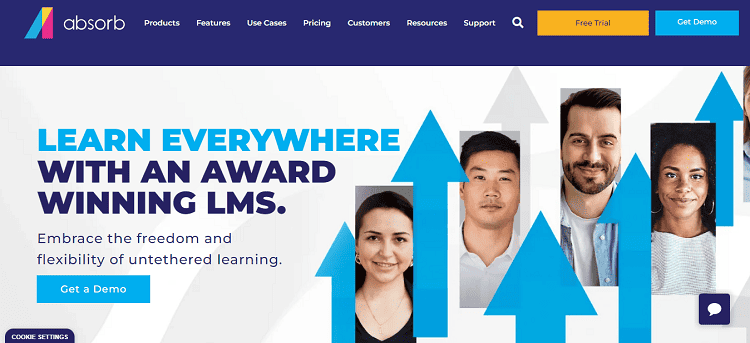 If you want a high-tech learning platform, choose Absorb LMS. I find Absorb LMS is more intuitive than both LearnDash and LearnPress. The design is clean, and the backend is easy to navigate, even for beginners. Because of this, you can not only accelerate course creation but also organize your workflow on their platform.
This platform is packed with features and is flexible enough for different instructors. When you get your course up, you can track your student's progress and their engagement with all of your activities. I like Absorb LMS' e-commerce features since they're most advanced than the competition. For example, you have sales reports at your fingertips.
Click 4 Course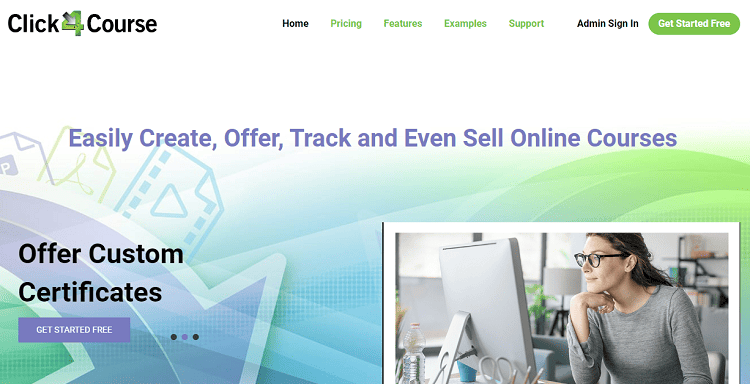 Click 4 Course is another user-friendly LMS platform. The platform is easy to navigate, even for first-time course builders. But what makes Click 4 Course stand out to me is their support.
They offer email and phone support (though phone support is only available to paying customers). Even if you only email support, they quickly respond and can tackle nearly any problem.
FAQs
Question: Is LearnDash scalable?
Answer: Yes and no. Their plans support the number of courses you have. So LearnDash is scalable if you plan on creating more courses, but that's it. Still, LearnDash's scalability depends on the hosting company, the plugins you use, and other web resources you have.
Question: Can I use LearnDash for free?
Answer: You can use their demo, but that's the only way to use LearnDash for free. You even have to pay for their first-tier plan.
Question: I don't want to make a course. Can I use these platforms for anything else?
Answer: LearnDash and LearnPress are LMS platforms, meaning they offer everything you need to create and manage an online course.
So no, you can't use these platforms for anything else.
You can use these platforms for different types of courses, such as teaching students, training employees, and for coaching, but that's it. I suggest identifying what tools and platforms you need and finding another solution.
Bottom Line
Even though I love LearnDash, I may replace this platform with LearnPress. I not only love LearnPress because it's free, but its platform is simpler and more intuitive than LearnDash's. LearnPress still offers everything you need to create an engaging course and even lets you add quizzes and lessons.
I also love how you can still monetize your courses with LearnPress. But LearnPress does lack some advanced features and customizations. If you don't find LearnPress robust enough, I suggest using LearnDash.