Last Updated on November 17, 2023 by Ewen Finser
With so many LMS platforms out there, it takes time to compare the different software, test them out, and find the right one for your course. This is where I'm at as a new course creator. I know the type of course I want to create, and I'm trying different LMS platforms to find the best option for me.
The first two LMS platforms I found were LearnWorlds and Teachable. Both LMS platforms offer everything instructors need to create a high-quality course. But each LMS also varies differently, and I judged LearnWorlds and Teachable on various factors such as course creation tools, user experience, and more.
So, which LMS should you choose? Here's my LearnWorlds vs Teachable compared guide.
Bottom Line Up Front
Out of these platforms, I recommend LearnWorlds. LearnWorlds offers the most advanced features to create a high-quality course, perfect for various instructors. I wish they were friendlier to new course creators and allowed instructors to upload text. If this is an important factor for you, I suggest choosing Teachable.
Main Differences Between LearnWorlds vs Teachable
The main differences between LearnWorlds vs Teachable are:
Teachable has a free plan, whereas LearnWorlds doesn't.
LearnWorlds offers impressive integrations, whereas Teachable is lacking.
LearnWorlds has more robust customization options, whereas Teachable's capabilities are simpler.
LearnWorlds offers more creative lesson options, whereas Teachable is more straightforward.
Teachable is better for independent learning, whereas LearnWorlds is more interactive.
LearnWorlds has more marketing capabilities, whereas Teachable offers more email options.
Teachable is better for new course creators, whereas LearnWorlds is better for instructors who need more capabilities.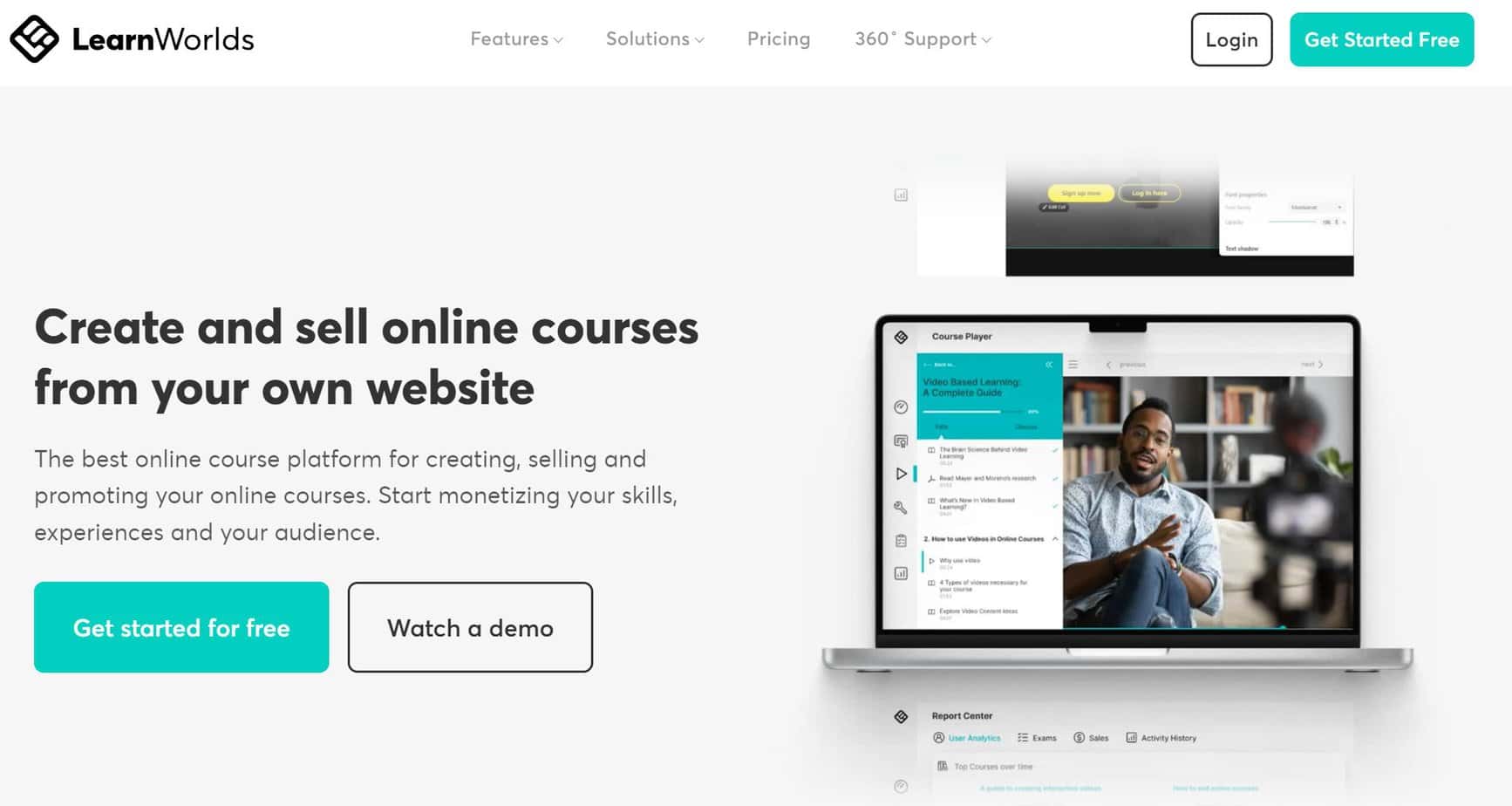 Why is LearnWorlds favored by businesses and entrepreneurs? LearnWorlds gives professionals the chance to brand their courses. You can customize your template with their no-code builder, customizing many aspects of your course such as the layout and color scheme.

You can also add different types of content, such as text, eBooks, and videos.
I love how LearnWorlds offers countless features and tools for course creators. You can offer quizzes and self-assessments to students so they can engage with your lessons and improve their understanding of the course material.

LearnWorlds also offers an impressive portfolio of integrations and reporting features so you can track the success of your course.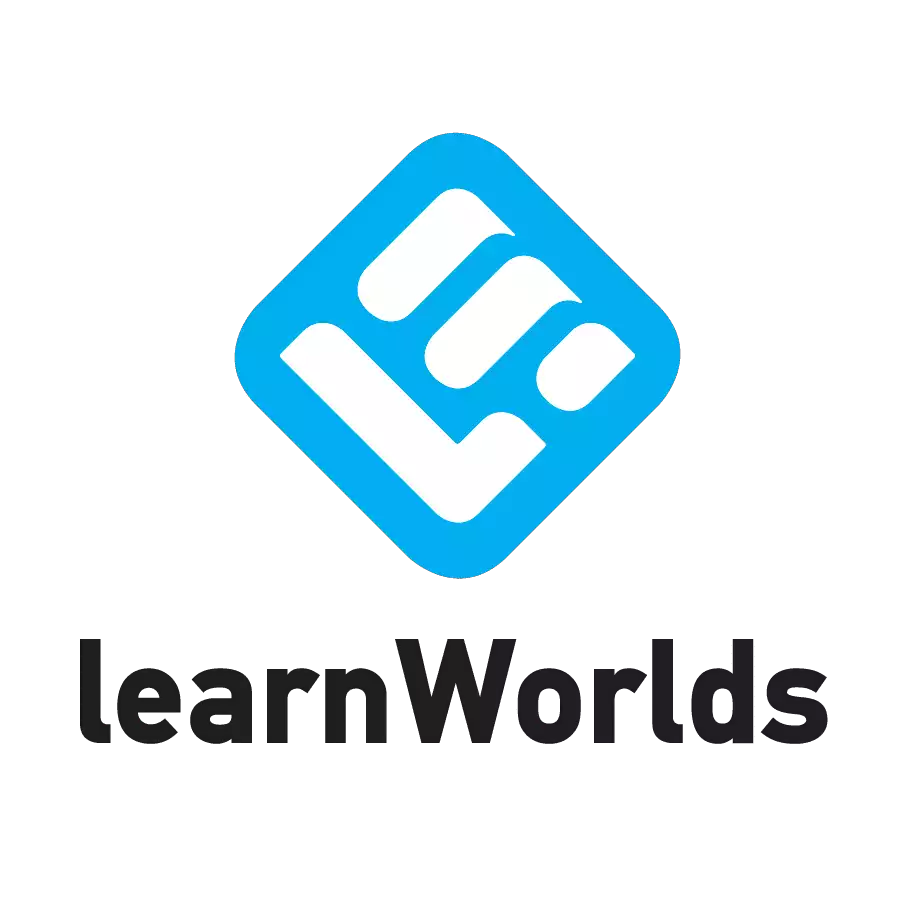 Pros
Advanced course editor
Can make unlimited courses on all plans
Access a complete website with a custom domain name
Drag-and-drop website builder
Analytics and reporting tools
Impressive integrations
Customization options
Includes an app on iOS and Android
Cons
Expensive
No free plan
Comes with a learning curve
User Experience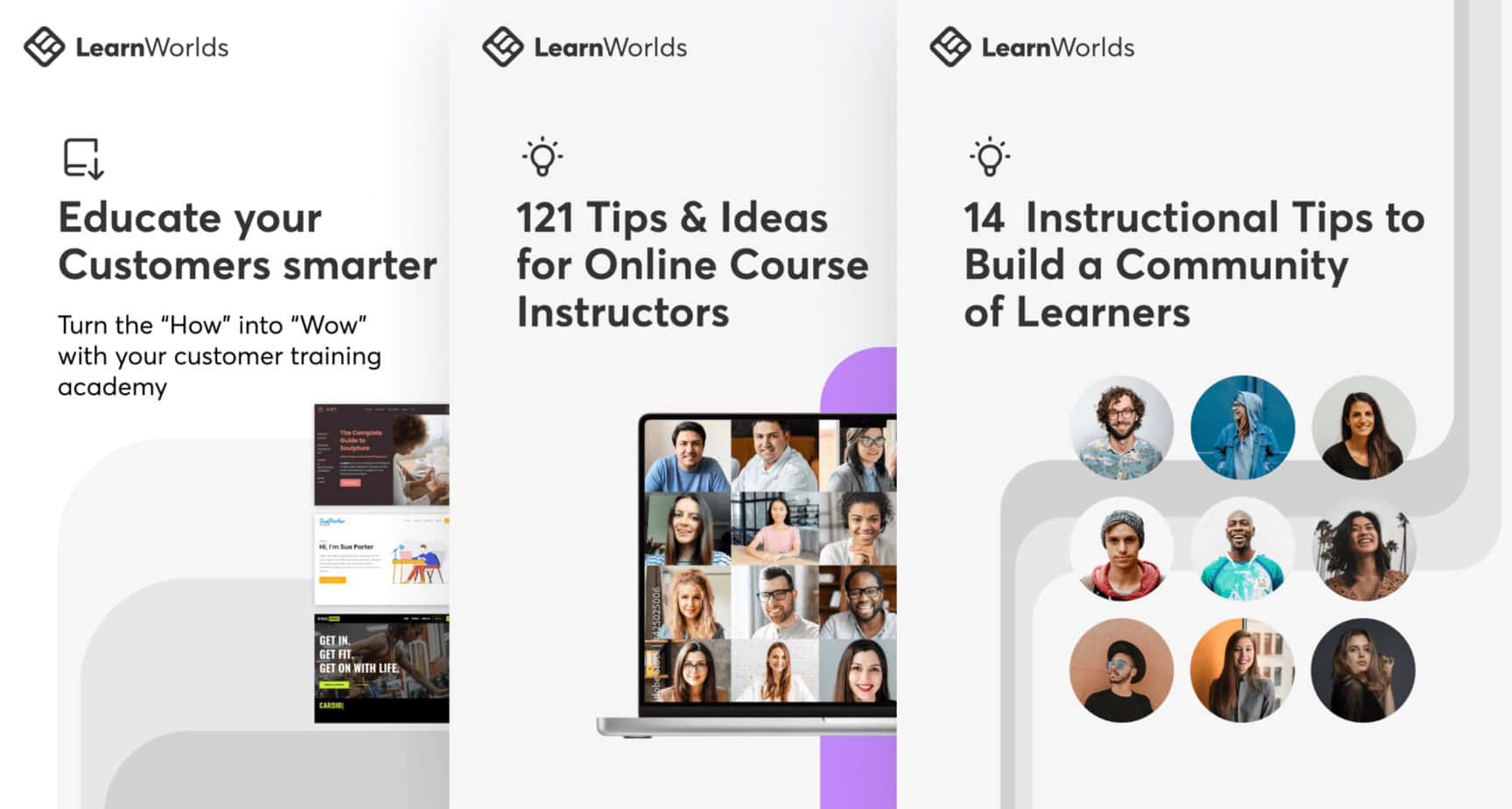 At a glance, LearnWorlds seems like the perfect LMS. You can access many customization options and ways to engage your students. LearnWorlds lets you upload different forms of content to create a top-notch course.
There are many ways in which LearnWorlds reigns here. For example, I love the intuitive website builder. It's also easy to customize and brand your course, which is a big plus for businesses creating training materials.
That said, I do find LearnWorlds comes with a learning curve for instructors. It took me a bit of time to structure my course and create quizzes, which is a process that's easier on other LMS platforms I tried.
Bottom line: While LearnWorlds has a ton of features, implementing them comes with a learning curve. I do like the drag-and-drop website editor and customization capabilities.
Course Creation
Even though LearnWorlds' interface takes some getting used to, it comes packed with limitless features. You can make different types of lessons and implement gamification to make your course more engaging. Your course can include different types of quizzes, such as multiple choice and true and false, to customize testing to your liking.
During the lessons, you can attach numerous multimedia types, such as audio and video. I just wish I could create your lessons in text format. LearnWorlds will only lets you submit PDFs of your lessons, and I also wish they added more file types.
I'll cover integrations a little later in the article, but you can also use Zoom and other tools to offer one-on-one coaching. This is beneficial if you also want to host live classes and share content during your lesson. Keep in mind that you must monetize these lessons separately.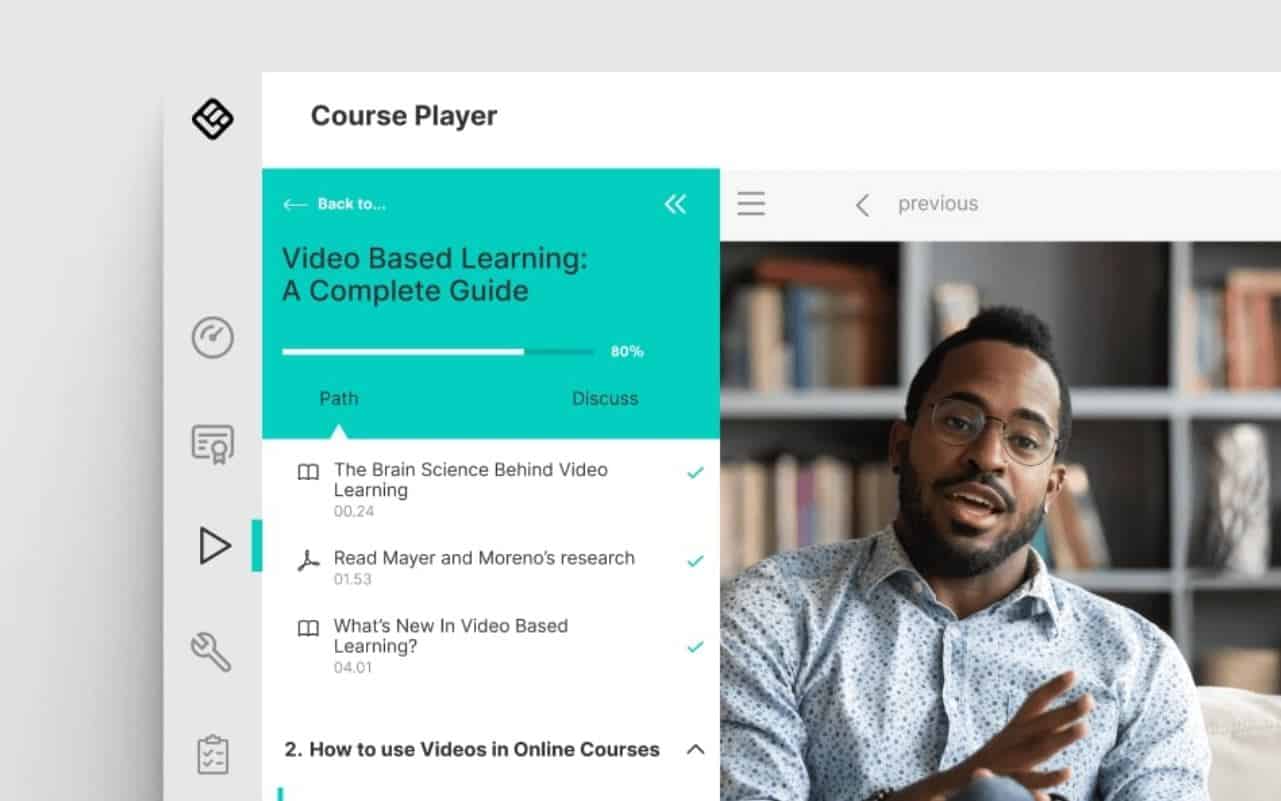 On LearnWorlds, your courses can either be free or paid. If you're charging for your course, you can hide your content behind a paywall. You can also set your courses to private or unlisted.
Bottom line: LearnWorlds offers endless features when creating your course. You can add different types of media and content and upload numerous files. Gamification options are also available. To add different media, click on "Add Activity" and select the media you want. I just wish I could add text directly to the platform or upload more file types than just PDF. While you can use Zoom to offer private lessons and live classes, you must charge for those courses separately.
Marketing
LearnWorlds offers marketing features built-in, though some of the best tools are available as integrations. On LearnWorlds, you can optimize your course for SEO, use opt-in forms and pop-ups, and more. If you need more marketing functionality, I love the integrations that LearnWorlds offers.
Some big-name marketing brands, such as ConvertKit, MailChimp, MailerLite, and Constant Contact, can take your email marketing to the next level. You can also access metrics such as Google Analytics, social media marketing tools like Facebook Pixel, and CRMs like HubSpot. LearnWorlds also offers marketing analytics, so you can always keep up with the success of your campaign. Keep in mind that most of these stats are only available on higher-tiered plans.
Bottom line: LearnWorlds offers both built-in marketing features and integrations to market your course.
Integrations

If you want to take your course up to its full potential, I suggest using one of LearnWorld's many integrations. These integrations can improve many aspects of your course and change it into an entire business. You can handle your customer service, marketing, and viewing your analytics in one place. Some of the best integrations that LearnWorlds offers include:
Google Tag Manager
Zendesk
Calendly
Zapier
And that barely scratches the surface of this list!
Bottom line: LearnWorlds offers numerous integrations that span customer service, marketing, and analytics.
Pricing
Unfortunately, LearnWorlds doesn't have a free plan. Their pricing is as follows:
Starter: $24/month yearly ($29/month monthly — there's also a $5 per course sale)
Pro Trainer: $79/month yearly ($99/month monthly)
Learning Center: $249/month yearly ($299/month monthly)
High Volume & Corporate: custom pricing
Every plan includes a 30-day free trial, and you don't need to include a credit card.
Even though LearnWorlds is pricey, there are some benefits to this platform. You can create unlimited courses (though on the Starter plan, you need to charge for those courses).
Bottom line: LearnWorlds doesn't have a free plan, and their courses are expensive. You do get a 30-day free trial, and you can create unlimited courses, though those on the Starter plan must make their courses paid and will have a fee of $5 per course.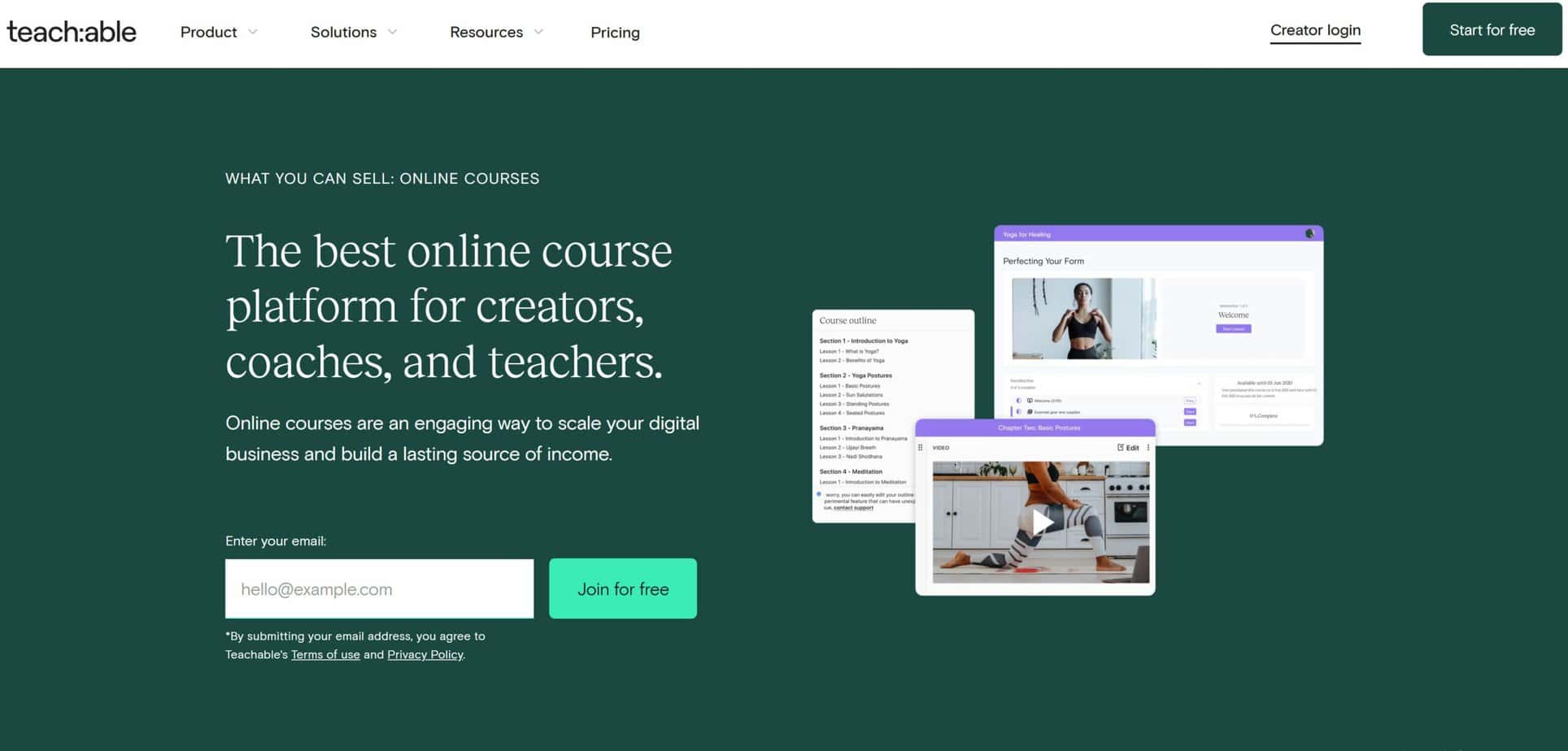 Teachable, originally called Fedora, was created after founder Ankur Nagpal was dissatisfied with Udemy. He wanted to create an LMS where instructors had more autonomy through branded, individual websites. That was the main inspiration behind Teachable — instructors can create courses and market themselves like a business rather than a course creator.
Ever since its inception in 2014, Teachable has been attracting instructors. They have a free plan and boast affordable paid options. Instructors also have many tools at their disposal, such as marketing software and payment gateway options. Teachable is also easy to use, making it the perfect solution for new course creators. You can choose to make your courses free or paid, so Teachable gives you plenty of options.
Pros
User-friendly course editor
Perfect for various types of courses
AI and automation features
Free plan
Marketing capabilities
Built-in analytics and reporting
Cons
Only one course on the free plan
Comes with transaction fees, even on the free plan
Limited payment gateway options
User Experience
Teachable has amazing UX qualities. First, let's talk about their automation features. Instructors can use AI to create their course outlines and quizzes, saving you so much time.

Even if you don't use their AI features, Teachable boasts a simple interface that anyone can navigate. When you log in, you access your dashboard and can view your courses on the left-hand side.

You also have basic branding and customization options when designing your website. You can upload your logo, choose your color scheme, and set a preferred font.

Bottom line: Teachable has one of the best user experiences I've seen on an LMS. You can use AI and automation to outline your course and create quizzes. There are limited customization options compared to LearnWorlds, but Teachable is a better option if you need a basic interface.
Course Creation
Teachable gives you numerous content options when creating your course. This includes:
Text
Video
Audio
Images
Embeds
You can also upload files, such as PDFs, to offer more content for your students.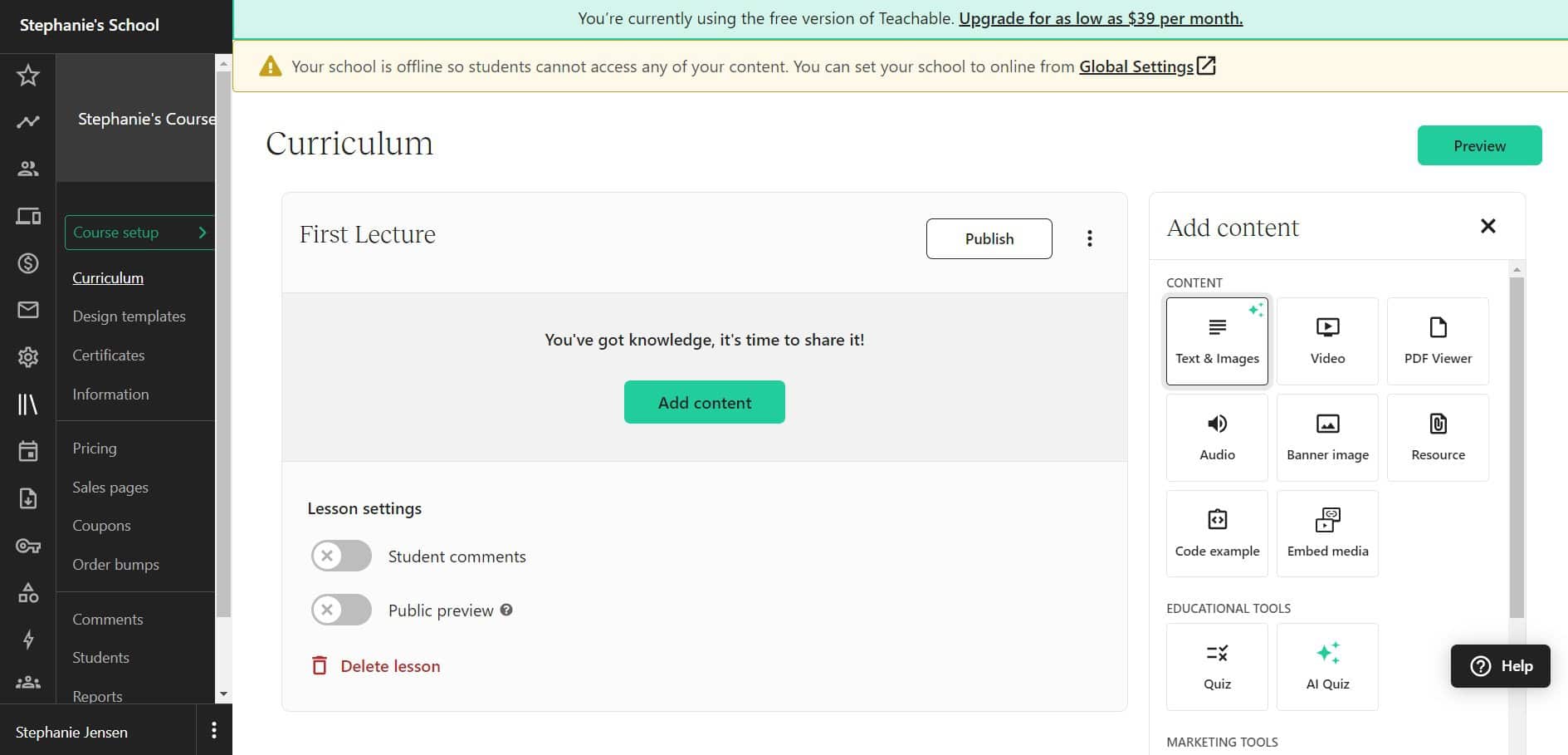 When you create your course, you'll see a menu on the right side of the screen. This menu will include all the different media you can add. Simply click the icon on the lesson block, and you can edit that section to your liking. While the intuitive editor is convenient for those without technical skills, you can also code your class.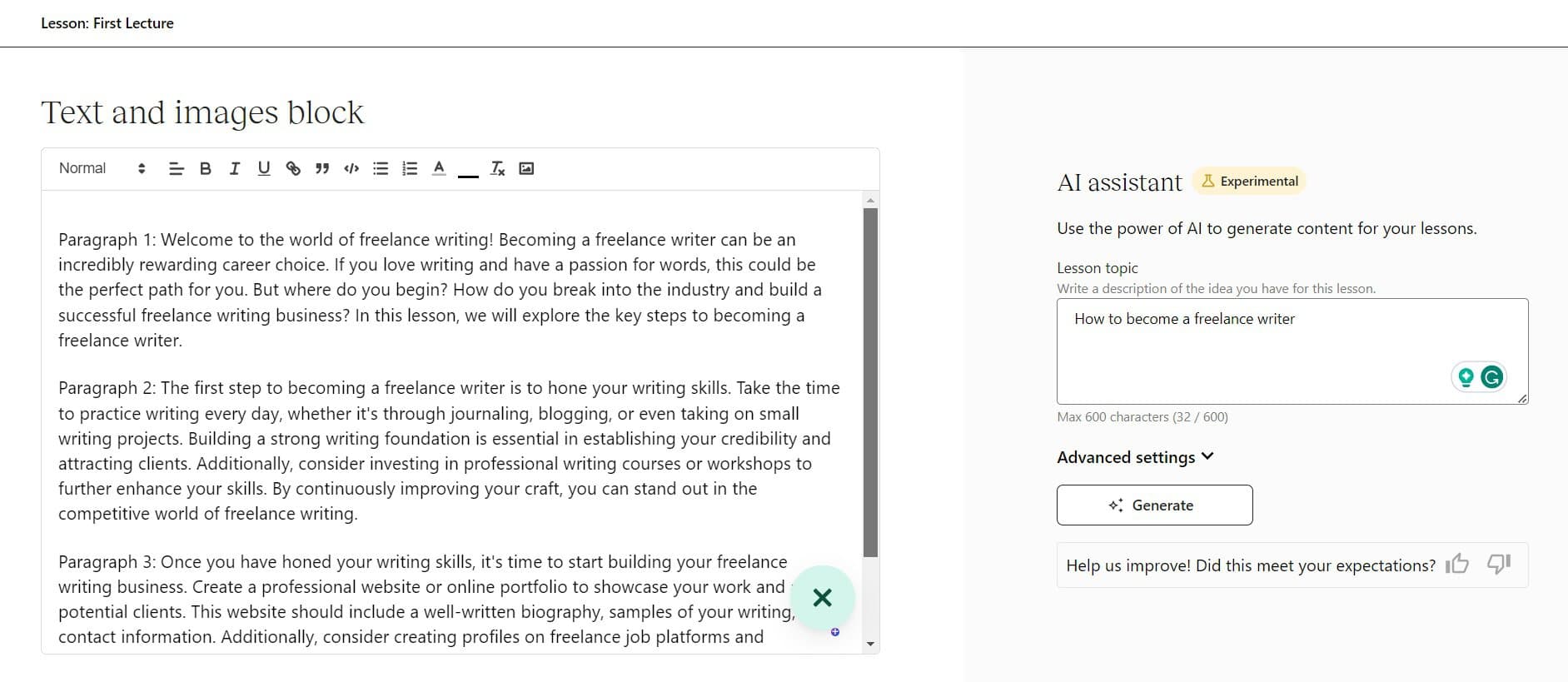 As stated previously, Teachable offers AI features, such as creating text lessons and quizzes. Coming from a writer, I haven't been impressed with AI writers and don't use them except to do stuff I don't enjoy doing, like outlining or creating visuals. Teachable's AI writer is super vague, not providing the depth of instructions and advice that I would offer myself. But for now, I'll keep the text.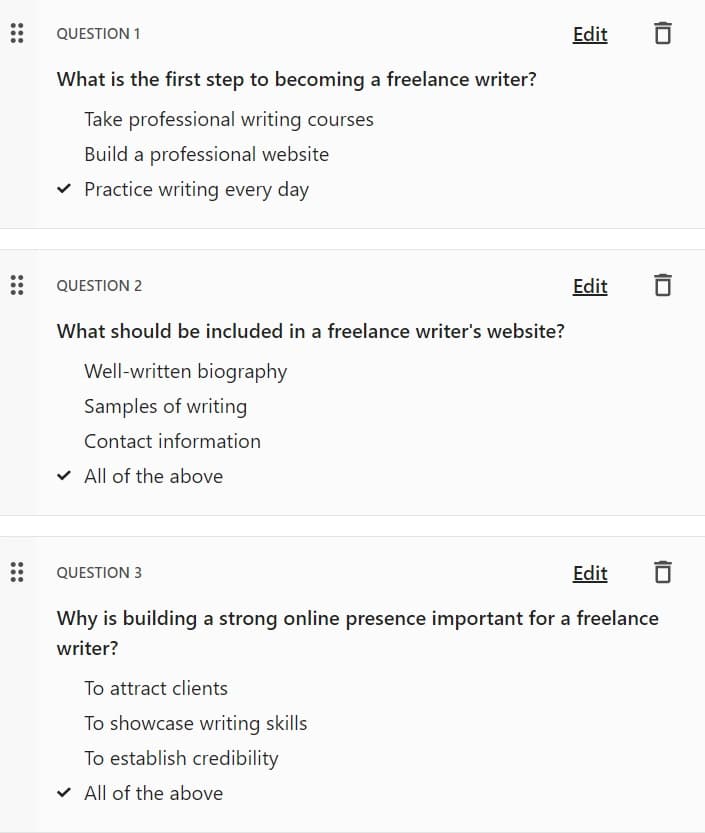 That said, I like the AI quiz creator. The questions are all well-structured and relevant to the curriculum. I wish you could edit the questions to make them true and false or another question type, but this quiz will work fine.
With Teachable, you can create more than just courses. Teachable's platform extends to coaching and digital downloads, making it a versatile platform for different teaching capabilities.
Bottom line: You can upload different content types and files to your course, and all your options are available on the right-hand menu bar. I also tried their AI lessons and quizzes; while I wasn't impressed with the writing, I liked the quiz it created for me. You can also create more than quizzes, which is convenient if you plan on offering coaching and/or digital downloads.
Marketing
While Teachable offers many built-in marketing features, a large chunk of them are only available on paid plans. For example, when I went to email marketing, I wasn't allowed to access it. Users also can't access affiliate marketing unless you sign up with the Pro plan.

You can access built-in reports, but they're only available for individual courses. That said, Teachable does let you integrate with various third-party apps. If Teachable's built-in email marketing isn't robust enough for you, you can use a third-party app such as ActiveCampaign. You can also view reports and metrics on Google Analytics and add both Meta and TikTok Pixels to your website.

Bottom line: Most of Teachable's best built-in marketing features are only available on the paid plans. You can use third-party email marketing and analytics apps to add more capabilities than what Teachable offers.
Integrations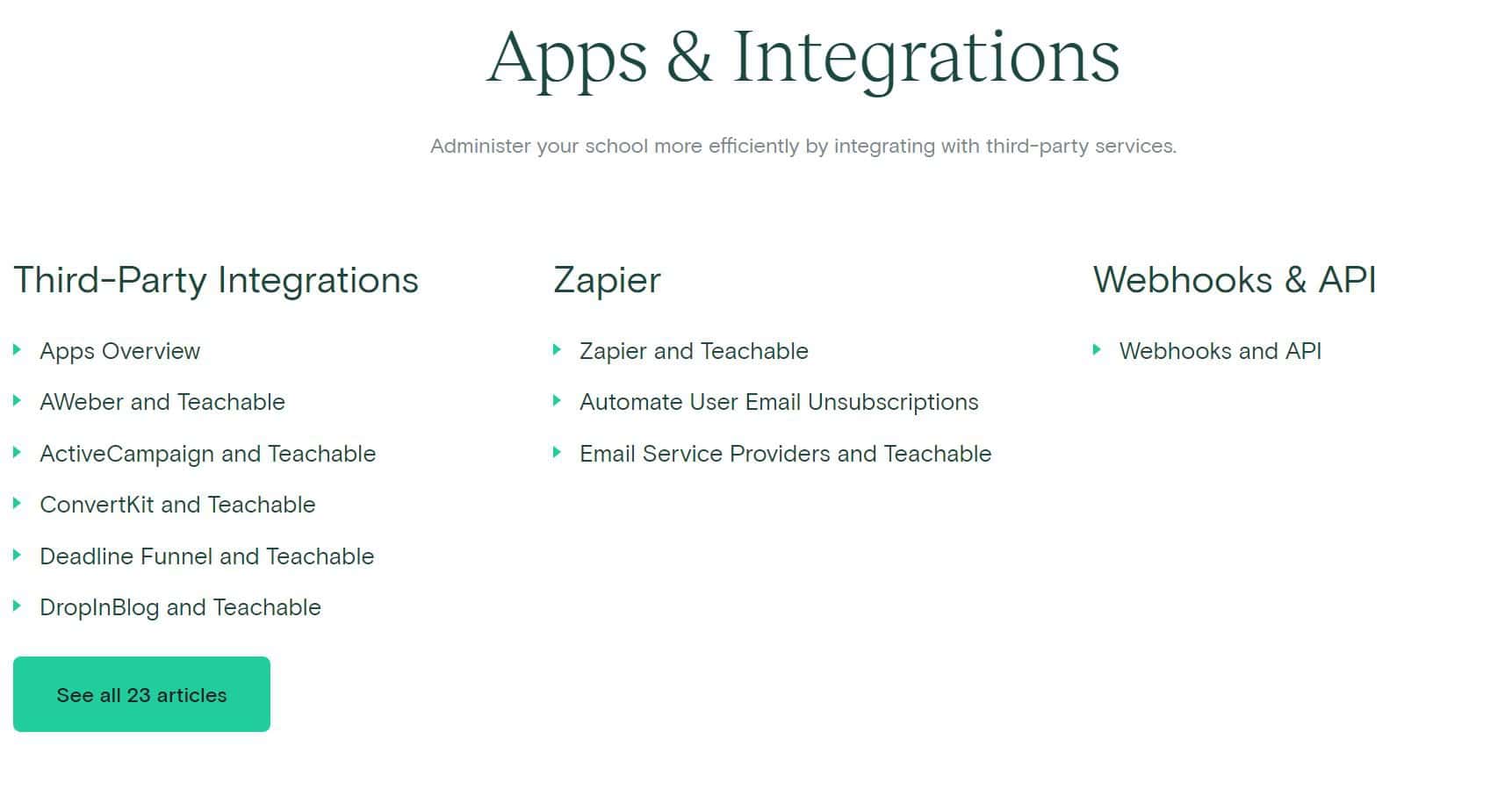 As stated previously, Teachable offers third-party integrations. They offer many of the same ones as LearnWorlds, such as Google Analytics and Zapier. Teachable does offer some unique integrations, such as TikTok Pixel in addition to Meta. Still, Teachable doesn't have close to the number of integrations that LearnWorlds offers. It's also important to note that not all integrations are available on the free plan.
Bottom line: Teachable offers third-party integrations that vary between marketing and automation.
Pricing
Teachable is popular because of its free plan. It's important to note that there is a $1 plus 10% fee for every course and other limitations to the free plan, but this is a good start for new course creators.

Here are Teachable's pricing tiers:
Free plan
Basic $39/month annually ($59/month when paying monthly)
Pro: $119/month annually ($159/month when paying monthly)
Pro+: $199/month annually ($249/month when paying monthly)
Business: $499/month annually ($665/month when paying monthly)
To try Teachable, you can either start with the free plan or get a 14-day free trial for any of the paid plans. You don't need to include a credit card to sign up for the free trial.
Bottom line: Teachable reigns here because of its free plan. That said, their paid plans are more expensive than LearnWorlds'. You can either try the free plan first or get a 14-day free trial for any of the paid plans.
Alternatives
While LearnWorlds and Teachable are perfect for creating and selling courses, some instructors may need more from their LMS. Here are a few of the best alternatives to these platforms.


Mighty Networks is a better option if you want your students to engage with each other. It's not only popular among course creators but also entrepreneurs, who want to build a community around their followers.
In Spaces, creators can host streams and live events to engage their audience, and their followers can access messaging and forums. Your followers can also make their own profiles, so you can better identify who's consuming your content. You can also create different types of interactive content, such as Q&As and polls.
Mighty Networks is also a great option if you want to release more than courses. This platform offers many options for content and e-commerce, so you can build an entire brand on one platform. Mighty Networks also has impressive marketing tools, and you can post content directly on the platform.
They also boast impressive integrations if you need more functionality. You can access Mighty Networks on your desktop or their Android and iOS apps.
Mighty Networks offers two main plans: Community ($33/month) and Business ($99/month). They also offer a Mighty Pro plan with custom pricing. All their plans are scalable and packed with features.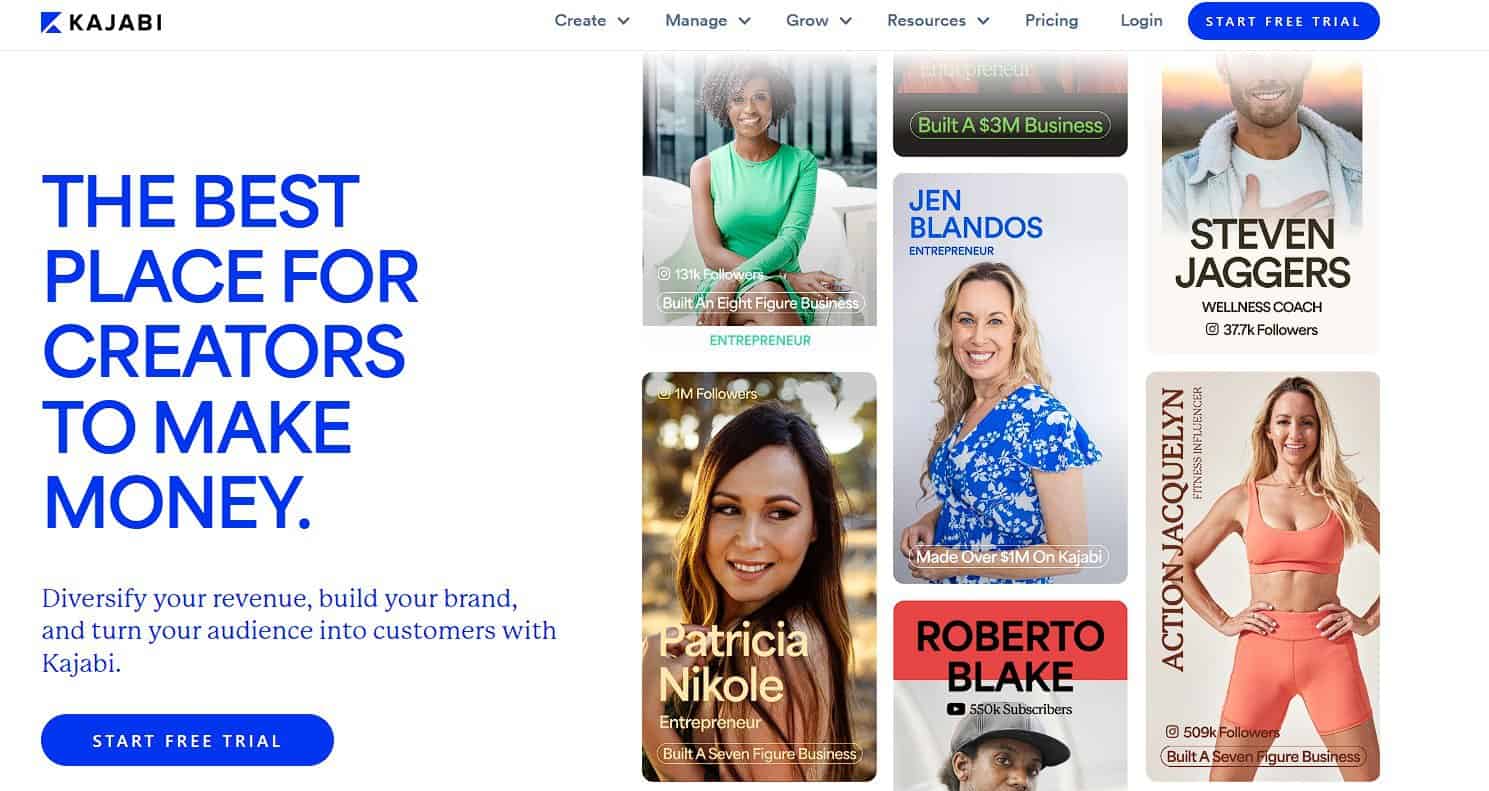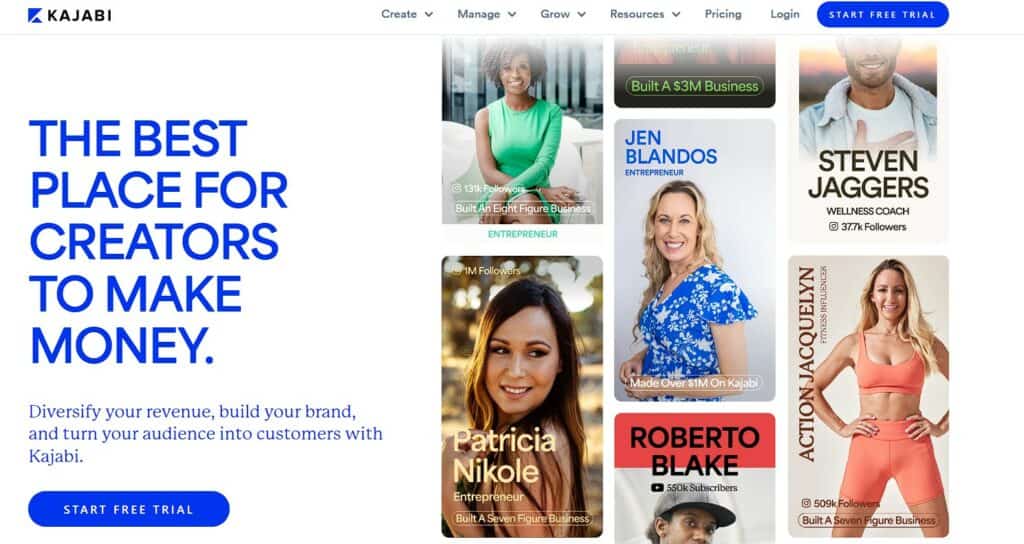 I also tried Kajabi when I was looking for an LMS, but quickly dismissed it. However, I'm including it here because some instructors use an LMS for more than courses — they want to create an entire business based on their coaching. In this case, I recommend Kajabi.
I see Kajabi more as a platform to run a paid membership. Kajabi includes many powerful marketing and sales features; you can customize your website, create robust email marketing campaigns, and have different checkout options. Kajabi operates worldwide and accepts most major currencies, which is perfect for those who have a global brand.
That said, Kajabi is also very expensive. Plans start at $149/month, which is insane. I also wish there were more user engagement features, such as a forum.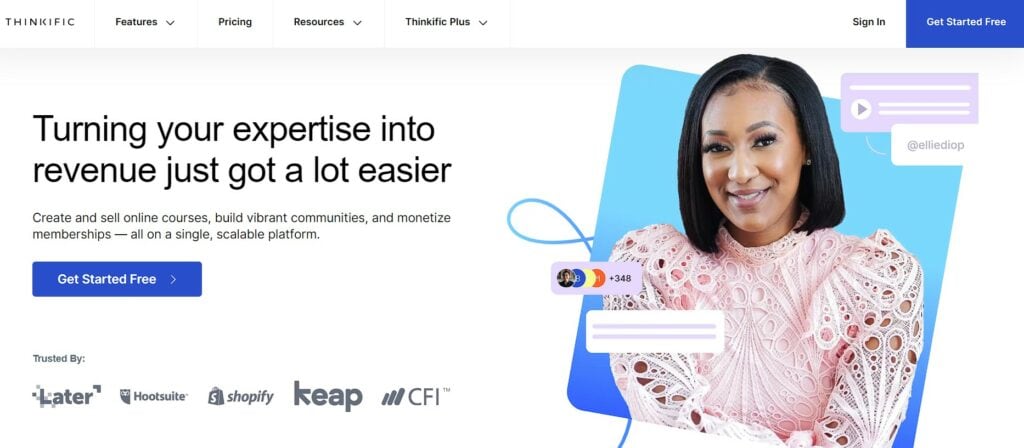 While Mighty Networks and Kajabi are perfect for course creators who want to run a business in one place, many instructors want a basic and user-friendly LMS. If that's the case for you, I suggest Thinkific. This is the best alternative to Teachable since they also offer a free plan.
Like LearnWorlds, Thinkific has many advanced capabilities. For example, their quizzing feature is more robust. You can implement randomization and question banks into your quizzes so all your students have a different experience. With Thinkific, you also get your own website and can design it with beautiful templates and a drag-and-drop builder.
Like Teachable, Thinkific's free tier is pretty limiting. For example, you don't get a custom domain until you upgrade to a paid plan. You can also access more marketing features when you upgrade. While Thinkific does offer a community, they don't offer the engagement features that Kajabi and Mighty Networks boast.
FAQs
Question: What do LearnWorlds and Teachable have in common?
Answer: Both are cloud-based LMS platforms and offer an intuitive design so you can create courses with ease. You can use either platform to educate followers or train employees since they offer all vital features to create a high-quality course.
Question: Why should I use an LMS?
Answer: You should use an LMS if you're creating a course or any type of e-learning website. An LMS is perfect if you're selling your course and need to access sales and marketing tools in one place.
Question: Do college professors use an LMS?
Answer: Yes. Since education is mainly online these days, the majority of college professors and universities use some type of LMS. These make it possible to complete the course curriculum while in a remote environment.
Bottom Line
Even though LearnWorlds isn't perfect, it's a better option than Teachable. LearnWorlds has a more robust system and teachers can customize many aspects of their course. I especially love the gamification feature, since it keeps younger students engaged throughout the entire lesson. LearnWorlds also offers more integrations so you can turn your course into a full-functioning business.
I wish LearnWorlds was more suitable for new instructors, but you can access different tutorials online or contact support to answer any questions you have.
That said, Teachable has many benefits over LearnWorlds. It's easier to use and comes with a free plan, so it's a better option for new course creators. That's why I suggest trying both platforms and using the one that works best for you.