Last Updated on January 11, 2023 by Ewen Finser
Remember the food replicator on the movie Star Trek? Come to think of it, that invention had completely eliminated the tedious process of shopping for ingredients and cooking a meal.
All you had to do was just press a button and boom! The machine would immediately prepare your favorite meal. No need for recipes or anything.
TL;DR: My bottom line up front is that Payhip is an EXCELLENT ecommerce solution for information product sellers. IF you are a digital publisher, signing up for Payhip here is virtually risk-free (base version IS free) way to get a SIMPLE payment solution.

Payhip All the Way!
At first I'll admit to never having heard of Payhip. After testing it out, it's not my GO-TO platform for digital product selling. If you have an ebook or downloadble software, Payhip IS the Best in Class tool.
Go with Payhip
We earn a commission if you click this link and make a purchase at no additional cost to you.
Sorry, for the interruption. Let's get back into it…
Ok. Perhaps you might not recall something that small. Nevertheless, take a look at the current ecommerce environment. Notice any similarities?
Shopping is now a matter of conveniently clicking on buttons to have the products shipped to your address. Now that's satisfyingly simple and user friendly, I admit. But, you know what's even less cumbersome?
If you're thinking about digital products, you'repa right. All it takes to purchase an item is just paying and hitting the download button. Then you'll get the product in a matter of milliseconds, seconds, or minutes- depending on your internet speeds.
Sellers are also in love with this model because it's conveniently straightforward. There's no need to worry about stuff like shipping plus logistics management.
And that's not all. As a matter of fact, you don't even need manufacturers and product suppliers. You can easily sell your own stuff across a wide range of online platform options.
How you sell, however, depends on your platform's features.
Well, you could build your own website from the ground up. But, I bet this would only be feasible for large-scale sellers who deal with wide arrays of downloadable products. A starter or a small scale seller needs a different approach.
And that's why they came up with platforms like Amazon Kindle Store. This particular one continues to host works by both traditional authors and self-published authors- who've consequently made quite a tidy sum of money from their books.
Sadly, it's not all good news. Although Amazon Kindle Store is very extensive, it only supports one type of digital product. Then there's the problem with payments. After selling their books, authors increasingly complain that Amazon retains a significant chunk of the royalties.
So, we've been scouting around for alternatives. And this time around, I ended up on Payhip- another digital product platform, whose popularity is seemingly growing exponentially.
How does it perform compared to others in this space? More importantly, what features does it provide to help you not only sell your downloadables but also grow your online presence?
Stick with me till the end as we find out all about Payhip, including the little-known nitty-gritty…

Payhip All the Way!
At first I'll admit to never having heard of Payhip. After testing it out, it's not my GO-TO platform for digital product selling. If you have an ebook or downloadble software, Payhip IS the Best in Class tool.
Go with Payhip
We earn a commission if you click this link and make a purchase at no additional cost to you.
Payhip Review: Overview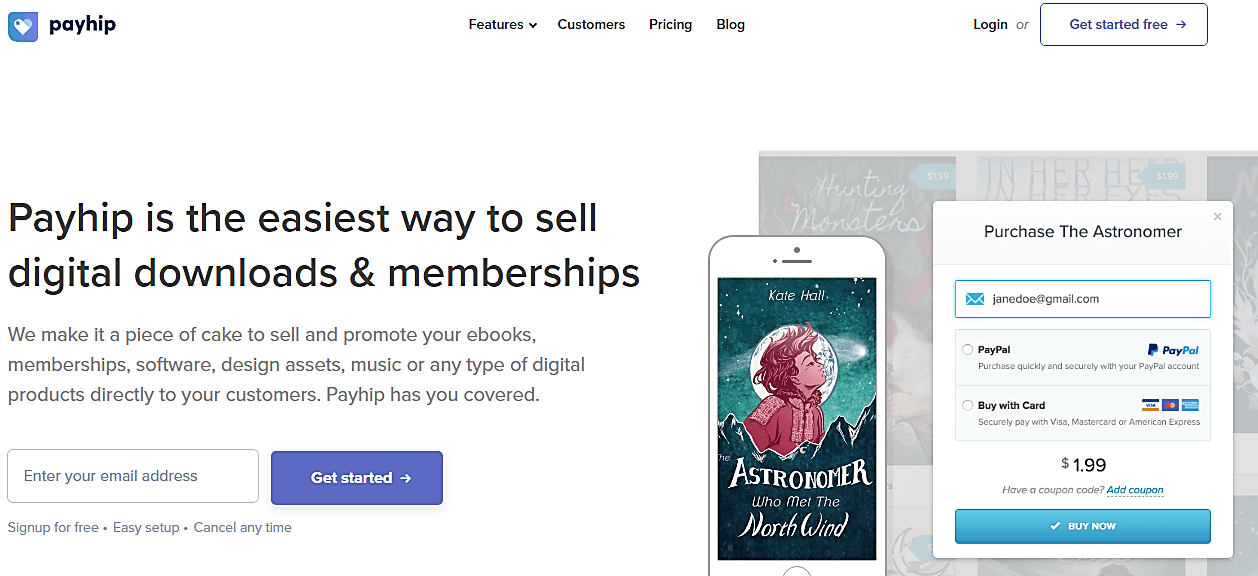 Payhip is an e-Commerce platform developed to help you promote sell digital products. And no, it doesn't just host eBooks. You can upload and vend all types of digital stuff, including music, software, videos, images, etc.
One of the first things you'll notice on its main site is that Payhip boasts of being the easiest system of selling digital downloads and memberships. It seeks to provide the full-stack of elements you need to set up and manage your business- from setting up a suitable store, uploading and managing your digital files, to marketing, promoting, and selling them.
And yes. In case you're wondering, Payhip works to provide recurrent selling features through its membership program. Customers can subscribe to access various digital products on a periodic basis. Combined, these and other functionalities have seen the online platform attract more than 130,000 sellers from across the globe. So it's definitely something worth checking out.
That said, let's jump right into its primary features…
Payhip Review: Features
User Experience
Getting started on Payhip is not complicated at all. It's as straightforward and entering your email address plus a strong password, then proceeding to connect your account with a payment service.
Although I frequently use my PayPal account for ecommerce, I decided to create a Stripe account and give it a try this time. So I went ahead to link my Payhip account accordingly- a process that only took a couple of seconds. After I linked my Payhip account, I went ahead to set up a solid bio and even threw in some links to my social media pages.
Next came the upload stage. Since I own eBooks to my name, I uploaded about ten of them in PDF, complete with their respective cover images.
And cover images is only one part of it. The system also prompted me to define the title, price, description, category, and subcategory of each product. But, so far so good- I was pleased that everything had been super easy.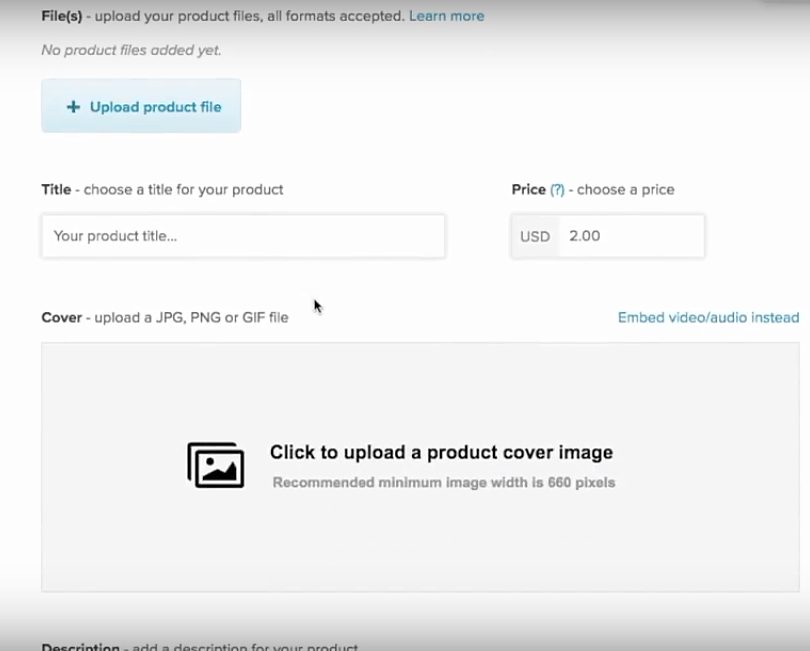 The only part that may have taken long was writing the product descriptions. I put my sales pitching hat on and spent about 10 minutes on each book. Thankfully, I was done drafting convincing descriptions in about an hour or so.
Then came the actual sales process. Since I had previously chosen standard products over subscription billing, I expected to charge one-time fees.
And it didn't take long. I hit the ground running as soon as I sent out my first newsletter. My first customer came through after about two hours, then went ahead to purchase one of the editions. I wasn't online at the time, but Payhip notified me of the sale immediately. Their email was followed by Stripe's, which let me know that the corresponding payment had been completed.
That, I have to admit, was enough to ignite a fire of excitement. So, guess what? I started to consider expanding my sales framework. And my WordPress site seemed to be a perfect hunting ground for warm prospects.
Now, I know what you're probably assuming at this stage. That I simply shared the page links to my WordPress audience.
But, you know what? It turns out that Payhip offers a much better option. And it comes in form of a customizable embed button code on your dashboard. Pasting the shareable code onto my WordPress site instantaneously transformed regular pages into sales pages.
Website Design
They say "don't judge a book by its cover." But it seems like internet users couldn't care less about that principle. They take about 50 milliseconds on average to judge your site, and subsequently form an opinion that dictates whether they'll hang around or not.
And what do they typically assess?
Going by a survey that established that 94% of negative feedback on websites is related to design, it's pretty obvious that your credibility as a seller will be substantially judged by your site's overall outlook. Only a few individuals would be willing to take the risk of buying from a poorly structured site.
So, of course, I was quite curious about how Payhip would set up my sales portal. And thankfully, it didn't disappoint.
The site comes with a simplistic modern design. Everything is placed exactly where it ought to be, and the overall minimalistic layout makes it easy to navigate around various products. A typical product page contains just the cover, description details, plus a buy button.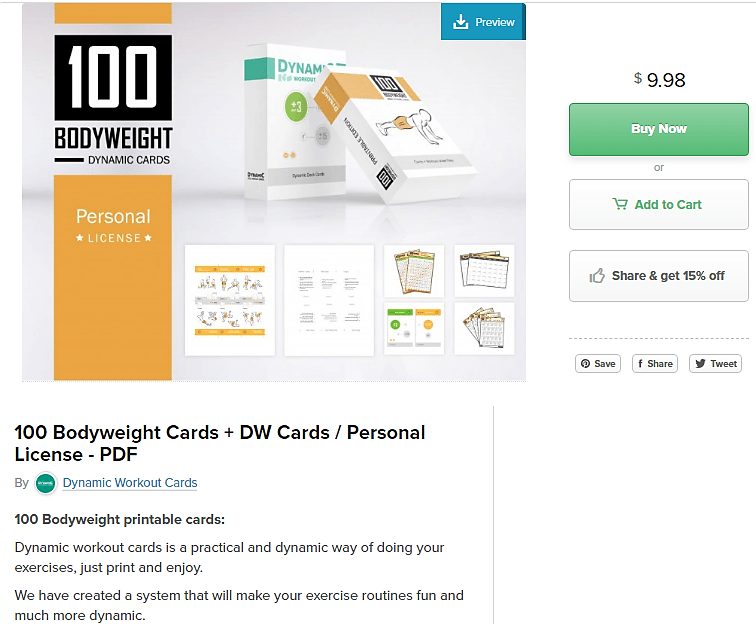 With such a design, you can rest assured that your customers will be able to purchase without any difficulties.
It's also worth noting that Payhip does not paste one of those annoying promotional ads on your sales pages. All the attention is on your digital items (vs hybrid models with the physical products).
File Management
Speaking of digital products, we've already mentioned that Payhip is as comprehensive as they come. It supports all types of downloadable files, including software, photos, books, media files, font files, podcasts, etc.
And yes. You can mix them up to form a holistic sales framework that capitalizes on multiple product types simultaneously. A customer might purchase a book, for instance, then proceed to acquire a supplementary audio version.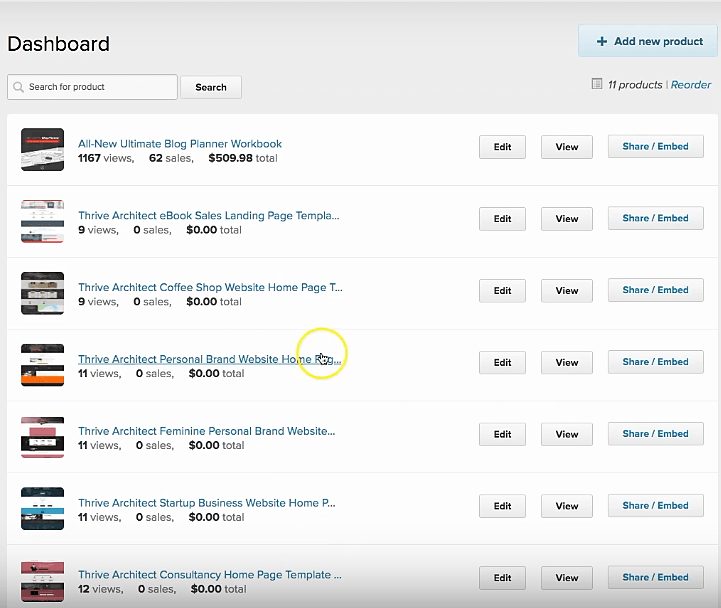 Now that sounds like a thoughtful strategy. But, here's the problem. If you've tried this type of business before, then you've possibly been a victim of copyright infringement or illegal distribution.
Some customers might cut you off by distributing downloaded files to other parties. As a result, you end up increasingly losing out on potential sales due to piracy. Come to think of it, this issue alone is costing the US losses of over $12 billion and 350,000 jobs every year.
Fortunately, Payhip provides control measures to protect your digital downloads from online pirates. When it comes to PDF books, for instance, you can choose to have the system stamp each downloaded copy with the respective customer's email address. With such a watermark on each page, you can bet that most people will avoid distributing their personal information to the public.
Fair enough. What about other product types?
Well, you can protect them by strictly limiting the number of product downloads per user. Payhip, by default, allows a maximum of 3 downloads of each file per customer. You're free to alter this figure based on your preferences and copyright structure.
Now, when it comes to copyright, it turns out that Payhip offers an extra feature to protect software sellers. The Payhip support team can manage your entire software licensing framework by generating relevant software keys and storing them accordingly, then ultimately issuing them to paid customers.
As a result, each software copy is installed and registered on a predetermined number of devices.
Getting Paid
Customers enjoy the instantaneous stress-free delivery of digital products. So, it's only fair that Payhip has ensured that the corresponding payment process is completed just as fast via the payment gateway.
The checkout process itself is simple, user friendly and pleasantly responsive. Your customers will be able to navigate without any issues on both desktop and mobile devices.
Although its overall design can work well with multiple types of businesses, Payhip allows you to customize it further. You can tweak different aspects of your checkout to align it with your brand. Such design freedom is particularly necessary when it comes to other sites. But how?
Well, Payhip comes with a flexible checkout and shopping cart that can be seamlessly integrated with your website. This alone could save you leads that you'd potentially lose mid-way as you redirect traffic from your main site to sales pages on Payhip.
But, that's not all. You can extend your sales channels further by embedding the code onto multiple other platforms and sites. Payhip allows you to sell directly from anywhere- including blogs and social media.
Customers can also purchase from anywhere in the world, thanks to the link Payhip shares with PayPal and Stripe. They can proceed to pay via PayPal or any of the major credit cards- in a wide range of international currencies.
And you don't have to worry about protecting the consequent payment info. Since everything is handled by the two payment processors, you can bet that none of the sensitive details are stored on Payhip's servers. PayPal and Stripe provide great customer security for everything.
Apart from that, another element your customers are bound to like is Payhip's versatile pricing structure. It goes beyond one-off payments to support recurrent payments for membership packages.
You can create multiple plans for your customers with varying pricing and payment intervals. The best thing about all this is the fact that it doesn't need any coding at all. A non-programmer can set up a multi-layered membership structure in just minutes, complete with free trials to attract leads.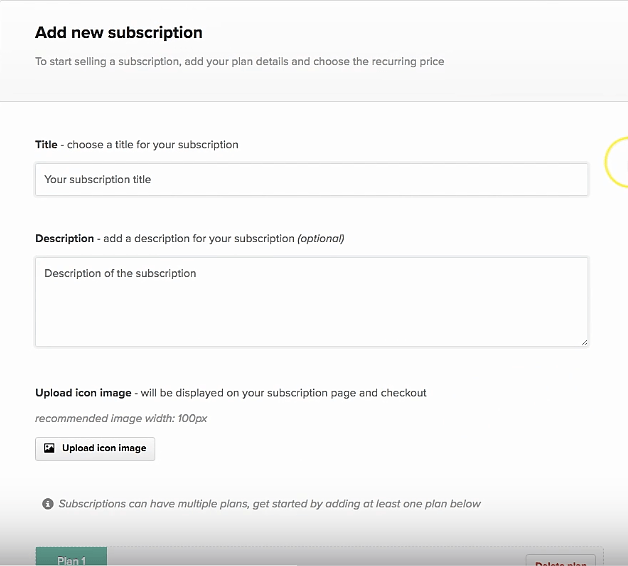 Customers, on the other hand, get to manage their subscription plans from their members' portal. They can sign in from any device to access their billing history, update card details after expiry, downscale and upscale their plans, edit personal info, or cancel their subscriptions altogether.
Another notable pricing approach on Payhip allows customers to choose what they want to pay. You can capitalize on this feature to make the checkout process interesting, and subsequently, reduce the cart abandonment rates.
To top it off, Payhip gives you the power of setting the minimum prices for such products to protect yourself from underquotes.
EU VAT Handling
Almost every bit about receiving payment is exciting. But, let's be honest about the one thing that isn't. We hate the tax burden that each payment comes with. Filing and processing tax is not only cumbersome but also risky, considering the penalties and sanctions for omissions or errors.
Take the 2015 EU VAT legislation, for example, which requires both EU non-EU sellers to be fully compliant when dealing with EU-based customers. You're expected to file and pay your VAT tax for all products you sell to such customers.
Admittedly, that sounds like a pretty straightforward law until you finally get to the implementation part. Fact is- it's not easy to ascertain each customer's precise location, especially when you're handling many digital file transactions on a regular basis. Ultimately, you might end up with poorly filed taxes that could possibly release the hounds.
Fortunately, Payhip has worked this out. It saves you all the trouble by handling your EU VAT obligations. It doesn't only report but also pays the whole tax bill on your behalf.
Now, hang on a minute. What does this mean for sellers?
Well, for starters, Payhip systematically assesses the billing address and IP address of each digital product buyer to determine their precise locations. The consequent information is stored then later used to report VAT to HMRC.
And where does the tax money come from?
If a customer is based in an EU-country, the system will pick up their geographical location then add VAT charges to each purchase. Consequently, you end up with just the right amount of money to pay all your EU taxes.
But that essentially applies to only EU-customers. Non-EU buyers, on the other hand, are exempted from the additional tax charge.
Well, although it's not advisable, it's possible to extend this privilege to other customers as well since the tax charge is optional. You can turn it off by changing the tax settings.
Marketing and Promotions
Ok, now that we've talked about selling, how do you even get to that point to start selling? Does Payhip offer any notable marketing features that would progressively drive traffic?
Payhip, admittedly, does not come with the entire marketing toolkit. But, make no mistake. You can take advantage of its social and integration capabilities to strategically execute an effective marketing campaign.
Consider its affiliate program (affiliate marketing), for example. It just so happens that Payhip offers tools for creating your own affiliate campaign- to take advantage of your site's visitors. Your customers basically get to sign up as affiliates, who then earn commissions on sales made through their unique referral links.
This alone has the potential of winning you hordes of new customers, considering consumers are 4 times more likely to purchase when they're referred by their friends. Correspondingly, 77% of people are more likely to acquire a new item after learning about it from family and friends.
While you're at it, you might also consider generating repeat sales from your customers over and over again. By now, you probably know that each additional around of purchase substantially boosts the chances of yet another return purchase-27% chances of returning after the first round, and a 54% probability after the third time.
Integrating Payhip with your favorite email marketing platform would set up a good framework for targeting such customers. You'll be able to compile all the relevant email addresses from the transaction data, then use them to reach out to the parties. You can even throw in a couple of loyalty giveaways to arouse more interest.
Other than that, you can take advantage of the embedding feature to expand your online store footprint to other audiences. Setting up checkout pages on other websites like social media is a great way to supplement your sales channels.
It's possible to fuel that campaign further through Payhip's social discounts functionality. You'll be able to increasingly motivate social media users to rally behind you, by offering discounts to individuals who engage with and share your posts.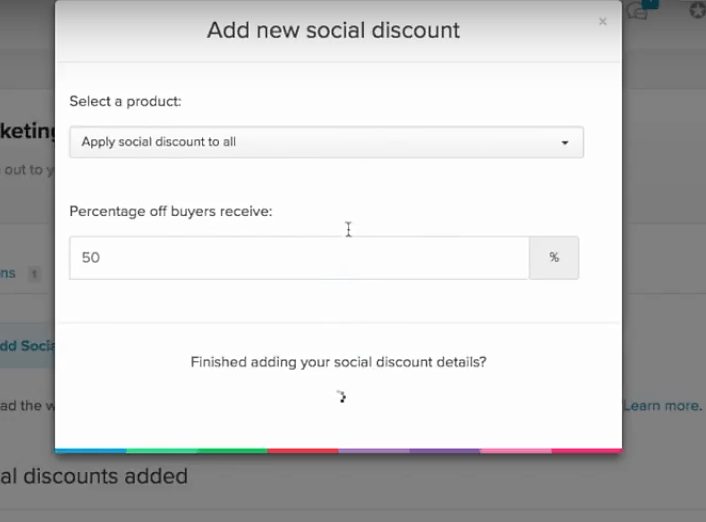 For the best possible results, try alternating that with coupon code campaigns. Payhip offers tools for setting up coupon codes with variable discount percentages. And they can be adjusted to run for extended periods of time- even permanently if you want to.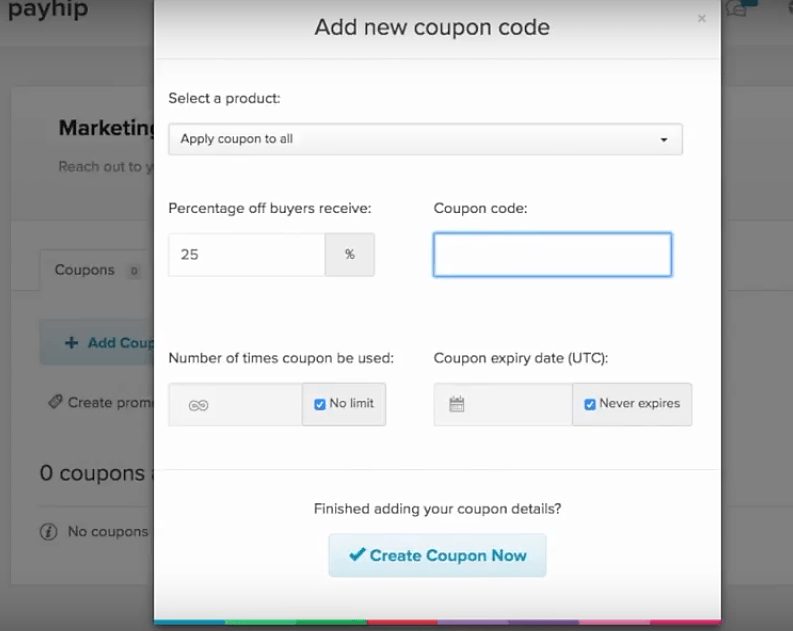 But, here's the kicker- the coupons are not flexible enough to accommodate fixed price discounts. You'll only be able to work with percentages, which might complicate the math from time to time. To create a $10 coupon, for instance, you'll have to calculate and establish an equivalent percentage value.
Another major drawback is the lack of upsell tools and supplementary product suggestions on the checkout page. That makes it challenging to bundle complementary products that would convince customers to increase their spending. You only get to sell what was originally added to the cart.
Payhip Review: Pricing
Seems like simplicity is not the only thing you might like about setting up a digital product store on Payhip. It turns out that the cost will entice you too because the entire process is completely free.
And there's more. After signing up, you can still proceed for free on the Basic Plan, which charges zero per month.
But then again, get this. You'll only save yourself the monthly subscription charges. Payhip will start making money off your store as soon as you start selling. And the amount is basically 5% of each sale value in form of transaction fees.
Sadly, it doesn't end there. In addition to the 5%, you'll be forced to remit more to PayPal or Stripe as transaction charges for processing each payment. And since both typically take about 2.9% + 30¢ per transaction, expect to pay a total of 7.9% + 30¢ for each sale.
Thankfully, there is no limit on the amount of revenue you can make. But, I guess you might find it challenging to expand extensively, as you won't be able to sell more than 100 digital products online and two membership plans.
The only way to do so is upgrading to the Standard Plan, which costs $29 per month, to sell unlimited products and endless memberships. Payhip's transaction fee then reduces significantly by more than 50% to settle at 2%. Consequently, you should expect to pay a cumulative transaction fee of about 4.9% + 30¢ when we factor in PayPal's or Stripe's additional charges.
Well, you can still make the transactions cheaper- by eliminating Payhip's share after upgrading to the most expensive package, the Professional Plan, at $99 per month. The number of products and memberships is still unlimited- but this time around, without any extra transaction levies going to Payhip. Only the payment processors are left imposing transaction fees at this level.
That said, here are details:
Basic Plan– Free per month
Unlimited revenue
2 membership plans
100 digital products
5% Payhip transaction fee
PayPal or Stripe transaction fee
Standard Plan– $29 per month
Unlimited revenue
Unlimited membership plans
Unlimited digital products
2% Payhip transaction fee
PayPal or Stripe transaction fee
Professional Plan– $99 per month
Unlimited revenue
Unlimited membership plans
Unlimited digital products
Zero Payhip transaction fee
PayPal or Stripe transaction fee

Payhip Alternatives
Of course, there ARE other great solutions out there that are not Payhip to consider. Payhip doesn't exist as the only solution for digital product owners. They are:
Gumroad
Sellfy
Podia
Sendowl
Selz
Payhip vs Gumroad
Gumroad is now one of the old "venerable" digital product services. I used Gumroad back in the day when I first launched some ebooks! Gumroad has the advantage of being SUPER SIMPLE to setup (literally takes an hour or less to get a basic product listing live).
BUT, Gumroad has the unfortunate feature where pricing increases as your ALL TIME customers exceeds certain thresholds. This makes it easy to get start selling immediately, but experienced sellers will likely need to move off it at some point, mainly due to cost and lack of scalable features.
Put simply, I prefer the expanded functionality and more scalable pricing offered by Payhip here. It's why I switched from Gumroad.
Sellfy stands out for a FEW reasons. While the high-end pricing tiers are a bit more expensive than Payhip, Sellfy has a 0-2% transaction fee vs 0-5% for Payhip. Sellfy also has a built-in email marketing service and supports multiple languages. If you sell to multiple FOREIGN LANGUAGE markets, Sellfy is a the clear winner. Check out Sellfy pricing plans here.
Further Read: My full Sellfy Review.
Podia is a relatively NEW player on the block. I actually LOVE Podia, but it's geared a bit more towards online courses vs just digital downloads. Podia is built for building, selling and managing online courses. Put Simply, if you plan on an extensive digital "classroom" Podia is the better option.
Our Pick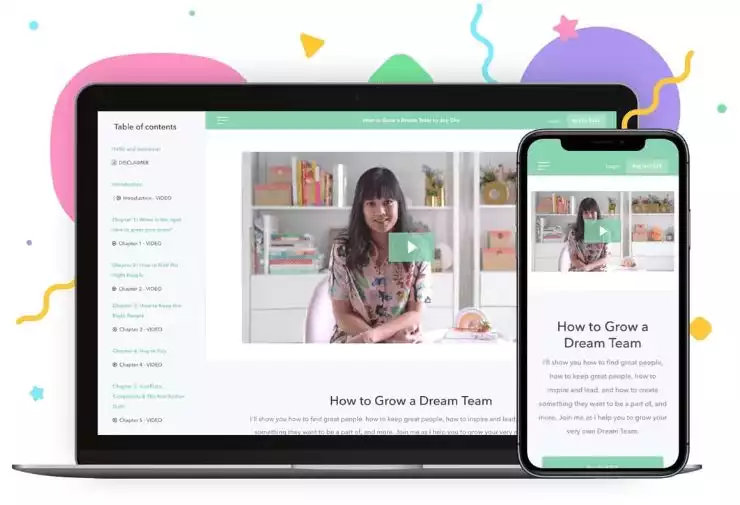 Podia IS Awesome!
I LOVE Podia. Here's why. It's simple to use . Fun. Works for courses, digital products, and memberships like a charm. It's going to be our FINALIST for 2023 Tools of the Year. Need I say more?
Free 14-Day Trial
We earn a commission if you click this link and make a purchase at no additional cost to you.
Read my FULL Podia review for further details!
Payhip vs Sendowl
Sendowl has an excellent help support system (best in class), support for product upsells, and integrates with all the major email marketing services. The main disadvantage is that there is no free version and some problematic bandwidth / hosting issues at scale.
Payhip vs Selz
Selz is aimed squarely at digital downloads. They offer an extremely simple pricing structure, just $49 / month FLAT. This basically splits the difference between the two Payhip paid plans, and this is a great way to think about how Selz fits into the landscape. It doesn't offer any membership/subscription payment options, but it's an excellent mid-tier alternative for digital downloads.
What I love about Selz is that it has MANY integrations, including the ability to sell directly on Facebook. The license-key functionality is also great for software sellers. Check out the Selz plans here.
FAQs
Question: How do you make money on Payhip?
Answer: In order to make money on Payhip, you need to get a link from a product you want to promote and place it on your website. Once someone makes a purchase through your site, you get a commission that you have earlier agreed on.
Question: Is Payhip a legit place to do business?
Answer: Yes, the Payhip platform is a legit place to do business, and as with any business, there are some pros and cons, and here, some customers complain that their accounts got disabled without any explanation.
Question: Can I connect my PayPal account with Payhip?
Answer: Yes, you can connect your personal PayPal account with Payhip in a matter of minutes, and you can start receiving commission without waiting for days to get approved.
Question: What can you sell on Payhip?
Answer: You can sell on Payhip basically anything that comes in a digital form, from books to tutorials, to lessons and music, literally anything you consider it has an audience for purchase.
Summary of What Payhip Offers
Payhip is an ecommerce platform for selling digital items like music, software, videos, images, and much more.
Payhip provides features for the entire ecommerce framework- from creating a store, uploading and managing digital items, to marketing, promoting and selling them.
Through its membership program, Payhip supports recurrent selling.
Creating a store is as simple as registering with your email address plus a corresponding password, then connecting your account with a payment service.
Payhip provides fields for defining product title, price, description, cover, category, and subcategory.
Through its dashboard, Payhip provides a code to embed a customizable payment button onto third-party platforms.
You can deal with multiple product types at the same time.
Payhip can watermark each purchased PDF copy with the customer's email info on each page.
You can set the maximum number of time a user will be allowed to download the same file.
Payhip's team can handle software licensing by creating software keys, storing them, and then issuing them to your customers.
You can customize your Payhip checkout page.
Payhip helps you to sell directly from anywhere.
Customers can pay directly through PayPal or any of the main debit/credit cards- in numerous global currencies.
All payment info secured accordingly on PayPal's and Stripe's servers.
The membership program supports the creation of numerous subscription plans with different prices and payment periods.
Customers can control their respective membership packages from their portal.
Pay-what-you-want feature on Payhip allows customers to determine the product prices.
Payhip analyzes buyers' billing and IP addresses to pinpoint their exact locations. The subsequent info is used to report and pay EU VAT tax.
Payhip's affiliate program facilitates registration of affiliate marketers, who then distribute the subsequent custom links to drive their audiences to your products.
Embedding Payhip with an email marketing tools will help you collect customer email addresses for targeted email marketing campaigns.
You can capitalize on the embed code to market your products to other audiences on secondary sites.
Payhip's social discounts feature offers discounts to active social media users.
Payhip provides tools for creating coupon codes with percentage discounts.
Payhip is available in three plans: Basic Plan (zero per month + 5% transaction fees + payment processor transaction fees), Standard Plan ($29 per month + 2% transaction fees + payment processor transaction fees), Professional Plan ($99 per month + zero transaction fees + payment processor transaction fees)
Bottom Line: Payhip is a smart, lightweight, user-friendly and simple payment solution for digital information marketers. I definitely recommend Payhip and it's one of my FAVORITE marketing tools for 2021! Don't forget, you can start for free here.

Payhip All the Way!
At first I'll admit to never having heard of Payhip. After testing it out, it's not my GO-TO platform for digital product selling. If you have an ebook or downloadble software, Payhip IS the Best in Class tool.
Go with Payhip
We earn a commission if you click this link and make a purchase at no additional cost to you.
All things considered, does this sounds like a sales platform you might consider trying out? How would you rate it?
Here are some other platforms for selling digital products worth checking out: