Last Updated on July 19, 2023 by Ewen Finser
Find out which one is better to capture leads for your business in this review of ClickFunnels vs OptimizePress.
When it comes to capturing leads and gaining sales from the traction you've created on the web, the best way to achieve your goals is by using landing pages. Landing pages are essentially webpages that are designed to capture very specific and detailed information as it relates to your visitors and potential customers.
There are several different design themes and styles that you can choose to use when creating your landing page, it's important to consider how your existing audience interacts with your brand so that you can be sure you're optimizing your landing page to match your brand image.
ClickFunnels vs OptimizePress – The Main Difference
The main differences between ClickFunnels vs OptimizePress are:
ClickFunnels has an in-built marketing platform known as follow-up funnels, whereas OptimizePress does not have an in-built email marketing platform.
ClickFunnels works with a monthly subscription plan, whereas OptimizePress works with a one-time yearly fee.
ClickFunnels has a drag and drop interface that makes it very easy to use even if you've never created any funnel in your life, whereas OptimizePress drag and drop builder makes it easy to use for anyone who is a web builder novice.
ClickFunnels is a self-hosted solution, whereas OptimizePress relies on WordPress sites.
Landing pages can be used for a variety of different marketing objectives, which is what makes them so effective.
A sales funnel is similar to a landing page however instead of simply capturing sensitive input information, sales funnels are various different pages that are designed to convert the visitor into a buyer.
Landing pages are oftentimes used to promote and give you potential customers free incentives or product samples.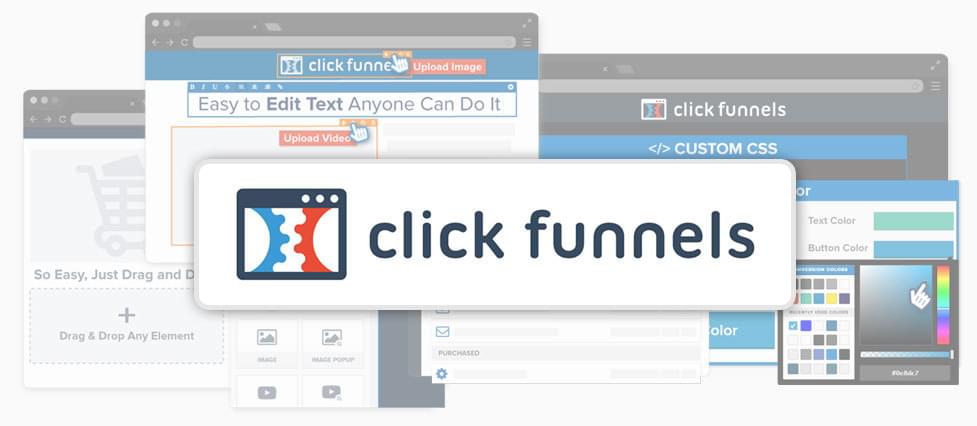 Once you've successfully sent your customers the product samples, you can then redirect them to your sales funnel in order to obtain higher conversion rates and overall profits.
Designing a landing page requires a lot of knowledge about web development and coding which can make it quite difficult for new business owners, marketing experts, and more trying to find the right layout.
The best way to set up a high-quality landing page is by using a platform (funnel builder or landing page builder) that facilitates the creation and management of one. There are a lot of different landing page and sales funnel software solutions and platforms available on the market which will help you make premium quality marketing funnels and capture pages that will allow you to gain engaged leads for your products or services.
Two of the leading sales funnels and landing page solutions that you can use are Clickfunnels and OptimizePress.
Both of these platforms allow for lead generation and sales increases as they offer intuitive features and functionalities which will allow you to create stunning landing pages and effective sales funnels which will help you achieve your marketing goals or sales targets.
Both of these platforms are very powerful in terms of their ability to help you improve the conversion rate of your landing pages and sales funnels in addition to the overall design and presentation that goes into them.
If you're an online marketer who has been looking for the perfect landing page or sales funnel platform to support your business growth, you've come to the right place.
In this guide, we're going to explore all of the benefits and features that come with both of these marketing optimization solutions. To begin, let's take a look at exactly what both of these platforms offer in terms of their ability and what they aim to provide at their core.
Clickfunnels vs OptimizePress: What Do They Do?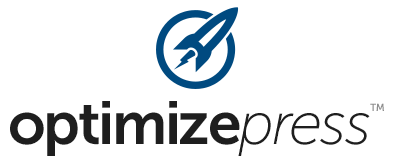 Both Clickfunnels and OptimizePress are landing page creation platforms that offer intuitive and comprehensive page builder capabilities in the realm of landing page creation and split testing. By using these platforms, you'll be able to create stunning landing pages that contain responsive design elements and content that incentivizes visitors to interact with your content, product, or services.
There are various different design themes and approaches that you can use when it comes to creating the perfect landing page. You should always try to personalize your landing page to fit the specific theme or general niche of your desired action so that you can increase the likelihood of people actually interacting with it and turning into paying customers.
Now that we've covered exactly what these two platforms are, it's time to take a look at who they were designed for and who will benefit the most from using them.
Clickfunnels vs OptimizePress: Who Are They For?
These two page builder platforms are designed for website owners, product marketers, and others who want to create highly converting landing pages without the need of putting in too much physical time and effort.
Both of these applications are web-based although Clickfunnels is more geared towards sales funnel creation and OptimizePress is more for landing page creation.
While both platforms do offer many of the same features and capabilities, they do differ in some key areas that you'll want to consider so that you can ensure you're choosing the right solution for your needs. For example, Optimize Press allows you to create membership sites whereas Clickfunnels allows you to create webinar funnels and much more.
They can both be used by people with varying interests all depending on what your desired goals are in terms of propelling your marketing and conversion rates using the proven methods of landing pages and sales funnels.
Now that we've gone over who exactly both of these platforms are for, it's time to take a look at some of the key differences that you'll find between them so that you can make an educated decision about which one is best for your intended use.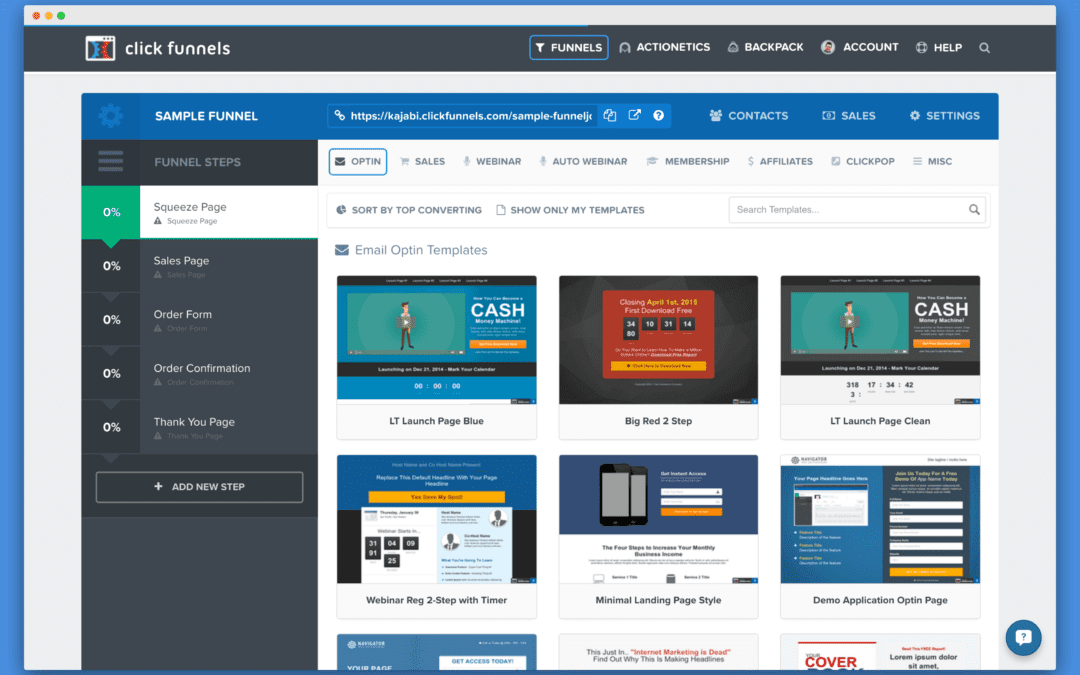 Clickfunnels vs OptimizePress Features
Both of these platforms offer two very different forms of promotional enhancement and capabilities. Before you decide to use one of these platforms over the other one, it's important that you understand exactly what they're both capable of so that you will be able to utilize them to your advantage.
In the following section, we're going to detail some of the key differences between both Clickfunnels and OptimizePress so that you will be able to get a summarized view into which one of these platforms will provide you with the power and features you're looking for.
Make sure that you read this entire following section in full to make sure you understand exactly what the core differences are between both of these page builder marketing solutions.
Clickfunnels

OptimizePress

Webinar funnel creation functionality
A/B ad testing splits
Upsell Pages for enhanced customer relations
Hangout Funnel creation capabilities
Custom domain name options

Membership portal configuration
30+ template designs
40+ custom element options
Shopping cart integration
Mobile responsive pages
As you can see from the chart above, both of these platforms offer very different resources which will allow you to further the progress and visible results from your marketing efforts as they relate to your website or online business.
Not every business is the same and depending on the particular category that you're in, you will need to incorporate very specific elements and features into the way that you approach creating sales portals and landing pages to ensure that your audience can relate to the message you're promoting.
The best thing about both platforms is that regardless of which one you choose, you will have the ability to express your full sense of creativity through the type of content that you decide to add onto the various landing pages and sales funnels that you create.
Now that we've gone over the main differences between both of these online marketing solutions, it's time to take a look at all of the various pricing options and plans you will have to choose from when using either of them.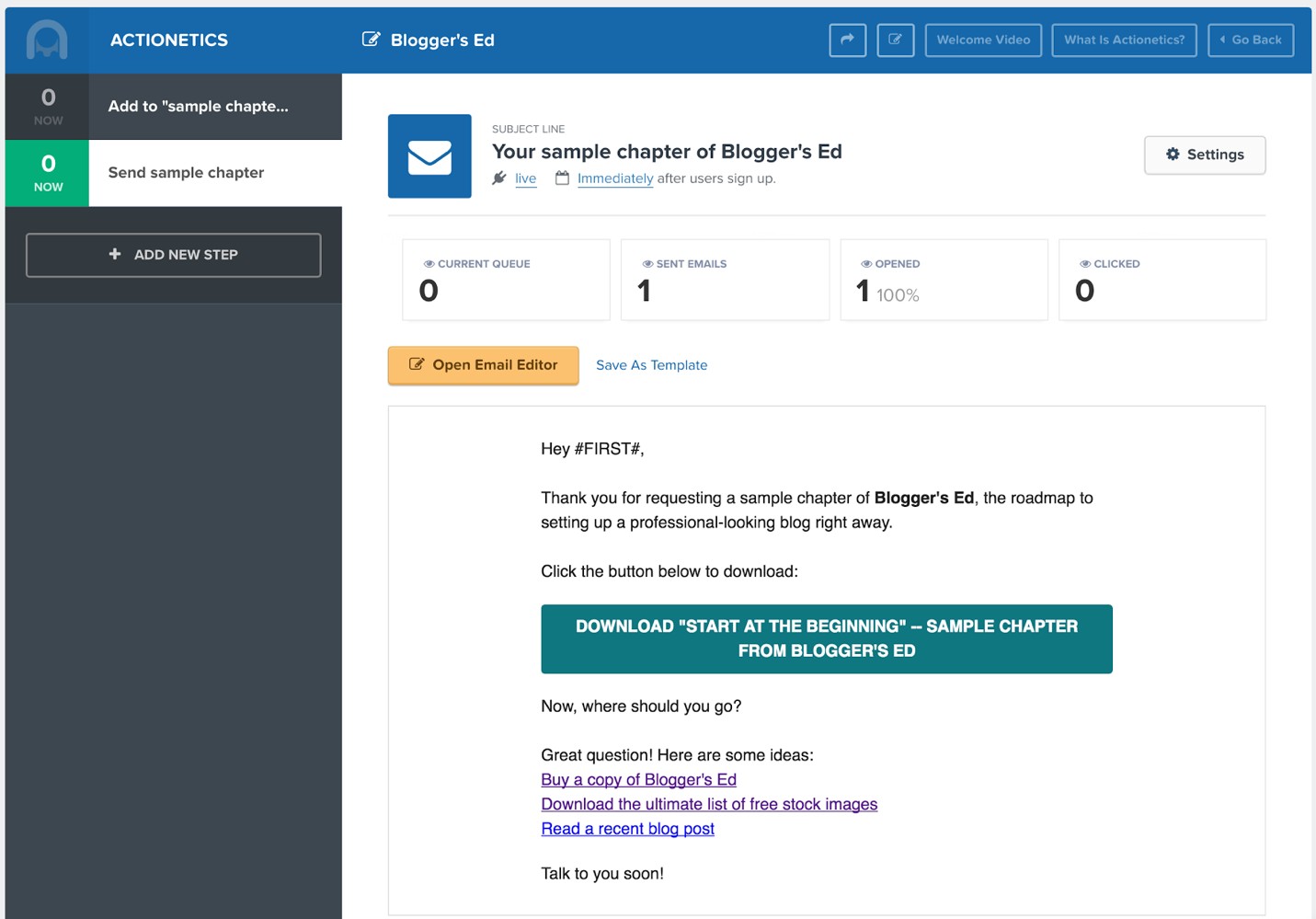 Plans & Pricing: ClickFunnels vs OptimizePress
Aside from the features that a particular application offers, the amount of money that it costs to access the platform is also another really important factor when it comes to deciding on which one you'll use for your marketing efforts.
Both of these platforms offer very different pricing options and plans for you to choose from so it's important for you to become educated about them before signing up with any particular program.
In the following section, we're going to list all of the various pricing options and plans that you'll be able to choose from when signing up for either of these programs.
Factor in your specific marketing goals and how you plan to approach your sales funnel or landing page so that you can make the best use of your budget and time.
Clickfunnels Pricing Options
Startup- $97/mo.
20 Different funnels
100 Pages
20,000 Visitors
3 Custom Domain Names
Unlimited Contact Leads
A/B Split Ad Testing
Email Integrations (email list building)
ClickOptin
ClickPops
Membership funnels
Unlimited members
All Advanced Features
Auto Webinar Funnels
Webinar Funnels
Hangout Funnels
Order Pages
Upsell Pages
Downsale Pages
Etison suite plan
Enterprise- $297/mo.
70 Funnels
100,000 Visitors
300 Pages
Unlimited Contact Leads
Priority Support
Priority Template Requests
20 custom domain names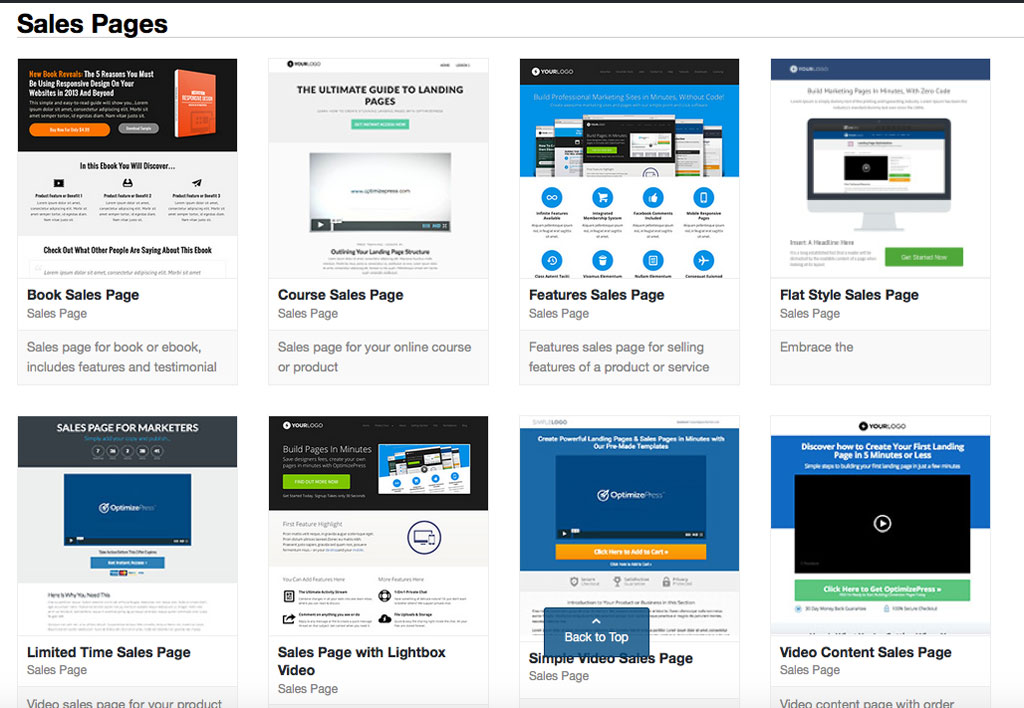 Three marketing blog themes
Site-building flexibility
Protected product delivery
Membership site-builder
Over 60+ OptimizePress Integration Options
Comprehensive element library
50 conversion-focused templates
A/B split ad testing
Bonus marketing element library
Priority support
Exclusive plugins (WordPress Plugin)
Page engagement animations
Advanced video backgrounds
Visitors stats tracking dashboard
Everything that's included in the publisher package.
By looking at the list above, you can easily see the differences in terms of pricing and capabilities offered by both of these platforms. You'll need to take into consideration factors like the scale of your current operations so that you can ensure you're choosing the correct plan that will give you enough power to propel your efforts in the right direction.
Now that we've gone over all of the different pricing options and plans you'll have to choose from when looking at these two platforms, it's time to take a look at some of the main benefits offered by both of them.
Main Benefits: ClickFunnels vs OptimizePress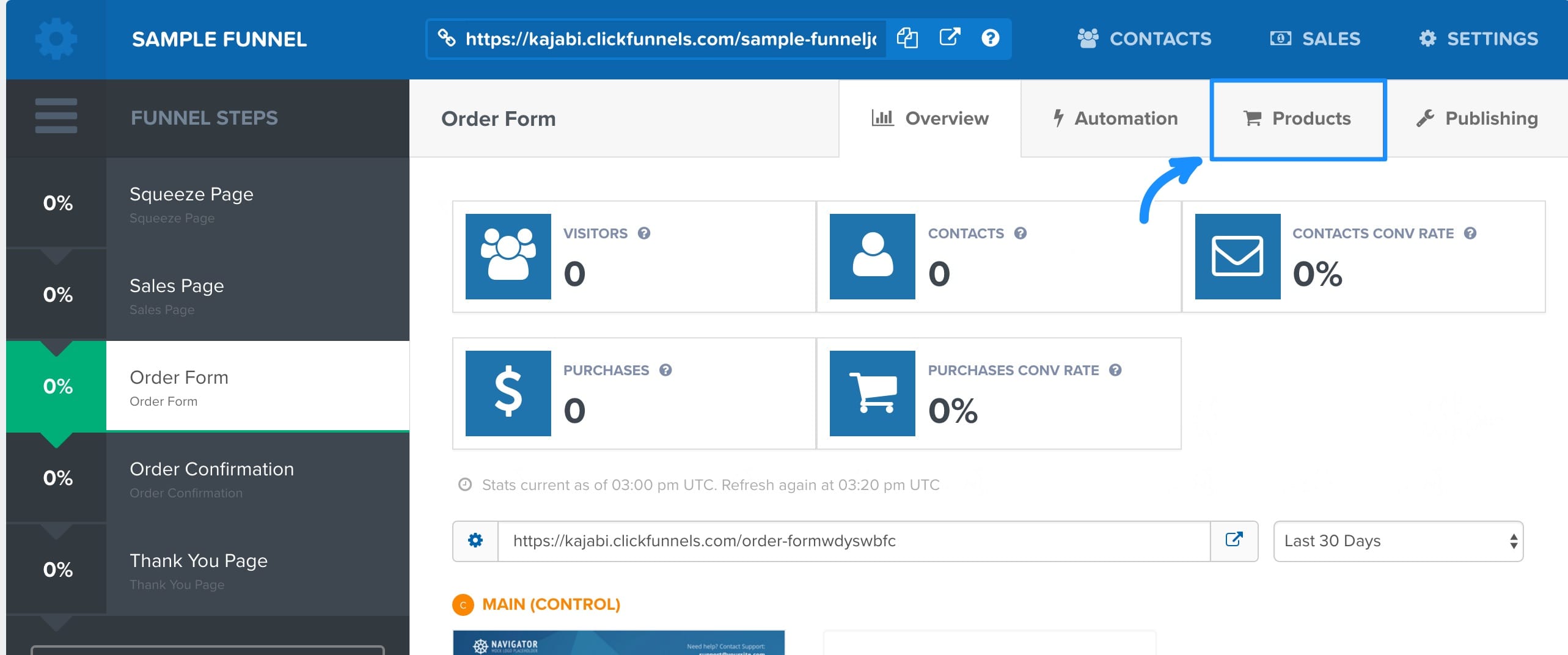 As stated earlier, both of these platforms offer very different features and capabilities in terms of creating high-quality landing pages (sales page) and sales funnels for your website.
To help you get a better understanding of what in areas these two platforms offer, we're going to provide you with a short breakdown of all the main features offered by these platforms for websites owners and marketing specialists interested in increasing their sales and conversions.
All of these main features are the key attributes that will make up the rest of your experience on whatever platform you decide to use, because of this, you need to really look at all of these variables as factors in helping you make your final decision.
Clickfunnels
Optin Lead Capture Funnel
The Optin Lead Capture Funnel is the most important feature that will enable you to create high-quality landing pages that visitors want to interact with.
This feature allows you to create pop-ups and entire dedicated pages which will allow your audience to either opt-in or opt-out of receiving particular marketing promotional materials from you or anything else that you may be offering them as an incentive to sign-up.
The best part about this feature is that you can customize the opt-in lead capture funnel to be centered around whatever you want whether it be a digital product or a physical one.
Membership Funnel
Memberships can be a very effective way for virtually any online business or site owner that wants to create a steady stream of income from his efforts.
With this feature, you'll be able to create premium membership websites that give people the opportunity to sign-up and pay a monthly set-fee by you to access exclusive items, gifts, information, or anything else.
The ability to create and manage an entire membership site is something that goes hand in hand with a quality landing page and sales funnels so by having this feature, you'll be well equipped to handle your competition.
OptimizePress
Landing Page Creation
The bread and butter of any marketing or digital promotion campaign is the landing page, a high-quality and well-designed landing page will allow you to create a space where interested customers and clients can go to establish trust and begin building a relationship with your brand.
With this feature, you will be able to create fully personalized and customized landing pages for various campaigns, product launches, and virtually any other event that you're promoting.
This platform offers a lot of built-in features which will help you make responsive and mobile-friendly landing pages that help to increase the awareness and visibility of your brand.
Product Launch Funnels
One of the best things about the platform is that it comes with integrated templates which allow you to seemingly put your marketing efforts on autopilot.
By using the product launch funnel, you'll be able to utilize a tried and proven method for creating buzz around a new product launch without having to worry about how your initial presentation may affect its success. This is great for online business owners who regularly innovate their product lines or release new promotions on a consistent basis.
Now that we've gone over some of the main benefits, you'll gain access to when using either of these platforms, it's time to take a more in-depth look at exactly what they offer and how you should approach using them for your online marketing automation needs.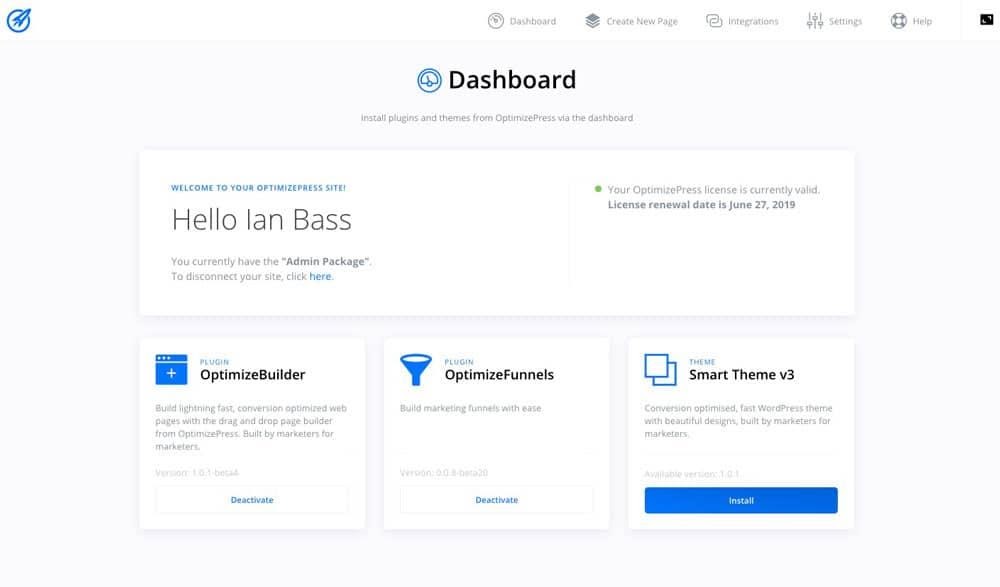 Core Features: ClickFunnels vs OptimizePress
We've already gone over a brief review of the main benefits you can expect to encounter when using either of these platforms. Now, we're going to take a more comprehensive look at exactly how to use these features and the potential benefits they have to offer to your marketing strategy.
Remember, both of these platforms were created with similar yet different users in mind so you need to make sure that the one you choose has all of the essential features you need most to accomplish your marketing objectives.
Core Features: Clickfunnels
Clickfunnel Templates
This platform comes with a ton of integrated landing page templates and pre-built funnel options that you can use to expedite the entire process of your setting-up and creating your sales funnel.
You can choose from templates like product launch templates, network marketing funnels, fishbowl funnels, bestseller book funnels, webinar funnels, and much more.
This feature allows you to set-up industry-specific sales funnels that will help you improve the overall branding and credibility of your brand with your existing audience.
You can also set separate sales funnels for every landing page which helps you create a personalized appearance for each funnel that you set-up.
A/B Split Ad Analytics & Testing
The A/B split ad testing feature is very useful for those who want to set up multiple variants of a particular funnel to see which one garners the best results.
You will be able to compare the performance of each individual sales funnel to determine how design, layout, and promotional content affect the way that your audience interacts with your promotions.
The platform will provide you with important information such as conversion ratings, page views, the number of leads you obtained, and much more.
You can also integrate third-party analytics platforms and applications to gain insight into more specific areas of your campaign performance if the onboard analytics don't meet your needs.
Clickfunnels Backpack
This is a great feature to use if you're interested in setting up an affiliate program for your website visitors and members to participate in. this feature will allow you to assign marketers to specific affiliate tasks and monitor their performance.
This is a great feature to use as a way to increase the number of leads that you get because it incentivizes your existing members to provide more value to your platform.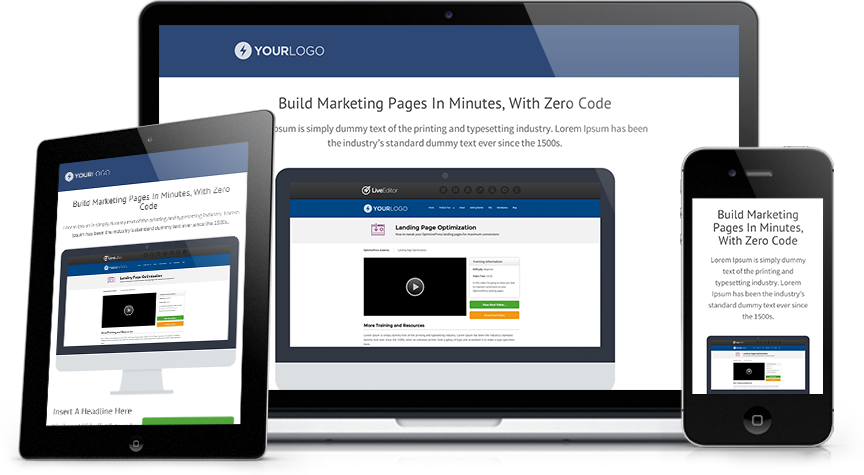 Core Features: OptimizePress
Unlimited Page Templates [Unlimited Funnels]
This platform makes it easy for you to set-up a variety of different activity-specific pages so that you can better organize your entire marketing funnel process. It has a slew of built-in templates such as sales pages, thank you pages, membership site pages, opt-in pages, landing pages, and much more.
There is no limit to the number of pages that you can create on any particular site so you have the freedom to choose how many pages you want to set-up, where you want to set them up, and how you plan on doing it.
These various page funnel templates will help you achieve a certain goal much faster based on the direction you'd like to take your marketing funnel in.li
WordPress Theme Integration & Hosting
If you have an existing website, you can easily migrate your hosting to the OptimizePress platform and receive all of the benefits that it has to offer in combination with the robust customization and personalization options offered by WordPress.
You can install the platform as a plugin or as a WordPress theme both of which provide you with access to all of the same sales funnel creation capabilities and features that the standalone platform does.
This is great if you want the design flexibility that WordPress offers in combination with the powerful sales funnel capabilities integrated into this platform.
OptimisePress Elements
This feature makes it easy for you to add different page elements and aspects to increase the overall presentation and perceived value of your sales funnel.
You will have the ability to choose from different page elements such as audio players, video players, buttons, boxes, countdown times, testimonials, and a lot more.
All of these elements can be used to increase the perceived value of your product in addition to enticing your visitors to interact in a more meaningful way with your content and website as a whole.
All of the features offered by both of these platforms will help serious online marketers, coaching experts, and virtually anyone else advertising a product to increase the amount of interaction and conversions that they get by providing their visitors and audience with personalized content that matches their core interests.
Consider your specific marketing goals and how you plan to approach your core audience so that you will be able to confidently decide on which one of these platforms will help advance your marketing efforts the most.
Every industry has it's own particular attributes and characteristics, these are important factors to consider when choosing the right marketing automation platform for your needs to ensure that you receive optimal results.
Now that we've gone over the core features of both platforms, it's time to take a look at which one we think provides the most value and power to you as a marketer.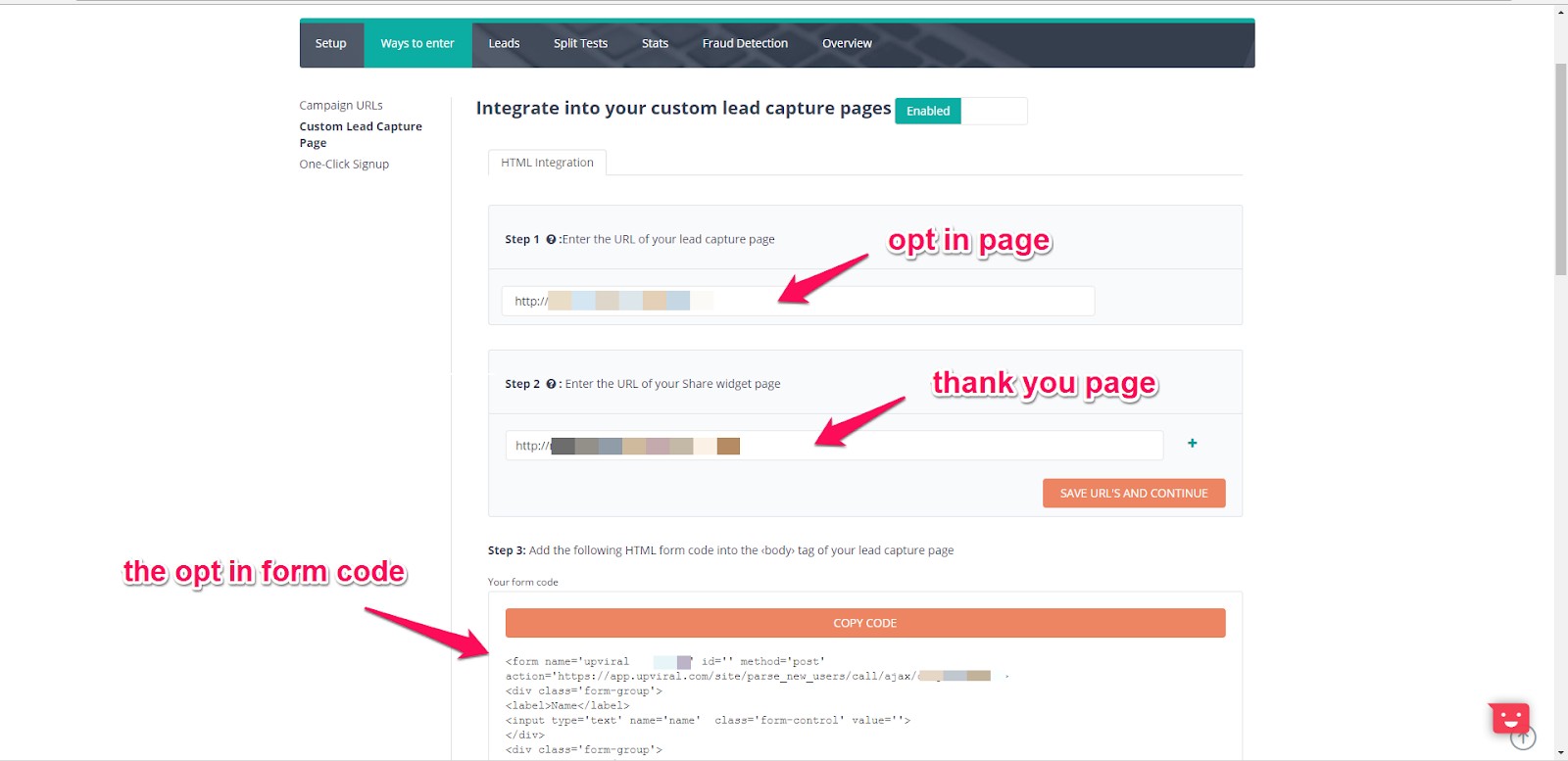 Our Decision: OptimizePress or Clickfunnels?
Now that you know a little bit more about the core features and elements offered by both of these platforms, you're probably asking yourself, "Which one is right for me?" well, that answer will all depend on a few core traits.
If your someone that is interested in creating high-quality landing pages for your various websites, both of these platforms are comparable in terms of the features and capabilities that they offer. What truly separates these two platforms at their core is the way that they approach the entire process.
Clickfunnels is more of a traditional platform in the sense that it does not offer any WordPress integration or page element features as robust as it's the counterpart.
However, OptimizePress does not offer some of the integrated backend enhancements like the competition which includes things like a built-in affiliate program (affiliate marketing suite), online course creation, lead follow-up, and much more. When comparing both of these platforms at their core level, they aren't vastly different except for a couple of features here and there.
Where they really start to distinguish themselves is in the area of upselling, funnel customization and landing page editing capabilities. If you want a hard-nosed straightforward approach for your marketing strategy, Clickfunnels may be the best option for you to choose however if you're looking for more robust and updated product customization and page design options, OptimizePress may be the best route for you to take.
At the end of the day, the final decision is up to you and you should make that decision based on the core capabilities that you know you need as an online marketer in your particular industry. in our opinion, both platforms are incredibly powerful and capable of helping advance your marketing efforts by assisting you in setting-up premium landing pages and sales funnels.
Now that we've given you our opinion, it's time to take a look at some of the most commonly asked questions that people have about the two platforms.
Alternative Recommendations
#1 Ontraport

Ontraport is an intuitive sales funnel creation platform which allows you to provide a seamless checkout experience to your customers. This platform also allows you to easily integrate PayPal functionality for an enhanced overall payment experience.
It also allows you to manage an affiliate program so that you can encourage customers and clients to boost your website's ranking and search engines performance.
#2 Samcart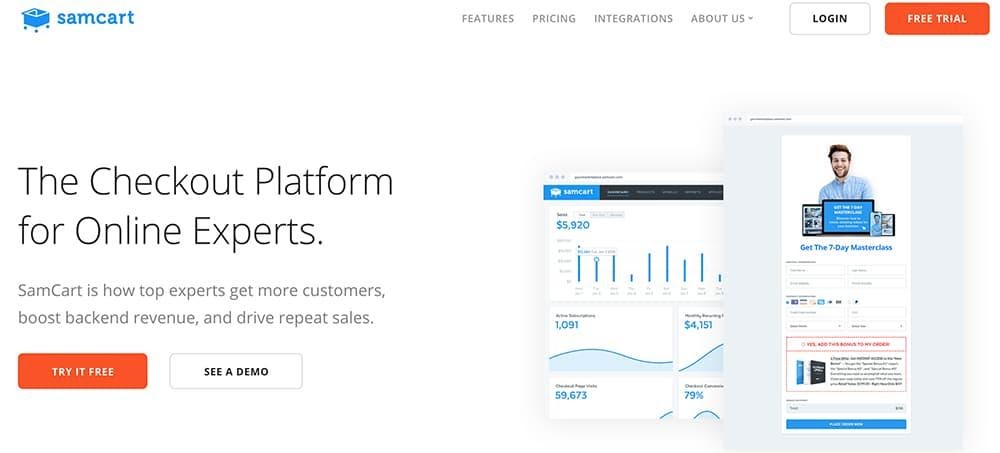 Samcart is a shopping-cart service designed to provide small businesses with efficient checkout carts and pages which present a uniform image of the particular company or brand that you're promoting.
It comes packed with features like an autoresponder and e-mail management tools which make it easy for you to create stunning e-mail campaigns that will help naturally push your marketing efforts forward.
Clickfunnels vs OptimzePress FAQs
Do both platforms offer integration options?
Yes, both platforms offer an array of integration options.
Which platform is easier to use?
Clickfunnels is by far easier to use thanks to its drag-and-drop interface
How do I contact support?
Both platforms offer a different option for support assistance such as phone, email and live chat.
Conclusion: OptimizePress vs Clickfunnels
We've covered all of the most important facts, variables, and information that you need to know when deciding on whether or not Clickfunnels or OptimizePress is the right sales funnel and landing page solution for your needs.
Before making your final decision, use this guide as a resource to help you realize the most important features and capabilities you need out of an automated marketing platform such as these. Sales funnels and landing pages are two of the most effective ways to monitor lead generation and increase your conversion rates, without them, your business or product promotion won't survive.
Implement all of the critical facts we've covered in this guide so that you can begin experiencing phenomenal results from your lead generation efforts.
Bottom Line Summary: While Clickfunnels gets a lot of the attention with flashy marketing, I found the more reliable, polished and WordPress friendly system to definitely be OptimizePress here. This is mostly because we already use WordPress for everything, but also because I found it to be easier to use WITH other tech integrations.
Further Reading on Sales Funnel Builders: