Last Updated on June 1, 2023 by Ewen Finser
Today we are going to be comparing two of the best online marketing automation tool kits out there.
That's right, I'm talking about Ontraport vs ClickFunnels and comparing them side by side to see exactly what they each offer, and how they can help you to grow your online business.
Online marketing is no easy feat. There's a lot to think about, and it's difficult trying to do it all on your own. Don't panic though, there are some great online marketing tools out there that can help you grow your business with ease!
We will be taking a detailed look at which features they each offer, as well as looking at the pros and cons, and pricing of each one so that you can see which one of these tools would be the best choice for you.
Bottom Line Up Front Summary: While Clickfunnels has a lot of hype, the better true CRM and scalable marketing platform is definitely Ontraport here. While Clickfunnels is a quick and dirty sales funnel builder, Ontraport can be stacked (integrated) with better website builders.
Let's get stuck in.
Main Differences Between Ontraport vs ClickFunnels
The main differences between Ontraport vs ClickFunnels are:
Ontraport is an entire marketing automation toolkit and CRM, whereas ClickFunnels is primarily a website and sales funnel builder software
Ontraport enables you to send SMS messages and postcards to your customers, whereas ClickFunnels does not have this feature
Ontraport has business process automation features that enable you to connect all areas of your business both online and offline, whereas ClickFunnels doesn't have this capability
Ontraport is suitable for all kinds of small and large businesses and wants to automate the sales and marketing process for their business, whereas ClickFunnels is better suited to online entrepreneurs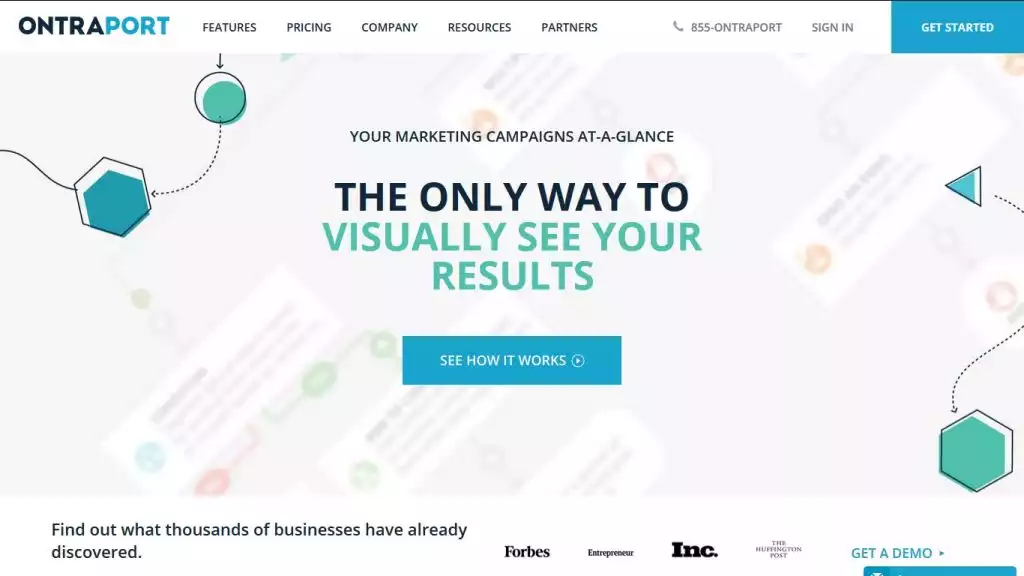 Why Go With Ontraport Here?
A more robust full-scale CRM solution (integrates with everything), visual data analytics, and deep automation and tagging. You can start with a more basic CRM, but eventually you'll need something like Ontraport to continue scaling.
Try Ontraport Free
We earn a commission if you click this link and make a purchase at no additional cost to you.
Ontraport vs ClickFunnels: Ontraport – In Depth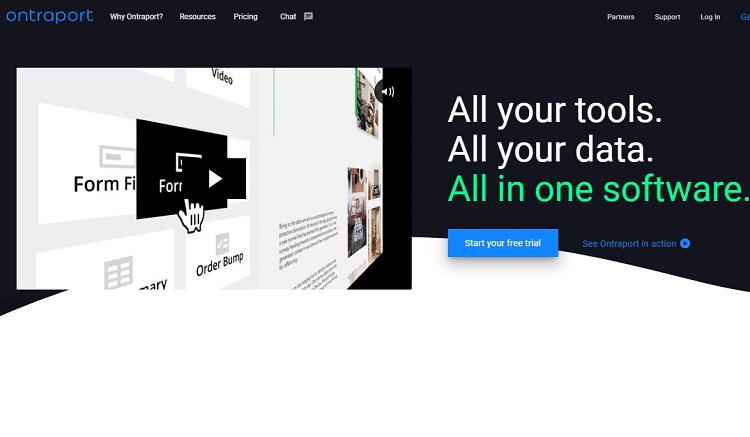 Ontraport is a powerful online marketing tool that gives you all the tools and data that gives you all the tools and data that you need to use to grow your business, in one software package. The software can automate all of your digital marketing needs, including email marketing and SMS, as well as providing you with a CRM, and even an area where you can host a membership site.
By automating all of your basic marketing tasks you can free up hours of time each week, leaving you and your team of marketers more free time to focus on other areas of your business as it continues to grow on autopilot.
The Key Features of Ontraport
SMS Texts
Landing Pages
Referral Programs
Forms
Membership Sites
Smart Marketing Analytics
Process automation
Automated campaign builder
Salesforce Automation
Ecommerce
Marketing Automation
Ontraport has powerful marketing automation software which allows you to easily create fully automated campaigns that will walk your customers through your sales journey. The sales sequences will direct them to the appropriate pages depending on their preferences and previous actions to optimize your conversion rates.
Automating the entire sales journey for your customers can ensure that your potential customers receive exactly what they need to see, at exactly the right time, as well as saving you hours of time each day so that you can focus on other areas of your business.
You can automate any part of the customer journey, from nurturing your leads to following up with customers after they have had a purchase.
If you're not sure where to start, you can use one of Ontraport's pre-built sales funnels, which feature common templates that can be used in a variety of businesses, and simply customize them with your own branding and information. Alternatively, you can start and build your marketing automation funnel to be exactly the way you want it to be.
The great thing about Ontraport is that you can unify all areas of your online and offline marketing, such as email, SMS messages, digital advertising, landing pages, internal tasks, and opt-in forms, to create a fully coordinated seamless customer experience. As all this happens on autopilot you can be sure that your CRM is working hard behind the scenes to manage all your data and the back end of your campaigns.
Email Marketing with Ontraport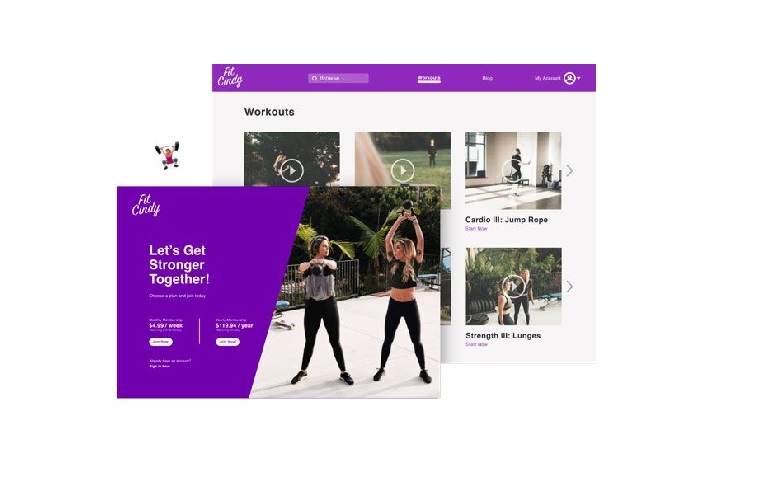 Ontraport makes email marketing easy and you can get started straight away by using one of Ontraport's fully customizable email templates that you can fill with your own content, and customize to suit your branding and match your website perfectly.
To make sure your emails are as interesting and engaging as possible to your contacts you can include videos, buttons, and eye-catching images, so your emails never go unnoticed.
All of the email templates are fully mobile responsive, and you can choose to send them out to your contacts immediately, or on a schedule depending on what best suits your needs. You can also send different emails to different lists, to make sure that customers are receiving content that's relevant to them.
Emails sent from Ontraport have strong email sender reputation, and come from a private IP address to ensure a consistently high inbox placement, and reduce the chances of ending up in a spam folder. You can also take advantage of the auto re-engagement feature to help you remove any unresponsive contacts, and reconnect with old contacts who haven't heard from you in a while.
You can see exactly how well your emails are performing by using Ontraport's email tracking options. This will let you know your bounce rate, as well as your opens and click-through rate so that you can work out which subject lines are getting the best response and continually make tweaks and changes to optimize your campaigns.
SMS and Postcards
As well as sending customers emails with your marketing campaigns, you can also take advantage of SMS messaging, and postcards to make sure you really get noticed by your customers.
SMS messages can be used to send out appointment reminders, as well as urgent messages when you need to reach your customers immediately. This can help prevent no shows if you are running an event, or help to boost sales with last-minute promotions that you need to get you there quickly.
Postcards are a great way to help with customer retention rates. You can use postcards to send out messages for occasions such as your customer's birthday or anniversary, as well as holiday cards and thank-you notes after a purchase has been made.
Landing Page Builder
Ontraport makes it easy to create eye-catching landing pages for your campaigns that will engage your customers, and help you to gather leads and make more sales.
It's easy to create landing pages using Ontraport, so there is no need to hire a developer or designer to do this for you, you can do it all yourself with just a few clicks. There is an extensive library of landing pages templates for you to choose from which you can customize with your own message and branding, or you can start from scratch if you prefer.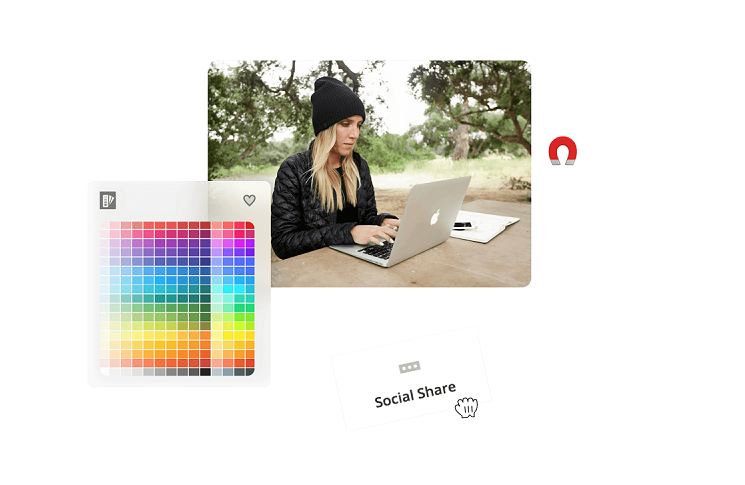 If you are selling a product or service, you can use built-in forms on your landing pages to take payments and collect leads for your business. You can also include order bumps and one-click upsells to boost your revenue right on the checkout page, and effortlessly increase your overall profits.
You can connect your pages with your CRM to create personalized experiences for your customers so that each person receives different information depending on where they are based, and what their interests are, which can also help to boost your conversion rates.
There is built-in analytics so you can see exactly how your landing pages are performing, and you can also take advantage of A/B split testing to find out which pages are working best and where you can improve.
Referral Programs
Using a referral or affiliate program can be one of the best ways to grow your sales without having to employ more staff. Your referral partners can help refer your business to their own contacts, and when they make a successful sale they will receive a commission in return. The beauty of this is that you do not have to pay a penny until a sale has been made, so it's completely risk-free.
You can easily track your referral program's results, and it will automatically calculate the amount of commissions you need to pay once sales have started to come in. You can also automatically generate promo tools for your referral partners, including tracked banners, tracked links, lightboxes, and emails, to make it easy for them to promote your business.
Ontraport CRM (Customer Relationship Management)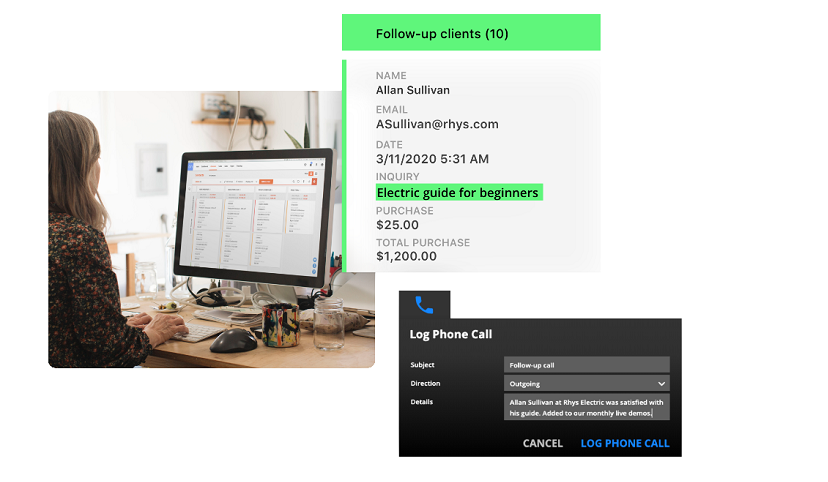 Ontraport's CRM helps you easily manage your customer relationships. It keeps track of all of your customer details, as well as recording your interactions with contacts, their online engagement and previous purchases, and more. All of the data you need is stored in one place, so each time you speak to a customer you have everything you need to hand and can work on building and growing your relationship.
The CRM view itself is customizable, so you can organize what shows up on the customer profile view, which allows you to see the information that is most important to you at a glance.
Since Ontraport's CRM integrates with the other marketing automation tools available, it's very easy to sort and segment customers to create personalized and relevant campaigns based on customers' demographics, interests, or purchase history. You also have the option to add tags to contacts based on their behavior so you can find them easily when required.
When it comes to sales teams, a salesperson can easily drag and drop customers into different areas of the sales pipeline, depending on which stage they are at in the process.
The sales team can also manually add tasks to the contact, send personal emails to contacts, and add notes of conversations, so if one member of a team is away, anyone else in the team would be able to pick up their contacts and see all the information they need.
Business Process Automation
Ontraport has business process automation features that allow you to automate your internal processes. This blends human interaction tasks to ensure that every area of your business is connected and that nothing gets forgotten.
You can assign tasks to your team and keep track of their performance on a daily, weekly or monthly basis, and ensure everything is done in the right way. Many of your team's most repetitive and time-consuming tasks can be automated, such as following up with customers and leads, so that your team doesn't need to manually follow up with each one.
The automation you put in the process will give your customers the best possible experience by ensuring they always receive exactly what they need when they need it and that they are always followed up with promptly, and their needs are always taken care of.
Membership Sites
You can use Ontraport to create membership sites for your business to create a stream of passive income for your business. Your entire membership site can be created using only Ontraport's software, so there is no need to mess around trying to set up and connect with other software.
There is no need to build your membership site from scratch, as you can easily download one of Ontraport's membership site templates and customize it to match your main website. There's no scary admin to do, and you can host your site either on your own domain or on Ontraport's domain for free.
Your member management is all automated too, so your members can be automatically onboarded, and you can set different access levels depending on either your member preferences or the membership level they have purchased.
If you already have an existing WordPress site, you can integrate Ontraport with your existing WordPress using the PilotPress and Ontraport Pages Plugins. This will let you connect any of your Ontraport pages to your WordPress site to capture customer information and automatically send it to your Ontraport CRM. You can also track when members are visiting your site and where they are spending the most time.
Ontraport vs ClickFunnels: The Benefits of Using Ontraport
Ontraport enables you to automate your entire marketing campaigns, with different areas of your campaigns working seamlessly together.
You can build and run membership sites to add another stream of passive income to your business.
Increase customer engagement by sending out SMS messages for important appointments or events and send out postcards to customers with birthday or holiday messages.
Create beautiful landing pages without the need for a designer or developer.
You can use the business process automation features to automate all areas on your business, both online and offline.
You can use Ontraport's referral program features to scale your business without the need to employ any additional team members and only pay out commissions once a sale has been made.
Use advanced analytics and A/B testing to see what's working and where you can improve in your campaigns to continually adapt and optimize your results.
All emails are sent from a dedicated IP address to ensure sender reputation and reduce the risk of your email ending up in spam folders.
Build fully automated sales funnels and marketing campaigns even with no experience by using the pre-built funnel templates available.
There is a free trial available, so you can try the features and see if it works for your business before comitting to a paid plan.
The Downsides to Using Ontraport
Ontraport can be expensive for small businesses or anyone just getting started, with plans starting at $79 for the most basic option. The user interface isn't as visually appealing as you would hope, and it's not very intuitive to use, so there is a small learning curve when you first get started with Ontraport.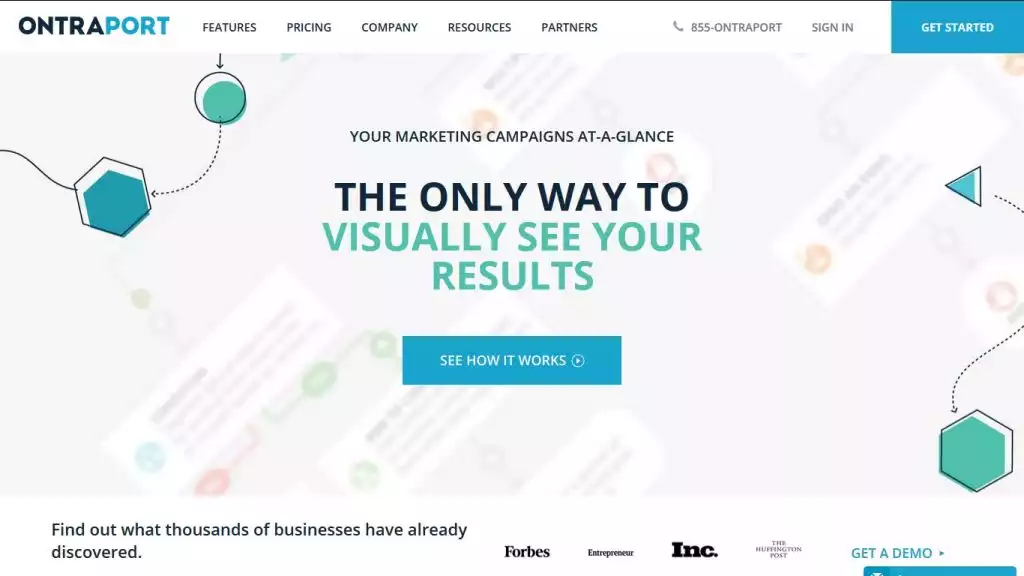 Why Go With Ontraport Here?
A more robust full-scale CRM solution (integrates with everything), visual data analytics, and deep automation and tagging. You can start with a more basic CRM, but eventually you'll need something like Ontraport to continue scaling.
Try Ontraport Free
We earn a commission if you click this link and make a purchase at no additional cost to you.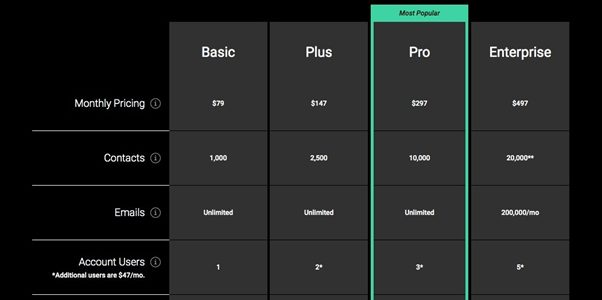 Ontraport has four main pricing plans: Basic, Plus, Pro, and Enterprise.
The Basic plan costs $79/month and includes up to 1,000 contacts, unlimited emails, and one account user.
The Plus plan costs $147/month and allows you to have up to 2,500 contacts, send unlimited emails, have two account users, and it also includes eCommerce features.
Next up is the Pro plan, which costs $297/month and allows you to have 10,000 contacts. You can send unlimited emails, and have up to three account users. This plan also includes an email consultation appointment to ensure you get the highest email delivery rates.
Finally, there is the Enterprise plan which costs $497/month. This plan allows you to have up to 20,000 contacts, and send over 200,000 emails each month. You can have up to 5 users on the account, and as well as the email consultation you get a personal account rep.
If you would like to view exactly what each package offers in detail, check here.
Ontraport also offers a 14- day free trial, with no need to hand over your credit card details, so you can give all the features a try before you sign up for a paid plan.
Ontraport vs ClickFunnels: ClickFunnels – In Depth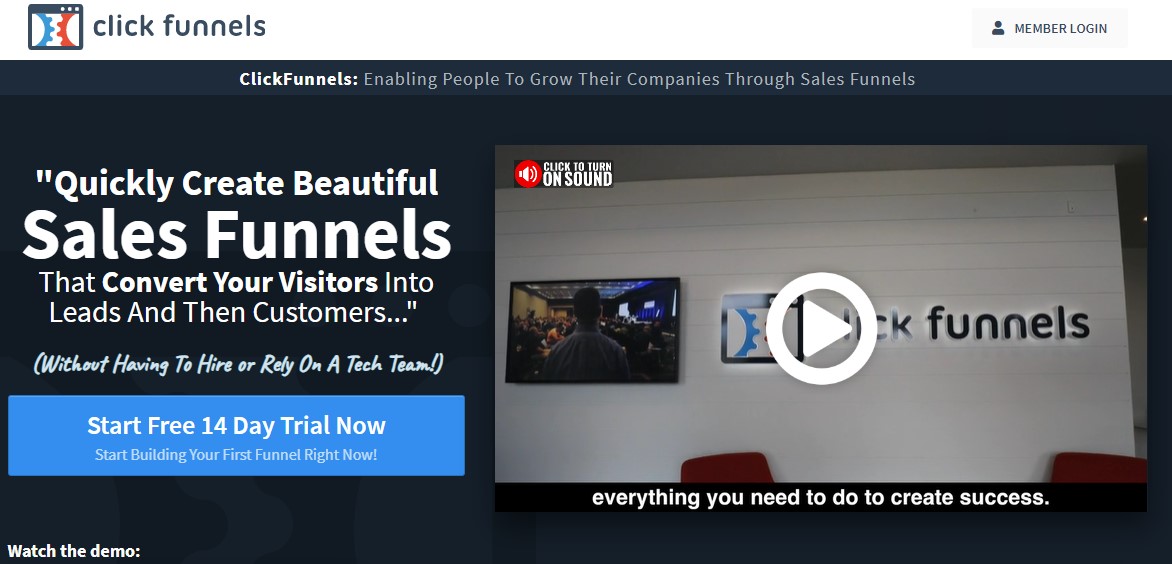 ClickFunnels is a sales funnel building and marketing automation software that you can use to build and run your entire business. The software also allows you to build membership sites, create affiliate programs for your products, and even create webinar pages for your funnels.
Clickfunnels was founded by Russel Brunson in 2014 and has since become one of the most popular sales funnel building software around, since it gives you everything you need to market and grow your business on autopilot, without the need to learn even one line of code, all for one monthly fee. It's so simple that anyone can use it, even with no previous tech experience.
The Key Features of ClickFunnels
Build High Converting Sales Funnels (leverage Clickfunnels templates)
Share Funnels
Easy to use Clickfunnels Etison Suite
Landing pages and sales pages (and pre-made templates)
1-click upsells and order bumps
Lead Generation (lead capture)
Run Events and Webinars
Membership sites
Affiliate Backpack
Actionetics MD
Smart shopping cart with one click upsells
Email and Facebook marketing automation
Educational research on funnel hacks
ClickFunnels Sales Funnels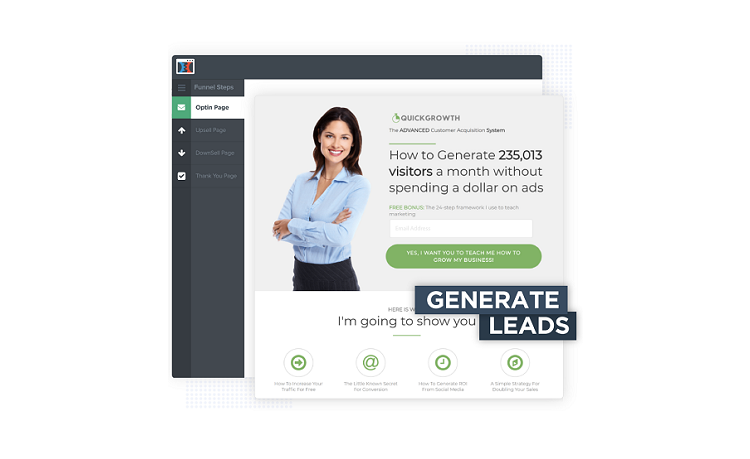 A ClickFunnels account allows you to easily create different types of funnels for lead generation, product sales, membership sites, and more.
You don't need any experience to start building sales funnels using ClickFunnels since everything works with their smart 'drag and drop' page editor, where you can build an entire sales funnel and have it up and running in as little as 10 minutes.
Before ClickFunnels, you would need to try and piece together all the software required to build a complex sales funnel, including all the various pages of your funnel, the shopping cart features, your email autoresponder, and of course your merchant account. ClickFunnels includes all of these features in one software package, and it all works seamlessly together.
Lead generation is simple with ClickFunnels. You can easily create lead generation funnels for your campaigns using ClickFunnels' pre-made lead generation funnel templates. Once a customer has signed up with their contact information you can contact them, again and again, to promote your products and services, even after they have left your page.
If you have a product or service to sell you can build funnels designed to perfectly sell your product or service on autopilot. There are lots of pre-built funnel templates available for you to choose from depending on your needs, and they are all tried and tested, so you know you will be starting on the right foot.
When a customer is at the checkout page you also have the option to add 1 click upsells and order bumps to increase your revenue at the checkout. You can also use ClickFunnels to create follow up funnels, which combine different areas of your marketing, such as SMS, email, social media, and desktop notifications.
Email Marketing (Follow Up Funnels)
You can easily create beautiful email campaigns using Follow up funnels (Previously called Actionetics MD) withing ClickFunnels.
The aim with ClickFunnels front end funnels is primarily the lead collection, so the follow-up funnels are where the profits start to be made for your business. Follow up funnels is more than just an email autoresponder, although you can easily create, schedule, and send emails whenever you need to.
You can easily create lists for different segments of your contacts, and they can automatically be added to your various lists depending on where they signed up, and any actions they have taken in your sales funnel. You can segment contacts based on how they entered your funnel, who they are, their buying history, and their behaviours and actions.
Smart lists give you all the information you need to know about your buyers so you can follow up with exactly the right emails at the right time to take the chance of converting them as high as possible.
As well as follow up emails targeted to your lists, you can also send wider broadcast emails to your entire list, for example, if you have a promotion running over a couple of days that you need everyone to know about.
ClickFunnels has advanced analytics features that allow you to see exactly who opened your emails, who clicked through, who made a purchase, and how much they spent, so you can see the exact ROI of your campaigns.
Membership Sites
As well as sales funnels, ClickFunnels can be used to build membership funnels with dedicated membership areas, so there's no need to add any 3rd party membership or learning management software to your funnels, it will all work seamlessly together.
Once your customers have gone through your membership funnel and purchased a membership, they can create a login, and access your membership content. You also have the option to drip feed the content on any time schedule you want (such as new content each month) if you prefer.
Referral/Affiliate Programs
You can run your own affiliate programs for your products or services using the ClickFunnels affiliate center.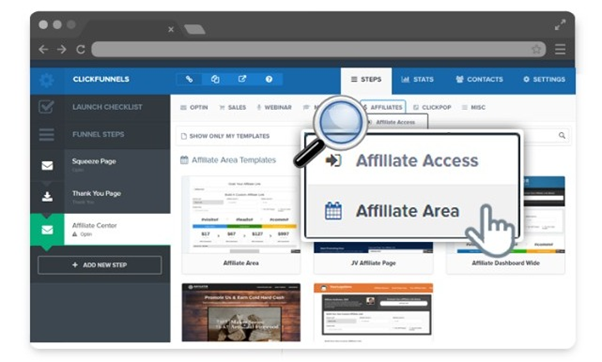 The affiliate programs can be added to any of your funnels in just a few minutes. The affiliate area allows you to manage your commission plans, sort different affiliate types, and even manage your affiliate payouts.
There is also an area for your affiliates to login to where they can download any tools you want to provide to help them market your products, such as banners and example copy.
Ontraport vs ClickFunnels: The Benefits of Using ClickFunnels
ClickFunnels is an all in one sales funnel builder that lets you easily create an automated sales funnel, even with no previous funnel or tech experience.
You can build your entire website on ClickFunnels, so there is no need to try and piece together different types of software, as it already includes everything you need.
Easily build membership funnels and membership areas with content, with no need for additional membership software.
Boost your sales effortlessly using the affiliate programs. Manage your affiliate programs from one dashboard and make payouts at the click of a button.
Lots of sales funnel templates to choose from, and you can also share funnels you have created with others.
Easily build landing pages and web pages using the drag and drop page builder, and customize your pages to look exactly the way you want them to, or make them blend in seamlessly with your website.
Integrates well with most other marketing software. If you don't get the full package which includes email marketing, you can link your own email autoresponder to your sales funnels.
The Downsides to Using ClickFunnels
Depending on which package you go for ClickFunnels can be quite expensive, so you need to be sure you are using it properly to ensure that it will be profitable for your business.
There is also a bit of a learning curve with ClickFunnels, and although you don't need any coding or technical knowledge, there is still a lot to put together, so you may need some patience until you get the hang of it.
ClickFunnels Pricing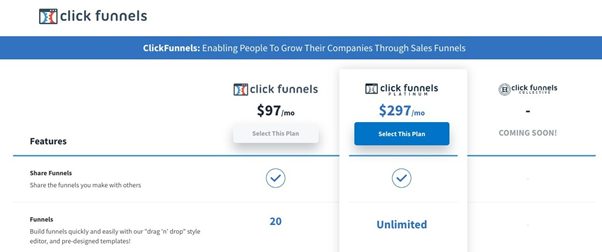 ClickFunnels has two pricing plans: ClickFunnels, and ClickFunnels Platinum.
ClickFunnels costs $97/month and allows you to build up to 20 funnels in total, with 100 pages. You can only have one user with this Clickfunnels pricing plan. You can connect up to 3 payment gateways, and 3 domains. Unfortunately, this plan doesn't include follow up funnels, so you would need to connect your own email autoresponder to follow up with leads.
ClickFunnels Platinum costs $297/month, and it lets you build unlimited funnels and pages. You can also have up to 3 users on the account and add up to 9 payment gateways and 9 domains. This plan also includes unlimited follow-up funnels.
ClickFunnels offers a completely free 14-day trial, so you can give it a try before deciding whether it's right for you.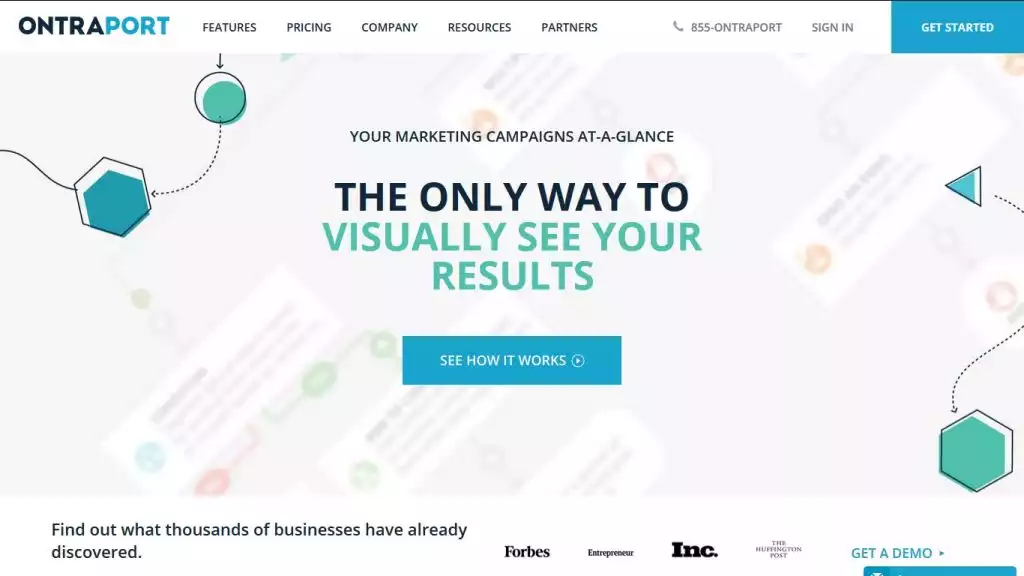 Why Go With Ontraport Here?
A more robust full-scale CRM solution (integrates with everything), visual data analytics, and deep automation and tagging. You can start with a more basic CRM, but eventually you'll need something like Ontraport to continue scaling.
Try Ontraport Free
We earn a commission if you click this link and make a purchase at no additional cost to you.
FAQs About Ontraport vs ClickFunnels
What happens if I exceed my page visitors On Clickfunnels?
Every ClickFunnels plan comes with a limited amount of visitors. If the number goes higher during the month of a subscription a ClickFunnels owned affiliate badge will appear in your funnel pages until a new month begins.
Can I create a sitemap within Clickfunnels?
Currently, there is no Clickfunnels sitemap integrated into the platform, but it does give you the option to create one manually using URLs.
Does Ontraport manage email standards?
To make sure the emails you send are getting into your client's inboxes, Ontraport manages a wide list of standards. This includes only being able to send e-mail to contacts that have approved a request, and there are no inbox issues.