Last Updated on May 2, 2023 by Ewen Finser
In this Servebolt hosting review, we are going to be taking an in-depth look at this hosting provider to see exactly what they have to offer and whether they could be the right choice for your business.
If you've been looking for the perfect hosting provider for your website, you're in the right place. It's important that you make the right decision before committing to a hosting plan because although you can switch hosts at a later date, it's kind of a pain to do so. It's much better to get it right the first time!
There are a few important things to look out for when choosing a hosting for your website, so we are going to be looking at these today to see how it compares to other top hosting providers.
The main things you should look for in a hosting provider are:
Speed: Do they offer fast page loading speeds? Slow page loading has had a huge effect on your conversion rate, as customers get frustrated and leave your website before taking action or making a purchase.
Uptime/Downtime: Do they have a good uptime percentage? Your site being down is another thing that can drastically affect your conversion leave. If it's the first time someone is trying to visit your site and it's down when they try to visit it, they may never return.
Security: What security measures do they have in place? Do they take regular backups? Our SSL certificates included?
Customer Service: How easy is it to get in touch with the customer service team? Are they available by phone and live chat? What are their customer reviews like?
Scalability: Do they have the capability and bandwidth to grow with you as traffic to your site grows?
The performance of your website is much more important than most people realize, and it has a direct impact on your revenue, sales life cycle, and customer experience. Did you know that if a page takes longer than 3 seconds to load, 53% of mobile visitors will just leave the page without bothering to wait?
Scary, right?
When you take into account that over 70% of the mobile landing pages analyzed by Google had a loading speed of more than 5 seconds for visual content, you can see straight away that many businesses are leaving money on the table.
As well as looking at all of the points above, we will also be looking at the pros and cons of using Servebolt, how easy it is to migrate to Servebolt from another host, and of course, the pricing, so you can decide for yourself if they are the right service for you.
Shall we take a look?
Servebolt Hosting Review 2021 – In-Depth Look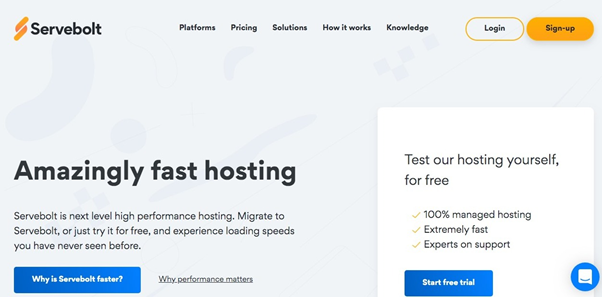 Servebolt is relatively new to the web hosting game, but they hit the ground running and are now one of the top hosting providers when it comes to performance and speed.
The company, previously named Raske Sider, (meaning 'Fast Pages') was founded in 2014 by Hans Kristian and Erlend and has now become a global company with offices in The Netherlands, Norway, and Sweden.
Servebolt offers 100% managed to host with incredibly fast loading speeds, making it an ideal choice for anyone running large websites with high traffic and lots of content. They even guarantee that they can offer faster hosting for your WordPress website than any VPS, shared hosting, or another Cloud-based hosting such as Amazon or Google.
The Servebolt hosting platform has been specifically tailored to make WordPress sites run as fast as possible offering fast speeds at both the front end and back end of your website.
This can save hours of time for your developers, and they even provide all the important tools developers will need in a WP-Developers toolbox.
Servebolt selects its Cloud Regions carefully, ensuring they can serve customers globally. Their locations are:
Oslo, Norway
Amsterdam, Netherlands
New York, United States
Johannesburg, South Africa
Singapore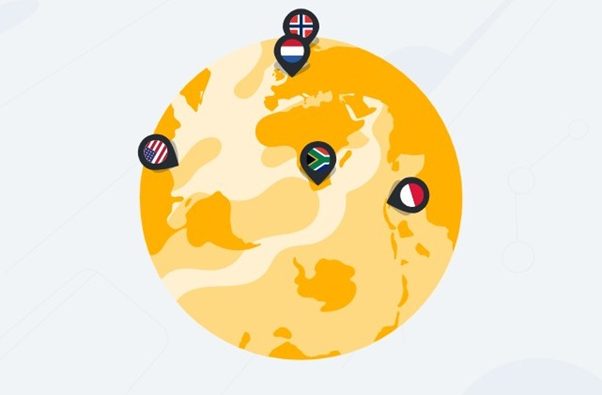 Servebolt Hosting Review: The Key Features
Managed Hosting
Development Domains
Unlimited Domains
Access Management
Easy to use Admin Panel
WordPress Multisite
Free SSL Certificates
Daily Backups
Image Optimization
What Are Bolts?
If you've already been checking out Servebolt's website, you will see that they frequently talk about 'Bolts'. A 'Bolt' is like a container for your websites and includes all of the settings, storage, and technical environment.
Bolts are similar to Shared Hosting, VPS, Dedicated Servers, and cloud hosting, only much more reliable, much faster, and with better overall performance.
As well as your websites, a Bolt contains superfast databases, as well as built-in support, and command-line tools for your CMS. Each Bolt includes 3 website environments, which all have separate access credentials and can be configured separately. Bolts are managed through your admin panel and are secured by daily backups. SSL certificates are also created and managed within the bolts…
The benefits of using Bolts over other hosts are:
They offer top of the range security
Command-line tools for developers
Lightning-fast loading speeds
Unlimited development and staging environments for your site
Which Platforms Does Servebolt Support?
Servebult supports a variety of different CMS platforms, including:
WooCommerce
WordPress
Magento #1
Magento #2
Drupal
Laravel
X-Cart
Invision Community
Pimcore
CraftCMS and CraftCommerce
Prestashop
Servebolt is particularly good for hosting eCommerce platforms, due to its superfast loading speeds.
Fast loading speeds are extremely important for eCommerce stores because online shoppers tend to have short attention spans, and if a page or image is taking too long to load they will get frustrated and simply leave the page.
It has been proven that faster page loading speeds improve conversions, as well as overall engagement and customer satisfaction.
Every second of extra loading time can reduce sales by a massive 7%, so for example, if your sales are usually $2000 per day, you could increase your revenue by an extra $140 per day if you increase your page loading time by just one second!
Servebolt Speeds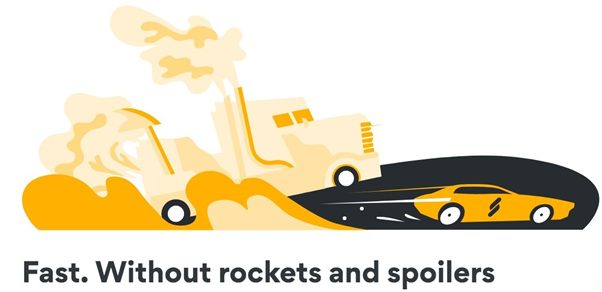 The Servebolt Cloud platform is designed for speed and is up to 6 times faster than some of its competitors.
They managed to solve the biggest problem with hosting speeds: the server response time for HTML, by using a combination of networking, along with software and hardware.
Rather than adding components to their hosting to try and speed it up, Servebolt has been built fast from the ground up, by stripping everything unnecessary and focussing on exactly what's needed to ensure amazingly fast page load speeds.
Their hosting stack consists of:
Internet Facing Web Server
Web Server
Networking and Connectivity
Hardware
PHP
Databases
Linux Operating System
Servebolt's lightning-fast processors all have Hyperthreading, optimized with Servebolt Linux. The Hyperthreading enables the processors to work even faster, as well as giving them the ability to work on multiple tasks at the same time.
They also take advantage of faster networking, including Infiniband to ensure the transfer of data between the computers in their network is as fast as possible. Faster networking allows computers to communicate as fast as if they were on the same network.
They develop and maintain their own distribution of Linux, which is optimized at all levels to ensure maximum speeds, and it enables your website to run at the fastest speeds in the Servebolt Cloud.
Servebolt also has its own versions of MariaDB and PHP, which works to give users a 2-6 x improvement in their WordPress website's performance when they move from another host to Servebolt.
If you have a viral website or a website with very high amounts of traffic, Servebolt is well equipped to handle it. The hosting packages all come with unlimited bandwidth, and Servebolt's team of experts who are used to handling and scaling website traffic will help you make all the right decisions for your website, so your users have the best experience possible.
Servebolt has placed their Cloud locations strategically, ensuring that their users have the lowest latency possible and data doesn't have to travel as far.
The Servebolt Cloud is 100% managed, so your team are free to focus on other areas of your site, and whether you're a developer, or have no previous experience, Servebolt is user-friendly and easy to work with. When you sign up for a hosting plan, you can choose the Cloud region that is closest to your majority of visitors, to ensure the fastest speeds possible.
Servebolt Uptime/Downtime
If your website has any downtime, especially during your peak hours it can have a massive effect on your bottom line, particularly if you make money from sales of products or advertising on your website.
If you're not sure what your current uptime rates are, you can check your website's status with a free uptime checking tool.
Servebolt actually has fantastic uptime rates, with an average uptime of 100% for this month, and an average of 99.99% for the whole of 2019. Pretty good!
If you want to see for yourself, you can check Servebolt's uptime status here, and select different date ranges to see the average uptime/downtime.
Servebolt Security
Servebolt takes security very seriously, and the entire platform has been designed with a high level of security, so you never need to worry about it.
All servers are secured by AppArmor, and there are lots of other security measures in place too.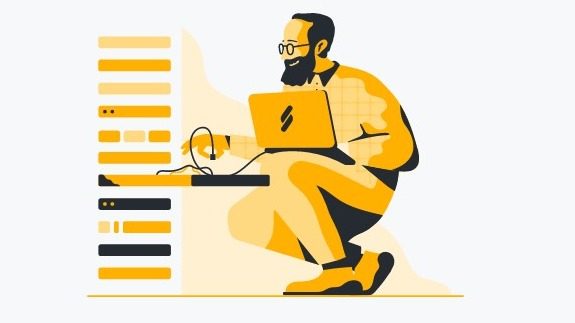 The systems are monitored 24/7 for any issues, and they are continually upgraded and patched with all of the latest security updates. Servebolt is an official partner of Cloudflare, the world's largest supplier of security as a feature.
They also partner with other companies such as Blix Solutions to monitor traffic coming to the servers and block any malicious activity before it has the chance to do any damage.
Servebolt provides a variety of different SSL certificates, depending on the complexity of your needs, including:
Free SSL on all testing domains
Free let's encrypt certificates
Free self-signed SSL certificates
SSL on Proxy CDN's
Performance Review – How can I tell if my website is fast enough?
If you're not sure whether your current website is fast enough, you can book a performance review of your website with Servebolt. This in-depth review will check that your site is bug-free, and give you all the knowledge you need about your site's speed and performance so that you can decide for yourself if it's worth moving your site to a faster host.
The performance review also includes load testing to give you a clear picture of the limits of your current setup and configuration. With the report, you receive a detailed list of all the fixes required to solve any uncovered problems with your site. Special attention is paid to any bottlenecks and bugs on your site, as well as any scalability issues.
Performance reviews should be a regular part of your web maintenance, as poor performance can directly affect your bottom line. A performance review can help you find optimization opportunities to help you scale and grow your business!
If you would like to book a Performance review, simply fill in the online order form, and someone will get back to you with a quote based on your needs and the size of your website.
Servebolt Customer Service and Reviews
If you ever need to get in touch with the Servebolt customer service team, the quickest way to connect with them is via the chat function on their website.
If no one is available to chat live, you can simply leave a message and someone will get back to you by email during office hours.
You can also contact Servebolt via email and phone, and you can find all of the contact details, including their office addresses and postal addresses here on their website.
Servebolt doesn't have many customer reviews, but the ones they do have are pretty complementary.
On Google, they receive 4 out of 5 stars, with most reviews complimenting the lightning-fast speeds and excellent customer service.
They only have two reviews on Trustpilot, but they are both 5-star reviews, and the reviews are once again very positive about the speeds, the pricing, and the service.
Migrating to Servebolt
If you are thinking of migrating to Servebolt from another web host, don't worry- you're in safe hands! Simply migrating to Servebolt can cut your server response time in half.
Servebolt will migrate your site over for you, even if you're just checking out the free trial.
If you want to migrate your site over by yourself, Servebolt provide clear instructions on how to do it on their website- it's a simple four-step process:
Set up your account and make a new bolt
Upload your site, full instructions are provided
Configure your URL
Optimize and remove plugins. This can shave seconds off your page load times!
If you would like the migration to be handled for you by one of Servebolt's experts, you can simply fill in the secure migration form on their website with all of the details they need, and they will handle everything for you.
Servebolt Hosting Review: The Benefits of Using Servebolt
Servebolt has great scalability capabilities so that if your website suddenly takes off overnight or you go viral for any reason, they are more than able to handle the high traffic.
The hosting is fully managed, which leaves your web developers free to concentrate on other areas of your website.
Servebolt offers a free trial, so you can try out their hosting to see how it can benefit your website before you decide whether or not they are the host for you.
They guarantee that your WordPress site will be faster with them than with your previous host.
They have great customer reviews on Google and Trustpilot, and you can get in touch with them easily if you ever need help. All their contact information is completely transparent and available on their website for everyone to see, including their office address if you want to visit them.
Servebolt's support team consists of performance experts, developers, and operations experts, and you can chat with them at any time if you have any questions or need assistance.
They offer free SSL certificates for your website.
If you are migrating to Servebolt from another host, their team of experts will handle the migration for you, even if it's just for the free trial.
Servebolt's control panel is very intuitive and easy to use, so even if you aren't a developer or an expert, you will be able to navigate your way around the platform.
For the more Tech Savvy users, Bolts come with SSH access to enable you to manage your website easily and securely via command-line tools.
Servebolt is built with security in mind and monitored 24 hours a day to minimize any security risks.
Servebolt guarantees a 99.9% uptime for their servers, so you never need to worry about your site ever having downtime.
Daily backups are taken and kept for 30 days so you can access them if you need to.
Servebolt is 100% GDPR compliant, and they guarantee that no data will leave the EU/EEA unless the Cloud location you have chosen is outside the EU/EEA. All of their backups are secured within the EU/EEA within a secret secure location for maximum security and data privacy.
The Downsides to Using Servebolt
The main downside to using Servebolt is the price, it's considerably more expensive than most other managed hosting. However, that is justified with the speeds and service you receive.
It just means it is probably not a suitable hosting option for smaller websites and small businesses due to the price.

Servebolt has a range of different plans which all include all of the features and high performance available with servebolt. The main difference between plans is the storage and database included.
Servebolt Hosting Review: Available Plans:
This plan includes 2GB storage, 1 website, and up to 400K pageviews.
This plan includes 4GB Storage, 3 websites, and up to 1 million page views.
This plan includes 8GB Storage, 3 websites, and up to 1 million page views.
This plan includes 16GB Storage, 3 websites, and up to 1 million page views.
This plan includes 32GB Storage, 3 websites, and up to 1 million page views.
XL – $749
This plan includes 64GB Storage, 3 websites, and up to 2 million page views.
XXL – $1409
This plan includes 128GB Storage, 3 websites, and up to 2 million page views.
Servebolt offers a completely free trial where you can create test Bolts, and see how everything works.
They also have a new program available for Startups. The Early Stage Startup Program is designed to get new businesses started on the right foot, and to support them Servebolt offers 50% off hosting plans for the first year of the new business, as well as a completely free performance review.
Who is Servebolt Best Suited to?
Servebolt is suitable for anyone to use, particularly as it has a very user-friendly interface, so even if you're not a developer you will find the hosting platform easy to navigate and use.
Although anyone can use Servebolt, it is a particularly good choice for eCommerce businesses as well as developers and agencies due to its fast page loading speeds and developer-friendly staging environments. Agencies will also love the high-security features, so they can rest assured that their client's websites are always in safe hands, and very unlikely to be hacked.
Because the hosting is fully managed you won't need to waste any time on maintenance and support for your site.
All necessary developer tools are included such as SFTP, SSH, Rsync, SCP, and Git.
Servebolt Hosting Review- Is it worth the money?
So… the verdict, is Servebolt worth the money?
Well, it really depends on your business and the type of website you are running.
For most blogs and small to medium-sized businesses, then SiteGround is probably a better choice, as it will be able to cater to all your needs for a very competitive price, as well as having great usability, reliability, and unrivaled customer service to go with it.
When to Go With Servebolt: However, if you have a much larger business with over 1 million page views per month for example, and require large amounts of storage for your data, then Servebolt could be a great option for you, due to their extremely fast page loading speeds and high storage limits.

If performance is a priority for you then Servebolt is the ones to go for. They dominated web performance hosting benchmarks for WordPress in 2019, coming out top in all areas.
If you are looking for Magento hosting, then Servebolt can offer the best service and speed for your site, leading to higher conversion rates and more profits for your business, as well as faster order and store management.
No matter how many products, images, visitors, or subscribers you have, Servebolt has been specifically built from the ground up to handle it.
If you're still not sure which hosting provider is the one for you, check out some of our other indepth reviews.
Siteground is one of the best affordable hosting options out there
But, if that's not right for you, then check out our article on some of the best Siteground Alternatives.
Servebolt Hosting Review Frequently Asked Questions:
FAQs About Servebolt
Servebolt Hosting Review: Is it Worth it?
No. Servebolt actually comes with its own completely custom dashboard which is much easier and more intuitive to use than cPanel.
Does Servebolt Support Multisite?
Yes! Servebolt supports all configurations of WordPress, and you can connect as many domains as you need to for if you have multi-site configurations.
Does Servebolt take backups of my site?
Yes. Servebolt takes non-intrusive backups of your website or websites every night, and backups are saved for 30 days so you can access them if needed.
Does Servebolt Provide Free SSL Certificates?
Yes, Servebolt provides Free SSL certificates if you are running Cloudflare.
Can I Run Java on Servebolt?
No, Servebolt doesn't support Java.
Who owns Servebolt's Infrastructure?
Servebolt owns its own infrastructure including all its servers and core networking infrastructure. No part of it is rented from any 3rd party Cloud hosting provider.
How can I contact Servebolt's customer service team?
You can get in touch with customer service through the chatbox on their main website, or you can contact them by phone or email if you prefer. All of their contact details are listed on the 'Contact Us' page on their website.
Are Bolts better than VPS?
Yes, absolutely. Bolts are much faster than VPS and can handle much higher traffic levels.
Do backups use storage space that I have paid for with my hosting plan?
No. Servebolt's disaster recovery backups are taken every night and stored separately by Servebolt. There is no extra charge for the storage space used.
Are Bolts better than Cloud?
Yes, Bolts are able to provide faster hosting than any other Cloud hosting can offer. Bolts are 100% managed so you will never need to worry about maintaining or monitoring the operations.