Last Updated on September 2, 2023 by Ewen Finser
In our post, SamCart vs ClickFunnels we will review the advanced features, pros, and cons of each and give you the information you need to make your decision on the best e-commerce tool for your business.
Tools that are designed to help you increase e-commerce revenue are, without any doubt, some of the most valuable platforms to online marketers.
Tools make things easy for you. They help you scale faster than you would have done manually. And they do this very effectively.
There are nevertheless thousands of tools online today that claim this ability. ClickFunnels and SamCart are, however, two excellent tools that can take your online shop's engagement and revenue through the roof.
The question is, do you need both of them or will one of these platforms suffice? Read on to find out.
Bottom Line Up Front (TL;DR): Personally, for established businesses or rapidly growing ones, I definitey prefer the flexibility and focused shopping cart functionality with SamCart here. ClickFunnels is still a great option for all-in-one marketing and better for brand new entrepreneurs.
Main Differences Between SamCart vs ClickFunnels
The main differences between SamCart and ClickFunnels is that:
SamCart is a stand-alone checkout cart and landing page builder, whereas ClickFunnels is an A-Z sales funnel builder
SamCart has more advanced cart abandonment and management, whereas ClickFunnels does not
SamCart is generally cheaper than ClickFunnels at all pricing tiers
ClickFunnels is much easier for beginners with drag and drop functionality
Put simply, ClickFunnels has a broader appeal to pretty much any marketing goal, but SamCart is better suited and tailored to ecommerce sequences.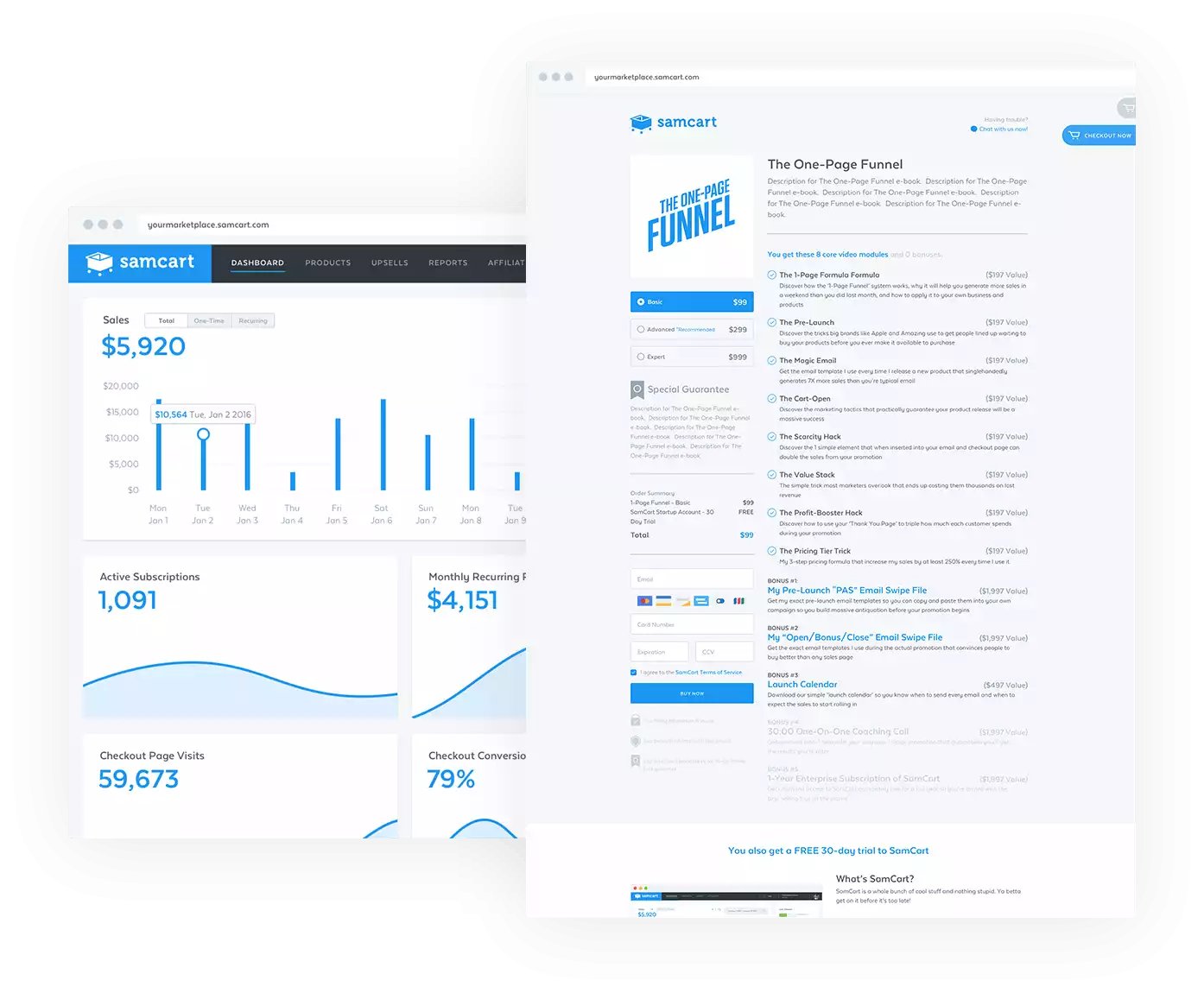 I Personally Prefer SamCart
Personally, I find SamCart to be the BETTER overall checkout page builder with one of the best abandoned cart features in the business. PLUS, it's just less expensive than the competition. There's a free 7-day trial here if you'd like to just see what it looks like on the inside.
GO With SamCart
We earn a commission if you click this link and make a purchase at no additional cost to you.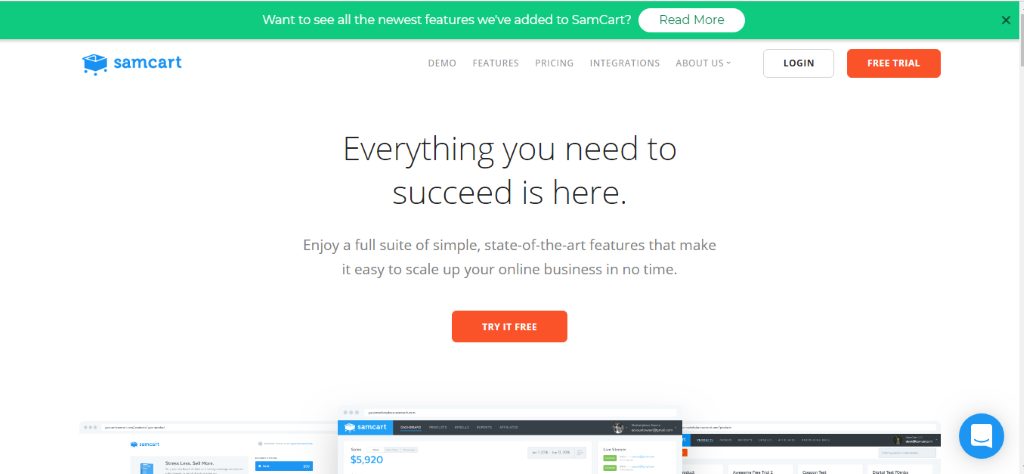 SamCart is a web-based 1-click e-commerce software that helps shop owners to create professional shopping cart pages.
The easiest way to explain the virtues of SamCart and why your business needs it is to first, delve into statistics about online shopping carts. If you have just been bitten by the e-commerce bug and are ready to strike out with your online shop, this data might catch you a bit off guard. Why?
Most online shop owners believe that splurging money on a fantastic website, and working on the page's SEO should be enough to bring in the big bucks.
A fantastic social presence should be enough for business to beat its way to your door, right? No. Far from it, the data concerning shopping cart abandonment is grim. But first things first.
What is shopping cart abandonment? This is a term that describes the act of shoppers adding your products to their online shopping carts, then leaving your online shop, before purchase.
This phenomenon is one of the most heartrending experiences that online shop owners go through. If the rate of your shopping cart abandonment is too high, it means that all the efforts that you have put on advertising, product development, and the display will not bear much fruit.
The High Rates of Shopping Cart Abandonment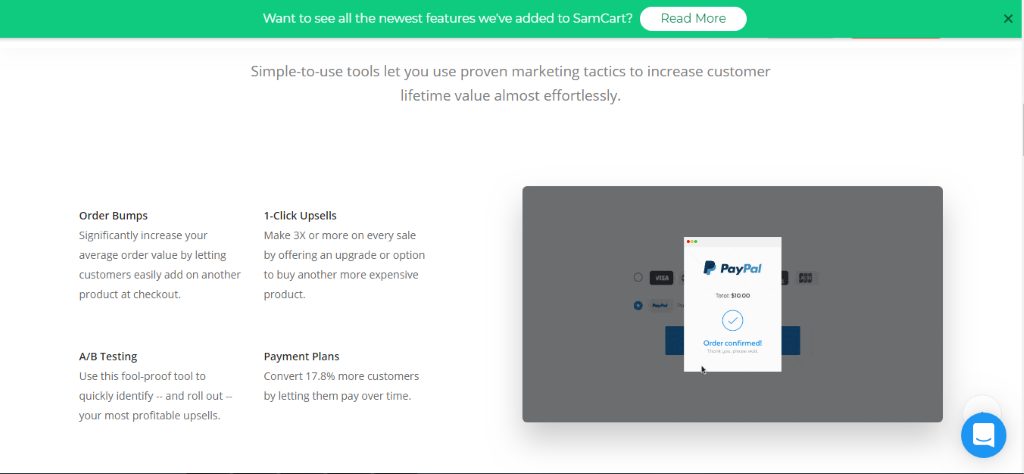 Statistics place online shopping cart abandonment rates at between 55% to 80 %. The average rate, however, stands at a high of 79%. This data implies that at least 3/4 of shoppers will leave an e-commerce site before the final purchase of the product that they desired.
Why do such a large percentage of shoppers drop out on the final stage of the sales funnel while they initially had shown interest in a product? To put it simply, most shopping carts are messy and do not display all the information required to end the purchase on a single page. Shoppers are at times forced to go through so many pages that in the end, they lose interest in the sale.
Some other shopping cart pages have complex language that confuses. If the shopping cart is not simple nor to the point, your customers will move on fast, because the shopping experience will slow down significantly. It has been said that the average attention span of a human today is less than that of a goldfish.
Apparently, your online shopper is only willing to lend your shopping cart 8 seconds of their attention span. A slow, confusing cart is one of the biggest reasons why shopping cart abandonment figures are so high.
SamCart is designed as an easy solution to this problem. It is a cart builder that assists newbie entrepreneurs as well as established shop owners to increase sales. The software integrates with a wide range of email marketing software. You can, therefore, use it to create a sales funnel that has high conversion rates.
You do not need to be a tech-savvy online shop owner to use SamCart. The software has every step of the shopping cart building experience thought out. Consequently, there is no need to write any HTML code or apply CSS.
The software has a wide range of templates ready for your online shopping cart. Through its streamlined process, you can build your checkout page in less than half an hour.
In that short time, you will have added not only the product you are will to sell onto the checkout process but your business's payment structure as well (payment processors, payment gateway, etc…). You can also add various integrations, upsells, coupons, and create split tests.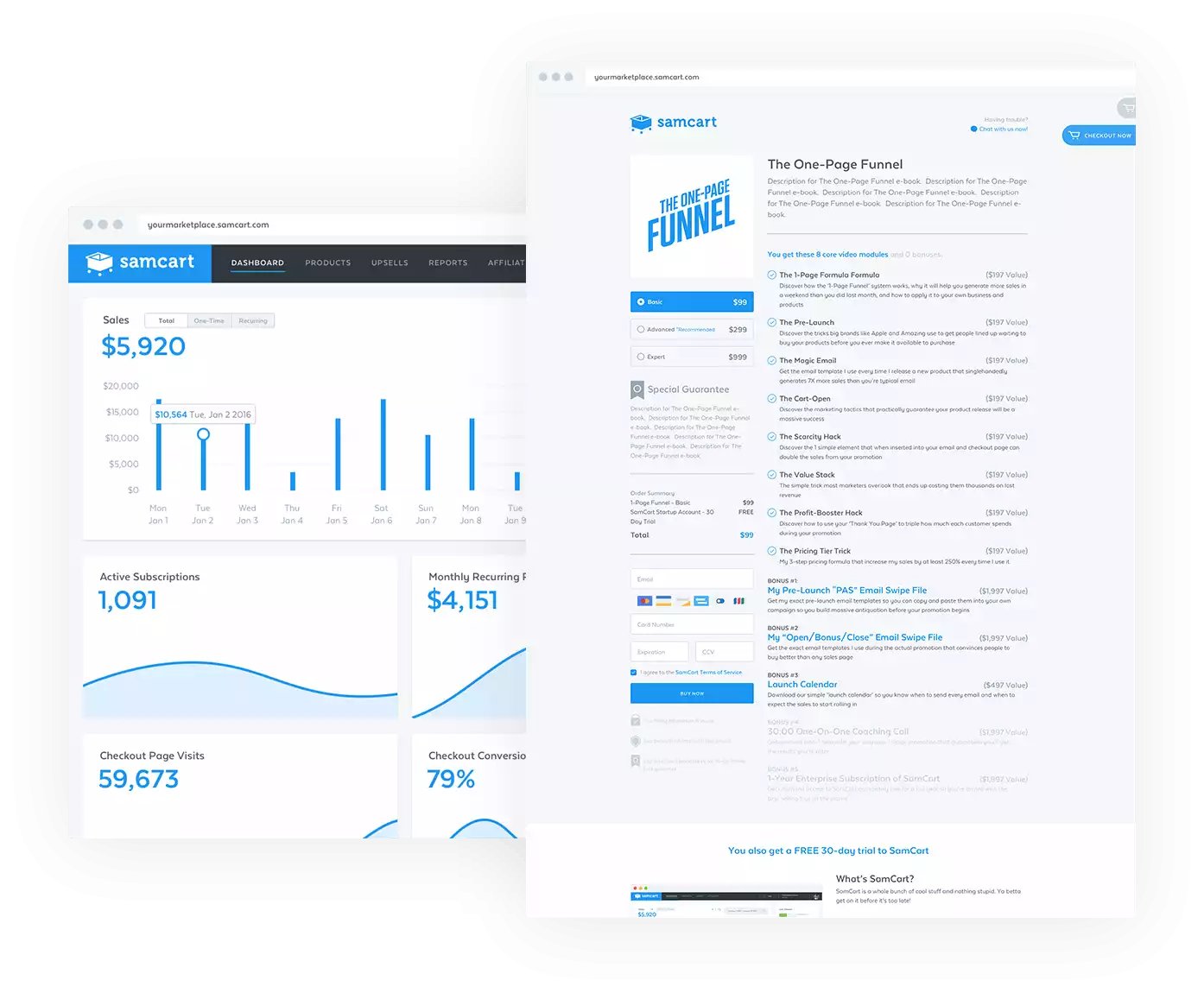 I Personally Prefer SamCart
Personally, I find SamCart to be the BETTER overall checkout page builder with one of the best abandoned cart features in the business. PLUS, it's just less expensive than the competition. There's a free 7-day trial here if you'd like to just see what it looks like on the inside.
GO With SamCart
We earn a commission if you click this link and make a purchase at no additional cost to you.
ClickFunnels Review: What is ClickFunnels?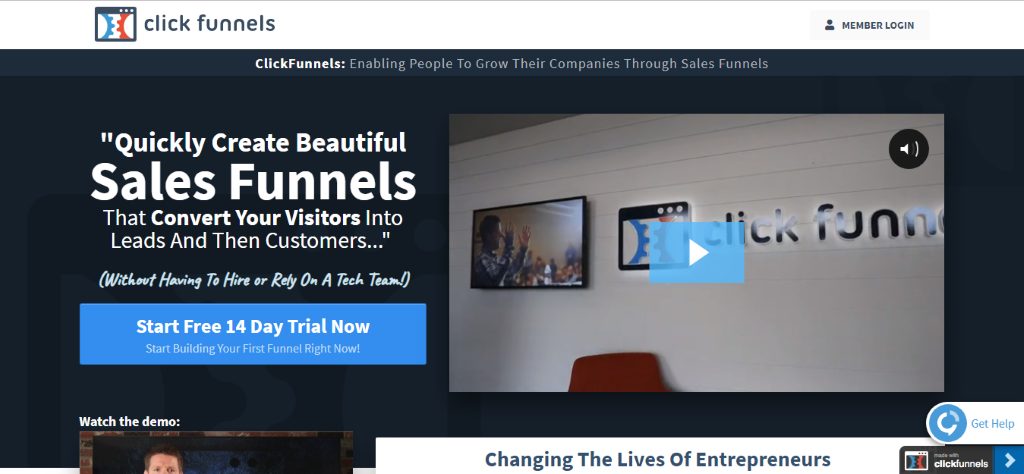 While both SamCart and ClickFunnels share similar features, they are also very different. Indeed making a comparison between them is a bit difficult.
Why?
ClickFunnels is designed to for sales funnel creation. It is, therefore, much more than a shopping cart page builder.
It has a lot of sales funnels design templates, that will help you build optimized landing pages (also called a sales page) as well as sales funnels that are feature-packed to sell services or products online. To understand why both software is different, it is essential to understand what a sales funnel is.
A sales funnel the path a customer takes on their way to the purchase of a good or service. The marketing funnel, just as any ordinary store-bought funnel is wide at the top and thin at the end. Most customers hardly go beyond the wide end of the sales funnel. A few, however, will follow your mousetrap to its small end.
These are the customers that bring in revenue. It, therefore, goes without saying that a sales funnel should be optimized to cut down on customer drop off rates.
Software such as ClickFunnels helps you to increase engagement, which will, in the end, increase the number of customers that get to the end of your sales funnel.
Every business has a sales funnel. Some, however, do not have much influence over their customer journeys. Data, nonetheless, shows that 95% of buyers purchase goods or services from vendors that provide navigable content at each stage of the product purchase process.
Therefore, while, your efforts at SEO might lead to increased visibility on Google, leading to increased prospects, you need to do more. It is up to you to guide your prospects through your web pages, and in the process turn them to leads by getting their email address (which you can sync with your email marketing platform).
These leads might not purchase your products on the first day, but if you contact them via email marketing, they could complete your sales funnel processes.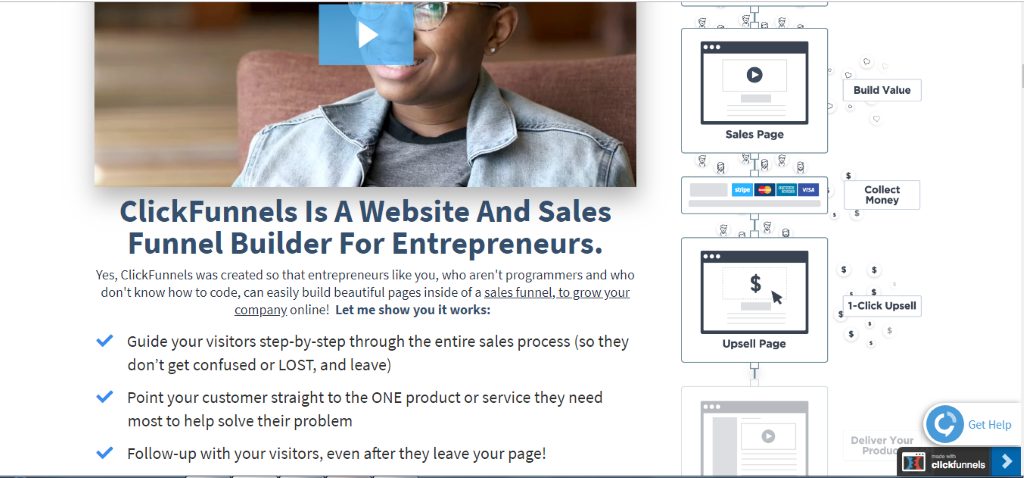 SamCart vs ClickFunnels
As established, these two platforms are designed to increase sales from your online shop. SamCart, nonetheless, targets a minor portion of the sales funnel, focusing on optimized shipping cart pages. ClickFunnels, on the other hand, goes a mile further and optimizes your complete sales funnel.
Still, both have some similar features, which we are going to compare. Our comparison of the two platforms will help you decide whether you need just one of them or both in your day-to-day business operations.
 Checkout pages
SamCart is hands down one of the most robust checkout pages applications out there. As mentioned, most customers are often lost during the checkout process, making the product purchase stage a major 'choke point' for businesses. Most checkout pages, unfortunately, are created without an afterthought when it comes to conversions.
Most webpage designers are generally more focused on the page's functionality. Unfortunately, this leads to a high percentage of abandoned cart pages. With SamCart, however, checkout pages are made to be not only visually appealing but more intuitive also.
SamCart has a choice of 18 attractive checkout pages. Their designs range from multiple columned full pages to vertical layout pages. The vertical designs take up less screen space and are great for responsive pages. All these designs, however, are fully customizable meaning that you can add product photos, or modify the design's copy to match that of your product's value proposition, benefit, or selling point.
With SamCart, you can add pop up pages onto your checkout page to lower abandonment levels by increasing engagement. There is also a feature that embeds a trust seal onto a page, which increases engagement. You can also use the platform to turn your checkout page into a pop-up window to enhance the whole purchase process.
ClickFunnels, on the other hand, has checkout pages too. The software has, however, named them, 'order pages'. The selection available nevertheless, does not match that of SamCart. Indeed, the design of the ClickFunnel's order pages feels more like an afterthought when compared to SamCart's optimized and attractive pages. If your goal is to reduce shopping cart abandonment, you need SamCart more. Here's the monthly subscription options to consider: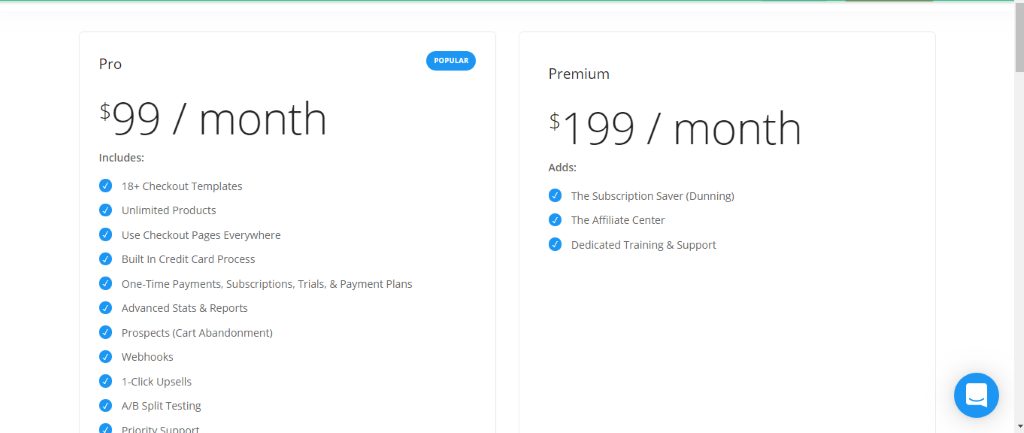 Upsell pages
Both platforms have upsold pages, which are used to entice customers to purchase more products or services. Upsell pages have an enticing feature such as an add on to purchase, an upgrade, or an expensive item. According to Neil Patel, while 70% of your website's revenue will be generated from your leads, the other 30% will come from upsells.
Upsell pages are therefore very critical additions for a positive bottom line. As it is with its fantastic checkout pages, SamCart also has better all rounded upsell pages than ClickFunnel's. SamCart's pages are easy to build and allow your shoppers to upgrade their product purchases at a click. While ClickFunnels has a one-click page feature too, SamCart pages stand out because they also have an exit pop up element.
Affiliate management
Both platforms also affiliate management features, which assist in the generation of affiliate accounts.
This means that you can have other people support you in the marketing of goods and services directly from your website via affiliate marketing.
SamCart's affiliate center is well designed and intuitive. It is therefore effortless to track earnings or referrals at a glance from the bar chart feature provided.
ClickFunnels also has a robust affiliate management feature. The feature is known as 'Backpack,' and it has a range of functionality such as affiliate analytics, two-tiered programs, and affiliate management services. Unfortunately, this beneficial feature can only be accessed on ClickFunnel's Etison Suite plan, its high-end suite.
Email marketing and automation
This is the area where ClickFunnels outshines SamCart by miles.
SamCart does not have email-marketing tools, so if you want to automate your marketing strategy, you will need ClickFunnels. Through ClickFunnels, you can set up email marketing campaigns using smart lists and design your online shops action funnels as well.
The platform avails customer metrics that will assist you to optimize your marketing campaigns. While SamCart is devoid of marketing automation tool features, it does integrate easily with a host of marketing tools including ActiveCampaign, GetResponse, Aweber, Drip, ConvertKit, and MailChimp, among others.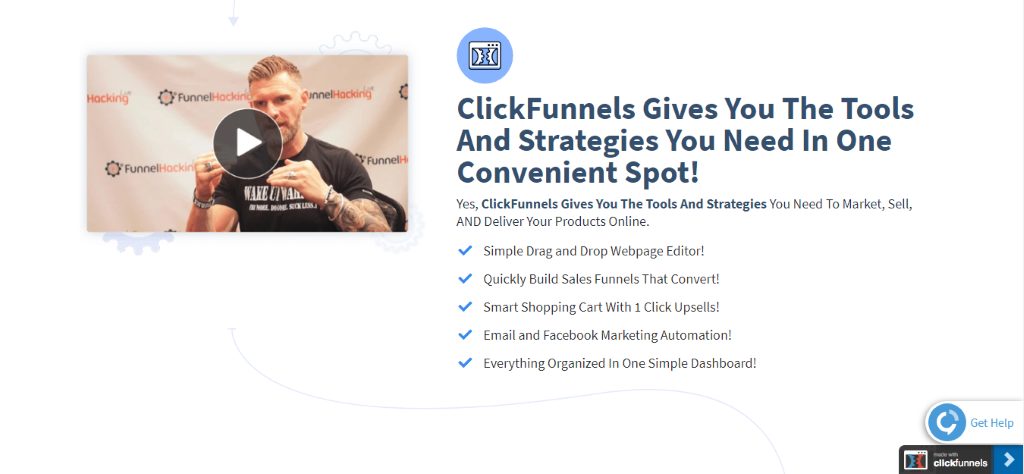 Other SamCart features
Mobile-friendly checkout features
A/B testing
Other ClickFunnels features
Sales funnel creation
With ClickFunnels, you can access different types of funnels such as the webinar, hero, ask campaign, product launch, or cancellation funnels.
A/B testing
Unlimited leads
SamCart Pros
Fantastic shopping cart page builder
Great one-click upsells, abandoned cart and order bumps features
Affiliate management
Wide range of integration with email marketing tools
Cheaper than ClickFunnels as with a basic plan of $19 per month
Wide range of optimized checkout pages
Easy to use
SamCart Cons
No marketing automation features
Affiliate center only available in its $199 per month suite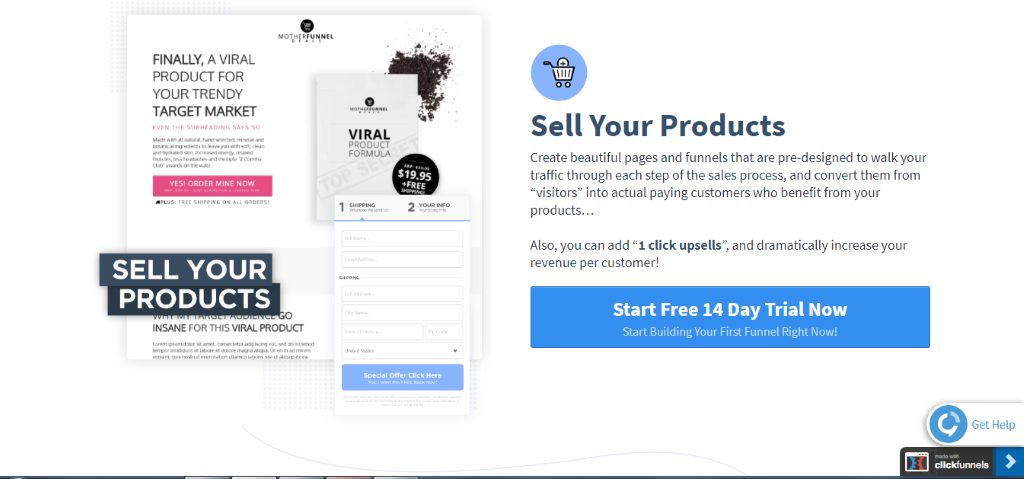 ClickFunnels Pros
Very comprehensive sales funnels builder, which can build landing pages, and handle market automation
Has checkout pages
A wide variety of premade funnels
Easy to use
One-click upsell pages
Robust affiliate program
ClickFunnels Cons
Its shopping cart check out page feature is not as in-depth as SamCart's
Affiliate management is only available in its $297 per month package
Pricey compared to SamCart
SamCart vs ClickFunnels at a Glance Summary
Here's how I see the high level advantages of each platform in one view:
| Features | SamCart | ClickFunnels |
| --- | --- | --- |
| Ease of Use | SamCart offers a simpler, more intuitive interface that makes it easy for beginners. | ClickFunnels is more complex with a steeper learning curve, but offers more advanced features. |
| Landing Page Builder | SamCart does not have a landing page builder. It focuses more on checkout page optimization. | ClickFunnels provides a full-fledged landing page builder with drag and drop functionality. |
| Pricing | SamCart has three pricing plans starting at $49/month. It can be more cost-effective for smaller businesses. | ClickFunnels starts at $97/month. It may offer more value for businesses needing a comprehensive sales funnel solution. |
| Integrations | SamCart integrates with a decent number of third-party apps including email marketing software, membership tools, etc. | ClickFunnels has more integration options, covering a wider range of marketing and sales tools. |
| Sales Funnel Functionality | SamCart is more focused on optimizing the checkout process. It lacks comprehensive funnel building features. | ClickFunnels excels in this area, offering a variety of pre-built sales funnel templates. |
| Customer Support | SamCart offers 24/7 customer support via email and live chat. | ClickFunnels offers email support and priority phone support for higher-tier plans. |
| Training and Resources | SamCart offers comprehensive training resources and a helpful community. | ClickFunnels provides extensive training resources, including the famous "Funnel Hacks" and "Funnel University". |
| Affiliate Management | SamCart includes a built-in affiliate center in its higher-tier plans. | ClickFunnels also includes an affiliate management tool in its suite. |
Frequently Asked Questions
Question: Is SamCart the best ClickFunnels alternative?
If you read a good Samcart review, you'll see it isn't a funnel builder. It is good at building landing pages and being used as a checkout cart, but it can't build you a fully functioning sales and membership site funnel. There are some cool SamCart integrations but it doesn't make up for what you need with a funnel builder if that is your goal.
Question: Does split testing help with conversion rate optimization?
Answer: Having a marketing tool that allows you to split test greatly helps with getting a better conversion rate. There are other things like using good shopping cart software, an effective payment processor and having a good digital product that also play into how well your marketing campaign and other efforts actually play out.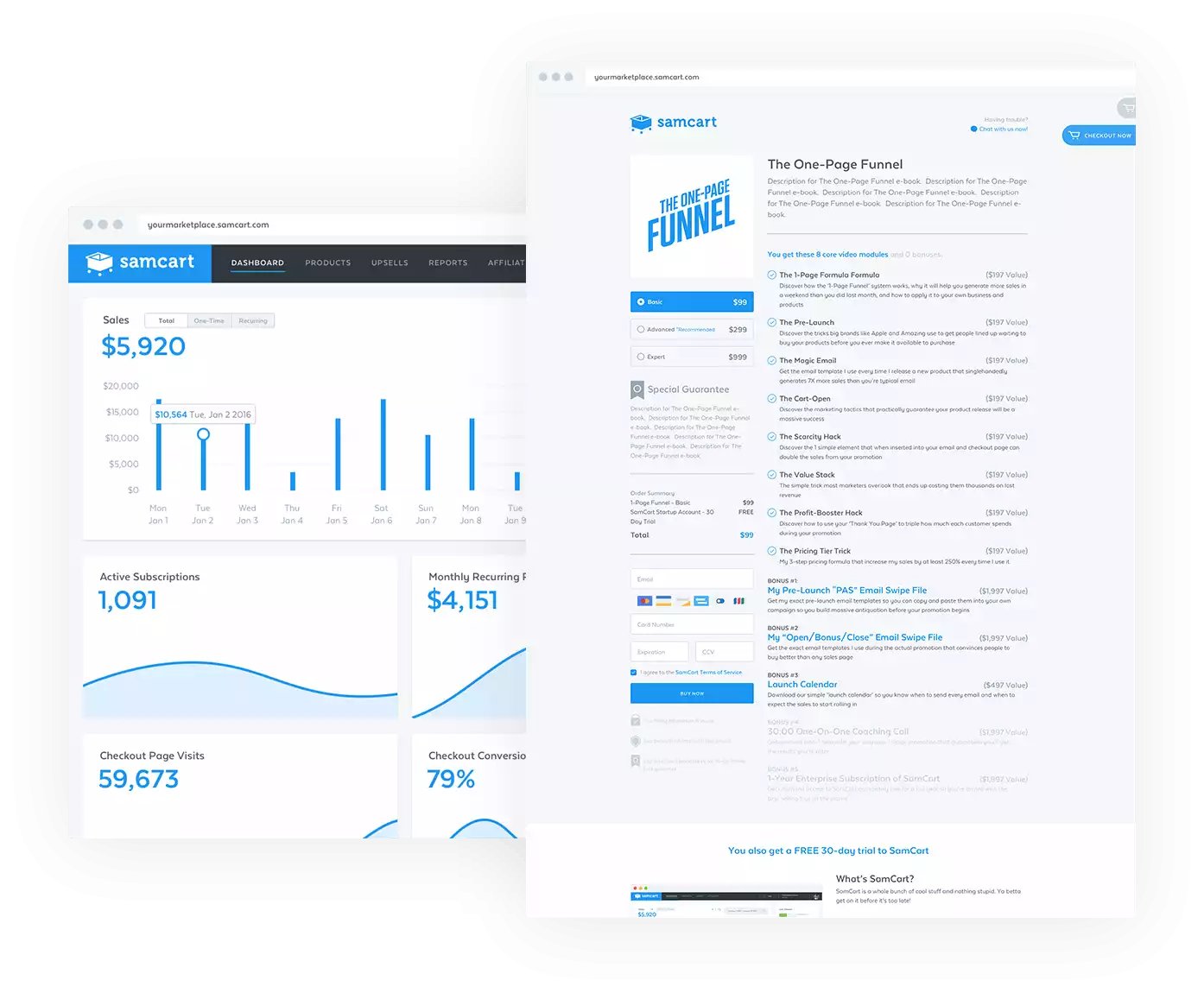 I Personally Prefer SamCart
Personally, I find SamCart to be the BETTER overall checkout page builder with one of the best abandoned cart features in the business. PLUS, it's just less expensive than the competition. There's a free 7-day trial here if you'd like to just see what it looks like on the inside.
GO With SamCart
We earn a commission if you click this link and make a purchase at no additional cost to you.
SamCart vs ClickFunnels: The Final Word
Click Funnels has more in its package to offer for an online shop owner that needs to build and enhance their email marketing strategy.
Its automation tools, as well as sales, funnel developing tools will increase your bottom-line. If you however just need a robust and intuitive checkout pages platform, SamCart would be the best buy.
With it, you can increase your conversion rates. SamCart's premium package is also more affordable at $199 per month while ClickFunnels pricing comes in at $297 per month.
Can you purchase both platforms? Yes, you can. Both platforms will complement each other. ClickFunnels will bring its robust sales to funnel building features to the table, while SamCart will reduce your shopping cart abandonment rates.
Bottom Line: Personally, for established businesses or rapidly growing ones, I definitey prefer the flexibility and focused shopping cart functionality with SamCart here. ClickFunnels is still a great option for all-in-one marketing and better for brand new entrepreneurs.
Here are other related articles you may be interested in:
Other ClickFunnels Competitors
Here's how some of the top ClickFunnels alternatives stack up in comparison in terms of marketing automation:
Other SamCart Alternatives
Similarly, here's some additional SamCart alternative comparisons worth considering: