Last Updated on January 15, 2023 by Ewen Finser
Today in our Serpstat review, we will be taking a deep dive into Serpstat's all-in-one SEO toolkit.
SEO is without a doubt one of the most important things you can do for your online business. Being found online is getting harder and harder as the number of websites, and therefore competition increases every day.
In this Serpstat review, we are going to talk you through how this SEO tool works, and all of the features it offers. We are also going to go through the pros and cons of using Serpstat so that you can decide for yourself if it is the right tool to help you grow your business.
There are currently over 1,700,000,000 live websites in the world, and that number is growing by the second.
So how do you make sure your website gets found?
And not just by anyone. You want to be found by your ideal customers. This is where search engine optimization comes in.
By working on your SEO, you can begin to rank well in search engines, and with a bit of luck, and a bit of hard work, you have the opportunity to rank on the first page of Google.
And this, my friends, is the holy grail. The results on the first page of a Google search get, on average, 91.5% of the traffic share, which is why it's so important to be ranking well for your keywords.
Ranking on the first page of Google can potentially save you thousands of dollars on paid advertising. If you are ranking well for the right keywords, you will be attracting customers who are looking for exactly what you are offering, and are therefore more likely to buy from you.
Now that's an opportunity you don't want to miss out on.
Serpstat Review: Bottom Line Up Front
Overall it will be clear to see in this Serpstat review that Serpstat is a great tool for anyone who is working on SEO or PPC campaigns either on behalf of their own company or on behalf of a client.
Is it worth the money? Absolutely.
And now that we've discussed why SEO is so important for your business, let's get stuck into this review so that you can see for yourself how Serpstat can help you improve your SEO and grow your business.
Let's take a look…
Serpstat Review – Is Serpstat the Best SEO Tool?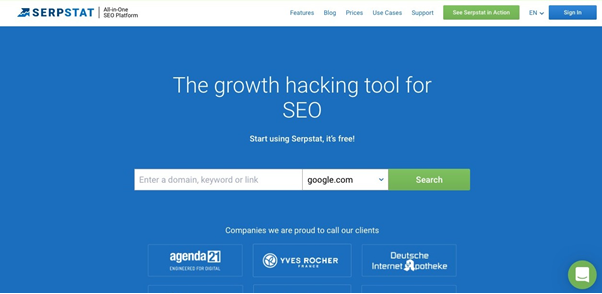 Serpstat is an all-in-one SEO platform for professionals. Whether you are a business owner, SEO professional, or an agency, Serpstat has all the tools you need to improve your SEO, which will increase the amount of organic traffic coming to your website.
The great thing about Serpstat is that it helps you to automate your entire search engine optimization process, saving you hours of time each month.
Serpstat was founded in 2013 and was originally just a keyword research tool, but since August 2016, Serpstat has become an all-in-one SEO platform. It's growing at an incredible rate, with more than 200,000 active users to date, and is loved and trusted by big brands such as Shopify, Yves Rocher, and Lenovo.
Within Serpstat, there are 5 different modules for you to work on:
Rank Tracking metrics
Backlink Analysis (great for building backlink data for link building campaigns)
Keyword Research
Site Audit tool
Competitor Research and Competitor Analysis
So you can keep track of everything you need, all in one place. You can view history and search analytics reports for each module, so you can see how your SEO is improving, and keep track of your progress so that you can see how efficient your marketing is.
You can also use Serpstat's tools to research and find out more about your competitors, so you can see what's working for them, and where the opportunities are for you to get ahead of them.
The Key Features of Serpstat
Keyword Research
Search Analytics
Advertising Analytics
Content Marketing Ideation (content custering)
Competitor Analysis
Rank Tracking
Market Intelligence
On-page Audit Tool
Reports and Infographics
API
Backlink Analysis
White Label Reports
Customer support
Serpstat Academy
As you can see, Serpstat offers all the tools you need to efficiently work on your SEO. So now we are going to take a deeper look into each feature, to see how everything works, and what it can do for you.
Keyword Research Tool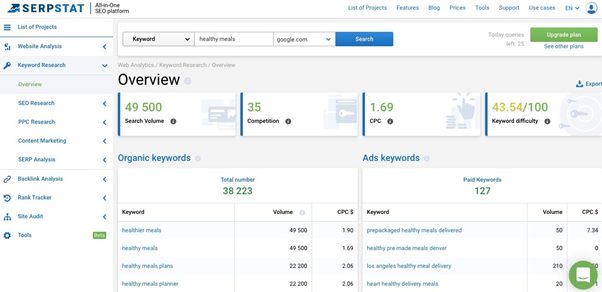 Serpstat's keyword research tool helps you find top-performing keywords in Google for your SEO and PPC campaigns. You simply enter a keyword in the search tool, and you are given a list of organic keywords or key phrases around your word to choose from. The keyword difficulty of each word is shown, so you can choose the words that are less competitive, but still have a good monthly search volume.
You can determine the value of each keyword by viewing the monthly search volume, cost per click (CPC), number of search results, and competition level. Long-tail keywords are also provided, which can be a great way to get traffic as people search for questions or phrases related to your product or service.
If you are looking for international data, that's not a problem. You can search for your keywords by country. Data is shown for all major languages for all of the countries included in Serpstat's database.
You can also analyze trends for each keyword, and the results show an easy to read graph of your keyword fluctuations over the last year. This is a great way to help you plan your campaigns around seasonal fluctuations, such as holidays.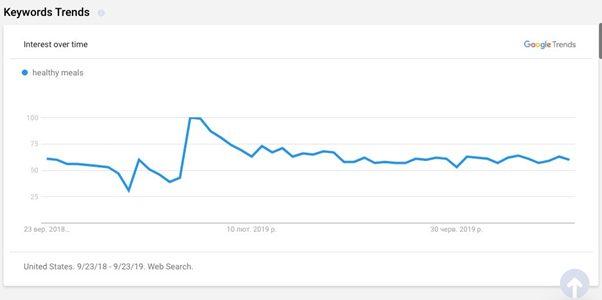 Search Analytics
As well as the keyword difficulty results for each search phrase, Serpstat also provides you with the top search engine results for each keyword or keyphrase. This allows you to see which websites are ranking highest for your keywords, and also shows you other useful data such as the number of Facebook shares for each page, and the potential traffic score.
This is a great way to see who your main competitors are, and you can view your competitors for both organic and paid search results.
You can see how well your competitors are doing by searching their domain. The results will show visibility, traffic drops, and rank changes for the domain you are researching which can help you to see how your own campaigns are doing in comparison. You can also view all of the keywords that your competitors are ranking for, so you can compare your own, and see where you are missing out.
Within your dashboard, you have the option to add any domains you wish to monitor to your monitored 'projects' section. This will give you regular updates on any changes you need to know about and help you see how your campaigns are performing.
Advertising Analytics
If you are about to make a start with your own advertising campaign, it's a wise idea to research your competitors campaigns first so that you can ensure you get the highest ROI possible for your campaign.
You can research the keywords and adverts that your competitors are using, and find their highest performing keywords which are getting them the best results. You can then use this data to outrank them.
And if you want to localize your advertising campaigns, you can do this by working out which keywords international searchers are searching for the most, to help you find the right keywords to target for each country.
Content Marketing Ideation
To ensure your content marketing efforts get the best results, you can use Serpstat to search for questions and phrases that your target audience is searching for so that you can create content around this to bring your target audience to your website.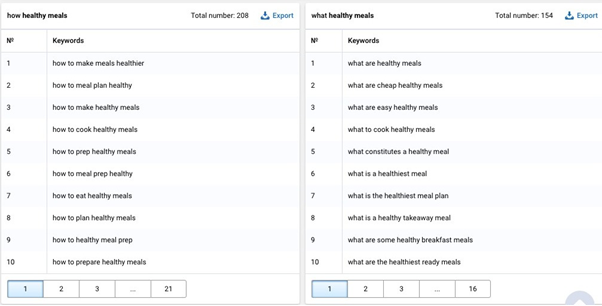 You can also use the related keywords tool to enrich your content by including other keywords that people are searching for relevant to your brand. Once you have created content, you can track how many shares it gets on Facebook so that you can see how popular your content is compared to your competitors.
There is a domain vs domain comparison tool that lets you directly compare your domain side by side with your competitors' domains. If you want to go even further, you can batch compare up to 200 domains at once with the batch analysis tool. This will provide you with a detailed list of all of your competitors' SEO and PPC efforts so you can analyze and use in your own SEO and PPC strategy.
Rank Tracking
The rank tracking tools allow you to monitor both your own and your competitor's web page ranking on a daily basis. You can also track your keywords, and see exactly how well they are ranking in both Google and Yandex for any country that you choose.
Serpstats unique algorithm analyzes search engine results pages (SERPs) and saves the data of the top 100 domains for each of your saved keywords. You can easily share your SEO and PPC projects with your team by giving them their own logins for reporting. You can also automate the reporting process to save time if you wish.
Market intelligence features let you learn from the leaders in your niche by helping you to evaluate which areas they are succeeding in and how you can beat them.
On-Page Audit Tool
The on-page audit feature gives you an in-depth analysis of your page or any other page you wish to audit. By finding and fixing any issues as soon as possible you can ensure you're on-page SEO is optimized. If you are looking at your competitor's domains you can see where their downfalls are, and look for any opportunities that you can use to get ahead of them.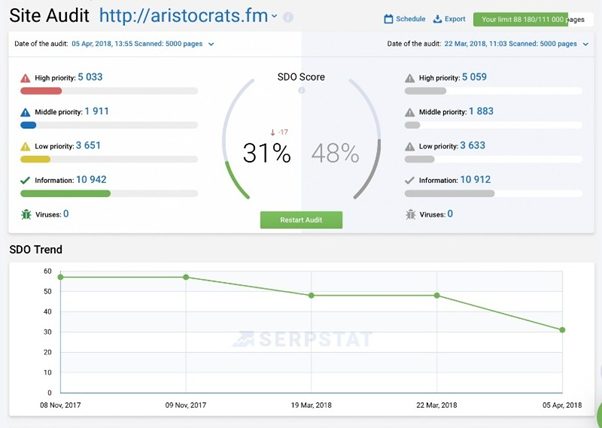 The site audit feature gives you an overall score and then provides you with a list of things that you can fix straight away, including broken links, duplicate content, page loading speed, problems with images, missing pages, and much more.
Reports and Infographics
You can view all of your reports from your user dashboard. You can also view all of your campaigns, giving you an overview of the success of each campaign with just a few clicks. There is the option to set up email alerts for any significant changes in the ranking of any URLs or keywords that you are tracking, so if something drastic happens you can react immediately.

All of the data is visualized in easy to read diagrams and charts to give you an 'at a glance' overview of the data. This is also helpful for anyone who is perhaps new to digital marketing or has trouble understanding reports at first.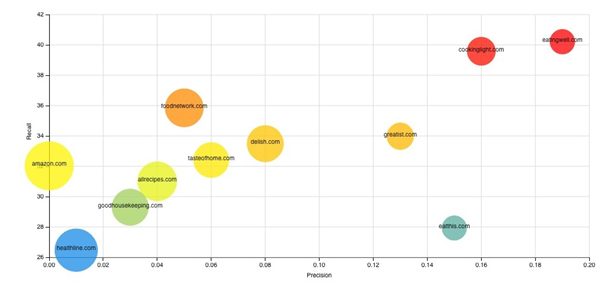 Whether you are working for a boss, or on behalf of a client, you can create professional-looking fully white labeled reports to present to them.
The reports are fully customizable, and you can include your logo and company name. There are no limits to how many reports you can export, so you can do this for multiple clients if you need to, each with their own branding.
Backlink Analysis
Serpstat can provide you with a detailed backlink analysis for any URL in just a couple of clicks. You can use this to monitor your own website, and you can monitor your competitors' websites as well to see where their backlinks are coming from.
The reports also provide you with the quality score of any referring domains so that you can work out which ones are the most reliable sources and avoid any potential penalties from Google.
Customer Support and Serpstat Academy
Serpstat takes customer training and supports very seriously. If you are ever in need of help at any time you can contact customer support through their live chat feature, and someone will be there to help you through whatever challenges you are facing (during office hours).
When you join Serpstat you will be onboard with both basic and advanced help to walk you through the setup process and help you get the best out of all the features Serpstat offers.
All members, including free members, have access to the basic onboarding, which involves going through the Serpstat Academy which is a self page training program designed to walk you through everything you need to know to get started with Serpstat. There are also case studies to look at, as well as video tutorials and a handy user guide.
Paid users get additional support with the advanced onboarding which includes all of the training in the basic onboarding, as well as a dedicated virtual assistant who will help you get started and be there to answer any questions you have about Serpstat.
Serpstat also frequently offers live training via Skype and Google hangouts to paid users, which can help you to get the best of the software.
Serpstat Review: The Pros and Cons
As with any software, Serpstat has its own pros and cons when it comes to Serpstat features, so it really depends on your needs, and what's important to you. Let's take a look.
Serpstat Pros:
All in one toolkit for all your SEO needs
Clean and easy to understand user interface and dashboards
Affordable pricing
Detailed analytics with easy to understand infographic reports
Free trial
A site audit is fast and accurate and lets you quickly make improvements to your on-page SEO and search suggestions
Serpstat Cons:
The keyword difficulty has been reported as occasionally inaccurate by some users
Sometimes customer support can be slow to respond
Only the most expensive 'Enterprise' plan includes white label reporting
Serpstat has four different pricing plans to choose from; Lite, Standard, Advanced, and Enterprise.
There is also a free plan which has low daily usage limits, but you can sign up with your Google account, Facebook account, or email address to increase your daily search queries to 30 per day.
The paid plans offer higher limits and access to many more features.
The 'Lite' plan, which is $69.00/month includes 4,000 queries per day, 10,000 results per week, and 500,000 export rows per month. It also includes all of the basic features such as in-depth keyword analysis, missing keywords, related keywords, and access to API. This plan may not be suitable for agencies or SEO professionals since it does not actually include team management, white-labeled reports, or branded reports.
Next up is the 'Standard' plan which is $149/month. This plan includes everything from the 'Lite' plan, as well as higher limits of 5,000 queries per day, and 30,000 results per report. This plan does not include white-labeled reports, but does include branded reports, and team management for up to 3 team members.
The 'Advanced' plan is $299/month, and has much higher limits in all areas including 8,000 search queries per day, 150,000 tracked keywords, 1,250,000 pages to audit, team management for up to 5 team members. This plan also includes phone support if you ever need it.
Finally, we have the 'Enterprise' plan which includes the maximum limits in all areas. You can have up to 7 team members with this plan, and this is the only plan that offers white label reporting.
Serpstat Review: Conclusion
Overall it's clear to see in this Serpstat review that Serpstat is a great tool for anyone who is working on SEO or PPC campaigns either on behalf of their own company or on behalf of a client.
Is it worth the money? Absolutely.
Serpstat is a great budget option, and while it is more affordable than some other SEO tools out there, it doesn't compromise on quality. The user interface is intuitive and easy to understand regardless of whether you are new to SEO, or a seasoned professional, with clear reports and infographics that give you a clear 'at a glance' view of your data.
Serpstat makes it easy to spy on your competitors, and learn from what they are doing well. If there are any areas where your competitors are falling short, you can take this as an opportunity to outshine them.
The site audit feature is one of the best features, letting you quickly and easily see where you can improve your on-site SEO. It gives you clear actions of what you need to do to make improvements, and you can see your rank improving as you make corrections and changes where they are needed.
Another one of the great things about Serpstat is the amount of onboarding and ongoing training it provides to its users. This goes a long way to helping you get your money's worth from the software, and helps you become confident, and, no doubt, a loyal customer for life. They provide free training to both free and paid users through the Serpstat Academy, and paid users get even more help with a dedicated virtual assistant, and free live training sessions to go through best practices, and how to get the most from the features offered.
Bottom Line: Overall, Serpstat is a great tool for anyone looking to work on SEO and PPC campaigns, and the price and overall quality of the software are what makes it so appealing. Particularly compared to enterprise options like SEMrush and Ahrefs, Serpstat is an affordable lower-priced alternative that returns plenty of value for the price.
You can try Serpstat for free, and if you need access to higher usage limits you can sign up to one of the paid monthly plans here.
Frequently Asked Questions About Serpstat
Who is Serpstat made for?
Serpstat is made for anyone who is running a business that could take advantage of SEO or PPC campaigns. This could be anyone from bloggers, or online shop owners, as well as digital marketing agencies and SEO professionals, in fact, anyone who could benefit from more traffic to their website.
Which Serpstat plan is best for me?
The plan you need really depends on how many search queries you need each month. For example, if you are a blogger or small business owner, then the Lite plan may suit you well.
However, if you need to add team members or create reports then you will need to look at the Standard plan upwards. It really depends on the size of your team and the number of queries you need per month. You can view what's included with each package here.
Is there a long contract with Serpstat?
No, you are not tied into any lengthy contracts with Serpstat. All contracts roll month to month, and if you're not happy with the service provided then don't worry, you can cancel your plan at any time in your account details area.
What is an organic keyword?
An organic keyword is a keyword that attracts traffic from a search engine.
What is keyword clustering?
Keyword clustering is when you put a bunch of relevant keywords on one page or post.
Can Serpstat help me set up an SEO strategy?
You can use the search analytic information for your SEO campaign. You can look up long tail keyword information and keyword suggestions in the Serpstat tool to put together a full SEO strategy.
Should I hire an SEO specialist?
Having an SEO specialist on your side can be helpful, but it can also be pricey. If you have a missing keyword that you should target but you didn't know it because you don't know how to SEO research, that could mean leaving a lot of money on the table.
Looking for more options? Here are other articles you may be interested in: