Last Updated on June 21, 2023 by Ewen Finser
In search of the best Filmora alternatives? Well, you've come to right place, in this post will provide you 19 best Filmora alternatives worth trying.
First, let's look at some stats. A whopping 45% of people watch over an hour of video content on Facebook or YouTube a week!
With that in mind, you'll want to get your hands on a decent video editor. If you've done any research into this topic already, you'll probably have already come across Filmora Video Editor. This is a fabulous program developed and sold by Wondershare.
It's famous for its simplicity and is suitable for both Windows and Mac users. Its interface is nothing short of intuitive and user-friendly. So, it doesn't matter if you're entirely new to video editing, you should still be able to make the most out of this tool.
You can execute basic video editing tasks like:
Cutting
Trimming
Cropping
Inserting video effects and transitions
Just to name a few!
Wondershare Filmora video editor users report that within minutes, they can edit their videos ready for publishing. But like most software, Filmora suffers from its fair share of drawbacks. Most notably:
The rendering of transitions and effects is very slow.
You can't modify the aspect ratio of your video(s).
It takes a while to install the software.
Filmora's watermark in its trial version is enormous.
So in light of these limitations, we've listed some of our favorite non-linear video editor Filmora alternatives.
Does that sound good to you? Fab! Let's dive straight in!
Top 19 Filmora Alternatives
These are the best Filmora alternatives:
InVideo provides all the tools you need to transform your content into an engaging video. This software boasts all manner of customers, from media companies to small businesses, to larger brands, InVideo helps all sorts of entrepreneurs fine-tune their video clips.
Users report being able to produce high-quality videos in a relatively short amount of time. It's easy to use, and when problems arise, customer support is quick to respond with helpful solutions. Customers especially love the script to video tool and the quality and choice of voice over options.
You'll be pleased to hear that InVideo's developers are continually working to improve this solution. So, it'll only get better from here!
There are literally hundreds of templates you can pick from, as well as other fabulous features, including:
Audio tools
A media library
Social sharing functions
Speed adjustment
Splitting and merging clips
Support for HD resolution
Text overlay
Video capture
Video stabilization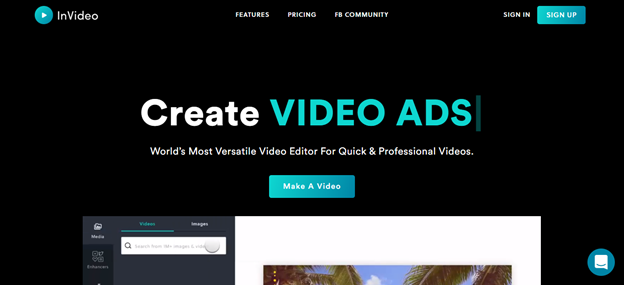 Check the Latest InVideo Plans and Prices
Before we go any further, we have to say, this is Windows-only software. So if, you're using any other kind of device, skip this section!
Pinnacle Studio is best described as sophisticated yet intuitive. It has all the nuts and bolts a pro could want, but it's still simple enough for beginners to use.
Pinnacle Studio offers users both timeline and storyboard workflows, making this video editor incredibly accessible. Building on this idea of 'accessibility' you can also create and use shortcuts to help streamline your editing process and use any of Pinnacle's high-quality templates.
Plus, Pinnacle Studio supports a wide range of file formats. You can even edit videos boasting multi-camera features.
Best of all, you can choose from over 1,500 effects to enhance your video(s). It's also incredibly easy to insert fading effects to your audio. That's in addition to being able to create and modify your video titles.
But despite these advantages, you need a powerful computer to make the most out of what Pinnacle Studio has to offer.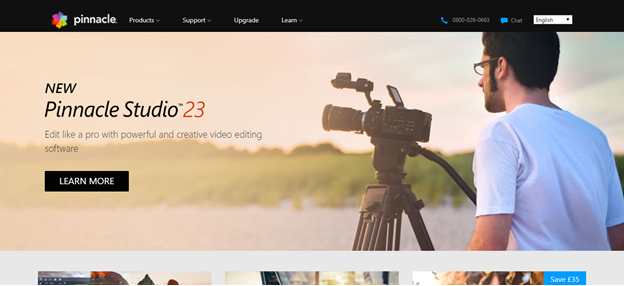 View the Latest Pinnacle Plans
You can use Animoto to create professional-quality videos from either a mobile device or a computer. Animoto is straightforward to use and perfect for creating social media videos.
Their easy drag and drop interface is intuitive, and users can take full advantage of the numerous templates they have on offer. You can also include voiceovers straight from Animoto, which is terrific!
Animoto breaks the video editing process down into three simple steps:
Add images and/or video clips: You can choose a storyboard template or start your work from scratch. Then drag and drop your content into your project.
Customize your work: Choose and modify the colors, text, fonts, audio, etc. It's easy to create videos that match the aesthetic and spirit of your brand.
Share your video
Within minutes you can polish and publish your video content. This means you can spend your precious time and effort on other money-making activities. Simple, right?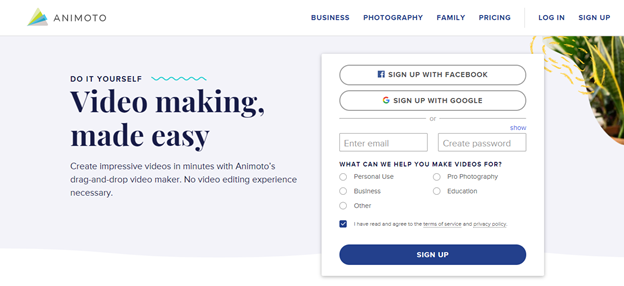 Check the Latest Promos from Animoto
Further Reading:
4. Joyoshare Media Cutter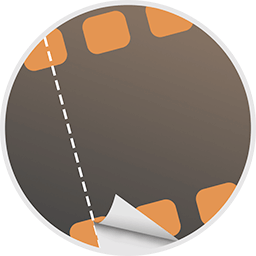 Joyoshare Media Cutter is suitable for both Mac and Windows users and is widely believed to be one of the best Filmora alternatives.
In short, it's a sophisticated video cutting tool that allows you to cut video and audio files without jeopardizing either the quality or the speed of your content.
You can also use Joyoshare to combine several video clips together to form a brand-new file.
You also get access to loads of video editing features, including:
Splitting
Cropping
Rotating
Flipping
Modifying the video's aspect ratio
Inserting sound and video effects
Embedding subtitles, images, text, watermarks, etc.
You'll also be pleased to hear, this software supports a vast number of input and output file formats, like MP4, MKV, AVI, MPG, MPEG, 3GP, 3G2, MP3, M4A, AAC, AC3, OGG and much, much more.
Once you've finished tidying up your video, you can share it straight from the editor to your social media platforms. Most notably, networks like YouTube, Facebook, Vimeo, etc.
Best of all, you can enjoy all these valuable features at a very reasonable price, $29.95. Plus, there's a free trial!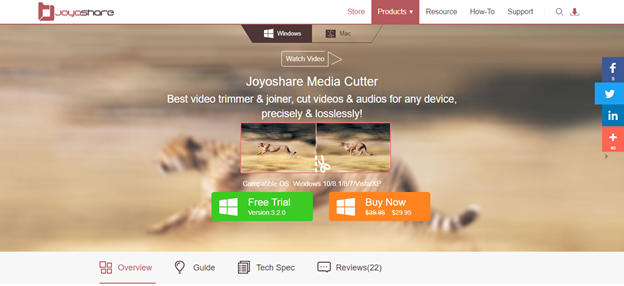 5. Adobe Premiere Pro
Some would say that when it comes to video editing software, Adobe Premiere Pro is the cream of the crop. But, when compared explicitly to Filmora, this software is far more expensive. But it's much easier to use, and their customer service is second to none — so you pay for what you get.
Like all the editing programs on this list, Adobe Premiere Pro is kitted out with all the essential tools. That's in addition to a whole suite of sophisticated features, including:
A lumetric color panel: For those of you who don't know, this is one of the best color correctors in the industry. It's quick, easy, and accurate to use — what's not to love?!
Multiple project importation
Project sharing
Graphics panel: This includes text and title templates
Photoshop support
After effects
Audition and Media Encoding
Audio-video auto-sync
So, as you may have already gathered, if you're taking video editing seriously, this is the tool for you.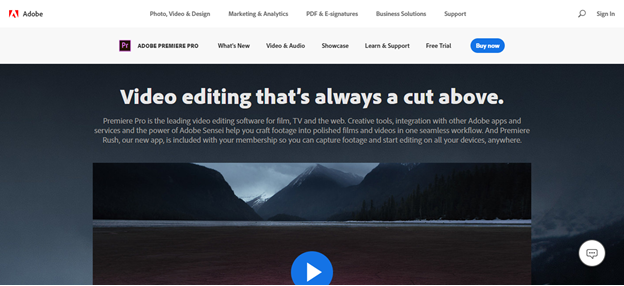 6. Final Cut Pro X
Final Cut Pro X makes it incredibly easy to add stunning 3D titles to your videos. It only takes a few clicks to remodel the aesthetics, lighting, and/or animations. The controls are simple, so you'll get to grips with this program in next-to-no time.
Some users go as far as to say that Final Cut Pro X is easier to set up, manage, and receive customer support, than in comparison to Filmora.
In the newer versions of the app, you'll enjoy more advanced features like:
Multicam editing
XML importing
External monitor support
High-quality flow transition to help smooth out any jump cuts.
Top-notch color grading tools
Just to name a few!
It doesn't matter whether you have limited knowledge of video editing, or you're a pro, you can produce something to suit the needs of your business.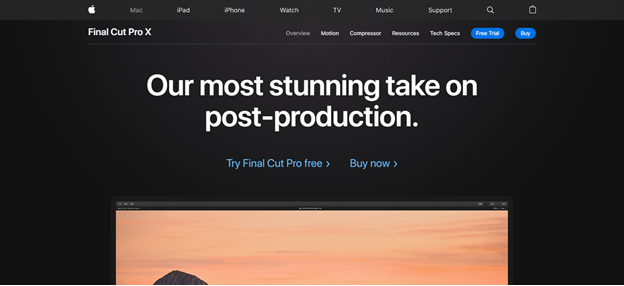 7. CyberLink PowerDirector
First things first, CyberLink PowerDirector is only suitable for Windows users. So, if you have a Mac, skip this section and continue scrolling down.
CyberLink PowerDirector is a pretty popular video editing tool and a strong Filmora alternative. It's famous for ita different editing modes, most notably it's easy' and 'full editor' options.
CyberLink PowerDirector makes it easy to:
Split
Combine various video clips together
Color match
Add video effects like zoom and panning
Use motion tracking and freeze frames
You also get access to 'Multicam' and 360-degree editing tools. These features allow you to manage and modify four different camera angles at once. Users also note that PowerDirector is quite quick to render its videos.
Just like Joyoshare Media Cutter, PowerDirector also allows you to share completed videos straight to platforms like Facebook and YouTube making it a fitable filmora alternative.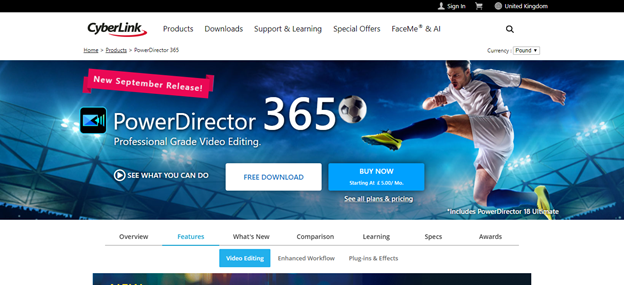 Check Out the Latest CyberLink PowerDirector Plans
8. Blender
Blender is another open-source software, so it's completely free!
Users report that from version 2.8, Blender's interface is incredibly user-friendly. It also comes with a filmic color transform. This feature provides 25 stops of dynamic range which allows you to fix any lighting which would otherwise look overly dull.
Blender offers all manner of functions, including:
3D modeling
Rigging
Animation (Both 2D and 3D)
Simulation
Rendering
Compositing
Motion tracking
Video editing
Game creation
Users also note the more recent versions boast faster render times. You can even fine-tune your rendering options. This includes setting how many passes you want and/or how many bounces you receive per type of ray. If you don't know much about video editing, this may sound like jargon to you, but for the more experienced among you, this is certainly worth bearing in mind.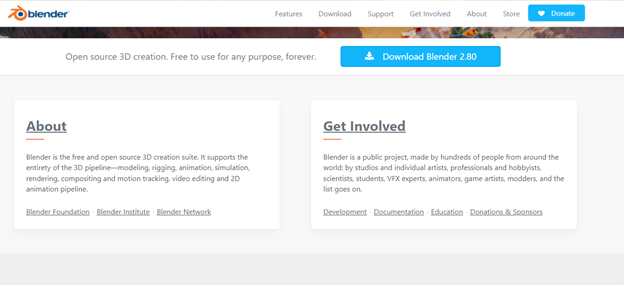 9. Windows Movie Maker
As the name suggests, this works best with Windows devices. This software comes as standard for virtually every PC (issued before 2017), so there's a good chance you've come across this program before.
Windows Movie Maker is a video editing veteran! It's one of the oldest tools out there, and it's certainly popular. You can transform your photos and video clips into something a little more polished. I
In short, it's incredible for beginners! The interface is very easy-to-use, from the top menu you can quickly:
Music
Video effects and textures
With just a few clicks, you can transform basic content into something more professional-looking.
Best of all, you can download it for free!
You should bear in mind though, as Movie Maker was designed for amateurs, experienced video editors will find this tool a tad basic. For instance, you only get access to one track, so if you're planning on using green screen footage, you can forget it! As such, you're limited to Movie Maker's pre-installed effects.
Movie Maker also has a nasty reputation for crashing … a lot. Needless to say, this can be very frustrating. No one wants to lose all their work unexpectedly! This is especially true if you're using the 'Photos' app in Windows 8 or Windows 10 to edit your videos. For whatever reason, Movie Maker's functionality seems to be at its worst here!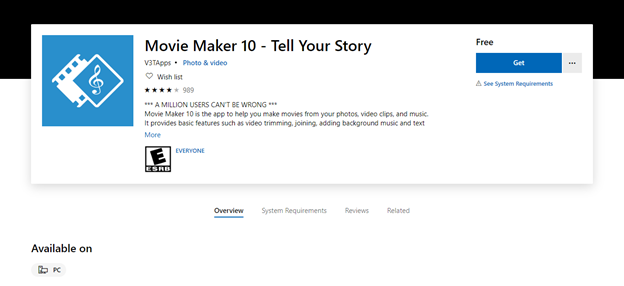 10. Kdenlive
If you're a Windows, Linux, or BSD user and you're on a tight budget then Kdenlive is an excellent choice — it's absolutely free!
You don't have to spend a dime to access their open-source and fully-featured video editing program. Kdenlive facilitates multi-track editing, which allows you to work on an unlimited number of audio and video files from your timeline.
You can easily do all the following to your video clips:
Create
Trim
Delete
Insert special audio and video effects, filters, and transitions.
Kdenlive's transition types include normalization, equalization, blue-screen, rotations, and blurring. That's in addition to custom transitions and effects!
You can upload and edit video, audio, text, and picture files. Then once you're done, save your completed video in virtually any file format you want, including AVI, WMA, MPEG, Flash, etc.
For ease of use, you can configure the layout of Kdenlive's interface and create shortcuts to help you edit videos even quicker.
However, Kdenlive is pretty slow to update itself, so be sure to take that into consideration before putting all your eggs in one basket!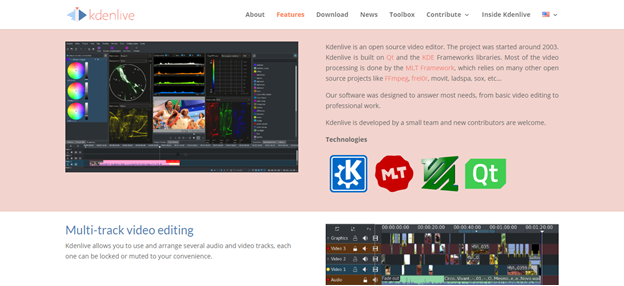 11. DaVinci Resolve (Version 12 Onwards)
DaVinci Resolve is a fabulous non-linear video editing software and color corrector. You can edit, color correct, polish, and save your videos all from the convenience of one solution.
This software is renown for its astonishingly rich color grading, compositing, and audio production. So, if these are areas of video development you want to hone in on, this could be the tool for you!
This program works great across Mac, Windows, and Linux devices. Not to mention, both the number and quality of features you get for free are exciting. There's very little difference (in terms of functionality) when you compare both the free package and the paid-for version!
Amazingly, there aren't any usage limits or watermarks stamped on your work, even with the free version!
However, this software comes with a bit of a learning curve. So, if you're new to video editing, you'll need to set some time aside to familiarize yourself with the program. But, if you consider yourself an 'advanced-amateur' filmmaker, you'll love that the features are more in-depth than DaVinci Resolve's competitors.
The biggest drawback to this program is that to access DaVinci Resolve's higher-end graphics features, you'll need a powerful computer. Also, there isn't a direct way to export your finished work to social media. You'll have to save your edited videos onto your device and then upload them from there.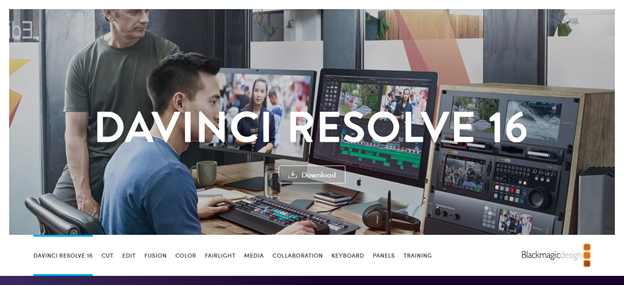 12. VideoPad Video Editor
The VideoPad Video Editor can also be used by both Windows and Mac users. It's incredibly versatile and perfect for newbies who want to polish their video clips. Just drag and drop your clips into the software and then make the necessary edits — simple, right?
You can choose from a decent selection of video effects and transitions, and there are plenty of audio and video optimization tools available. But you don't have access to more sophisticated features like motion tracking.
Once you're done, save and export the video. VideoPad Video Editor supports loads of input and output file formats, including avi, Mpeg, WMV, DivX, Xvid, HD-DVD, YouTube, iPod, PSP, etc.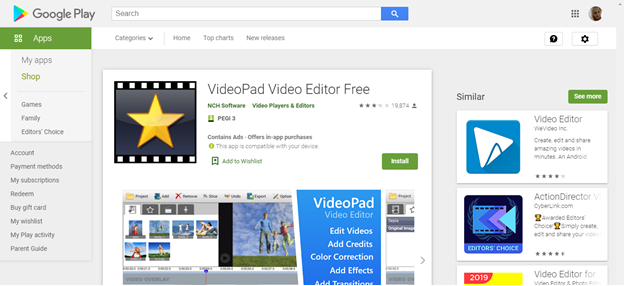 13. Magisto
Magisto is best described as an 'extensive yet simple video editing tool.' It's jam-packed full of handy features to help you enhance your audiovisual content.
With Magisto, you don't need to be an expert to create high-converting marketing videos. All you have to do is sign up and spend time familiarizing yourself with their platform. You don't have to go to the hassle and expense of hiring a video developer, because Magisto makes it easy for amateurs to edit their own videos.
Similar to Animoto, Magisto breaks its video editing process down into three steps:
First off, upload your video(s) and/or photos.
Then select the video editing style that best suits your brand as well as a soundtrack from Magisto's media library
Now, Magisto's AI-fulled video maker analyzes and edits the video!
Sounds pretty cool, right?
In addition to all that, Magisto provides entrepreneurs with insights into the success of their videos. For instance, the number of video views and the percentage of those watching the entirety of your clip.
This data gives you a better feel for your audience's viewing behavior. Over time, you'll be able to see the kinds of video content viewers prefer and where and why your viewers drop off. With this info at your disposal, your video marketing campaigns will go from strength to strength!
14. Typito
Typito is described as the 'Canva for videos.' This software boasts a drag and drops editor where you can create beautiful text animations and captions. There are also loads of motion graphic templates you can use to make your videos even more engaging.
There are also features for creating image slideshows and of course, video editing tools. Typito makes it easy for you to develop square-shaped, mobile-friendly clips, ready for posting on social media.
Users report that Typito is so intuitive that they didn't even have to watch a tutorial or read through instructions to get going. Plus, Their customer support team works around the clock to handle any questions or concerns, so if you run into any problems, you shouldn't be stuck for long.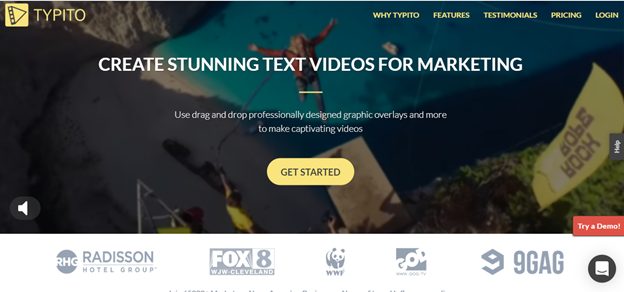 15. VSDC Free Video Editor
Again this is a brilliant video suite, but it's only suitable for Windows users. So, if you prefer other kinds of devices, scroll past this one!
VSDC is a professional non-linear video editing suite. It doesn't matter whether you're creating something simple or a little more complicated, VSDC has all the tools you need.
Plus, it's free!
This easy-to-use solution eradicates all the typical complications associated with video editing. With just a click of a button, you can edit and cut your clips and insert engaging video effects and graphics. You can also hone in on what you're editing by using a single-window to work from.
When you're done editing, you can choose the file format that best suits you. It even supports 120fps video export!
You don't even have to be connected to the web, just download the program onto your computer, and hit the ground running.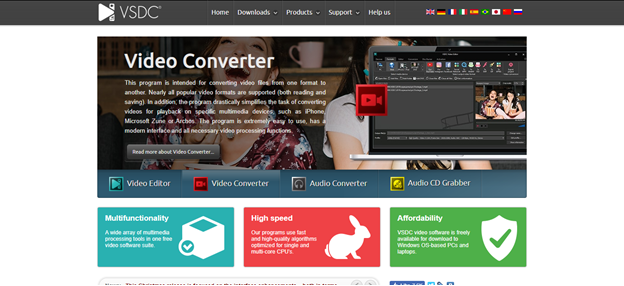 16. VideoScribe
VideoScribe specializes in helping you create beautiful-looking whiteboard videos without the need to install and use complicated software. There's no need to squander valuable time creating stop-motion animation videos or waste money on professional help. Instead, you have everything you need inside of your VideoScribe dashboard.
Unlike a lot of video editing tools on the market (namely, the more professional ones), VideoScribe is incredibly straightforward to use. For instance, in the animation section of the tool, you can set the duration and speed of your animation, with just an uncomplicated number field configuration.
VideoScribe does most of the leg work for you. All you have to do is select the images you want to transform into a video. Then, type the text you wish to add to your work and select the background music or voiceover. Then, VideoScribe does the rest for you!
You'll be pleased to hear, you can produce as many videos as you like, there's no usage limit in place!
Like some of the other software listed here, lots of users don't bother reading instructions or watching tutorials, the program is pretty self-explanatory.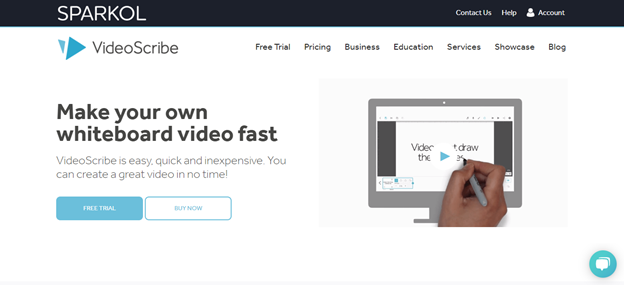 17. Avidemux Video Editor
If you're new to the video editing game, Avidemux is an excellent choice for you. Avidemux is an open-source video editing solution, which as you've probably already gathered, means it's completely free! You don't have to pay a penny to use this solution!
There's nothing fancy about its interface, so if you're looking for something a bit 'sexy,' then this isn't the program for you. At the time of writing, Avidemux doesn't allow you to share your edited footage directly to your social media platforms. As such, you'll have to save it to your device first and then publish it onto your social media handles. But that isn't a big deal!
But, despite these limitations, we have to say, the preset filters come in handy. It's also incredibly easy to trim, cut, and split your video clips. Not to mention, Avidemux also supports all popular output formats, which is an essential feature to have!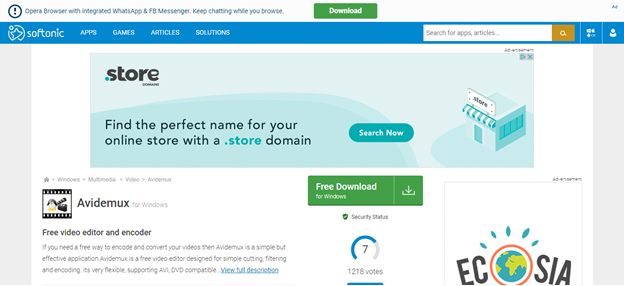 18. VirtualDub
VirtualDub is another open-source video editing software that works seamlessly with Windows 10 devices.
You can even use third-party video filters and batch process your content. By 'batch processing,' we mean, you can handle and manage several videos at once.
It's worth noting that this program is a little more complicated than some of the other software listed in this article. As such, it's more of a challenge for beginners, but it's certainly worth persevering with!
With VirtualDub you'll get access to all the following features:
Fractional frame rates
Optimized disk access
You can create open DML files
Integrate volume meter
Real-time downsizing
Field swapping
Noise reduction
Verbose monitoring
Pretty advanced, huh?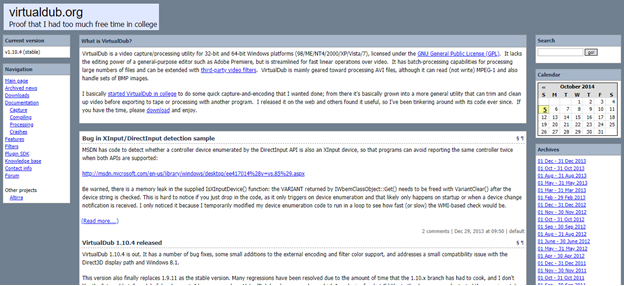 19. iMovie
Now iMovie has the same issue as CyberLink PowerDirector but in reverse. This software is only suitable for Mac users, so again, if you're a Windows user, skip this section and scroll down to the next program.
iMovie is a very basic video editing software developed by Apple to be used on either Mac and/or iOS devices. If you're a fan of Apple's gadgets, you're in luck. You can start editing from one of your Apple devices, save it, and continue from a different Apple machine.
iMovie breaks down the video editing process into just a few steps, which comes in handy for novices. Plus, the iMovie app also supports 4K-resolution video, so rest assured, your marketing videos should boast unrivaled quality.
iMovie also comes with other impressive features, including:
High-fidelity filters
Studio-quality titles
Special effects
Soundtracks
Powerful photo and audio editing tools
An intuitive interface — most notably, it's effortless to browse through all your clips!
Just to name a few!
However, despite all these perks, it's worth noting iMovie takes ages to export videos into other formats.
Top Tip: Some entrepreneurs in the fashion space love using iMovie's reverse video function. This comes in handy while creating lookbook videos. It's a really cool effect, which works wonders for keeping viewers engaged.
Ready to Start Using a Filmora Alternative?
As we've already said, there's nothing wrong with Filmora, it's a pretty reliable program. But, if you want to expand your horizon and try something new, then you can't go too far wrong with any of the above options.
Have you used one (or more) of the video editing programs listed in this article? If so, we'd love to hear about your experiences in the comments box below. Let's kickstart the conversation, speak soon!
Want to Explore More Filmora Alternatives?
Here are other related articles you may be interested in: