Last Updated on April 22, 2023 by Ewen Finser
Online reviews are the lifeblood of e-commerce business. Seeing other customers' reviews goes a long way in convincing people to buy a product since they often cannot interact with it before making a purchase. Yotpo vs PowerReviews are two platforms that help businesses collect reviews. They are designed for both online and brick-and-mortar stores. You can use the reviews collected to market your business and boost sales.
However, how do these competing platforms fare when pitted against one another? I explored the functionalities of each platform for my online store. Read on for a detailed analysis of their capabilities.
My Bottom Line Up Front: Yotpo vs. PowerReviews
Yotpo and PowerReviews are platforms that use different approaches to essentially do the same thing.
I found Yotpo to have a lot more features, including the ability to create marketing campaigns and subscription products. The platform is easy to navigate and manage without extra help, making it a good option for freelancers and small businesses.
PowerReviews is a platform best suited for mid-sized and large enterprise businesses. The services provided include access to a team of experts, making it a good platform for companies interested in growing fast.
Main Differences Between Yotpo vs PowerReviews
The main differences between Yotpo vs PowerReviews are:
Yotpo is a platform that offers features for freelancers and small businesses, whereas PowerReviews offers enterprise-level features.
Yotpo does not offer competitor analysis, whereas PowerReviews offers high-level competitor benchmarking analytics based on reviews.
Yotpo enables the launching of marketing programs via SMS and email, whereas PowerReviews only offers review generation programs.
PowerReviews provides real-life teams for review acceleration and UGC analysis, whereas Yotpo does not.
What is Yotpo?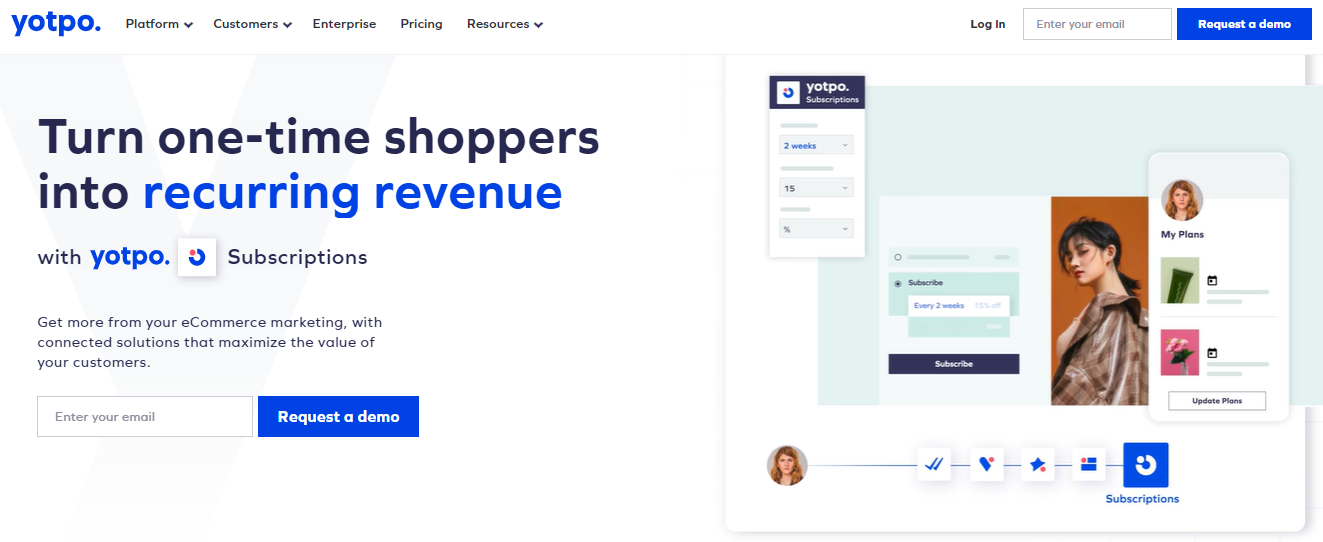 Yotpo is a platform that allows you to collect business reviews and ratings from customers. The software compiles customer opinions about your products, services, and business from various sources so you can use them for marketing your business.
The target audience for Yotpo is small, midsize, and enterprise businesses. The platform is designed to scale up with a business as it grows. It has features that allow importing previous reviews, so you don't have to start from scratch.
Founded in 2011, Yotpo has served many organizations over the years, including Chubbies, Brooklinen, and GoPro. It has extensive features, including marketing programs designed to propel your business to the next stage.
What is PowerReviews?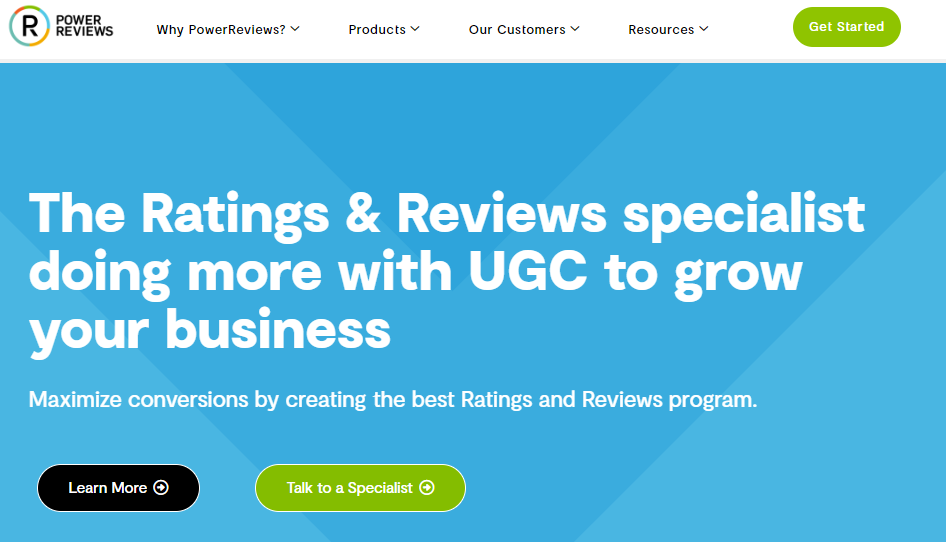 PowerReviews is a review collection software that businesses like Skechers, L'Oréal Kérastase, and Shure use. Its focus is on helping organizations optimize user-generated content (UGC) to drive sales.
The platform uses data from various platforms and stores to provide concrete data on user opinions about products and brands. PowerReviews experts also help to convert user reviews into highly visual content that speaks directly to customers.
Yotpo – Main Features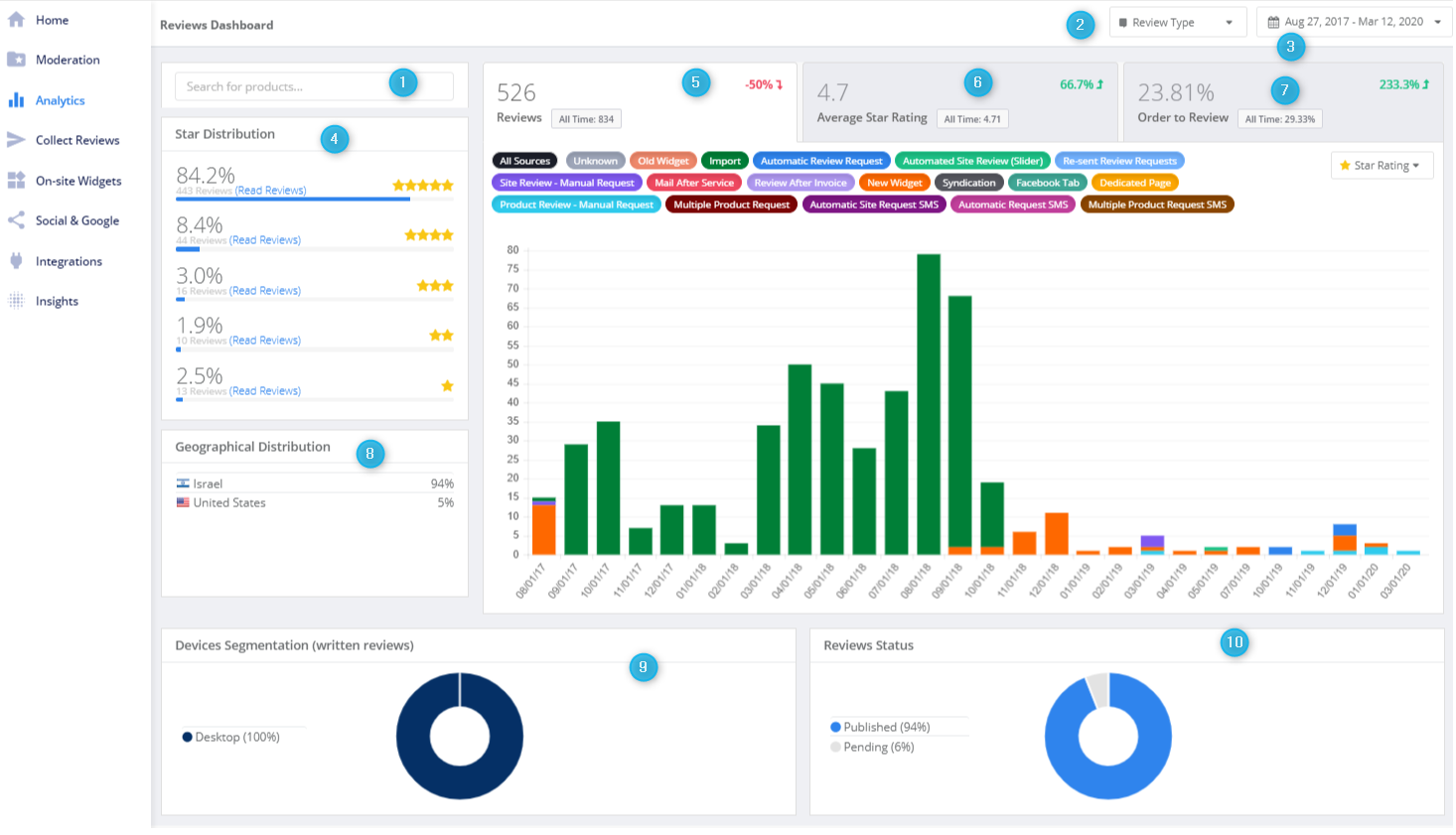 Ease of Use
Creating an account with Yotpo is a simple, straightforward process. The platform will ask for your name, email address, your store's platform, and URL.
Once this is done, you will be redirected to a step-by-step process for connecting your store to the Loyalty & Referrals app. This is also a simple process that helps you set up your existing customers and help them earn reward points.
You will then be led to your Yotpo dashboard. I liked the fact that Yotpo does not require you to add credit card information before creating an account. This means you can freely test out the functionality of the platform before committing.
Reviews
Yotpo has extensive review collection features. These allow you to collect reviews for your business from anywhere, including customers' social media pages.
Customers can leave detailed reviews through either email or SMS. They can even upload photos and video reviews of how they use the product or service. This provides people who are still shopping around get a more realistic view of products.
Yotpo gives you some control over the reviews you get. For example, if you want reviews on certain features of your products, you can add questions so customers can give their direct opinion.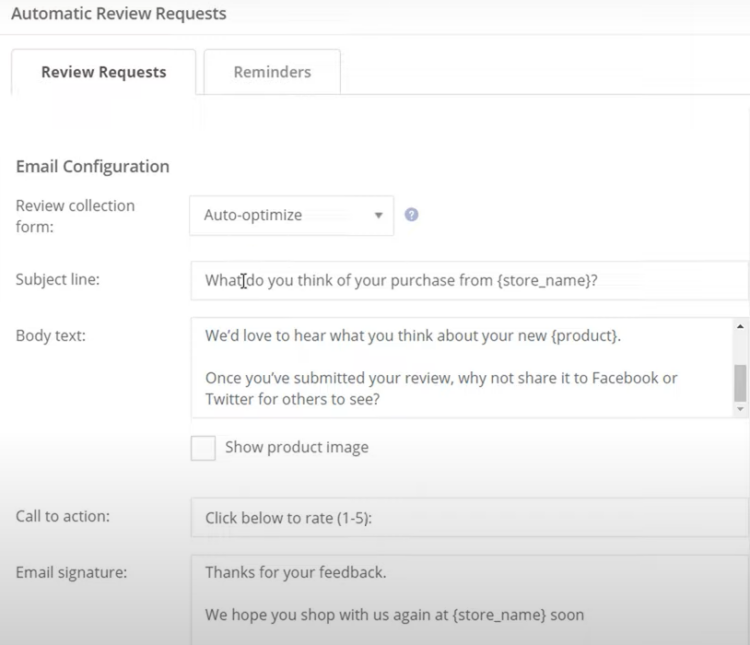 The platform also has a community Q&A feature where customers can answer questions posed by new shoppers about your business or products. You can moderate the Q&A section to ensure things don't get out of control. One of the best Yotpo review features is Smart Filters. Customers can filter reviews down to the ratings of a specific product model. This makes their shopping experience much easier.
You can display reviews anywhere on your site, including the product page, cart page, and checkout page. This is a great way to promote some products and reduce cart abandonment.
Loyalty Programs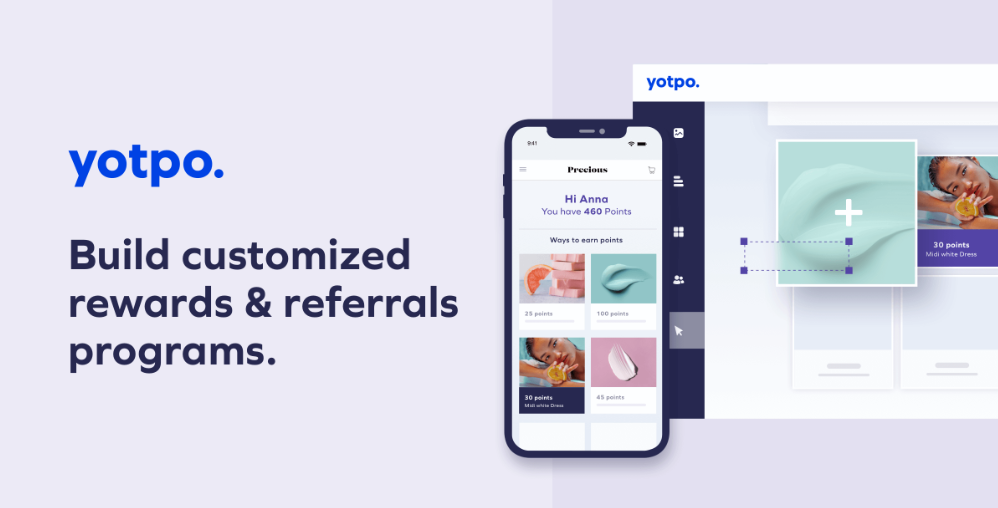 Yotpo helps you offer your customers a variety of loyalty programs to boost your business. You can offer customers common incentives like coupons, discounts, and even free shipping. You can customize each loyalty option to market your store and different products.
The platform also has features that help boost your store across different platforms. For example, you can offer bonuses in exchange for Google reviews or exclusive discounts in return for social media follows. Yotpo even lets you create customer segments to boost loyalty. You can create segments based on the number of purchases, referrals, or loyalty points customers accumulate over time.
Segmentation makes it easy to create tier-based loyalty programs and offer coupons or discounts to clients based on the tier they fit into. Customers who accumulate enough loyalty points can graduate into higher tiers to get more exclusive benefits.
Yotpo also has scheduling features for launching loyalty programs. You can use this feature to set announcements for time-limited discounts so your customer can take full advantage of them.
Subscriptions
If you have clients who purchase specific products repeatedly, then you will enjoy Yotpo's subscription management features. You can use these features even if you don't use a subscription-based e-commerce platform. Starting a subscription plan is a straightforward process. All you need to do is select products or services that work well together, set bulk buying prices, and launch the program.
Shoppers can bypass your store and go straight to the product bundles you have specially created for them. Each subscriber has a portal that they don't even need a password to access. This makes the shopping experience much easier for them.
You can control your subscription business from a dashboard. Here, you can see each customer's complete order history and create special offers to enhance loyalty. The dashboard also lets you switch different variables, like how many times per month subscription products are sent out to customers. You can also cancel a subscriber's account at any time on your end.
User-Generated Content
Yotpo has a feature that lets you use photos and videos from customers to create powerful visual testimonials for your business.
You can strategically display these visual reviews on product pages, category pages, the checkout page, and even on the homepage. Seeing reviews from people who have used the products encourages customers to make purchases.
Yotpo also helps you get rights to photo and video reviews from their owners. The right management tool helps you keep track of clients whose media you've used on your store, thus helping you avoid copyright infringement.
SMSBump
Yotpo has a SMSBump feature designed to bolster your marketing efforts. You can use the data from the platform's analytics to create and send targeted marketing messages to customers' phones via SMS.
The SMS Builder makes sending marketing messages easy. You can customize marketing messages, adding colors, product links, and discount codes depending on your marketing strategy.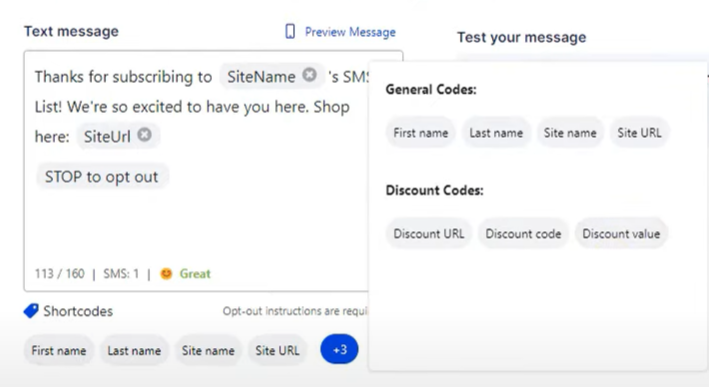 I created a cart abandonment SMS to urge shoppers to finish a purchase, and a recommendation SMS to suggest complementary products and discounts for shoppers who have added items to their carts. You can use the SMSBump feature to make your clients feel valued. One-on-one conversations let you answer their questions in real-time, offer product suggestions, and troubleshoot any issues they have when shopping.
The SMSBump feature pairs well with the customer segmentation feature. Once your customers are divided and ranked based on their shopping behavior, targeted marketing messages will be more effective.
SMSBump's A/B tests let you send multiple versions of a similar offer and see which one gets more conversions. Like with other marketing SMSes, a preview pane helps you see how the messages will appear to customers on their phones.
Yotpo's SMSBump features are compliant with data privacy laws, including the GDPR and TCPA. This allows you to use forms to collect shoppers' contact information for both email and SMS without breaching any data privacy laws.
PowerReviews – Main Features
Ease of Use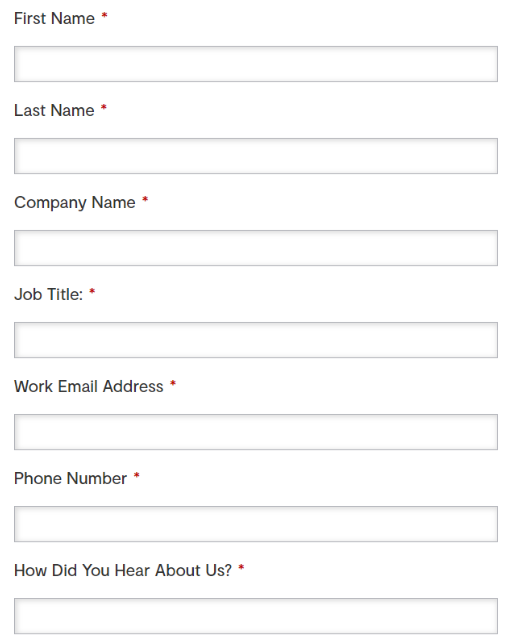 You cannot create a PowerReviews account straight away. You first have to fill out a form, after which an agent will get in touch with you via email. It's also possible to book a meeting directly from the website through the chat option. An agent will call to assess your business and determine which features are best for you.
Ratings & Reviews
PowerReviews has greatly optimized its ratings and reviews features to make every element very useful. One of the best features is its mobile optimization. Customers can easily leave reviews from a mobile phone like they would from a computer.
The platform has an Intelligent Collection feature that helps you ask for reviews for specific products. You can request customers to leave reviews for products with little traffic. You can even ask specific questions to get reviews of particular features.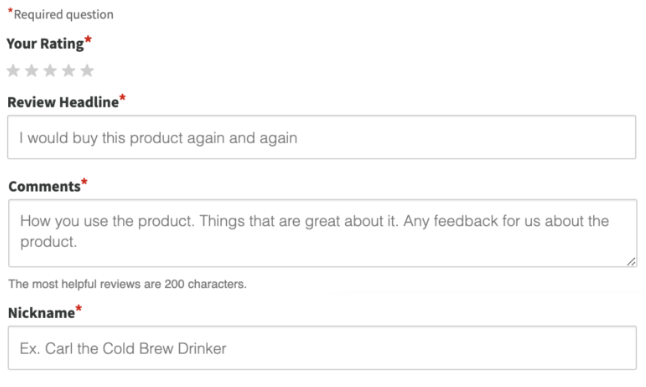 You can use one form to request reviews for multiple products. This makes customers more willing to review all the products they've purchased. They can even leave photos and videos to enhance the visual aspect of the reviews you collect.
Review Acceleration
The review acceleration program puts experts in control of your business' review generation process. They will launch the process and start to receive reviews within 3 days of the campaign. Reviews are solicited from verified purchasers from all around the world. Fresh reviews will be generated regularly throughout the campaign to ensure that customers have new information when shopping.
I found the acceleration program useful for new businesses or those who want to engage their customers more. You can get a review for a product even before it hits the market. Samples can be sent to specific people and reviews generated to assess the product's utility.
The acceleration campaign is also useful for increasing sales of products that aren't flying off the shelves. Getting a small number of users to purchase and review the products can bear great results for sales in the future. Fast review generation and sampling campaigns are very important to businesses. I liked the fact that PowerReviews provides this program to its users. However, you will have to pay for this feature separately.
User-Generated Content
You don't have to generate surveys or set up focus groups to learn what customers think about your products. PowerReviews gives you access to a wealth of information sourced directly from customers. UGC will be collected about products bought directly from your store or bought from other stores. Information about similar products from competitors is also compiled to show you areas for improvement.
If you have several stores or brands, PowerReviews offers UGC syndication so information is amassed from all avenues. Actionable plans can be created from the data to ensure customer concerns are addressed at all levels.
The PowerReviews UGC program uses the latest SEO tools to drive traffic to your business. Text, photo, and video reviews are incorporated in a way that makes it easy for shoppers to see all pertinent information from a search engine page.
Yotpo vs. PowerReviews – Analytics
Yotpo
Yotpo has useful reporting features that make it easy for you to assess the impact of reviews and marketing strategies on your sales. All reports can be filtered, so you work with data that matters most to your business.
Review insights let you see how your business and products are perceived by customers. Customer ratings on factors like quality, service, and pricing are aggregated. You can then see the overall sentiments of your store with just a glance.
Yotpo's loyalty program analytics present you with data on the extent to which discount codes and coupons were used. This helps you see how customers responded to your incentives and determine areas for improvement. For UGC, analytics show you which platforms have the most effective photos and videos for your store. And with analytics for SMSBump, you can determine if the customer response is worth the investment into SMS marketing.
PowerReviews
PowerReviews also has comprehensive analytics for each service provided. Data is arranged in colorful graphs and charts for better visualization and decision-making. Information from the reports can be used to improve all business levels.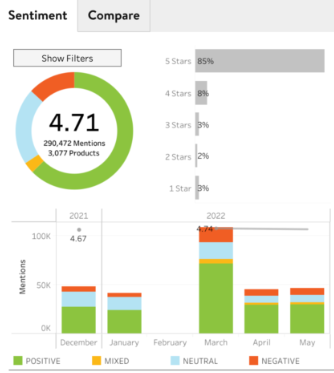 Your analytics dashboard shows you the number of reviews collected over a specific period. It also uses color to indicate the overall tone of the reviews. It also provides information on conversion rates based on the reviews displayed.
I especially liked the UGC benchmarking feature of PowerReviews analytics. You can see how your store compares to competitors across multiple selling platforms.
Analytics are also generated to show you how many shoppers look at reviews on your product pages and for how long. This way, you know which kinds of reviews to display to raise the conversion rate.
Yotpo vs PowerReviews – Integrations
Yotpo
Yotpo can be easily integrated with the top e-commerce, communication, and social platforms like Shopify, BigCommerce, MailChimp, Google, and Instagram.
A full list of Yotpo integrations is available so you can see if native integrations with your platforms of choice are possible.
PowerReviews
PowerReviews also has native integrations with some of the best e-commerce platforms like Magento and Shopify. You can also integrate it with CRM and ERPs like Sprinklr and SearchSpring.
The UGC syndication capabilities make it so you can use the platform to collect reviews and ratings from anywhere. Whether your products are sold in physical stores like Target, or on e-commerce sites like Amazon, you can access user opinions from the comfort of your dashboard.
If you have a platform without a native integration with PowerReviews, then you can sign up to be a partner. Once accepted, you can customize the platform to integrate with the one you are using.
Yotpo vs PowerReviews – Customer Support
Yotpo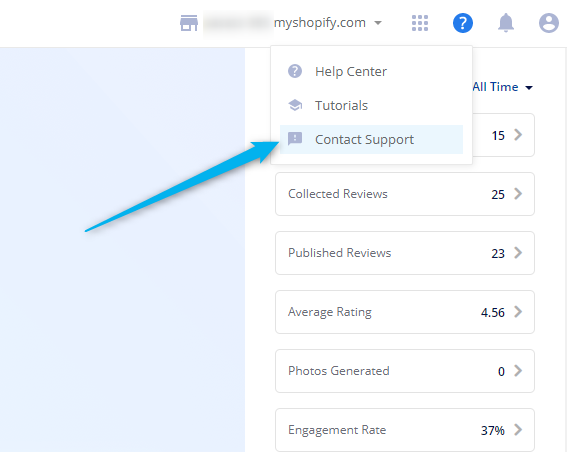 Yotpo offers several levels of customer support. However, the type of direct support you get depends on the pricing plan you're on. All plans get 24/7 email and live chat support. Higher plans receive one-on-one support like onboarding specialists and customer success managers.
The Yotpo Help Center has articles and videos that help you understand how to use the various features on the platform. You can ask questions and get interactive support from community members.
PowerReviews
PowerReviews also has phone and chat customer support options open to all users. Depending on the services you pay for, you might have access to experts, including customer success managers, for one-on-one guidance.
The Resources site on PowerReviews provides intensive guides on how to navigate the platform. You can learn things like how to ask for ratings and reviews, which kind of reviews to ask for, and how to read UGC reports.
Yotpo vs. PowerReviews – Pricing
Yotpo
Yotpo has 5 plans, all of which have very friendly prices, especially for small businesses and freelancers.
Free Plan
You get access to the free plan once you sign up. This plan is not time-limited. It offers access to capabilities like:
SMS campaigns
Subscriber collection
Customer segmentation
Yotpo Reviews
Yotpo Loyalty Program
Performance analytics
Email and live chat support
Growth Plan
This plan is suitable for startups and small businesses that also want access to SMS marketing features. It costs $19 per month and has these benefits:
SMS Flow Builder
One-on-one SMS conversations
Subscriber collection via keyword
Advanced reporting
Prime Plan
The Prime plan costs $59 per month and is designed for growing businesses that want to use reviews to drive sales. It offers all the features in the Growth Plan, and also:
All Subscriber collection tools
SMS marketing based on time zones
Branded URLs
Priority email and live chat support
Premium Plan
The Premium Plan is suitable for large businesses that need further customization of the services offered. The pricing for this plan is based on the size and level of customization requested. Some of its features include:
A/B testing
Conversational SMS workflows
Predictive customer segmentation
Customizable analytics dashboard
Onboarding specialist
SMS strategist
Shopify point-of-sale integration
Enterprise Plan
The Enterprise plan is suitable for large businesses that sell on different platforms across different borders. Like the Premium plan, its pricing depends on the level of customizations and integrations required.
Some features of the Enterprise plan are:
Yotpo API
Advanced compliance
Multi-domain access
Tailored SMS strategies
Customer success manager
Custom reporting features
PowerReviews
PowerReviews customizes prices based on the size of your business and the services you're interested in. The platform does not offer a free plan.
The Ratings and Review feature is a basic service that is priced separately from the accelerated reviews feature. The latter gives you access to experts who can quickly collect and optimize user opinions across different platforms.
PowerReviews UGC Syndication is also a separate service that not all businesses will need. To get information on pricing, fill out the contact form or use the toll-free number provided to speak to an agent.
Yotpo vs. PowerReviews – Alternatives
Smile.io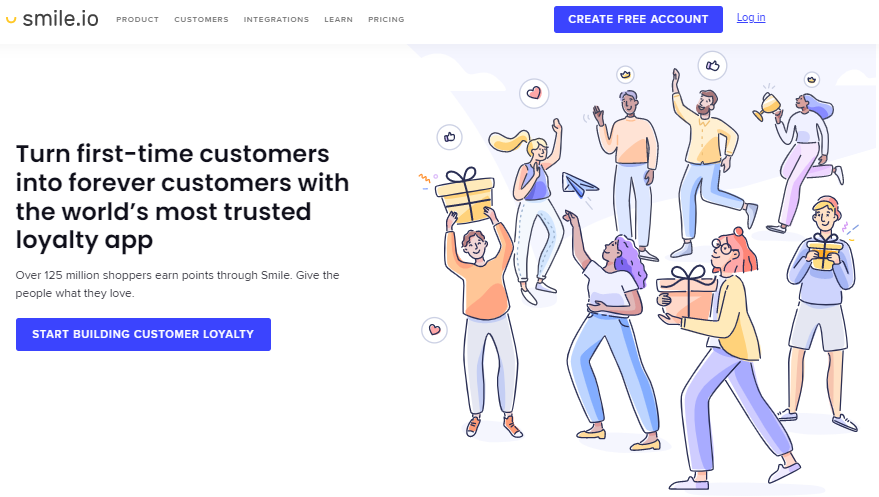 Smile.io is a platform that uses different strategies to encourage customer loyalty to a business. Strategies include customer tiers, rewards for referrals, and points for each purchase. The platform is best suited for small businesses and is one of the best Shopify apps to increase sales.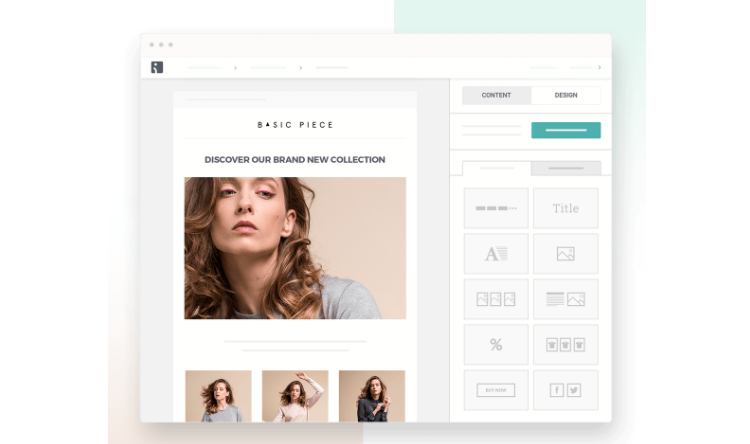 Omnisend aims to be the one-stop-shop for all email and SMS marketing automation. The platform offers prebuilt and customizable templates to kickstart marketing campaigns. This Omnisend review provides a detailed look into the platform's features and capabilities.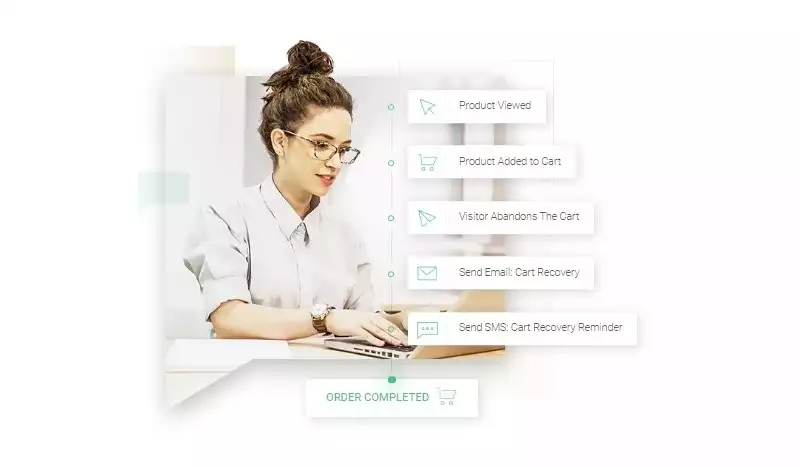 Why Go with Omnisend?
Take the shortcut to revenue growth with Omnisend's easy-to-use platform for ecommerce email marketing, SMS and automation.
Save 10% Off (Audience Exclusive)
We earn a commission if you click this link and make a purchase at no additional cost to you.
ReferralCandy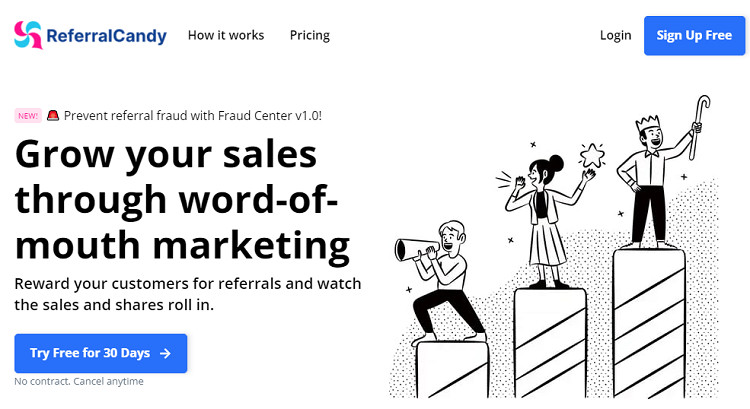 ReferralCandyis a review automation platform that urges customers to share their opinions about a product or service in exchange for gifts and rewards. While it is one of the best Shopify loyalty apps, ReferralCandy's data analytics capabilities make it a close competitor to PowerReviews.
FAQs
Question: Do Yotpo and PowerReviews have mobile apps?
No, neither platform has a dedicated mobile app. However, depending on the e-commerce platform your store is hosted in, you can easily download a desktop app for either Yotpo or PowerReviews.
Question: Can I use Yotpo and PowerReviews outside the United States?
Yes. Both platforms can be used all across North America, Asia, and Europe. The main determinant of each software's utility to your business is the platform that hosts your store. You can get more information about Yotpo and PowerReviews' coverage from their customer care avenues.
Question: Do Yotpo and PowerReviews Offer Customer Loyalty Features?
Yotpo has a range of features designed to help you interact with customers and gain their loyalty. You can create discount codes and coupons on the platform and set triggers for them to be sent to clients.
PowerReviews is a platform that is more focused on generating reviews and using them to drive sales. While rewards can be offered to customers to urge them to leave product reviews, these features are not as advanced as Yotpo's.
Verdict: Yotpo vs PowerReviews
Compiling reviews from multiple platforms and using them to generate sales is a must for any business, making Yotpo and PowerReviews handy tools. Yotpo is a review platform that offers you many features at minimal cost. The Free plan should be able to help new businesses gain their footing and expand their operations.
PowerReviews is more suited for big businesses with thousands and even millions of users. Businesses willing to pay top dollar for access to industry experts should pick PowerReviews over Yotpo.