Last Updated on July 24, 2023 by Ewen Finser
Looking to fast-track your email list growth, convert more visitors to buying customers while making visitors feel right at home on your blog?
Picture this.
Bottom Line: If I had to pick just ONE alternative, it would have to be OptinMonster right here.
Further Reading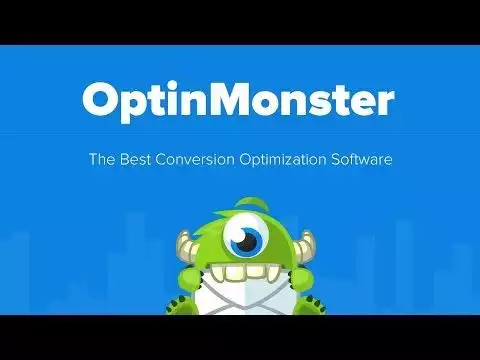 OptinMonster is My Top Pick
Cutting right to the chase, my favorite welcome mat and dynamic CTA builder is OptinMonster. It's cheaper than most of the competition, BUT offers similar functionality and is 100% focused on CTAs (it's not just one part of their biz).
Go with Optinmonster
We earn a commission if you click this link and make a purchase at no additional cost to you.
Fortunately, all the splendid things you could do manually you can easily automate with the best SumoMe welcome mat alternatives. You can use these 7 best SumoMe welcome mat alternatives to do just that and more.
Bottom Line: If I had to pick just ONE alternative, it would have to be OptinMonster right here.
Further Reading
You just landed on a webpage and immediately it loads, all of it smokes behind a shadow. A brilliant, floating email optin mini-page springs up taking over the screen. You can't help but read what it wants you to gain.
Sounds familiar, right?
Behold, that's probably a SumoMe Welcome Mat (or scroll box) you are viewing folks.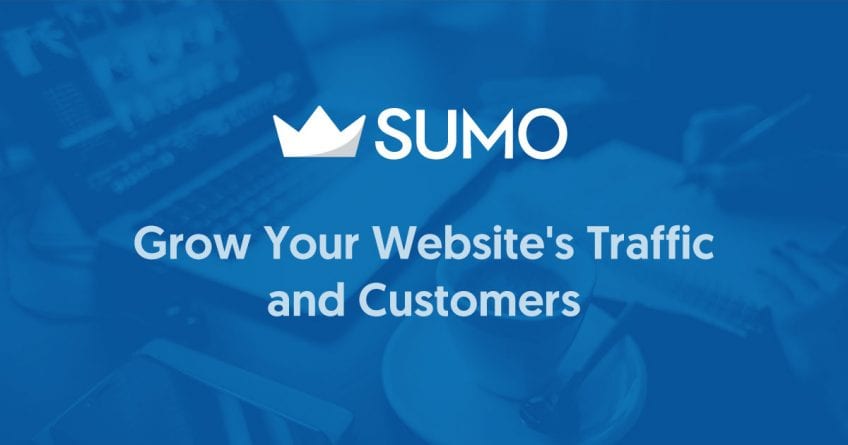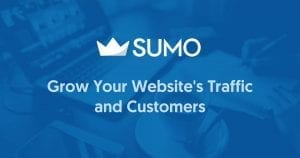 Can it get better than that?
It's possible with the best SumoMe Welcome Mat alternatives!
A welcome mat will help you capture the leads' data and email addresses. You can customize yours to match your website's zest and color, theme videos, and GIFs and so much more—and yes, be less of an annoying popup.
If you do, you'd be able to inject power and pizzazz into your marketing by addressing your visitors pressing needs directly on a page they truly like. In turn, you'd gain more qualified leads so you can get paid and more social network shares to rocket your search engine rankings hence win more customers.
SumoMe's welcome mat is one of the best software suites in the market to help bloggers stand out of the millions of similar niche sites active today. While most popups redden readers' faces, well-done welcome mats win hearts and pockets in the dozens.
Yet, what a SumoMe WordPress plugin can do, it is possible the best 7 best SumoMe plugin alternatives here can do better.
What's Wrong with SumoMe?
To get right to the point (and why I've personally sought alternatives), these are the common issues I've struggled with using SumoMe as a conversion tool:
Performance Issues (the big one for me): I've noticed that SumoMe can slow down my website. It's a heavy plugin that often leads to slower loading times, which can negatively impact user experience and SEO.
Limited Customization: While SumoMe does offer a range of tools, the customization options are somewhat limited. I often find it difficult to tailor the tools to match my website's design perfectly.
Complex Setup: As a non-technical person, I found the setup process for some of the tools rather complex. It was not as straightforward as I would have liked.
Pricing: The free version of SumoMe is quite basic. To access more advanced features, I had to upgrade to a paid plan, which can be expensive for small businesses or startups.
Limited Support: I've experienced a lack of comprehensive customer support. While they do have a help section, it's mostly self-service, which can be frustrating when dealing with more complex issues.
Want to find SumoMe Welcome Mat alternatives? Here are the other 7 best welcome mats to turn your homepage (or another page) into the highest converting page.
Top 7 SumoMe Alternatives
These are my top picks for the best SumoMe competitors worth considering instead:
Here's another powerful, all-in-one alternative to SumoMe's welcome mat. The Option Monster gate opens a load of possibilities to site owners that want multiple types of custom overlays.

How "all-in-one" is it?
How's this: Optin Monster gets you unlimited optin forms and popups, a number of reporting and analytics tools (includign Google Analytics integration) so you can meticulously segment your visitors and learn what they need so you can satisfy them.
This behavior personalization program is particularly solid and a priceless addition for anyone looking to build their email list (a true list builder tool), invite visitors to a specific page or resource, or product for sale.
You'll also get A/B testing, readymade templates that demand nil development experience, and smooth and easy to use plugin that swiftly links and works with an array of popular email marketing programs out there.
We like that Optin Monster has been around for a while. What that means for you is that you get the expertise of a credible, tested provider who also happens to have a whole lot of relating apps to integrate with their welcome mat popup.
So if you need a truly comprehensive WordPress gate program that is also mobile-responsive and works with many other related programs, Optin Monster could be yours starting at $9 monthly for the basic package.
Learn More About Optin Monster Here
Clearly, welcome mats are more than mere Hello! Salutes to your new site visitor (SumoMe Welcome Mat has a cookie that makes it show the welcome popup only to new visitors). A well-crafted gate will make your lead generation, funneling and targeting to hit where other methods miss.
Thrive Lead's Thrive Boxes tool offers pretty much similar highlighting features as Optin Monster. However, where it excels in is helping WordPress website junkies who are conversion-crazy. Their team is!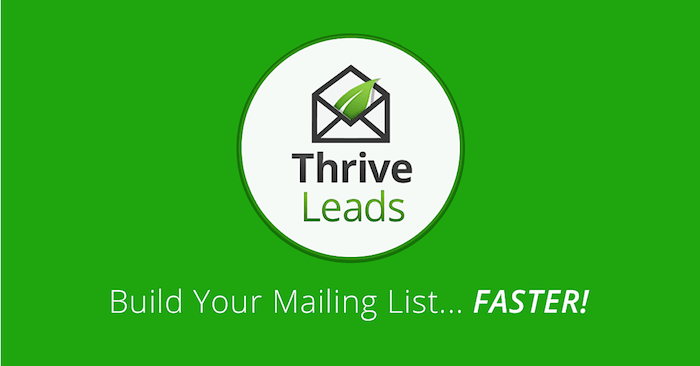 They created an overlay program that dives deep to find the actionable real-time analytics and customer segmentation data you need to connect to your new visitors in a way they'll like. That, we like. To achieve these, they have a bunch of readymade opt-in form templates for different types of businesses and functions.
Instead of focusing on creating an all-in-one program for a welcome mat alternative that's usable with multiple sites, Thrive Leads specializes in WordPress gates popups. That has resulted in in-depth, well-curated WordPress optins availed to budget-conscious WordPress-ers that want the premium features, mobile-friendly, and that comes with the latest features to optimize their WordPress pages.
Now that's a lot of WordPress.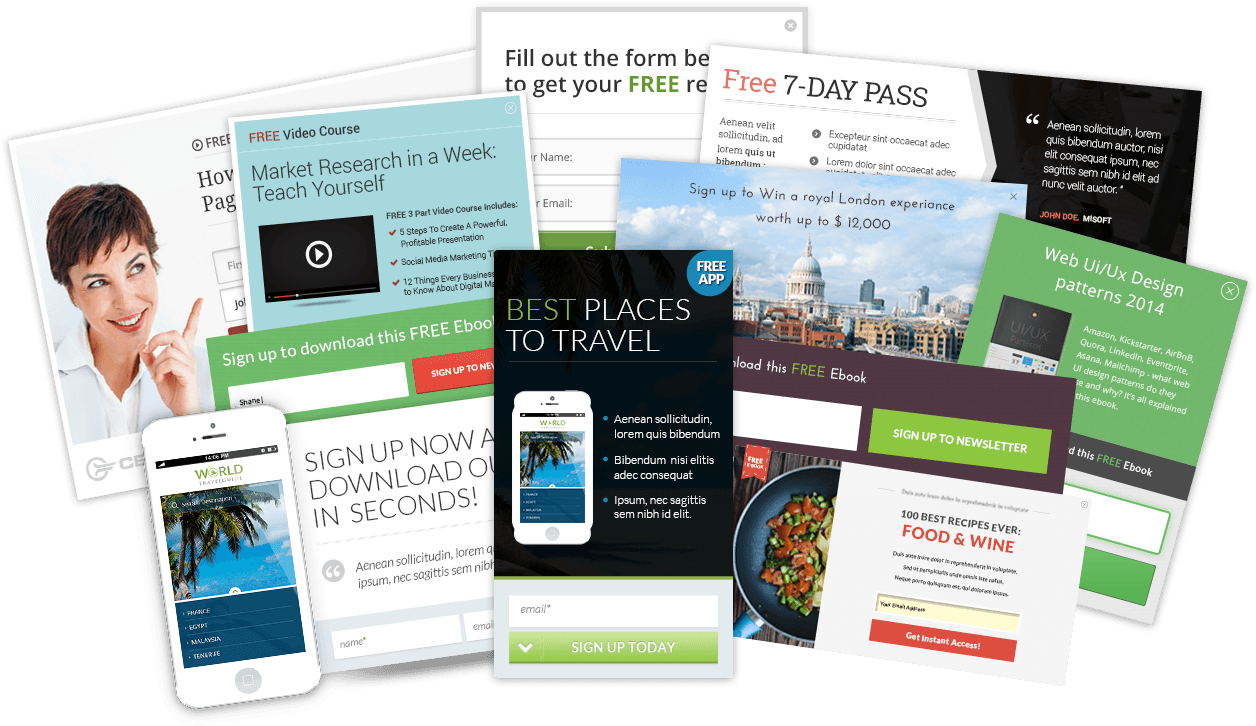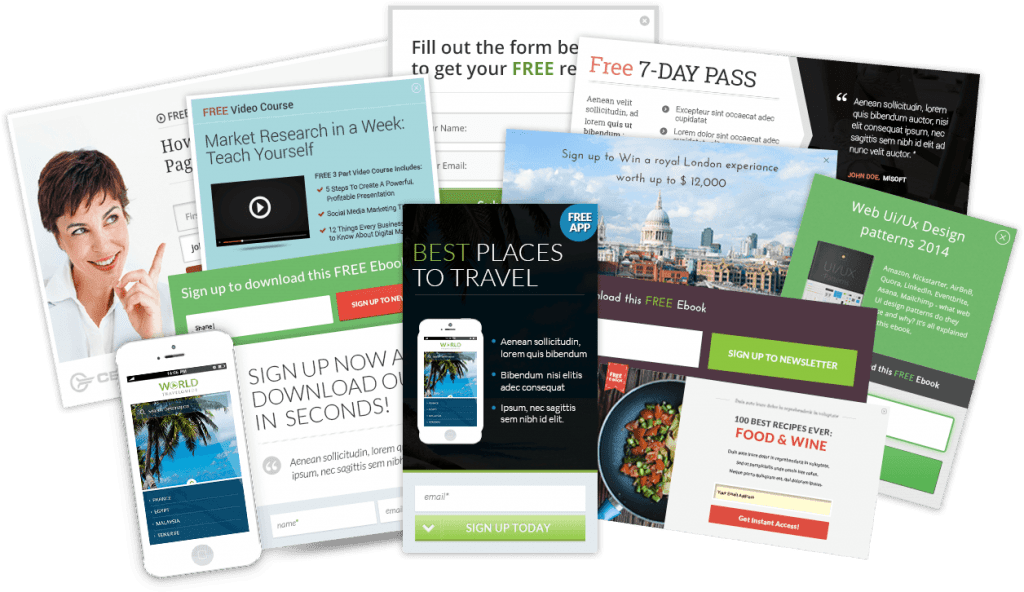 They also avail a bunch of different optin forms for your perusal, and if you'd like (and are able), drag and drop customization—which is easy if you develop. There's also a built-in visual content builder to make your forms pop and jingle.
NOTE: ThriveThemes is also well-known for developing a whole suite of conversion rate focused lead generation tools, so if want a wider suite they have plenty of options including some EPIC split testing (AB testing) functionality.
Unlike most others' pricing model, they charge a one-off, annual charge of either $59 or $97, depending on which package fits your welcome mat goals most.
Perhaps you want a SumoMe welcome mat alternative because you have a different site from WordPress. LeadPages is a powerful, all-encompassing suite to help you there. With LeadPages, you can install and implement an impressive email optin tool solution on every site for optimal list building.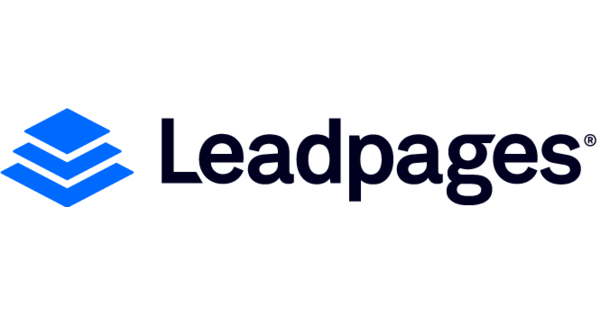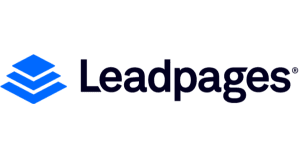 LeadPages' greatest strength is in its landing page optimization techniques, which a welcome mat integrates into (and vice versa) fittingly. Their optins are full-screen mode popovers. That helps a ton if you want to truly grab a visitor's attention.
They also have a gazillion (over 350) of templates too, so you can select and experiment with different overlays to suit your visitors fancy and achieve your conversion goals reasonably quickly and effectively. You are likely to find a couple of templates that rock for your specific niche as they have a bunch available for a range of niches.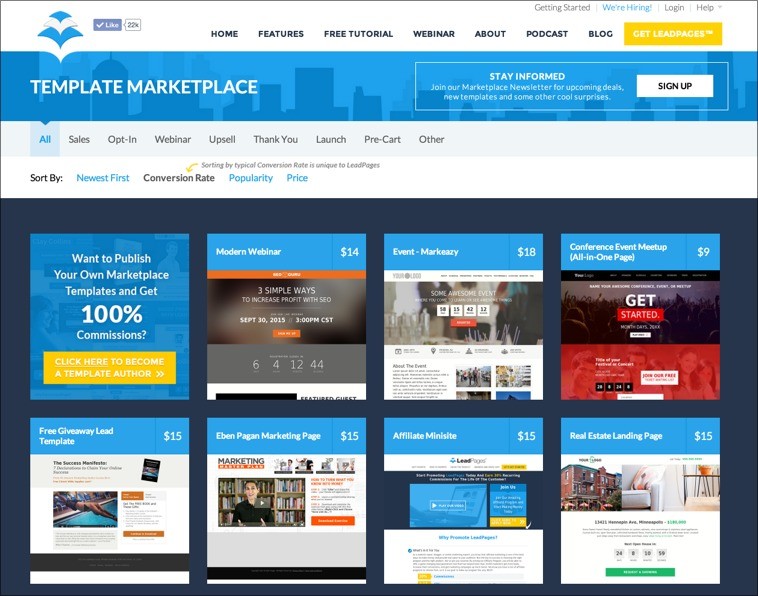 Those templates are also readymade to go, so you don't need any coding experience to get started and running. But if you do, the suite allows you to tweak and custom-build your optins too.
Their optins are mobile friendly too. While desktop visitors have tended to make the best portion of e-buyers compared to mobile visitors in the past, the story is changing with more powerful mobile browsers and features coming out every day.
You can add any pages to any site (Facebook Page, WordPress, etc), one-click signup links, drag-and-drop customizations and an array of more, useful features.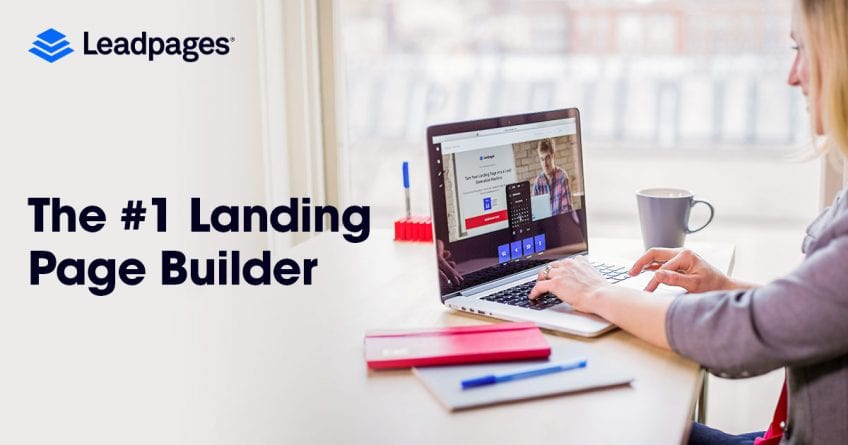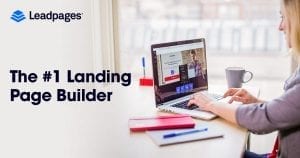 And, especially remarkable for marketers, you'll get A/B testing and be able to integrate powerful marketing platforms such as Salesforce and HubSpot to your campaigns for between $25 and $199 monthly packages (paid annually).
Learn More About LeadPages Pricing Here
Bloom came with Thrive Leads and after Optin Monster but is already got OM to sit up and notice the other new boss in town.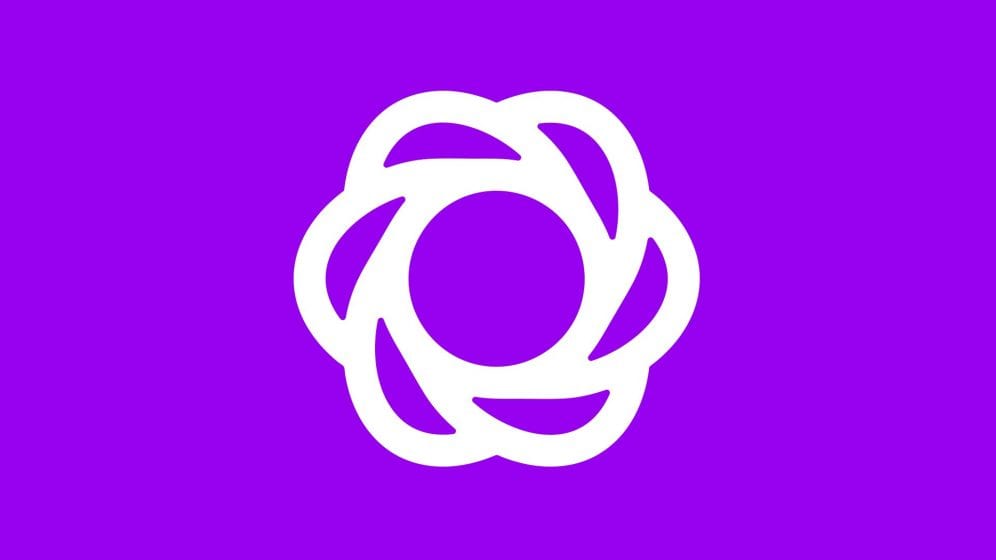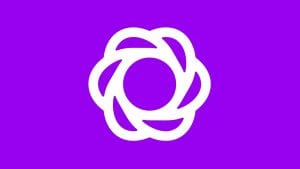 Have you visited a site before where you weren't allowed to access some sections that you swear you'd have killed for? Well, that specific feature may be coming to your most recourse-packed page if you opt to plug in Bloom for your WordPress site.
Although a bunch of visitors will hate you for driving them to fork-hand their email marketing on a You-are-Welcome page, this is one darn perfect SumoMe Welcome Mat to add on.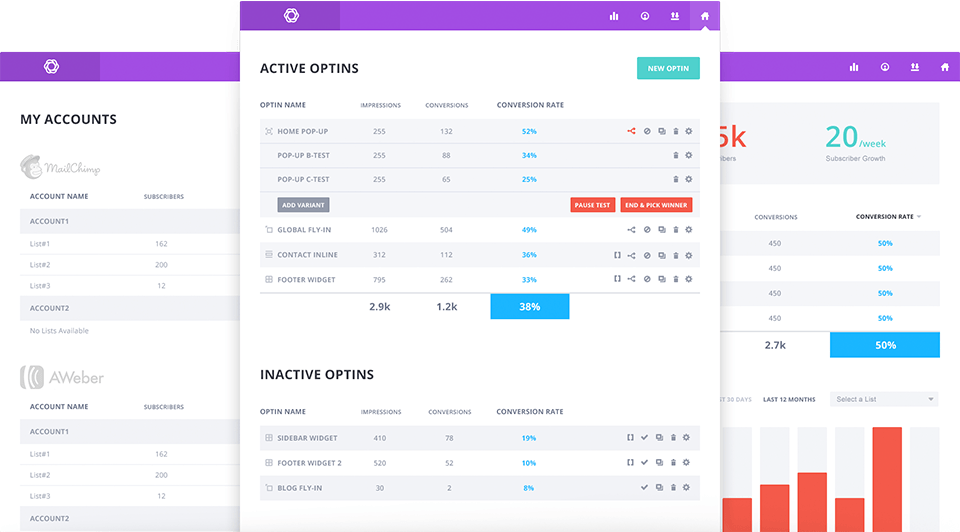 You'll see the most benefit if you can plug it into a page that's receiving lots of traffic for an important engagement such as a tutorial or special report. After all, content locking is not the most charming marketing stunt you'll ever pull. You'll need to offer a solid deal in return for the (ahem!) little nuisance.
Another unique feature of Bloom's overlays suite is in its richly beautiful flat-design theme—straight out of Elegant Themes' kitchen. These are eye-catching and make the otherwise annoying content locking maneuver less obtrusive.
And the cool designers at Bloom whipped a stunning selection of 87 delightful themes to ride on.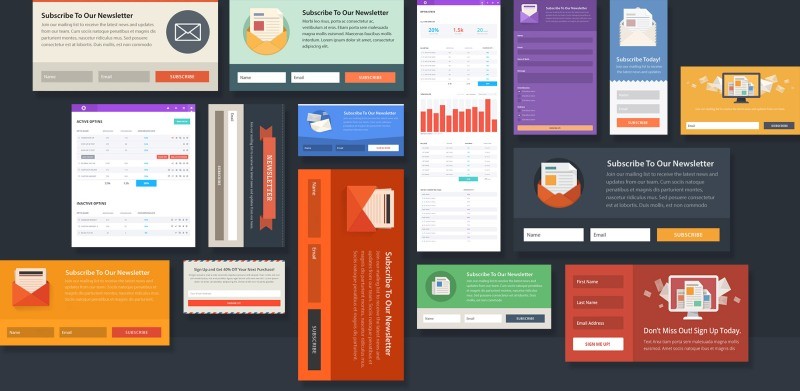 Otherwise, on many accounts, you'll get the multiple optin forms akin to the likes of Thrive Leads. That means the vital data you need to capture automatically gathers of the Bloom Dashboard. You'll like it that you can view and interact with the analytics and much more from just this one dashboard.
Finally, they ask for a lifetime access fee of $249 or a yearly $89. Your choice.
Most opt-in overlays are super boring with their mono-colored text and background. Not the ones made by ConvertPlus. In two words, it is attractively functional.
ConvertPlus is a comprehensive (like most on this list) tool for webmasters to use to boost their engagement, subscriptions, social follows and customers, and what have you.

It is also easy to plug into your WordPress site—literally takes minutes. Check out their video tutorial for how to do that.
If you'd like to splash a fresh and charming coat of paint to jiggle your visitors' visual sense, ConvertPlus presents a beautiful SumoMe welcome mat alternative to try. This may work splendidly well with websites focused on artistic or e-commerce endeavors where visual cues are worth thousands of words.


You can also opt to use video and GIFs to set your resource-rich, conversion-hungry page on fire.
Importantly, you can connect ConvertPlus to your favorite email marketing provider. Last time we checked, you get the power to connect over dozen email clients including HubSpot, MailJet, InfusionSoft, Active Campaign and iContact. You'll also be able to capture your visitor's first names, so you can really befriend them.
You can't do those two with SumoMe's free welcome mat subscription.
And even when you decide to upgrade, ConvertPlus's piecemeal pricing model comes out tops at $21 per license over SumoMe's monthly $20 subscription.


For that much (or little) you get over 100 gorgeously designed templates and a dozen popup display positions to help your welcome message and invitation to email-leave reverberate with warmth and professionalism.
If you are wondering why we won't talk about a free SumoMe Welcome Mat alternative, here is one that's worth the ink.
In a one-liner, BuilderSociety is the better version of the SumoMe Welcome Mat. It practically sports similar functionality.
Now that means it is more specific about what it does than the all-in-ones on here. It pops up and takes over the screen, stealing the show so a NEW visitor can view it—and ideally heed the call to action. It is that welcome sign up front. So, it won't do much else other than inviting your visitors in.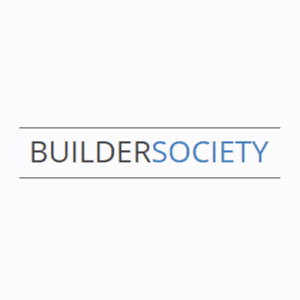 BuilderSociety's welcome mat recreation is absolutely free of charge. So if you are hesitant to inject and invest dollars into your email-optins (for email capture) and conversion campaign, you can use BuilderSociety to get a feel of welcome gates as a trial run without risk.
Still, you might never bother to upgrade to the paid versions. It comes with more customizability than the SumoMe app. So, if you have some decent development history, BuilderSociety's optin offer is hard to beat and a ton exciting.
They have built their software suite based on an open source platform. While some of you may be concerned with security of your information, it also means you get many developers' improvements and ideas to improve on your own site.
If you are crazy about Pop Up from WPMU DEV, they have redesigned and rebranded to PopUp Pro. Popup Pro flies in some other things over there that might just be what you need to create the best SumoMe welcome mat alternative— without ever leaving the WP core eco-system.

Their free PopUp Pro version has hit off on the right track with the most downloads. And if you are looking for a cost-effective way to start your email-optin campaign through the first page, go for it.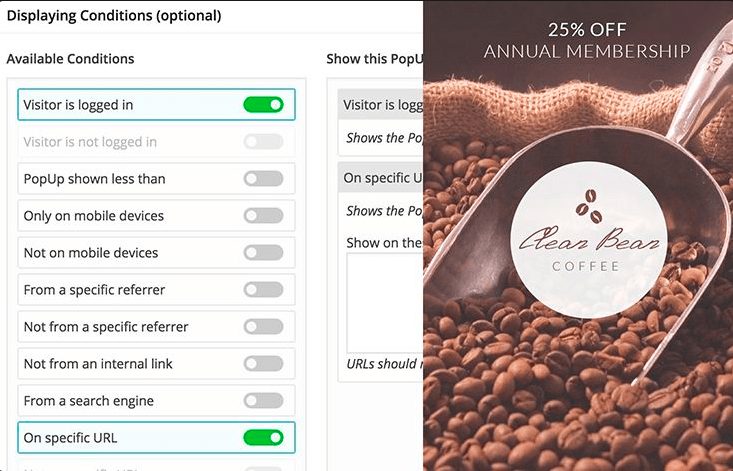 The premium version, which obviously carries some heavy artillery, including analyticx and multiple data capture tools on the welcome mat, comes bundled with a $49/month WPMU DEV membership plan.
Other Honorable Mentions
There's a few other notification bar (smart bar) and pop up marketing tool options that I'd also consider as SumoMe alternative plugin options.
Some off these I haven't personally used in a few years and didn't consider as finalists, but are on my radar:
Bottom line: What's the Best Alternative to SumoMe?
You work hard to seduce more traffic and get more shares on your blog posts. It is heart-wrecking to watch all the visitors you worked so hard to bring in leave without as much as leaving their email address. If you let them leave like that, chances are you'll never hear from them ever again.
That is not how to convert visitors into loyal buyers.
The best welcome mat popup allows you to invite your visitors to your most resourceful pages, impactful downloads, sweetest deals or just make them feel at home.
The list goes on.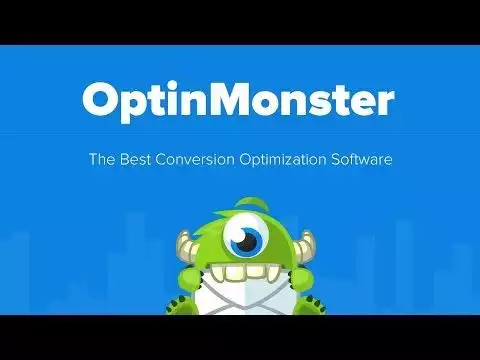 OptinMonster is My Top Pick
Cutting right to the chase, my favorite welcome mat and dynamic CTA builder is OptinMonster. It's cheaper than most of the competition, BUT offers similar functionality and is 100% focused on CTAs (it's not just one part of their biz).
Go with Optinmonster
We earn a commission if you click this link and make a purchase at no additional cost to you.
Fortunately, all the splendid things you could do manually you can easily automate with the best SumoMe welcome mat alternatives. You can use these 7 best SumoMe welcome mat alternatives to do just that and more.
Bottom Line: If I had to pick just ONE alternative, it would have to be OptinMonster right here.
Further Reading