Last Updated on April 22, 2023 by Ewen Finser
iContact vs Constant Contact are two email marketing software giants, but which is best for your needs?
In this comparison, you'll discover:
the key differences;

what to look for when choosing your email marketing tool;

a detailed examination of how well those two pieces of software perform;

a clear verdict on which is best for your specific situation;

alternatives that are worth considering;
Main Differences Between iContact vs Constant Contact
The main differences between iContact vs Constant Contact are:
iContact offers a free plan for users with smaller lists, whereas Constant Contact doesn't offer a free plan at all.

iContact only offers basic pre-made email templates, whereas Constant Contact has beautiful fully-fledged templates that you can further customize.

iContact has a spam-check built in the campaign designer, whereas Constant Contact doesn't offer this feature.
How To Choose The Best Email Marketing Software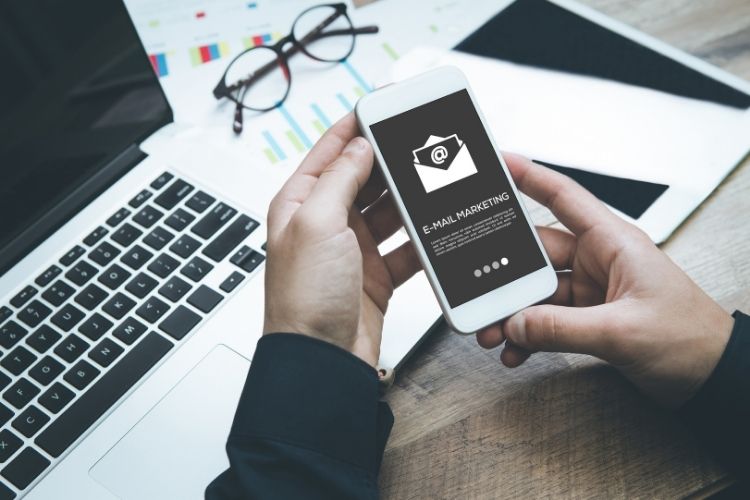 Here are the key features to compare when choosing the best email marketing software for your needs.
Pricing
Different software with different features comes with different price tags. The amount you pay will ultimately be based on the size of your audience and the features you want to access. You want to make sure you get the best value for your money. You'll usually be able to access a free edition, but only if you have a small audience.
Email Templates
Most software comes with its 'campaign builder' feature that lets you easily customize your messages. Expect drag-and-drop options and pre-made templates that you can customize to your liking.
Automations
The main appeal of a marketing tool is to help you do more with less effort. That's why it's important to explore the level of automation offered by email marketing software. Do you need your campaigns to be sent when a contact signs up? Or do you simply need to send a series of promotional emails? A great email marketing tool will have the relevant automations for your specific business.
Analytics
All email marketing software will gather data based on how your contacts interact with your marketing campaigns. The depth of this data is worth comparing though. You can expect to find stats such as the demographics of your audience, the ratio of emails opened per campaign, actions taken after opening a mail, and more relevant data that will help you to tailor your marketing efforts to your audience.
Features
You should expect all email marketing software to offer features like A/B testing, segmentation and landing pages among others. However, it's still worth comparing how detailed these features are and how much you'll pay to access them.
Integration
How well does your email marketing software integrate with your website and other business software? You'll need easy integration if you want to make it simple to sign for your website from these other digital channels.
Deliverability
How good is your software at ensuring your emails avoid the junk folder and land in the inboxes of your audience?
Customer Support
In case of a problem, can the software help you solve things quickly? Some services offer a series of articles to help you learn how to use the tool. You should also expect to be able to reach the customer service team via phone, email or live chat.
iContact Key Features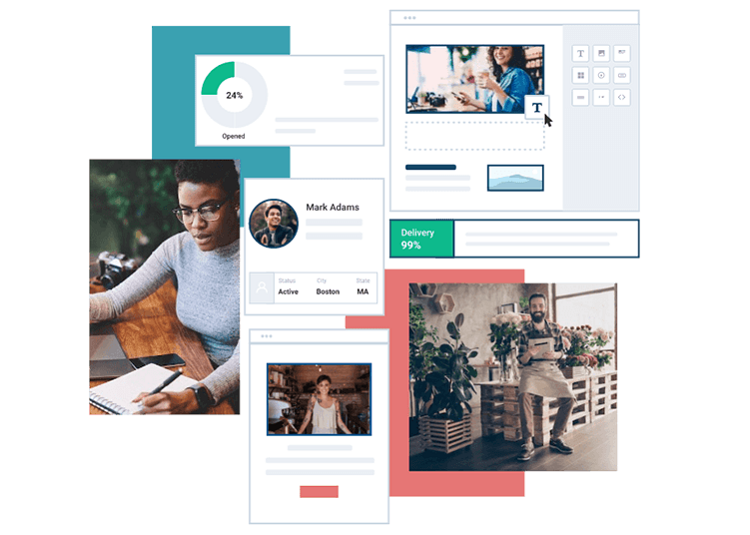 Founded in 2003 as a marketing software for small companies, iContact gathered many positive user reviews in the past. It has many similarities to Constant Contact. You will find the software very convenient to build efficient campaigns and automate a lot of your interactions with your contacts list.
Campaign Builder
The iContact interface is clear and simple to understand. When creating a template, you'll start by choosing from one of the proposed layouts. The campaign builder is smooth enough with a drag-and-drop system that will let you design beautiful emails with ease.
Automations
While the automation is not the most elaborate, you can expect to activate plenty of trigger-based campaigns, such as welcome emails. You can also segment your list to send more personalized emails to the relevant contacts only.
Analytics
You will find all the basic analytics you need with iContact, but it's not as detailed as its competitors.
Integrations
As with most email marketing software, you can import your contact with iContact through simple files such as .csv, .xls or .txt.
It's also very easy to integrate iContact with your website through the API. Embedding an iContact form on your website is very easy, although the design of that form is limited.
Deliverability
iContact uses authentication tools to ensure your emails go through and don't end up in the spam folder of your contacts (DKIM, SPF, DMARC). You can also reach out to the deliverability team anytime and get help and assistance in keeping your emails out of the spam box.
The most interesting feature here is the "spam test" which quickly assesses the risk of your future campaigns being flagged as spam.
Pricing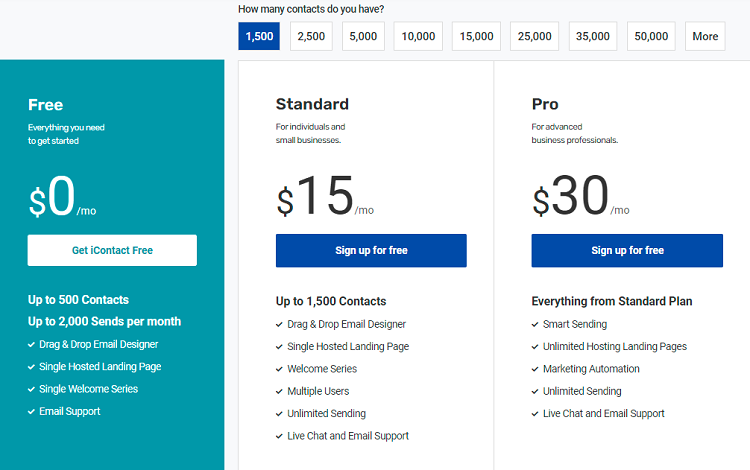 iContact has 2 paid plans and a free plan. With the Free plan, you get the very basic features expected from an email marketing service: the drag and drop email designer, a hosted landing page, a pre-made welcome email series and email support. It supports email lists of up to 500 contacts, and you'll be capped at 3,000 emails per month.
The Standard plan is available starting at $15 per month and allows up to 1,500 contacts for an unlimited amount of emails sent. It takes the benefits of the free plan and adds more welcome series, more segmentation options and multiple users.
The Pro plan is available starting at $30 per month and allows up to 1.500 contacts too. It adds deeper features on top of the standard plan that will be mostly relevant to agencies and those looking for stronger CRM features.
Those prices are available for the starting offers of each plan and are tied to the number of contacts included in the plan. For reference, at 2,500 contacts you will pay $25 per month for the Standard plan and $50 for the Pro plan. At the 10k contacts mark, it will be $80 per month for the Standard plan and $160 for the Pro plan.
Customer service
iContact gives you access to a lot of resources that will help you make the most out of the software. The company also runs a blog that can be very insightful on best marketing practices. You also have access to videos and tutorials that will explain in detail how to design the most effective campaigns with iContact.
You can reach out to iContact's customer service through live chat through your account's dashboard, or phone call during US business hours.
Pros
Slightly better user reviews than Constant Contact

Spam-check built in the campaign designer

User-friendly
Cons
Limited custom forms

The dashboard could look better

Only 5MB of image storage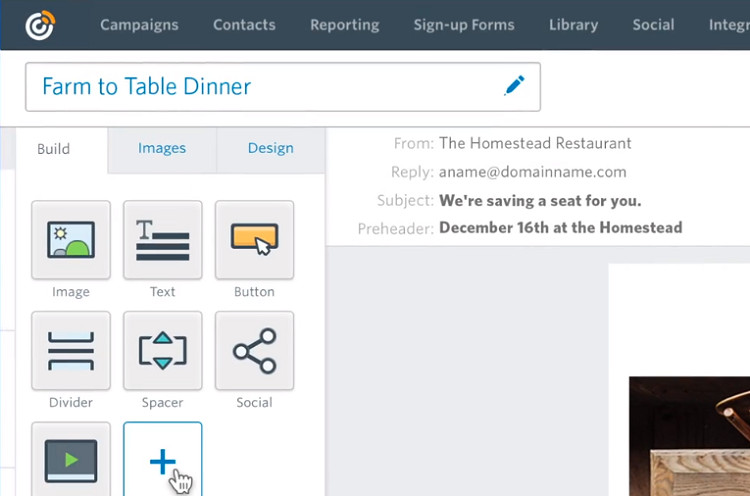 Constant Contact helps businesses build their online newsletters and marketing campaigns from the ground up. Expect an intuitive and easy to use campaign designer tool and all the basic features of email marketing at very affordable prices.
Campaign builder
Constant Contact offers an intuitive and easy-to-use campaign designer. Its drag-and-drop feature is a great time-saver; you will be able to add, remove and modify titles, headers, footers, and other elements with ease.
There aren't so many templates offered compared to some of its competitors, but Constant Contact is good enough for those getting started with email marketing, or those sending non-complex email campaigns.
Automations
While Constant Contact does not come with the sharpest automation features, you will find all that you need to cater to your everyday email marketing needs. Expect trigger-based campaigns, welcome emails, contacts segmentation and systems for contacts who don't act on your previous emails.
Analytics
Constant Contact comes with its analytics system that lets you keep track of which emails get opened and what actions are taken upon reading them by your customers. You will also find a convenient A/B testing feature.
That's about all that you can expect from Constant Contact's analytics but it is enough to get you started and going strong with email marketing.
Integrations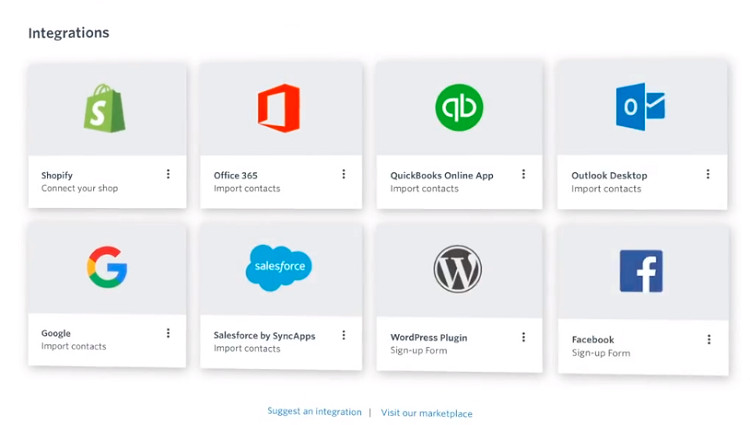 Constant Contact integrates well with most digital marketing software. If you're using another big name software, you can be sure there is an adequate integration available.
With Constant Contact, you will also find strong integrations with most eCommerce tools. It even has ties with event management and social media platforms such as Facebook, to make organizing events and keeping in touch with your customers a breeze.
Deliverability
Constant Contact proposes top-of-the-class deliverability with an average deliverability rate of 97%. The software uses an extensive array of authentication tools to ensure your emails don't get flagged as spam (DKIM, SPF, SenderID).
They also work with suspicious email blacklists, compliant account reviews and provide proactive feedback analysis on your contacts. The service is registered with most ISPs and cross-reference your contacts with other whitelists.
Constant Contact also has a dedicated deliverability team that will help in relisting your address in case you'd get flagged as spam, and it has a permanent review team to monitor suspicious mail activity, ensuring your contact list stays as clean as possible.
Pricing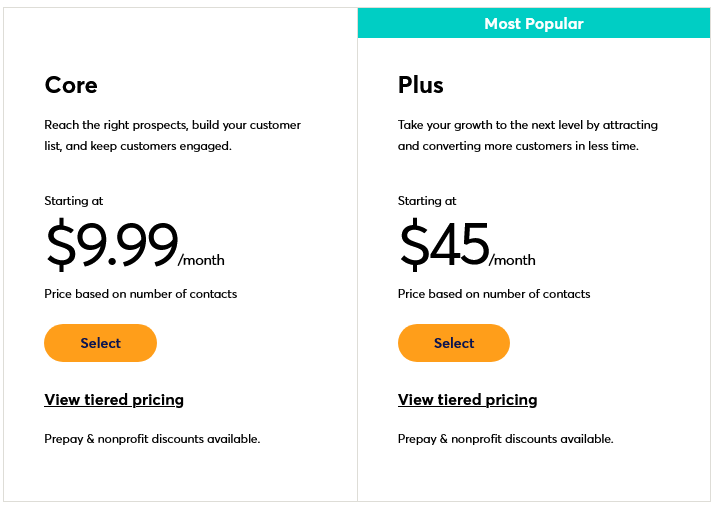 With Constant Contact, you can choose from two plans with different features (one basic, one premium). You then select how many contacts you want the service to handle. Both variables will influence the price. The Email plan gets you base email marketing features. It is the best for businesses dipping their toes in the world of email marketing. You'll find the price to be very competitive at $9.99 per month for a starter plan with 500 contacts.
With the Email Plus plan, you also get access to advanced analytics and relevant reports to help you scale and save even more time. You also get access to the tool's event organizing features. It's available starting at $45 a month for 500 contacts. It's recommended for small businesses intending to have more impactful and dynamic campaigns, not for first-timers.
The price you pay depends on the size of your email list. For example, between 500 and 2,500 contacts, the base plan will cost $45, and the premium plan $75 per month. Between 5,000 and 10.000 contacts, expect to pay respectively $95 and $125 per month for the base and premium plan.
Customer service
Constant Contact comes with an extensive base of resources and how-tos to teach you exactly how to use the software. There is a real community there and you can leave feedback and interact with other members.
It's also active on Twitter, where it's very responsive in helping its customers. For more traditional customer support you can reach out through phone, email, and live chat.
Pros
User-friendly

Lots of integrations

Knowledge base and dynamic community

Integrates well for businesses organizing regular events
Cons
More expensive for large businesses

Not the sharpest features on the market
Price Comparison: iContact vs Constant Contact
Both services are fairly similar and therefore comparing the price tags is a very relevant thing to do here. Both services are geared towards smaller businesses and iContact comes as the winner here.
For up to 500 contacts, the base plan with Constant Contact will cost you $20 per month, with iContact it will be $15 per month and up to 1,500 contacts. For up to 10,000 contacts, Constant Contact will charge you $95 for the base plan per month, while iContact will charge you $80 per month.
Recommended Alternatives To iContact and Constant Contact
Emma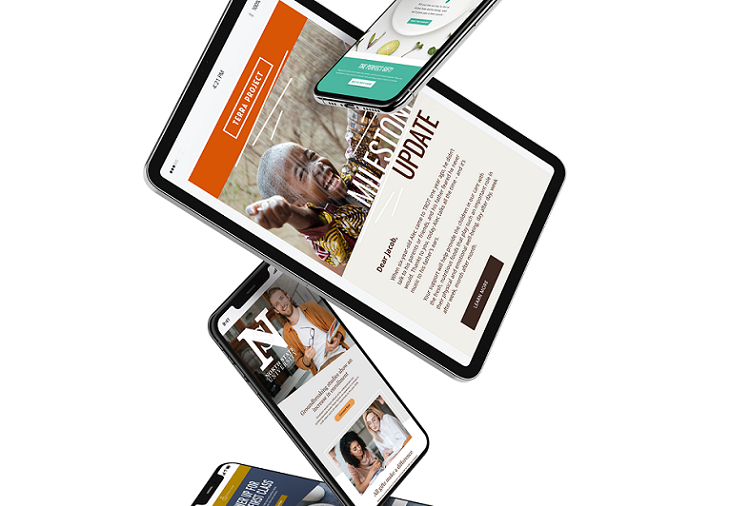 Emma offers roughly the same kind of features as iContact and Constant Contact, although it's aimed at larger businesses that handle more than 10,000 contacts (there are no smaller plans offered with Emma).
MailChimp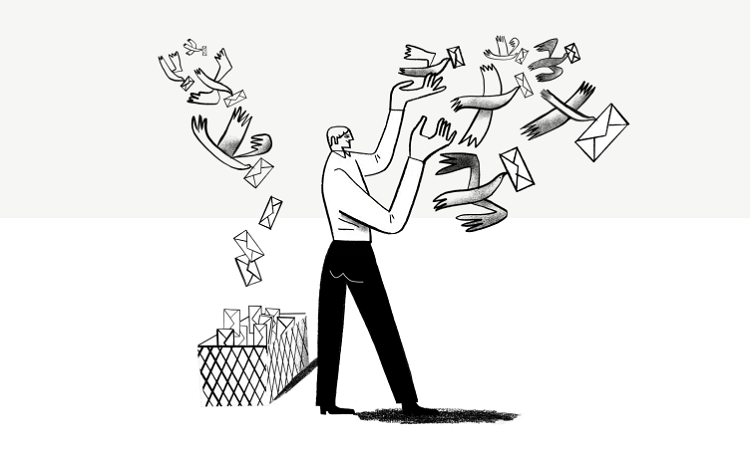 MailChimp is often praised for its myriad of features, great user interface, and ease of use, It's a popular contender on the market, although it can get expensive quickly if you're handling a lot of contacts.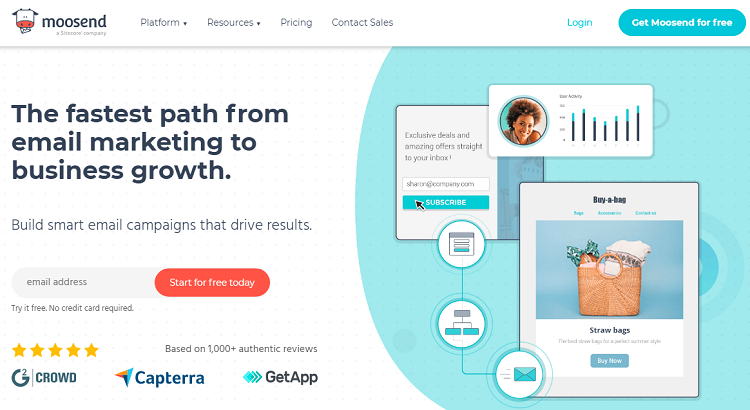 Moosend also shines with its "free forever" plan. On average, it is 30% cheaper than MailChimp and is worth considering if the budget is important to you. It has a great customer support and many automation options.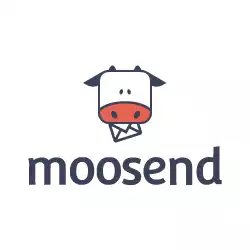 FAQs
Question: Is Email Marketing Still Important in 2021?
Answer: Yes, email marketing is one of the best ways to build relationships with your customers and to establish new ones with people who just got to know about your business.
Question: What is Email Marketing Used For?
Answer: Email marketing is mainly used for 3 things: staying top of mind with your contacts through a newsletter, sharing transactional information such as receipts or confirmations with your customers or sending specific emails based on your contacts' behavior (such as welcome emails) to build relationships.
Question: Is MailChimp the Same as Constant Contact?
Answer: Both services will let you send email marketing campaigns to your customers and in that regard they are similar: they both propose email marketing services. They have key differences on other points (such as the way they handle segmentation and unengaged contacts or the optional landing page building features).
The Bottom Line
Both services are similar in almost every aspect. They both offer competitive prices for small-to-medium businesses looking to get into email marketing. They both let you send an unlimited amount of emails (for the paid plans).
iContact seems to have an edge when it comes to its pricing, although Constant Contact offers a better user experience, top-of-the-class deliverability, and more custom campaign templates.
To summarize:
Both services are very similar in terms of performance, but we found iContact to be less expensive for the same number of registrable contacts.
If you prefer more flexibility when you design your emails and your work is heavily involved with social media, Constant Contact is likely to be a better option for you.
If you enjoyed this review, please consider sharing it with someone who you think would find it useful.