Last Updated on January 16, 2023 by Ewen Finser
Choose an app that makes reaching customers and contacts easier and more convenient.
So many things are happening around the world, and you would like to share with everyone in your circle about it. Years ago, this would have required printing and mailing a flyer, publishing a press release, or even paying for a newspaper ad.
Today, we have evolved into a world of convenience where with a click of a button you can reach your contacts and customers fast and easy. And you can do this conveniently using an email marketing app.
But the biggest question is: Which email marketing tool is ideal for you? There are tens and hundreds of email marketing apps you can use to send emails to lists, and among them are SendWithUs and Mandrill. These tools (and many others in the market), can distribute eye-catching, well-designed email newsletters to hundreds and thousands at once.
To give an example, you can reach up to 2,000 subscribers or so using these tools. In this post, you will learn which of the two email marketing apps is ideal for email marketing and which one is superior in terms of benefits, features, and services offered to customers.
But first …
Bottom Line: I personally prefer the more user-friendly and "try it before you buy it" free trial offered by SendWithUs here. That said, these are both good solutions for bulk sending.
Main Differences Between SendWithUs vs Mandrill
The main differences between SendWithUs and Mandrill are:
Mandrill works more closely with Mailchimp (the largest email list service), whereas SendWithUs integrates MORE third-party applications
SendWithUs offers a completely free package for up to 1,000 emails per month, whereas Mandrill doesn't have a free tier
SendWithUs offers better analytics and data integrations, whereas Mandrill is less progressive with data analytics
Why Do You Need An Email Marketing App?
Regularly, you send and receive emails using Outlook or Gmail apps – that's fine. But these tools are limited to reach only a handful of people – 100 subscribers via BCC field.
This number is not enough especially when you are a large corporation with intent to reach hundreds and thousands of subscribers at once, and with less time.
Gmail and Outlook platforms are designed for sending one-off messages to individuals or groups. Large corporations often need better options that make sending out newsletters, promotional messages, and emails easier – catchy emails with information that targets every subscriber in their mailing list, fast and easy. That is what email marketing apps are for – convenience and customer engagements.
These tools are designed to send bulk emails to friends, subscribers, or family whenever you need to share new product features, announce promotions, or share news. Email apps are powerful tools that help reach everyone once in a single click of a button. If you're looking to understand the difference between SendWithUs and Mandrill, this next chapter is for you.
How SendWithUs Works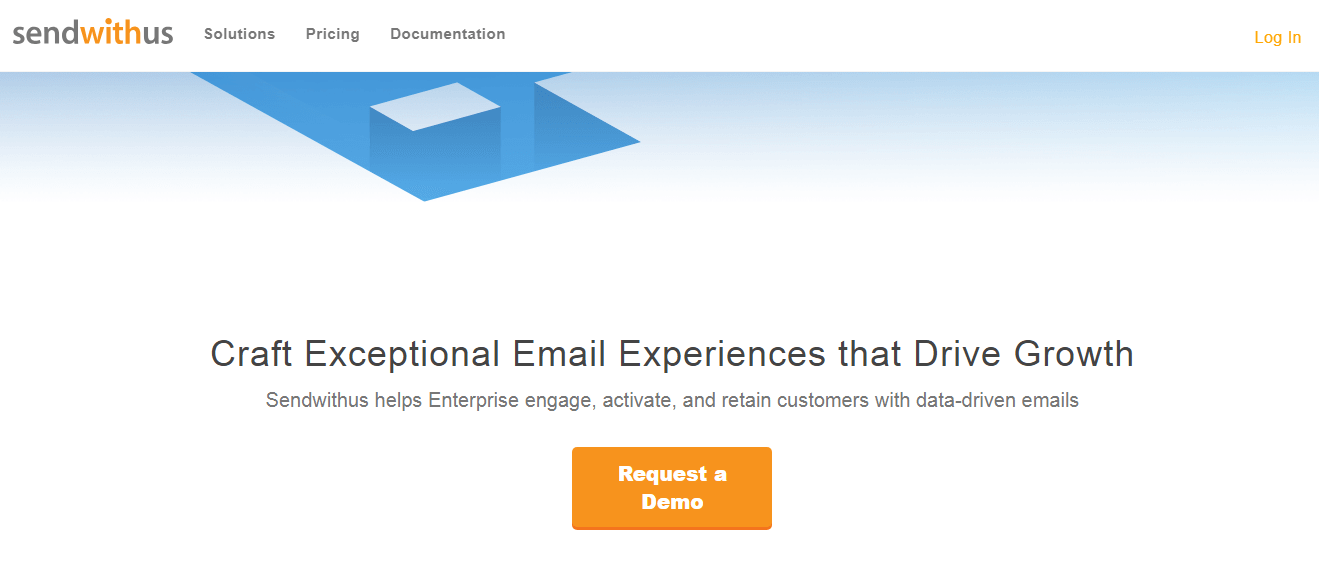 If your goal is to drive growth to your business, SendWithUs email marketing tool will help you craft ideal email experiences that keep engaging, activating, and retaining customers.
To put it another way, email marketing apps help streamline collaborations between subscribers as well as teams with users. And these email marketing apps do this perfectly by allowing users to customize everything about their emails including how messages are sent to subscribers.
With these email apps, you can distribute content from your own app fast by using transitional email sending services of your choice such as SendGrid, Mailgun, Sparkpost, Mailjet, among others.
So what solutions does SendWithUs provide its users?
It helps you build collaborations easily and improve your workflow – As a user, it allows you to work on multiple campaigns simultaneously. For instance, you can manage other users from the in-app dashboard as well as assets and templates too.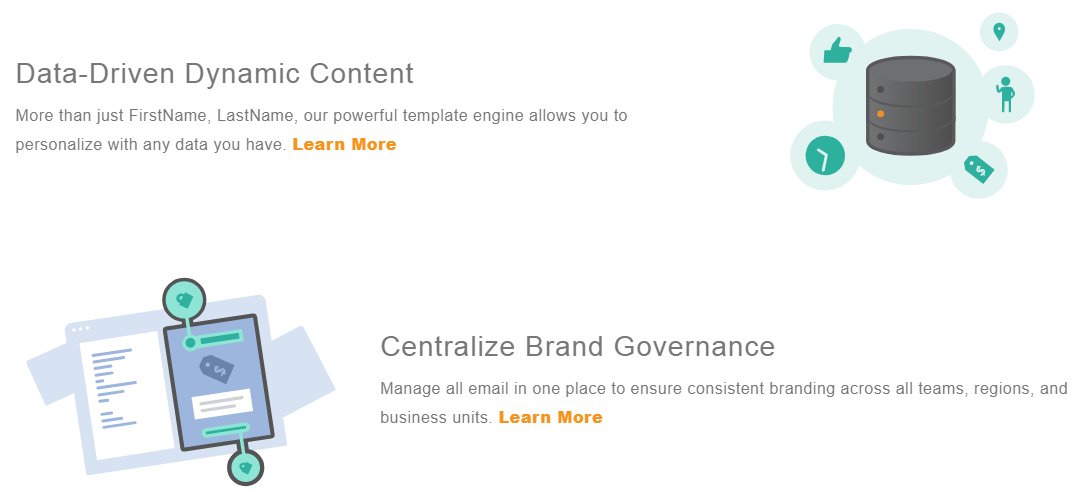 It helps you engage customers with highly personalized emails that target content based on their specific behaviors – This means you can target the right person with the right message at the right time.
It allows you to get a real-time view of your user's lifecycle – If you want to drive engagement you have to understand how your users engage with your content. This email app will help you customize every email with behavior-based dynamic content that engages.
Sendiwithus Features
A/B testing
Analytics
Click tracking
Internationalization
Multi-user support
Version control
Drip campaigns
Segmentation
CSS inlining
Snippet library
Deliverability tracking
Segment integration
Zapier integration
How Mandrill Works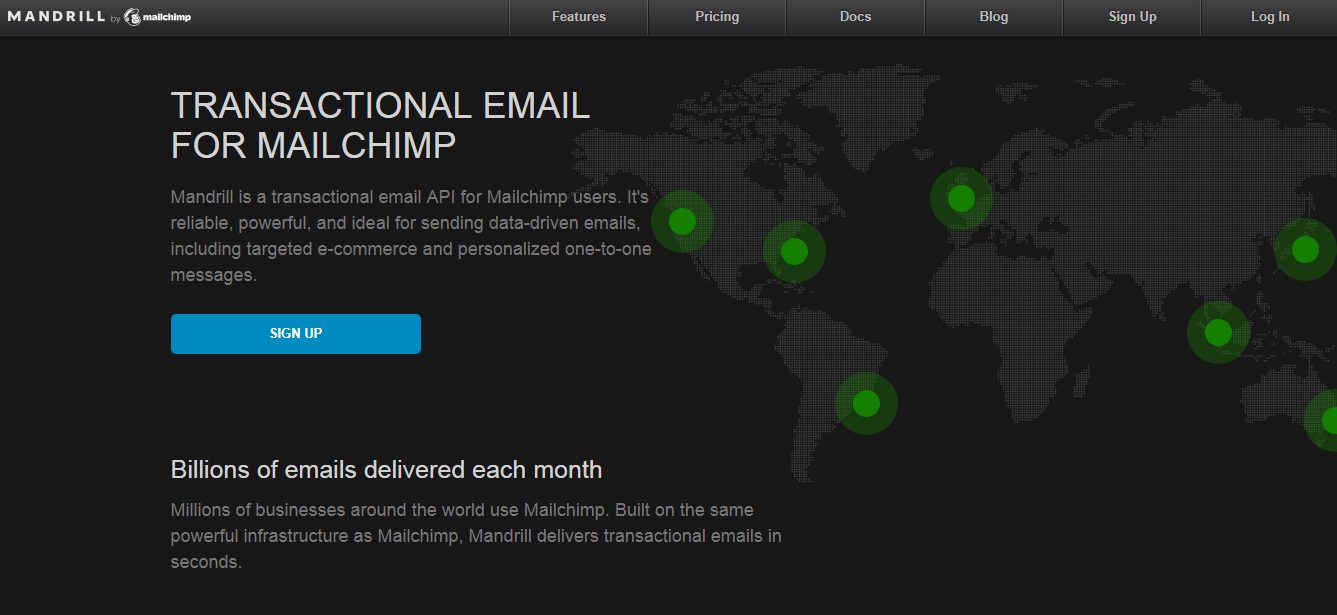 If you're looking for a powerful delivery service that is designed for personalized transactional emails, one-to-one e-commerce emails that personalize welcome messages, order confirmations, and password resets, Mandrill is for you.
Build by MailChimp, a bulk email service, it works differently from SendWithUs. It is primarily triggered by the user's action or inaction in order to perform its desired intent. But this email app hasn't really performed well over the years since its update in March 2016 when major changes occurred in its pricing model and terms of service.
MailChimp chose to transform it into an add-on for MailChimp users. In other words, if you want to use Mandrill for transactional email services, you have to sign up for MailChimp first. Quite an inconvenience for many users who loved what this tool previously offered.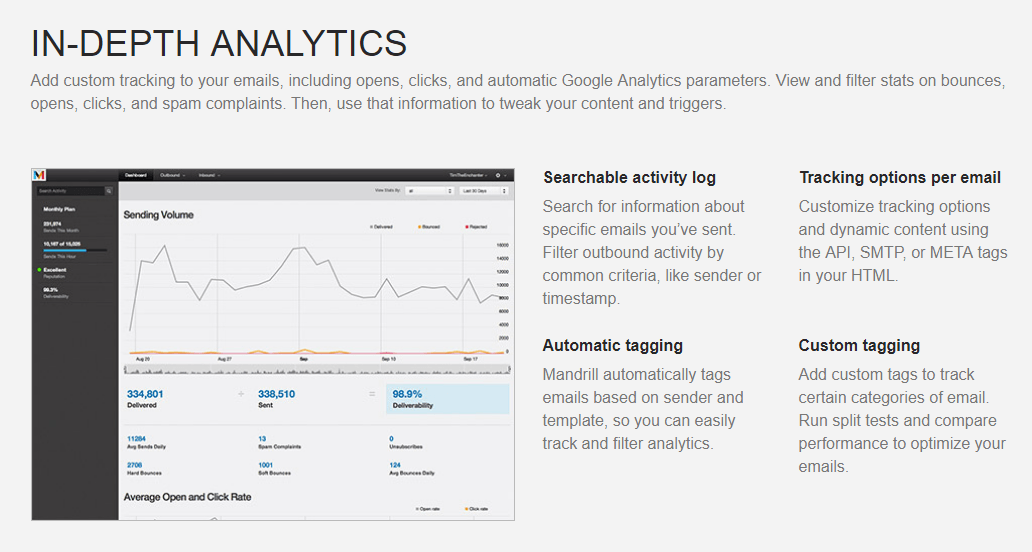 The changes affected the cost to send transactional emails through Mandrill. It is now more expensive. Development and startup community regard Mandrill as a non-viable email app.
Nonetheless, you can employ the use Mandrill to manage subscribers through its recipient based system, and also create and send emails through it. Mandrill requires HTML and API knowledge though.
It uses HTML code to create and send emails, and this comes with a lot of limitations when using its templates. You could say, Mandrill has lost its edge when it morphed into an add-on. But millions of businesses around the world still use MailChimp. Mandrill is built on the same powerful infrastructure to deliver emails in seconds.
Features:
Inbound Email
Web-hooks Support
Rules Engine
Advanced Tagging and Reports
Meaningful Metrics
Status Updates
Mobile Access
SendWithUs Vs Mandrill: Which Is The Best Solution For Your Business?
Ease-of-use
Both email apps are easy to use and integrate with other applications.
SendWithUs platform is designed for convenience and ease. It provides users with a simple way to manage templates, organize, as well as sort contacts that trigger new emails through an API call.
If you have a blog and want to send out email updates automatically whenever you update content, SendWithUs is a great way to let your subscribers get in the know. You can use this email app for drip emails purposes not just for transactional emails.

The best part? It provides convenience and employs the use of attention-grabbing email interface that enhances collaborations with no trouble. SendWithUs also comes with a simple pricing model designed to suit your every need. If you want to send unlimited emails to up to 1,000 contacts a month, you don't get to pay anything. It is a free Trial plan.
But with $150, you can send up to 5,000 emails a month to over 1,000 recipients. For an additional $4, you can reach out up to 1,000 recipients within a period of a month.
Mandrill works differently as it is hosted by MailChimp. Its features are designed to optimize delivery infrastructure, in-depth analytics, create templates and dynamic content for emails, customizable sending options, and white labeling and powerful integrations through API or STMP integration.
The fact that it uses HTML code to generate messages hardly makes it convenient for sending emails to subscribers who are not tech-savvy. However, Mandrill templates and dynamic content allows you to set defaults for HTML, text, and subject line.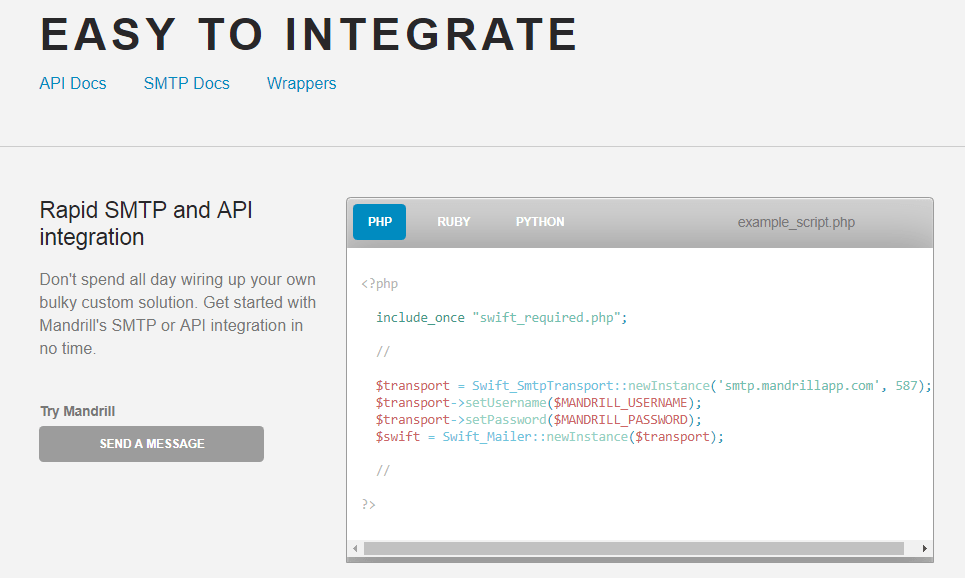 Put simply, it makes it easier for you to make changes to the sending code. It might seem complicated at first but it uses powerful conditional logic and merge tags that enable users to customize their emails for individual recipients.
Compared to SendWithUs email app, Mandrill pricing model is credit-based. So you get to buy credits (with different prices) in credit blocks of emails. For instance, if you buy a $20 block (each block is a credit for 25,000 emails) you get 1,000 to 500,000 emails which guarantees you 1 to 20 blocks a month.
Compatibility and Integrations
While both apps are different they equally integrate with different apps. Not to mention, they are both full-featured email marketing apps that make emails stand out. For instance, they both go beyond sending emails and are customizable for your business brand.
SendWithUs performs exceptionally with different applications and integrates with them like Mailgun, Amazon SES, Segment, Zapier, Postmark, Mailjet, SendGrid, Stripe, and many others. app
Integration of the different apps helps in the testing of analytics for online marketing. Also in enhancing collaborations with different email tools and services.
Mandrill similarly integrates with different applications to visualize, store, analyze, and extract data as well as for data consolidation. These integrations for marketing campaigns include: Apostle.io, DataHero (data warehouse), Woopra, GoSquared, Bip.io, Stamplay, Backand, Leftronic, and many other data analytics dashbaords.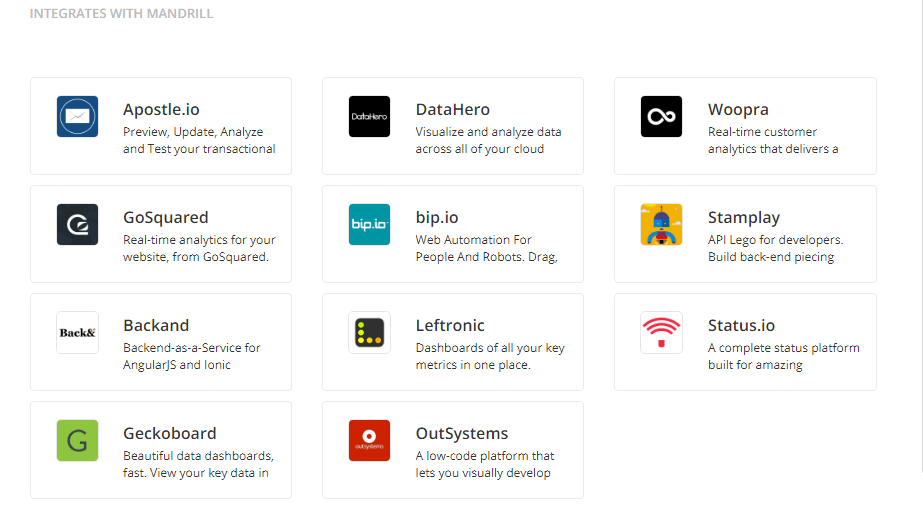 All these integrations improve tracking of results as well as enhancing collaborations. Mandrill integrates easily with SendWithUs so for best results you can combine the two.
SendWithUs Vs Mandrill – Pricing Model
As earlier mentioned, both email marketing tools have different pricing models. Mandrill pricing model is based on credits often sold in credit blocks of 25,000 emails. While SendWithUs pricing model centers on what suit your needs and objectives.
SendWithUs has 3 pricing models: Trial, Lite and Enterprise. The free Trial package gives you access to 1,000 emails a month with 2 user accounts, and access to dynamic email templates, A/B testing, drip campaigns, and template localization features.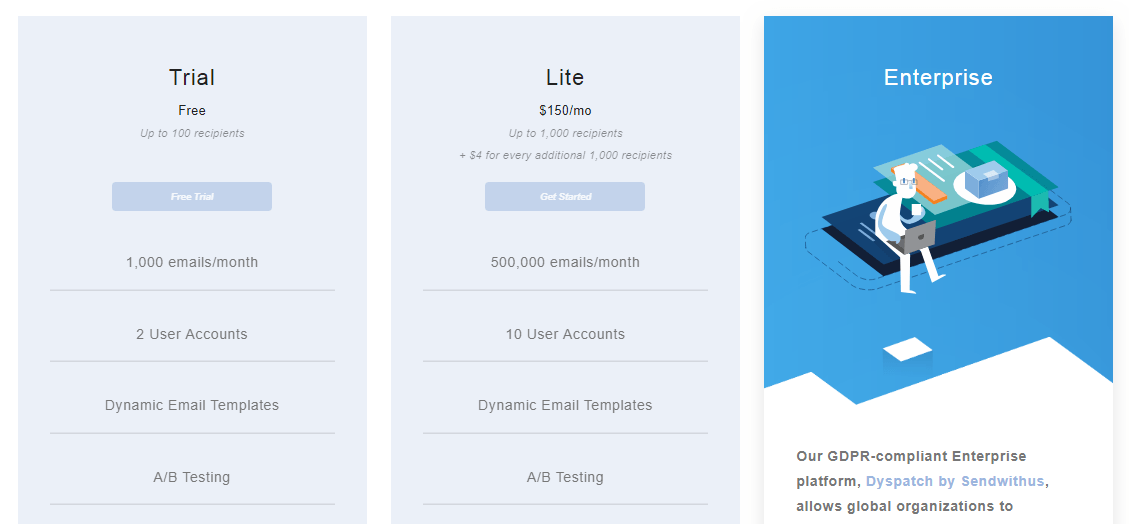 You can send 1,000 emails a month targeting 100 recipients using SendWithUs. For small businesses or users who want to test this email marketing app, Trial pricing plan is ideal for them.
Enterprise Plan, which allows global organizations to improve collaborations, approval of workflows, and reputation management among other things – requires using Dyspatch by SendWithUs (a product designed to create and enhance speeds of transactional emails).
To test the Enterprise Plan you can request a demo before using it. SendWithUs pricing model is simple and straightforward, and you get to choose which pricing plan simply meets your goals and objectives.
On the flip side, the Mandrill pricing model differs for users who haven't connected their accounts with a paid or monthly MailChimp account. The prices change immediately you connect your account to a paid MailChimp account. Mandrill allows up to 1,000, 000 emails a month. Handling such huge volumes of emails every month from users makes this email app live up to its name.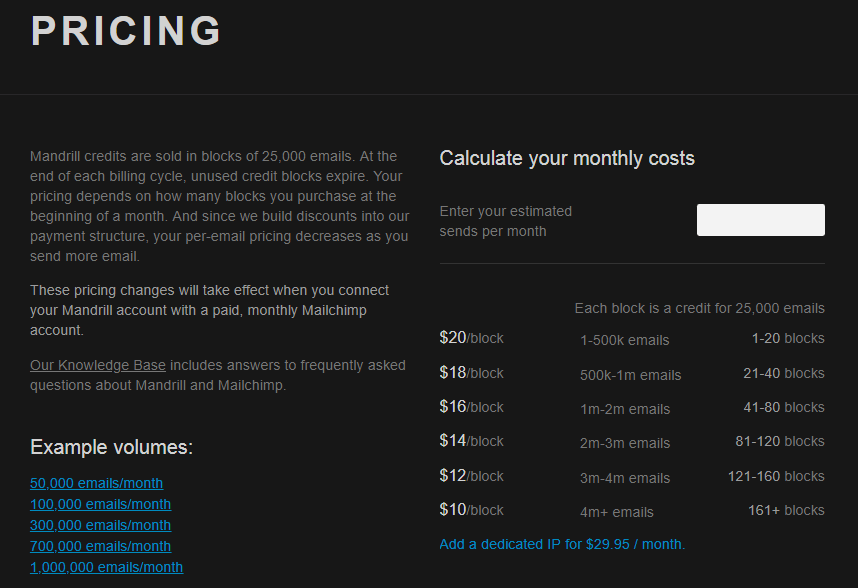 Each credit block you purchase, Mandrill bills you monthly. Here's the thing, their payment structure builds discounts each time you purchase a higher number of blocks. Put it another way, your per-email pricing decreases the more you send marketing emails.
If by the end of the month you have unused credit blocks, they automatically expire. While this pricing model may seem somewhat complicated, many users still consider Mandrill and MailChimp apps over the rest. You can calculate monthly costs by entering estimated sends of emails per month on the website, and you get to know which credit block to purchase for your emails.
Conclusion: Sendwithus or Mandrill?
Finding the ideal email marketing tool to send emails is just the beginning of a challenge. The hard work comes in when you need to craft compelling messages for your email newsletters, build a considerable email list of subscribers, employ marketing automation of your messages, and also integrate your email marketing tool with other tools for efficient result tracking.
This takes a lot of your time, and it's not as easy as it looks. So if you're new to email marketing, make sure to learn the ropes first and focus on what you need to do before you integrate an email marketing tool in your app for content distribution and collaboration with subscribers.
It is important you learn the type of emails you need to send – do you want to focus on transactional emails (transactional email service) or newsletters? Learn how to build an email list. Practice segmentation of your email lists. And learn to test your email copy before sending it out.
The good thing is, you can learn all these while on the go. If you know how to use these email marketing tools, make sure to learn their benefits, features, and what you stand to gain when you using them.
Both Mandrill and SendWithUs email marketing apps are designed for convenience, ease-of-use, and beautiful display of compelling email content. So learn which best works for you, and what will help meet your needs and exceed expectations before you start using either of them.
Bottom Line: I personally prefer the more user-friendly and "try it before you buy it" free trial offered by SendWithUs here. That said, these are both good solutions for bulk sending.
Here are some other related articles you may be interested in: