Last Updated on April 21, 2023 by Ewen Finser
As the marketing cloud has become increasingly digitized, organizations are becoming increasingly aware of the impact of inbound marketing efforts with audiences. Gone are the days of putting up a billboard or printing an ad, and just hoping for the best, and storing specific customer information in a filing cabinet.
Now, as customer experience has change, customers acquired through digital means can have all their information stored digitally, on a customer relationship management ( CRM Platform ) system.
InfusionSoft is one of the top names in CRMs for small businesses , but like any kind of digital tools for an online store, it's not going to be right for everybody.
Bottom Line Up Front (TL:DR): If you are stuck, give ActiveCampaign a try first (risk free), as I think it's the best of the Infusionsoft alternatives worth testing. Otherwise, if you just need a simple, clean CRM, go with Pipedrive here OR for a fully exandable end-t0-end marketing campaigns suite, go with Hubspot here.

Here, we take a look at some infusionsoft alternative CRM options for your business, focusing on one of InfusionSoft's noted strengths: email marketing and marketing automation.
So What's Wrong with the Infusionsoft Platform?
Well, depending on who you talk to, there could be a LOT. Here are the main gripes that I've noticed personally and heard from others (and why I started looking for Infusionsoft alternatives):
Cost: Buying infusionsoft is like buying a car. While they have lowered the initial monthly fee to $199 per month (under intense pressure), the pricing can get up to $399 for 10,000 contacts or more. Further (and connected to my point #2), most users will have to hire a consultant to actually implement Infusionsoft to the point where it's usable. Else, you CAN have Infusionsoft help, but they charge a one-time fee of anywhere from $499 to $1,999 in addition to the monthly fee. Put simply, there are TOO MANY good alternatives to justify these price points for a .
Technical Complexity: In the age of visual builders and intuitive workflow automations,

Infusionsoft

still feels a bit Web 1.0 . No one doubts the horsepower – under the hood – but unless you are a mechanic, prepare to shell out considerable time (learning curve), energy, and money just to get started.
Lack of Accessible Data: Any marketer knows that DATA is the goldmine. Without it, you may as well be flying blind. While

Infusionsoft

CAN collect a lot, there are not a lot of great visually appealing ways they present it by default. Again, prepare to hire the mechanic if you want some useful data .
So what are the best InfusionSoft alternatives?
ActiveCampaign SCALES
Take the best email automation and mix it with all the best parts of a CRM. Result: ActiveCampaign. While I call it a "lite CRM", AC is no lightweight. I've been with them for years and LOVE the endless integrations and expandability.
Try ActiveCampaign FIRST
We earn a commission if you click this link and make a purchase at no additional cost to you.
I always tend to consider ActiveCampaign close to GetResponse, because they share that "light CRM" feel, as in, they're email marketing tools, but can easily be considered in terms of a CRM. In the case of ActiveCampaign, it's especially so from their second tier.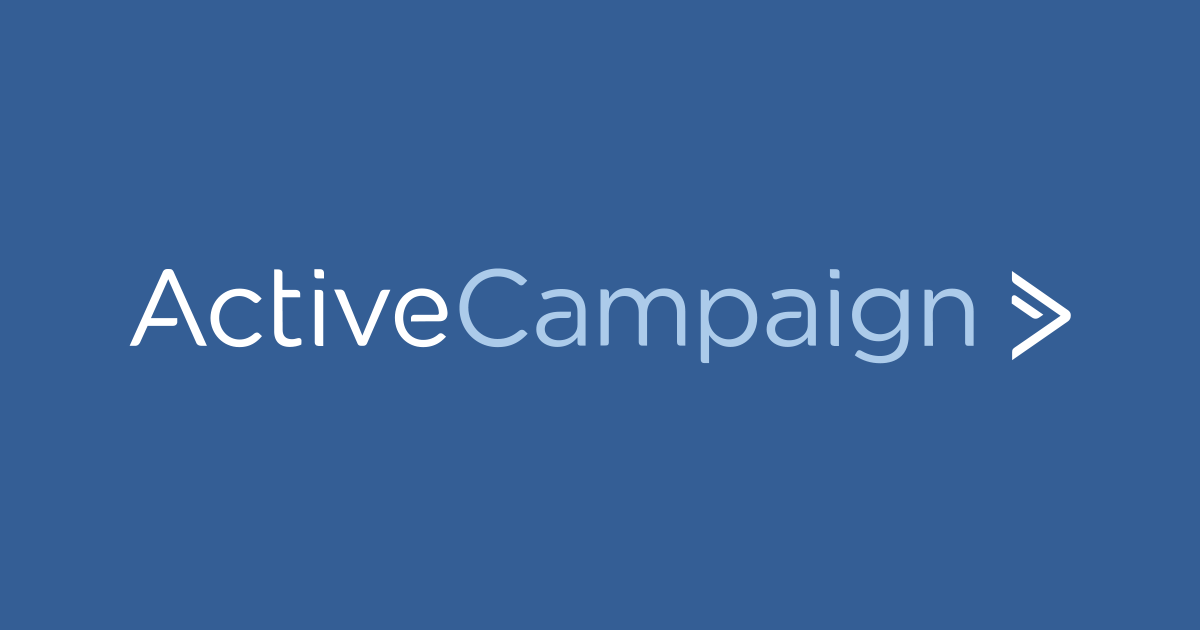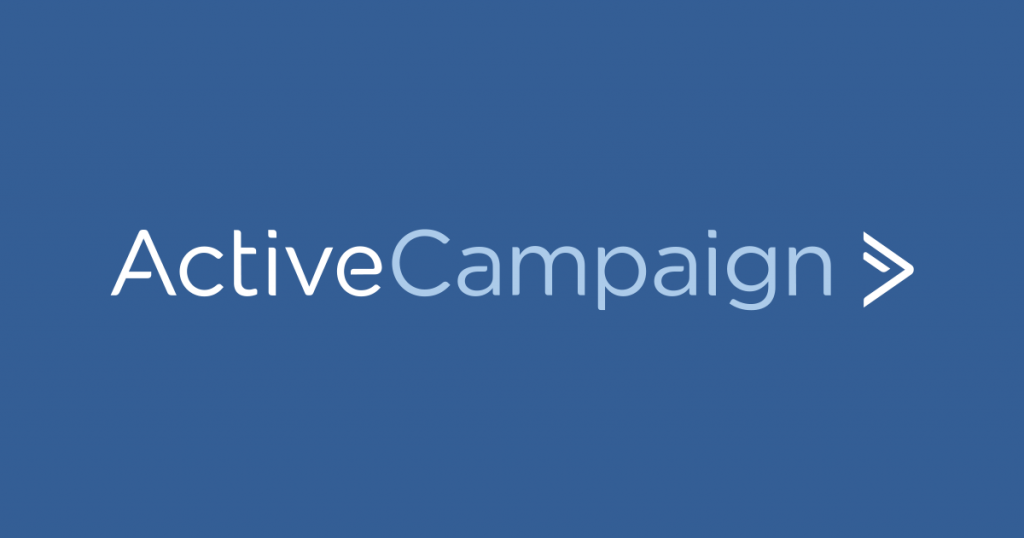 The lowest price possible on ActiveCampaign is $9, but that will cap the number of subscribers you can contact at only 500. Beyond that, pricing is determined by which tier you select, relative to the number of people you want to contact, as as the prices go up, especially through the tiers, I'm not entirely convinced of the price difference. At the second tier, you get a bunch of features for customizing your communications – most importantly, being able to remove ActiveCampaign's branding.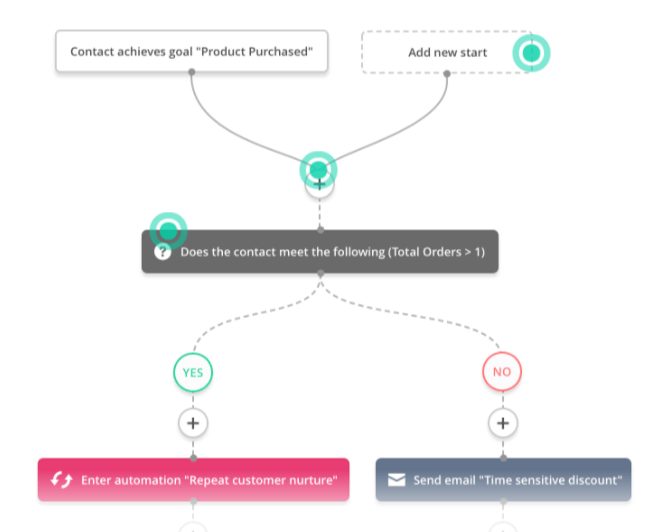 It also gives you more automation for your digital comms work. Although you have some marketing automation for marketing campaigns at the lower tier, in the second tier this gets more focused on tools for the marketing and sales team, and taking actual money off your audience. If you're completely new to the world of digital marketing and CRMs, I won't pretend that ActiveCampaign is going to be the easiest one for you to use. There's just something about it that feels a little unfriendly, like some prior knowledge or experience would be beneficial.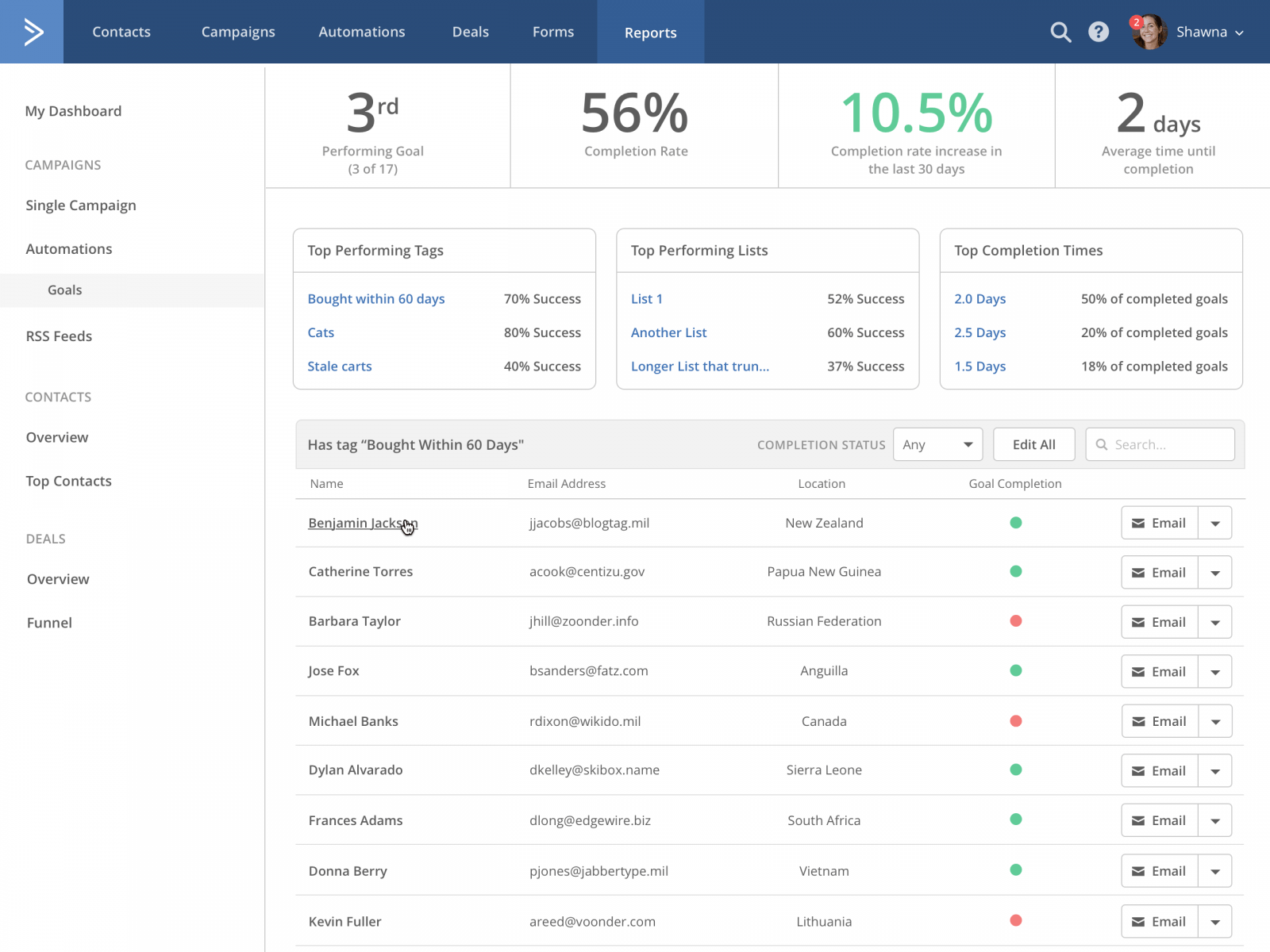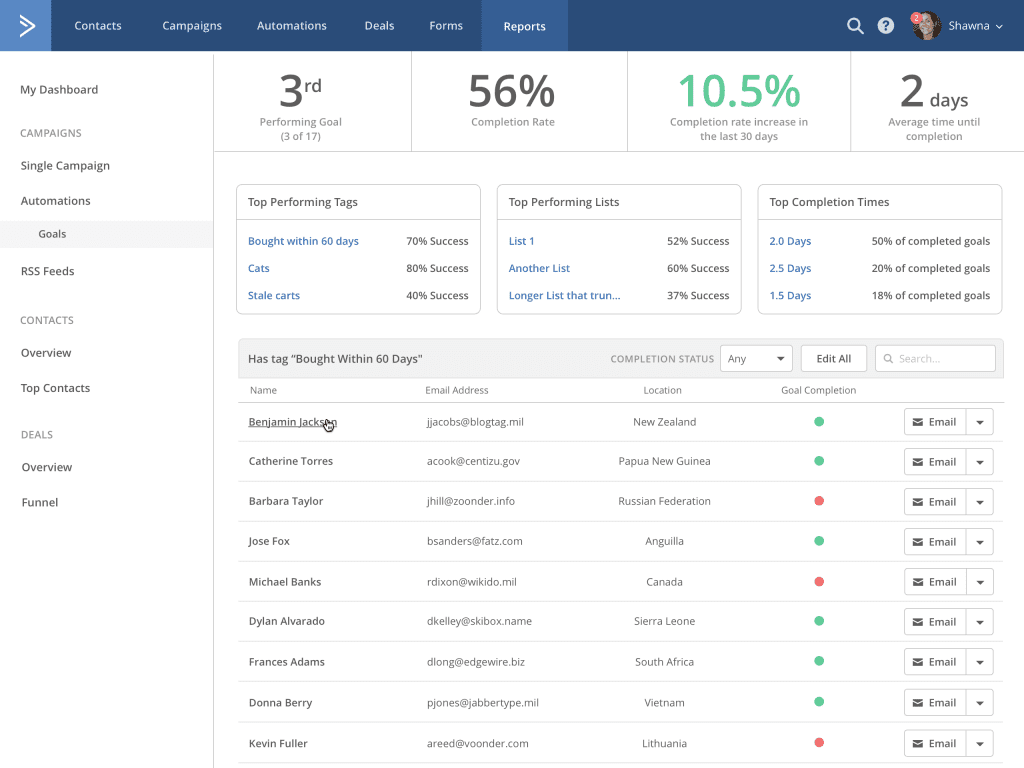 If you go all the way to ActiveCampaign's top tier, they essentially become an agency, where you'll have an SLA, account rep, access to design services, and telephone support. Plus, ActiveCampaign literally integrates with everything, including other CRMs. A great Infusionsoft alternative if you are wanting MORE integrations. If you get to that stage though, it's unlikely you're classed as a small business anymore, and might want to look at a more heavy-duty solution like Salesforce CRM (customer relationship) or something.
View ActiveCampaign Pricing Tiers
Further Read:

Why Go with Hubspot?
Hubspot can replace EVERYTHING. If you are tired of multiple dashboards for your marketing automation, Hubspot solves this problem brialliantly. Start with the FREE CRM, then scale additional features without learning a new platform.
Try Hubspot FREE
We earn a commission if you click this link and make a purchase at no additional cost to you.
HubSpot is one of the top names in overall digital email-marketing tools these days. It's justified – they're responsible for an awful lot of cool stuff. Their certification is well worth a look, their blog is a very reliable source for the latest research about digital channels and marketing funnel tactics, and they have their very own CRM as the centerpeice of their automation platform.


I find HubSpot a little sneaky though. They're great for telling you how free their CRM software is and always will be. However, and I can never say this enough times: you get what you pay for. So HubSpot to really start converting into some cash for you business, you will have to throw some money at it. It's not a bad approach. The idea is that you'll start using the free version when you're starting out, and Hubspot will enable you with the tools you need to better manage your contacts as your business grows. It makes sense to me.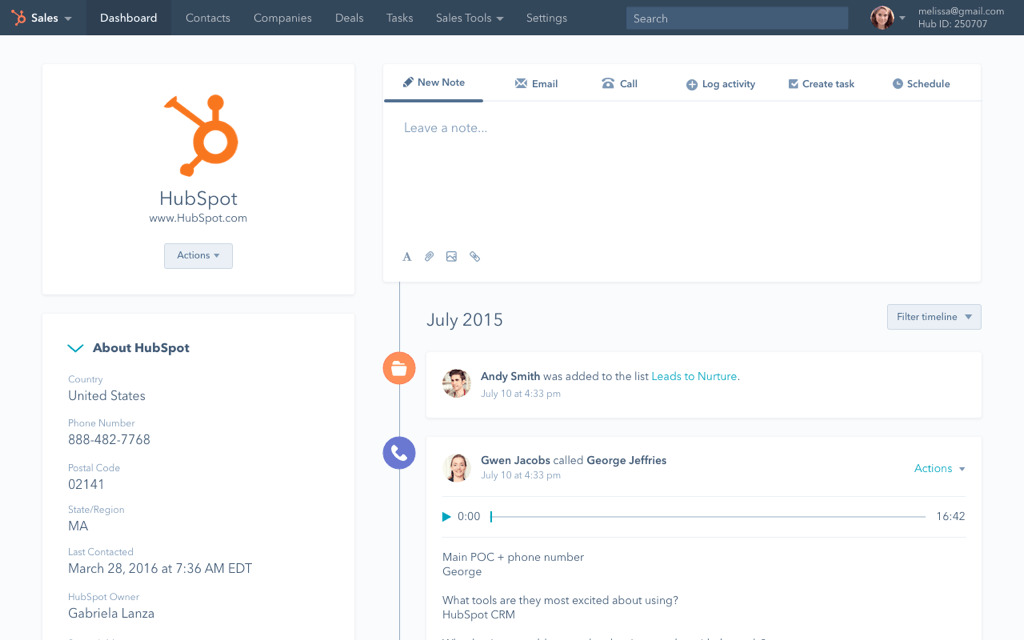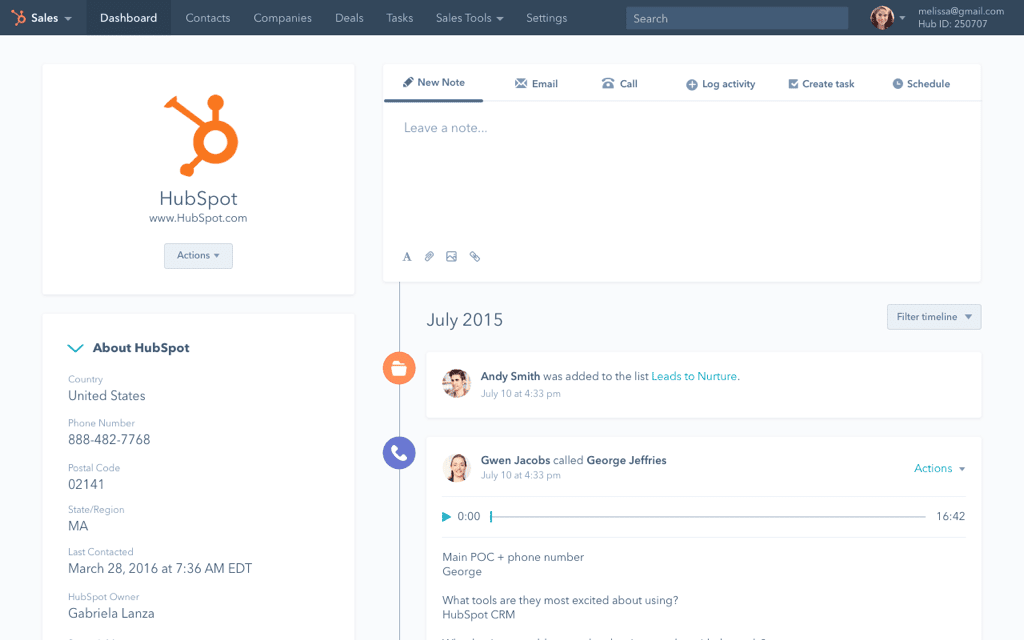 In terms of emails, the free version will integrate with Gmail and Outlook accounts, meaning that any of your sales contacts will be at your fingertips if you're using either of those. If you contacting a customer in such a personal way, it's likely that you're still a small business. Another feature worth mentioning is HubSpot's social media tool to create and publish social posts to promote blog content or a landing page (via the landing page builder) as part of your campaign builder. This social media connection provides an easy way to share content across channels. Especially during a e-mail marketing campaigns to help provide a consistent message through all channels. HubSpot have different packages as an Infusionsoft alternative for those who want to focus on sales automation (sales team / sales rep team) or marketing automation. The marketing package includes e-mail marketing (email builder), but you have to pay for the Basic package, which starts at $200 for 100 contacts. The price will increase as you get more customers on your contact list.
View the Hubspot Pricing Plans Here
Further Reading on Hubspot Software Comparisons: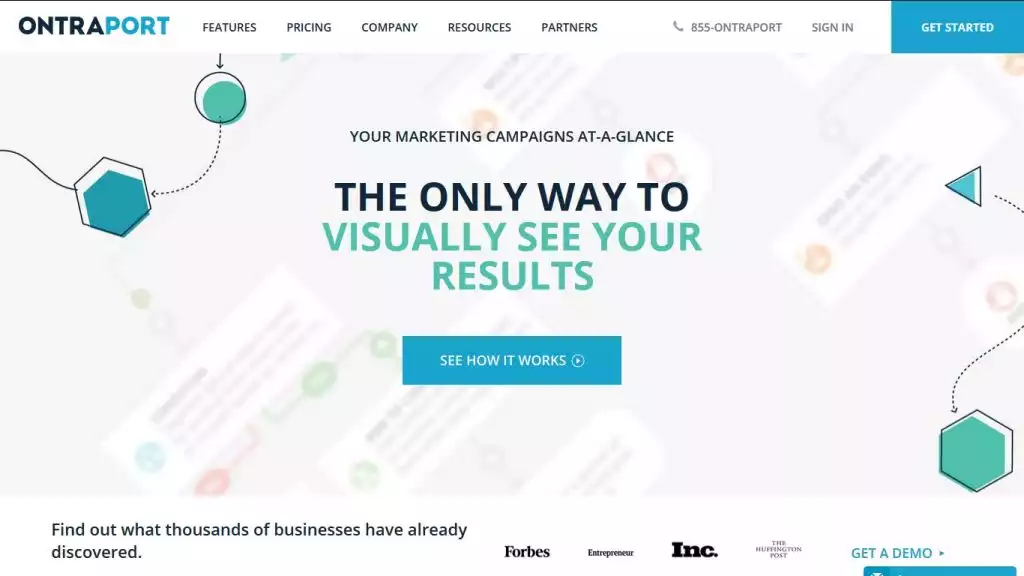 Why Go With Ontraport Here?
A more robust full-scale CRM solution (integrates with everything), visual data analytics, and deep automation and tagging. You can start with a more basic CRM, but eventually you'll need something like Ontraport to continue scaling.
Try Ontraport Free
We earn a commission if you click this link and make a purchase at no additional cost to you.
Founded in 2006 and then launched two years later in 2008, Ontraport is a campaign automation solution that has enjoyed progressive growth for more than 11 years now. Ontraport currently describes itself as an "all-in-one" software offering "all your data" and "all your tools" in one place. That essentially makes it a business suite that provides a wide range of data-driven tools for powering automated campaigns.

Ontraport's email marketing features let you easily create and send emails to your leads and customers (lead generation and lead magnet). It's easy to build emails within Ontraport, using their drag and drop page builder, or one of the free optimized templates available. Then as your mailing list continues to expand, Ontraport further allows you to segment your contacts into tags, campaigns, plus many other parameters.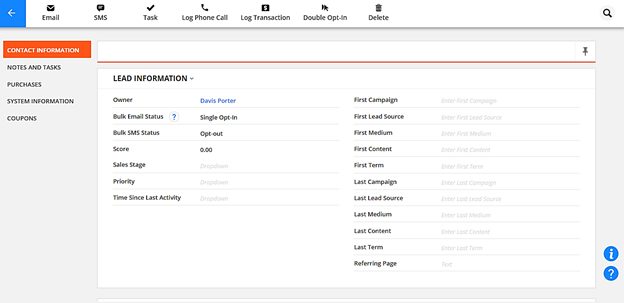 And that's not all. Turns out you could also organize your tags by grouping them accordingly. This might prove to be handy for dynamically complex campaigns with multiple tags. The Basic plan costs $79/month for up to 1000 contacts, the Plus plan costs $147/month for up to 2,500 contacts, the Pro plan costs $297 for 10,000 contacts, and the Enterprise plan costs $497 for 20,000 contacts.
To see the full features comparison list and try Ontraport for two weeks completely free, click here.
View Ontraport Plans and Special Promos
Further Reading:
Its name is derived from the sales pipeline model, which puts this as a sales tool more than a marketing one, right from the outset. The entire process it wants to help you with is based around this model.

Additionally, like InfusionSoft, Pipedrive favors custom from small and medium sized businesses, and I feel like that's something that they're reflecting in their pricing. They have three tiers, with the lowest one starting at $10 per user per month if you pay annually – as is standard, each tier charges a little more for monthly payments + number of users. Their top tier costs $63 per month, and I'm not sure I see the value for in what they offer at that level. Compared to some of the CRMs on this list, Pipedrive feels quite light, I guess it's to go with a user-friendly interface that keeps thing simple. Most small and medium businesses won't have full-time IT support, so that approach will be especially beneficial for them. In that respect, it's a little bit reminiscent of GetResponse.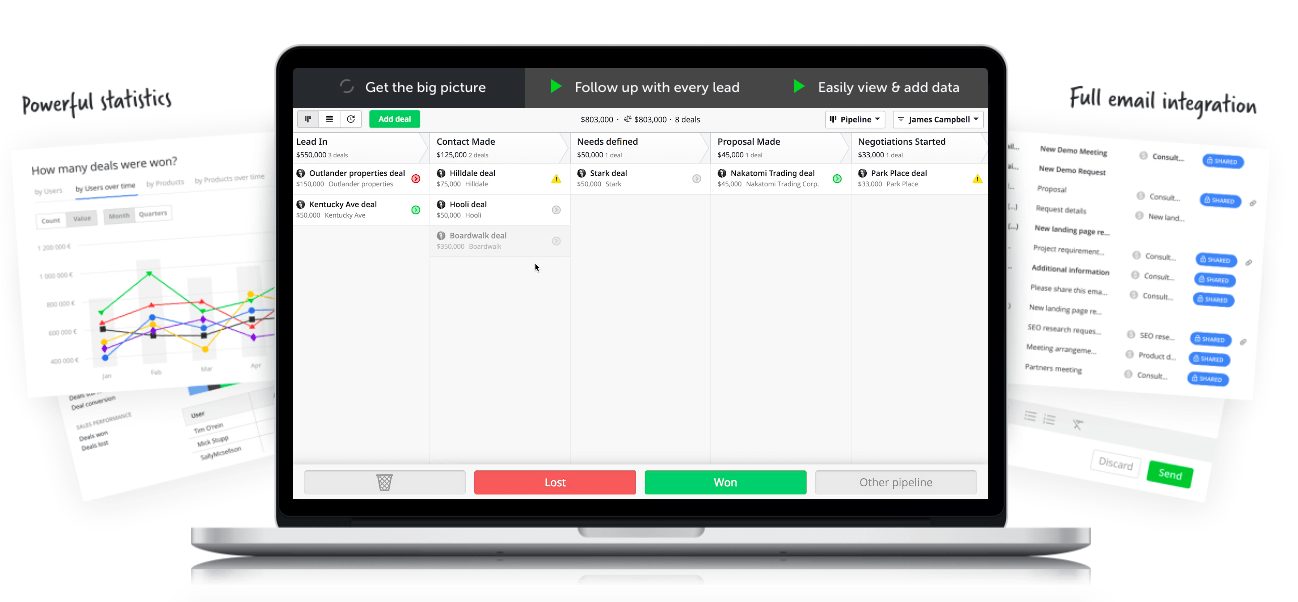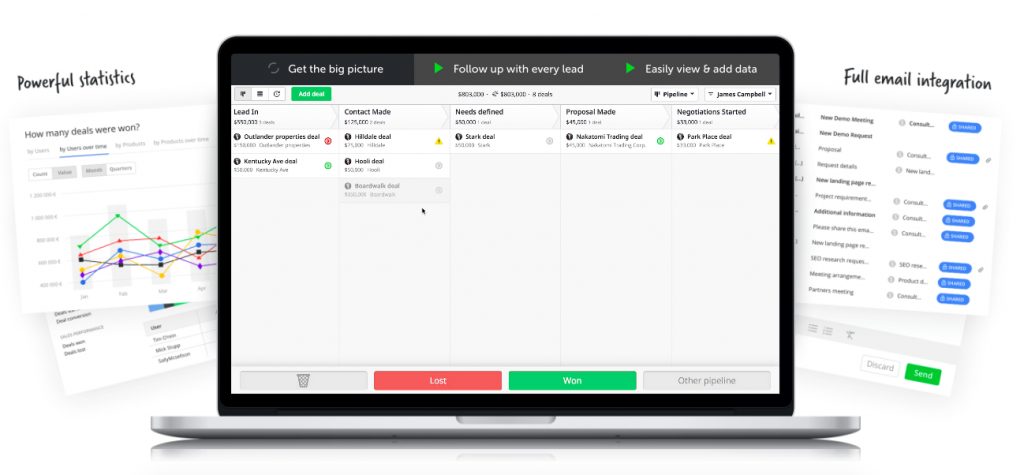 In terms of email marketing, the lowest tier will give a little bit of tracking info, so you can monitor a customer or users journey, and what they do with your email. The middle tier allows you to send marketing email from within Pipedrive itself, while the top tier provide some templates for you in designing your emails. Email capacity is actually one of the few features that increases as you go up through the tiers. The vast majority of stuff is standard across all packages.
View Pipedrive Pricing & Promos
Further Read:
GetResponse is predominantly an email marketing tool, and I've chosen to include it here because I always feel like it wishes it was a CRM. It feel like the developers made a CRM, then stripped it down to leave it more focused on the email marketing capabilities that CRMs usually have. That's not a criticism – they've been on the go since 1998, so they know what's going on.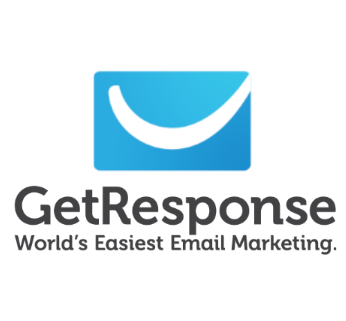 For each of GetResponse's packages they offer 18% off if you pay for 12 months and 30% off if you pay for 24. They have four tiers, with the lowest priced at $15 per month. That's let you contact up to 1,000 subscribers. It lacks the freeness of Agile, but I still find $15 to be very reasonable. The most curious feature of GetResponse is its inclusion of a webinar function. I can see some benefits, but it's certainly not a standard CRM software function. I'm not going to dwell on it here.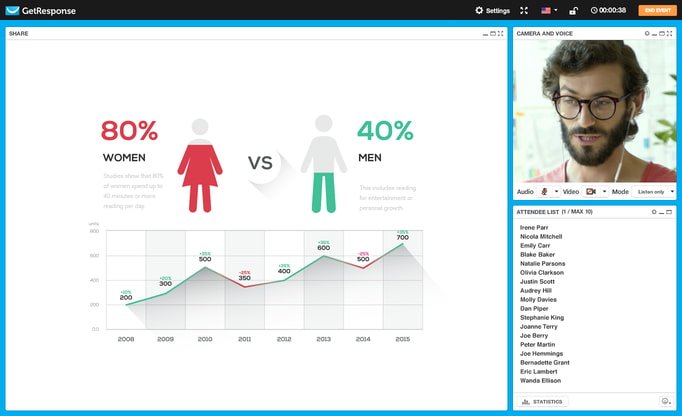 So if you're looking for a light CRM, or a CRM/email marketing hybrid, or something like that, GetResponse will do some pretty cool things for you, like segmentation, automation, and tracking. A minor point of contention for myself is that the level of analysis isn't very deep compared to some other CRMs, email marketing tools and automation tools. I feel like it could do better, but at the same time, not everybody has the interest in utilizing analytical information to find out what to tell their customers next.
Check Out GetResponse Pricing Plans
Further Read:
If there was a particular company that stands out as directly squaring themselves up as an alternative to InfusionSoft, it's the folks over at Agile. They literally have a page on their website demonstrating the Hubspot Alternative Picks to highlight why they're better.


Now, let's be realistic, you have to take this with a grain of salt. This webpage is written by Agile above, and obviously isn't going to flag up the ways that InfusionSoft might be better. But in saying that, if InfusionSoft hasn't completely inspired you, it might be some kind of a starting point if it looks like Agile is doing things you found InfusionSoft to be lacking. The main thing that will attract people to Agile is the price difference. They have four tiers, the lowest of which is free – surely a win for anybody entering the world of CRMs. I have to say, I'm very impressed with what they offer in their free tier. It certainly looks very usable, particularly in terms of features for email marketing.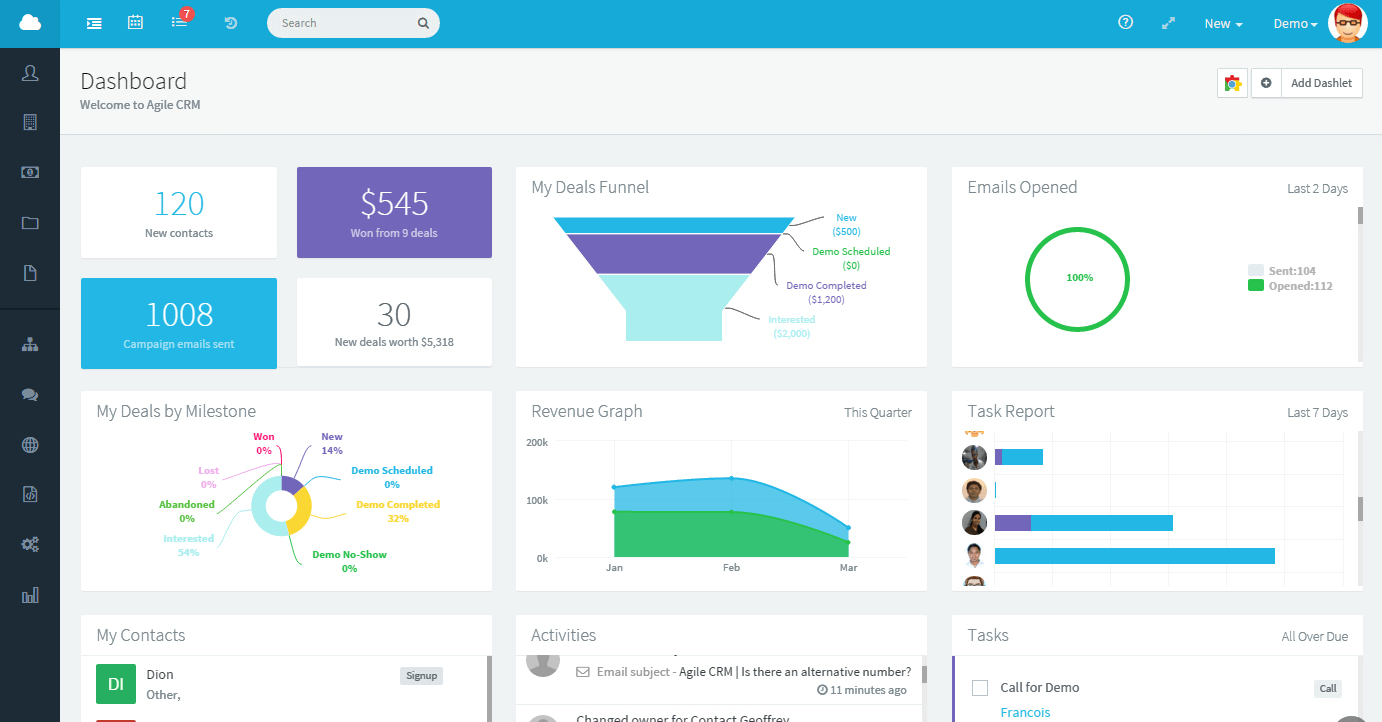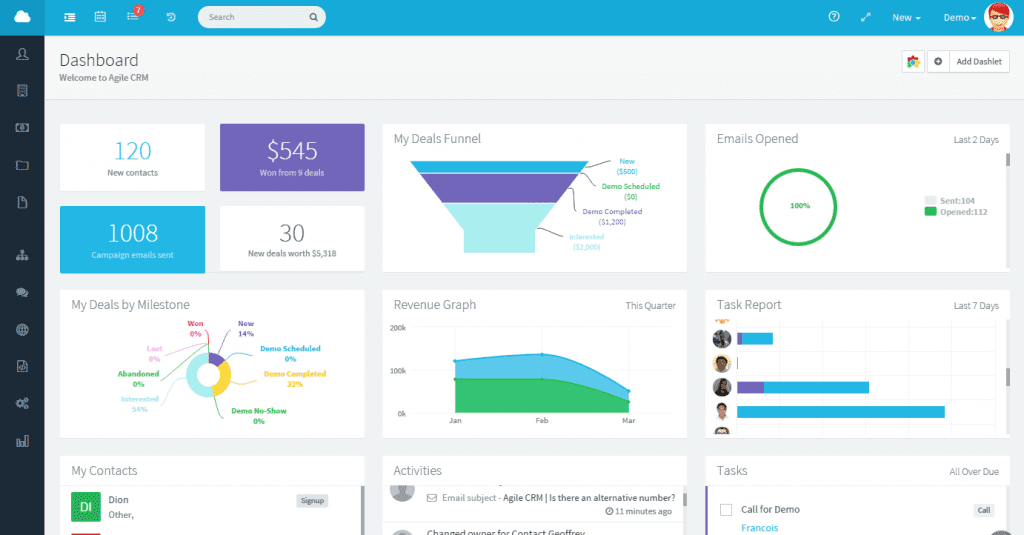 It has sufficient email integration so that recipient actions can be logged on the CRM for later marketing efforts. With Agile's second tier, costing $8.99 per month – which is still ridiculously cheap – it gives you a little help with your email design, giving you access to a drag-and-drop feature. I feel like they've gotten that a little bit backwards. I always feel drag-and-drop is easy to use if you're new to marketing email design, so by the time you're moving on with your business and upgrading your SaaS packages, you'd be looking to refine your designs beyond the capability of drag-and-drop.
If there was going to one CRM to rule them all, it would most likely be Salesforce. If you've done any research at all to date, you'll at least be familiar with the name. One of the reasons that Salesforce is such a dominant name is that it tailors the product for everyone, from big business to nonprofits, to small and medium businesses.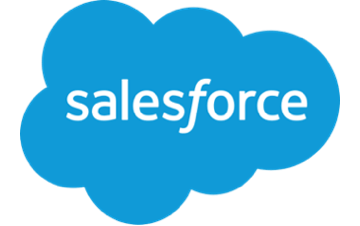 For small businesses, Salesforce have three options: sales, service, and marketing. Each come with their own unique set of features, and the prices vary greatly between packages, so it's important to sit down and working out what you primarily need your CRM software for. They offer a basic sales package for small businesses, which starts at $25 per month. If you want to get your email-marketing game on, you may need to look at their second tier, which start at $75 per month. It might seem like quite a jump, but if you compare the tiers side by side, you'll actually see a jump in the amount of services it offers.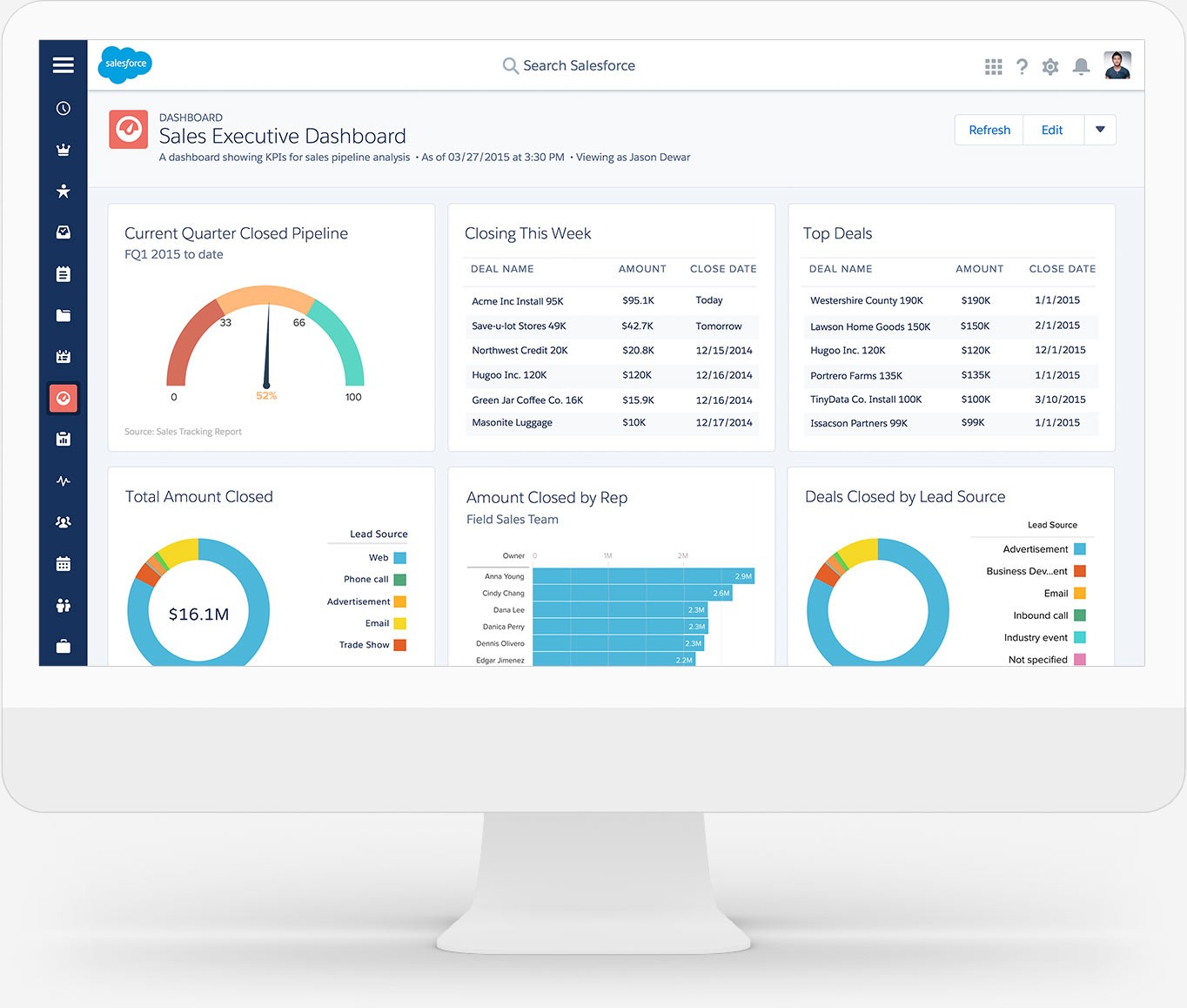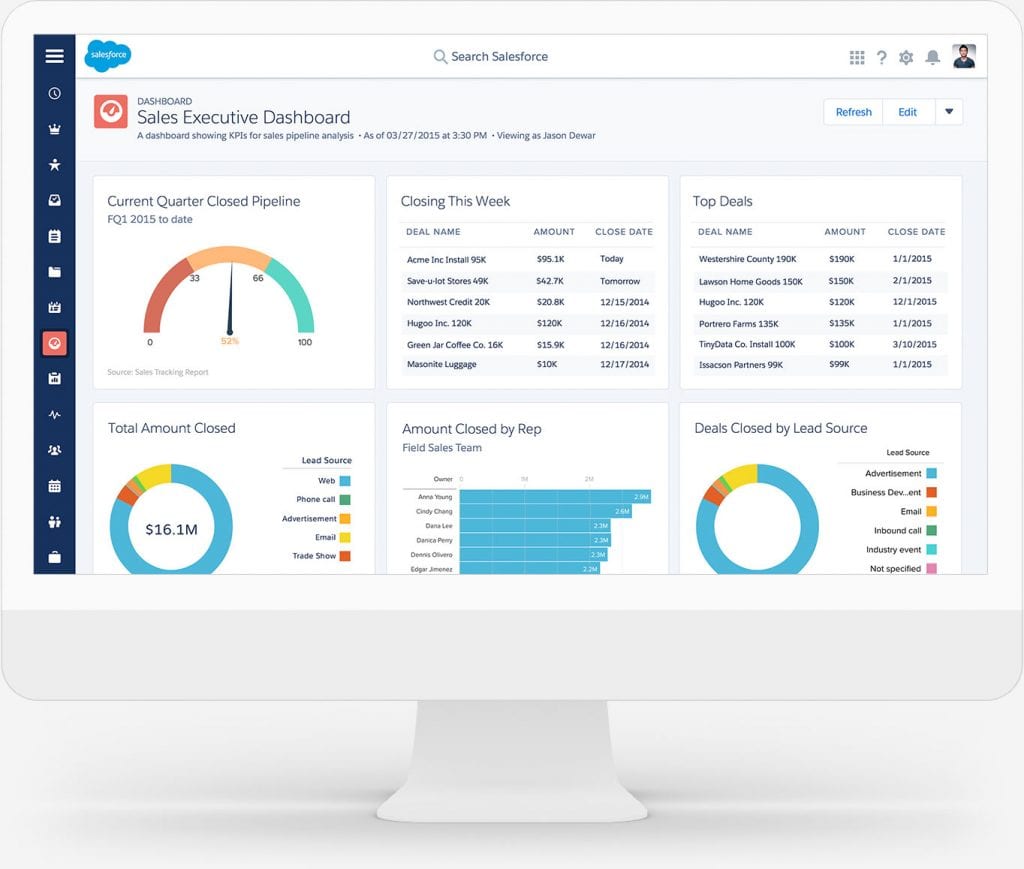 Unlike HubSpot, where you apparently had to select a different service for email automation, Salesforce gives a lot of bang for that $75 in terms of automation features. Salesforce Automation Platforms is a system that helps to enhance and automate the Sales process for a business. The other package you might want to consider for email is the marketing one. I have to be honest, I'm not 100% convinced of it. It seems to be focused entirely on automating everything, and prices start at $1,000 per month. I like automation and all, but I also like to see what's going on all the time. They do offer some great integrations with other applications though.
Insightly comes across as a very ambitious CRM. It claims to to absolutely everything, whatever the size or nature of your business. Quite frankly, it's a first impression that I can't decide whether to place it as arrogance or confidence. Let's not dwell on it, and take a look at what they actually do.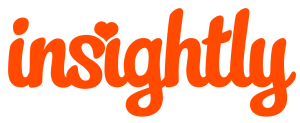 They have four tiers, starting with a free one. I feel like there's a bit of a recurring theme here. Of all the services we've looked at with a free package, I feel like this one might be the skimpiest in terms of features. You can store 2,500 records of your customers, and send up to 10 marketing emails per day. I guess that's fine to get you started, and to give you a feel for the processes involved in having a CRM. Obviously, as you move up and start giving them cash, you get more stuff. Most of Insightly's paid features seem to rely on segmentation, automation, customization, and data analysis. All important features, and the second tier starts at $29 per month if you pay annually – it's $35 if you pay monthly.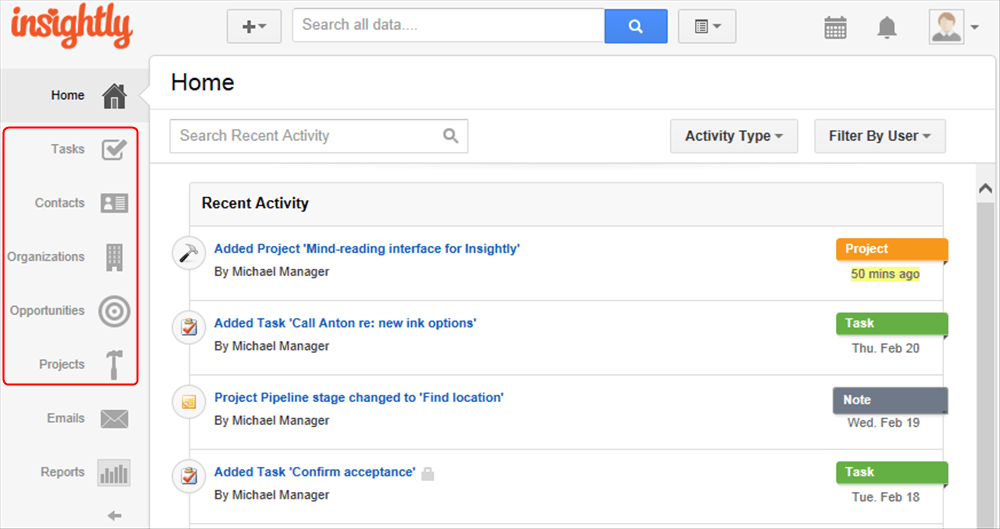 So what about Insightly's email marketing capabilities? Well, pretty impressive I think. It's probably the best about their free tier. You'll have access to custom templates from the get-go, as well as tracking. If you go to the second tier, you'll be able to remove Insightly's branding from your beautiful and engaging emails. You'll also be able to integrate it with MailChimp. As one of the most popular email marketing tools around, this is a smart move, especially for those already using MailChimp. Further Read:
It doesn't specify it as such, but just looking at the pricing options for Zoho CRM, it looks like it is aiming itself at small and medium sized businesses. It has four tiers, and the lowest one only costs $12 per month if you pay annually.

At that price, you get what looks like pretty much the standard for entry-level CRM package across all we've looked at so far, namely, some cool stuff, but not quite as cool as it would be if you gave them more money. In saying that, compared to others on this list, that entry level package is quite impressive. You can have a maximum of 100,000 customer records in the marketing automation platform. I think any small business with that many customer or prospect contacts would be thrilled! As soon as you move up to the next tier though, the number of records you can store are unlimited.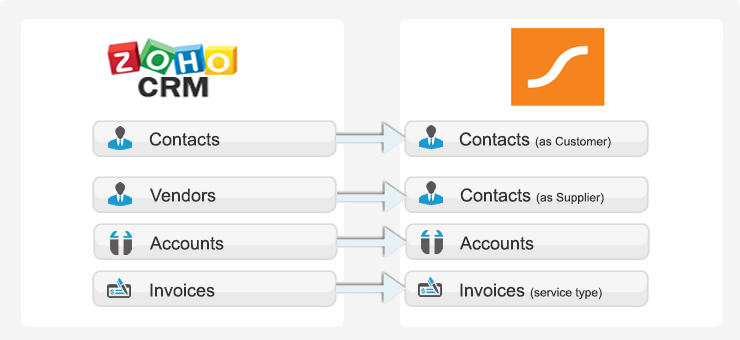 With that entry level tier, you can send bulk emails from within the CRM, but as soon as you go to the next tier, you can integrate it with other email clients, such as MailChimp. They integrate with a bunch of other things too, including WordPress, Google Apps and Evernote. Further Read:
Frequently Asked Questions
Does ActiveCampaign Provide Landing Pages?
This email marketing solution does not provide landing pages, but you can integrate your ActiveCampaign marketing software with integrations like Optimizepress or Zipify to have access to Landing Pages.
Who should I contact with additional questions about Pipedrive's hiring process?
If you are curious about the hiring process, the best way to access more information is by appliying for the job. After this, it is very probable you will receive a personalized email from the recruiter to give you more information about the process.
Can I get a copy of my Agile CRM invoices?
As with any other kind of business, if you have an online store, having your finances in order is crusial. With Agile CRM you will be producing invoices that you can download and safe for your financial organization.
Final Word on the Best Sales Automation Software Alternatives to Infusionsoft
So automation software platform is THE best alternative?
ActiveCampaign SCALES
Take the best email automation and mix it with all the best parts of a CRM. Result: ActiveCampaign. While I call it a "lite CRM", AC is no lightweight. I've been with them for years and LOVE the endless integrations and expandability.
Try ActiveCampaign FIRST
We earn a commission if you click this link and make a purchase at no additional cost to you.
As you can see, each email-marketing program offers its own alternative to Infusionsoft as a marketing tool. Many offer email marketing automation features, marketing funnels, sales funnel, and lead management, lead magnet and lead nurturing capabilities.
Spend some time examining all the marketing campaign features of each marketing platform before making your final decision.
Bottom Line: If you are stuck, give ActiveCampaign a try first (risk free), as I think it's the best alternative worth testing. Otherwise, if you just need a simple, clean CRM, go with Pipedrive here OR for a fully exandable end-t0-end marketing campaigns suite, go with Hubspot here.
Here is a comparison table to sum up the top InfusionSoft automation software alternatives:
HubSpot
Salesforce
Agile
GetResponse
Pricing options
Five tiers for the marketing solution; three tiers for the sales solution; all starting with a free package
Three tiers, starting at $25 per month
Four tiers, starting with a free one
Four tiers, starting at $15 per month
Features
– Gmail and Outlook integration
– Email scheduling, tracking and notifications
– Automation
– Smart send times
– Focus your CRM on sales, service, or marketing
– Dedicated app
– Extensive automation across most features
– 50,000 contacts on free version
– Integrations with other applications only available on top tier
– Email tracking and templates
– Forms for signing up subscribers
– Automation
– Webinars
– Landing pages
Usability
Clear and well-guided for new users
A powerhouse of features; patience needed to be familiar with all of them
Light and easy to use
Simple and intuitive
Conclusion
Good for building CRM knowledge at your own pace
It's one of the best-regarded CRMs for a reason
Good for those on a budget
Good for sales professionals
ActiveCampaign
Insightly
Pipedrive
Zoho CRM
Pricing options
Three tiers, starting at $9 per month
Four tiers, starting with a free one
Three tiers, starting at $10 per month
Four tiers, starting at $12 per month

Features
– Standard email marketing functionality
– Unlimited sends at lowest tier
– Some branding features for your company
– Complimentary design service
– Dedicated account rep
– Email templates and integration with MailChimp
– Lead and sales management
– Project and task management
– Pipeline focused
– Integrates with other software
– Can be managed from iPhone or Android app
– Great budget CRM
– 100,000 records can be stored at the lowest tier
– Integration with email marketing providers
Usability
Straightforward, but prior digital marketing knowledge would be beneficial
Cool, concise and functional layout

Great, as long as you want to focus pretty exclusively on sales
Respectable all-rounder, but not without its limitations
Conclusion
Good for salespeople
Good all-rounder
Definitely one for salespeople
Will likely work best with the rest of Zoho's products

Here are some related articles you may be interested in: