If you're curious whether Notion may be a worthy alternative vs Monday.com, then you've come to the right place.
Why?
Well, this article will save you time and money by providing a clear buying decision concerning Notion vs Monday.
The first thing to note is that Monday.com is a Work OS and highly specialized in project management in terms of the software it provides. Notion.so, on the other hand, is nowhere near as specific.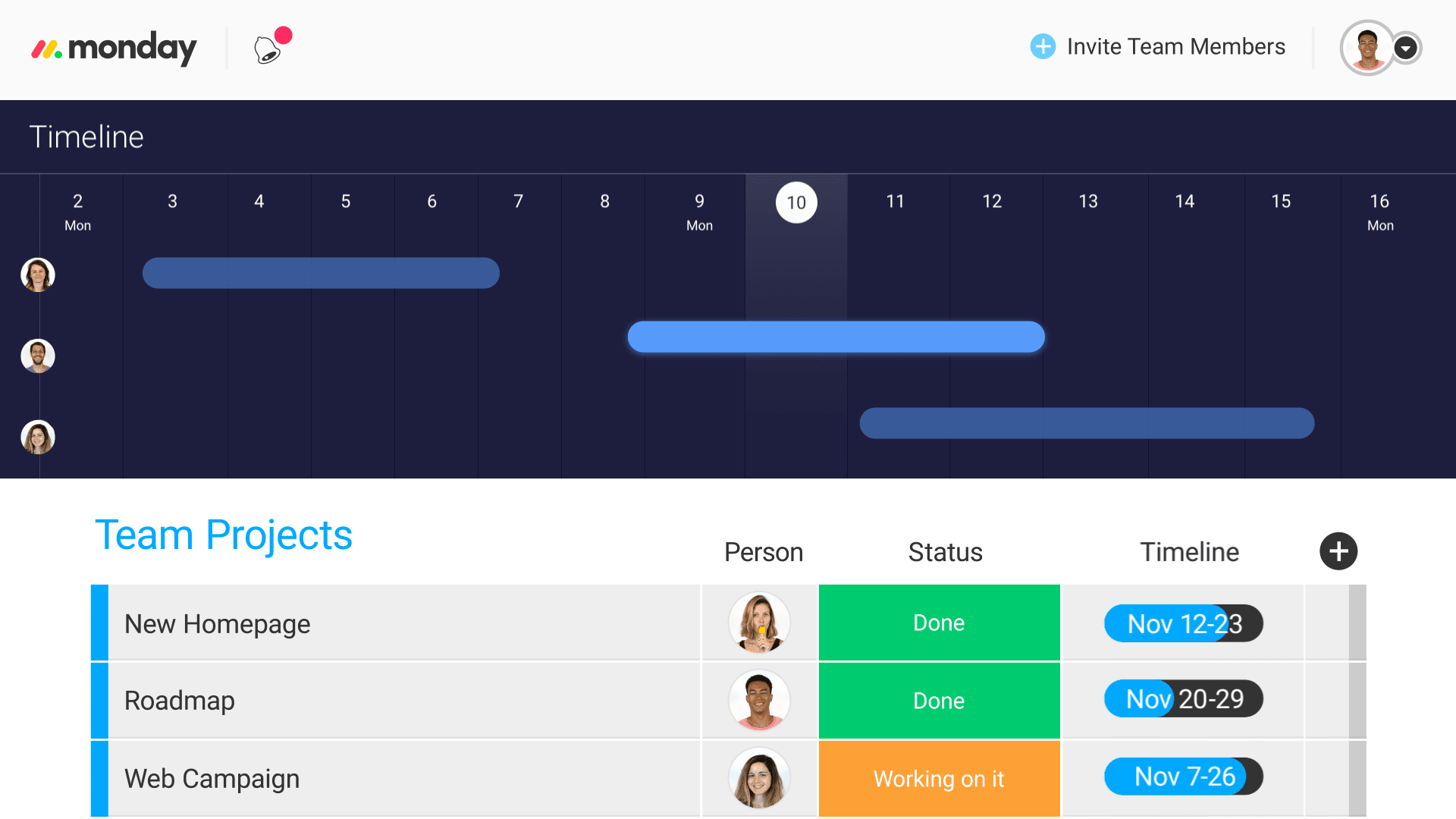 Why Go with monday.com?
Make tasks satisfying to finish! monday.com is quickly disrupting the old guard with a sleek interface, hundreds of integrations, and dozens of workviews for visually imagining and tracking your projects. More than just project management.
View Plans & Pricing
Learn More
We earn a commission at no cost to you which helps keep this blog running!
Instead, Notion is more of a handyman platform that enables you to complete a wide range of work within one integrated system.
That's not to say that Notion can't be used to manage projects – it can. It's just that you're going to be giving yourself a serious headache when it comes to accessing software features and functionality to streamline business activities. In this regard, its competitor is miles ahead. But depending on your needs you could save money choosing Notion over Monday.com.
If you want to learn more about how these two platforms compare and contrast, then read the rest of this article.
Enjoy!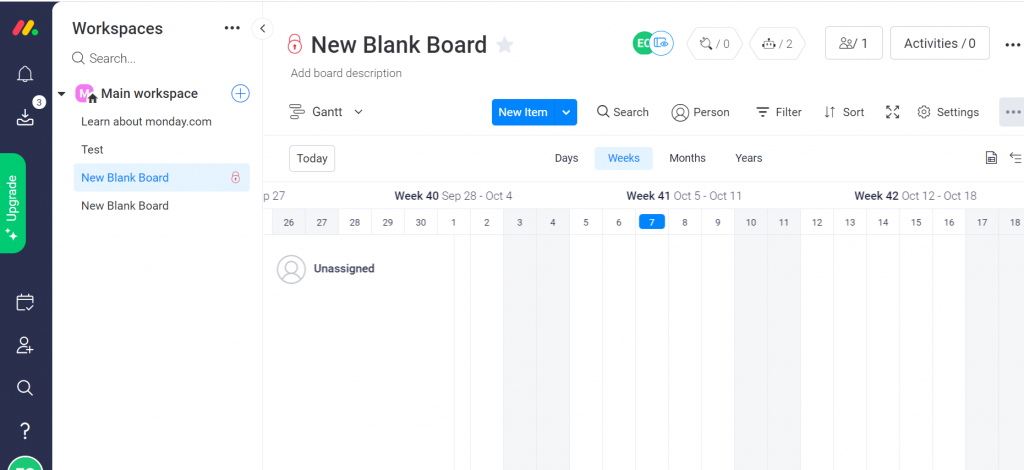 Notion vs Monday.com | The Main Difference Between
Notion.so is an all in one workspace, whereas Monday.com is a Work Operating System (Work OS).
Notion doesn't provide Gantt charts or time tracking for project management, whereas Monday.com provides these two features.
Notion provides Wikis, Journals, and other useful content types per industry, whereas Monday.com does not.
Notion.so offers a free plan, whereas Monday.com does not.
 Notion.so doesn't come with risk analysis, API, or budget tracking (out of the box), whereas Monday.com does.
Notion vs Monday.com | Project Management
Gantt Charts
When managing a project using software designed to provide a bird-eye view certain tools are a must. And one such tool is a Gantt chart.
Gantt charts enhance project visibility, aid in collaboration, and streamline planning. Or in other words, make it easier to see what's going on. From what I can tell, Notion doesn't offer a Gantt chart out of the box.
Which, puts it at a disadvantage when competing with the likes of Wrike vs Asana vs Trello and also vs Monday.com. So, if you're looking to enhance task clarity, efficiency and team collaboration, then you're best served to choose Monday over Notion.
Time Tracking
Time tracking is one of those project management tools that you must have. Time tracking software helps people meet tight deadlines. It goes without saying but time management is improved significantly with good time tracking capabilities.
So, you should pick a Project Management (PM) platform that possesses such a tool. Again, Monday.com offers time tracking functionality out of the box. In contrast, Notion does not. To access time tracking capabilities while using Notion you must integrate with a third-party provider.
Personally, I prefer time tracking to be in-built. So, I find Monday.com a more attractive proposition. But Monday.com's time tracking widget is only available to Pro and Enterprise level pricing holders. So, for some users in small teams or by themselves there's no advantage to time tracking with Monday.com over Notion.
Wikis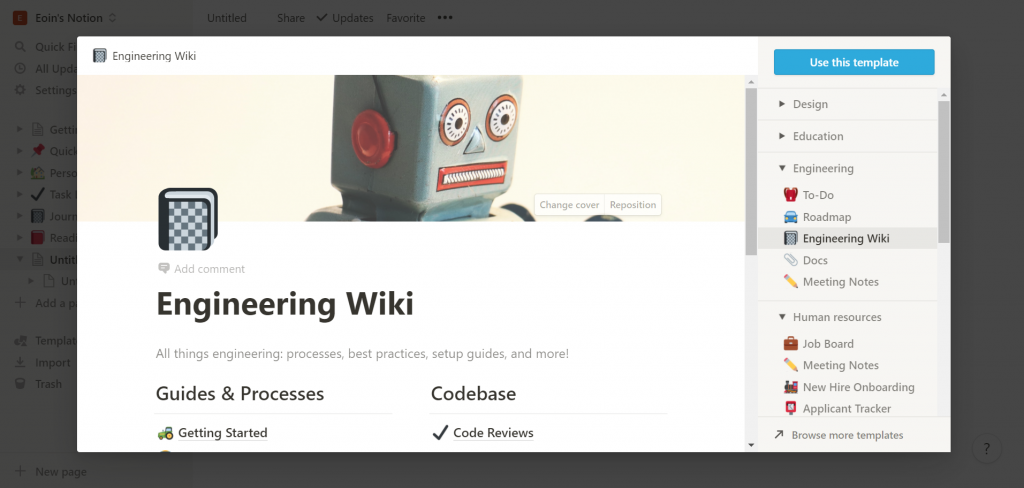 Notion possesses a Wiki builder. This builder is separate from Wikipedia but operates in a similar manner. The aim is to create an online resource that multiple people can contribute and edit. In-house teams can benefit a great deal from Wikis in terms of clarifying project task statuses, strategies, and activities that need doing. Notion's Wiki pages let you do that with the goal of sharing knowledge more effectively.
Another great example is in the case of virtual teams. Wikis can make it easy for team members to share information, collaborate, and link to helpful resources.
Also, Wikis can last forever so it's easy to revisit a Wiki set up during a project. The Wiki can be used to analyze what the team did and didn't do well to improve for next time.
In terms of Wikis on these two platforms, Notion is the clear winner because Monday doesn't let you create Wikis.
I do like creating Wikis with Notion – the app has some helpful templates. That being said it's worth noting some Notion Wiki alternatives, such as MediaWiki and DokuWiki.
Wikis that can be set up with Notion include:
Personal Wiki
Sales Wiki
Engineering Wiki
Product Management Wiki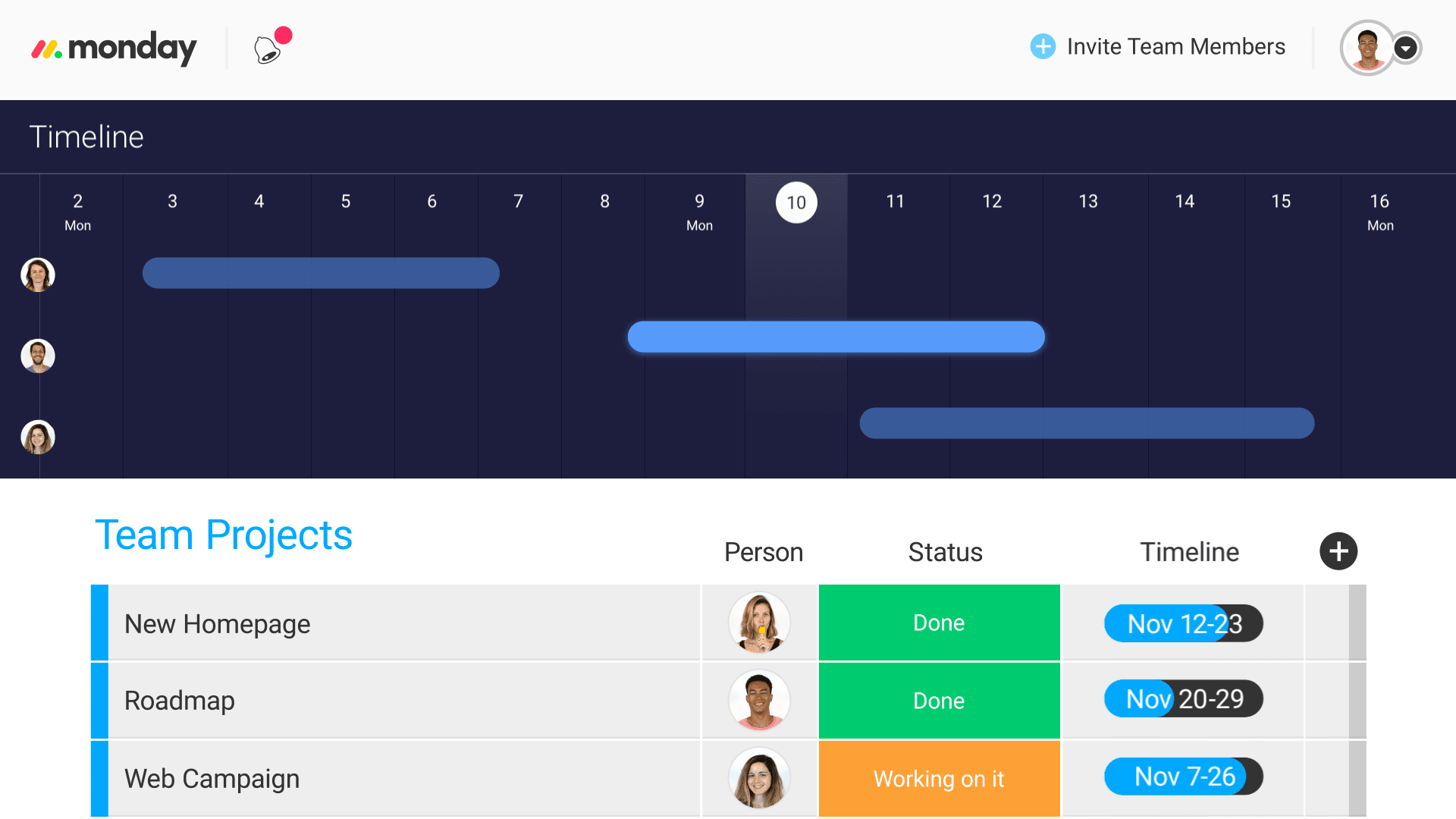 Why Go with monday.com?
Make tasks satisfying to finish! monday.com is quickly disrupting the old guard with a sleek interface, hundreds of integrations, and dozens of workviews for visually imagining and tracking your projects. More than just project management.
View Plans & Pricing
Learn More
We earn a commission at no cost to you which helps keep this blog running!
Budget Management/Tracking
I mentioned already that Monday.com has out of the box time tracking while Notion requires an integration or formula input to access such functionality.
But I didn't talk about budget tracking with either Monday or Notion. So, let's have a look to see what's on offer.
Monday.com makes it easy to perform budget tracking giving customers an idea of how much resources are costing from start to finish. I found Monday's blog post detailing how to effectively use its Work OS to manage a budget useful.
Monday also provides useful functions and units that aid in budget tracking. For instance, you can add units of currencies such as £ or $.
It's also possible to manually add currencies so you're not stuck with the default units. It's possible to position the unit on the left or right of the entered figure to properly represent that currency, which was helpful. I liked as well how monday.com provides functions that automatically calculate "sum", "average" and "median" costs per column. All I've to do is enter the correct totals into each swim lane.
All I've to do is enter the correct totals into each swim lane. Monday.com provides a budget tracking template, which I thought. I also liked Notion's budget tracking template, although I felt it was more of a bookkeeping tool than a simple project management gauge
Notion also offers a budget tracker or at least a method of tracking a budget and that's the expense log. I'll include a link now to a video tutorial explaining how to create an expense log within Notion's management platform. But, Notion doesn't have any real out of the box budget automations or features. So, Monday.com is a better option for budget tracking. Jerad Hill has a helpful video tutorial detailing how best to make an expense log with Notion.
Both platforms provide budget tracking templates.
Kanban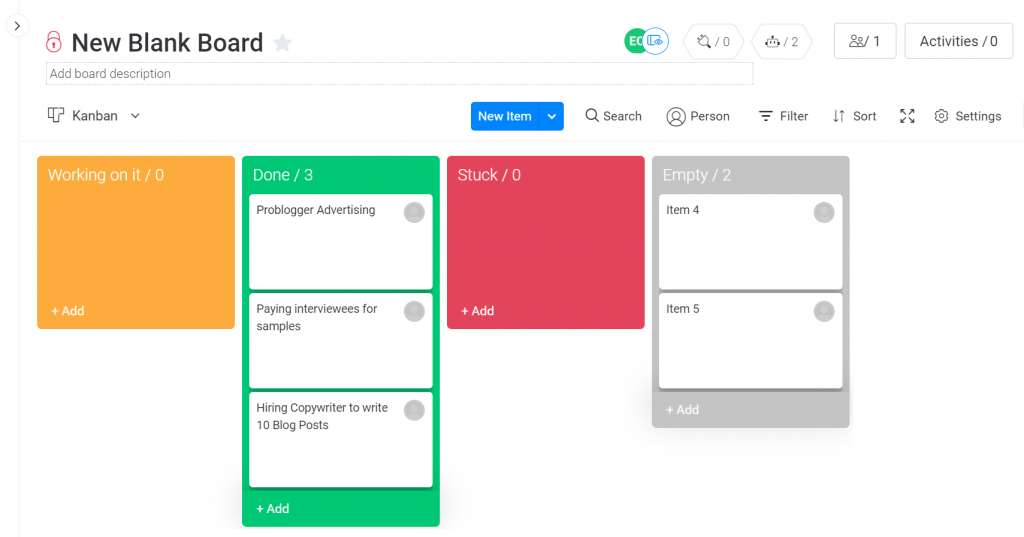 Most project managers would agree that Kanban boards and cards are beneficial during projects. Kanban is best described as a method used to build an effective project management system.
Good Kanban software:
visualizes workflows
limits active tasks or prevents multi-tasking
effectively manages your workflow
uses feedback loops
aids collaboration and provides metrics for testing
makes policies explicit
Granted, this is only the barebones, but nonetheless, gives you an idea of what to expect. If a Kanban board meets the above criteria productivity, visibility, and overall efficiency will improve.
I found creating Kanban boards with Notion to be straightforward. By creating a new page, I can then add Kanban by scrolling down to "Database" and click "Boards" or type "/board" to choose a full page or inline board. When you create a dashboard within Monday.com, you can make it "Kanban" by clicking the dropdown menu option "Main Tables" then selecting "Kanban" from "add view".
Verdict
Personally, creating a Kanban board view with Monday.com is more intuitive. In contrast, Notion's Kanban template took a bit more clicking and didn't reflect the more traditional Kanban-style board cards as effectively as Monday.
Both web-based project management apps offer swim lanes with drag and drop functionality. I found this made it easy to manage the flow.
Overall though I prefer Monday.com. I think it's easier to assign tasks to people, add deadlines by date, group tasks and mark the status of tasks. It's not that these processes are hard with Notion, I just felt that it took too much clicking, hovering, and searching. Monday does a better job at adding automations, board viewing/editing permissions, and integrations. But I must say I preferred sorting and filtering boards with Notion.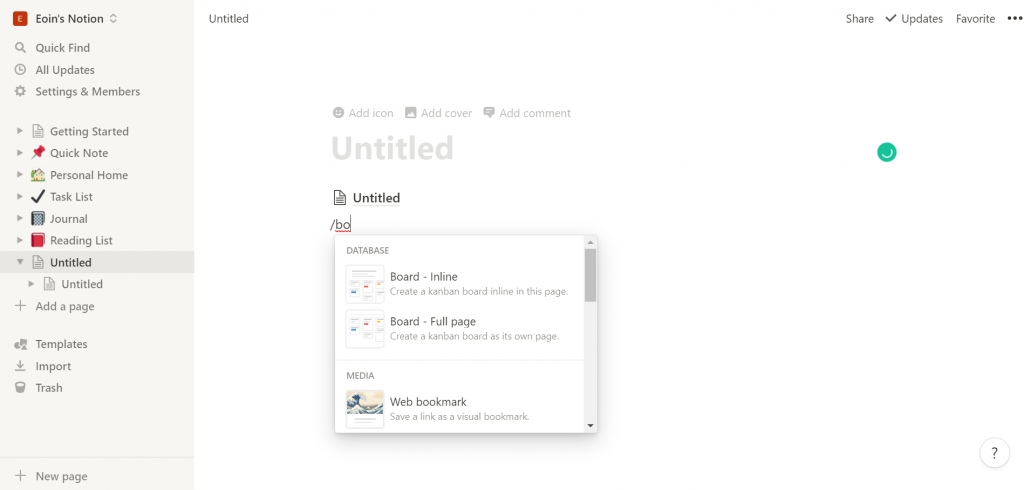 Writing To-Dos/Assigning Tasks
Writing To-Dos using Notion's task list feature was enjoyable and easy. The learning curve is a mere bump.
The first thing you'll notice about Notion's task list is its drag and drop format. You can move tasks around from one column to the next within the "Task List" template. Another handy feature was the ability to set status properties. Examples include:
These statuses combined with the drag and drop aspects of Notion's task list made it easy to set up and move tasks from one status to the next. For example, you could create a task in "To-do" and easily move it to "Done" using just your mouse.
The ability to create filters, share tasks via slack channels, apply creation dates, and last edited by information all came across as useful features for collaboration.
And Now Let's look at Monday.com…
To keep this post balanced, let's now take a look at Monday's offering. The first thing I noticed was the interactive color scheme and the intuitive nature of Monday's platform. It really is easy to use. Something that struck me though was the ability to create private and sharable boards/dashboards with Monday.com. It makes distinguishing "Personal" planning from "Team" planning much easier. Public boards are also available with Monday.
As with Notion, there were lots of options to filter, sort, and assign people to tasks. However, Monday.com does a better job at making this process painless while offering greater options.
Monday.com adds color to workflows and that helps communicate task status. For instance, you can set completed tasks to green indicating positive completion.
A percentage is available per board to highlight how far along tasks are per board grouping. Like Notion, Monday offers a drag and drop layout.
Overall, I think that Monday.com makes it easier to create to-dos and assign tasks. But, Notion is free and Monday isn't. So, your buying decision should take price into careful consideration.
One thing I'll highlight: email notifications. These are incredibly useful for reminders and meeting deadlines. Both platforms offer them.
API Integration
This one is kind of unnecessary, but an API can be useful for building connections and customizations to boost each stage of the project life cycle. As such, it's important to note that Notion doesn't – at the time of writing – have an API. Although plans are in place to get one.
In contrast, Monday.com has an API with an accompanying documentation center. I'd like to say that Notion can still harness the power of integrations, it's just that this functionality must be acquired through the form of a widget.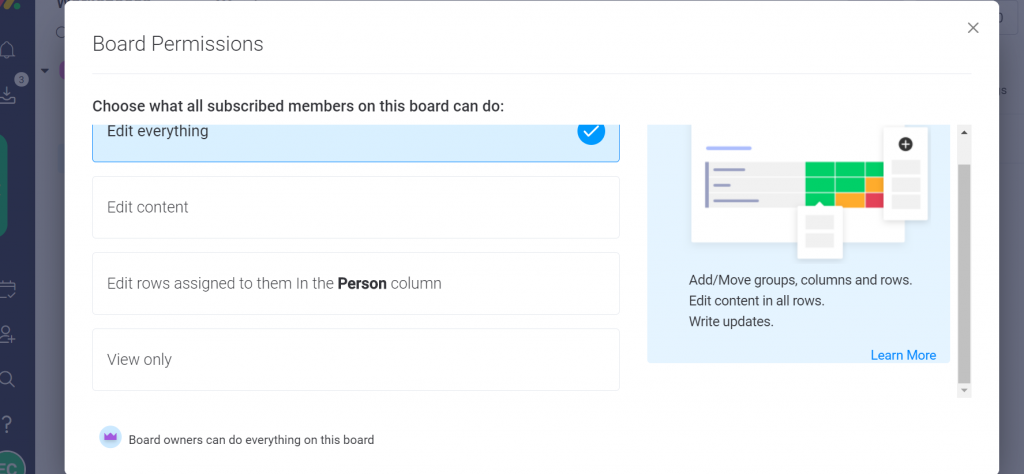 Risk Management
Managing risk by understanding how your boards are interacting is an important aspect of project management with Monday.com. The risk log and risk register template are two helpful features.
Here's a solid blog post from a Monday.com partner and project manager. He explains how he uses Monday.com to manage risk.
To the best of my knowledge, risk analysis is absent from Notion's all-in-one workspace "out of the box".
Ease of Use
Monday.com is easy to use. Notion.so is a little less so. Probably because it's not as color-coded and looks a bit dull in comparison to its competitor's interface. As well Notion takes a bit more searching and clicking than Monday, which can be annoying in the early hours of the morning!
But there, overall, straightforward enough in terms of UX. The dashboard in Notion is as clutter-free as an all-in-one workspace can be. While Monday/s Work OS is colorful and inviting in a fun playful manner.
Work OS vs All in One Workspace
Notion is a better service for anyone looking to keep a journal, write a task list, complete user research, or manage their personal workloads. I like the fact it covers so many verticals such as:
HR
Sales
Engineering
Product Management
Education
I don't feel Monday.com comes close to offering as many niche templates options. Although Monday.com is a superior system for managing projects with its board templates, budget tracking, Gantt charts, time tracking, invoicing, and API all strengths.
Calendar
Monday.com and Notion offer a calendar tool out of the box. But Monday's calendar isn't available on its "Basic" plan. All other plans come with this feature. All Notion plans contain the calendar feature. So, Notion has a slight edge in that respect. But Monday's calendar offers a better UX.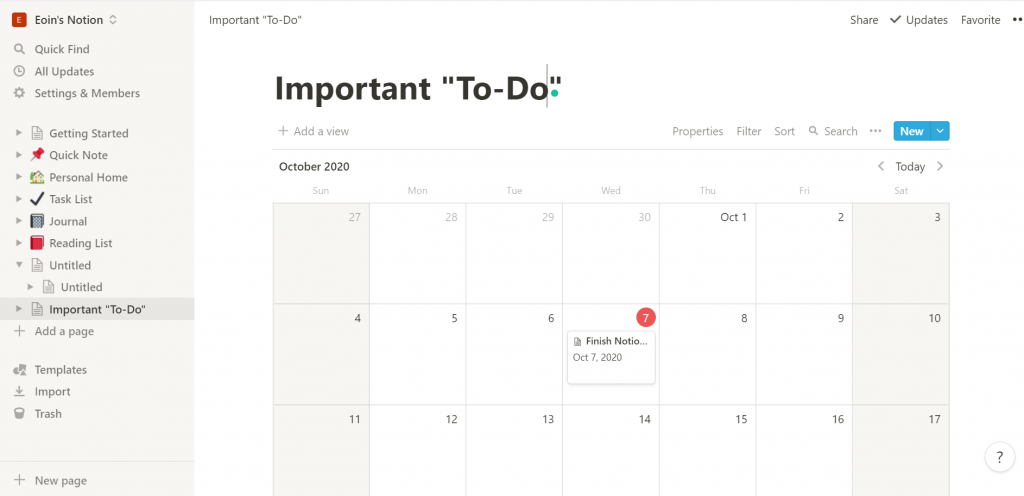 Support
Support is a vital aspect of a project management solution. To begin let's look at the type of support available with both platforms.
Monday.com's "Support"/"Customer Success" team is available 24/7 regardless of the plan you hold. Notion.so also offers customer support to all license holders of its paid plans. Notion's free plan doesn't come with support.
Support documentation is important. Nobody wants to have to reach out with an email ticket over the banalest tasks. That being said, there are times that need must. But such instances occur less with Monday. The Work OS' blog and knowledgebase make it easy to find solutions hassle-free. Although I must say that I did like the carefully listed approach within Notion's help center.
In terms of support channels Monday.com can be reached using:
Email (the address is [email protected])
Form (CLICK  HERE to view)
Phone Number (+1 (201) 778-4567)
Post (Here's the address listed on the official website: 34 W 14th St. New York, NY 10011, USA)
Notion.so' support team can be contacted via:
One support feature that Monday offers its license holders is ticket tracking. It's a great way to speed up customer service and prioritize support so that customers who pay the highest prices or have the most pressing concerns get the kind of help they need.
Pricing
Notion's Pricing: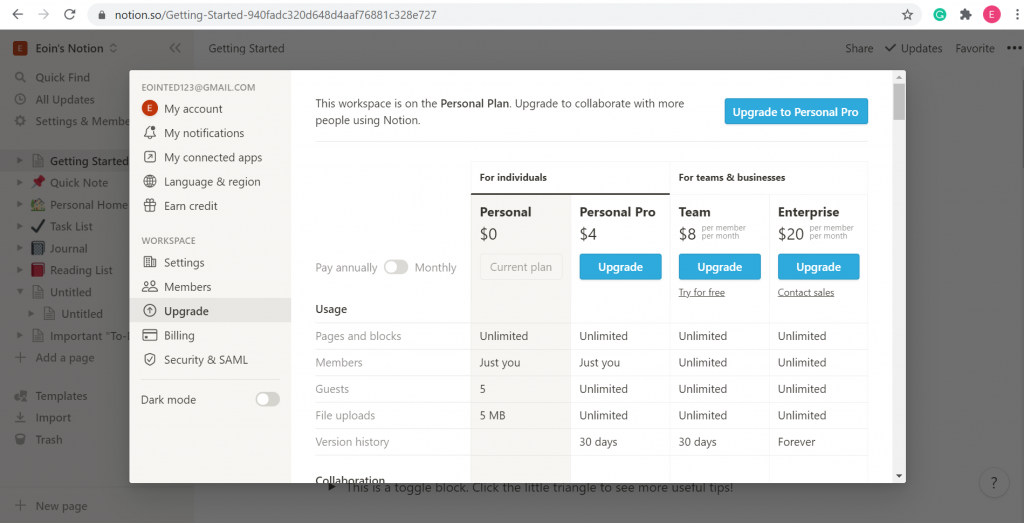 Monday's Pricing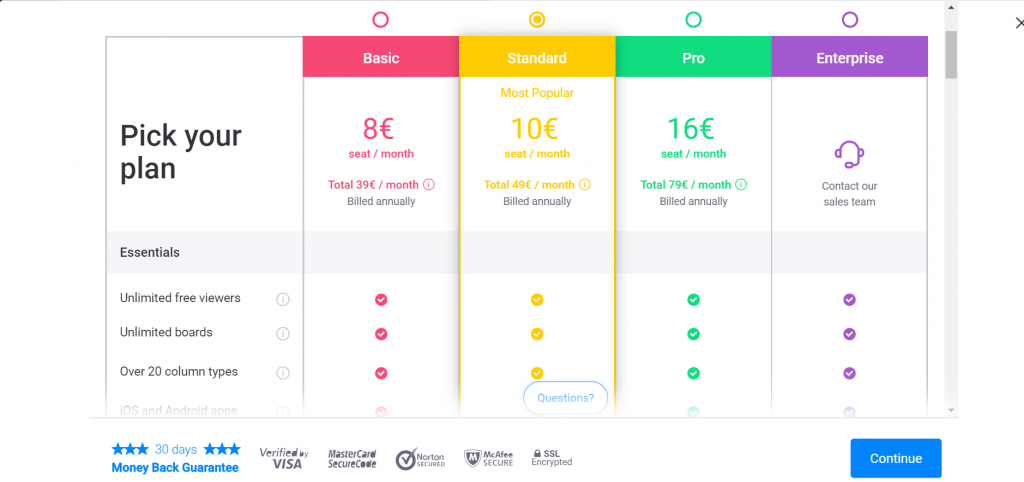 Price Per Seats
If you require more than 100 seats (users), then you'll need to contact monday.com directly. Otherwise, you can use the table in shot available Monday's website to discover pricing.
Notion vs Monday | Frequently Asked Questions
What can Monday.com do?
Monday.com can help you manage your time more effectively by boosting your productivity. To aid in this process Monday.com is equipped with features such as time-tracking, automation, board templates, an intuitive drag, and drop task, and project builder as well as other useful features.
How much does Monday.com cost?
Monday.com's pricing structure operates under a tiered format. There are four tiers. Each tier adds to the next in terms of functionality, users, and dashboards as well as automation(s). This increase in functionality is mirrored by the increase in Monday's pricing plans.
Note that non-profits, students, and NGOs benefit from discounts courtesy of Monday.com. The WOS lets you pay on a monthly or annual basis. Should you choose to pay annually with a lump sum you'll enjoy a discounted price. Finally, the size of your team will affect the cost of your Monday.com subscription.
Is Monday.com a Project Management Tool?
Yes, Monday.com is a project management tool. It offers project management features. But, it's better described as a Work Operating System. This is the way Monday itself describes its platform. You can use monday.com free trial to see for yourself if it fits your criteria to be an online PM tool.
What is Notion Used for?
Notion is used for planning and organizational purposes. To be more precise, Notion is an all in one workspace. People use Notion for project management, to-dos, data management, team collaboration, and note-taking
Is Notion free now?
Yes, Notion is free to use. Which, will automatically make it a better option than Monday.com for a lot of people. You can access Notion's free plan by enrolling under its "Personal Plan". If you're a student, educator, or using Notion individually, then Notion's free option is best for you.
Is Notion any good?
Notion is good for creating wikis, taking notes, planning, and writing to-do lists, but it's not a good project management software. There are many Notion alternatives that are much more robust and suited to PM.
Buying Decision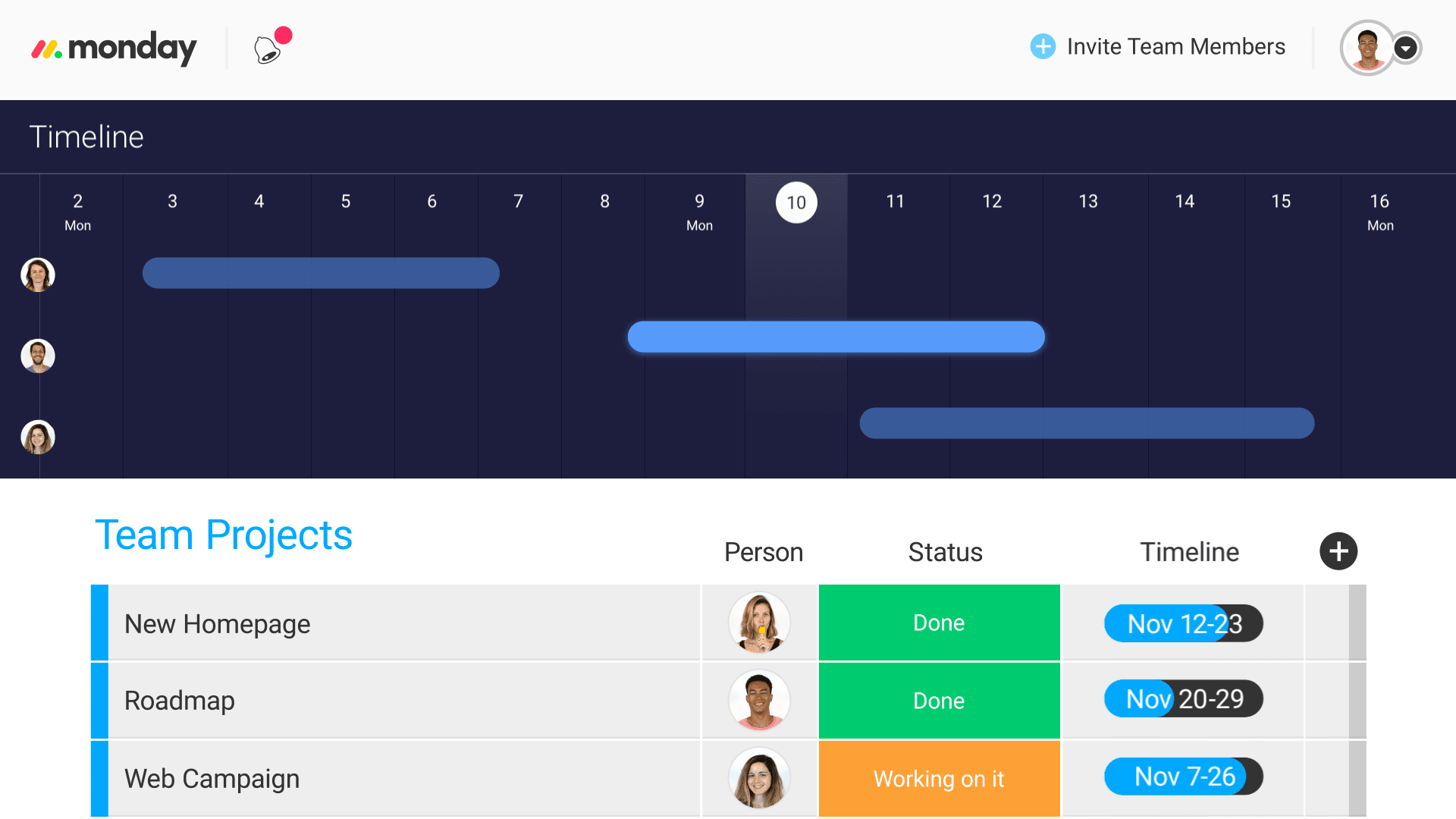 Why Go with monday.com?
Make tasks satisfying to finish! monday.com is quickly disrupting the old guard with a sleek interface, hundreds of integrations, and dozens of workviews for visually imagining and tracking your projects. More than just project management.
View Plans & Pricing
Learn More
We earn a commission at no cost to you which helps keep this blog running!
If you're after a project management tool then I'd recommend choosing Monday.com. Monday.com is a superior system for managing projects with its board templates, budget tracking, Gantt charts, time tracking, invoicing, and API all absent in its competitor's platform. That being said, if you're just after something to take notes and organize yourself for free, well, Notion is a better option.
Further read: