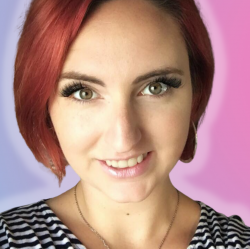 Latest posts by Jessica Lauren Vine
(see all)
Last Updated on May 6, 2022 by DMEditor
Choosing between Notion vs OneNote can be a hard decision since Notion is super trendy right now, and OneNote is from a company—Microsoft—you know. Understanding the differences and the similarities can make your decision easier.
When I was trying to figure out my best course of action, I really didn't think about OneNote or Notion. I kept most of the things I needed to track within Google Drive or Excel spreadsheets, which was a complete nightmare, I know. Even though I'm not a pro user, I do see the benefits of using a service like Notion or OneNote for project management for both personal and business reasons.
Notion vs OneNote – Bottomline Upfront Summary
I used to use Evernote for what I use Notion for now. Evernote is a little clunkier, and I would use OneNote over Evernote, but I still jumped on the Notion train. One of the reasons is that there are so many people using it that it is easy to find someone to give you helpful tips on using it.
Main Differences Between Notion vs OneNote
The Main Differences Between Notion vs OneNote Are:
Notion lets you do a lot of things without leaving the application, whereas OneNote doesn't have as many abilities
Notion makes it easy to store and organize information, whereas OneNote isn't as effective
Notion makes it easy to find what you need, whereas OneNote is a little more chaotic
Notion is more complicated when it comes to user experience, whereas OneNote is very simple to understand
These key differences lead me to believe that Notion is best for someone that wants an overpowered note taking tool, whereas OneNote is better for someone that isn't computer savvy and wants to keep things as simple as possible.
Notion Overview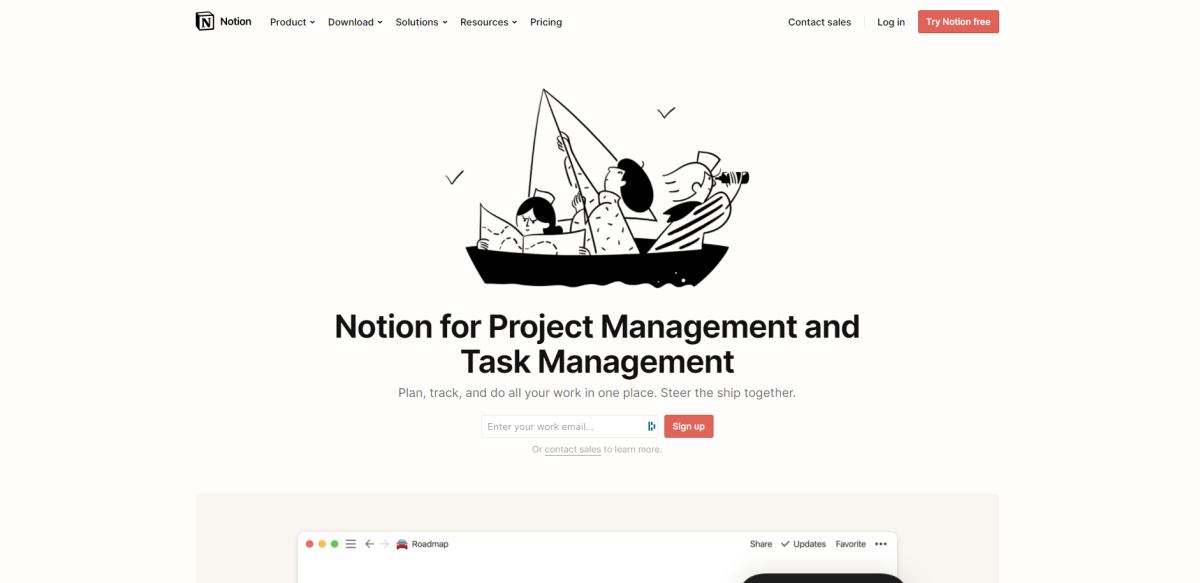 To say that Notion is a note taking app is an oversimplification. Yes, you can easily use Notion to take notes and to nicely and neatly organize them. However, Notion is so much more than an app to take notes.
If you use Notion for personal reasons, it's a great way to keep track of everything you need to do, brainstorm, sift through information, and more. There are so many uses for Notion that I continue to stumble upon new ways to make life easier and more productive using the app.
The founders of Notion started this project and created this product because they wanted to bring everything together. They wanted to make all the productivity apps available in one place, and they do a pretty good job of that. There are some things that are more difficult to do than others, but overall, Notion will make your life easier once you get past the initial learning curve that is definitely there.
One of the cool things you'll notice once you access Notion is that if you use it for personal use, you can use Notion for free—for forever. There are only some minor limitations when you use a free personal account.
What Sets Notion Apart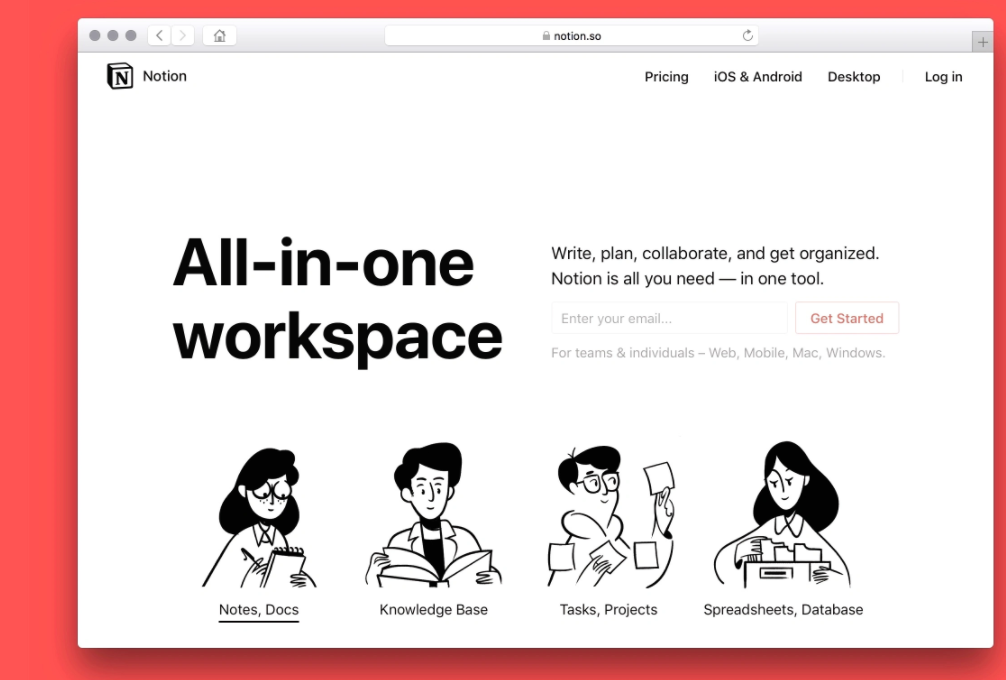 While Notion is great for taking standard notes, I think Notion is the best note-taking app because it does so much more than that. You can pop up a note-taking template and go to town or you can manage a team.
Some of my favorites are:
The ability to assign and track tasks for easier task management
Calendar creation to be able to see what you need to do and when within the app
Customizable space to make it feel "like home" with banners which is pretty cool within a productivity tool
Overall, I think Notion is the best OneNote alternative.
Notion Pros & Cons
Let's go into the biggest pros and cons of Notion below.
Pros
Easy to track meeting notes and events
Nicely displayed information
Flexible document organization
Simple markdown structure
Multipurpose
Cons
Windows app is a bit annoying
A big learning curve because of so many options
Notion Pricing Plans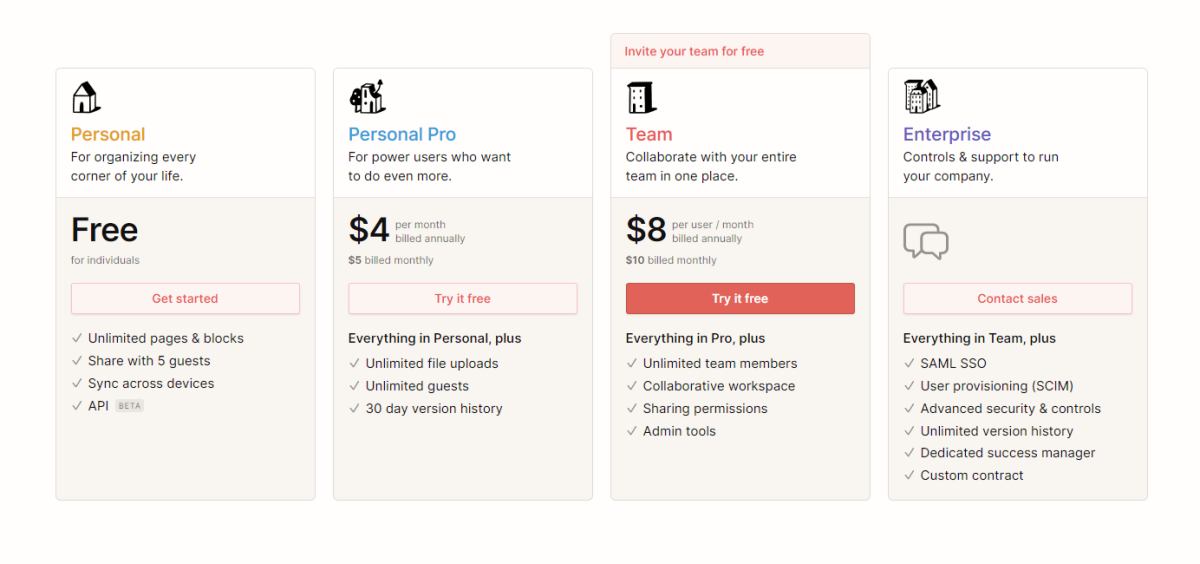 The pricing plans for Notion are more than fair and offer way more value than the money you put out.
Let's go through them quickly:
Notion Personal pricing plan: Free for personal use to organize your life. You have access to unlimited blocks and pages and the ability to share with five guests. You're also able to sync across devices and use their API
Notion Personal Pro pricing plan: $5 per month. You get everything you get in the Personal plan as well as unlimited file upload, unlimited guests, and 30-day version history.
Notion Team pricing plan: $10 per month. You get everything you get in the Personal Pro plan, as well as unlimited team members, collab workspace, sharing permission, and admin tools.
Enterprise is also available for large teams, and you have to speak to the sales team if you want to look into this option more.
If you want a good deal and you want a project management tool that is going to really help you put things in order, then Notion is a great option.
OneNote Overview
One of the beauties of OneNote is that all versions of OneNote are free. However, if you want some premium features, you'll have to pay a premium price. More on that later.
The big thing I like about OneNote is that it is from Microsoft, and I do pretty much trust that company. Even so, I don't really like the design of OneNote. And I really don't like that it's kind of the grandpa of project management tools. It's definitely not the cool kid, and I like to use cool kid stuff.
Microsoft OneNote first came out in 2003, but it's come a long way since then. Even so, since OneNote has been out so long, that does mean that there are likely fewer bugs they have to deal with since they've already gone through so much testing with real users.
OneNote brags that they let their users "create their own way." You're also able to collaborate with anyone when using OneNote, which makes life a lot easier. Most tools allow you to collaborate these days, but since OneNote is a pretty simple app, it's less likely the less-than-tech-savvy people around you will feel confused.
What Sets OneNote Apart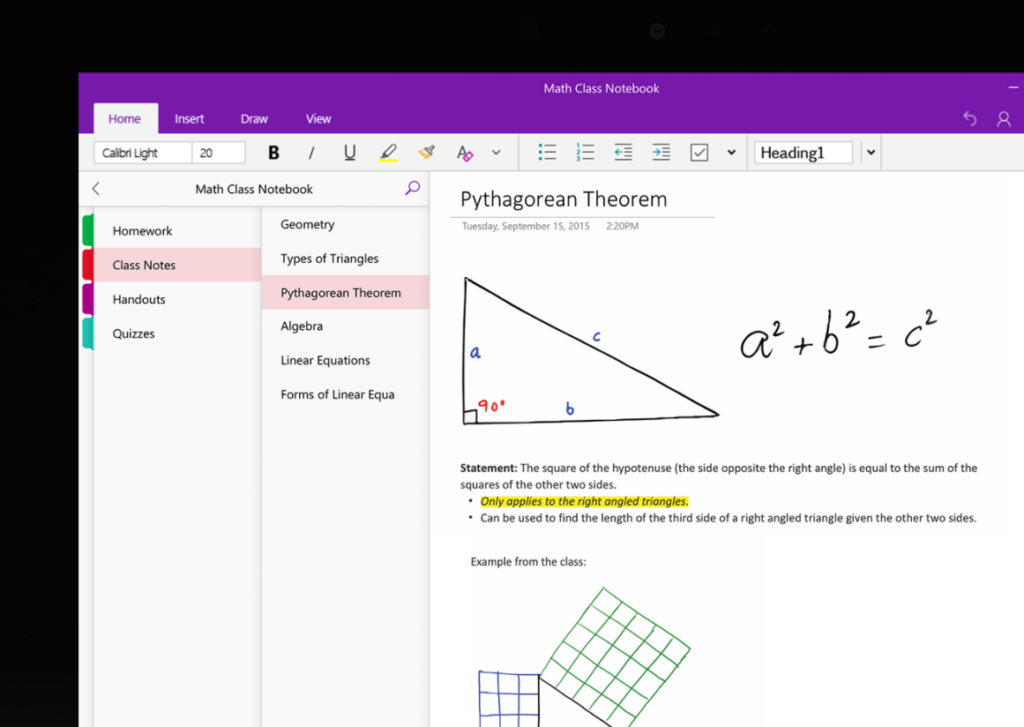 For every Microsoft user, OneNote makes sense because it is included in your Microsoft 365 subscription, but that doesn't matter if you don't like it. Here are some of the most popular things that people like about OneNote and I think they're pretty cool too.
Sticky Notes – These literally look like sticky notes and while they might not app to the function of the app, they look really cool and enhance the overall user experience.
Custom Tags – Instead of hoping you can find the notes you want just by searching for them, you can tag them so you know OneNote understands what the notes are about and that makes it a lot easier for you to find things.
Internal Links – You can easily add internal links within your content so you can link to anything that is within OneNote that you need to remember or that your team needs to remember.
OneNote Pros & Cons
Let's go into the biggest pros and cons of OneNote below.
Pros
Decent organization
Easy note taking
Tagging of content
Good for capturing multiple types of input (like notes, drawings, and photos)
Cons
Layout tabs are lacking
Searching isn't always good
OneNote Pricing Plans
Here is where OneNote is different than Notion. It's really hard to find a straight answer about how much OneNote costs.
Downloading any supported versions of OneNote is free. However, the only way you're able to unlock some of the premium features is if you have an Office 2019 or a Microsoft 365 subscription going. Since Microsoft is known to change their pricing plans all of the time, it's best to look up the current price and see how much you can get either of these for, but at this point, it is less than $100.
The Best Alternatives for Notion vs OneNote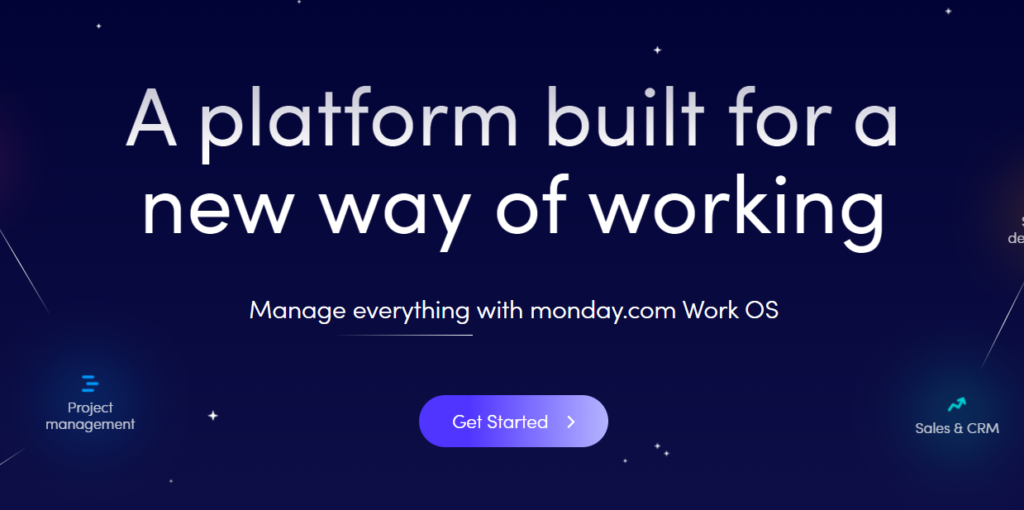 Despite how awesome I might think Notion is and how simple OneNote is, you might not want to mess with either of these solutions. Here are some of the top alternatives to Notion and OneNote.
Monday.com is a work operating system that comes with some features Notion and OneNote don't have out of the box. If you want budget tracking, risk analysis, and other similar functions then this could be the perfect option for you.
Trello is another tool I actually use even though I also use Notion. I like their board and use them for meal planning and keeping track of editing checklist must-haves. You can use it for personal or business purposes, but I really like Trello for what I use it for and not note taking and project management.
Evernote is the old workhorse that I used to use to put all my notes and photos in, so if you're after simple and steady then you can have at it.
FAQs
Question: Is OneNote free to use?
Answer: Yes. You can use the free version of OneNote. If you want premium features, you need to buy Microsoft 365 or Office 2019.
Question: Is Notion free?
Answer: Yes. There is a free version of Notion app for personal use.
Question: What is OneNote used for?
Answer: Many people use OneNote as a note taking app, aka digital notebook, to sync notes across devices.
Question: Do I have to update OneNote?
Answer: If your OneNote doesn't update automatically, you don't have to update it. However, if you don't update it, you won't have as good of function as you would otherwise.
Notion vs OneNote: Conclusion
Now that you know more about both Notion and OneNote, you'll likely see how one or the other is better for you and what you need to do. For what I need to do, which is usually planning out YouTube videos, organizing scripts, jotting down helpful life lessons and books I want to buy, Notion simply makes sense for me. I do know there are so many other things that I am able to do with Notion, and I'm learning but not overwhelming myself.
The sheer volume of things and the complication of putting them all together is the only thing I don't love about Notion. OneNote is so simple that it's kind of hard to really mess up much when you play around in there.
So, as I said, I'd totally go with Notion if you're on the fence. Enjoy, and don't forget to check out some of these other articles if you need even more help to make your decision.
Our Recommendation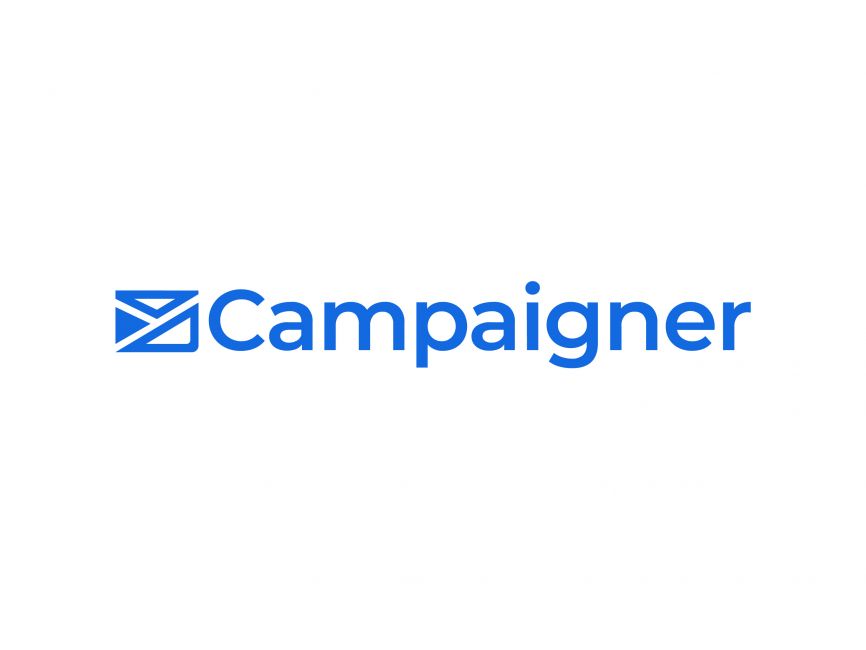 Have Your Heard of Campaigner?
Drive sales and revenue using advanced marketing automation, intuitive reporting and powerful personalization through email and SMS. Try Campaigner for free!
Start Your FREE Trial
We earn a commission if you click this link and make a purchase at no additional cost to you.