Last Updated on May 6, 2022 by DMEditor
You can use both Coda vs Notion for personal use or teams. Looking at Coda vs Notion can give you a good idea of whether or not it's a good fit for what you need. I use Notion and like the way it works. I'm also still learning more about all its abilities, so I'll share what I know here with you so you can choose the one you like best.
Coda vs Notion –

Bottomline Upfront
Both of these are great. However, I choose Notion. Notion has a personal plan that makes it easy to stay on the free side of things. If you use Coda, you'll likely run out of space and have to start paying, even if you use it for personal use.
Coda vs Notion –

Main Differences
The main differences between Coda vs Notion are:
Coda doesn't have a desktop app, whereas Notion does have a desktop app
Coda works on a docs space, whereas Notion works on workspaces
Coda makes it easy to go between docs, whereas Notion doesn't make it very easy to go between workspaces
Coda has a lot of limits on its free plan, whereas Notion makes it easier to stay on the free personal plan
Coda gives you a daily and weekly view, whereas Notion can't do this
These platforms also have a lot of similarities, like their learning curve, for instance. If you look at both of the platforms and you don't know anything about either of them, it would take you about the same time to learn about both of these platforms and figure out how to implement them, so they work for you.
Keep in mind that neither Coda nor Notion is meant to be used on the phone or tablet, even though they do have apps where you can use them. While they might function, you won't get the full benefit of these tools on the app.
Let's go more in-depth about both Coda and Notion so you can choose the right one for you.
Coda Overview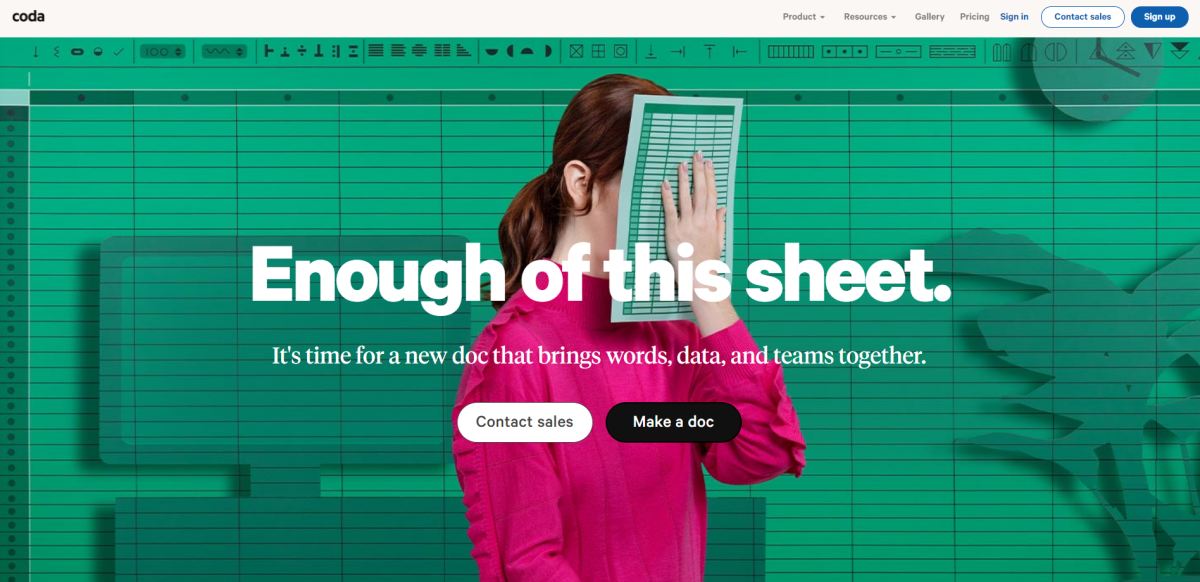 Code is a document and project management software designed to help you organize and plan either personally or with a team. The modular productivity software starts blank, but it grows to help you with all the tasks you can think of adding.
Shishir Mehrotra and Alex DeNeui founded Coda in 2014, but it didn't get out of beta and launch until May of 2019. Being relatively new, Coda is doing well in the marketplace and making itself known amongst productivity seekers.
You might start with a blank page, but that changes quickly as you put tables and text together to make your creation. You can easily create your workspace and manage your projects once you understand how to piece everything together. You're able to use formulas anywhere, not just within tables. Another cool thing is that you can pull data from anywhere else in the document you're using.
When you're within Coda, you'll see "Packs." Packs are Coda's version of plugins like you'd use in WordPress. You can connect a lot of different apps you already use, like Gmail or other similar apps.
Coda has a template gallery that makes it easy to get started with whatever tasks you need to do within the tool.
Coda Pros & Cons
Here are some of the most important pros and cons of Coda.
Pros
Easy to store documents in a neat and organized manner
Easy to collaborate
Has a lot of integrations
Subpages make it easy to keep track of everything
Cons
A little bit of a dated design
Difficult to identify all of the features
Sometimes messes with document structure
Coda Pricing Plan Comparison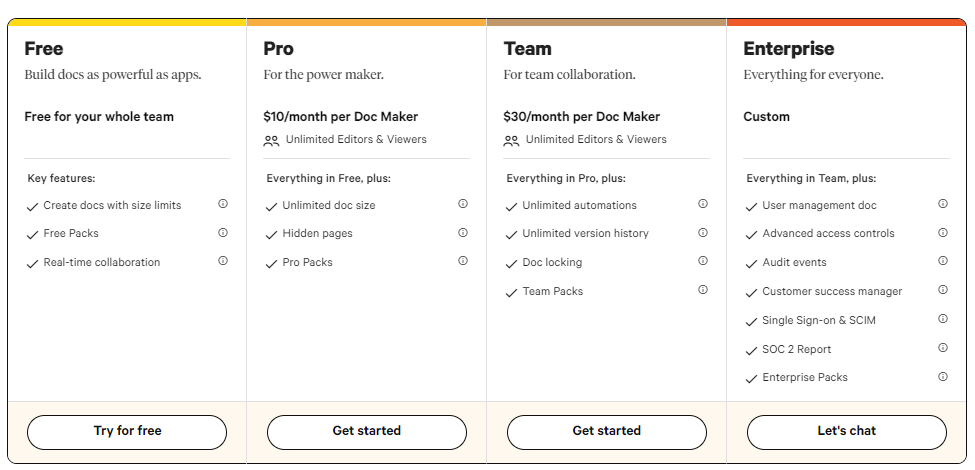 An important part of this process for me is trying to figure out which pricing plan will give me the most bang for my buck. While Coda's pricing plans aren't bad, I still like Notion better because I can keep my plan for free without limitations. Let's look into it a little bit more.
Coda Pricing Plan: Free
You can get access to Coda for free using this plan. However, you do have limitations on document sizes. Even so, you get free packs, and you still have access to real-time collaboration.
Coda Pricing Plan: Pro
With the Coda Pro pricing plan, you get everything in the free version as well as unlimited document sizes, hidden pages, and pro packs. The plan costs $12 per month for each doc maker, but you can have unlimited editors and viewers.
Coda Pricing Plan: Team
If you have the Coda Team pricing plan, you get everything in the Pro version as well as unlimited automation, unlimited version history, doc locking, and team packs. The plan costs $36 per month for each doc maker, but you can have unlimited editors and viewers.
Coda Pricing Plan: Enterprise
If you use the Coda Enterprise pricing plan, you get everything in the Team version as well as a user management doc, advanced access controls, audit events, a customer success manager, single sign-on, SOC 2 reports, and enterprise packs.
If you're just using these project management tools for personal use, you might see that Coda isn't the best option because of its limits for the personal account.
Also, keep in mind that there is a 15% discount if you choose to pay annually for your subscription.
Notion Overview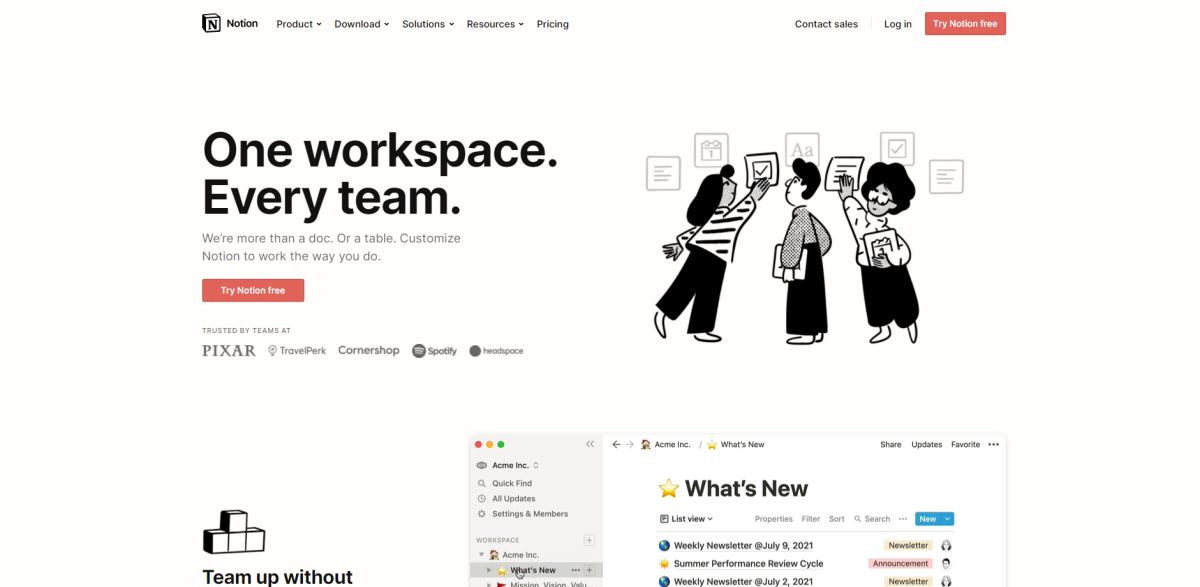 One user described Notion as a giant set of LEGOs and that makes sense. If you don't have instructions with Notion, you'll likely sit there and stare at a blank screen before you end up putting bullet points down and using them as a to-do list. Is that just me? I'm trying to get better, and you can, too since there are so many people talking about the best practices for Notion.
Notion was founded in 2013 by Ivan Zhao, and he wanted to bring everything together to make work easier. Notion did a good job of this, but it can be pretty complicated if you don't set some time aside to learn how it works.
You can bundle your work together, and if you work with a team, it's easy to get on the "same page" no matter what time zone you operate in. Notion thought of everything when it came to team collaboration—or at least—everything super important.
When you're building your perfect workspace, just keep in mind that everything is a block. Whether you're using text, images, databases, or something else, they're all blocks. And these blocks can control other blocks as well.
Notions blocks are:
Headers
Text
Toggle lists
Images
Tables
Call-outs
Embeds like videos
To-do lists
Once you get into the app and start playing around, you'll stumble upon some things, but it's best to look up a good tutorial so you can get the most out of this project management tool.
Notion Pros & Cons
Here are some of the most important pros and cons of Notion
Pros
Simple to use to-do lists
Great user experience
Unthrottled free plan
Easy to share documents
Cons
There are bugs from time to time
Logs you out sometimes
Notion Pricing Plan Comparison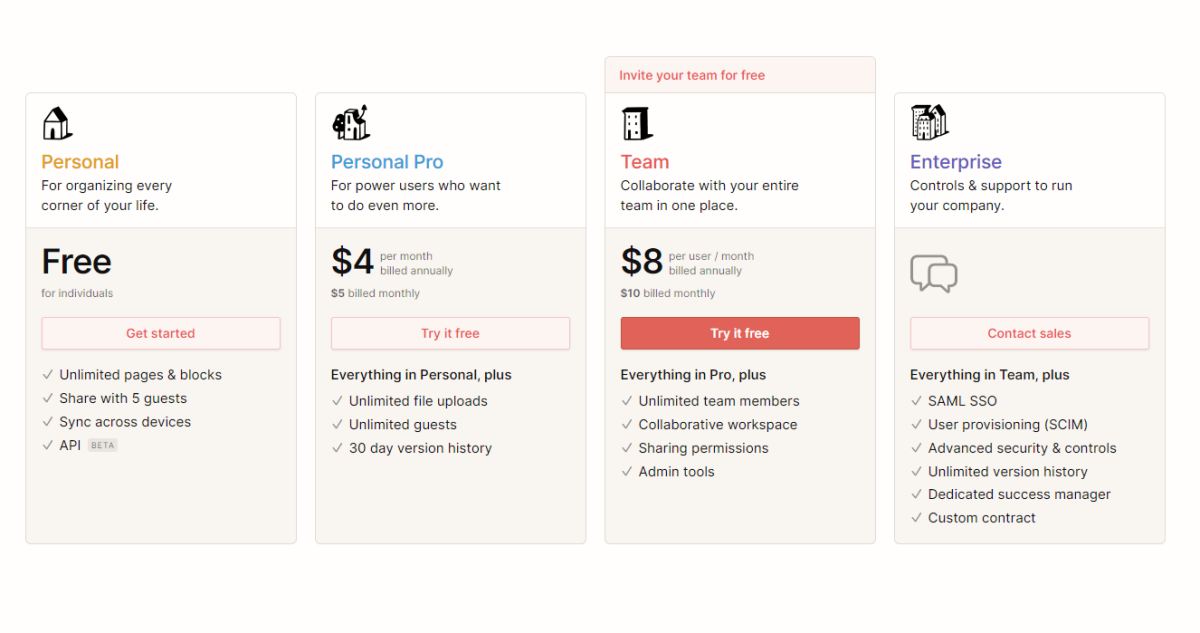 I'm a fan of Notion's pricing plans. They've done a good job at keeping everything affordable while still offering a great product. Let's look at the different plans now.
Notion Pricing Plan: Personal
Notion's Personal pricing plan is totally free for personal use for individuals. You get access to unlimited blocks and pages, can share with five guests, can sync across devices, and use Notion's API.
Notion Pricing Plan: Personal Pro
Using Notion's Personal Pro pricing plan gives you everything Personal provides, but there are also unlimited file uploads, unlimited guests, and 30-day version history. You only have to pay $5 per month.
Notion Pricing Plan: Team
Users with Notion's Team pricing plan get everything within Personal Pro as well as unlimited team members, collaborative workspaces, sharing permissions, and admin tools. The cost is only $8 per month.
Notion Pricing Plan: Enterprise
With Notion's Enterprise pricing plan, you get everything within the Team pricing plan but also SAML SSO, a custom contract, a dedicated success manager, advanced security and controls, and SCIM. To get pricing on this plan, you have to contact the sales team.
Also, keep in mind that there are discounts for people that use the annual plan.
Are "All-in-one-place" Project Management Tools Really Helpful?
The reason Coda and Notion exist is to help people get all of their productivity apps together in one place, but do we need them? I don't think we necessarily need them, but I do think it helps out. It's like a master binder that helps us get our stuff together so we can figure out what we need to do without having to go through Excel, Google Docs, and whatever other tools we use to keep our lives and projects in order.
I haven't used Notion for long, but I do see the appeal in it, and I'm learning even more to make it even better for my personal and business organization.
Coda vs Notion Alternatives
Maybe Coda nor Notion are the tools that you want to use. There are some other great alternatives, and here are my top picks for Notion and Coda alternatives.
nTask: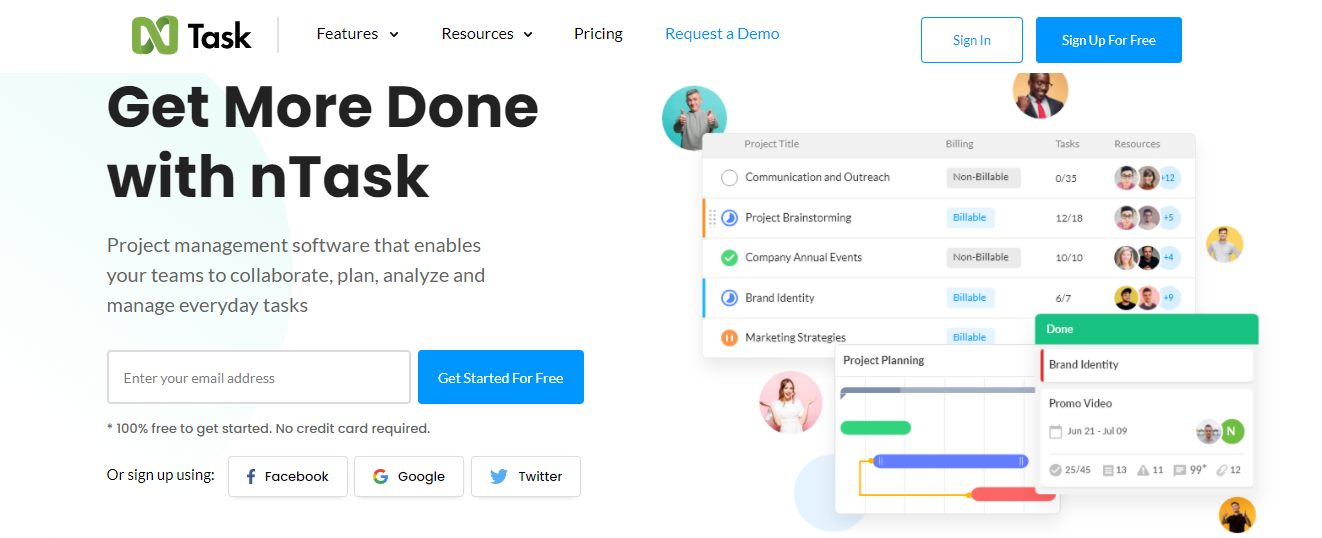 This is one of the best project management tools, and it's pretty easy to learn. Their basic plan is free, and there is a 14-day free trial if you want to try out the paid plans.
EverNote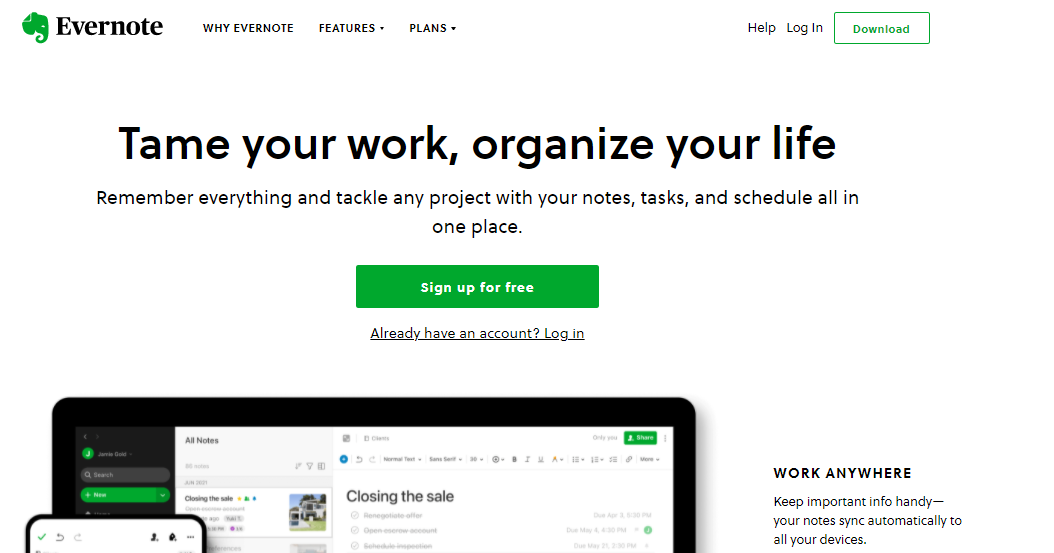 I used to use EverNote, and it's still a great place to save your notes. I just think Notion has a little bit more going for it.
Microsoft OneNote: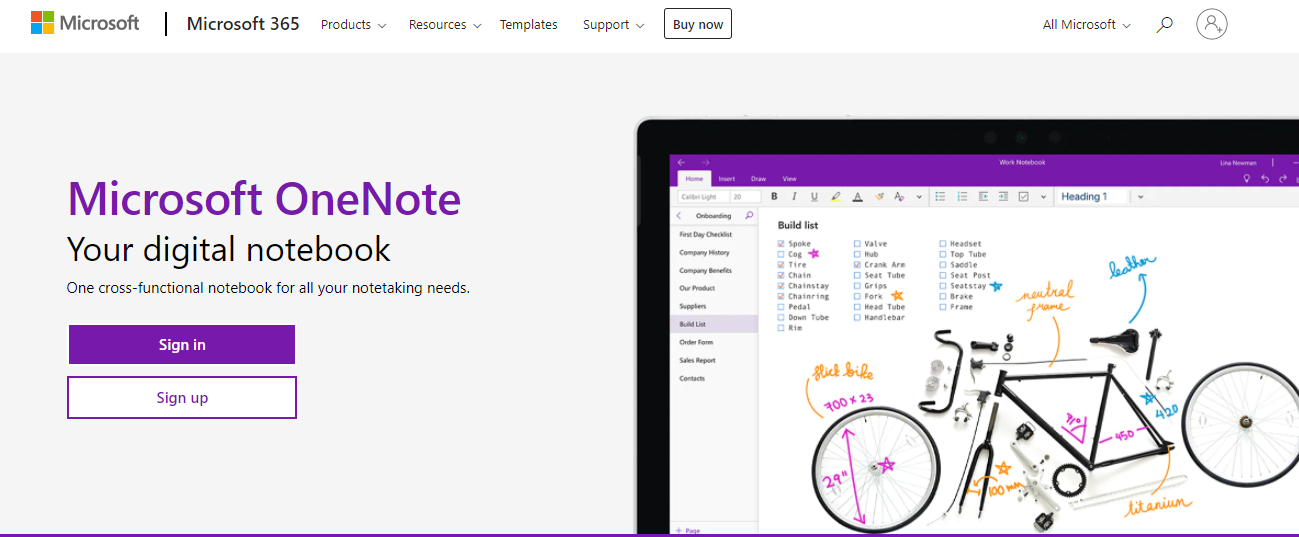 If you love all things Microsoft, this is a good option for you. They've got some good templates that are major time savers, and the user interface is nice.
FAQs about

Coda vs Notion
Question: What do you use Coda for?
Answer: Coda is great for project management in your personal life or in your business. You can put together to-do lists, share documents and collaborate easily.
Question: Is Coda free?
Answer: There is a free version of Coda, but it is limited.
Question: Can you draw in Notion?
Answer: Yes. There is a chrome extension that allows you to draw in Notion.
Question: Is Notion free?
Answer: Yes. There is a free version of Notion for personal use.
Coda vs Notion – Which Is Best?
Now that you've got a look into Coda vs Notion, you might already have a favorite. You could probably tell as we went through everything that I am happily using Notion despite still needing to learn even more ways to make it work for me. I think it is great that there are so many options that make it work for different parts of your life.
Coda is also a good option, but I'm already using Notion, and I think it is a little more user-friendly than Coda is, so I wouldn't want to go through learning another platform when Notion is a great tool. It's pretty trendy, too, with a lot of "productivity gurus" jumping on the bandwagon. I like using the same thing my favorite YouTubers use so they can teach me their cool hacks.
The price with Notion also makes more sense to me. I kind of think they might raise their prices soon because they are so low, but most places don't raise their prices on their current users, so it might be smart to jump in there if you want to use Notion.
There are some other great articles you should check out before you leave the site, though. Check out these helpful articles if you aren't sure if you should go with Notion or Coda or if you want to use one of the alternatives.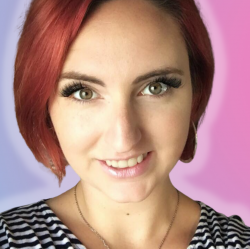 Latest posts by Jessica Lauren Vine
(see all)
Get 40% OFF for 3 Months