Last Updated on August 29, 2022 by DMEditor
With more people working remotely, it's important that you can manage collaborative tasks effectively – which is where our Notion vs Evernote comparison can help.
It's hard to keep on top of what everyone needs to be working on. Luckily, project management tools exist to keep everything organized and running smoothly. These types of software allow you to keep track of tasks to be completed, share assets, and take notes from your latest Skype or Zoom meeting.
Notion and Evernote both allow you to manage your collaborative projects easily – but which one is better?
One of them is better suited for small businesses, while the other allows you to be a little more creative in terms of use. You'll have to keep reading to find out more …
We'll be looking at:
The main differences between Notion and Evernote
Each platform in-depth, including their features, pros and cons, support, and pricing
Alternatives to try
Frequently asked questions
Which one we think is best, and why
Let's check out the main differences first!
The Main Differences Between Notion vs Evernote
The main differences between Notion vs Evernote are:
Notion has projects structured using Epics, Sprints, Tasks and Bugs, whereas Evernote is more open-ended
Notion has a User Research section, whereas Evernote doesn't
Notion has a dedicated Meeting Notes section, whereas Evernote doesn't have this
Notion has a Design System area where you can upload assets with guidelines for use, whereas Evernote doesn't have this
Notion doesn't have a live chat feature, whereas Evernote does
Notion doesn't have document scanning, whereas Evernote allows you to scan receipts or documents
Notion is cheaper per user, whereas Evernote is a bit more expensive
The main thing to realise is that Notion is structured whereas Evernote is very open. Although Evernote doesn't have, for example, a dedicated area of the platform just for sharing assets like logos and fonts, you can just set a Notebook up yourself, which would essentially do the same thing.
If you imagine that Notion is a blank form you have to fill in, Evernote is more like a completely blank page. Some people will really enjoy the freedom that Evernote offers, whereas others will prefer the guidance and structure of Notion.
Notion is also cheaper. This makes it easier for smaller teams and businesses to afford.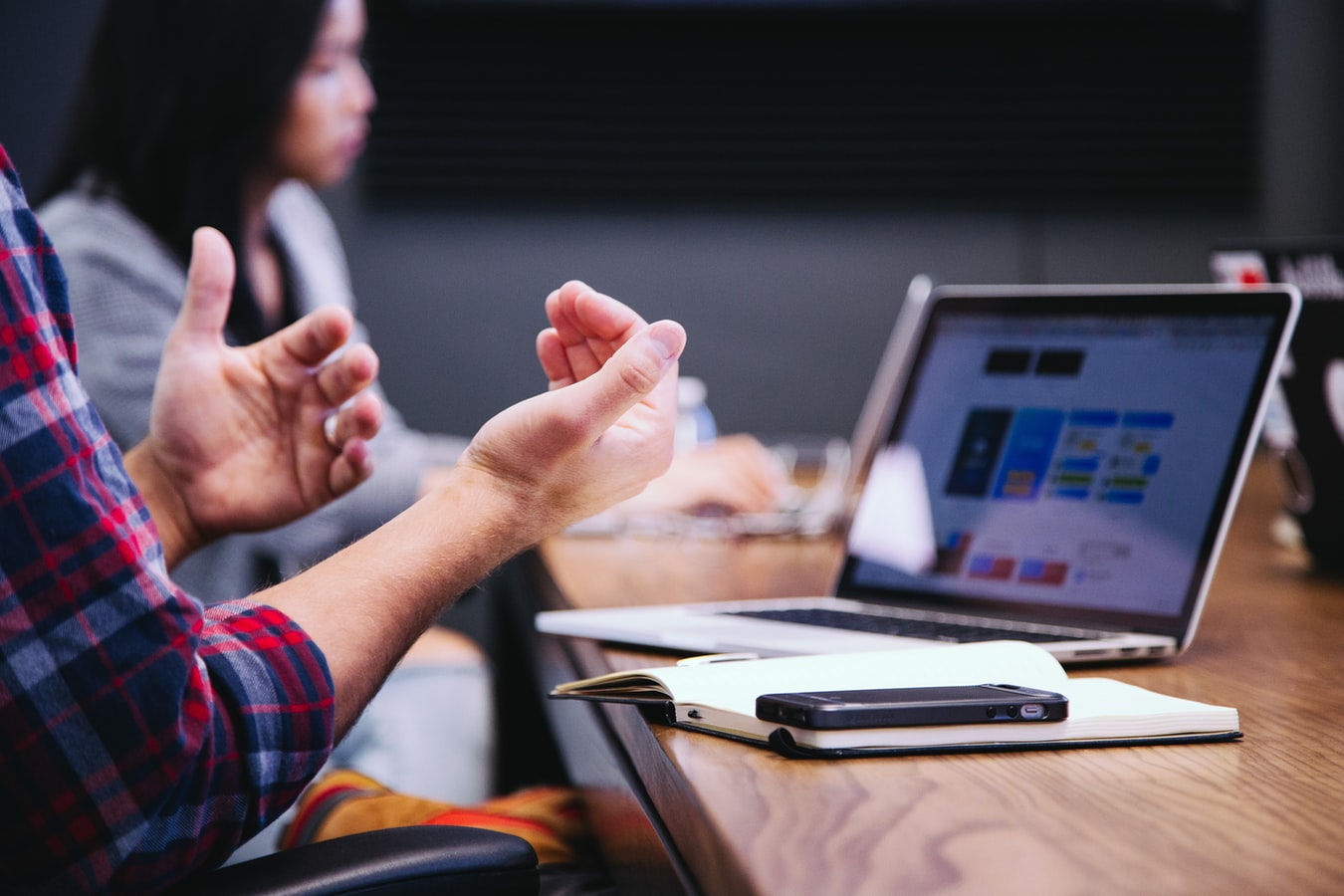 The Similarities
There are some similarities too:
Both allow you to create tasks, or notes, with images, text, videos, etc
Both allow you to collaborate effectively
Both allow you to keep your team's files, ideas, and tasks organised
Both allow you to tag users and notify them of tasks they need to do
Both have great customer service teams and lots of help available for new users
Now let's take a look at each one in more detail.
What is Notion?
Notion is a productivity app, launched in 2018. It allows users to run a team wiki, create projects, and organise documents.
It's aimed at individuals or any sized business wanting to make collaboration easier.
What is Evernote?
Evernote is a note taking app, launched in 2004. It allows individual users to take notes, and teams to collaborate on projects in one space.
It's aimed at individuals, or businesses wanting to make collaboration on projects simpler.
The Main Features of Notion
Interface and Dashboard
Signing up to Notion is very simple – you just have to answer a few questions about yourself (if you're signing up as an individual) or your team (if you're signing up for team collaboration).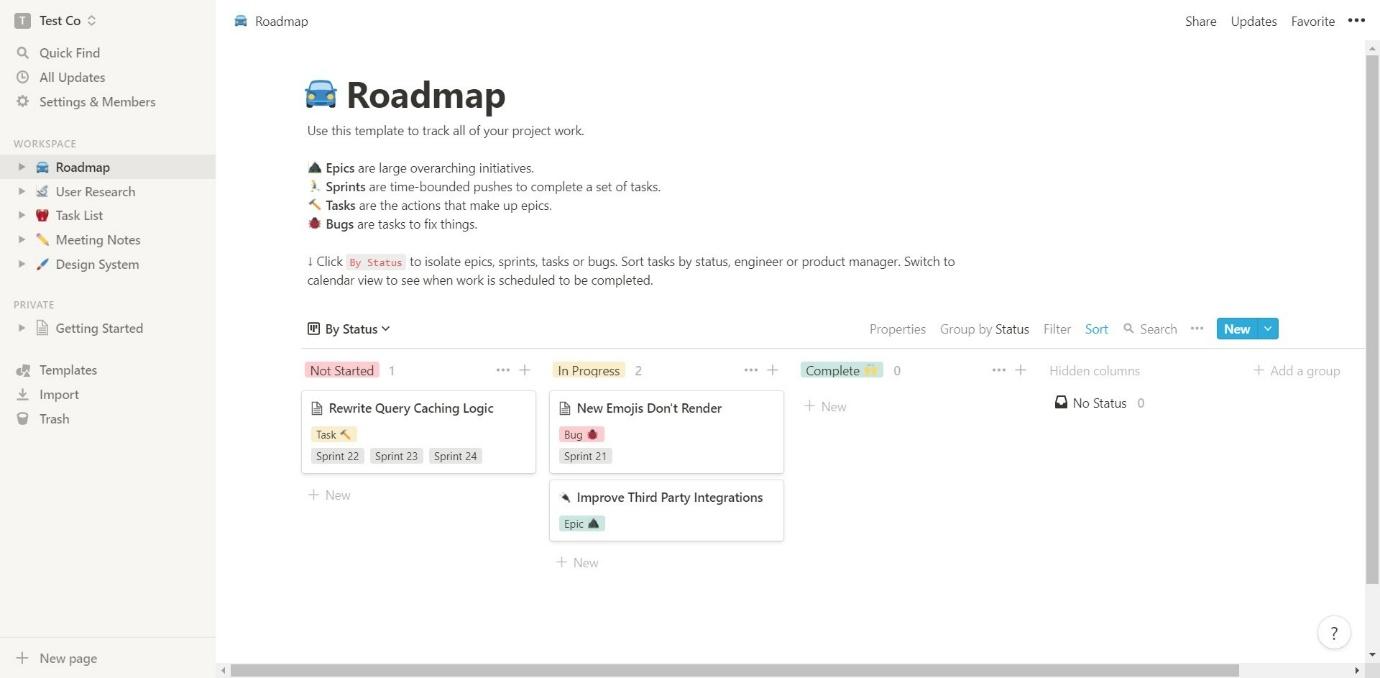 It's a very basic interface. While it doesn't look particularly fancy, it's easy to navigate. Just use the bar on the left-hand side to find your way around.
There's a bit of a learning curve. It can take a while to figure out the terms, and it's not the easiest to work out where to start.
Collaboration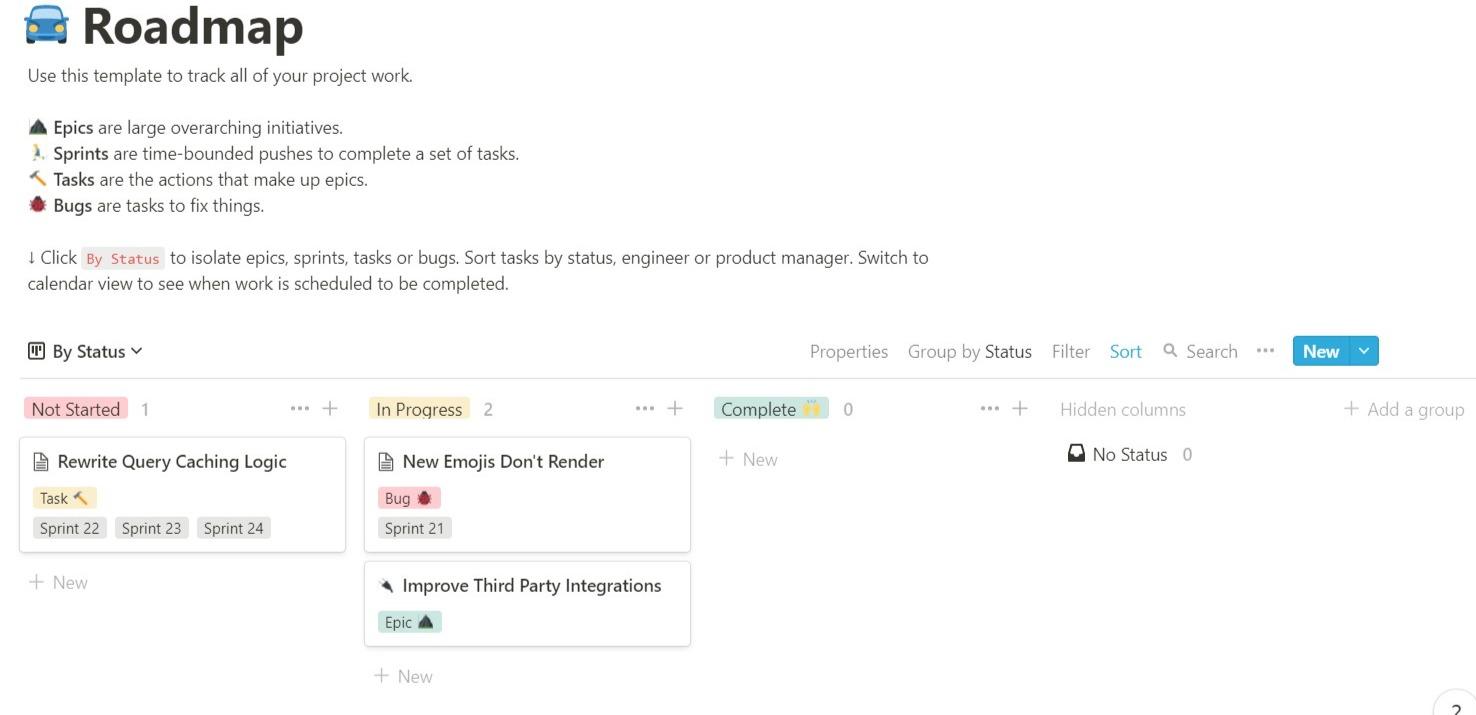 The Roadmap enables you to see an overview of your projects. Every team member will have access to this, with tasks, messages, and documents all under one roof. There are a few terms to learn:
Epics are larger goals that your team want to achieve
Sprints are time-based tasks
Tasks are the smaller actions that make up the overall 'Epics'
Bugs are tasks that are required to fix certain problems
As your team collaborates together, tasks can be divvied out between you. Issues that are discovered can be flagged as a 'Bug', which can then be added to the roadmap. That way, problems can be fixed as and when your team discover them.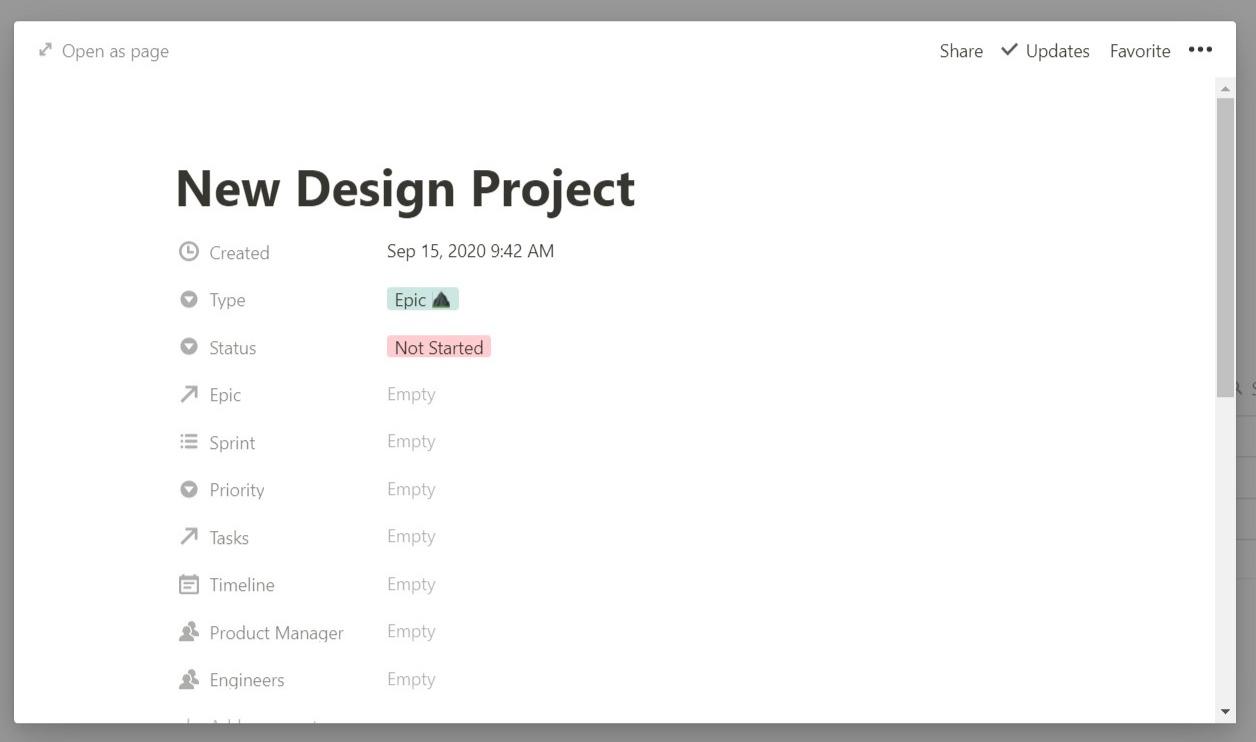 Creating a new project is simple. You can add smaller tasks, sprints, or bugs to the epic, set the timeline, assign project managers and engineers, and more – it's all very straightforward and simple to understand.
You can add documents, images, notes, and links to each project, task, or sprint. Every person involved in the tasks can be tagged, so they'll all be aware of what they need to do.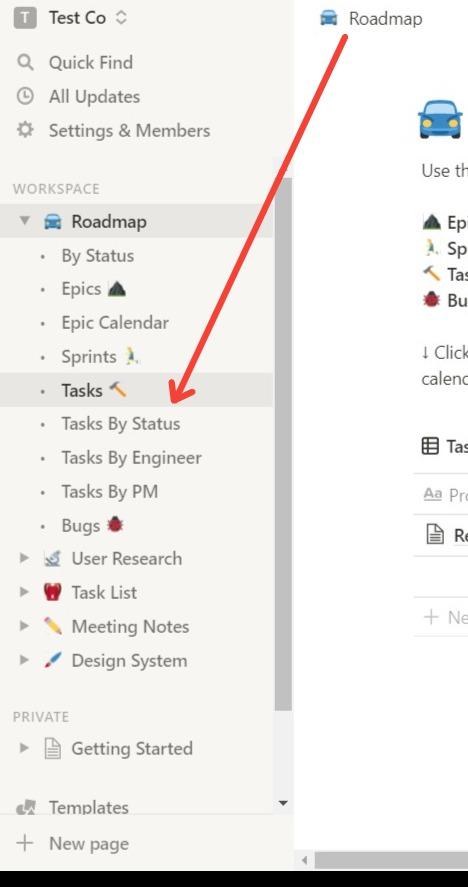 You can view tasks in a certain way, as you can see above – by status, by engineer, or by project manager.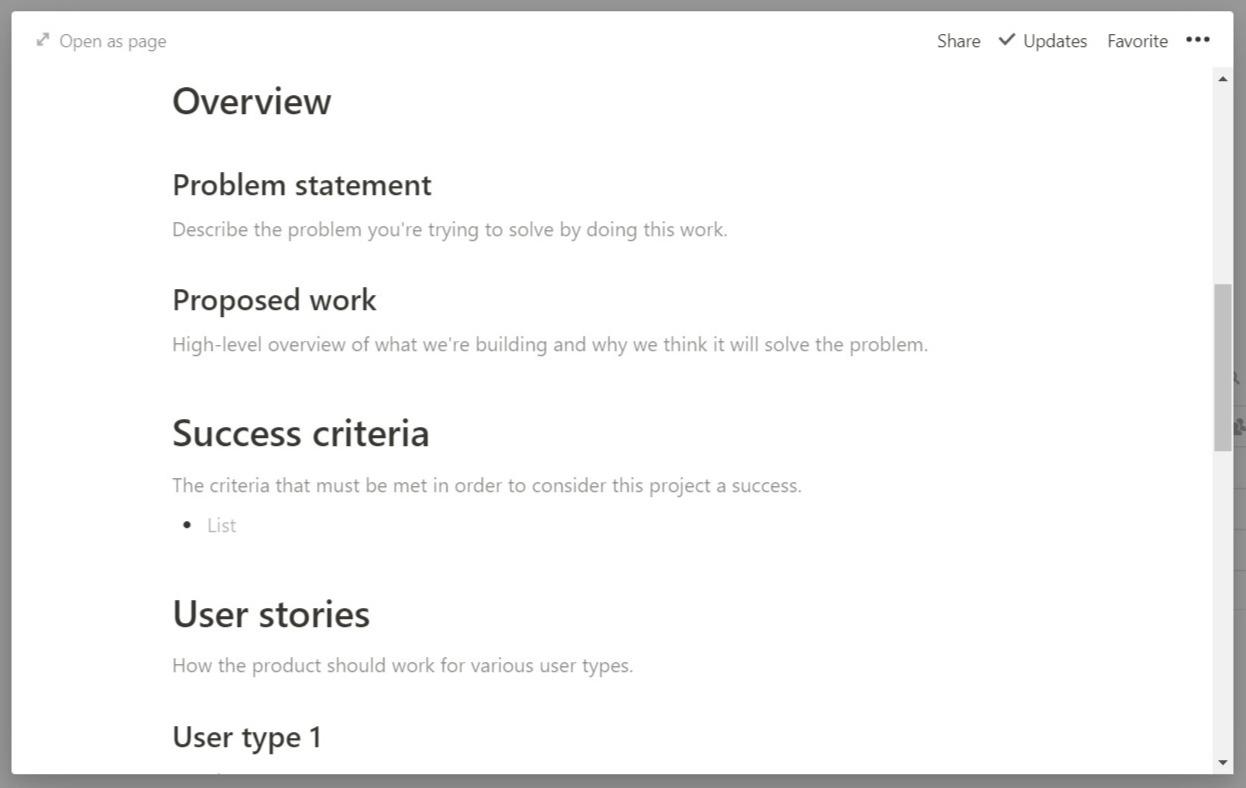 You can use pre-made templates to create new tasks (as above), or you can create your own from scratch.
User Research
User Research is another interesting feature. You can collect interviews from users of your product, allowing your team to amass a database of opinions and thoughts.

This is an interesting feature and enables your team to keep their research in one place, where everyone can access it.
Meeting Notes
You can create notes for meetings, to which you can add goals, tasks, and discussion items. This is easily done using a template (or you can create meeting notes from scratch). These notes can be updated when required. Once your team starts to complete tasks, they can be ticked off the list.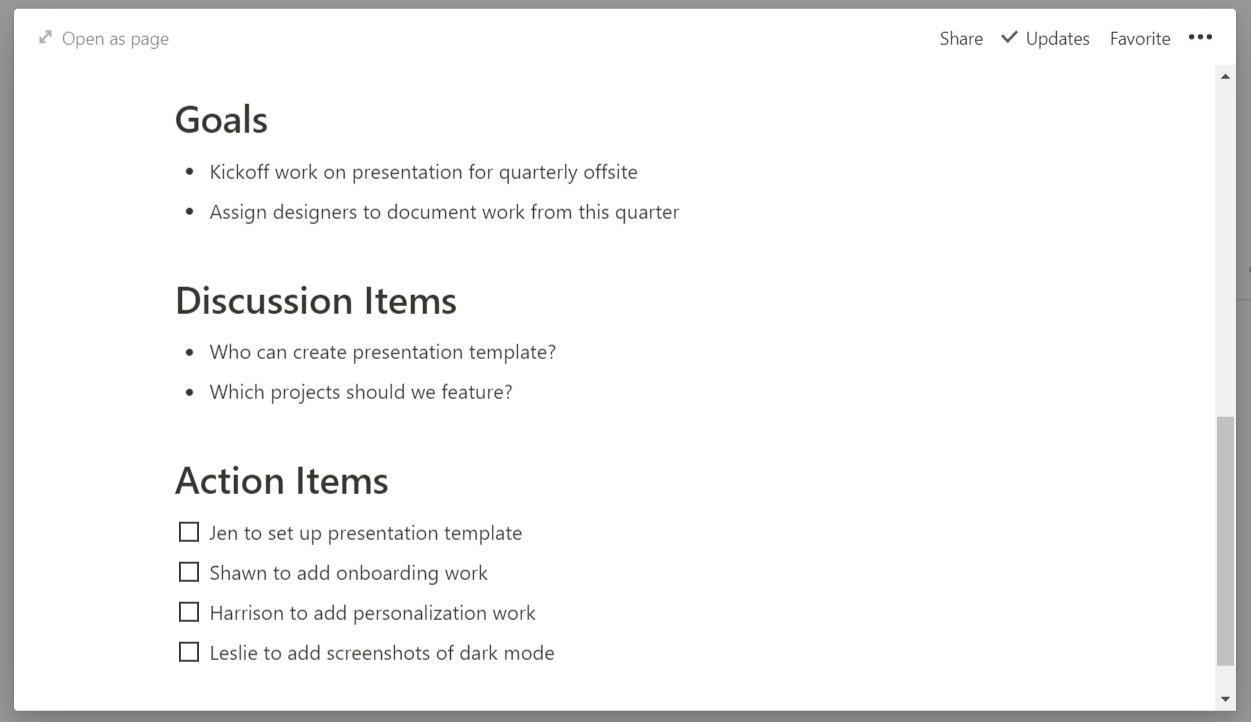 This is pretty self-explanatory and is very simple to use.
Design System
A great feature of Notion is the Design System area.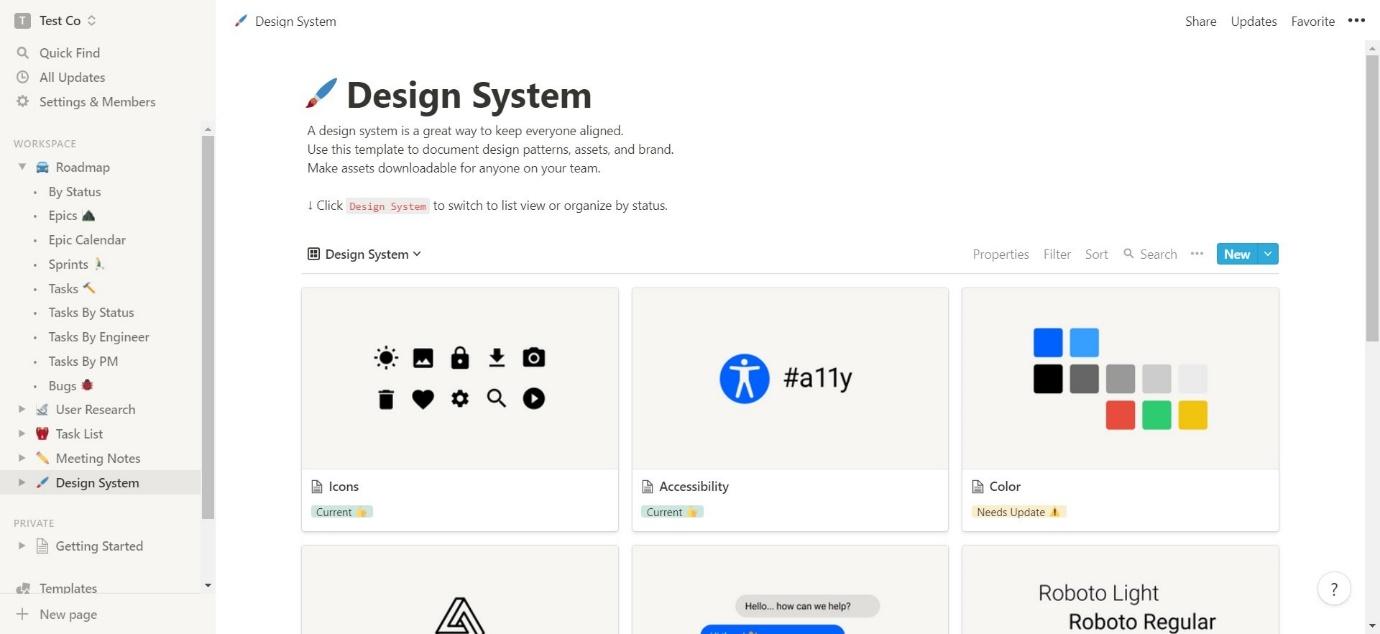 This enables you to create a collection of assets, design patterns, and branding. Fonts, logos, color palletes, and icons can be saved here for everybody to easily access – helping your branding to stay consistent throughout each project.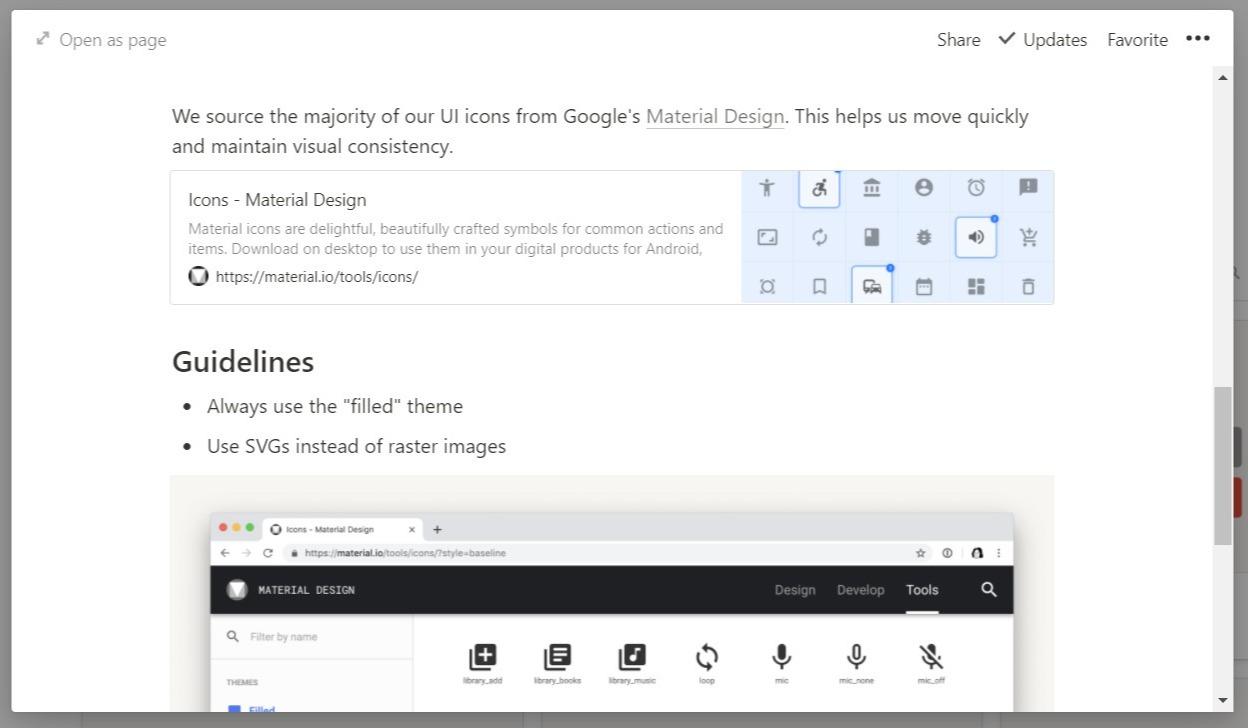 You can create guidelines for each item, too. For example, the above image shows guidelines for a collection of icons. You can let your team members know where the icons came from, what the guidelines should be around use, and add notes and comments.
The Main Features of Evernote
Interface and Dashboard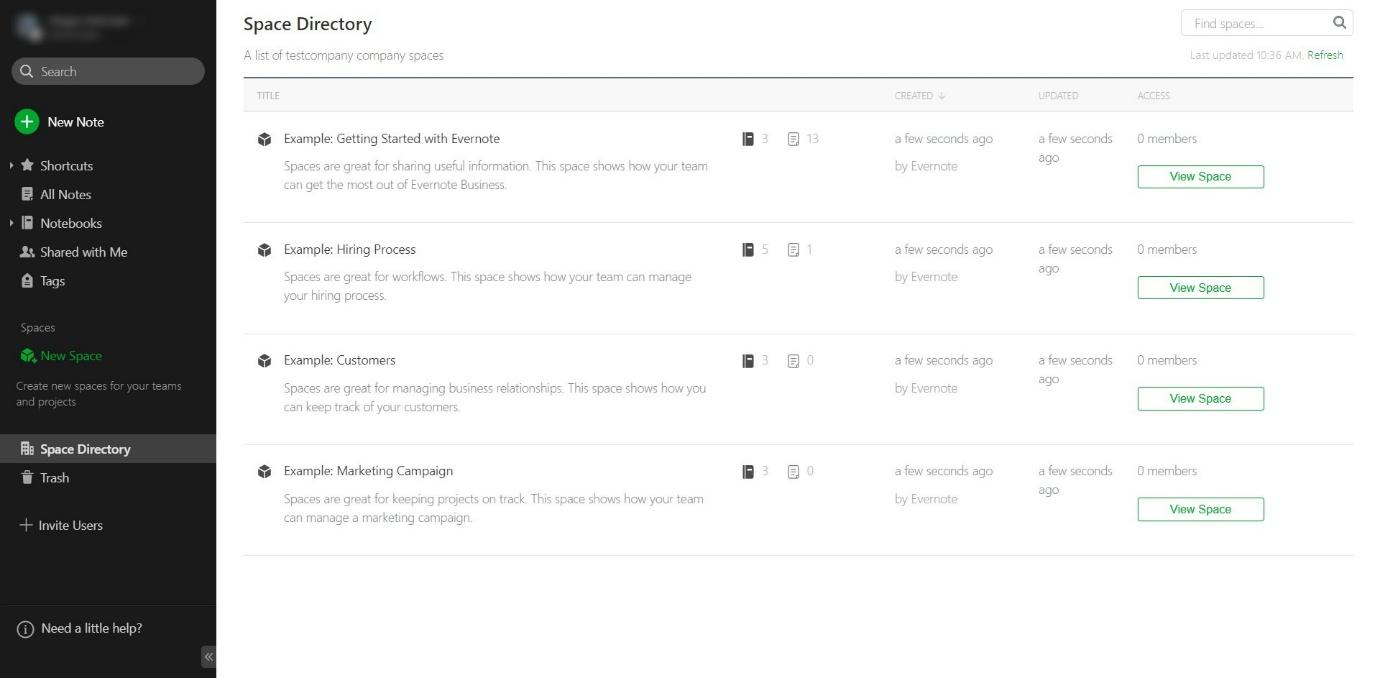 Evernote Business looks a bit overwhelming to start with. It's split into two sections – Spaces and Notes. You can navigate using the bar on the left-hand side.
Like Notion, it's not the best-looking interface out there, but it's simple and uncluttered. There is less of a learning curve than there is with Notion, but there are still new terms to use.
Collaboration
Collaboration is done with Evernote using their Spaces feature.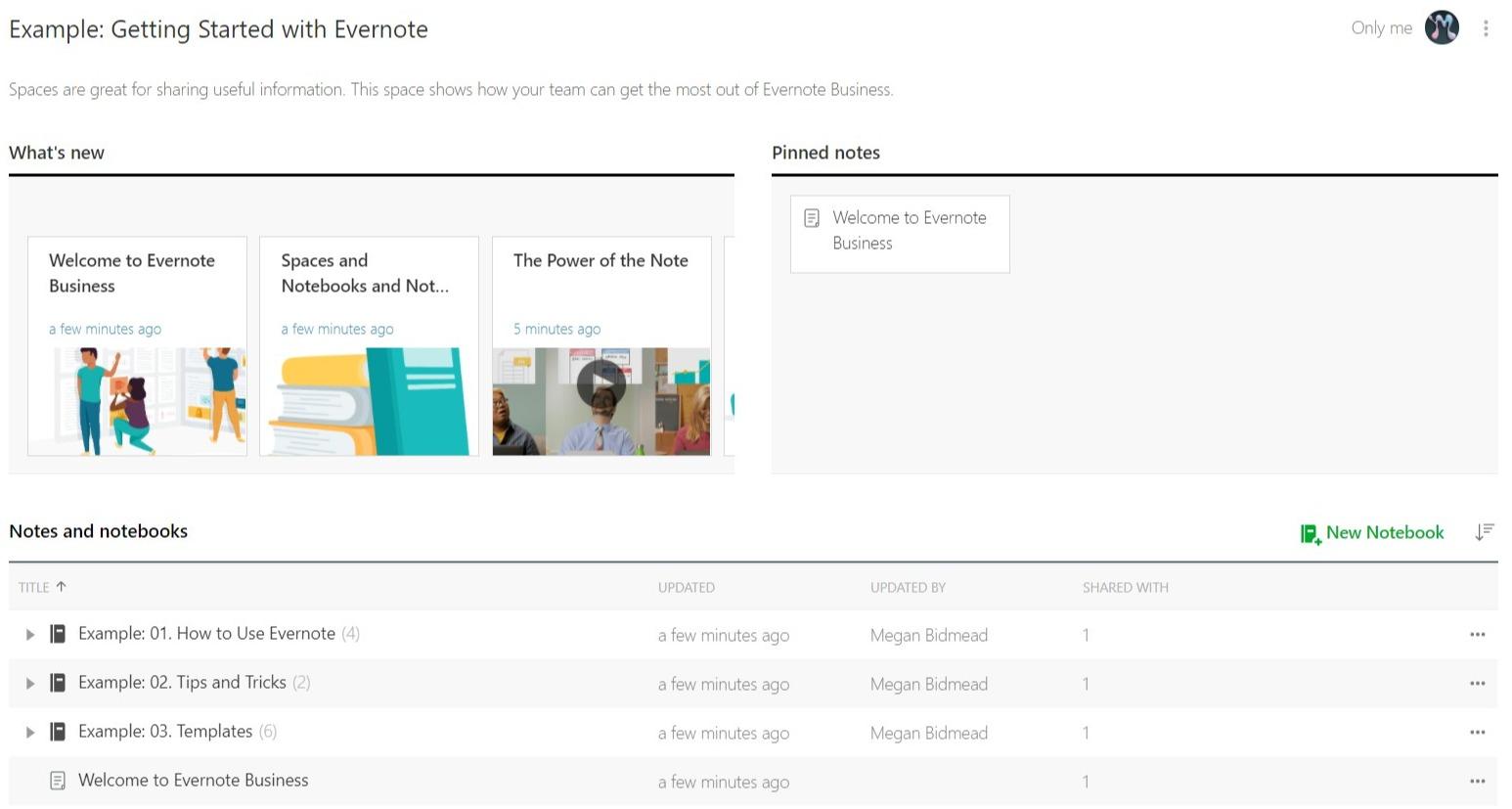 This is an example Space. Every project has its own space, made up of Notes and Notebooks (more on those shortly).
It's not as immediately obvious how Evernote will benefit a team collaboration, as each project is not laid out as clearly as Notion's projects. However, there are a lot of things you can do as a team with Evernote. You can keep everything in one place – to-do lists (which can be assigned to certain team members), text files, PDFs, images, links, videos, and more.
Meeting notes can be created in a similar way to Notion, although they would be created as a Note.
You could include assets if you wanted to, in the same way that you can with Notion. These can be collected into Notebooks for each project, meaning every team member working on the project will have access to it.
Notes
Notes can include anything from text files, PDFs, videos, links, images, and more. They are the basic building blocks of how Evernote works. You can tag other users in notes, so they'll be alerted to it.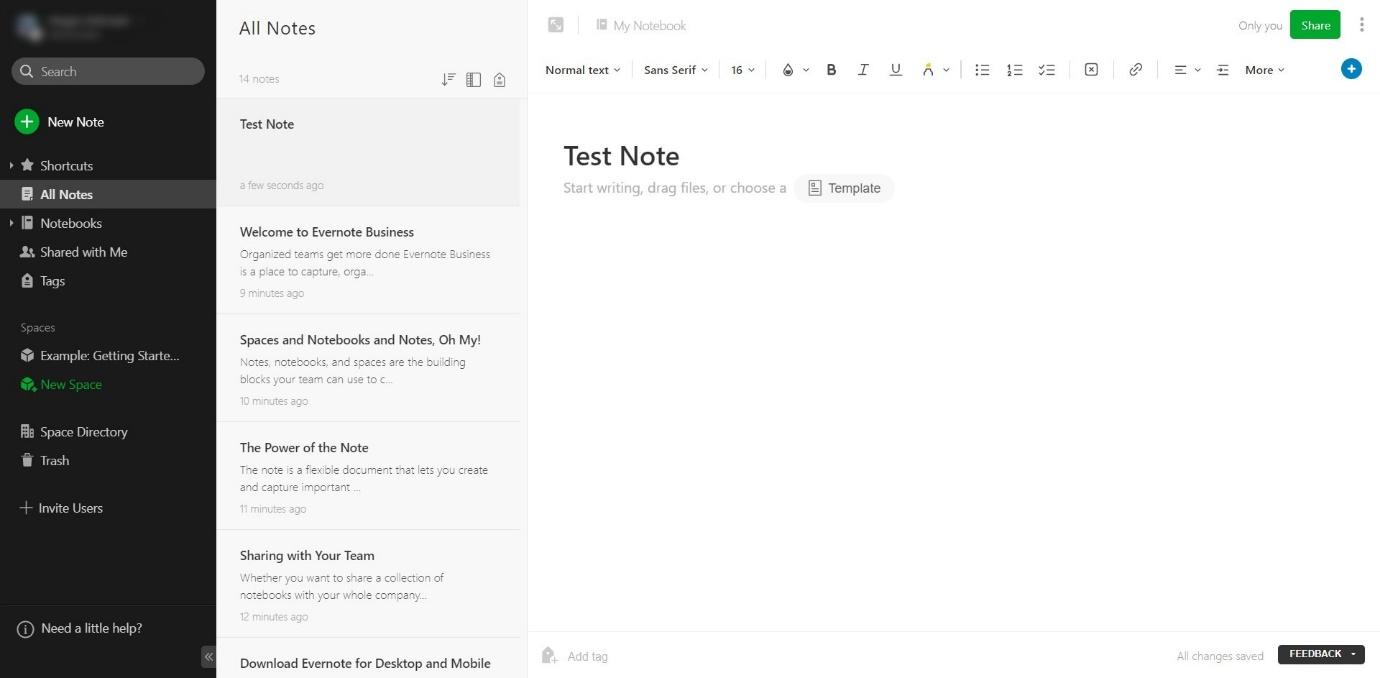 The Notes are created using a rich text editor, with the option to add tables, images, and more. It can feel a bit overwhelming to be faced with a blank note, but there are a lot of templates that show you how flexible Evernote can be: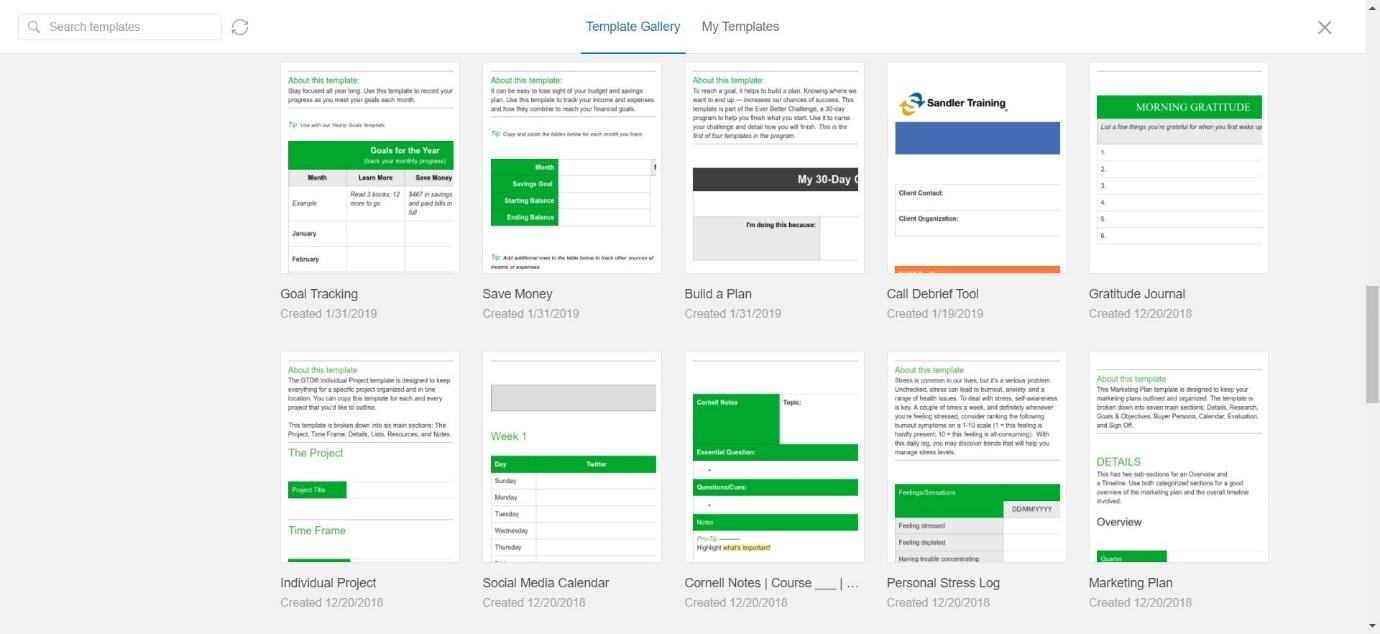 Everything from goal tracking to individual projects, money saving goals to call debriefing, gratitude journals right down to marketing plans is covered in Evernote's templates.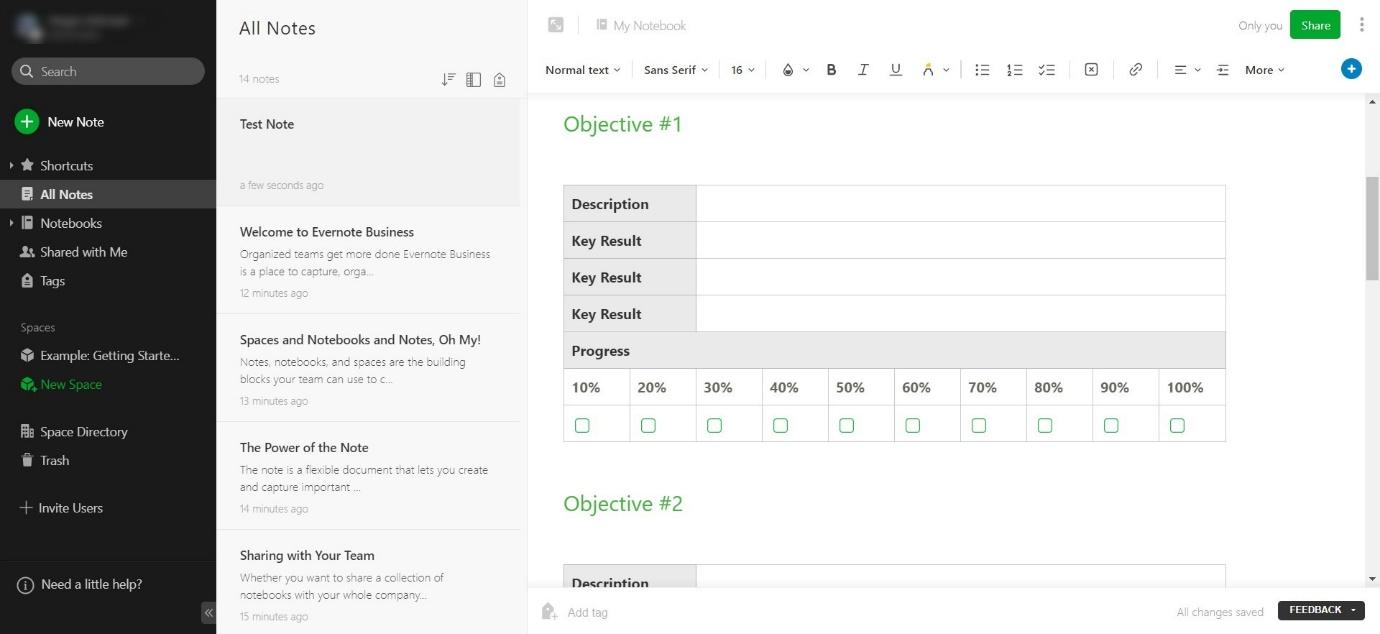 This is a goal tracking note. You can edit this however you wish, so that it suits your projects.
Notes can be collected into Notebooks, which can then be shared amongst your team. You can use Evernote's document scanning feature to scan receipts, for example. This allows you to keep expense tracking under control.
The good thing about Evernote is that it is, essentially, a blank page. You could use it for just about anything if you put your mind to it. However, some people may struggle with the lack of guidance in terms of setting up projects and tasks, and may prefer something like Notion, which is more structured.
Work Chat
Work Chat is a neat feature for teams. You can quickly share Evernote notes, notebooks, and just check in to see how people are getting on. You can send direct messages to others even if they don't use Evernote – for example, you could send ideas to someone you wish to collaborate with, and then invite them to join the platform. Or you could send prototype ideas to gain feedback from potential users of your product or service.
Support
Notion
At any time if you're stuck, you can click the question mark on the bottom right-hand side. This will bring up the help section.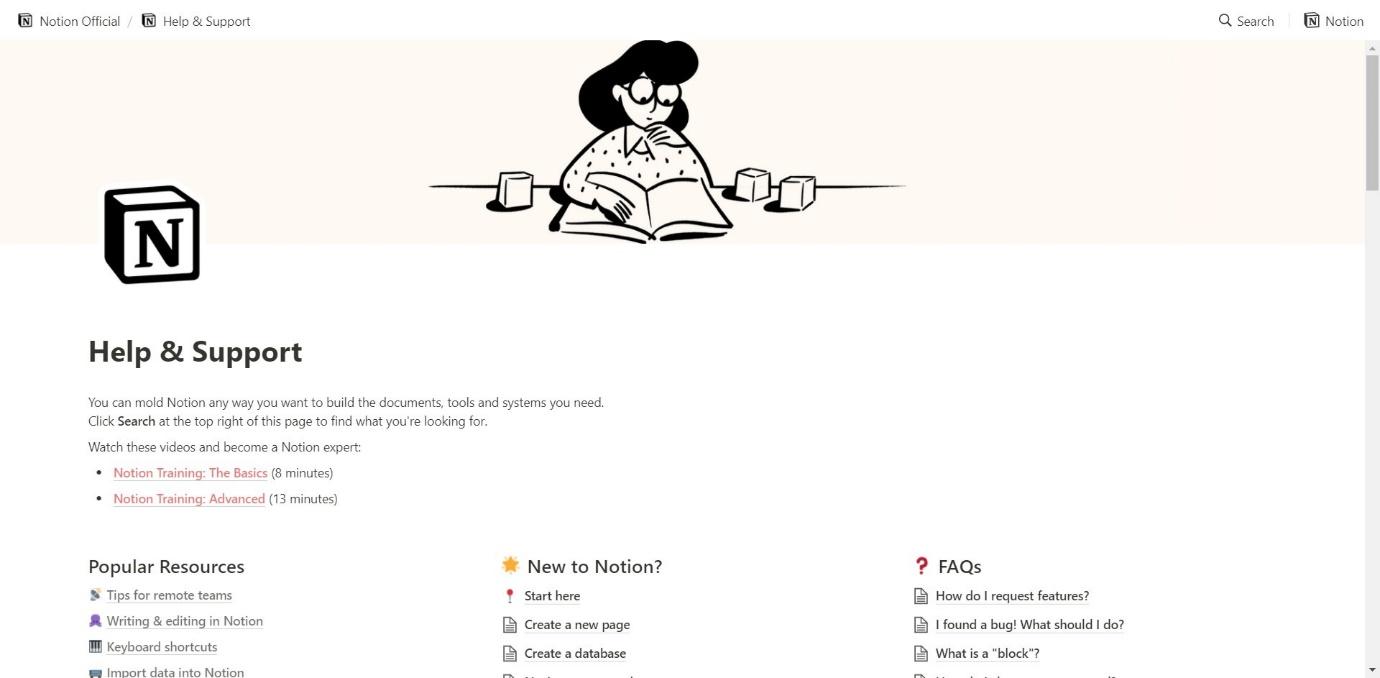 The help center of Notion is very useful. There are two short videos to help you understand the basics, and more in-depth tutorials on every aspect of the platform.
If you need extra support, you can use the live chat feature, send a tweet, or send an email. Users report that the customer service team is responsive, friendly, and helpful.
Evernote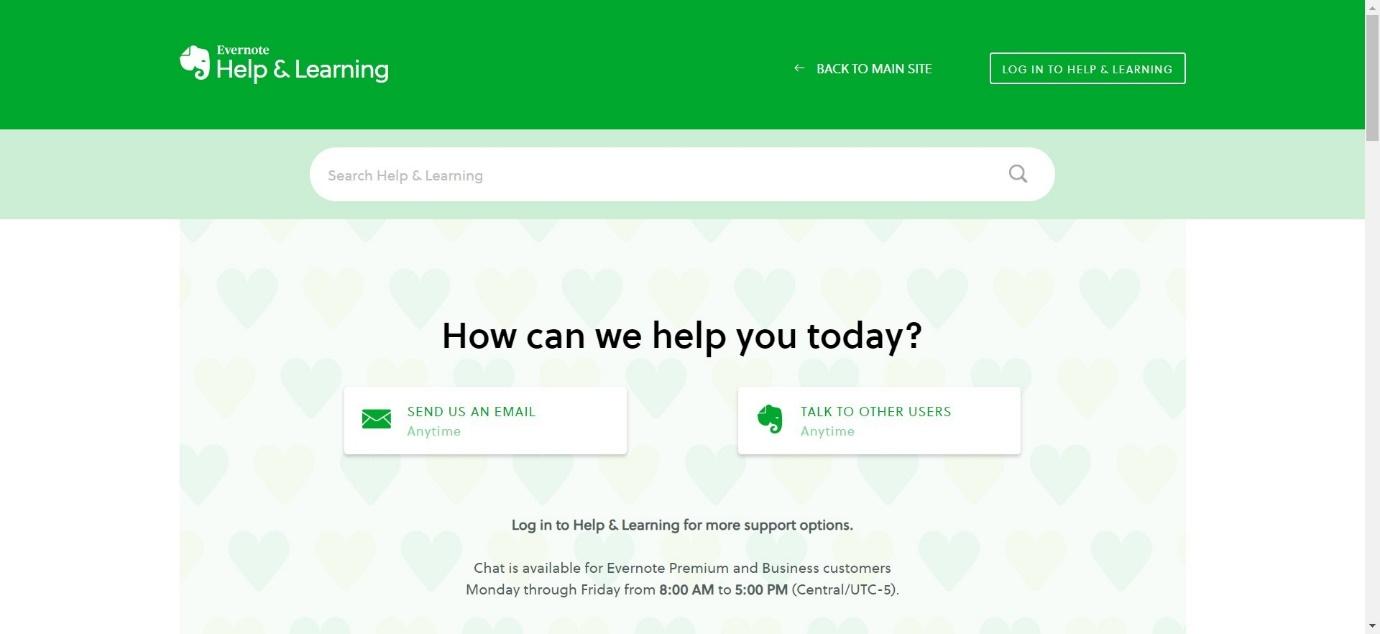 You can learn how to use Evernote using their Help & Learning Center. It has a few articles to give you ideas about how to use the platform to suit your needs.
Evernote can be contacted via email, or by using their live chat service. You can also connect with other users on their forum if you want to gain ideas or get help from them. Their customer service team is helpful and friendly according to users.
Pricing
Notion
Notion has four pricing plans.
Personal – $0 per month
If you're working on a project yourself or you just want to get organized with your documents and ideas, you can do so using the personal plan, which is free to use. This gives you:
Unlimited pages
Share with 5 guests
Sync across devices
Personal Pro – $4 per month
This is for individual users who want to be able to access a few more features. It gives you:
Unlimited file uploads
Unlimited guests
Version history
API access
Team – $8 per member per month
For teams, you'll have to pay a fee for each member per month. It gives you everything in the Personal Pro plan, plus:
Unlimited team members
Collaborative workspace
Advanced permissions
Admin tools
Enterprise – Price Upon Request
This gives you everything in the other plans, plus:
SAML SSO
Advanced security
A dedicated account manager
Custom contract
You can try a free trial here.
Evernote
Evernote has three pricing plans:
Free – $0 per month
If you want to take notes and capture ideas, you can sign up for a free account for your own personal use. You can take notes, use some of their capturing features, organise notes into notebooks, and share notes with others.
You also get:
60MB Monthly Upload Limit
25MB Maximum Note Size
2 Devices
Offline Access – Desktop Only
Premium – $7.99 per month
Designed for individual users, you can access nearly all of Evernote's features, except for the team collaboration tools. You also get:
10GB Monthly Upload Limit
200MB Maximum Note Size
Unlimited Devices
Offline Access – Desktop and Mobile
Business – $14.99 per user per month
This gives you access to all of Evernote's tools, plus their team collaboration tools, like Work Chat and tagging. You also get:
20GB Monthly Upload Limit, + 2GB Per User
200MB Maximum Note Size
Unlimited Devices
Offline Access – Desktop and Mobile
You can find out more about their free trial here.
Pros and Cons
Notion
Pros
Good help and support available
Interesting collaboration tools
Easy to navigate
Cons
Steeper learning curve, with users having to learn new terms
Not the trendiest or prettiest interface to look at
Evernote
Pros
Flexible, with lots of options for customization
WorkChat allows you to instantly talk to other team members
Document scanning is a really helpful tool for small businesses
Cons
Still has a bit of a learning curve
Not much structure – can be a bit overwhelming to start with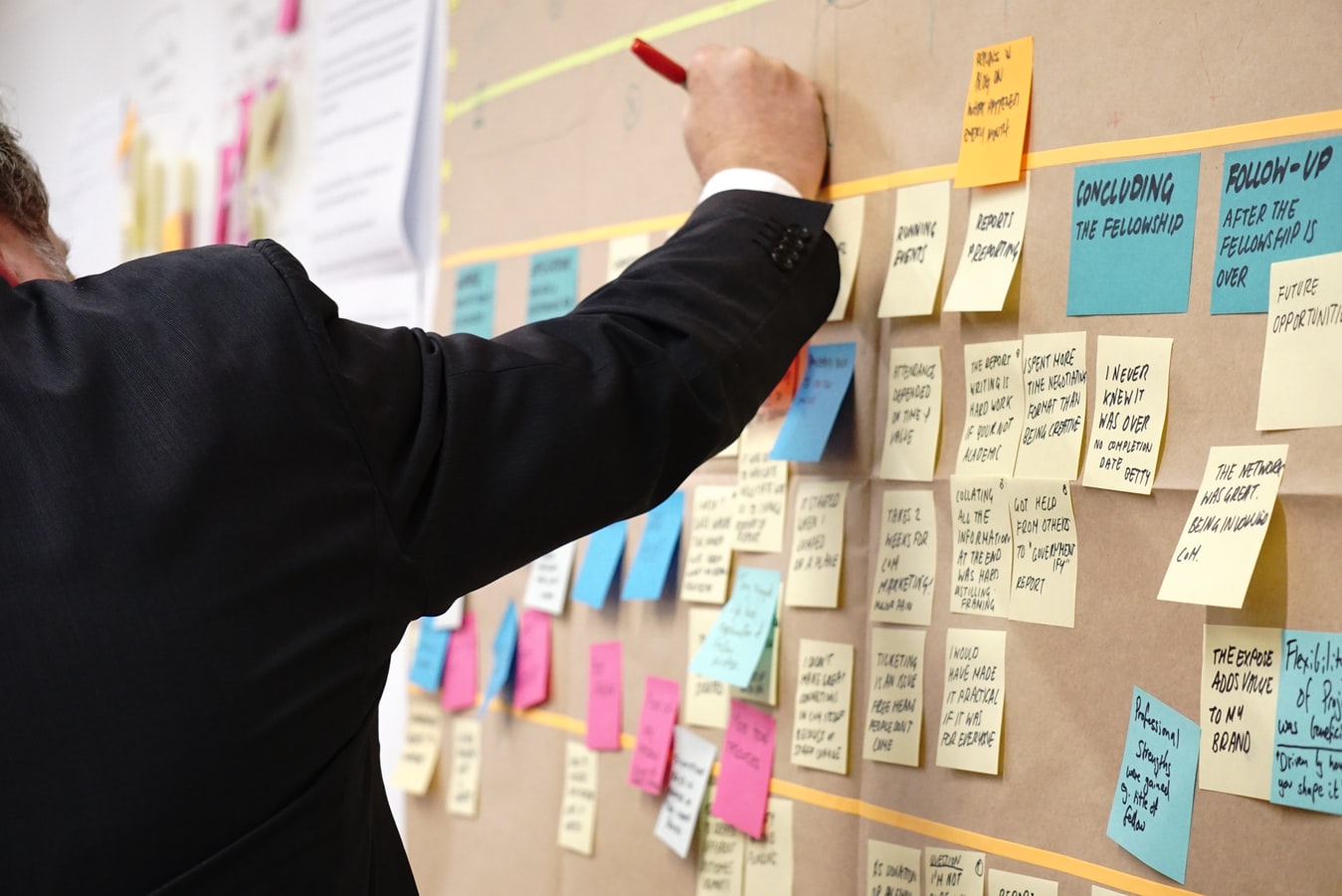 Alternatives to Try
There are a few alternatives you can try:
Asana is a very visual platform that can be used by individuals or teams. It allows you to set goals, create tasks, and manage your calendar (you can also find out more about calendar management tools in our Calendly AlternativesGuide). If you want something that is a little nicer to look at, Asana is worth checking out. You can find out more about it in our Asana vs Monday.com comparison.
Monday.com is a good platform for collaboration. It's flexible, and suits businesses in just about any sector. You can find out more about it in our Monday.com vs Wrike comparison.
ClickUp is a project management platform that focuses on managing tasks and time management. It has a fairly steep learning curve but works really well with devices including Alexa and Google Home. You can find out more about it in our ClickUp vs Monday.com comparison.
Up and Comer!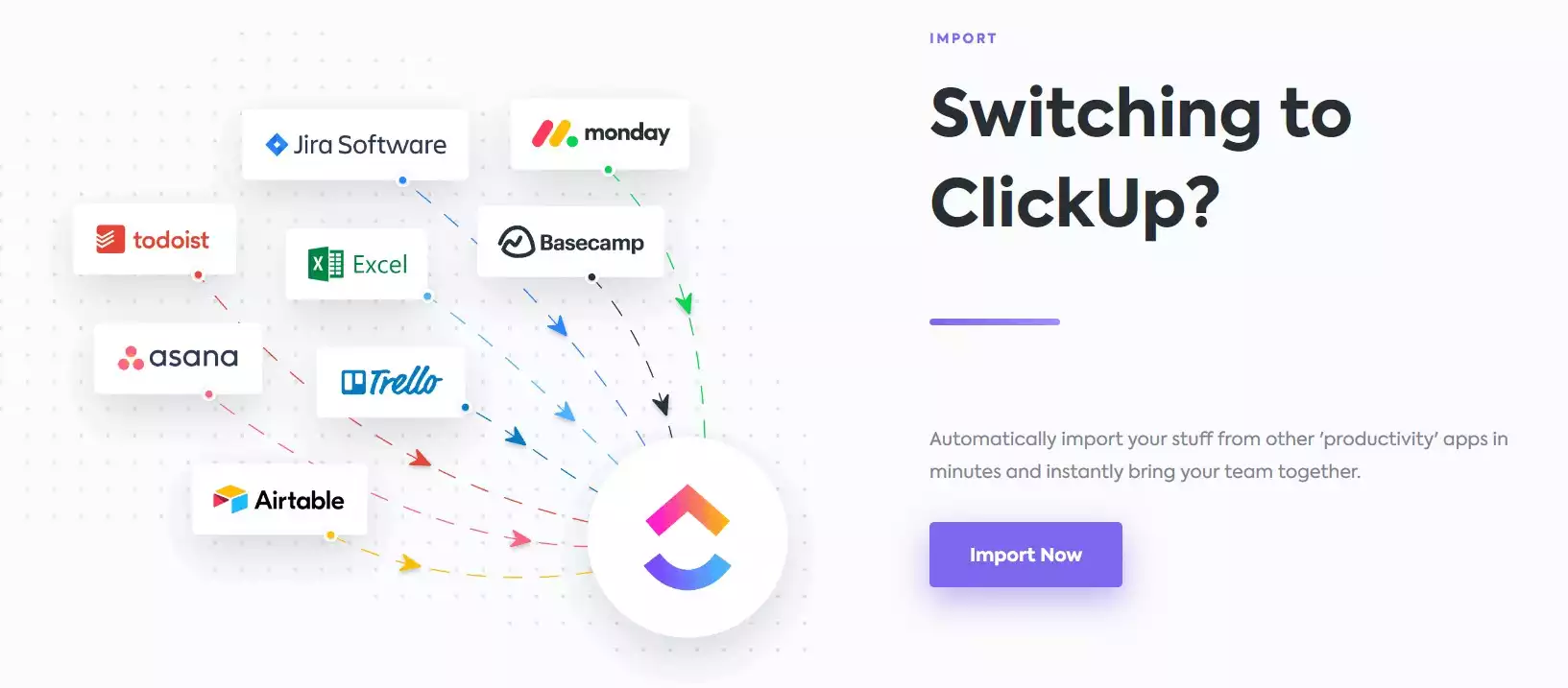 Frequently Asked Questions
Here are some of the most frequently asked questions about both platforms:
Does Notion or Evernote have mobile apps?
Yes, they both have mobile apps. Your progress is synced across both desktop and mobile, meaning you can work on the go without worrying about having to update it on desktop later.
Are their free plans always free?
Yes – there are no strings attached to their free plans, and you can use them for as long as you like.
Can I cancel at any time?
Yes, you can delete your account with Notion or Evernote any time. You can also cancel their free trial before the trial period is up if you want to test the platform without committing to it.
Can I use Notion or Evernote offline?
Yes, you can! Notion and Evernote can both be downloaded as an app. This means you can work offline, without distraction, and sync up online later.
To Sum Up …
So, which one do we think is best?
It's a tricky one to call because they're both so different, but …
We really like Notion.
Evernote is an excellent platform for those wanting to have something more creative and open-ended. It can do what Notion does – and it can do a whole host of other stuff, too. For individuals and businesses, the opportunities are endless.
However, from a team collaboration perspective, we do prefer Notion. Yes, it's not as flexible, and you'll need to learn what all the terms mean. However, it's easier to explain, it has a slightly cleaner interface, and it makes it clear what you can do with the platform. It's also cheaper per user per month ($8, as opposed to Evernote's $14.99), so it suits new or small businesses/creative projects on a lower budget.
If you do want something more flexible though, it's definitely worth looking at Evernote.
If you've used either of these platforms to work on a project, let us know – we want to know what you think!
Further read: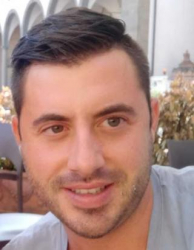 Latest posts by David Borgogni
(see all)
Get 40% OFF for 3 Months