Last Updated on January 18, 2023 by Ewen Finser
Gumroad is losing a lot of fans lately. After years of being the go-to platform for creators to launch digital products, they announced a massive new price increase.
This is an across the board increase, but most acutely felt by existing creators, particularly the top earning ones:
Gumroad Old Pricing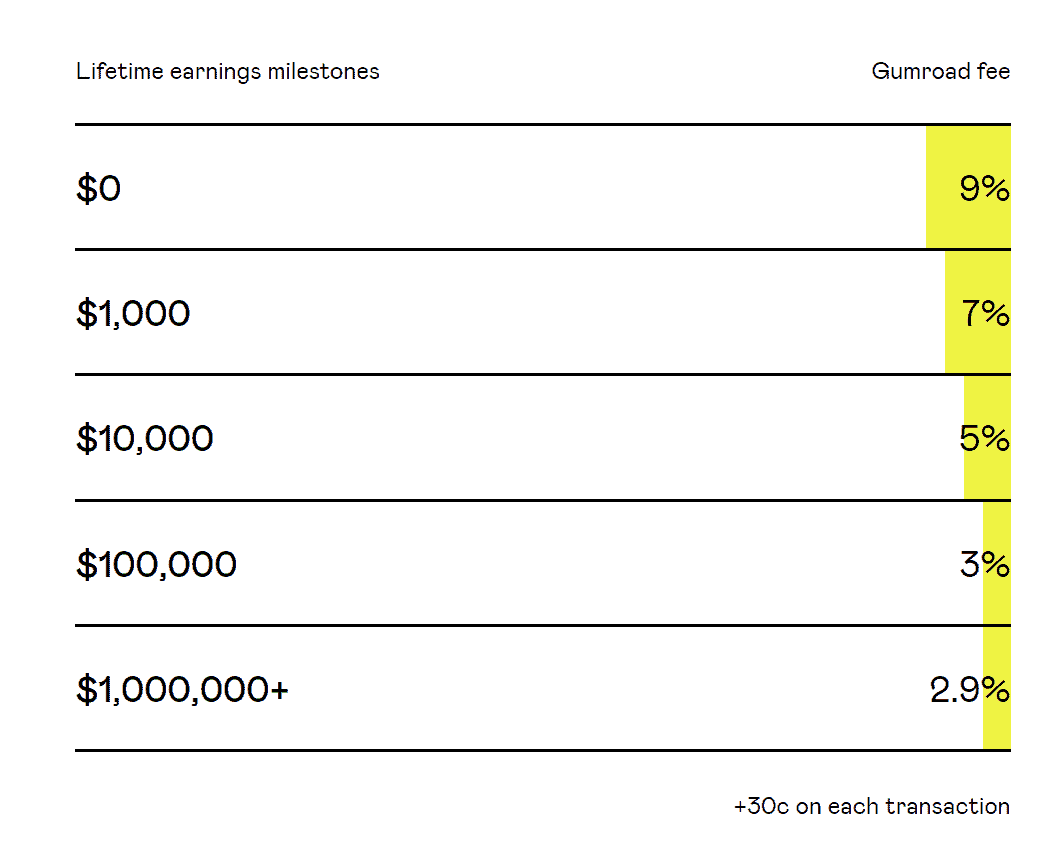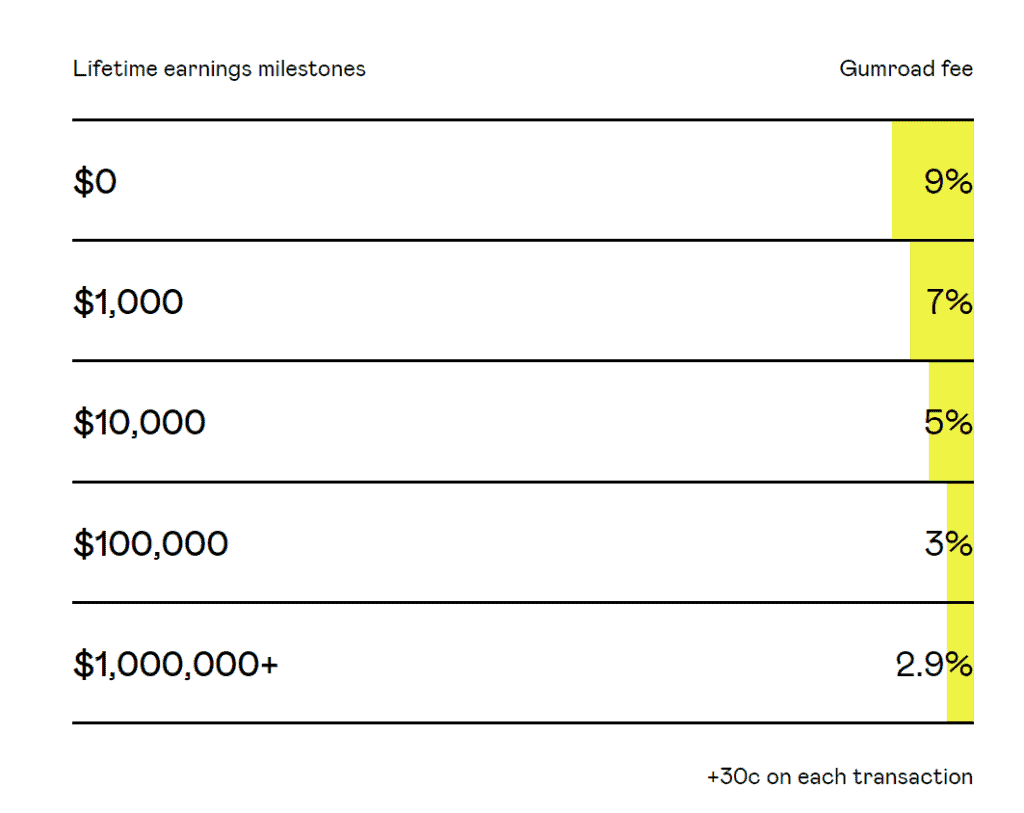 Gumroad New Pricing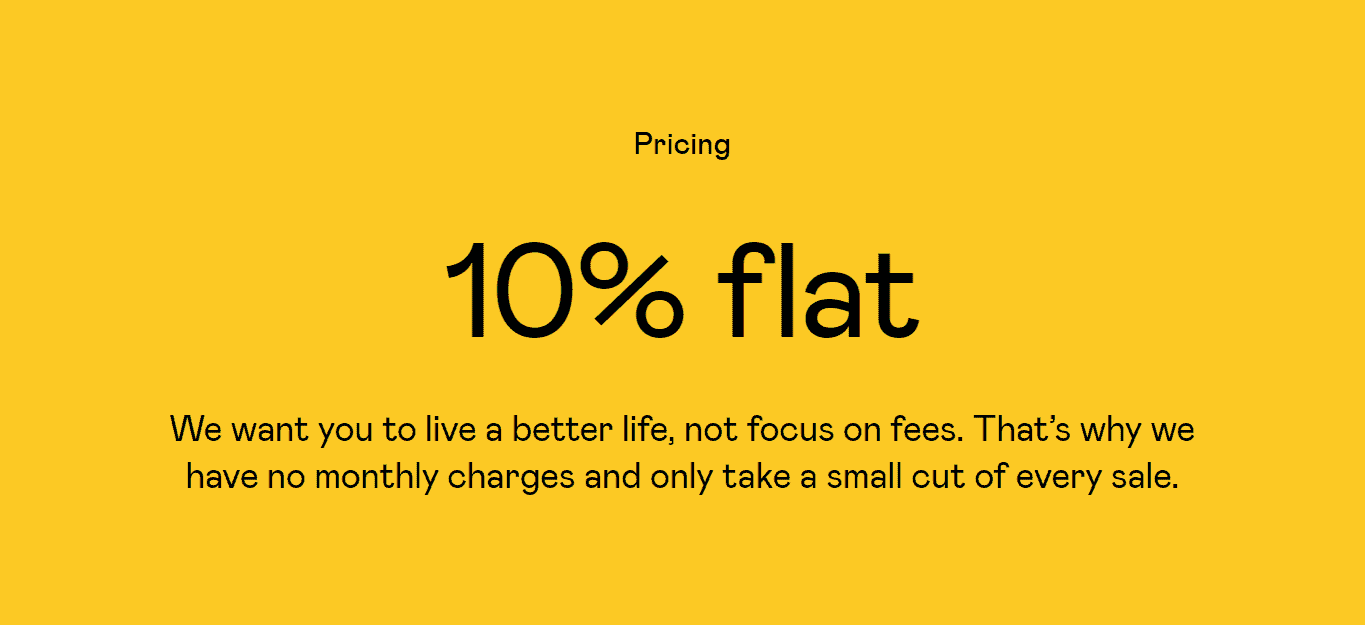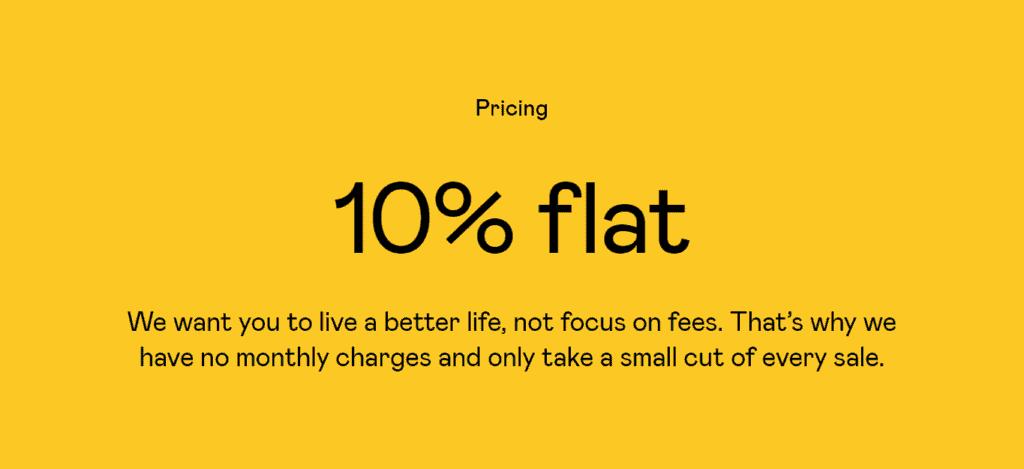 These pricing changes have led to much consternation on social media. Some top creators are re-evaluating their options.
Here's Thomas Frank:
My initial thoughts on the @gumroad price increase:

The 10% flat fee "no longer includes credit card processing fees", which means it's more like a 12.9% fee to sell on the platform.

We do ~$100K/mo in sales, so this would make our fees go up to roughly $13,000/mo. pic.twitter.com/kgNZDts3K5

— Thomas Frank (@TomFrankly) December 18, 2022
And here's another take:
Gumroad theoretically replaces landing pages, email marketing, and hosting courses, in addition to accepting payments.

In their mind 10% is fair for all of that.

Problem is they are not especially good at any of those things.

— OLIVER CANTIN (@oliviercantin) December 17, 2022
Clearly there's trouble. Even for beginners with zero sales just starting out, it's not a good feeling to know that your costs will scale exponentially as you become more successful.
So what's a creator to do?
As our company DOES create informational products and has been evaluating Gumroad for a new course launch, I have some thoughts to share on the top Gumroad competitors.
These are the top alternatives to Gumroad I've found (ranked in order of precedence, but also by use case):
1. ConvertKit Commerce: Best All-Around Gumroad Alternative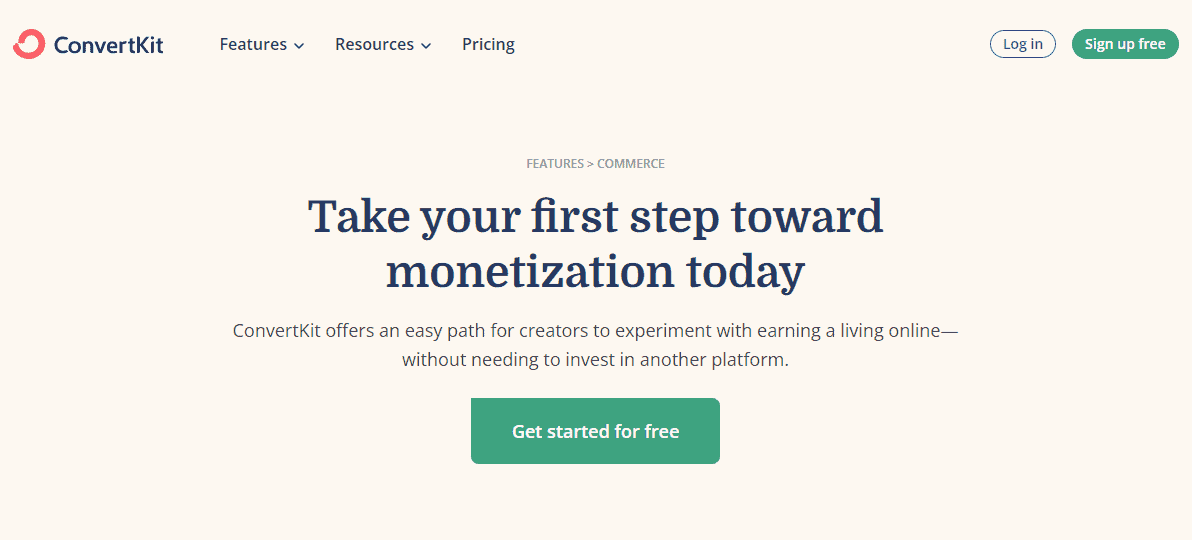 TL;DR: CovertKit has already become the go-to email marketing service for creators, now their ConvertKit Commerce module let's you sell digital products in the same user-friendly ecosystem, but with the benefits of integrated world-class email conversion features.
ConvertKit Commerce Advantages
Transaction fees of 3.5% + $0.30 per transaction
Built by a company that "gets" the creator economy (see ConvertKit email marketing)
Seamlessly integrates with their email marketing suite
Offers functionality similar to Substack if you need newsletter / subscription features
Really easy (and fun) to use, beginner friendly like Gumroad, but doesn't skimp on useful features
Commerce is included in ALL ConvertKit pricing plans (starting at $0, then sliding scale based on list size)
ConvertKit Commerce Disadvantages
Pricing is cheaper for most sellers with incremental monthly sales compared to Gumroad, BUT still not the cheapest alternative
You are also signing up for an email marketing service (most sellers ALSO need, but some don't for a variety of reasons)
Not a merchant of record for VAT purposes (if you are based in Europe), but they compile on the data for you to make filing easy
Further Research on ConvertKit:
2. Podia: Best Gumroad Alternative for Courses & Video Products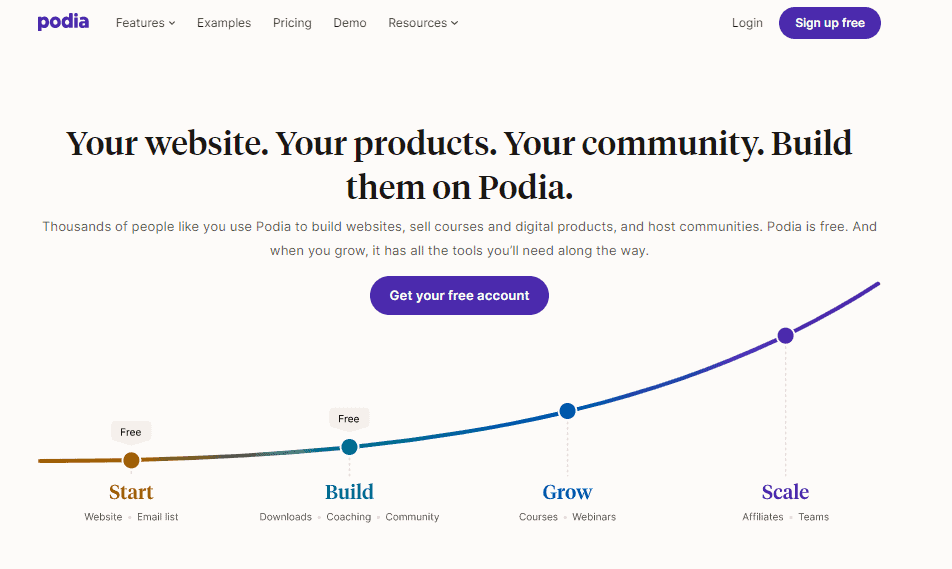 Podia TL;DR: If you are selling a course or anything that resumes a digital course with a video delivery medium, Podia is a no brainer choice. Cheaper than Gumroad, with better tools for what you are trying to achieve.
Podia Advantages
Pricing optionality: use the FREE plan and just get charged 8% transaction fee (flat), OR sign up for a PAID plan ($39/month or $199/month) and pay NO transaction fees
Amazing design aesthetic, your products LOOK good out of the box with almost no design work
Podia is essentially a built-in website designer, so you don't really need anything else
Excellent built-in affiliate program management to boost referral based sales
Has a basic email marketing service built-in for list & customer management
Podia Disadvantages
It can work for other non-visual or non-course based products, but there are some cheaper options for simple ebook delivery or database / report access
Cheaper than Gumroad (especially for high volume sellers), but beginners might be able to find even more affordable options (keep reading)
Further Research on Podia:
3. Samcart: Best High Volume Seller Alternative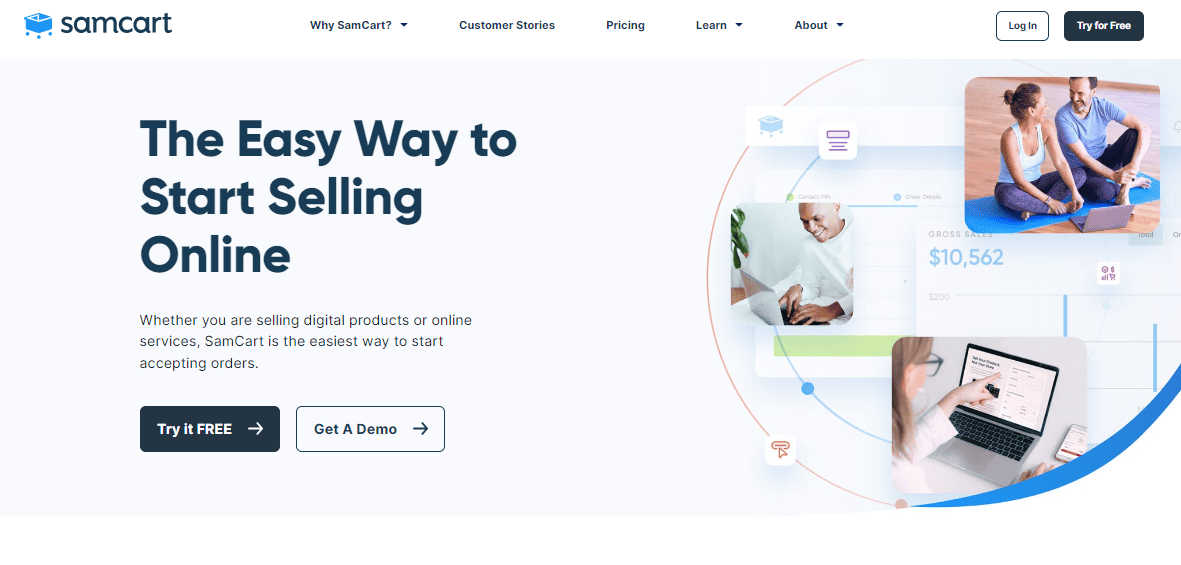 TL;DR: Samcart provides better tools to build landing pages, manage upsells, and optimize for conversations. A true sales funnel building with built-in checkout functionality. Use it for a simple checkout sequence, or a complex marketing automation. All for a fixed monthly fee. Definitely better than Gumroad!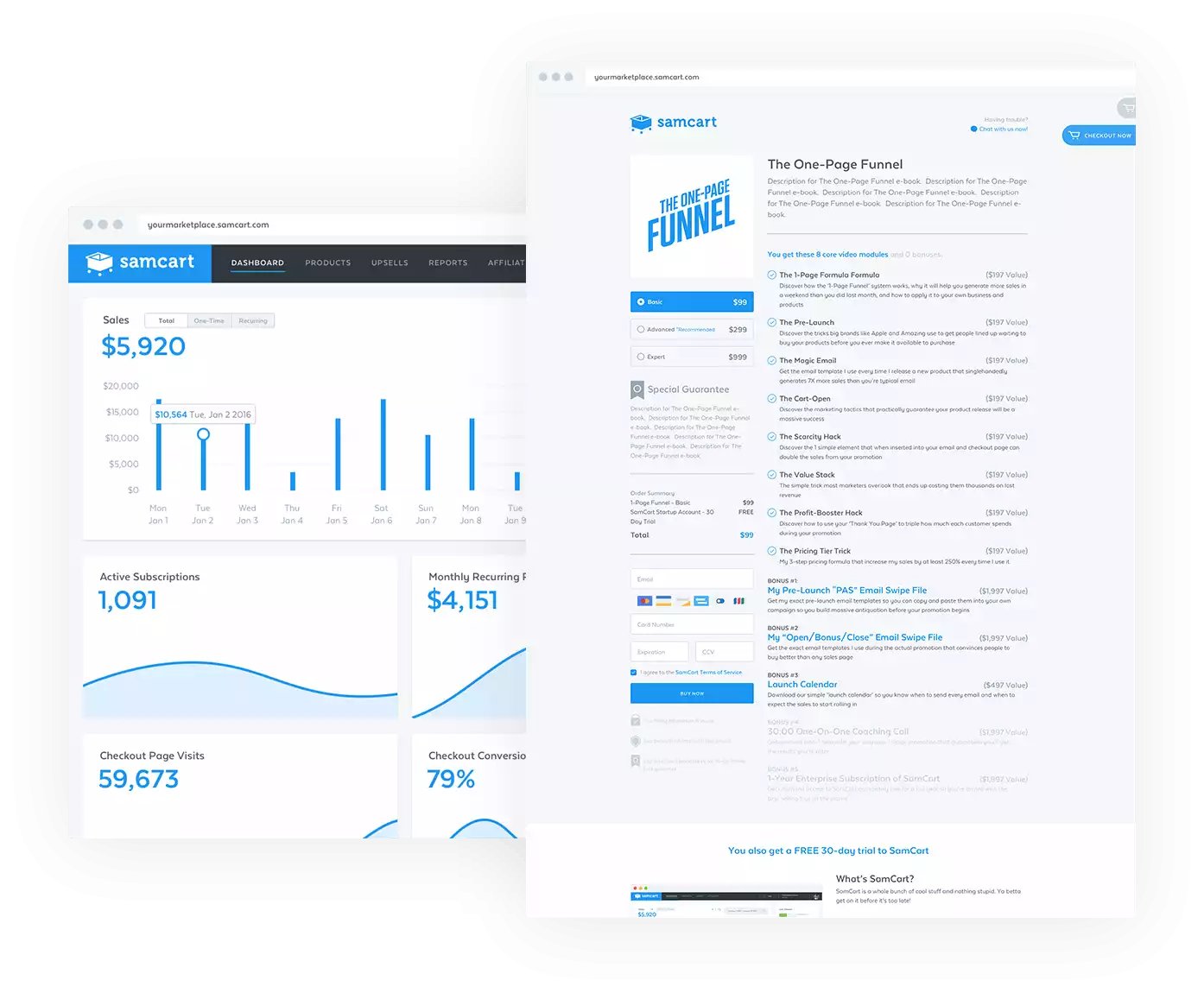 I Personally Prefer SamCart
Personally, I find SamCart to be the BETTER overall checkout page builder with one of the best abandoned cart features in the business. PLUS, it's just less expensive than the competition. There's a free 7-day trial here if you'd like to just see what it looks like on the inside.
GO With SamCart
We earn a commission if you click this link and make a purchase at no additional cost to you.
Samcart Advantages
Includes conversion rate optimized landing page builder, upsells, and conversion tools
0% processing fees
Monthly service, starting at $59/month (often economical for higher volume Gumroad sellers)
Dozens of pre-built templates to easily launch a sales funnel & checkout process that "looks good"
Allows for more customizable of branding and landing page elements compared to Gumroad
Plenty of third party integrations (plays well with other tools)
Ability to split test almost every part of your funnel to optimize conversions
All my interactions with customer support have always been excellent
Samcart Disadvantages
For those just getting started, the recurring monthly subscription might not be less expensive than Gumroad (e.g. if you aren't making sales). That said, you can easily calculate your break-even might be with certain monthly sales assumptions.
Many of the best advanced features (A/B testing, upsells, advanced automations) are only available on the highest tiers ($299/month)
Further Research on Samcart:
4. Sellfy: Cheapest Alternative to Gumroad for Most Sellers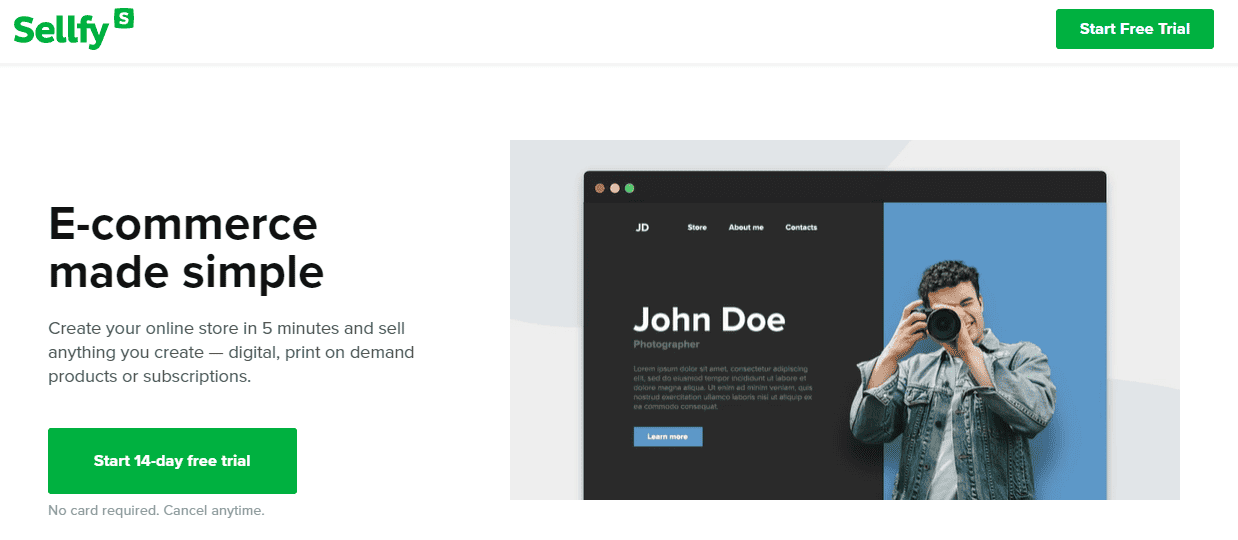 Sellfy TL;DR: Sellfy does almost everything reasonably well, but stands out for some of the lowest net fees (compared to Gumroad and others in this article) AND Sellfy acts as the Merchant of Record, eliminating sales and VAT tax collection issues.
Sellfy Advantages
YES, Sellfy IS a Merchant of Record and can collect any necessary sales taxes and submit compliance docs
Free 14-day trial to see if you like it first
No transaction fees, just a simple monthly tiered model based on sales volume
Pricing plans start at just $29/month (on up to $10k in sales per year – see how it works here)
Excellent cost-effective option for established sellers, even lower volume (but regular) sellers
Offers instant payouts (no waiting around, better cash flow conversion cycle)
Offers built-in email marketing
Built-in, easy-to-implement upselling features
Built-in print-on-demand features (if that's important to you)
Sellfy Disadvantages
Introductory pricing is great, but once you exceed $10k in sales per year, you'll have to move to a $79/month plan at $50k+ in sales, and then $159/month plan at $200k in sales
No transaction based option, so you could be stuck paying $29/month even if you don't have sales OR make enough sales to beat Gumroad
5. SendOwl: Best Simple Product Delivery Alternative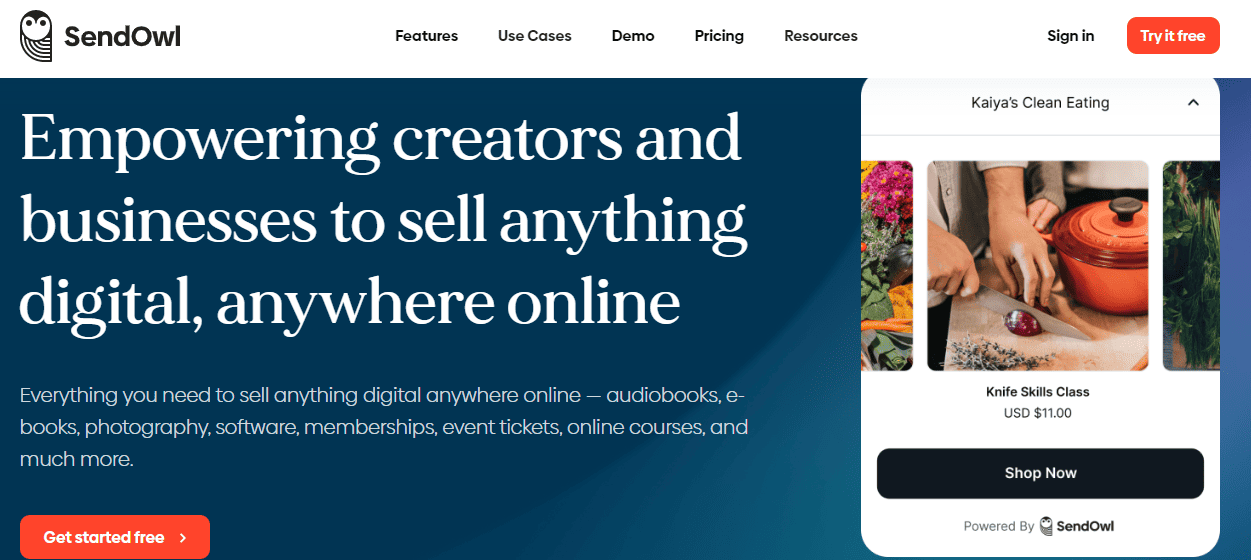 SendOwl TL;DR: SendOwl is probably what Gumroad ONCE was to so many non-technical creatives. Simple to get something live, "purchasable", and "deliverable" in an afternoon or less. Just don't expect extra fluff and marketing funnel features.
SendOwl Advantages
Great solution to handle the basic friction point of delivery digital products for payment, similar to how Gumroad started
Pricing optionality, either FREE monthly plan and 5% of sales OR $19/month with unlimited sales (except if you exceed "standard use" limits and get hit with overage charges)
Clean checkout functionality that can be integrated with almost any other CMS or tech platform
They do offer discounts and special packages for high volume sellers if you contact sales here
SendOwl Disadvantages
Overage charges in "the fine print" make sense, but are a bit difficult to project up front (e.g. if you will use up storage space)
Not many frills, just a checkout and delivery tool which means no landing pages, conversion tools, etc…
Not a Merchant of Record, sellers are responsibility for collecting taxes
6. ThriveCart: Best Long Term Costs Savings Alternative
ThriveCart TL;DR: What if you could have Gumroad -like functionality, but just pay a one-time upfront fee and never pay a cent more? That's ThriveCart.
ThriveCart Advantages
Very similar to Samcart, but with an upfront, one-time pricing model.
Even with the higher up front pricing ($495 – $999 depending on promos), it can quickly become more economical than a Gumroad OR Samcart.
Dozens of built-in sales maximizers like upsells, discount promos, and the latest tactical sales tools (no extra charge).
Some of the best built-in tools for managing an in-house affiliate program that I've seen.
Plenty of examples of successful digital products being sold on ThriveCart.
ThriveCart Disadvantages
Requires a bit more technical know-how than Gumroad, but there's a fairly deep knowledge base (just not as straightforward).
High upfront sticker price means it's likely a 6+ month commitment to "find out" if it's worth it (e.g. can't just cancel the monthly subscription).
No build-in product delivery (email), but I personally hook it up to mailing system like MailerLite
ThriveCart is not a Merchant of Record (in short, not a payment processor).
Further Research on ThriveCart:
7. Payhip: Best Instant Payouts Alternative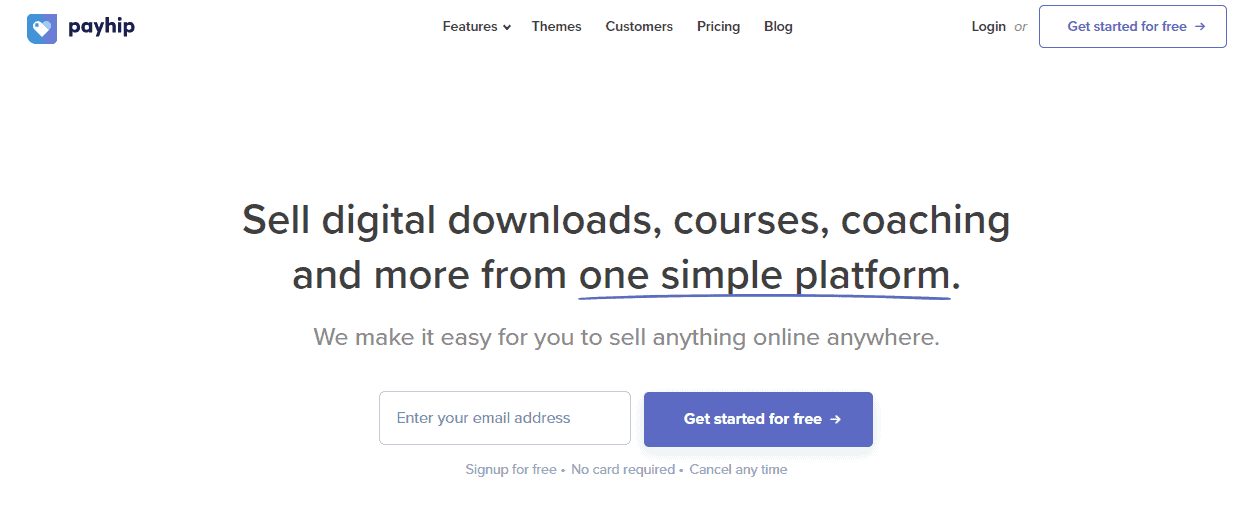 Payhip TL;DR: I've actually known about Payhip (and dabbled with it) for a few years now, but now I'm taking a closer look in light of the Gumroad shenanigans. Smartly positioned for digital products (downloads, courses, coaching, memberships).
Payhip Advantages
Payhip is a fully compliant Merchant of Record, able to remit sales and VAT taxes on your behalf.
Simple pricing optionality: pay $0/month and a 5% transaction fee, $29/month and a 2% transaction fee, or $99/month and NO transaction feel (it just becomes a simple math equation, where you "win" the more successful you are).
Great built-in membership functionality.
You also can sell physical products, although this isn't their core positioning .
Instant payouts, as soon as the the customer pays, you get paid.
No other caps or limitations, all features available on ALL plans, no product limits, unlimited revenue.
Payhip Disadvantages
Much smaller market share than Gumroad, although not insignificant (140k+ sellers).
No built-in affiliate program features.
8. Shopify: Best Third Party Integrations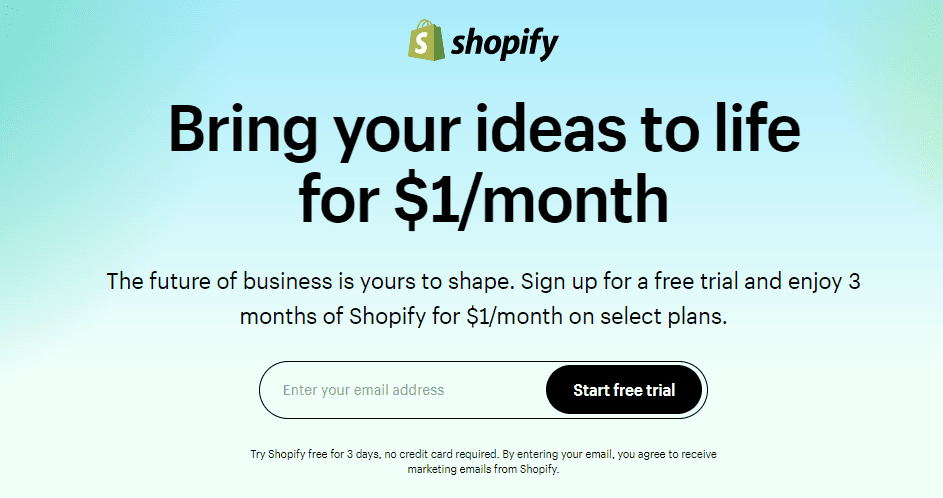 Shopify TL;DR: You might think Shopify is totally not what you need as it's commonly associated with PHYSICAL products and inventory, but did you know Shopify can be used for digital products, too? Shopify (and it's extensive marketplace app ecosystem) should get a serious look as a Gumroad alternative.
Shopify Advantages
The largest, most successful ecommerce platform out there (incumbency benefits).
Affordable and competitive transaction fees with built-in payment processing.
Massive third-party extensibility via the Shopify app marketplace, endless customization.
Constantly iterating and adding new features, app marketplace continues to grow.
Competitive $1/month extended promo options (first 3 months).
Advanced Shopify pricing plans = decreasing per transaction costs over time, unlike with Gumroad's inverted structure.
Shopify Disadvantages
Steeper learning curve compared to Gumroad.
Not specifically built for creators, more geared more towards physical product ecommerce.
May need to pay additional for the best third-party apps to get Shopify to where you want it.
Not a "Merchant of Record" for VAT collection purposes, although they make it easy to collect and submit this data.
Further Research on Shopify: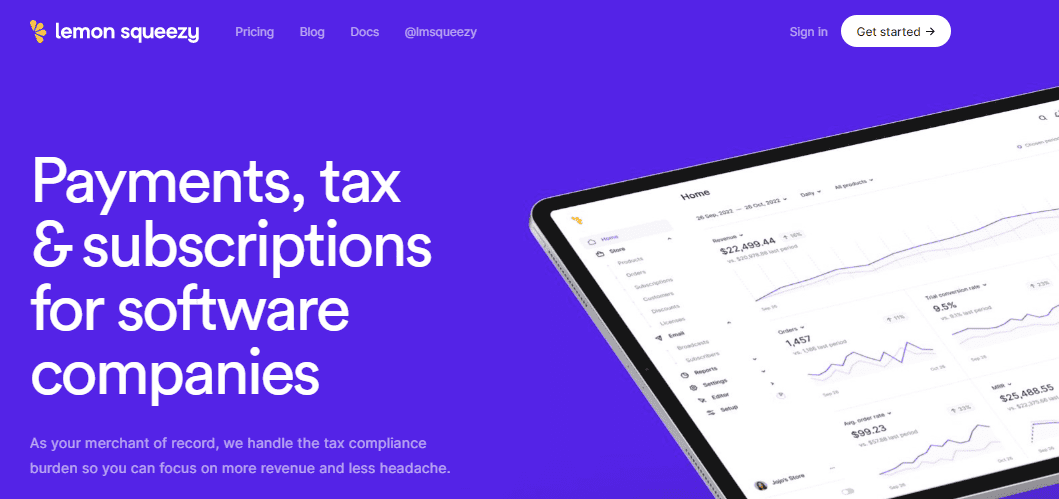 TL;DR: I'll admit to not knowing what Lemon Squeezy was until this whole Gumroad debacle. So far I'm impressed, although still feels new and new platforms have less durability. Consider Lemon Squeezy if your products are fairly portable and you can move platforms (worst case), later.
Lemon Squeezy Advantages
YES, Lemon Squeezy IS a Merchant of Record (takes the entire pain out of tax collection and compliance)
They offer to do most of the migration heavy lifting for you.
Better support for software based products compared to Gumroad.
Built-in email marketing toolset that is free up until 500 subscribers.
No transaction fees right now ("until 2023").
Transaction fees of 5% + $0.50 per transaction are better than Gumroad for probably everyone.
They indicate that volume discounts are available for large sellers.
Lemon Squeezy Disadvantages
Relatively unproven platform with a small (but now presumably rapidly growing) customer base.
The whole "no transaction fees until 2023" feels gimmicky. And then what?
Free email marketing, but only up until 500 subscribers, then it's not necessarily the cheapest email marketing option (not bad, just not really a benefit anymore).
5% + $0.50 per transaction still puts Lemon Squeezy in the middle to upper range (e.g ConvertKit, my fav, is 3.5% + $0.30 AND their more competent email marketing suite is comparably priced).
10. Substack: Best Gumroad Alternative for Content Subscriptions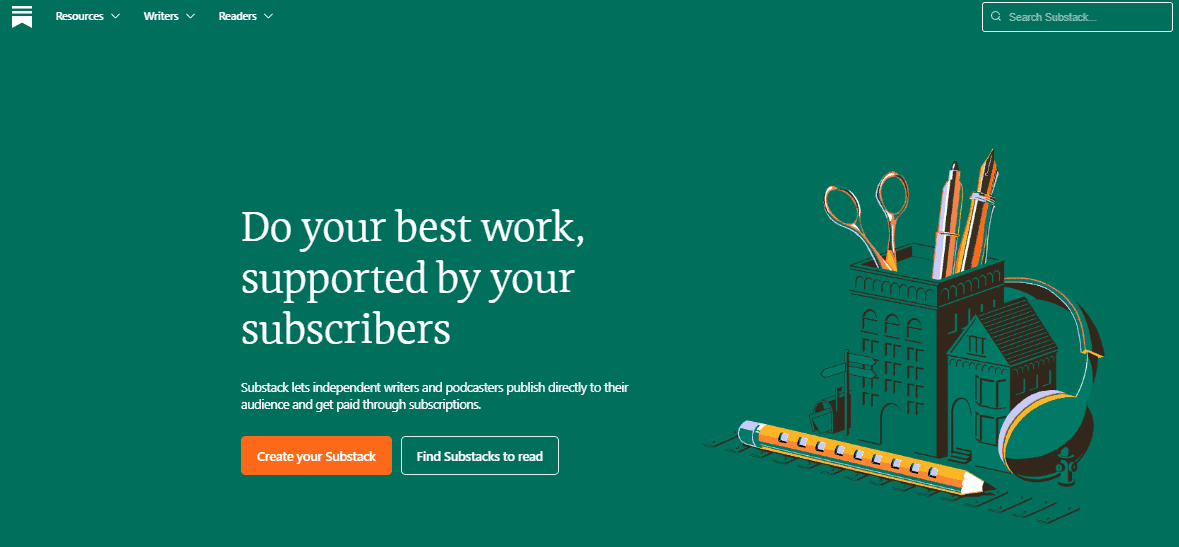 Substack TL;DR: Substack might seem like an odd choice, but if you think about it, Substack is basically a FREE email list provider with build-in information delivery architecture. It's definitely not the same as Gumroad, but it's worth examining how your digital product might be configured for the Substack paid tech stack.
Substack Advantages
Very easy to get started with their email builder.
Completely free to start as you build your subscriber list.
Built-in distribution and organic discovery (related subscriber lists, etc.. still a work in progress but better than the Gumroad "marketplace").
For paid premium subscriptions, a 10% flat Substack fee (now better than Gumroad, who would have thought?!)
Designed for the information economy.
No transaction fees.
Substack Disadvantages
No true "landing page" builder or functionality.
Not suitable for one-time digital downloads.
Not designed for courses or course builders (although can be adapted creatively!)
No built-in sales conversion tools.
Further Research on Substack: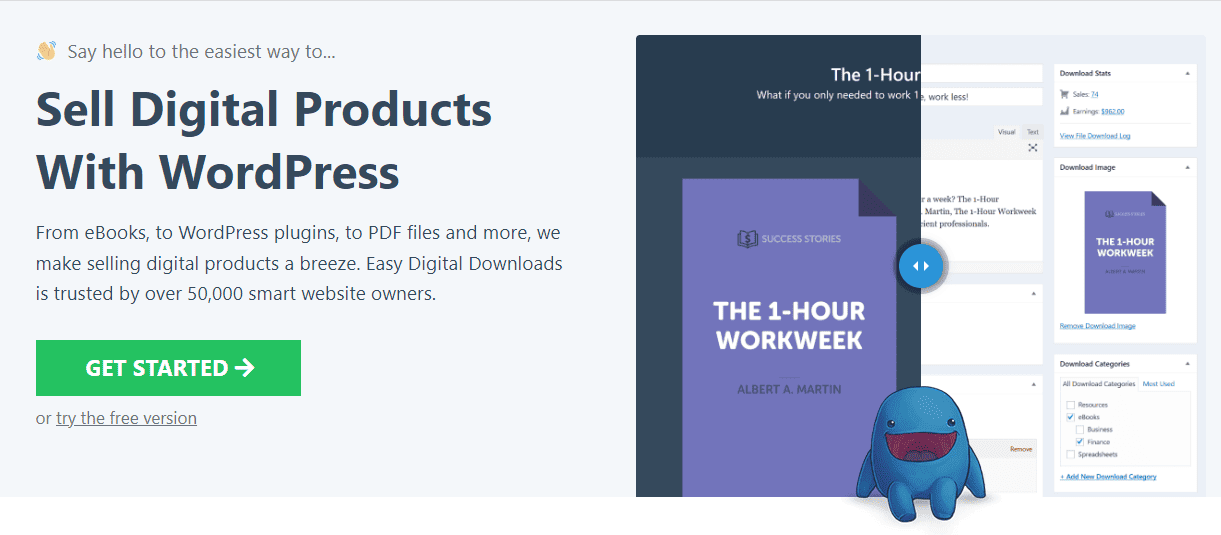 EDD TL;DR: If you already have a presence on WordPress, or were just looking for a good excuse to move over, Easy Digital Downloads is an affordable option to consider.
Easy Digital Downloads Advantages
Works within the massive WordPress ecosystem, options are endless for customization, design, etc…
Simple shopping cart setup.
Simple YEARLY pricing structure, starting at $100 per year for 1 site.
Just pay the payment processor fees (Stripe or PayPal).
Easy Digital Downloads Disadvantages
More complicated to setup than Gumroad, also need to know your way around WordPress.
Only available on WordPress.
Definitely a bare bones type product, don't expect flashy upsells or design tricks.
Subscription and software products don't start on the initial pricing tier, starts at $200 and $300 per year, respectively.
Not a Merchant of Record.
12. Paddle: Best Gumroad Alternative for Software
TL;DR: If you are selling software or just need an edge case solution, Paddle is flexible enough to fit almost any use case.
Paddle Advantages
Merchant of Record, handles on the tax compliance side for you.
Paddle can easily translate price increases across borders e.g. no endless fiddling for foreign market pricing.
Dozens of different use cases for their core tech (beyond just digital products).
Paddle works really well for software and subscription-based products (seems to be their core customer base).
Simple 5% + $0.50 pricing, similar to Lemon Squeezy.
Custom pricing is available on a case-by-case basis for volume sellers.
Paddle Disadvantages
Not specifically geared towards the information creator economy, although not unfriendly to it.
Still a lot of legwork to setup, more similar to a Stripe than a Gumroad.
Fairly technical, not as newbie-friendly as Gumroad.
Still fairly pricey at 5% transaction, e.g. worse than PayPal and Stripe for only some marginal convenience.
Only allows monthly earnings withdrawals (less advantageous cash conversion cycle).
13. Znaplink: Best Link in Bio Alternative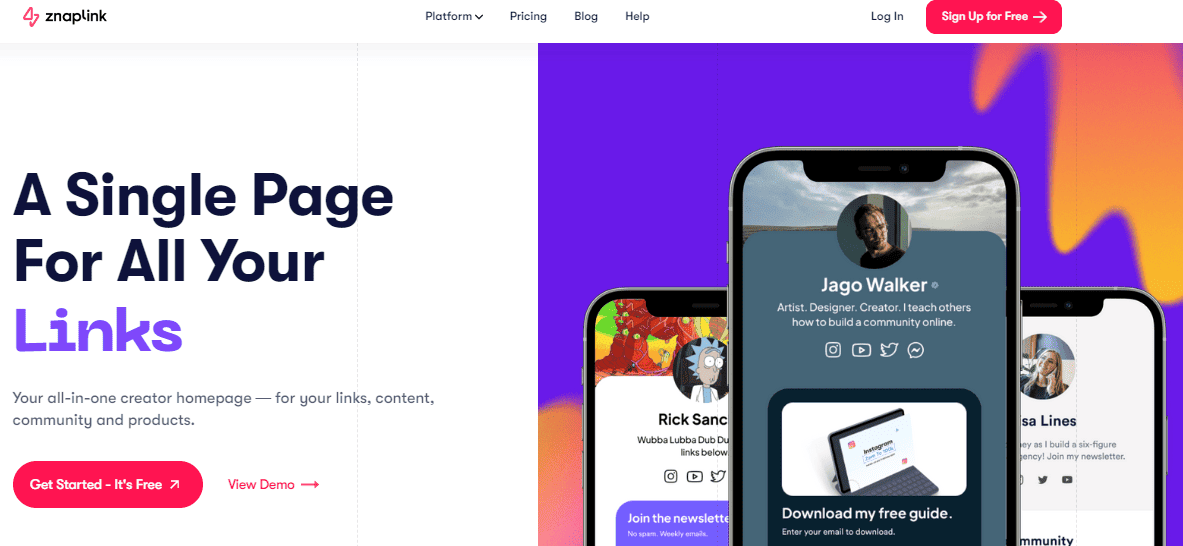 Znaplink TL;DR: Znaplink honestly wasn't on my radar until I saw it pop up on my Twitter feed. I did some digging and it does look very similar to Gumroad in spirit and it's hard to beat a flat 3% transaction fee. A good "link in bio" alternative.
Znaplink Advantages
Easy short-link, built for on-the-go sharing, particularly social sharing.
If you have a Twitter, TikTok, or other social selling strategy, Znaplink is a GREAT option over Gumroad.
Completely free to start.
Easier to setup than a website.
Znaplink Disadvantages
Relative newcomer, was not on my radar until someone mentioned them to me (e.g. I have concerns with small platforms like this sticking around, although maybe this is their catalyst…)
It's really Linktree alternative, with digital product selling as an add-on featured.
Fairly limited design options.
Final Cut: So Which Service Like Gumroad is Best?
Gumroad had a great thing going. Many creators never seriously considered looking elsewhere! Now it's time.
The field is actually fairly broad, so here's a few ways I narrowed it down personally for our various business lines:
Need something similar to Gumroad, just BETTER all around? I'm loving ConvertKit here. This team knows digital and makes everything easy, even for new creators. Also tacks on to their popular email marketing system. Best of both worlds.
Need a platform of interactive products like courses & video products? Go with Podia here. Podia is Gumroad but with more course specific tools and features like email marketing built-in. Best of all, you can get started with just 8% transaction fees and transition to the $33/month plan and axe transaction fees whenever you start making enough sales to justify it (e.g. your selling costs START LOWER than Gumroad and get LOWER as you scale, not HIGHER).
High volume seller looking to save on transaction fees? Consider either Samcart here (monthly recurring, but sleeker tools) OR ThriveCart here (similar, a bit more technical, but a one-time upfront fee for lifetime use). Actually get a ton of value + keep transaction fees at $0.
Just need a simple, cheap way to host & deliver products digitally? Try out Sellfy here. A remarkably competent Gumroad alternative solution at almost 3X LESS cost for most sellers.
Need a Merchant of Record platform? Go with Sellfy here. It's officially the Merchant of Record AND incredibly affordable (see above).
Want instant payouts? Go with Payhip here. You get paid the second your customers payment hits your Payhip account, also quite affordable pricing.