Last Updated on April 22, 2023 by Ewen Finser
It's almost 2023, and it shocks me how so many businesses haven't switched to an eSignature platform. For example, I recently had to take a signed contract to my property manager's office. While that shouldn't seem like a big deal, think of the time and money I wasted.
First, I had to print out the documents and sign them. Then, I had to get in my car and drive to the property manager's office. After I dropped off the paperwork, I drove back to my home. Right there, I wasted paper and gas–not to mention the cost of a printer.
Since this was time and money I could have saved by using eSignature software, I was curious to see how the benefits would translate to the business world. Sure enough, businesses see savings of up to 78% when they migrate to an eSignature platform!
The question is, which one do you choose? Businesses have a couple of options. Adobe Acrobat is a trusted name in the eSignature world, while signNow is quickly becoming my favorite signature software. Read my Adobe Sign vs signNow compared guide for more.
Bottom Line Up Front Summary: I love Adobe Sign and signNow, so your chosen platform depends on your preferences. If you want a user-friendly eSignature platform, I suggest signNow over Adobe Sign. signNow is probably the best affordable option for MOST businesses. If you want a centralized PDF workflow with signature capabilities and impressive security features, I suggest choosing Adobe Acrobat Sign.
Main Differences Between Adobe Sign vs signNow
The main differences between Adobe Sign vs signNow are:
Adobe Acrobat is a PDF creation and editing tool, whereas signNow signs digital documents
signNow features a drag-and-drop editor, whereas you have to fill out the areas in Adobe Acrobat by text
You need the second-tier Acrobat Pro to create fillable fields, whereas you can create basic fillable fields in signNow's Business plan
Better UX + Better Pricing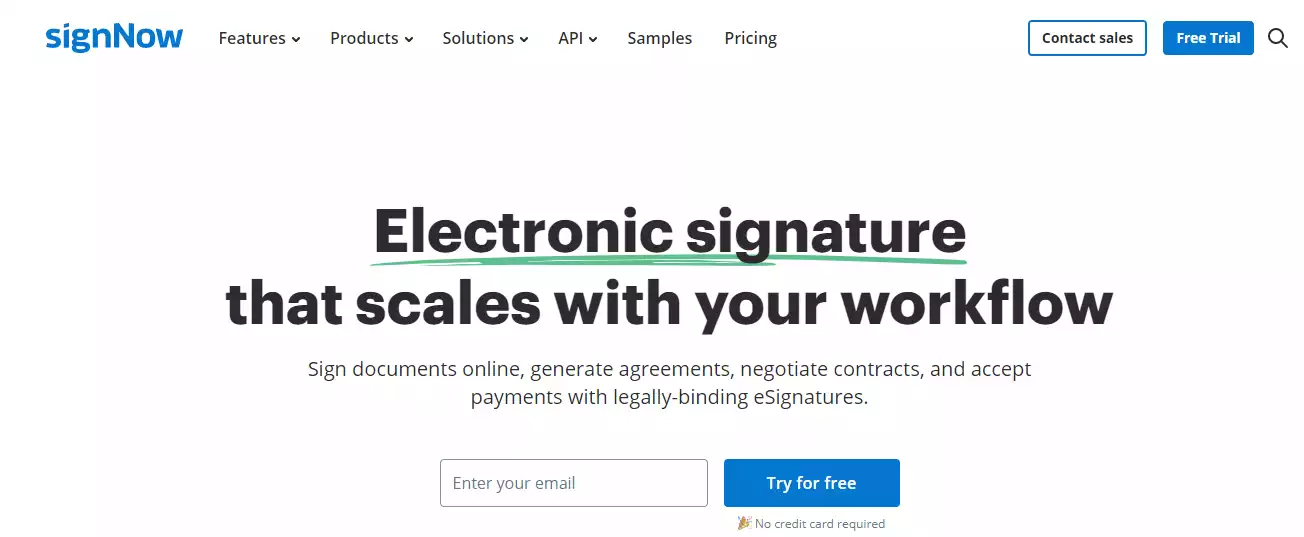 Why Go with SignNow?
If you haven't evaluated your document signing software recently, SignNow is worth a look! Easier to use, intuitive workflows, and better pricing mean it's time to dump that old document signing software for the new upstart.
Try SignNow…NOW!
We earn a commission if you click this link and make a purchase at no additional cost to you.
Adobe Acrobat Sign Features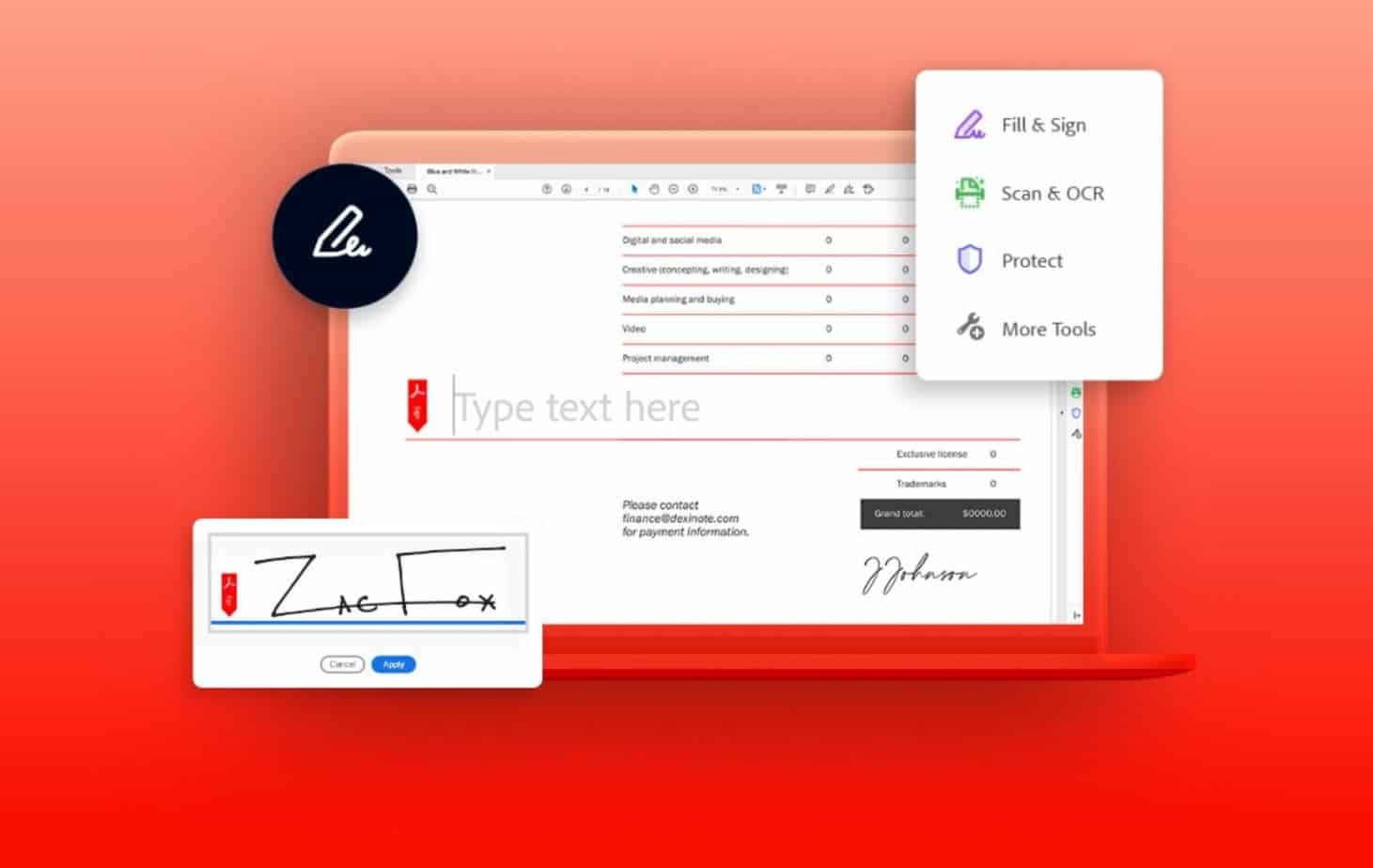 I've been using Adobe Acrobat for as long as I can remember. I love how easy it is to sign an Adobe PDF via electronic signature and all the other features that Adobe offers. Here's a breakdown of a few features you can expect from Adobe Sign.
Signature Software Workflow
Adobe Acrobat offers everything you need for a centralized workflow. You can upload various types of documents and convert them to PDFs. From Adobe's backend, you can edit the documents and create fillable fields for signatures.
For Business plans, you can invite team members on the documents for collaboration. Adobe can also automate document notifications and reminders. If you need more workstation options, Adobe can integrate with different platforms.
Verdict: Adobe Acrobat has everything you need to create a practical eSignature workstation. You can upload and edit documents, add team members for collaboration, and use automation for notifications and reminders.
Signatures
Signing a document on Adobe Acrobat couldn't be simpler. When you open your document, click the Fill & Sign button. Adobe Acrobat already saved my signature, so I don't need to create a new one. But if this is your first time using Adobe Acrobat, adding your signature is easy.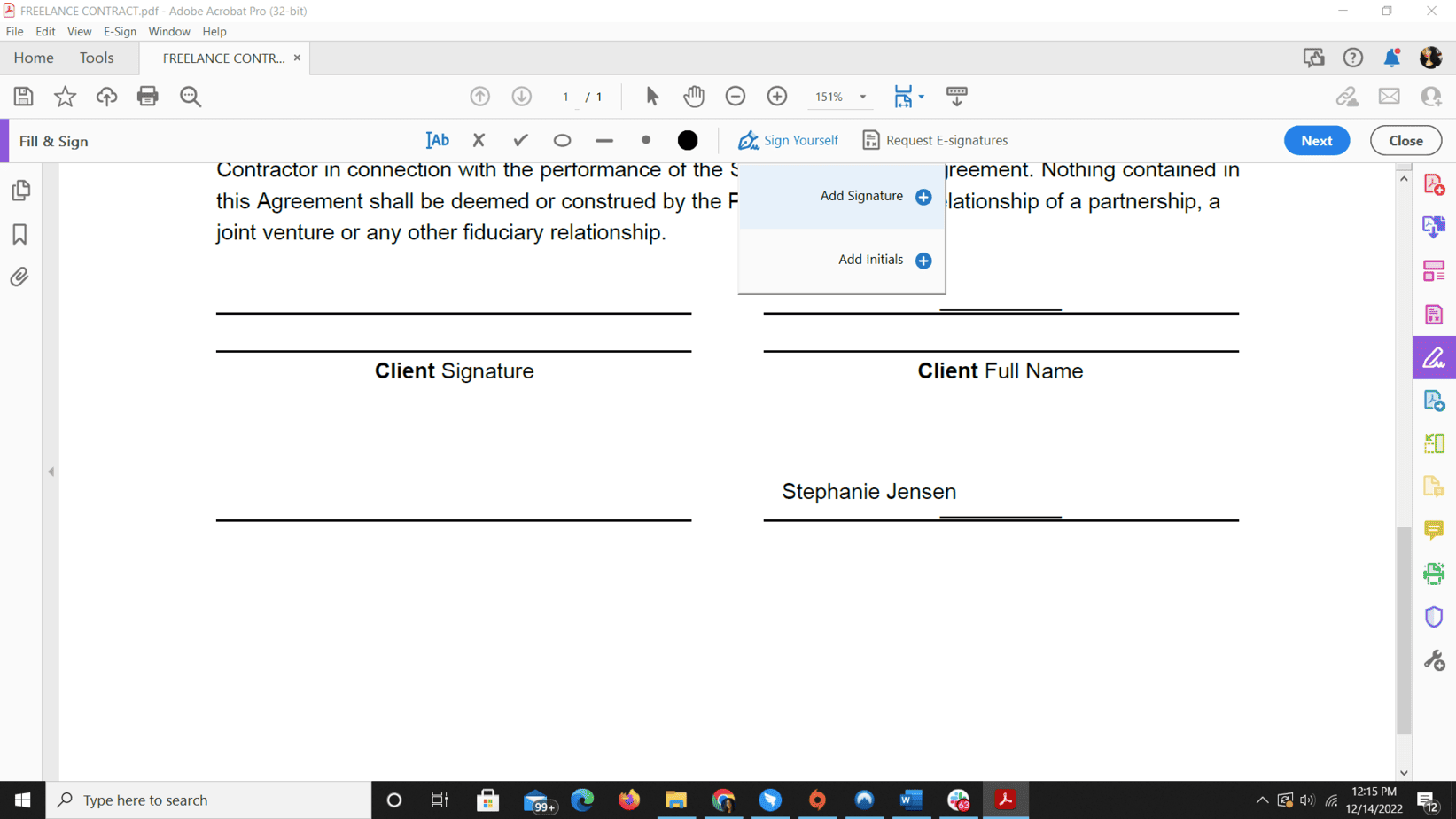 From the Fill & Sign button, click the Sign Yourself button on the top toolbar and click "Add Signature." Adobe will prompt you to either draw a signature, upload one, or use a pre-made signature.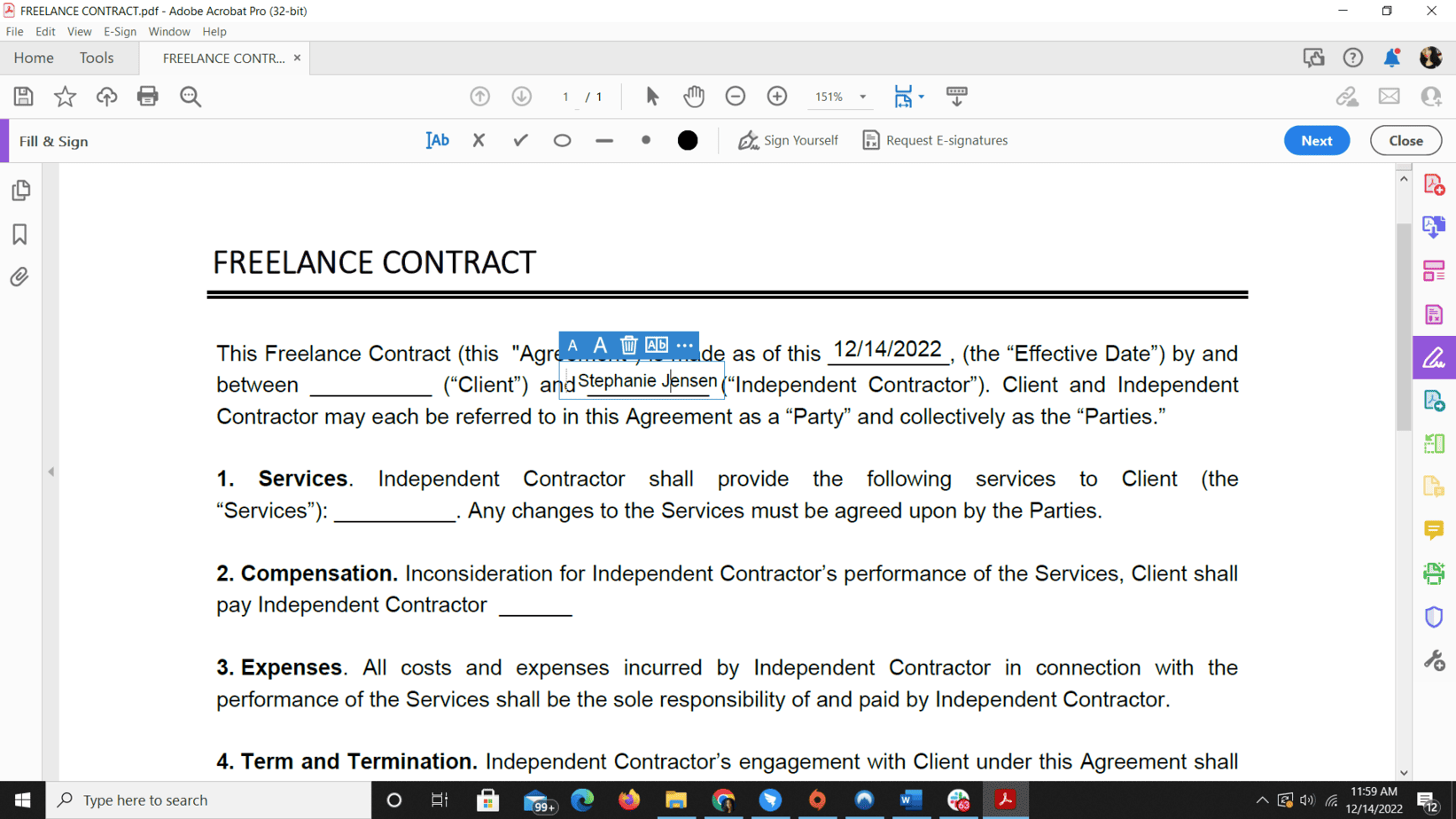 To fill out a form with text, use that same button and click the space where you want to enter text. Start typing in the text box. Adobe gives you a couple of text editing options. If the field is small, you can make your text smaller and reposition it, so it fits on the line.
As an alternative, you can edit the lines. All you need to do is click the Edit PDF button, click the line, and add more underscores to lengthen the field. This way, you can add text without making it small and hard to read.
Verdict: Creating a signature, signing documents, and adding text are very easy on Adobe Acrobat. You can also edit the text to make fillable forms bigger or edit the text to make it smaller. You can also reposition fields so they fit better on the line.
Adobe Sign Templates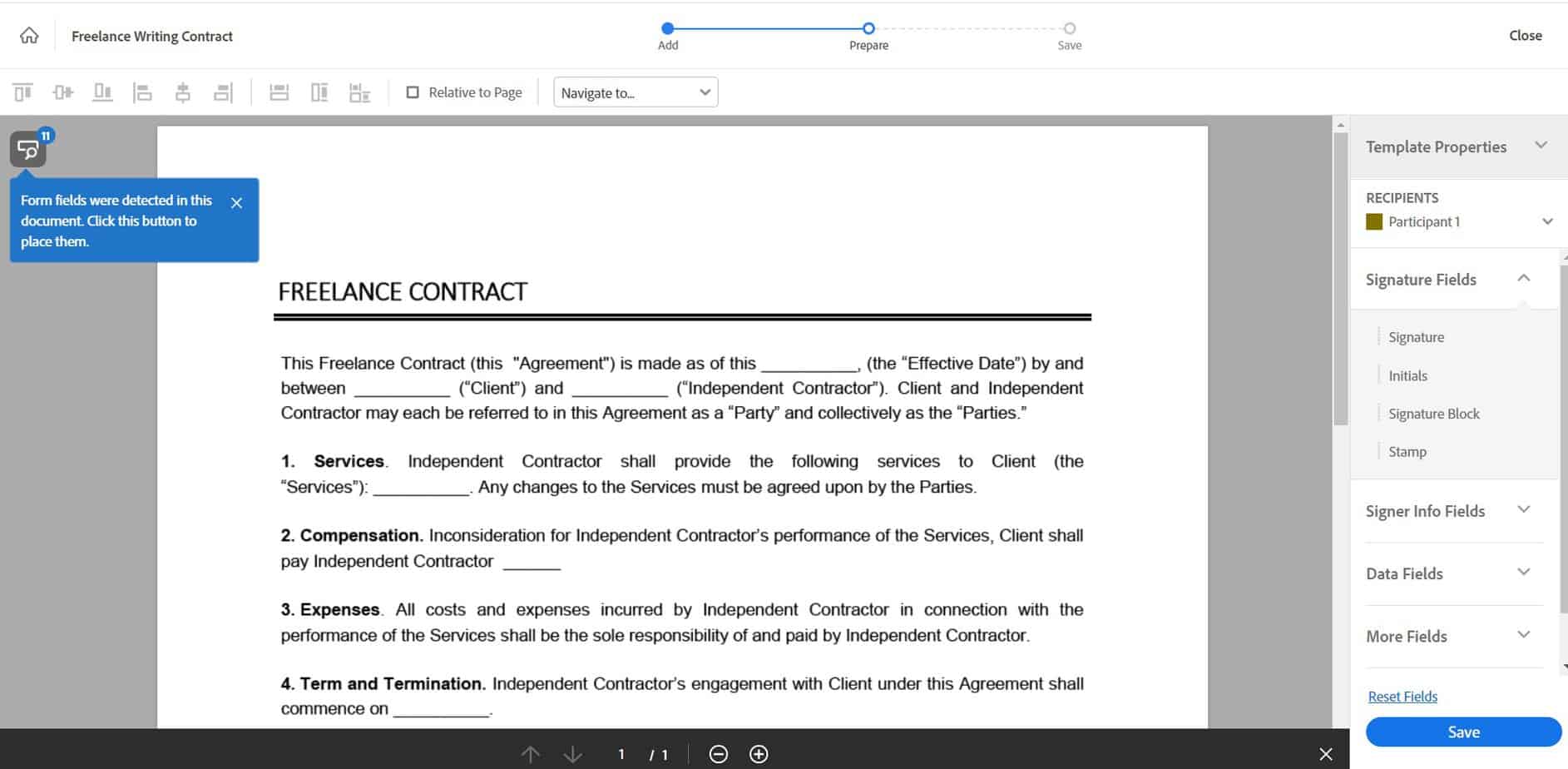 Accessing templates on Adobe Acrobat is annoying. I can't find out how to create a template on my PC app, which I usually use. But you can create a template on the website.
Start by logging into your Adobe Account, go to Adobe Acrobat Pro, and click Access Apps and Services. Adobe will take you to the Acrobat page. Under the E-Sign top menu toolbar, click Create E-Sign Template. Create a file name for your template and upload a file.
You will then have to create fields. What I find interesting is the auto-field creator. This is a button that appears at the top left of your document. Click that, and the system will automatically add fields.
You can also add new fields and edit them. For example, the system didn't auto-create text fields, so I added them myself. Once you save your template, you can access it under your Documents.
Verdict: You can create templates in Adobe Acrobat, but you must do this on the website and not the desktop app. However, creating a template in Adobe Acrobat is easy, and they even automate the fields for you. Acrobat will save your template in the Adobe Document Cloud, so you can access it whenever necessary.
Security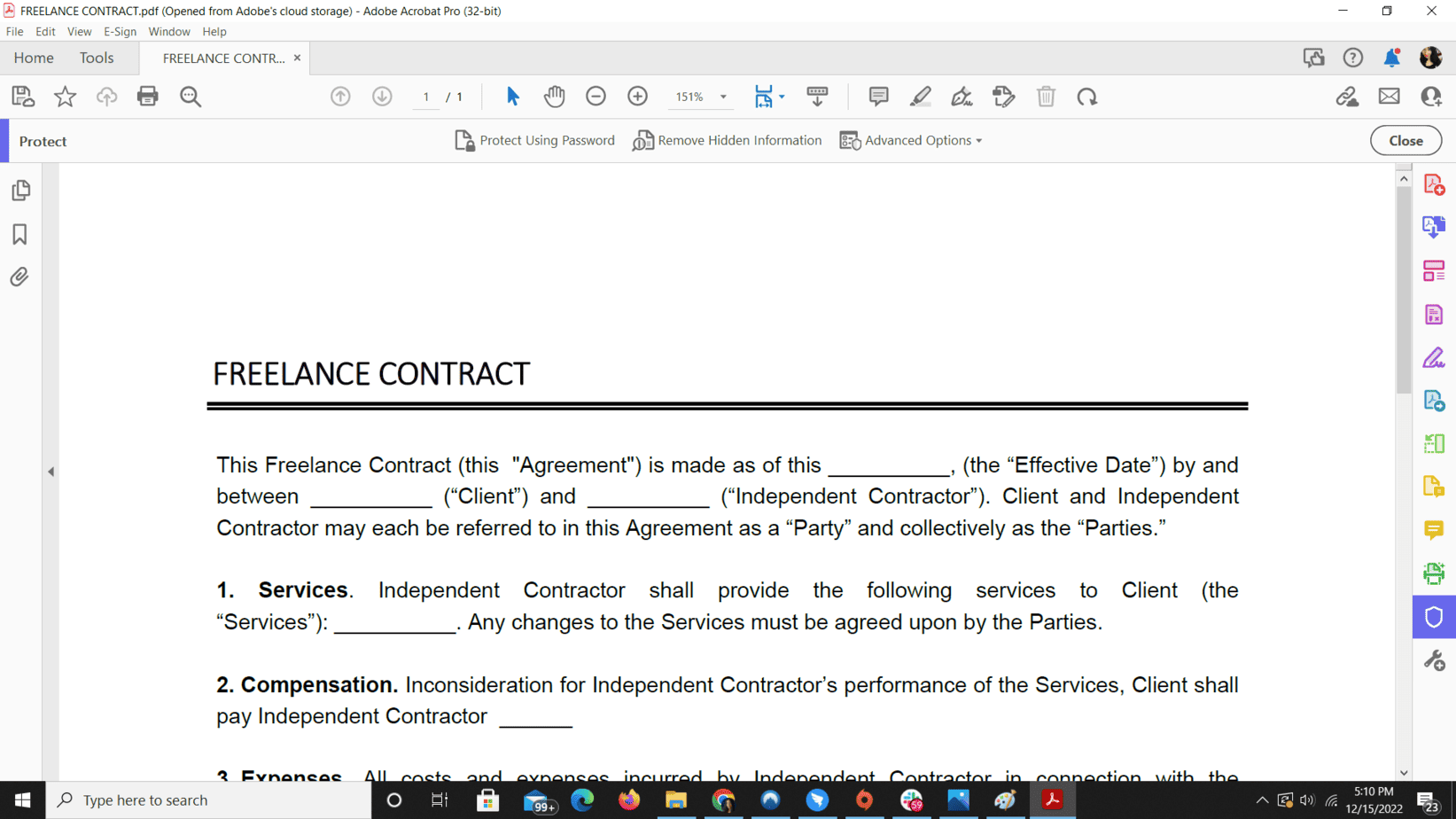 Adobe won me for its security features. You can use encryption to secure your documents and apply other security features, such as password protection.
To add protection, go to the lefthand toolbar and click Protect. On the top toolbar, click Protect Using Password. You'll enter the password and assign a role to the recipient. They can either only view the document or be given editing privileges. You can also choose to encrypt the document with a certificate by clicking the Advanced Options button.
Adobe Acrobat is certified with SOC 2 Type 2, ISO 27001, and PCI DSS. Acrobat can also provide an audit trail.
Verdict: Few competitors offer Acrobat's security features. You can protect your documents via password and certificate protection. You can also assign roles to recipients. Adobe is compliant with various laws and industries, making this a great solution for businesses of several niches.
Integrations
If you use the entire Adobe Creative Suite, you can integrate Acrobat into any Adobe program. Acrobat integrates with Workday, Salesforce, MS Dynamics, Box, and PayPal.
I do like the PayPal and Salesforce integrations, but these aren't the most impressive integrations I've seen. Luckily, Acrobat allows for API configurations, so you can integrate Acrobat into any of your programs.
Verdict: Adobe Acrobat's integrations aren't the most impressive, but I like the PayPal and Salesforce integrations. There are also API configurations, so you can integrate Acrobat with various programs.
Support
While I don't think Adobe offers the best support, there are options here. Adobe has tutorials, guides, and FAQ pages if you're stuck. I also use Adobe's Community Center a lot.
At the Community Center, other users ask questions and receive answers. Adobe does offer customer service, but it's honestly not the best. If you're an enterprise client, you'll be able to reach someone directly from the web app.
Verdict: Adobe mainly offers support through tutorials, guides, FAQ pages, and its community center. Customer support is lacking, except for enterprise clients.
Mobile App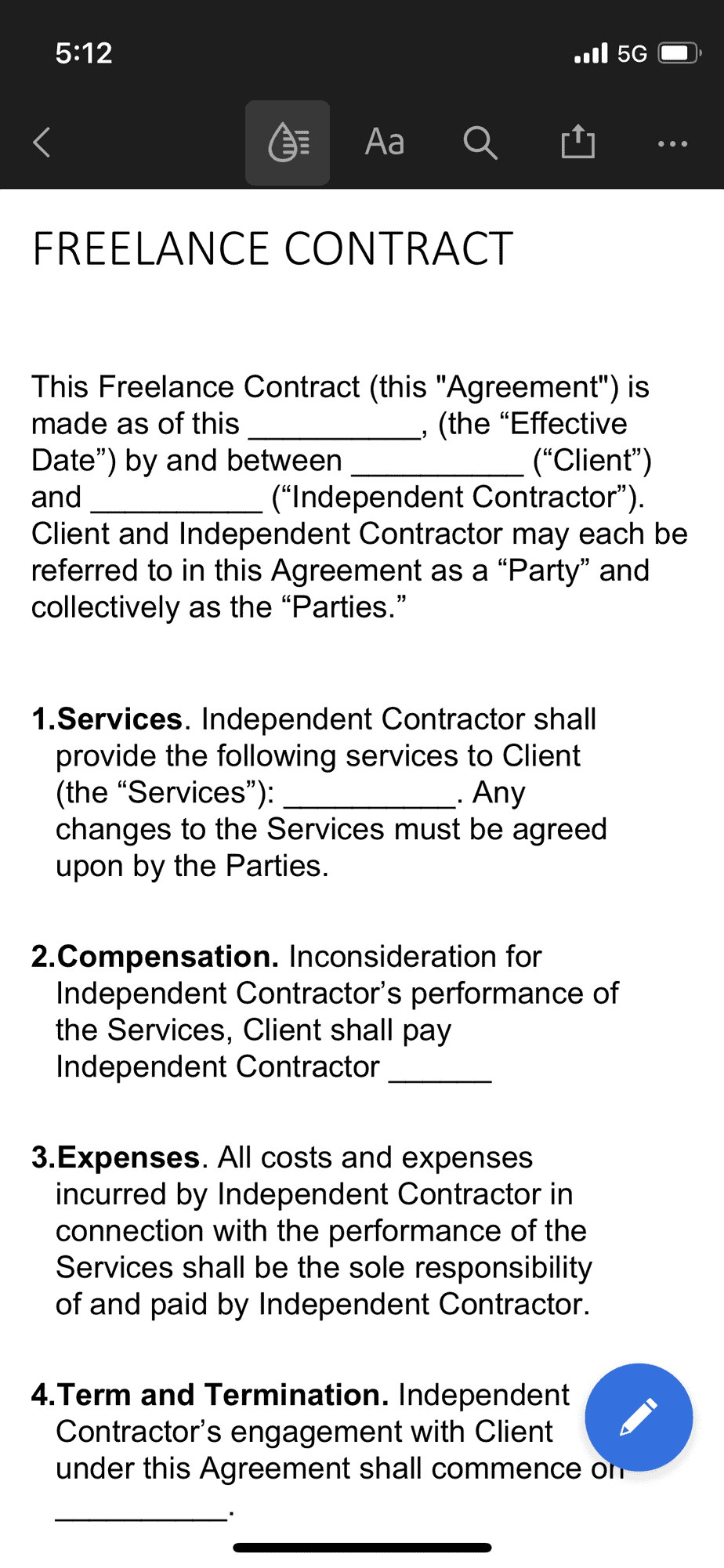 I've had the Adobe Acrobat app downloaded on my phone for a long time, but I never use it unless I have to. The desktop version is more user-friendly and is laid out better. On the app, I have to dig around and navigate the system to find what I'm looking for. Adding and editing fields is annoying, but the app does offer the same functionality as the desktop app.
There are reasons why I like the app. You can add users to documents and send contracts all on the app. You can also add documents to the Adobe cloud or integrate with Dropbox or Google Drive (I have an iPhone, so Adobe was able to integrate with iCloud) to access your documents.
Verdict: The app is clunky and takes some time to learn, but it offers the same functionality as the desktop app and website. Plus, you can app users and send documents directly from the app.
Adobe Sign Pros
Easy to sign documents
Can edit PDFs
Mobile signing
Can upload documents of different file types
Exceptional security features
Adobe Sign Cons
Not the best integrations
Lacks support
Pretty pricey
Adobe Sign Pricing
You will receive signing privileges with an Adobe Acrobat subscription. For individuals, there are two Acrobat plans: Standard and Pro. Standard is $12.99/month, while Pro is $19.99/month.
If you have a whole team, Adobe offers Business plans which bundle the number of licenses you need per plan. Adobe also offers solutions for teachers and students. There isn't a free version of Acrobat, but Adobe offers a two-week free trial for all plans.
signNow Features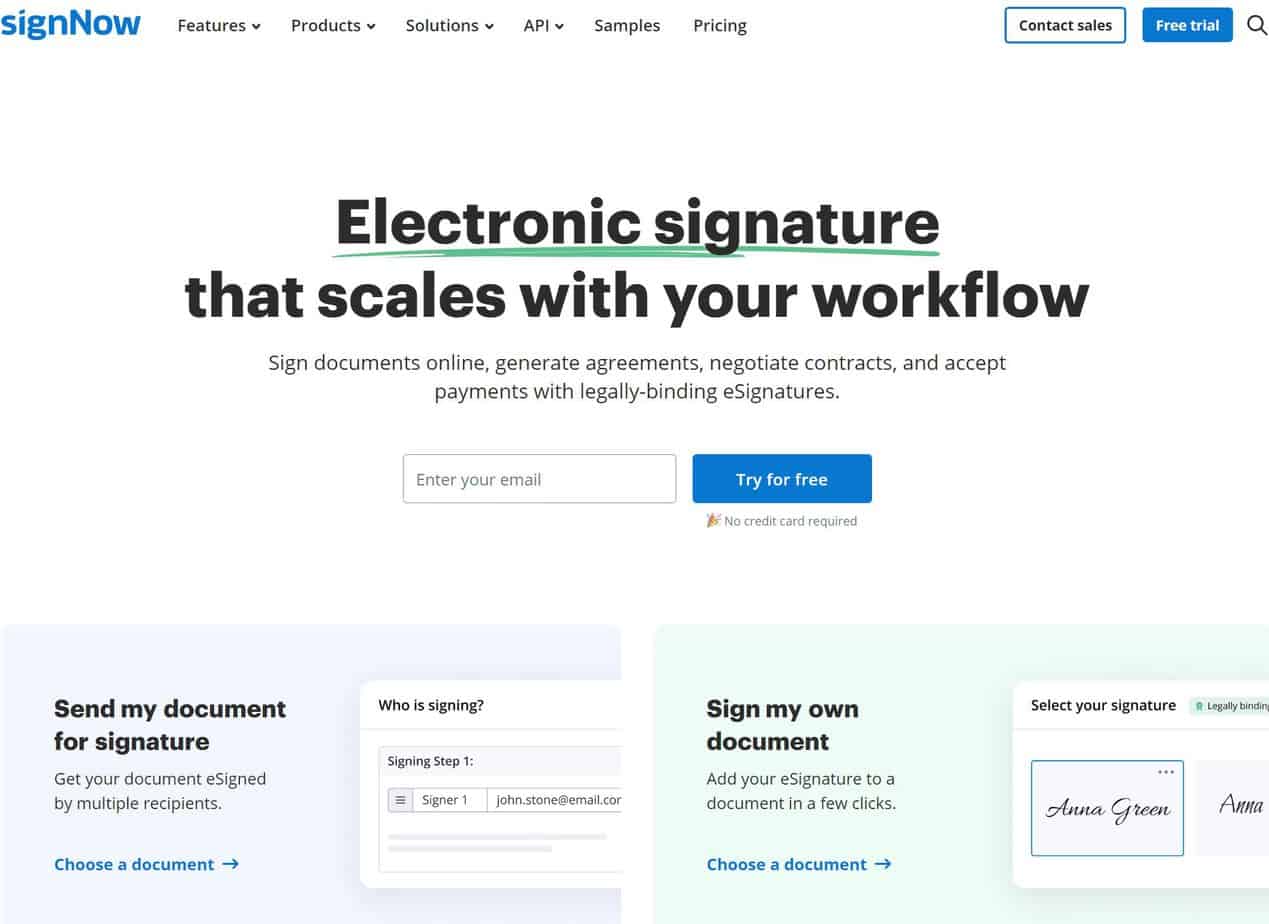 When I first used signNow, I only used the basic digital signature features on the free trial.
But I liked signNow's user-friendliness and drag-and-drop editor so much that I decided to upgrade my plan.
A lot of these features are similar to what you would find on Adobe Acrobat, and signNow even offers some actions that Adobe doesn't offer.
signNow Workflow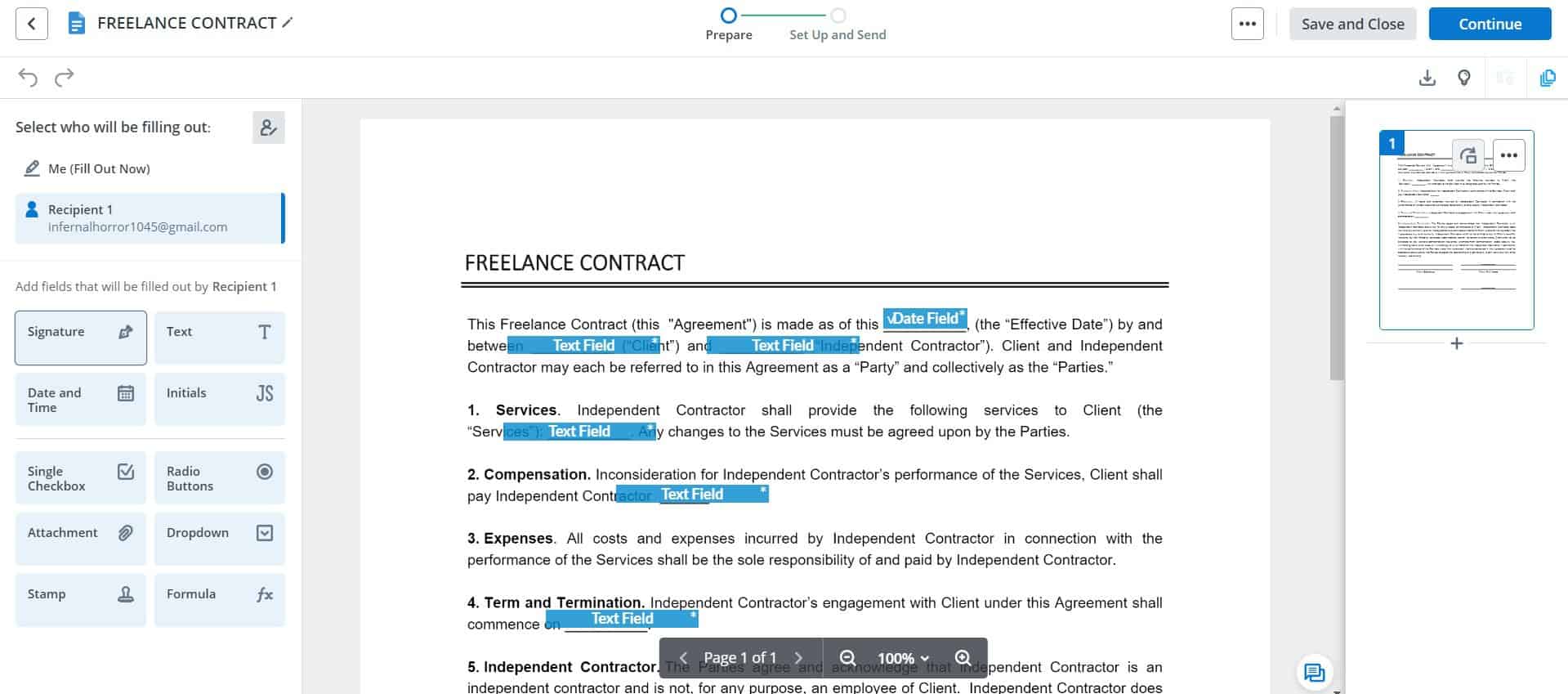 While you have to create your contract in a separate word processing platform, you can still set up a workflow in signNow.
After you upload your document, you can add fillable fields, places to sign, and even checkboxes.
Once you fill out the document, you can add recipients in the same area. signNow also features a cloud-based storage area to access any of your documents.
The upgraded plans have some cool features. If you choose the second tier, Business Premium, you can share the link to the document without adding recipients. Kiosk mode also collects in-person signatures on the iOS or Android app, which is great if your business needs to save paper.
The third-tier Enterprise plan includes Conditional Documents, where you route different documents for the recipient to sign in order. The final tier, Business Cloud, includes an entire suite of solutions, which includes integration to PDFfiller. I recommend this plan if you want the perks of Adobe Acrobat on signNow.
Verdict: While signNow doesn't offer the all-in-one workstation that Adobe Acrobat boasts, you can centralize all document signing and sending in one place. Advanced signNow plans also include great features that can better assist clients and improve your workflow.
signNow Templates

signNow doesn't offer pre-made templates, but you can make your own. I recommend creating templates because they save time and keep all contracts consistent.
Start by clicking the Templates page on the left menu sidebar. Click Create Template on the far right. You have the option to either create a template using an existing contract or by uploading a new one.
I created a mock freelance writing contract for this tutorial, so I will use that as my template. Start by dragging and dropping the different fields you want to add.
Verdict: There are no premade templates on signNow, but you can make your own by importing or uploading an existing document.
signNow Security
signNow is compliant with numerous organizations, including:
GDPR
SOC 2 Type II
PCI DSS
FDA
CCPA
ESIGN
UETA
HIPAA
21 CFR Part II
Keep in mind that some of these security protocols are only available in certain plans. For example, businesses will only access HIPAA and 21 CFR Part II compliance with the fourth-tier Business Cloud plan.
signNow also offers some impressive security features similar to what Adobe Acrobat offers. These include:
Data trail
Data encryption
Two-factor authentication
Disaster recovery
Uploaded document scans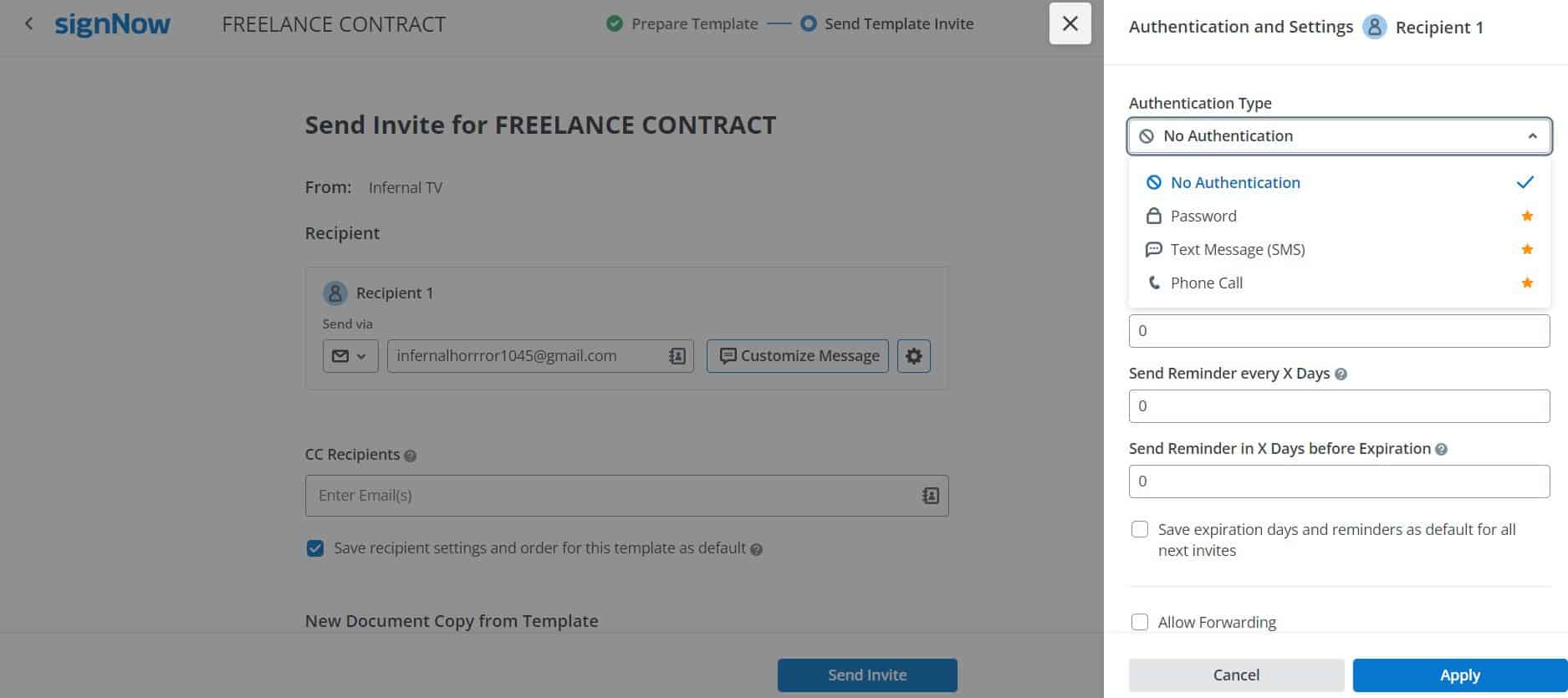 Remember that some security features, such as two-factor authentication and document scans, are only available starting with the third-tier enterprise plan. If you want to edit these features, click the gear icon next to the recipient's name when sending the document. Under the "Authentication Type" menu, click how the user will receive their two-factor authentication.
Verdict: signNow doesn't offer the advanced security features that Adobe Acrobat has, but they are compliant and can secure your documents. Note that many advanced security features are only available on plans higher in the tier.
signNow vs Adobe Sign Integrations
signNow boasts better integrations than Adobe Acrobat. Some of these include:
HubSpot
Salesforce
G Suite
Dropbox
Stripe
Office 365
signNow also offers APIs to connect to any service. Even though signNow doesn't have the best workflow options, you can at least use these integrations to create a centralized workstation.
Verdict: signNow has the better API connections and integration options compared to Adobe Sign.
signNow Support
signNow has exceptional support, much better than Adobe Acrobat. You can contact signNow support via email and live chat. If there are tech issues, you can submit a support ticket. signNow also offers a help center, FAQ section, and an academy.
Verdict: signNow offers email and live chat customer support and a help center.
signNow Mobile App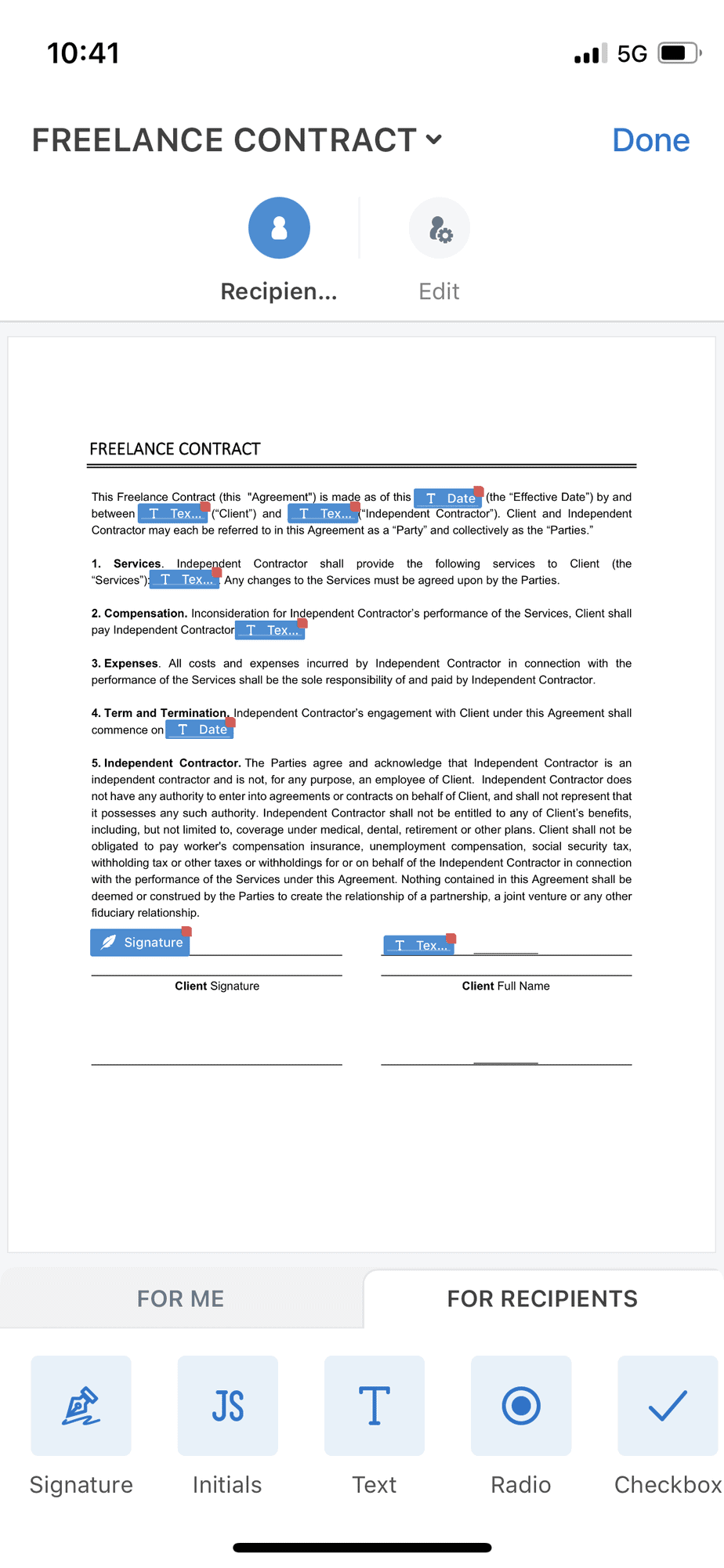 signNow has a mobile app for iOS and Android, and I'm pretty impressed with it.
You can add documents and edit existing ones. While there are limitations, you can make small edits to your documents and templates. Plus, you can send documents and add recipients from the app.
Recipients are also able to sign documents on the mobile app. This is beneficial since I was in positions where I needed to sign documents away from the internet. Adding them to signNow and entering all fields on my phone is extremely beneficial and saves time.
If you have the second-tier Business Premium plan, you can also use the Kiosk Mode on the app, which means recipients can sign in person directly on the screen.
Verdict: There are some limitations on the signNow mobile app versus the desktop version, but there's still a lot you can do on the app, such as editing and sending documents. Recipients can also sign documents on the app and on your device in kiosk mode.
signNow Pros
User-friendly for users and senders
Intuitive backend
Easy to send documents to recipients
Automated document tracking
Can edit and send documents on the mobile app
Higher-tiered plans feature kiosk mode
signNow Cons
Lack of customizations
Most of the advanced features are only available on the higher-tiered plans
signNow Pricing
signNow has four plan options:
All plans include a seven-day free trial.
I like how signNow gives you flexibility in pricing per team. Adobe offers multi-team member Business plans but bundles the plan based on a set number of licenses. With signNow, you only pay for what you need.
Better UX + Better Pricing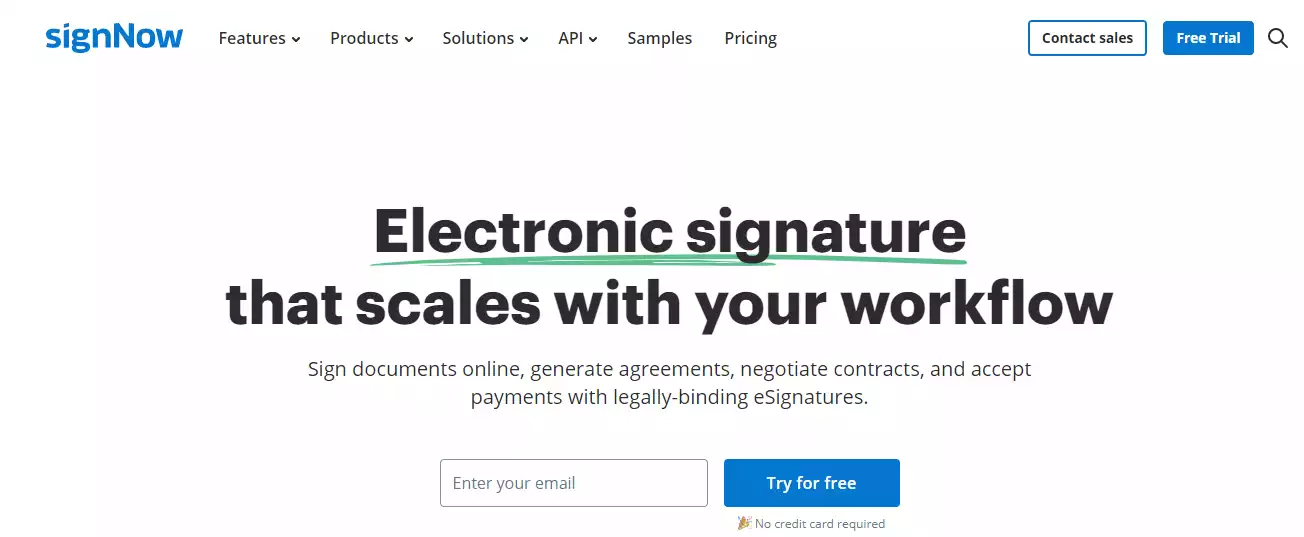 Why Go with SignNow?
If you haven't evaluated your document signing software recently, SignNow is worth a look! Easier to use, intuitive workflows, and better pricing mean it's time to dump that old document signing software for the new upstart.
Try SignNow…NOW!
We earn a commission if you click this link and make a purchase at no additional cost to you.
signNow and Adobe Sign Alternatives
I love Adobe Acrobat and signNow, but I understand these platforms may not work for all businesses. Here are some alternative programs you may consider.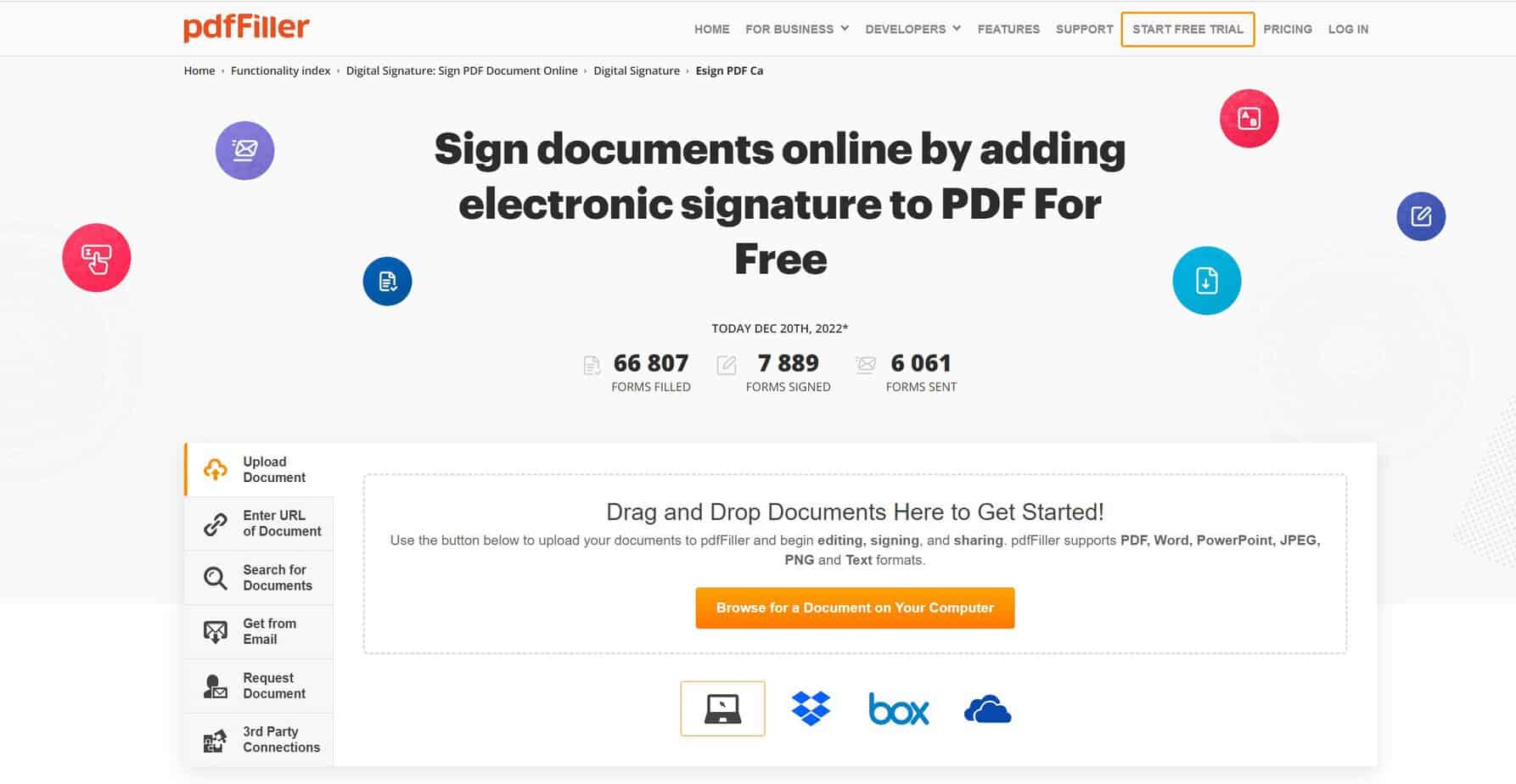 If you're looking for an all-in-one PDF editing and signing platform, I suggest PDFfiller as an alternative to Adobe Acrobat.
This system is more affordable than Adobe Acrobat and is extremely easy to use. You can add numerous document file types to PDFfiller, make them signable, and send them off to recipients.
I like the ease of editing with PDFfiller. One of the problems of a platform like signNow is you'll have to use third-party word-processing software to make serious document changes, such as updates to the wording.
With PDFfiller, you can make these edits directly on the document management platform. I also like how you can send PDFs directly on the platform–that's something you can't do on Acrobat. PDFfiller offers a 30-day free trial, which is longer than Acrobat's.
There are some differences between PDFfiller and Acrobat that may confuse Adobe users. While there may be a learning curve, this platform is worth it.
Further Reading on PDFfiller vs Other PDF Management Tools: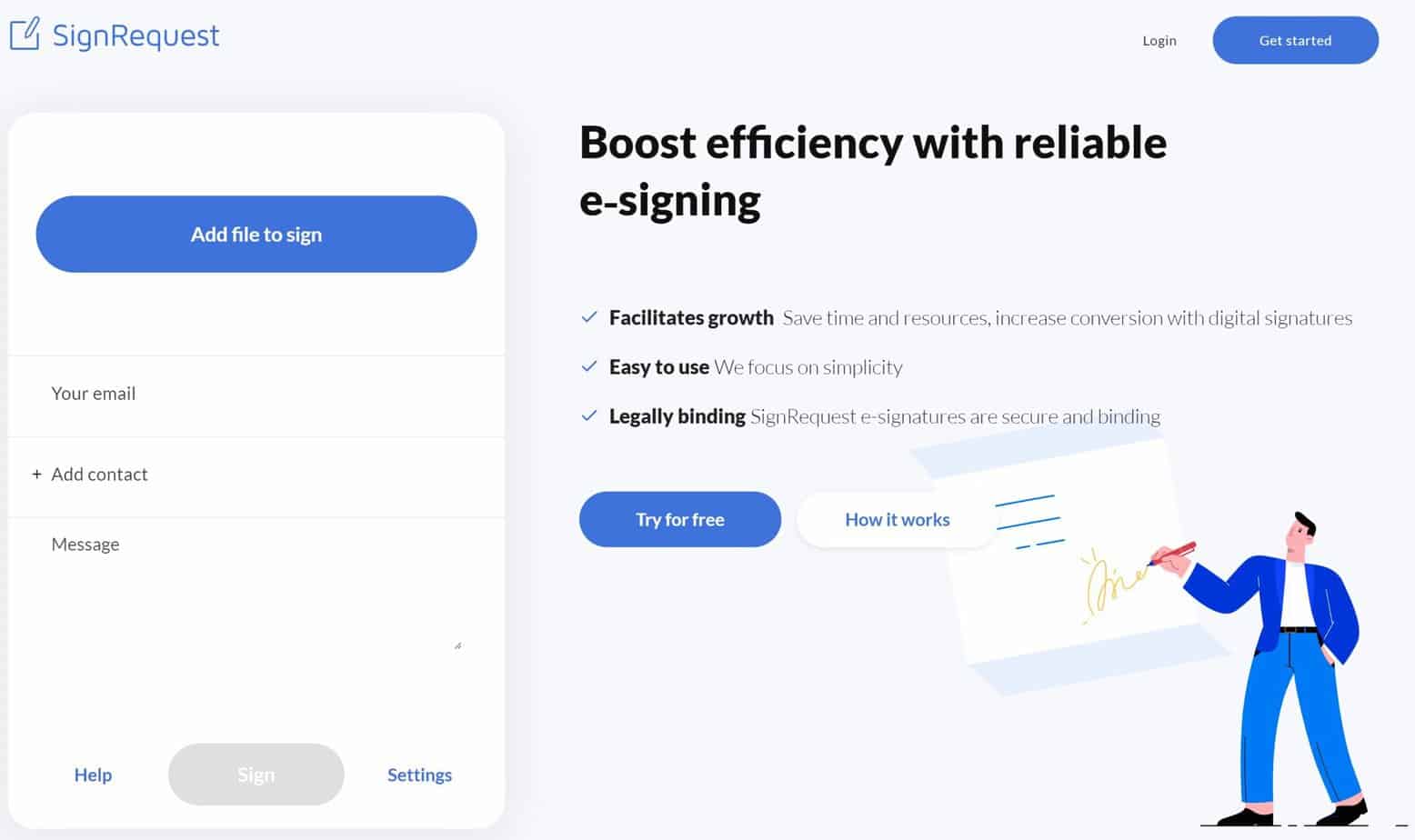 If you don't need the advanced features that signNow packs, I suggest trying SignRequest. The first-tier Professional plan is only $9/month for one user. This plan includes unlimited documents (and unlimited document signing) and five templates, so you get a lot of perks for little money. I also like how you can customize user roles and send the documents to recipients all on one platform.
When recipients receive a SignRequest document, all they have to do is click the fields and type or enter text. For online signatures during the signature process, users can either draw, upload, or type their signature.
SignRequest has a few branding options, such as adding your company name and details, your logo, and choosing a color scheme. Their editing features are limited compared to Adobe Acrobat and signNow, but SignRequest still makes it easy to add fillable fields. Click the space where users will need to edit. You can choose text, the date, the signature, and more.
Because this service is affordable and the company is small, there are occasional system issues. But if this doesn't concern you, I recommend SignRequest if you need a quick and user-friendly alternative to signNow and Adobe Acrobat.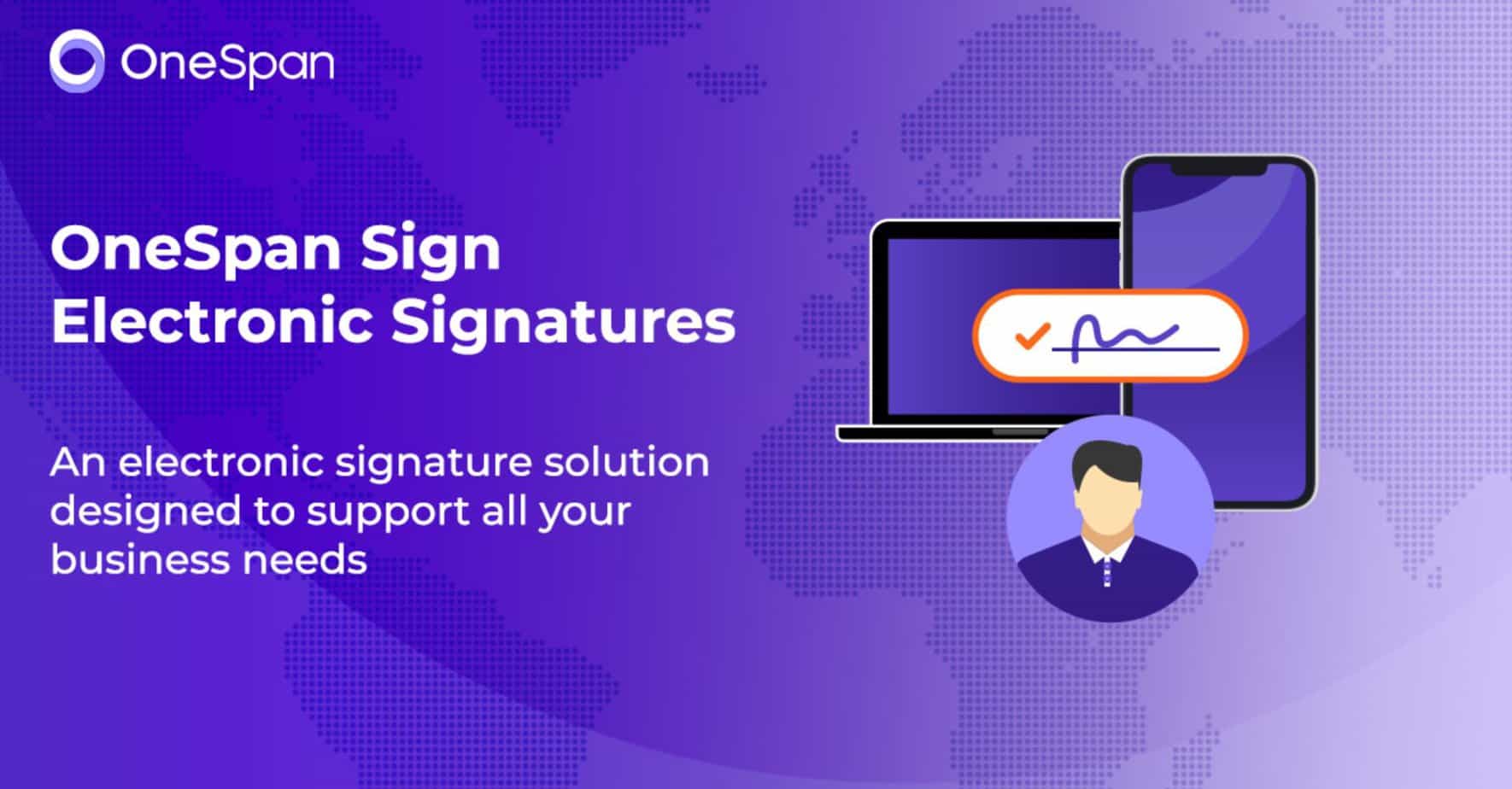 If you want an advanced alternative to signNow and Adobe Acrobat, I recommend OneSpan Sign. With their first-tier Professional plan, you get unlimited templates, advanced fields, advanced authentication, bulk sending, video signing, qualified e-signatures, and more.
I usually recommend OneSpan Sign as an alternative to DocuSign for businesses who want niche solutions since OneSpan Sign offers customized options for businesses in fields requiring strict compliance. There are various layers of protection for each document, plus a secure cloud storage system. All of these security perks rival Adobe Acrobat.
Another reason why I recommend OneSpan Sign as an alternative is it has the easy drag-and-drop editor as signNow. You and recipients can sign on desktop or OneSpan Sign's iOS and Android apps. This flexibility is great if your business executes remote and in-person signing.
Most large companies, like Adobe, have lacking customer support. OneSpan Sign is different. They have excellent email support. For additional help, you can access their resource center and blog. The only downside is their tech support. If there is an issue, support may take a long time to respond.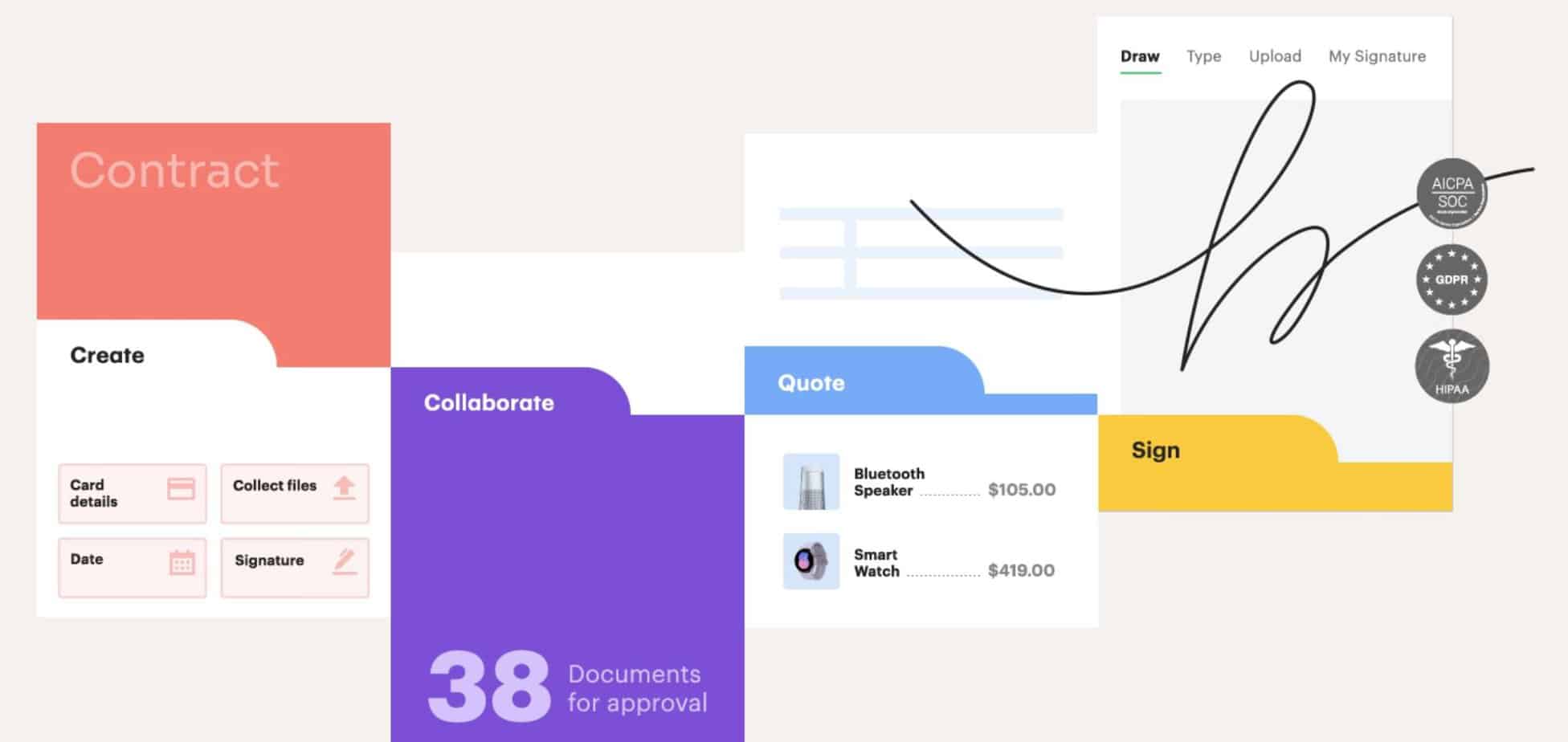 I will always recommend PandaDoc, especially to small businesses, since they're one of the few eSignature platforms with a robust free plan. With PandaDoc free, you receive unlimited document uploads and signatures.
But there are some reasons why you may want to upgrade. You can create an effective workflow with the essentials plan, such as using templates, document analytics, and accessing 24/7 customer support.
Like signNow, PandaDoc has a user-friendly drag-and-drop editor with various fillable field options. I also love how they offer more document editing functions than signNow, specifically the many premade templates you can use.
I often use eSignature tools for my freelance invoices and am bad at making one from scratch, so the premade templates expedite the invoicing process.
You are still limited on the free plan and some perks, such as integrations and branding, aren't available unless you upgrade your plan. But I recommend PandaDoc if you want a free option.
FAQs
Question: Is Adobe Sign and signNow safe?
Answer: Both of these eSignature platforms use encryption to secure data and are compliant with various data protection laws. Every industry is different, so I suggest checking your industry's security requirements and ensuring Adobe Sign, signNow, or any of these alternatives comply with these requirements.
Question: What are the biggest limitations of Adobe Sign and signNow?
Answer: I'm not a big fan of both businesses' mobile apps. signNow's app lacks functionality, and Adobe Sign's app is hard to use. I suggest using the desktop website or app for both platforms. signNow is more affordable and comes with better features for the price, but I also like how Adobe Acrobat is an all-in-one platform.
Question: I still don't know if I should choose Adobe Sign or signNow. Help!
Answer: I like both programs, so your choice depends on your needs. If you're unsure how to choose between these two platforms, identify the most important criteria. This can include brand reputation, price, and effective mobile app. If you're still unsure, read my verdicts and pros and cons for each platform to narrow down your choices.
Bottom Line: Adobe Sign vs signNow
Honestly, Adobe Acrobat Sign and signNow are very close! I've been using Adobe Acrobat for years because I love how it's an all-in-one PDF creator and editor. But the more I use signNow, the more I'm loving the advanced features plus the simplicity.
The platform you choose depends on your wants and needs. If you want a centralized workflow with impressive security features, I suggest using Adobe Acrobat. But if you want a simple way for recipients to sign documents and great support, you'll love signNow.
Better UX + Better Pricing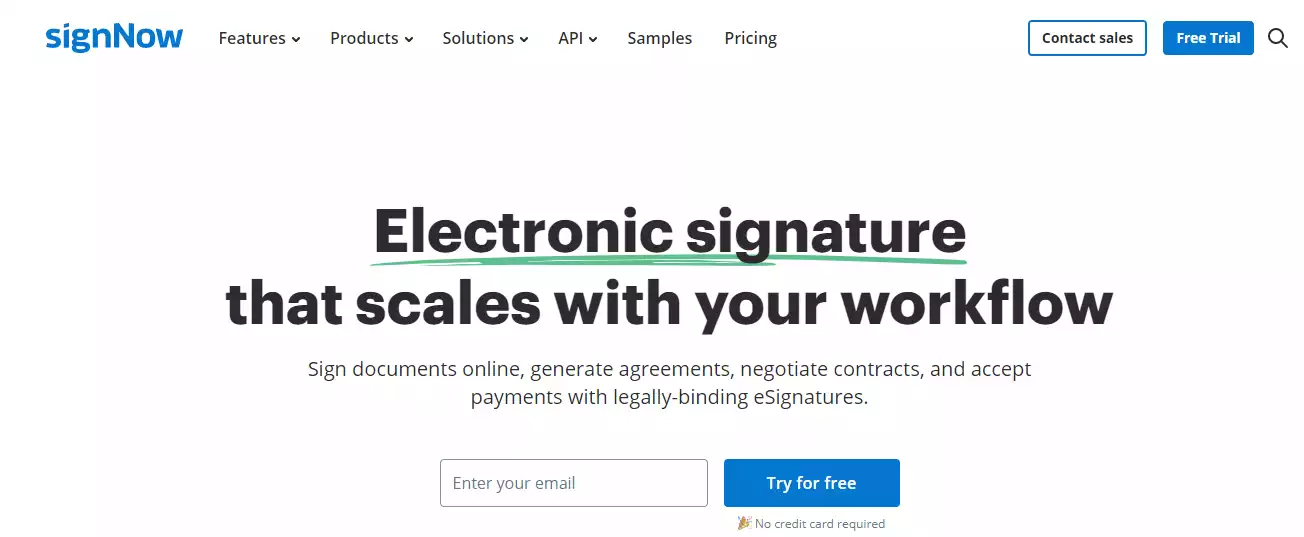 Why Go with SignNow?
If you haven't evaluated your document signing software recently, SignNow is worth a look! Easier to use, intuitive workflows, and better pricing mean it's time to dump that old document signing software for the new upstart.
Try SignNow…NOW!
We earn a commission if you click this link and make a purchase at no additional cost to you.
If you are still not quite decided, check out our related guides and comparisons for digital signature tools: