Last Updated on April 22, 2023 by Ewen Finser
Adobe is arguably one of the biggest names. From Photoshop to InDesign, Adobe offers nearly every product to help businesses create incredible graphics, videos, and more.
Even if you don't own a creative business, you can use some products, such as Adobe Sign. Fortune 500 businesses rely on Adobe Sign to conveniently sign their digital documents, and Adobe's big brand name ensures compliance and security.
What is Adobe Sign? Adobe Sign is part of the Acrobat PDF creator and editing software. On Acrobat, users can digitally sign documents and collaborate on PDFs. Adobe is easy to use, and all of its PDFs are shareable.
As a freelance writer, I sign contracts digitally all the time. That's why I have an Adobe Acrobat subscription. I love Adobe Acrobat because it's an all-in-one tool, making it a perfect solution for creating, editing, uploading, converting, and securing documents.
There are some downsides to Adobe Acrobat. Because this system offers many features, it can be complex for novices. Acrobat Standard also starts at $12.99/month, which may be too pricey for some business owners and freelancers. Even though I love Adobe Acrobat Reader, I also want to offer some of the best Adobe Sign alternatives.
Bottom Line Up Front Summary: Adobe is a venerable old titan of the document management space, but it's not the most user friendly or performant setup. I've been using signNow more lately and recommend them the most. Their system is easy to use and perfect for businesses that need a simple eSignature platform.
My Top Adobe Sign Competitor Picks at a Glance
Tips When Finding Adobe Sign Alternatives
I love Adobe Acrobat Sign because it's packed with features. Adobe is also a reputable name. Their platform is user-friendly and affordable for the benefits you receive. Finding an alternative is tough for these reasons. When looking for Adobe Acrobat Sign alternatives, consider these perks to truly find a competitive platform.
Digital Signature Security
The security features sold me to Adobe Acrobat Sign. I can password-protect PDFs and put restrictions on copying and pasting. These are features that most eSignature platforms don't offer, but you can find options that include security features for important documents.
If this is your concern, I suggest finding a company that offers industry solutions. For example, not every eSignature platform offers healthcare compliance and security forms that are HIPAA-compliant. Even if your business isn't in a specific industry, you can still find alternatives that offer password protection and other security features for those ultra-sensitive documents and contracts.
Signature Software Integrations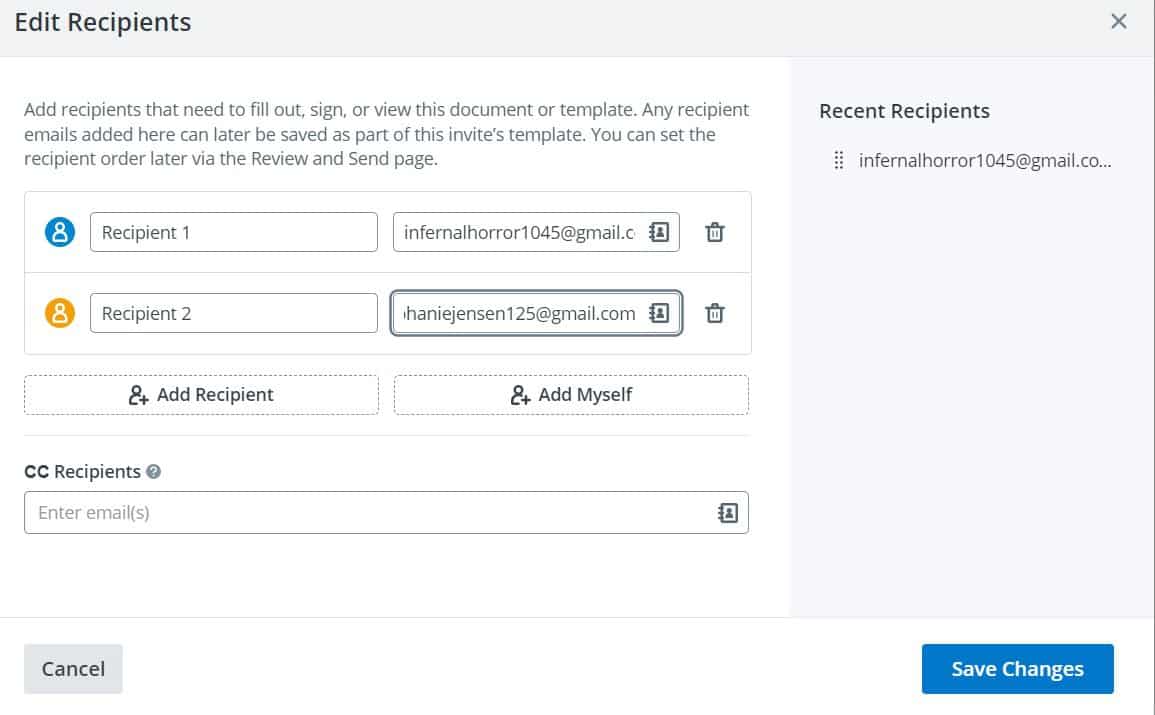 One of the downsides of Adobe Acrobat is your integrations are limited. You can include Acrobat Sign in your Creative Suite, but that's your only option.
This is a quality that rivals can offer. Most eSignature platforms offer integrations with massive companies such as Google's G Suite, sales platforms, CRMs, and more. Dropbox even acquired HelloSign to offer DropboxSign, a paid eSignature add-on. You can upload your documents to Dropbox and sign them there.
Signing Process Automation
Another feature that Adobe Acrobat Sign lacks is automation. Automation is a handy feature since it handles complex processes for you. Some platforms offer automated signing fields and can send immediate reminders. Not every eSignature platform offers extensive automation features, but this is one you can find from competitors.
Signature Software Notoriety
As far as brand reputation is concerned, you can't get much bigger than Adobe. Most of these alternatives are still small, but there are more big players emerging. Let's take DocuSign as an example.
DocuSign is the official eSignature platform for the National Association of Realtors (NAR), making it easier and more accessible to confirm real estate transactions. If you're looking for a real estate eSignature platform, DocuSign may be an equally reputable alternative to Adobe.
User-Friendliness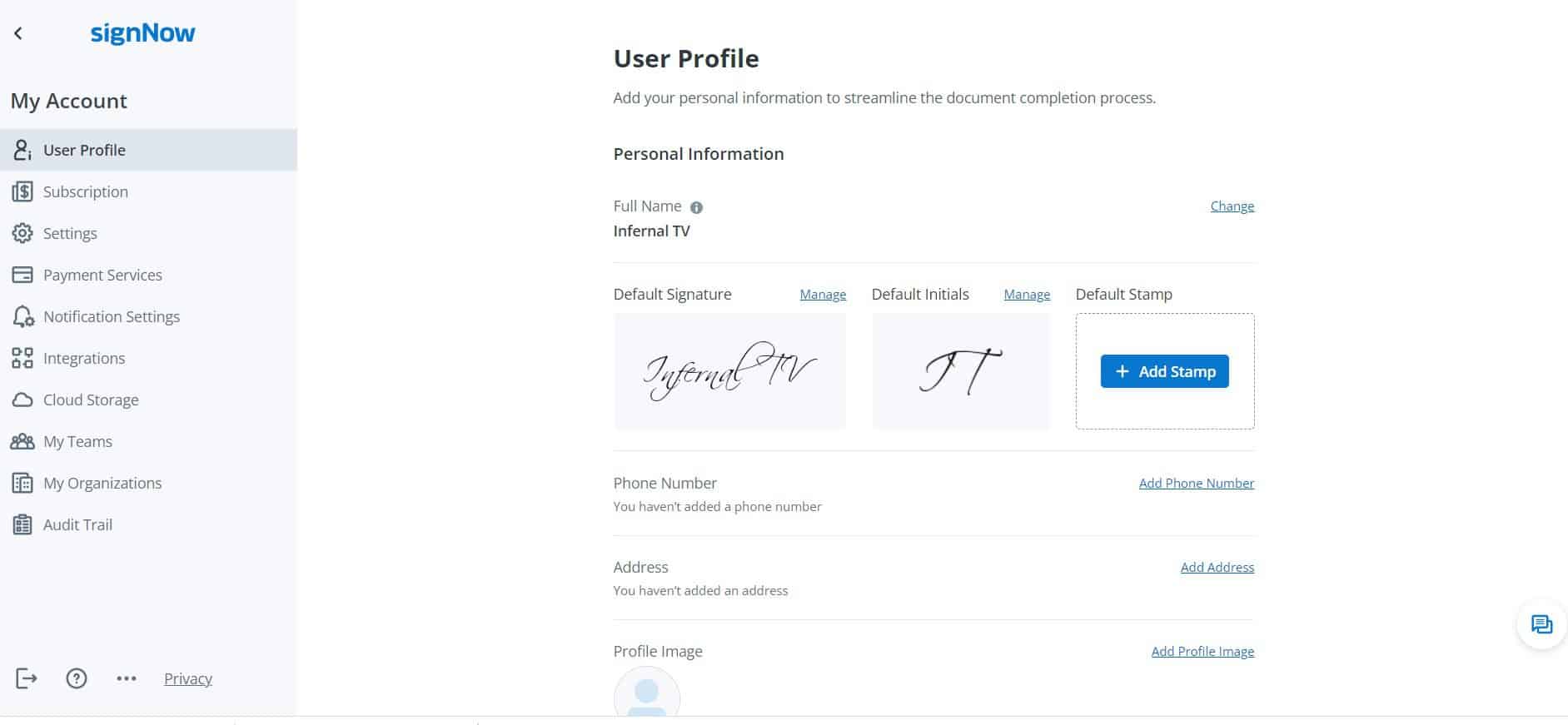 I love how Adobe Acrobat Sign is easy to use, but there are other accessible alternatives on the market. Look for features that Adobe Sign doesn't have, such as mobile app signatures and SMS signing. Read reviews and try the free trial to ensure the competitor has a convenient backend, a user-friendly interface, and plenty of support options.
Price
Adobe Acrobat Sign starts at $12.99/month. You can find high-quality cheaper alternatives, especially if you're a solopreneur or freelancer. There are also free plans available, though they are limited. Even paid cheaper plans won't offer the bells and whistles that Adobe Sign offers–you'll only be able to send signable documents.
Signature Workflow
Most businesses develop workflows to expedite everyday business activities. There may be a chance that Adobe Acrobat won't fit into your existing workflow, so it's worth it to find an alternative that will.
Finding a competitor with integrations you use is a great first start, but you can also look for features that will ease the process of converting normal documents to signable contracts. Many plans are also flexible, allowing for customization and multi-team member collaboration.
Other Tips to Consider
There are some other tips I can offer you to ease the process of sorting through the alternatives. If you tried Adobe Sign and didn't like it, identify what it is you didn't like about this program and find a competitor that can fix your pain points. If you never used Adobe Sign, you can focus on the qualities you want in an eSignature platform and filter them out that way.
You should also know some facts, such as how many documents you will send in a month. Most of these plans have PDF document sending limitations, though many offer unlimited documents and signatures with certain plans (usually upgraded ones).
How I Chose the Best Alternative to Adobe Sign
I took all of the previous tips into consideration when choosing these alternatives.
I also prioritized digital signature services that offered these perks:
Free trial or plan
Transparency
Unlimited signatures and documents
Industry-specific solutions
Ease of use
My Favorite Adobe Sign Alternatives
Are you ready to check out some Adobe Acrobat Sign alternatives? Here are a few of my favorites!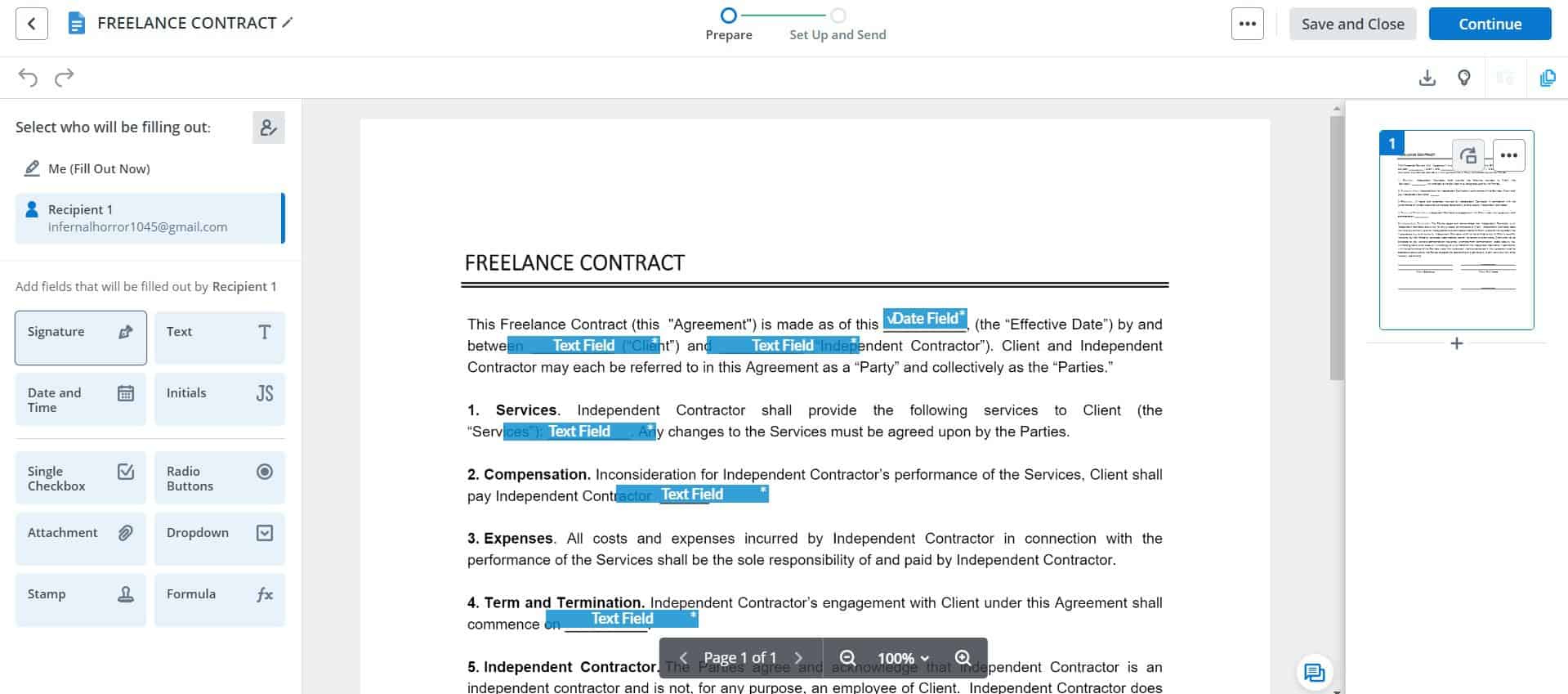 I have to be honest–finding an alternative to Adobe Acrobat Sign wasn't easy. I had to look through all of the eSignature tools I've been using for years, sifting through which ones I liked and which I didn't. While signNow isn't a complete alternative to Adobe Sign, it is the one I recommend the most.
I like signNow the most because it's so easy to use. Their backend has a drag-and-drop editor; all you have to do is upload your contract and drag the text and signature fields you want in your document.
The navigation of the backend is very intuitive. I only had problems finding out how to brand my contracts; otherwise, navigating the interface is simple. It doesn't take long to get the hang of signNow, so you can start using this platform immediately.
I also love how easy it is to add recipients, send documents, and track them. The platform is user-friendly on the recipient's end, so everyone wins when using signNow, and here is how all the features work.
Better UX + Better Pricing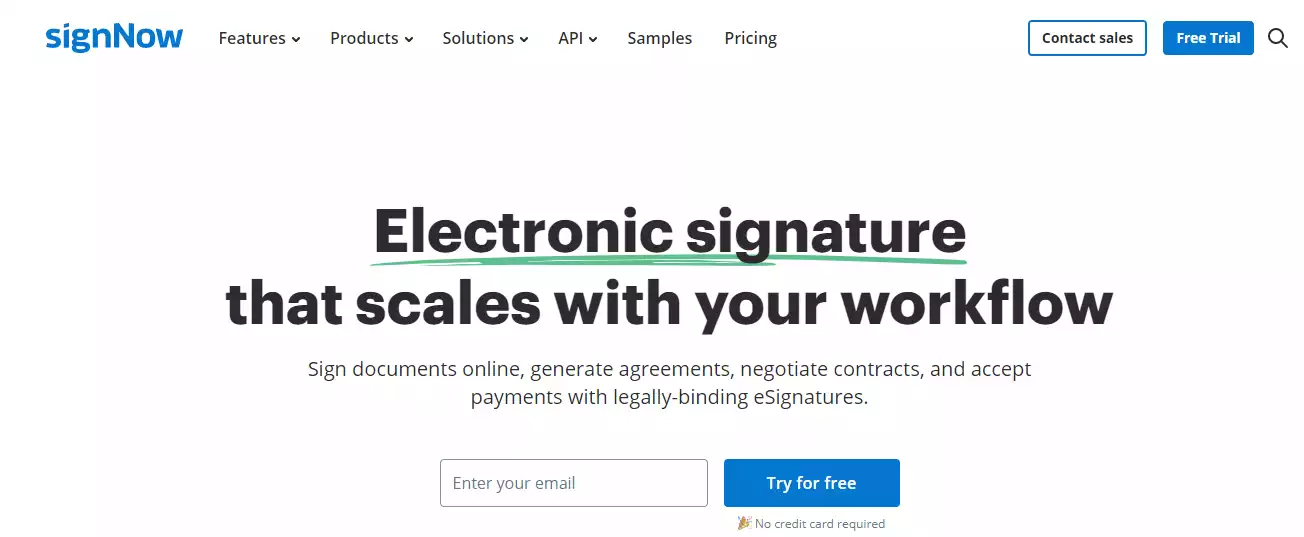 Why Go with SignNow?
If you haven't evaluated your document signing software recently, SignNow is worth a look! Easier to use, intuitive workflows, and better pricing mean it's time to dump that old document signing software for the new upstart.
Try SignNow…NOW!
We earn a commission if you click this link and make a purchase at no additional cost to you.
signNow Pros
Easy to create signable documents
Saves time
The backend is easy to navigate
Mobile friendly electronic signature
signNow Cons
Occasional software glitches
How Does signNow Compare to Document Signing Competitors?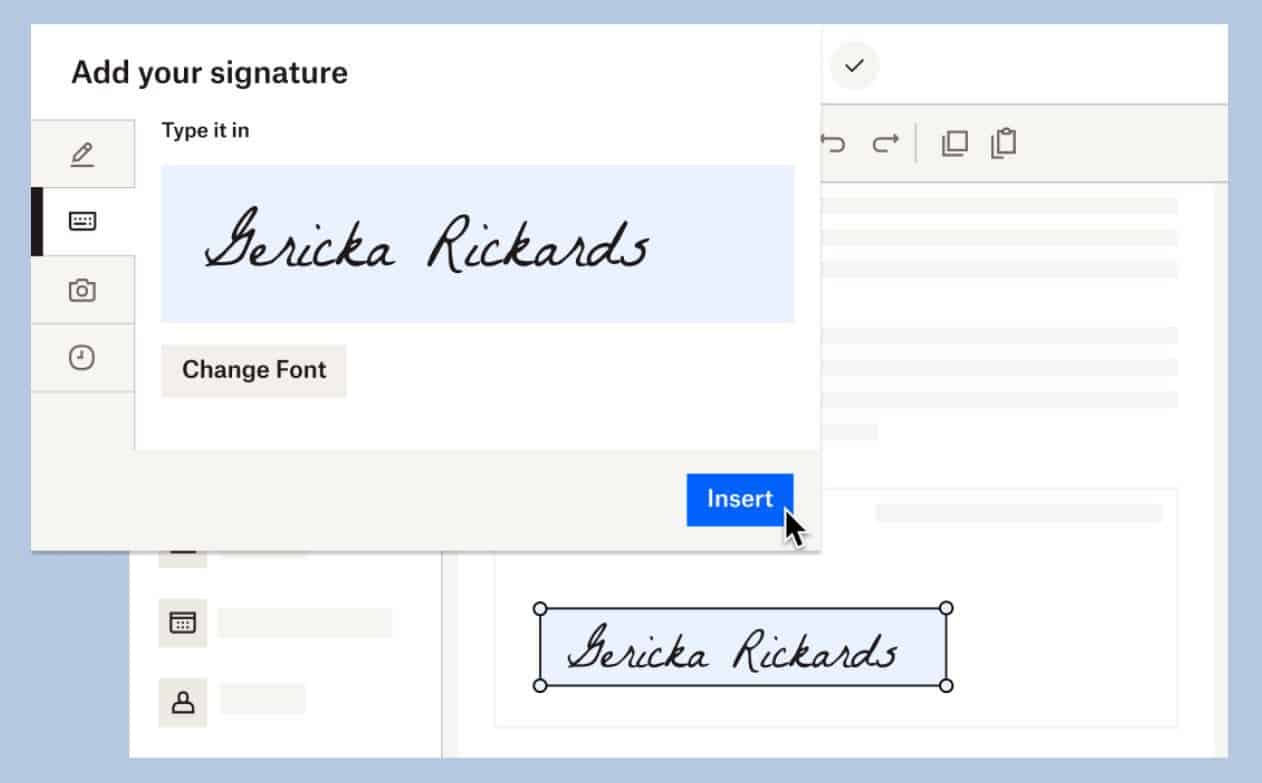 Dropbox purchased HelloSign to offer document signing as part of Dropbox's cloud-based storage solutions.
I used HelloSign for document signing before Dropbox acquired it and found it to be a convenient way to sign contracts for my clients. Now, Dropbox Sign can fit into your workflow better–especially if you already use Dropbox for your business.
DropboxSign has also expanded its offering; now, users can access branding, templates, and even some customization features. I'm a big fan of the security features, which include SSL encryption, two-factor authorization, and secure server infrastructure.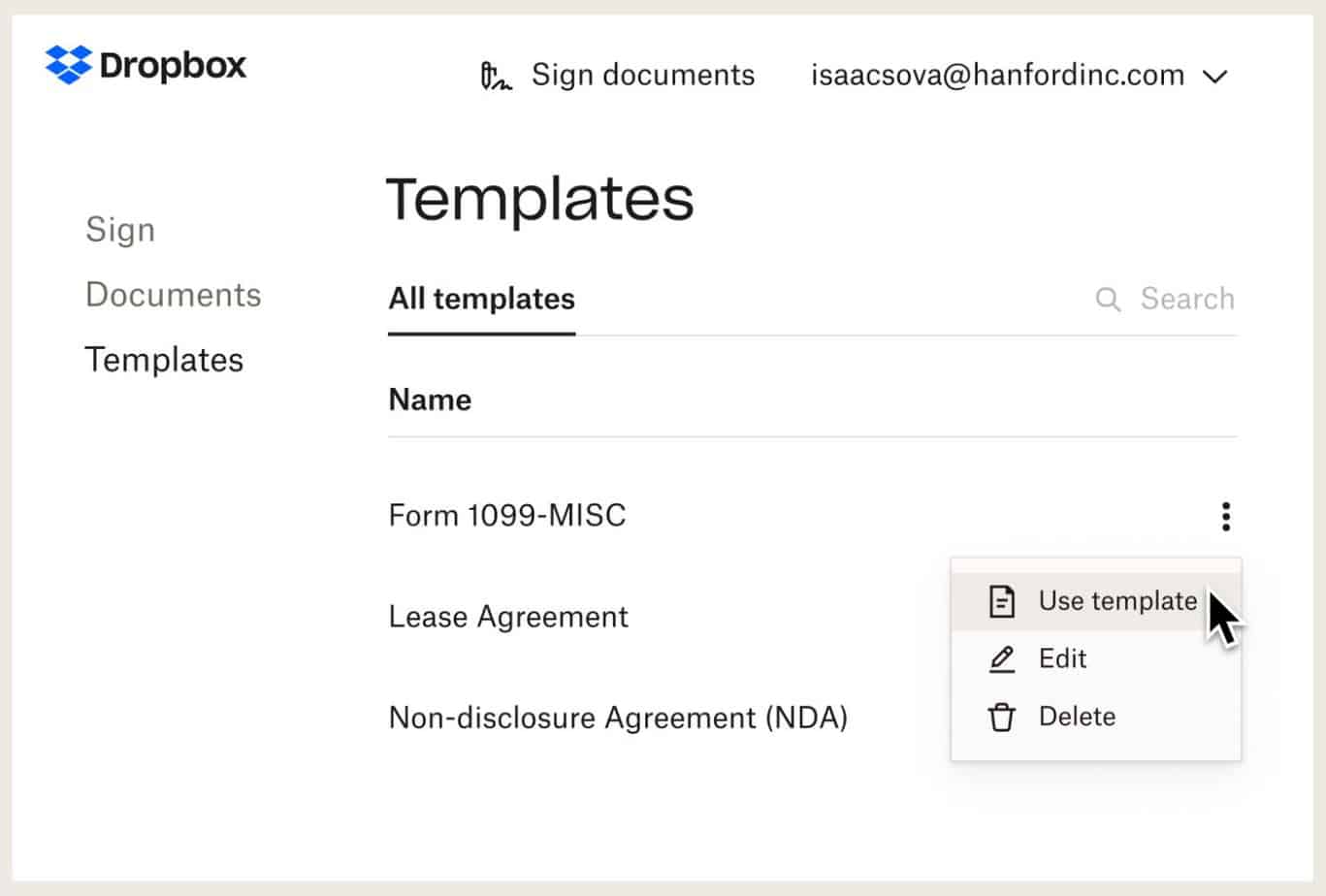 The only downside is the price. The basic plan is more expensive than Adobe Acrobat Sign–prices start at $15/month. There is a 30-day free trial if you're unsure if DropboxSign is right for you.
Pros
User-friendly
Expanded its features
Security
Cons
Expensive
Limited features on first-tier plan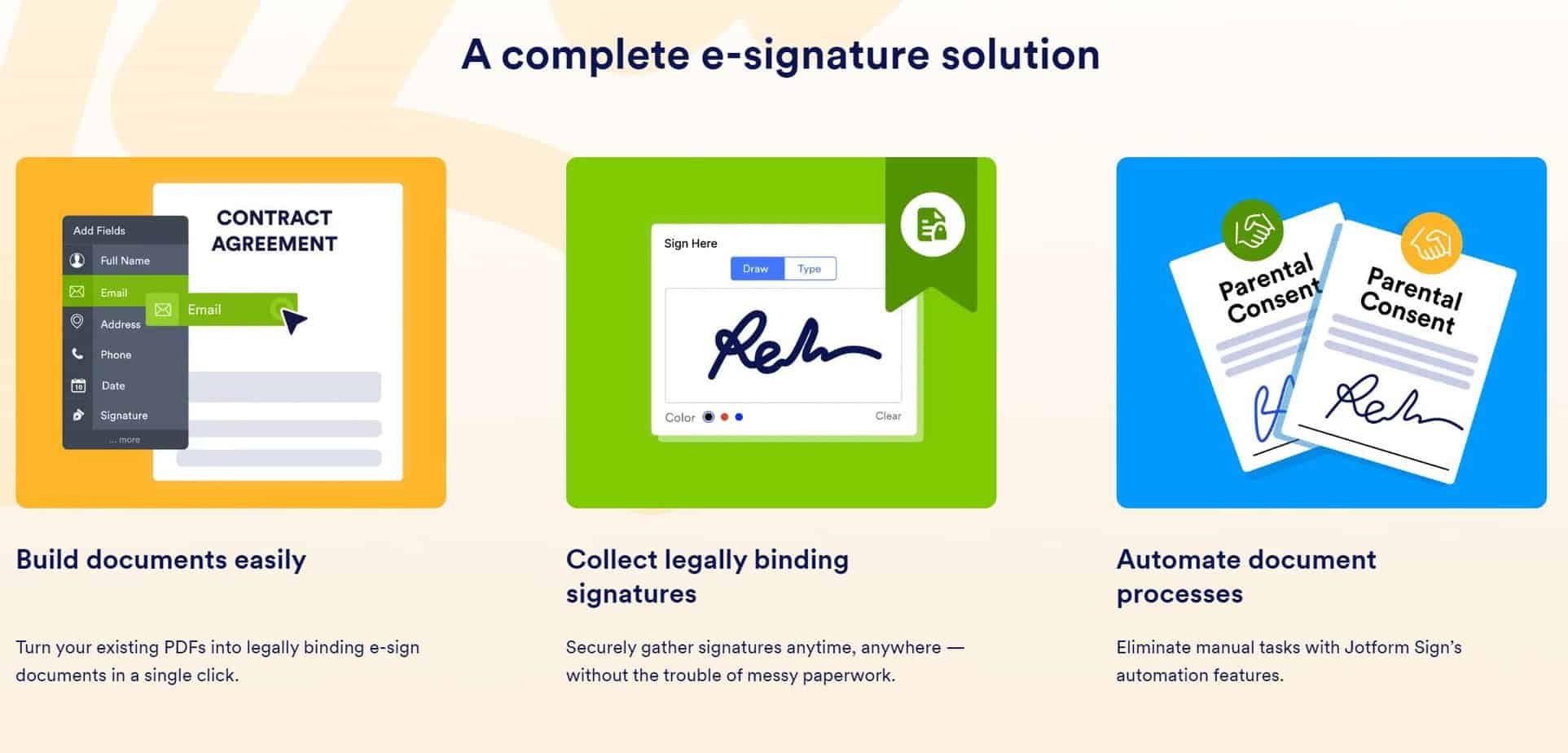 I used Jotform to fill out a couple of job applications in the past, and I'm shocked this program doesn't receive the attention it deserves. I like Jotform for its flexibility. As I said, I filled out job applications using Jotform, and this platform can also be used for waivers, contracts, and other forms.
Other Adobe Acrobat competitors aren't this flexible, so Jotform wins mega points here. No matter how you use Jotform, this program is easy to use. It has a drag-and-drop builder, which is easier to use than Acrobat. Jotform has a free plan, but it's very limited.
After 10 documents, you'll have to upgrade your plan. Their plans are also pricey; the cheapest is $19.50/month (though educators and nonprofits can get a 50% discount).
Pros
Easy to use
Free plan
Flexible
Drag-and-drop builder
Discounts to education and nonprofit businesses
Cons
Unsure if there are any integrations
Expensive
Some software errors
Not the best customer service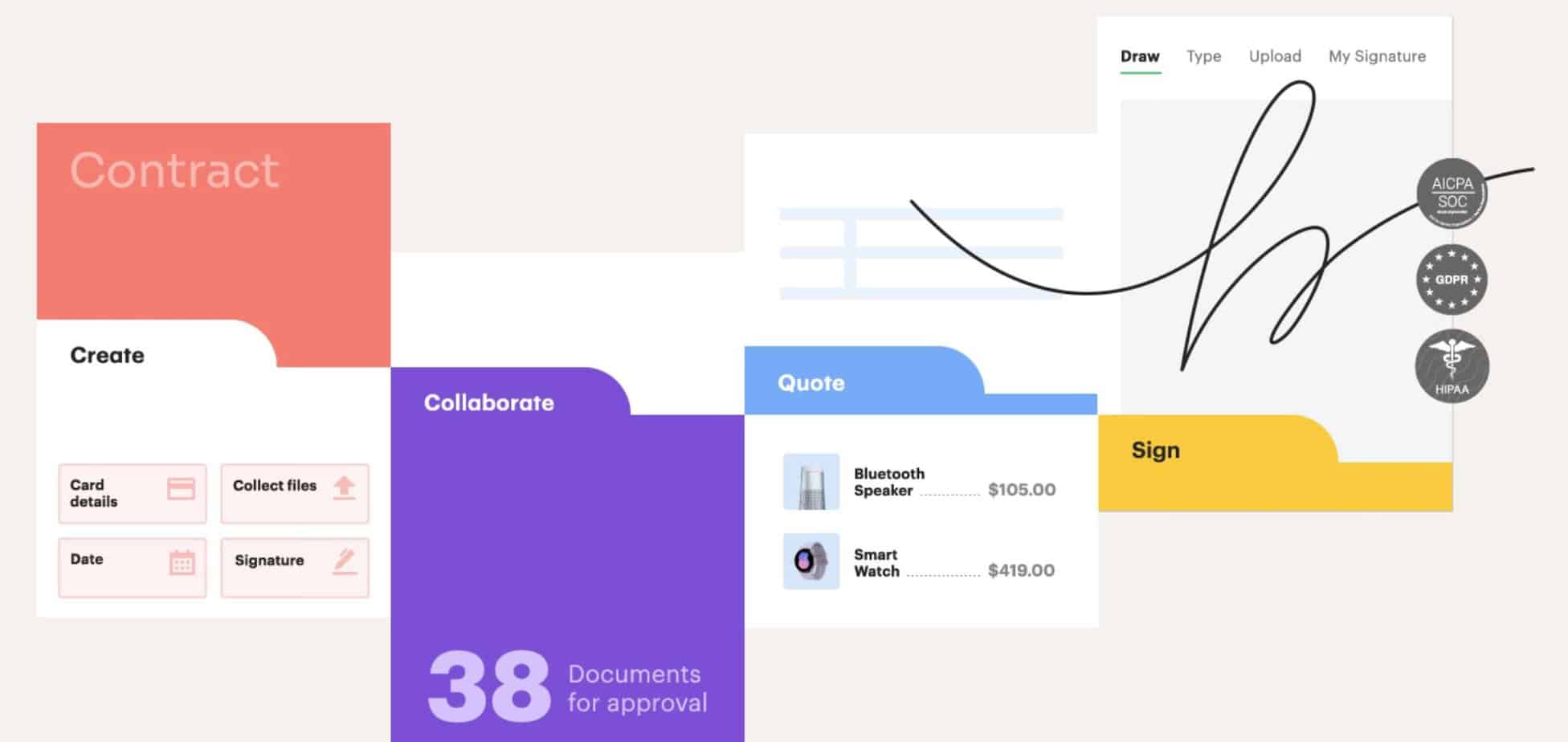 If you want the all-in-one benefits that Adobe Acrobat offers, I suggest trying PandaDoc. This is document automation software that simplifies the creation of proposals, interactive quotes, and contracts. However, it's most famous for its e-signature features.
No matter why you're using PandaDoc, this system is a breeze. It has the drag-and-drop feature that I love, plus customization and branding options. PandaDoc offers incredible automation capabilities–something that Adobe Acrobat doesn't offer. For example, PandaDoc can automate signing fields and reminders.
PandaDoc is also known for its integrations. I used this platform on the project management app Monday, which integrates with Salesforce, Hubspot, and more.
There's another reason why I love PandaDoc. It's one of the few competitors that comes with a free plan. Unlike most freemium services, you get unlimited documents and signatures with PandaDoc's free plan. If you need a paid plan, they start at $19/month. The paid plans include some premium features, such as templates (something not offered on the free plan) and document analytics.
Pros
Fast
User-friendly
Flexible
Automation
Integrations
Free plan
Cons
Tech issues
Not as responsive as competitors
Paid plans are expensive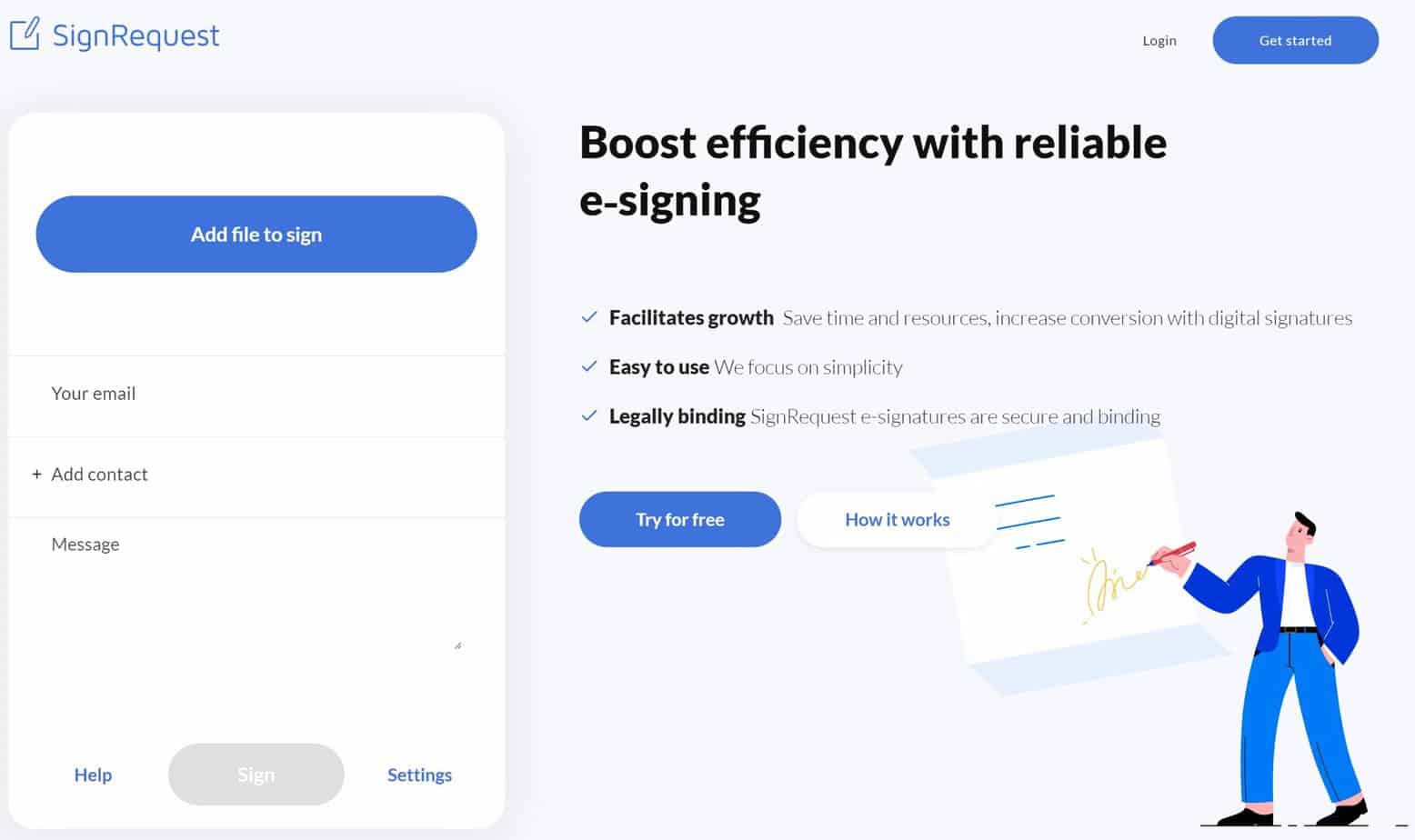 If you want a simpler alternative to Adobe Sign, I suggest checking out SignRequest. It doesn't include all of the bells and whistles–just a way to send and sign documents.
With that being said, this platform is easy to use. All you have to do is upload your document, add users, choose the functions you need, and start signing. While it doesn't have a drag-and-drop builder, the system is intuitive. All you have to do is click where you want a signature or text and click the corresponding button.
At $9/month, this is one of the cheapest plans on this list. Their plans still include templates, customizations, and branding, so you're not sacrificing quality by paying less. You can also choose Acrobat-Esque security functions, such as password-protecting your document.
Pros
Easy to use
Supports a wide range of documents
Intuitive
Can easily add recipients and assign tasks for them
Great support videos
Affordable
Cons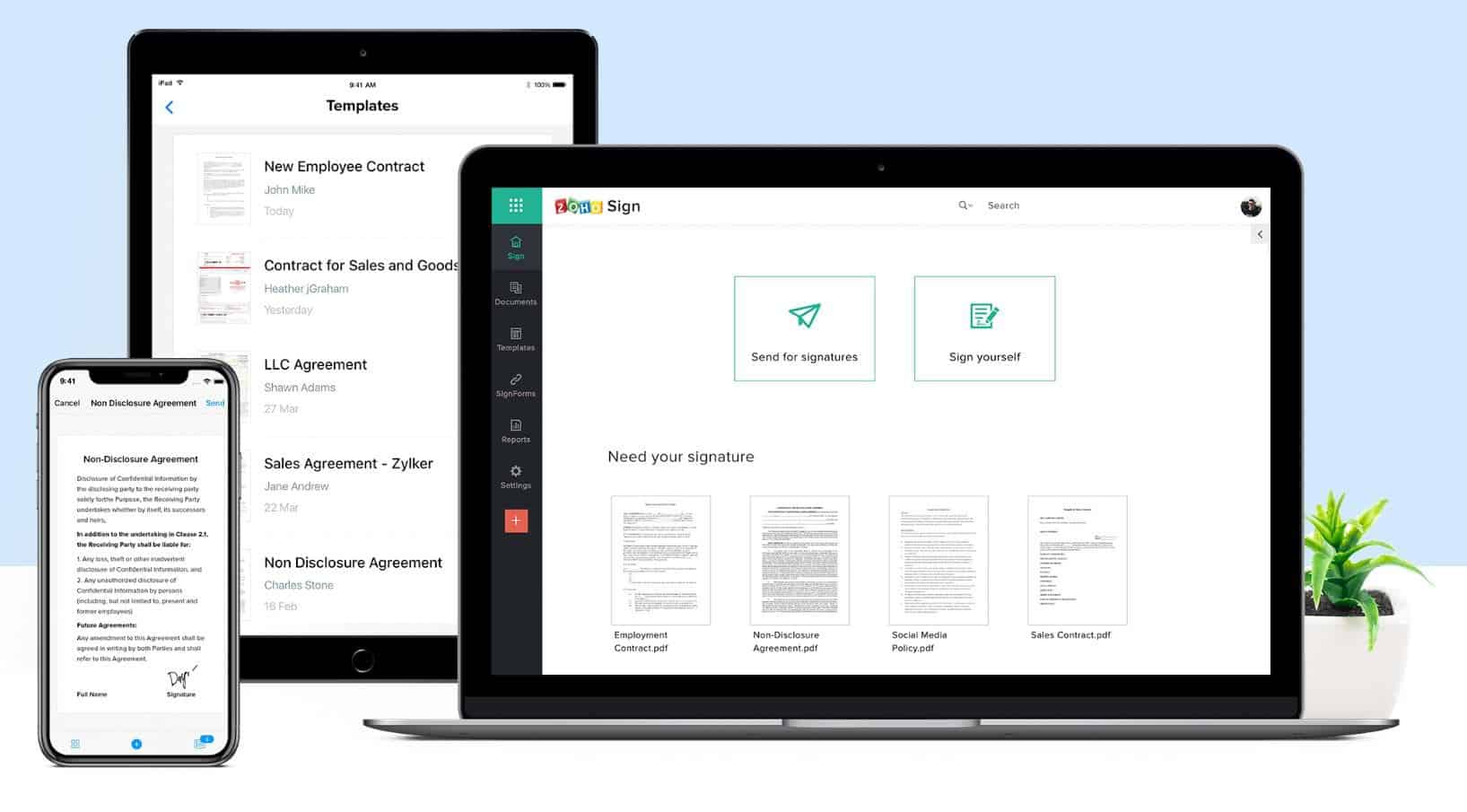 I recently used Zoho Sign to sign some mortgage documents, and I enjoyed using it. On the recipient's side, the program was very intuitive. All I had to do was click, and my signature would appear.
It's just as beneficial for business owners. Zoho Sign is more than just an eSignature platform; like Adobe Acrobat, it offers a workflow. Zoho Sign can integrate with other products, such as Zoho Checkout, to do multiple tasks simultaneously. Zoho Sign can also integrate with other platforms, such as Office 365, G Suite, and more.
When you send a document to a recipient, Zoho Sign will track the document and send you automated updates. I like how Zoho Sign features military-grade encryption. This also makes Zoho Sign a great solution for companies in certain niches, such as banking and sales.
Zoho Sign has a free plan, but it's limited. Standard plans start at $10 per user per month.
Pros
Easy to use
Automated tracking and reminders
Great for users and recipients
Military-grade encryption
A good option for businesses in certain niches
Integrations
Cons
It can be expensive for teams
The free plan lacks features
Not the best audit trail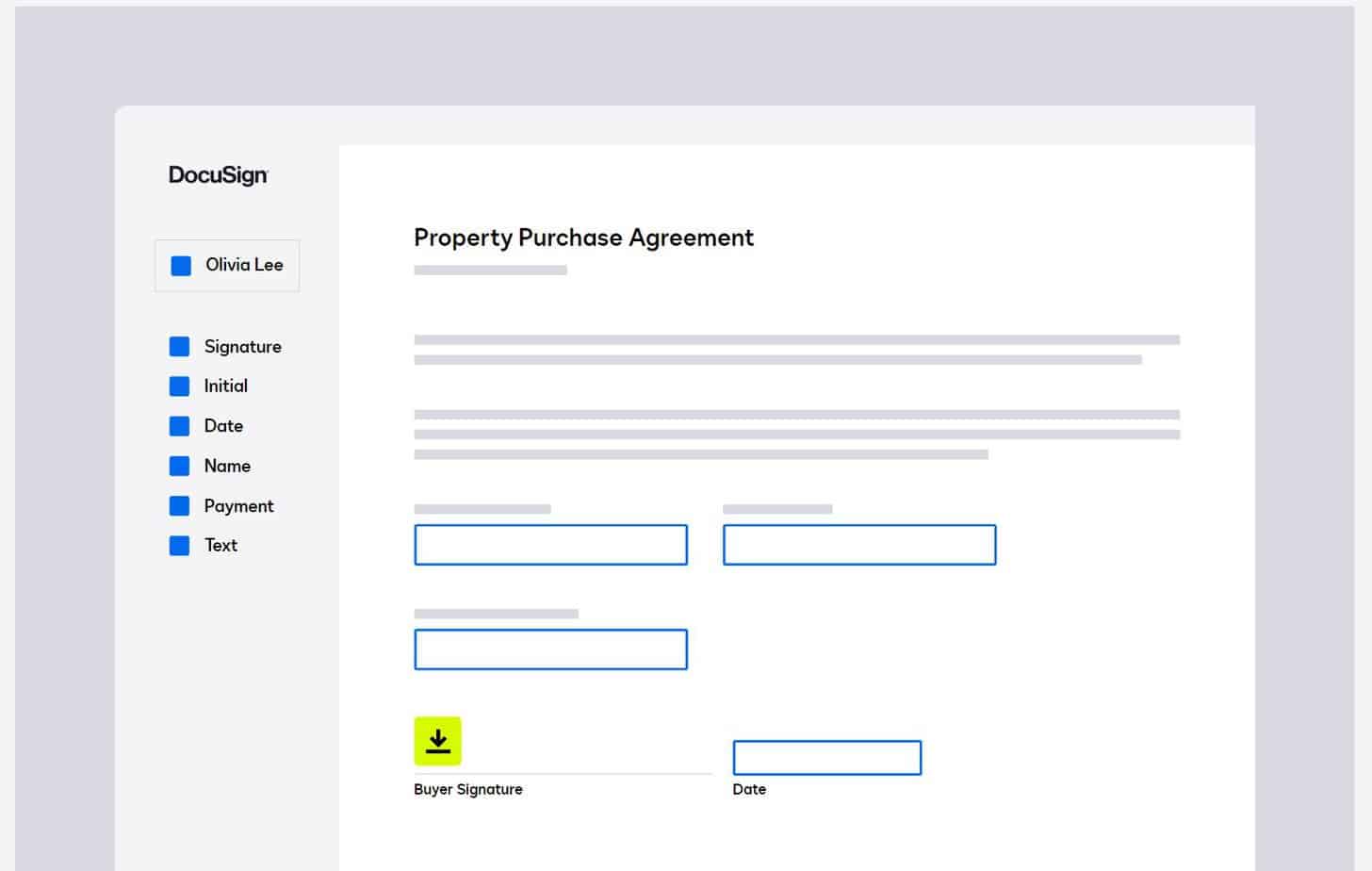 First, I have to say–I'm not a fan of DocuSign at all. Their backend is very complex, and I couldn't fully figure out this program. But there is one reason why I would still recommend DocuSign, and that's for their industry-specific solutions. DocuSign offers many programs and services for different industries, from communications to accounting. This ensures you stay compliant with any laws governing your niche.
There are other reasons why I like DocuSign. Their services are available in various languages. They also have arguably the most integrations and leading APIs. You can also access your documents and sign them on DocuSign's mobile apps.
The plans aren't expensive–a personal plan starts at $10/month. But unless you need these industry-specific services or advanced features, I wouldn't put DocuSign as my first pick.
Pros
Industry-specific solutions
Available in different languages
350 integrations
APIs
Not a bad price
Cons
The system is hard to use
If you're already using the cloud computing system Citrix (similar to Adobe Document Cloud), you can utilize their RightSignature service. Even if you don't use Citrix, RightSignature integrates with Dropbox, Basecamp, Google Drive, Freshbooks, Stripe, and OneDrive, making this an effective solution for various businesses.
I've used RightSignature for some of my past clients and liked how easy it was to click my signature in the required fields and send the contract back off. RightSignature is equally easy for users. Like many of these other alternatives, you will upload the contract to the RightSignature platform, drag and drop all of the fields, and send the contract off to recipients.
RightSignature offers some of the best support I've seen in an eSignature company–you can access blogs and webinars to help you learn the system.
The downside of RightSignature is the price. At $60/month, it's far more expensive than Adobe Acrobat Sign. The plans also only support limited staff members. If you need more, that's an extra charge. The platform does include a 30-day free trial for both plans.
In my opinion, the price is only worth it if your business needs advanced features. RightSignature offers more branding options than the competition; you can change the color scheme, add your logo, and add additional photos. Otherwise, the price for RightSignature isn't worth it.
Pros
Easy to use
Powerful features for businesses that frequently send documents
Reusable templates
Automated reminders and tracking
Multiple signing options
Great support
Cons
Expensive
A bit clunky UX
FAQs
Question: Will Adobe discontinue its PDF signing features?
Answer: Not that I know of. I hope not! I like Adobe Sign!
Question: Is Adobe Acrobat the best program to sign PDFs?
Answer: I think so. Since you create and edit PDFs in Adobe Acrobat, adding the signing feature keeps everything within your workflow. Plus, it's easy to add fillable fields and sign the document. You can also choose to add your signature or just initials.
Question: I'm an accountant and need a compliant signing platform. Will Adobe Acrobat work, or should I use an alternative?
Answer: Adobe Acrobat complies with the ESIGN Act and IVES, which means the IRS and other financial bodies will accept it. There are other alternatives, such as Zoho Sign and DocuSign, that offer solutions to ensure they're compliant with businesses in finance and banking.
Bottom Line: Best Adobe Sign Competitor?
I've been using Adobe Products for years and am a big fan of Acrobat Sign. I will always recommend this platform as a top PDF editing and eSignature software. But I know Adobe Acrobat may not be a solution for everyone, so I listed some popular alternatives.
Out of all of these alternatives, I recommend signNow the most. It's user-friendly and affordable for the features you'll receive. You can easily send and track documents, improving productivity.
Better UX + Better Pricing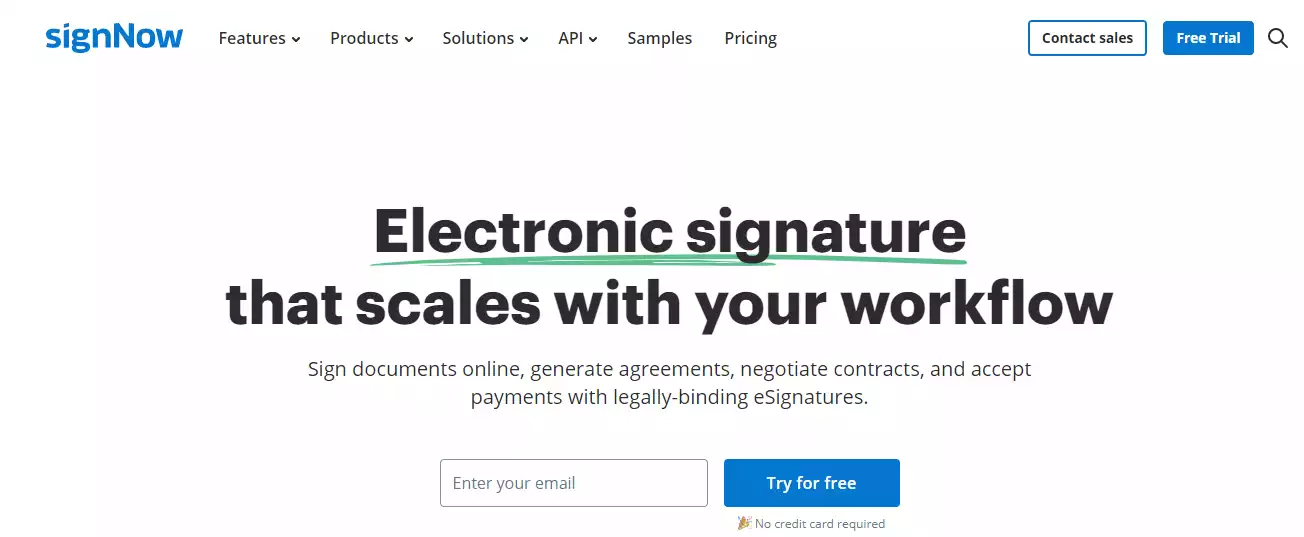 Why Go with SignNow?
If you haven't evaluated your document signing software recently, SignNow is worth a look! Easier to use, intuitive workflows, and better pricing mean it's time to dump that old document signing software for the new upstart.
Try SignNow…NOW!
We earn a commission if you click this link and make a purchase at no additional cost to you.
If you need an alternative that offers Adobe Acrobat's perks, such as security, I suggest considering any of the other alternatives I recommended.