Last Updated on April 22, 2023 by Ewen Finser
As a business owner, I know how important it is to get your paperwork in order! If you struggle with this, my guide to the best document-signing software can help.
The increase in remote working is brilliant for many reasons, but it also presents some challenges. For example, how can you ensure that your paperwork is up to scratch, and how can you collect signatures from freelancers or clients across the globe?
Luckily, document-signing software makes this a lot easier, but it's hard to know which one to go for.
I've tested 8 of the best electronic signature software platforms out there, so I can give you my honest opinions on each one from the perspective of a business owner. I'll let you know what I feel are the pros and cons of each one, as well as a guide on what to look for when signing up for a new platform.
Bottom Line Up Front Summary: SignNow is my favorite today. I find it very straightforward, and the drag-and-drop builder is intuitive. I find it easy to keep track of paperwork using SignNow, and I like that you can add your logo to contracts, too. I liked all the platforms on this list, but a few stand out in particular (more on that in the next section!). I'd recommend SignNow for any-sized business, from new starters to larger companies.
My Top Picks
Here are my top three picks for today:
SignNow – an excellent all-rounder for businesses of all sizes
PDFfiller– a great tool with some excellent PDF-related features
Docusign – a good large enterprise solution for advanced logic signature sequencing (if this, than that, daisy-chain, etc…)
How to Choose a Document Signing Software for Business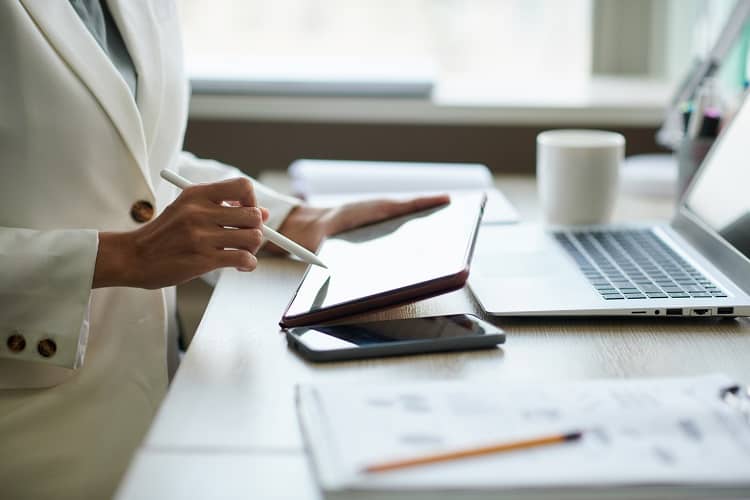 If you're running a business and want to make it easier to collect signatures, what kind of features should you be looking for? Here are a few ideas:
Organization
One thing I found tricky in the early days was keeping all my paperwork organized. I lost a lot of time chasing down signatures because I needed to find the right tools to be efficient on the admin side of my work.
Several of the tools on this list today make it much easier to manage contracts: they separate documents into your inbox and outbox, for example, so you can see newly returned documents, as well as signatures waiting to be collected. These features make chasing down those crucial documents much easier!
Using these platforms from a project management perspective is also helpful: it makes keeping track of things much more manageable. (You can get more advice on this in our guide on how to find the best project management tool for online business, as well as our guide on the Agile Project Management methodology).
Storage
Storage is another key feature. Some of the tools on this list have excellent storage capacity to keep hold of essential contracts and forms. While smaller businesses are unlikely to reach the limit in terms of storage, it's still helpful to know you won't have to worry about hosting forms on another platform.
Electronic Signature Software Security
Security is another factor. When dealing with sensitive information, you want to know that the platform is safe. Some platforms offer an encrypted folder, which requires another password (sent by SMS, for example).
These measures add another layer of security for important documents and some protection if several people use the same software.
Secured signing is critical if you are dealing with medical or educational records, as well as dealing with financial records. (If you need more advice on this, check out our guide on how to find the best accounting software for a rundown on the best tools to manage your finances as a business owner).
Signature Collection
The signature collection is, of course, the main factor to consider here in an electronic signature solution!
While remote working is excellent in so many ways, there are minor challenges to overcome, including collecting paperwork from people across the globe.
Look for a platform that allows clients, employees, or freelancers to sign a document. For example, they may be able to type their signature, draw it, upload it from their mobile device, or use a webcam.
The more options, the better, as it will speed up the signature collection process.
Templates
Some platforms have a range of templates to use. Templates are excellent if you're just developing your new business. However, typing out employee or contractor policies, contracts, and forms can take time. You can speed up the preparation and signing process by tweaking pre-existing templates.
Platforms vary in terms of the templates they offer, and some have an extensive range of contracts in different niches, so you should be able to find forms to suit your business.
Document Conversion
Some tools also allow you to convert documents quickly. For example, you can convert a Word document into a PDF, which is easier for your customer, client, or freelancer to access. Other platforms offer bulk conversion tools, which is excellent if you have existing paperwork you're trying to convert.
You can also upload a document and transform some areas into fillable areas using some platforms on this list.
For example, you could create a document in a word processor, then add fillable fields for your customers or clients, which makes it much more accessible from their perspective and makes it more likely that they'll return your paperwork quickly.
Electronic Signature Software Ease of Use
With all platforms, you must find it straightforward if you plan to use it regularly! Nothing is worse than wasting precious time navigating a clunky, complex platform.
Instead, look for a smooth onboarding process and a straightforward user interface. You may have to sign up for a trial for your chosen platform to get a feel for how it works.
The Best Document Signing Software For Business
Now, let's look at my favorite document signing software! I'll give you the lowdown on what I thought about each one and their pros and cons.
SignNow: Best Overall for Document Signing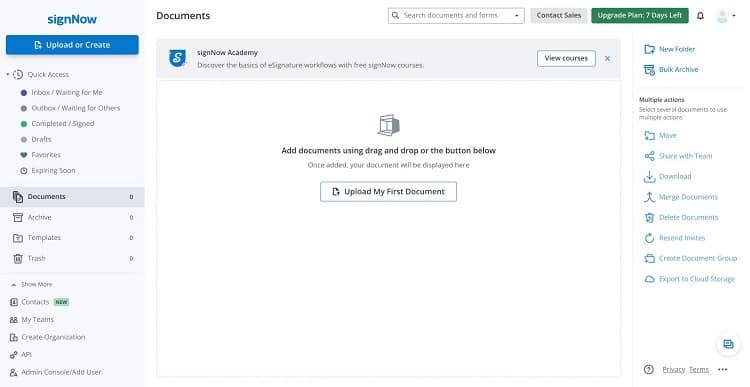 SignNow is a helpful electronic signature software tool for businesses. It has a drag-and-drop builder that allows you to add fields like text and signable areas to your contracts, and it's super easy to use.
Plus, you can send documents and keep track of the signatures yet to be returned, which is excellent if you want to make it easier to chase these contracts down.
It doesn't allow you to create contracts in the first place, which means you'll need to use another platform to create them. It does, however, transform those documents into signable forms. It's also affordable, which is suitable for smaller businesses.
I like that you can add your logo to contracts, and I like how easy it is to keep track of the documents you're waiting for. However, it does lack features compared to some of the other platforms on this list, and there are integrations locked behind higher price tiers, which is a shame if you're on a tight budget.
Better UX + Better Pricing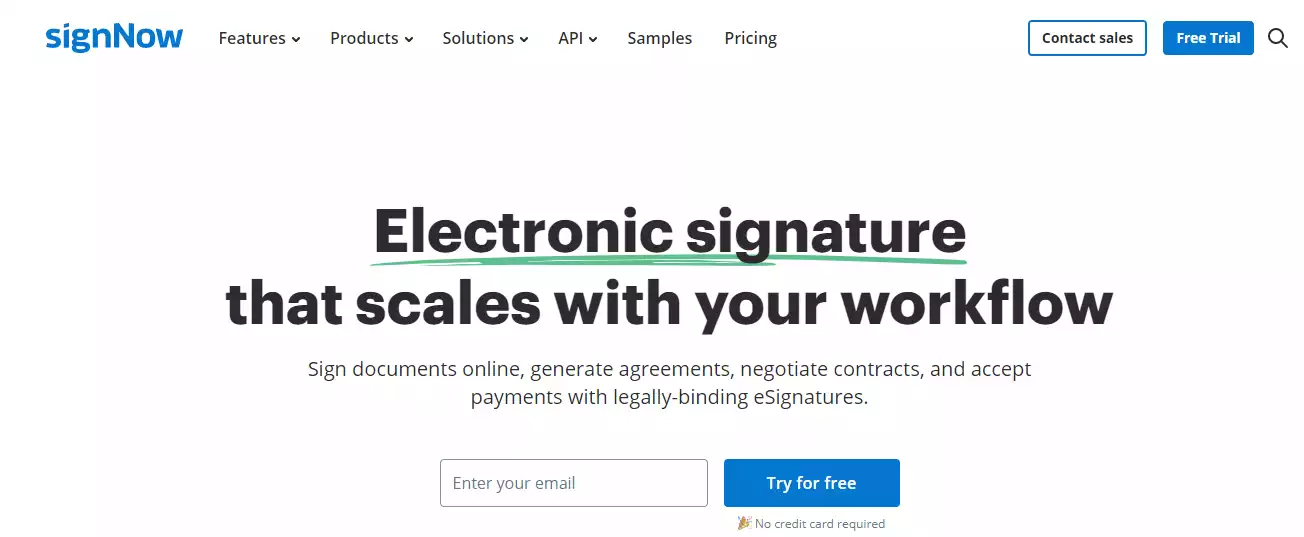 Why Go with SignNow?
If you haven't evaluated your document signing software recently, SignNow is worth a look! Easier to use, intuitive workflows, and better pricing mean it's time to dump that old document signing software for the new upstart.
Try SignNow…NOW!
We earn a commission if you click this link and make a purchase at no additional cost to you.
SignNow Pros
Very easy to use (one of the best electronic signature software solutions I've tried)
Affordable for smaller businesses (see pricing options)
Makes it easy to track documents
Useful templates included
e-sign audit trail
SignNow Cons
Lacks some features
Integrations are locked behind higher price tiers
How Does signNow Stack Up Against Competitors?
DocuSign Electronic Signature Software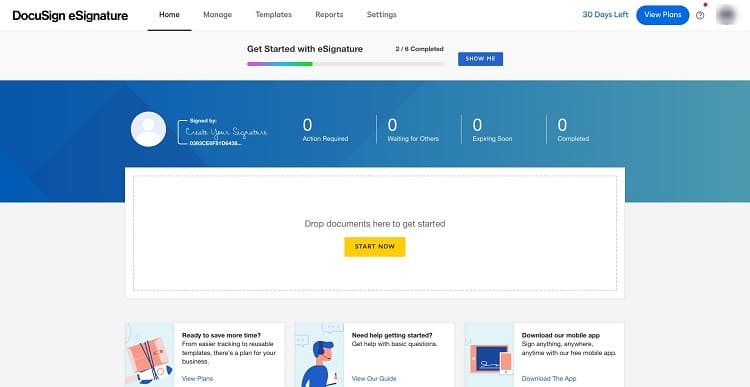 DocuSign is a popular electronic signature software platform with more than 1 million users worldwide. It allows users to create a signature to quickly sign online forms and contracts and offers other services like templates and a form builder.
I like DocuSign for a few reasons. The signature creation tool works well and allows you to choose a pre-made signature, draw your signature, or upload one from your mobile device. It works well and is an excellent time-saving tool if you have to sign a lot of paperwork in your line of work.
I also like the contract templates. They have a range of templates with categories including real estate, HR, legal, sales, insurance, finance, and government. If you hate building a form, policy, or contract from scratch, you can work around it by personalizing the pre-made templates.
The form builder itself is good. It has a moderate learning curve, so it takes a bit of time investment to learn.
However, it does have the bonus of having conditional fields: if users choose a particular option in a drop-down menu, a new selection of questions will appear. Anything that makes it straightforward for clients, customers, or freelancers to fill out forms, the better!
The downside to DocuSign is that it's fairly pricey compared to its competitors and doesn't offer many features on the lowest price plan. You can read more about it in our DocuSign vs SignNow comparison.
Docusign Pros
Decent range of templates
Easy to create and save signatures
Form builder has conditional formatting
Has a Docusign esignature audit trail
Docusign Cons
Pretty pricey on higher price tiers
Lowest price plan doesn't have many features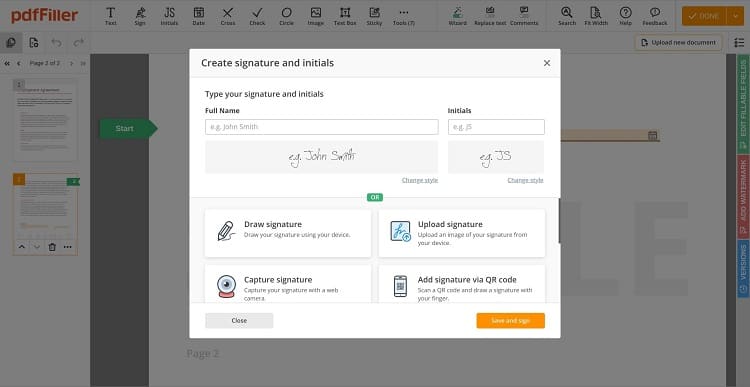 PDFfiller is primarily a PDF creation and document management tool, which is useful for businesses; it offers pre-made templates and contracts for freelancers and new employees, and you can build forms from scratch using their form-building tool. It also has an excellent signature-capturing tool.
You can capture signatures using a webcam or QR code, uploading from your mobile device, drawing, or simply typing it in. I think the more options you can offer your employees or contractors, the better.
PDFfiller offers an okay range of templates for businesses. They're not the nicest to look at, but they're functional, which is crucial.
The PDF-building tool is fairly straightforward (it works kind of like email marketing software), although the UI is slightly cluttered. Still, you should be able to build fillable PDF forms for your employees using PDFfiller.
The pricing is suitable for smaller businesses, too.
PDFfiller Pros
Easy to capture signatures
PDF document building tool is straightforward to use
Decent range of templates
It has a reasonable price point for smaller businesses
PDFFiller Cons
UI is a little cluttered
Templates aren't the nicest to look at
How Does PDFfiller Compare to Others?
NitroSign
NitroSign is a PDF creation tool that allows users to create and manage PDF files. However, they also have another tool called NitroSign. It is a cloud-based tool that enables users to combine, optimize, organize, and convert documents. It also allows users to add text and signatures to documents.
NitroSign is a valuable tool, and the signature-capturing process is straightforward. Users can draw, type, or upload their signatures.
It offers fewer options for signature capturing than others on this list (like PDFfiller, for example), but drawing signatures works well, and it's easy to upload them from your mobile device or computer as an on the go electronic signature software solution.
NitroSign has a different pricing plan just for this particular service. It makes it easy to manage documents, too. However, you'd need to purchase a license for their desktop signature app to create a PDF from scratch.
NitroSign Pros
Easy to use
Good document organization and document management tools
Signature-capturing tool is straightforward
NitroSign Cons
Doesn't include PDF creation software
Doesn't offer as many options for signature capturing
Acrobat Sign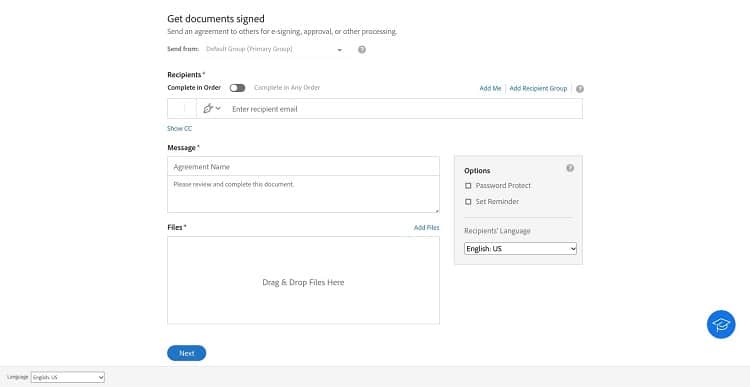 Adobe Acrobat Sign is another option to capture signatures quickly. If you've ever used Adobe products before, you'll probably find Acrobat Sign to be fairly intuitive.
The cloud-based platform works well and makes it easy to manage contracts. If you need to bring a group of freelancers on board, you can capture their signatures and print the documents for your records.
I like Adobe Acrobat Sign because it makes the admin side of running a small business much more straightforward; I know what it's like to lose track of an important form or forget to chase up on a response, and having everything laid out helps.
It also has a range of decent integrations, and the security provided by Adobe Sign is great. It is a reliable option for you if you're handling sensitive documents. The pricing is affordable, with the Pro plan costing $20 per month (or $12.99 for the Starter plan).
The downside is that their support isn't great, so you may have to wait a while for a response if something goes wrong.
Adobe Sign Pros
Easy to use
A lot of options in terms of free templates
Super easy to track documents (document management)
Decent price point
Good security for sensitive documents (secured signing)
Adobe Sign Cons
Customer service could be improved
Not as mobile friendly as other electronic document signature software solutions
Dropbox Sign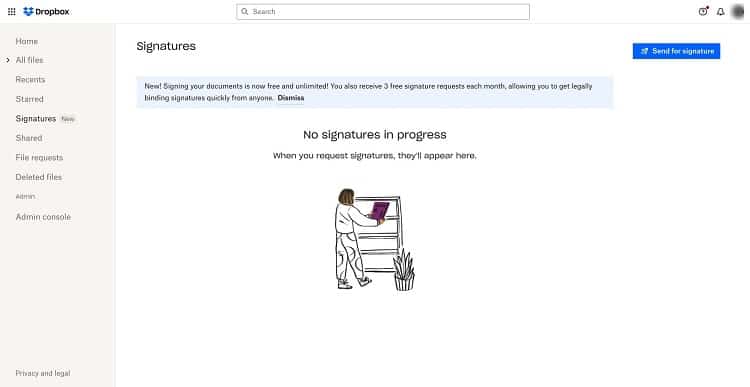 Dropbox Sign is a great option, especially if you already use Dropbox. You can choose a document, add signers for a signature request, drag and drop fillable fields onto existing documents, and track the documents you've requested signatures for.
Like Acrobat Sign, Dropbox Sign makes it straightforward to manage paperwork. Having hired freelancers and contractors over the years, I see that Dropbox Sign would work well for me in managing these important forms and contracts. I also like that it has an automatic save and backup feature.
Dropbox Sign is pricey just for a digital signature solution if you're not already using Dropbox. That's something to remember for smaller businesses if you're trying to keep costs down.
It is easy to use and fairly intuitive, even if you prefer to avoid learning new platforms.
Dropbox Sign Pros
Easy to use digital signature
Makes it straightforward to manage documents
Great if you need to hire a lot of freelancers or contractors
Intuitive to learn for new users
Dropbox Sign Cons
Pricey compared to other platforms on this list
SignRequest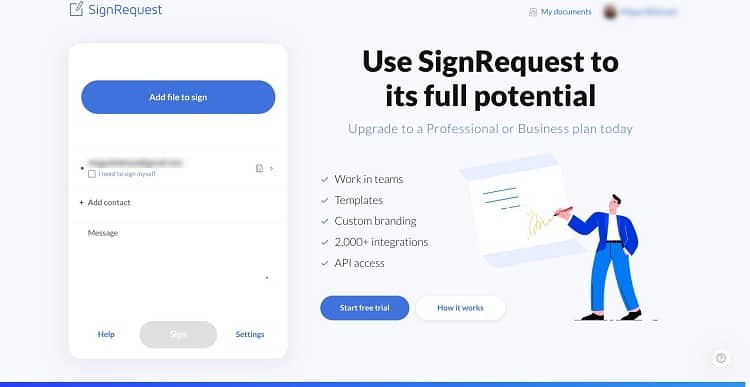 SignRequest is an excellent option for freelancers. It has a free plan that allows you to sign documents quickly. However, for businesses, it's also a low-cost document signing tool. The Business plan gives you unlimited teams, templates, and documents.
SignRequest allows you to insert your business branding easily. This sounds like a minor feature, but it's worthwhile for the price and creates a professional look. SignRequest's drag-and-drop editor is straightforward to use, and I like that the onboarding process is simple. It's a neat little tool, and I'd recommend it for small businesses.
It lacks some extra features and doesn't have a vast range of templates like other platforms on this list, but it's great for the most part.
Pros
Easy to use
Fast, simple onboarding process
Low-cost, so excellent for freelancers or small businesses
Easy to add branding to documents
Cons
Lacks extra features
Doesn't have an extensive range of templates
RightSignature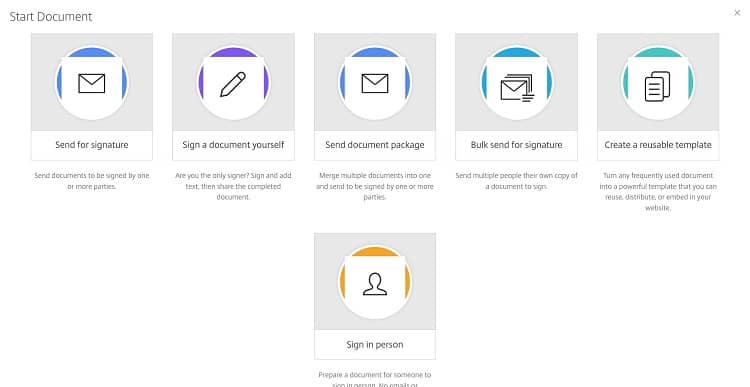 RightSignature is an exciting platform. The pricing isn't great for smaller companies. Starting at $60 per month, it's steep. However, it's a much more secured signing option for dealing with sensitive information. For example, if you're dealing with sensitive information like educational or medical records, you'll want the security RightSignature offers.
It's part of Citrix, so if you already work with that platform, joining RightSignature makes sense as a digital signature software extension. However, while the onboarding process is smooth, it's not the most intuitive platform.
It has many excellent features, including signature collection, sending document packages, bulk signature requests, and template creation. It also has brilliant customer service, so you'll be in safe hands if something goes wrong.
I have mixed feelings about this one: it's a good platform, but it may be out of reach of smaller businesses. Security-wise, however, it's one of the best platforms on this list.
Pros
Easy to sign up
Some excellent features
Security is top-notch
It has a great customer service team
Cons
Expensive
Not the easiest to use
Runner's Up & Honorable Mentions
Here are are few options that didn't quite make the cut, but are worth considering for specific use cases:
Formstack Sign: Useful if you already are a Formstack customer or are familiar with their interface.
Jotform Sign: Similar to Formstack, useful if you already are a customer.
Keepsolid Sign: Super simple, basic cloud-based signature solution. Cheap.
OneSpan Sign: Flexible for API and custom Dev use cases.
Box Sign: Useful if you already use Box products.
Zoho Sign: Helpful if you already are familiar or use Zoho ecosystem products.
FAQs
Question: Do all the platforms on this list offer a free trial?
Answer: Yes, all the platforms in this article offer free trials so that you can test them yourself!
Question: What is an eSignature?
Answer: An eSignature is an electronic signature. It allows business owners and individuals to collect signatures quickly without relying on physical signatures.
Question: Are eSignatures Legal?
Answer: In many countries around the world, eSignatures are legal. They are legal in the United States, the United Kingdom, and all countries in the European Union.
My Final Thoughts on the Top Document Signing Solutions
I like SignNow. It's easy to use, which is very important when you're tight on time. In terms of organization, it's great. You can easily keep track of essential contracts, making it much easier to chase up missing signatures. Plus, the ability to easily add your logo creates a professional look.
However, I'd also recommend checking out PDFfiller. If you want to create PDF forms for your customers or clients, you can do that here.
They have a good range of templates, and the electronic signature platform is relatively easy to use. Plus, the signature-capturing tool is excellent and offers many options for your customers, clients, or freelancers.
If you have complicated signing logic for complex legal documents, Docusign is a good (if pricey) option.
Finally, if you're on a tight budget, you might want to check out SignRequest. It's affordable even for freelancers or solo entrepreneurs, and small businesses on a tight budget will appreciate the pricing structure. It's also very straightforward and easy to use for beginners.
Better UX + Better Pricing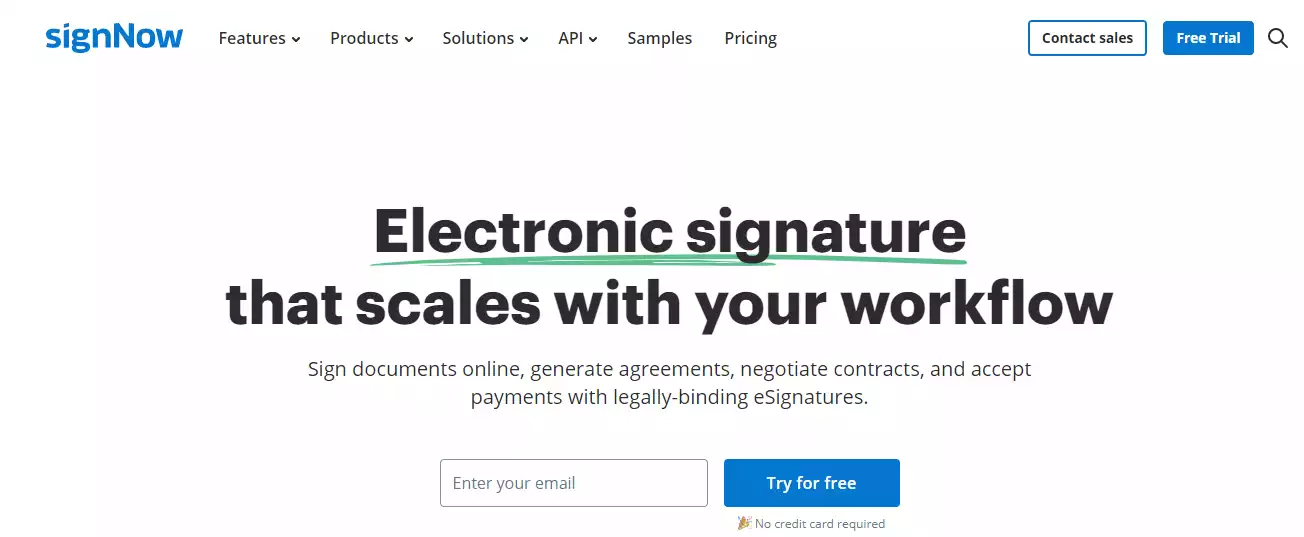 Why Go with SignNow?
If you haven't evaluated your document signing software recently, SignNow is worth a look! Easier to use, intuitive workflows, and better pricing mean it's time to dump that old document signing software for the new upstart.
Try SignNow…NOW!
We earn a commission if you click this link and make a purchase at no additional cost to you.
I hope this has helped you to find the best digital document-signing software for your business!
Further Read: If you are looking for the best flexible document signing API (for dev usage, custom environments), check out our guide to the top Document Signing APIs.