Last Updated on April 22, 2023 by Ewen Finser
If you want to capture eSignatures to your website or app, you may find my guide to the best document signing software API helpful.
With more people moving into remote work, it's important to offer a safe, quick, secure way to deal with the admin side of running a business, including capturing signatures.
I know how hard it can be when you're running a small business to integrate other apps and services into your existing apps or websites, particularly if you have just one developer on board.
However, the platforms I've looked at today make it as simple as possible and allow you to create a consistent, cohesive experience for your clients, staff members, or customers.
I'll show you my top 6, including my honest thoughts on their pros and cons. I'll also give you tips on what to look for when signing up for document signing software API and answer some frequently asked questions.
Bottom Line Up Front: I think that signNow has a lot to offer and is my top choice. It's easy to use, with plenty of developer support. The customer service is excellent. It has great security credentials, and I like that you can apply your branding to each stage of the process.
On top of that, it has a sliding pricing scale, making it easier to manage for smaller businesses.
My Top Picks
Here are my three top picks for the top electronic signature software API service:
What to Look for in Document Signing Software API
Before we get into my top 6, you may wonder what you should look for if you need to set up digital document signing software. Here are some key features you should know about:
Ease of Use
The easier a platform is to navigate for your developer, the better! Not all electronic signature software platforms are made equal, so look for simple, uncluttered UI and clearly signposted support for each section.
The onboarding process gives you a good idea of how well the platform runs. Most of the software on this list offer free trials, so you can look at how it works before you invest. This is a good idea if you plan to spend a lot of time using one platform! The last thing you want is to sign up for a yearly subscription only to realize the interface sucks.
Customer/Client Perspective
The other feature to consider is the customer/client perspective. Regarding form-filling and signature-capturing, the easier you can make it for people to respond, the more likely they'll quickly respond to your request. Therefore, fast loading times, clear instructions, and easy-to-use signature-capturing tools are essential.
Electronic Signature Software Capturing Options
The more options you can offer for signature capturing, the better. Your customers or clients may be able to provide an eSignature by:
Uploading via mobile device or computer
Capturing via webcam
Drawing
Typing
Email
SMS
Filling out a form on your website
The more options you offer, the easier it will be for them to respond quickly, saving you time and effort chasing down missing signatures!
Document Management
Managing the admin side of running a business can be a pain; it's worth looking for a platform that will make it easier for you, especially if you're a small team trying to keep on top of things.
You may be able to set up email notifications, alerting key team members to signature responses, which makes it easier to send a gentle nudge for any signatures you still need to collect.
Security
Security is, of course, critical. No matter your industry, offering data security is vital for your potential clients, employees, or customers. This is especially important in some fields, for example, if you're dealing with educational or medical records or if you're dealing with financial or payroll records.
Document-signing API platforms will have their security credentials listed on their website. Look for PCI DSS compliance, GDPR compliance, HIPAA compliance, and SOC 2 Type II Certification.
Branding and Customization
Having your company's branding (logo, colors, fonts, etc.) applied at every step of the client or customer experience makes a big difference. It instantly helps customers recognize your communications and creates a more cohesive experience.
Look for a platform that makes this super easy to set up at each stage of the process from your client's perspective.
Support and Knowledge Base
As with any API, customer support is going to be crucial. If something goes wrong, you'll want quick and easy access to a support team to help you figure out what to do next. On the other hand, the last thing you want is for something to go wrong, only to have to wait for a response from a slow customer service team for days.
You can also check out the support center for your chosen platform. This will give you an idea of how developer-friendly the digital signature software platform truly is. Look for a user forum (this will help you to connect to other developers, opening up another avenue of support), as well as user guides, tutorials, and step-by-step articles on how to get started.
Pricing
Pricing for signature signing software API can vary, but some are more expensive than others. Some of these yearly costs can be difficult to manage if you're a small business. You can always look for platforms that work out their pricing via how many signatures you want to capture, which may prevent you from being overcharged.
(As a bonus tip, if you need help managing the financial side of your business, you can check out our guide on how to find the best accounting software, which can help you keep track of all the expenses involved.)
Top 6 Best Document Signing Sofware API
Now let's look at my top 6 document signing software API (in no particular order!). First, I'll give you an overview of what you can expect from each and my thoughts on their pros and cons.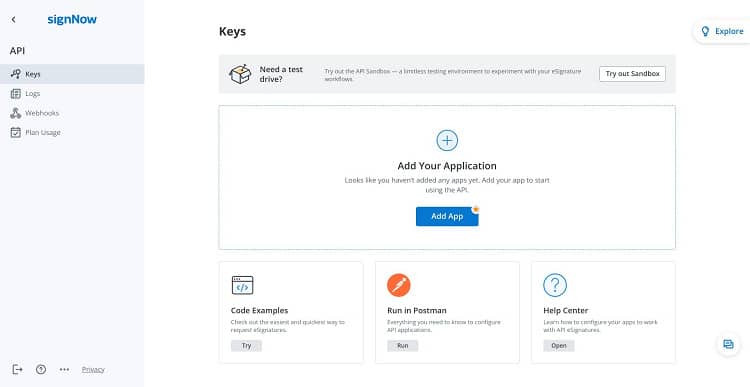 signNow API is an easy-to-use eSignature software solution. It's customizable so that you can insert your company's branding for a more consistent customer experience. It's fast to set up and has a high signature app success rate thanks to the 24/7 API monitoring.
I like signNow because it's excellent from a developer's perspective. The platform is easy to navigate, and packed with guides and tutorials for installation, which is excellent. They provide plenty of coding examples, so it's fairly straightforward.
In addition, you can sign up for the signNow API course, which will walk you through the process from start to finish.
Using signNow's eSignature API, you can send documents to be signed, create reusable templates, and request payments from customers or clients. In addition, you can track documents, ensuring your team never lose sight of important signatures to be completed, and you can set up email notifications so that key team members will know when an electronic document has been returned.
I think signNow is excellent from a customer service perspective. If something goes wrong, the customer service team is responsive and helpful. It's also great in terms of security: their credentials include PCI DSS compliance, GDPR compliance, and HIPAA compliance, along with SOC 2 Type II Certification.
It's another investment in pricing, but it's worth noting that the pricing is on a sliding scale, depending on how many signatures you need to capture. This makes it more accessible for smaller businesses, and you can collect up to 250 signatures for free before making a payment.
Better UX + Better Pricing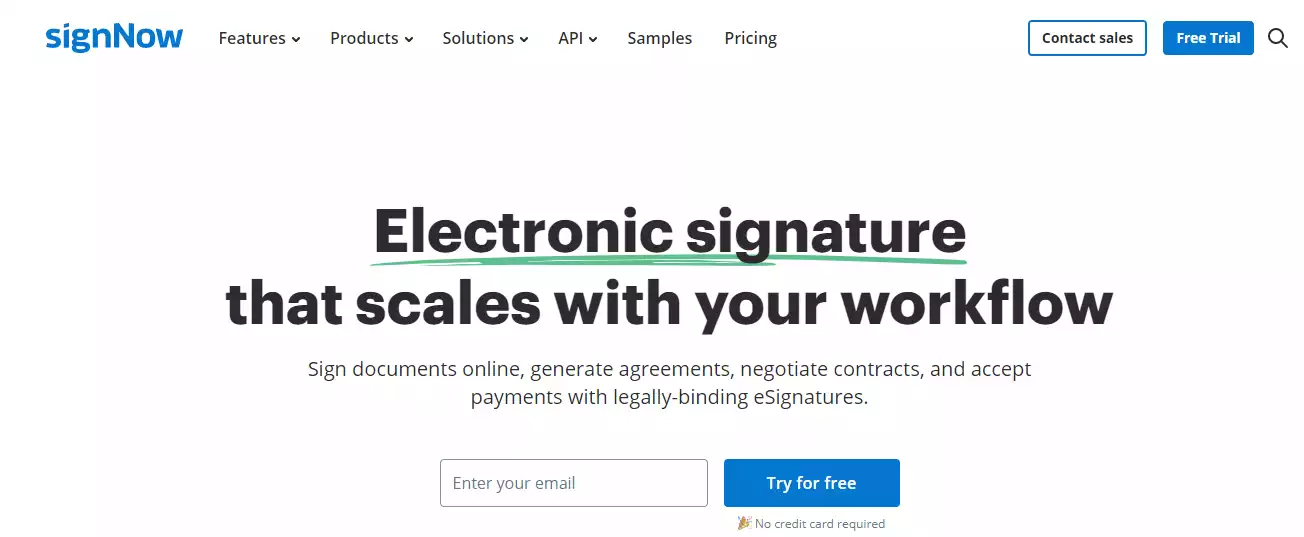 Why Go with SignNow?
If you haven't evaluated your document signing software recently, SignNow is worth a look! Easier to use, intuitive workflows, and better pricing mean it's time to dump that old document signing software for the new upstart.
Try SignNow…NOW!
We earn a commission if you click this link and make a purchase at no additional cost to you.
Pros
Easy to use with walkthroughs and tutorials
Great customer service
Good security
Can apply branding for a consistent customer experience
Sliding pricing scale makes it easier for smaller businesses
Cons
Pricey if you need to capture a lot of signatures
How Does signNow Compare to the Rest?
Dropbox Sign API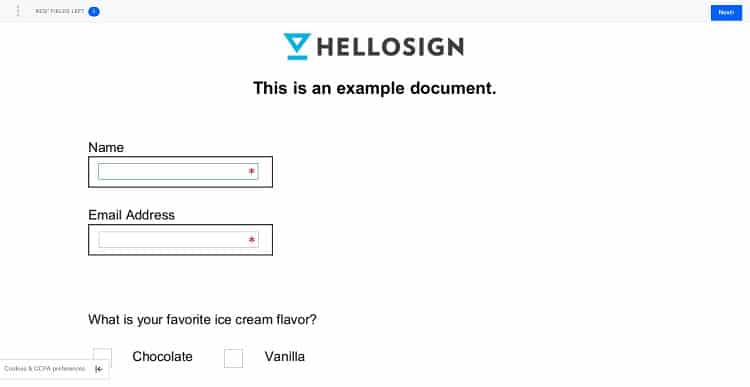 Dropbox Sign API (formerly known as HelloSign API) is a fast, user-friendly, secure service. In addition, it's an easy system, allowing you to create a customized experience with your company's branding. I like Dropbox Sign API from a security perspective: it has data encryption, industry-standard compliances, and excellent audit trails. If you're dealing with sensitive information, this is an excellent service.
Also, you can integrate Dropbox Sign into your website or app (or both, if applicable). This gives your potential clients or customers more options in terms of returning signatures and creates consistency if you apply your branding across the board.
You can make the most of Dropbox Sign's premade templates or create your own from scratch. The downside is the cost – the cheapest plan is $900 a year, which is a big investment for smaller businesses. However, it's a reliable platform that will give your users an easy, consistent experience.
If you're interested, you can ask for a test email request signature to be sent to your inbox, giving you an idea of how it works and what it looks like from a user perspective.
Pros
Very easy to implement
Can apply branding to forms
Allows you to add eSignature capturing to your website and app
Good security credentials
Clear signature audit trail
Cons
Pricey for small businesses
DocuSign API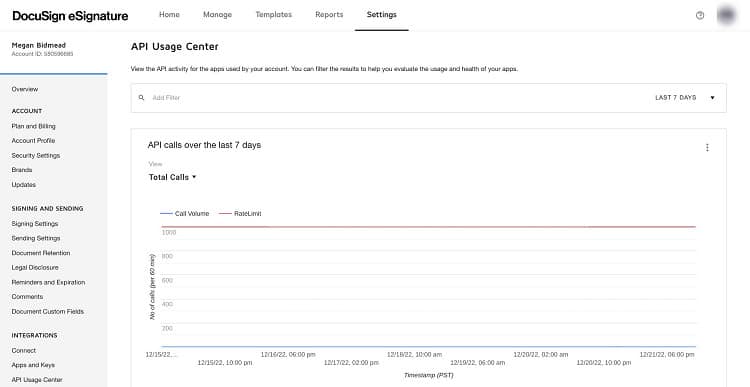 DocuSign API is another great option. You can request signatures via email or embed eSigning into your app, making it easier for your customers or clients. In addition, it has good security credentials with OAuth for API requests and even more advanced authentication on higher-priced plans.
I like the reporting offered by DocuSign API; their real-time reporting allows users to keep track of necessary documentation. This allows you to keep an eye on what's happening.
From a customer/client perspective, it's easy to use. You can apply your branding to every step of the process and request signatures on mobile and via email or your website. It's also straightforward to set up, with a very active developer community to help if you get stuck.
I like the pricing: the starter plan is just $600 per year, which does work out cheaper than some of the other platforms on this list (like Dropbox Sign API). However, the interface could be easier to navigate.
Pros
Good price plans
Good security credentials
Excellent real-time reporting
Easy to use from a client/customer perspective
Cons
The developer interface could be easier to navigate
Eversign API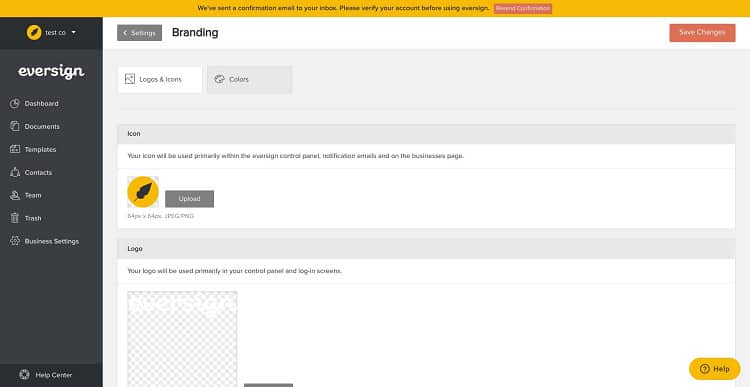 Eversign API is another good platform in terms of signature capturing. It's secure, with industry-standard HTTPS encryption. It's good for larger businesses, as it can handle thousands of eSignature requests per second, and the support provided by their software development team is excellent.
The platform is easy to navigate from a developer's perspective. You can apply your branding across the board, which is very simple. Plus, you can capture signatures using various methods, including email and SMS. This makes it simple for customers or clients to respond quickly to signature requests.
The downside is that while the cheapest plan isn't too pricey, the next price tier jumps significantly. At $179.99 per month, this will be out of reach for smaller businesses, so it's worth carefully checking to see what you'll get for each price plan.
Pros
Easy to navigate
Can capture signatures using a variety of methods
Good for larger businesses
Great security credentials
Cons
Relatively expensive pricing plans may be too much for smaller businesses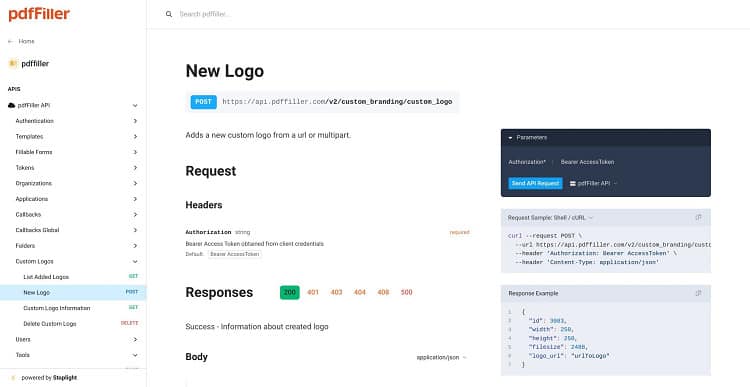 PDFfiller API is useful if you want to make the most of PDFfiller's features: they have excellent signature capturing and PDF creation tools. From a user perspective, it works well. You can capture signatures using a webcam, QR code, uploading from mobile, drawing, or typing, and it's very easy to navigate.
From a developer's perspective, it works well. However, it's not as user-friendly as other platforms on this list, and the UI could be better. Having said that, it has some great strengths in terms of branding (you can easily add logos and so on), and the security credentials are good. Plus, the support is decent if you get stuck.
The downside is the pricing. You will get access to some of PDFfiller's extra features outside of document signing (like the PDF document tools, which are fairly intuitive, working a little like a drag-and-drop email marketing platform). The starter plan is pretty competitive for the tools you get. However, the Professional plan is a big step up at $3,000 a year.
Easier to Use + Affordable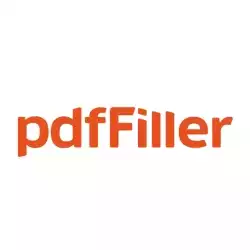 Why Go with PDFfiller?
Dead simple to use, easier than other similar competitors I've tested. Affordable and flexible pricing plans = better for small to mid sized businesses.
Try PDFfiller Now
We earn a commission if you click this link and make a purchase at no additional cost to you.
Pros
Easy to use from a client/customer perspective
Offers good personalized branding tools
The platform itself is good for PDF creation and signature capturing
Cons
Not the best UI
Steep pricing increase between plans
PDFfiller versus the Alternatives
eSignatures.io API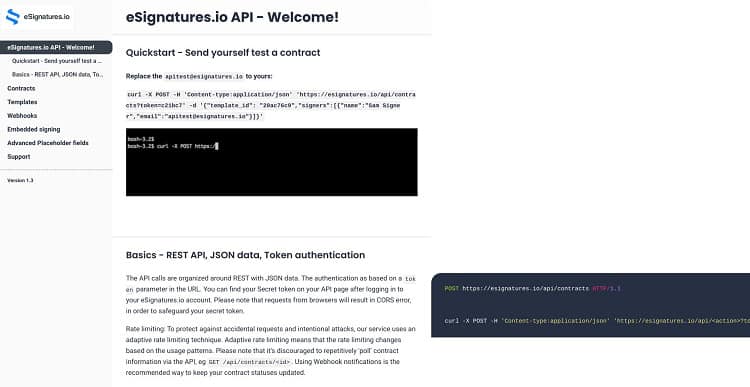 eSignatures.io allows you to capture signatures using SMS, email, or website. In addition, there are some great features: you can bulk-send signature requests, add responsive fields to existing forms, and manage which users can access sensitive information.
I like the branding options available here. Custom Google fonts and custom email domains are supported, and your logo and company name can be inserted into every signature-capturing form.
The security credentials are good. They are ISO 27001 certified, the highest level of global information security assurance, and they're also Act compliant. They also have a clear and comprehensive audit trail, logging every person's name, email address, IP address, and the dates and times of all activities. Plus, they also use built-in two-factor authentication.
The downside is that the pricing could be more transparent, and the support could be better, too: the support center is sparse, with less information than other platforms on this list. I also prefer to see a developer forum, as if something goes wrong, it opens up more options for chasing down a fix.
Pros
Excellent security credentials
Good branding options
Easy to use from a customer/client perspective
Cons
Pricing could be clearer
Support could be more comprehensive
FAQs
Question: What is an API?
Answer: API stands for Application Programming Interface. Developers use it to connect different apps. In this instance, developers can use it to capture signatures on their existing websites and apps.
Question: What is an eSignature?
Answer: An eSignature is an electronic signature. It allows business owners to collect signatures without sending and receiving physical paperwork, making remote work much easier!
Question: Are eSignatures legally binding?
Answer: In many countries, yes, eSignatures are legally binding. For example, they're legal in the US, the UK, and all countries within the EU, opening up many countries you can work with.
Question: Can I test out all the platforms on this list for free?
Answer: Most offer free trials, and even if you can't access the developer API area, you can still test out the central platform and how it works. Plus, some, like Dropbox Side API, send you a test email so you can get a feel for the services they offer.
To Sum Up …
All the platforms on this list have their strengths, but my favorite is signNow. I like the support offered to developers, including their signNow API course, which walks you through the entire process from start to finish.
Their security credentials are top-notch, and you can apply your branding throughout. In addition, the sliding price scale makes it a good all-rounder and more approachable for small businesses. However, I recommend checking out DocuSign API too. It has affordable price plans, good security features, and excellent real-time reporting. It's also easy to use from your client/customer's perspective.
Dropbox Sign API is also worth checking out (especially if you're already familiar with Dropbox). It's easy to implement, you can add branding to each step of the process, and it has some good security features.
It's worth checking out each platform for yourself if they offer free trials to get a feel for their UI. In addition, check out the support for each one in-depth, so you can see how straightforward their instructions are.
I hope this has helped you to find the best document signing software API for your needs!