Last Updated on June 13, 2023 by Ewen Finser
SignNow is PDF Filling Software with more than 28 million users. With around 10 years in the digital market, it's an excellent cloud-based tool for filling out documents, as well as capturing and managing electronic and digital signatures.
In this SignNow review, you'll discover all the advantages and disadvantages of using SignNow for your business. I've used SignNow for my online business and have been lucky enough to review other PDF-filling software for The Digital Merchant.
The correct PDF-filling software makes life easy for you as a business owner, as well as for your employees and clients.
That's why I'm excited to share this SignNow review and guide with you.
In this review, I'll cover:
how to choose the best PDF filling and document signing software;

important features of SignNow;

advantages and disadvantages of SignNow;

alternatives to SignNow;

the answers to the most frequently asked questions about SignNow;

and more.
The Bottom Line Up Front: SignNow is an excellent document filling and signing software, especially when you consider the price compared to its competitors. It's suitable for freelancers and businesses of all sizes, plus you can make use of its free trial if you're unsure about its suitability.
How To Choose The Best PDF Filling Software
Here are the factors that you need to compare to find the best PDF Filling Software for your needs.
Ease of Sending and Signing Documents
It's important to choose instinctive software that is easy to use and understand since if it becomes complicated when creating a document or a template, you'll lose time. If the process is cumbersome when adding fields or sending emails, it can hinder the workflow of your business.
Price
Some software gives you the opportunity to try their versions for free, but you'll most likely have to pay for a package since the most important functions are usually available for a fee. It's important to evaluate if that package meets your needs. It doesn't hurt to take advantage of the free trial to assess if it is the right software for you before you make any payment.
The number of signatures included in the package
These platforms are functional for small and large businesses. For this reason, the number of allowed signers is important. Some software has a limited number of signatures within its various pricing tiers.
Security
This is one of the most important points since you'll most likely be handling sensitive information in your documents. That is why it's vital for your PDF Filling software to validate global security standards and mandatory compliance to guarantee security.
Some software implements two-factor authentication. Others use audit trails that, in addition to encrypting the data, show the activity and movements of users in detail.
Integrations with other platforms
Complementing our business programs allows us to have a more efficient workflow. If you already work with platforms such as CRM, Google Workspace, Microsoft 365, or Zapier, complementing it with PDF document filling software can be an excellent idea.
A seamless integration between platforms is the most desirable. If there are complications, your integrations may cost you more time than they save.
How Does SignNOW Work?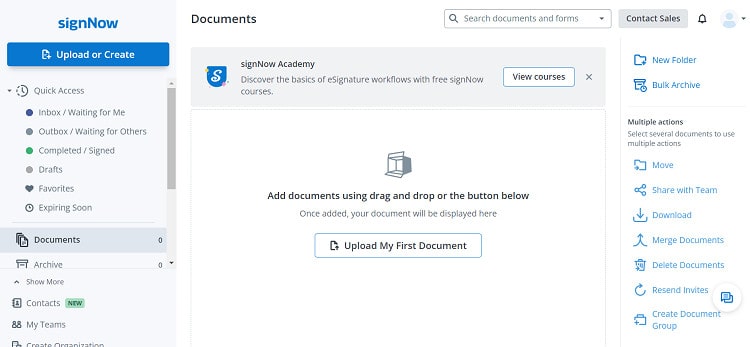 Signing up for SignNow is simple. You just need to provide an email address, plus you may not even have to provide credit card details since the software offers a free trial to explore their platform.
The platform is very intuitive. Using it consists of four simple steps.
Upload:

In this first step you can upload documents, or create them using any of the document templates that the platform offers you.

Add Fields:

If, in addition to the signature, you require some information such as a date, the 'Add Fields' allows you to add the extra information you require in your document.

Send Out:

In this step, you'll enter the email address of the people of those you want to receive the document. You can even choose if you want it to arrive in a specific order or if the document comes at the same time to all contacts.

Track Progress:

SignNow also allows you to track the progress of the digital documents you have sent, as far as whether they have been signed or not.
SignNOW Key Features
Free Trial
It can be difficult to commit to a new piece of software without testing it out first, but there's no need to with SignNOW.
You'll be offered a 7-day trial with SignNOW and will have only to provide an email address to get started. While this isn't as long as what's offered by its competitors, it should be long enough for you to get a good idea of how the software suits you & and get a signed document out the door.
Create electronic and digital signatures
No matter how tech-savvy you consider yourself to be, you'll find yourself creating signable documents with ease using SignNOW.
The software is so easy to understand and use. The fastest way is to upload existing text documents, then using the software to add a slot for your customers and clients to add their electronic signature, providing evidence that a document is authentic, ensuring its integrity.
It took about two minutes to work out how to create this basic document.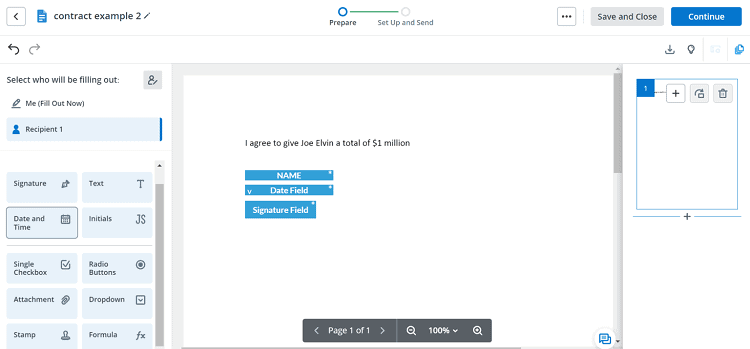 Recipients will be given the option to create a signature with different calligraphy, write it manually using their mouse or upload an image of it. Either way, it's a legally binding signature.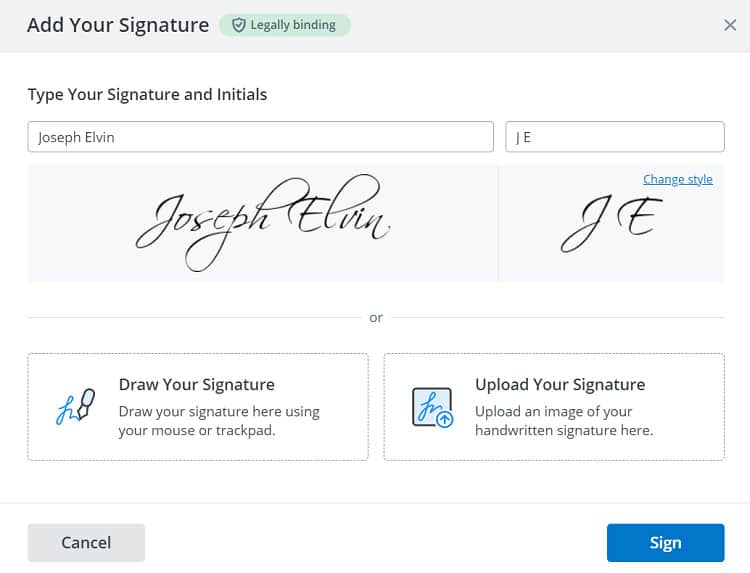 It's possible to add textboxes, tick-boxes, drop-down menus with ease using SignNOW's drag-and-drop system too. Even a tech novice can create professional-looking documents and contracts with speed.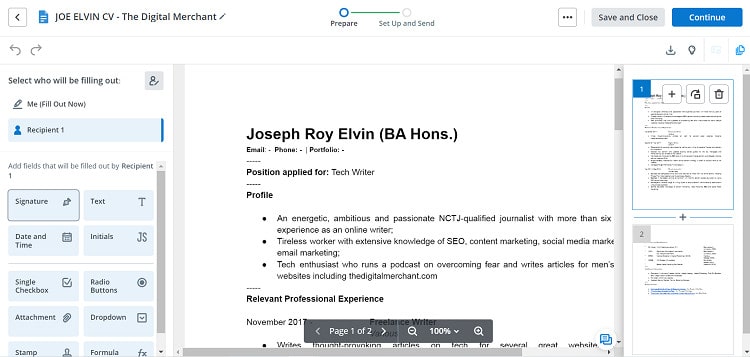 Create Documents and Templates
For extra speed, you can convert any DOCX or PDF file into a fully-modifiable template that can be used again in the future.
Create Surveys or Online Forms
With SignNow, it's possible to configure based surveys to collect data, comments, or evaluations. You can also transfer this data to other platforms such as your CRM.
Request Payments
If you send a quote or invoice, you can connect your merchant account and add a payment button within the same document. You can automate regular invoices, plus your payment data will be available in real time through the Analytics and Audit Trail widgets.
Create Groups
Sending the documents can be as simple as manually inputting the email addresses of each recipient, but there are other options to speed up your workflow
For example, in the "My team" section, you have the option to create groups to share and sign documents. You can create certain templates for that group, as well as view the progress of the associated documents and templates.
You Can Select the Shipping Order
When you start sending your documents, SignNow gives you the option to choose if you want to send them in a specific order.
This is useful since some documents usually go through several people. Sending the document in order of roles (for example) can help to improve workflow. However, you can also choose to have it received by all recipients at the same time.
Integration and Automation Bots
When logging into the dashboard, a pop-up gave me the option to connect SignNOW to a range of frequently-used programs in Google Drive, Google Workspace and Microsoft Office.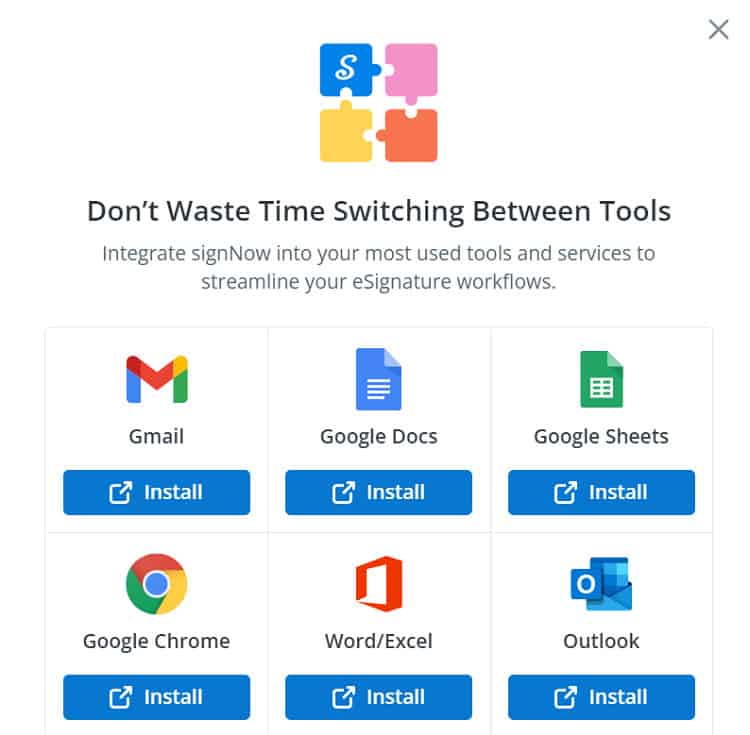 SignNOW can also complement its functions with other software, such as Microsoft SharePoint, NetSuite, Redbooth, and Zapier among others. If you're a bit more tech-savvy, you can create a Bot in SignNow that'll help you work on par with routine tasks until they're completed.
From document generation to document routing, you'll be able to choose among hundreds of Bots that SignNow has in its library for you. If they don't have what you're looking for, you can make a request to Airslate to have it manufactured.
Customer Service
SignNOW has a chatbot to help you answer frequently asked questions, but there is assistance available from its staff too.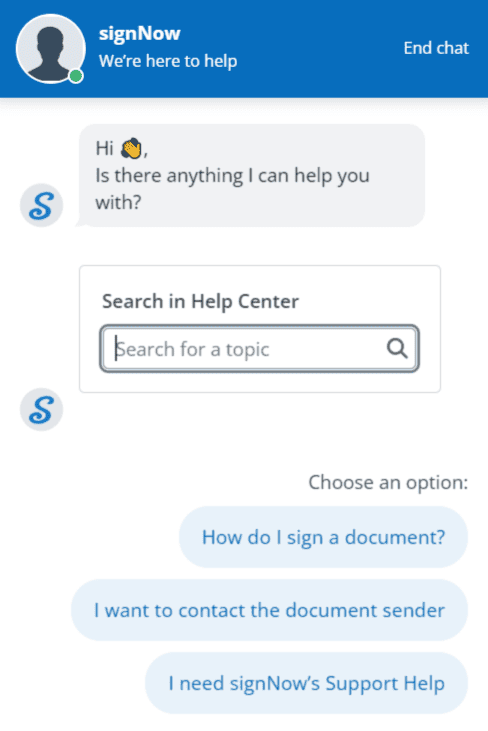 Navigate to its support page and you'll be able to send an email or start a live chat with a member of its support team. It can take a while to access a member of the support team sometimes, but they're generally very helpful once you're connected.
Better UX + Better Pricing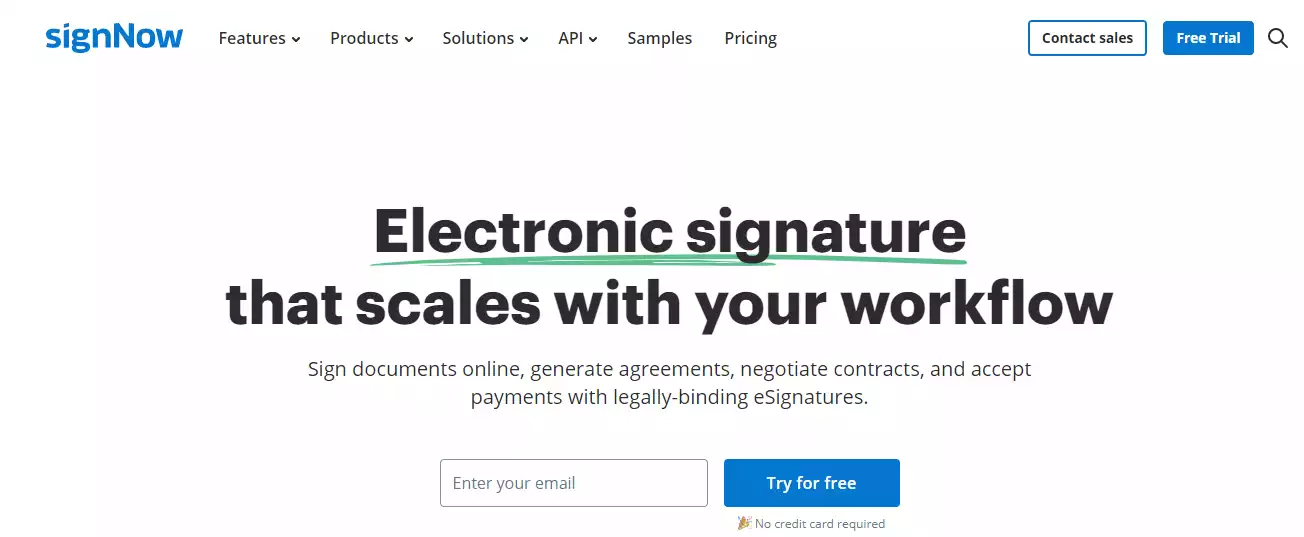 Why Go with SignNow?
If you haven't evaluated your document signing software recently, SignNow is worth a look! Easier to use, intuitive workflows, and better pricing mean it's time to dump that old document signing software for the new upstart.
Try SignNow…NOW!
We earn a commission if you click this link and make a purchase at no additional cost to you.
SignNow Membership Tiers
In addition to the free trial, SignNow offers the following membership tiers.
This package costs $8 per user per month. It has the ideal feature set for small business owners. You will be able to send documents, add fields, access unlimited templates, and access cloud storage.
This is SignNow's most popular pricing tier. It's perfect for medium-sized teams. On this plan, you can make your workflow more efficient with bulk mailings and signature link invites. You'll have the ability to seamlessly add logos to your documents. It'll cost you $15 per month per user.
If your business has multiple work teams and you need efficient workflows, this plan can be an excellent option. This tier includes the ability to request payments to your merchant account within your documents. It also offers advanced authentication security features. It comes at a cost of $30 per month per user.
This last plan is focused on large-scale companies that handle automated electronic signatures. SignNow offers these companies integration with other platforms such as CRM, HIPPA Compliance (Medical Record Protection), SSO (Additional Authentication), and more.
The security features offered include audit logs of session durations of electronic signatures and certificates. The price of this plan is $50 per month per user.
SignNow Pros And Cons
Pros
It's easy to configure and understand.

Minimizes errors in filling out documents.

Streamlines administrative processes between departments.

Several locks and security compliances.

Many other applications can be integrated.

Reasonable price, compared to competitors
Cons
It can take time to access technical support.

The analytics are somewhat clunky. It can take a while to find what you need.
Recommended signNow Alternatives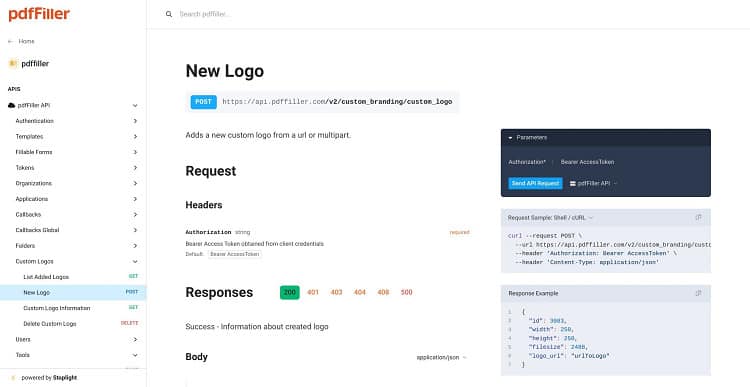 This platform is used by companies from various sectors. It offers document filling, document editing, signing services, and reusable platforms. It converts PDF documents into other formats, plus you can access your clients' documents with a URL.
The prices of the Basic, Plus and Premium plans offered by PDFFiller are competitive with those of SignNow, However, SignNow offers notably more security, features and integrations in its platform.
Easier to Use + Affordable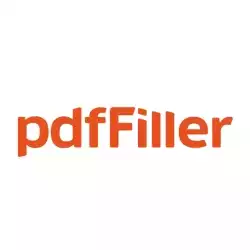 Why Go with PDFfiller?
Dead simple to use, easier than other similar competitors I've tested. Affordable and flexible pricing plans = better for small to mid sized businesses.
Try PDFfiller Now
We earn a commission if you click this link and make a purchase at no additional cost to you.
PDFfiller vs Other PDF Editing Solutions
DocuSign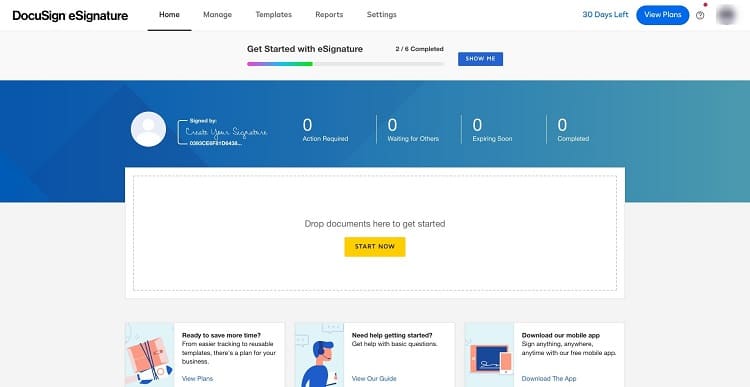 Docusign is a little more expensive than SignNOW. However, it does include more features within its packages.
There are more advanced options in its fields of filling, including many that appear useful to those working in real estate.
Even so, SignNow fulfills the basic functions required for filling out and signing documents at an even better price.
HelloSign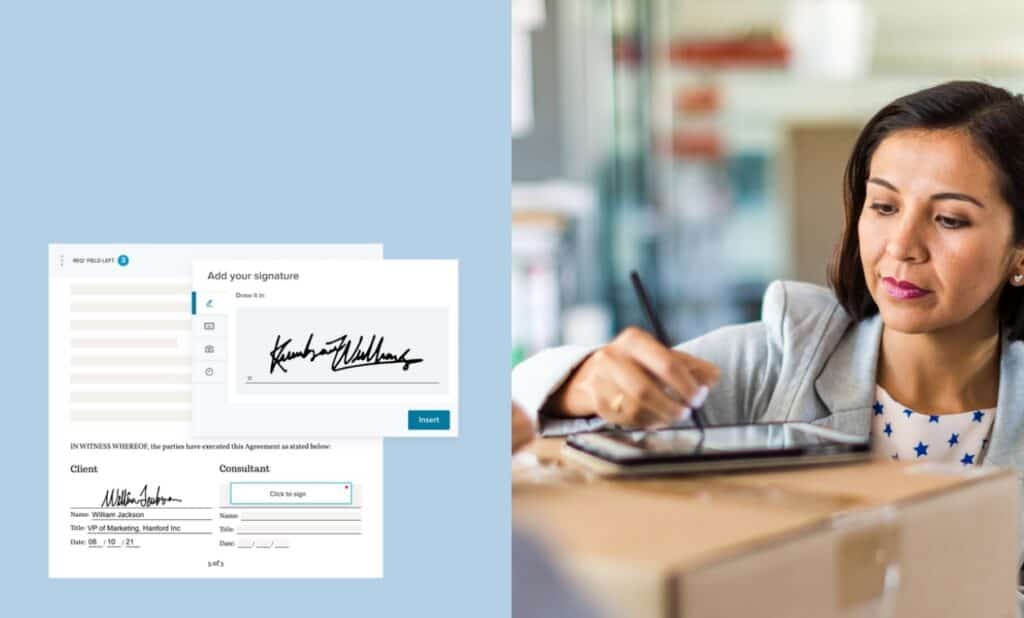 This software is implemented in companies like Samsung, due to its excellent range of services in its plans. This software is widely praised for the depth of its team management tools, templates, custom branding and security at the banking level.
The prices of its plans are slightly above those of SignNow, although it does not offer discounts for annual subscriptions.
HelloSign markets itself to small, medium, and large businesses more than freelancers, although it could be a useful alternative for all users.
Other Electronic Signature Software to Consider
These are some "honorable mentions" that didn't make our cut list, but might be worth a look:
Dropbox Sign: If you heavily use Dropbox for your business workflows, signing up for their signature software might make sense for document management.
Adobe Sign: If you are familiar with Adobe Acrobat products (interface isn't always the easiest), Adobe Sign is worth a look for document workflow.
FAQs
Question: Do my customers need to have a SignNow account?
Answer: Not necessarily. Even if your customers are not subscribed to SignNow, they'll be able to sign a document using any mobile or desktop device.
Question: What languages does SignNow support?
Answer: SignNow supports the 24 most widely used languages, allowing you to send documents to be signed all over the world.
Question: Is SignNow compatible with mobile devices?
Answer: Yes, it's compatible with all mobile devices running Android or iOS.
Conclusion: Is signNow a Good Service?
SignNow is one of the most complete electronic signature platforms with the most competitive plans and prices, compared to its competitors. It is an excellent option for freelancers, and small, medium, and large companies.
I recommend you make use of the 7-day free trial, as this will give you a better idea of how well SignNow can match the needs of your business. You'll also get a clearer idea of what membership tier will prove to be the most suitable for you.
This platform is highly recommended, even though its technical support service (customer support) still has many areas of opportunity, and some of its competitors have useful advanced features.
Even so, SignNow offers the best bang for your buck. It remains an excellent tool to digitize your business, optimize your resources and increase your productivity.
Better UX + Better Pricing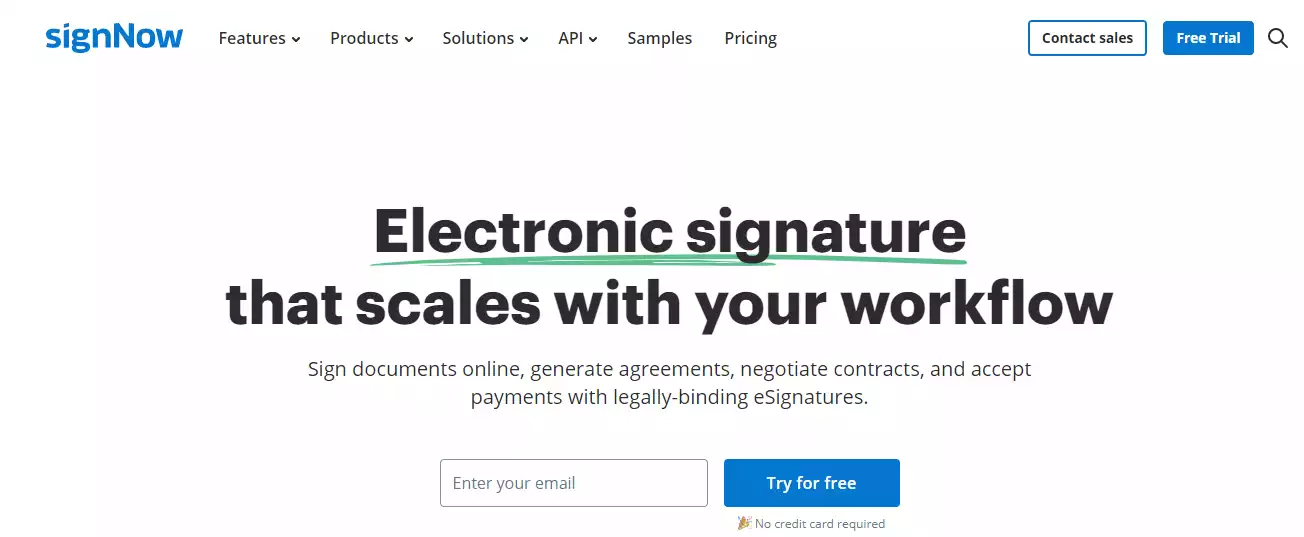 Why Go with SignNow?
If you haven't evaluated your document signing software recently, SignNow is worth a look! Easier to use, intuitive workflows, and better pricing mean it's time to dump that old document signing software for the new upstart.
Try SignNow…NOW!
We earn a commission if you click this link and make a purchase at no additional cost to you.
How Does signNow Compare to the Rest?
I really like signNow, but how does it stack up to the rest of the digital signature field? Here are some additional electronic signature articles our editorial team completed: