Last Updated on April 22, 2023 by DMEditor
When it comes to digital marketing, you want the best platform that will accommodate all of your current and future marketing needs. Omnisend vs GetResponse promise to do all this, but just how well do they deliver on this promise?
Read on for my experiences on both platforms so you can make an informed decision.
Bottom Line Up Front
When to go with GetResponse? While both these platforms are incredibly useful, GetResponse is my preferred option for most digital marketing purpose. The platform has a lot more marketing options, making it suitable for most business types. Plus, the 24/7 customer support available to each user will win anyone over.
When to go with Omnisend? Even so, Omnisend is the best option for ecommerce stores, with easy to implement transactional email templates. The previews in its campaign editors are incredibly helpful, and the platform is very responsive. If your business is smaller or mainly focused on ecommerce Email and SMS marketing, then this is the platform for you.
Main Differences Between Omnisend vs GetResponse
The main differences between Omnisend vs GetResponse are:
Omnisend mainly offers email and SMS marketing, whereas GetResponse includes web building and landing page creation.
Omnisend has SMS included in its packages, whereas GetResponse includes the feature separately.
Omnisend has a more user-friendly and responsive interface, whereas GetResponse has a longer load time and unattractive editing interfaces.
Omnisend's support are limited based on which plan you're on, whereas GetResponse's customer support options are more attractive.
What Is Omnisend?
Omnisend is an automation platform for marketing communication. The 'Omni' name refers to the platform's ability to broadcast your marketing messages through multiple channels, including email, SMS, and push notifications. Currently, there is a new Email A/B Split being BETA tested.
What Is GetResponse?
GetResponse is an e-commerce platform that has the sole goal of automating your digital marketing efforts. While the platform started as an email marketing tool, it has expanded its scope so that you can now get a website builder, landing pages, push notifications, live chat, webinars, and conversion funnels on the platform.
Omnisend Main Features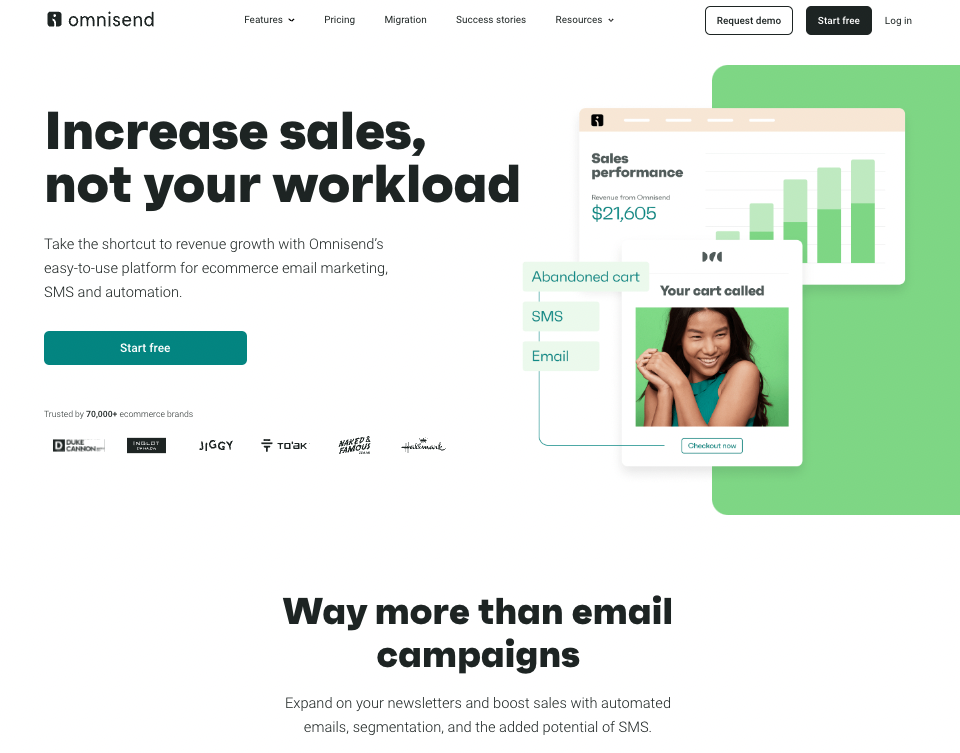 Ease of Use
Registering for Omnisend is a straightforward process. On the registration page, you have the option of signing your account using your Shopify store or using email. You should choose the latter if your store is not with Shopify. You can sign up using your personal or business email.
However, I recommend that you use a business email with a custom domain (e.g., [email protected]) because this makes it easier to set up email campaigns in later stages.
Once you've registered, the platform will ask for address details. You can use the platform from anywhere in the world, so make sure to fill in your actual business address. When this step is done, you are automatically put on Omnisend's free plan, where you can use all the features on the platform.
Marketing Automation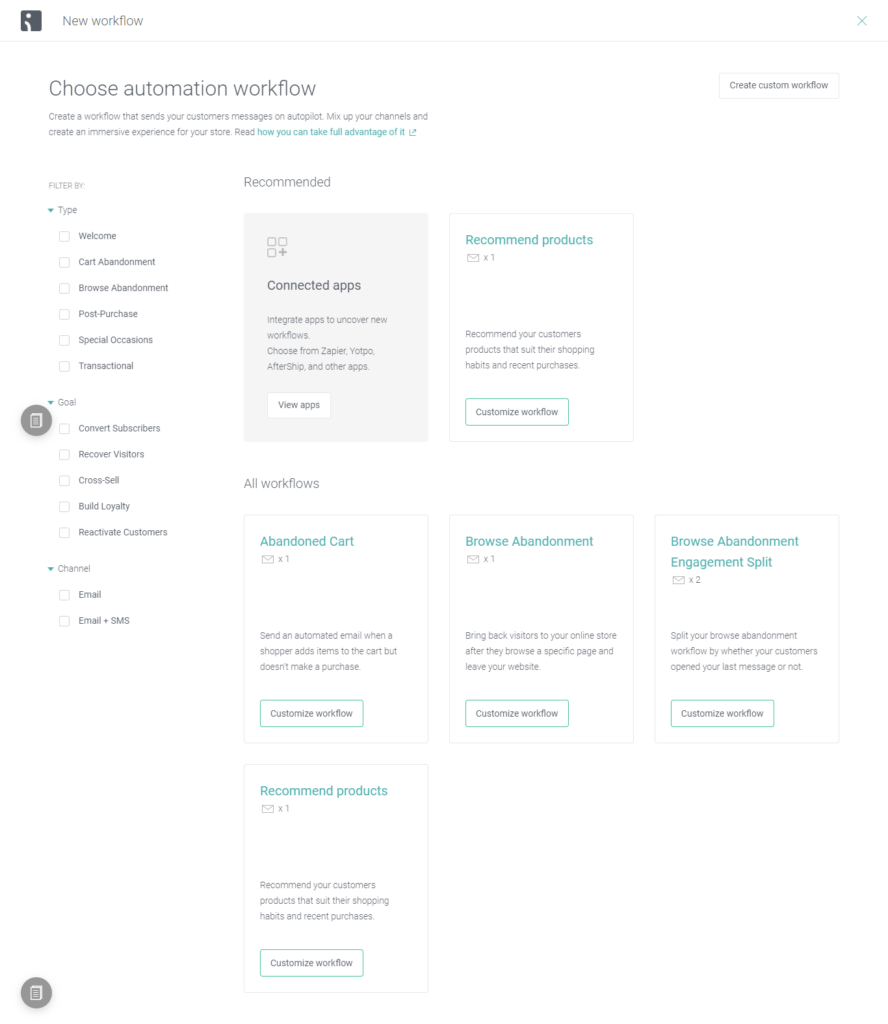 Omnisend gives you several pre-loaded workflows on the platform. These include a Welcome Series for new visitors and subscribers, Product Abandonment and Cart Abandonment workflows for shoppers who left your site without making a purchase and a Cross-Sell workflow that gives your customers recommendations on what to buy next based on past orders.
If you aren't sure which workflow will work best for you, you can set a goal so Omnisend can give you recommendations, e.g., you can set a Convert Subscribers goal, whereby Omnisend might recommend the Browse Abandonment workflow.
You can also make your custom workflow based on your business goals. This can be quite fun if you have all the necessary information at your disposal, but expect to do a bit of thinking while you're at it.
Email Marketing
Creating your first email campaign on Omnisend is quite easy. Right on the platform's Dashboard is a Campaigns tab. On the Campaign Settings page, you will get a form asking for details about your email campaign.
To the right of the form is a preview pane so you can see how your email will appear in a subscriber's inbox. This is very useful since you can customize your email so that it is not automatically rejected as Spam or ignored by your lead.
I loved the Boost my campaign option. Many subscribers completely ignore any marketing email, so when you pick the Boost option, another email is sent to their inbox within 48 hours. This boosts opening chances by 30%.
The next step to setting up your email campaign is choosing a professional template suitable for displaying on multiple devices.

Omnisend gives you tons of options and a lot of leeway for customizing a template. If you're not one for images, a Plain text template is available.
Once you're comfortable with the appearance and message of your email, simply select who you want to share it with and hit 'Send.'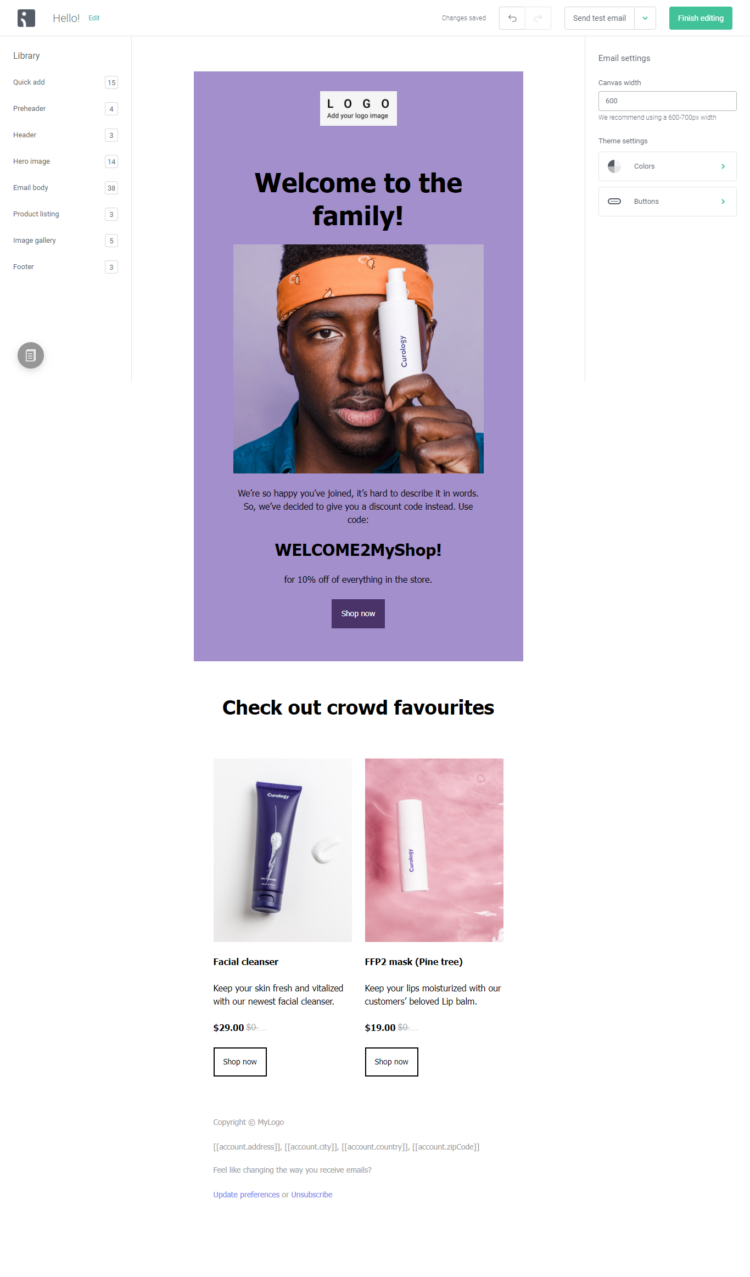 Creating an email campaign on Omnisend is quite easy and should take you only a few minutes. And with the customization options available, it will be very difficult to send an email that does not reflect the soul of your business.
SMS Campaigns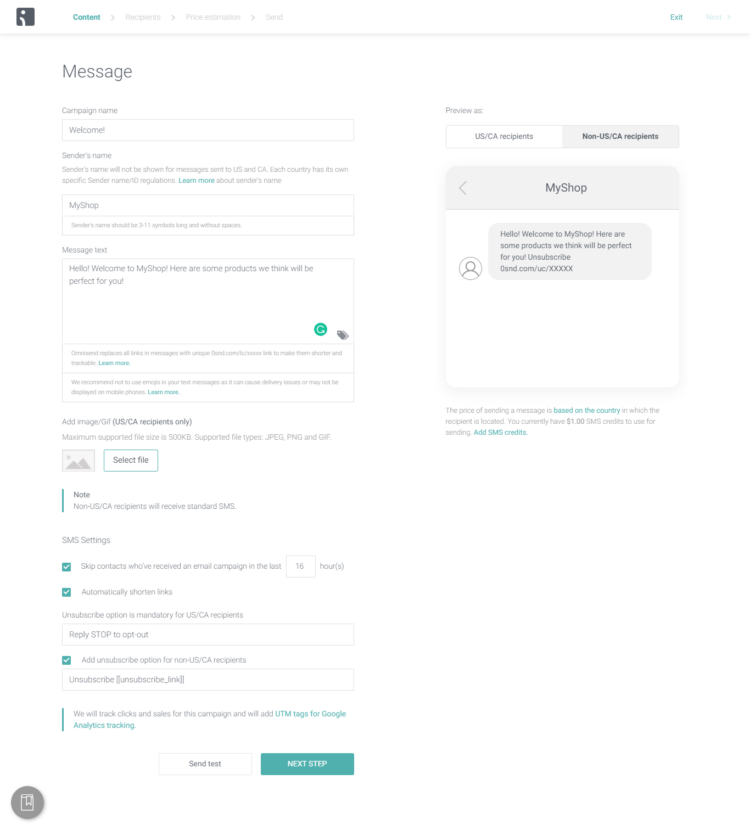 To start an SMS campaign on Omnisend, you first need to build your contact list on the SMS channel. To do this, your subscribers need to grant permission to receive marketing SMSes. They can do this by registering on one of Omnisend's forms or the 3rd party registration forms on your store's website.
You will also need TCPA consents for US customers. You should always give clients the option to opt out of a text campaign. If anyone opts out, the platform will update your contact list.
Omnisend's SMS editor is easy to use, and you can customize your message based on the goal you have for your shop. A preview panel shows how your texts will appear to the customer to the right. You can include images or GIFs in your texts.
I like the SMS feature of Omnisend because it feels like they thought of everything. For example, in addition to scheduling the time at which your SMSes go live, you can also set the frequency at which your SMSes are sent.
You can choose not to send an SMS to a subscriber who received a marketing email, making your store feel less pushy and annoying. Omnisend also tracks the number of people who click the integrated links to your site. This makes it easy to monitor the success of the campaign.
Push Notification Campaigns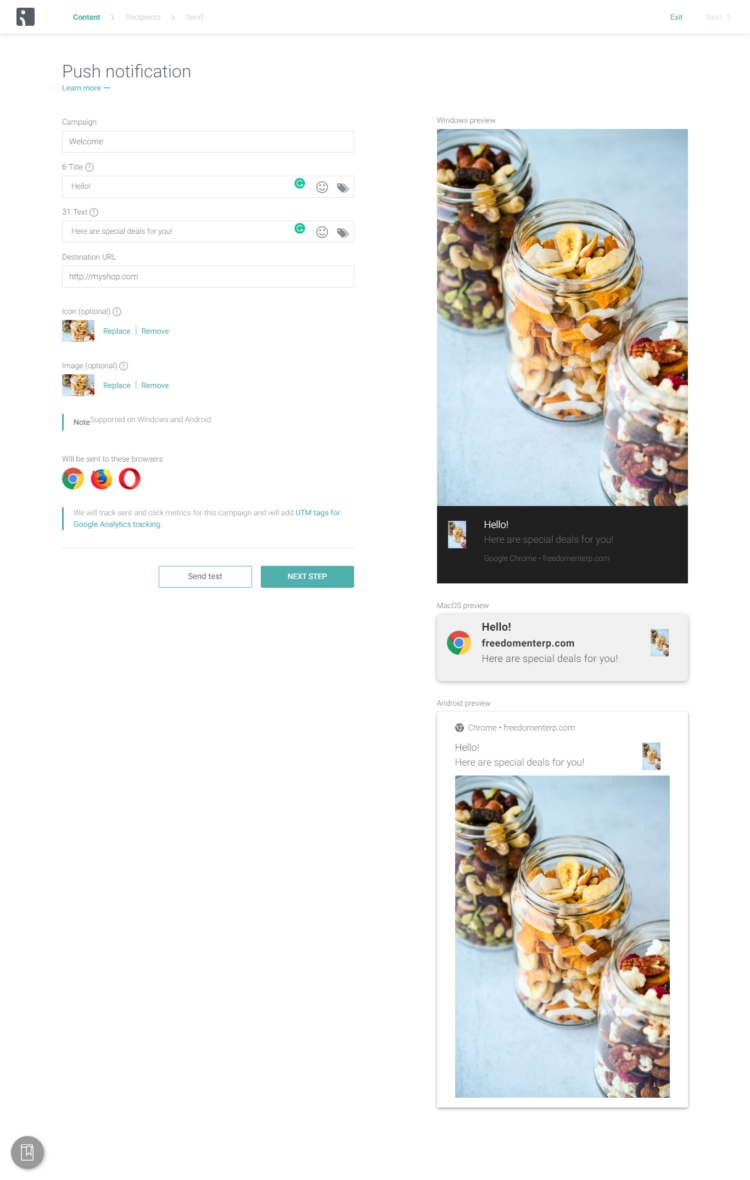 To start a Push Notifications campaign on Omnisend, you will first need to connect the Push Notifications app, which you will be redirected to on the Campaigns page.
When the app is connected, Omnisend will direct you to an editor. Here, you can put the name of your campaign, the title, and text of your promotional message, and the URL it will redirect to when the subscriber clicks on it.
Add an image to improve the chances of success. Once you're done, choose who you want the notifications to be sent to, and it will go live. Creating a Push Notifications campaign on Omnisend is easy and shouldn't take you more than 10 minutes from setup to send. Omnisend will track the progress of the campaign and provide you with a detailed report of its success.
Pop-Ups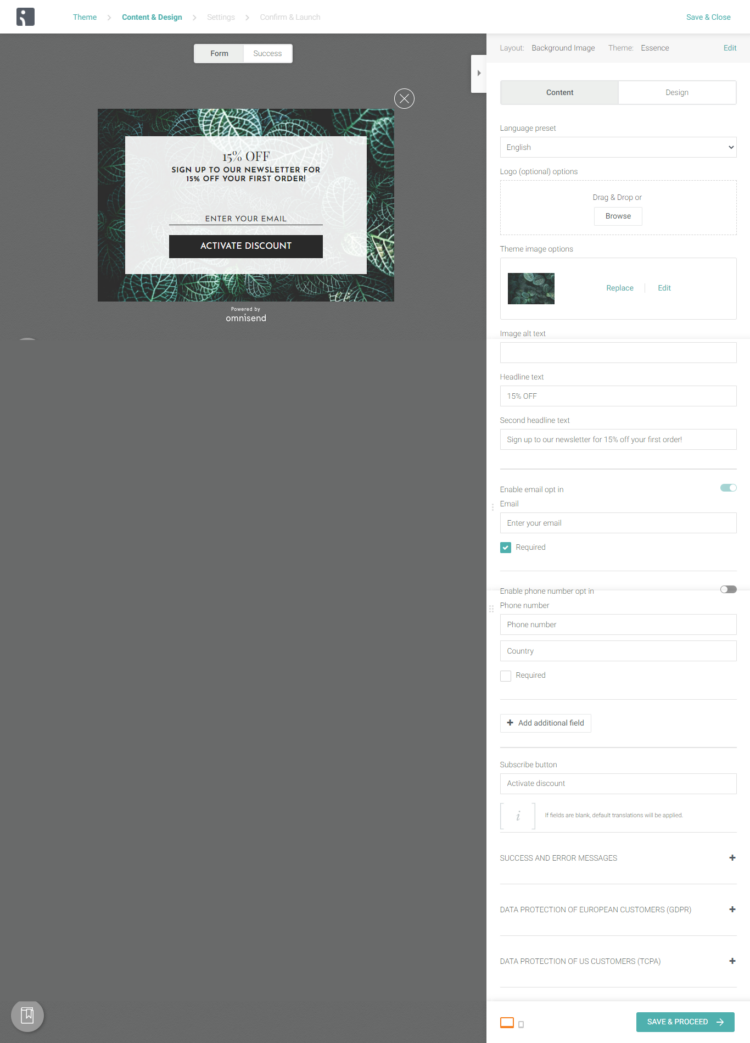 To create a web pop-up, click on the Forms tab at the top of your Omnisend Dashboard. This will lead you to a Form Editor where you can pick a template for your pop-up based on its intent, e.g., if a customer wants to make an order, a Discount Offer pop-up will ask them to leave their email address to get a discount.
You can use the simple editor or choose to fully customize your pop-up form. I prefer the latter because it allows you to add your shop's personal touch to the pop-up.
Contacts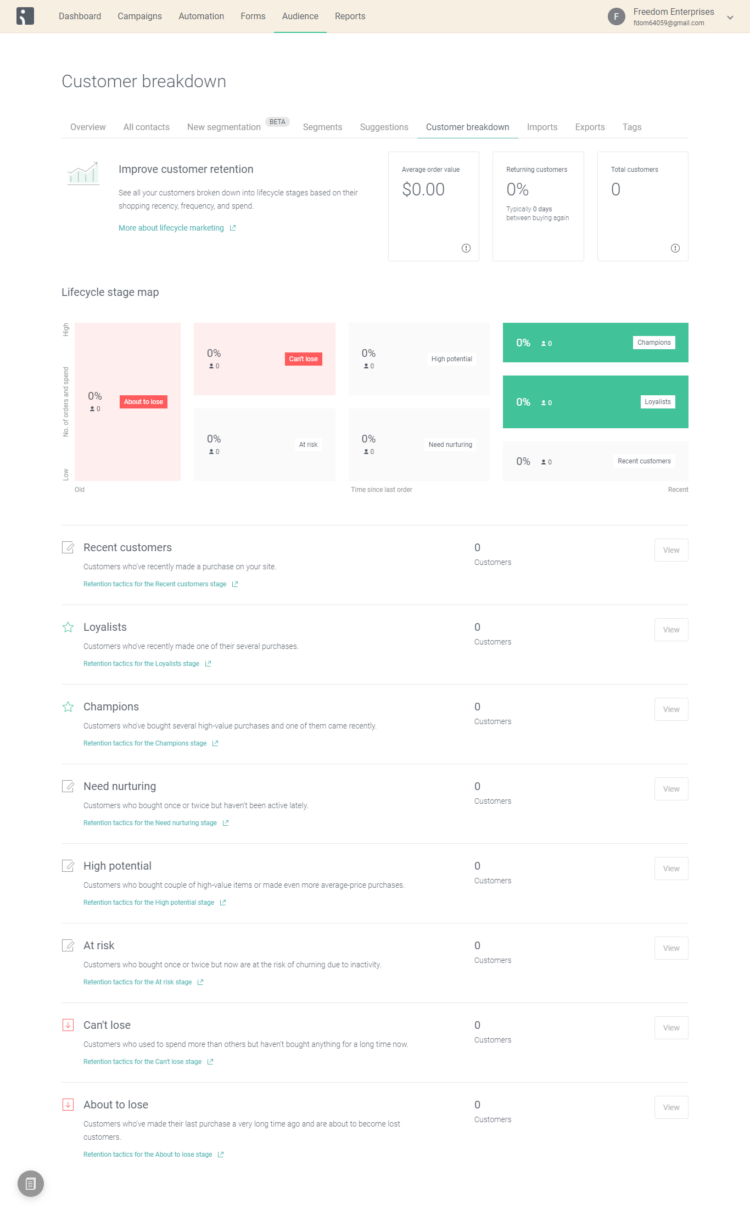 Adding contacts should be your first step on the Omnisend platform because it will help you make good decisions regarding your marketing strategy. The Audience tab on the Dashboard lets you create a list of email and SMS contacts.
You can add your contacts manually one-by-one or import an Excel or CSV file with a list of your store's subscribers. Using an import tool like Mailchimp is a much faster and easier method. Once your contacts are added, you can create segments, which makes it easier to send targeted promotional messages.
To create a segment, you can filter your list of contacts on 5 bases: marketing channel, shopping behavior, Email campaign activity, SMS campaign activity, and by properties like name, gender, and location. I loved the Customer Breakdown feature that shows you contacts' behavior, e.g., which contacts you should pay more attention to and which ones you can let lie for a while.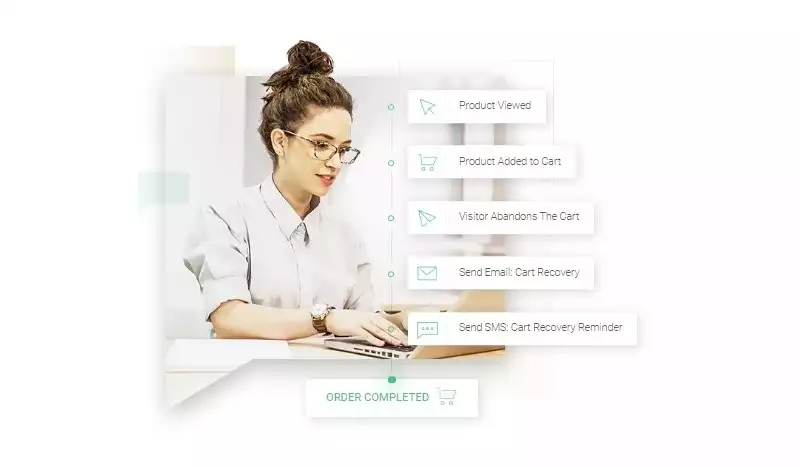 Why Go with Omnisend?
Take the shortcut to revenue growth with Omnisend's easy-to-use platform for ecommerce email marketing, SMS and automation.
Save 10% Off (Audience Exclusive)
We earn a commission if you click this link and make a purchase at no additional cost to you.
GetResponse – Main Features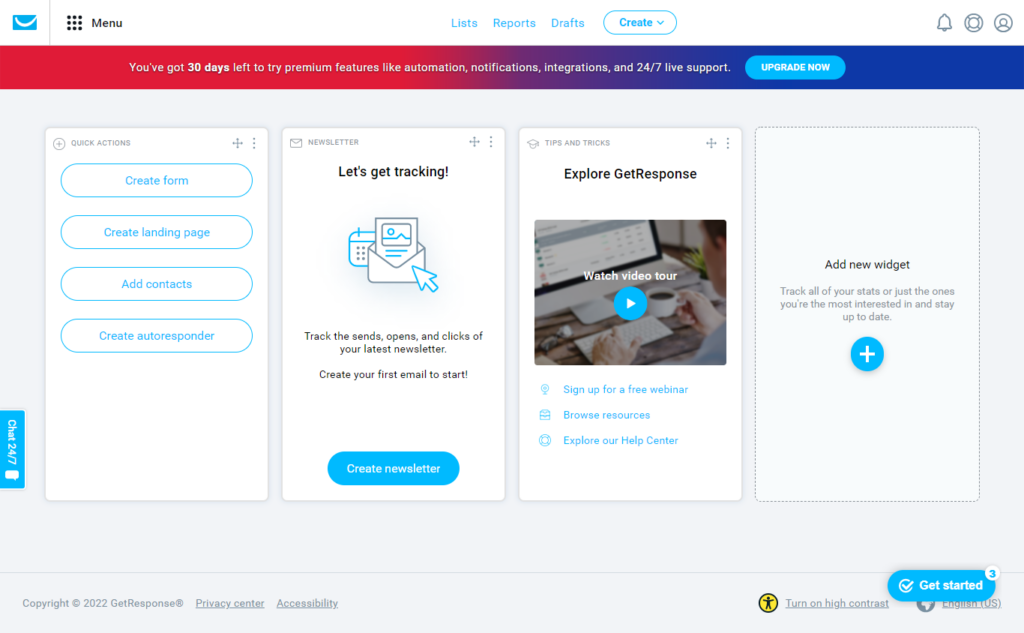 Ease of Use
Registering on the GetResponse platform is easy and straightforward. All you need is your name, email address, and password. After verifying your email, you will need to put in your address and phone number.
GetResponse then gives you a step-by-step guide for setting up your account. If you follow the prompts, you will have access to your dashboard within seconds. The dashboard has a lot of shortcuts that keep the most important tabs within close reach.
Email Marketing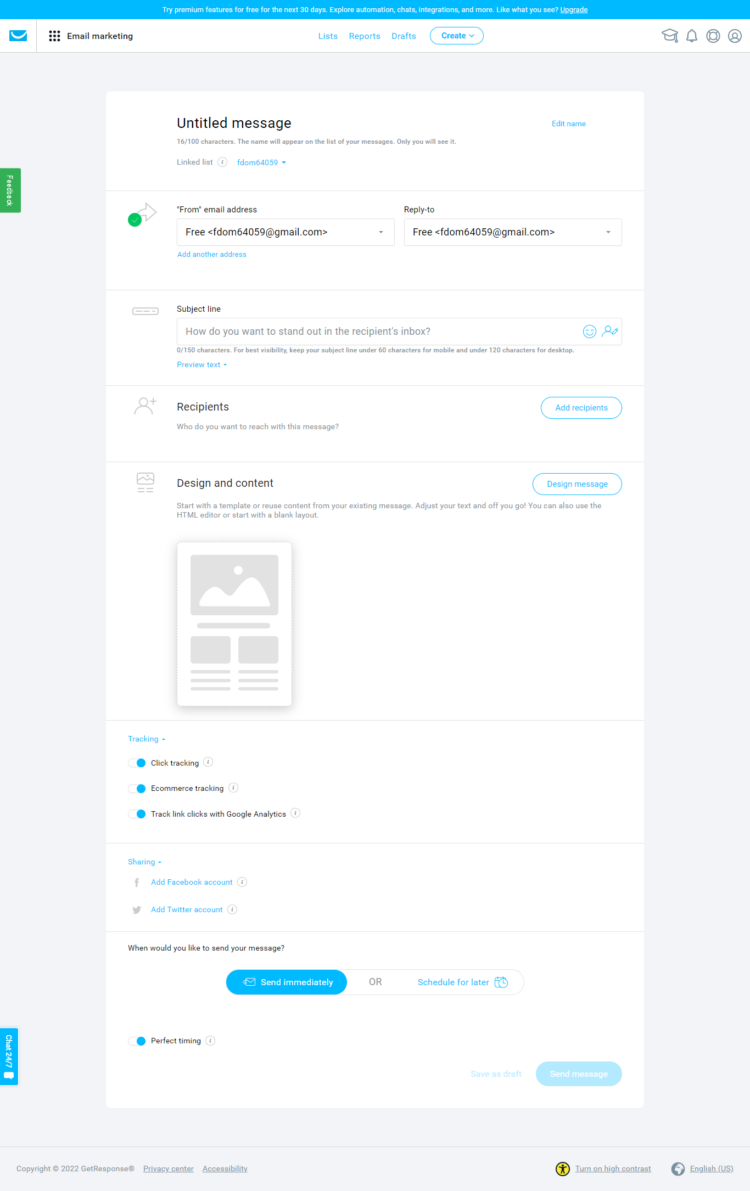 The email dashboard gives you multiple options that you can work on. Newsletters are your average marketing emails.
A/B tests let you send different versions of the same email to your contacts so you can see which one they respond better to. The RSS-to-email option makes it so much easier for you to convert content from your blog or site into a newsletter.
To create your first newsletter, GetResponse leads you to an editor that's straightforward and quite fun to use.
The Design and content section lets you pick from tons of templates based on the purpose of your newsletter. You can also create your template from scratch, adding images that reflect the nature of your business. You can create a database of your favorite newsletter templates so that it's faster to send out emails.
You can send a newsletter immediately or set a later time for it to be sent. You also get 3 types of tracking for emails: click tracking, e-commerce tracking, and Google Analytics tracking. In addition to sending the email directly to your contacts, GetResponse gives you the option of displaying the newsletter to Facebook and Twitter if you have connected your accounts to the platform.
Marketing Automation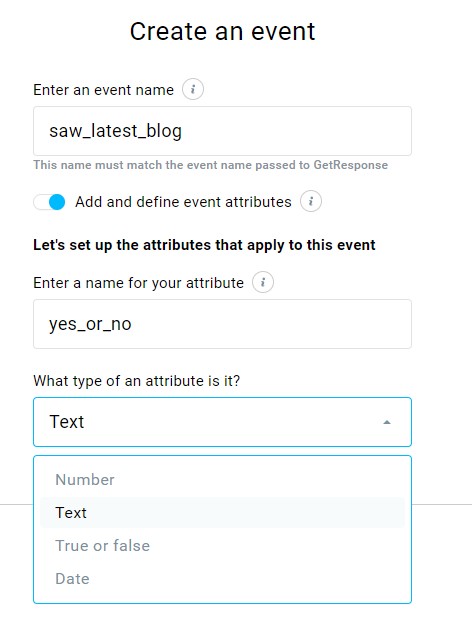 GetResponse gives you 3 automation options:
Workflows,
Automation messages, and
Events.
Workflows is an automation feature that lets you create a list of actions for your contacts depending on how they behave, e.g., send an email with future product recommendations to a contact after they complete a purchase. You can create your workflow or use one of the many purpose-based templates on the platform.
Automated messages let you send your subscribers or site visitors brief messages and offers. The layout of the automated messages editor is similar to the one for newsletters so you will have your messages up and running in no time.
Events is an automation feature that lets you track how subscribers interact with your site. Creating an event is a straightforward process, and you can pick attributes that give you the details you need, e.g. did a subscriber click the link to your newest blog or not, and if they did, when they did it.
Push Notifications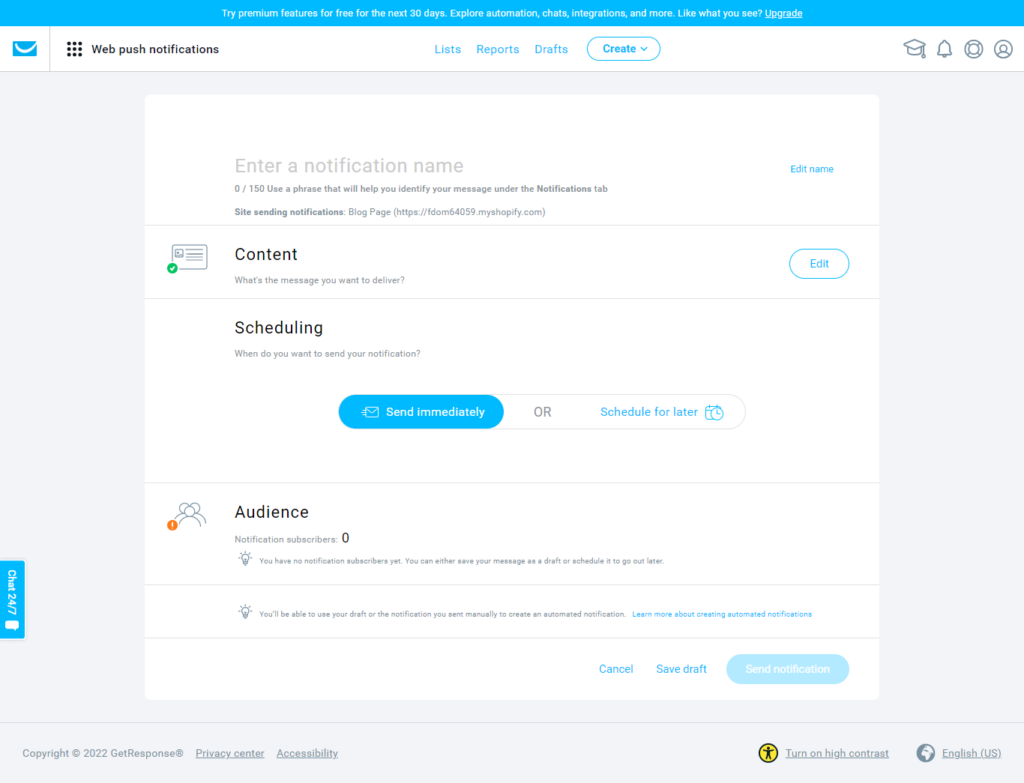 Web push notifications allow you to provide your site visitors with suggestions and offers. Push notifications will appear on both desktop and mobile for anyone who opts in.
To use this feature, you need to first add a site on GetResponse. This is an easy process, and you will get prompts all through, so you are ready to create your notifications. You will then get access to the notifications editor so you can create and save the push notifications you want on your site.
Live Chat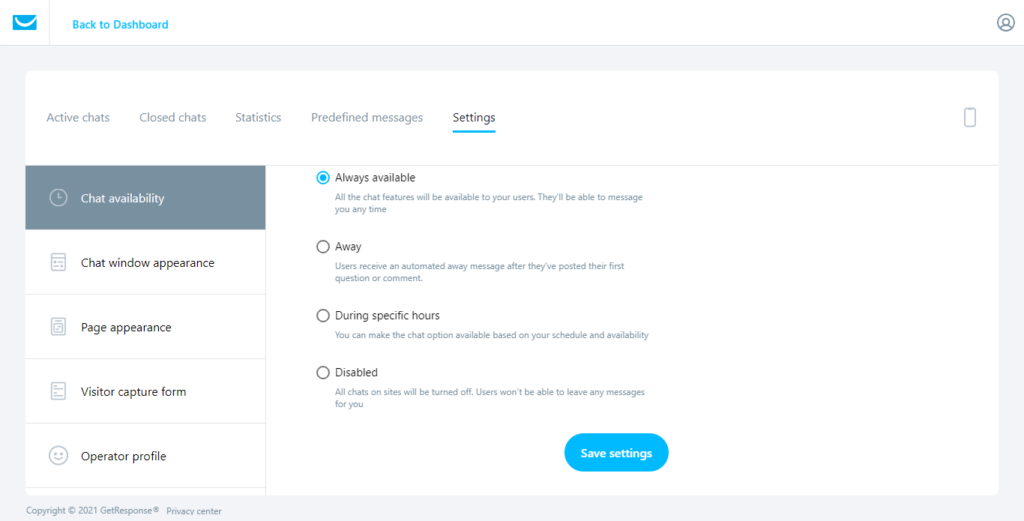 This is a new feature on the GetResponse platform that allows you to live text someone browsing your site.
You can add a chatbot to a landing page, email, and even external sites and use it to welcome new visitors, help them find products, or troubleshoot any problems they have.
It is also useful for tracking your contacts and making follow-ups using emails after they click off the site.
The Live Chat dashboard offers you multiple chat management options. To set up your chat, click the settings tab. Here, you'll find all the prompts necessary to ensure your chats do exactly what you need them to do.
I loved that I could practice chatting to a customer via the visitor simulation. Turning on notifications ensures that you never miss the chance to interact with a site visitor.
Webinars
Interactive webinars are useful tools that add that personal touch to your store. Creating a live webinar on GetResponse is simple. The editor lets you fill in information like the name of the webinar, how long it is, and its agenda. You can then select the contacts you want to have access to it.
You can also record multiple webinars in one session as long as the time you paid for has not eclipsed.
Web Builder
This GetResponse growth tool makes it incredibly easy to create a site for your business. You get the option of using AI to build your site, or if you like a bit more work, using a template to get it up and running. The option of importing a website is still under construction.
Landing Pages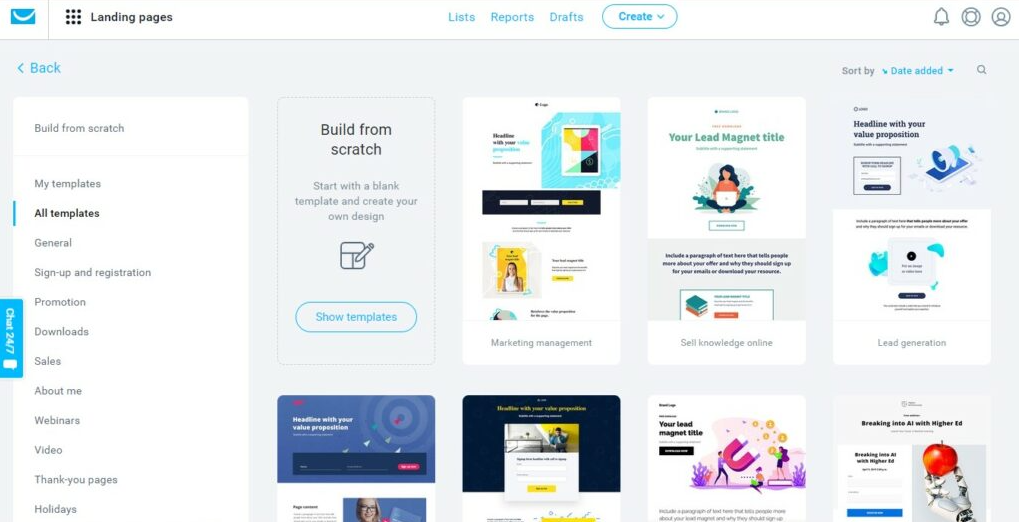 This feature lets you create a landing page even if you don't know how to code. You can create a landing page for anything you use for marketing, whether it's videos, webinars, promotions, or sales.
Contacts
To create your contact list on GetResponse, you can add email addresses one by one or paste them from a file. You can also upload an Excel or CSV file, connect to an import service like Magento, or migrate your email list from platforms like MailChimp.
Once your list is created, you can create segments and tags to group your contacts. You can also see statistics like inactive contacts that you can unlist or even block.
Omnisend vs GetResponse Analytics
How do these platforms compare when it comes to tracking the progress of your marketing efforts?
Omnisend Analytics
All of Omnisend's campaigns and automations are tracked using UTM tags. These help you see details like how subscribers interact with your marketing links.
The platform also provides analytics on customers, e.g., Customer breakdown, lifetime value, and lifecycle stages. Sales and audience growth tracking give you detailed analytics of how your shop is faring. If you are on the Pro Plan, you get Advanced Reporting, which provides more details on criteria like clicks and unsubscribes.
GetResponse Analytics
The Reports tab on GetResponse opens up the Reports Dashboards where you can access analytics based on function, e.g. Newsletters, Autoresponders, Contacts, and Goals. In addition, all the reports are downloadable, so you can access them even offline.
Omnisend vs GetResponse Integrations
How do these platforms compare when it comes to integrating with other platforms essential to your business?
You can integrate almost any store onto the Shopify platform. Direct integrations are easy with Shopify, BigCommerce, WooCommerce, and Magento 2.
This useful guide will help you properly integrate a custom shop platform with Omnisend. Integrations for shipping, customer support, email, and promotions are also available. See the full list of possible integrations to determine if the platform will fully fit your needs.
GetResponse Integrations
You can integrate a variety of shopping and payment platforms onto the GetResponse platform. These include Amazon, Shopify, PayPal, and Qiwi.
Multiple plugins are available, including Magento 1 and 2. It is also possible to integrate custom apps and APIs onto the platform. See the full range of possible integrations here.
Omnisend vs GetResponse Customer Support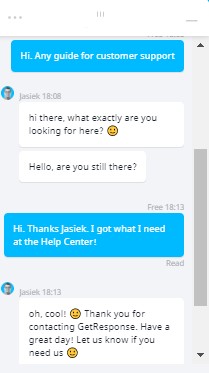 Omnisend
Customer support with Omnisend depends on the plan you are using. If you are on the Free Plan, you can access customer support only by email. The Standard Plan gives you both live and chat customer support that you can access 24/7. You will also be assigned a Customer Success Manager if you have 60,000 or more contacts.
If you are using the Pro Plan, then you have priority access to Customer Support. You're assigned a Customer Success Manager if you have over 27,000 contacts on the platform.
GetResponse
Customer Support for GetResponse is quite exceptional. Customer care agents are available 24/7. I used their Live Chat feature, and an agent got back to me within seconds.
There are also a ton of articles available in the Help Center that will guide you through each setup process and give you tips for marketing success.
Omnisend vs GetResponse Cost Comparison
Omnisend provides you with 3 user plans, 2 of which you have to pay for each month. For each plan, SMS credits can be purchased separately, so you get more than the maximum allotted.
The paid plans let you reach up to 500 contacts a month at the basic price, but you can adjust the number of allowed contacts at a small price addition. There are also custom prices for much larger numbers of contacts.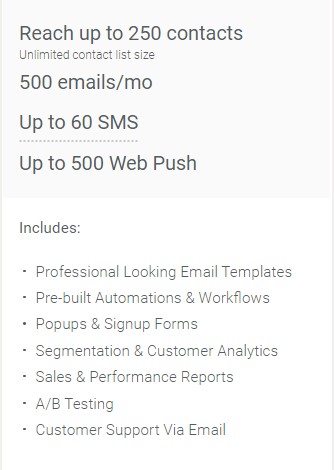 This is a good plan if you're just starting your marketing efforts.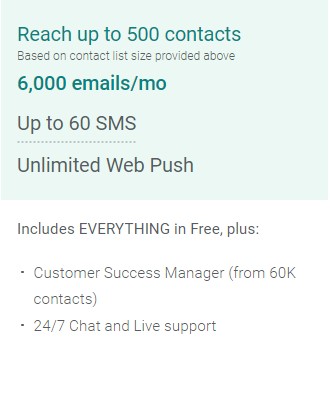 The basic tier of this plan costs $16/month. It is geared towards email marketing, and you should upgrade to it when your business starts to pick up.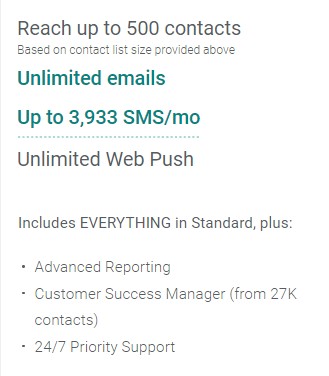 The price for this plan starts at $59/month. It is a great option for larger stores that have a robust marketing strategy.
Unlike Omnisend, GetResponse only gives you a 30-day free trial plan whereby you'll get access to many privileges from the Premium plan.
However, during this period, you will not be able to host webinars or add more than 500 contacts. Once you upgrade to a different plan, you will never be able to access the free plan again.
In all the plans, the amount you pay each month depends on the duration you sign up for and the number of contacts you have. The minimum number of contacts is 1,000, and the maximum is 100,000.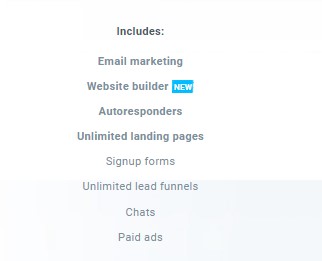 This plan costs: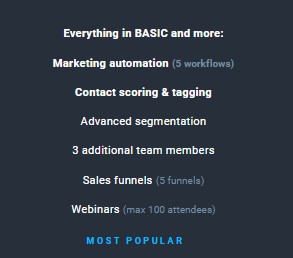 The Plus plan costs: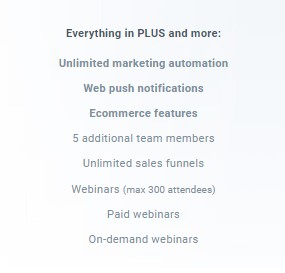 This plan costs:
Omnisend vs GetResponse Alternatives
AWeber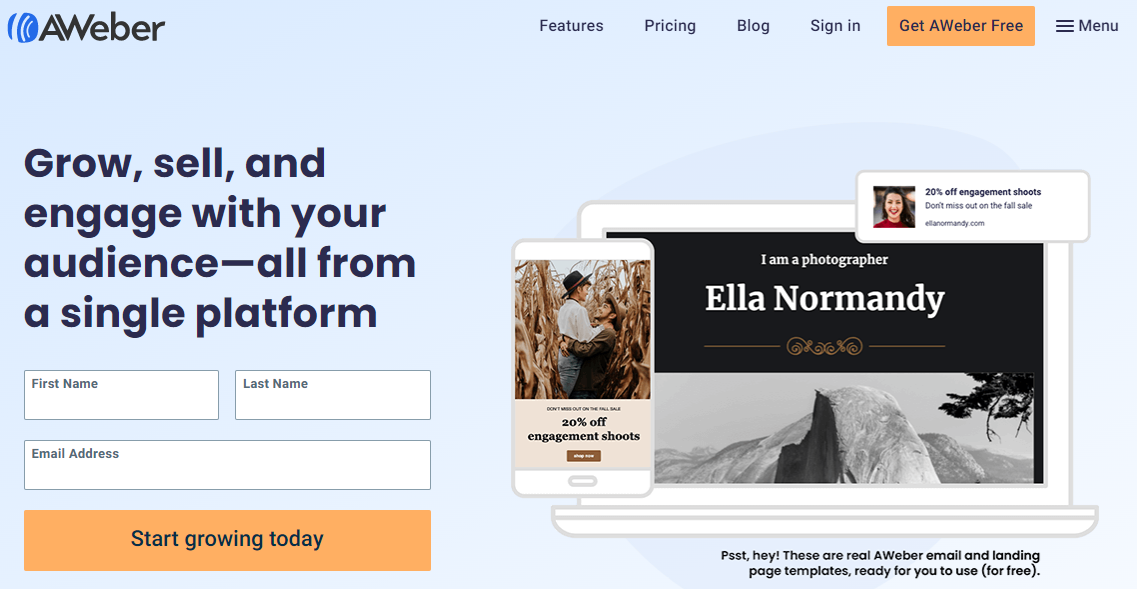 AWeber is a marketing platform designed specifically to help small businesses automate their marketing. AWeber's capabilities are similar to GetResponse's and are available at a much lower price, fit for small businesses.
Aweber Compared to Other Solutions
MailChimp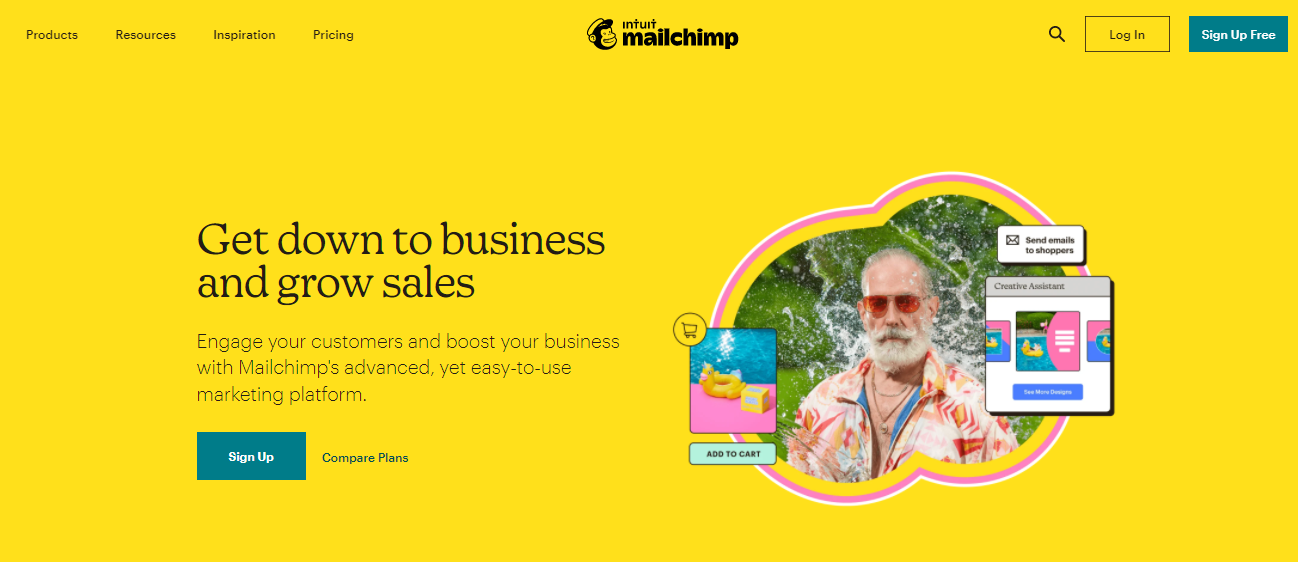 This platform helps to get your business online by letting you create a website and an online store to start your digital marketing efforts. MailChimp is suitable for businesses of all sizes, and its mobile app makes it incredibly handy compared to other platforms.
Mailchimp Compared to Other Solutions
ZipWhip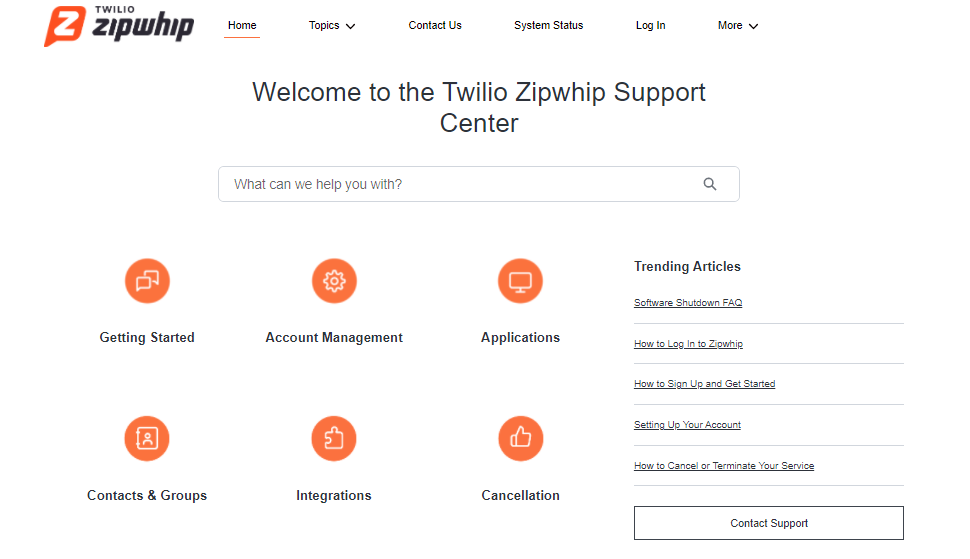 This is a texting platform that gives Omnisend a run for its money. It lets you reach customers via custom-design SMS and MMS. If these are the platforms your customer base is most active in, then ZipWhip is a platform worth considering.
FAQs
Question: How many people can use the same Omnisend or GetResponse account?
Answer: Omnisend allows you to add an unlimited number of accounts for all the 3 plans. However, each account will have different access to the platform based on their role.
GetResponse only allows multiple users on the paid plans. You get 3 users on the Plus Plan and 5 users on the Professional Plan. You can pay $5 per user to Increase the number of people with access to the account.
Question: What are the cancellation options for Omnisend and GetResponse?
Answer: You can cancel your subscription for both platforms at any time. Canceling or Freezing your Omnisend account will downgrade you to the Free Plan for a while before your account is automatically deleted.
For GetResponse, you will have access to your account till the billing period ends. This means that you will not be issued a refund even if you cancel your 2-year subscription in the first month.
Question: Does Omnisend or GetResponse have a mobile app?
Answer: Both platforms have a mobile app that can be used both on iOs and Android. Omnisend's app is the go-to platform for Shopify shop owners. You will be able to access many of the platforms' functionalities on the apps so you can manage your digital marketing on the go.
My Final Thoughts…
I liked using Omnisend. The interface is attractive, and the page response is faster. Plus, creating your custom templates is a much more fun experience.
However, Omnisend's capabilities are much more limited compared to GetResponse. And whatever GetResponse loses by having slow load speeds, it more than makes up for by its very responsive and helpful Customer Support team.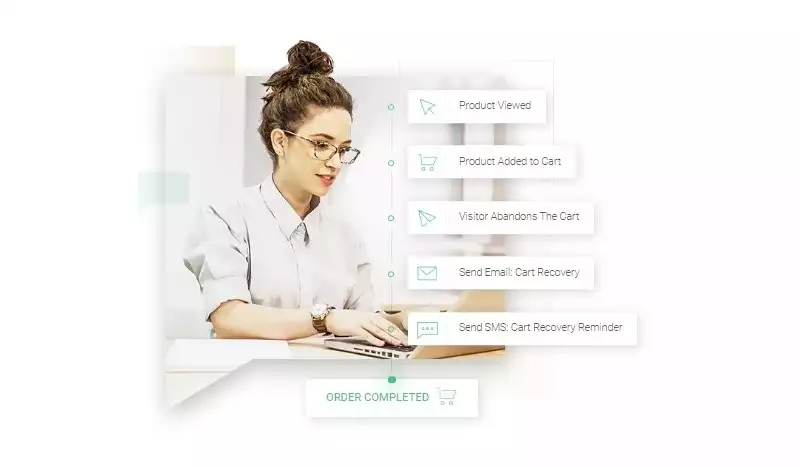 Why Go with Omnisend?
Take the shortcut to revenue growth with Omnisend's easy-to-use platform for ecommerce email marketing, SMS and automation.
Save 10% Off (Audience Exclusive)
We earn a commission if you click this link and make a purchase at no additional cost to you.
Omnisend and GetResponse Compared to the Rest
Not quite sure which email marketing option is best? Our editorial team has evaluated a variety of Omnisend and GetResponse competitors head-to-head.
Omnisend Alternative Options Compared
GetResponse Alternative Options Compared