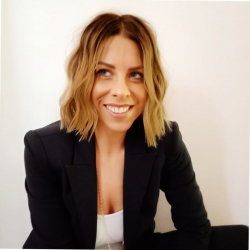 Latest posts by Maddy Chiffey
(see all)
Last Updated on April 15, 2022 by DMEditor
In the battle of Omnisend vs ActiveCampaign, which one is the winner? You might be wondering which of the two platforms is better in terms of marketing automation and email creation. I've tested both platforms, so you can see how they compare to each other.
My Bottom Line Up Front
I can't easily choose one winner for everyone today because they both have a lot of potential. However, in terms of the number of features and the ability to control the customer's journey, I'd have to recommend ActiveCampaign. ActiveCampaign isn't perfect, but the tools it has to offer, if used wisely, could make a massive difference to your business.
However, I'd still recommend Omnisend. It's easier to use, and it's ideal for smaller businesses.
Main Differences Between Omnisend vs ActiveCampaign
The main differences between Omnisend vs ActiveCampaign:
Omnisend has fewer features as a whole, whereas ActiveCampaign has more to offer
Omnisend is a bit more simple and easy to navigate, whereas ActiveCampaign can feel cluttered
Omnisend is a little easier to learn, whereas ActiveCampaign takes a bit more effort to learn
Omnisend has slightly nicer email templates, whereas ActiveCampaign's templates are a bit plainer
Omnisend's automation tool is quite simple, whereas ActiveCampaign's Customer Experiences are much more extensive
Omnisend doesn't offer chatbot support for customers, whereas ActiveCampaign does offer multi-channel support
Omnisend has a free plan, whereas ActiveCampaign's pricing plans are generally more expensive
What is Omnisend?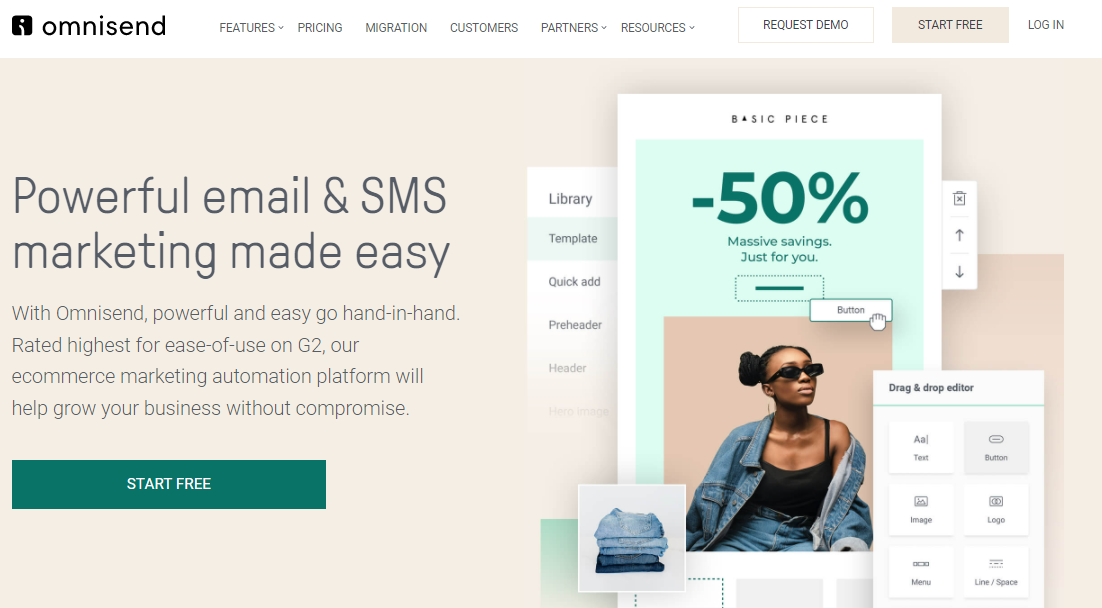 Omnisend is a marketing automation platform combining email marketing, push notifications, and SMS marketing campaigns. It has a moderately steep learning curve but includes powerful tools to help grow your business. It's ideal for any-sized business. However, I'd recommend Omnisend if you're willing to put in a bit of time to learn how to use it properly, particularly the automation and audience features.
What is ActiveCampaign?
ActiveCampaign is a multi-purpose marketing platform. It is packed with tools, allowing you to fully design the customer experience from start to finish.
It's ideal for medium-to-large businesses or for smaller businesses if you have the time to learn to use the platform properly, as it has a fairly steep learning curve for beginners.
Omnisend – the Main Features
First up, let's check out the main features of Omnisend, starting with the ease of use.
Ease of Use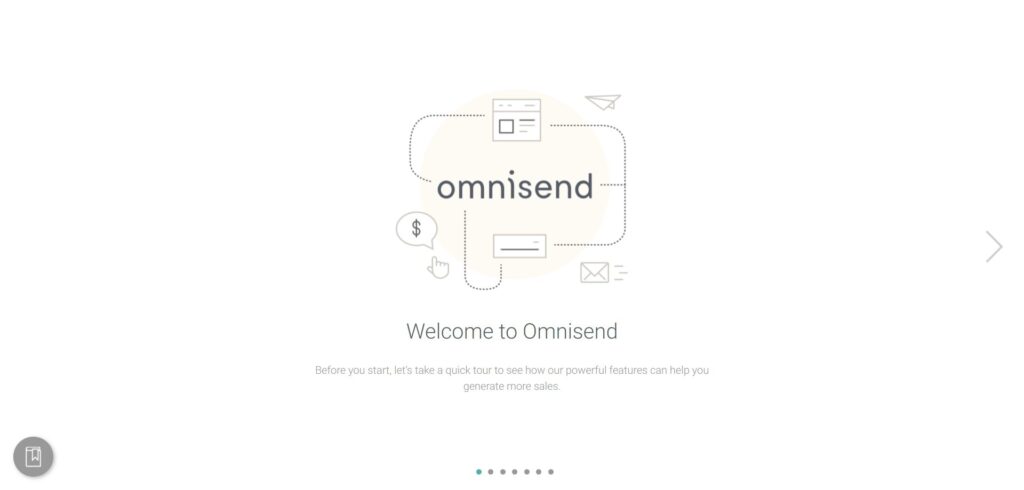 On the one hand, Omnisend's navigation is pretty straightforward. It's intuitive, everything makes sense, and it's easy to find where you're supposed to go. The interface is clean. However, there is a bit of a learning curve here, especially if you want to learn to use automations for the first time.
Email Campaigns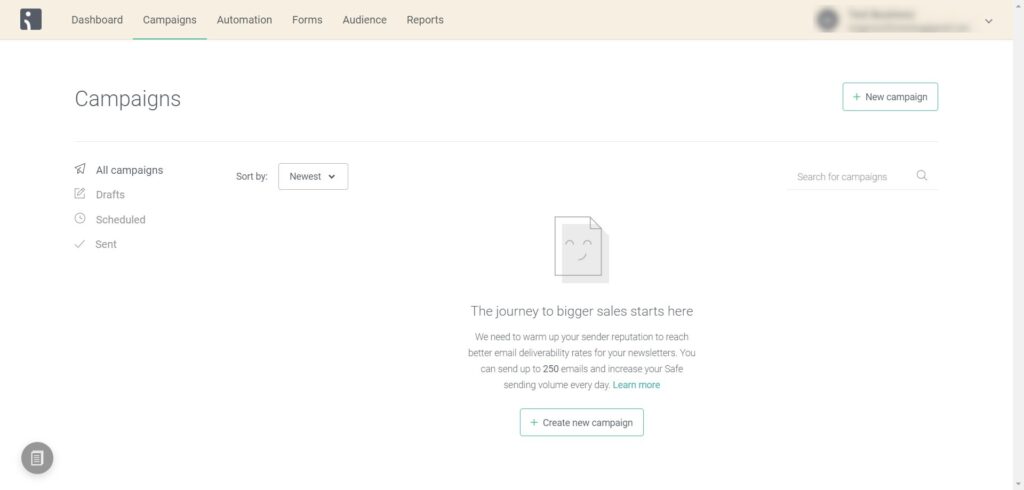 Email campaigns are pretty straightforward to set up as a starting point.
You can choose from a wide variety of templates, depending on the desired outcome. You can send emails to:
Welcome new customers
Promote products
Announce a sale
Offer discounts to customers
Offer instructions or extra content
If none of these fit the bill, you can create and save your own templates.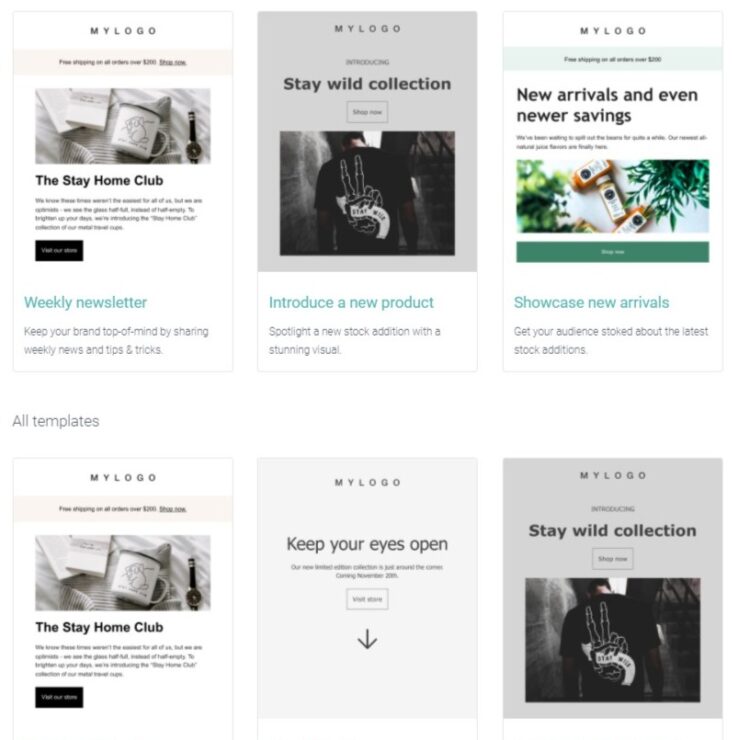 Even if you use a template, you can change it up quite dramatically by adding your own content, changing headers and footers, changing the hero image, adding photo galleries and product listings, and so on.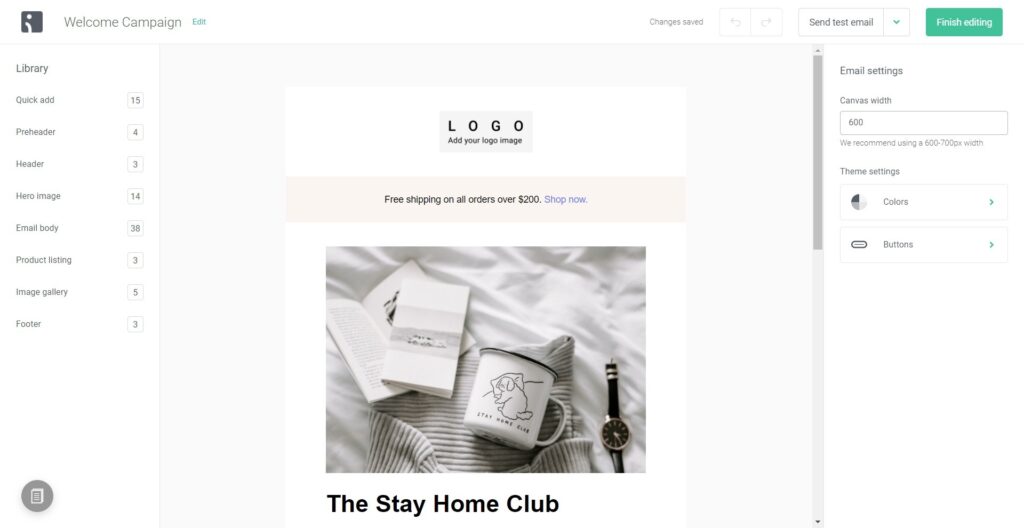 Plus, you can easily set up a theme. This means you can change the background color, canvas color, and link colors to keep your branding consistent. Once you've created your email campaign, you can split test it. This is straightforward and will allow you to fine-tune your emails to see which ones perform better.
I think the email designs are beautiful. If you really want to up your 'email marketing' game, Omnisend makes this pretty easy to do.
Text Campaigns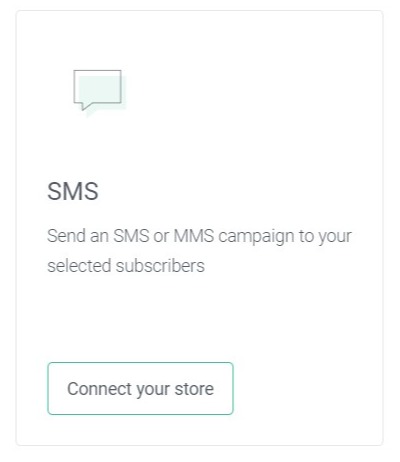 SMS campaigns work in a similar way to email campaigns. You can create custom messages, choose which group of customers you want to send it to, and set the time and date you want to send them.
You'll get 60 free text credits just for signing up, but buying additional credits will come at an extra cost. If you're a larger company with lots of customers, this is something to keep in mind.
Web Campaigns
You can create web campaigns for your eCommerce store using push notifications. These pop up as your customers are browsing and can be set to appear at specific times. For example, you could go for:
Push notification for cart abandonment – these remind customers to check out before they leave
Push notifications for browse abandonment – these can encourage customers to stay on the page for longer
Push notifications for transactions – these will deliver messages to your customers about their orders, for example, to confirm an order or to update them on shipping.
You can adjust these notifications to fit the theme of your website, so they'll be eye-catching without being too jarring.
It's really easy to set this up, and you can customize the messages, the destination URLs, and add icons for each push notification.
Automations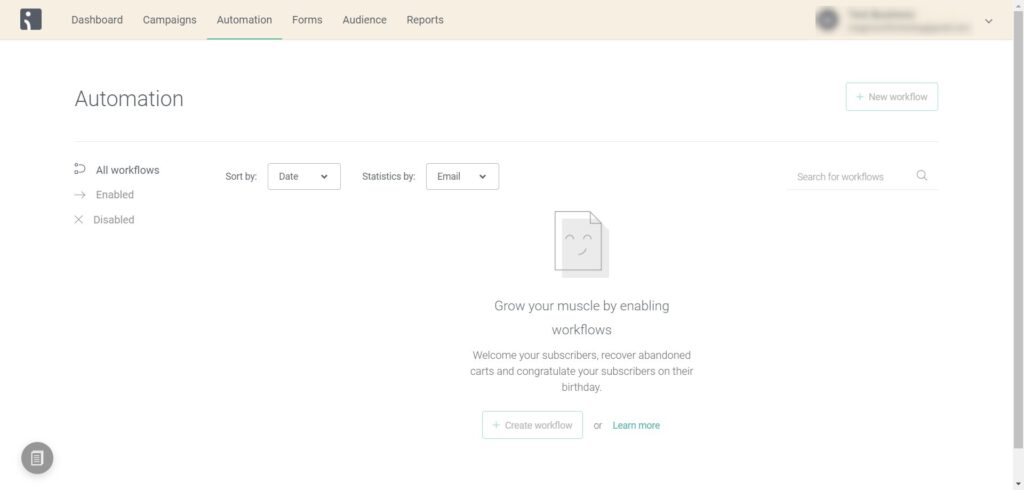 While this does have a steeper learning curve, I think it's worth learning how to use automations. Automations allow you to create paths for your customers to travel through as they visit your website or open your emails.
You can use Omnisend's templates to start with. These include:
Welcome – this will start the moment a customer subscribes to encourage them to make a purchase
Product abandonment – this will reach customers who have viewed products without buying, encouraging them to follow through with their purchase.
Cart abandonment – this will remind customers, using emails or SMS, to complete their purchase.
Order confirmation – this will take care of sending confirmation emails or SMS to your customers.
Shipping confirmation – this will let your customers know when their order is on the way.
Cross-sell – this will encourage your customers to add extra items to their order.
Contacts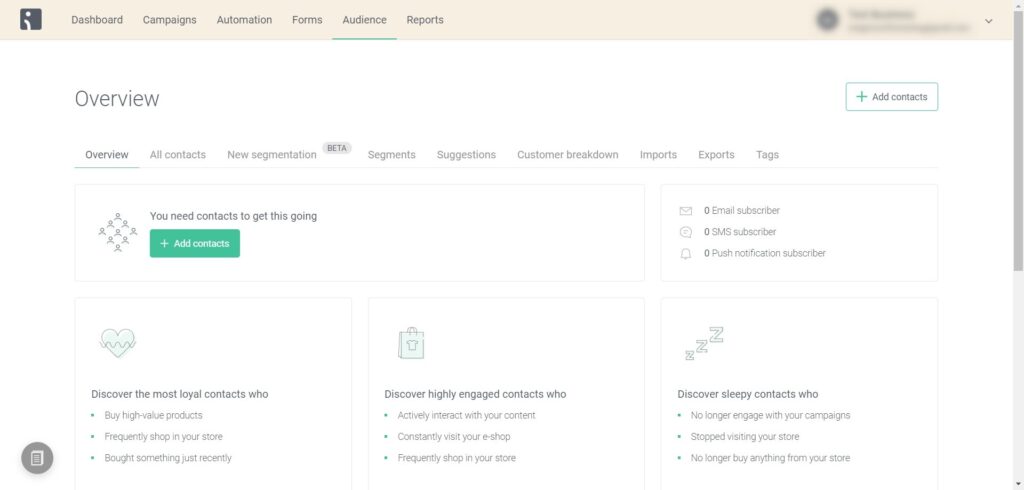 If I were to pick one main strength of Omnisend, I'd say it's in the 'Audience' section. This allows you to see all your contacts, giving you a detailed breakdown of their information, which you can use to strategically plan campaigns.
You can view your customers by segments. These segments can include new subscribers, previous customers, and more. You can also create your own segments.
Omnisend has a 'suggestions' feature: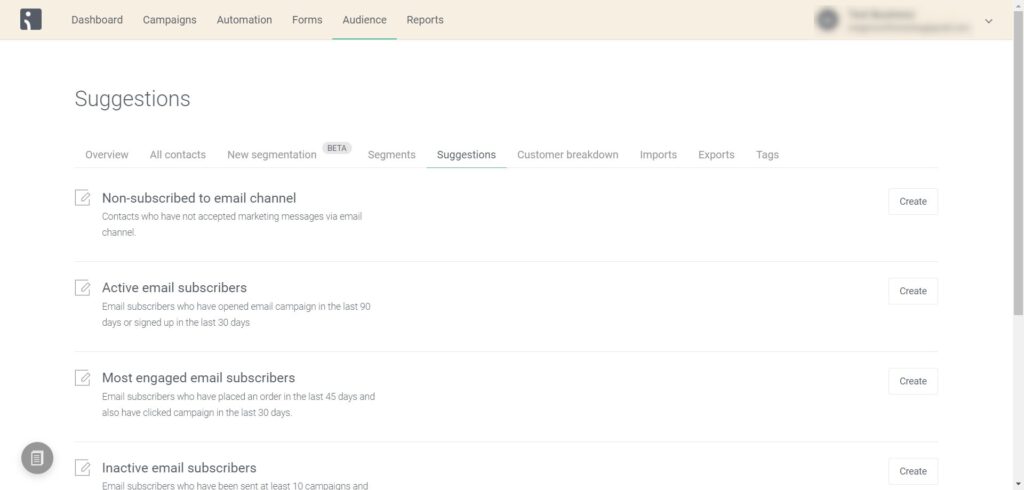 These will give you a list of segments to create. For example, 'inactive email subscribers' will group together customers who receive your emails, but don't interact with them.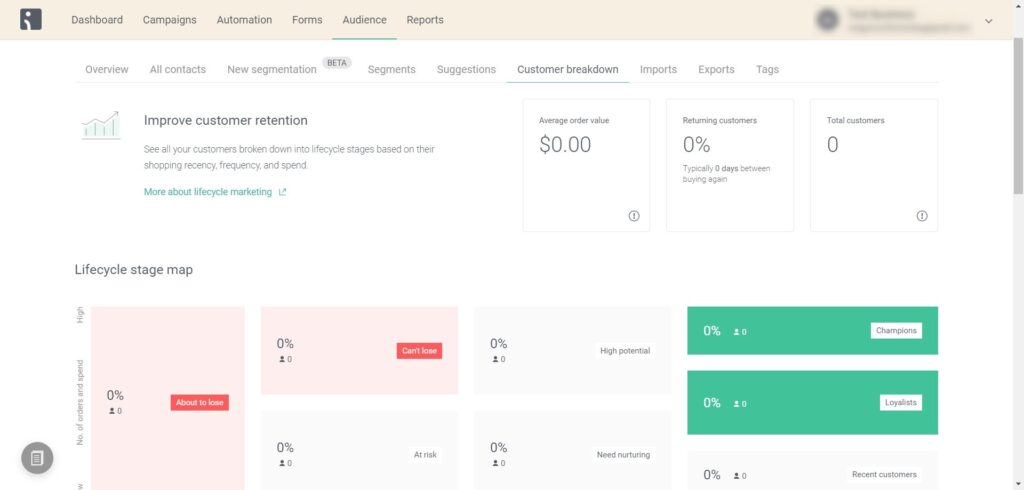 They'll also give you the 'lifecycle stage' of your customers, categorizing them as follows:
Recent customers
Loyalists (customers who make repeat orders over time)
Champions (customers regularly making high-value purchases)
High potential (customers on the cusp of making a purchase)
At-risk (customers at risk of churning due to low activity)
Can't lose (customers who used to spend a lot but are at risk of stopping)
About to lose (customers on the brink of becoming lost)
You can import customers from MailChimp or a .CSV file. You can also add contacts manually or copy and paste their details from another service.
ActiveCampaign – the Main Features
Now, let's check out the main features of ActiveCampaign.
Ease of Use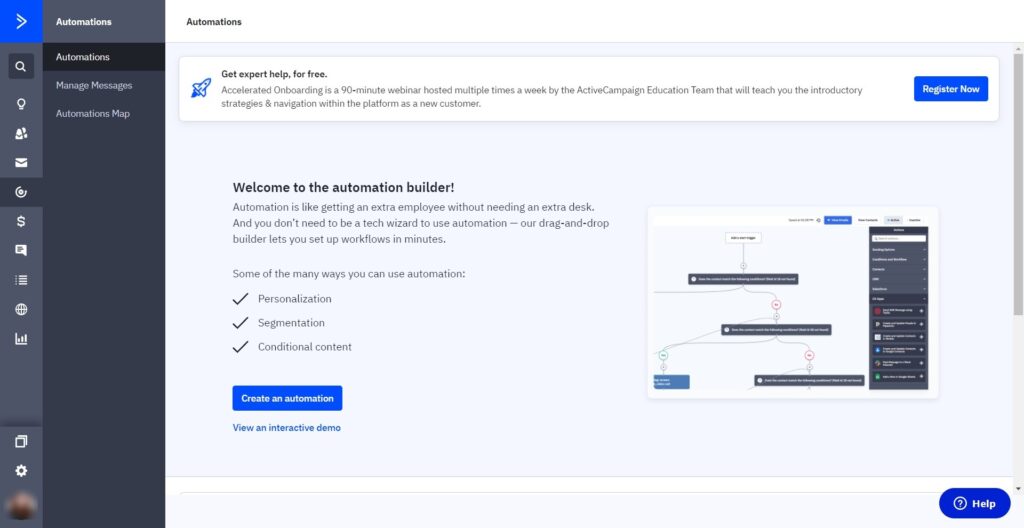 ActiveCampaign is, I'd say, slightly more difficult to navigate. While some of the symbols on the navigation bar are pretty obvious to figure out, it may still take a while to learn where everything is. And as far as difficulty is concerned, ActiveCampaign is the harder platform to learn, mostly due to the number of features it has to offer.
Email Campaigns
ActiveCampaign makes it pretty easy to set up email campaigns. You can choose between basic templates and designed templates: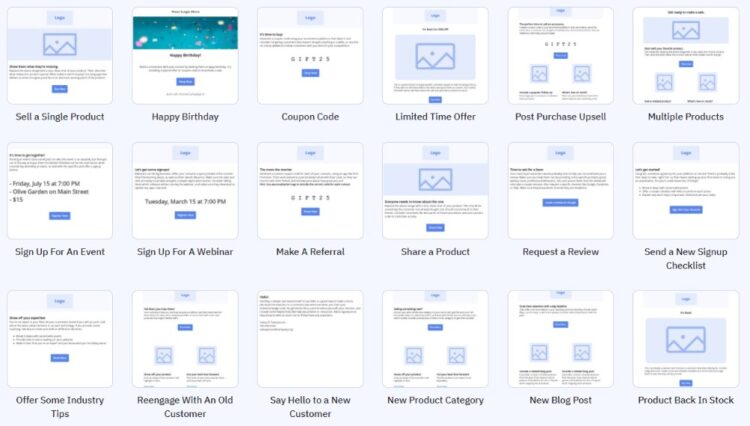 Basic templates will give you the basic structure to work with, allowing you to add your own text and images. Designed templates include their own images.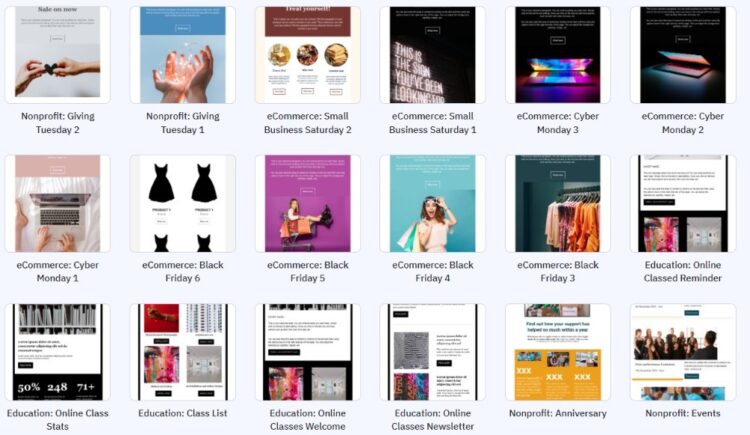 Template ideas include:
Single product sales
Happy birthday messages
Coupon codes
Limited time offers
Post-purchase upsells
Review requests
Stock alerts
There are a lot of these to choose from, some of which are really specific, which is great if you're starting from scratch. You can also create your own emails.
In my opinion, the emails are slightly more cluttered and less stylish than the email templates offered by Omnisend. However, the email builder itself is really intuitive to use: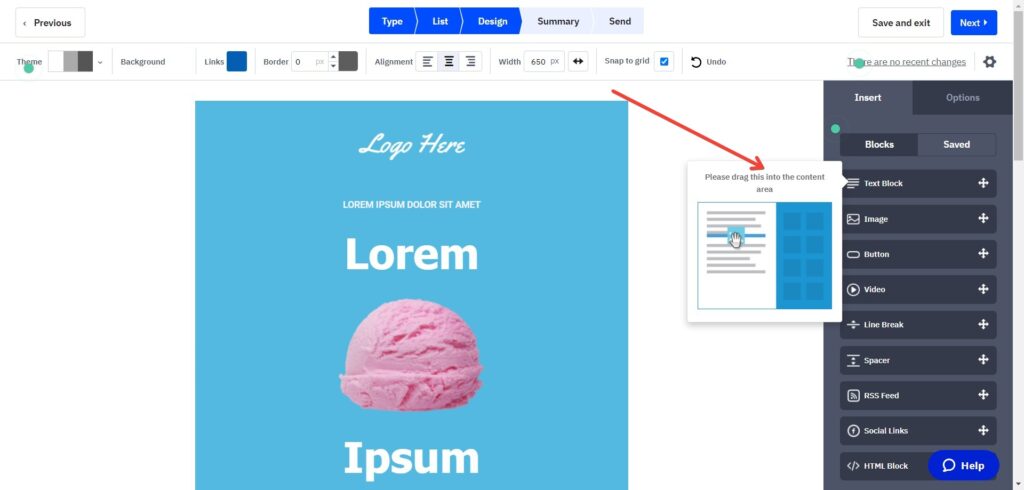 You can add content blocks just by clicking and dragging them where you want them. It's easy to do, and you can add a range of content, including text blocks, images, buttons, videos, line breaks, and more.
Before you publish your email, you can easily select tracking options. You can choose to track your emails in the following areas:
Opens/reads
Link tracking
Reply tracking
Google analytics tracking
You can also send test emails before you send them out to your customers, which is useful, and they offer split testing too.
There is a content manager, too. You can upload content, like images and videos, to use across all your campaigns.
Text Campaigns
You can create text campaigns using ActiveCampaign, but only on the Plus, Professional, and Enterprise accounts. This is fairly easy to do.
You can edit text messages, seeing a 'live view' of how it will look to your customers. You'll get some SMS credits as part of your payment plan, but you can quickly top these up if you need more.
Landing Page Builder
One advantage of ActiveCampaign is that it allows you to build landing pages within the platform itself. This allows you to integrate some of the other features (like the form builder, web personalization, and site tracking) with ease, as you can do everything under one 'roof' as it were.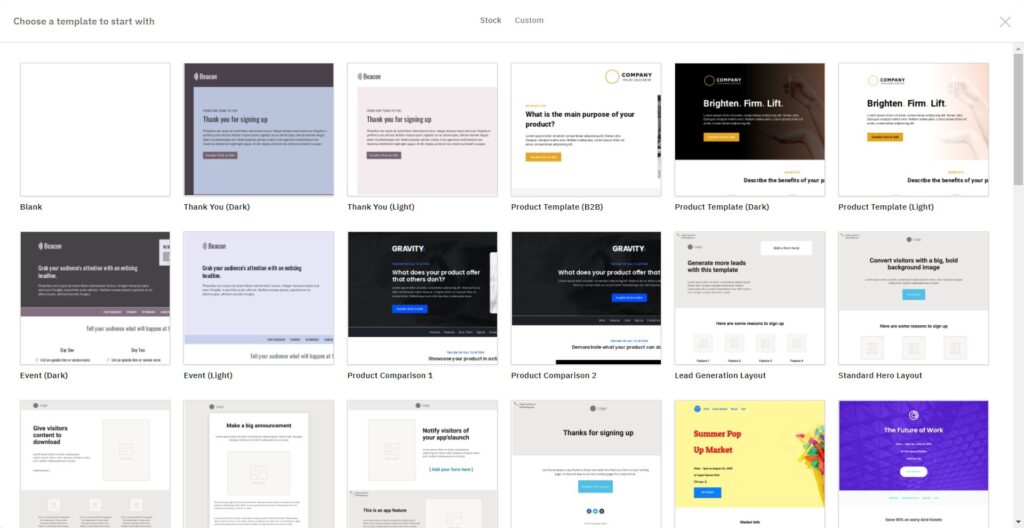 The templates are pretty plain, but they're perfect if you just want to get an email list up and running quickly, for example.
These landing pages are particularly useful for selling one or two digital products rather than multiple products like a regular eCommerce store. This works pretty well with the content manager we mentioned in the 'Email Campaigns' section earlier, as you can easily add content you have already uploaded.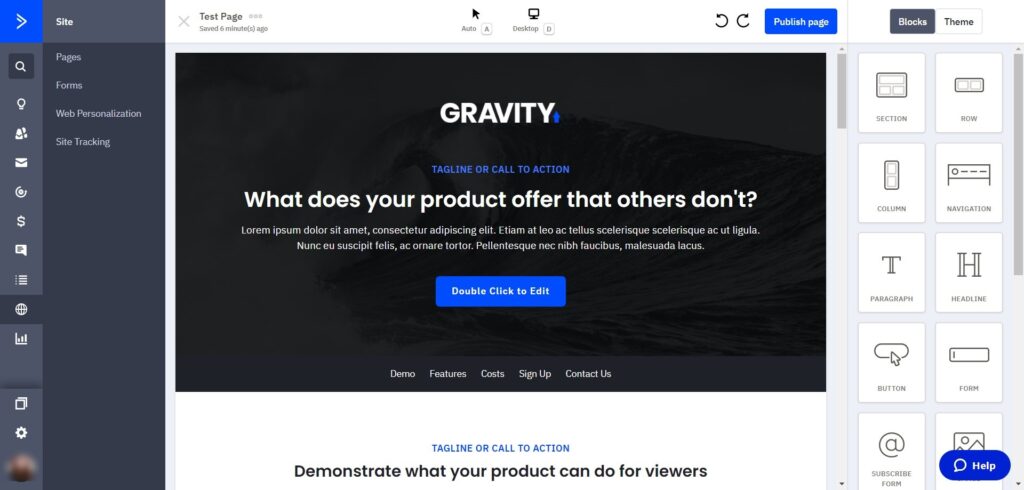 This, like the email creator, is very easy to use. Just drag and drop sections where you want them to go. You can add sections, columns, navigation bars, rows of images, headers, text, and so on.
You can integrate any forms you create with ActiveCampaign. You can also enable site tracking, which will allow you to track the performance of your landing pages.
Web Campaigns/Automations
The web campaign section is slightly different for ActiveCampaign, as it is a little more complex. Web Personalization allows you to create different versions of the same webpage, to display based on which customer clicks on it. These different page versions are called Experiences.
Experiences can vary, depending on your desired outcome. The theory behind this is that customers seek out personal connections, and so creating a page that is crafted for them makes them more likely to go through with a purchase.
Essentially, this combines both automation and web page behavior. This means you have more precise control over your customers as they move through your pipelines.
If this sounds confusing, it's because it is, at least at first. While it's simple to use the software, it's harder to imagine the possibilities in terms of your business. You can look at ActiveCampaign's website to see how other businesses have used Experiences for ideas.
Basically, Experiences allow your customer to feel truly valued. It also allows you to connect with them more directly, giving them web and email content that truly suits their interests.
It has a steeper learning curve, but it has the potential to be very powerful.
Conversations
Using Conversations, you can give your customers customer support wherever they are on your website. Using chatbots, you can help direct your customers to the right place if they have a problem or an inquiry. This comes at an extra charge but may save you time (and money) in the long run.
Contacts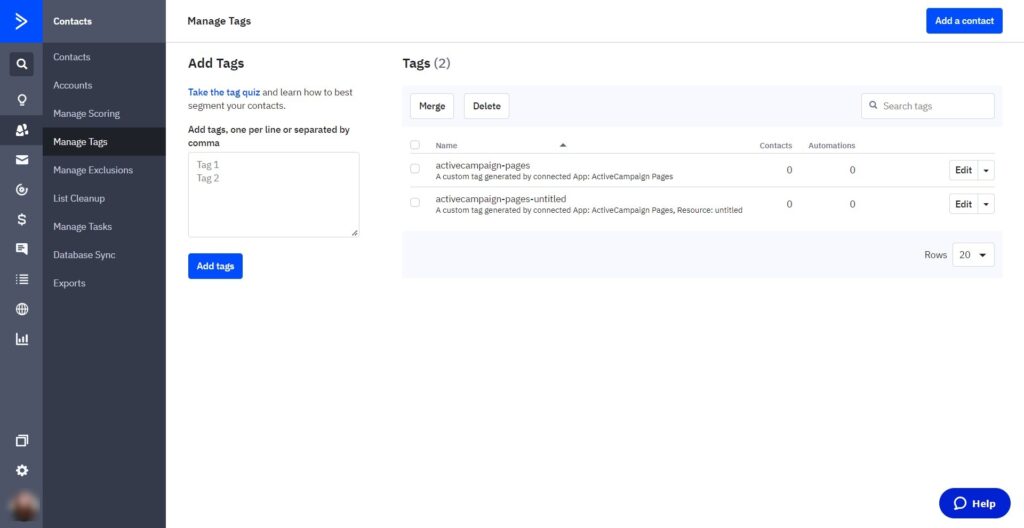 Like Omnisend, ActiveCampaign's contact section is a powerful tool. You can add tags to your customers (and if you're not sure which tags to go for, you can take their handy 'tag quiz' to figure it out). You can see an overview of your contacts, manage list exclusions, manage customer accounts, create (and delegate) tasks to certain team members, and import contacts from other platforms.
One interesting feature that ActiveCampaign offers is lead scoring. This calculates which customers are most likely to make a purchase, assigning them a score, with the highest scores being the most promising customers.
Not only does this allow you to target your most loyal customers with specific campaigns, but it also allows you to see which customers need a bit of a 'boost,' targeting them with campaigns encouraging them to come back to your website.
Overall, I found the contacts section to be far less intuitive than Omnisend's. It feels a bit cluttered and less user-friendly to navigate.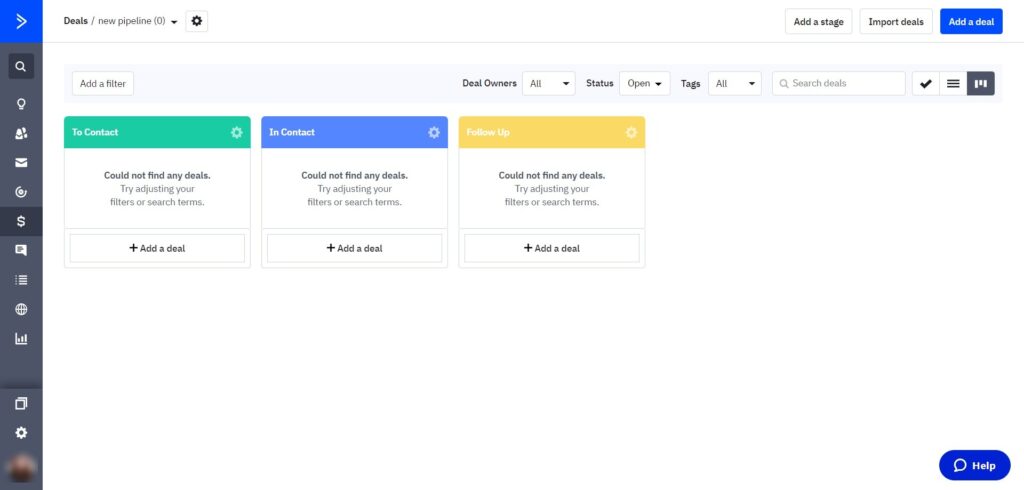 However, they do offer a way to manage deals. If you run the kind of business that relies on big sales with individual customers, you'll enjoy being able to manage this here, following their progress and assigning tasks to each one.
Omnisend vs ActiveCampaign – Analytics
How do the two platforms compare in terms of analytics and reporting?
Omnisend
You can track how your campaigns are doing based on a few different variables, like general performance, open rates, overall sales, and so on. You can see an overview of all your campaigns and how they compare to each other, which is really useful.
You can also download these reports to send to others.
ActiveCampaign
ActiveCampaign offers the following:
Campaign reports
Automation reports
Goal reports
Contact reports
Deal reports
Custom reports
Chat conversation reports
Marketing revenue
Field breakdown report
Conversion attribution
Web personalization
These reports are pretty easy to generate, and you can download them to send to others.
Omnisend vs ActiveCampaign – Integrations
What other platforms can you use with Ominsend or ActiveCampaign?
Omnisend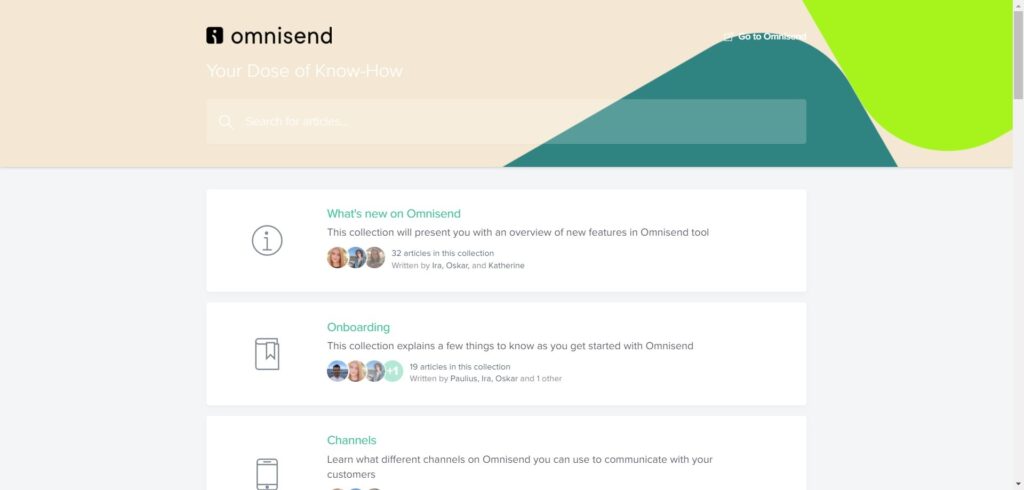 Omnisend has a decent amount of integrations, including:
eCommerce platforms – including Shopify, BigCommerce, WooCommerce, and Wix
Signups and forms – including Justuno, Poptin, Wheelio, and Email Collection Bar
Shipping platforms – including ShipStation, AfterShip, EasyShip, and Shipping Chimp
They do seem to be lacking in integrations with email marketing platforms. If you're migrating over from another platform, or you want to continue using it alongside Omnisend, that might make things a bit more complicated. Check out the full list of integrations here.
ActiveCampaign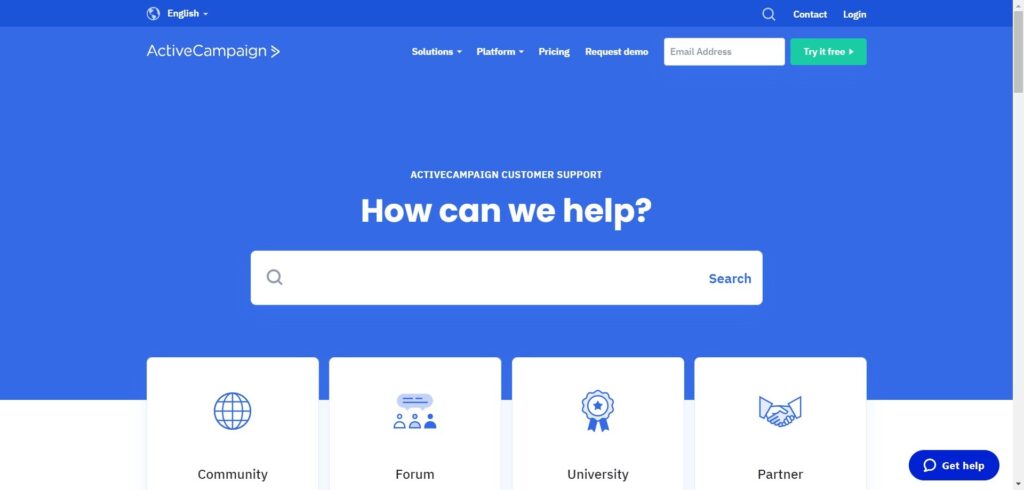 ActiveCampaign offers a lot of integrations, including:
eCommerce platforms – including Shopify, SalesForce, and WooCommerce
Social media platforms – including Facebook, Instagram, WhatsApp, and Zapier
Storage apps – including Google Drive and OneDrive
They don't seem to offer integrations with email marketing platforms. However, we do think that they have a slight edge over Omnisend in terms of integrations because of the abundance of social media platforms you can work with. This is really key to building the customer Experiences I mentioned earlier. You can see the full list of integrations here.
Omnisend vs ActiveCampaign – Customer Support
How do they compare in terms of customer service and support?
Omnisend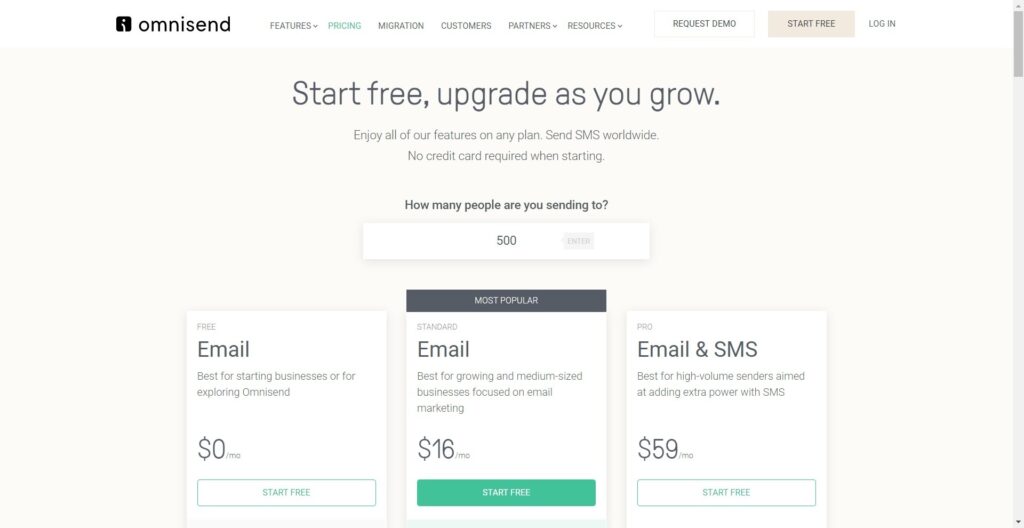 Omnisend has a knowledge base with a good amount of articles and tutorials, especially for new users.
You can contact customer support via email. They're friendly and supportive and pretty fast to get back to you.
ActiveCampaign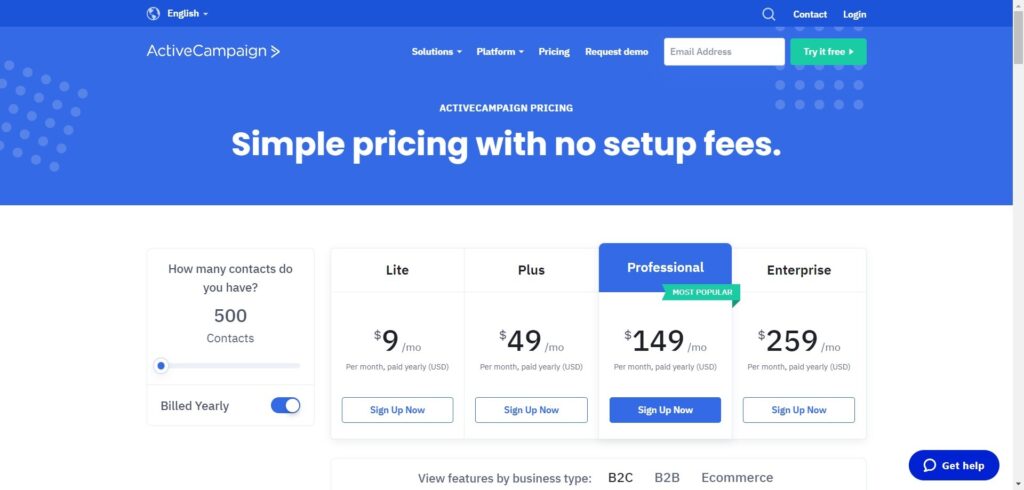 ActiveCampaign has a higher learning curve but some good support to help you through it. There's a community of users you can tap into, as well as the 'University' section which will walk you through how to use the platform.
You can contact customer support via a ticket system, and they're pretty helpful and responsive.
Omnisend vs ActiveCampaign – Pricing
Now, let's check out the pricing for both platforms.
Omnisend
There are a few pricing plans available:
Free Email – $0 per Month
This includes:
Reach up to 250 contacts (with unlimited contact list)
500 emails per month
Up to 60 SMS
Up to 500 web push
Standard Email – $16 per Month
This includes:
Reach up to 500 contacts (based on contact list size)
6,000 emails per month
Up to 60 SMS
Unlimited web push
Pro Email & SMS – $59 per Month
This includes:
Reach up to 500 contacts (based on contact list size)
Unlimited email
Up to 3,933 SMS per month
Unlimited web push
Prices vary depending on the size of your contact list – if you have a lot of contacts, you may end up paying more. Check out their pricing page here.
ActiveCampaign
There are 4 pricing plans available:
Lite – $9 per Month
This includes:
Many marketing tools, including email marketing and segmentation
Lead capture forms and segmented outreach
Customer newsletter and customer analytics
1 user
Plus – $49 per Month
This includes:
More marketing tools, like landing pages and Facebook custom audiences
CRM with sales automation and lead scoring
Customer success pipelines
Up to 25 users
Professional – $149 per Month
This includes:
Website personalization
Split automations
Win probability
Up to 50 users
Enterprise – $259 per Month
This includes:
Custom domain and reporting
Unlimited users and extra support
This is all based on 500 contacts. The more contacts you have, the more expensive the plans get. The full breakdown can be found on their pricing page here.
Omnisend vs ActiveCampaign – Alternatives to Try
There are a few other platforms you can try instead:
Privy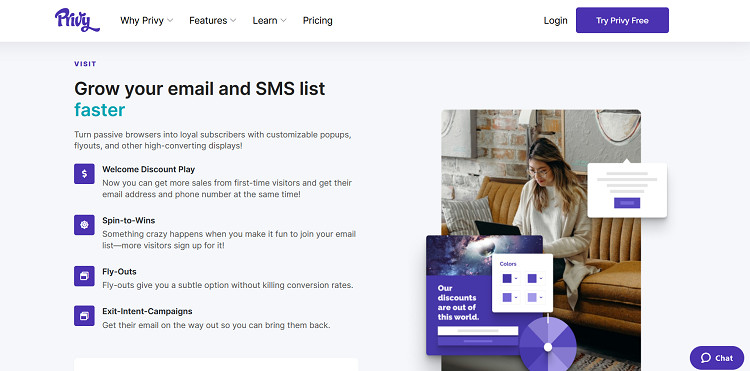 Privy is an eCommerce marketing platform offering many features, including email, SMS, and pop-up web marketing. It's easy to use and ideal for smaller businesses. Read more about it in our Justuno vs. Privy comparison.
SendinBlue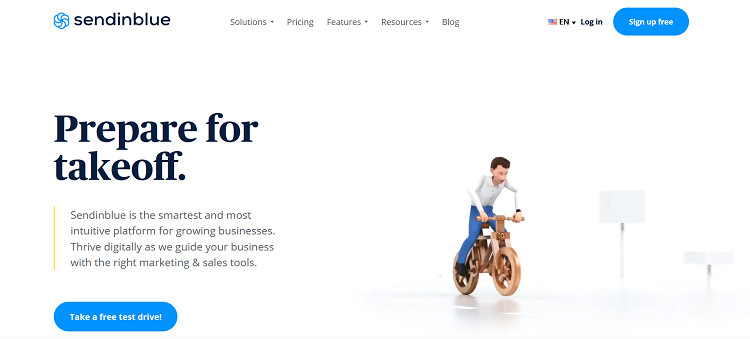 SendinBlue has many tools, including great sales automation. I like SendinBlue because it's really user-friendly, which is ideal if you're just getting started. Read more in our SendinBlue vs. MailerLite comparison.
Klaviyo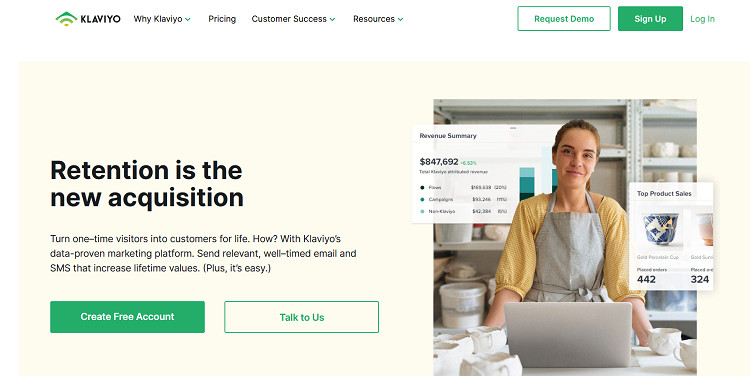 Klaviyo has some powerful tools, including automation and audience segmentation. It has great integrations with social media platforms, and it has good analytics, too. Read more in our SendinBlue vs Klaviyo comparison.
FAQs
Question: Is there a Mobile App Available for Omnisend or ActiveCampaign?
Answer: ActiveCampaign has a mobile app available for both Android and iOS. Unfortunately, at the time of writing, Omnisend does not have a mobile app.
Question: Can I Cancel My Subscription if I don't Enjoy Using Omnisend or ActiveCampaign?
Answer: Yes, you can cancel them in your account settings section. However, you may be stuck if you've paid for a year in advance – it's worth emailing customer support to see if they can help you, but they may not be able to refund you.
Question: Do Either Omnisend or ActiveCampaign Offer a Free Trial?
Answer: Yes, both offer a free trial so that you can test it out. Plus, Omnisend has a free plan so that you can try it out for longer!
My Final Thoughts…
ActiveCampaign is the winner here in terms of the sheer number of features. You can build the customer's journey right from the landing page using ActiveCampaign. There are many powerful tools here. The downside to ActiveCampaign (apart from the more expensive price plans) is the difficulty. It's generally a more cluttered interface, and the tools may take longer to learn to use.
I would recommend Omnisend if you're a smaller business or if you just don't have the time to make the most of ActiveCampaign's features. There are still plenty of excellent tools within Omnisend, and it's easier to navigate.
Hopefully, this has helped you to come to a decision on which is best for you!
Our Recommendation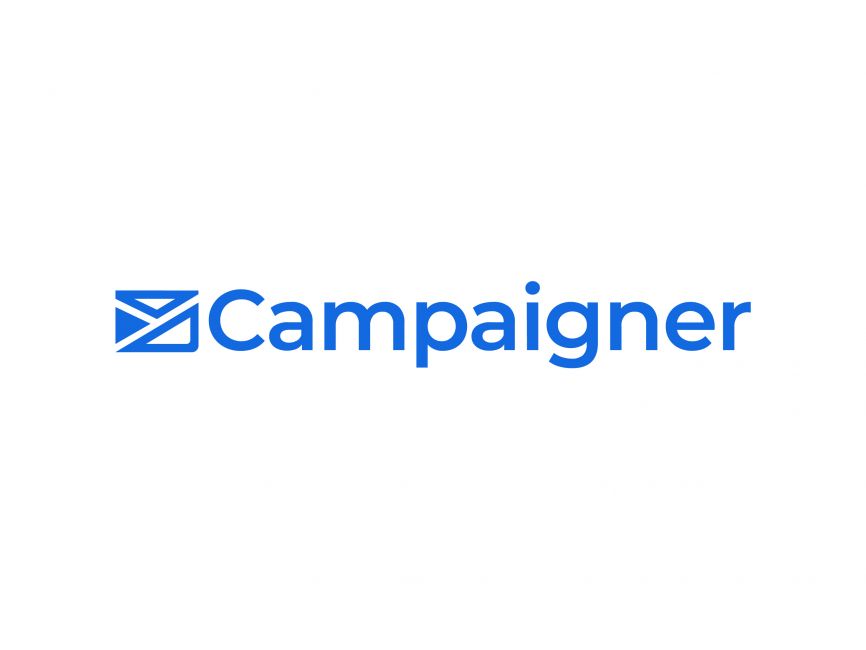 Have Your Heard of Campaigner?
Drive sales and revenue using advanced marketing automation, intuitive reporting and powerful personalization through email and SMS. Try Campaigner for free!
Start Your FREE Trial
We earn a commission if you click this link and make a purchase at no additional cost to you.