Last Updated on April 22, 2023 by DMEditor
If you're looking for extra support to boost your conversion rates and reduce cart abandonment for your eCommerce store, our Justuno vs Privy comparison may help you to find a platform that can help.
We'll be looking at Justuno and Privy today, starting with their main differences, then moving onto their similarities, before looking at them both in detail. If you're struggling to choose between them, this article should be able to help.
Bottom Line Up Front Summary: Out of the two, I prefer Justuno. For the price, the data-driven features are very impressive. It's got a steeper learning curve, but with push notifications, pop-ups, Facebook messenger integration, and great analytics, it's a great platform that could make a real, tangible difference to your revenue. Get started with a Justuno free trial here.
Main Differences Between Justuno vs Privy
The main differences between Justuno vs Privy are:
Justuno uses Commerce AI to collect data points, whereas Privy doesn't have as much focus on this, focusing on capturing leads instead
Justuno offers push notifications, whereas Privy doesn't
Justuno uses integration with Facebook Messenger to offer automated messages for customers, whereas Privy doesn't currently offer this
Justuno doesn't have a built-in email marketing platform, whereas Privy does
Justuno works out to be cheaper, whereas Privy is more expensive (with extra costs for email and text messaging)
Justuno has a slightly higher learning curve with a deeper learning curve, whereas Privy is easy to learn
If you're losing customers or feeling frustrated at the number of people abandoning their purchases at the last minute, you may need a bit of extra help in understanding the mindset and behavior of your customers.
Using Justuno or Privy, you can encourage customers not only to complete their checkout process but to add higher-value items to their cart – and you can encourage former customers to come back again and again by targeting them with campaigns that appeal to them.
The two platforms have a slightly different focus. Justuno uses AI to collect customer information, tracking their browsing habits. Privy instead focuses on offering lots of options for lead capturing. They also differ in smaller ways. For example, Justuno has more options to contact your customers outside of the platform (like push notifications and Facebook messaging).
Privy, however, has a built-in email marketing platform with email templates. So, if you want to have this built into one platform, it's a good one to choose from.
The pricing is a little different too. Privy works out more expensive per month than Justuno, with a more complex pricing plan (you have to pay on a sliding scale for onsite displays, email marketing, and SMS marketing).
If you want to check out more options for your e-commerce business, take a look at 3DCart vs Shopify, WooCommerce vs Shopify , and OpenCart vs WooCommerce, just to weigh in your options…
Justuno vs Privy: The Similarities
There are a lot of similarities between the two:
They both offer coupons, pop-ups, and upsells
They both offer plenty of options to help reduce cart abandonment
They both offer good analytics, allowing you to see how the platforms have directly impacted your revenue
They both have integrations with the major eCommerce platforms
They both offer segmentation, allowing you to market to specific groups of customers
Now, let's take a closer look at Justuno and Privy.
What is Justuno?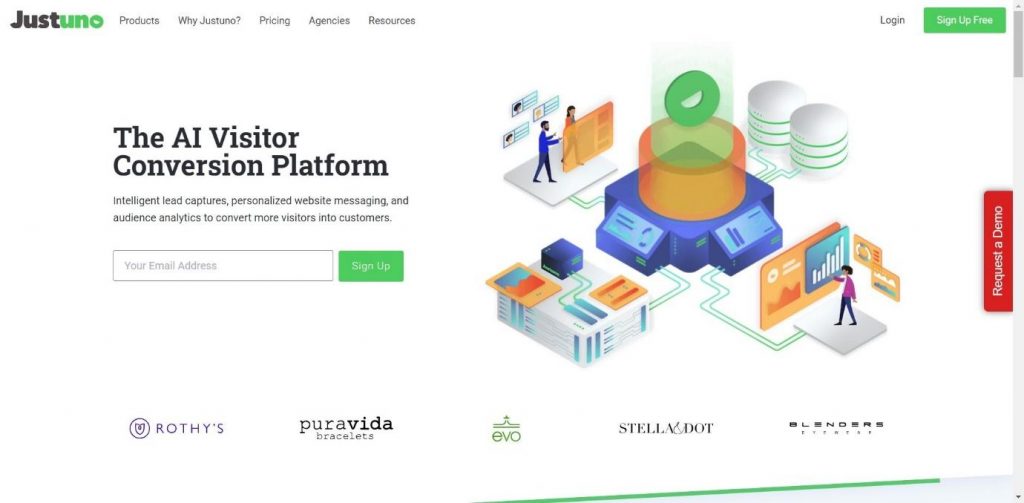 Justuno is a platform aimed at improving conversion rates using AI. By observing customer data as they browse, they collect data points to intelligently offer promotions and products at the right time. Using pop-ups, banner ads, push notifications, and more, they offer a variety of ways to encourage customers to buy.
They're aimed at any sized eCommerce store wanting to improve their conversion rates.
What is Privy?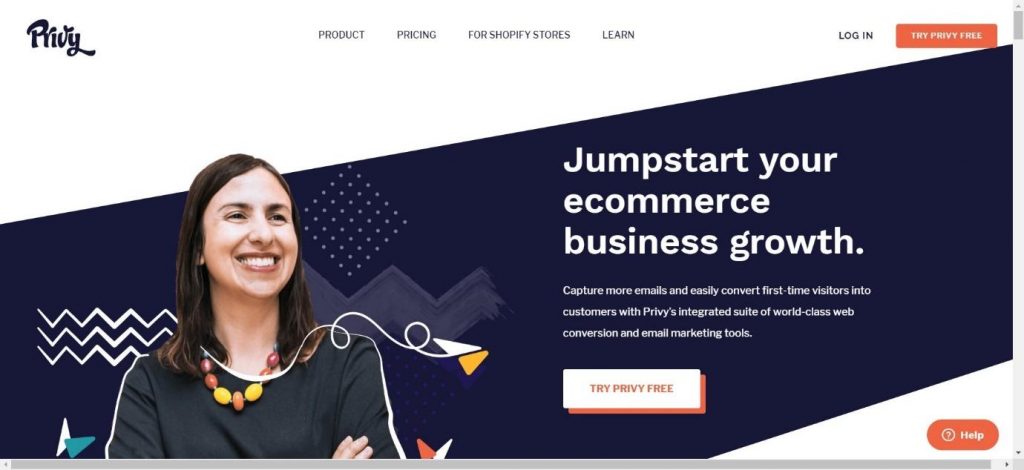 Privy is a platform that incorporates on-page advertising and upsells, email marketing, and text messaging to improve conversion rates. It offers pop-up ads, spin-to-win competitions, and simple forms for lead capturing.
It's aimed at any-sized eCommerce business wanting to improve conversion rates – it's also useful for those wanting to use email marketing.
Justuno vs Privy: The Main Features of Justuno
Ease of Use
Signing up to Justuno involves filling out a simple form – it's really fast to get going. The symbols along the left allow you to quickly jump between sections.
It's fairly user-friendly in terms of navigation, but there isn't a huge amount of in-built support. The sparse look of the platform can feel a little bit daunting. However, they have pre-built templates for promotions – this is a really great way to quickly get a feel for the platform and to get going without having to make your promotions from scratch.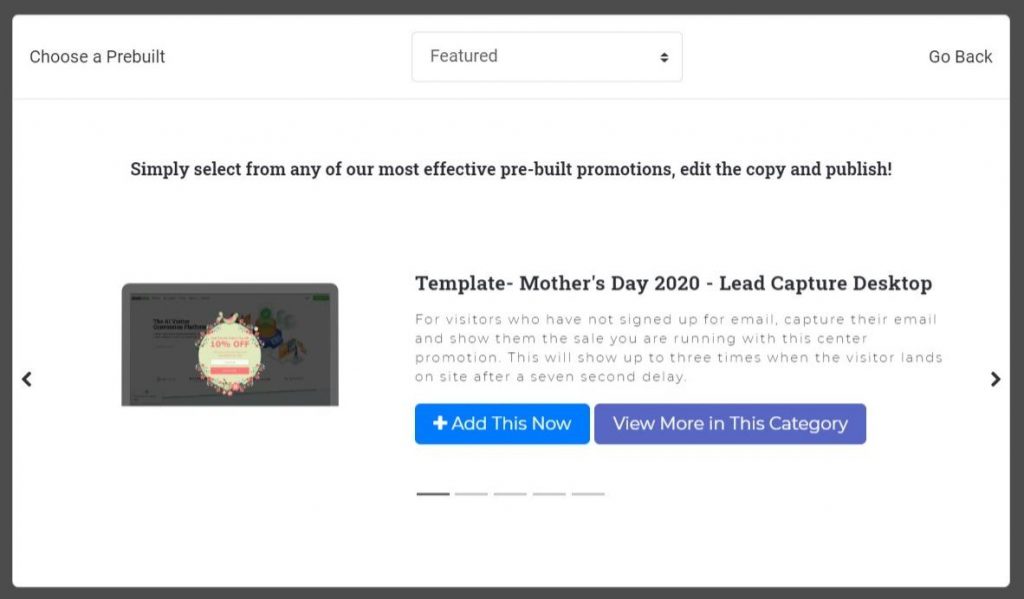 Generally speaking, though, it's a nice-looking platform that is pretty clear and easy to get around.
Commerce AI
Underpinning all the features on Justuno is the commerce AI system they have built. You can promote and filter product recommendations for your customers based on their own journey through your site, by collecting data points as they browse.
For example, you can see patterns of customer behavior to see which items are most likely to be purchased together, or recommend products based on products that are currently trending. You can show customers the items they've to browse before – giving them a gentle reminder to encourage them to buy.
You can use filters to view your target audience, allowing you to choose to promote certain items that you know will go down well with your customers.
Sales and Conversion
There are three main features that Justuno offers for sales conversion.
Cross-selling encourages customers to add complementary items to their items. By placing items strategically on your website at the right time, you can increase the value of orders.
For example, you could offer items that work well together, variations of color or character to encourage customers to collect the whole set or offer a warranty or repair service. You can also include a 'customers also bought' section, so your customers can see what others have been buying.
You can also create exit offers an abandoned cart offers. If your customer is about to click away from your page without completing an order, you can bring them an offer that might sway them into changing their mind.
They use pixel tracking technology to track visitor behavior. In terms of existing offers, this means that they can determine the moment that a visitor is about to leave your website, popping up with an offer or a call-to-action just at the right time.
Justuno allows you to track which exit offers convert the most customers. They also offer cross-device tracking. This means that the same customer can be recognised no matter what device they've swapped between, meaning you won't keep showing the same repetitive ads to the same person.
They also offer upselling pop-ups. The intelligent targeting means that your customers will be more likely to see pop-ups that actually interest them. In pop-up ads, you can strategically showcase your more expensive items, including encouraging customer reviews. You can choose to limit options for more conversions – this prevents your customer from feeling overwhelmed by choice. Justuno will encourage customers with pop-up ads towards the end of their journey on your website, as this is proven to be the best time for upsells.
Countdown timers are proven to make a difference when it comes to creating a sense of urgency, encouraging your customers to make their purchase quickly. You can use them to offer limited-time offers and promotions.
Messaging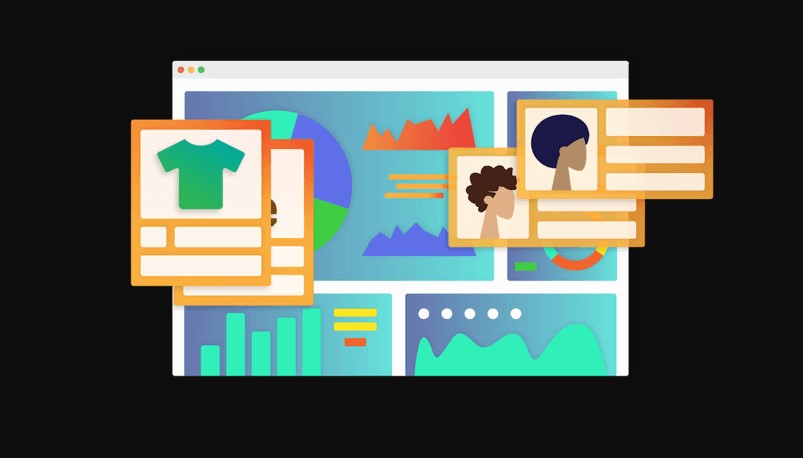 There are multiple ways to communicate with your customers using Justuno. Web banners and message bars can be designed to match your website, so they won't be too intrusive. They offer dynamic thresholds, which lets your customers know automatically if they qualify for special discounts or free shipping.
Pop-ups aren't just there to offer upsells, either. You can use pop-ups to notify your customers of new content on your website, welcome them to your store, or encourage them to register.
Push notifications are easy to set up, allowing you to remain in contact with your customers even after they've left your site. For example, you can automatically notify your customers when an item is back in stock. It's a useful tool that you can use to tempt your customers to come back to your store.
Justuno also takes care of GDPR, offering cookie consent notifications and banners. You can create your own notification text or use their standard template.
Lead Capturing
You can capture customer information in a variety of ways. Email pop-ups prompt your customers to enter their email address in exchange for a discount or free download. Facebook Messenger integration allows you to encourage your customers with welcome messages and cart reminders using the messenger platform, and you can automate this process – for example, you can send back-in-stock notifications or answer FAQs.
They offer a spin-to-win tool. Entice customers to spin a wheel on your website to win a prize – a discount or free shipping, for example – in exchange for them creating an account with you.
You can also make the most of SMS marketing. You can send messages offering promotions or discounts or encourage customers to visit your brick-and-motor stores if you have them.
Segmentation
The visitor profiling technology allows you to segment your customers. This, in turn, allows you to personalize your marketing to suit your actual customers – making it much more likely that they'll return again. Having this very specific segmentation is a powerful tool, as it allows you to engage with your customers at the exact right moment.
Integrations
Justuno offers a lot of integrations with other platforms. In terms of eCommerce, they offer integrations with a lot of the main players, including BigCommerce, Magento, Shopify, Squarespace, and WooCommerce.
They also offer integrations in other categories, including communications, data and analytics, email marketing and CRM, and social media.
Analytics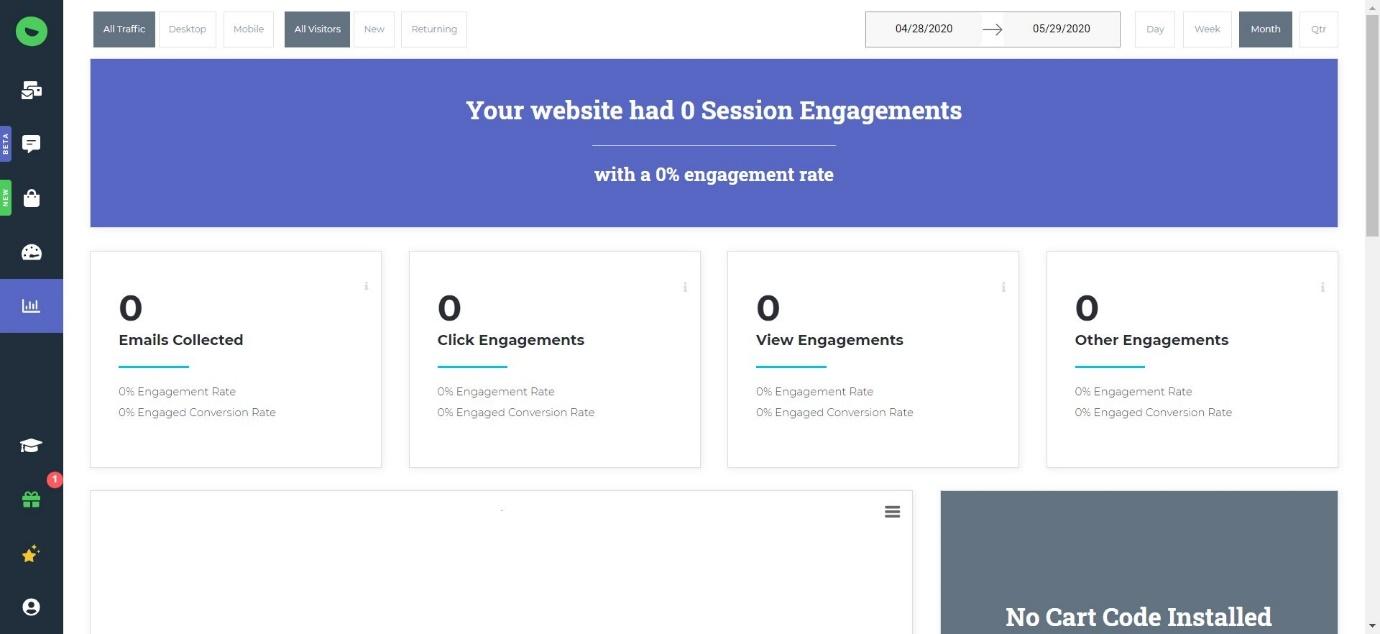 Justuno has a real-time marketing analytics dashboard. You can easily see conversions and revenue, allowing you to see how your marketing strategies are working. You can see at which point customers are dropping out of the checkout process, so you can work on fixing any issues they might be having.
Justuno vs Privy: The Main Features of Privy
Ease of Use
Firstly, it's really easy to sign up for Privy. If you sign up with Google or Shopify, it takes two clicks to get started, and the dashboard itself is pretty user-friendly.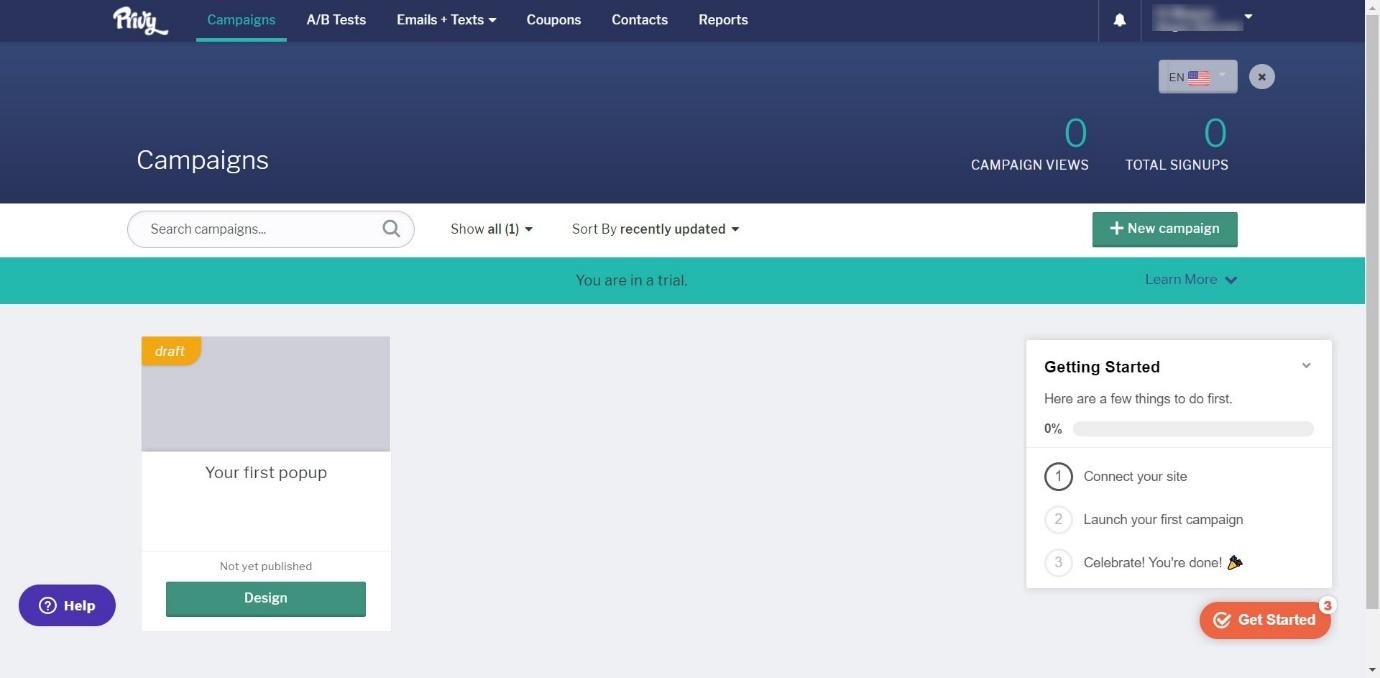 It doesn't look quite as slick as Justuno, but it does have the bonus of helpful popups as you navigate, pointing you in the right direction if you're new.
The navigation itself is very simple, with everything neatly signposted. They also have a 'getting started' bar along the right, giving you a few simple steps to follow to start using the platform properly.
Sales and Conversion
Privy focuses on growing your email subscriber list, using a variety of tools for lead capture. You can create sign up displays so your customers can sign up to your email subscription list in exchange for a discount or downloadable content.
Like Justuno, Privy offers upselling, recommending products based on what is currently in your customer's cart. They also offer announcement bars and banners, which you can design to fit the look of your storefront. This is a good way to notify customers of promotions and offers.
They also offer spin-to-win displays, like Justuno. In exchange for their contact information, you can allow customers to spin a wheel to get a prize or discount. On-site segmentation allows you to segment displays based on your customer's behavior, device, and session count – for example, customers that keep returning, again and again, can see different content than a first-time visitor.
It's really easy to create a pop-up ad. You can drag and drop the sections from the left onto the popup, editing the content and design so it fits your brand. Pop-up ads can be used for different things, but it's mainly focused on lead capture.
They also offer a variety of ways to reduce cart abandonment. Popups are the main tool here, allowing you to create targeted messages reminding customers to check out before they go. They also offer abandoned cart emails which can include offers and discounts – so you can tempt your customer to complete their purchase by offering 10% off, for example. Using the dashboard, you can see a real-time report on the revenue recovered by your cart abandonment strategy.
Like Justuno, they offer on-site timers. This is a great way to create a sense of urgency for your customers, so they go straight through to complete their purchase.
Email and SMS Marketing
Email marketing on Privy is built-in on the platform itself. You can choose from their pre-made templates: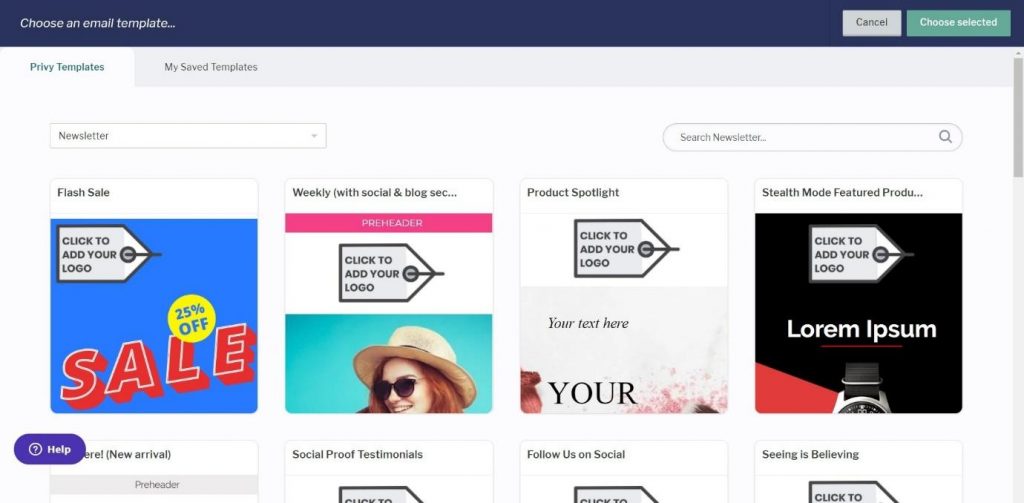 Then, you can edit the template using the drag-and-drop editor.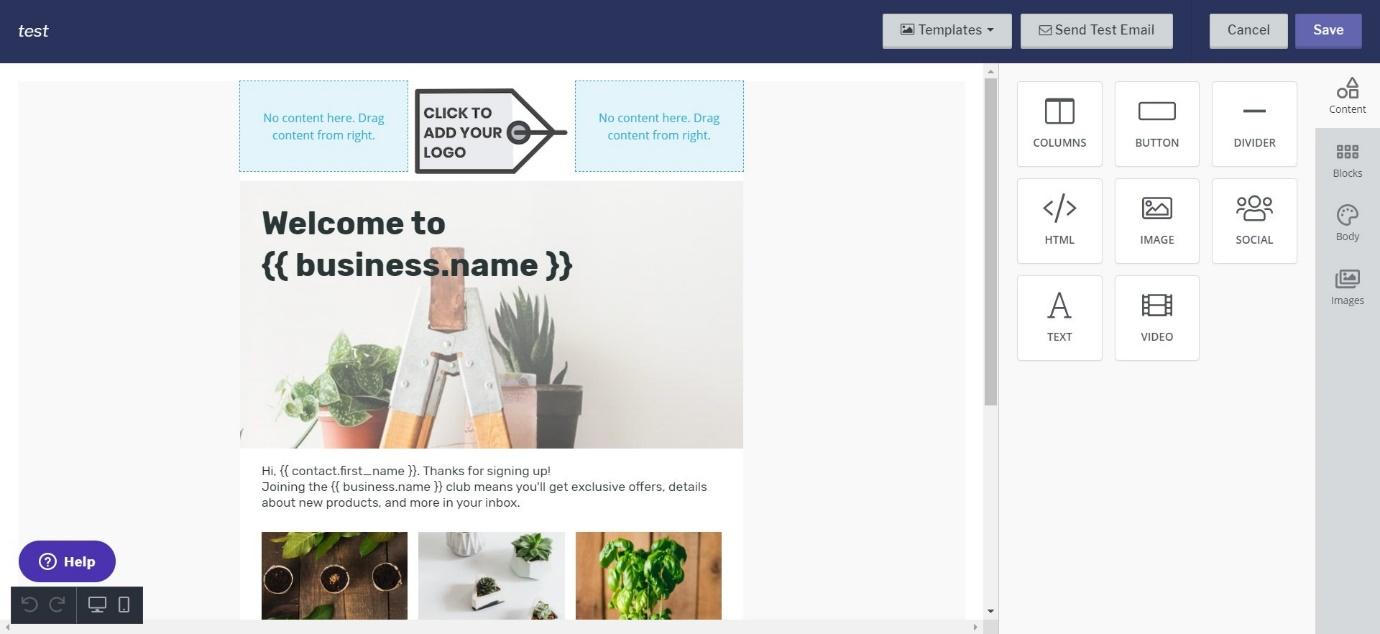 You can send them targeted emails – to welcome them to your newsletter, to show them new products, or to offer them a discount. You can split-test these special offers, too, to see which one performs best.
It's really useful having email marketing built into the platform, as it allows you to use all of the features of the platform (cart abandonment, segmentation, special offers and discounts) to create the best emails for your customers.
You can also create SMS campaigns, allowing you to automatically text customers to reduce abandoned cart rates.
Coupons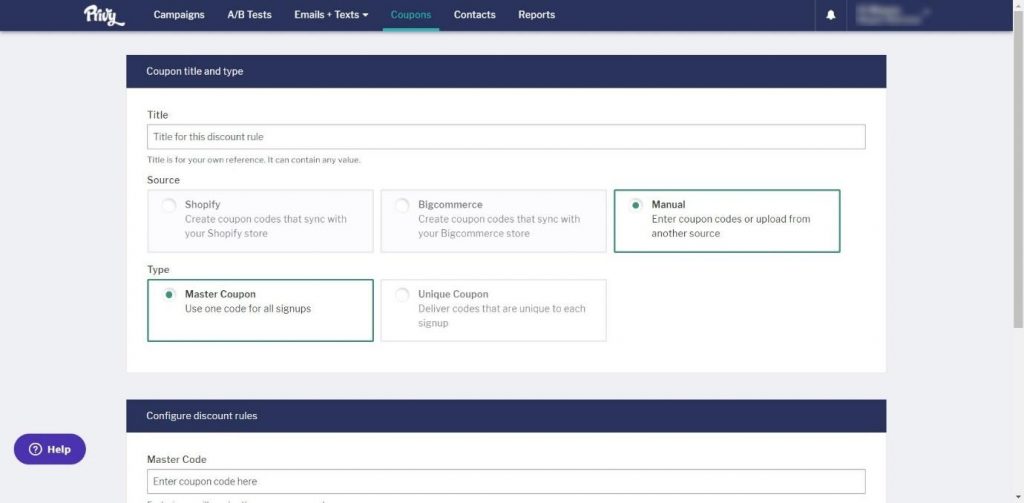 You can create coupons for your customers. You can create a master coupon for all sign-ups or a unique coupon that can only be used for each individual sign up. It's pretty easy to configure your discount rules. This is easy to do, and you can save coupons to use again.
Segmentation
The segmentation offered by Privy is great. You can segment customers by order count, cart value, when they last ordered, sign-up date, country, and more. You can view your contacts easily using their filters, allowing you target certain segments with specific email and SMS campaigns.
Integrations
Privy offers integrations for the main eCommerce platforms, including Shopify, BigCommerce, Squarespace, Magento, Wix, WooCommerce, and more. They also integrate with email marketing platforms, SMS services, and social media platforms.
Analytics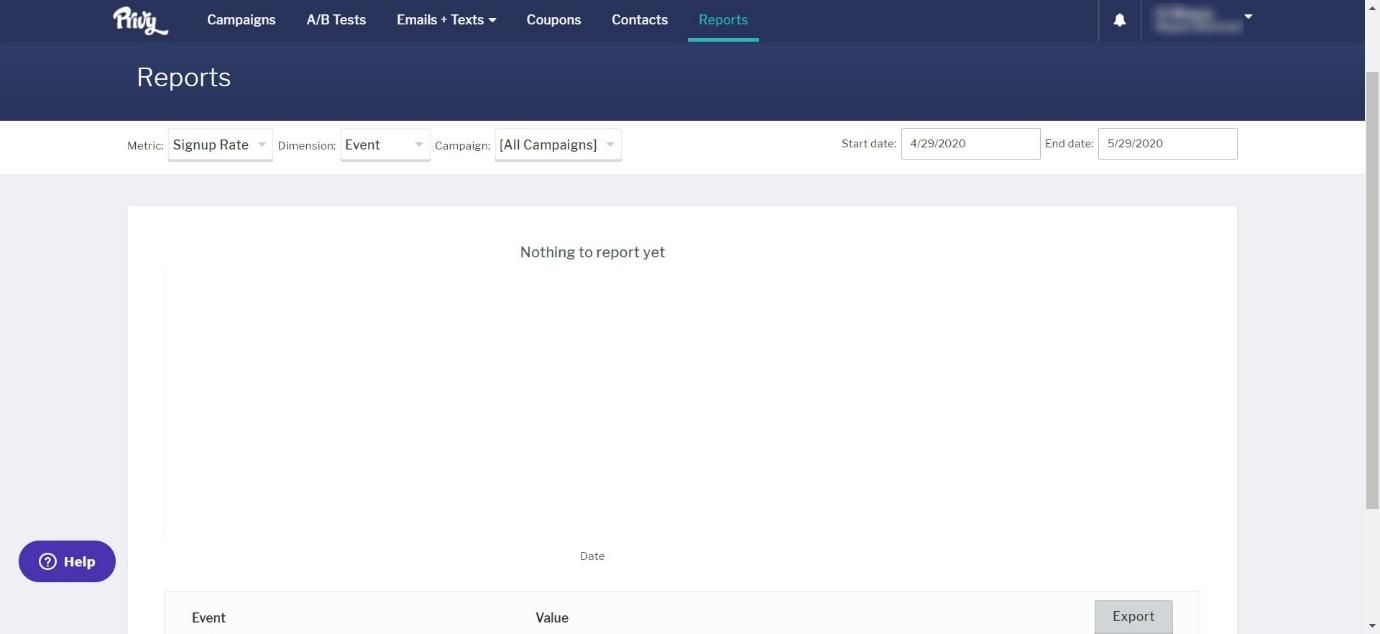 You can choose a metric to look at – signup rates, views, emails sent, redemptions, redemption rates, and link clicks. It's not as in-depth as Justuno's reporting, but it does give you a good idea of how the platform is helping to improve your conversion rates.
Justuno vs Privy: Support
Justuno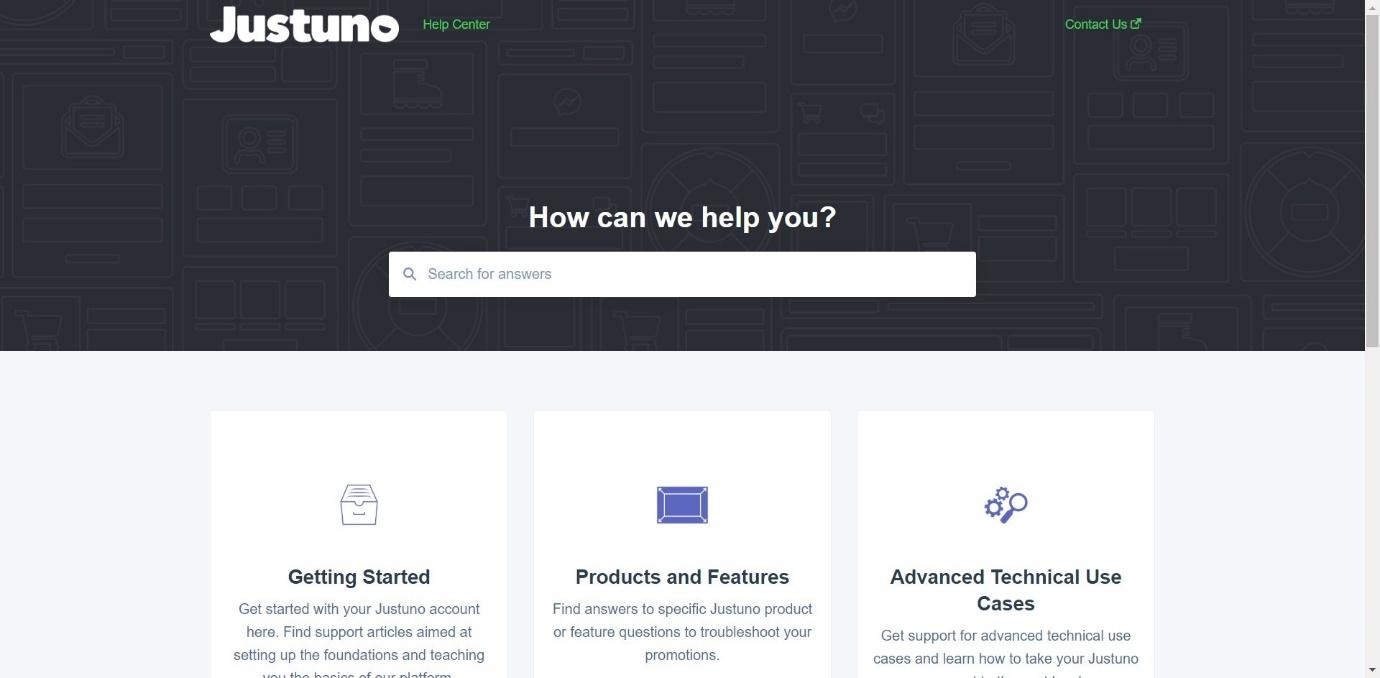 Justuno has a knowledge base, including articles about how to get started on the platform. They also have a weekly blog with tips, case studies and design inspiration, and the Justuno Academy, which teaches users how to use all of the features on the platform to your advantage.
Support is offered in the form of ticket queries, which you can submit via their website.
Privy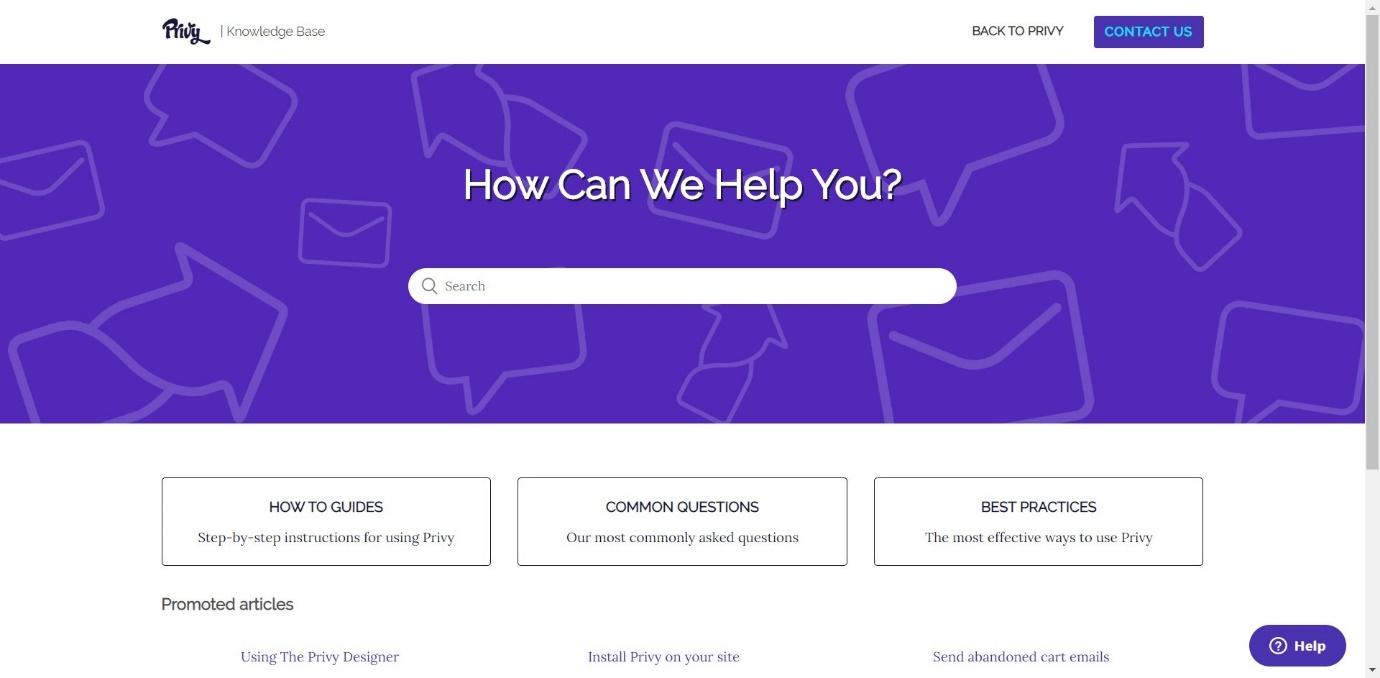 There is a knowledge base with plenty of articles to help you get started on Privy. They also have a regularly updated blog and a Privy Masterclass, giving you in-depth guides on how to make the most of the platform.
If you need support, you can submit a query ticket via their website.
Justuno vs Privy – Pricing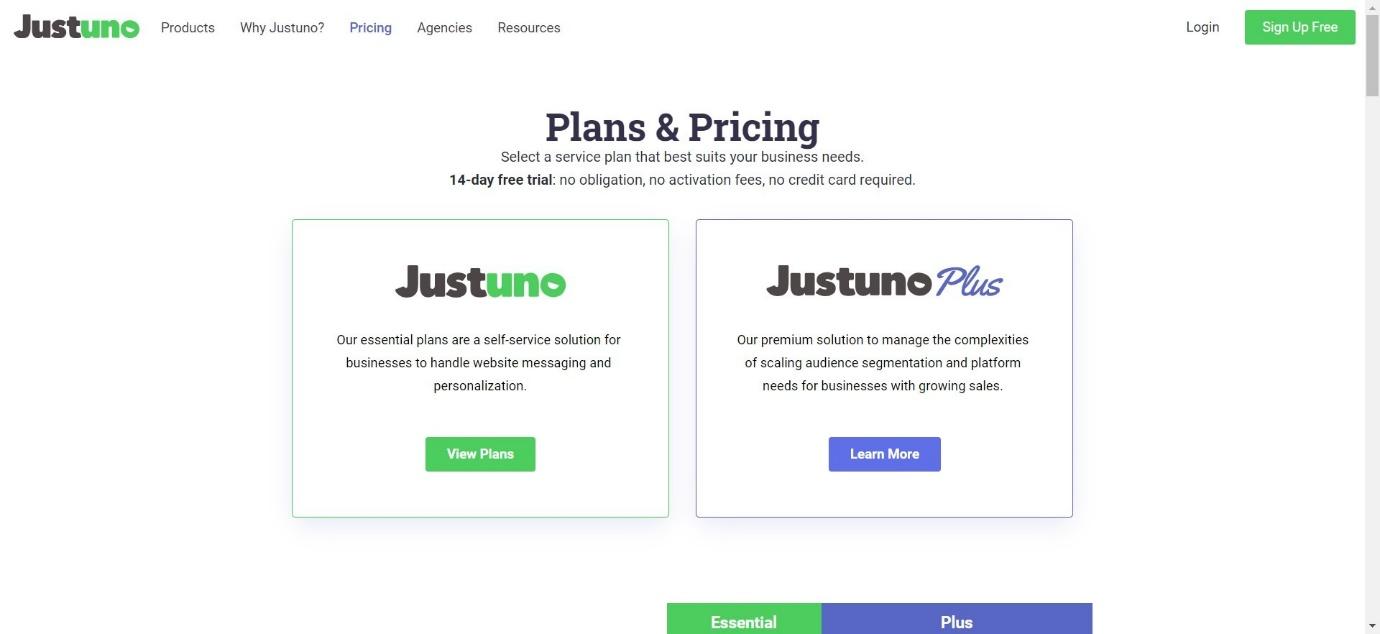 There are two main options – Justuno and Justuno Plus.
This includes almost everything on the platform, except AI upsell and cross-sell promotions and commerce AI. You also won't get some of the account services that Justuno Plus offers. There are a few different prices for the Justuno plan based on how much traffic you receive a month.
10K Traffic – $25 per month (billed yearly)
25K Traffic – $41 per month (billed yearly)
50K Traffic – $83 per month (billed yearly)
Justuno Plus offers more account services than the basic plan, including ongoing strategy calls, onboarding services, a dedicated account manager, and access to two-tier support. It also includes AI upsell and cross-promotions, and commerce AI.
You will need to request a quote from Justuno for this service. Justuno offers a free trial – you can find out more here.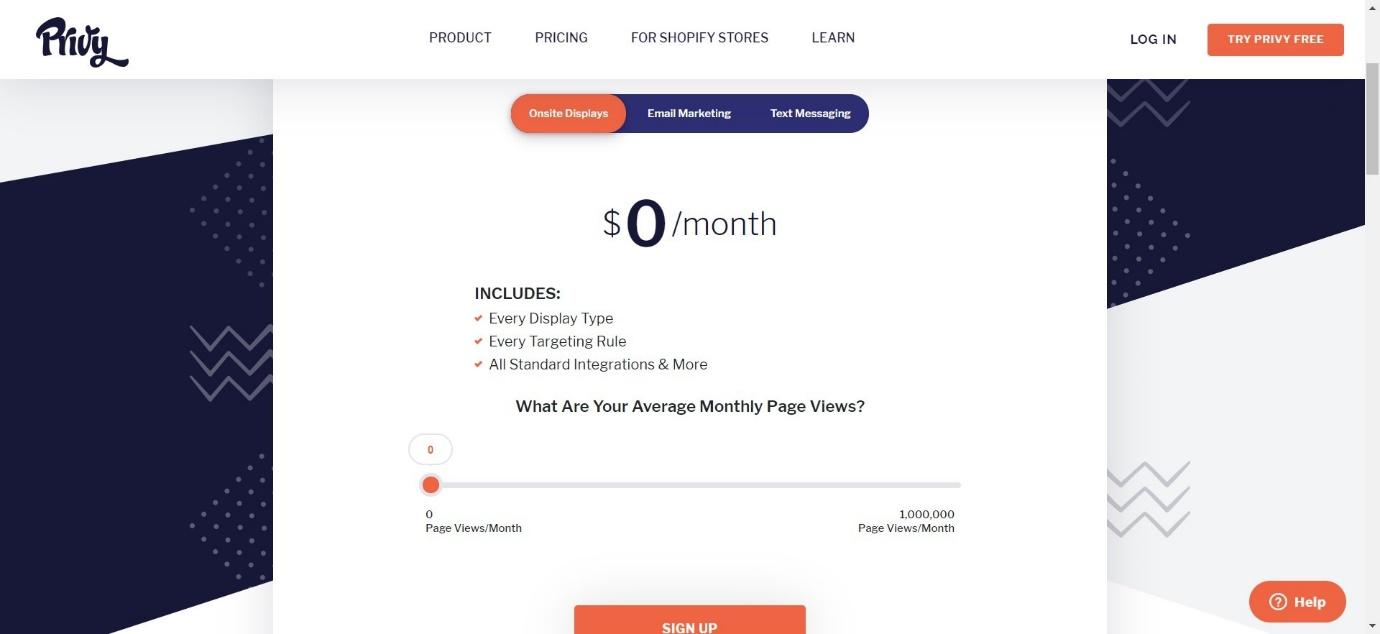 Privy's pricing is a little more complex, based on a sliding scale. We'll try to get as close a comparison to Justuno as possible.
This includes every display type and targeting rule, and all standard integrations.
10K page views per month – $30
25K page views per month – $70
50K page views per month – $140
This includes newsletters, abandoned cart emails, order follow up emails, a welcome series, and Shopify and BigCommerce coupon integrations. This is based on a sliding scale – $10 per month for 1000 contacts, all the way up to $1000 per month for 200,000 contacts.
This includes automated SMS messages, integration with Privy Display, and SMS compliance protection. It costs $50 per month for 50 contacts, and again, it is based on a sliding scale. It goes up to $1000 per month for 10,000 contacts.
As you can see, it's difficult to compare the two directly in terms of pricing, but based on onsite displays, Privy is slightly more expensive at $30 per 10,000 views compared to Justuno's $25 for 10,000 views. Privy has a free trial – you can find out more about it here.
Justuno vs Privy: Pros and Cons
Justuno
Pros
Commerce AI allows you to intelligently target customers with offers and products that suit them, based on real data points
The sales and conversion tools are really useful
The Facebook Messenger integration and push notifications allow you to communicate to your customers outside of your website
The knowledge base and Justuno Academy is useful
Cons
Users report that the platform can be quite tricky to learn – there are a lot of features, so it takes time to get your head around how it all works
Privy
Pros
It's easy to create emails with coupons for customers
The on-site displays are targeted towards segments of customers
It's really easy to create pop-up ads
The platform looks basic, but is easy to navigate
Cons
It can get pricey as your page views go up
You have to pay separately for text messaging and email marketing
FAQs About Justuno vs Privy
Conclusion – Justuno vs Privy Which One is The Best?

Our Pick

Why Go With Justuno?

Better data-driven features, push notification support, pop-ups, Facebook integration, and incredibly insightful data analytics made a tangible difference in our business.

Try FREE Now

We earn a commission if you click this link and make a purchase at no additional cost to you.
Both platforms have their strengths. Privy has a lot to offer, and it's handy to have email marketing built into it.
Bottom Line Summary: However, out of the two, I prefer Justuno. For the price, the data-driven features are very impressive. It's got a steeper learning curve, but with push notifications, pop-ups, Facebook messenger integration, and great analytics, it's a great platform that could make a real, tangible difference to your revenue. Get started with a Justuno free trial here.
Have you tried either platform or do you have any other recommendations? Let us (and other readers) know your thoughts in the comments!
Further Reading: