Last Updated on September 9, 2022 by DMEditor
Suppose you're searching for the best project management software to suit your business. In that case, you might be considering monday.com vs Microsoft Project. These project management solutions are tried and trusted by thousands of companies worldwide.
monday.com is an easy-to-use software with over 125,000 customers. It provides businesses with the tools to complete work on time and stay organized. Microsoft Project is another leading project management software with a market share of 19.76%. Again, this world-renowned solution comes with powerful capabilities to help businesses manage projects and tasks.
In light of that, this article breaks down what both project management companies offer so that, hopefully, you can make an informed choice for your business by the end of this comparison review.
We've got lots to cover, so let's get started.
Bottom Line Upfront
monday.com: This is an excellent solution for small to medium-sized businesses wanting to ensure all team members are on the same page. It provides easy-to-use virtual boards to help create, track, and prioritize tasks and projects. A high level of customization is available, and various pricing plans are tailored according to the number of users and features you need. monday.com offers a free program for up to two users and a 14-day trial with paid plans.
Editor's Choice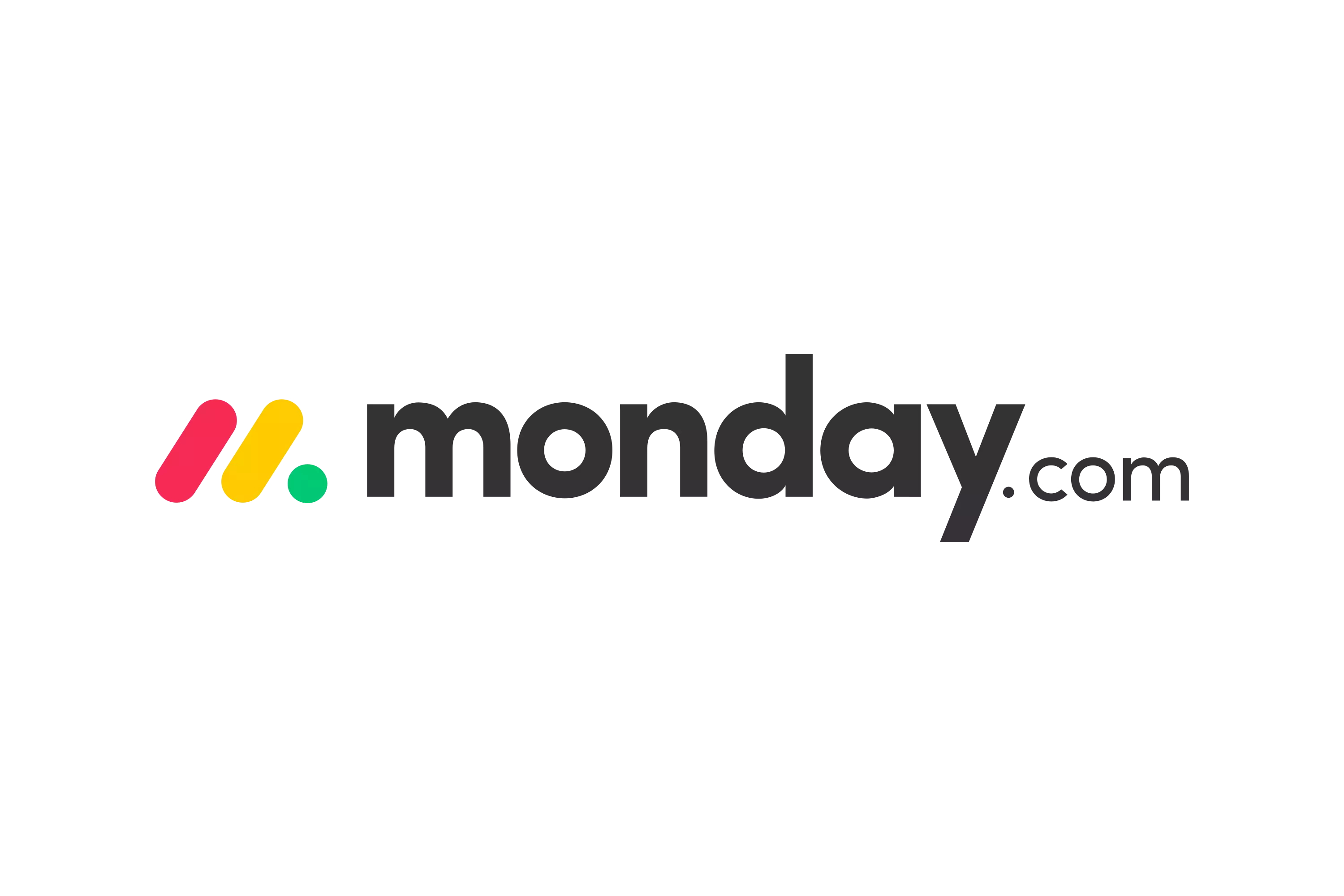 Microsoft Project: This is a potent project management tool. However, it's only viable for large corporations and project management experts. In addition, the learning curve is steep, requiring team training to ensure everyone can make the most out of this solution; however if you want a more advanced platform that pairs perfectly with the other Microsoft tools and applications. In that case, Microsoft Project is a sound choice.
monday.com vs Microsoft Project: Their Key Similarities and Differences
We've got you covered if you're just here for the headlines. Let's take a quick peek at monday.com and Microsoft Project's key similarities and differences:
Differences
monday.com is a better option for smaller businesses, whereas Microsoft Project is more suited to enterprise-sized teams.

monday.com offers more integrations with third parties, whereas Microsoft Project focuses on integrating with Microsoft's own tools.

Microsoft Project offers more advanced features for expert project managers, whereas monday.com is accessible to everyone regardless of prior experience.

monday.com has a more extensive online resource base than Microsoft projects.

Microsoft Project supports over 20 languages, whereas monday.com only supports 13.
Similarities
Both platforms allow you to track the time spent on the projects or tasks you're working on.

You can also access both solutions via a mobile app.

Both provide highly agile dashboards where you can customize workflows based on your preference.

Both offer collaborative tools.

Both provide advanced reporting and analytics features that apprise you of your team's performance.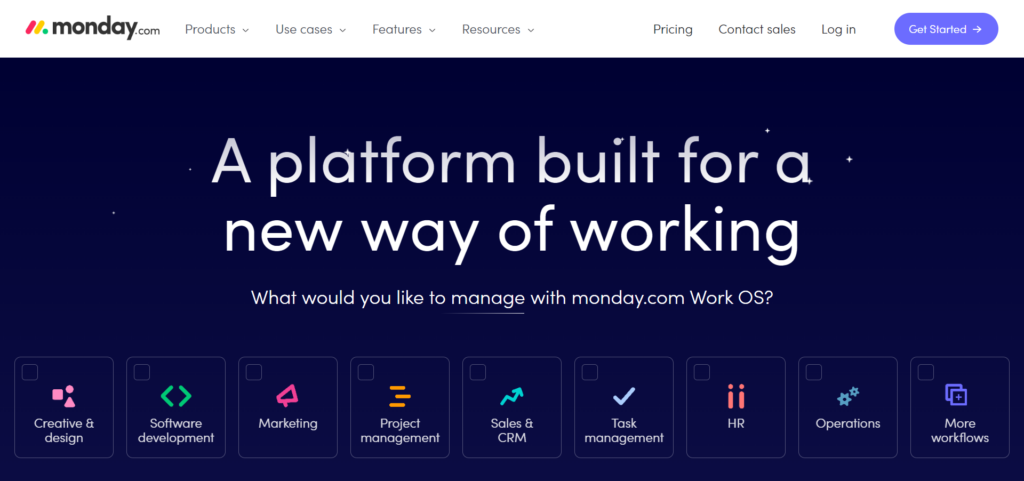 Whether working remotely or in a traditional office setting, staying organized is often a struggle. With different tasks being assigned left, right, and center, it's no wonder some of us get headaches trying to keep on top of our workload. This is where monday.com can help.
monday.com is a cloud-based team-tracking and workflow management solution designed to help you and your team stay organized and focused from one streamlined interface. monday.com successfully combines scheduling features and collaborative spreadsheets to enable your team to plan, track, and check off tasks.
Scheduling features allow you to map employee availability, set deadlines on different projects, and track their performance. Team members are automatically notified when a project is assigned to them and are made aware of any necessary deadlines.
monday.com is aware that different projects require different things, so they've created over 200 beautifully designed templates to facilitate that. These are easily customized and integrate smoothly with Zoom, Slack, Excel, and Facebook Ads.
Editor's Choice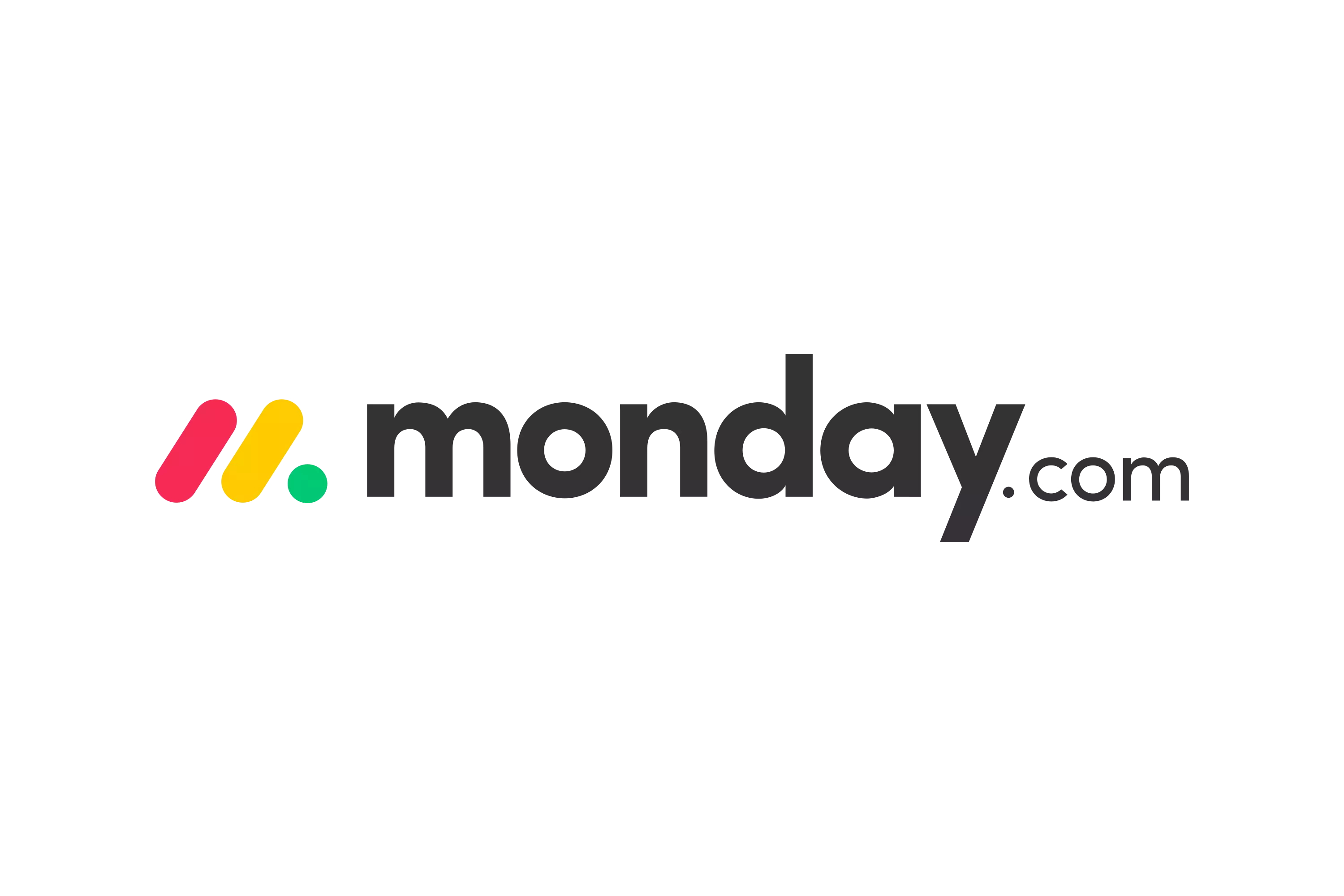 Who's monday.com Suitable for?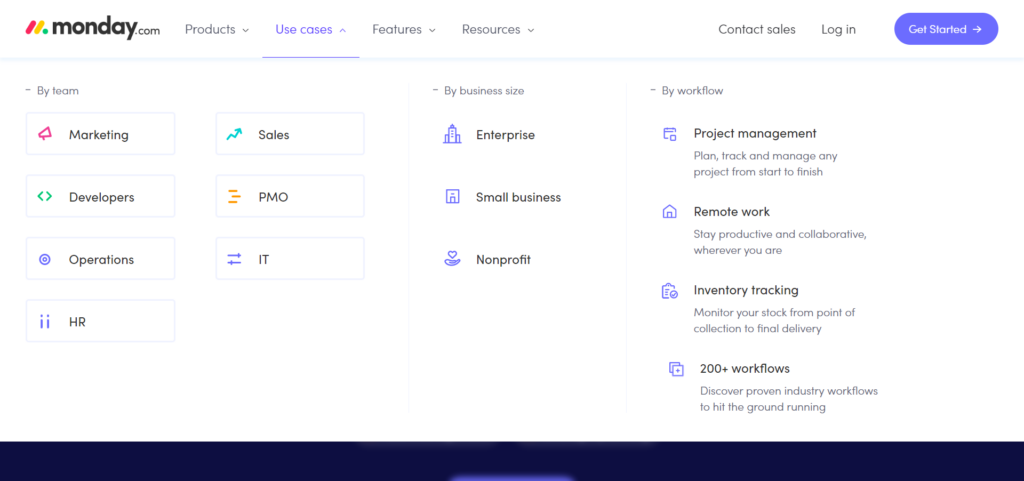 monday.com is suitable for small to medium-sized businesses. However, if you want to use it for personal scheduling and organization, you can. But, just remember that monday.com is targeted toward team use which is reflected in their price plans.
That said, examples of where monday.com is most suitable include:
IT operations

Remote working

General project management

Campaigns and marketing

Software development and releases

Boosting sales

Customer support

HR processes

Low code development

Streamlining creative workflows
…to name a few
Getting Started with monday.com
As we've already said, monday.com is a cloud-based software solution, so it can be used worldwide with nothing more than an internet connection. You just need to create a login, which requires an email address and password, and voila, you're in. When you sign up to monday.com, you'll automatically be put on the Pro plan for a free 14-day trial.
Once finished, you'll need to decide whether to stay on this plan (more on this later…) or upgrade or downgrade to a more suitable plan.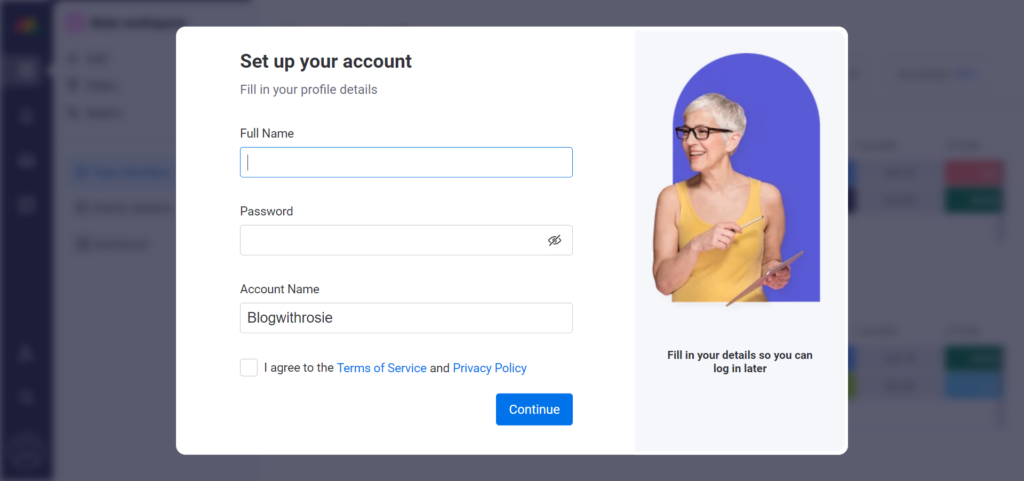 There's no setup fee to join or a need to download applications, making this software easy to log into and use no matter the device you have to hand.
Once you've created an account, you're taken straight to the main dashboard, where you can either create new boards from scratch or choose from their pre-made templates. All plans, including their free one, come with over 200 templates.
Designed to be highly customizable, you can tweak and change almost every aspect of your dashboard and the boards you create. This means you could spend lots of time playing around with the features. It may also take some trial and error to get things just how you want them. However, on the plus side, this enables you to create a workflow and task management system ideal for your team's exact needs.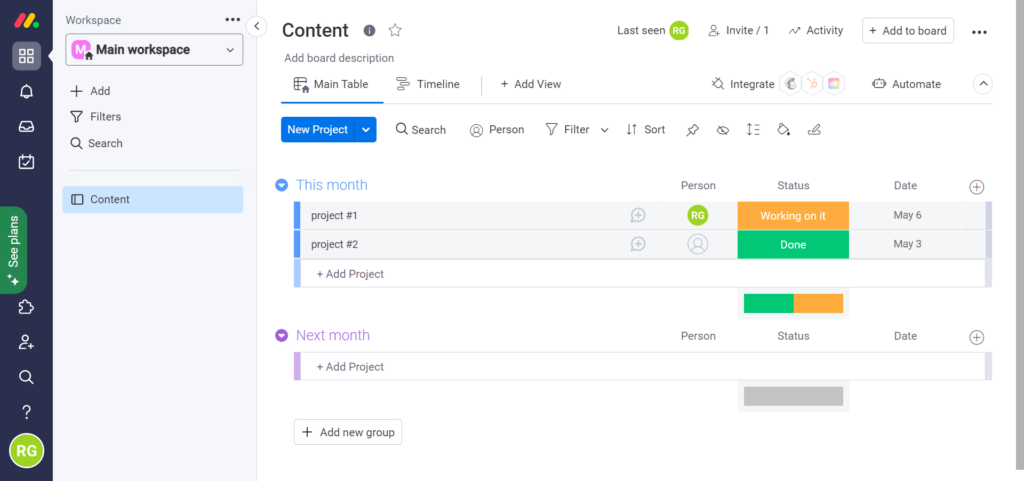 At this point, it's also worth noting that monday.com also has an offline mode. Aptly named, monday.com's offline mode lets you check your notifications and updates and make changes to your boards without needing an internet connection. This means you can be on the go, a remote worker, on a subway or plane, or even on a desert island and still be able to use monday.com.
monday.com's Core Features
monday.com's standout feature is its boards. We've already mentioned these a couple of times, but as they're the cornerstone of monday.com's offering, we're going to go into more detail:
Each board is typically used to house one project or task. You can track pending tasks and who's working on what. For instance, you can assign tasks to different team members and enable them to update the project's status in real-time. You can also organize your dashboard using columns, including:
By people

By deadline

By project

By status
…And much more.
With boards, you can also set up work timelines, move tasks around, and add notes, making boards a great way to organize and prioritize tasks and projects. Not only that but because everyone can see who's working on what and when things need completing, team members are held accountable for coming through on their chunk of the work.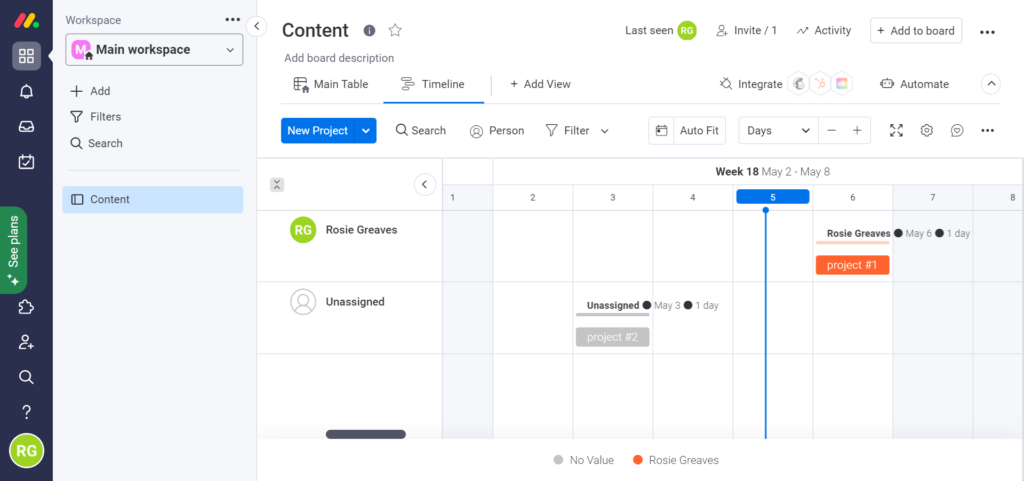 Although monday.com isn't explicitly a communication tool, team members can chat back and forth via boards and leave comments on them. The board is essentially a virtual whiteboard you can add to any project. Each team member also has a message inbox, where they're notified of any board updates.
Another key feature is the ability to automate processes and tasks. This reduces the risk of human error and goes a long way to streamlining monotonous workflows.
You don't need any experience with automation or coding, as monday.com provides simple prompts to guide you. Using automations, you can assign team members specific tasks and create new tasks without manually doing anything – for instance, creating new boards or projects for a given time or project approval.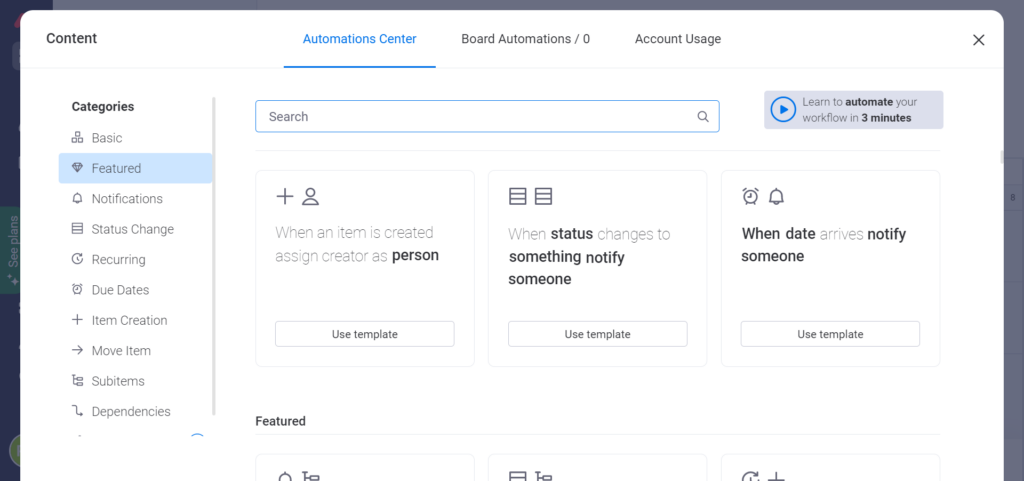 Other noteworthy features include:
You can create task list systems, which you can prioritize and color-code.

Plan timelines – Individual tasks (and their deadlines) are automatically added to the timeline view so you can see how multiple projects are progressing from one dashboard.

You can track progress and the time spent on each task.

monday.com is a mobile-friendly solution.

monday.com facilitates file sharing across teams.

Tools for tracking and managing the allocation of physical resources

Access to a shared team calendar

Access to over 200 templates

You can view the entirety of a project's progress from your dashboard and drill down into the performance of individual teams, members and tasks.

Drag and drop board and template editing

Eight data visualizations include Gantt, map, form, workload, Kanban, timeline, and calendar.

You can download your project boards (and files attached) in an excel format.
monday.com: Customer Support and Ease of Use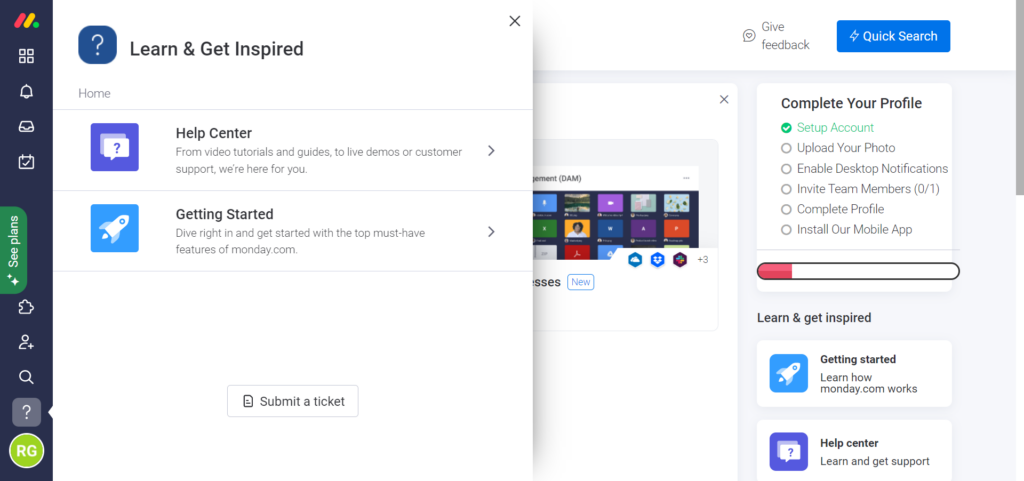 Overall, monday.com is exceptionally easy to use, and customer satisfaction seems high. However, things can get slightly more confusing if the team size is large or there are many active projects. In these examples, you could find the dashboard gets cluttered and could make it harder to navigate. However, if you stay on top of things, it shouldn't be a big problem.
A significant aspect of monday.com is that they keep new users in mind and offer various walkthroughs and video tutorials that teach you and your team how to use the available features.
monday.com also offers 24/7 support through a live chat. There's also an online contact form (whether you're a monday.com user or not) and a separate online form for contacting their sales team.
They also provide an address for their bases in Tel Aviv, London, New York, and Sydney.
Other forms of support include:
FAQs

Forum

Phone support

An online knowledge Base
monday.com Integrations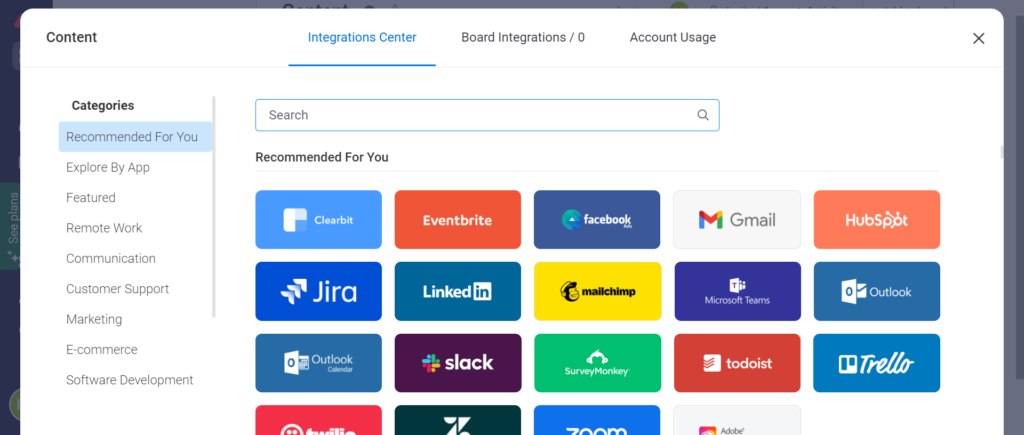 monday.com's native integrations are broken down into the following categories:
For Team Collaborations
Outlook

Microsoft Teams

Slack

Dropbox

Zoom

Excel

Google Drive

Google Calendar

Adobe Creative Cloud

LinkedIn

OneDrive

Zapier
For Sales Pipelines
Sales desk

Cooper

Zendesk

Stripe

Shopify

Twilio

WooCommerce

Pipedrive
For Marketing
Facebook Ads

Mailchimp

Hubspot

Survey Monkey

Typeforce

Clearbit

Box.com

Eventbrite

JotForm

Hootsuite

Data Studio

Adobe Creative Cloud
For Software Development
Jira

GitLab

GitHub

Pagerduty
For Project Management
Toggl

Asana

Basecamp

Todoist

Trello

Harvest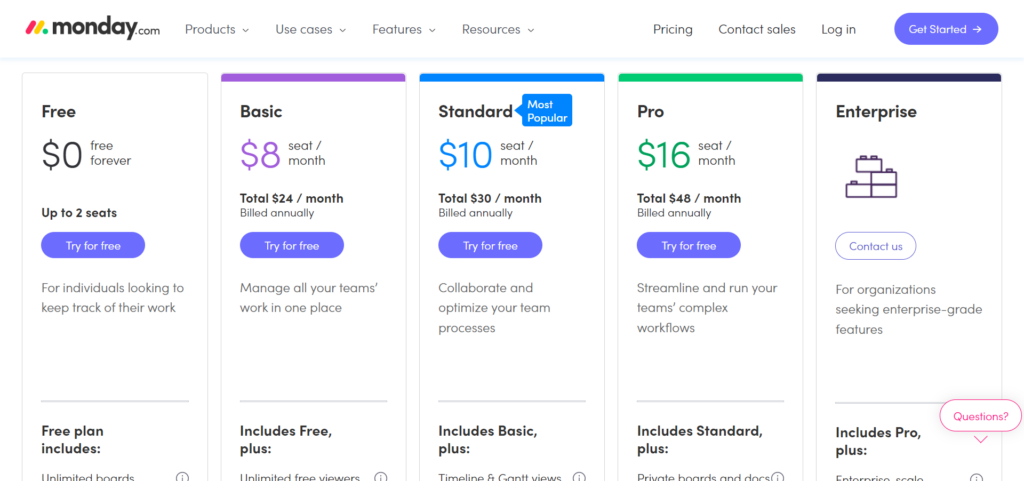 monday.com offers five pricing plans, including a freemium package that's free forever, so long as you're happy with the limited usage you get from this plan. Let's look at each plan in turn:
The Individual Plan – Free
This is a suitable plan for individuals who want to better track and organize their tasks.
This plan includes the following:
Up to two team members

Unlimited boards

200+ templates

Unlimited docs

Over 20 column types

iOS and Android apps
The Basic Plan
This will set you back $7 per user per month (billed annually), or $9 per user, per month (billed monthly).
This plan includes everything in the individual plan, plus:
Unlimited free viewers (people you can invite to view your boards that can't make any edits)

Unlimited users

5GB storage

Unlimited items (These can be project lists, weekly tasks, clients, locations, or anything else depending on your workflow)

You can create a dashboard based on one board.

Prioritized customer support
The Standard Plan
This will set you back $9 per user per month (billed annually), or $11 per user, per month (billed monthly).
According to monday.com, this plan is their most popular; it features everything in the Basic plan plus:
You can visualize data using timeline, Gantt, and calendar views.

Automations (250 actions per month)

Guest access (These are users you can invite to participate on your boards without giving them full access to all your projects.)

Integrations (250 actions per month)

You can create a dashboard that combines up to five boards.
The Pro Plan
This will set you back $14 per user per month (billed annually), or $18 per user, per month (billed monthly).
This is best for businesses with complex workflows. Everything in the Standard plan is included, plus:
Dependency column (dependencies link together different items on your board, preventing new items from being added until the last one is complete.)

Automations (25,000 actions per month)

Chart view

Time tracking

Private boards and docs

Formula column (This extracts data from your board and performs calculations much like Excel.)

Integrations (25,000 actions per month)

You can create a dashboard combining up to ten boards.
Enterprise
monday.com's most expensive plan, the pricing of which is determined after contacting their sales team. This package is best for larger enterprises; it includes all the features in the Pro Plan, plus:
Enterprise-level security and governance

Automations (250,000 actions per month)

Integrations (250,000 actions per month)

Advanced reporting and analytics

Tailored onboarding

Multi-level permissions

Premium support

You can create a dashboard combining up to 50 boards
Editor's Choice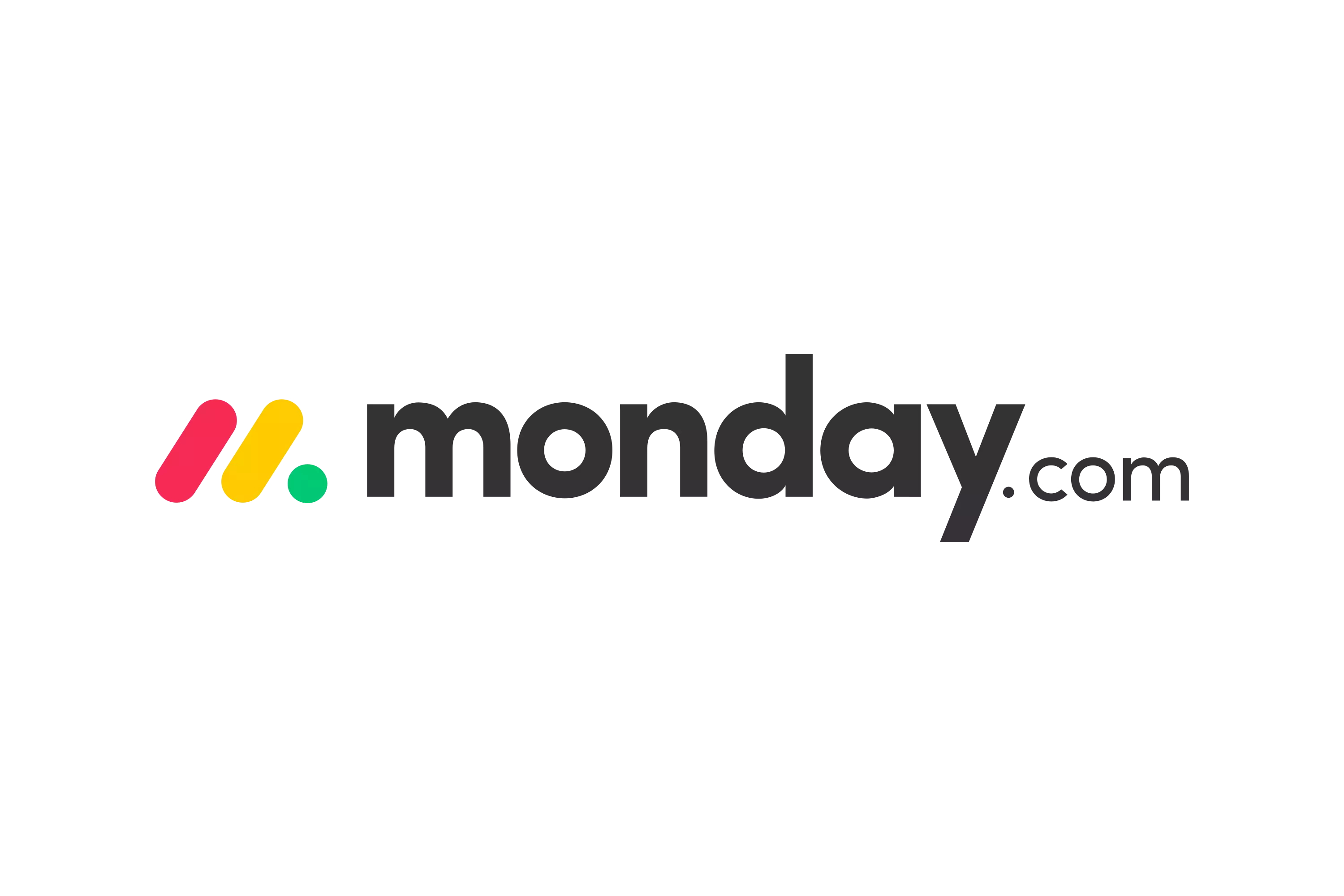 monday.com's Pros and Cons
We've covered lots of ground, so let's condense the above info with a quick pro-cons list:
Pros
There are over 200 attractive templates to choose from

This platform is highly customizable

It seamlessly integrates with a range of tools

It's a great fit for remote teams looking to collaborate on multiple projects

It provides basic file storage

There are various plans to choose from

It's newbie-friendly

Customer support is reportedly excellent

A free plan is available

A free trial is available
Cons
Thanks to the per user, per month pricing structure, Monday/com can get quite expensive for larger teams

It may take a while to familiarize yourself with the sheer array of customizable options there are

Reporting tools are limited compared to Microsoft Projects.
About Microsoft Project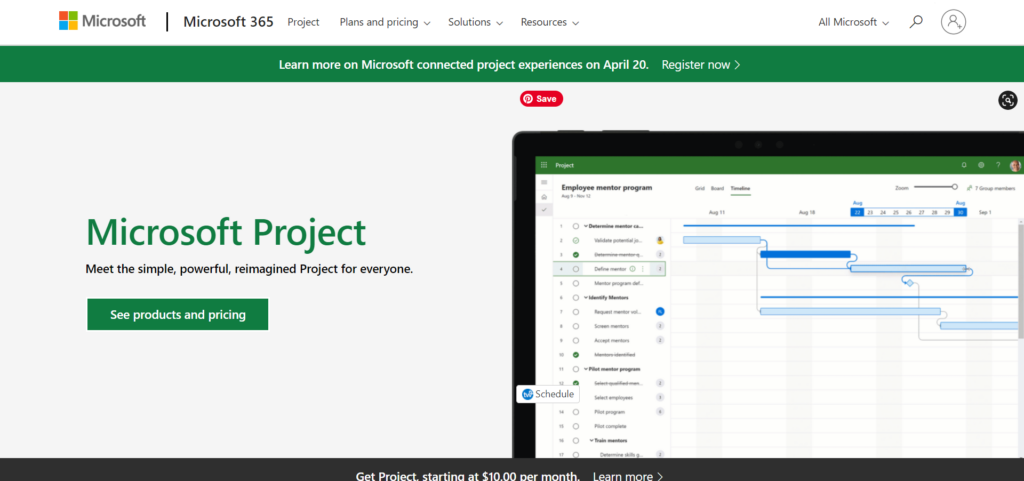 Microsoft Project, also known as Microsoft Project Management Software, or MS Project, is considered one of the most robust project management solutions on the market.
It's available as both a cloud-based and on-site solution. It slightly overlaps other Microsoft applications, but it's a stand-alone platform regardless. That said, when used in conjunction with Microsoft Teams, users will be able to make full use of everything this software has to offer.
Microsoft Project is designed to help users manage plans, schedules, resources, and budgets. That's as well track tasks and analyze workloads. In addition, you can visualize info using various views, including kanban boards, project calendars, and Gantt charts.
Microsoft Project focuses mainly on desktop use – it doesn't have a web app. For some, this is ideal, but for others, particularly for teams working on the go, this is a significant drawback.
Who's Microsoft Project's Most Suitable for?
This project management solution is best for experienced project managers and teams, not beginners. Unfortunately, it isn't the most user-friendly solution on the market, so if ease of use is a top priority or if you have little experience with project management, this isn't the best option for you.
However, for those with experience, Microsoft Project provides a vast suite of robust features to help you manage your business's projects. It's also an ideal solution for companies already using Microsoft tools, such as Microsoft 365 and Teams. Lastly, organizations managing complex projects on vast scales will also find this platform helpful.
Getting Started with Microsoft Project
Microsoft offers three different project management solutions: Microsoft Project, Project Online, and Project for the web.
To access these solutions, you simply sign into Microsoft 365. Go to all apps. From there, you'll see the Project icon. Alternatively, you can go straight to project.microsoft.com.
Aptly named Project for the Web is an entirely web-based tool, offering simple project management functions for smaller, more straightforward projects. As a result, it's more suitable for individuals and small businesses than Microsoft Project.
Project Online is Microsoft's cloud-based PPM (Project Portfolio Management) tool. It allows organizations to manage portfolios, projects, and programs across their entire organization and track resource availability. It also offers users robust reporting capabilities using Power BI reporting.
Finally, Microsoft Project is a desktop project management application installed either with a perpetual license known as Microsoft Project 2019 or a monthly recurring license known as Project Online Professional. If you sign up for the Project Online Professional version, you'll also get access to Project Online.
These Project tools enable teams to collaborate using a Microsoft Teams integration. You can simultaneously edit and update task lists and project schedules and sync data from your Team's channel with Projects. This enables you to import information across platforms – for instance, reports, resources, programs, portfolios, etc.
Microsoft Project's Core Features
As we've already said, Microsoft Project comes with tons of project management features, including customizable Gantt charts, allowing you to visualize project resources and workflows better. But one of its most impressive features is its high-level budgeting and cost-tracking tool.
This helps you strategize which projects to take on thanks to its "Earned Value" calculations, which work out the project cost estimates and corresponding ROI. This lets you compare original cost estimates, projected costs, and actual costs, allowing you to see figures' variations.
Microsoft Project also allows you to define projects and create sub-tasks and milestones. Once you've nailed down your project's scope and specified time frames, you can use Microsoft Project's auto-scheduling to plan a calendar of tasks to keep you and your team on schedule.
You can view this schedule as a project timeline or Gantt chart view. However, if you would prefer to enter dates manually, you still have the option to do so.
You can also create, embed, and link sub-tasks to the main project and make changes to sub-tasks inside the main project to provide users with a high-level view of what's going on.
You can set up Kanban cards or boards with four predetermined columns:
Not Started

Next Up

In Progress

Done
However, you can add new columns better to meet the needs of your project's workflow, rename the default columns, or delete them altogether. Here, you can also create tasks and add extra information like notes or other task-related resources.
You can track tasks assigned to different people to get a feel for project progress. Or, if you're an experienced project manager, you can take these features to the next level with interactive dashboards that communicate real-time project statuses to your entire team. However, you'll need programming skills and a separate subscription to Microsoft Power BI to access this feature.
Microsoft Project provides visualizations using views, filters, tables, calendars, and databases. The filters allow you to display specific tasks, resources, and assignments based on specified criteria. You can also view these items in a calendar to view project timelines by week.
Lastly, if you connect your project to a SQL database, you can change the property settings of different items within your project.
These can help with things such as:
Developing project plans

Tracking time and project progress

Balancing workloads

Assigning resources

Creating Gantt charts

Creating and managing budgets

Scheduling tasks and resources

Creating graphical reports

Storing project data in a shared database
Another feature worth mentioning is portfolio management. Based on available resources, costs, and timelines, you can weigh different project proposals. It also provides a broad perspective on overall project progress and the performance of different teams.
Microsoft Project's Interface
This solution will be easier to navigate for those familiar with Microsoft Excel and other Microsoft productivity tools than those without such experience.
However, though Project looks similar to Excel- the general workspace on a blank project is separated into two primary columns. First, on the left, you have an Excel-like table format.
Here you list the tasks that need doing. Next, you have the Gantt chart on the right, which provides an interactive visualization of your schedule, which you can check against a timeline at the top, which indicates one day per column.
There isn't a mobile app that replicates Microsoft Project's desktop experience. Instead, closely related apps such as Project Portfolio (accessible via the Apple or in the Google Play app store) and Project Microsoft Planner app (accessible on iOS and Android devices). However, the latter can only sync your schedule and personal tasks from the Project Online solution, but not Microsoft Project.
Microsoft Project's Customer Support
You can access self-help guidance and resources that break down commonly asked questions. They also have the Microsoft Get Help app, which, when clicked on, allows you to write your issue in a box, and possible solutions will appear. Alternatively, you can call them.
In contrast, larger enterprises are typically assigned an account manager for customer support.
Microsoft Project Pricing
Microsoft Project isn't part of Microsoft 365. Still, you can add it to your Office 365 subscription or purchase it as a stand-alone solution.
Pricing is split into the Microsoft Project's cloud-based solution, which charges a per user, per month license, or an on-premises solution bought for a one-time fee. Within each option, there are several packages to choose from (billed annually).
Let's look at each in turn:
Microsoft Project Cloud-Based Solutions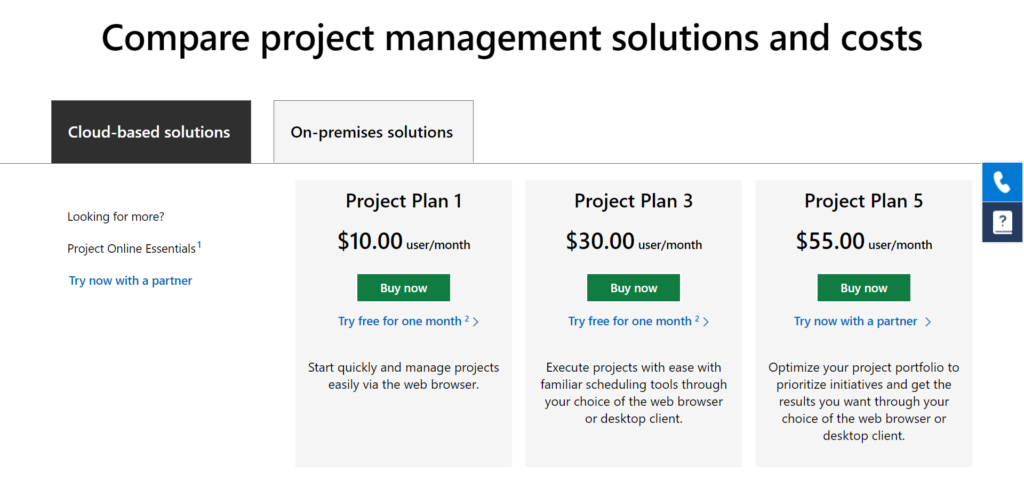 Microsoft Project offers three cloud-based solution plans—Project Plan 1, Project Plan 3, and Project Plan 5. Why they only use odd numbers is an unknown, but there we go…
Project Plan 1
Price: $10 per user, per month.
This plan comes with:
Task status updates

Team access (you can add team members to your projects).

Kanban boards

You can export projects.

Project planning and scheduling tools – you can assign project tasks to team members.

Grid view: Plan and manage projects via an ordered list of tasks.

Board View: Visually track project tasks using out-of-the-box and custom task boards.

Timeline (Gantt) views: Track your schedule, assignments, and the relationships between project tasks using a visual timeline view.

Collaboration: Work together on projects using Microsoft Teams.

Co-authoring: Work together with team members to simultaneously edit and update task lists and project schedules.

Pre-built reports for tracking project progress and resources, programs, and portfolios.

Roadmaps: Read-only access with this plan.

Timesheet submissions: Capture project and non-project time spent on payroll, invoicing, and other business tasks
Project Plan 3
Cost: $30 per user per month.
You get everything in Plan 1 plus:
Roadmap- You can build visual, interactive roadmaps by aggregating different project types across your organization.

Resource management: Define the project's team, request resources for the project, and assign tasks to those resources.

Desktop client: A fully installed, up-to-date Project desktop app. Note: one license covers five PCs per person.
Project 5
Cost: $55 per user per month.
This plan features everything in plan 3, plus:
You can model various portfolio scenarios to determine the best path. You can weigh project proposals against strategic business drivers, such

as productivity, project health, and associated costs.

You can capture and evaluate project ideas from anywhere in your organization.

You can view and compare how resources are used across projects and optimize where necessary.
Microsoft Project On-Premises Solutions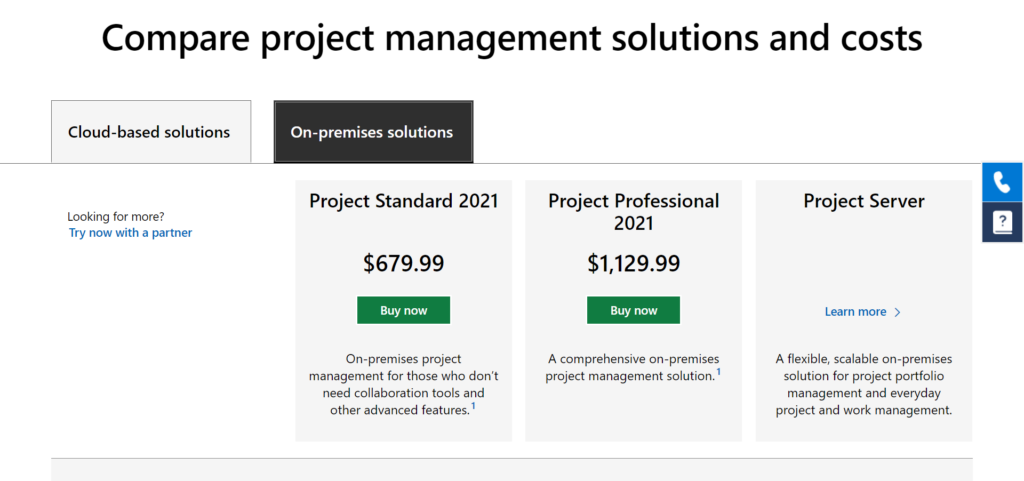 There are three Microsoft Project On-premises solutions:
Project Standard

Project Professional

Project Server
Below we've outlined them each in turn:
Project Standard
Cost: $719.99 (one-time payment)
This plan is suitable for those who don't need collaboration tools or other advanced features. It includes:
A fully installed, up-to-date Project desktop app

One license covers one PC per person.

Manage project schedules and costs.

Manage tasks, reports, and business intelligence.
Project Professional
Cost: $1,409.99 (one-time payment)
Considered their most comprehensive project management solution. This includes all the features in the Standard plan, plus:
Resource management tools

You can sync with Project Online and Project Server.

You can submit timesheets that capture project and non-project time spent. You can then use this data for payroll, invoicing, and other business purposes.
Project Server
You'll need to contact Microsoft directly for a custom quote. This plan is considered a scalable solution for large organizations. It includes most of the features in the Professional plan, except:
Syncing with Project Online and Project Server.

Submitting timesheets to capture project and non-project time spent for payroll, invoicing, and other business purposes.
However, it additionally includes the following:
You can manage demand by capturing and evaluating project ideas from anywhere in the organization through a standardized process.

Advanced analytics for identifying project proposals aligned with strategic goals and honor constraints.
Microsoft Project's Pros and Cons
Last but not least, let's quickly list Microsoft Project's most notable pros and cons:
Pros
Access to a centralized home screen: You can easily create new projects, open recent projects, and access other important information. This home screen is handy for those juggling multiple projects.

Microsoft Project offers Scrum, Kanban, and custom workflows, allowing you to use it for agile project management, hybrid methodologies, and waterful project management.

You can create easily shareable, professional-looking custom reports.

The time-tracking tools allow team members to see how they're spending their time.

The resource management features are really useful.

Microsoft Project is an excellent option for big organizations and project management experts.
Cons
It's not for beginners: Microsoft Project is designed specifically for experienced project managers and technical users. You need more than general knowledge to figure out how this works, which is a dealbreaker for many.

Microsoft has tons of communication tools, and it seems assumed that you use these. For instance, Teams, Skype, Yammer, or Outlook meet your communication needs. If you don't, this solution certainly won't help.

Microsoft only wants you to use their tools. They've created so many that they likely have a solution you need- but at a hefty price. So, if you wish to integrate with platforms you already use, Microsoft Project isn't really for you.

Customer support isn't always great unless you have a dedicated account manager.
FAQs
Question: What Type of Project Management Software is There?
Answer: Not all project management software does the same job. For example, while both Microsoft Project and monday.com have a wide range of features, they're designed with specific audiences in mind.
The main types of project management software are usually based on one (or more) of the following goals:
• Collaboration
• Project scheduling
• Portfolio and resource management
• Document management
• Issue tracking
So by identifying your overarching goals, you're better positioned to choose the best project management software for you.
Question: What Should I Look for in Project Management Software?
Answer: The essential benefit of any project management solution is to save time and reduce errors. You should be able to create clearly defined roles for team members and track individual and overarching progress. Another critical aspect of project management is collaboration.
Some indications of a broken project management system included:
• Continually missed deadlines
• Unclear task ownership
• Unclear task instructions.
• A lack of communication
If you're hitting these walls, it might be time for a change.
Question: What are the Advantages of Project Management Software?
Answer:
• It can improve your team's collaboration.
• It can help to manage time and resources better.
• It makes file sharing and access easier.
• You can create clearly defined team roles.
• You'll get help with delegation, especially during remote working.
• You'll reduce the potential for errors and mitigate risk.
monday.com vs Microsoft Project: Our Final Verdict
monday.com is a cloud-based project and workflow management solution that provides everything you need to keep your team organized and stress-free. It's an excellent solution for beginners and offers a free plan and a free 14-day trial on their Pro plan so that you can try out their more advanced features.
Plus, with monday.com, you can easily integrate with other apps, making it a great option for those wanting to elevate their existing project management and collaboration strategies.
On the other hand, Microsoft Project is only really suitable for larger businesses and those experienced in project management. Unfortunately, its advanced features are reflected in its considerable pricing, and it doesn't offer a free plan or trial period.
Microsoft Project also doesn't integrate with other tools, so you're stuck using Microsoft's tools – which depending on your existing tech stack, could be a problem.
On the whole, monday.com is an excellent solution for those wanting a reasonably-priced platform suitable for small businesses, regardless of experience. In contrast, Microsoft Project isn't ideal for beginners, individuals, or smaller companies. It's complex and comes with a steep learning curve.
Editor's Choice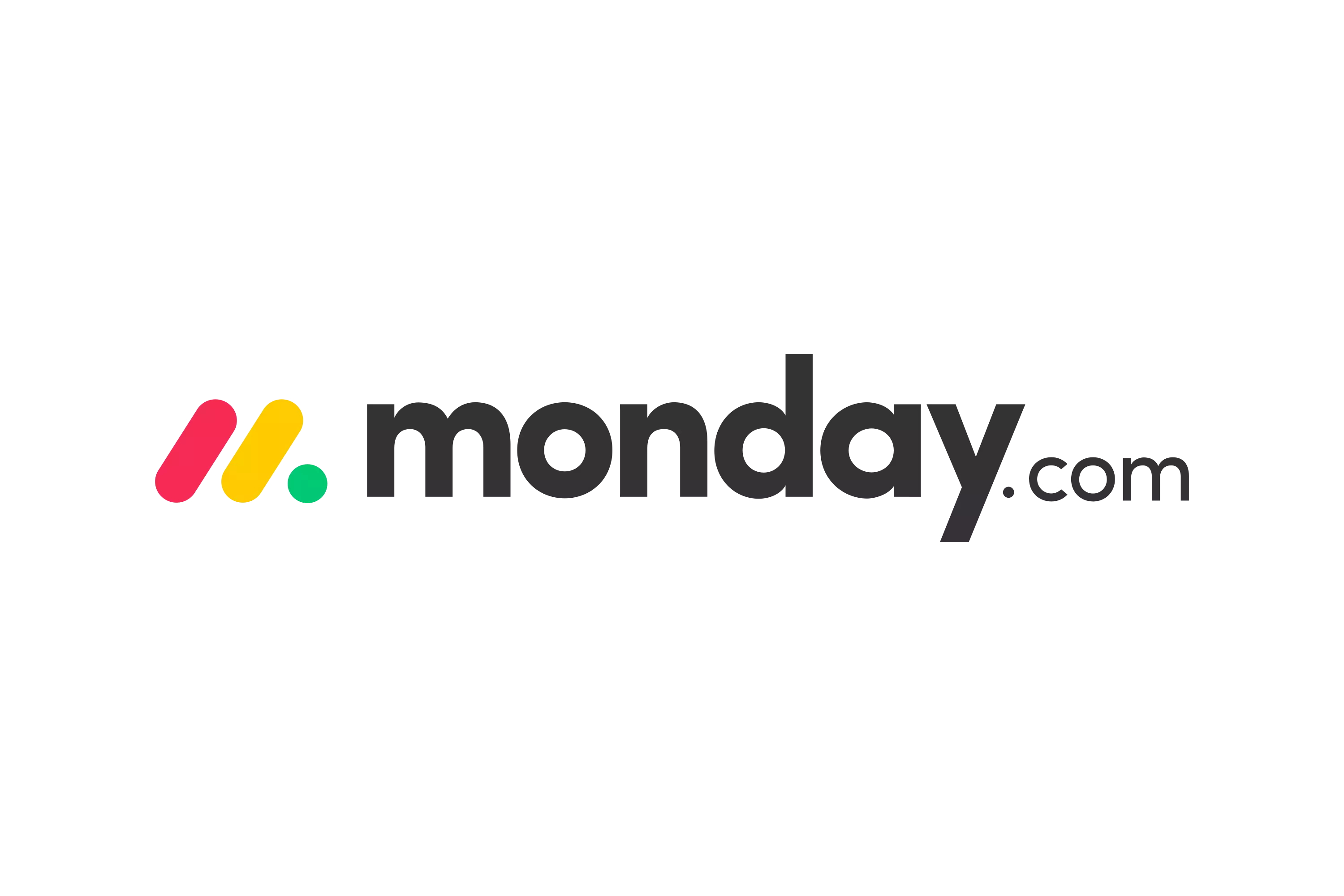 But, if you know your stuff and have lots of Microsoft tools or apps you can integrate with this solution, this is a reliable, professional option for your project management needs.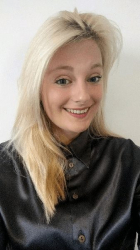 Latest posts by Rosie Greaves
(see all)
Get 40% OFF for 3 Months