Last Updated on May 31, 2023 by Ewen Finser
After setting up a successful online retail business, the next big task for any e-commerce entrepreneur is to fulfill orders quickly and efficiently. That means choosing a suitable shipping provider – an essential yet often ignored decision. Shipping providers can make or break your business, so selecting one that fits your needs and budget is crucial.
Shippo vs ShippingEasy stands out as two of the most popular shipping software platforms. They're both feature-rich and offer great value for money. However, there are significant differences between the two platforms, including their prices, shipping options, and customer support.
Read on for an in-depth comparison between Shippo vs ShippingEasy. We'll analyze their features and compare each platform's ease of use, customer support, pricing, integrations, and automation.
Bottom Line Up Front
The main difference between Shippo vs ShippingEasy is in their pricing, as Shippo tends to be more affordable. However, ShippingEasy offers more features and integrations than Shippo. Both software platforms are relatively easy to use, but ShippingEasy has a slightly steeper learning curve.
Our Pick
Why I Prefer ShippingEasy
FREE for less than 25 orders, then affordable FLAT RATE pricing tiers. ShippingEasy is consistently the highest rated shipping integration partner for both national and global brands if you use USPS, FedEx, or DHL. Start your Free 60-Days Trial here Today!
Get 60-Days Free NOW
We earn a commission if you click this link and make a purchase at no additional cost to you.
Main Differences Between Shippo vs ShippingEasy
The main differences between Shippo vs ShippingEasy are:
Shippo uses a pay-as-you-go model where users pay for the number of labels, whereas ShippingEasy has monthly subscription plans based on the number of features and shipments.
Shippo supports FedEx, UPS, DHL, and USPS, whereas ShippingEasy only supports FedEx, UPS, and USPS carriers.

Shippo offers support via email and chat and doesn't state the time of availability, whereas ShippingEasy offers extensive customer support with availability via phone, email, and live chat throughout the week.

Shippo doesn't offer any marketing features, whereas ShippingEasy offers customer marketing features such as email marketing and campaign management.
Shippo doesn't have any additional platform tools, whereas ShippingEasy offers additional platform tools, such as Amazon seller tools for Amazon FBA and Alexa for shipping.
Based on our analysis, we recommend ShippingEasy for most users, as it offers more features in its subscription plans and integrates with a larger number of popular e-commerce platforms. However, if you're looking for an easy-to-use platform, Shippo is also worth considering.
Shippo Overview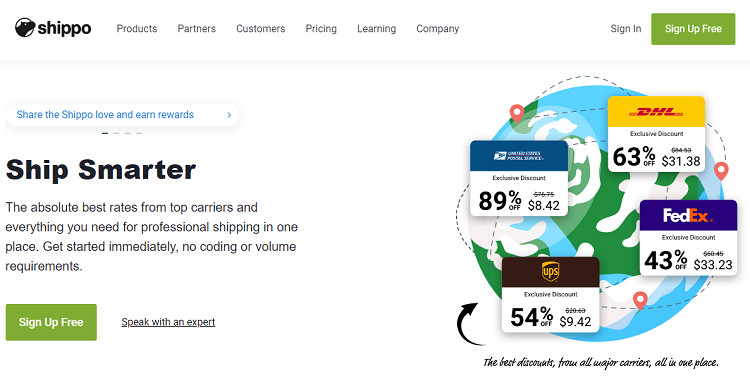 Shippo is a shipping software that connects you with multiple shipping carriers (USPS, DHL, FedEx, UPS) through one platform. It offers real-time tracking, shipping labels, discounted rates, and a user-friendly interface that lets you manage your shipping process from anywhere.
The software streamlines fulfillment through an integrated dashboard, automatically updating you with tracking information on each dispatched order. It integrates with almost all e-commerce stores, marketplaces, and website platforms to provide a seamless shipping experience.
Shippo has a pretty unique pricing structure. The company doesn't charge monthly or annual fees; instead, you only pay for the labels you print. This feature makes it an attractive option for merchants selling seasonal products. For instance, if you anticipate increased sales during the holiday season, you can pay for a package that allows for more shipments.
However, Shippo lacks vital aspects, such as advanced automation tools and peripheral hardware compatibility. Its customer support isn't the best either, and drop shippers may also find it lacking in some areas.
Shippo Features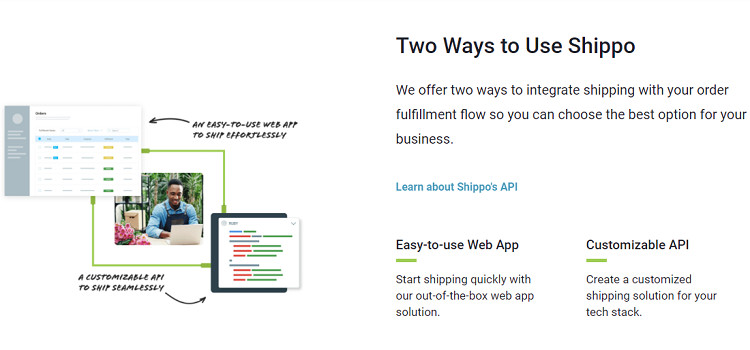 Below are features that make Shippo stand out:
Label creation

: Shippo is a highly user-friendly shipping platform, allowing you to create custom labels that feature your business logo, brand colors, and pricing.

Discounted rates:

Shippo offers some of the lowest shipping rates. The company has negotiated discounts with USPS, DHL, FedEx, UPS, and other international carriers.

Shipment tracking:

Shippo provides detailed shipment information, including the address, carrier information, events, and the estimated time of arrival (ETA).

Reporting and analytics

: The software gives you access to valuable data that can help you track your shipping progress and improve your business efficiency.

Multi-carrier support

: One of the best things about Shippo is that it supports multiple carriers, giving you the freedom to choose the one that best suits your needs.

Return shipping:

Shippo lets you streamline returns by creating return shipping labels with just a few clicks. You can also track returned items and manage refunds easily.

Order management

: Shippo doesn't limit you to just one e-commerce platform. As an omnichannel seller, you can easily manage and fulfill orders from multiple channels through the platform.
Shippo Pros
Extensive carrier options (i.e., USPS, DHL, FedEx, UPS)

Flexible pricing structure

User-friendly interface

Discounted shipping rates

Effective multichannel management

Numerous pre-built integrations
Shippo Cons
Reported technical glitches

Tech support could be better

Limited peripheral hardware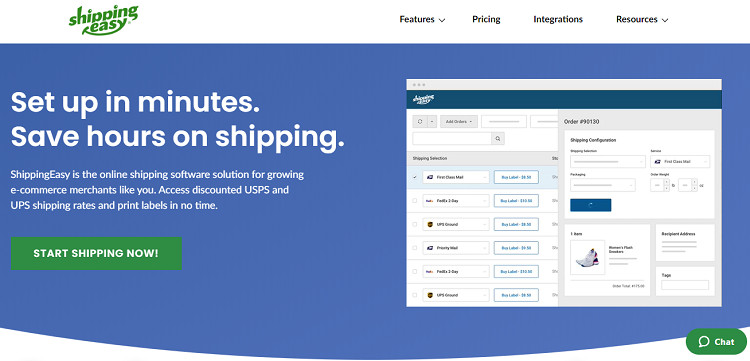 ShippingEasy is an e-commerce shipping software that works with all major carriers (USPS, UPS, FedEx) and marketplace platforms. It boasts advanced features such as automatic order fulfillment, product tracking, returns management, email marketing, campaign management, and advanced reporting.
The software connects to your e-commerce store and automatically syncs orders. The platform integrates with key e-commerce platforms such as Shopify, BigCommerce, eBay, and marketplaces such as Amazon, Etsy, and Walmart. Small and midsized businesses can take advantage of its automated shipping options and add-ons like marketing automation and mailing lists.
Unlike other platforms, it has additional features such as Amazon seller tools and voice control compatibility with Amazon Alexa. Using the platform may be overwhelming for some users, but it's easy to get the hang of it with the resources and support available.
Unlike Shippo, it doesn't offer pay-as-you-go pricing, but its affordable pricing plans are flexible and scalable. When you factor in its automation capabilities, it's an excellent choice for online businesses of all sizes.
ShippingEasy Features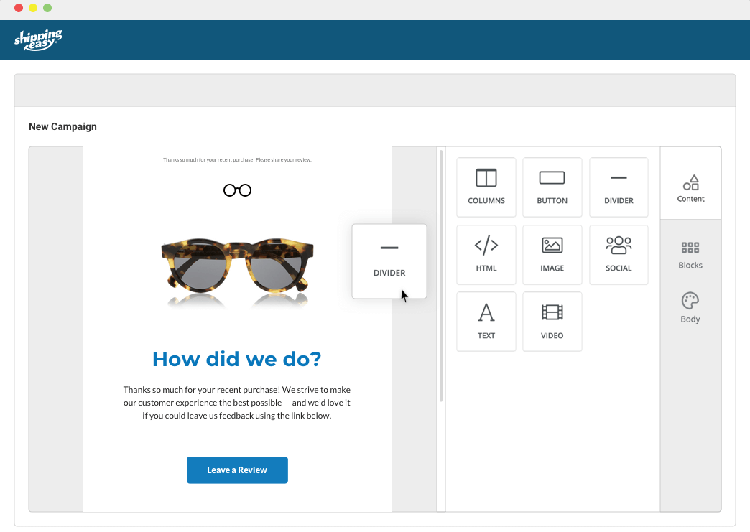 Below are features that make ShippingEasy stand out:
Multi-carrier shipping

: ShippingEasy gives you the freedom to choose from various carriers, including USPS, UPS, and FedEx.

Advanced reporting:

You get access to advanced analytics on your e-commerce performance, making it easier to optimize your business.

Discounted rates

: UPS discount rates can go as high as 86% off Daily Rates. It also offers deep discounts on USPS shipping and some specific insurances.

Shipping workflow

: Automated shipping and integration with major shopping carts and marketplaces make it easy to manage your orders. Users can filter and create a custom view of orders, upload CSVs, and sort, filter, and combine orders.

Tracking and Returns:

ShippingEasy provides tracking information for all your shipments in one place. You can also create return labels and manage refunds with ease. It allows users to add a tracking number to the order and print a branded return label.

Reporting

: Having shipment, order, billing, and refund data in one place lets you determine the effectiveness of your business. You can also create customized reports by filtering and sorting data.

Automation:

ShippingEasy's fulfillment feature lets you automate your shipping process based on order status. It auto-populates values, sends outbound emails, and creates return labels. Users can also purchase insurance and select shipping carriers through the platform.

Marketing

: Marketing is an integral part of ShippingEasy. Merchants can manage unlimited email campaigns and create triggered campaigns based on order and shipping data. Creating drag and drop/HTML templates for newsletters, promotions, surveys, and more is also possible.
ShippingEasy Pros
Extensive feature set

Intuitive user interface

Good customer support

Online resources are helpful and easily accessible

Exceptional marketing tools

Robust reporting and analytics

Affordable and scalable pricing

Excellent customer support

Open API and EDI
ShippingEasy Cons
Steeper learning curve

Reported lags and glitches

Connecting with some e-commerce platforms can be overwhelming.
Our Pick
Why I Prefer ShippingEasy
FREE for less than 25 orders, then affordable FLAT RATE pricing tiers. ShippingEasy is consistently the highest rated shipping integration partner for both national and global brands if you use USPS, FedEx, or DHL. Start your Free 60-Days Trial here Today!
Get 60-Days Free NOW
We earn a commission if you click this link and make a purchase at no additional cost to you.
Shippo vs ShippingEasy: How Do They Compare?
While both platforms have features that facilitate e-commerce shipping, they differ in several key areas. Here's a detailed comparison of Shippo vs ShippingEasy:
1. Ease of Use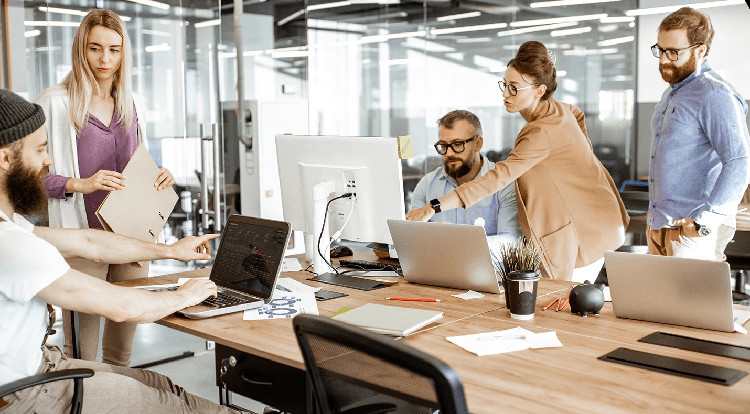 Shippo is known for its ease of use. Even users with no prior experience in shipping can create labels and manage their shipments with ease. Once you've connected your store with the platform, you can access all its tools and features without any difficulties. Integrating the software with other e-commerce platforms is also a straightforward process.
In contrast, ShippingEasy has a bit of a learning curve. While it's not difficult to use, it offers a wide range of features, which can be overwhelming for new users. For instance, the platform has an extensive range of automation tools and advanced analytics, which might be challenging to navigate for new users.
Winner: Shippo-Shippo is way ahead when it comes to ease of use, even for users with no prior experience in shipping.
2. Pricing and Plans
Both Shippo and ShippingEasy offer affordable plans that scale with your business needs. However, it's best to look beyond affordability and consider how the pricing structure will affect your business in the long run.
Shippo offers three plans;
Free:

No monthly subscription ($0.05/label)

Professional

: Starts at $10/month

Premier

: (Contact Sales)
Shippo offers a 30-day free plan. This plan gives access to features such as automation, superior customer experience, and USPS, UPS, and DHL Express discounts. However, users have to pay $0.05 per label with their connected accounts. The plan doesn't have all the features and only supports one user account.
The Shippo Professional Plan is the most sought-after. It starts at $10/month for 0 to 60 labels and increases the price by increasing the number of labels. Consequently, for 7500 to 10,000 labels, you'd pay $200/month. Merchants dealing with seasonal surges and declines in product orders find the professional plan most convenient as they can adjust their label costs.
Shippo supports five user accounts and has all the features offered. Merchants with 15 user accounts and need more than 10,000 labels can opt for the premier account by contacting the sales team.
ShippingEasy has six pricing plans;
Starter

: $5/month for 50 shipments/month

Basic:

$29/month for 500 shipments/month

Plus

: $49/month for 1,500 shipments/month

Select

: $69/month for 3,000 shipments/month

Premium:

$99/month for 6,000 shipments/month

Enteprise

: $159/month for 10,000 shipments/month
The Plus Plan is the most desirable as it has all the necessary features a standard e-commerce business need. It has a free 30-day trial, making it convenient to test out the plan before you commit. The main advantage of ShippingEasy over Shippo is that it doesn't charge per-label fees. So, if you process many orders regularly, ShippingEasy could be a more affordable option.
Winner: Shippo-I realized Shippo uses as pay as you go, model. It offers more flexibility, especially to small-scale businesses.
3. Automation
Shippo offers automation features to its pro and premier users. These automation features include order tracking, shipping label creation, and notification. While all these features are great, the automation isn't as comprehensive as ShippingEasy.
ShippingEasy offers a wide range of automation features to all its users, for instance, order tracking, shipping label creation, notification, and even returns. The software makes it easier for businesses to manage their entire shipping process.
Winner: ShippingEasy is the clear winner here as it offers better automation tools than Shippo.
4. Integrations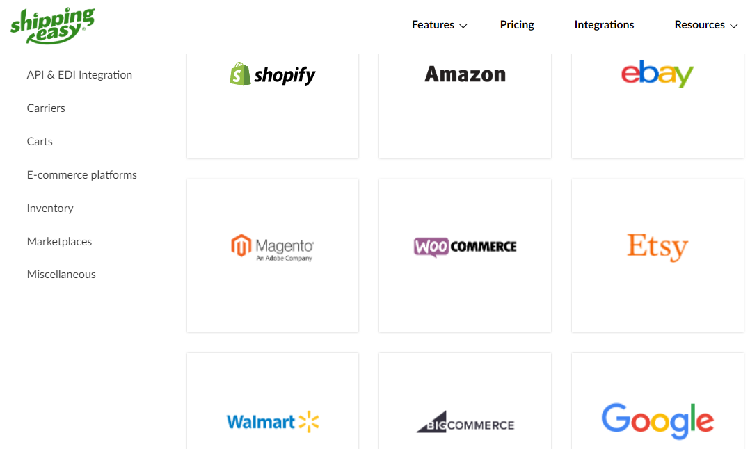 Integrations play a critical role in any e-commerce business as they help streamline workflows. Shippo automatically integrates with e-commerce platforms such as Shopify, WooCommerce, and Magento. If you use website platforms such as GoDaddy, Squarespace, and Weebly, you can easily integrate it with Shippo. Amazon, Etsy, and eBay marketplaces are also compatible with Shippo.
While Shippo's API lets you integrate it with any other software, the process is a bit technical and may require assistance from the development team. It has extensive API documentation with client libraries and in-depth references to attributes and features availed by the API.
ShippingEasy integrates with ERP and accounting software such as QuickBooks, Xero, and NetSuite. It provides a seamless and automated workflow for e-commerce, inventory, marketplaces, and shopping carts such as Shopify, WooCommerce, and Amazon.
Notable is the ShippingEasy EDI support that ensures the delivery and tracking details are readily available to your customers. In addition, it has an open API that lets you integrate ShippingEasy with all your other software.
Winner: ShippingEasy takes the edge here as it generally has more integrations.
5. Customer Support

Software as a Service (SaaS) solutions require a high level of customer support to make sure users can get the most out of the software. Shippo doesn't disclose its customer support hours of availability. However, customer support via email and live chat is available on all its plans. Users on the premier plan have access to a dedicated customer support team.
ShippingEasy offers customer support via phone, email, and chat on all its plans except the starter plan. The support team is available from Monday to Friday from 8:00 AM to 6:00 AM CT. Moreover, they also check their emails over the weekend to see if there's an urgent issue. Besides direct support, they also offer an extensive knowledge base with resources such as how-to guides and checklists.
Winner: ShippingEasy-I found ShippingEasy to have better customer support with more availability and resources.
6. Feature Composition
The feature composition is where ShippingEasy and Shippo differ the most. Shippo's basic features include real-time tracking, batch label printing, customs forms, multiple carrier accounts, and postal discounts. The software also offers advanced features such as insurance, tracking email notifications, and auto-fulfillment.
ShippingEasy's primary features include order management, shipping labels, postage purchase & tracking, and automatic order importing.
It also offers advanced product catalogs, customer marketing, and robust business insights from analytics. The additional Amazon Seller Tools and Alexa for Shipping are notable, which help you manage your Amazon sales channel.
Winner: ShippingEasy stands out with its more comprehensive features, including additional integration and business tools.
Shippo vs ShippingEasy: Alternatives

If neither Shippo nor ShippingEasy meets your needs, consider one of these shipping software solutions as an alternative: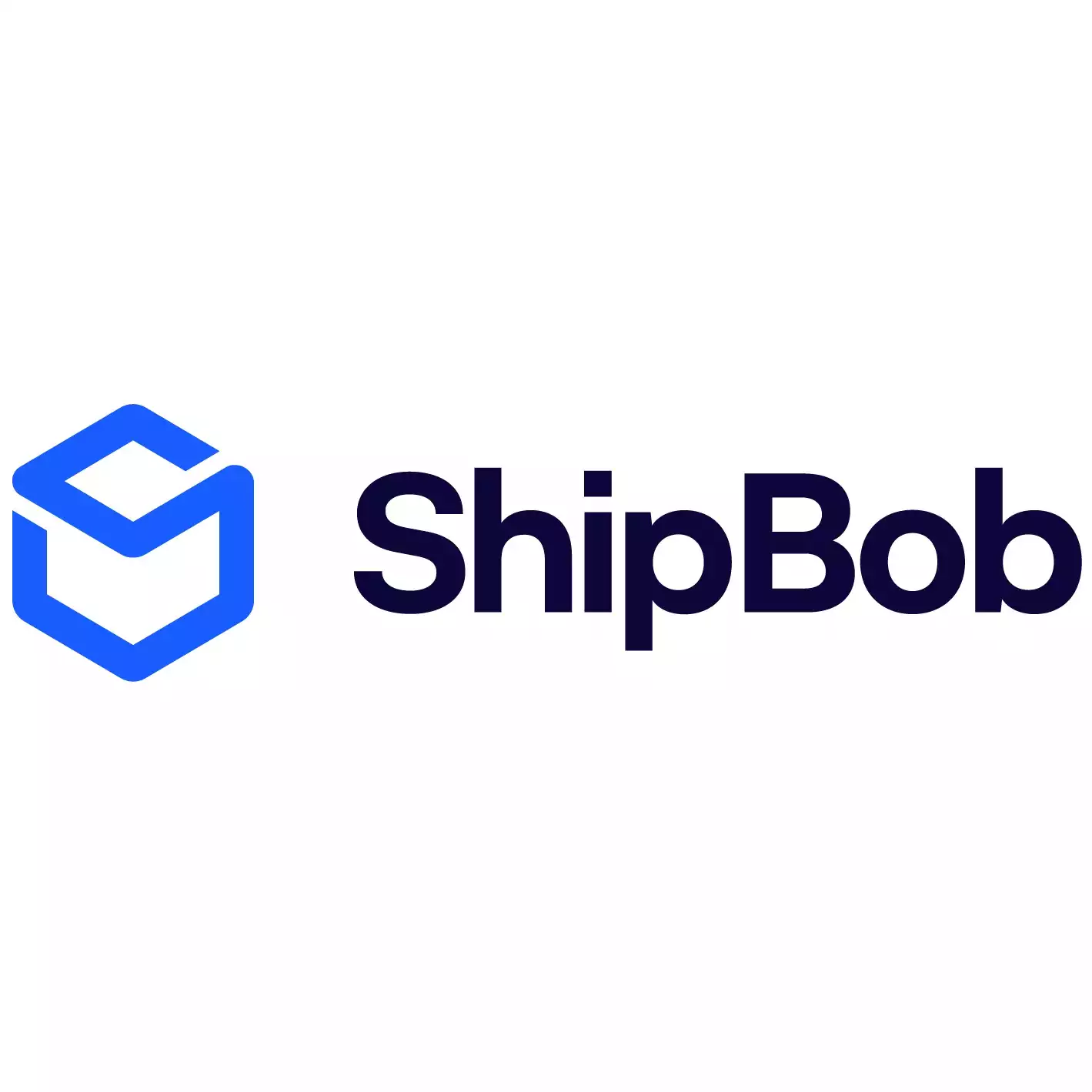 ShipBob Order Fulfillment – Get a Free Quote
Discover the power of omnichannel analytics and reporting through our dashboard, while we take care of picking, packing, and shipping for you.
Request A Quote
We earn a commission if you click this link and make a purchase at no additional cost to you.
FAQs
Question: Is Shippo Cheaper than USPS?
Answer: Shippo offers cheaper USPS shipping rates than if you were to go directly through the USPS website. Users can save up to 80% on USPS shipping, and it's best suited for e-commerce businesses that need to print a lot of labels in bulk.
Question: How does ShippingEasy Compare to Shippo?
Answer: Both shipping software platforms offer similar features, with the main difference being integrations and customer support. ShippingEasy offers additional integration options and has better customer support than Shippo.
Question: What are Some of the Other Features Offered by ShippingEasy?
Answer: ShippingEasy's additional features include product catalogs, customer marketing, and analytics tools.
These give you deeper insight into your e-commerce business and help you improve shipping efficiency and customer experience. Some of the integrations offered by ShippingEasy include Amazon Seller Tools and Alexa for Shipping.
Conclusion
While Shippo and ShippingEasy are great shipping software solutions, ShippingEasy is the better choice for most businesses.
It offers a more comprehensive set of features, including additional integrations and business tools, and has better customer support than Shippo. I recommend that you sign up for a free trial of ShippingEasy to see if it's right for your business.
Our Pick
Why I Prefer ShippingEasy
FREE for less than 25 orders, then affordable FLAT RATE pricing tiers. ShippingEasy is consistently the highest rated shipping integration partner for both national and global brands if you use USPS, FedEx, or DHL. Start your Free 60-Days Trial here Today!
Get 60-Days Free NOW
We earn a commission if you click this link and make a purchase at no additional cost to you.