Last Updated on July 29, 2023 by Ewen Finser
What's on track to be 2nd largest bank failure in history is ripping through the digital ecosystem. We don't know the full impact, but for digital businesses, it's a big blow. SVB was one of the better options on there for accessible banking for tech-forward companies.
But there ARE some great new alternatives out there. I've personally used many of them & want to share them below.
If you are in a big rush, I can't say enough good things about Mercury Bank here (it's my top pick). We've used them for multiple companies and have only been more impressed each passing year with their new features, support, and ease of use.
Here are the top Silicon Valley Bank alternatives worth switching to…
Mercury Bank: Best Overall SVB Alternative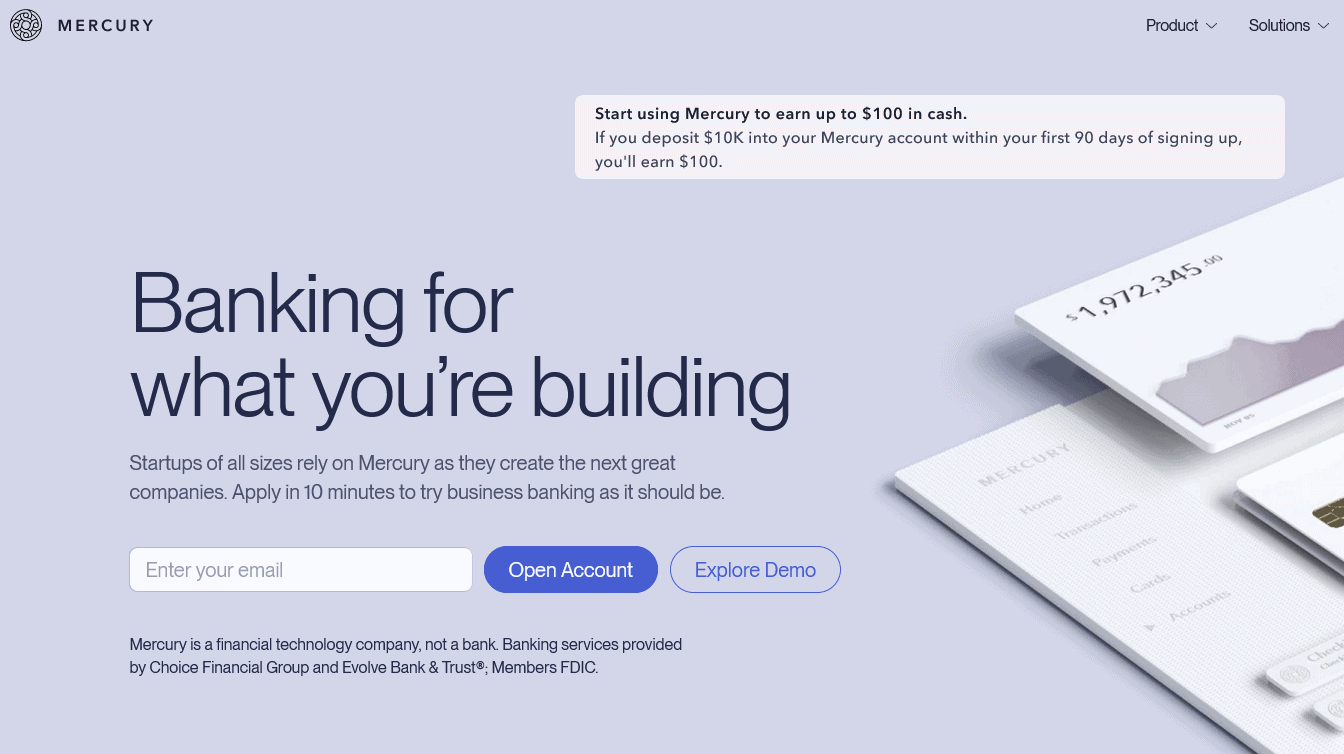 In a sentence: Like SVB, but even easier to use, access to similar startup networks, and with better convenience features (company cards, customized limits), and up to 10 accounts you can set up instantly under each main entity. Also seems to be insulated from the contagion as of this writing with FDIC sweeps up to $5M!
Things I like About Mercury Bank
Easy, 100% online account vetting and opening process, typically active within 5-7 business days from application
NO MAINTENANCE FEES
UPDATE: Now FDIC insured up to $5M via their sweep network
Easy to initiate ACH transfers (typically 24 hour transfers), very easy to move money in general
Simple app-based paper check deposit process
Generally low to no wire fees for most transactions
Super easy to use, fully featured (non-glitchy) mobile app
Can issue dozens of debit cards instantly for personal or team use
Excellent user and permission controls, from account access for bookkeepers to specific card spend limits
Mercury Capital offers a wide variety of funding options (similar to Pipe, PayPal Working Capital, VC debt, equity raises, etc…)
Easy to search transaction history
Built-in invoicing features
Plenty of perks and software + platform discounts for customers
Multi-factor security issues
Mercury Bank Drawbacks
Limited in-app high interest savings options. They do have some better rates for large depositors, but their default savings account is the same crappy $0.001% you get at vanilla corporate bank
They aren't really a stand alone bank, technically backed by Evolve Bank & Trust (but this has benefits, too like RISK mitigation)
Live Oak Bank: Best Business Savings Rates
If you need a great savings rate from a fairly stable and reputable bank, Live Oak's Business Savings product is one of the best I've found.
What I Like About Live Oak Bank
As a customer, I appreciate how Live Oak Bank focuses on small businesses and their banking needs. They have a strong dedication to fostering and supporting the growth of small businesses.

The online banking experience is user-friendly and streamlined. It's easy for me to manage my accounts, transfer funds, and check my balances from the comfort of my home.

Their high-yield savings accounts are a major advantage (4% as of this update in mid 2023). These accounts offer competitive interest rates, which helps to grow my savings faster.

I find their customer service to be exceptional. The team is always responsive, helpful, and knowledgeable about their products and services.

Even though they are an online bank, I'm reassured by the fact that they are FDIC insured. This means my accounts are protected up to the maximum allowable limit.

There are no monthly maintenance fees associated with their savings accounts.

Finally, their Certificate of Deposit (CD) rates are among the highest in the industry, and they offer a range of terms to suit different financial goals.
Drawbacks of Live Oak Bank
Live Oak Bank is an online bank with no physical locations, so no face to face if you need that.

There is no ATM network, meaning higher fees for using others.

The mobile app has limited functionality compared to other banks. It works fine, just a bit more limited than a Mercury Bank (above) or Grasshopper (below).

There is a significant penalty for early CD withdrawal.

The bank's business loans are primarily for specific industries, limiting my options if I am in a different type of business.
Grasshopper Bank: Best for Venture-Backed Companies & SBA Lending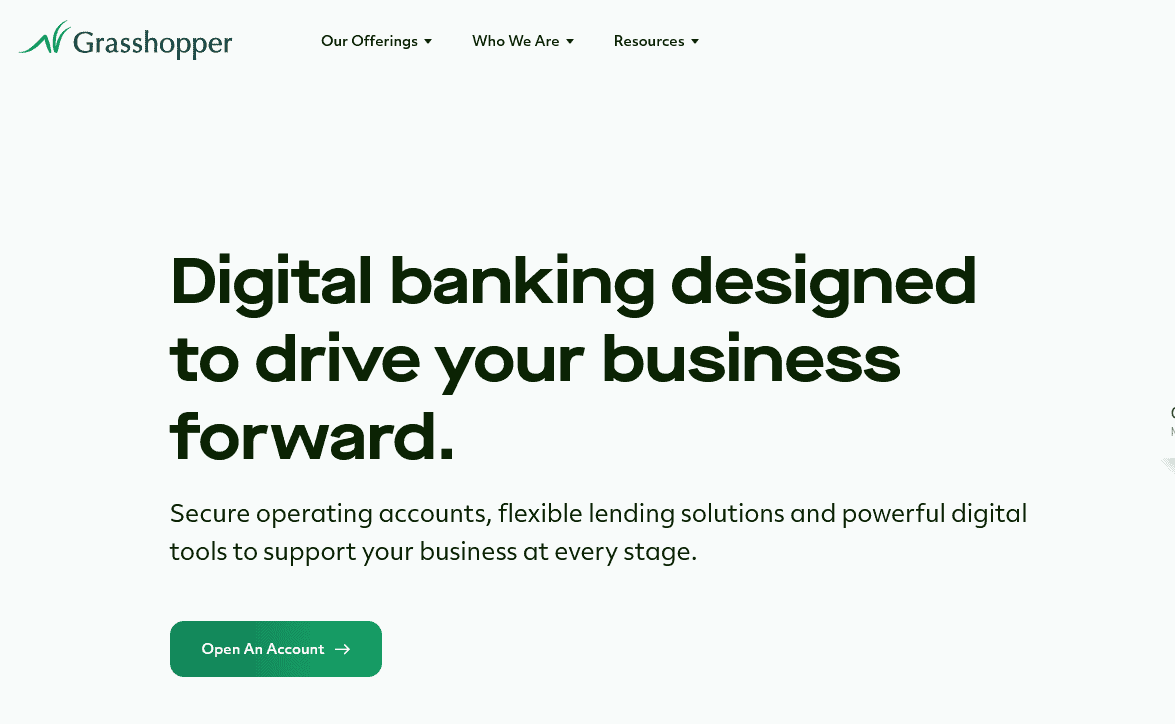 In a Sentence: Caters to VC and Startups, similar to SVB (but also offers SMB service – better diversification) and has some excellent VC specific solutions.
What I Like About Grasshopper
Partnership with RAMP for easy integration and approval
Flexible funding solutions for every VC lifecycle

Offers GP term loans
Capital Call lines of credit
Working Capital revolvers
End of Life funding needs

Dedicated relationship management available
Treasury management solutions
Also an SBA preferred lender with dedicated team experience
Offers 1.51% APY yields (no minimum balance)
Innovative 1% cashback DEBIT cards
Unlimited FREE ACH and incoming domestic wires
No monthly fees, unlimited transactions
Fairly quick and easy to start up and get approved
Solid digital card controls (like Mercury in that regard)
Grasshopper Bancorp is it's own bank (not just a digital brand of another bank)
Grasshopper Drawbacks
Limited track record, relatively new player (starting in 2019)
Only FDIC insured up to $250,000, unlike Mercury up to $1,000,000
Not a great solution for cash heavy businesses
Novo Bank: Great for eCommerce SMBs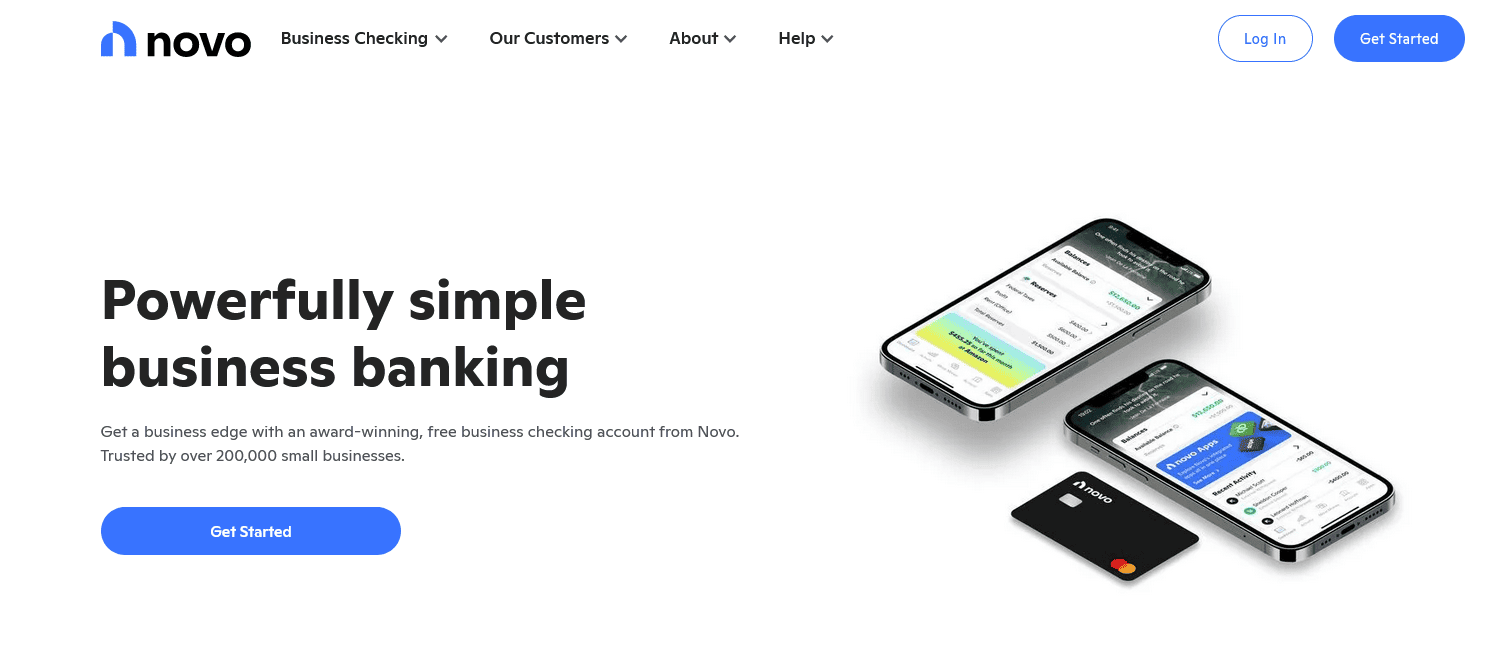 In a Sentence: I'm also a fan (and user) of Novo Bank a secondary option, with no monthly fees and an industry leading number of third-party integrations. Also covers up to $20,000 in free Stripe fees (card processing0, making it a great option for eCommerce and SaaS businesses.
What I Like First Novo Bank
$20,000 in comped stripe card processing fees
Highest number of third party integrations for eCommerce sellers (including Stripe, Shopify, Wise, Square, Xero, QuickBooks)
Unlimited refunds on ATM fees nationwide (US)
No monthly fees
No fee ACH transfers
Excellent built-in invoicing
Send paper checks for free (from digital app)
Member discounts to popular services
Novo Bank Drawbacks
No great high-interest yield products in-house
Can't sent domestic or international wires (but does integrate with Wise for this purpose)
No cash deposit solutions
$27 fees for insufficient funds
Relay Financial: Easiest Business Banking Setup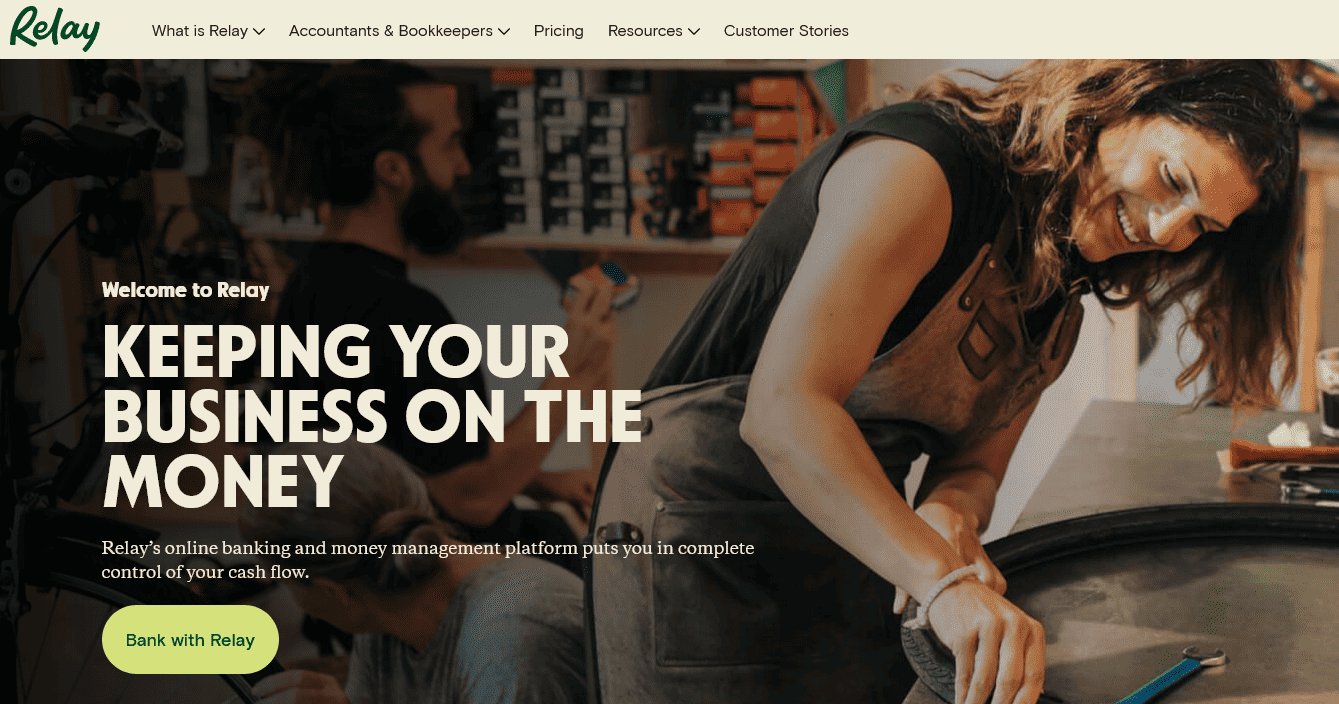 In a Sentence: Easy to setup, excellent mobile app, and able to issue up to 50 employee debit cards (physical or virtual).
What I Like About Relay
No account fees
No overdraft fees
Excellent integrations via Plaid
One of the most user friendly banking apps I've tried
Integrates easily with Quickbooks
Can issue up to 50 virtual or physical debit cards with a few clicks
Separate cash and keep things organized with up to 20 different checking accounts
Excellent Gusto integration (we use Gusto for payroll)
Easy digital check depositing process
Easy to invite Bookkeeper-only users
Assign team members with only the access they need (like Mercury)
Similar to Mercury, also backed by Evolve Bank & Trust
Relay Drawbacks
No major perks for larger companies or startups
Only insured up to $250,000 (not $1M like Mercury)
Lili: Best for Service-Based Businesses & Consultancies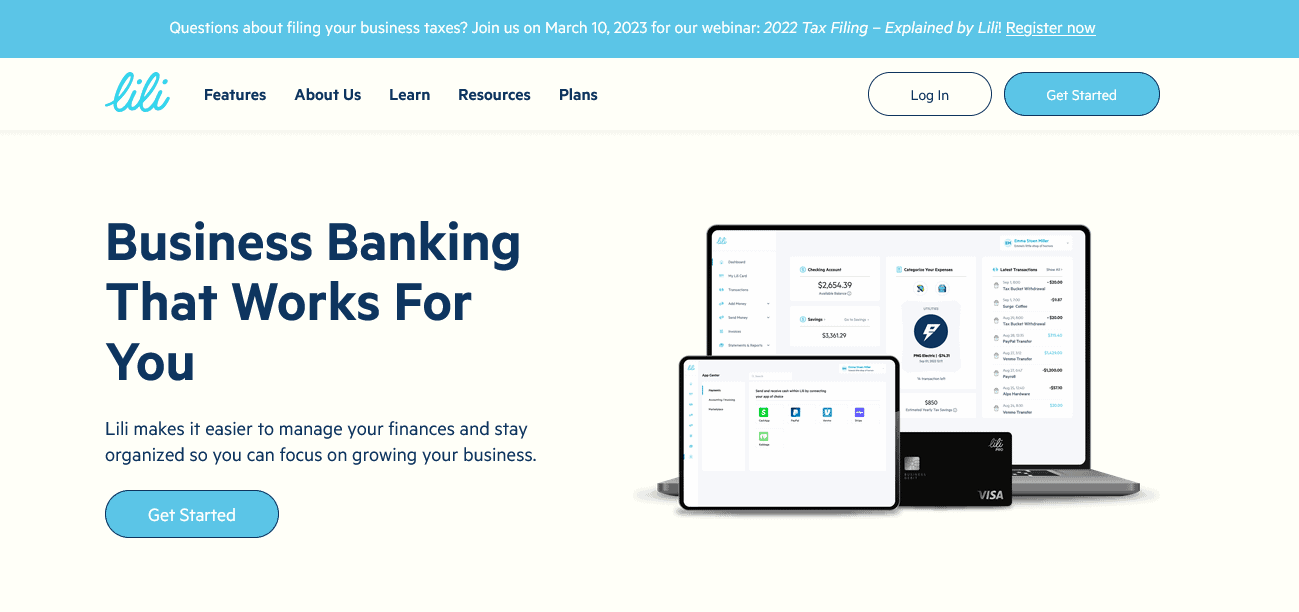 In a Sentence: Innovative cash-back debit cards with a wide array of preferred vendors, 1.5% yield on any Savings amount, tax optimization and built-in accounting tools.
What I Like About Lili
No account fees
No overdraft fees up to $200
Offers 1.50% yield on Savings
Fee-free ATM usage at 38,000+ domestic US locations
Offers DEBIT cashback rewards at many third party partners (Stamps.com,
Built-in invoicing software
Real-time write-off tracker
Automatically set aside taxes
Free Schedule C generator
Get paid up to 2 days early from vendors (better cash conversion cycles)
Lili Drawbacks
Can take some time to get approved (varies wildly, has paused applications for periods in the past)
Lili Pro charges a $9/month fee (for all the perks), there's also a Lili Basic plan for free, but with limited features
Axos Bank: Best for Brick and Mortar Small Businesses

In a Sentence: A nice middle of the road business banking solution with some interest rate yields, ATM fee reimbursement and SBA loan specialization, great for a hybrid online / offline businesses.
What I Like Axos
Great lending products & specialized in SBA process
Offers FREE basic business banking (no minimums or maintenance fees) OR
Offers treasury management solutions
Easy CDs and Money Market add-ons to your business checking (keep your money working with higher interest rates)
$200 welcome bonus
1.01% APY on accounts with at least $5,000 (daily balance average)
Unlimited domestic ATM fee reimbursement
Axos Drawbacks
1% still isn't a great yield, but it's better than most backs for basic business checking
Not really geared towards the tech or Silicon Valley crowd
Some annoying volume based transaction limits for no fee accounts
Capital.xyz: Best High Yield SVB Alternative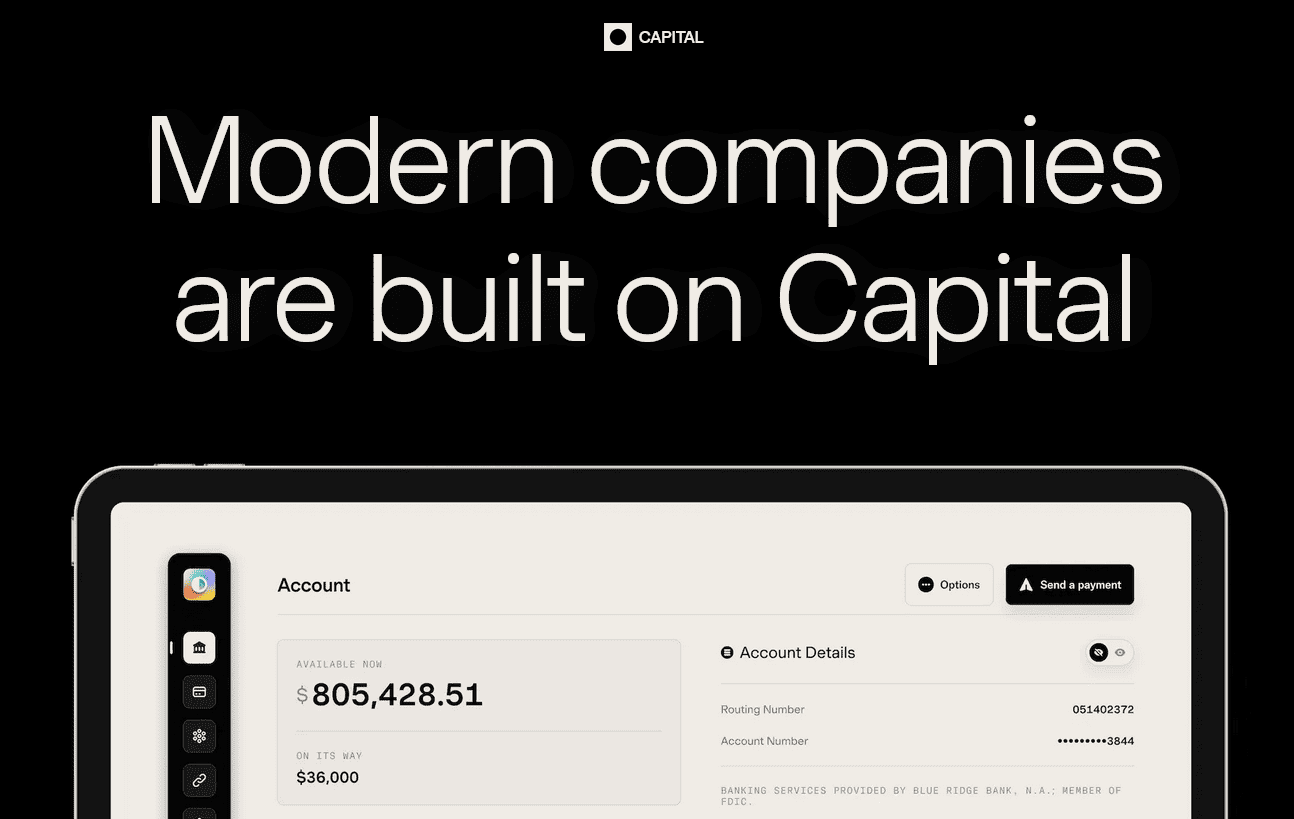 In a Sentence: Custom built for tech startups and founders, with easy to use banking tools and 4%+ interest rates on balances.
What I Like About Capital
Easy to use "Raise" feature to automate fundraising (including SAFE templates with fiat or crypto support)
Best in class 4% APY yields!
Easy to use app
Easily pause transactions across your accounts and cards with one button
Uses Blue Ridge Bank, does not claim any exposure to SBV
Capital Drawbacks
Limited time in market, still feels in "startup" phase
Crypto-friendly, double-edged sword
Could history repeat itself?
Best Big Bank Alternatives to Silicon Valley Bank
Break Glass In Case of Emergency Banks
If things get really rough out there, consider at least opening accounts at some of the "big banks". Many companies ran into issues re: SVB because they couldn't open and transfer new accounts fast enough. Even if you just maintain a small balance, being able to quickly move money around the financial system is common sense.
What banks are "safe enough"? That's a loaded question that I'm not qualified to answer. All I can say is that these are the largest business banks by market cap:
JP Morgan Chase
Bank of America
Citigroup
Wells Fargo
Goldman Sachs
Morgan Stanley
US Bank
Charles Schwab
PNC Financial
TD Bank
Truist Financial
Capital One
Bank of New York Mellon
State Street Bank
HSBC
Banks on "Contagion Watch"
There are a few banks I like & want to include on this list, but fairly or unfairly are getting wrapped up in contagion whispers. Here's who they are & why:
I REALLY liked FRB as an SVB alternative. They initially were the first option for many startups in the Bay Area when the news started breaking.
From what I can tell (I'm not a financial expert) their balance sheet is in a much better position than SVB, but they are suffering from guilt by association.
But because they are a regional bank with perceived similarities, their stock has taken a beating and some are looking at FRB as a "firewall". If FRB also shows signs of weakness, this could be much worse before it gets better.
How I'm playing it? I think First Republic is a great SVB alternative, but I'm watching to see how the next weeks play out before making any moves
UPDATE: Now that First Republic has been acquired by JPMorgan Chase, I'm unsure how to proceed here. IF JPM keeps them as a distinct brand with the same features and benefits, it might still be a good SVB alternative. If JPM decides to wind it down though, you may have to go through some hoops that could be avoided just signing up for JPM to begin in.
PacWest wasn't on my radar as a top alternative, but for Silicon Valley based companies it's another regional option. Similar to First Republic, it's potentially one of the lead dominos if the "regional contagion" narrative plays out.
I'll keep this section updated as more breaking news develops on "at risk" banks.
Final Word on the Best SVB Alternatives
There you have it. There's definitely some good options here that I'm watching.
My go-to here is Mercury Bank. It has the scale of SVB, with better ease of use AND (most importantly) higher FDIC insured rates (best in class) of $1M via multiple bank sweeps.
Related Reads: