Last Updated on July 29, 2023 by Ewen Finser
If you are trying to figure out if Live Oak is a legit place to park your extra business cash, you've come to the right place.
Finding a good business bank, let alone business savings bank, is next to impossible. For years, I put up with $0.0001% interest rates because I thought that's the best I could get.
But, this past year – with interest rates soaring – I took another look to see if there was a better business savings rate. At the same time, watching Silicon Value Bank and First Republic collapse in a matter of months, I didn't want to put my entire balance at risk for a nominally higher rate. That's when I stumbled on Live Oak Bank.
In this Live Oak Bank review, I'll walk through the key product offerings and specifically help shine on whether or not Live Oak is worth it as a business savings vehicle.
Live Oak Bank: A Brief Overview
Founded in 2007 in Wilmington, North Carolina, Live Oak Bank (source) has grown into a reputable online-only bank. It caters to entrepreneurs, freelancers, and small businesses across the United States.
Live Oak Bank is renowned for its commitment to small businesses and entrepreneurs, offering a range of products and services designed to support business growth.
Small Business Banking with Live Oak Bank
Live Oak Bank's small business banking products include a business checking account, a high-yield business savings account, and business certificates of deposit (CDs).
The bank also offers small business loans, including Small Business Administration (SBA) loans, commercial loans, and U.S. Department of Agriculture (USDA) loans.
Business Checking Account
Live Oak Bank's business checking account is a no-frills option for small businesses. It does not require a minimum balance to maintain the account but requires a $100 opening deposit. The bank does not charge monthly maintenance fees, although some transactions may incur charges, such as a $19 fee for outgoing wire transfers.
High-Yield Business Savings Account
The high-yield business savings account is one of Live Oak Bank's flagship products. The account offers an impressive annual percentage yield (APY) of 4.00%, which is significantly higher than the national average. Moreover, there are no monthly maintenance fees or minimum balance requirements, and interest compounds daily.
Business Certificates of Deposit
Live Oak Bank also offers business CDs with competitive interest rates. The minimum deposit requirement for these CDs is $2,500, and the maximum balance is $250,000. The interest rates for these CDs range from 2.00% for an 18-month term to 5.00% for a one-year term.
Business Loans
Live Oak Bank provides a range of business loan options, including SBA loans, USDA loans, and commercial loans. These loans are designed to support business owners who want to buy or franchise a business, or expand their existing business. All small business loans start at $150,000.
Live Oak Bank's Unique Features
Live Oak Bank's offerings stand out due to a number of unique features:
Competitive Interest Rates
Live Oak Bank offers some of the most competitive interest rates on the market. The business savings account earns an APY of 4.00%, subject to change without notice. With daily interest compounding, accounts must hold at least 1 cent to qualify for interest.
Online and Mobile Banking
Live Oak Bank provides a seamless online and mobile banking experience. Account holders can check balances, view transaction history, transfer funds, deposit checks, and access account statements and tax documents via the mobile app, which is available on both iOS and Android platforms.
However, user reviews for the mobile app are mixed. On the Apple App Store, the app has a rating of 2.8 out of 5, while on Google Play, it has a rating of 3.2 out of 5.
Insured Cash Sweep
For businesses needing higher coverage, Live Oak Bank offers the Insured Cash Sweep program. This program allows businesses to access up to $10 million in FDIC insurance coverage through a single bank relationship with Live Oak Bank.
High-Yield CDs
Live Oak Bank's high-yield business CDs provide another avenue for businesses to grow their funds. These CDs offer interest rates ranging from 3.00% for an 3-month term to 5.10+% for a one-year term. You can go out up to 5 years but rates are only 2%.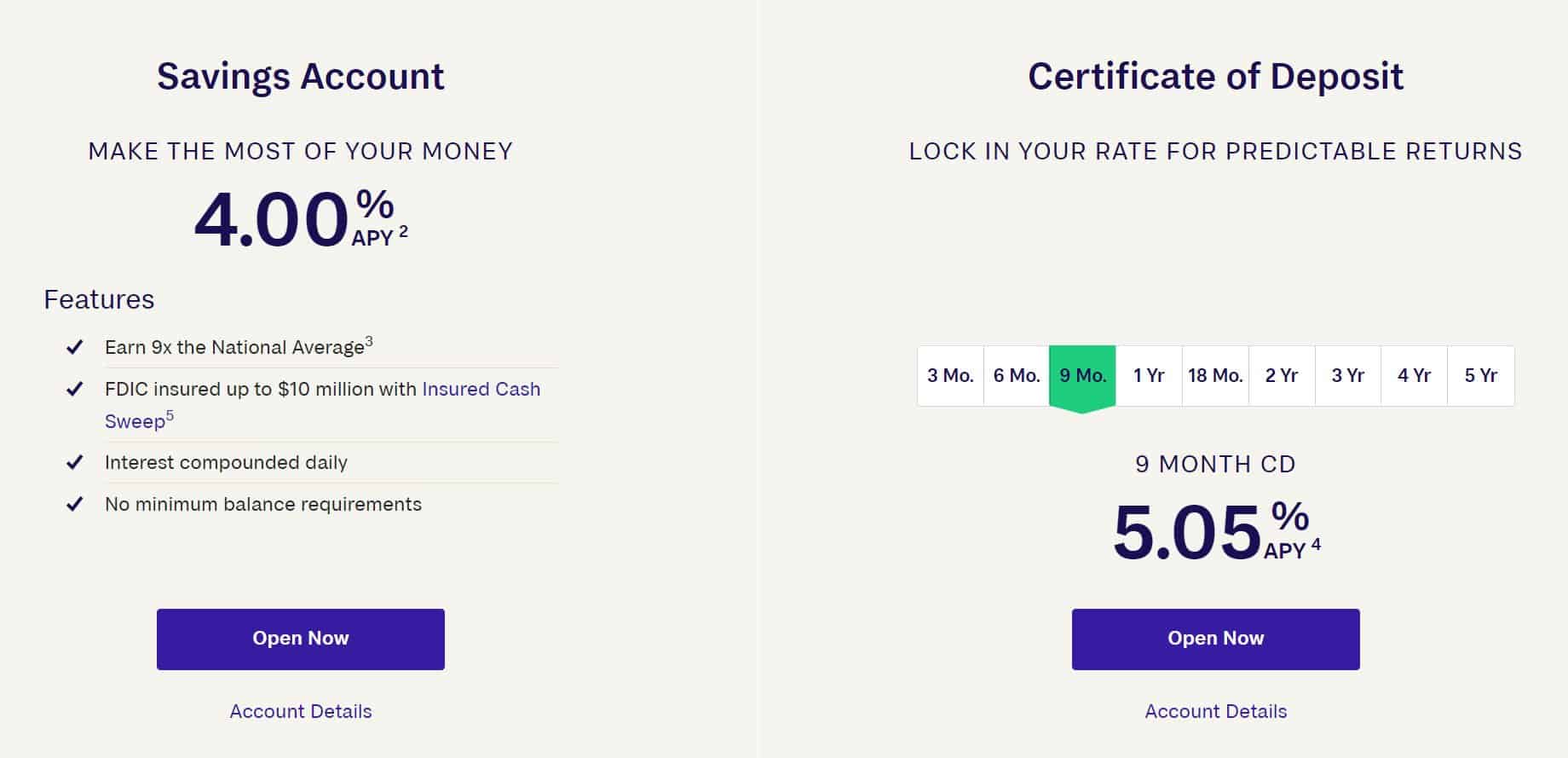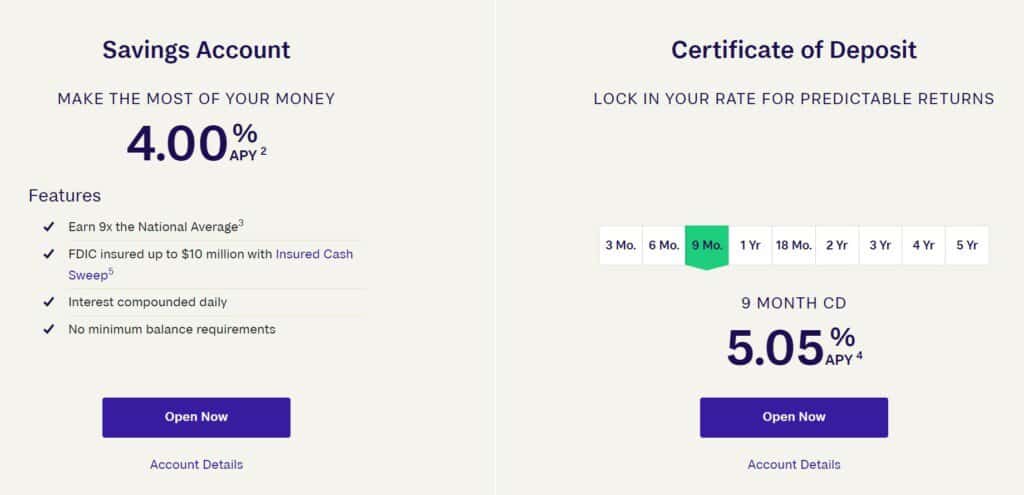 User Reviews: What Other Customers Are Saying
Live Oak Bank has received positive reviews from customers. On Trustpilot, the bank has a 4.1 out of 5 rating from around 50 reviews. Users commended the high interest rates of the savings products and the exceptional customer service.
However, some customers have reported difficulty in opening a business savings account due to redundant document requests. Others have highlighted that the bank has reduced its CD interest rates recently (personally, I've seen the opposite with rates increasing).
Pros and Cons of Live Oak Bank
Like any financial institution, Live Oak Bank has its strengths and weaknesses.
Pros
High Interest Rates: Live Oak Bank offers some of the highest interest rates in the industry (around 4% as of this writing), particularly for its business savings account and CDs.
No Minimum Balance or Monthly Maintenance Fees: The business savings account does not require a minimum balance or charge monthly maintenance fees.
Online and Mobile Banking: The bank provides a user-friendly online and mobile banking experience.
High-Yield CDs: Live Oak Bank offers high-yield CDs for businesses seeking to earn competitive interest rates.
Easy Signup Process: It's also quite easy to signup 100% online. It took me about 7 days to get an approval notification and account was instantly setup. Once you have any account open with them, you can sign up for their other products (Business Checking, CDs), within minutes for instant approval.
Customer Service: Online many other online banks, if you do need to speak to a real human, their support is quick (I rarely have wait times) and knowledgeable.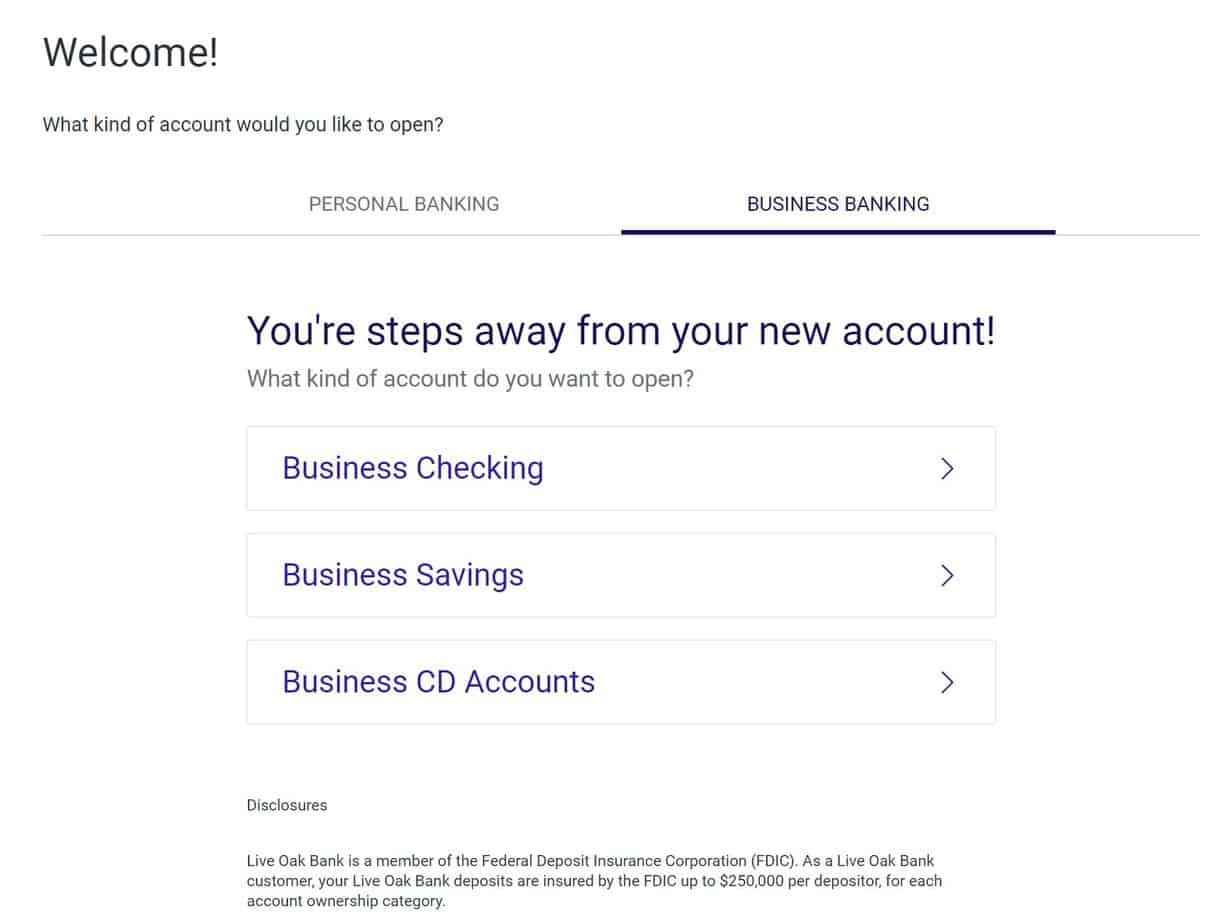 Cons
No Physical Branches: As an online-only bank, Live Oak Bank does not have physical branches for customers seeking in-person banking services.
No Cash Deposits: Live Oak Bank does not accept cash deposits, which may be a limitation for cash-heavy businesses.
Limited Transfers: The bank allows only six transfers per monthly billing cycle from the business savings account.
When to Consider Live Oak Bank
Live Oak Bank is an excellent choice for businesses that:
Operate primarily online and do not require physical branch access.

Seek to earn competitive interest on their balances.

Want access to other banking products, such as business checking, CDs, and small business loans.

Don't want to deal with a lengthy and difficult signup / approval process
When to Look Elsewhere
Live Oak Bank might not be the best fit for businesses that:
Regularly deal with cash transactions.

Regularly send wire transfers.

Require nationwide branch access.
Opening a Live Oak Bank Business Savings Account
To open a Live Oak Bank business savings account, applicants need to provide personal information, including their full name, address, Social Security number, date of birth, citizenship status, mobile number, email address, and employment status.
Additional requirements include business and banking information. The authorized signer should be a U.S. citizen or permanent resident with a valid Social Security number. Those temporarily admitted to the U.S. and authorized to work by the U.S. Department of Homeland Security are ineligible to open an account.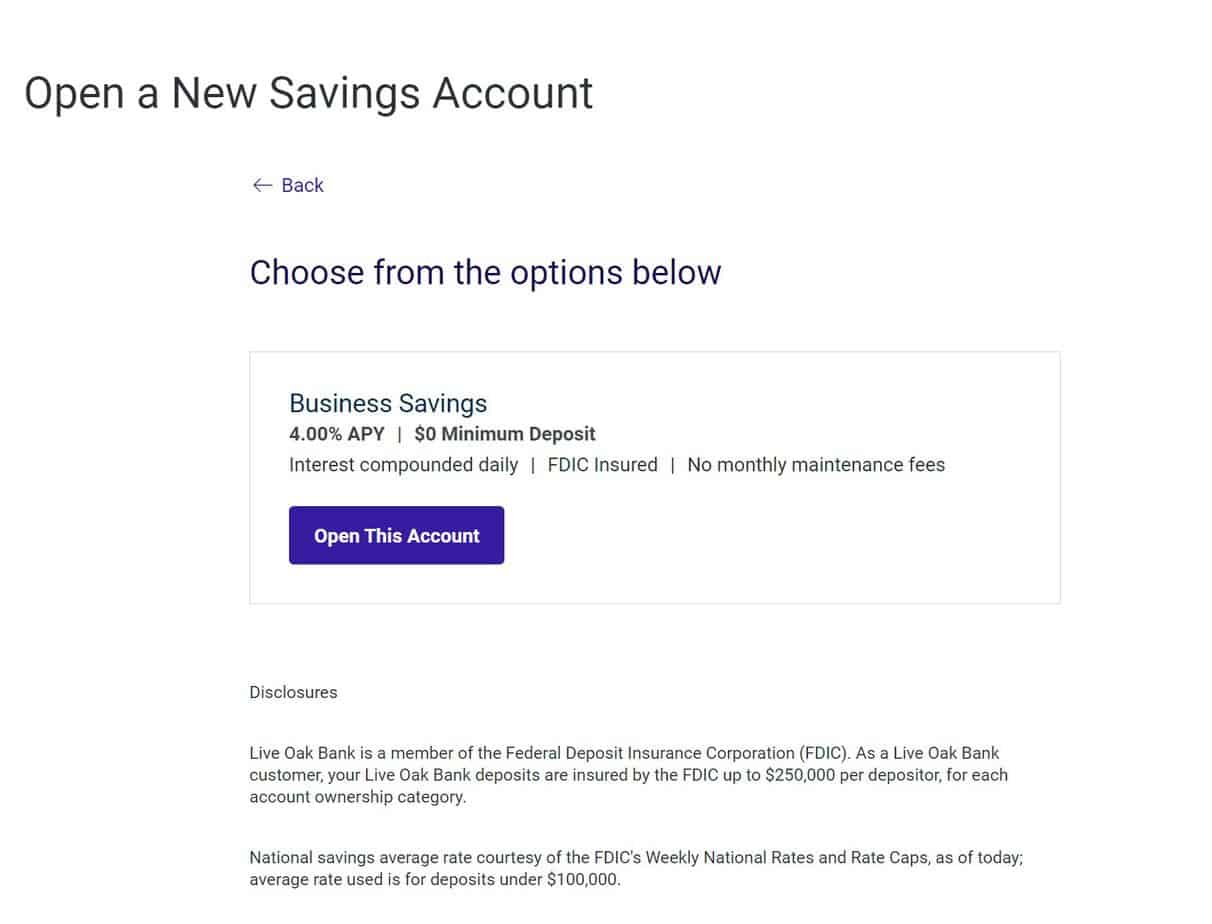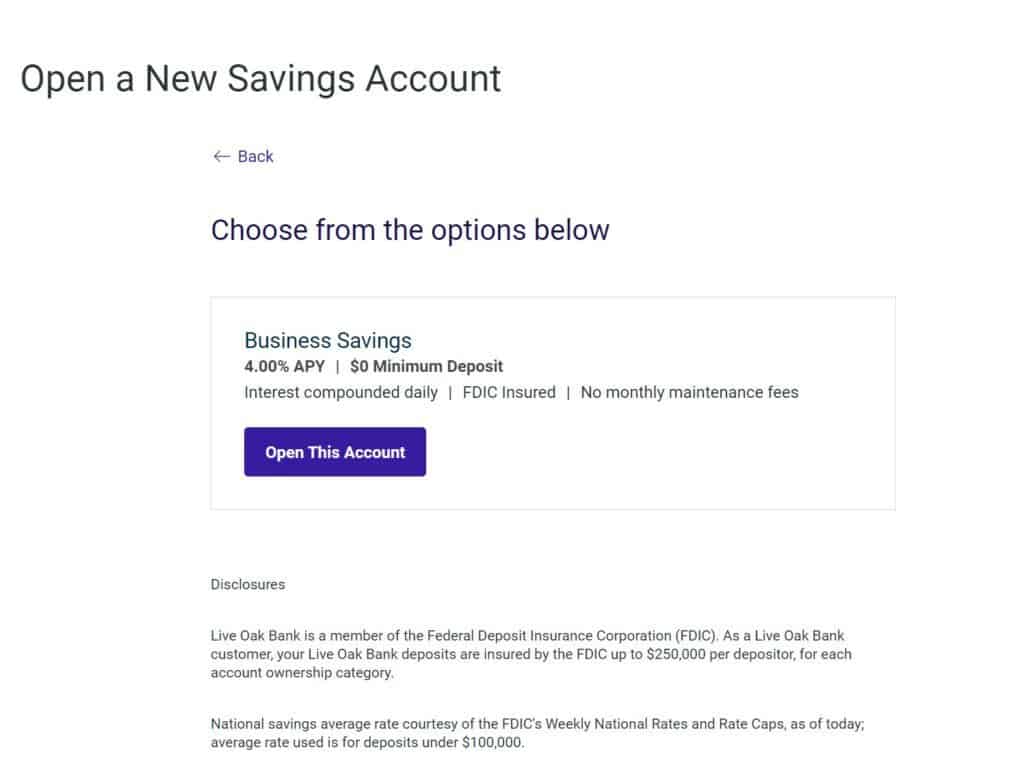 Live Oak Bank Alternatives
I frequently check around to see what the best business banking options are on the market. Here's a few I've used and/or strongly considered as an alternative to LOB:
Mercury Bank: I LOVE Mercury bank for it's many digital features (like multi user login for team members, digital credit / debit card issuing), easy to use app, and fast money transfers. That said, their savings game is surprisingly poor. Their standard business savings account is the god awful $0.0000000000000001% (JK, but you get the idea) rate offered by the "big banks". They do offer Treasury Management and high yield products, but only for high rollers with $1M+ sitting around. This might be a good for a venture startup that just raised a big round, but not for digital small businesses (the largest business segment). This is where I see Live Oak Bank as a more small business friendly digital native bank. Unlike LOB, Mercury Bank isn't actually a true bank as it uses Evolve Bank & Trust (and a few others) as the actual back behind the scenes. This can be difficult if you have a compliance issue as Mercury isn't always fully in control.
Axios Bank: I looked at Axios as an option as well. They do have high marks for customer service and offer an interesting "Business Interest Checking" product where you can earn 1%+ on your checking account with a $5,00o average daily balance. Not a bad option for a business checking account (most banks don't offer any checking interest), but I found it easier to not carry a minimum balance and just sweep to a savings vehicle with better rates.
Grasshopper Bank: I've been following Grasshopper for a while but haven't quite pulled the trigger. Like Live Oak Bank, they are their own chartered bank (Grasshopper Bank Corp) and feature an easy digital signup process. I like their 2.25%+ Business Checking account, digital card issuing, and their 1% cash back options, but still feel they are relatively new and unproven. That said, I'd probably consider them over Axios bank for a Business Checking account.
Conclusion: Is Live Oak Bank the Right Choice for Your Business?
Live Oak Bank offers a strong platform for businesses seeking to grow their excess funds and gain access to various banking services like business CDs, checking, and small business loans.
It also provides up to $10 million in FDIC insurance coverage through IntraFi Network Deposits.
However, businesses that frequently deal with cash or require physical branch access may need to consider alternative options.
My Bottom Line: Live Oak Bank is personally one of my favorite recommendations to give for a online-friendly bank. Moreover, their savings account product features some of the best APY rates in the industry for business accounts. You might find a few others slightly higher, but they are either 1) just "front ends" for other banks or 2) less capitalized small banks with questionable staying power.