Last Updated on July 25, 2023 by Ewen Finser
Looking for a reliable e-commerce checkout funnel? Look no further to help you choose the right solution for your shopping cart needs we have a summed up the best Thrivecart Alternatives for you to compare features.
It has since become a trusted shopping cart software, supporting several payment platforms, autoresponder integrations, affiliate marketing systems and more. Over the past 4 years, it has grown to become popular.
This platform has a simple interface even for a beginner. So you don't have to be a techie to use it. Popular brands that support Thrivecart include HubSpot, Leadpages, ActiveCampaign, PayPal, AWeber, Ontraport, ConvertKit, Android, iPhone and many more.
Although this shopping cart platform is rising fast, it may not be the right fit for every business. Thrivecart alternatives are worth noting for your consideration. Before we get into them, let's look at the features that make Thrivecart the respected tool that it has become.
Bottom Line Up Front:
My top 4 Thrivecart alternatives are:
SamCart: Best Overall (Most Similar, Better Features)

PayKickstart

: Better for Dunning Management (Auto correcting failed payments)
WooCommerce: Better for SEO, Physical Products
SendOwl: Better for Simple Digital Sales (more affordable, easier to implement)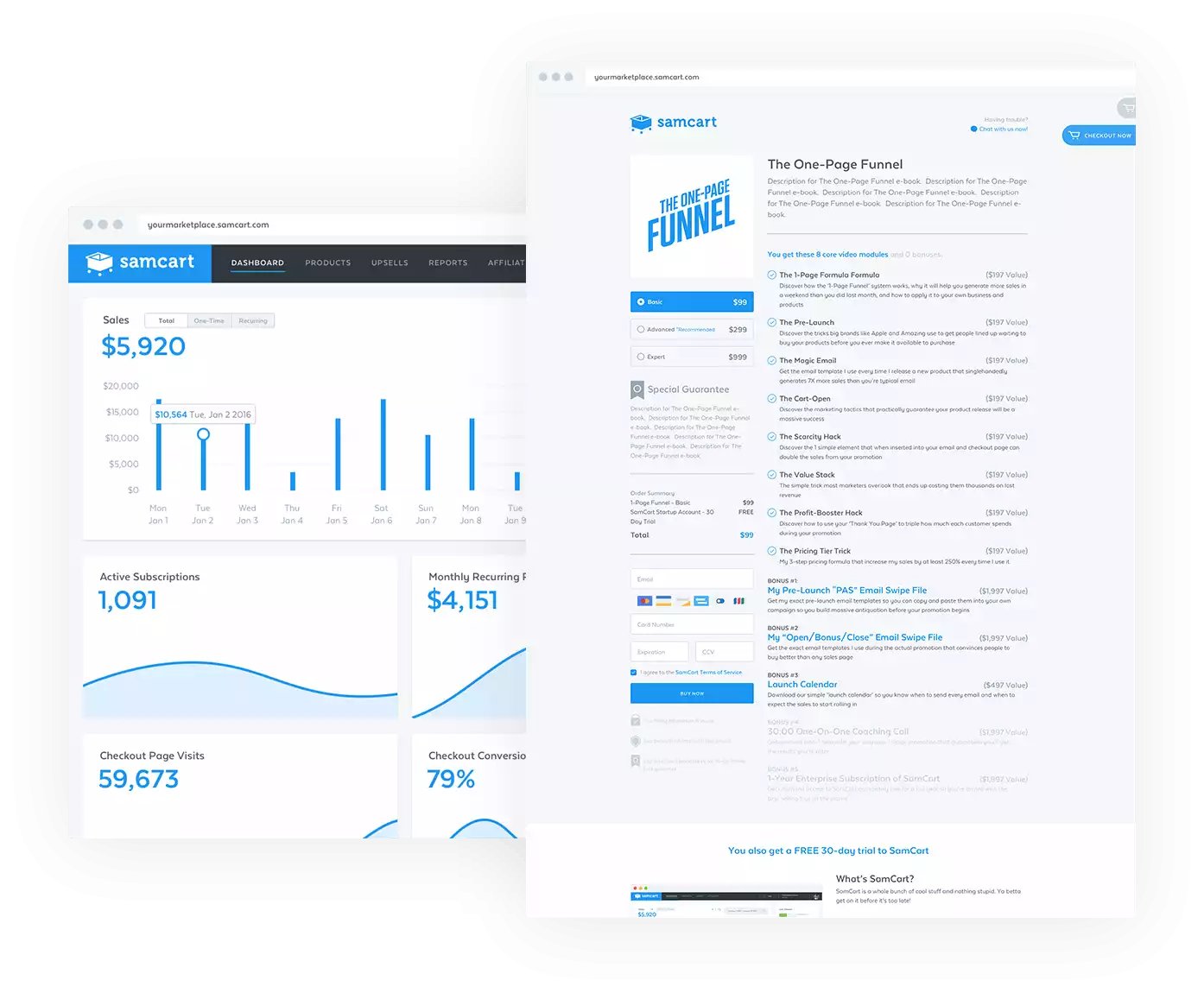 I Personally Prefer SamCart
Personally, I find SamCart to be the BETTER overall checkout page builder with one of the best abandoned cart features in the business. PLUS, it's just less expensive than the competition. There's a free 7-day trial here if you'd like to just see what it looks like on the inside.
GO With SamCart
We earn a commission if you click this link and make a purchase at no additional cost to you.
Why Choose a Thrivecart Competitor?
I'm personally a long time Thrivecart user (thanks to their Thrivecart lifetime deal pricing) and I really love the shopping cart for certain use cases. That said, there ARE some big shortcomings. These means it's not the right solution for every business.
Some of the top reasons to consider an alternative to Thrivecart are:
You looking for a platform that offers more comprehensive A/B testing features. Thrivecart's options are limited, and I need more depth to optimize my sales funnel effectively.
You need a checkout platform with better integration options. Thrivecart doesn't seamlessly integrate with all the tools and services I use for my business.
You are seeking a platform with more customization options for checkout pages. Thrivecart's customization options are not as flexible as I'd like.
You need a platform that offers 24/7 customer support. Thrivecart's support is limited to certain hours, which can be problematic when I encounter issues outside these hours.
You are looking for a platform with a more intuitive user interface. Thrivecart's interface can be challenging to navigate, especially for beginners.
You want a platform that offers more advanced analytics. Thrivecart's analytics are basic, and I require more in-depth data to grow my business.
You are seeking a platform with more robust affiliate management features. Thrivecart's affiliate management tools are somewhat limited.
You need a platform with more competitive pricing. Thrivecart's pricing plans can be more costly than other platforms, especially for businesses just starting out.
With this in mind, here are some of the top alternatives I've settled on with these common gripes in mind:
SamCart is another Thrivecart Alternative and was founded by Brian Moran and Scott Moran with a goal of building an industry-leading checkout platform that increases conversions and maximizes profits.

SamCart uses 'order bumps' which lets your customers add on another product easily at checkout.
This automatically maximizes your profits. Their 1-click upsell feature will triple your profit on each sale. The A/B testing saves you time by quickly identifying and rolling out your most profitable elements. The payment option which lets your customers pay over time will enable you to convert 17.8% more customers.
SamCart seamlessly integrates with all your favorite tools. Email integrations include Aweber, MailChimp, Convertkit, and others. SamCart integrates with membership tools like WishList Member MemberMouse and OPMember. Through Zapier, you can connect with Kajabi and other tools.

You're able to connect with Stripe to enable payment from major credit cards and also PayPal. The marketing automation tools you can integrate with are Ontraport, Infusionsoft ActiveCampaign, and HubSpot.
SamCart is committed to helping you increase your revenue with features like coupons, trial offers, subscriptions, and subscription saver.
You will convert more customers with SamCart's high-converting checkout page templates, which you can customize to suit your brand. Setting up a checkout page will take you less than 3 minutes. You can easily add photos, testimonials, and benefits of your products to boost conversions. The checkout popups make it easy for your customers to pay from the product page.

SamCart's extra features include an affiliate management center, an in-depth dashboard, highly responsive customer support, and a knowledge base which features a library of products, information, tutorials, training, and webinars.
SamCart has two monthly payment plans. The Pro Plan costs $99 per month, while the Premium Plan costs $199 per month. Both plans come with a 14-day free trial. You can save up to 25% by making annual payments instead.
Both plans include checkout templates, integrations, coupons, payment processing, checkout popup, and a free SSL certificate. SamCart does not offer a money-back guarantee but will cancel your plan in case you aren't satisfied with the product.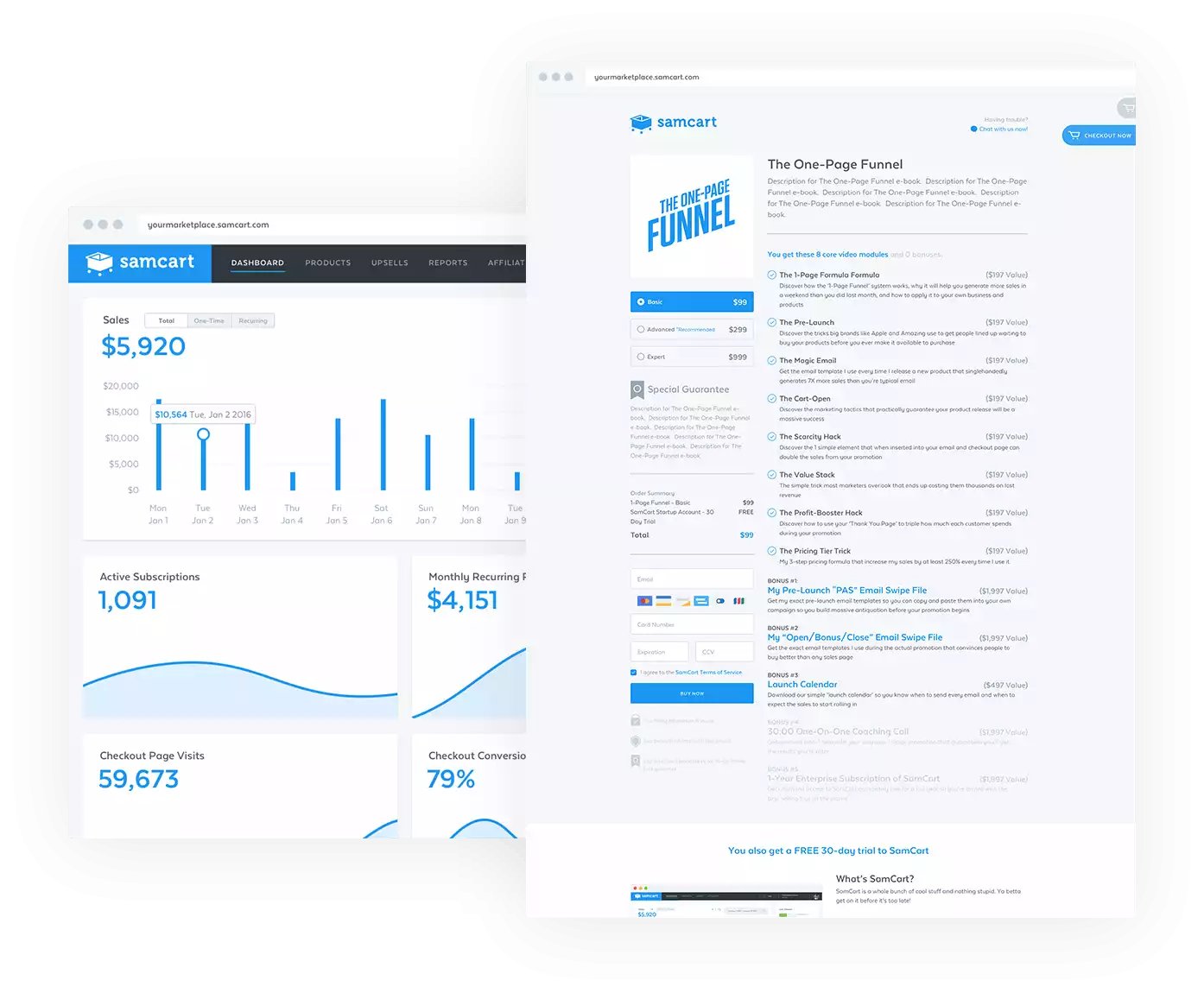 I Personally Prefer SamCart
Personally, I find SamCart to be the BETTER overall checkout page builder with one of the best abandoned cart features in the business. PLUS, it's just less expensive than the competition. There's a free 7-day trial here if you'd like to just see what it looks like on the inside.
GO With SamCart
We earn a commission if you click this link and make a purchase at no additional cost to you.
Unfortunately, SamCart will charge you extra per month for digital sales collection using Taxamo. Also, it lacks payment gateways like Skrill, Authorize.net, and Braintree. Mobile payment Apple Pay is also nonexistent.
At a glance, here's why SamCart might be a better option than Thrivecart:
| Advantages | SamCart | ThriveCart |
| --- | --- | --- |
| Pricing | SamCart has flexible pricing options with a lower starting price, making it more accessible for small businesses or beginners. | ThriveCart has a one-time lifetime fee, which can be a larger upfront investment. |
| Checkout Design | SamCart offers a wider range of customizable checkout templates and A/B testing capabilities, which can lead to higher conversion rates. | ThriveCart has fewer checkout templates, and customization options may be more limited. |
| Upsells and Downsells | SamCart provides more flexibility in creating and managing upsells and downsells. | ThriveCart also offers upsells and downsells, but with less customization. |
| User Interface | SamCart's user interface is more intuitive and user-friendly, making it easier for beginners to navigate. | ThriveCart's user interface may require a steeper learning curve. |
| Affiliate Management | SamCart has a robust affiliate management system, allowing for more tracking and management options. | ThriveCart also has an affiliate system, but it lacks some of the advanced features of SamCart. |
| Integrations | SamCart integrates with a wider range of third-party apps and services. | ThriveCart has fewer integrations compared to SamCart. |
Here's how SamCart stacks up against some popular peers:
PayKickstart is a powerful shopping cart platform that helps entrepreneurs automate their entire online business to sell more and increase revenue. PayKickstart features 1-click upsells just like ThriveCart.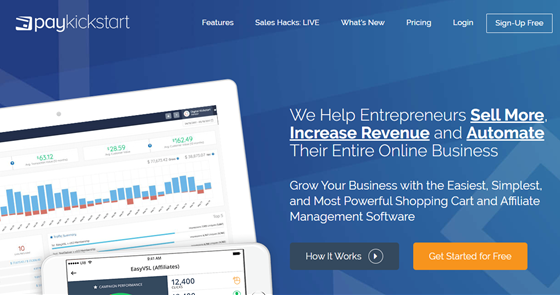 They also allow you to create promotional codes and coupons at checkout. PayKickstart integrations allows you to connect with applications you already use for your business.
These include payment integrations, webinar integrations, email marketing integrations, membership integrations, Zapier integrations, and fulfillment integrations.
PayKickstart has three payment plans. The Starter Plan (individuals) costs $99 per month, the Growth Plan goes for $199 per month and the Scale Plan requires a custom quote. Each of these plans comes with a free trial for 14 days. You have the freedom to upgrade, downgrade or cancel your plan anytime.
However, the setup process is not user-friendly, especially for beginners. It does not have an inbuilt A/B testing and lacks native digital sales tax support.
The integration for digital sales tax would cost an extra $99 per month or so. It also lacks crypto and Apple Pay payment methods.
Here's a high level of how PayKickstart compares to Thrivecart broadly speaking:
| Advantages | PayKickstart | Thrivecart |
| --- | --- | --- |
| Customization | PayKickstart offers more customization options, enabling you to tailor your checkout pages to your brand. | Thrivecart offers some customization, but it's not as extensive as PayKickstart. |
| Pricing | PayKickstart offers a more affordable monthly plan, making it a better choice for businesses on a budget. | Thrivecart has a higher one-time fee, which might not be affordable for all businesses. |
| Affiliate Management | PayKickstart provides robust affiliate management features, making it easy to manage and track your affiliates. | Thrivecart also offers affiliate features but they are not as comprehensive as PayKickstart. |
| Integration Options | PayKickstart offers a wider range of integration options with different CRM systems, payment gateways, and email marketing tools. | Thrivecart's integrations are somewhat limited in comparison. |
| Analytics | PayKickstart provides advanced analytics and reporting tools to track your sales and conversions. | Thrivecart's analytics tools are more basic. |
| Dunning Management | PayKickstart has built-in dunning management to address failed payment and churn. | Thrivecart does not have built-in dunning management. |
| Customer Support | PayKickstart provides 24/7 customer support. | Thrivecart's customer support is not available 24/7, just email support. |
Check PayKickstart Plans and Promos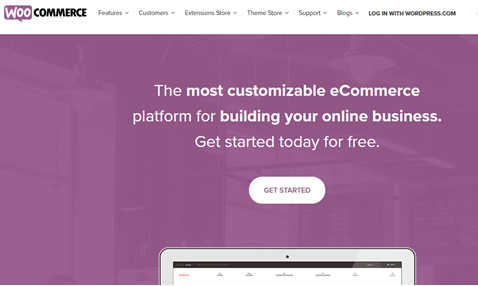 WooCommerce is a popular e-commerce platform that helps you build your e-commerce business and one of the top ThriveCart Alternatives and competitors. Because of its unique features, WooCommerce allows you to sell any physical product online.
It is quite different because while it is an e-commerce platform, tools like ThriveCart and SamCart are shopping cart software.
WooCommerce is hosted on WordPress. After installing the WooCommerce plugin on your site, you can customize anything and have as much functionality to your store as you want.
With WooCommerce, you have to buy a domain name and hosting. WooCommerce features over 400 extensions, from shipping and payments to accounting and marketing.
It also offers several themes to design your e-commerce store exactly how you want it. You can publish content with its built-in blogging feature. This will help you strengthen your online brand.
The product reviews and ratings will improve your customers' shopping experience and boost your SEO. One common feature with the shopping cart platforms and WooCommerce are the product checkout pages. WooCommerce has amazing products and checkout pages that you can customize.
It allows you to include as many photos as you need to showcase your products. It also has a sorting and filtering feature which guides your customers and improves your search engine rankings. You can manage everything on your site from products to orders using the REST API. WooCommerce can also integrate membership sites, shipping carriers, accounting solutions, and Google Analytics.
The entire set up for a WooCommerce site would cost between $400 and $700 upfront. This includes the domain, hosting, themes, plugins, design, and extensions.
Although WooCommerce is not a cart software per se, it's an amazing product in terms of features, functions, tools, popularity, and size. It's existed for almost a decade and currently powers more than 28% of all online stores.
That said, the platform is not without disadvantages. The number of plugins you can use with WooCommerce is astounding. However, they take up a sizeable chunk of memory. Using too many will affect performance and downloading speed.
Another downside is the extensions are not free. Much as launching and selling do not require extensions, some functions require them. For example certain subscription services, inventory management tools and implementing payment gateways.
Here's a high level of the main tradeoffs between these two platforms:
| Advantages | WooCommerce | Thrivecart |
| --- | --- | --- |
| Customization | WooCommerce is open-source, allowing for extensive customization of your online store, from the look and feel to the functionality. | Thrivecart offers some customization, but it's limited compared to WooCommerce. |
| Cost | WooCommerce is a free plugin, so the only costs associated are your WordPress hosting fees. Additional costs may come from premium plugins and themes. | Thrivecart has a one-time cost, which may be hefty for some small businesses. |
| Product Types | WooCommerce supports a wide range of product types, including physical, digital, affiliate, and subscriptions. | Thrivecart is primarily focused on digital products and subscriptions. |
| SEO | With WooCommerce, you have complete control over SEO settings due to the extensive SEO capabilities of WordPress. | Thrivecart doesn't offer built-in SEO features. |
| Blogging Capabilities | WooCommerce has robust blogging capabilities, thanks to WordPress's strong blogging foundation. This can help with SEO and driving traffic. | Thrivecart does not have blogging capabilities. |
| Plugins and Extensions | WooCommerce has a vast library of plugins and extensions for added functionality. | Thrivecart has limited integrations compared to WooCommerce. |
As a digital marketer, I've noticed that SendOwl is a commendable alternative to ThriveCart. What impresses me about SendOwl is its simplicity and efficiency in selling digital products, services, and subscriptions. I
t has an extremely user-friendly interface, which makes setting up and managing products a breeze even for beginners.
Unlike ThriveCart, SendOwl offers a more affordable pricing structure, which is particularly appealing to small businesses and startups.
Moreover, it has an impressive range of features, including PDF stamping, drip content, and geo-blocking, and it integrates seamlessly with popular payment gateways and email marketing tools. Overall, SendOwl offers a a nice balance of affordability, ease of use, and comprehensive features, making it a compelling alternative to ThriveCart.
SendOwl vs Thrivecart
Here's a comparison of the high level considerations at a glance:
| Feature | SendOwl | ThriveCart |
| --- | --- | --- |
| Simplicity | SendOwl is known for its simplicity. It's straightforward to set up, even for beginners. | ThriveCart, while robust, can be a bit overwhelming to set up, especially for novices. |
| Pricing | SendOwl offers a more affordable range of pricing options, starting at $9/month. | ThriveCart has a higher upfront cost, usually a one-time payment of approximately $495. |
| Ease of Use | SendOwl has a very user-friendly interface, making it easy to navigate and operate. | While ThriveCart's user interface is clean, it might take some time to get used to all the features and options. |
| Drip Content | SendOwl has built-in drip content feature, allowing to release the content over time. | This feature is not readily available in ThriveCart and might require additional integrations. |
| Bundling Products | SendOwl allows you to bundle multiple products together, which can be a great strategy for increasing sales. | ThriveCart also allows product bundling, but it might be a bit more complex to set up. |
Other Honorable Mentions
There are some other options I looked at, but didn't consider as a close enough alternative to Thrivecart. That said, they MIGHT be a good option for your business (depending).
Stripe: Stripe is the "rails" of a huge amount of digital payments. To get close to the functionality and experience of Thrivecart you'll need a really good developer (or team).
Shopify: I almost considered Shopify in lieu of WooCommerce for this article, but Shopify is such a specific ecosystem that it probably only makes sense if you are already familiar with it OR are primarily looking to sell physical products.
Kartra: Karta is more of a all encompassing marketing suite, of which checkout cart functionality is just one feature. Makes sense is you also can leverage their other features.
Clickfunnels: 5+ years ago Clickfunnels was all the rage. It's still going strong (albeit less hype) and offers an easy to implement "selling platform" to include more of the sales funnel features and bells and whistles compared to Thrivecart.
Should You Stick with Thrivecart?
High-Converting Templates
You can boost conversions with ThriveCarts' high-converting cart templates. Even if you don't have a background in technology, you can easily customize them to fit your brand and products within a few minutes.
A/B Testing
There's no point in spending money on carts or sales pages that will not convert. Save your valuable time by split testing. Not only will it increase conversions, but your product will improve as well. Although other cart tools offer this same service, it's easy to do on ThriveCart.
Some elements that you can split test on ThriveCart include;
Payment options i.e. Stripe alone vs PayPal and Stripe
Payment button color, for example, orange vs blue
Price i.e. various prices
Price options i.e. one-time price, recurring price
Overall design at checkout, and many more
After the split test, you can see which checkout page, sales funnel or element performed best so that's you stick to that one. Online business requires testing and measuring for maximum results. A/B testing will help your online business achieve its goals.
1-Click Upsell Feature
Upselling means nudging your customer to purchase another product or a more expensive one.
That moment immediately after your customer has made a purchase, is the best time to upsell them.
Otherwise, you're leaving cash on the table. Selling to an already existing customer is more profitable than selling to a prospect. ThriveCart's 1-Click Upsell feature allows you to add an upsell offer on your product page. All you have to do is click a button.
Best Thrivecart Integrations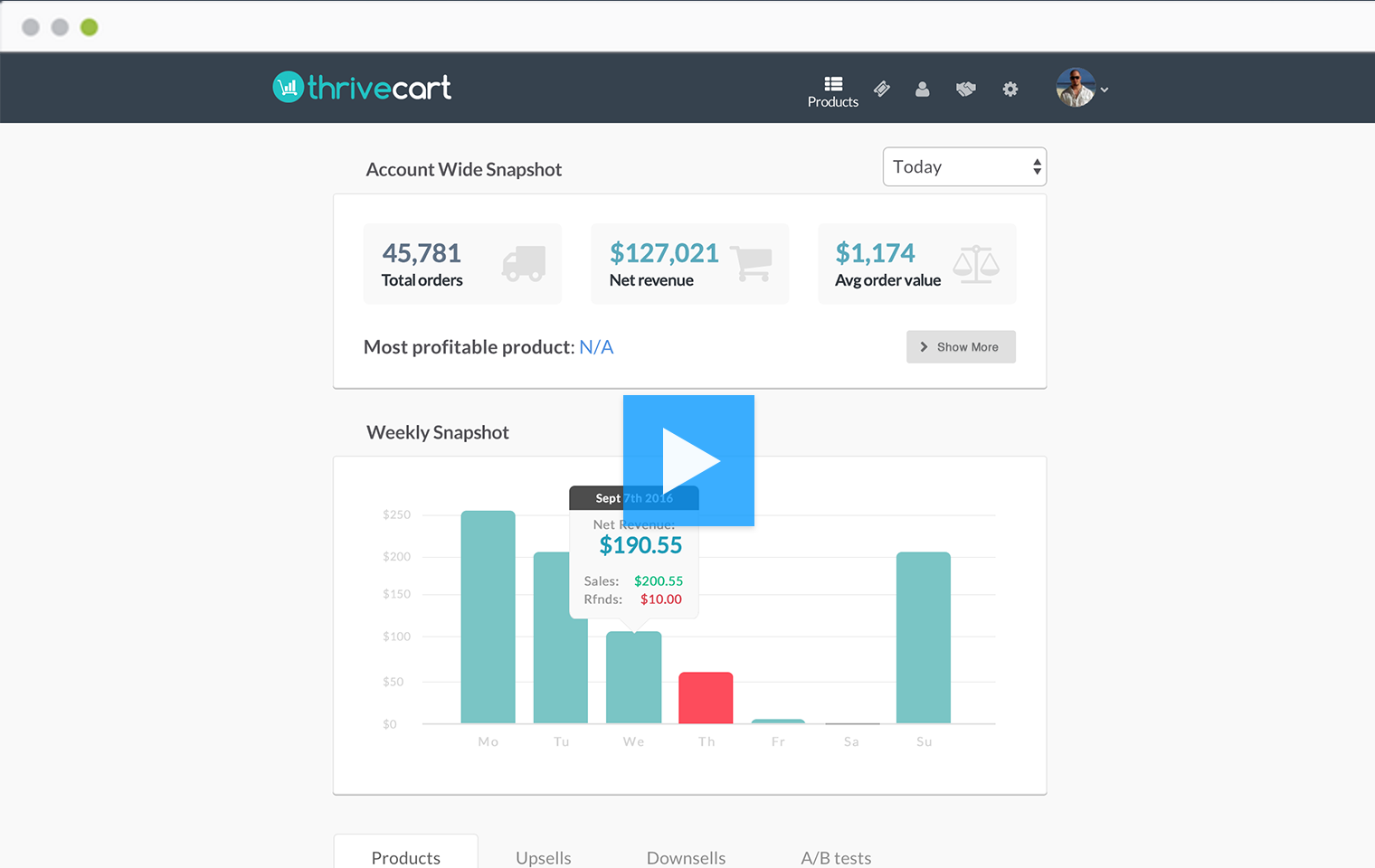 ThriveCart integrates with various membership platforms. These include Teachable, Wishlist Member, MemberPress, Optimize Member, Digital Access Pass, and MemberMouse. ThriveCart doesn't limit you to one single website or platform.
If you have three Teachable websites with different products, that's fine. You can easily connect each site with ThriveCart and put various products in your ThriveCart account.
Some other platforms integrate with ThriveCart via their platforms using ThriveCarts' API. These include EverLesson, LearnDash, ProductDyno, MasterClassPlugin, WPEP Content Sales Funnel Engine, and MemberSonic.

ThriveCart uses the powerful Zapier app to integrate with more membership sites like Thinkific, Kajabi, Paid Memberships Pro, Podia and others. To integrate with membership platforms go to your 'Settings', click 'view integrations', find 'membership platforms'.
Then click on the 'view settings' button, you will see various membership platforms to integrate with. Click the 'integrate now' button below the membership platform you have chosen and you'll find details and instructions.
ThriveCart also integrates with three payment processors at the moment. These are PayPal, Stripe, and Authorize.net. If you want to connect the payment processor to your ThriveCart account, the first step is to go to 'settings' in the dashboard menu.
Click the 'view integrations' button, go to the 'payment gateways' option and click 'view settings'. You can then choose the payment processor you want to work with. This platform also integrates with any autoresponder.
Auto Follow-Up Messages
ThriveCart uses a cart abandonment email collection system to add users who abandon your cart to an autoresponder. You can set up and personalize automatic follow-up messages for your customers. Auto follow-up messages keep your customers updated, helps them take required necessary action and boosts conversion.
Customer Support
In case you need to contact ThriveCart for any inquiries, you can send an email to [email protected]. Before you send an email, you can look through the 176 support articles on their site. They are grouped in 25 categories. You will likely find what you're looking for there. You can also read their blog or submit a ticket.
Affiliate Management Center
The Affiliates Management Center is easy to use. After logging in, you'll find all the tools you need to set up an affiliate program for both your digital and physical products. You can decide how and when you want to pay your affiliates. The system is user-friendly even for a newbie.
You will save so much time and money that is normally required when recruiting affiliates, giving bonuses, and paying commissions. You can customize everything in the Affiliate Management Center. For example product commissions, when affiliates get paid i.e. weekly or monthly, bump offer commissions, commission types i.e. the percentage of the sale or a fixed fee.
Sales Tax Collection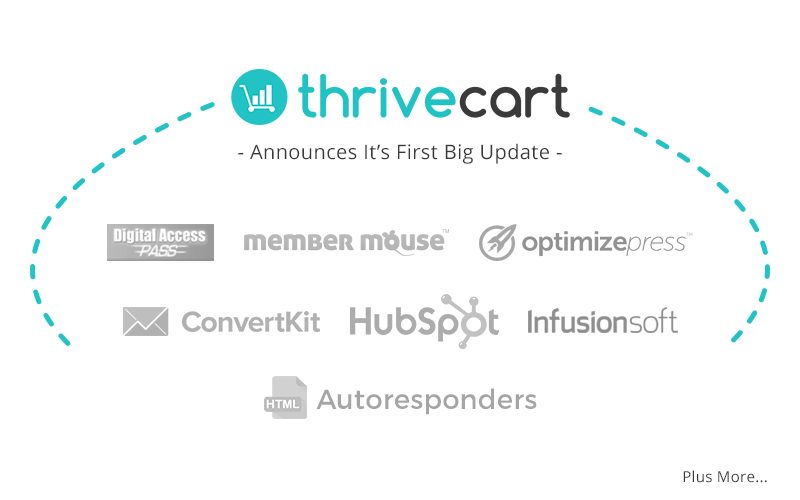 Unlike other platforms ThriveCart allows you to collect sales tax from your customers easily at no extra cost. You can do this with just a few clicks. The platform integrates with Taxamo, a third-party service that handles digital sales tax calculation.
You can easily enable sales tax collection in a few steps. Go to your 'product settings'. Under 'product' click on 'pricing'. Then tick the box to 'automatically calculate digital sales tax. When the modal window appears, select your 'product category'.
After that, confirm your address and location. When your customers come to your checkout, if their country applies a flat digital sales tax rate (like the EU), it will be added and applied automatically.
Pricing
ThriveCart currently offers the best price on the market. To enjoy all its amazing features and future upgrades forever, all you have to do is make a one-time payment of $495. This crazy offer comes with a 30-day money-back guarantee. Like all special offers, it will expire soon, then it will be billed monthly.
What Makes ThriveCart a Great Cart Tool?
The setup process is seamless. Even a newbie to technology can create a product in a few minutes.
The cart pages are mobile-friendly. If your customers use tablets or smartphones, they will have a great user experience
The platform provides you with detailed statistics of customer purchase history that you can manage from a central dashboard
You have full access to several tools like cart forms, layouts, and check-out templates. And you can personalize each of them to your taste
You can set up an upsell for your customers
You can also give discounts and coupons to  your customers at checkout
You can set up A/B split testing to determine the performance of your sales pages, sales funnel, and cart forms
ThriveCart integrates with any email autoresponder and membership site
The Affiliates Management system is easy to use
With all these amazing features, ThriveCart also comes with a few limitations;
A limited checkout template selection
It doesn't accept cryptocurrency payment
Limited customization
Lack of emergency support
ThriveCart Alternatives: Conclusion
Online entrepreneurs will often focus more on other aspects of their business than their shopping cart software. The right cart software is important for increasing conversions, boosting sales, and maximizing profits.
ThriveCart is an excellent option, but SamCart, PayKickstart, and WooCommerce are great ThriveCart alternatives for selling your products and services online. Much as they share many features, they also have unique attributes. Review their features in detail so that they are compatible with your online business.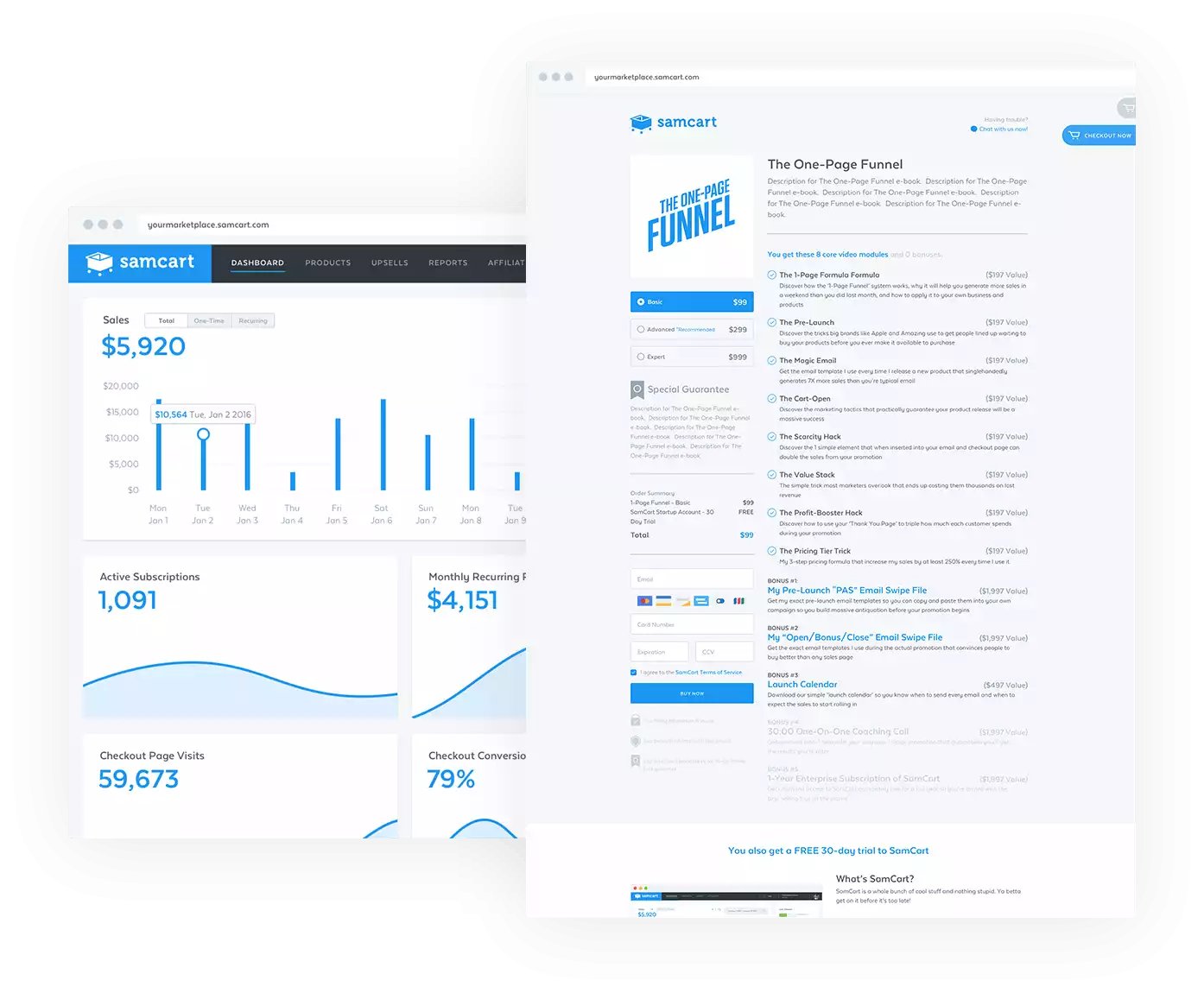 I Personally Prefer SamCart
Personally, I find SamCart to be the BETTER overall checkout page builder with one of the best abandoned cart features in the business. PLUS, it's just less expensive than the competition. There's a free 7-day trial here if you'd like to just see what it looks like on the inside.
GO With SamCart
We earn a commission if you click this link and make a purchase at no additional cost to you.
Looking for more ThriveCart Alternative here are other related articles you may be interested in: