Last Updated on April 22, 2023 by Ewen Finser
eCommerce store owners want to maximize sales, engage customers, and keep them happy. Fortunately, rather than doing all that manually, there are tons of solutions out there that can help with that.
Spoiler alert: I'm talking about shopping cart platforms.
When considering how best to improve your sales, be they digital or physical, it may be that you aren't zoning in enough on your shopping cart page. It's worth noting that 69.57% of shopping carts are abandoned before a financial transaction is made, and if you shop using your mobile, that figure leaps to 85.65%.
That's why this review is taking a deep dive into a couple of shopping cart solutions: PayKickstart and ThriveCart. As someone who's worked in and around the eCommerce business for over four years, I'm always intrigued by solutions that claim to reduce abandoned cart rates. Of course, both are shopping cart solutions, but there are some differences between them, which I'll explore, as well as their features, prices, pros and cons, and a whole lot more.
There's a lot of information to give you, so let's get going.
My Bottom Line Up Front
First and foremost, PayKickstart and ThriveCart are shopping cart platforms that allow you to create good-looking custom checkout pages, complete with upsells. Both also integrate with popular payment solutions to make it easier for your customers to pay for your products.
ThriveCart offers many features, including checkout options, sales funnel building, and basic, if limited, template choices. I think it's a good option if you prefer to pay a one-off fee and save money in the long run – rather than continuously shelling out for monthly/annual subscription plans.
In contrast, PayKickstart is an excellent option for businesses wanting to improve their customers' checkout experience and develop their own affiliate program with PayKickstart's affiliate management platform. That doesn't mean that ThriveCart's affiliate program is necessarily inferior.
Both platforms offer it to higher-paying customers, and their respective features are similar. However, PayKickstart offers affiliate contest management, which isn't something ThriveCart offers.
PayKickstart vs ThriveCart: Their Similarities and Differences
Before I delve into the nitty-gritty of what PayKickstart and ThriveCart have to offer, let's quickly explore the key similarities and differences between the two platforms:
Their Similarities
Both platforms support various payment options, including Apple, Google, Visa, Stripe, etc.

Both are affordable options for smaller businesses looking for shopping cart solutions that can scale with them as they grow.

Both offer money-back guarantees within the first 30 days if you're unhappy.

Both come with customizable templates for checkout pages, upsell, and payment success pages that customers are directed to once they've completed a sale.

Both integrate with various tools, including MailChimp, GetResponse, AWeber, and many more.

Both offer automated VAT/sales tax calculations.

Both offer a built-in affiliate management platform, enabling you to handle those that sell your products on your behalf for a small commission.

Both offer a comprehensive range of self-help resources, such as articles on getting started and managing customers.
Their Differences
Although both support VAT/sales tax calculation, in the case of ThriveCart, this is fully integrated and automated. It's also included in the one-off ThriveCart fee, so no third-party service is necessary, whereas, with PayKickstart, you have to integrate with Taxamo to achieve similar functionality. This third-party service will cost you more. However, no prices were visible at the time of writing.
ThriveCart is available for a one-off lifetime fee, whereas PayKickstart is sold on a monthly pricing plan.

PayKickstart's self-help support is more comprehensive and includes online tutorials, webinars, white papers, and an online resource center split into categories depending on who you are: an affiliate, a vendor, or a developer, whereas ThriveCart's support is more pared back, with just a general FAQ and Help Center.

PayKickstart offers a free 14-day trial, whereas ThriveCart doesn't offer a free trial.

PayKickstart only works with USA and Canada merchants who can, in turn, accept payments from 135+ countries, whereas ThriveCart accepts payments in 22 currencies, but it's unclear if merchants have to be US or Canada-based.

PayKickstart offers an iOS and Android app, whereas ThriveCart doesn't.

PayKickstart offers 100+ checkout page templates, whereas ThriveCart provides only four different kinds.
What's PayKickstart?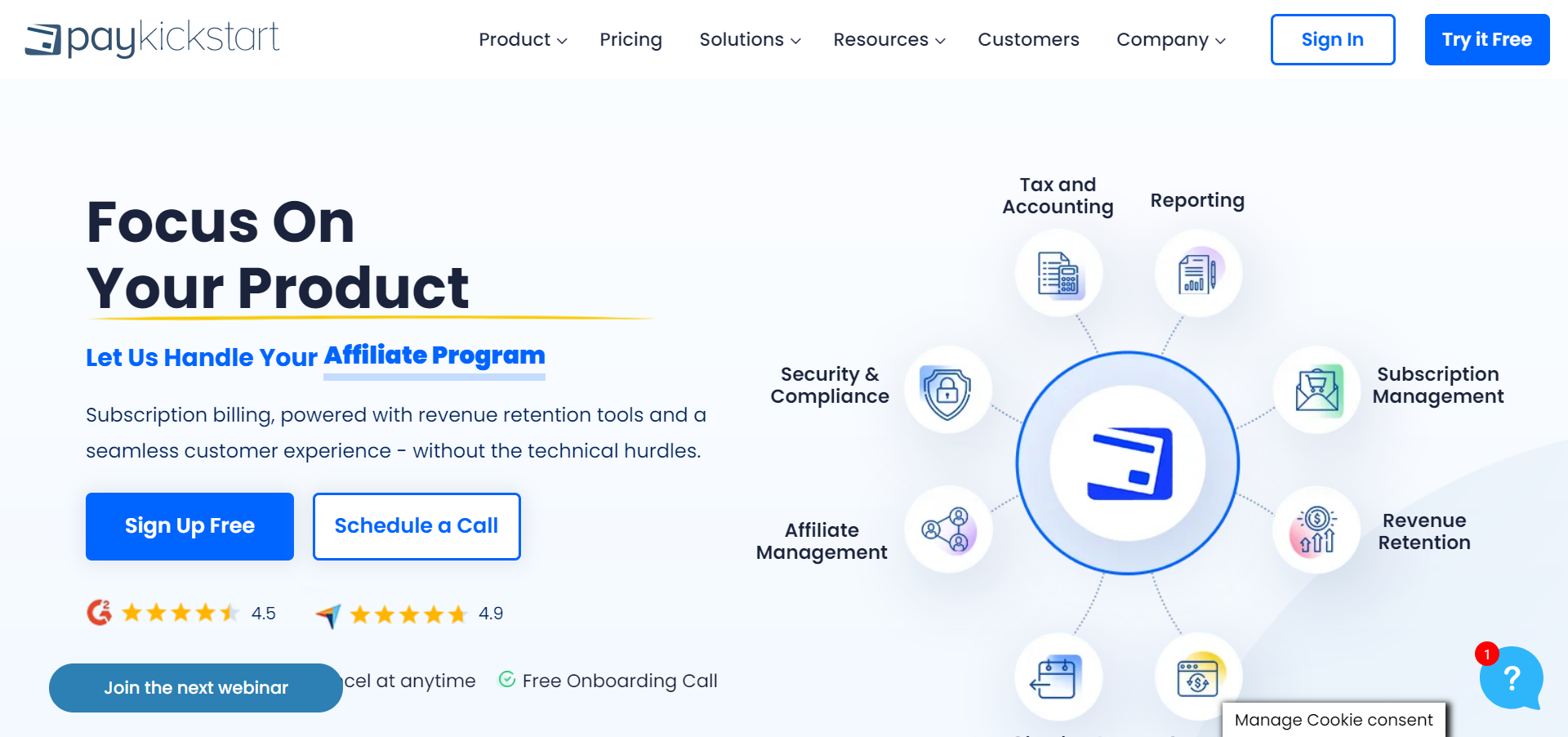 Founded in 2016, PayKickstart's website tells us it's 'obsessed with helping online businesses solve the complex world of accepting payments, delivering an exceptional customer experience, and management of affiliate partners.' Since its inception, 3,500+ businesses have signed up to PayKickstart and used it to process $1.2 billion.
It allows customers to sell physical and digital products and join the PayKickstart affiliate program. It's available on your smartphone as an app. It boasts a range of tools, including reporting and analytics, subscription management, dunning management, cart abandonment management, billing, and accounting, and it comes with a range of integrations.
What's ThriveCart?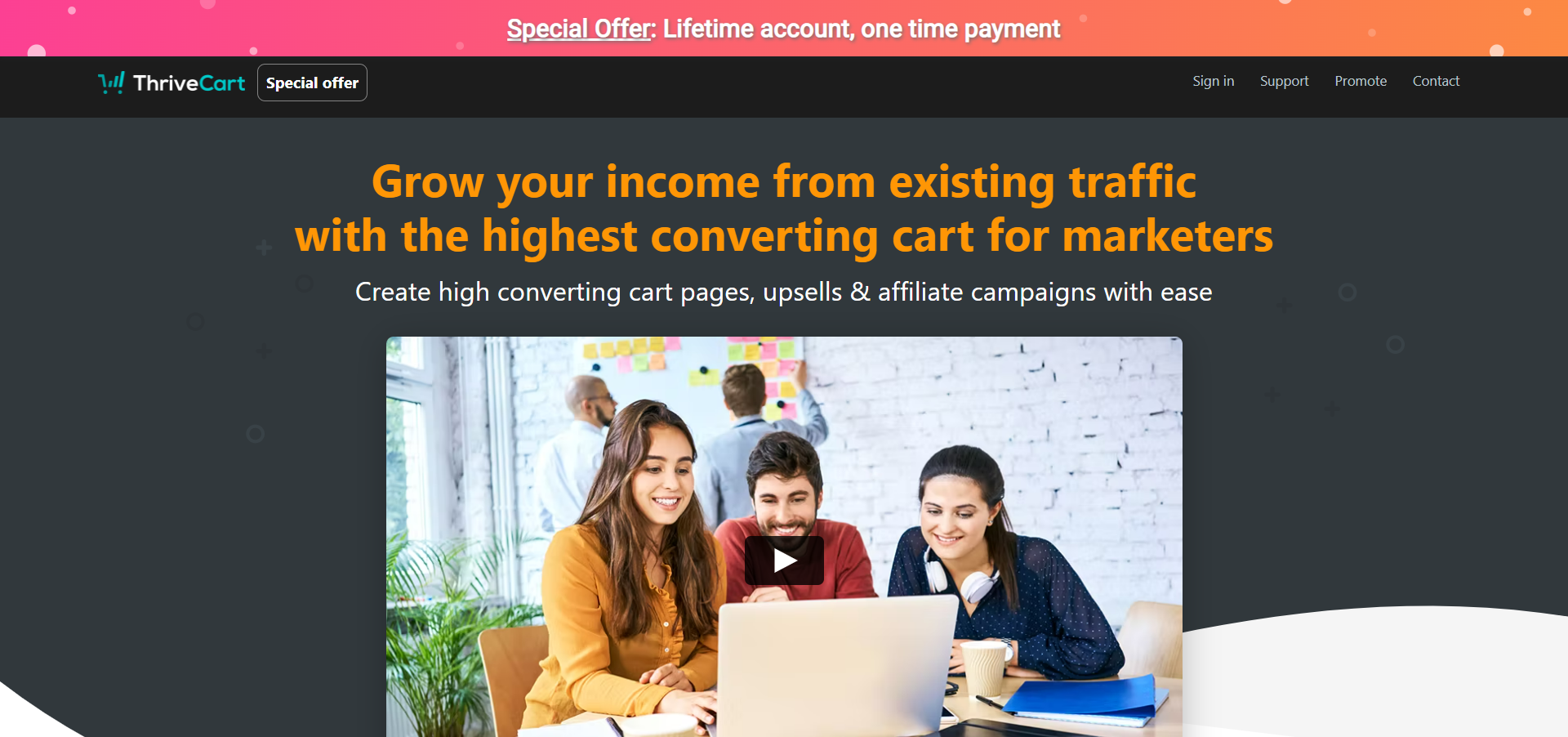 Used by 212,000+ entrepreneurs to process more than $2 billion in sales from 13.6+ million products, ThriveCart is a popular solution designed to help customers sell physical and digital products. Founded by Josh Bartlett in 2016, instead of users shelling out on monthly subscription fees, you pay a one-off price for ThriveCart's standard lifetime package: $495. Or, for $690, you can upgrade to the Pro subscription.
Like PayKickstart, it strives to help you sell more by allowing you to create high-converting checkout pages and reducing cart abandonment rates. Other core features include "bump" offers, the auto calculation of sales tax, cart abandonment emails to prospective customers, and dunning management.
ThriveCart comes with a few integrations, including Zapier, Aweber, and Apple Pay.
PayKickstart Features
PayKickstart splits its list of features into 11 categories. Below I've listed each one alongside a brief outline of what each entails:
Accepting Payment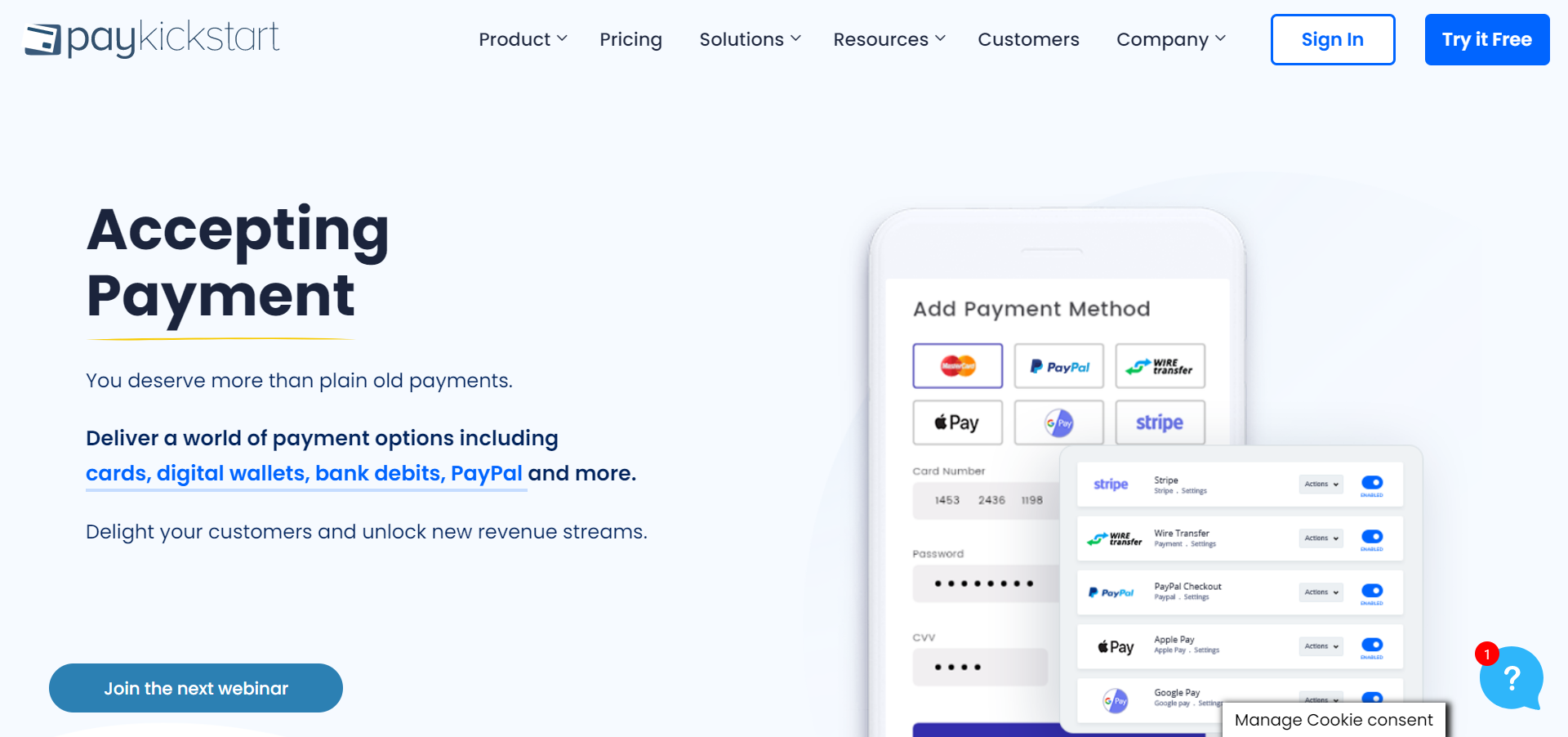 The PayKickstart website has a handy calculator where you can work out how much you'd save on processing fees if you switched to PayKickstart. PayKickstart accepts payments from over 135 countries, with processing fees as low as 2.5% and $0.25 per transaction.
In addition, you can offer customers various payment options, including PayPal, Apple and Google Pay, Visa, Mastercard, Amex, and the chance to invoice customers.
That said, PayKickstart is currently only accepting USA and Canada merchants.
Subscription Management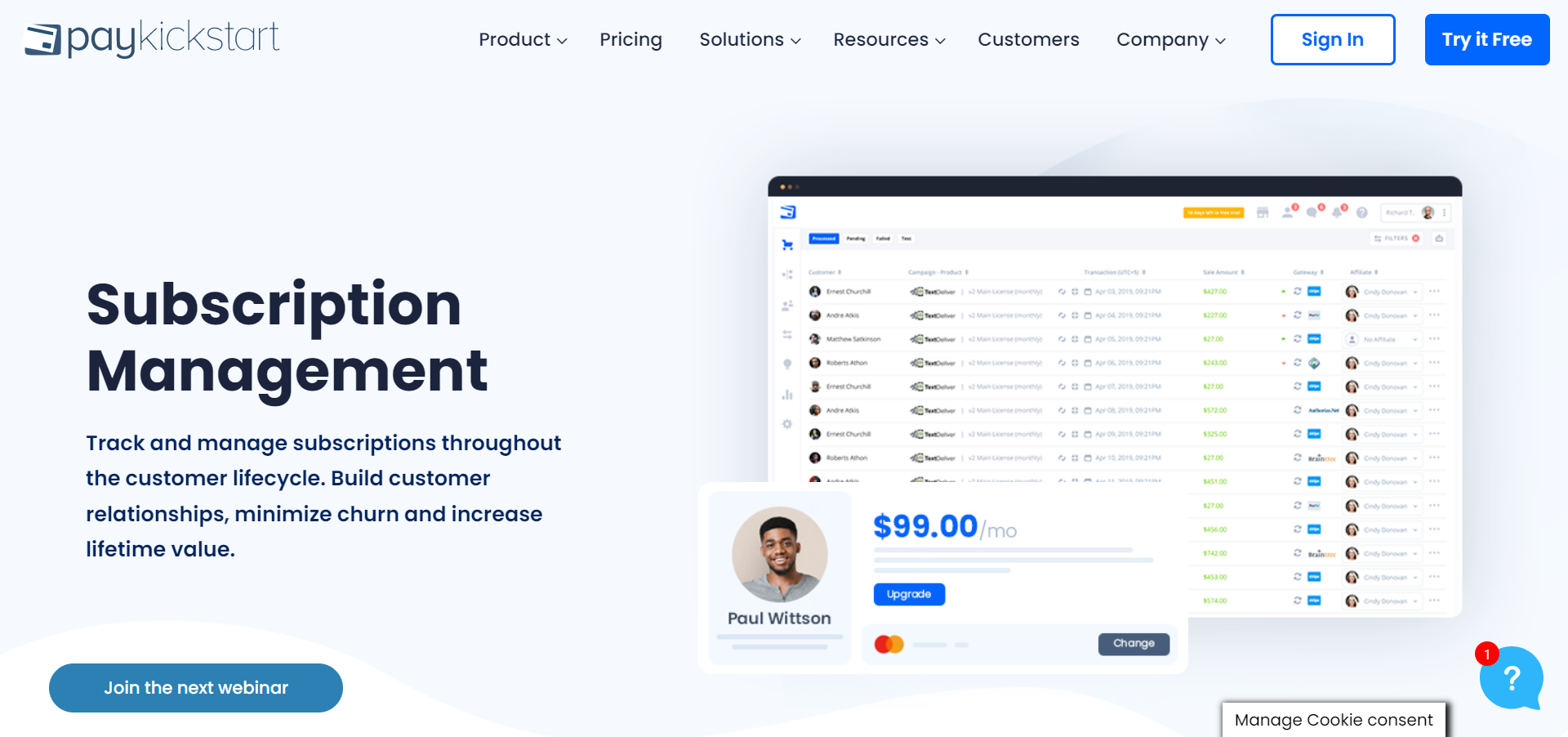 You can track and manage your sales subscriptions to minimize churn and increase lifetime value. You can charge subscribers a recurring price or charge according to how many products or services customers download from you. You can also give away freebies to encourage consumers to upgrade to a paid option. Should you wish, you could even offer a choice of different payment plans.
Lastly, you can send customers automated emails, SMS, and in-app communications throughout the customer's lifecycle to ensure they receive info from you at the correct time. For example, reminders, payment recovery comms, cancellation flows, etc.
Checkout Experience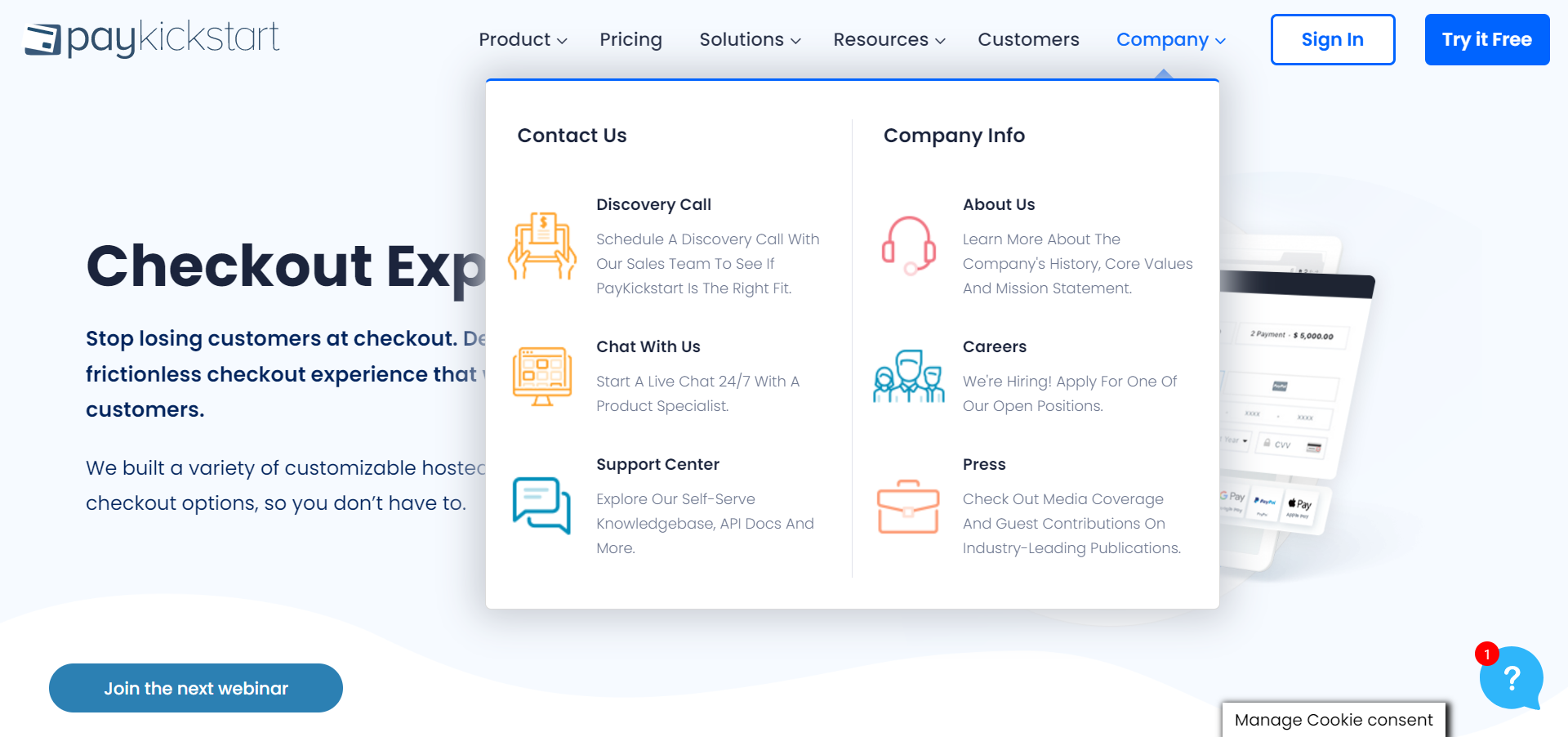 You can choose from over 50 customizable templates to offer customers a seamless checkout experience. You can also trigger a checkout pop-up when your customer clicks the 'buy' button.
You can further enhance the checkout experience by creating either regular or one-time discount coupons to encourage more sales. In addition, you can entice customers to buy more by creating order bumps and offering customers free or discounted products when they checkout.
Lastly, you can convert customers about to click off your checkout page by adding "exit intent" pop-up. These can include messages urging them to stay and go through with their purchase. This can also be used with automated abandoned cart email campaigns to encourage customers to return to their carts and complete their transactions.
Revenue Retention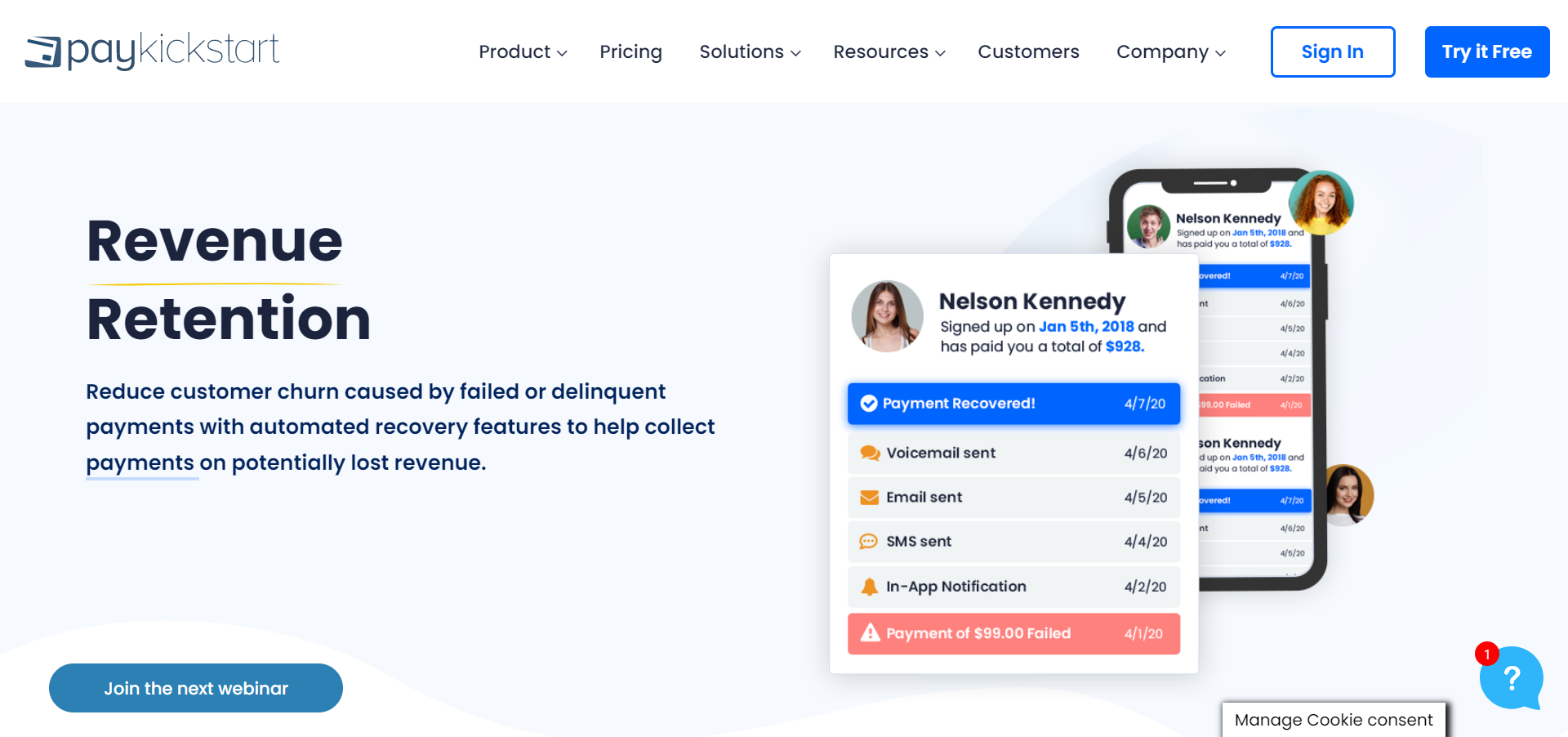 PayKickstart's dunning management tool sends in-app notifications, identifies at-risk customers, sends credit card expiry reminders to customers, and executes smart card retries. Since PayKickstart began, it's recovered a staggering $12,913,743.45!
Affiliate Management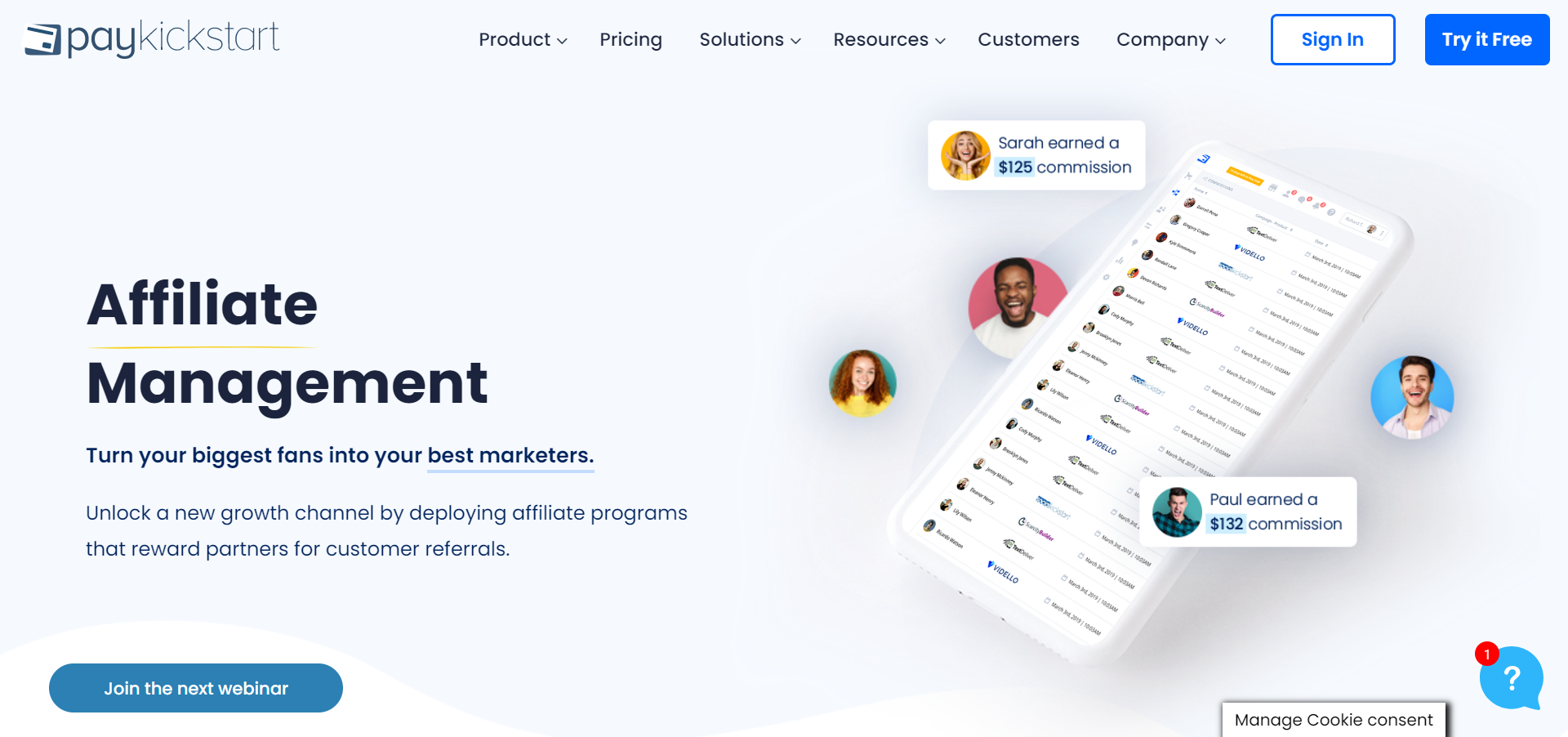 You can use PayKickstart to develop an affiliate program where you can:
Approve or refuse affiliate requests.

View all your affiliate activity at-a-glance.

Set instant or delayed commission payments.

Set up partner contracts with each affiliate
…and much more.
Billing and Accounting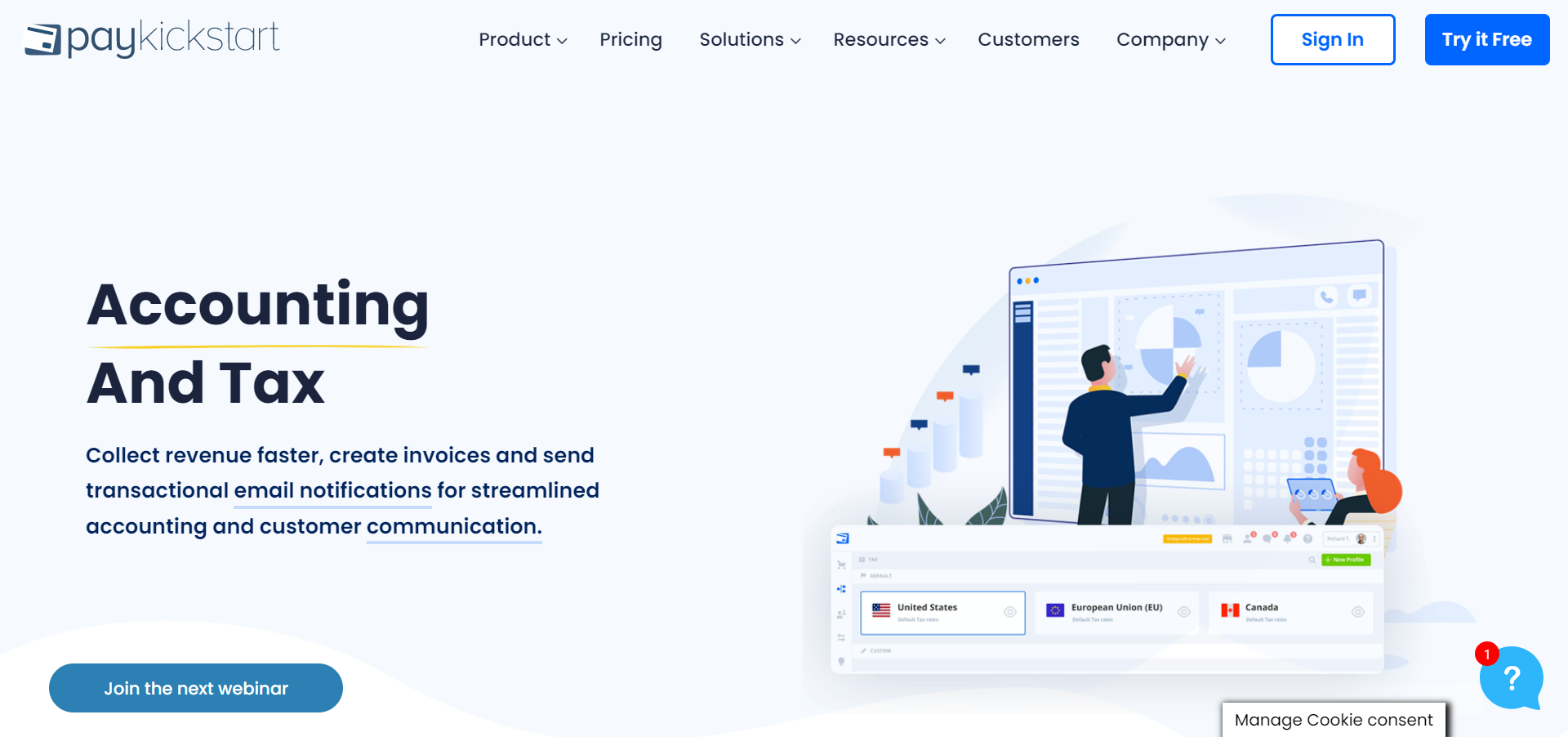 With PayKickstart's integration with Taxamo, you can streamline all your transaction workflows and collect revenue faster. For example, you can send customers email notifications once a transaction has been processed. Taxamo also stays ahead of all global tax regulations and compliance-related matters, so you don't have to.
For instance, you can charge a flat sales tax automatically added to each customer's purchase at checkout, depending on which country, province, or state they live in. Furthermore, PayKickstart helps you sell in Europe by supporting VAT collection and VAT number validation to comply with EU tax regulations.
Lastly, you can create, send, and manage invoices using the PayKickstart invoice editor.
Reporting and Analytics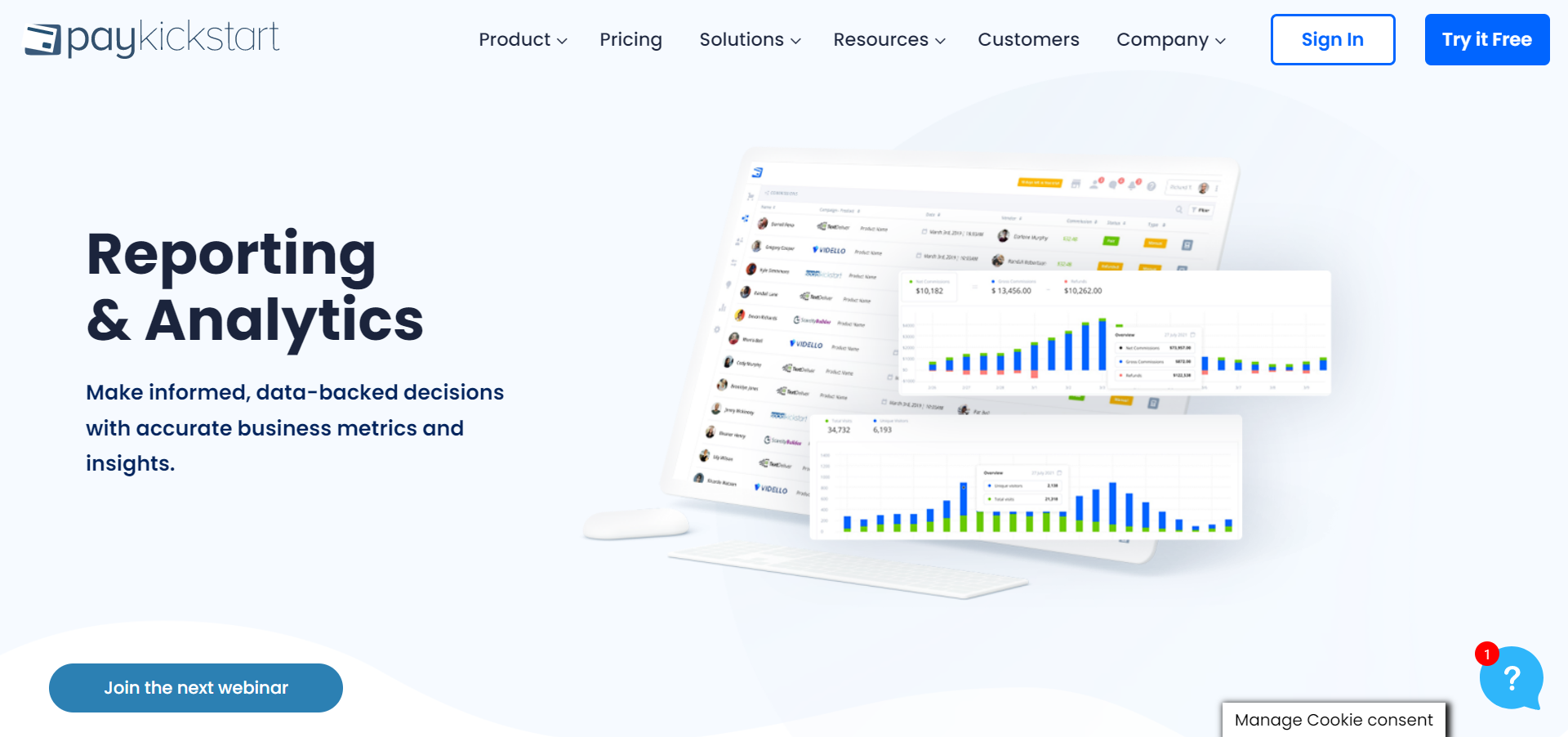 PayKickstart boasts the following reporting and analytics features:
Generate recurring revenue reports to forecast revenue accurately.

Analyze customer churn and campaign successes.

View reasons for canceled orders or subscriptions.

Measure how many customers upgraded from a free trial to a paid product or subscription.
PayKickstart's analytics will also tell you where your customers came from and which traffic converts into sales. You can also view which affiliates are generating the most income.
Integrations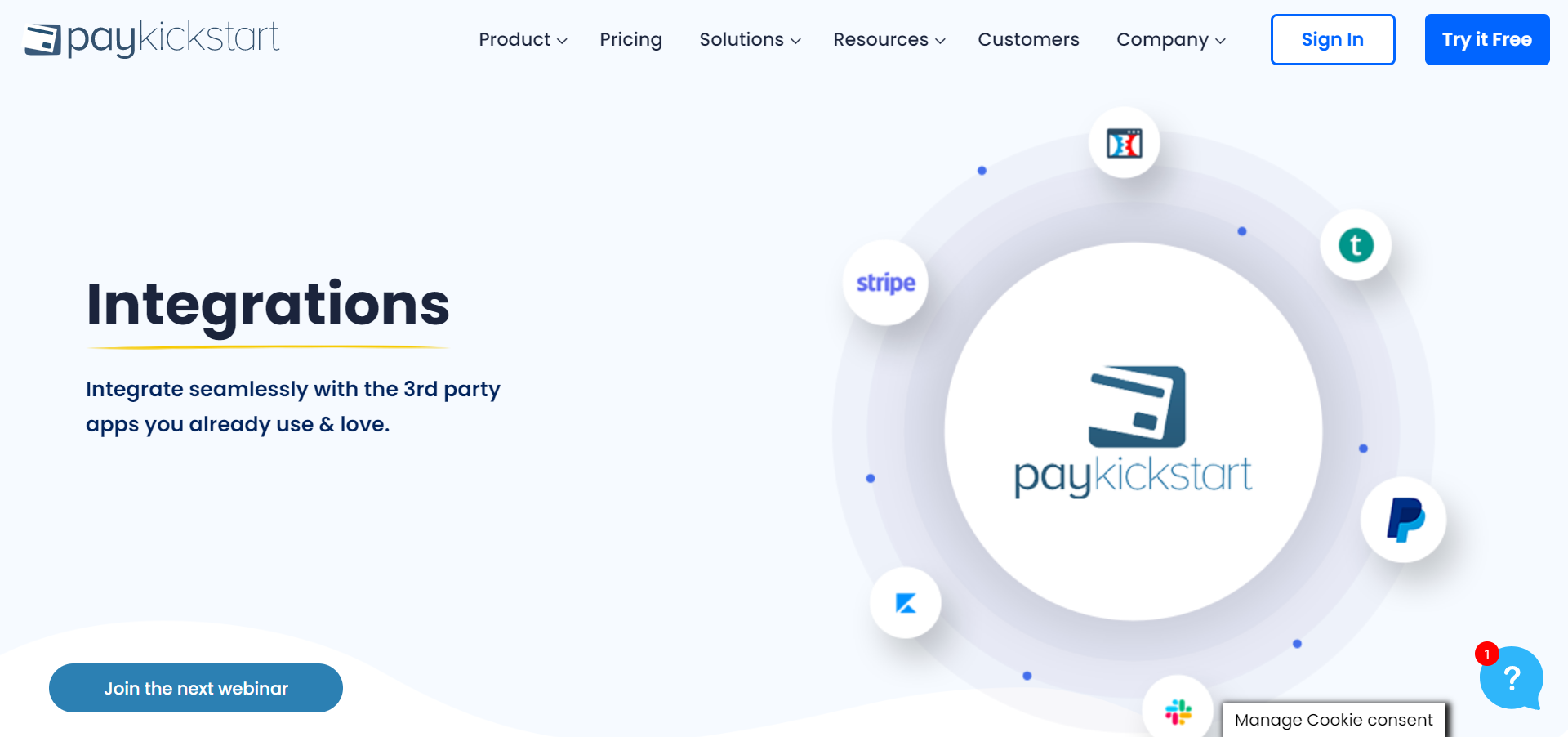 At the time of writing, PayKickstart offers 67 native integrations across the following categories:
Analytics

CRM

Email automation

Fulfillment

Membership services,

Payment gateway

Webinar services
I won't list all the integrations here, but I'll list some of the most popular options. These include Apple Pay, Authorize.net, Facebook, ConvertKit, Hubspot, ShipStation, and Zapier.
Security and Compliance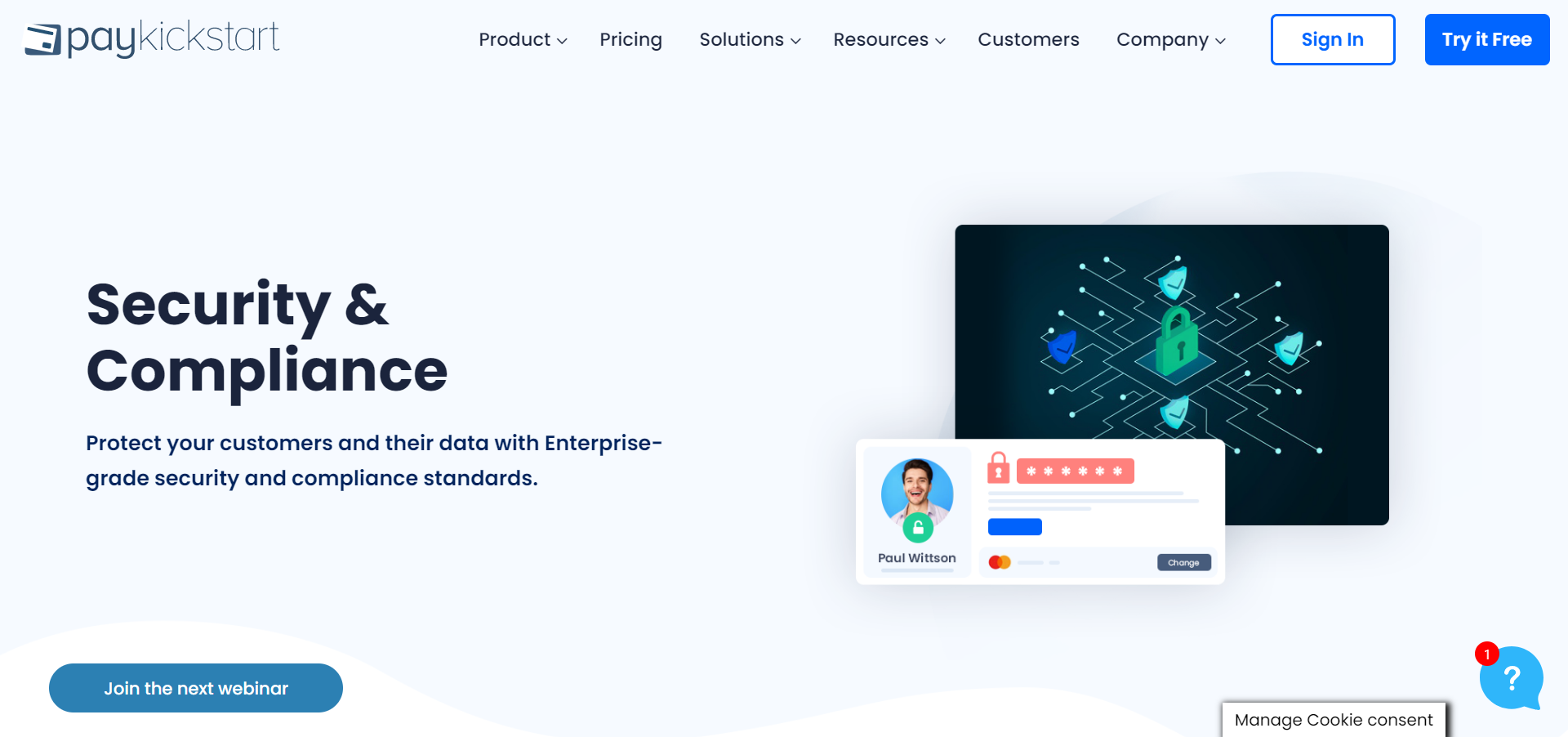 PayKickstart is PCI Level 3 compliant, EU-GDPR compliant, SCA compliant, offers two-factor authentication fraud detection tools, and boasts an impressive 99.9% uptime.
Mobile
PayKickstart is available both as an iOS and Android app, so you can manage your eCommerce cart while you're on the go. This includes accepting in-person payments via the mobile app if you're selling at an event and receiving real-time alerts for each sale and affiliate commission you generate.
Customer Experience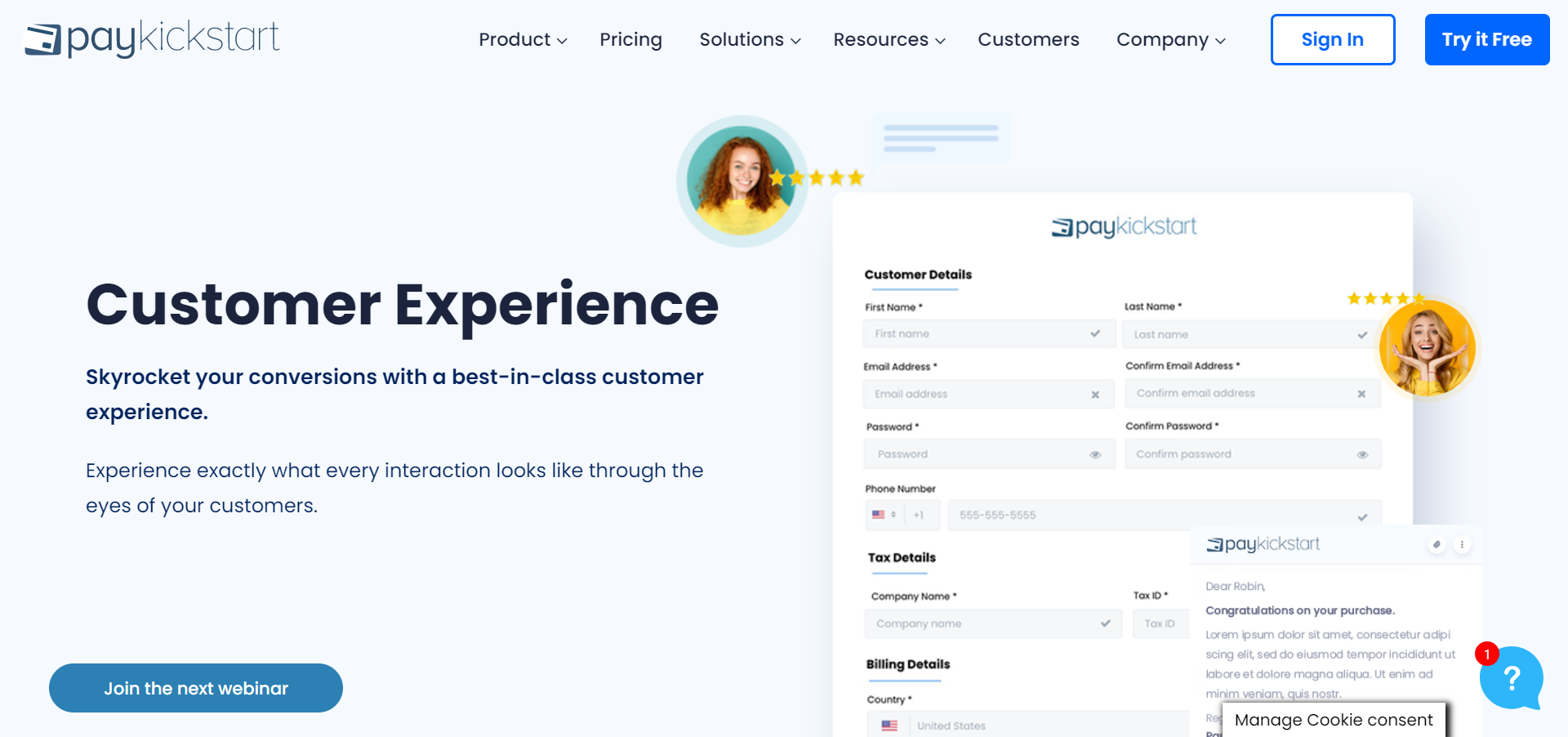 Choose from 50+ customizable checkout pages to give customers the best experience when purchasing from you. In addition, you can add your branding, terms and conditions, payment terms, autocomplete address fields, and more.
PayKickstart Pricing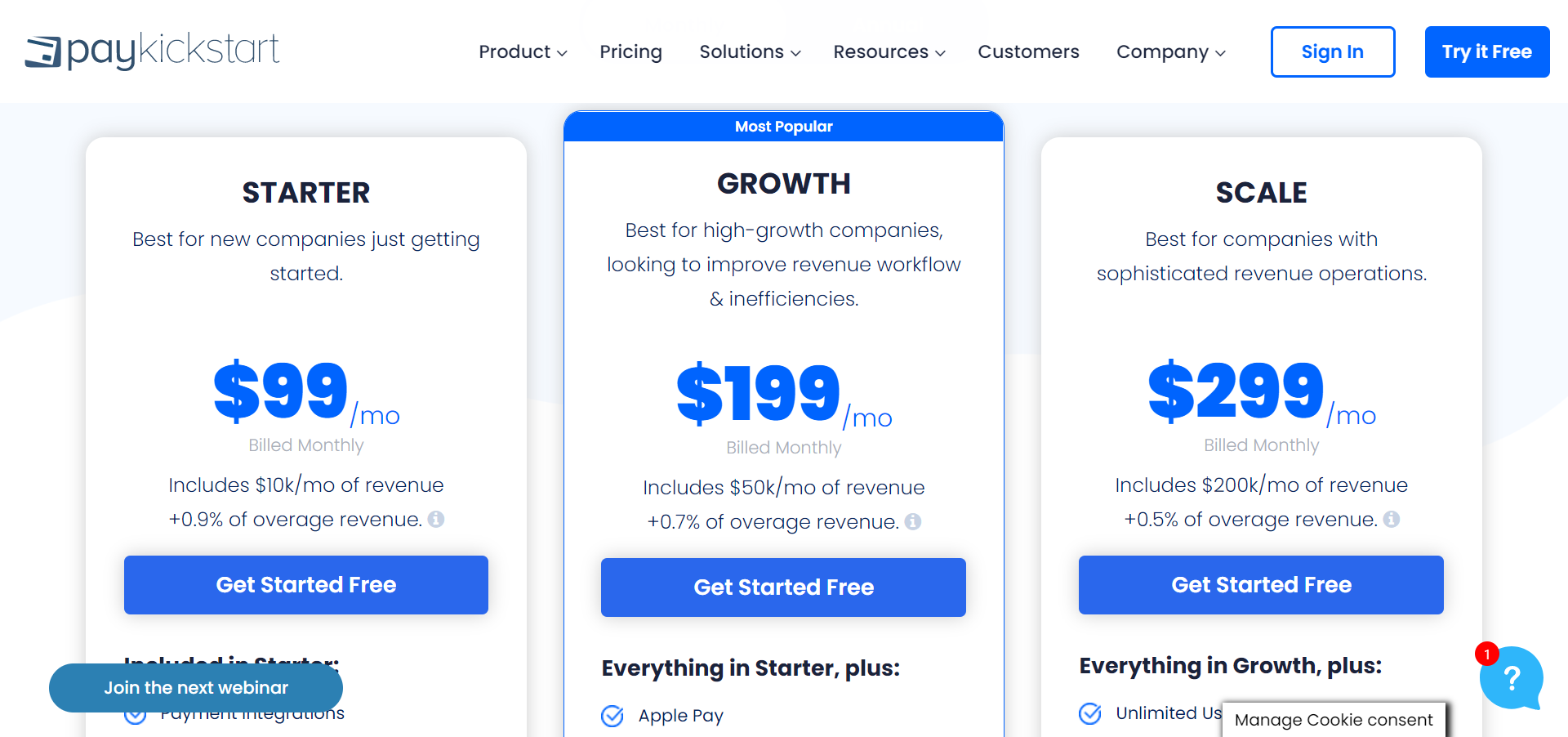 As I've already mentioned, PayKickstart offers tiered pricing plans, which I've outlined below. With each tier, you can opt for either monthly or annual billing. If you opt for the latter, you'll receive two months for free. The prices below are based on annual payments. However, I think it's also worth noting that a free 14-day trial is available with each plan, after which you'll pay the following:
Starter
This package best suits new businesses, costing $79 a month. However, you can only generate $10k per month of revenue; if you exceed this, you're charged 0.9% on overage revenue. Features include:
Access to payment integrations (excluding Apple and Google Pay), but you can only use one payment gateway

You can offer your customers multiple pricing options, including subscriptions, free and paid trials, one-time charges, and more.

Access to checkout templates

Access to subscription management tools

Access to sales conversion tools

Access to third-party integrations (excluding CRM integrations)

Reporting and analytics
*PayKickstart charges payment processing fees of 2.8% + $0.25 via its Connect integration
Growth
This plan best suits rapidly growing companies. Prices are $159 a month. For which the monthly revenue threshold extends to $50k. You're charged a 0.7% overage fee if you exceed this figure.
The Growth plan includes everything in the Starter package and:
Apple Pay and Google Pay

An affiliate center

Dunning management

Customer retention tools

Access to API and Webhooks
*PayKickstart charges payment processing fees of 2.7% + $0.25 via its Connect integration.
Scale
This package is designed for much larger companies, as demonstrated by the more significant monthly revenue threshold ($200 K). You'll be charged 0.5% of overage revenue if you exceed this limit.
Prices for this package are $239 a month. This includes everything listed in the Starter and Growth tiers, plus:
Unlimited users

CRM integrations

Advanced customer insights

Discounted gateway fees

Priority support
*PayKickstart charges payment processing fees of 2.6% + $0.25 via its Connect integration
If you're processing more than $200k a month, you can sign up for a bespoke plan for which prices and details were unavailable at the time of writing. As such, you'll have to contact PayKickstart directly.
ThriveCart Features
Now let's turn our attention to Thrivecart's features. Thrivecart organizes its functionality across nine categories. Again, I've listed each below alongside a brief description of what it entails:
Affiliate Program
If you upgrade to ThriveCart Pro, you can manage your own affiliate program to try and boost your sales. Here you can:
Manually approve or decline affiliate applications.

Set different payment types (such as scheduled or automatic PayPal payments)

Modify affiliate commissions

Manage your program from an affiliate dashboard
Built-in Sales Tax and Dunning
ThriveCart automatically calculates your sales tax based on location, so there's no need to add third-party integrations. However, only Pro subscribers can access this feature.
In addition, thanks to its dunning feature, you can further maximize sales by reminding customers when their saved payment details are due to expire. Similarly, you can also chase up unpaid fees.
"Bump" Offers
Use this to entice customers with added offers and incentives on their checkout page. For example, you can suggest related products they may like to buy or create trial offers that you hope to convert into fee-paying customers.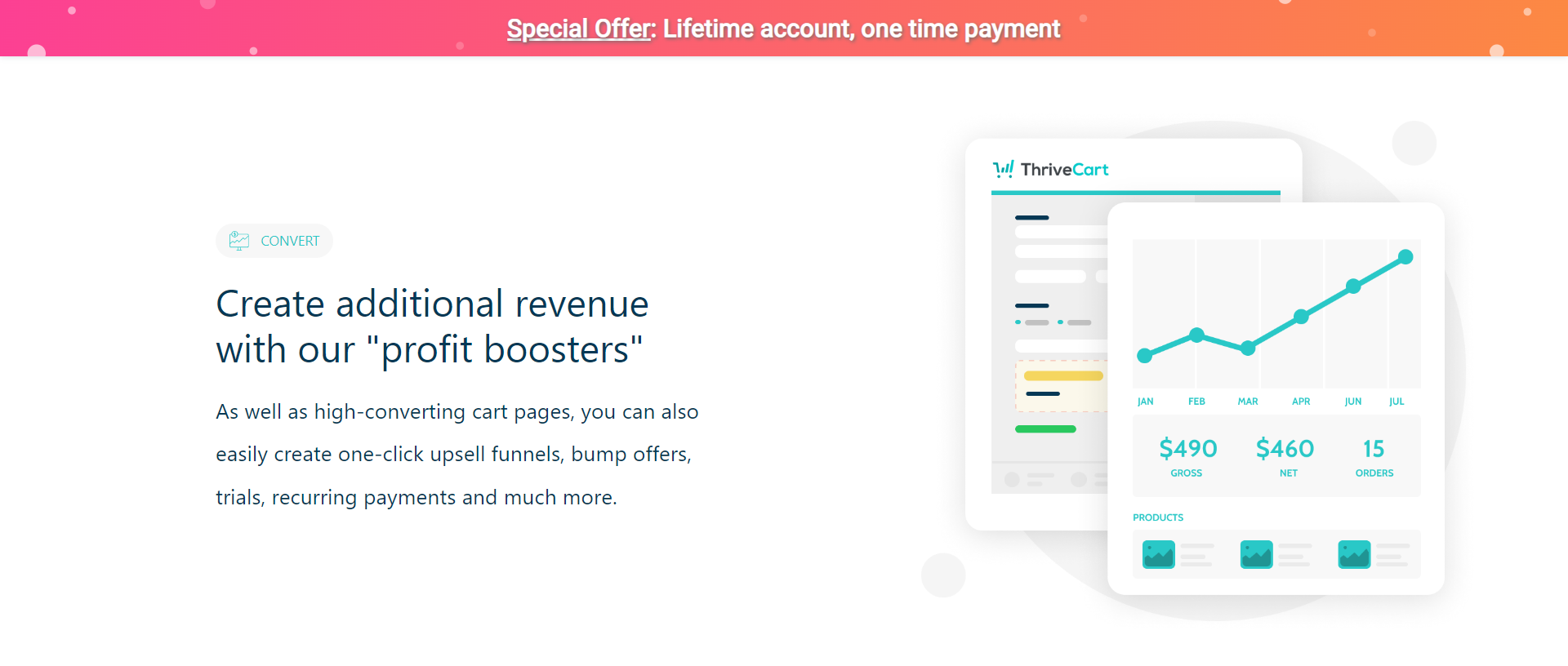 Cart Abandonment
You can send customers who have abandoned their carts automated email campaigns with special offers and/or discounts designed to entice them back to your store and complete their transactions.
Checkout Page Optimization
Integrate your checkout page with payment gateways such as PayPal, Apple and Google Pay, and Stripe. You can also embed your checkout page on any page of your eCommerce store to encourage quick sales.
Lastly, you can also create pop-ups on any page and unlimited checkout pages where you can add shipping prices, product dimensions, and quantities.
Integrations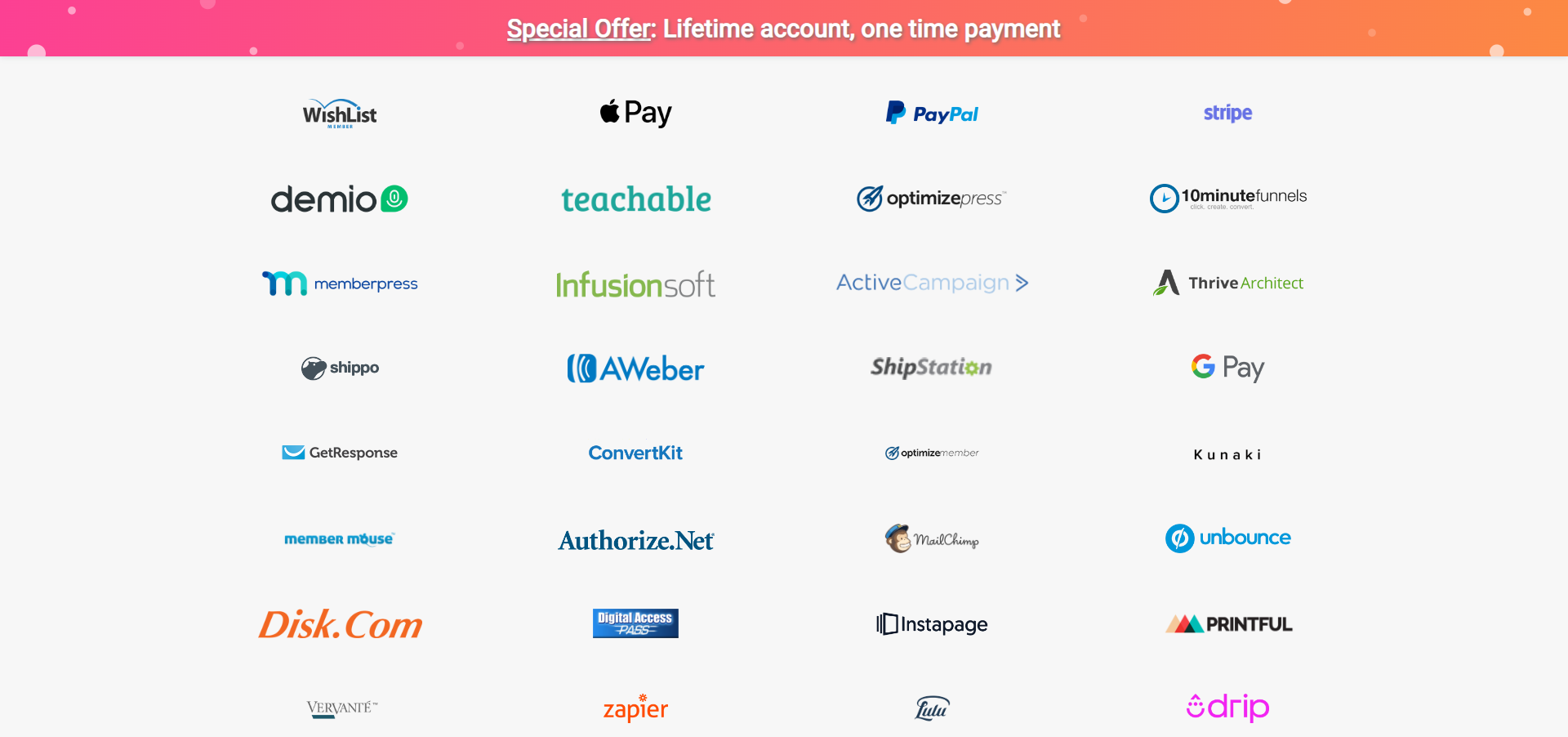 ThriveCart has 44 integrations, including ActiveCampaign, GetResponse, Shopify, Zapier, Apple Pay, Printful, ConvertKit, ShipStation, Mailchimp, and many more.
Live Statistics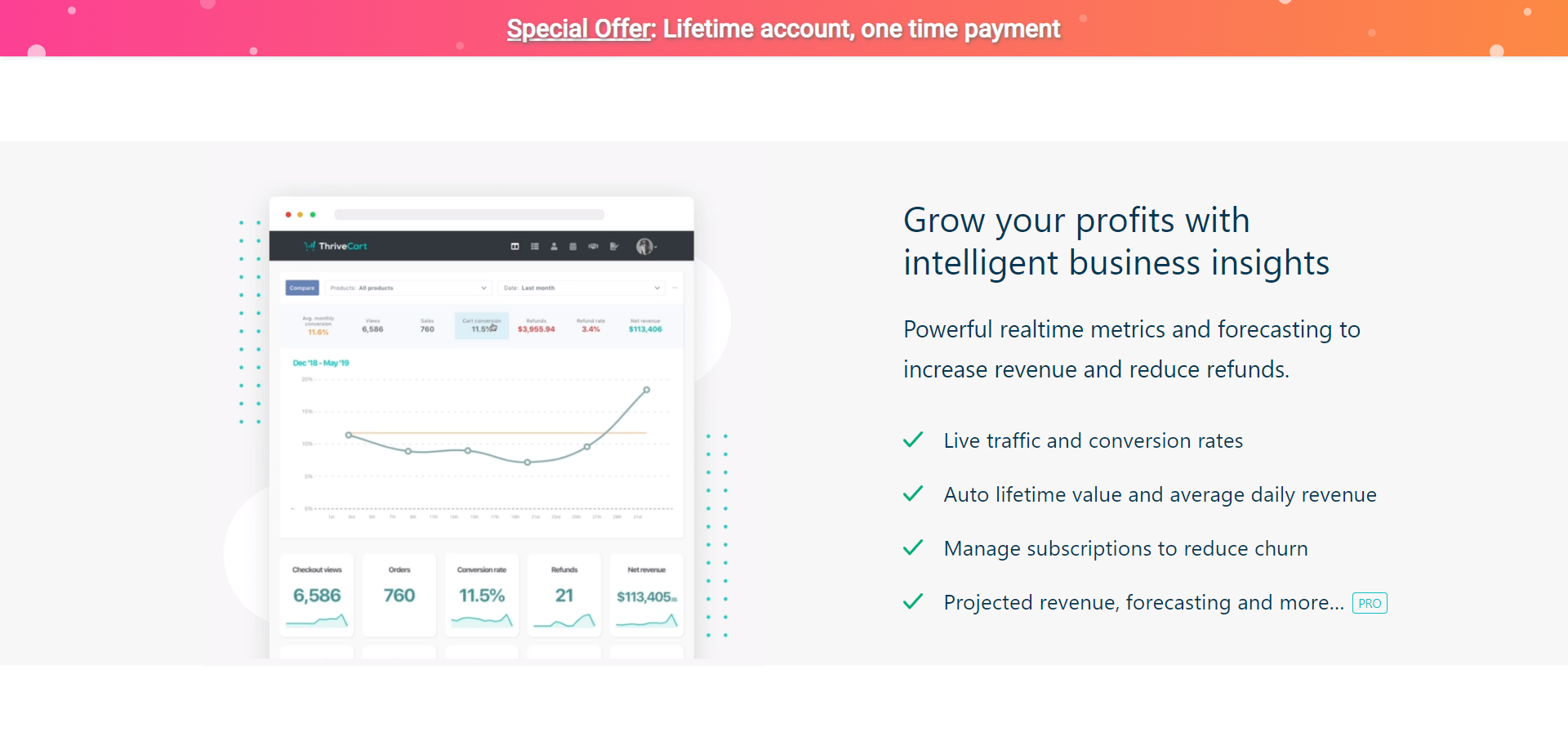 From your ThriveCart dashboard, you'll receive real-time business insights into your daily sales, clickthroughs, order numbers, profits, and conversion rate. Of course, you can also monitor live traffic from here too.
Sales Funnel
You can manage your sales funnel from start to finish. I.e., you can take your customers through a bespoke set of actions until they purchase, including the option of offering one-click upsells.
Should you offer customers one-click upsells, shoppers are automatically taken from your checkout page to the first upsell created in your sales funnel. Then, suppose your customer buys the upsell. In that case, they're automatically taken to the next upsell or success/thank you for purchasing page.
Alternatively, if the customer doesn't purchase the upsell product, they're either taken to a down-sell or the next step in your funnel, which could be the success page or another upsell. Again, that's up to you.
Templates
There are four types of customizable checkout templates: Standard, Sales Cart, Embedded, and Popup.
Below I'll take you through each in turn:
Standard:

This is where your checkout area is split into two spaces. One is for the main content, and the other is a sidebar section. You can add content to either.

Sales cart:

This is best if you want a single sales page checkout with content at the bottom of the page.

Embedded:

Aptly named, you can embed this kind of checkout page into an existing website. Alternatively, you can add a checkout button to an existing web page. Then, when it's clicked, customers are taken to the checkout page.

Popup:

This type of checkout can be added to your website and appears as a popup when a button is clicked.
ThriveCart's Pricing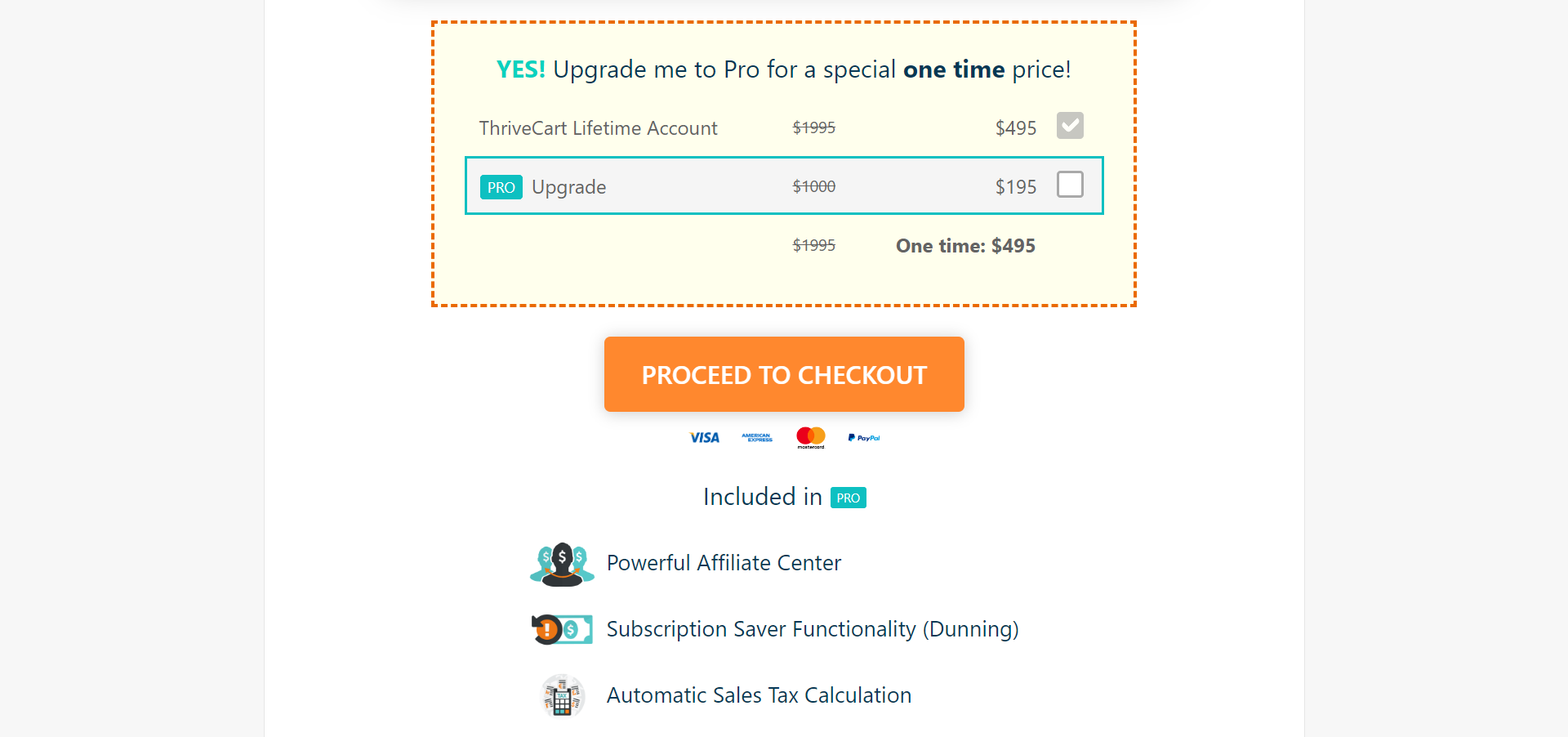 Interestingly, ThriveCart's prices don't offer monthly pricing options. Instead, there are two packages with one-off fees:
A one-off lifetime subscription for $495 for which you receive:
Unlimited lifetime access to a ThriveCart account

You can create unlimited checkout pages

You can generate bump offers

Access to cart abandonment features and sales funnels

Access to live statistics

Checkout page optimization

Templates
The Pro version costs $690, for which you receive a few more features. These include:
The ability to manage your own affiliate program, including instant affiliate payments

A sales tax calculator

Dunning

Predicted revenue statistics

A custom domain name

JV contracts
For the uninitiated, a JV (joint venture) contract is an independent way of splitting sales revenue with one or more people, separate from affiliate commissions. So, if you have a JV Contract with a partner and affiliates to promote your products.
In that case, your affiliates earn their commission from the sale they've helped you make, and your partner shares the remaining revenue with you. Of course, their amount depends on what you agree to in your JV Contract. Lastly, I think it's worth noting that aside from the above-quoted fees, the only extra charges are those added by the payment platforms you use.
PayKickStart and ThriveCart Pros and Cons
I think it's safe to say we've covered lots of information! So, below I'll attempt to consolidate some of what we've learned into quick pro-cons lists, highlighting PayKickstart and Thrivecart's most notable perks and drawbacks:
PayKickstart's Pros:
There are over 100 checkout templates to choose from

Three price plans are available, enabling you to scale as your business grows

Its website is easy to navigate and understand, with plenty of detail

Its customer support is reportedly excellent.

PayKickstart is a good option for selling physical and digital products.

You can manage your own affiliate program.

There's a free 14-day trial.

There's a good choice of integrations, so you should be able to merge PayKickstart seamlessly into your existing tech stack.
PayKickstart's Cons:
PayKickstart doesn't offer lifetime pricing, so long-term users will spend more money in the long run.

Despite a choice of payment packages, prices can seem steep compared to ThriveCart.

Each plan has an earnings ceiling, after which you're charged overage fees.

You can only run your own affiliate program with the more expensive plans.
ThriveCart's Pros:
Some users prefer shelling out a one-off fee to paying a recurring monthly cost

It's suitable for selling physical and digital products

You can run your own affiliate program

There are multiple integrations to choose from

You receive a lifetime membership

It supports one-click upsells and downsells
ThriveCart's Cons:
Thrivecart's website is very basic

There isn't a great choice of templates

Neither live chat nor phone support is available

Built-in dunning is only available on ThriveCart Pro

You can only manage your own affiliate program with the pro plan
PayKickstart and ThriveCart Alternatives
Hopefully, you now have a better sense of what PayKickstart and ThriveCart could potentially offer your business. However, you're bound to be wondering if there are other viable alternatives out there. So below, I've listed three different options in case you want to explore those:
SendOwl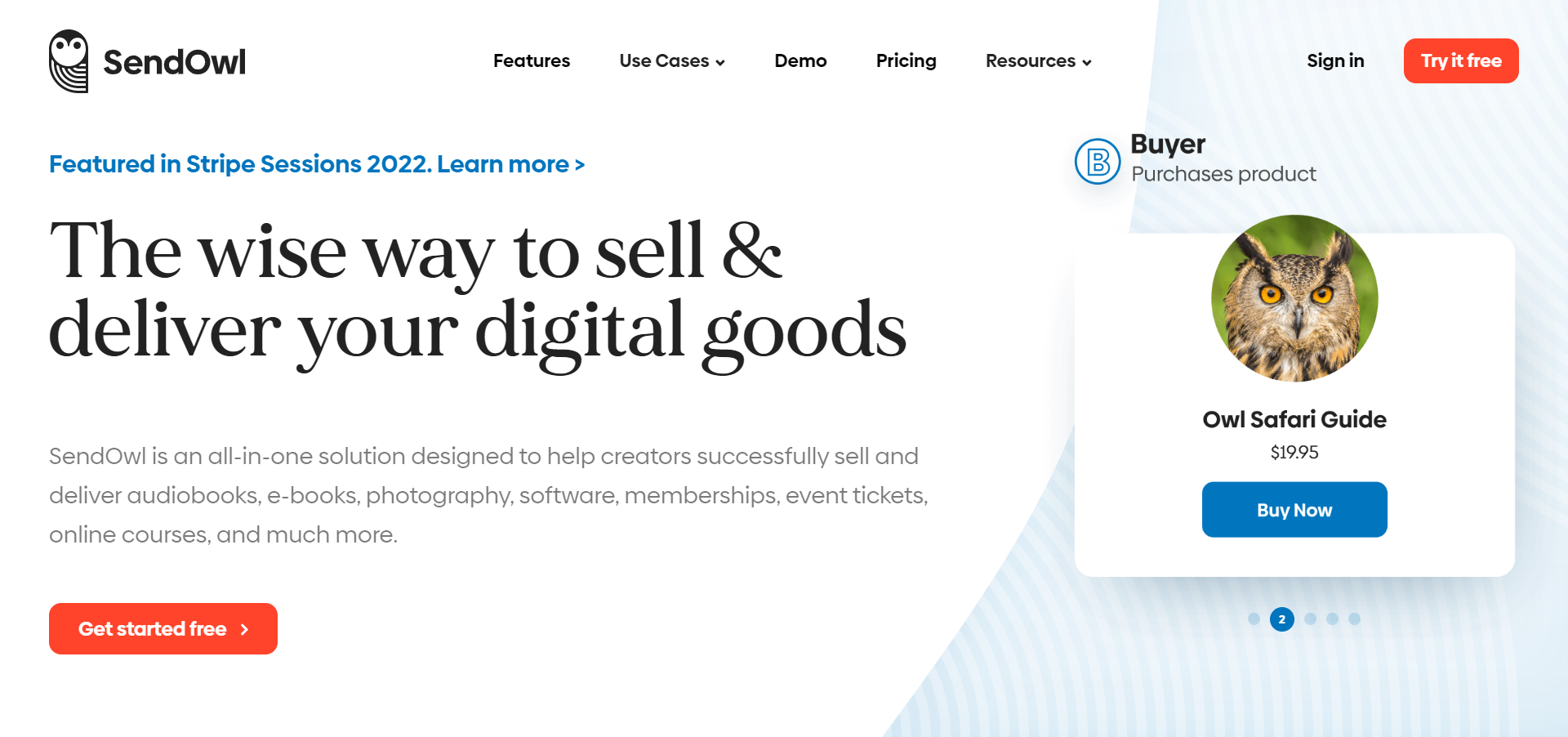 If you're only selling digital goods, then SendOwl might be worth a look. It's an all-in-one solution that enables digital creators to sell ebooks, audiobooks, software, membership subscriptions, event tickets, online courses, and more.
SendOwl keeps things simple with just two price plans, one is free, and the other is called Growth and costs $19/month. You can try either plan for free for the first 30 days before subscribing.
Features include selling unlimited subscriptions (on either plan) and accessing various templates. However, only paying customers can customize them. You can also add a shopping cart to your store, sell directly from your existing website, social pages, and marketplaces, pair with Shopify, offer flexible payment options, and much more. All these features are available on the Free and Growth plans.
The only exception is that on the Growth plan, you can access customization features: custom branding, custom emails, custom checkout fields, and send text and HTML emails.
SendOwl also makes it easy for you to deliver digital products to customers. You can choose how you sell. For example, you can set a predetermined fee for customers to access new and existing products at timed intervals (weekly, monthly, annually). You can also offer perks to customers who renew their subscriptions. You can also drip feed content over any length of time you choose. You can also access these features on both plans.
SamCart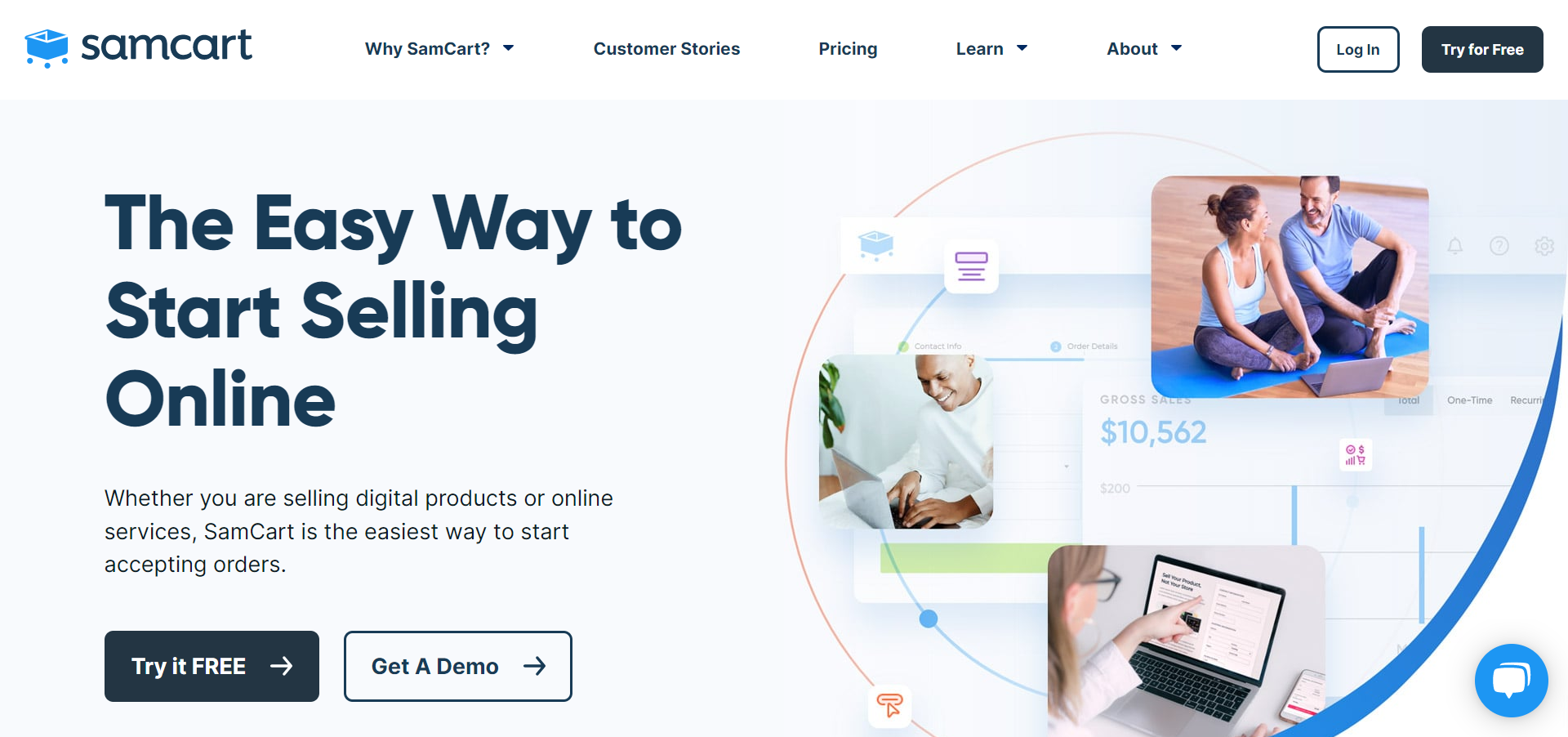 A popular go-to alternative is SamCart. Customers can access a free seven-day trial before deciding if they want to sign up for one of three paid-for price plans starting from $49 a month, rising to $99 a month, and $199 a month.
Its target audience includes Amazon Market and Etsy sellers, course creators, coaches, consultants, ebook sellers, and product inventors. SamCart offers pre-designed templates, a drag-and-drop editor to customize your pages, unlimited product sales, one-touch purchases with digital wallets, and much more.
There are also plenty of integrations to choose from, including ShipStation, Hubspot, Mailchimp, Stripe, ConvertKit, and Zapier.
Features to help generate more sales include 'Order Bumps' to encourage customers to purchase more than one product and one-click upsells.
SamCart even offers A/B testing on every page you create to enable you to optimize your pages for the highest possible conversions. In addition, smart pixel tracking means you can identify where each purchase comes from (e.g., Facebook, Google, etc.).
Like PayKickstart and ThriveCart, SamCart also enables you to run your own affiliate program. But this functionality is only available for customers on its most expensively priced plan.
Sellfy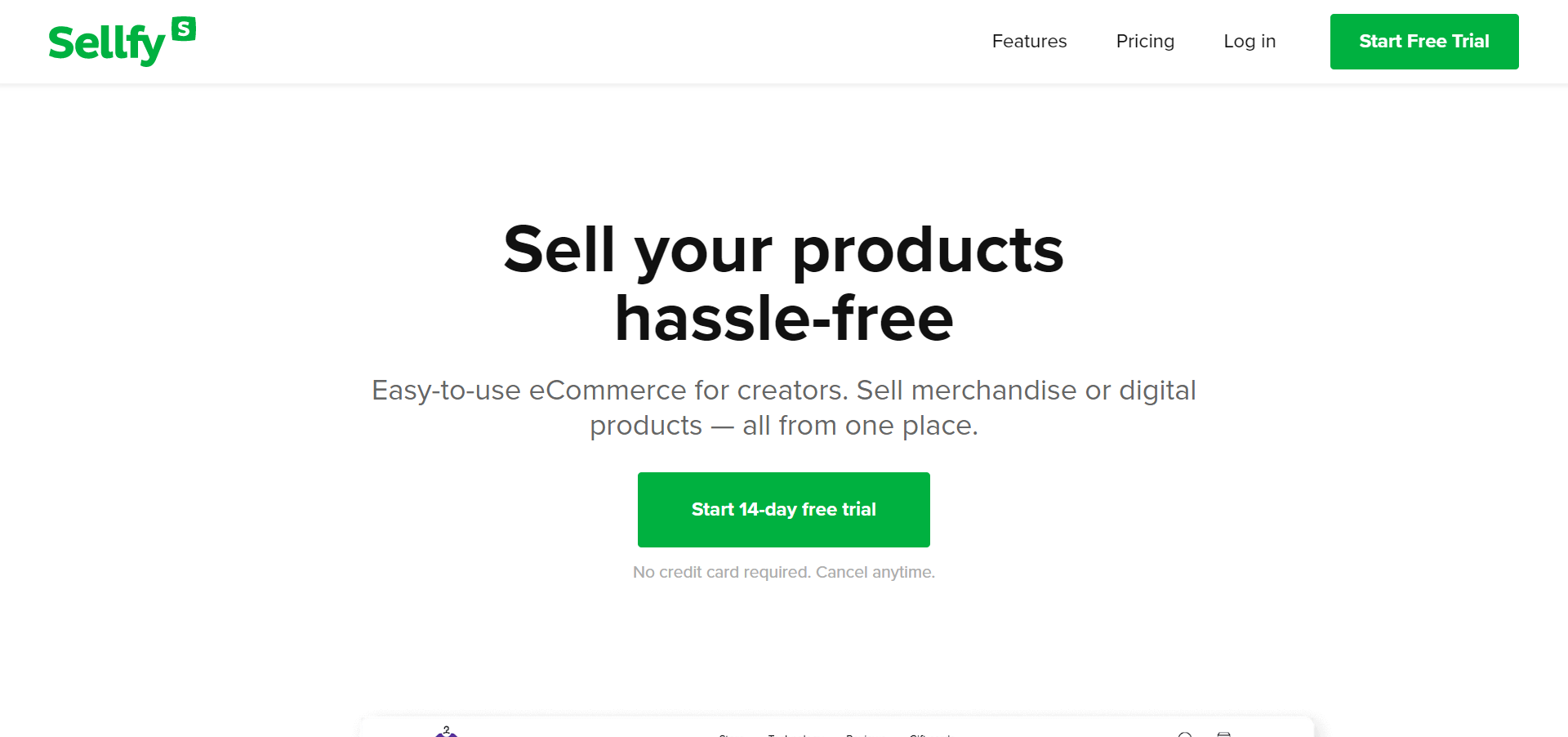 Sellfy is an easy-to-use platform that enables you to sell various digital products (audio, ebooks, videos, music, and so on) and physical products, including print on demand. There's a free 14-day trial. That's as well as free and paid plans with no transaction fees.
It's often billed as a cheap ecommerce solution, which is a small wonder considering the prices start at $0 a month, rising to $22, $59, and $119 a month, respectively. Unfortunately, the free plan only allows you to sell up to ten physical and print-on-demand products. So you'll have to upgrade if you want the option to sell digital products and use the cart abandonment feature.
Sellfy offers several marketing features, including:
Upselling tools to help you increase your average order value

Tracking pixels to track the performance of your Facebook and Twitter ads

Discount codes to encourage sales

Product updates sent to existing customers
However, the Free plan doesn't offer these features. The next plan (Starter) gives you the email marketing feature) and it's only when you pay for the Business and Premium plans that you also access upselling and cart abandonment features.
You can embed "buy" buttons on your social media or website pages.
FAQs
Question: Are there really no other fees other than the one-off fee with ThriveCart?
Answer: That's right. You pay for the lifetime package, and the only charges you may incur are those levied by your preferred payment processor. So it's always worth checking what those are before using them.
Question: Is the ThriveCart lifetime one-off payment a given?
Answer: At the time of writing, the prices quoted here are the prices offered. However, there's a line on ThriveCart's website that once that offer runs out (there's a time ticker on the homepage), there's a monthly fee instead. But, crucially, if you pay now, you'll never have to pay more for ThriveCart again.
Question: Do PayKickstart and ThriveCart accept cryptocurrency payments?
Answer: Neither platform accepts this kind of payment.
PayKickstart vs. ThriveCart: My Final Thoughts
So there you have it; we've finally come to the end of my PayKickstart and ThriveCart comparison review. I hope I've provided enough info to help you make an informed decision.
All in all, I think that if you want a low-budget option with limited but perfectly functioning checkout page templates, ThriveCart is a good choice. On the other hand, if you're after something more sophisticated with a greater selection of templates and integrations, then PayKickstart may better suit your needs. Also, if your budget is better suited to a monthly plan, PayKickstart may, again, be the better choice.
That's a wrap! Are you ready to get going with PayKickstart or ThriveCart? Let me know in the comments below which you're thinking of going for and why. Speak soon!