Last Updated on April 22, 2023 by Ewen Finser
Are you a small or medium-sized online business? Or perhaps you're an entrepreneur keen to launch a new eCommerce venture, and you want to ensure you've covered all your bases?
If the answer to either question is a big "YES," you're doubtlessly looking at shipping fulfillment options to form part of your business strategy. There are so many companies offering this kind of service. But, unfortunately, with so much choice, it's tough to find the best one for your business.
However, given the vast number of online brands that ship direct to consumers, providing customers with fast, reliable, and affordable shipping is imperative if you hope to compete.
In light of that, we're taking a deep dive into one particular fulfillment company: ShipBob. More specifically, we're giving you the low down on:
What ShipBob is

ShipBob's features

ShipBob's prices

ShipBob's pros and cons

FAQs

ShipBob's alternatives

Our verdict
There's lots to cover, so let's get going…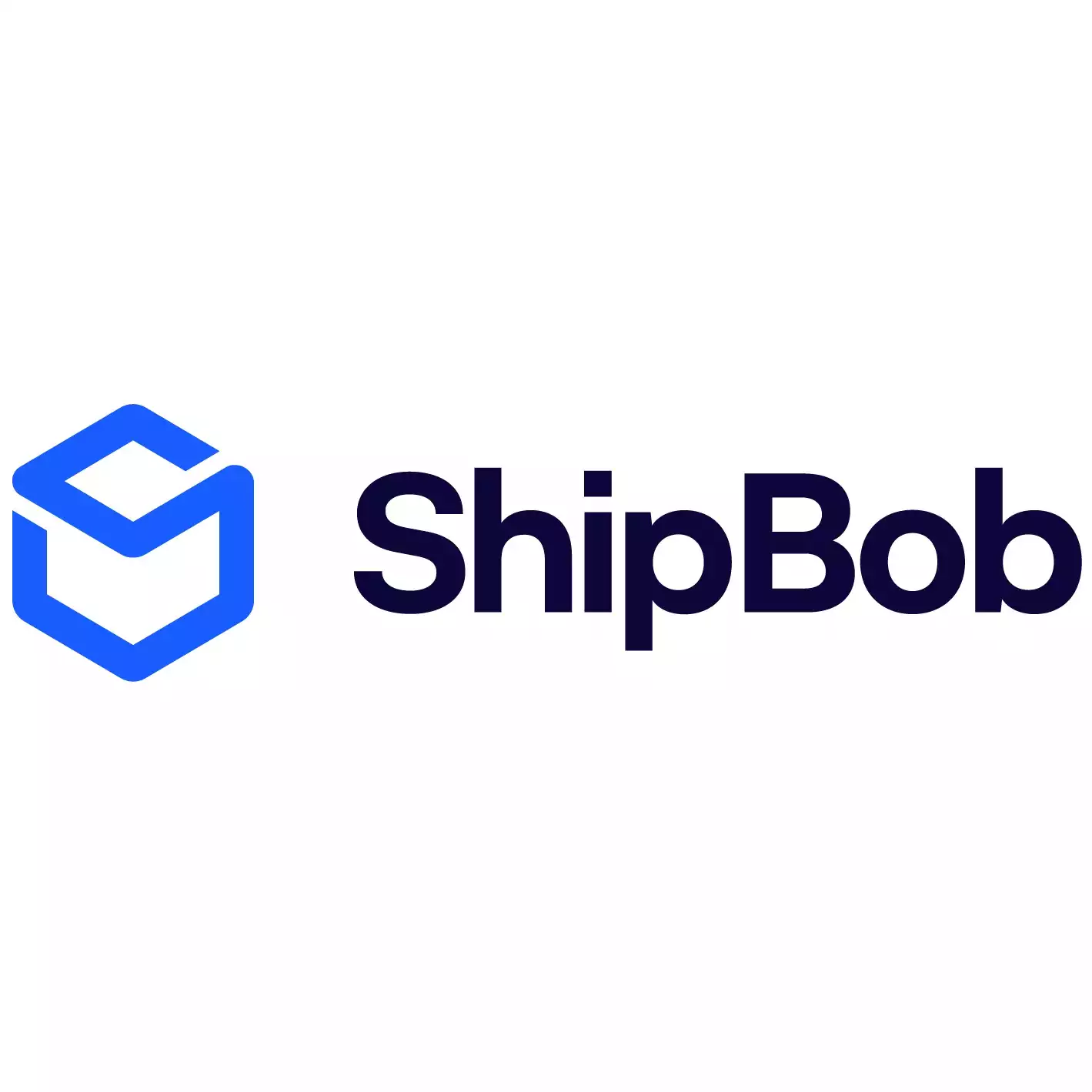 ShipBob Order Fulfillment – Get a Free Quote
Discover the power of omnichannel analytics and reporting through our dashboard, while we take care of picking, packing, and shipping for you.
Request A Quote
We earn a commission if you click this link and make a purchase at no additional cost to you.
ShipBob is a 3PL (third-party logistics) cloud-based solution that fulfills customer orders for global direct-to-consumer eCommerce businesses.
Its mission is to "make you more successful online" by providing high-quality, fast, and affordable shipping fulfillment services.
ShipBob aims to provide a reliable fulfillment service, quick transit times, reasonable shipping costs, and a positive delivery experience for your customers, with 99.96% of orders shipped on time within the ShipBob SLA (service level agreement).
In other words, if your eCommerce business sells physical products directly to its customers, ShipBob helps you get those products to your customer's doorstep.
ShipBob has warehouses across the US and the UK. Founded in 2014, its head office is in Chicago. To date, it has 900+ employees across all its warehouses, including 13 locations in the US, one in Canada, one in Ireland, and one in the UK.
This means, if you operate in the US, you can split your inventory across multiple sites to offer faster and cheaper shipping to US customers.
ShipBob's homepage boasts some impressive stats for anyone looking to work with the company, including:
120 hours a week saved

Cart abandonment rate reduced by 18%

13% cost savings to your bottom line

The average order value increased by 97%

99.95% accuracy rate in fulfilling orders
With 5,000+ eCommerce businesses partnering with ShipBob, the company must be getting something right – so let's see what features it offers in a bit more detail:
ShipBob's Core Features

So, is ShipBob basically a company that picks, packs, and ships on your behalf? The answer isn't a straightforward "yes" or "no." While ShipBob certainly does offer those services, it also provides much more…
ShipBob's 2-Day Express Shipping Program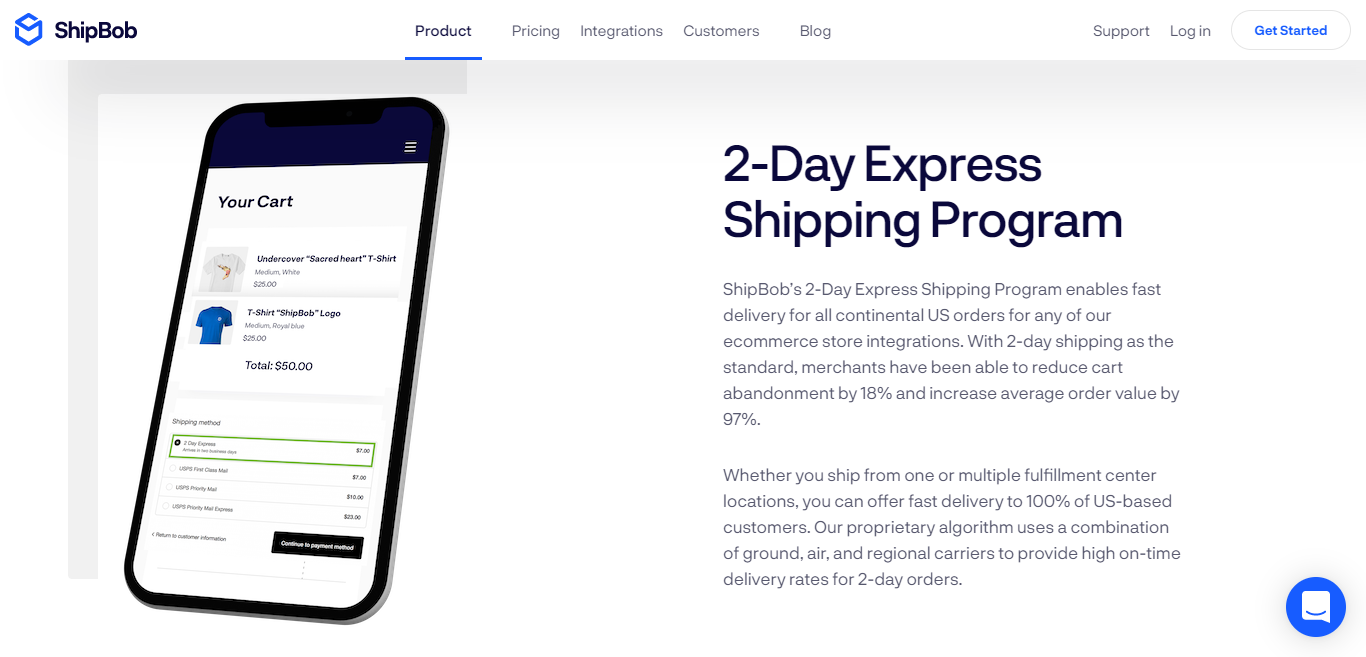 In today's online world, consumers expect to receive their orders quickly. Think of Amazon Prime customers who get same-day or next-day delivery. These are the expectations of today's online shoppers – so, naturally, you need to meet the bar to try and compete.
That's why ShipBob offers a 2-Day Express Shipping Program for all "continental US orders" across all their eCommerce store integrations (we talk about integrations lower down).
It doesn't matter whether your online store ships from one or multiple fulfillment centers; you can still go for this option. ShipBob states that its "proprietary algorithm" uses "a combination of ground, air, and regional carriers" to provide this 28-hour service.
However, because of carrier limitations, the 2-Day Express feature isn't available if an item is out of stock or to customers living in Hawaii, Puerto Rico, and Alaska. In addition, anyone who has a PO Box or military address is also ineligible for 2-Day delivery.
Inventory Management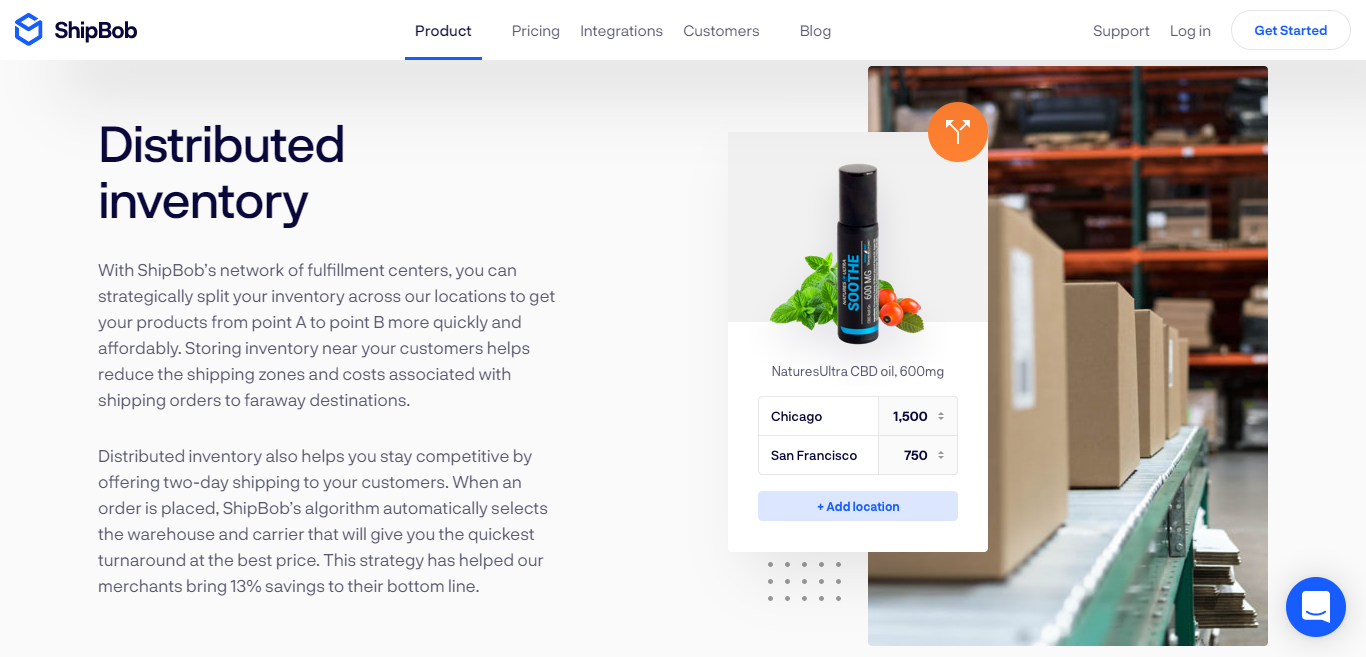 Knowing how much stock you have is essential. Not enough stock = upset customers, too much stock = deadstock you'll have to sell off at a lower price than you'd like, or even worse, dump.
ShipBob's inventory management feature provides an overview of:
How much stock you have in real-time

What stock you have in which storage locations

Stock that isn't selling – and therefore taking up valuable storage space you're paying for
ShipBob's inventory management software also enables you to:
Set reminders to reorder popular and fast-selling products

Make inventory transfer requests from one storage location to another

Bundle products for promotions, e.g., buy one get one free, buy one, get one for 20% off, and so on.
Because ShipBob uses 3rd party logistics software (3PLs), you don't have to take a reactive approach to your inventory management. Instead, you can be strategic about your inventory because you have insight into how best to distribute your inventory across ShipBob's warehouses. This, in turn, leads to faster and cheaper shipping costs. Handy, right?
Order Management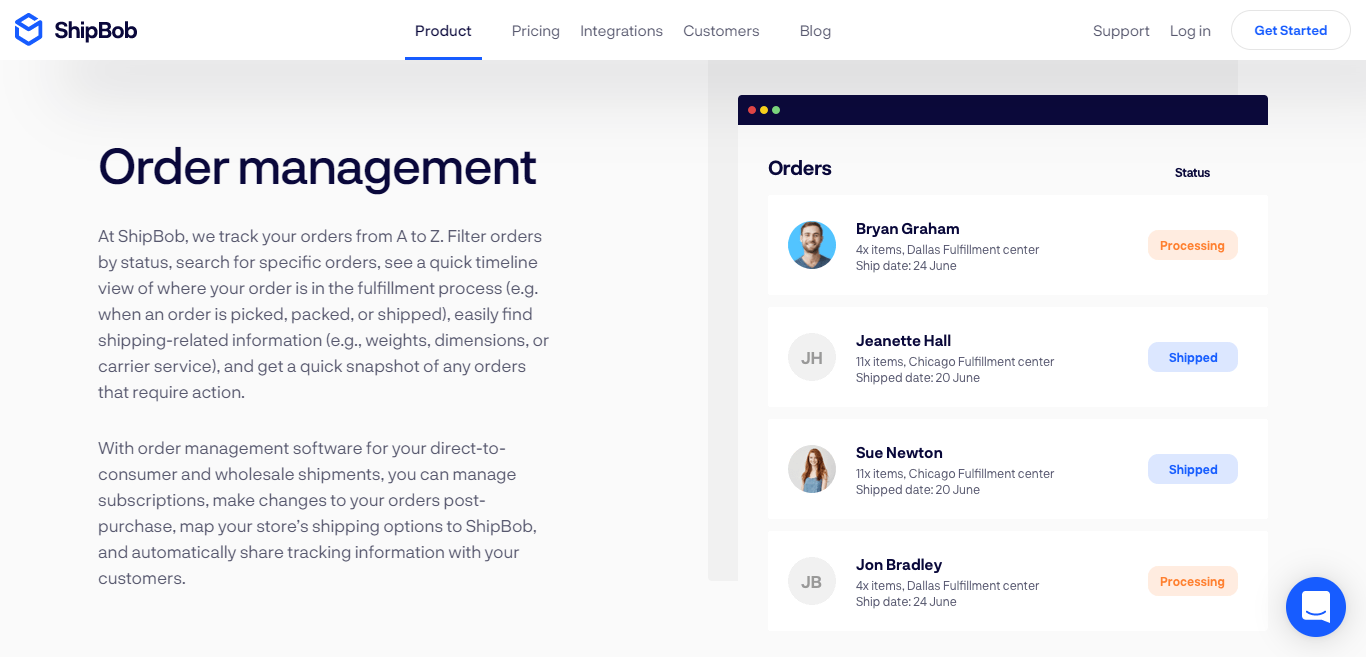 So far, so great, but what actually happens at ShipBob when loyal customers order from your online store?
ShipBob's order management software tracks each order every step of the way. So as soon as an order's made, it's sent to the fulfillment center closest to where your customer lives and where inventory levels are high.
The order is then picked, packed, shipped, and delivered. ShipBob's system also deals with returns, but we'll go into that a little further down in this review.
Customers can also track their orders, and you, too, can track the order's progress via the ShipBob dashboard.
You can also modify orders after they've been placed and find information about shipping, such as the carrier service being used, product weights, and dimensions.
Managing Returns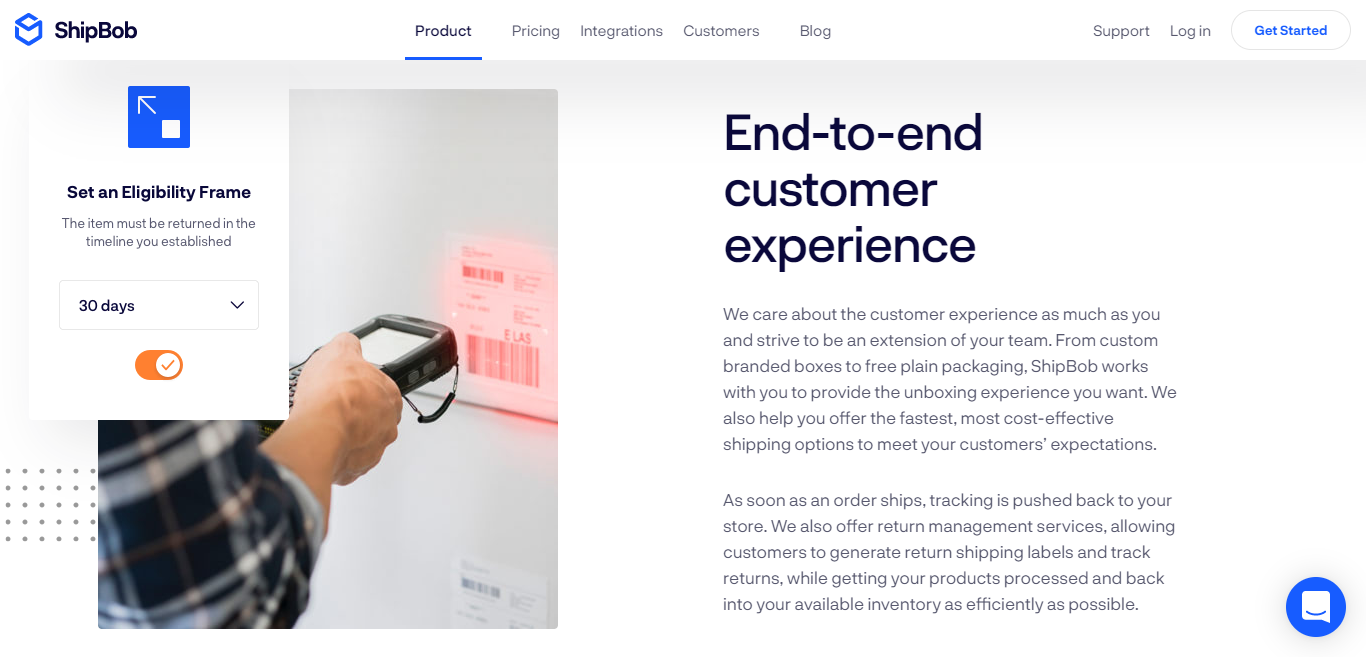 Roughly 30% of products ordered online are returned by customers. However, if businesses make it easy for customers to return products, 92% say they'll buy from that business again.
These stats alone make a good argument for ensuring your chosen logistics order fulfillment company manages this part of the ordering process well.
With ShipBob, customers can either return goods to the warehouse or, if they're faulty, they can be recycled. Customers simply generate a return shipping label via your eCommerce website. Then, they simply click on the item they want to return, get a refund confirmation, and send the item back.
Simple, right?
You can also track the returns process at your end so you can see when it lands back at the warehouse again.
In addition, ShipBob directly integrates with several returns management platforms: Returnly, HappyReturns, and LoopReturns.
Reporting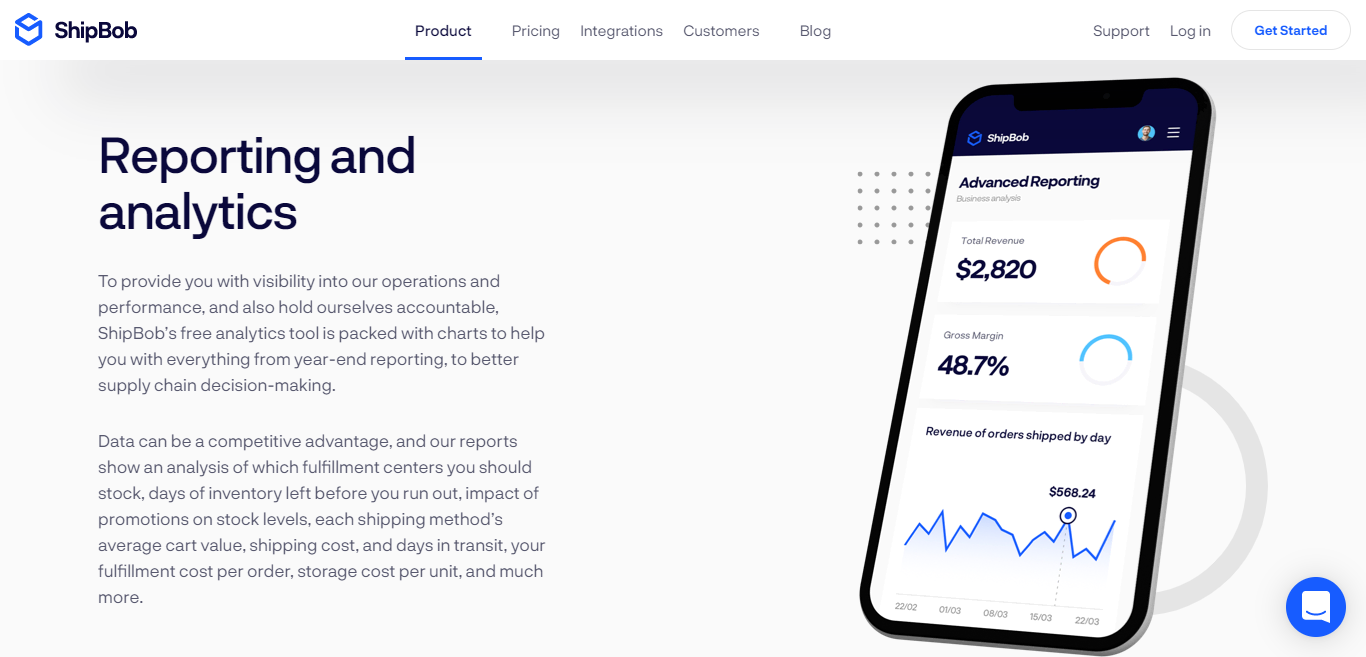 ShipBob's customers have access to analytics software that allows you to run end of year reports on a variety of topics, including:
Inventory Management
For instance, you can generate the following inventory-related data:
How successful your promotions are and their impact on stock levels

Average shipping costs

Days in transit

A breakdown of individual storage unit costs

Sales figures per shipping zone
With this info to hand, you're better positioned to plan and organize your business in a strategic rather than reactive way to help ensure you retain a competitive advantage.
Integrations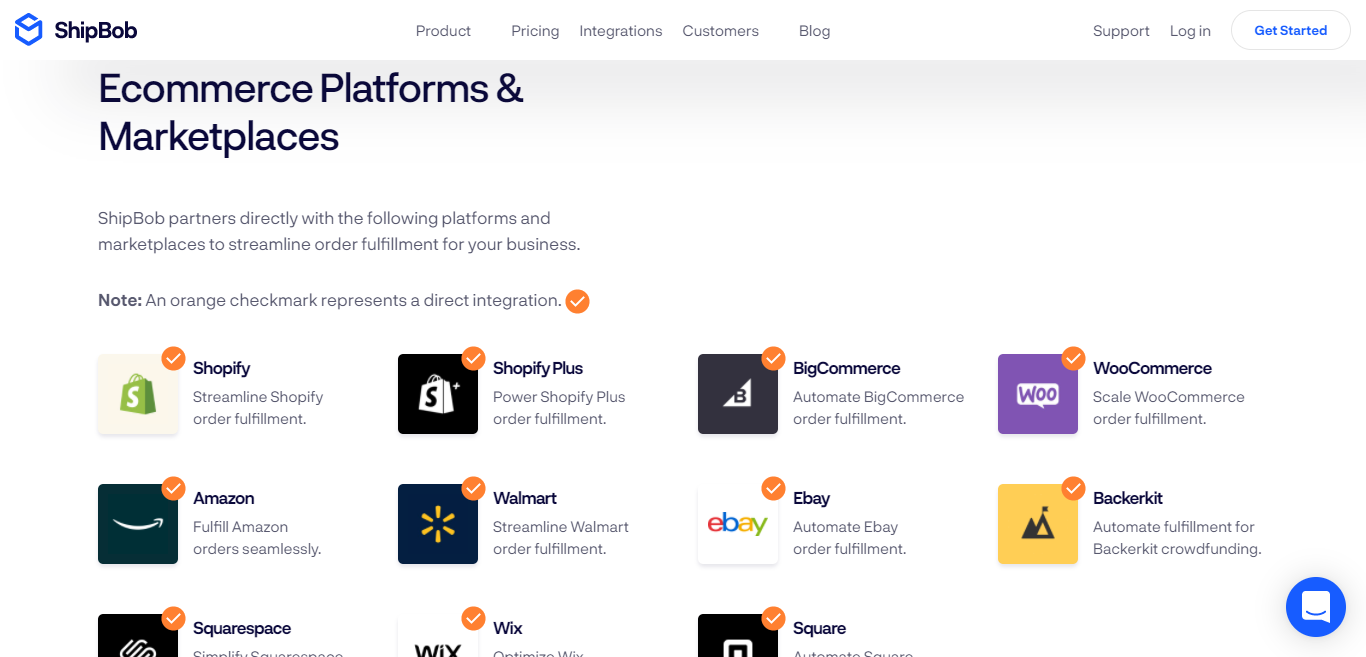 The good news is that ShipBob integrates with tons of powerful and recognizable tools to help you grow your eCommerce store.
While we're not listing all the integrations here, ShipBob's integrations are organized into nine categories, and we list those below.
eCommerce platforms and marketplaces:

including Shopify, Amazon, and WooCommerce

eCommerce operations and inventory management:

including Inventory Planner and Order Desk

Returns management platforms:

including HappyReturns and Returnly

Freight shipping and solutions:

including USPS, FedEx, and DHL

eCommerce marketing, CRM, and customer support:

including Gorgias, Omnisend, and Klaviyo

eCommerce custom packaging and design solutions:

including Arka, Noissue, and Packlane

Branding, marketing, and web development agencies:

including eHouse Studio, Envoy, and MuteSix

Accounting, tax, and financing:

including KickPay

Crowdfunding:

including BackerKit
The integrations page on the ShipBob website makes it easy to see which tools work alongside the fulfillment provider – they all have a big orange check by their logo. In addition, ShipBob has a handy downloadable guide on choosing the right integration partners on the integrations page of its website.
ShipBob Pricing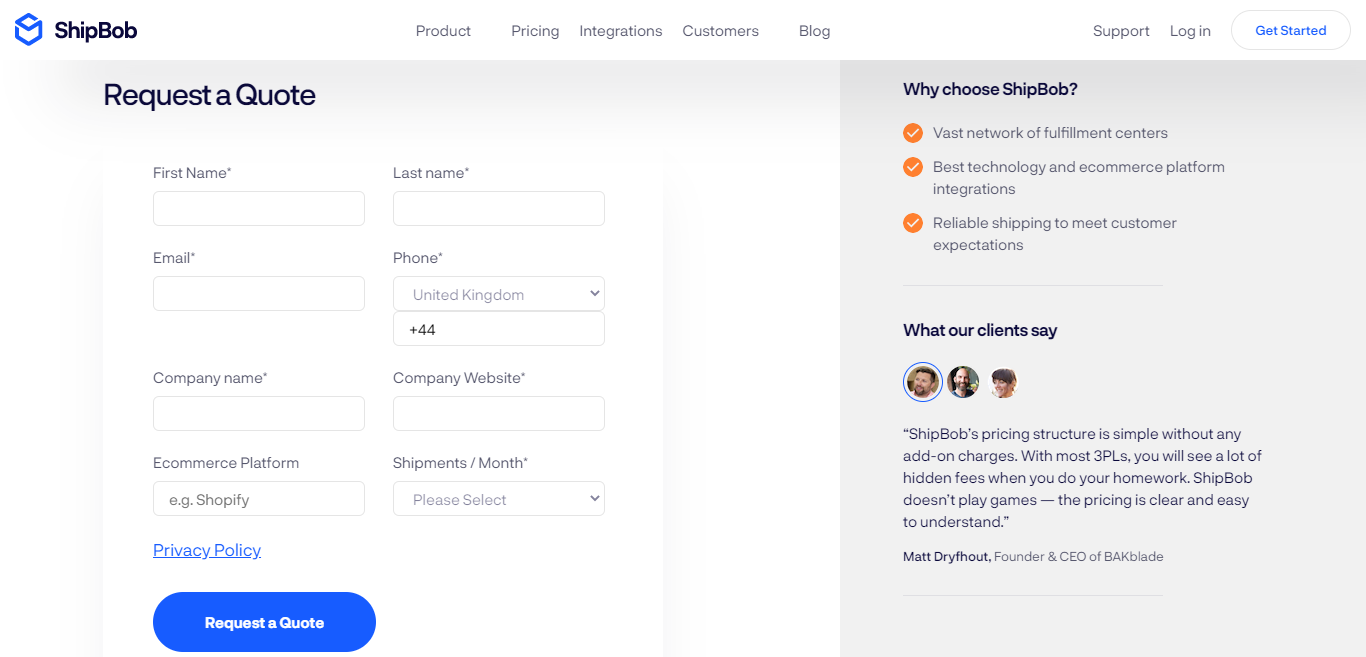 Now we've gone through the key features, let's take a look at how much ShipBob charges. While all the features look promising, it isn't a goer if they aren't affordable.
First off, ShipBob's prices reflect the total fulfillment cost of each order. This means that the standard fees include:
Warehouse storage of your products

The cost of receiving your inventory

Shipping each order

A one-time implementation fee for 30 days worth of support
Prices listed on ShipBob's website relate to each step of the order fulfillment process:
Receiving the order:

This is charged at a flat rate of $25 for the first two hours and then $40 per hour after that.

Storing inventory:

This is charged monthly at $40 per pallet, per month, $10 per shelf per month, and $5 per bin per month.

Pick and pack:

This is included in the cost and is free for the first four picks, then it's $0.20 per pick from the fifth pick onwards.

Standard packing:

Again, this is included in the cost and includes plain boxes, tape, mailers, and dunnage used to pack orders

Shipping:

Prices vary according to the order, i.e., delivery destination, product weights and dimensions, the chosen shipping carrier, and so on.
Upon first glance, there isn't really enough pricing information on ShipBob's website to go into any real great depth. However, they do state that "each pricing quote is customized" to your business' "unique needs." In other words, you have to contact ShipBob with your specific/anticipated requirements, and they'll pull together a no-obligation quote for you.
Lastly, you can request a free fulfillment demo. Just complete an online form, and ShipBob will get in contact.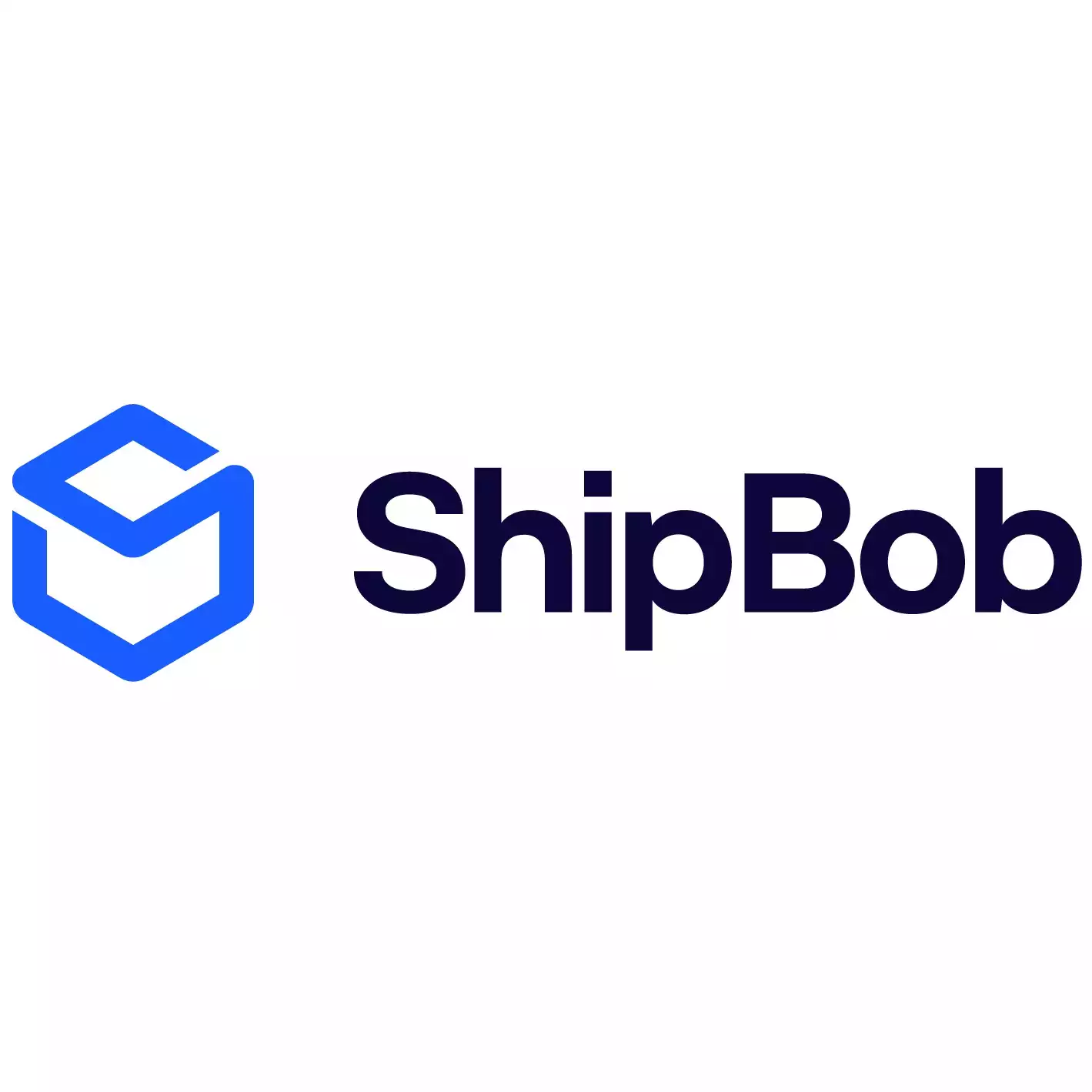 ShipBob Order Fulfillment – Get a Free Quote
Discover the power of omnichannel analytics and reporting through our dashboard, while we take care of picking, packing, and shipping for you.
Request A Quote
We earn a commission if you click this link and make a purchase at no additional cost to you.
ShipBob's Customer Service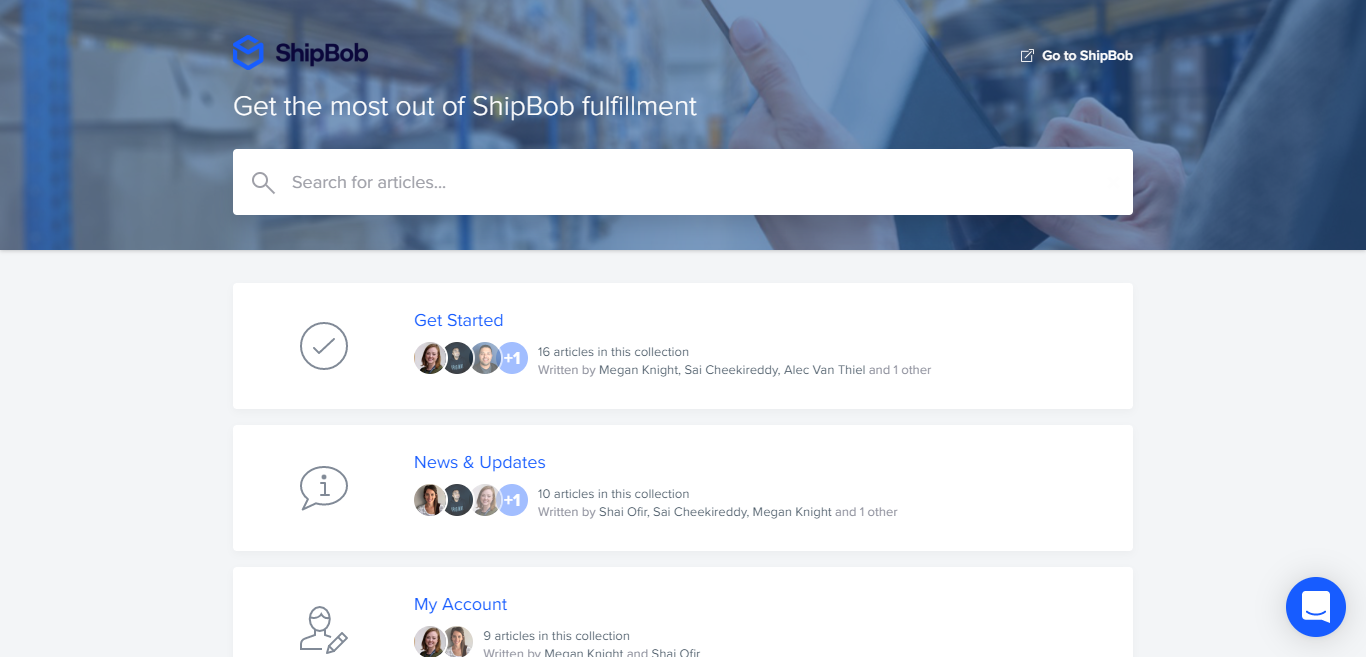 Running an eCommerce business is hard work. So, if you encounter order issues, you'll want to know your fulfillment partner will help as quickly as possible.
ShipBob has a Help Center where you can find answers to frequently asked questions on topics including analytics, getting started, integrations, API, and so on.
Customers can also use their live chat from 9 am to 5 pm CST, Monday to Friday. Alternatively, there's an online form you can complete if a query arises outside of business hours.
Finally, ShipBob has a dedicated customer support email. They guarantee that someone from Merchant Support will respond within two hours.
Your ShipBob dashboard is your go-to place for dealing with more specific queries about individual orders. Just find the order in question, and you can get help with it by clicking the 'Get help' button. A ShipBob representative will then get in touch with you to provide assistance.
In addition, ShipBob's website has an interesting ShipBob Status page. Here you can see general data in the form of graphs about ShipBob's shipping speeds – a valuable resource for anyone considering signing up with ShipBob.
ShipBob's Pros and Cons
ShipBob isn't going to suit all business. For example, suppose you're a tiny outfit that doesn't sell in large quantities. In that case, you're not going to need warehouse storage or necessarily a third party to fulfill your orders.
If, however, you plan on selling orders in their hundreds, then you'll naturally want to know what ShipBob's pros and cons are.
The Pros
There are tons of excellent integrations on offer

You benefit from an easy-to-navigate dashboard

There are plenty of US-based warehouse locations to choose from as you expand

There's access to Irish and UK storage if you want to expand into the international market

Shipping rates are adjusted to your business needs
The Cons
Prospective users could benefit from more info about ShipBob's pricing options on its website

It's not suitable for smaller business outlets.

Various review sites state that ShipBob's pages are slow to load.

ShipBob comes with somewhat of a learning curve if you're a complete beginner.
ShipBob Alternatives
In the interest of balance, we thought it wise to include a few popular alternatives to ShipBob. While we're not going into tons of detail about our shortlist, here are a few other 3PL alternatives you may want to consider before making your choice:
ShipMonk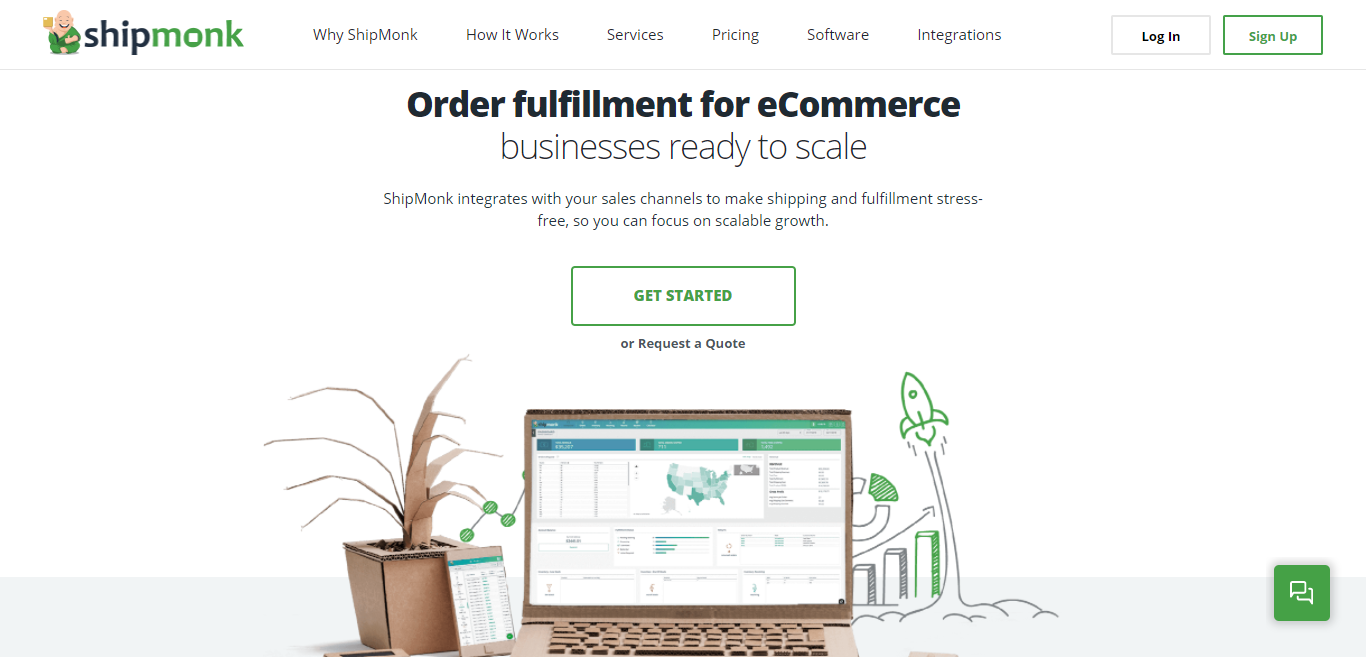 Unlike ShipBob, ShipMonk only has 3 US-based fulfillment centers and no international ones, although a European center is "coming soon."
ShipMonk integrates with some famous names, including Etsy and Sears. It also boasts a user-friendly interface. Its website tells us it has 5-star reviews on Capterra, the Shopify App Store, and Trustpilot gives it a 94% Excellent rating.
ShipMonk prices look reasonable, starting at $2.50 per order. However, there are additional fees to be aware of. For instance, at first glance, storage costs and what seems to be high fees for container unloading, pick and pack fees, and charges for packaging.
ShipHero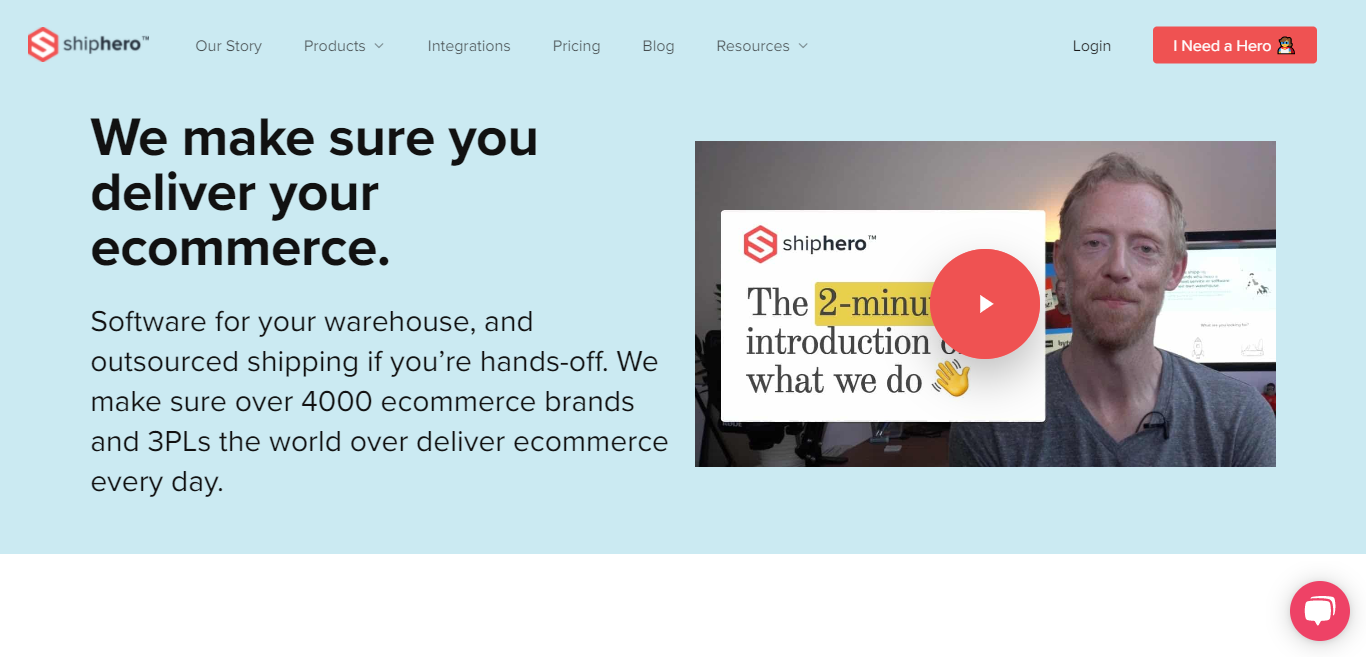 This 3PL provider has the same high user satisfaction statistics as ShipBob.
Broadly speaking, ShipHero offers the same key features as ShipBob. But, the main difference is that there isn't a 2-Day shipping feature, and their pricing model is more specific, costing $1,850 a month.
While ShipBob states it firmly believes in pricing transparency, its pricing structure means it can't really add more details. Namely, because its pricing is bespoke.
Lastly, ShipHero's direct integrations differ from those offered by ShipBob.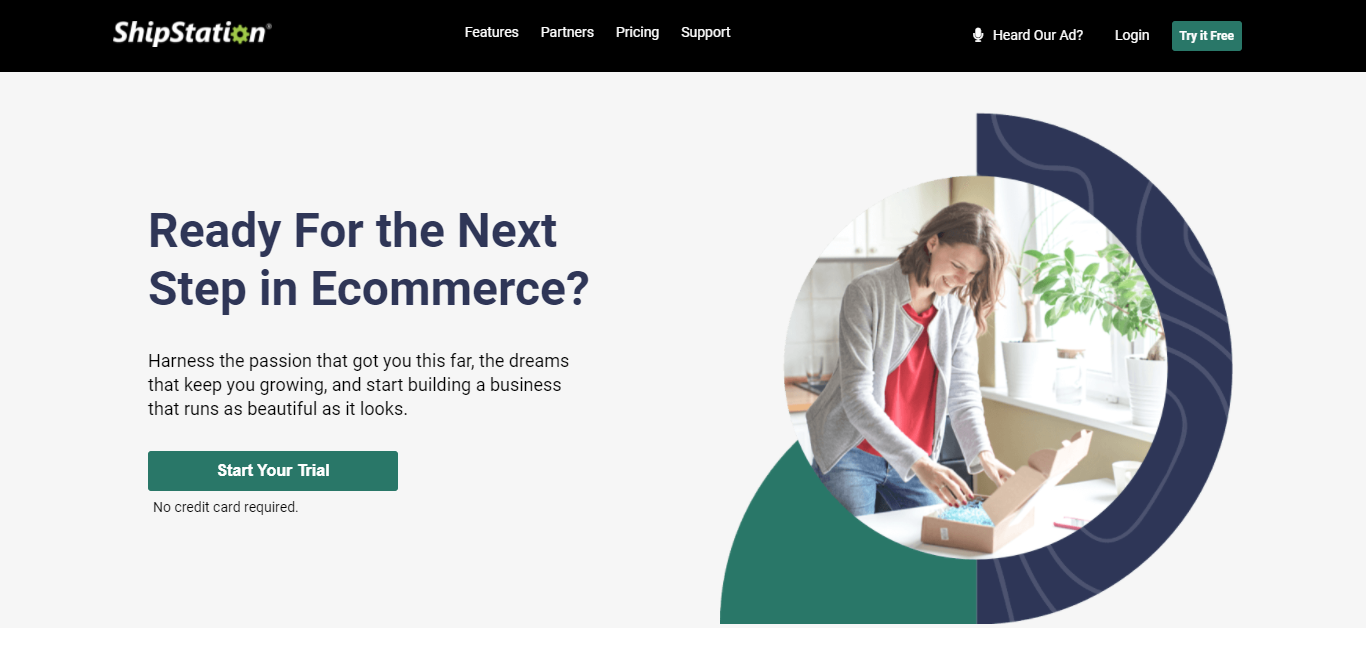 Like ShipBob, ShipStation integrates with all the popular marketplace tools and shopping carts. However, some reviewers report that ShipStation is easier to use and better at customer support. ShipStation's prices start at $9 a month for 50 shipments a month, and there's a free trial.
Like ShipBob, this Canadian 3Pl integrates with household name carriers such as FedEx, UPS, DHL, and USPS. In addition, it passes on their carrier discounts to ShipStation customers.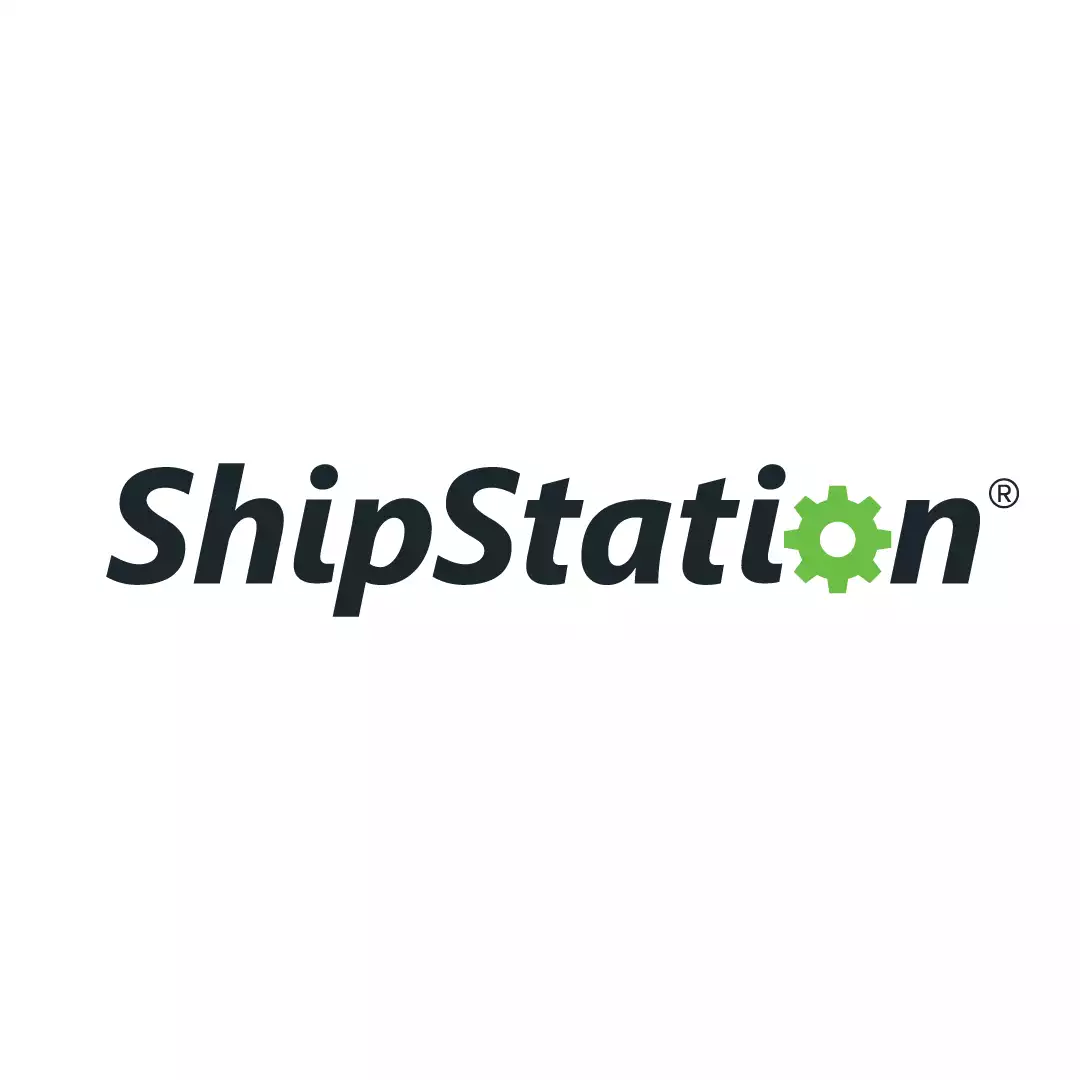 ShipStation Stands Out
BOTH of these services are good options, but ShipStation stands out as slightly better with a mobile app, better carrier integrations, more international connections, and better data reports and exports.
Start your free ShipStation extended 60-day free trial. Use code: dm60. No credit card required. Create your account today!
Go with ShipStation
We earn a commission if you click this link and make a purchase at no additional cost to you.
ShipBob FAQS
If you've read this far, you may still have a few questions. If that's the case, we've compiled a few questions we think you may be interested in knowing the answers to:
Question: Can I ship internationally using ShipBob?
Answer: We've touched on ShipBob having warehouses in the US, Canada, Ireland, and the UK. From any of these destinations, ShipBob can ship to 220+ territories and countries, including Europe. In addition, ShipBob can provide quotes for international shipping rates upon request.
Question: What's ShipBob's packaging like?
Answer: Standard packaging is plain and brown. It's also free and unbranded. Boxes come in a range of sizes from 6" long x 5" wide x 4" high, right up to 20" x 20" x 20". Other types of standard packaging include Bookfolds, Poster Tubes, Bubblemailers, and Polymailers.
The ShipBob website has a handy guide to all their different types of packaging, including sizes and the maximum weights that can be placed inside them. So rest assured, you're left with no doubt about which is the most suitable for your products.
Suppose you're keen to provide customers with branded packaging. In that case, ShipBob integrates with Parka, Noissue, and Packlane. Each are experts in custom eco-friendly packaging. A handy blog article walks you through how to benefit from custom packaging and what sizes ShipBob accepts.
Question: What types of eCommerce businesses use ShipBob?
Answer: Small and medium businesses that ship directly to consumers use ShipBob.
Some examples include:
Pot d'Huile: A Californian company that sells CBD-infused condiments, including olive oil.
SubSubmarine: An independent music label shipping vinyl, cassettes, and merchandise
Juspy: A high protein, gut-healthy, good fat, antioxidant powder
Doris Sleep: An all-female business selling luxury pillows using materials sourced from landfills.
These are just a few examples. There are many more, and ShipBob showcases many of its customers' stories on its website.
Are You Ready to Use ShipBob?
As we mentioned at the start of our review, there are tons of eCommerce fulfillment offers available for SMEs. Ultimately, the right provider will depend on your business goals, size, and how you plan to operate. If you're super small and don't want to scale at breakneck speed, ShipBob may be best left in your pending tray for now.
What's good about ShipBob is that it takes care of order fulfillment from start to finish. From inventory management, warehouse storage, and shipping – it does it all, making it easier to run your business.
Are you ready to start using ShipBob? Good luck! Tell us all about it in the comments below.