Last Updated on April 22, 2023 by DMEditor
Finding the right shipping software for your eCommerce business is challenging work. Multiple integrations fulfill this function, but which is the standout product for your business? A holistic shipping solution ticks lots of boxes – accounting, inventory management, billing and invoicing, and more. That said, it's essential to get it right the first time. So today, we're checking out two popular order fulfillment software providers: ShipBob vs Shipwire.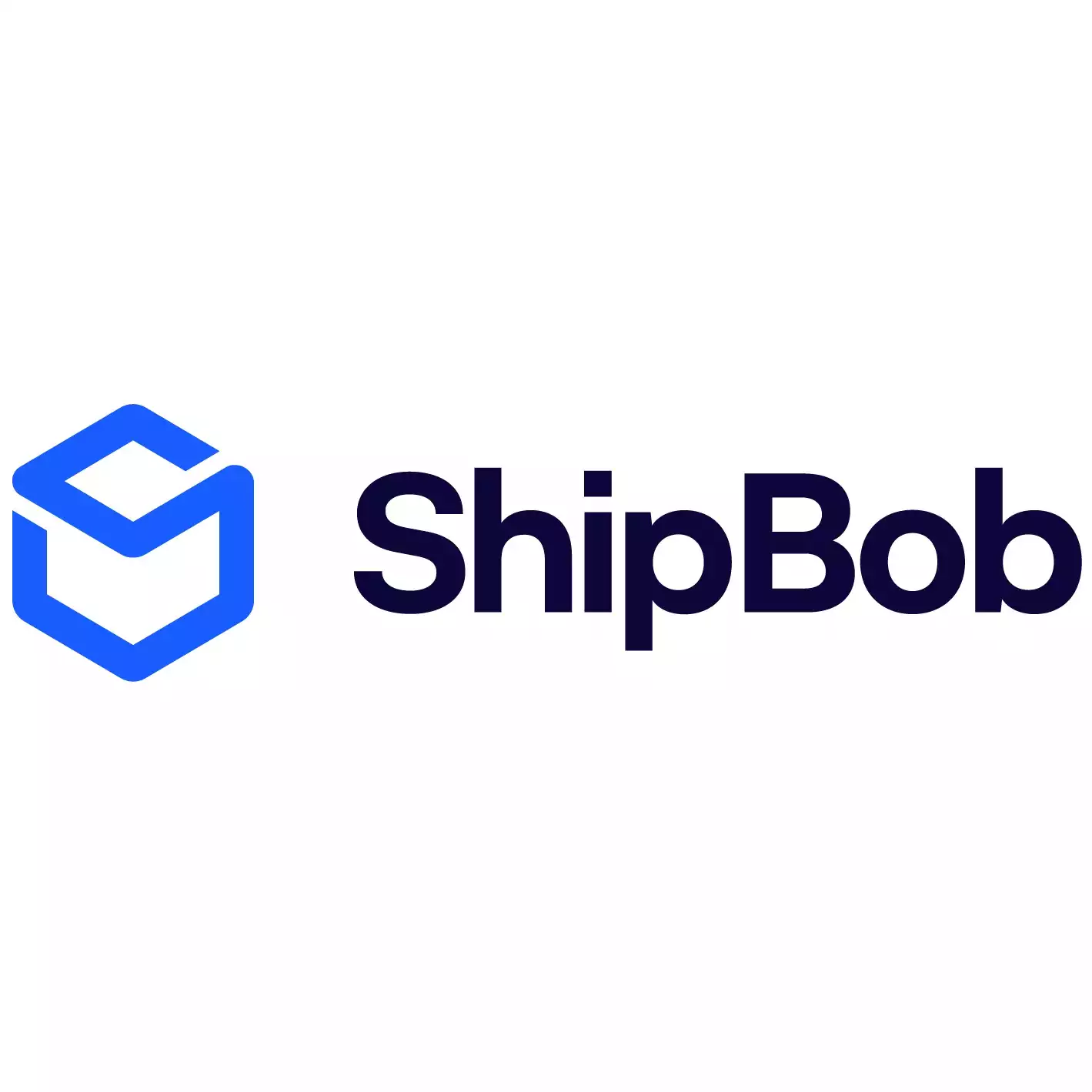 ShipBob Order Fulfillment – Get a Free Quote
Discover the power of omnichannel analytics and reporting through our dashboard, while we take care of picking, packing, and shipping for you.
Request A Quote
We earn a commission if you click this link and make a purchase at no additional cost to you.
Both are well known, but which of the two comes out on top? Continue reading to find out…
Main Differences Between Shipbob vs Shipwire
The Main Differences Between Shipbob vs Shipwire are:
ShipBob's website has a clear and understandable pricing structure, whereas Shipwire's prices aren't easily visible

ShipBob doesn't offer an app to manage your business, whereas Shipwire offers an Android and iOS app so it's easier to manage your business on the go

ShipBob offers 24/7 live support, whereas Shipwire's customer support team is only contactable during business hours

ShipBob offers same-day shipping from its five fulfillment centers to customers in Chicago, LA, New York, San Francisco, and Dallas, whereas Shipwire doesn't
Similarities
Both ShipBob vs Shipwire offer a wide range of native integrations

Both platforms offer customers a free trial and a free version

Both ShipBob vs Shipwire offer 2-day express shipping programs

Both platforms offer international inventory management solutions
Why Use an Order Fulfilment Service?
Basically, you're subcontracting out a crucial part of your eCommerce business. You might think this just adds another administrative layer to operations. However, when you partner with the right provider, there are several benefits worth considering:
It's time and cost-effective.

You'll get help managing inventory – instead of you having to do it all manually.

You free up time to focus on strategic business growth rather than operational maintenance.

You'll speed up order fulfillment and shipping times.
Remember, today's e-consumers expect fast, efficient, and error-free delivery that's affordable (or even free). In fact, as many as 28% of shoppers cancel orders or abandon carts if they face unexpected shipping costs.
Whether you're a small business or a larger enterprise, your customers won't thank you for taking your time over orders.
Not convinced? Join us on our deep dive into ShipBob, Shipwire, and their many benefits.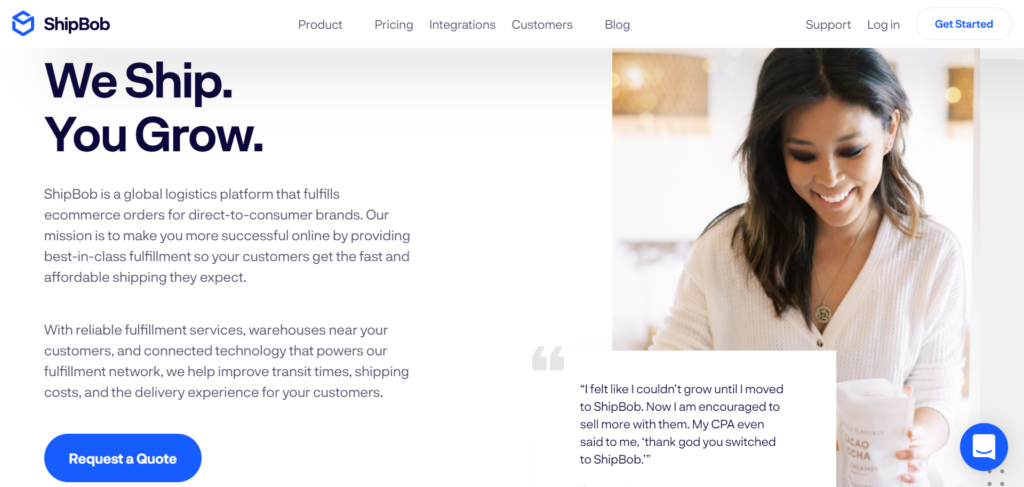 ShipBob describes itself as a 'global logistics platform that fulfills eCommerce orders for direct-to-consumer brands.'
Sounds simple enough, right?
ShipBob also promises a 99.95% order delivery accuracy, which is probably why over 5,000 eCommerce businesses trust them with their logistics.
On top of that, the platform also says customers could see:
A 13% reduction in costs

A 97% increase in average order value

An 18% reduction in cart abandonment

A saving of 120 hours of teamwork a week
With its HQ In Chicago, the company ships worldwide and continues to grow since its launch in 2014.
Its business model is simple: You send them your products, and they do the rest of the heavy lifting. You're just responsible for selling your products across your chosen eCommerce outlets while ShipBob warehouses and delivers orders to your customers. Easy, right?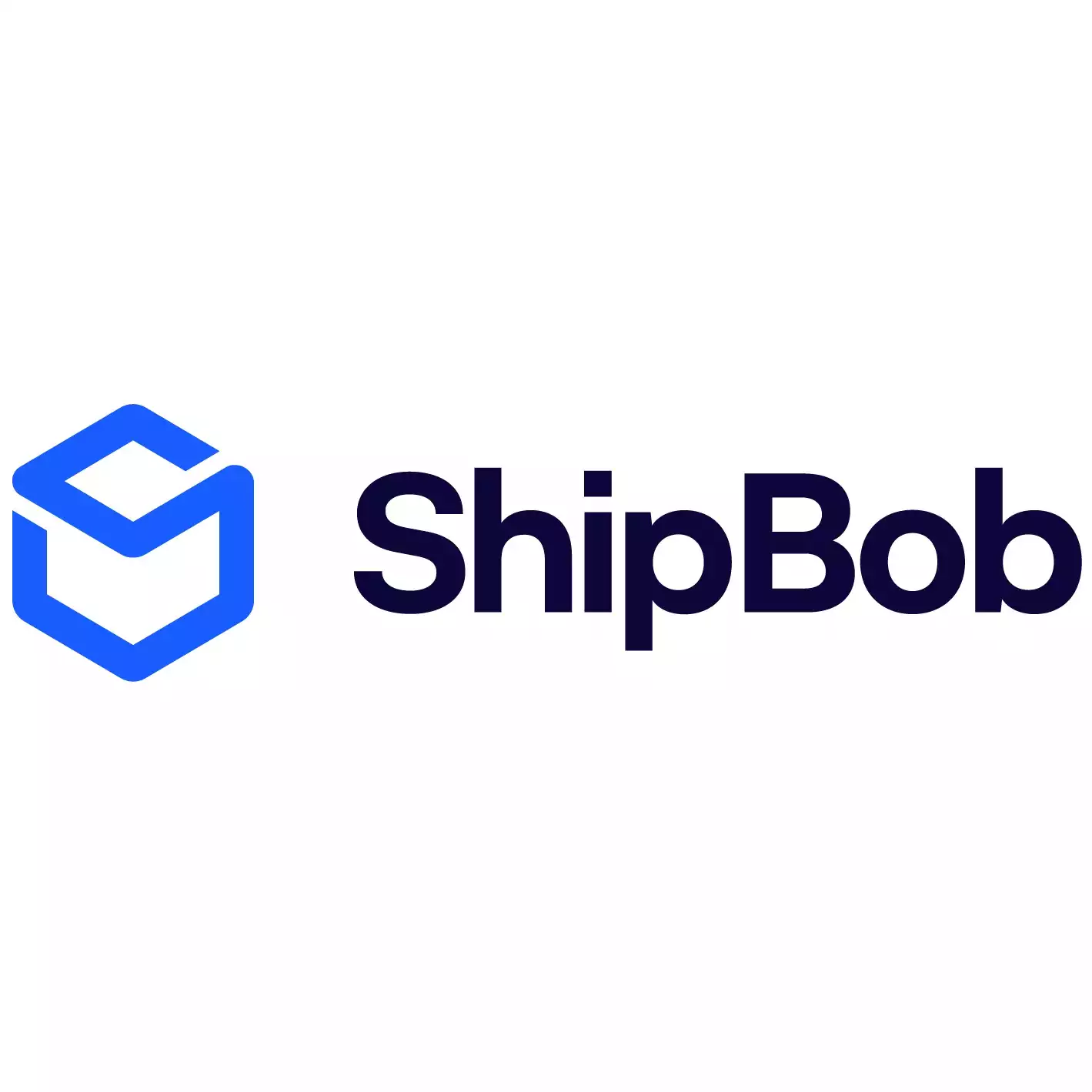 ShipBob Order Fulfillment – Get a Free Quote
Discover the power of omnichannel analytics and reporting through our dashboard, while we take care of picking, packing, and shipping for you.
Request A Quote
We earn a commission if you click this link and make a purchase at no additional cost to you.
What's Shipwire?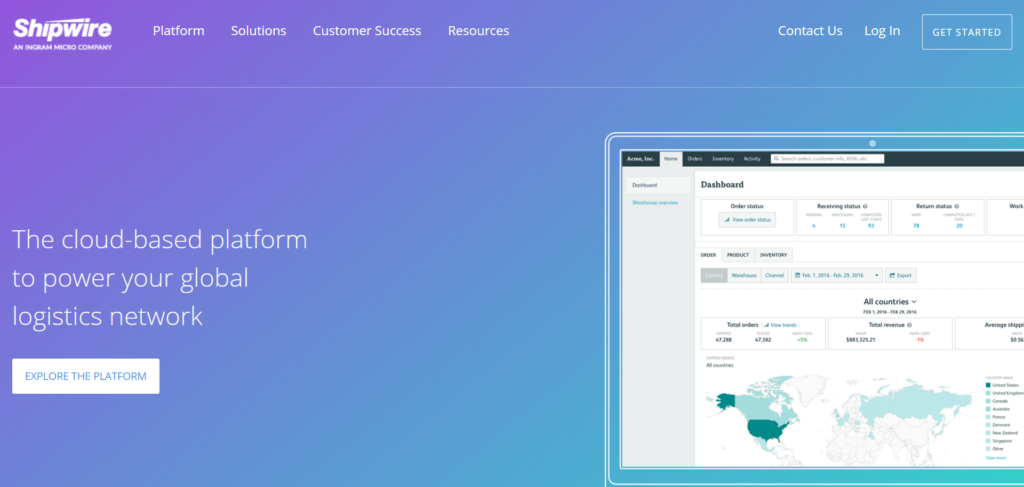 Shipwire is also an eCommerce fulfillment solution and describes itself as a 'cloud-based platform to power your global logistics network.' It ships internationally and domestically and, at the time of writing, boasts over 2,800 business subscribers.
The platform is owned by Ingram Micro Commerce and Lifestyle Services, which acquired Shipwire in 2018. Shipwire works with eCommerce retailers of any size and offers convenient services, including order fulfillment and inventory management. It also provides an impressive list of native integrations (over 100). As such, Shipwire should slot seamlessly with your existing tech stack.
ShipBob's Main Features
Now you have an overview of both platforms, let's check out their main features, starting with ShipBob:
Two-Day Express Shipping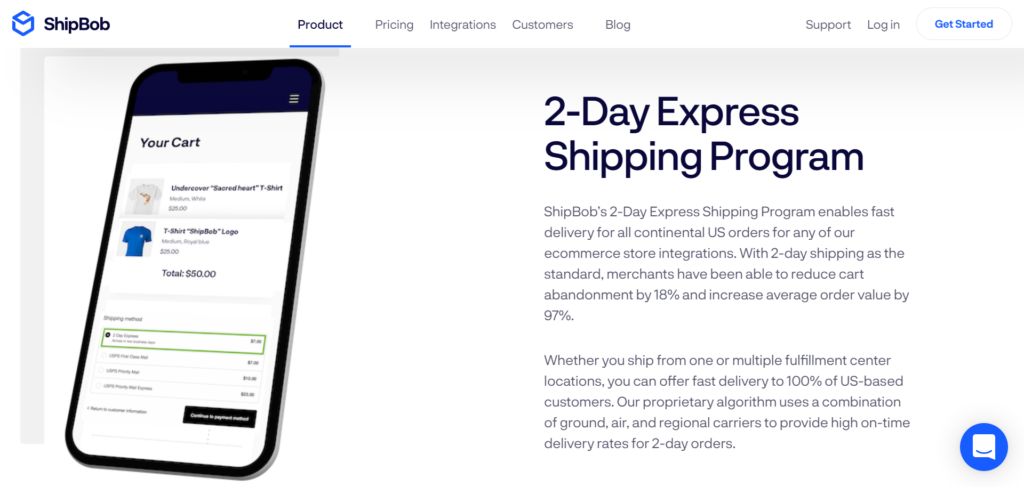 We know customers expect fast delivery in today's Amazon-Prime-dominated world. Same-day delivery is what motivates 49% of customers to shop online. And for 95% of shoppers, delivery within two days is considered 'fast'.
Fortunately, ShipBob doesn't disappoint here. It offers a two-day express shipping program, ensuring prompt delivery times for all continental US orders. ShipBob has multiple fulfillment centers across the US, so eCommerce businesses can store inventory at various locations close to their customers.
ShipBob uses a proprietary algorithm that uses a mix of delivery carriers (air, ground, and regional operators) to help guarantee its fast two-day delivery. In addition, it's negotiated bulk discounts for domestic and international shipping rates with significant carriers, including UPS, USPS, FedEx, and DHL.
Interestingly, ShipBob says its two-day express shipping is one of the reasons it's been able to help customers reduce cart abandonment by almost 20%.
Reporting and Analytics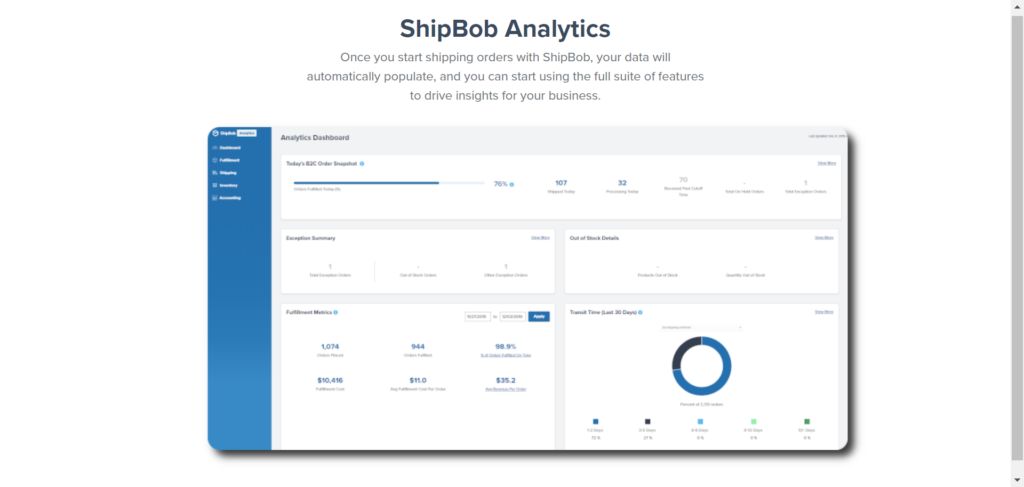 You can create reports on the following:
Year-end reports

Inventory figures

Which fulfillment centers are low in stock

The average value of your customers' shopping carts

The length of time orders are in transit
Managing Your Inventory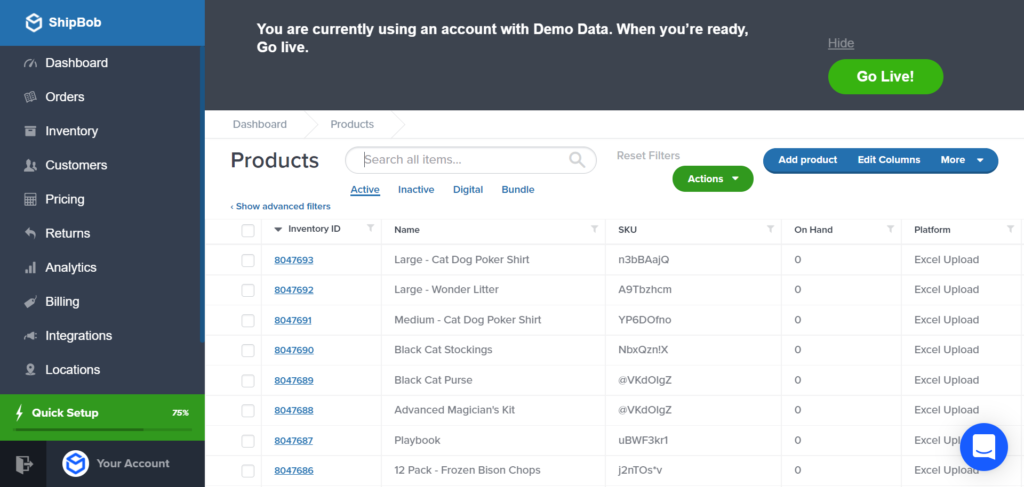 You'll get an overview of how much inventory you have in stock from an intuitive dashboard, including specific unit numbers across all warehouse locations. You can also access figures on which inventory isn't selling quickly. With this info to hand, you can avoid expensive storage costs. You can also set reminders so you never forget to reorder popular items.
You'll also get an insight into which products aren't selling, so you can shift them with discounts and focus resources on your best sellers.
Order Management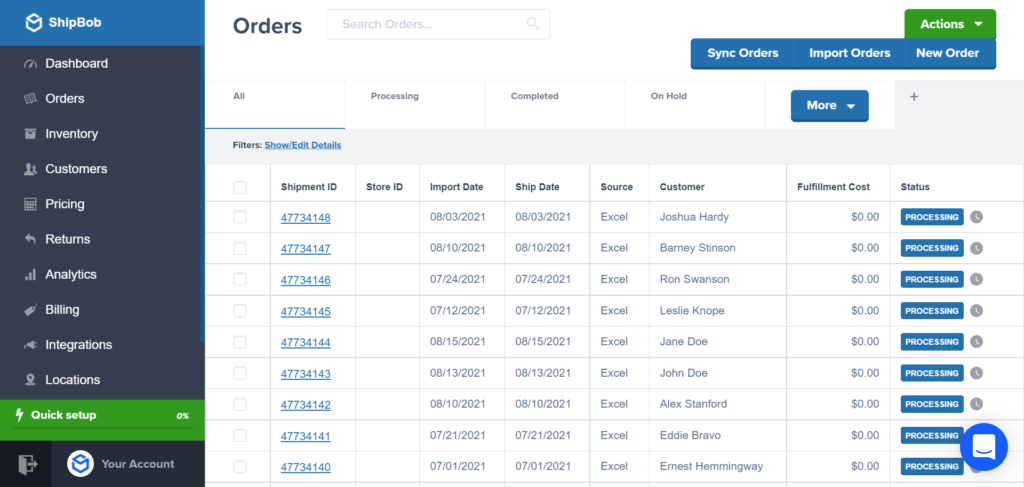 ShipBob's order management software keeps you fully appraised of all your orders and their statuses. Here, you can see which stage each order's at in the fulfillment cycle: picked, packed, shipped, delivered. You can also view how orders are shipped, i.e., which carrier's being used, an order's weight, and make changes to orders once they're made.
Shipwire's Main Features
Now it's time to put Shipwire under our microscope:
Ship Anywhere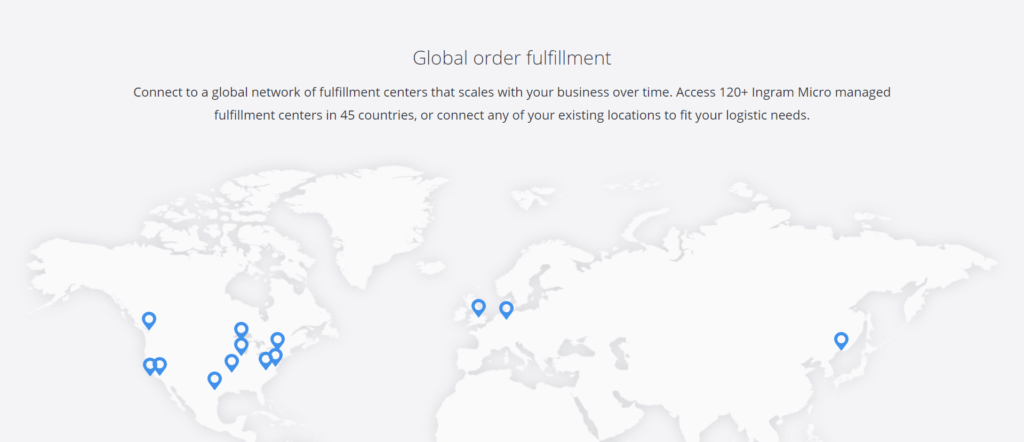 Shipwire benefits from over 154 managed warehouses across 45 countries, enabling Shipwire customers to ship to many global locations. You can choose where to store your products for faster shipping options (2-day or 1-day services), whether you send orders to customers directly, or your suppliers do it on your behalf.
Please note: When you send your products to a Shipwire warehouse location, it's your responsibility to notify Shipwire electronically.
Thanks to its global network of warehouses, orders sent to a Shipwire managed warehouse before the cut-off time are sent out the same day.
For guaranteed same-day shipping, that time is 5:30 AM in the local warehouse timezone. Any orders sent in before 10:30 AM get best-effort same-day shipping, meaning the warehouse will try its best to get the order sent out.
Shipwire's algorithm also automatically rates and optimizes your customers' orders to provide the most time and cost-effective shipping strategy. This includes regional, national and international postal solutions.
Shipwire Solutions for Dropshippers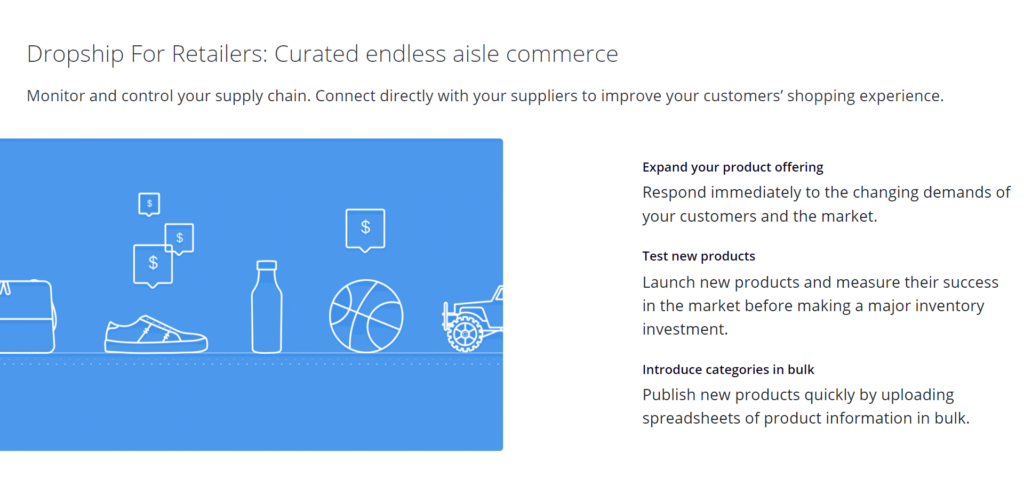 If your retail model relies on dropshipping suppliers, Shipwire has your back. It can help you manage thousands of suppliers and provide one unified customer experience.
You can use a fulfillment relay to sell products from multiple vendors and access nearly unlimited inventory. You can also create a self-service portal to automate supplier onboarding and share KPIs amongst your vendors. You can also monitor your suppliers' timeliness and order accuracy through the software.
Shipwire also supports dropshipping retailers through a range of integrations, which we discuss lower down. On top of that, you can upload your dropshipping bulk product catalog to Shipwire through spreadsheets.
Easy Order Management
Shipwire comes with an easy-to-use and view dashboard. From here, you can access:
Order information

View transactions

Manage work orders (these are orders with more complex requirements, such as labeling, assembly, etc.)

Generate reports

View analytics

Maintain privacy by managing what third-party integrations can see about your operations.
The software is free until you start storing goods in a Shipwire warehouse/fulfillment center. This means you're free to test the platform experience, run shipping quotes and get your stores connected so that you're ready to send products off to a fulfillment center.
Multichannel Sales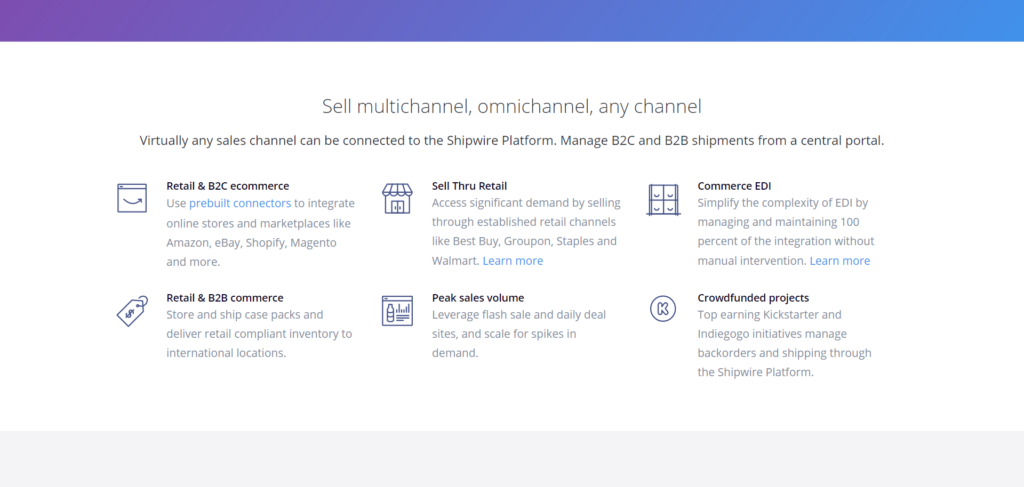 Shipwire enables you to sell across multiple well-known B2C channels, including Shopify, Amazon, eBay, Magento, and CommerceHub. Not only that, but Shipwire also supports B2B selling.
Once you've connected your eCommerce store(s) to Shipwire, its automated software:
Calculates shipping rates

Manages orders

Handles inventory
It doesn't matter whether you're selling via one channel or across many; Shipwire works the same.
ShipBob's Pricing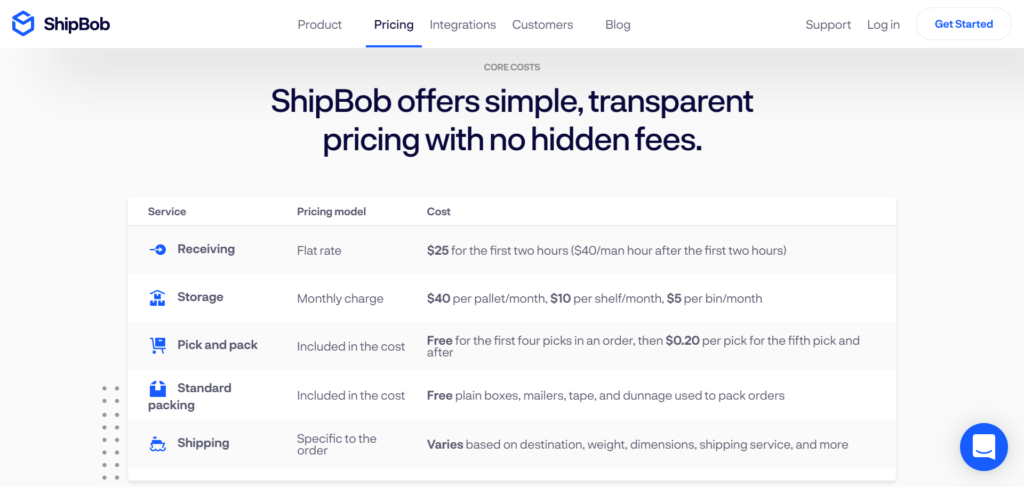 Before going any further, we need to walk you through the costs. After all, it's impossible to calculate your potential profits without factoring in all the costs involved in using a third-party order fulfillment platform.
It's straightforward to see how ShipBob calculates its costs from the Pricing tab on the platform's website.
However, before diving into ShipBob's costs, it's important to point out that ShipBob offers a comprehensive fulfillment service. Each customer receives:
Access to ShipBob's merchant dashboard (inventory and order management tools)

ShipBob's native integrations

Standard boxes, mailers, and packaging supplies

Reduced shipping rates

Same-day shipping (for pre-noon orders)

Excellent customer support and fulfillment expertise

Dedicated account management (for larger enterprises)

Advanced reporting and analytics
No matter how small or large your operation is, there are standard costs that relate to:
A one-off implementation fee – this unlocks 30 days of onboarding support

Warehousing costs

Charges for receiving your inventory

Shipping costs
While pricing plans aren't apparent, potential customers can contact ShipBob to receive a fuller quote.
However, ShipBob does offer what it calls a Growth Plan. This comprises three core fees, some of which are already mentioned above. So, below we've provided a more detailed outline of what you pay for:
Receiving goods:

You'll pay

$25 for the first two hours and then $40 per worker, per hour after that. Also, suppose your inventory arrives without a WRO (Warehouse Receiving Order) or an incorrect one. In that case, you'll have to pay $25 and $25 per day until the issue is resolved.

Storing goods:

This costs $40 per pallet/month, $10 per shelf/month, or $5 per bin/month

Picking and packing:

This is free for the first four picks of an order, then $0.20 per pick from the fifth pick onwards

Packaging supplies:

These are free and include plain boxes, tape, mailers, and dunnage

Shipping costs:

These vary depending on the product dimensions, weight, end destination, and shipping carrier

Returns:

These incur a $3 processing fee per returned order, plus the cost of return labels, which you can either provide yourself or buy from ShipBob.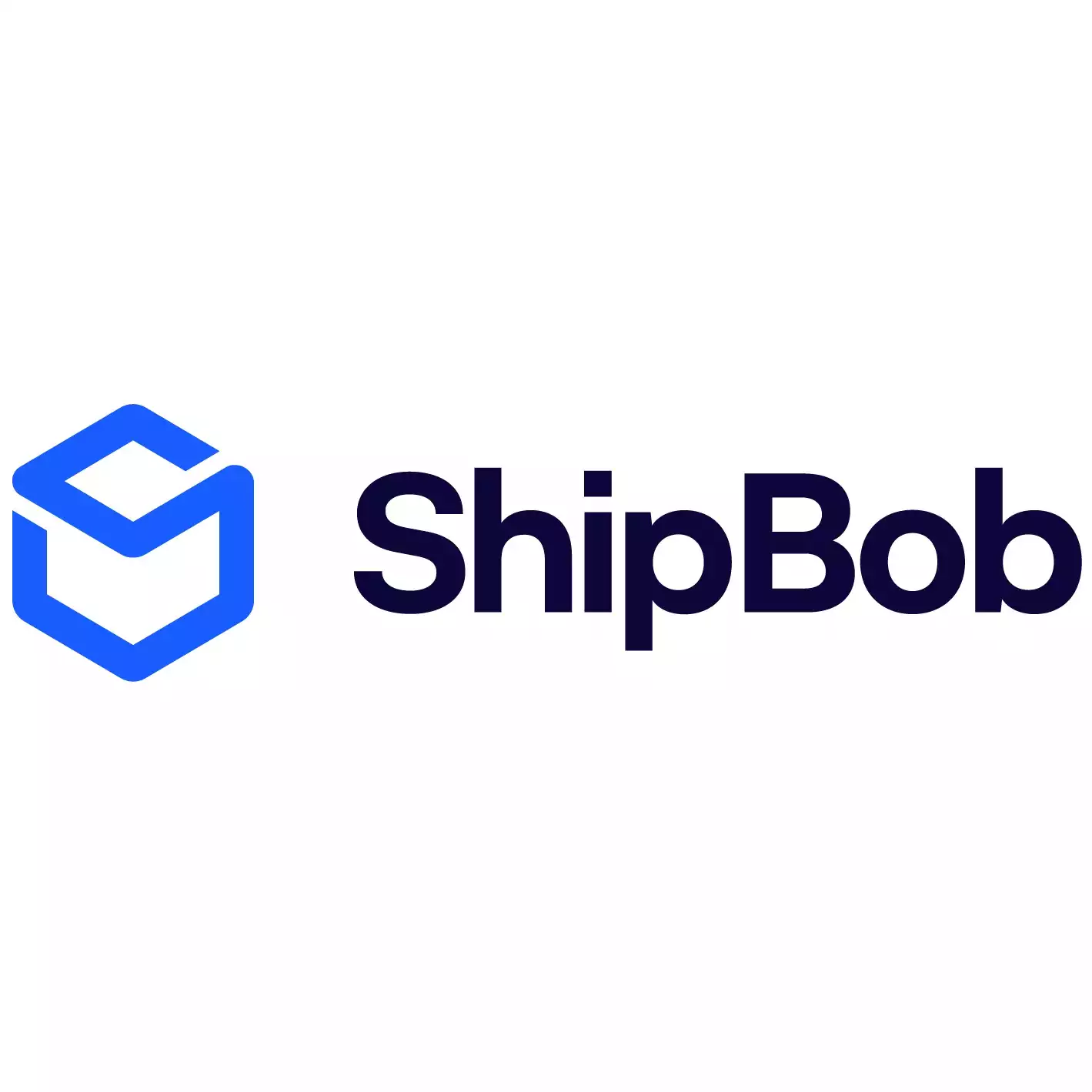 ShipBob Order Fulfillment – Get a Free Quote
Discover the power of omnichannel analytics and reporting through our dashboard, while we take care of picking, packing, and shipping for you.
Request A Quote
We earn a commission if you click this link and make a purchase at no additional cost to you.
Shipwire's Prices
Now, let's take a peek at Shipwire's prices. At first glance, it wasn't easy to locate any costs on Shipwire's website. There's no pricing tab on its site, nor is there a dedicated costs section on the Shipwire Resources Center.
Frustratingly, you have to click on the 'Get Started' button, which takes you to a page where you have to click a 'Pricing Information' button. This then takes you to a form you have to complete to access any costs. We completed this form and received the promised PDF pricing overview that arrived without any fees listed.
While some reviews on other sites refer to Shipwire costs, we found that prices differed. For example, Capterra states prices start at $30 a month, while G2 lists $64.95.
ShipBob's Integrations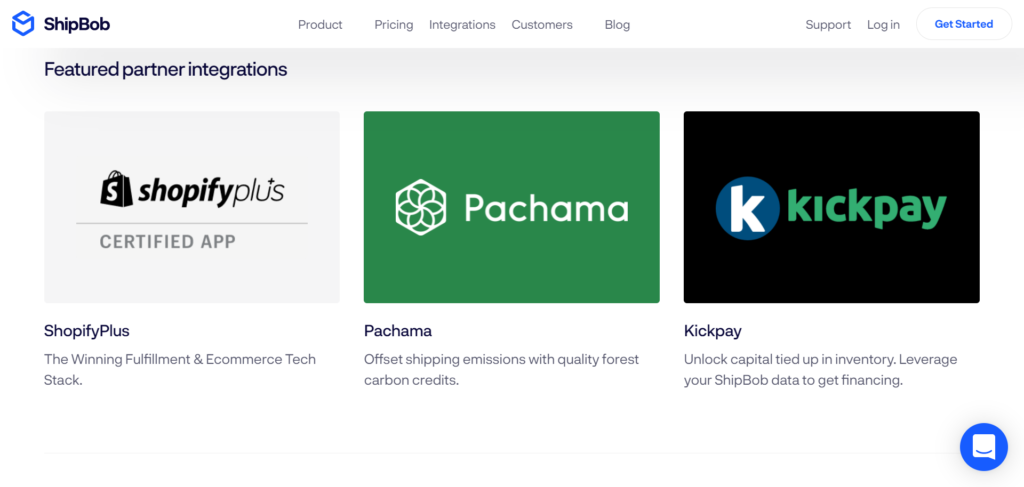 Integrating with apps that simplify business operations and enhance the customer experience cannot be underestimated. ShipBob has a useful 'Integrations' tab on its website. With just a click, you'll populate all the information you need.
There are many integrations available, and these are split into the following categories, within which we've listed a few example integrations to give you a flavor of what's on offer:
Partner integrations:

Shopify Plus, Pachama, and Kickpay

Freight and shipping:

DHL, FedEx, UPS, and USPS

Returns management:

Returnly and Happy Returns

Inventory and order management:

Cart Rover, Order Desk and Cin7

Ecommerce platforms and marketplaces: Shopify, Wix, eBay, and BigCommerce
Marketing and customer support:

For this category, none of the integrations were direct ones but included Simplr and Klaviyo

Packaging:

Again, none of the integrations were direct ones but include Arka

Accounting and finance:

Kickpay

Crowdfunding:

BackerKit
There were no visible prices for any of the above; instead, you need to complete a form to ask an expert for a quote. In addition, ShipBob partners with several branding and web development agencies; if you want to access these services, you'll also have to pay an additional fee.
Shipwire's Integrations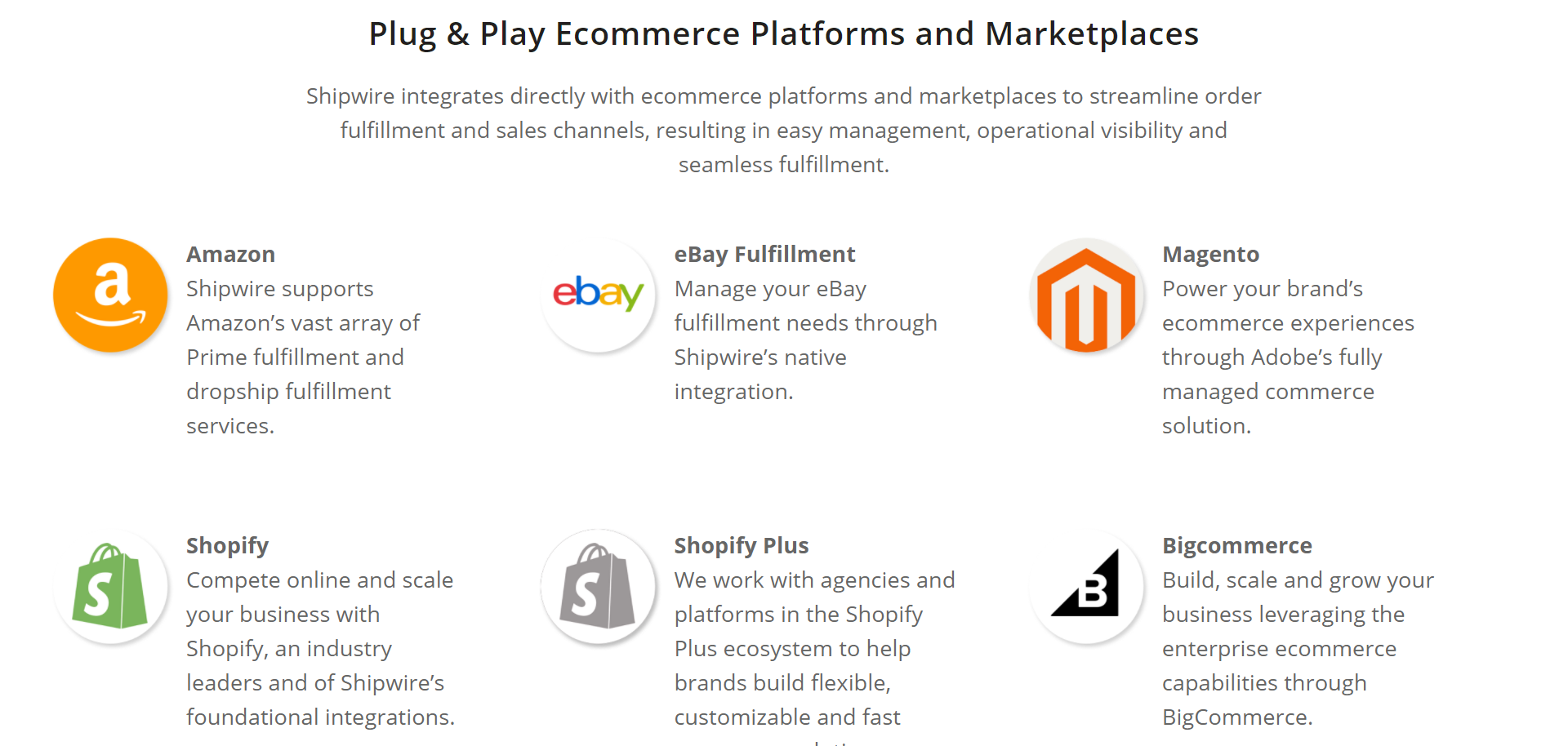 Shipwire doesn't list all its integrations but does state it partners with 200+ eCommerce connectors, including:
Ecommerce solutions: Amazon, Shopify, Shopify Plus, BigCommerce, and more
EDI and drop ship solutions:

including LogicBroker and Commerce Hub

ERP and CRM solutions:

including SAP and Oracle

Returns solutions:

including Happy Returns and Returnly
Like ShipBob, it partners with external agencies and consultancies to help you grow your business (for an additional fee, of course).
ShipBob's Customer Service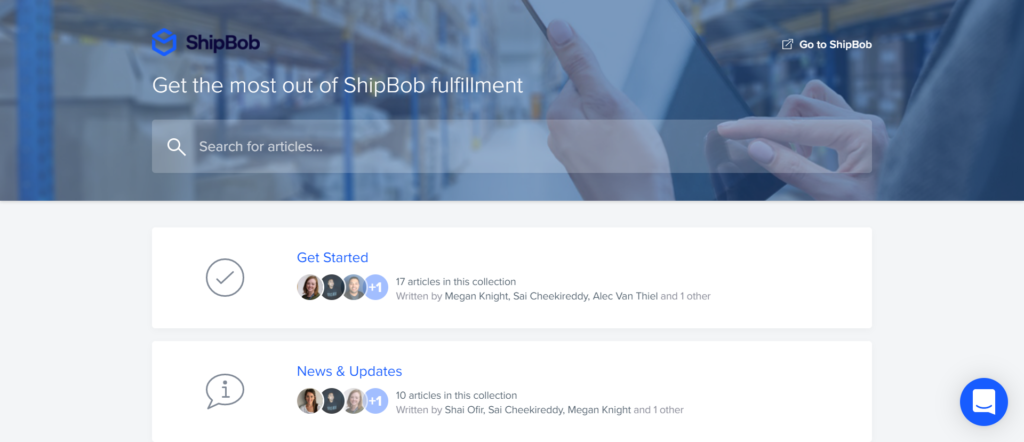 Moving on, let's have a look at the type of support both platforms offer their customers. First, ShipBob has a comprehensive support offer on its website. This includes:
A blog

Specific areas for Shopify users who work with ShipBob

Data on delivery times with its delivery carriers, and more.
There are also how-to guides on topics such as choosing a 3PL, shipping, reducing shopping cart abandonment, and more.
Customers needing in-person support can also contact ShipBob by clicking the Support Tab. This directs you to a Help Center where you can find answers to questions on different topics, including analytics, pricing, billing, and more.
Lastly, customers can reach ShipBob by phone (no operational hours listed) or fill out a form that generates an email query.
As for online reviews, ShipBob fares pretty well in this arena, with customers praising its ease of use, features, onboarding, and customer service. However, customers were less optimistic about slow shipping, hidden fees, and paying out refunds when the service was found lacking.
Shipwire's Customer Service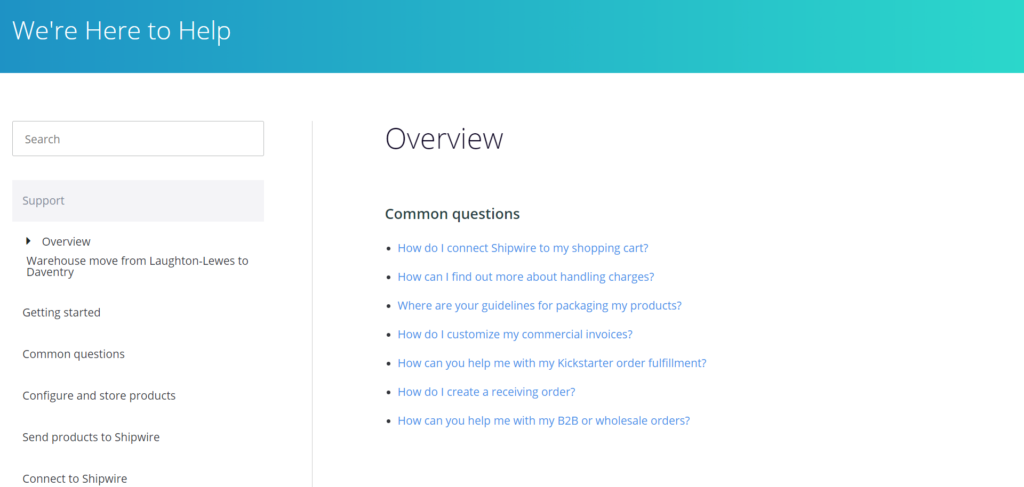 Shipwire's customer support offer is pretty stripped back when compared with ShipBob. However, it has an online Support Center where you can type in your question and search by topics like getting started, connecting to Shipware, etc.
You can contact Shipware by email, but there's no listed phone number or times where you'll be able to reach a human being. The Resource Center has blog posts on corporate topics, but we didn't really feel this content was aimed at beginners.
As for customer reviews online, what we saw was pretty mixed. Customers complain about poor customer support, lost orders, non-US-based support that's outsourced, and more. In fact, we struggled to find any positive reviews at all.
At the time of writing, it'd be fair to say that online reviews indicate that Shipwire is experiencing some issues. The only site where we found positive reviews was Trustpilot. But, the company scored an overall 3.3 stars out of a possible five. However, customers praise specific Shipwire support agents and excellent communication.
ShipBob vs Shipwire's Pros and Cons
Every order fulfillment software has its positives and negatives; so, let's look at what these are in the case of ShipBob vs Shipwire:
ShipBob's Pros
It boasts a transparent, easy to understand website

You'll benefit from competitive shipping rates

You get access to 24/7 customer service

You can distribute inventory across multiple warehouses/fulfillment centers to ensure quick shipping times

You get access to robust analytics and reporting features
ShipBob's Cons
There's no ShipBob app – which isn't great if you want to access your shipping software from a mobile device while you're on the run.

The pricing structure isn't the easiest to understand. This depends on the packaging type, weight, dimensions, shipping service, and delivery distance of your order.
Shipwire's Pros
Shipwire offers plenty of order fulfillment centers across the world – which facilitates quick international shipping times.

There are over 40 integrations available, and Shipwire partners with over 200 eCommerce connectors.

You can sell across multiple channels.

You get access to an easy-to-view dashboard.

You benefit from decent analytics and reporting tools.
Shipwire's Cons
Shipwire's website isn't as user-friendly as ShipBob's. It also isn't as transparent regarding its pricing and features.

Some customers complain about poor customer service.
FAQs
Question: Where are ShipBob and Shipwire Based?
Answer: Both platforms have multiple warehouse sites worldwide. Shipwire's head offices are in all the US – more specifically, Chicago, Lancaster, Michelson, and Bloomington. ShipBob's journey also started in Chicago, where they're still based today.
Question: How Can I See my ShipBob Billing?
Answer: Your dashboard has a 'Billing' section. From here, you can access billing info across these categories: shipping, storage, receiving goods, and additional fees.
Question: What About my Billing at Shipwire?
Answer: The Shipwire platform shows automated and itemized invoices from Shipwire for your storage, handling fees, and invoicing history. Just log into your Shipware account and head to 'Billing.'
Question: Are There any Places Shipwire and ShipBob don't Ship To?
Answer: Yes. There are times when Shipwire can't ship to certain countries and territories. This can be for legal reasons, USPS restrictions, or the area is high risk.
At the time of writing, Shipwire won't ship to Crimea (Ukraine), Cuba, Iran, Myanmar, North Korea, Palestinian Territories, and South Sudan. Check its Restricted Countries page in the Shipwire support center for more information and updates.
As for ShipBob, the platform only lists the countries that it actually ships to. At a glance, the countries or territories that aren't on this list are very similar to those on Shipwire's list, but ShipBob also appears to exclude Russian and Middle Eastern territories and countries.
Question: Do Both ShipBob and ShipWire Offer Freight Shipping?
Answer: At the time of writing, neither ShipBob nor Shipwire offered direct freight shipping. Instead, both partner with third-party freight carrier experts who can help customers arrange global freight shipments.
ShipBob vs. Shipwire: Our Verdict
Both fulfillment platforms offer many of the features you need to operate a fast eCommerce service for your customers. Both integrate with multiple apps, provide worldwide shipping, and are suitable for businesses of all sizes.
However, some differences between the two platforms are apparent. ShipBob is more transparent in its pricing and seemingly offers better support to its customers. In addition, its website is easier to navigate and written with the end-user in mind.
Overall, we think ShipBob presents a more attractive solution because it's better reviewed, transparent about some of its prices, and offers easy-to-understand features. In addition, it operates worldwide, so it's easy to scale your business for those looking to go global.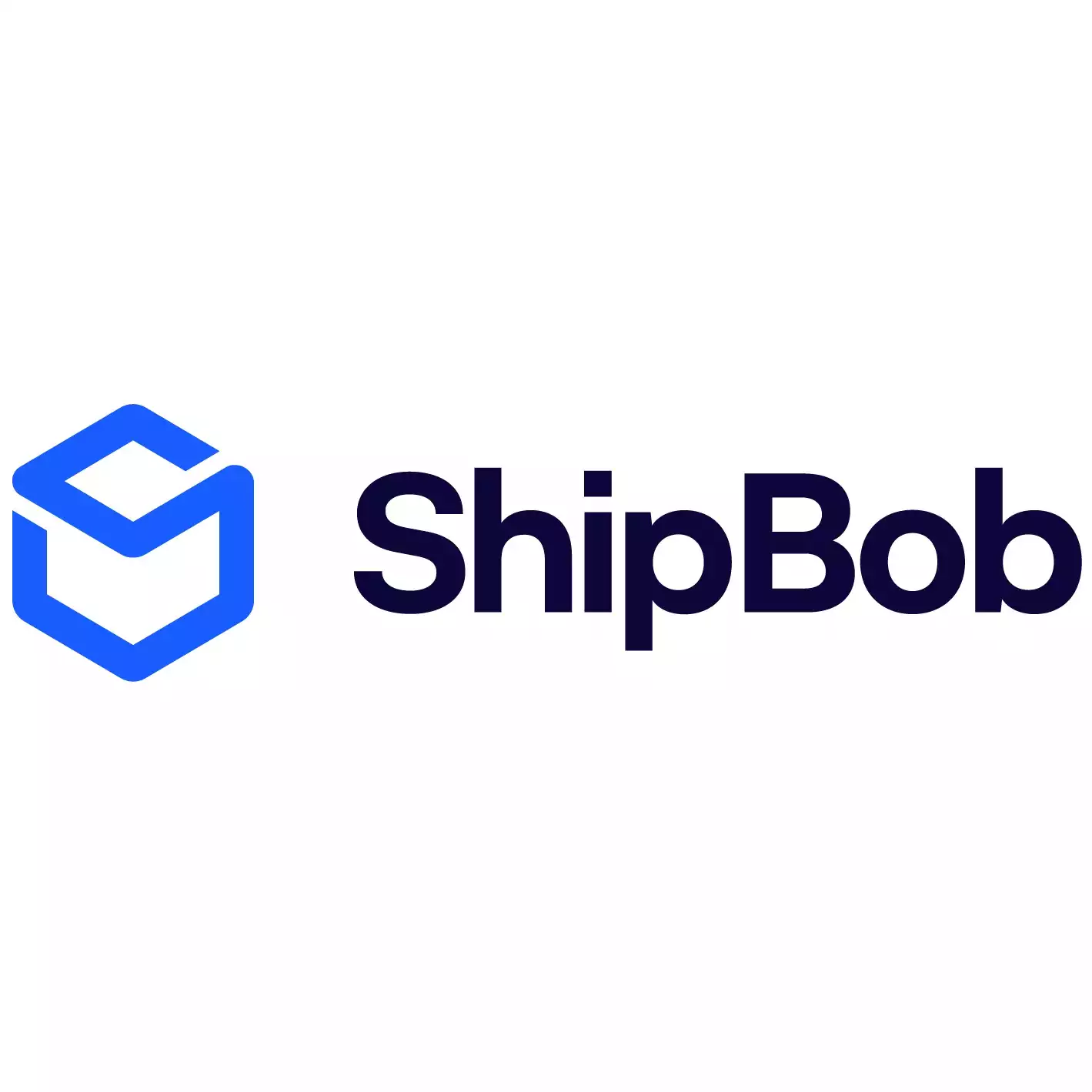 ShipBob Order Fulfillment – Get a Free Quote
Discover the power of omnichannel analytics and reporting through our dashboard, while we take care of picking, packing, and shipping for you.
Request A Quote
We earn a commission if you click this link and make a purchase at no additional cost to you.
So, there you have it – our ShipBob vs. Shipwire comparison. Which (if either) solution will you go for, ShipBob or Shipwire? Whatever you decide, let us know in the comments box below.