Last Updated on April 22, 2023 by Ewen Finser
In today's world, consumers are more focused than ever on instant gratification. We're all looking for quick and easy options, especially when it comes to product shipping. Not only do customers want speedy service, but they also want to stay informed every step of the way. To make this happen, you need real-time tracking, responsive customer service, and high-quality product handling.
A quick and efficient service goes a long way to attracting long-term customers and a wealth of positive reviews- giving you the best chance of success.
So, if you're looking to improve your shipping service, you've probably considered using an eCommerce fulfillment solution. But, with so many options at your fingertips, how can you choose the right one for you? What factors should you consider?
Let's cut the jargon and look at a stripped-back, no-fuss break-down of the critical features of two popular shipping services: ShipBob and ShippingEasy.
There are lots to cover, so let's get straight down to it!
ShipBob and ShippingEasy's Key Similarities and Differences
If you don't want to dive into the meat and potatoes of a complete product comparison review, here's a quick comparison of ShipBob and ShippingEasy's core similarities and differences:
ShipBob and ShippingEasy's Key Differences:
ShipBob and ShippingEasy's Key Similarities:
Both solutions offer reporting and analytics features, so you can keep an eye on your inventory levels, shipping stats, generate sales reports, and more.
You'll have the option to add shipping insurance to your shipments with both providers.

Both providers offer customer management features, including email history, adding customer notes to track issues, the ability to view and edit customer contact details, and more.
Why Would I Need to Use a Fulfilment Solution?
Outsourcing order fulfillment can seem overwhelming, but it doesn't have to be. In many cases, outsourcing is the driving force behind your business's growth. With hundreds of services to choose from, you're guaranteed to find the right software for you.
The benefits are clear:
Often, outsourcing order fulfillment saves you time, effort, and money.

It makes it easier to manage your inventory.

It can help expand your business reach.

Using 3PL warehouse storage can help protect your brand's name by minimizing the risk of human error, late shipments, and faulty orders.
eCommerce is changing consumer behavior and shaping global retail. But, unfortunately, changing expectations and behaviors have had a massive impact on fulfillment operations too. So if you feel like your shipping process could use a little tweaking, consider the below statistics:
63%

of shoppers claim that expensive shipping fees have caused them to cancel their purchases.

25%

of shoppers won't proceed with an order if unexpected shipping costs are added to the order just before checkout.

Data

from ComScore shows that 38% of shoppers abandon their order if delivery takes longer than a week.
Big or small, whatever the scale of your operation, if your shipping process isn't up to scratch, customers will notice. That's why choosing the right fulfillment solution is so important – in this consumer-centric age, you need to be on top of your game.
Outsourcing for the sake of more significant profits and happier customers can change the direction of your business. Not convinced?
Let's take a closer look at the services offered by our two competitors:
Who's ShipBob?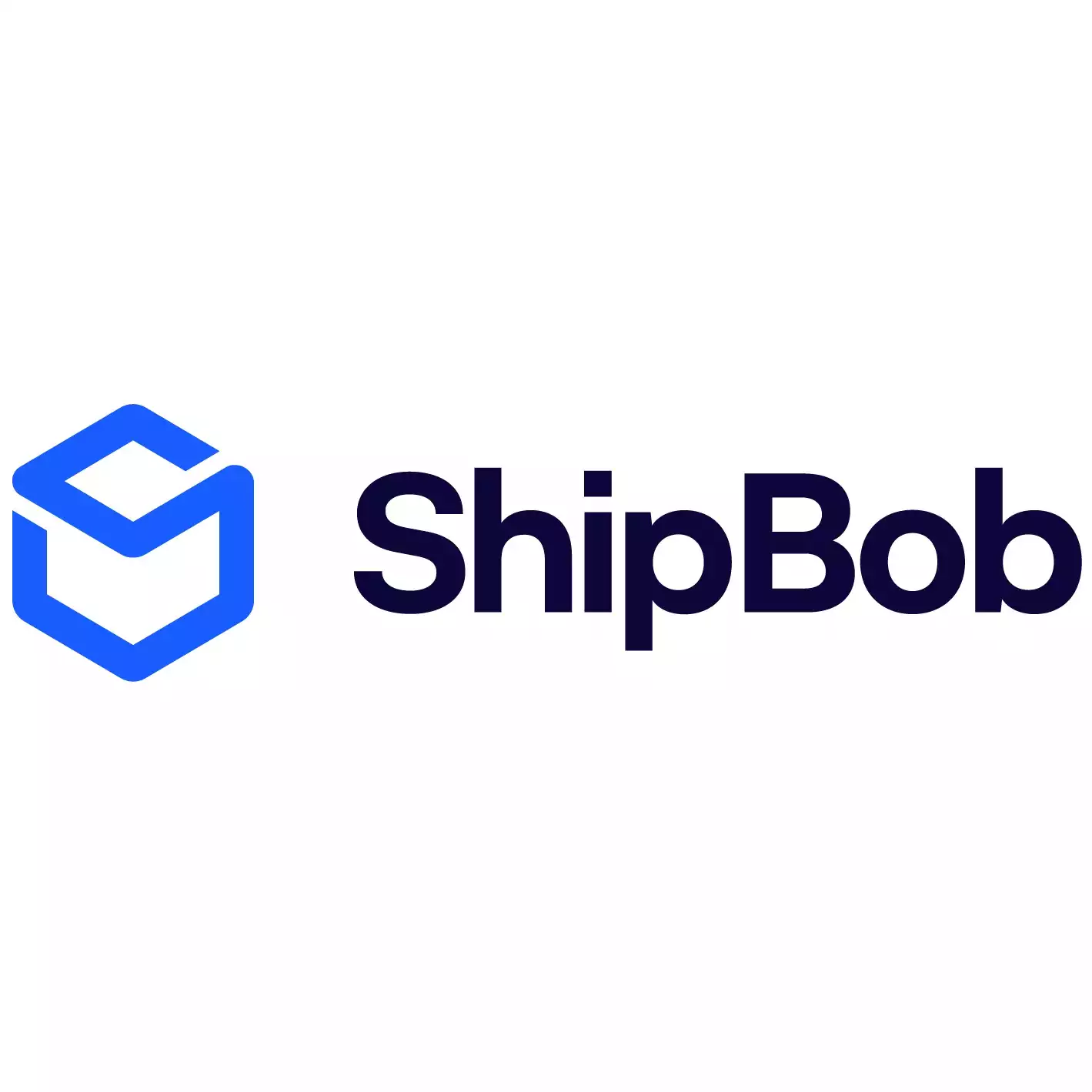 ShipBob Order Fulfillment – Get a Free Quote
Discover the power of omnichannel analytics and reporting through our dashboard, while we take care of picking, packing, and shipping for you.
Request A Quote
We earn a commission if you click this link and make a purchase at no additional cost to you.
ShipBob is an eCommerce fulfillment solution that will ship your physical products direct to your customer's doorstep.
Here's how it works: You send them your products, and they manage your inventory. Simple.
It's a bit like Amazon FBA. You take care of your product listings, ship them your products, and they'll send them out for you. With ShipBob, though, you're not limited to selling from one online platform – you can sell anywhere. Great, right?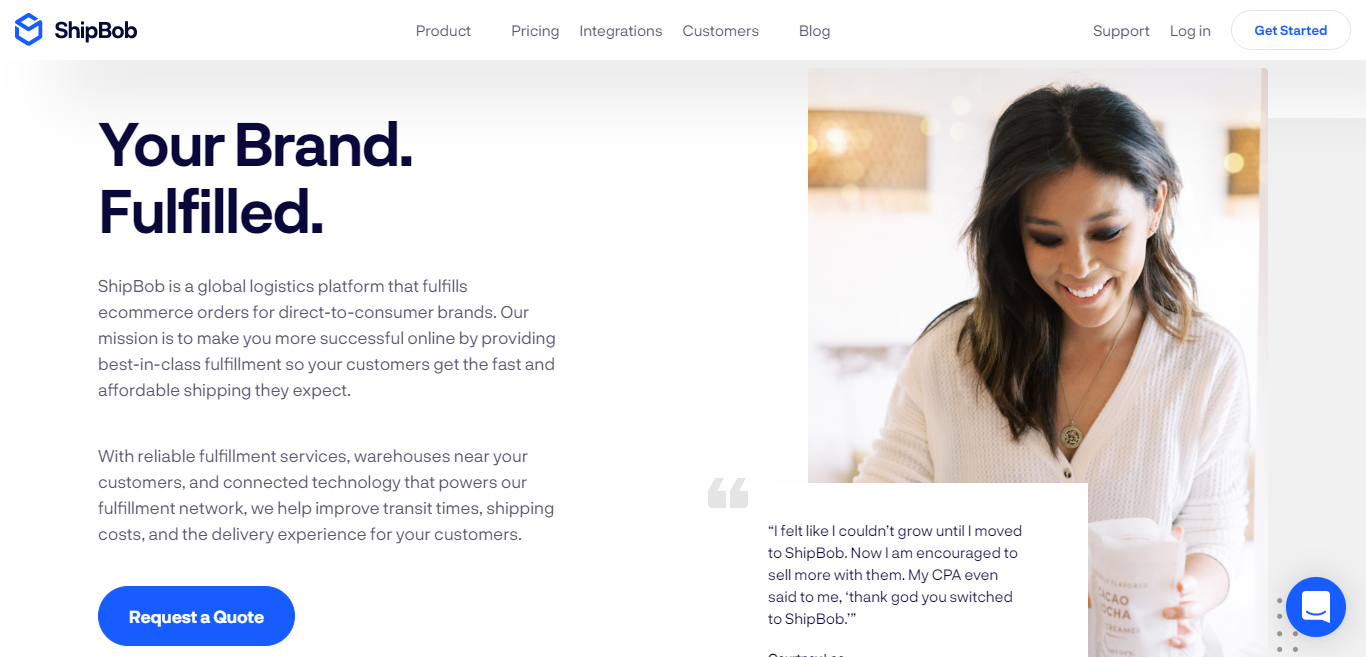 Like ShipBob, ShippingEasy is a SaaS (software-as-a-service) solution that aims to streamline your business operations. However, ShippingEasy doesn't ship your products for you. Instead, ShippingEasy offers a single solution for inventory tracking, product management, and ordering stock. In addition, ShippingEasy offers shipping discounts and enables you to order and print shipping labels directly from their platform, making it an ideal solution for small businesses.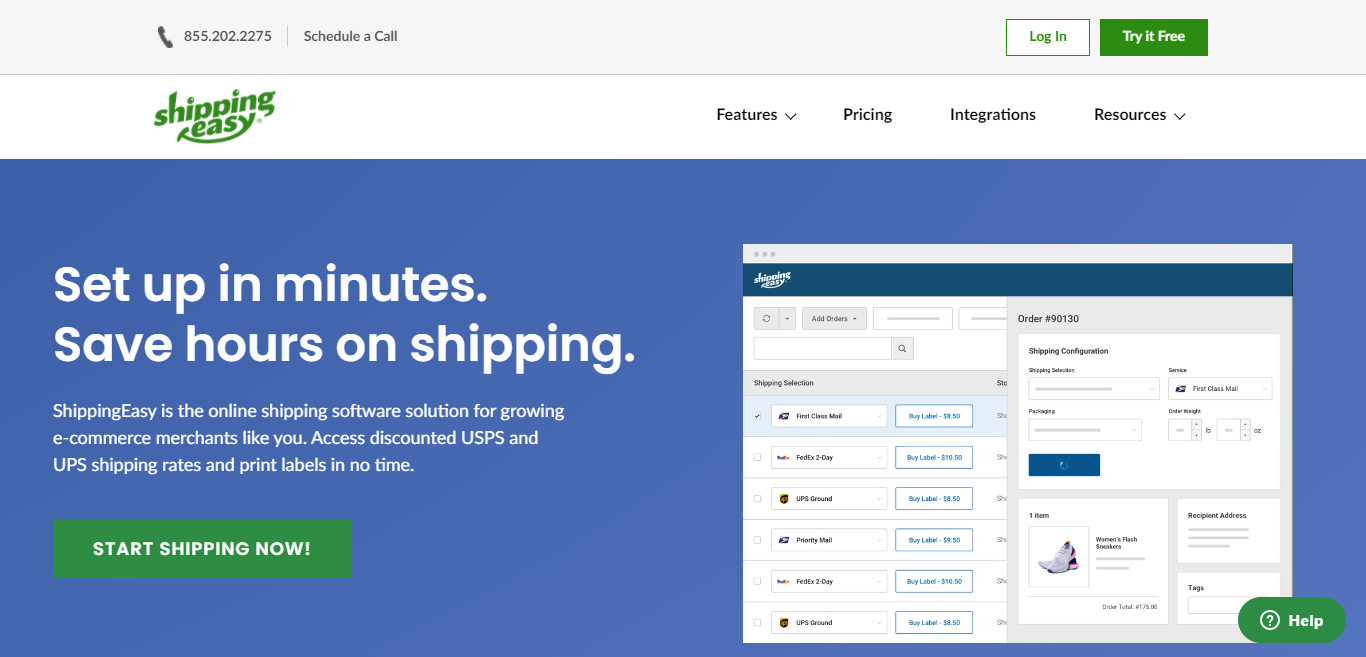 ShipBob's Main Features
Now that we've covered the basics, let's take a look at the nitty-gritty of what these solutions have to offer, starting with ShipBob:
Distributed Inventory
You can split inventory across various fulfillment centers to ensure your products arrive at their destinations as quickly as possible, at an affordable rate.
Thanks to this, ShipBob enables you to stay competitive by offering two-day shipping to customers. Their algorithm automatically selects the warehouse that provides the quickest delivery at the lowest price. Needless to say, this works wonders for improving customer satisfaction. ShipBob's two-day shipping program is available to all continental US orders, and it doesn't matter whether you ship from one fulfillment center or multiple.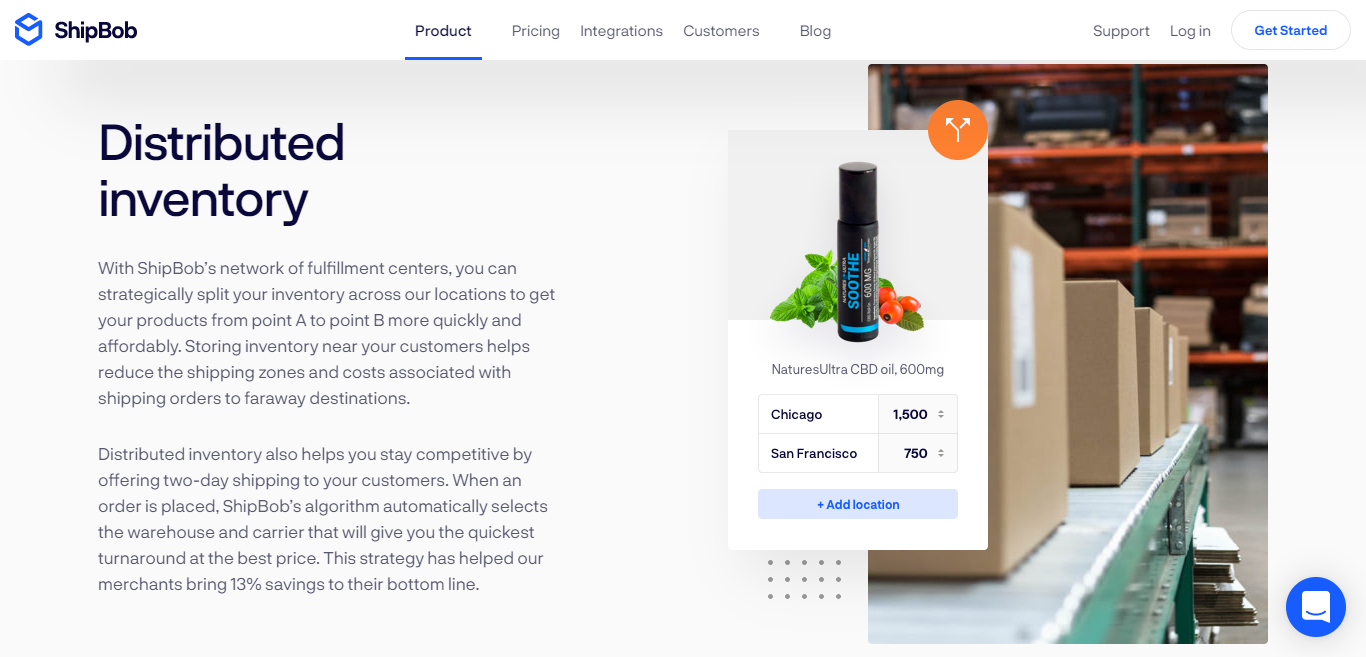 Order Management
You can:
Filter orders by status

Search for specific orders

See what stage your order's at in its journey

Find shipping information (such as weight, carrier service, and dimension)
…all from the convenience of one place!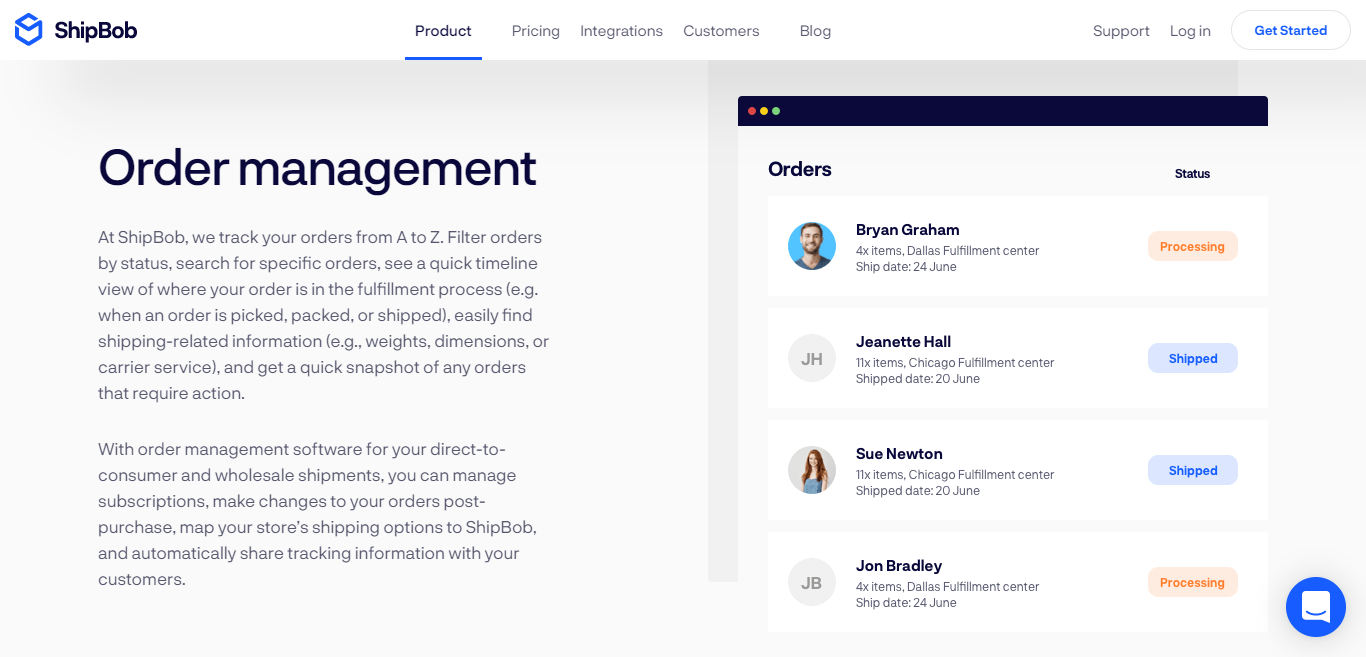 Reporting and Analytics
You can generate reports that show:
Which fulfillment centers need restocking

How many days of inventory you have left before you run out

The number of days orders are in transit

Shipping costs

Average cart value
…and much more besides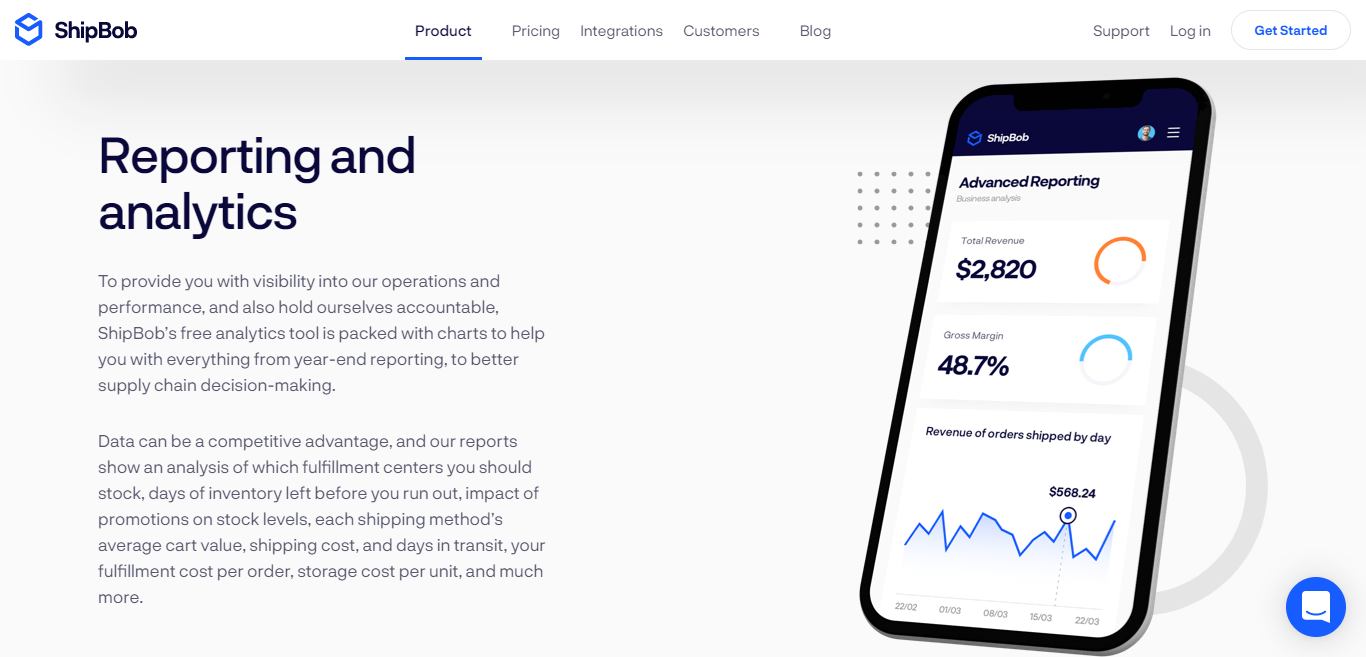 Parcel, Air, Container, and Ground Shipping
You can ship your products via parcel, air, container and/or ground shipping. Quotes for international shipments are available on request.
Inventory Forecasting
This functionality enables you to predict stock levels for a future time period to help you keep on top of demand.
Shipping and Returns Management
You can see the status of your orders and returns from the convenience of your dashboard, and you can choose to either manage your returns manually or let ShipBob do this for you.
Alerts/Notifications
You'll receive notifications direct to your dashboard, drawing your attention to important issues. These could include order updates, info about new features, and weather alerts that could impact shipping.
ShippingEasy's Main Features
Special Offer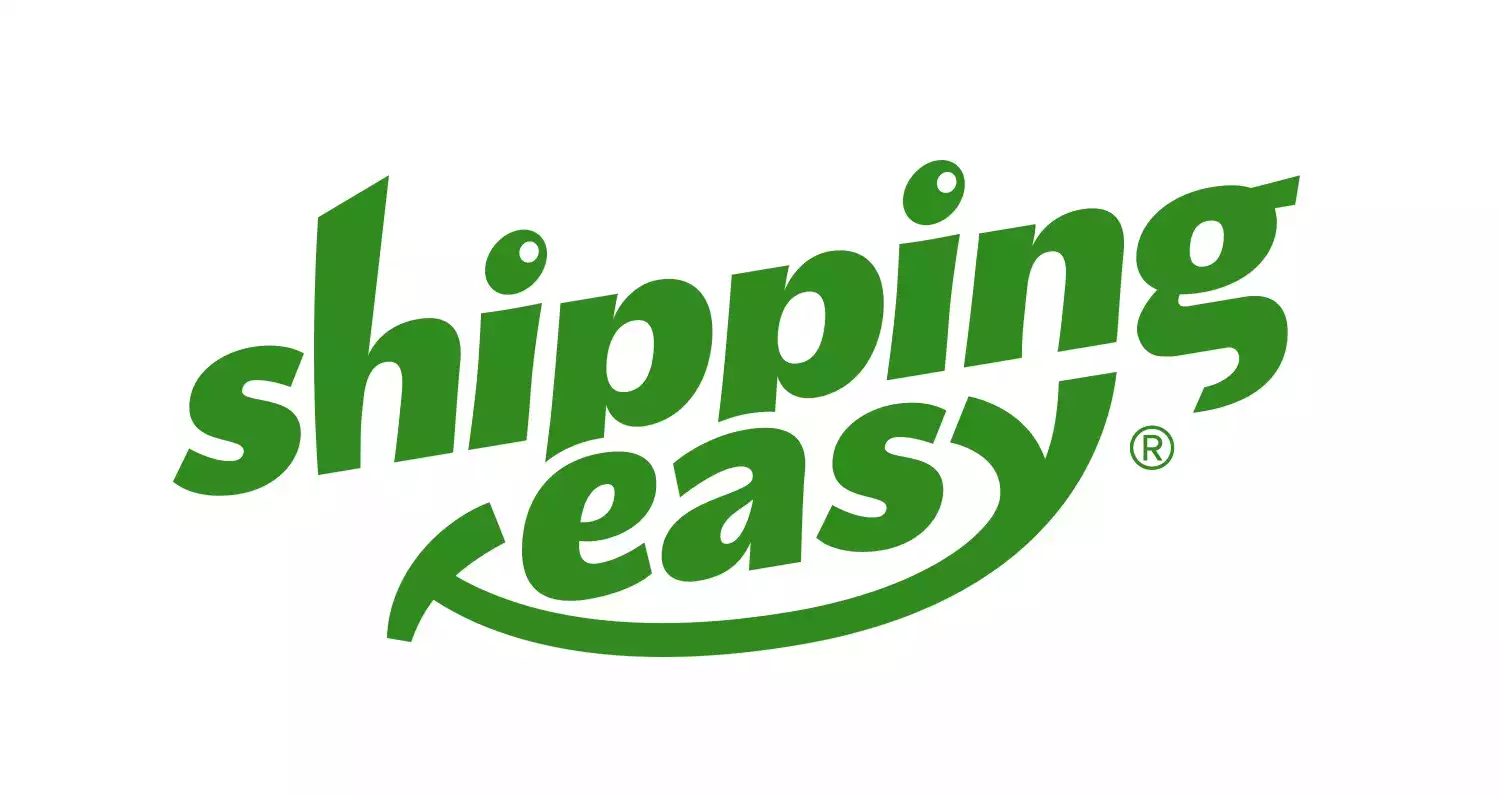 Shipping Software and Discounted Rates | ShippingEasy
ShippingEasy is the online shipping software solution for growing e-commerce merchants like you. Access discounted USPS and UPS shipping rates and print labels in no time. Start your Free 60-Days Trial here Today!
Get Started Free
We earn a commission if you click this link and make a purchase at no additional cost to you.
Now, let's take a look at what ShippingEasy has to offer:
Shipping Rates
ShippingEasy provides access to real-time shipping rates and services from various carriers, and you can automate your shipping process. Just instruct ShippingEasy on how to handle your orders, using statements to narrow down which orders need processing and specifying which actions are to be applied to what orders.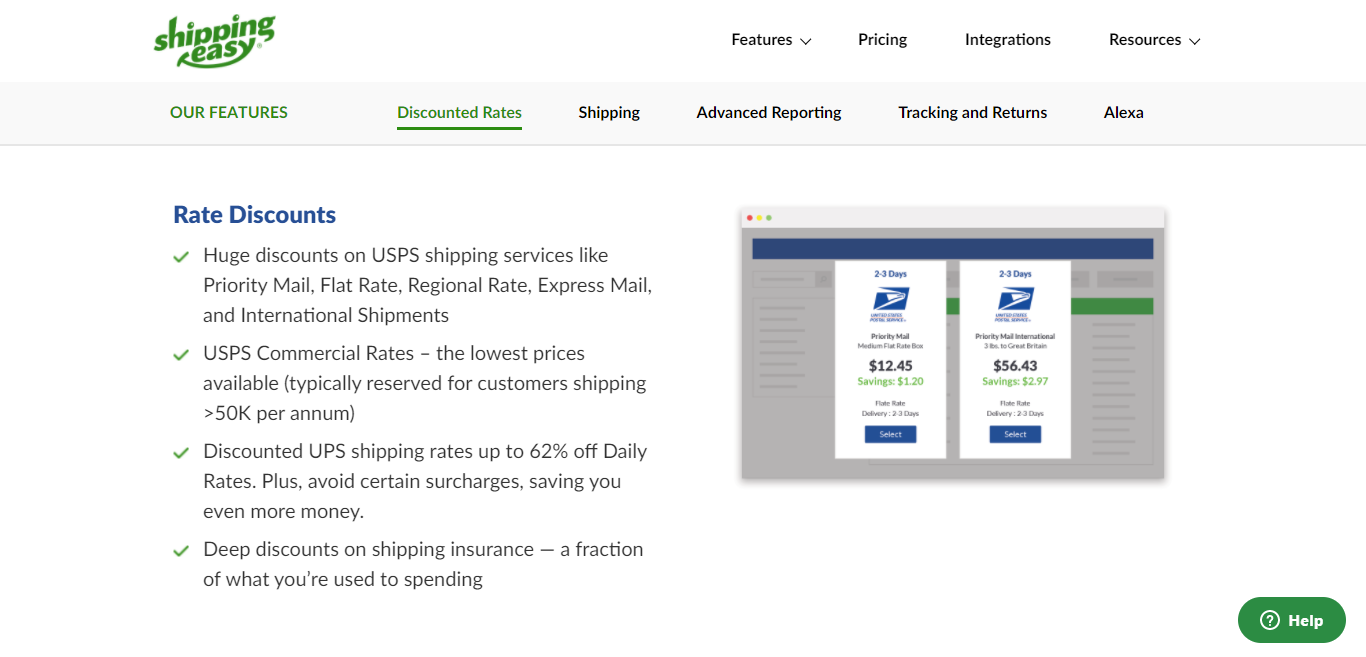 Drop-Shipping
You can connect third-party drop shippers to ShippingEasy. Here, you can filter through their orders, track them, and bill them accordingly. To do this, you should set up third-party billing on your carrier accounts and set up shipping presets to pair this with. You can do this under the 'shipping rule' tab in ShippingEasy; input 'bill to 3rd party account', and you'll now be able to connect to third-party drop shippers. Learn more here.
Alexa Skill
Open the Alexa app and enable ShippingEasy Skill. Once you've connected your account, you can issue voice commands to Alexa to hear order information, buy and print labels, and more. Handy, right?
Shipping Insurance
You can purchase shipping insurance with Shipsurance at discounted rates.
Customer Management
The level of support available will depend on the package you choose. ShippingEasy customer management includes features like:
The ability to tag customers based on commonalities

Access to customer email history

You can view customer contact detail

You can consolidate customer info across all channels
…and more.
Multichannel Sync
ShippingEasy integrates with over 60 eCommerce platforms, shopping carts, and online marketplaces so that you can manage orders from multiple platforms with ease.
Advanced Reporting
ShippingEasy provides you with a wealth of data. But, best of all, you can customize reports to suit your needs. For instance, you can generate reports summarizing your product sales, run shipping reports, and more.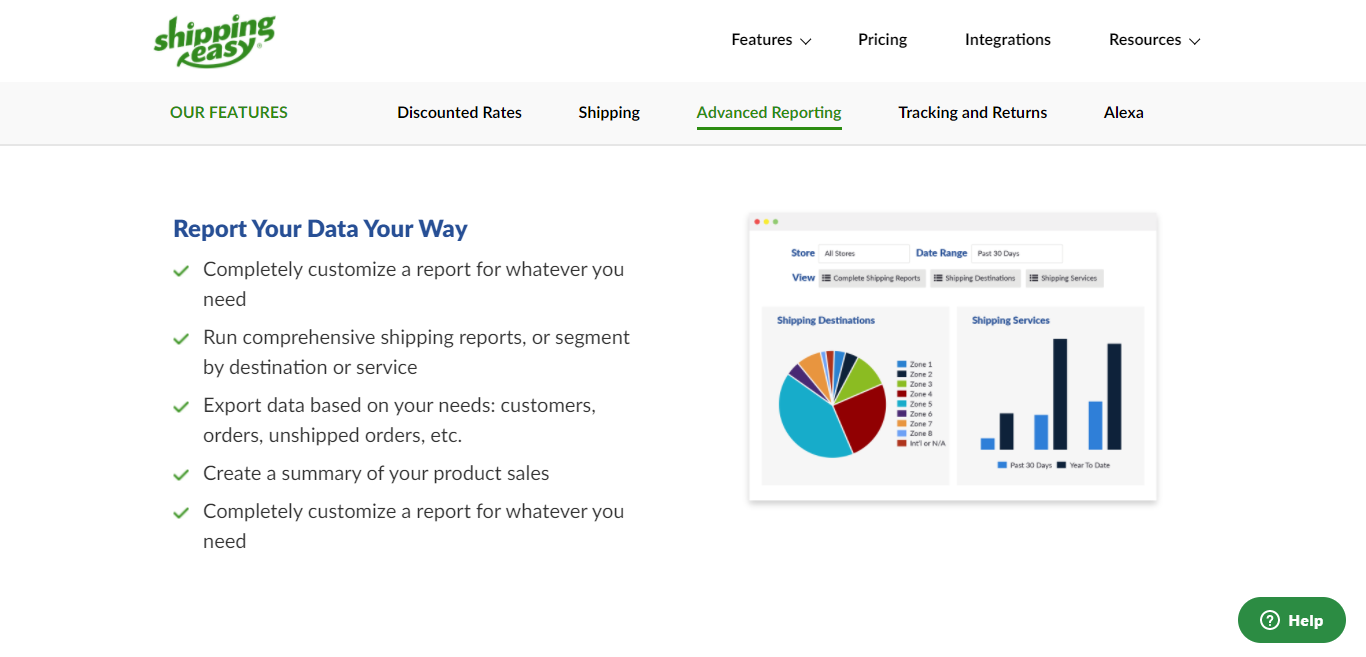 Shipping Confirmation Emails
These are sent to your customers to notify them that their order has been shipped.
Marketing (Including Email Campaigns)
ShippingEasy can use customer data to automatically send marketing emails triggered by specific actions. Or you can design regular email campaigns and send them manually. You'll also have access to their library of built-in email templates to help you get the ball rolling.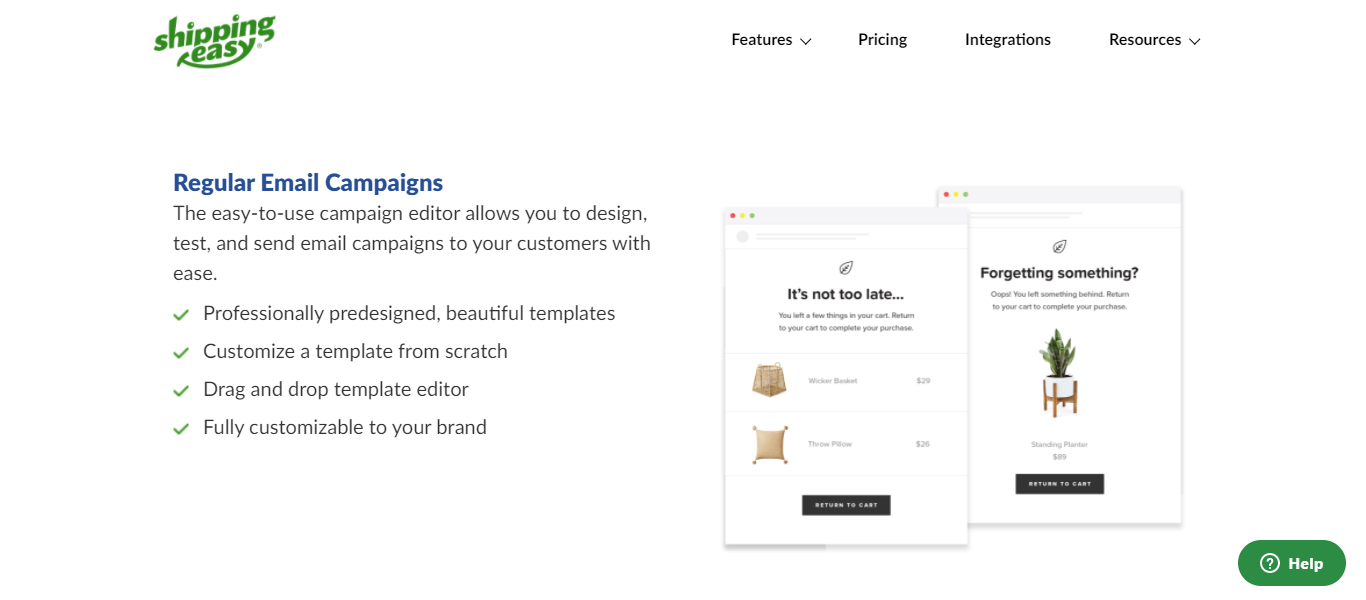 Quick Rate Comparisons
With ShippingEasy's browse rates tool, you can compare carrier rates from providers like USPS, FedEx, and UPS to pick the best deal for your business.
Batch Order Processing
With ShippingEasy, you can select two or more customer orders from the 'orders' page that share the same shipping selections and print labels for them together.
Auto-Generated Barcodes
ShippingEasy can automatically generate barcodes for your shipments to make tracking them easier.
ShipBob's Pricing
When considering any fulfillment solution, affordability will likely be at the top of your list of priorities. At first glance, ShipBob's pricing appears a little complex, so let's break down ShipBob's standard fees:
Receiving:

You'll pay a flat rate of $25 for the first two hours and then $40 per person-hour after that.

Storage:

There's a monthly charge of $40 per pallet, $10 per shelf, and $5 per bin.

Pick and pack:

The first four picks of an order are free, then you'll pay $0.20 per pick from the fifth pick upwards.

Standard packing:

You're given free plain boxes, mailers, tape, and dunnage to pack your orders.

Shipping:

The shipping price is unique to each order, and it'll vary depending on destination, weight, dimensions, shipping service, and more.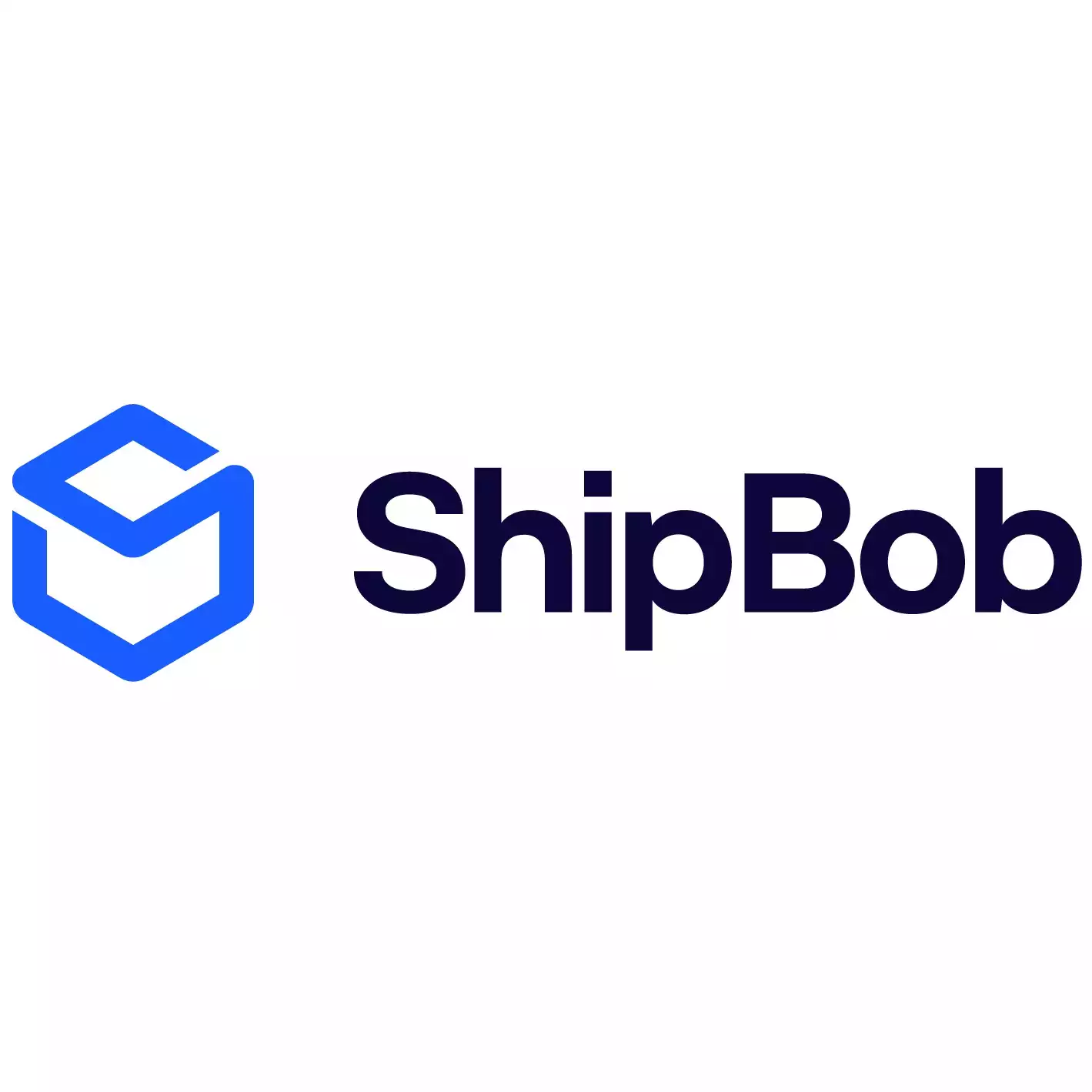 ShipBob Order Fulfillment – Get a Free Quote
Discover the power of omnichannel analytics and reporting through our dashboard, while we take care of picking, packing, and shipping for you.
Request A Quote
We earn a commission if you click this link and make a purchase at no additional cost to you.
Suppose you have additional needs on top of shipping (such as kitting) that aren't included in ShipBob's standard fees. In that case, you'll be given a customized quote.
Also, if you want to try before you buy, contact ShipBob directly to arrange a free demo. This is a great way to get a feel for whether the service is a good fit for your business.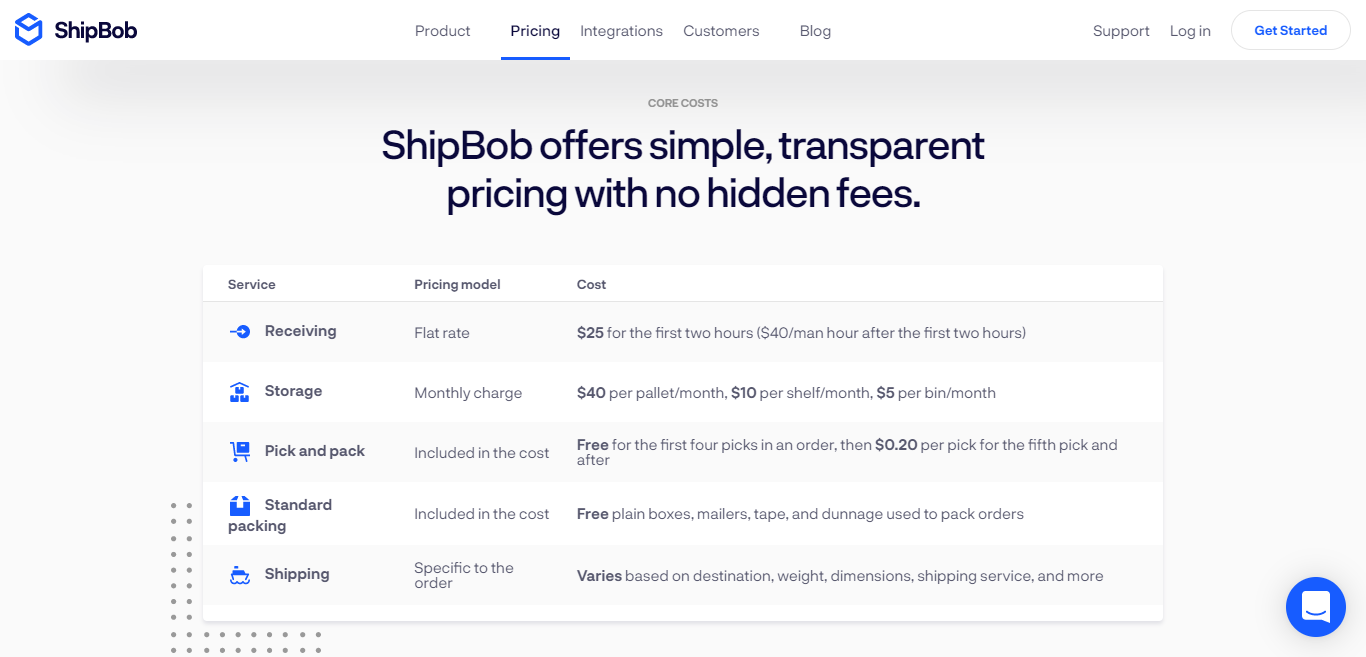 For a brand with "easy" in the name, ShippingEasy does a great job at breaking down their payment plans into simple to understand chunks. No surprise, really.
Unlike ShipBob, ShippingEasy has a range of pricing models starting at $5 a month, increasing up to $159 a month.
Starter:
At $5 a month, this is ShipBob's cheapest plan. This includes 50 shipments a month and is recommended for low-volume merchants. Here, you'll get:
Discounted USPS and UPS shipping rates

Automatic order imports to your dashboard

Custom logos on labels

Access to exclusive cubic discounts;

This means you'll get access to the lowest shipping prices from major carriers like USPS. Often, discounts through ShippingEasy are lower than those listed on the carrier website.

Powerful shipping and order management automation

ConnectEasy – with this, you can send labels directly to your printer for free.
Please note: customers choosing the starter plan will not have access to ShippingEasy's customer support.
Basic:
If you're looking to optimize your shipping, this is the plan for you. For $29 a month, ShippingEasy will handle 500 shipments a month. In addition to the above features, you also get access to customer support via phone, email, chat, and robust reporting features.
Plus:
If you're an established eCommerce business, this plan is worth considering. For $49 a month, you benefit from all the above features, and ShippingEasy will handle 1,500 shipments per month.
Select:
The Select plan is best suited to small to medium-sized businesses needing to streamline their operations. For $69 a month, shipment restrictions are increased to 3,000 shipments a month, plus you get access to all the functionality listed above.
Premium:
At $99 a month, this is ShippingEasy's second most expensive option. Again, you'll have access to the same features included in the Starter and Basic plans, but you can send out a massive 6,000 shipments per month.
Enterprise:
Finally, if you're a large-scale established business, this package at $159 a month is designed with your needs in mind. In addition to the features included in the previous packaged, you'll also benefit from being able to register unlimited users. Plus, you get access to workstations and printers in ShippingEasy's warehouse (at no extra cost), plus you'll get custom configurations from a shipping expert. The shipping capacity is also huge, allowing you to send up to 10,000 shipments per month.
Like ShipBob, you can try ShippingEasy before you buy it, but this time with a 30-day free trial.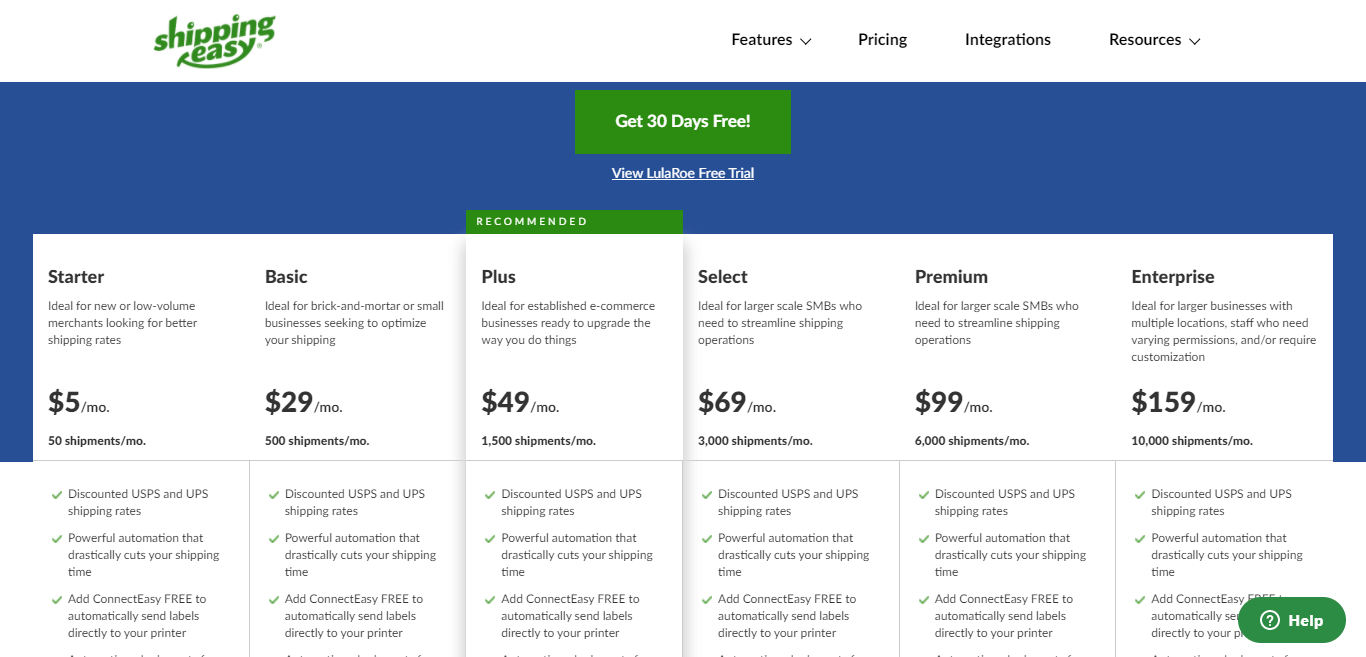 ShipBob's Pros and Cons
We've covered lots of ground here, so let's sum things up by taking a looking at ShipBob and ShippingEasy's pros and cons, starting with ShipBob:
ShipBob's Pros:
It saves time and effort

Its interface is easy to use

You can distribute products across different warehouses

You have access to competitive shipping rates that can be adjusted to suit your needs

ShipBob offers 24/7 customer service
ShipBob's Cons:
ShipBob's two-day shipping fee isn't free to your customers, which may influence them to shop elsewhere.

Although ShipBobos is compatible with iOS and Android, there's no designated app, and accessing your account through your browser can be inconvenient.

Registration isn't straightforward, and it can take up to 24 hours. So that
ShippingEasy's Pros and Cons
Now, let's take a look at ShippingEasy's pros and cons:
ShippingEasy's Pros:
Depending on the needs and size of your business, ShippingEasy may present an affordable option.

It's quick to create shipping labels

ShippingEasy enjoys good user reviews

Its interface is easy to navigate.
ShippingEasy's Cons:
It isn't compatible with all online marketplaces (for example, Wix and Square), meaning you might need to use separate inventory systems.

They don't ship your products for you, making it a poor choice for bigger businesses with more significant outputs looking for a 3PL.

You can't print labels in the order they're imported, which can get confusing.

You can't compare shipping rates from different services from one place.
FAQ'S
Lastly, let's wrap up this review by answering some of the most frequently asked questions we hear about ShipBob and ShipEasy:
Question: Where's ShipBob located?
Answer: ShipBob is located in Chicago, US, and has other fulfillment centers in Los Angeles, San Francisco, Brooklyn, and additional centers in Chicago.
Question: Can I ship internationally with ShipBob?
Answer: Yes, ShipBob can ship your orders to more than 220 territories and countries. However, to get a price for international shipping, you'll need to request a personalized quote.
Question: What can I do if I sell on a platform that doesn't integrate with ShippingEasy?
Answer: ShippingEasy provides you with tools to upload CSV files with all of your orders, making importing easy.
Question: What happens if I ship more than the monthly limit of shipments offered with ShippingEasy?
Answer: Suppose you exceed the number of monthly shipments you pay for. In that case, your account will be blocked, and you'll be unable to purchase additional labels for the remainder of your billing period unless you choose to upgrade.
Question: What marketplaces integrate with ShippingEasy?
Answer: ShippingEasy integrates with many major online marketplaces, including Amazon, eBay, Etsy, WooCommerce, Wish, Walmart, and many more.
Question: What marketplaces integrate with ShipBob?
Answer: Like ShippingEasy, ShipBob integrates with many major outlets, including Amazon, eBay, Shopify, WooCommerce, BigCommerce, Wix, Squarespace, and more.
ShipBob vs ShippingEasy: Our Final Verdict
Both competitors offer a range of features to help you streamline your order fulfillment process.
If you're an SMB with a consistently demanding output, you might be better off opting for ShipBob. Like Amazon, this 3PL solution will take care of your inventory, packaging, and shipping for you, and at a reasonable price too.
However, if you're just starting out, you'll likely be drawn to ShippingEasy. ShippingEasy offers more affordable rates. However, they don't package and ship orders for you, making it better suited to smaller operations that can manage these processes themselves.
With either option, you'll benefit from excellent customer support and a wealth of integrations. But, best of all, outsourcing your shipping process will provide some much-needed peace of mind by reducing your workload, saving you time and money, and ultimately, enhancing your customer satisfaction. Moreover, with exemplary service, you'll have the best possible chance of making a lasting impression in the growing world of eCommerce.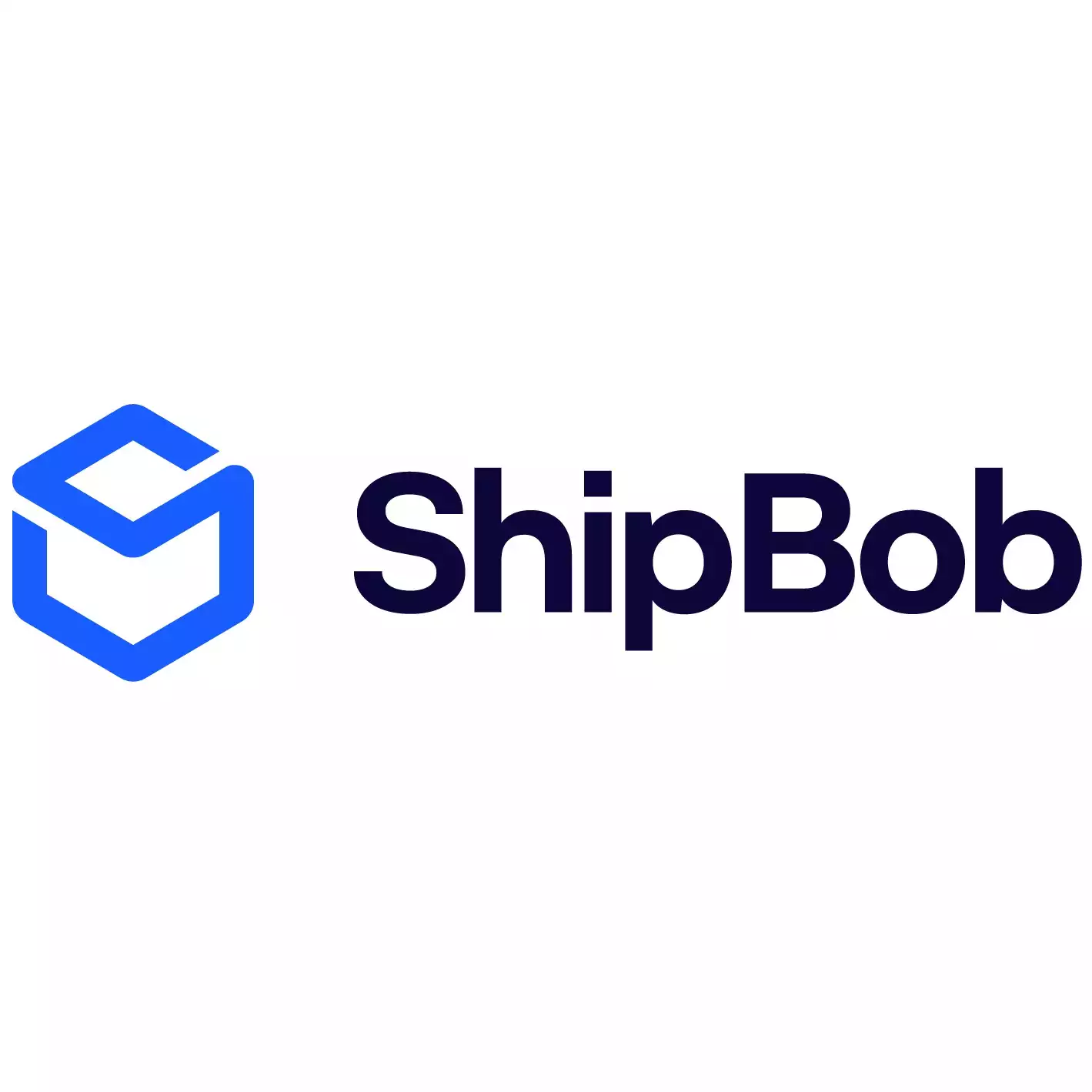 ShipBob Order Fulfillment – Get a Free Quote
Discover the power of omnichannel analytics and reporting through our dashboard, while we take care of picking, packing, and shipping for you.
Request A Quote
We earn a commission if you click this link and make a purchase at no additional cost to you.
So, there you have it! Which, if either of these solutions, will you opt for? Tell us your thoughts in the comments box below!