Last Updated on April 22, 2023 by Ewen Finser
Running an eCommerce business is an exciting affair, but not everyone can get equally enthusiastic about the logistics. This aspect of online selling can be a hassle, especially if you know nothing about the subject! And still, the importance of order fulfillment and shipping can't be underestimated. After all, customers have come to expect Amazon-like speeds from online retailers and, naturally, want their parcels as soon as possible.
So, how can you manage this as an online merchant?
This is where logistics platforms like ShipBob and Shippo come into their own. They'll take care of everything, from processing orders to storing and packing your items to finally shipping them out to customers.
To help you decide which (if either) platform meets your needs, we've put both ShipBob and Shippo under the microscope. Hopefully, you'll find all the info you need in this comparison to make an informed purchasing decision.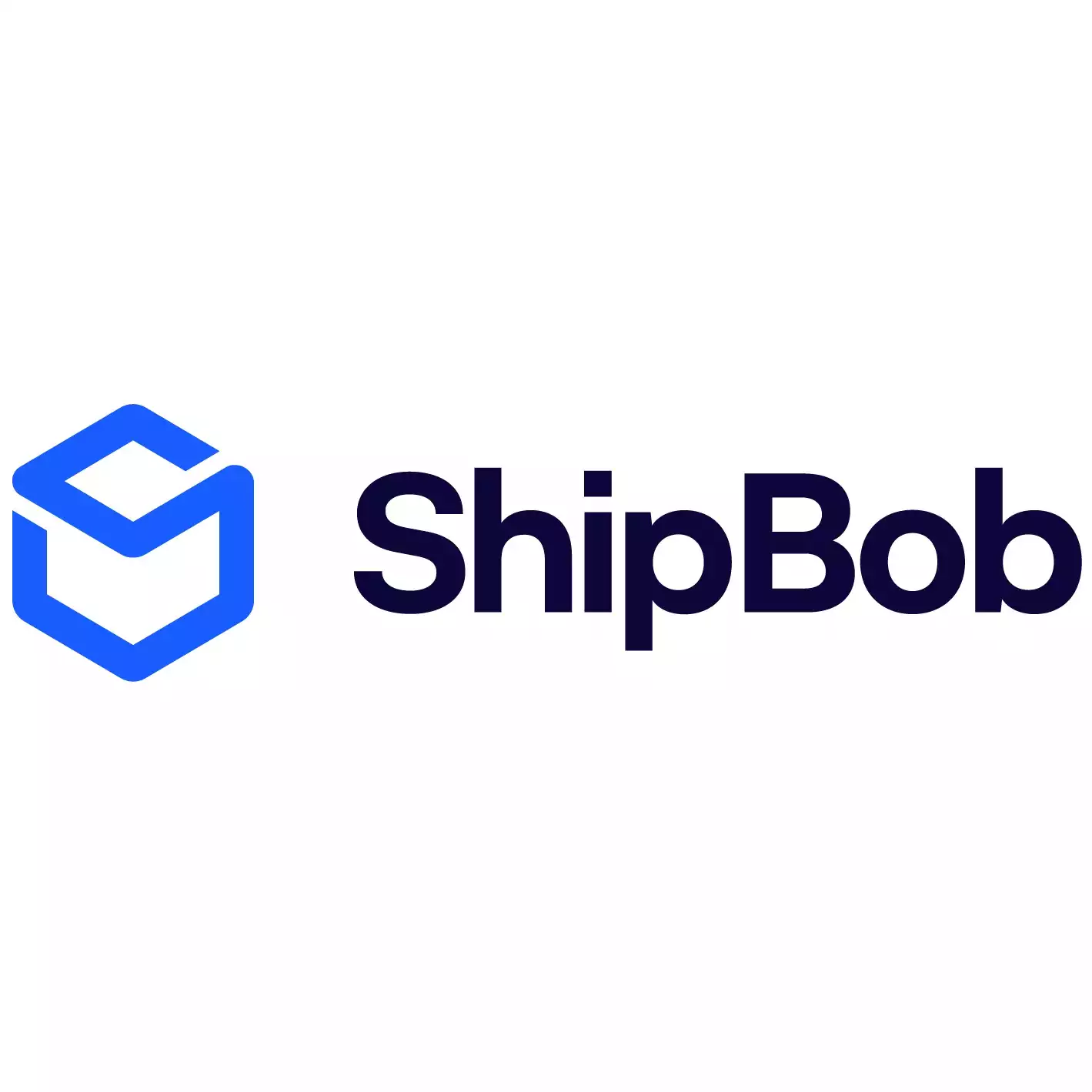 ShipBob Order Fulfillment – Get a Free Quote
Discover the power of omnichannel analytics and reporting through our dashboard, while we take care of picking, packing, and shipping for you.
Request A Quote
We earn a commission if you click this link and make a purchase at no additional cost to you.
There's lots of ground to cover, so let's get started!
Main Differences Between ShipBob vs Shippo
The main differences between ShipBob vs Shippo are:
ShipBob is a complete logistics and fulfillment partner, whereas Shippo only makes shipping simpler and cheaper by providing features to improve the order fulfillment process.

Shippo is responsible for storing your own items and handling packaging, whereas this isn't the case with ShipBob.

Shippo has a clear and transparent per-month pricing scheme, whereas ShipBob's pricing depends on how much you're storing, how large these items are, and how long it takes to unload them.

ShipBob makes you benefit from express shipping thanks to strategically placed warehouses, whereas Shippo uses top shipping carriers, but the actual shipping time is still dependent on where you, yourself, have stored your items.

ShipBob is best suited to small to midsize businesses, whereas Shippo may make more sense for more prominent brands with their own warehouses and fulfillment centers.

ShipBob offers a free version of its services that only requires you to pay for each shipping label, whereas this isn't something Shippo offers.
ShipBob vs. Shippo: Their Key Similarities
ShipBob and Shippo both provide in-depth tracking details to customers so they can stay up to date on the status of their orders.

Both offer return management features. With ShipBob, this is handled for you entirely, whereas Shippo enables you to provide return labels for the customer's ease.

ShipBob and Shippo both facilitate international shipping.

You benefit from discounted shipping rates with both shipping services.

Both Shippo and ShipBob integrate with all major online marketplaces and eCommerce platforms so you can automate your order management and shipping.

Both services over 30 day free trials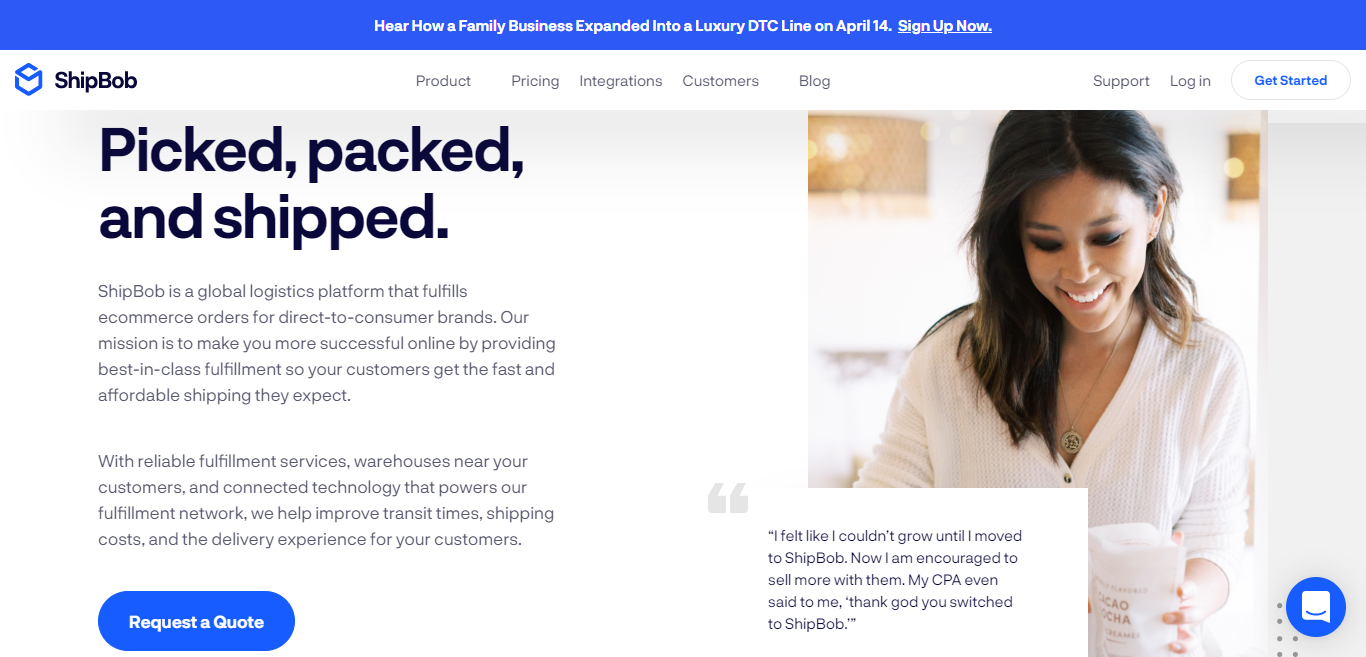 ShipBob's a fully-fledged logistics platform that manages eCommerce orders for direct-to-consumer brands. It takes care of warehousing, picking, packing, and shipping your items, so that you can benefit from a streamlined order fulfilment process.
ShipBob has been around since 2014 and has grown significantly in just a few years. The company quickly went from working out of an apartment to managing hundreds of thousands of square feet of warehouse space.
Their target audience is small to mid-sized businesses wanting to deliver excellent customer service. At the time of writing, ShipBob supports over 5,200 eCommerce businesses and employs more than 900 people. Not bad!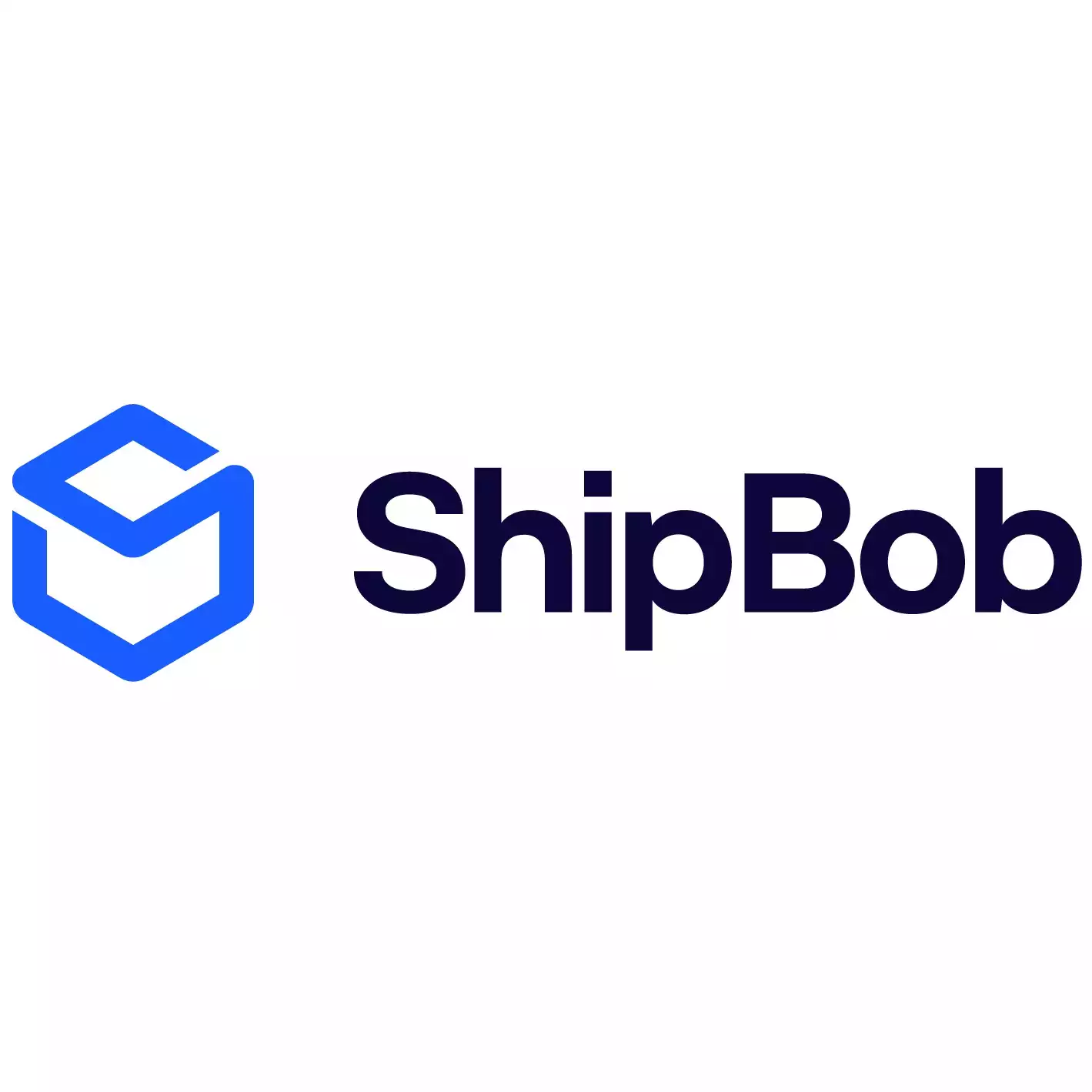 ShipBob Order Fulfillment – Get a Free Quote
Discover the power of omnichannel analytics and reporting through our dashboard, while we take care of picking, packing, and shipping for you.
Request A Quote
We earn a commission if you click this link and make a purchase at no additional cost to you.
Read our full ShipBob review here.
Who's Shippo?
Shippo comes with a straightforward tagline: "Shipping Handled." Unlike ShipBob, however, Shippo isn't a logistics partner. Instead, it's a shipping management service that helps you find the best shipping rates, print the correct labels, and provide excellent customer service throughout the order fulfillment experience.
Shippo allows you to track parcels and offer refunds. But when it comes down to it, lots of the responsibility still lies with you. I.e., you'll need to store and pack your own parcels or find a third party to handle this for you.
With this significant difference in mind, who exactly is Shippo for? Shippo serves eCommerce retailers, fulfillment companies, and sellers on eCommerce marketplaces selling larger volumes of inventory.
When it comes to numbers, Shippo is an impressive competitor. Over 100K brands trust Shippo with their products, which amounts to an astounding 100 million shipments made every year!
Considering these large numbers, you might be surprised to learn that Shippo has only had one extra year to achieve all this success. It was founded in 2013, with headquarters in San Francisco.
But do all these numbers amount to a better fulfillment service? Let's find out…
ShipBob's Features
As we've just said, ShipBob is a holistic logistics partner that takes care of the entire fulfillment and shipment process for you.
This occurs in four steps:
ShipBob connects to your store and receives all your product information

ShipBob securely stores your inventory in one or more of its fulfillment centers

Customers place an order via your store, which is processed by ShipBob

ShipBob picks, packs and ships the order directly to your customer on your behalf.
As you can see, ShipBob does the majority of the heavy lifting for you. So you just need to focus on marketing your business and providing consumers excellent customer support.
For this purpose, ShipBob comes with an impressive array of turnkey integrations that enable you to quickly get set up with all the major eCommerce platforms and marketplaces.
These include:
Shopify

Magento

WooCommerce

Amazon

Walmart

Squarespace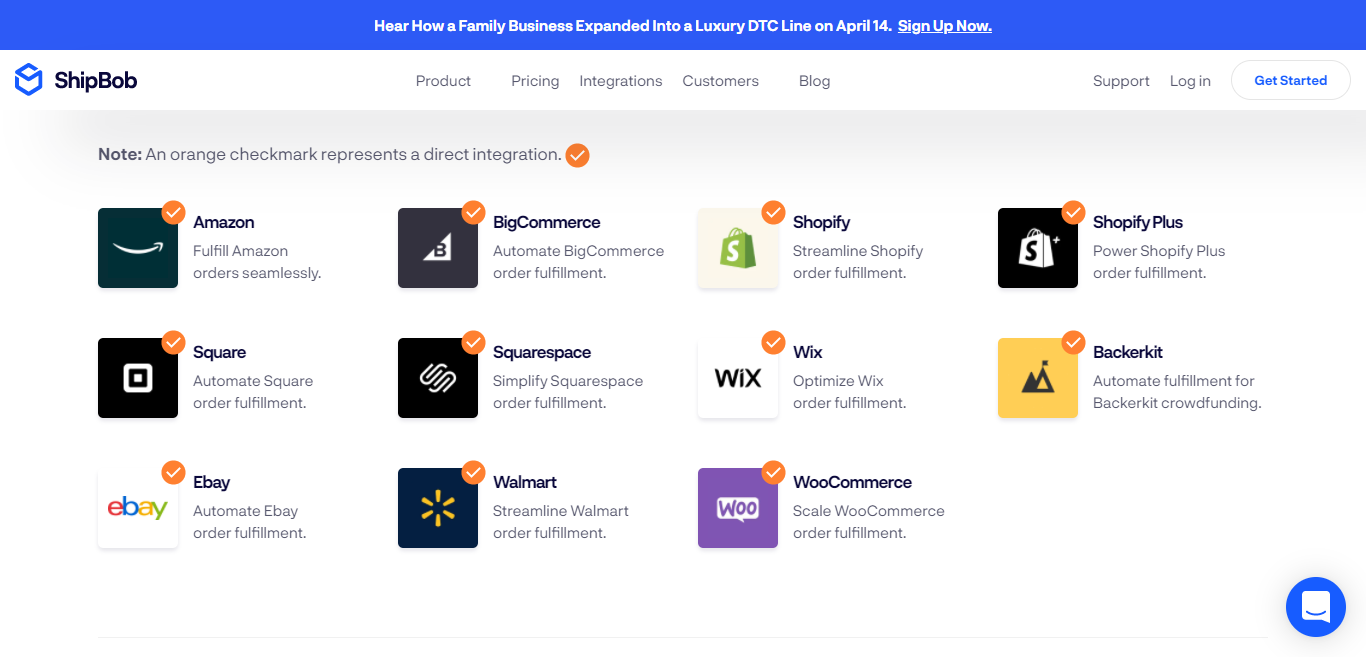 Distributed Inventory and Express Shipping
ShipBob boasts a network of warehouses dotted across the US, making it possible to split your inventory across multiple locations. This, in turn, empowers ShipBob to ship faster (in some cases, as little as 2 days) to more locations across the country. When an order is placed, ShipBob automatically identifies the closest warehouse and assigns it to the appropriate carrier.
With such quick turnaround times, you can confidently display express shipping options on your online marketplace profiles and eCommerce store. Needless to say, this is an enticing selling point!
Another bit of good news is that ShipBob offers international shipping! They can ship orders to over 220 countries and territories. Quotes for this service are available on request.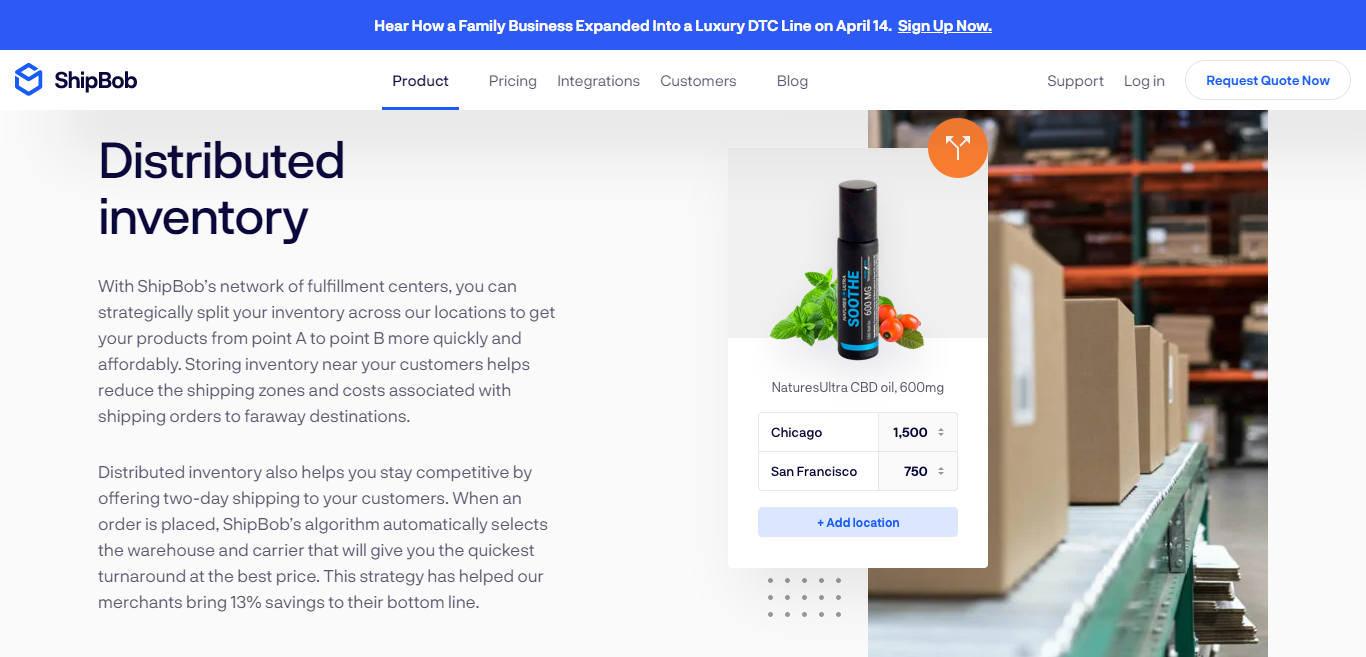 Order Management
ShipBob provides complete visibility over the order management process, meaning you can review which items have been processed, shipped, and where each item's going. You can also review the estimated shipping and arrival dates and quickly find shipping-related info like weights, dimensions, and the carrier service.
From the same place, you can also:
Manage subscriptions

Make changes to orders post-purchase

Map your store's shipping options with ShipBob

Automatically share tracking info with customers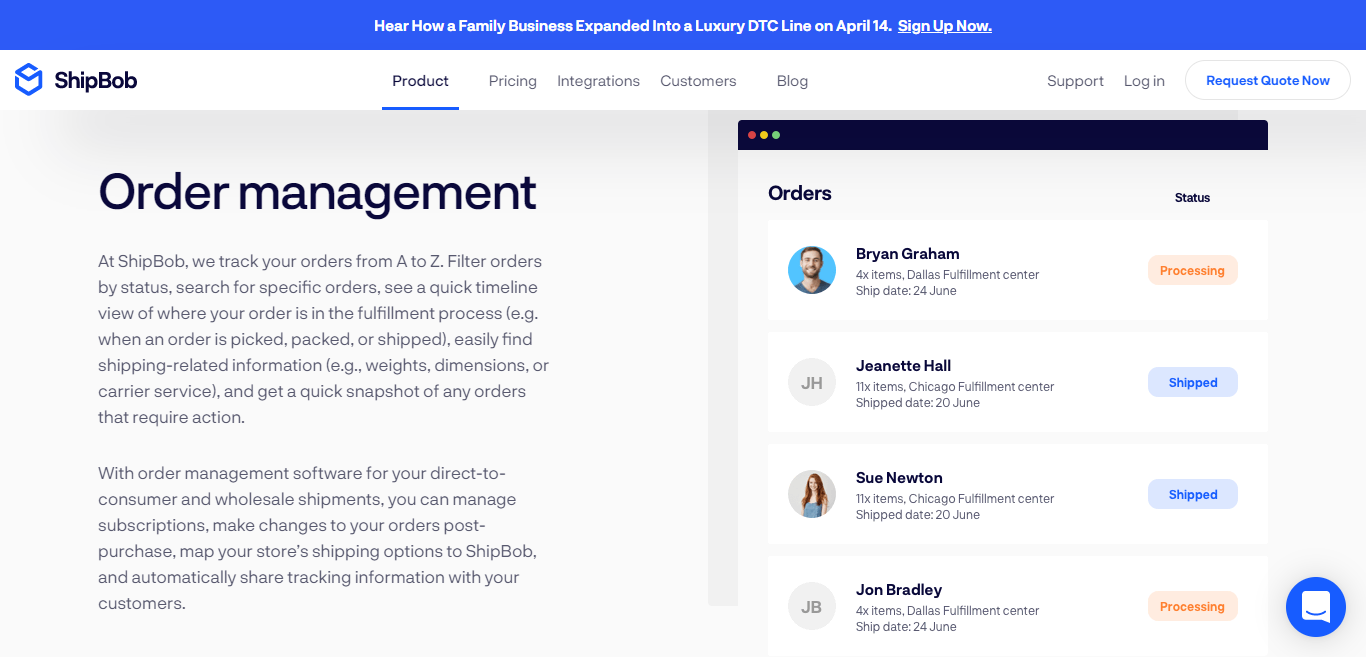 Inventory Management
Just because your inventory is stored in ShipBob's warehouses doesn't mean you don't have control over it. With ShipBob, you can:
Review the status of items in Shipbob's warehouses

See how much inventory is at any location.

Identify slow-moving inventory with high storage costs. Then, reallocate your budget and efforts to focus on your best-selling items.
ShipBob also sends automatic reminders when your inventory needs replenishing. You can even bundle your products for promotions, make inventory transfer requests, and more.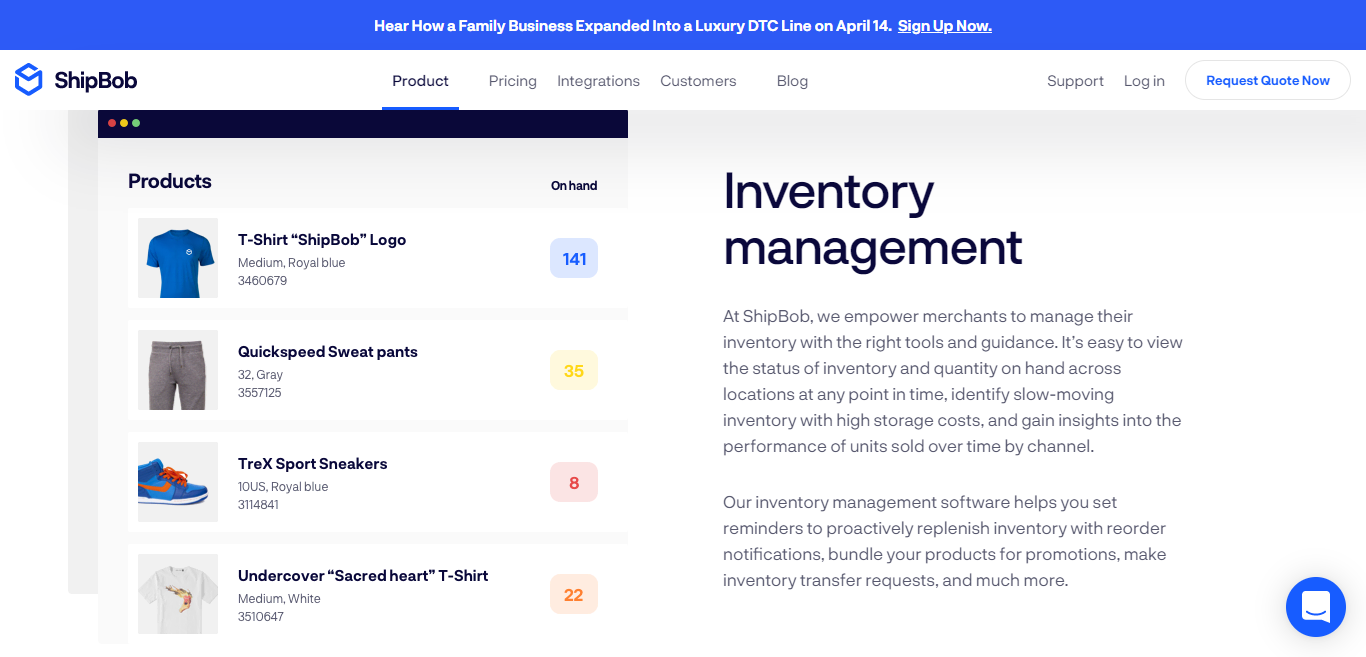 Data at Your Fingertips
ShipBob provides a detailed analytics feature. Besides displaying your gross profit margins and total revenue, you get an insight into your inventory and warehousing. This makes it easy to make data-fuelled decisions about which fulfillment centers to stock and when.
ShipBob's data also makes it clear the impact promotions have on your stock and profit levels. On top of that, you can also: review the average cart value, shipping costs, days in transit, total fulfillment costs per order, storage cost per unit, and more.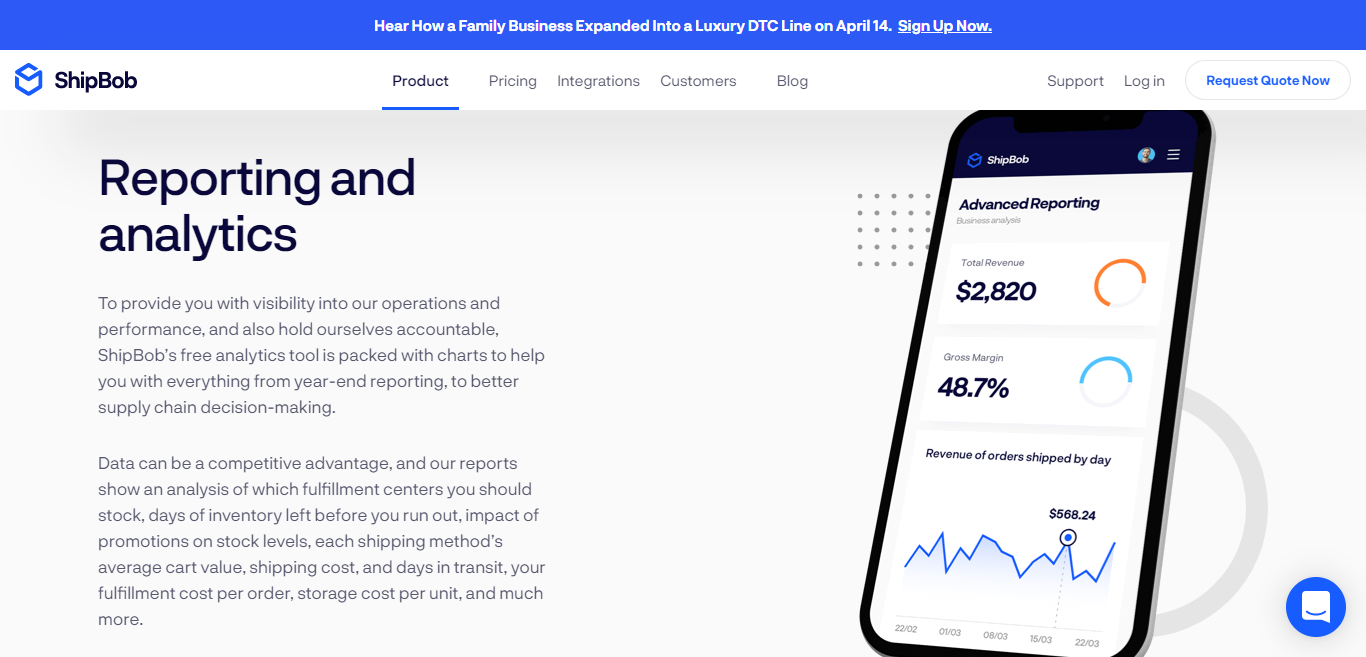 Customer Experience Management
Finally, ShipBob cares about the customer experience. In that spirit, you can request custom-printed boxes or plain packaging. The latter is free. You can also use ShipBob's return management service, allowing customers to generate return shipping labels and track their returns. ShipBob then processes these products and gets them back into inventory efficiently.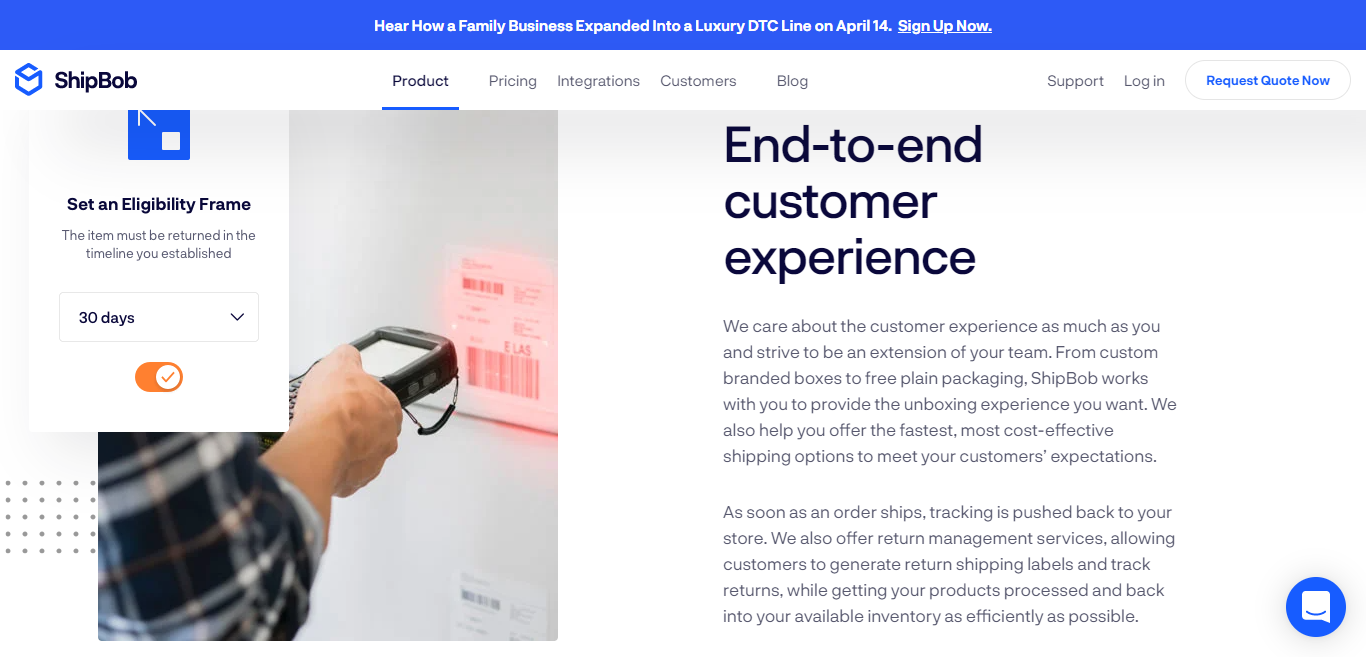 ShipBob's Pricing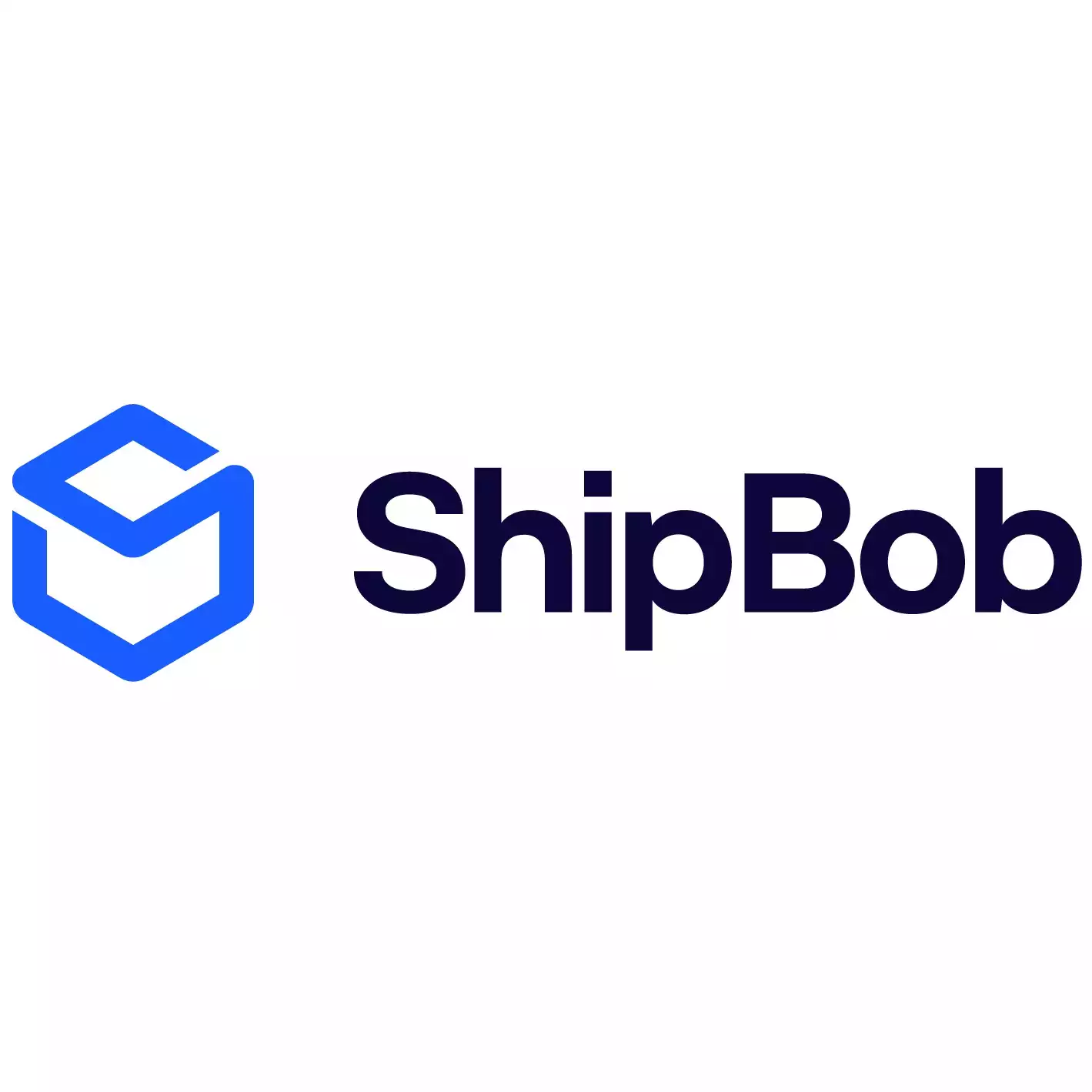 ShipBob Order Fulfillment – Get a Free Quote
Discover the power of omnichannel analytics and reporting through our dashboard, while we take care of picking, packing, and shipping for you.
Request A Quote
We earn a commission if you click this link and make a purchase at no additional cost to you.
There's a flat-rate fee of $25 for the first two hours it takes staff to offload your items when they receive your inventory. After that, it costs $40 per hour.
Storage is charged monthly. A pallet costs $40 per month, a shelf costs $10 per month, and a storage bin costs $5 per month.
The first four picks and packaging are included for free. After that, it costs an additional $0.20 per pick. Standard packaging is also included in the cost. But, if you'd like to use custom packaging, send ShipBob your branded boxes, envelopes, etc., pay for its storage, and ShipBob will handle the rest.
Finally, shipping costs are specific to each order and vary depending on the destination, weight, dimensions, and the chosen shipping service.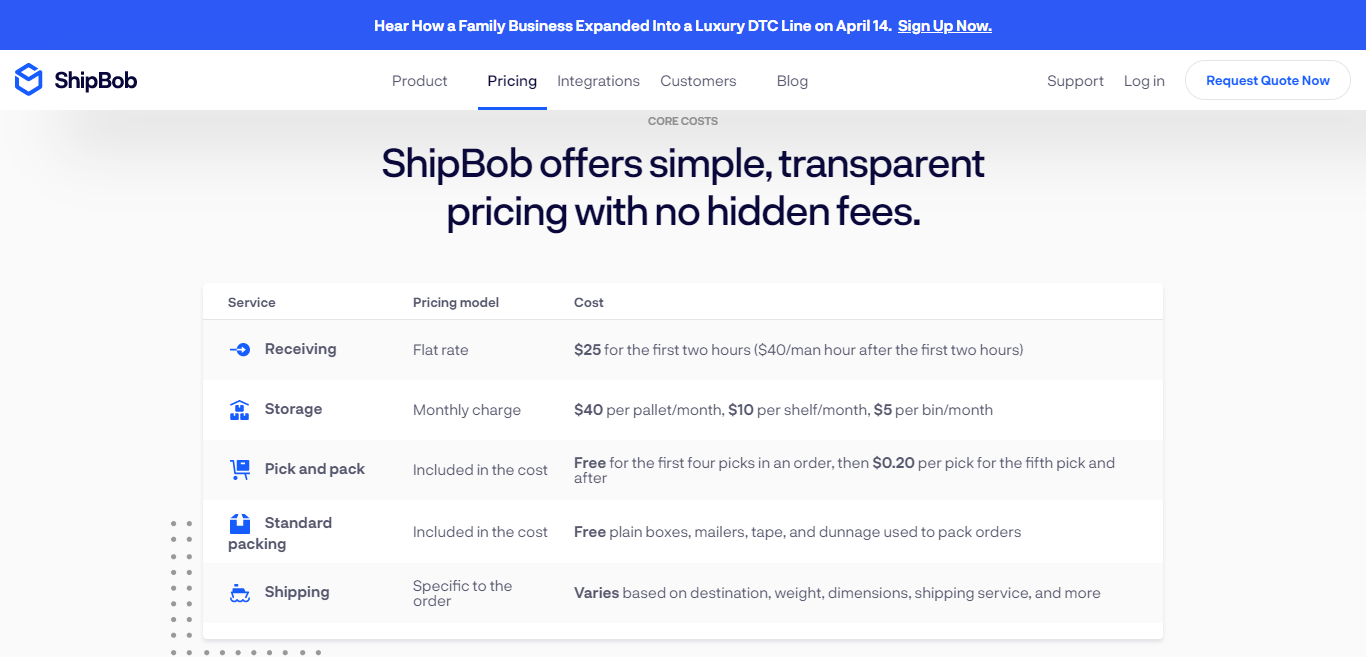 Shippo's Features
Shippo's a SaaS that simplifies the order fulfillment process. It integrates with all leading eCommerce platforms and marketplaces, including:
Shopify

WooCommerce

Square

Wix

Magento

Webflow

Squarespace

Weebly

GoDaddy

Amazon

Etsy

eBay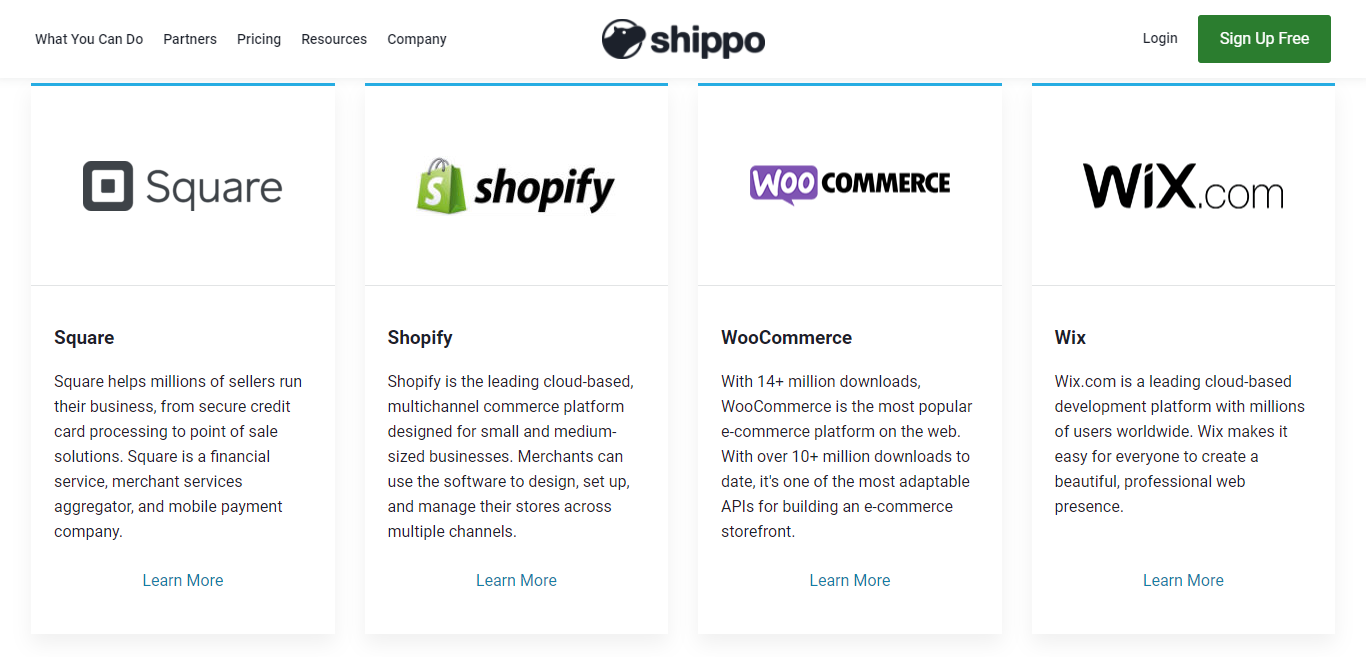 Shippo's website tells you quite clearly "What you can do," including connecting your existing tech stack, creating shipping labels, managing the customer experience, and growing your business. Let's take a look at each of these in more detail:
Create Shipping Labels
Shippo makes it easy to generate shipping labels. Once you've integrated Shippo with your preferred eCommerce platform, your order information syncs. This enables you to automatically create labels based on business rules. For example, you can assign a shipping carrier or package depending on the product type, weight, total order quantity, etc.
It's worth noting, Shippo facilitates batch label printing, which is well worth utilizing if you have lots of orders to keep track of.
You can also compare shipping rates in real-time, so there's the potential to save money on every order you send out. Plus, you also get access to discounted rates from USPS, DHL, UPS, and more. You can even schedule carrier pickup with USPS or DHL express, so shipping an order of parcels is as easy as waiting at your doorstep.
If you want to offer customers hassle-free returns, you can. Return labels can be placed in your customer's packages and are valid for up to a year. You're then charged for the shipping based on weight. Please note: Shippo's return labels can only be used for domestic returns.
Lastly, you can add multiple users to your account, which is excellent if you have a team working with you behind the scenes. Plus, you can also create daily manifests and SCAN forms to fulfill carrier requirements.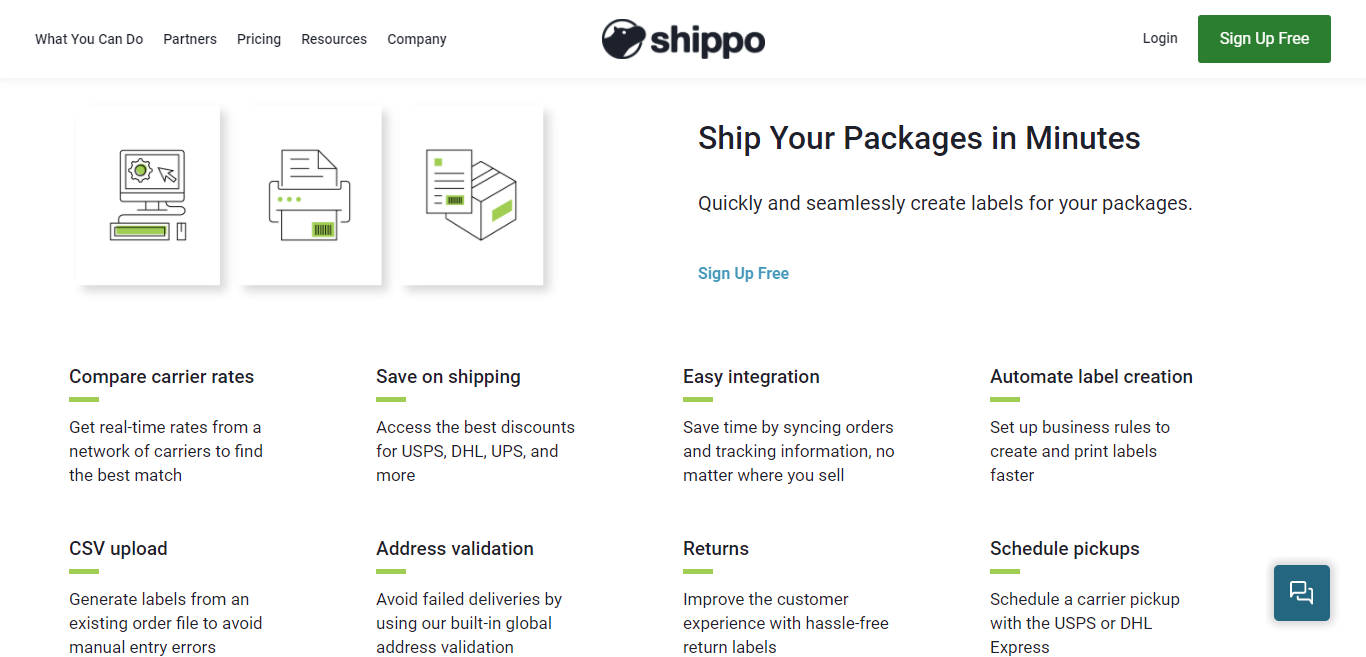 Manage The Customer Experience
Customizing your shipping experience is easy with Shippo. You can personalize your shipping labels, packing slips, and more to offer a unique, branded experience. This also includes branded tracking pages that provide customers with real-time shipment information and tracking.
So shoppers can keep an eye on their estimated arrival time, compare it to the original ETA, and review their order's tracking history. Plus, Shippo allows you to automatically send shipping notification emails that tell your brand story. All this goes a long way to enhance the customer experience.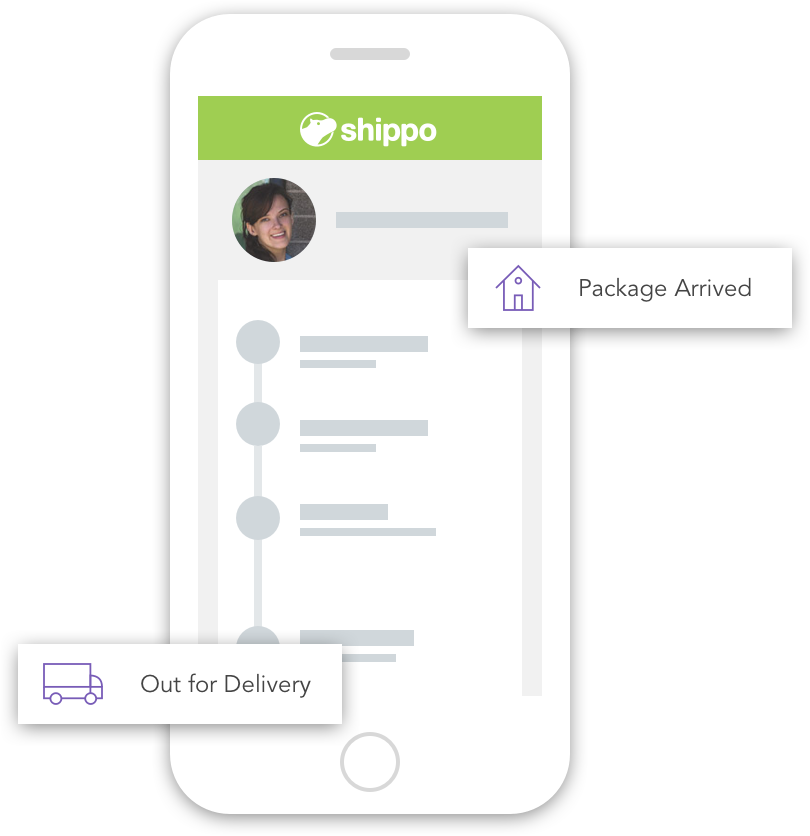 Grow Your Business
Shippo supports you as you grow your business, even internationally. You can enter the global market by leveraging Shippo's international network of carriers and benefitting from pre-filled delivery documentation required at customs.
That's not the only thing Shippo handles automatically. While you can make individual in-line edits to separate orders in your workflow, you can automatically validate US addresses to prevent manual errors. Shippo also pre-fills the insurance amount based on the imported order value and pre-fills the package weight with the order's weight details.
You can even set up business rules to create and print labels faster and manage orders from multiple stores, unifying the fulfillment process.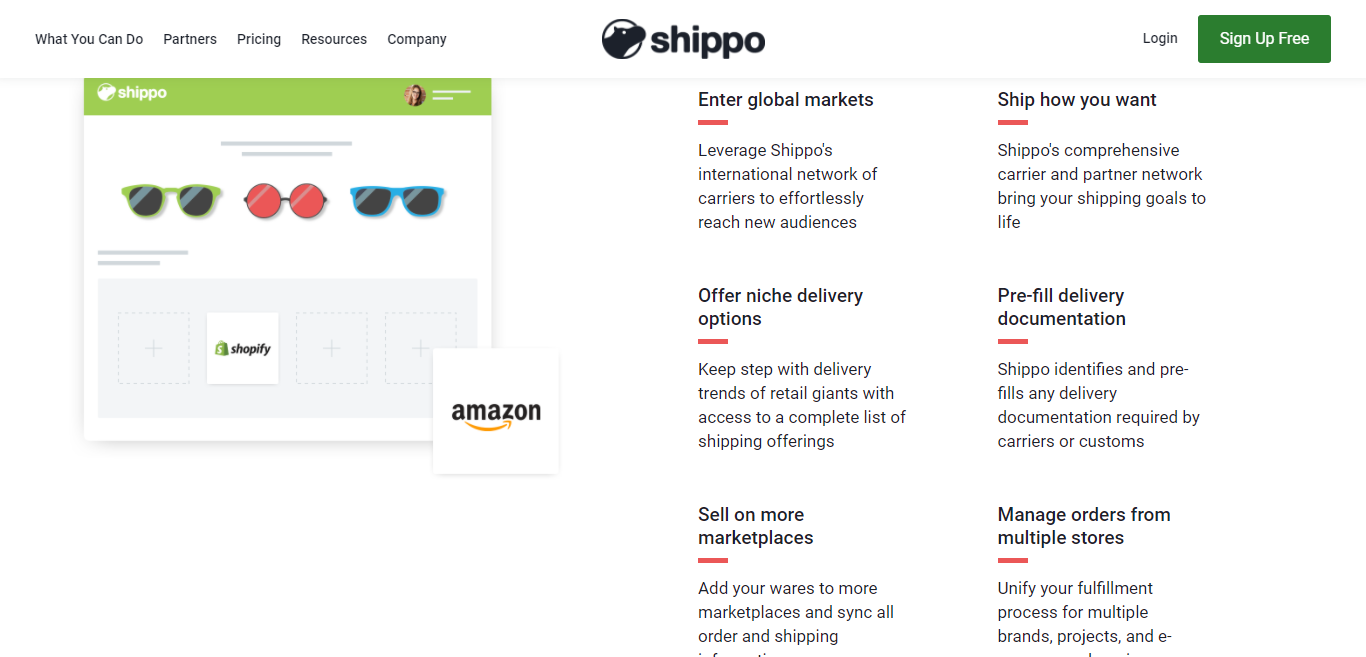 So, what will all of these features cost you?
Shippo's Pricing
Good news! Shippo offers a no-obligation, free plan, which means no monthly fees or even per-label fees with Shippo's default carriers. You'll still get access to the best USPS, UPS, and DHL express discounts and receive email and live chat support. Shippo makes its money here by charging 5 cents per label if you use shipping carriers outside their default selection (USPS, UPS, and DHL express). However, over 55 other carriers are available for the extra charge.
You unlock more features with the Professional plan, which starts at $10 a month. Costs hinge on how many shipping labels you'll be sending – $10 gets you 60 labels per month, but for £200, you can send as many as 10,000.
This plan doesn't charge a per-label fee with any carrier, plus you can:
Set up automation

(For example, automatically customize labels based on item type or quantity, or automatically choose a specific carrier)

Create a branded customer experience with notification emails and shipping labels

Add up to five users to your account
Shippo also offers a Premier account. This is suited to merchants with a defined fulfillment flow that needs extra customization. This plan allows you to register 15 users to your account, provides technical implementation assistance and dedicated customer support. If this is of interest, get in touch with Shippo's sales team for a custom quote.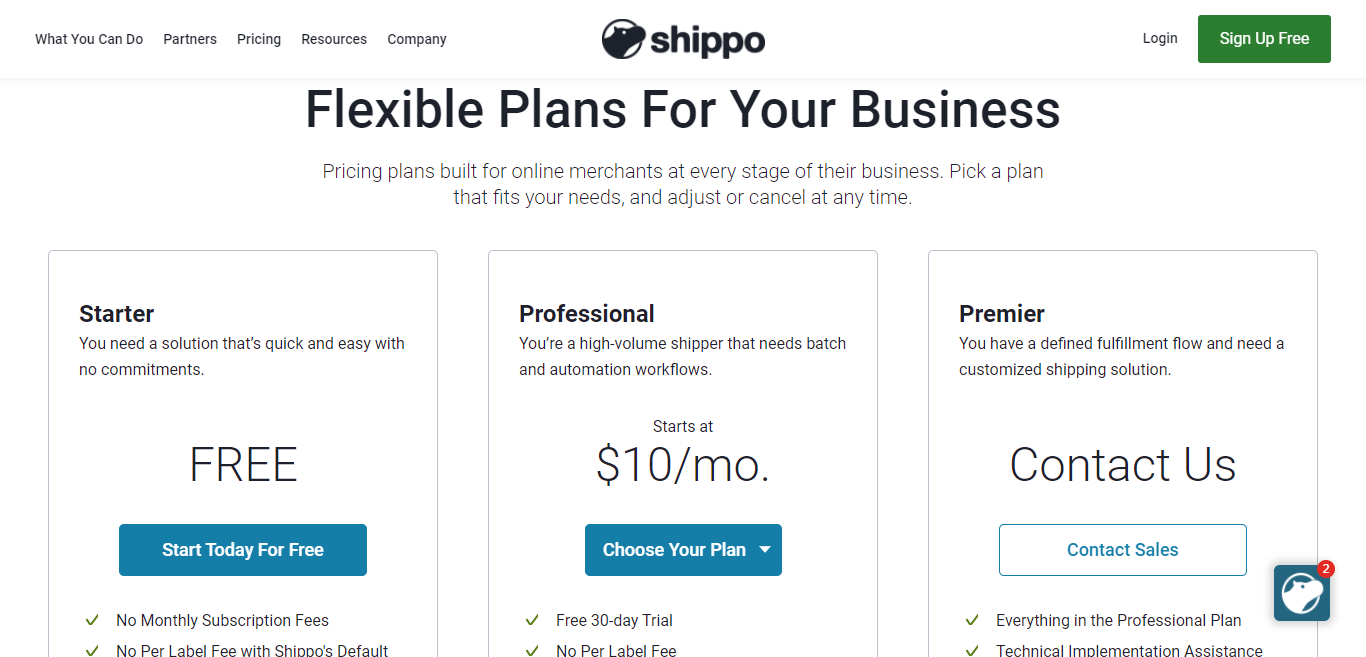 ShipBob vs. Shippo: FAQs
Before we go, we thought we'd round off this review by answering some of the most frequently asked questions we hear about ShipBob and Shippo:
Question: What customer service do ShipBob and Shippo provide?
Answer: Shippo comes with email and live-chat customer support on all its plans ( the free program included). The team operates between 6 a.m. to 6 p.m. PT, Monday through Friday, and 6 a.m. to 2 p.m. PT, Saturdays and Sundays. They also have an online help center where you can find the answers to commonly asked questions, troubleshoots, and guides.
You can reach ShipBob's team by clicking the help button on your dashboard, sending an email, or giving them a call. The Help button leads to the help center.
Here you'll find materials explaining its integrations, how to get started, and how to manage your inventory and products through its platform. ShipBob aims to reply to emails within two hours, and their phone line is open Monday through Friday between 9 a.m. – 5 p.m. CST.
Question: What do customers say about ShipBob and Shippo?
Answer: ShipBob enjoys a favorable 4.1 rating on Trustpilot. Still, opinions are split distinctly between "excellent" and "bad," which might be off-putting to you.
While some praise the software as super easy to use and for providing a great onboarding experience, some negative reviewers go as far as to call the tool a scam. These reviews warn of hidden costs, inaccurate quotes, and slow response times from customer support.
Shippo has more solid reviews, with 554 reviews on Capterra and an average score of 4.9. It's praised for being easy to use and being an excellent tool for Etsy and eBay sellers on a small scale. Some users have pointed out issues getting refunds and have criticized the lack of flat USPS rates.
Question: Can I ship internationally with ShipBob and Shippo?
Answer: Yes! You can ship abroad with both services, although how they assist with this differs significantly. ShipBob can take care of the entire process for you once you've requested and accepted a quote for this service.
Whereas Shippo requires you to handle the order processing yourself. Still, it does support you by automatically pre-filling important information for custom forms.
Question: Who's Shippo intended for?
Answer: While Shippo aids individual merchants with its free and cheaper plan for those with a smaller inventory, its key features are better suited to more prominent brands. Shippo can help fulfillment centers and warehouses generate bulk printing labels automatically and get the best rates for mass orders.
ShipBob vs. Shippo: Our Final Thoughts
While both ShipBob and Shippo can streamline your order fulfillment process, they offer vastly different services. ShipBob is best for those who don't want any hand in fulfillment and don't have the space to stock their inventory.
By storing your products with ShipBob, you get access to faster shipping and benefit from a wide range of packaging and shipping options. That said, ShipBob is likely too expensive for individual sellers.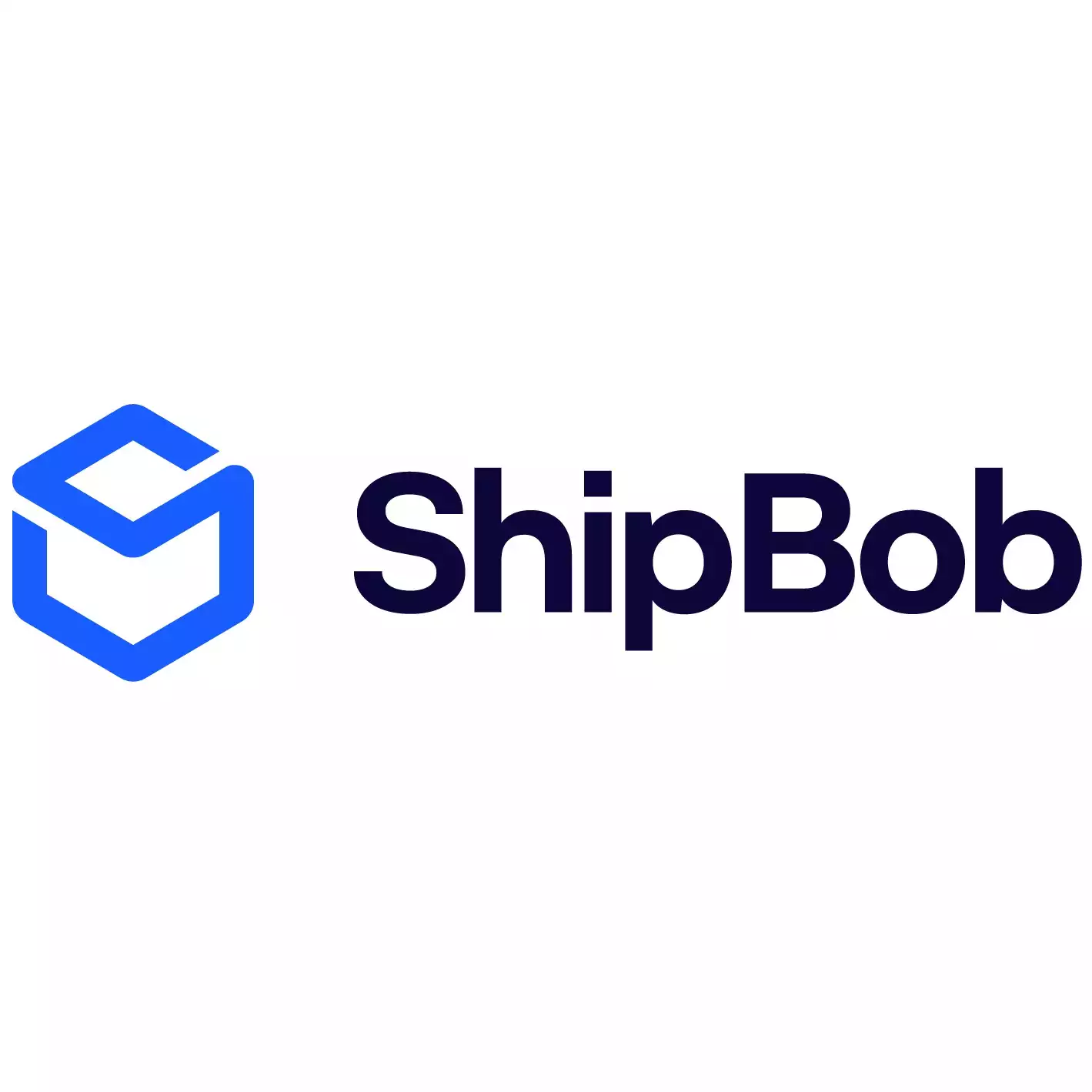 ShipBob Order Fulfillment – Get a Free Quote
Discover the power of omnichannel analytics and reporting through our dashboard, while we take care of picking, packing, and shipping for you.
Request A Quote
We earn a commission if you click this link and make a purchase at no additional cost to you.
In contrast, Shippo still leaves a lot of the hassle with you – most notably, you still have to stock and pack your own products. This makes the cheaper shipping rates, shipment tracking, and customization great for individual sellers with minimal inventories. On the opposite end of the spectrum, Shippo is also an excellent option for massive warehouses, fulfillment centers, and large brands wanting to save time and money on bulk orders.
With services as day and night as ShipBob and Shippo, you probably know which is more applicable to your eCommerce business already. Let us know in the comments below which shipping service is more appealing to you!