Last Updated on April 22, 2023 by Ewen Finser
Have you recently started a new venture? Or perhaps you're already a well-established business, but you're struggling to manage your inventory and meet customer demand? Either way, you might want to consider a fulfillment solution like ShipBob or ShipMonk to help streamline your eCommerce shipping process.
But, how do you choose the best option for you? To help with this, we're putting ShipBob and ShipMonk under the microscope and comparing the two to help you decide which, if either, platform suits your needs.
There's plenty of ground to cover, so let's delve straight in…
Main Differences Between Shipbob vs ShipMonk
The main differences between Shipbob vs ShipMonk are:
ShipBob offers a free trial, whereas ShipMonk doesn't.

Unfortunately, Shipmonk has fewer fulfillment centers: there are only three in the US, whereas ShipBob has 13 in the US, one in Canada, one in Ireland, and one in the UK.

ShipBob's policies surrounding custom packaging are confusing, and there are limits on what orders can and cannot be customized, whereas ShipMonk seems to allow custom packaging on all orders.

ShipMonk doesn't offer global fulfillment, whereas ShipBob does

ShipMonk offers Seller Fulfilled Prime, whereas ShipBob doesn't. Seller Fulfilled Prime allows Amazon sellers to list their products on Amazon as 'Prime Eligible' while using a fulfillment service other than Amazon.
ShipBob vs ShipMonk: Their Similarities
Both companies offer inventory management services.

Both ShipBob and ShipMonk will ship to customers on your behalf

Both offer shipping discounts with major carriers like UPS

ShipBob and ShipMonk both offer returns management processes

Both offer a decent range of eCommerce integrations, including Shopify, PayPal, Weebly – to name a few!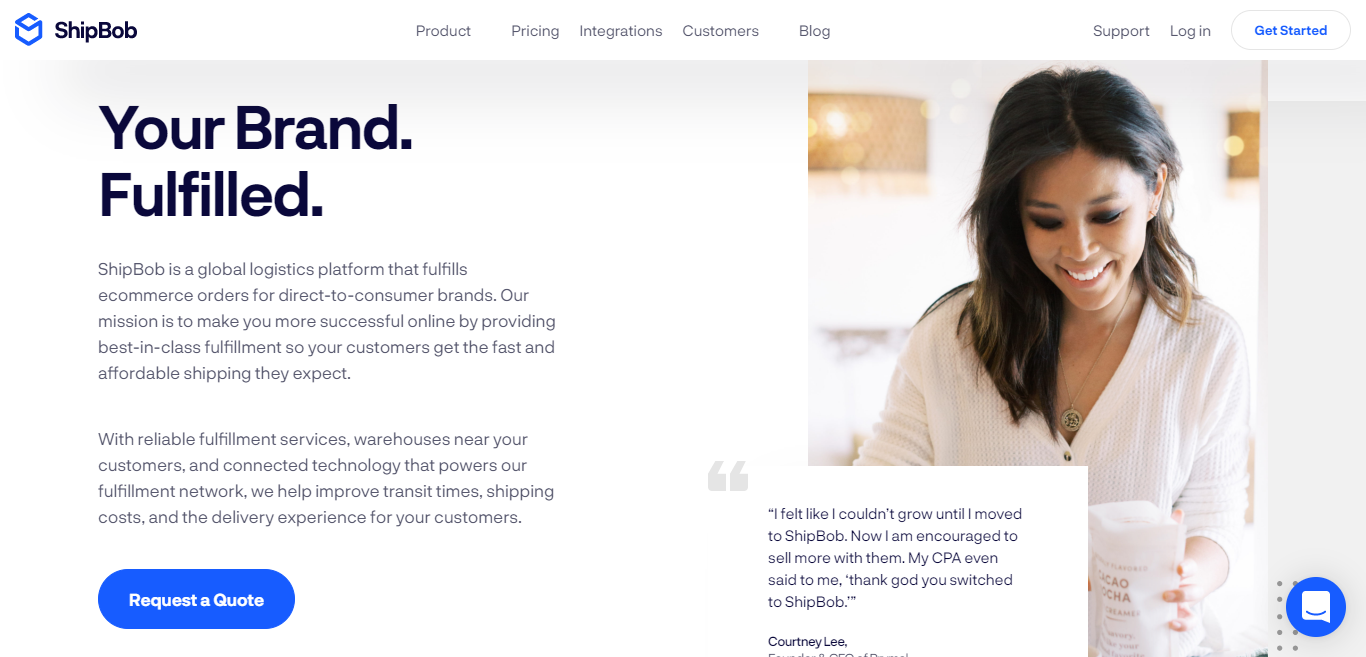 ShipBob is a 3PL fulfillment and shipping service for eCommerce companies. They'll ship your products directly to your customer's door and manage your inventory and returns processes for you.
Unlike some fulfillment solutions, you're not limited to selling on one online platform. Instead, with a range of integrations available, you can sell your wares almost anywhere on the web, which goes a long way to maximizing your earning potential.
What's ShipMonk?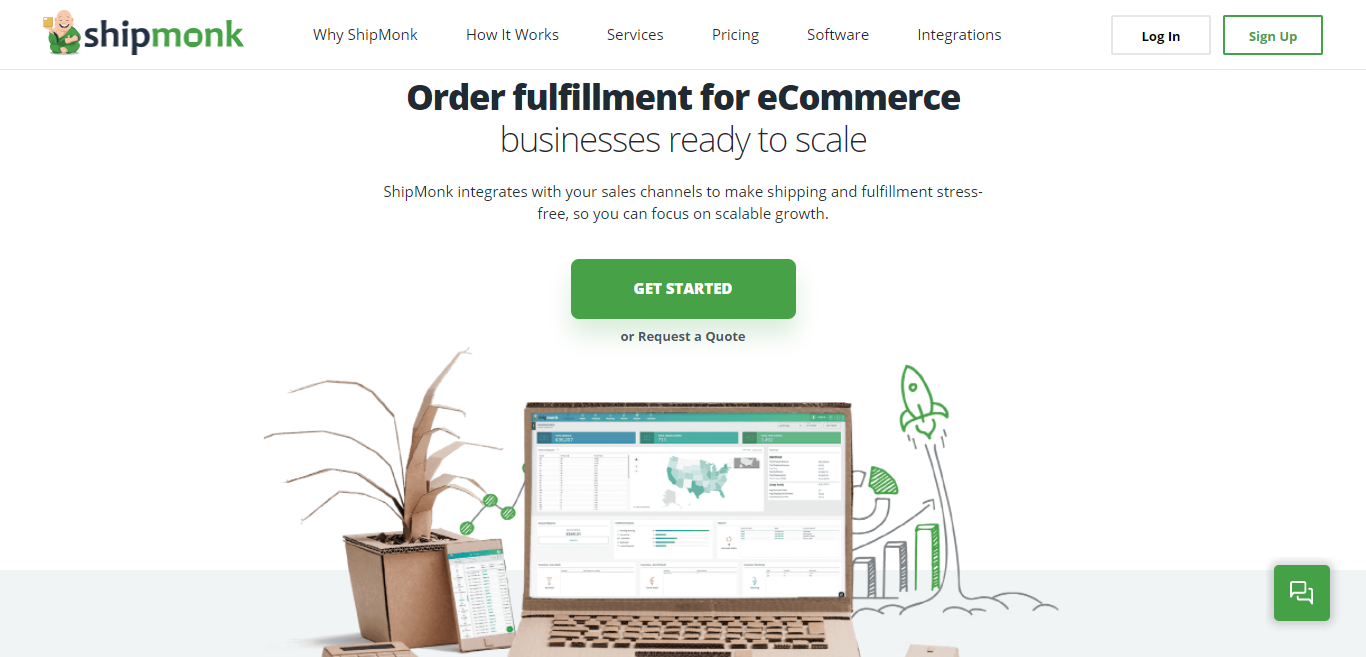 ShipMonk is a multichannel fulfillment service and inventory management software. Like ShipBob, you just have to focus on marketing and selling your products, and ShipMonk takes care of the rest.
Once you've shipped your inventory and integrated all your sales channels, ShipMonk warehouses the products, conducts quality control, and packages items to your predefined guidelines. Then, when everything's ready, ShipMonk sends the orders directly to your customers on your behalf.
They also offer robust returns and exchange services to improve the efficiency of your business.
ShipBob's Main Features
That's enough with the introductions; let's take a look at the main features offered by ShipBob:
eCommerce Integrations
ShipBob seamlessly integrates with heavy hitters like Amazon, eBay, WooCommerce, and more. This empowers you to streamline your logistics strategy and track the whole process, all from Shipbob's dashboard.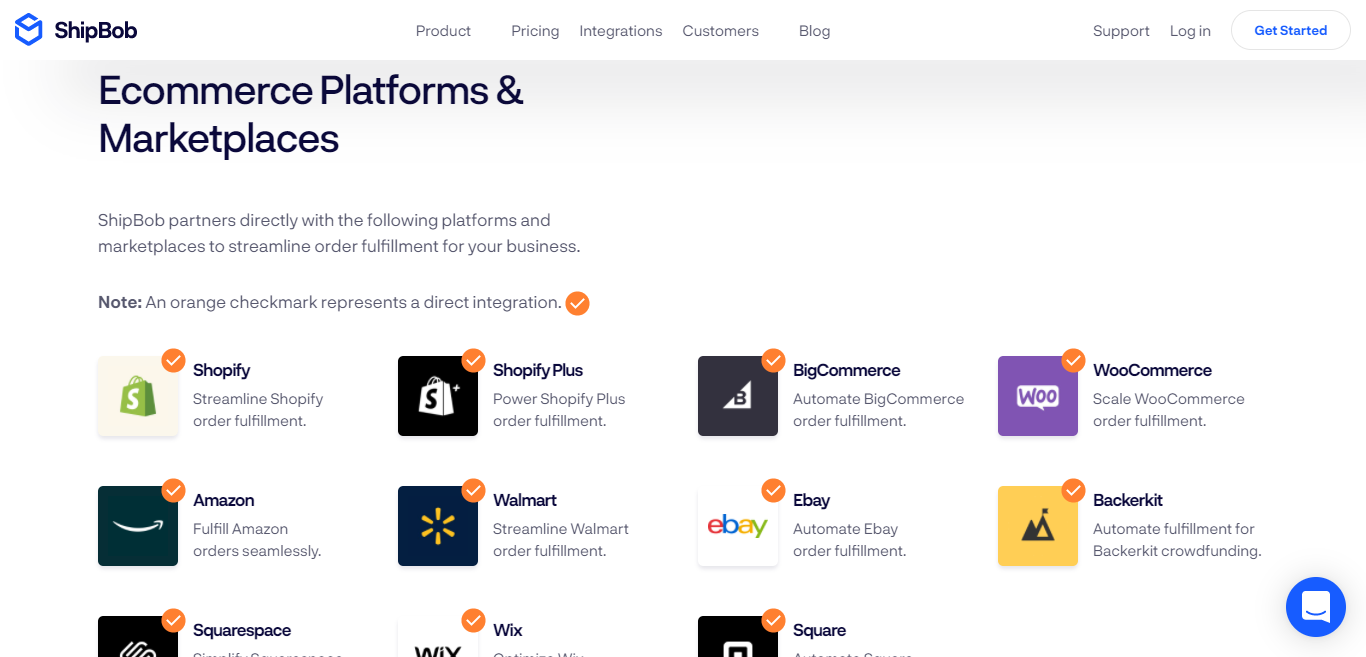 Reporting and Analytics
With ShipBob's reporting and analytical tools, you can generate in-depth reports on your:
Shipping costs

Average cart value

The number of days your orders have been in transit

Which fulfillment centers need their stock replenished,
…and much more.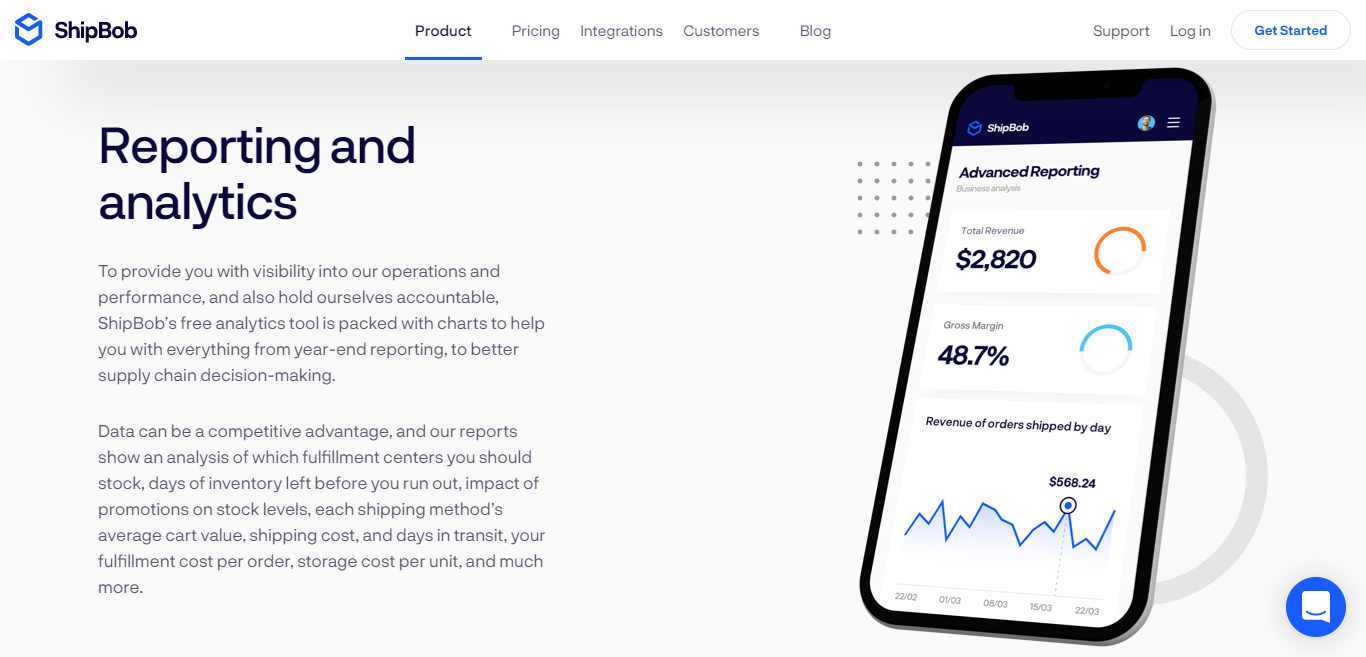 You Can Distribute Your Inventory
ShipBob allows you to split your inventory to store at multiple fulfillment centers. By doing this, you help to ensure your products arrive at their destinations as quickly as possible. Not only does this increase consumer satisfaction, but this helps to save on shipping costs too!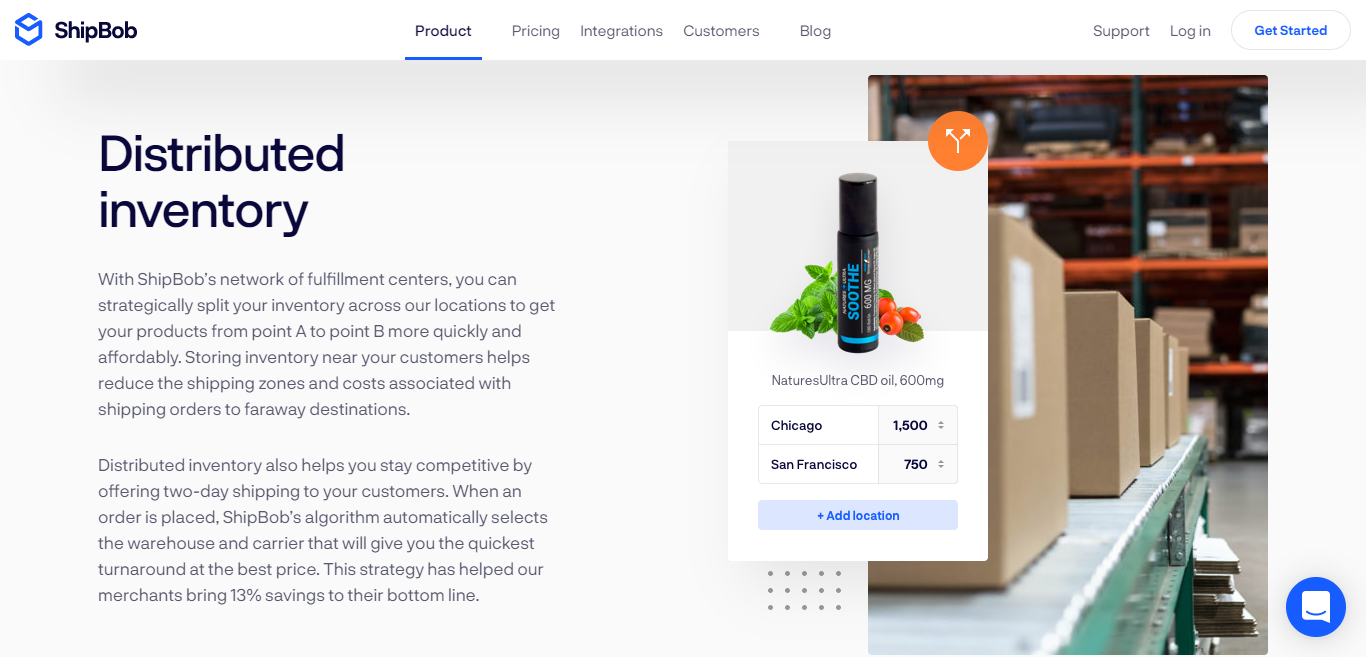 Two-day Express Shipping Program
This is available to all continental US shipping orders. Best of all, you can still offer two-day shipping to customers even if you split your inventory across multiple centers. However, the service isn't free to consumers – so they'll have to pay for faster delivery.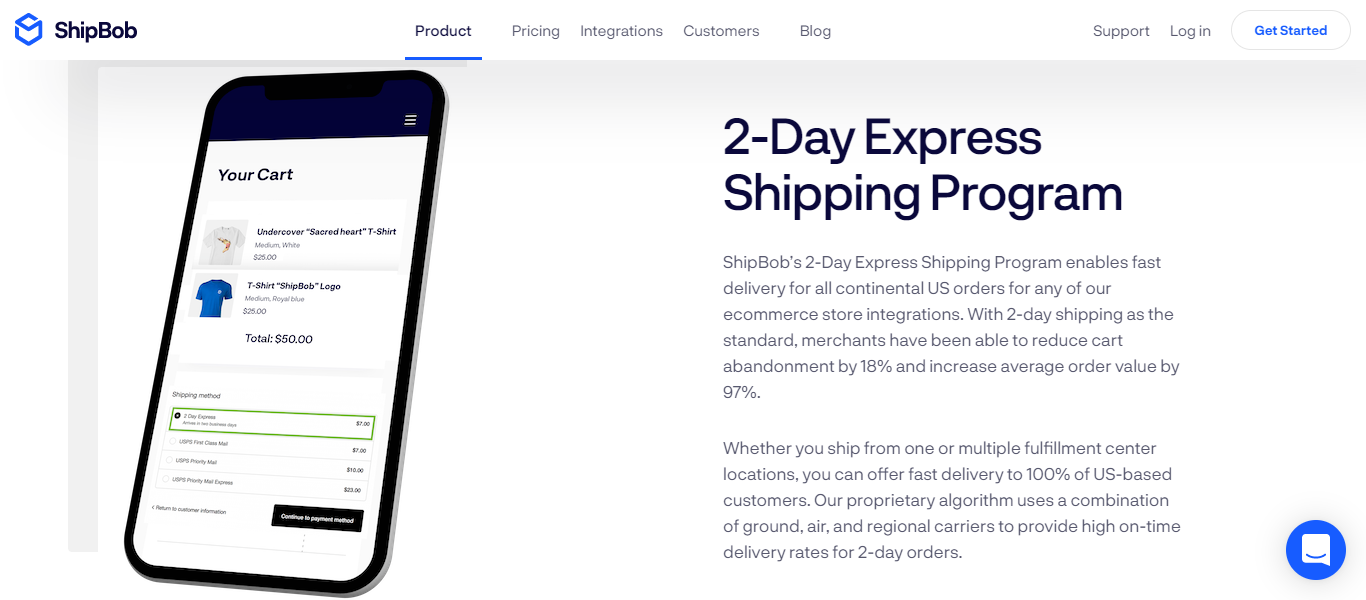 Return Management
As a ShipBob merchant, just choose how you want each returned order to be processed, and their team will handle the rest. They can restock, quarantine, or dispose of returns for you, and you can track all returns directly from your dashboard.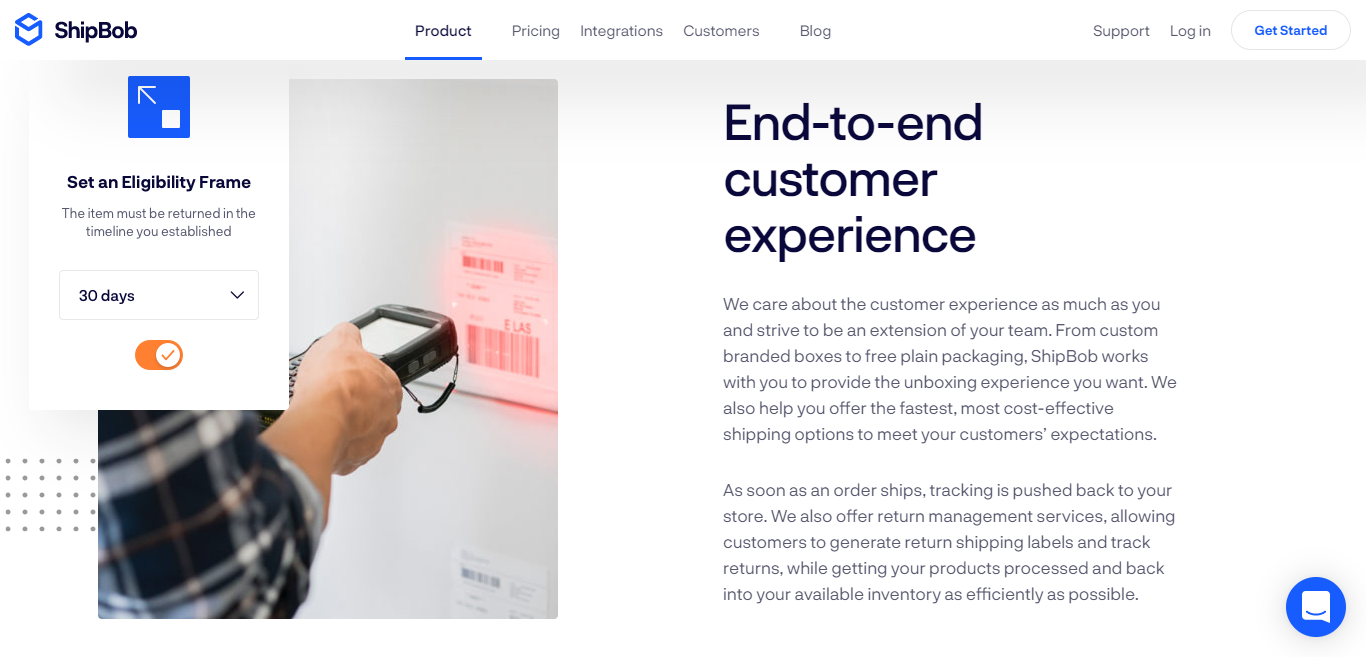 Alerts and Notifications
ShipBob notifies you about your order status, fulfillment metrics and more, directly from your dashboard. You're alerted to important tasks like billing errors and when your inventory is ready for fulfillment. You'll also get emails from ShipBob about new features, products, and other software-related updates.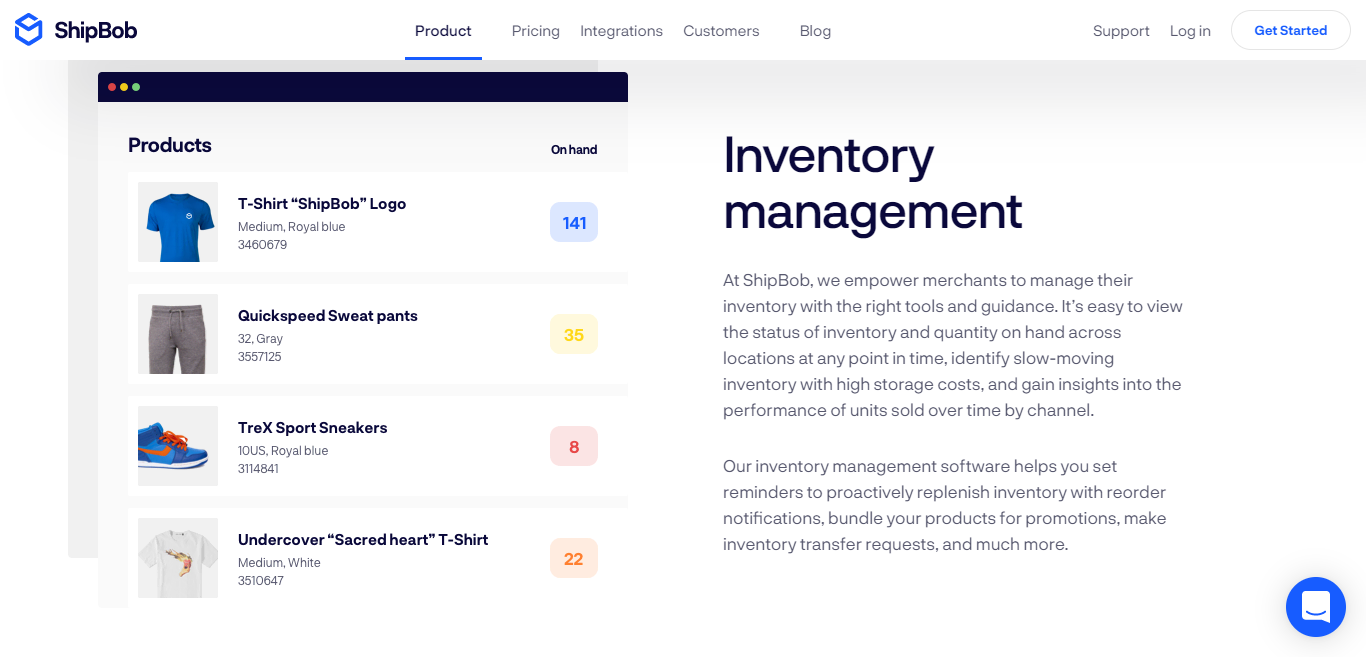 Same Day Fulfilment
Orders imported before noon will be fulfilled on the same day, so ShipBob's partner carriers can ship them out quicker.
FBA Prep
This value-added service is available for merchants shipping a minimum of 400 non-FBA shipments per month with ShipBob. With this service, you can transfer your inventory from any fulfillment center direct to an FBA facility. ShipBob will then prepare these orders with FBA items and box labels for you.
ShipMonk's Main Features
Now, let's turn our attention to Shipmonk – what can they offer your business? Let's take a look.

ShipMonk offers several solutions to choose from. These are:

eCommerce Fulfilment: If you've successfully launched an eCommerce business, but you now need a service to help you fulfill these orders, Shipmonk's eCommerce Fulfilment services are your best bet. They'll pick, pack and ship customer orders on your behalf, and they'll handle returns too.
Subscription Box:

With this package, ShipMonk handles the shipping, packing, and kitting for you and offers custom packaging options too. Again, you can ask Shipmonk to handle your returns too.

Retail:

Do you need retail and wholesale order fulfillment? ShipMonk can handle the picking, packing, and shipping for you, plus the returns if required.

Amazon FBA prep pricing: Fulfilment by Amazon enables you to sell your products on Amazon's marketplace with them handling the fulfillment tasks. With this package, you can use ShipMonk to create the labels, input the product weight and dimensions, and more. ShipMonk's team will then package the order as you wish and send it to Amazon for fulfillment.
An important note: You'll need to select which solutions you require on Shipmonk's pricing page. The services you require are then considered by ShipMonk's team and totaled together, giving you a personalized quote.
That's the groundwork covered; let's turn out attention to the meat and potatoes of what ShipMonk has to offer:
Happiness Engineers
ShipMonk's Happiness Engineers are described as the lifeblood of their company. They're better recognized as customer service account managers. Each client is designated a specific one to resolve all their queries and concerns swiftly. Such a personalized level of support for merchants makes ShipMonk stand out against its competitors.
Returns Management
Like ShipBob, ShipMonk offers its own returns management service. You can create shipping labels direct from your account, and you'll receive an alert when the return arrives at Shipmonk's warehouse. They also offer a range of ways to deal with your returns, such as sending them back to the vendor, reworking the inventory, disposing of the product, and more.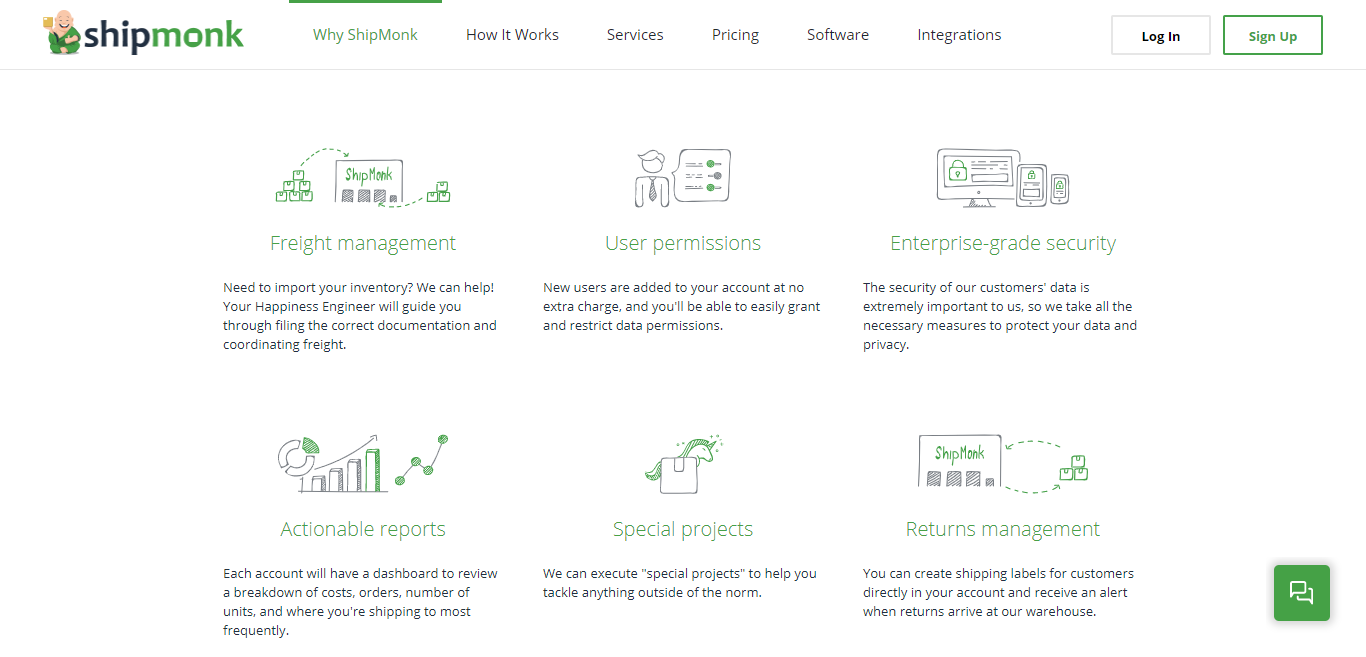 Customized Packaging
With ShipMonk, you can set 'customized packaging' options that tell their workers exactly how to package your orders. They also use an algorithm that considers the weight and dimensions of your order to help you package your products appropriately. You can opt to use customized packaging with every order, every gift order, or just selected SKU's. To begin custom packaging your orders, you'll have to contact your happiness engineer directly to make a request.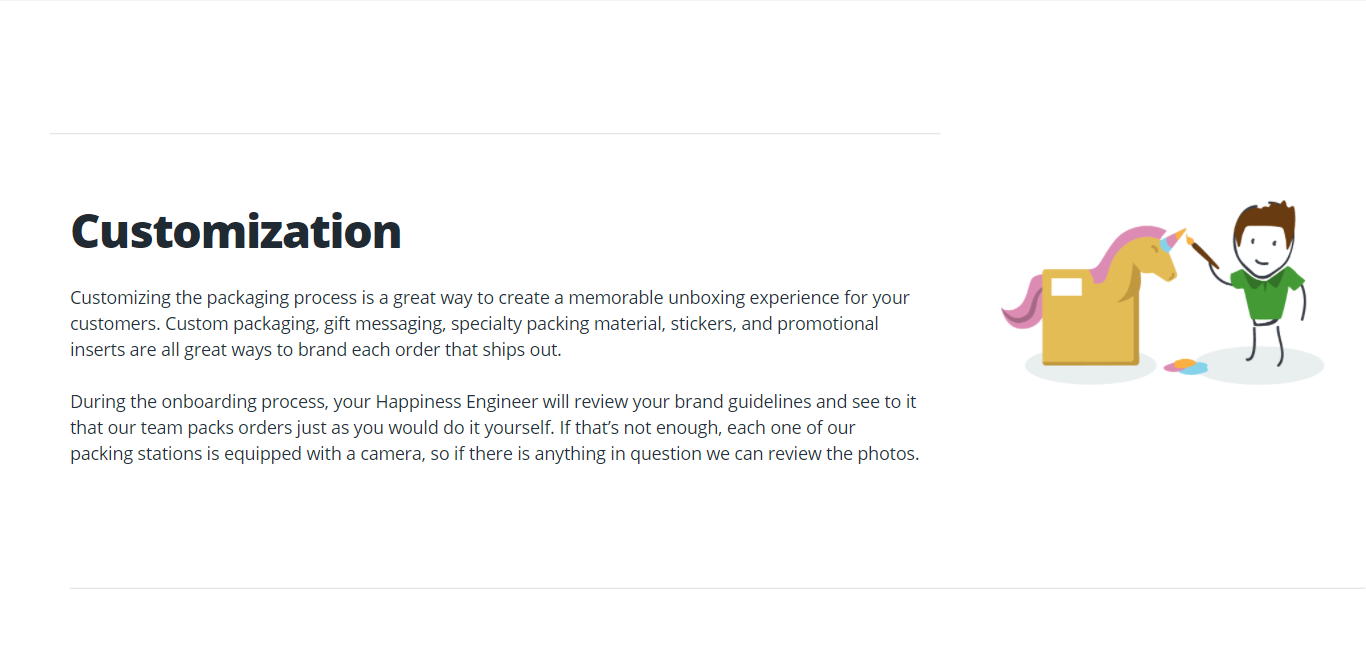 Actionable Reports
From your ShipMonk dashboard, you can see a breakdown of costs, orders, the number of units, and where you're shipping to the most frequently. Additionally, their inventory reports provide data on each SKU, including how many units they've sent and how much each SKU costs to store.
'Special Projects'
Unfortunately, this isn't as exciting as it sounds. ShipMonk deems a 'special project' as a one-off task that falls outside the scope of normal fulfillment processes. This could be repackaging, bagging, labeling, or counting products. Although they're willing to help you with these additional tasks, they'll cost you more. Their special project fees are listed at $45 per hour, billed in 15-minute increments.
Access to Multiple Warehouses
You'll have the choice to ship from ShipMonk's East or West Coast locations or from both.
Crowdfunding Fulfilment
You can develop a new product, launch it on a platform like Kickstarter or Indiegogo, raise enough to purchase inventory, and Shipmonk will handle the rest. This makes Shipmonk an excellent choice for start-ups or budding entrepreneurs.
Seller Fulfilled Prime
With Seller Fulfilled Prime, you can list your products on Amazon as Prime Eligible. That way, you don't have to deal with inventory storage fees if your items aren't selling quickly. If you wish, you can use your own inventory space, making Seller Fulfilled Prime a cost-effective, simpler alternative to regular Prime fulfillment services.
Sell With Recognised Marketplaces
ShipMonk offers several integrations so that you can sell on some of the most recognizable marketplaces in the world, including Amazon, eBay, Shopify, Woocommerce, Magento, Walmart, Etsy, Wish, and many more.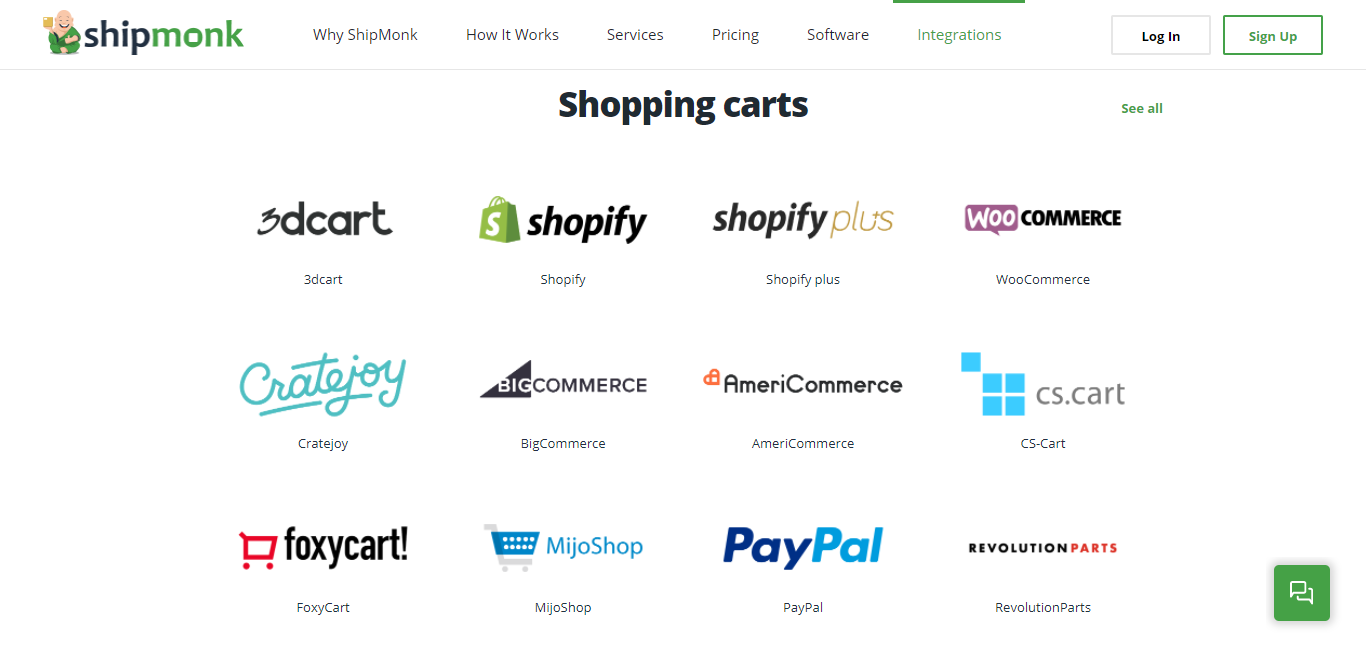 ShipBob's Pricing
When you're in the market for a fulfillment solution, you'll want to ensure your chosen service provides bang for its buck.
ShipBob's rates are affordable and transparent; however, you may find yourself a little confused by the pricing model. So let's break it down and take a closer look at their rates. ShipBob offers a range of standard fees, but if you require unique services that aren't covered (like kitting), you'll need to contact them for a personalized quote.
Their standard rates include:
Storage:

To store products with ShipBob, you'll pay monthly charges of $40 per pallet, $10 per shelf, or $5 per bin.

Receiving:

When you send them your inventory, you'll have to pay a flat rate of $25 to cover the two hours' worth of unpacking. You'll then be required to pay $40 per additional hour.

Standard packing:

You get packaging materials like mailers, boxes, tape, and dunnage to pack your orders for free.

Pick and pack:

The first four picks are included, but you'll pay $0.20 per pick for the fifth pick upwards.

Shipping:

Shipping costs are unique to each order, and they'll vary depending on your destination, the shipping service you use, the dimensions and weight of your order, and more.
If you want to take their services for a trial run before purchasing, contact ShipBob directly for a free demo.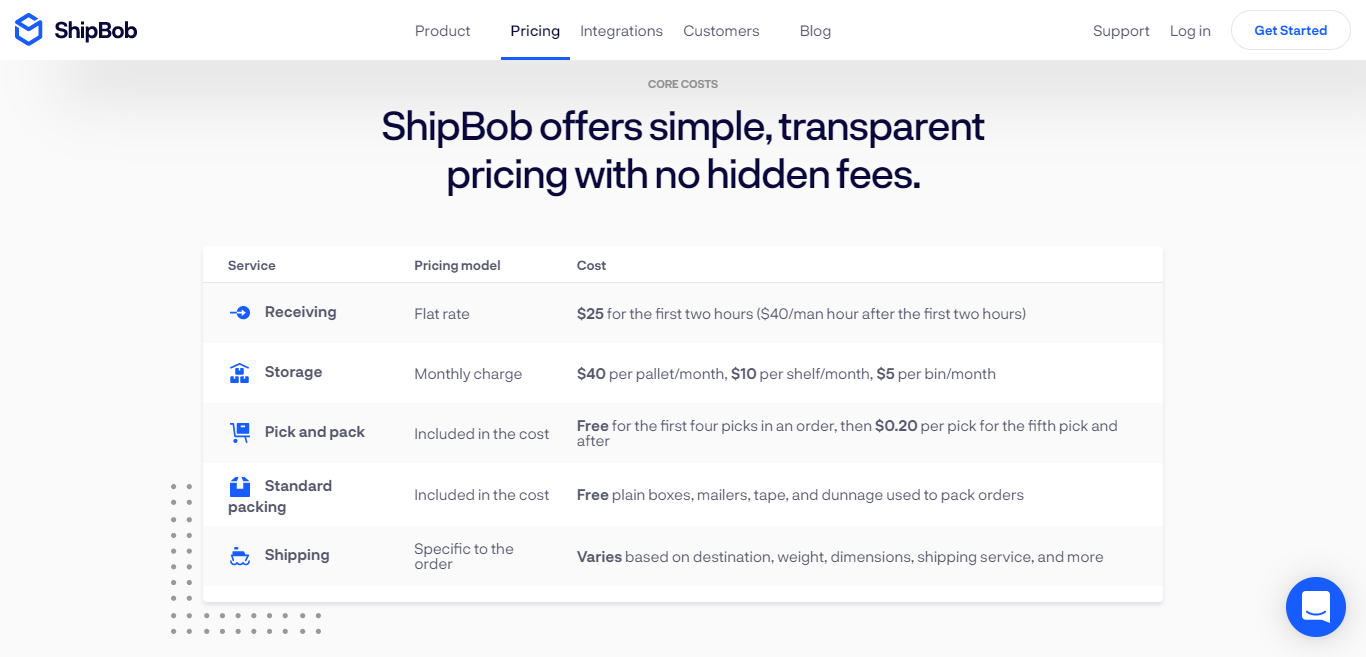 ShipMonk's Pricing
To get an accurate quote from ShipMonk, head directly to their website and select your required services.
First, you'll need to pick the solution you require. This could be eCommerce, subscription box, retail, or Amazon FBA prep pricing.

Then, disclose how many orders you process each month to determine your pick fees.

You'll then need to estimate your storage requirements: small bins cost $1, medium bins cost $2, large bins cost $3, extra-large bins are $4, and pallets are $25. Again, you'll pay these monthly.

You'll also need to account for any one-off tasks, which could include special projects, container unloading, minimum pick and pack fees, and packaging materials.
Because prices vary widely and there aren't set payment plans, it isn't easy to provide general estimates. However, if you'd like some examples, have a look below.
eCommerce Fulfilment
For 0-500 monthly orders:
A $2.50 first item pick fee per order

A $0.50 charge for additional items per order

$0.20 for promotional inserts

$2.00 + 0.50 per additional item for returns processing.
Subscription Box Fulfilment
For 0-500 monthly orders:
$2.00 for box assembly and the kitting of 5 items

$0.10 per additional item

$2.00 + 0.50 per additional item for returns processing
Retail Fulfilment
For one unit of master cases weighing 5lbs:
$2.50 first SKU pick fee

$0.50 same SKU pick fee

$0.25 wholesale SKU pick fee

$5.00 for additional documents/special instructions
Amazon FBA Prep Pricing
For one unit of master cases weighing 5lbs, you'll pay the same charges listed for retail fulfillment.
ShipBob's Pro's and Con's
Need a quick breakdown of the pros and cons of their services? Look no further.
ShipBob's Pros:
Affordable rates

You get access to a wide range of tools that will save you time and effort

Their customer service is available 24/7

You can store your products at various warehouses to optimize shipping speeds.

Shipping rates are competitive, and you can choose the best rates for you.
ShipBob's Cons:
Registration is complicated – there's no option to sign up online. Instead, you'll have to contact a representative directly, which can take up to 24 hours.

They don't have their own app – although they're compatible with iOS and Android, using your browser to access your account can be slow and confusing.

Shipping can get expensive – their two-day shipping fee will cost your customers money, which may encourage them to shop with other merchants who can provide faster services for free.
ShipMonk's Pro's and Con's
Now, let's look at the pros and cons of using Shipmonk's services.
ShipMonk's Pros:
There are plenty of customization options for packaging to help strengthen your brand a build a better relationship with customers.

There are no minimum order amounts. This is excellent news if you're a small business; even if you're only shipping out one order a day, ShipMonk will still work with you

There are endless marketplace integrations. Instead of just focusing on eCommerce website platforms, ShipMonk looks to online marketplaces like Etsy and Wish, making it an excellent choice for merchants seeking to sell on wholesale shipping services.

Support with crowdfunding isn't offered by many other competitors, making ShipMonk attractive for a wide variety of startups.
ShipMonk's Con's
ShipMonk's range of fulfillment centers is limited; with only three in the US, it can be tough to break into global markets. ·

ShipMonk can get expensive. Their pick and pack fees are pretty high, and customers report other hidden costs like fuel sub charges. If you're not careful, these can eat into your profits pretty quickly.

Although their pricing plans are flexible, on average, you'll still end up paying around $250 a month for picking and storage fees alone.
FAQ's
Last but not least, we'll answer some of the most frequently asked questions we hear about ShipBob and ShipMonk:
ShipBob vs ShipMonk: Our Final Verdict
Identifying the right fulfillment solution for your business is challenging, so before you make any final decisions consider the following questions:
How big is your business?
What's your budget?
How many orders, on average, do you ship out per week?
Do you want to send products internationally?
In our opinion, ShipMonk is one of the most attractive solutions for smaller businesses. You can ship products quickly with marketplaces that ShipBob doesn't offer, like Groupon and Wish. Plus, if you're a start-up, you may be able to use crowdfunding fulfillment. However, ShipMonk doesn't seem to be a feasible option for long-term growth. There are limited expansion opportunities, and the costs can increase quickly.
In contrast, ShipBob has slightly more functionality than Shipmonk, and if you're looking for transparent pricing, they're the real winners here. You won't find yourself hit with surprise fees; instead, you'll know exactly what you're paying from the start. Plus, with so many fulfillment centers in the US and beyond, ShipBob is the perfect solution if you're looking to expand your reach worldwide.
Which (if either) of these shipping providers will you opt for? Let us know in the comments box below!