Last Updated on September 18, 2022 by DMEditor
Finding the right online task manager can be a challenge when you have diverse team members involved.
The platform has to be intuitive but powerful enough to ditch a traditional calendar altogether.
Keeping your day-to-day tasks organized can mean the difference between success and mediocrity. We are taking a look at ClickUp vs Wrike, two cloud software options that can automate daily communication and collaboration.
Which one is right for you? Check out our in-depth comparison to help you make the best choice for your business.
Bottom Line Up Front Summary: Unless you are a large-enterprise company, most organizations will find the project management flexibility and pricing options (including free tiers) with ClickUp here to be the better option. That said, if you have a large enterprise or distributed software development team, Wrike is a stronger option here.
Main Differences Between ClickUp vs Wrike
The main differences between ClickUp vs Wrike are:
ClickUp has 24/7/365 customer support for all users, whereas Wrike only has 24/7 customer support for an extra fee.
The ClickUps free plan offers unlimited users, whereas Wrike only allows 5 users on its free plan.
ClickUp lets you switch from boards to lists, whereas Wrike does not.
ClickUp offers a dedicated success manager and training program with its Enterprise tier, whereas Wrike does not.
Wrike has specialized pre-built platforms for creatives and marketers, whereas ClickUp does not.
Up and Comer!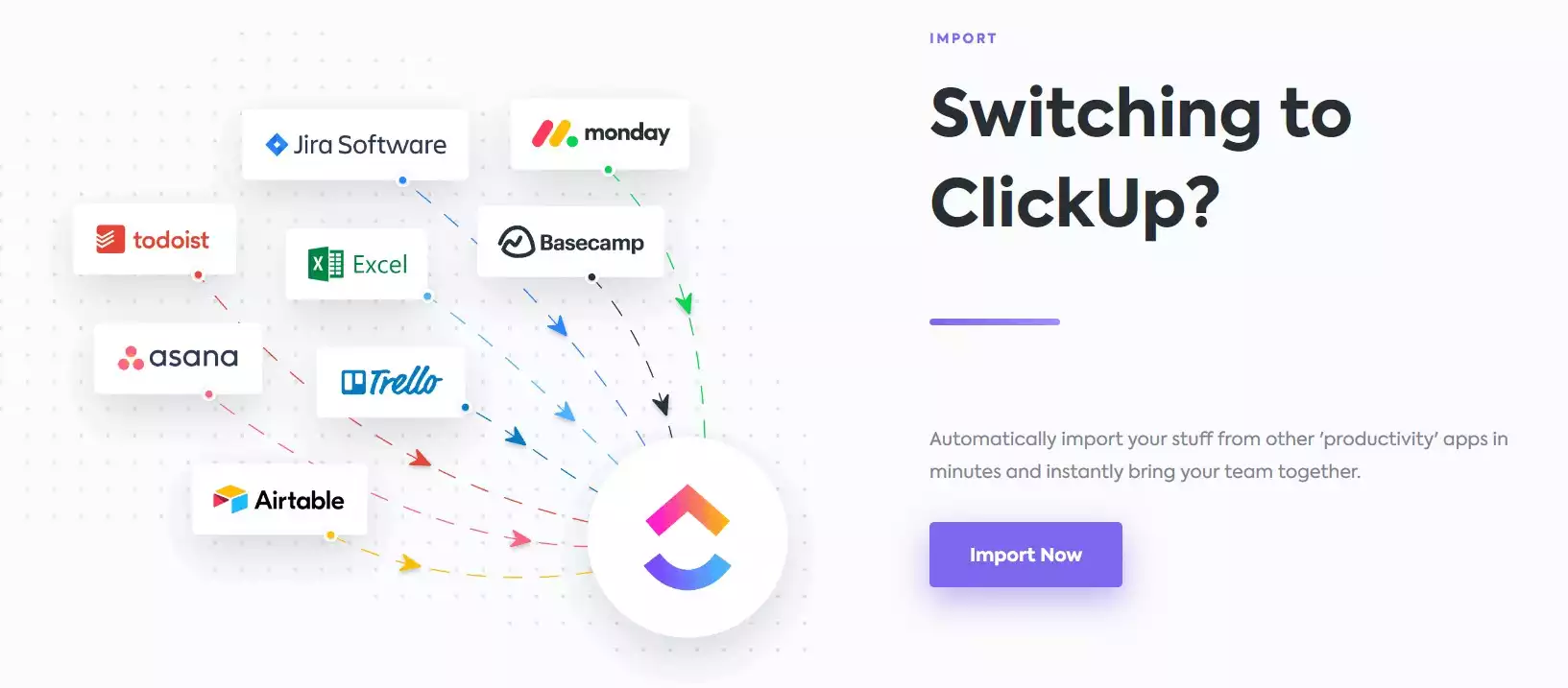 The Similarities
Free trial
Free plan
Third-party integrations
In-depth reporting
Advanced security
Time tracking
Gantt charts
What is ClickUp?
ClickUp is a cloud-based software that is built for business project management but is affordable for individual contractors. You can communicate with teams, collaborate on projects, assign tasks, alerts, and statuses.
The project management tool allows you to switch from boards to lists. Plus, you can invite guests to your ClickUp projects at no extra cost (an advantage over competitor Trello).
What is Wrike?
Wrike provides work management even when your team is scattered across the globe. It helps collaborate communication, project planning, and workflow. Real-time reports give the status of multiple project stages.
While Wrike is available for all business sizes, Enterprise level subscribers will benefit the most. Enterprise features include Gantt charts, in-depth reporting, and top-shelf security.
The Main Features of ClickUp
Team Collaboration Feature
Simplify your collaboration software by utilizing spaces by ClickUp. Choose what your team members prioritize and see what each team member is working on in real-time.
Whether you use the platform for business or getting your personal life together, ClickUp's hierarchy breaks down your project into actionable goals to keep you from getting overwhelmed.
Unique feature headlines include:
The Task Tray: a task minimizer that helps you shelf a task for later but not forget it.
Slash commands: using the "/" key for shortcuts, giving you a technical shorthand to complete your tasks faster
The Notepad: for meeting notes, ideas, and more, inside the platform
Assigned Comments: Create a subtask within any comment
Dynamic Reporting Feature
ClickUp provides in-depth reporting on-time tracking and team member performance. Use the reporting to see who's behind, who's ahead, if your time estimate was correct or needs adjusting for the next project, and a list of daily completed tasks.
Customization
Easily switch from boards to lists. You can also customize your dashboard, folders, docs, spreadsheets, and mind maps.
Plus, you can personalize your platform by only viewing the information that you need. Don't need a certain category or section? Simply choose to hide it so you can increase work productivity by only viewing what you need to see.

With a new version of ClickUp released nearly once a week, you can be confident that ClickUp won't disappear into thin air. The team will be there to take your suggestions and let you know what's coming up next.
Integrations
ClickUp has several integrations that can tie in existing software your team is already familiar with like Slack, Gmail, Zoom, Outlook, Zendesk, Zapier, Hubspot, Dropbox, YouTube, Salesforce, and many more.
Already using a popular project management app? With just a few clicks, you can transfer all your information over to ClickUp. Supported transfers include Asana, Trello, Todoist, Jira, Monday, Basecamp, and Wrike.
ClickUp also has a public API so you can create custom integrations.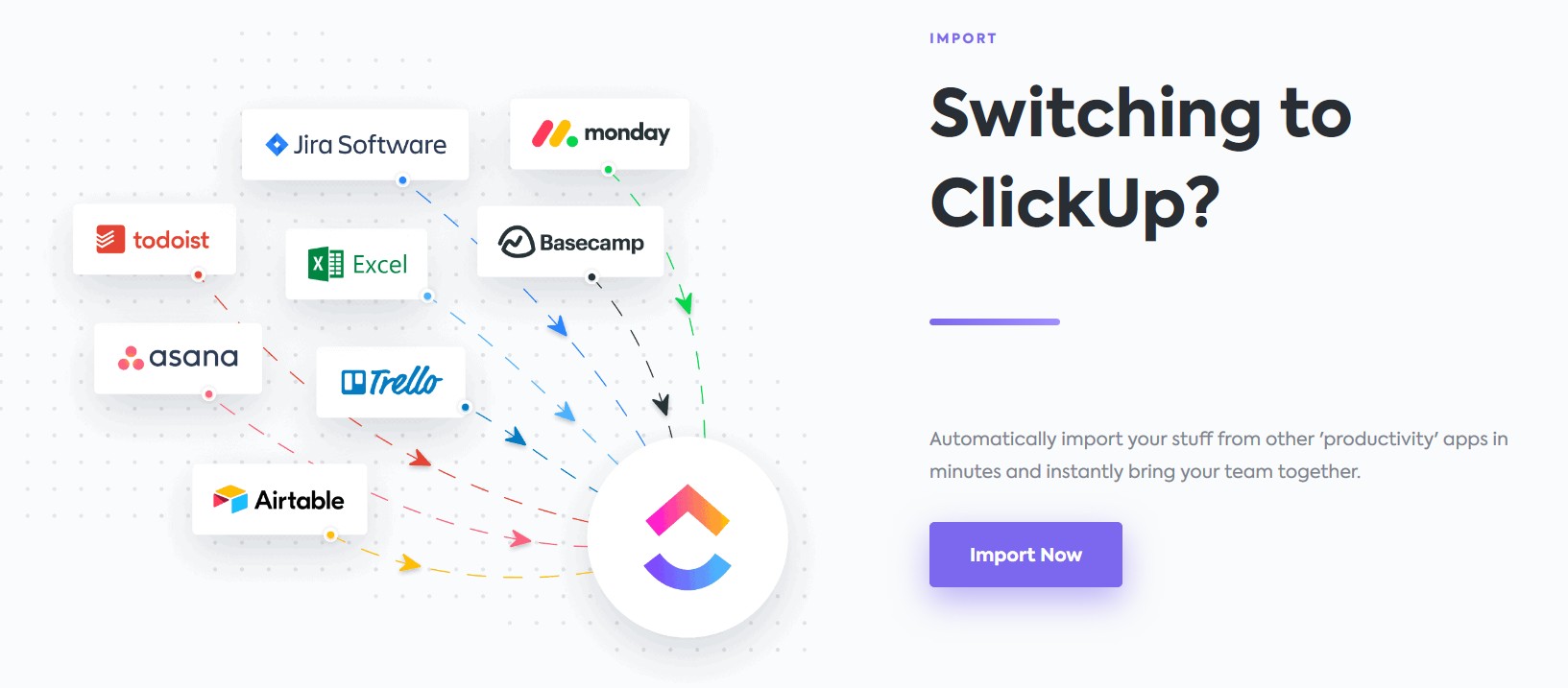 ClickUp Security: Is ClickUp Safe?
ClickUp is hosted by Amazon Web Services (AWS) providing top-level security and privacy features within Amazon-controlled data centers located all over the world. The platform is also independently audited at least once a year due to its Service Organization Controls (SOC 2) compliance.
ClickUp Encryption
ClickUp uses 256 bit SSL, the same level of encryption that is used by banks. Security, performance, and availability are monitored 24/7/365 to prevent data breaches and downtime.
ClickUp Server Locations
As discussed above, ClickUp has global server locations basically wherever Amazon (AWS) has them. They are divided as follows:
North America East
North America West
South America
Europe Central
Europe West
Southern Asia
Northern Asia
Australia
The Main Features of Wrike
Work Management
While Wrike has a Free plan and Professional plan (under $10 a month), to have access to the majority of its features, you will need to invest in the Business plan which will run you just under $25 a month.
The business plan includes custom headers to organize tasks, task approvals, time tracking, templates for reports, and helpful Customer Relationship Management (CRM) integration with Salesforce.
Specialized plans are great for creatives and marketers. Wrike for Marketers includes integrations with Adobe Creative suite, Wrike Proof (which allows you to keep creative draft projects all in one place), and Publish apps.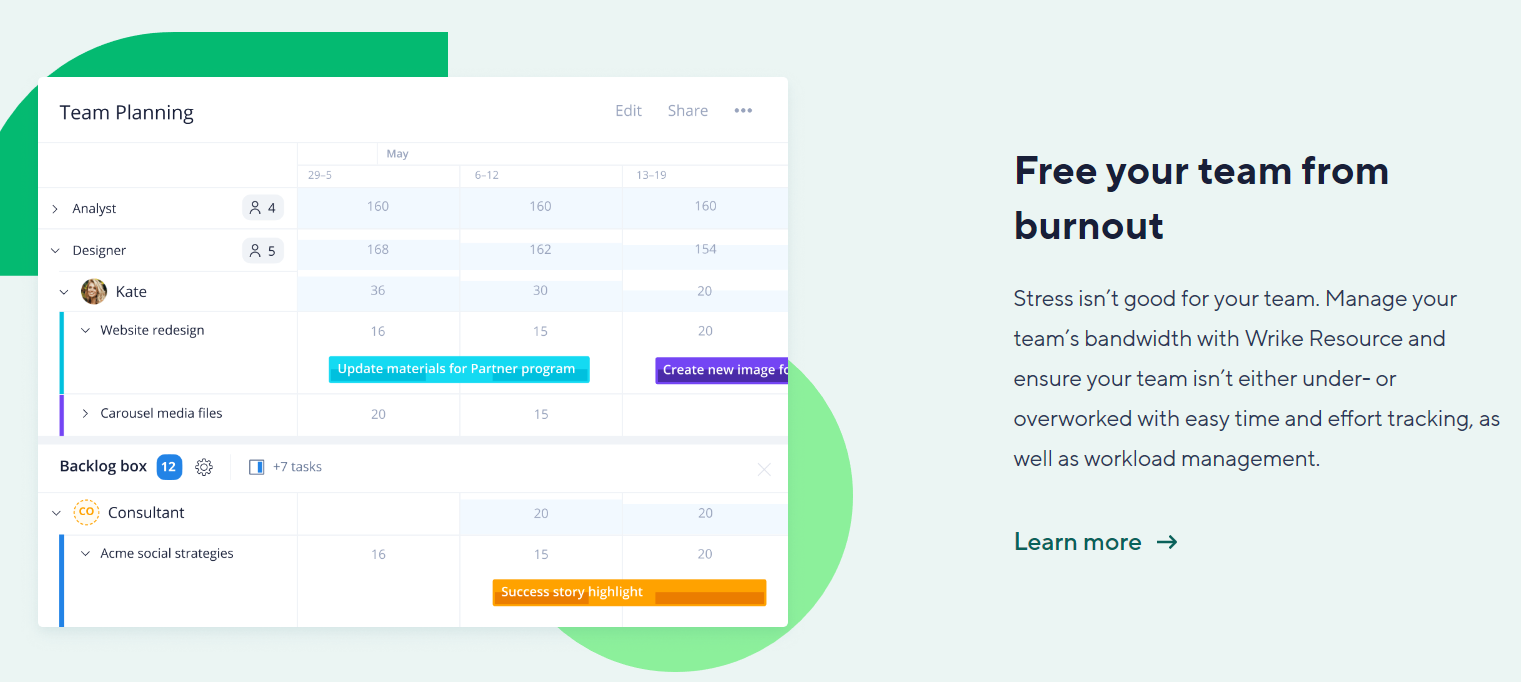 Wrike also includes a document editor within the platform that allows you to edit Word docs, PDFs, and images that are located on the cloud without having to download them first. This can save you a lot of time, especially if you are experiencing a slow connection. It can also prevent errors as files can be edited and saved directly within the platform.
Wrike Templates
Wrike templates can save you a lot of time in setup if you find one that suits your business needs. With nearly 30 templates to choose from, you should at least be able to use one as a starting point for collaboration tasks.
Use pre-built templates to plan events, product launches, marketing campaigns (ideal for marketing teams), project plan material proofs and approvals, job candidate tracker, competitor analysis, remote work, and more.
Wrike Resource
Wrike Resource allocation helps managers keep an eye on their team members in real-time. It helps spot burn-out and rebalances the workload to improve morale. Plus, it can help managers easily see how to meet deadlines with unexpected sick days or if a rush request is issued.
Wrike Integrate
Competitor platforms limit integrations, but Wrike doesn't. Use the ones you need (Wrike offers over 400), allowing you the flexibility to sync and automate. Automations are also unlimited within the platform.
Sync data among multiple integrations in one or two directions so your information is always up to date for every team member. All while using prebuilt connectors so you don't have to write code to customize.
Integrations include Bill.com, Facebook, Salesforce, Google Suite, HubSpot, LinkedIn, MailChimp, QuickBooks, and Shopify.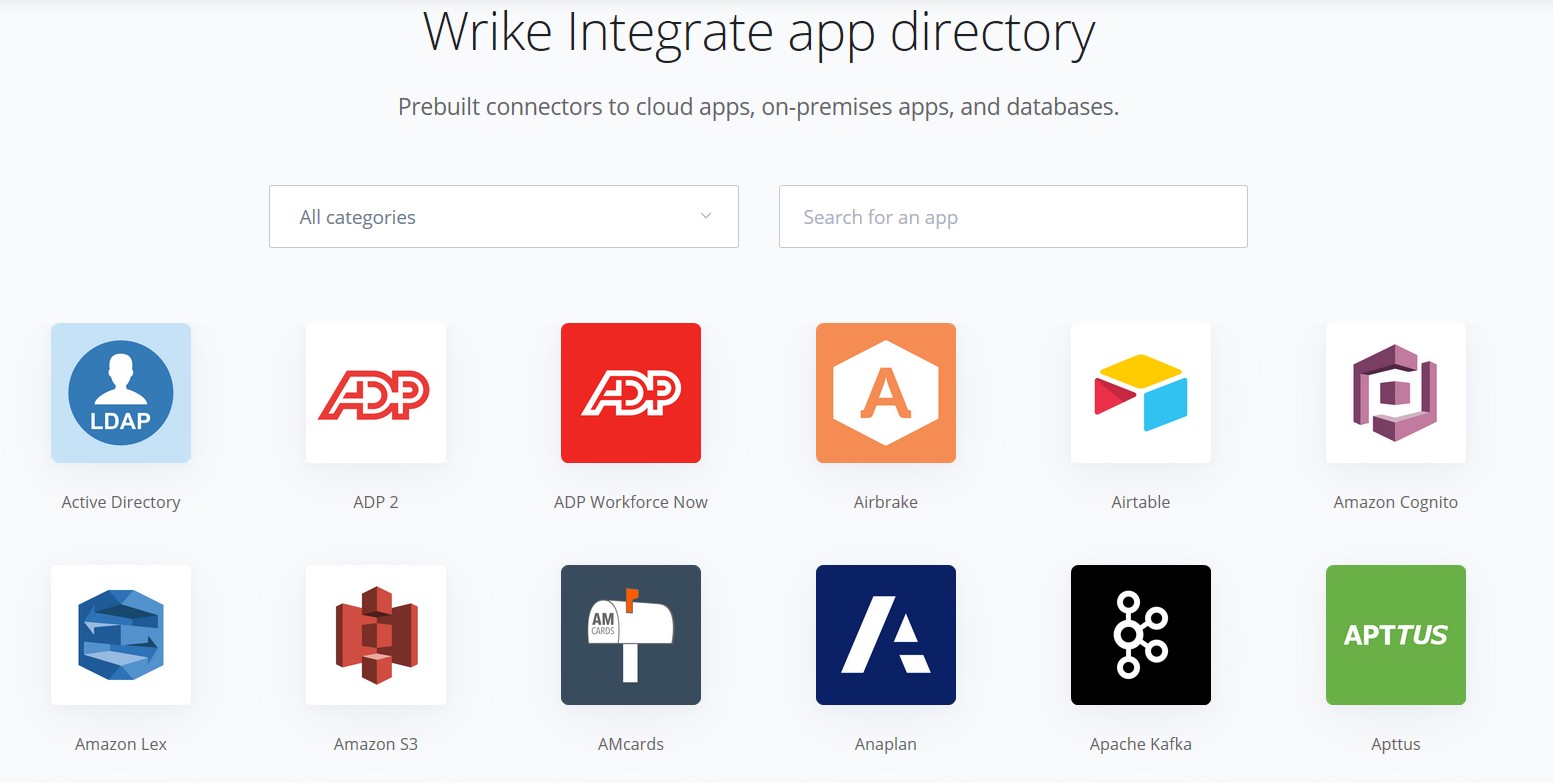 Wrike Security: Is Wrike Safe?
A full backup of customer data is performed daily. Wrike boasts a 99.9% overall uptime so customers won't have to worry about downtime.
Users can log-in to their account with a traditional email address and password or a third party log-in such as Google Open ID, Azure, Office 365, ADFS, and SAML2.
Wrike Encryption
Wrike uses Transport Layer Security (TLS) 1.2 with a preferred AES 256 big algorithm for data encryption. TLS is a modern version of SSL (which ClickUp uses) and is more secure.
If you subscribe to Wrike's Enterprise plan, you will have access to Wrike Lock. This is an additional layer of security for your workspace data. This encrypted data is stored in Amazon Web Services' Key Management Service (AWS KMS).
Wrike Server Location
Wrike's servers are located within data centers in the US and EU. Like ClickUp, the primary datacenter located in San Jose, California, is SOC 2 compliant. EU customer data is stored in Amsterdam, Netherlands. Facilities have manned security 24/7 and data is monitored by internal Wrike staff and data center providers.
ClickUp vs Wrike – Pricing
ClickUp has 4 core plans including Free Forever, Unlimited, Business, and Enterprise. The Unlimited Plan has a free trial and "let's make a deal" pricing. You can enter the amount you want to pay and the number of users you need and ClickUp will work with you on pricing. The Business Plan also has a free trial available.
ClickUp has a no questions asked money-back guarantee. Notify them within 30 days of purchase for a full refund. If you run a qualifying nonprofit, ClickUp offers a 35% discount to help your budget go farther.
100 MB of storage
Unlimited tasks
Unlimited users
$9 per user paid monthly / $5 per user paid annually
Unlimited storage
Unlimited views
Unlimited integrations
Unlimited dashboards
Guests and permissions
Goals, portfolios, and custom fields
$19 per user paid monthly / $9 per user paid annually
Unlimited Plan plus:
2FA and Google SSO
Goal Folders
Custom Exporting
Private, Protected, and Default Views
All Dashboard Widgets
Extra Guests
All Automations
Mind Maps & Timeline Views
Advanced Time Tracking
Workload
Contact sales for custom pricing
Business plan plus:
Single Sign-On (SSO)
Contract Review & HIPAA
Increased API Limits
Dedicated Success Manager
Advanced Permissions
Advanced Workload
Custom SAML
Extra Automations
Custom Onboarding
Training Program

Wrike has 4 core plans, Free, Professional, Business, and Enterprise. All 3 paid plans include a free trial (Business and Enterprise also include a free trial of Wrike Proof.)
5 users
Board view
Task Management
File sharing
Real-time Activity Stream
Spreadsheet view
Basic integrations (Google Drive, Dropbox, Box, MSFT Office 365 and OneDrive)
Desktop & mobile apps
Cloud storage integrations (Google Drive, Dropbox, Box, OneDrive)
2Gb of storage space
$9.80 per user per month
5, 10, 15 users
Free plan plus:
Task & Subtask Management
Gantt Chart
Advanced Integrations (MS Project, Excel, RSS)
Shareable dashboards
Collaborators
From 5 Gb of storage space
From 15 GB of video uploads per month
$24.80 per user per month
5-200 users
Professional plan plus:
Custom fields & workflows
Shared real-time reports with scheduled notifications
Report templates
Graphical analytics
Calendars
Request forms
Project and Task Approvals
Time tracking
User groups & permissions
Salesforce integration
Branded workspace
From 50GB of storage space
From 15 GB of video uploads per month
Business plan features plus:
Active Directory integration
SAML 2.0 Single Sign-On
Two-factor authentication
Password policies
IT controlled admin permissions
User Audit Reports
Network access & compliance policies
Business Intelligence integration
Advanced user access controls
From 100Gb of storage space
From 15 GB of video uploads per month

ClickUp vs Wrike – Support
ClickUp
ClickUp offers industry-leading 24/7/365 customer support (even on holidays). You can contact them by email, contact form, or live chat. You can even connect with a ClickUp consultant from the USA, Canada, Europe, Brazil, Australia, and New Zealand.
Wrike
Wrike can be reached using chat, phone, and email. However, the level of service you will receive depends on how much you are paying (unlike ClickUp that provides equal service to all of their clients).
Wrike does offer extensive documentation and user forum to help you with frequently asked questions and common issues.
Free plan:
Email
24/5
First-response time is listed as N/A
Standard:
Email, help center chat, phone
24/5
First-response time is listed as 24 hours
Cost is included in your plan
Premium:
Email, help center chat, dedicated phone line, workspace chat
24/7
First-response time is listed as 1 hour
Extra cost, must contact Wrike for pricing
ClickUp vs Wrike – Pros and Cons
ClickUp
Pros
Simple to navigate interface
Customize your dashboard
Switch between board or list view
Box view dashboard, see all of your workers' tasks and progress on one screen
Calendar mode
Powerful mobile app for Android and iOS
No learning curve
Assigned comments
Notepad app within the platform for notes and reminders
Gantt charts
Affordable
Cons
A steep learning curve, too many features to choose from upon startup
Customization takes too much time to optimize
UI could be improved for accessibility
No direct way to send tasks from a Gmail filter
The calendar could be simplified
Wrike
Pros
Gantt charts interactive work progress tracking
Wrike Proof
File sharing
Work Request
Project milestones
Time tracking
Top performers
Conflict tracking to prevent missed deadlines
Two-factor authentication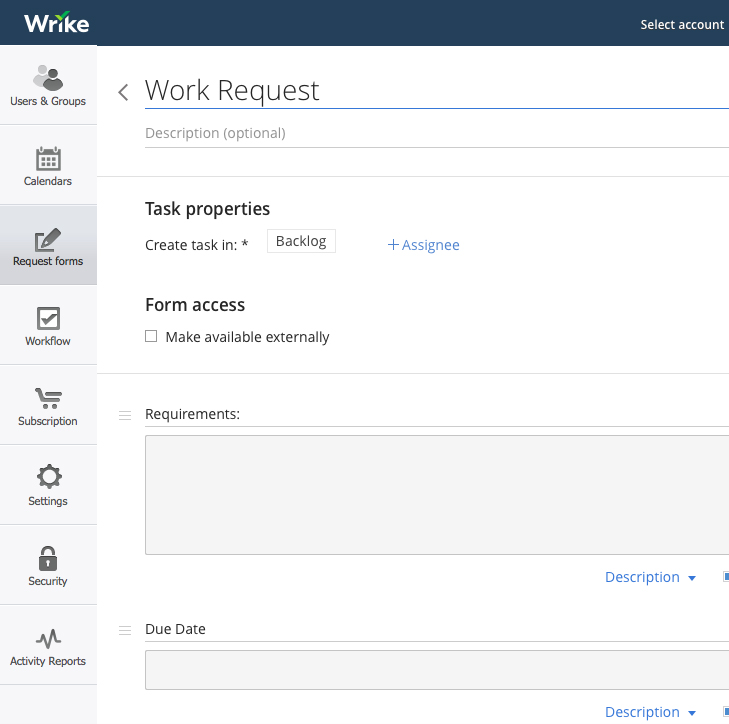 Cons
Interface and mobile apps could be more user friendly
Onboarding takes longer than it should
No comment tagging
No task conversions
Project tracking could be more in-depth
Can be expensive
Up and Comer!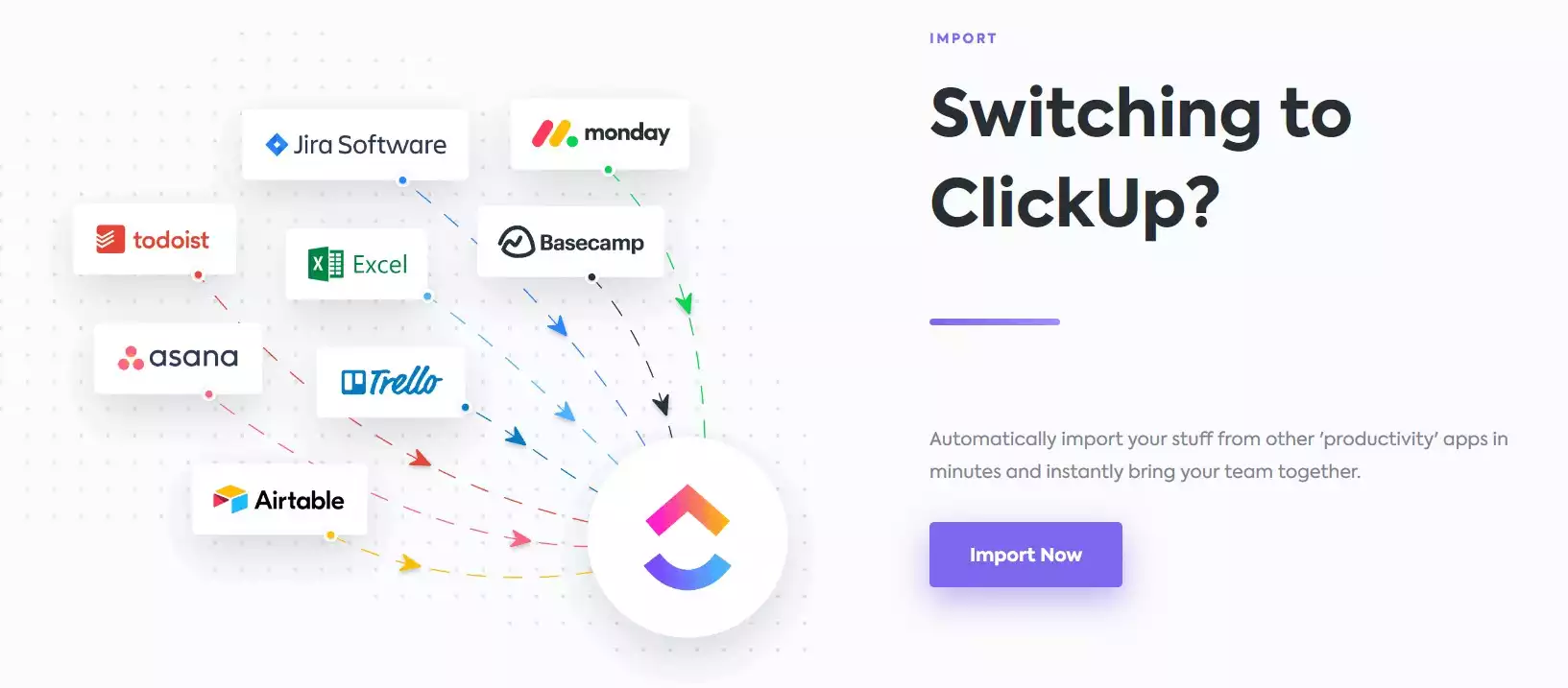 Frequently Asked Questions
How do I change my payment plan on ClickUp?
As your business grows, your necessities will grow as well. So, naturally, you might need to upgrade some of your services plans. To change your ClickUp plan, just click your avatar and select "Upgrade". And from your Settings page, click the "Upgrade" button and choose your new feature.
Does ClickUp takes Paypal payments?
Even though ClickUp is a great platform, one of its downsides is its payments options. For now, you can only make your payments with a credit/debit card.
How long is the Wrike Free Trial?
With both ClickUp and Wrike, you get a free trial, but the length isn't always long enough to actually try a new service and see if its works for you. With Wrike, you get a 14-days free trial.
ClickUp vs Wrike – Which One is Best?
While both platforms offer a free plan, ClickUp offerings beat Wrike hands down.
Starting with the free plan, ClickUp offers unlimited tasks and unlimited users, Wrike only offers minimal features for up to 5 users. However, ClickUp and Wrike both offer free trials if you still prefer the features of Wrike.
Paid plans favor ClickUp too. At nearly half the cost, ClickUp is more affordable for individuals and small businesses that are looking for a comprehensive collaboration tool. For only $5 a month, you get unlimited storage space, integrations, and shareable dashboards.
However, Wrike does have benefits for creative teams with integration with Adobe Creative Suite and pre-built templates for marketing campaigns, employee onboarding, and product launches. Just keep in mind, you will be paying almost double for the same tier of Wrike with only 15GB of space.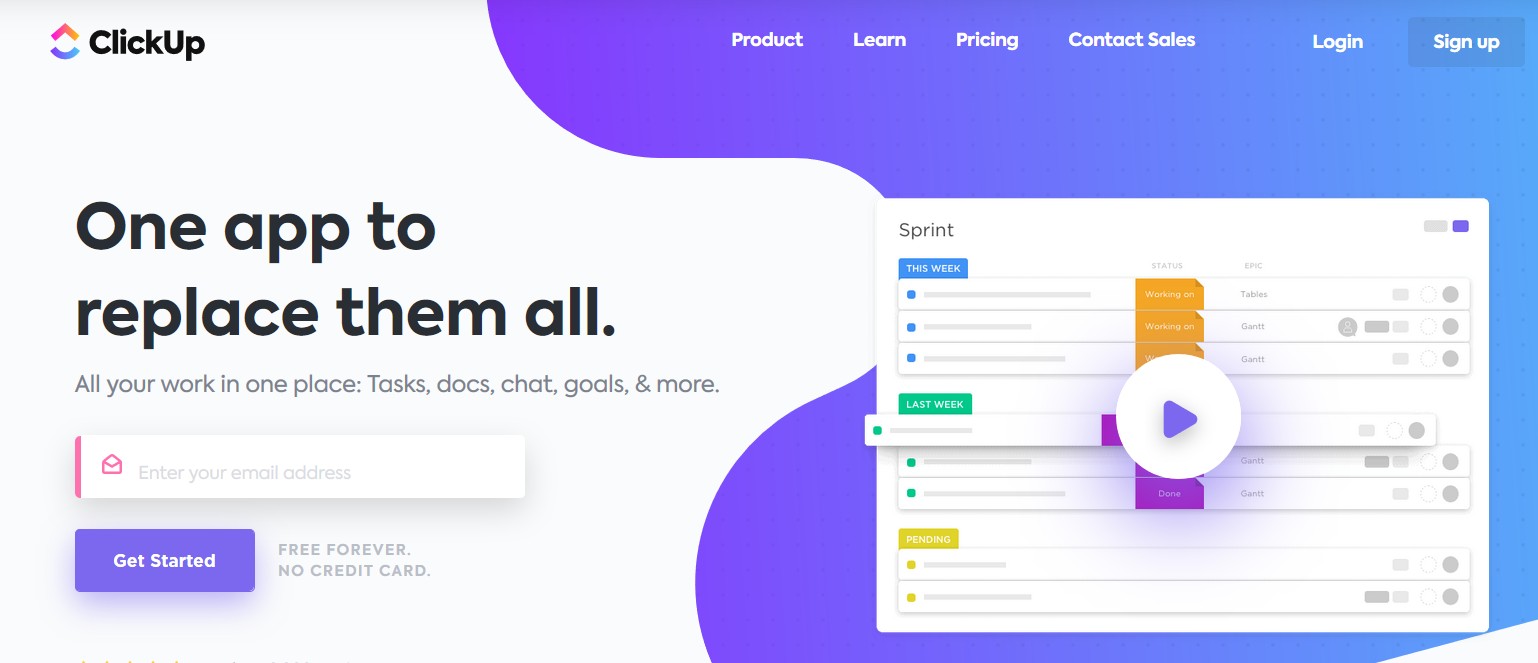 ClickUp's Business plan offers goal folders, privacy features, and extra guests for only $4 more. Wrike offers a Salesforce integration and Gantt charting on this tier but you will pay nearly 3x more for it.
Wrike's strengths lie in its Enterprise tier in which you can request personalized features and have Wrike create a custom platform tailored to your business needs. Wrike's Enterprise package also includes multi-layer security that is worth looking into if you are worried about keeping your data safe.
ClickUp's Enterprise plan includes superior customer service, HIPAA support, and a training program that includes custom onboarding. Both ClickUp and Wrike both have undisclosed custom pricing for their Enterprise subscription.
Bottom Line Summary: Unless you are a large-enterprise company, most organizations will find the flexibility and pricing options (including free tiers) with ClickUp here to be the better option. That said, if you have a large enterprise or distributed software development team, Wrike is a stronger option here.
Up and Comer!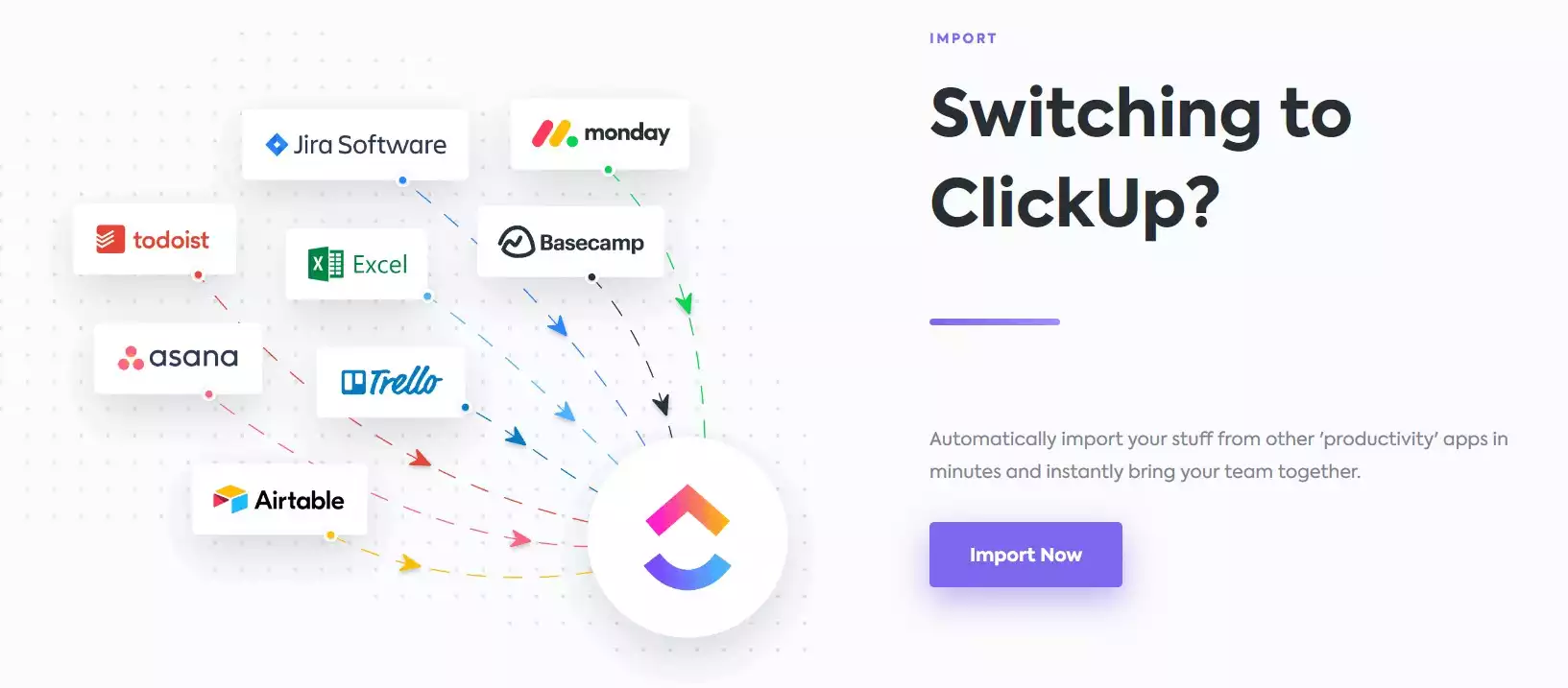 Further Reading on Project Management Software & Project Team Tools
If you aren't decided on ClickUp (read the full ClickUp Review) or Wrike project management software just yet, check out these direct comparisons our editorial team has conducted to explore the market.
Other Collaboration Tool Systems Like ClickUp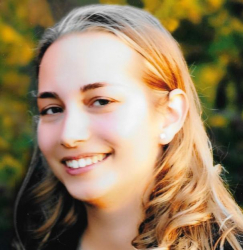 Latest posts by Julie Thompson
(see all)
Get 40% OFF for 3 Months