Last Updated on February 21, 2023 by DMEditor
In our Pipedrive vs Salesforce comparison, we will be comparing two powerful CRM (customer relationship management) platforms to help you decide which is the best for your business.
CRM platforms offer a wide range of tools to make your life easier. Essentially, they are designed to keep all information relating to customers and sales in one place, so you can easily track the progress of pipelines and see the performance of your sales team.
With a lot of complex tasks involved in completing sales, CRM software is designed to make the sales team lives easier, allowing them to synchronize and work on specific tasks to complete goals.
They eliminate wasted time by automating certain tasks, too – that's why it's so important to consider investing in CRM software if you want to be more efficient. A good CRM platform will make managing sales a lot simpler and stress-free for small eCommerce companies or big businesses alike.
Let's take a look at the differences between Pipedrive and Salesforce first.
Bottom Line Up Front Summary: My personal preference here is to recommend the easier to use, streamlined, and usable out of the box Pipedrive solution here. That isn't to say Salesforce isn't a great option, it's just the type of enterprise decision requiring an "all in" adoption mentality.
Main Differences Between Pipedrive vs Salesforce
The main differences between the two are:
Pipedrive is user-friendly for beginners, whereas Salesforce is a bit more complex
Pipedrive offers CRM software, whereas Salesforce offers a range of other tools too
Pipedrive is great for simple companies, whereas Salesforce can be used to manage even complex businesses
Pipedrive offers basic lead management tools, whereas Salesforce's lead management tools can go deeper
Pipedrive doesn't offer social media tracking, whereas Salesforce does
Pipedrive doesn't offer leadership boards for team members, whereas Salesforce does
Our Pick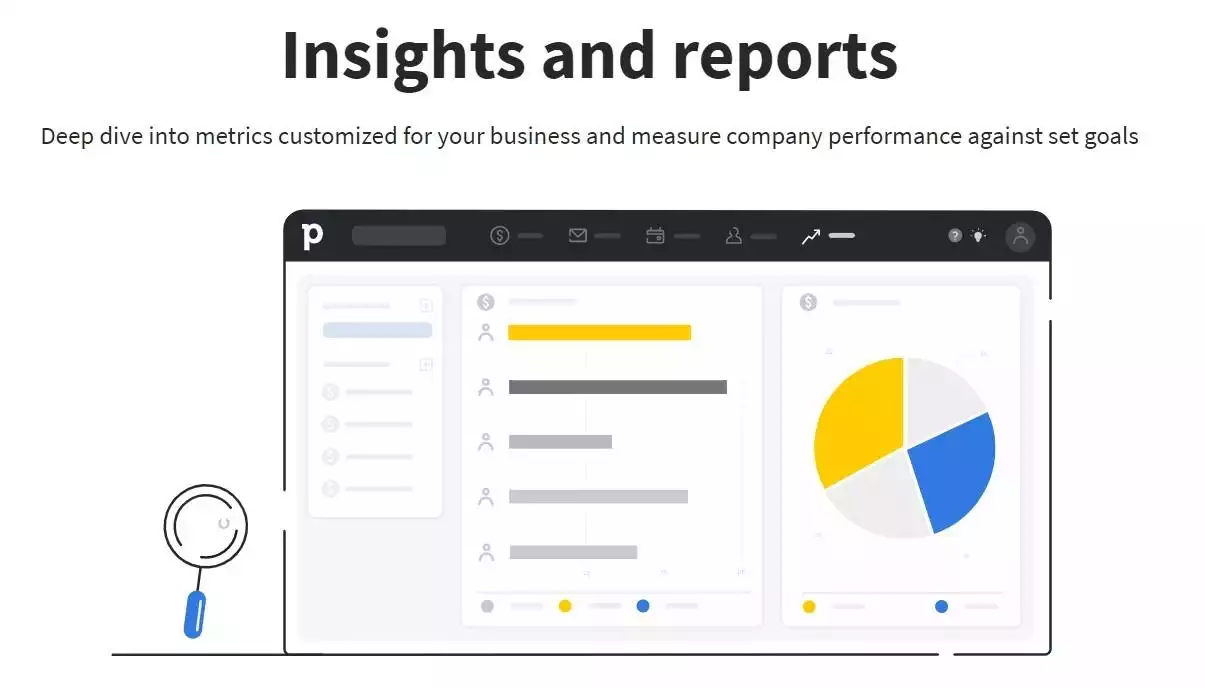 Why I Prefer Pipedrive
Pipedrive has mastered the art of a CLEAN INTERFACE while still having DEEP FUNCTIONALITY. For a pure CRM, I personally went with Pipedrive here.
Try Now
We earn a commission if you click this link and make a purchase at no additional cost to you.
They sound quite different, right?
Pipedrive is clearly aimed at keeping things simple, whereas Salesforce offers more complex tools. They also vary in their learning curves – Pipedrive is pretty easy to pick up, whereas Salesforce is more difficult in terms of use and is a bit harder to navigate.
However, they do have a lot in common too.
Pipedrive vs Salesforce: The Similarities
Both platforms give you a clear visual of deals in progress
Both platforms allow you to manage contacts, products, and calendars easily
Both allow you to automate time-consuming admin processes
Both have app marketplaces
Both have mobile apps
Both offer clear and detailed reporting and forecasting
Both have multiple pricing plans and free trials
As you can see, they have a lot in common – both platforms have a lot to offer for sales teams to make their lives easier.
Let's take a look at the marketing features of each one, starting with Pipedrive, so you can get a clearer idea of how they work.
Pipedrive vs Salesforce: What is Pipedrive?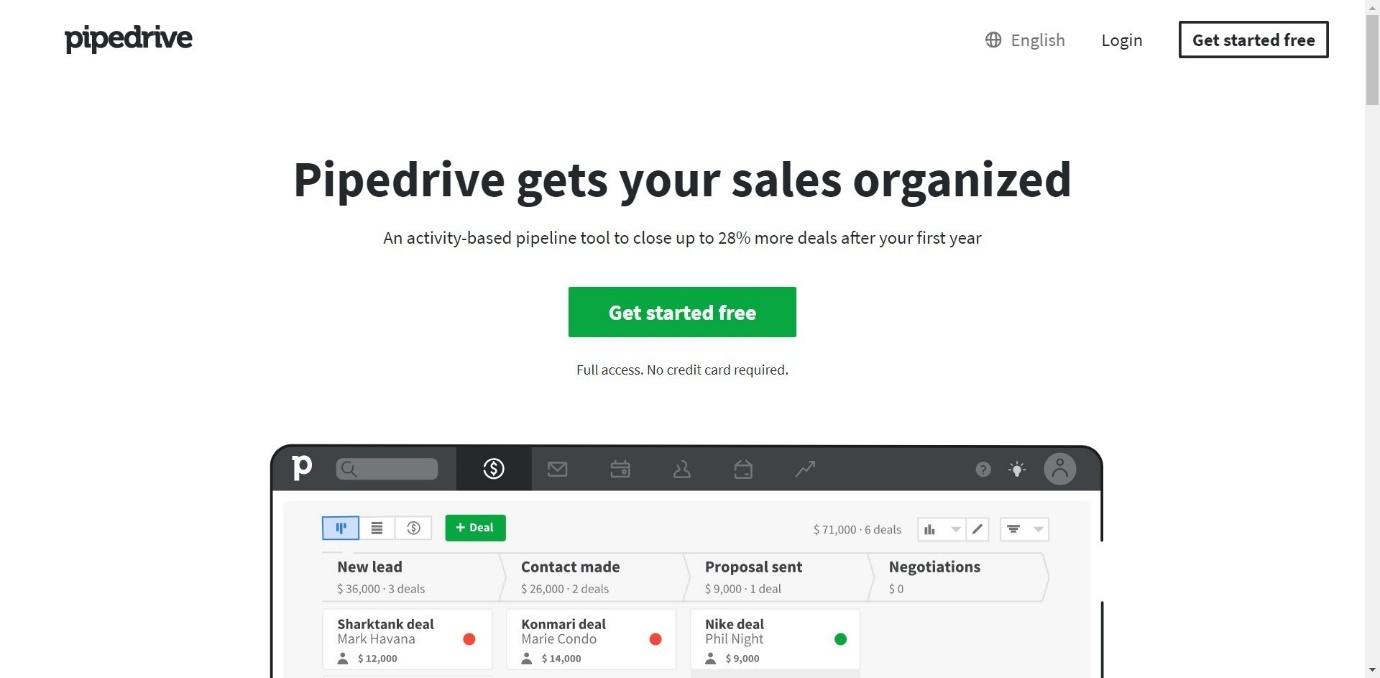 Pipedrive was founded in 2010. It is a sales pipeline tool that enables users to close deals (up to 28% more after the first year, according to their website). It is used by 90,000 sales teams in 179 countries – so it's a popular platform.
Users can set up customized pipelines with actions, track progress towards goals, and set up workflow automation to eliminate time spent on admin tasks. It claims to be the first CRM platform made for salespeople, by salespeople, and it's geared at any sized sales team who want to keep track of their pipelines using a clear, visual platform.
Pipedrive vs Salesforce: What is Salesforce?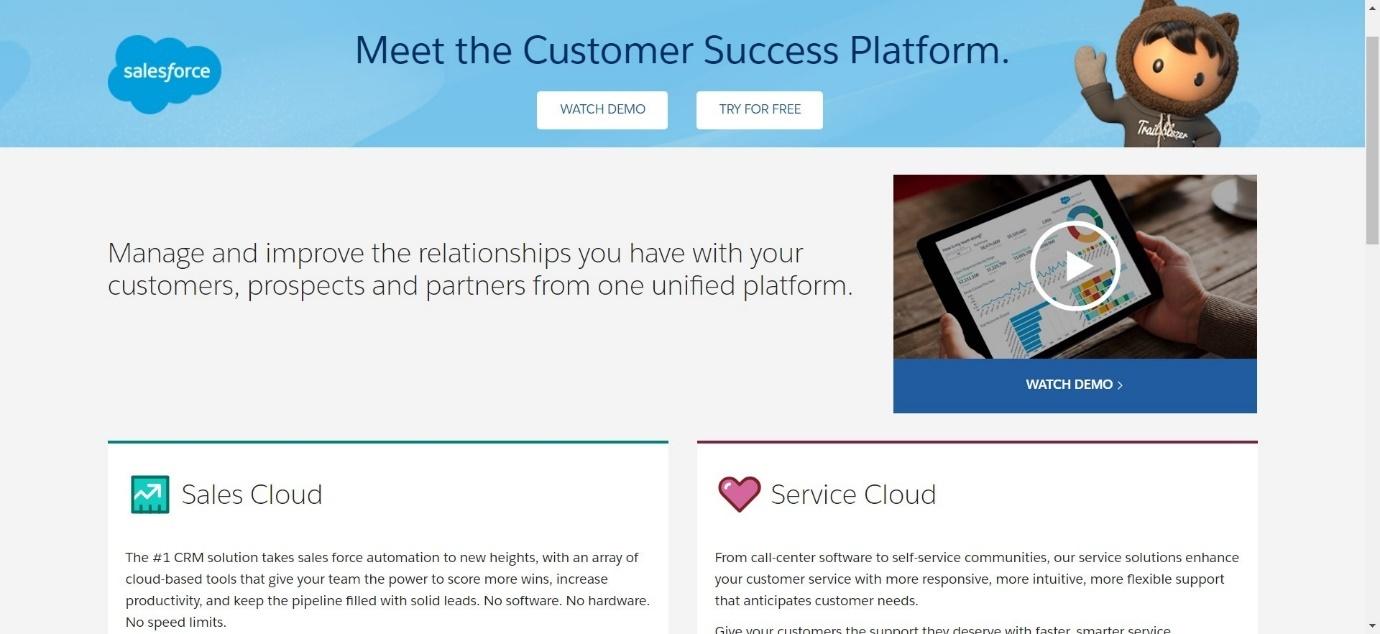 Salesforce was launched in 1999, so it has over 20 years of experience. Salesforce is a CRM solution with multiple features in one platform, giving users marketing, sales, commerce, and customer service tools. It is used by more than 150,000 customers worldwide, including some big companies, and has a thriving app marketplace for users to further customize their experience.
It is great for larger companies wanting to create a seamless, branded experience for both customers and sales team members.
Pipedrive vs Salesforce: Features of Pipedrive
Lead and Deal Management
Pipedrive has a few ways to manage leads and deals.
The most obvious tool is the sales pipeline builder. Using a drag-and-drop interface, users can easily create a customized pipeline that suits them – features and tools can be switched on and off when required.
Pipelines are clear, with users able to see everything clearly – it quickly shows the health of pipelines, with a clear emphasis on areas that need improvement. Users can search pipelines using filters and access analysis of sales (more on this later).

The pipeline builder allows sales teams to stay organized – eliminating wasted time trying to find information. Even the most complex sales pipelines can be viewed clearly, and new team members can be added at any time.
It is simple to add information like notes, activities, important information, and contact details to each deal.
The chatbot allows users to qualify new leads all the time, even automating the booking of meetings. Users can set questions and responses; diverting leads to appear in Pipedrive where required. The chatbot can set meetings based on the availability of the sales rep, syncing to their calendar automatically.
There are more features, too. Sales team members can create customizable web forms to capture information from leads, and they can create a product catalog showing detailed information about each product. Products can be linked to certain deals, clients, and contacts.
They also offer deal probability, which adds the probability of the deal being won. Sales teams can be notified automatically when a deal stays idle for a set period of time.
Communications Tracking
Users can build a large database of contacts, both individuals and organizations. Contacts can be imported from spreadsheets, other CRMs, or Google or Microsoft contacts.
Two-way email sync enables users to send and receive emails from their work email or Pipedrive inbox, allowing them to see both inboxes at once. They also offer live notifications when emails sent from Pipedrive are opened, and email templates to save time on future communications. Emails can be sent in batches (like lead segments), too.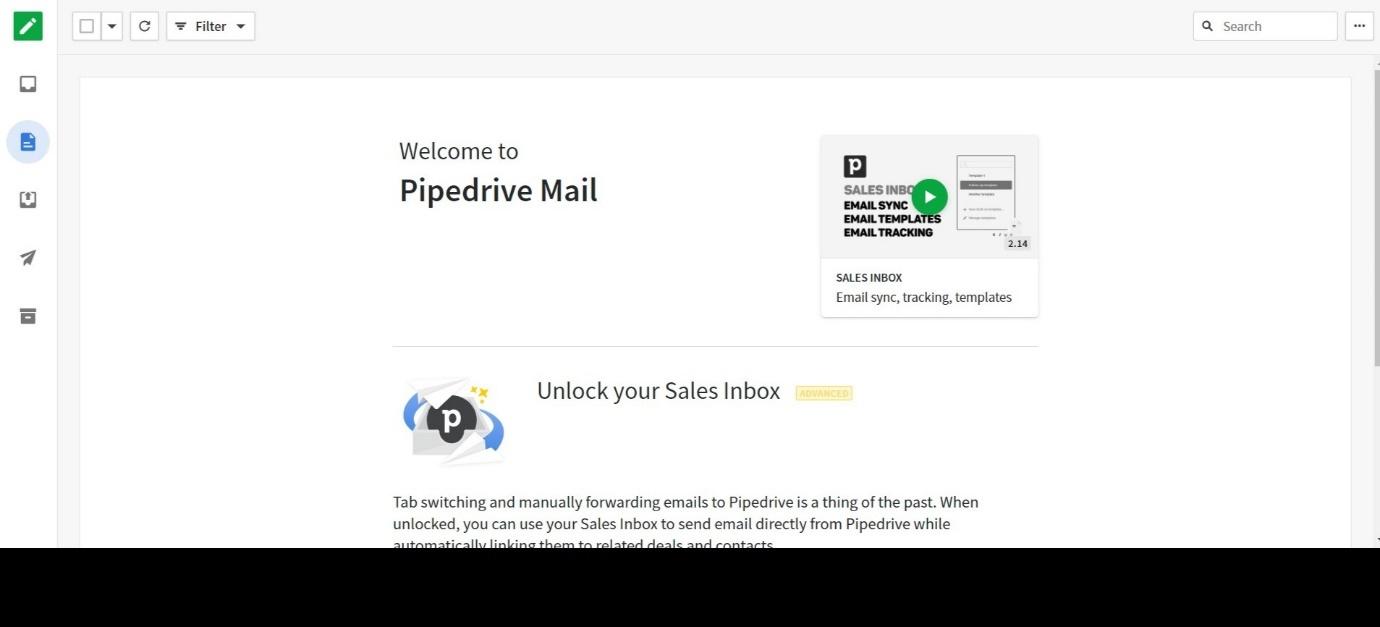 Calls can be made directly from Pipedrive, with hands-free calling. This makes notetaking a bit easier, and calls can be automatically logged as a completed task in the sales pipeline. Calls can be recorded and downloaded as audio files.
The scheduler allows users to set availability and then share that link with other team members and contacts. It also makes organizing meetings much easier.
The in-built calendar syncs with Google and Outlook (amongst other providers) and allows users to schedule emails, calls, and meetings easily. You can also set reminders via email or as a notification on the web or mobile app.
Automations
Pipedrive offers a sales assistant – it offers personalized tips based on your pipelines, including tips on performance and automation recommendations.
Sales admin tasks can be automated to save time. This includes creating new deals when a new contact is added, transferring ownership to different reps, creating new activities when a deal moves along the pipeline, and sending emails when deals are created.
You can set triggers and desired outcomes easily, to save a lot of time that would otherwise be wasted on admin.
Reporting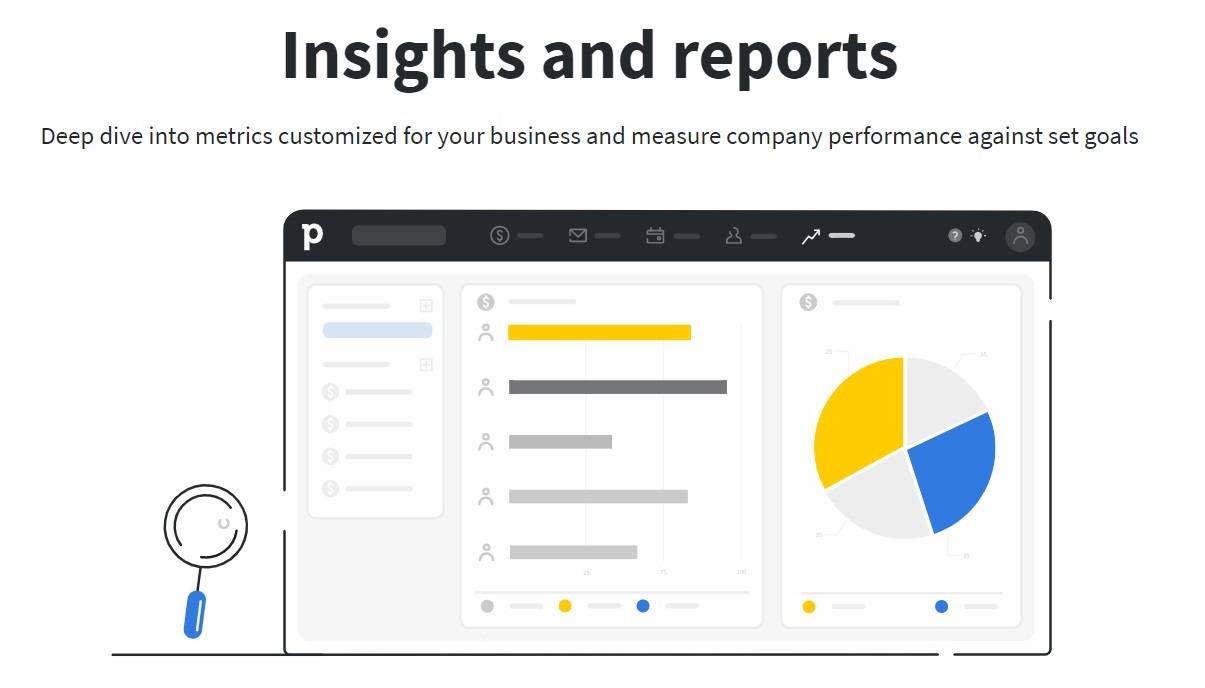 Users can create clear, visually appealing charts to show sales growth. These include activity reports to show how well the team is performing, completing sales activities and sales reports that sync with the product calendar to easily view best-selling products.
They also offer forecasting to show a prediction on how much money your business should make (based on a variety of factors including expected close date of some deals, and the probability of currently open deals).
This is a powerful tool, as it allows sales teams to change the direction of open deals if they're unlikely to succeed or to find new deals instead.
Mobile App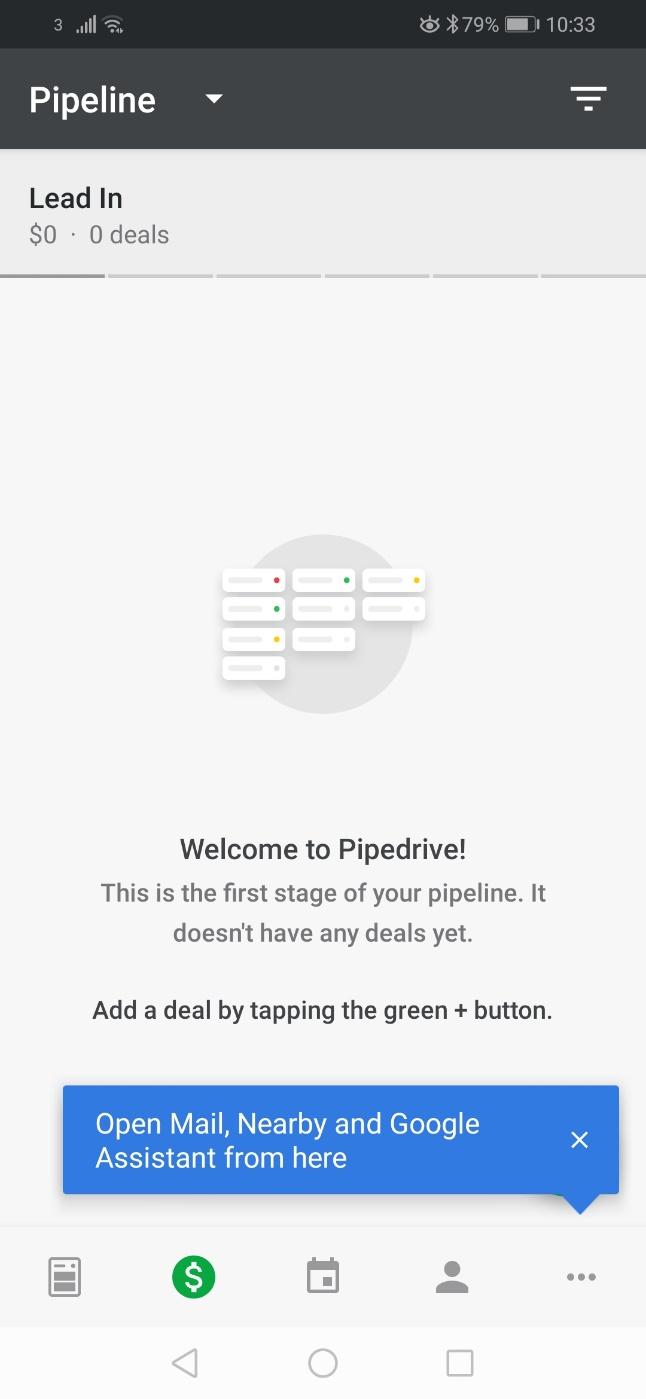 The Pipedrive mobile app is free and allows you to access your schedule, pipelines, calendar, and contacts on the go – it's simple to navigate, too.
They also have an App Marketplace, allowing you to customize your experience even more.
This opens up the experience for more integration options, although it doesn't have the huge amount of apps and integrations that Salesforce has (as you'll see later). They do offer integration with popular email marketing platforms and social media platforms via API.
Pipedrive vs Salesforce: Features of Salesforce
Salesforce Sales Cloud is the main sales software from Salesforce. It offers similar features to Pipedrive and can either be subscribed to by itself or in combination with other plans from Salesforce. Let's look at Sales Cloud in detail.
Opportunity Management
Similar to Pipedrive's pipeline system, opportunity management in Salesforce Sales Cloud gives you a timeline of activities for each deal as a sort of sales management overview. Users can see at a glance which point they are at in certain sales, track activities, and receive updates as actions are taken.
What makes this stand out against Pipedrive is that you can create up-to-date quotes immediately, by tracking products (including quantity, standard price, quoted price, and product codes).
You can set up revenue schedules, to mirror payment terms, and automatically generate a quote using customer data. Salesforce Sales Cloud automatically generates a PDF from a template – saving you time.
The timeline feature will show you how your competitors are doing, and the moves you need to make to win – including automatic updates when action is needed.
You can also easily pull in teammates to work on a sale with a few clicks – this is great if you know a certain team member is skilled in one area that needs improvement.
Lead Management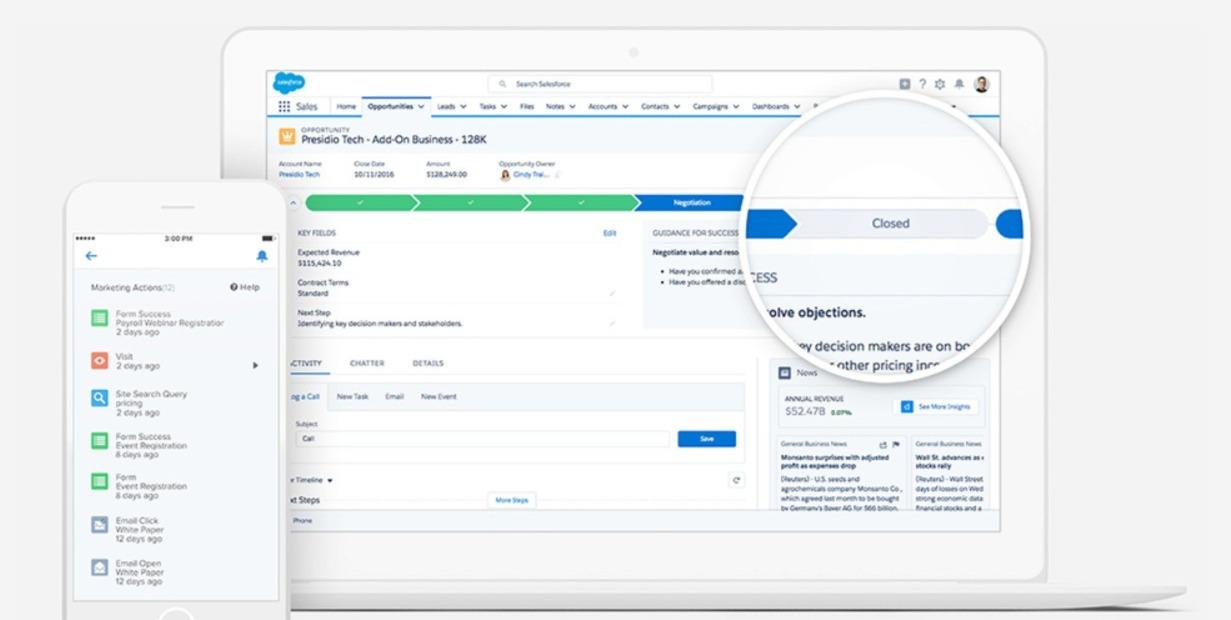 Lead management is a key strength within Sales Cloud. Users can view where the lead came from, assign the lead to a specific rep, and write (and track) emails from the platform. Lead scoring can be set up automatically, with reps being reminded to contact them promptly.
Marketing campaigns can be tracked across all channels. This means you can manage and track your social media and email campaigns in one place and see their direct impact on sales.
Contact Management
Customer data is easy to access, including key contacts, history of communications, and social insights. You can even pull in social data from LinkedIn, Facebook, YouTube, and Twitter – this allows you to see what customers are saying about your company. That allows you to proactively target any issues that customers may have, or fill gaps that they require.
Sales Cloud has a range of email integration and PDF templates for various purposes – saving you time in the long run on designing individual emails. Emails and PDFs can be customized to suit your branding.
Sales Collaboration Dashboard
Sales Cloud is a collaborative platform. Users can easily call on other members of the sales team to help complete tasks, and they can share people, files, and information easily within the web or mobile app. Searching allows you to find experts on certain subjects, which is really helpful.
Automations
Sales Cloud automates a lot of admin tasks – this includes sending emails automatically and sending out quotes without you needing to create them manually.
Reporting Dashboard
Reports can be created using a drag-and-drop interface, allowing users to create charts and tables with ease – these can then be sent to various team members.
The mobile app also allows users to check customer analytics on-the-go.
Forecasting on Sales Cloud is pretty comprehensive, with rapid updates to help managers decide what moves to make next. These actions can be easily passed onto reps. You can track individual performances (with real-time leaderboards) and set goals for the team.
For more complex organizations, Overlay Splits allow you to view the forecast by overlays to see how each area is contributing to overall sales.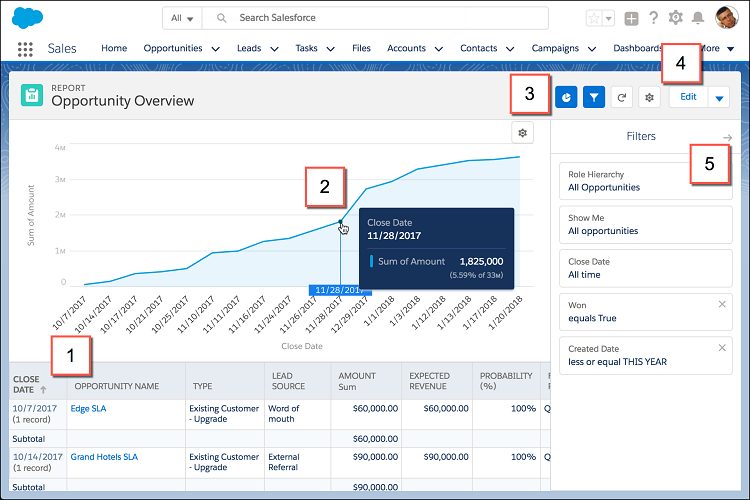 Mobile App
Salesforce has an app that allows users to update records, view information, and keep track of their calendar on-the-go. However, some have criticized it for being a little difficult to navigate, as it has a lot of features packed into one app.
Other Dashboard Features
Sales Cloud is just one arm of Salesforce. There's also Service Cloud, aimed more at businesses providing in-depth customer service, with lots of features for that. You can choose a Sales Cloud, Sales Force, or a combination of the two.
They also have a huge and ever-growing App Marketplace, which allows you to customize your experience even further. (You can check out our guide to some of the best Salesforce apps here).
Pipedrive vs Salesforce – Pricing
Pipedrive has four pricing plans:
Pipedrive offers a free trial – you can find out more here.
Sales Cloud by Salesforce has four pricing plans:
Salesforce also offers Service Cloud, the customer service arm of their platform. This can be subscribed to in conjunction with Sales Cloud to save money.
Salesforce offers a free trial – you can find out more here.
Customer Support Compared
Pipedrive Customer Support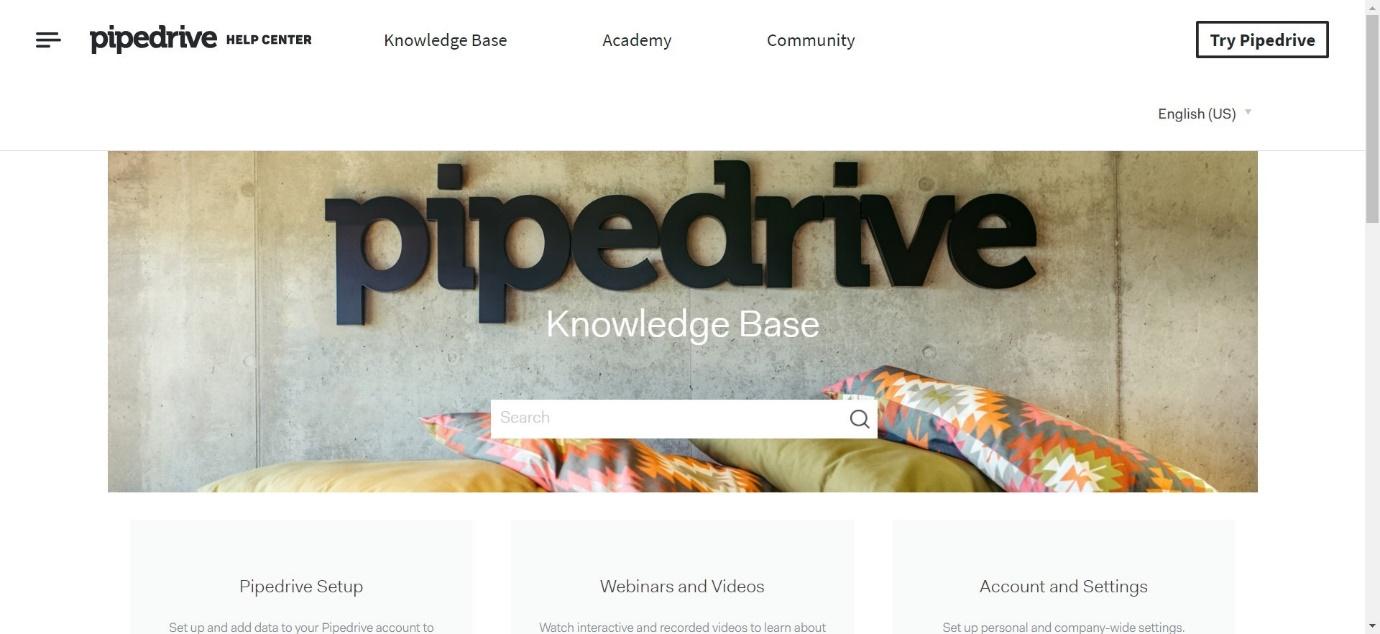 Pipedrive's knowledge base is really simple to navigate and is comprehensive, with setup guides, webinars, videos, and FAQs.
They have a community of users in a busy forum to connect with.
They also offer Pipedrive Academy – a series of courses aimed at enabling users to make the most of their services.
They also have support in the form of live chat and email.
Salesforce Customer Support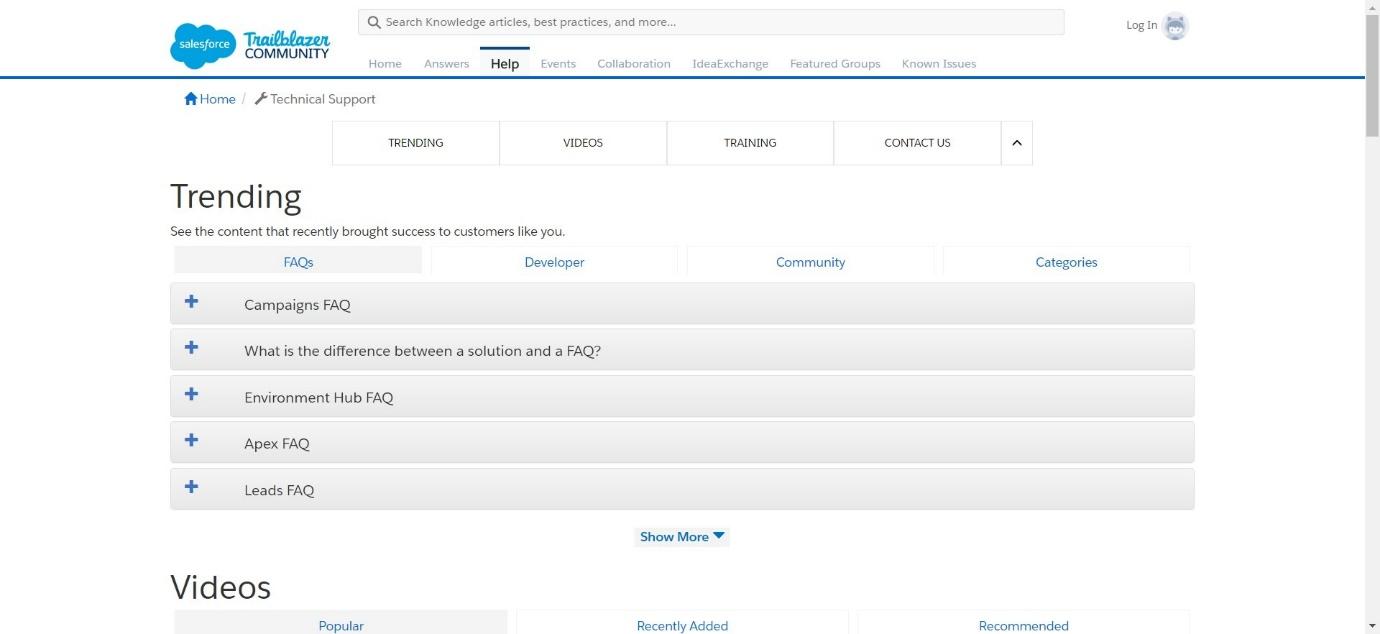 Salesforce has a less intuitive knowledge base – it has videos, FAQs, and guides, but it feels more cluttered and overwhelming.
They offer a variety of classes in different subjects, including classes for users, administrators, marketers, and developers.
You can contact Salesforce via live chat or by leaving a message for a representative to get back to you.
Pipedrive vs Salesforce – Pros and Cons
Let's start by looking at Pipedrive.
Pipedrive Pros
Looks simple and easy to navigate
Offers automation for a range of admin tasks
Products are easily cataloged
The mobile app is simple to use
Pipelines are simple to navigate
In-depth reporting and forecasting
The knowledge base is easy to use
Pipedrive Cons
Not as advanced in terms of features for large or complex businesses (relative to a small business)
Not much flexibility in terms of features or tools
Salesforce Pros
Powerful tools for big businesses
Detailed reporting and forecasting
Excellent lead management
Collaborating with other team members is simple
Huge app marketplace
Salesforce Cons
Salesforce CRM features can be overwhelming and complex for those with no CRM experience
The knowledge base is a bit cluttered and confusing
Pipedrive Salesforce Integration: Do They Play Together?
Unfortunately both Salesforce CRM and Pipedrive do not natively support direct integrations. That's annoying, BUT there are a few tools to help connect data sources and data flow between them:
Make.com: Make features a wide array of data sync's between Pipedrive and Salesforce. It's my first place to check to see if you can get what you need.
Zapier: One of the best known integration services, there are many different "zaps" to connect various elements from Pipedrive to Salesforce and vice-versa.
Skyvia: Skyvia is a professional service to help with advanced data integrations, when a simple "zap" won't do.
Frequently Asked Questions
Which companies use Salesforce?
Salesforce CRM is used by some big companies, including Spotify, Amazon Web Services, U.S Bank, and Toyota.
Is Salesforce good for beginners?
Beginners may struggle using Salesforce – it's got a fairly steep learning curve.
What is the difference between Sales Cloud and Service Cloud?
Sales Cloud is aimed at sales teams trying to manage accounts, contacts, leads, and deals in one place. Service Cloud helps companies to run their customer service team, with lots of features aimed at improving customer's experiences.
Which companies use Pipedrive?
Pipedrive is used by Sage, LinkedIn, Nylas, and more.
Can I move deals between pipelines on Pipedrive?
Yes – you can drag it into a different pipeline.
Can I create activities in bulk?
Yes, if you are an admin user, you can create activities in bulk using Pipedrive's System ID function.
Conclusion: Pipedrive or Salesforce?
So, if you want to track sales, keep an eye on deadlines, assign tasks, manage contacts, and create detailed reports and forecasting, either one of these platforms would be great for you.
They differ in terms of the type of businesses they can serve.
If you are a smaller business, you're new to CRM, or you just want to keep things simple, Pipedrive is great. It simplifies a lot of business process functionality, will save you a ton of time on admin tasks, and gives you a simple, easy-to-understand overview of your pipelines.
It makes managing the calendars of each team easy, too. Despite being visually appealing, it's no lightweight in terms of features – and the detailed reporting and forecasting is a powerful tool to use for any sized company.
It's also a simple platform to use. With a minimal learning curve and plenty of help from the support center, Pipedrive is excellent for beginners and hassle-free for experts in CRM capabilities, too.
However, Salesforce is a power to be reckoned with. Used by huge companies across the globe, it's known as one of the most powerful CRM platforms out there.
Even the most complex of businesses with several different aims can easily see and track their sales, and the customizable nature of the software means you can work with Salesforce to create something that really suits your purposes. The app marketplace is huge, meaning more customization, and the reporting and forecasting are equally as powerful as Pipedrive's.
The obvious downside with Salesforce is that it isn't the easiest platform to start with for beginners. It's not as visually appealing or easy to navigate, and smaller companies might find some of the features that aren't relevant to them.
However, if you are willing to take the time to train up a couple of admin users, Salesforce can be a very powerful tool-wielding great results for your business – simplifying processes, freeing up time, and allowing you to divert your team members to areas where they are really needed.
It comes down to this:
What size business do you have?
How customizable do you want this software to be?
How complex are your pipelines likely to be?
And do you have time to train up users, especially if you don't have any familiarity with CRM software yet?
The answer will probably be obvious to you at this stage, but both platforms are excellent – and could make a real difference to your sales (and save you a lot of time, hassle, and headaches with the visual sales pipeline).
Bottom Line Summary: My personal preference here is to recommend the easier to use, streamlined, and usable out of the box Pipedrive solution here. That isn't to say Salesforce isn't a great option, it's just the type of enterprise decision requiring an "all in" adoption mentality.
We'd be interested to hear from you if you use Pipedrive or Salesforce – how do you find using it? What are your experiences? Leave us a comment to share your thoughts!
If you'd like to check out more CRM comparison articles, try these:
Our Pipedrive sales hub comparisons:
Our Salesforce comparisons:
Other similar CRM provider comparisons:
Other CRM's by Use Case: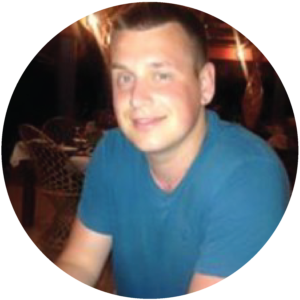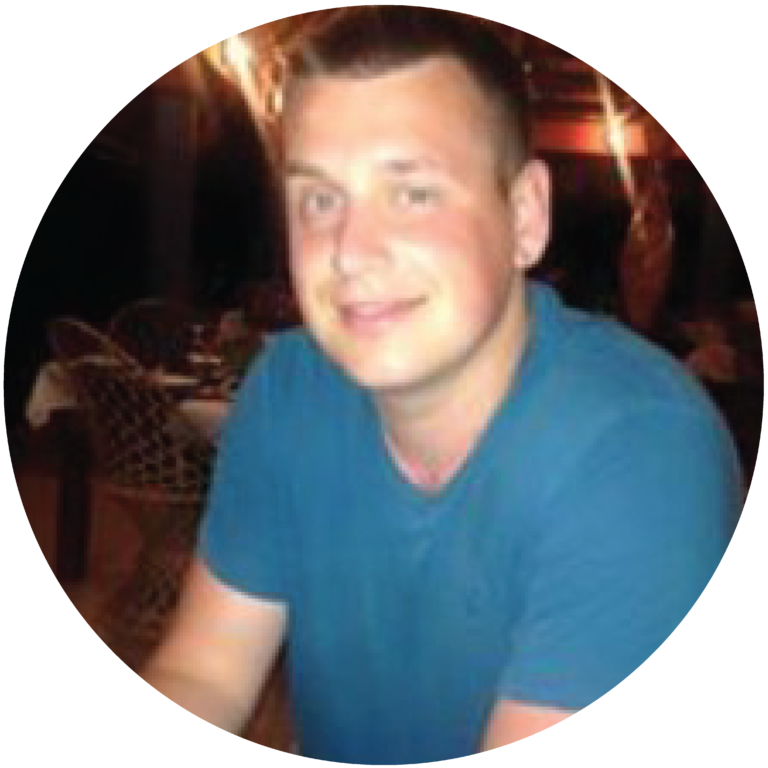 Latest posts by Ewen Finser
(see all)